If tropical RV camping in the Florida Keys, the sound of waves gently lapping and palm trees swaying, sounds like your perfect vacation, this post has you covered!
The southernmost point of the United States is a little chain of islands trailing off from Miami, hugging the Everglades National Park across the gulf, where you can feed alligators from Miami, and has so much to offer.
A getaway to some of the best RV parks in the Florida Keys will provide memories for a lifetime.
You'll find some of the most beautiful beaches in the world here, authentic key lime pie and fascinating maritime history down in Key West.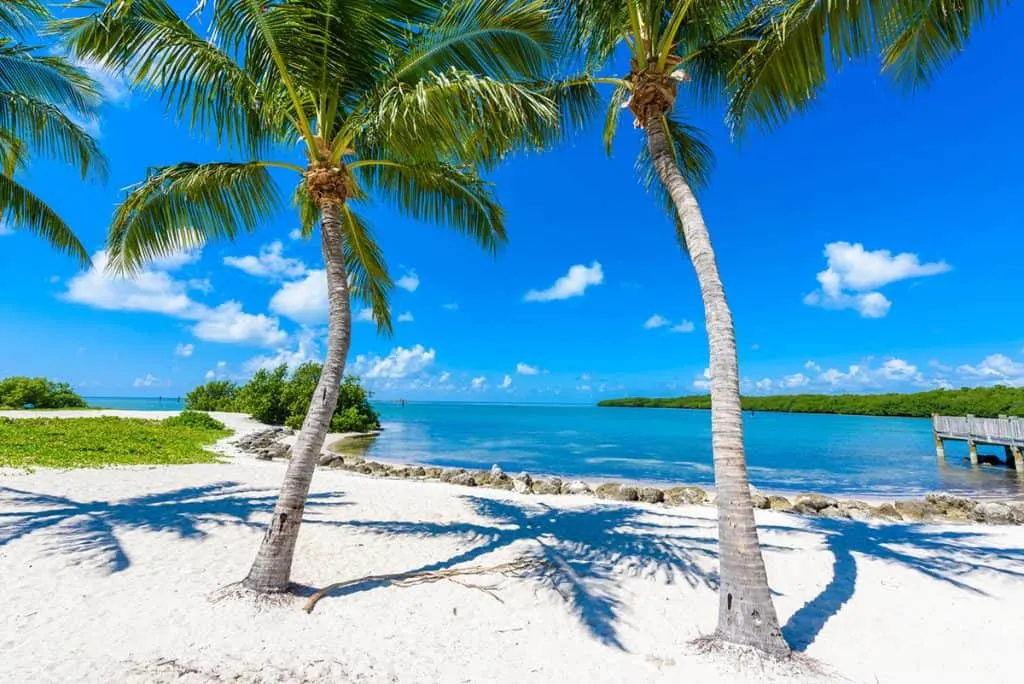 Traveling in an RV is an excellent way to get the most out of your trip and hop around the Florida Keys with easy access to several beaches.
The distance from Miami to Key West stretches over 180 miles, leaving a whole lot of ground to cover.
Not only is RV camping more affordable than staying in a luxury resort, but it allows you the freedom to venture into the different beaches available in each area.
We did our Florida Keys road trip from Miami to Key West in four days – although it could be done in under three hours, but it is so beautiful down here, why not take a few days (or three weeks!) and create memories that will last a lifetime.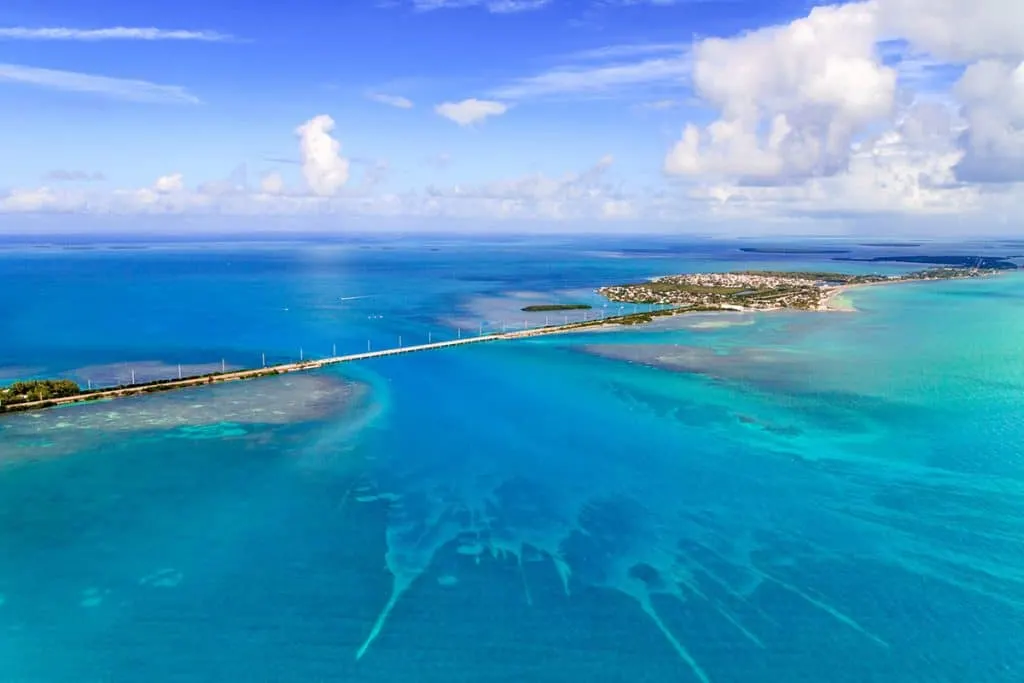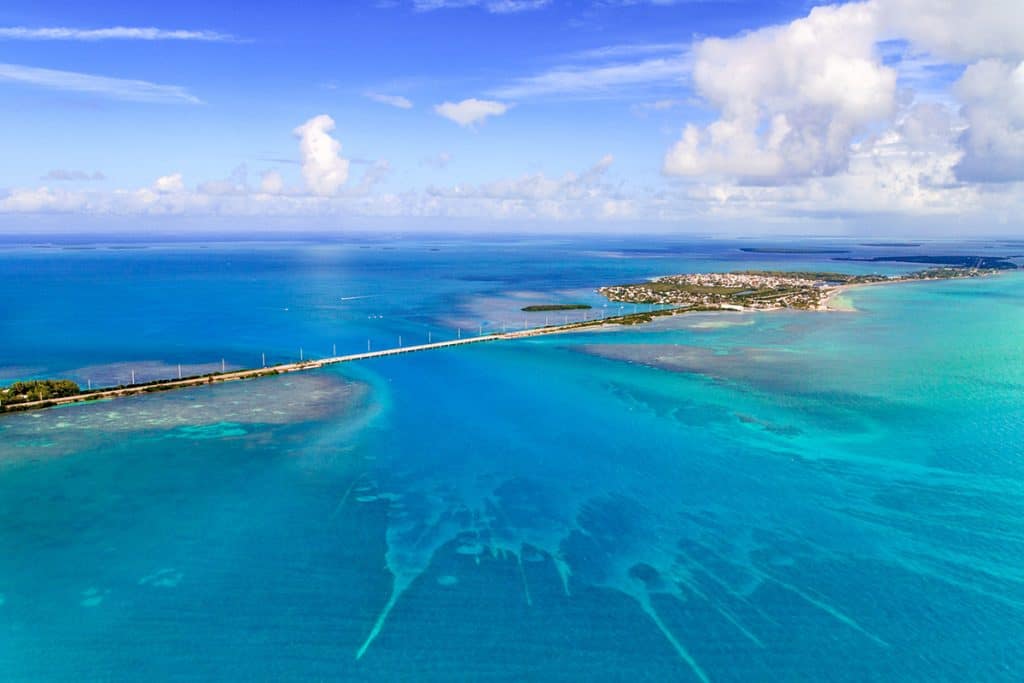 Peak season is December through April and these parks can fill up quickly, so you may need to book well in advance.
If you're a first-time RVer, you'll like these tips for planning an RV trip.
I've also added the FL Keys to my list of 12 fun places to have spring break in Florida, because you can have a fun laid-back vibe down here in spring!
This post will reveal some of the best RV campgrounds in the Florida Keys to ensure you all have an excellent tropical vacation.
RV Parks in Big Pine Key
This stunning state park is home to three of the best beaches the Florida Keys has to offer: Sandspur (currently closed while they work on restoring the beach), Calusa on the Florida Bay side and Loggerhead on the Atlantic Ocean side.
Either of these beaches are ideal for sunbathing, swimming and catching a glimpse of exotic wildlife.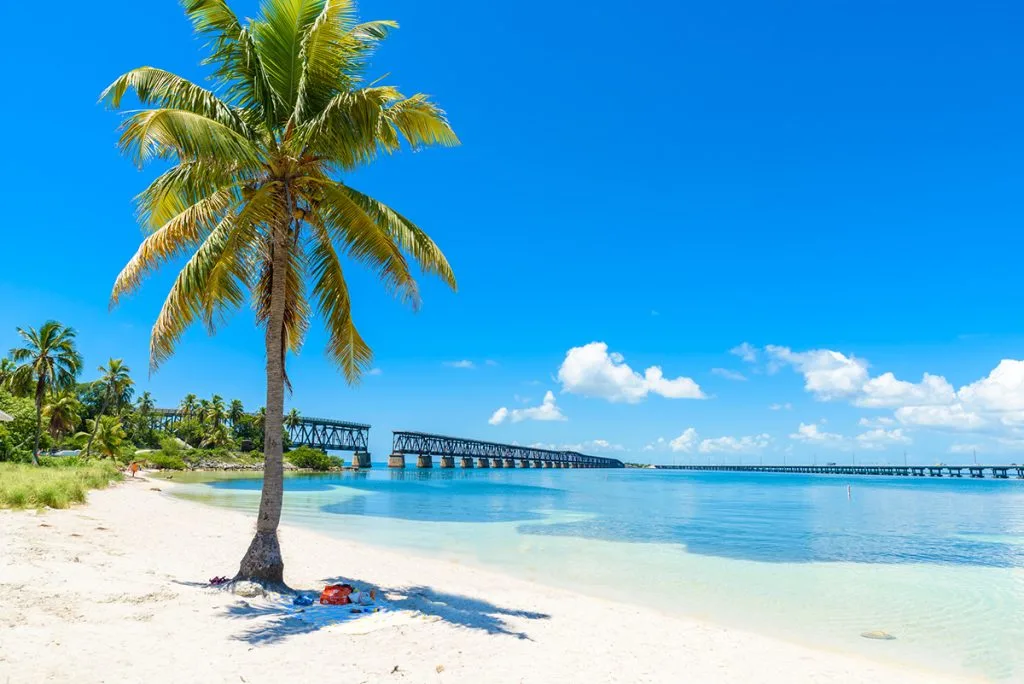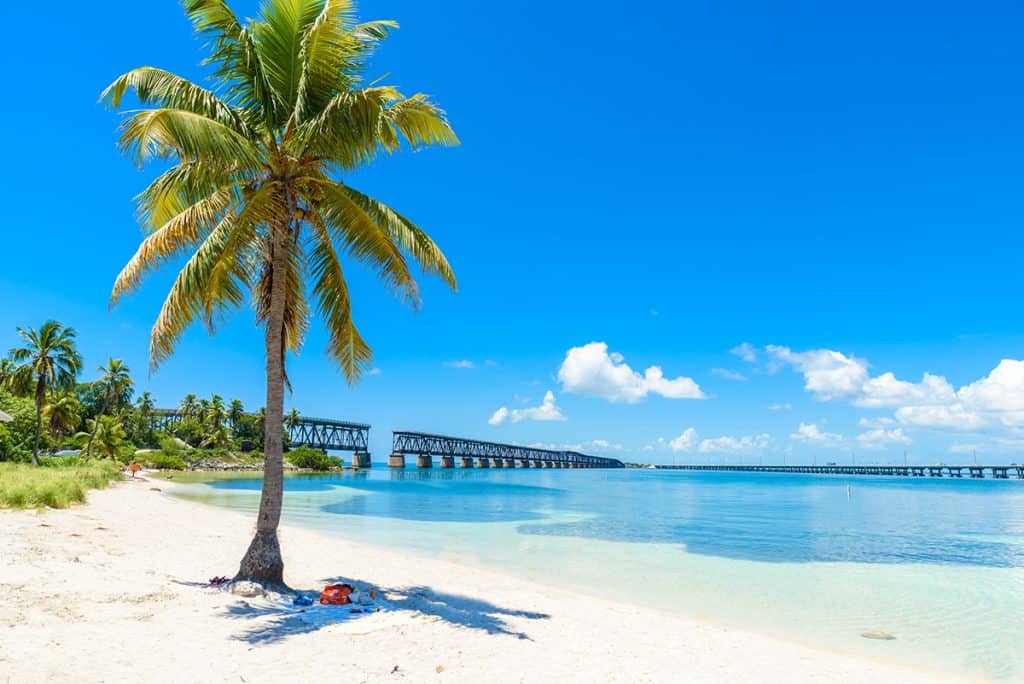 Snorkeling is among one of the most popular activities available in the state park. You may snag some rental gear at the concession facility or buy your own to have it with you whenever you see a perfect spot.
Due to their popularity these beaches can be closed when at capacity, so the best time to come is early morning or later in the day. Bahia Honda State Park also offers beautiful star gazing at night.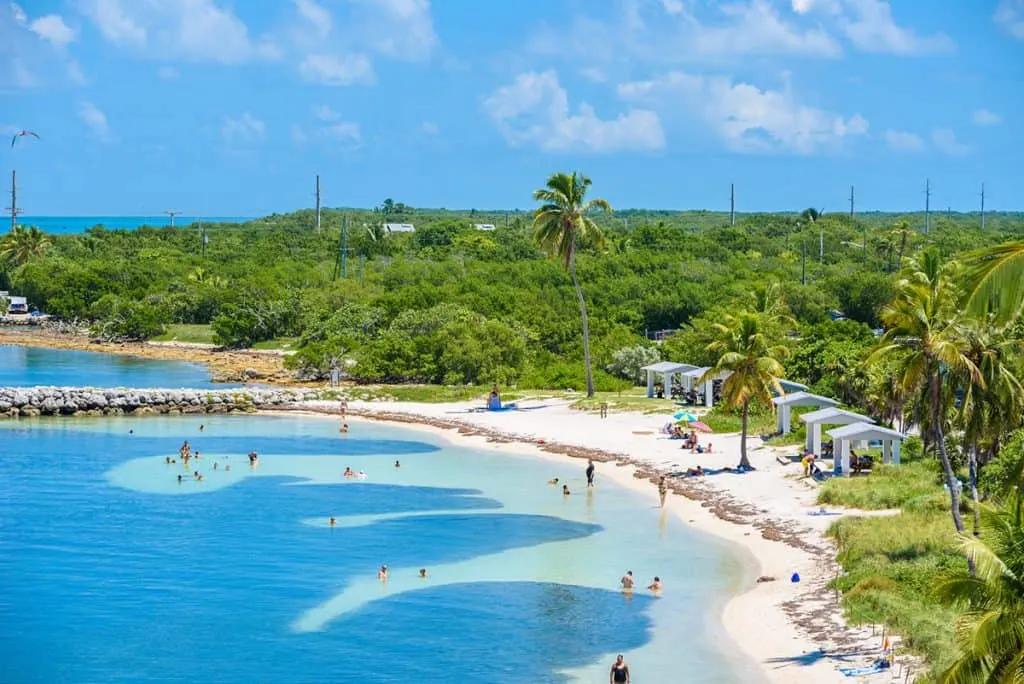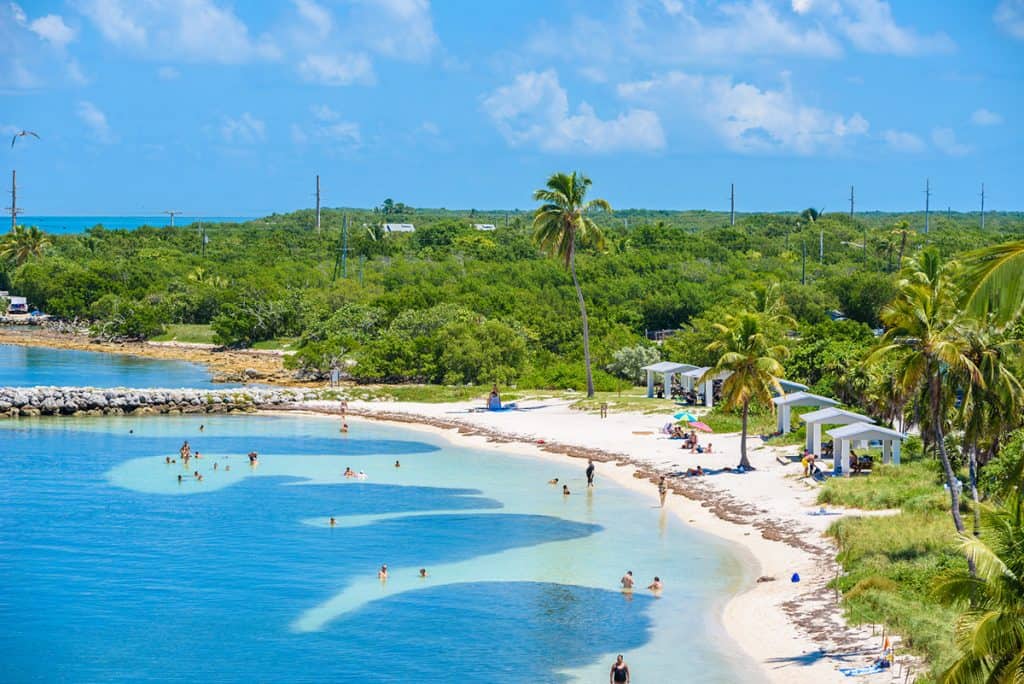 There are three campsites located in the park for both RV and tent camping. Buttonwood Campground has electricity, water, picnic tables and grills. Sandspur Campground is currently closed.
Bayside Campground is more primitive with no electricity, but they do have water and a nearby restroom. Also note: to get access to Bayside you need to be able to drive under the new lower Bahia Honda Bridge with a clearance of 6'8″.
Additionally, Bahia Honda has three large cabins available to rent out for groups of up to six people. Rates can be found by contacting the state park for reservations.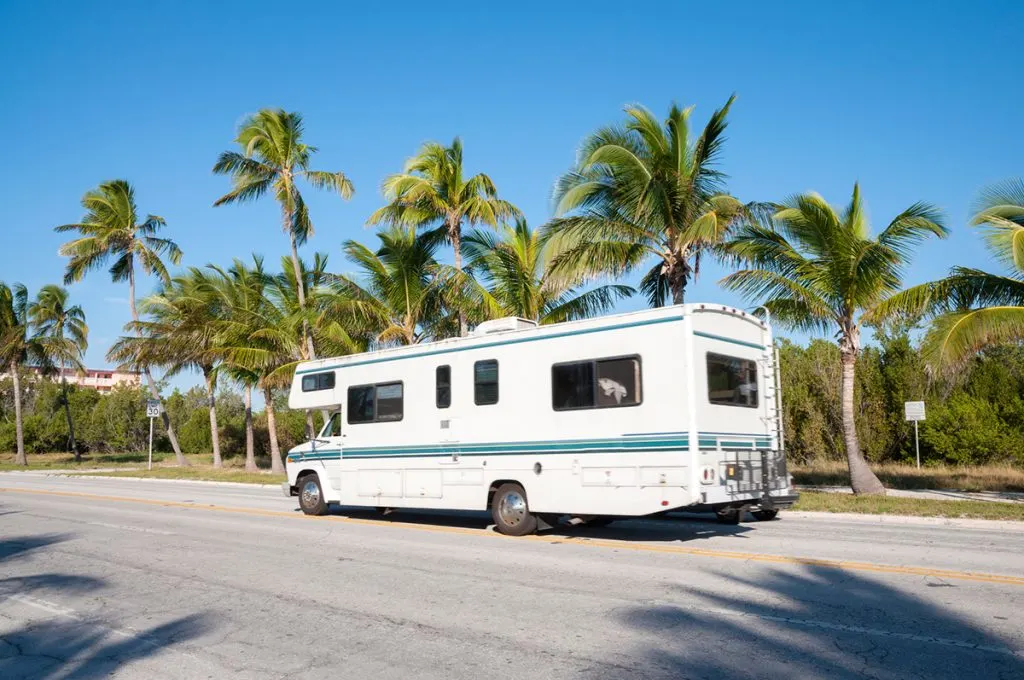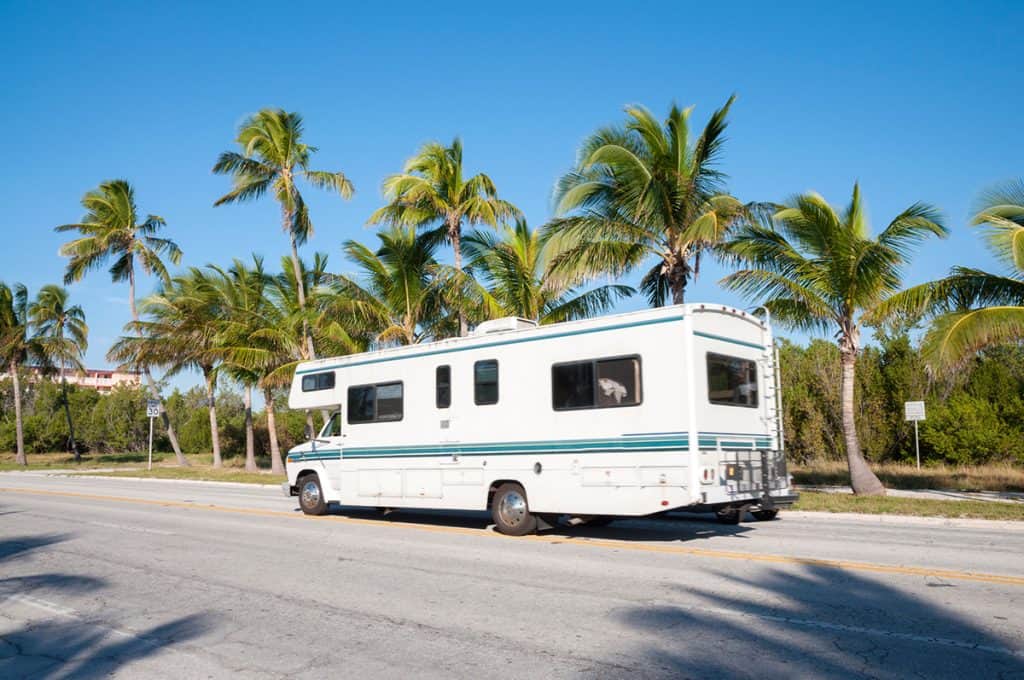 RV Parks in Key Largo
John Pennekamp Coral Reef State Park is located at Mile Marker 102, and with the adjacent Florida Keys National Marine Sanctuary, covers approximately 178 nautical square miles of coral reefs, seagrass beds and mangrove swamps. The coral reef here is among the most beautiful and diverse of all living reefs.
There are three swimming beaches including Cannon Beach and an early Spanish shipwreck within 100 feet offshore, which is the best place for snorkeling and is home to the famous undersea Christ of the Abyss statue.
Take a glass bottom boat tour if you don't want to get wet but want to see what lies beneath. The coral reefs are located between three and eight miles off shore, so you'll need some kind of transport to see them!
There are 47 full hook up sites for tents and RVs here and the most spectacular snorkeling you'll find on the Keys.
Other amenities include barbecue grills onsite, rest rooms and hot showers. You can take organized snorkel and SCUBA diving tours, rent kayaks, canoes, paddle boards and power boats.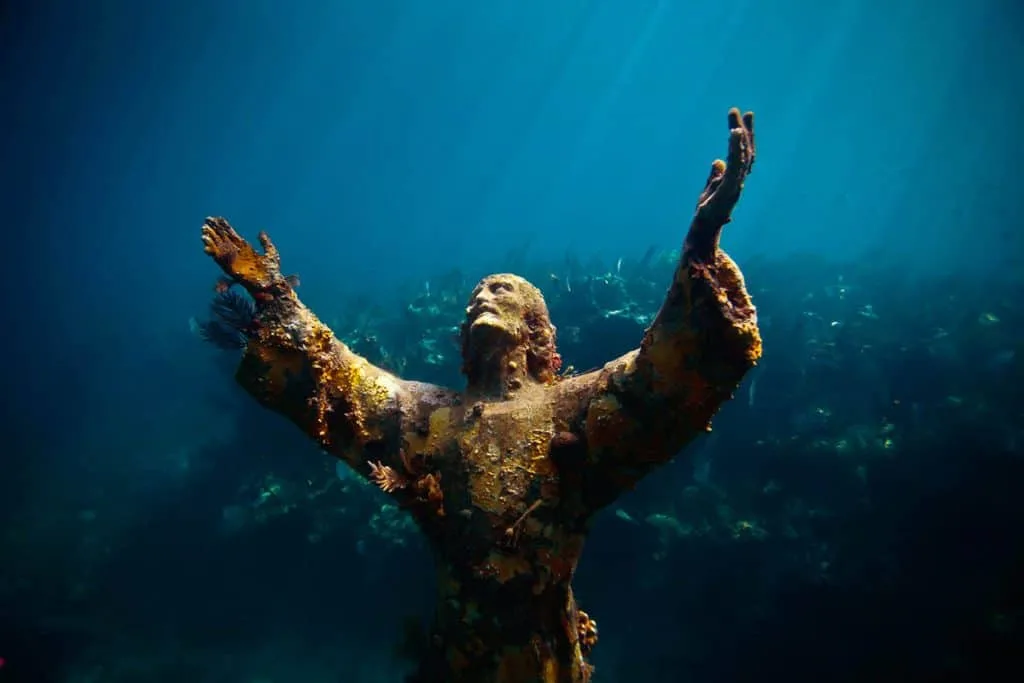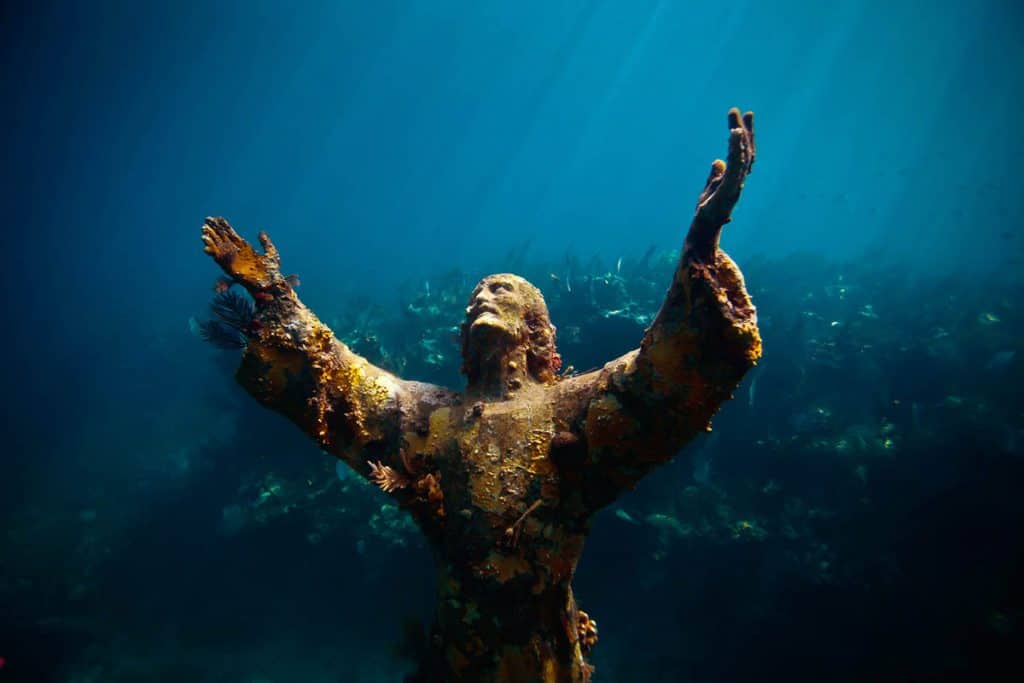 Key Largo Kampground is a beautiful waterfront RV resort and marina located near Cannon Beach.
Not only is the campsite clean, safe and picturequse but it has a ton amenities to offer guests like an ice machine, playground, two beaches and two bathhouses.
You'll find many leisure activities available on-site including a heated pool for fresh water swimming, basketball court, and shuffleboard court.
In addition, there are often events held at the clubhouse to keep guests entertained by the likes of bingo nights and square dancing parties.
Rates range from $100 to $130 depending on if you would like waterfront sites. Both sites are full hook-up along with a picnic table and cable television access. Although with quick access to the beaches the Florida Keys has to offer, we are sure you will not be spending too much time watching TV!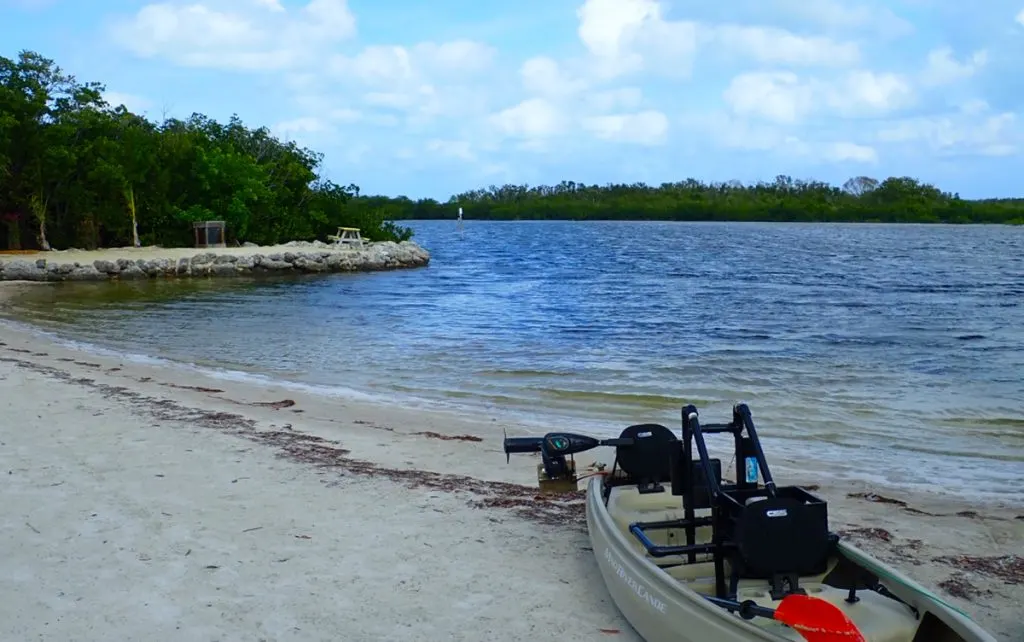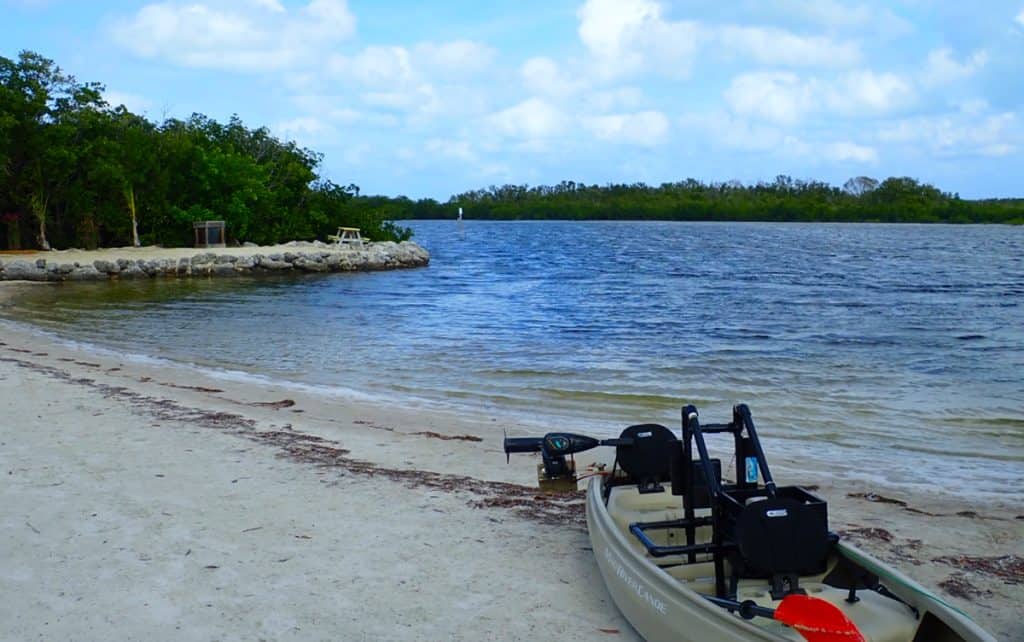 Located between Key Largo and Marathon, this little key has an RV park and a 2-star hotel if you've not brought your own accommodation! This 28-acre resort is on its own island with 324 sites but could be easily overlooked.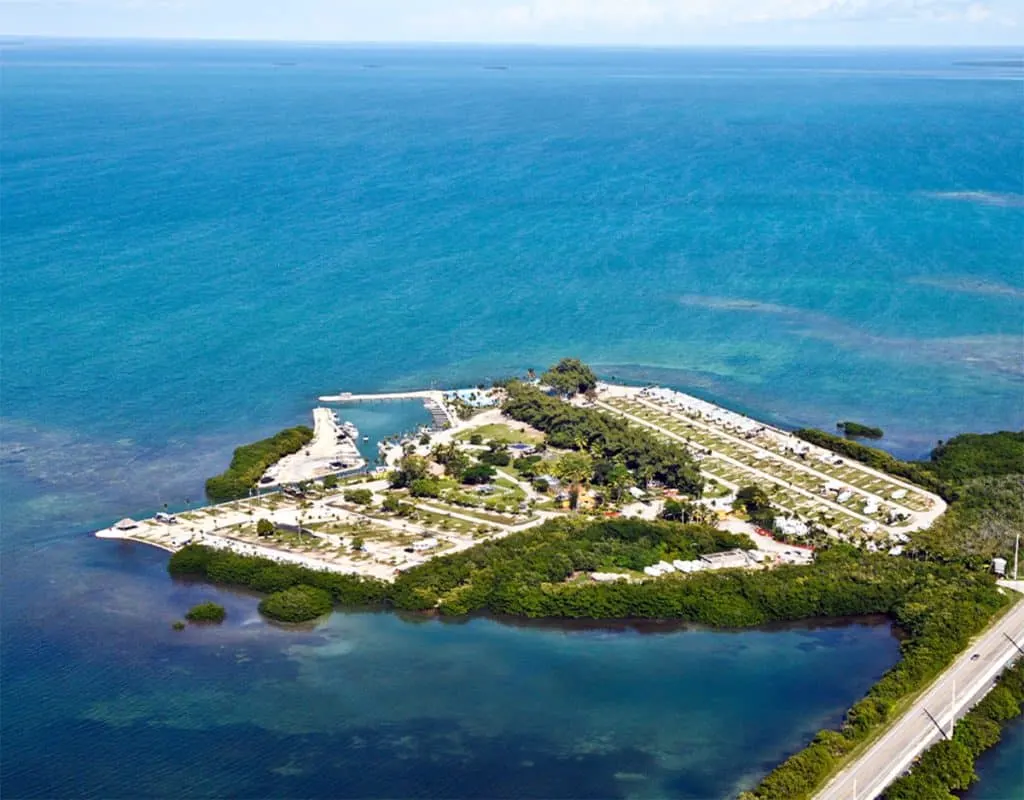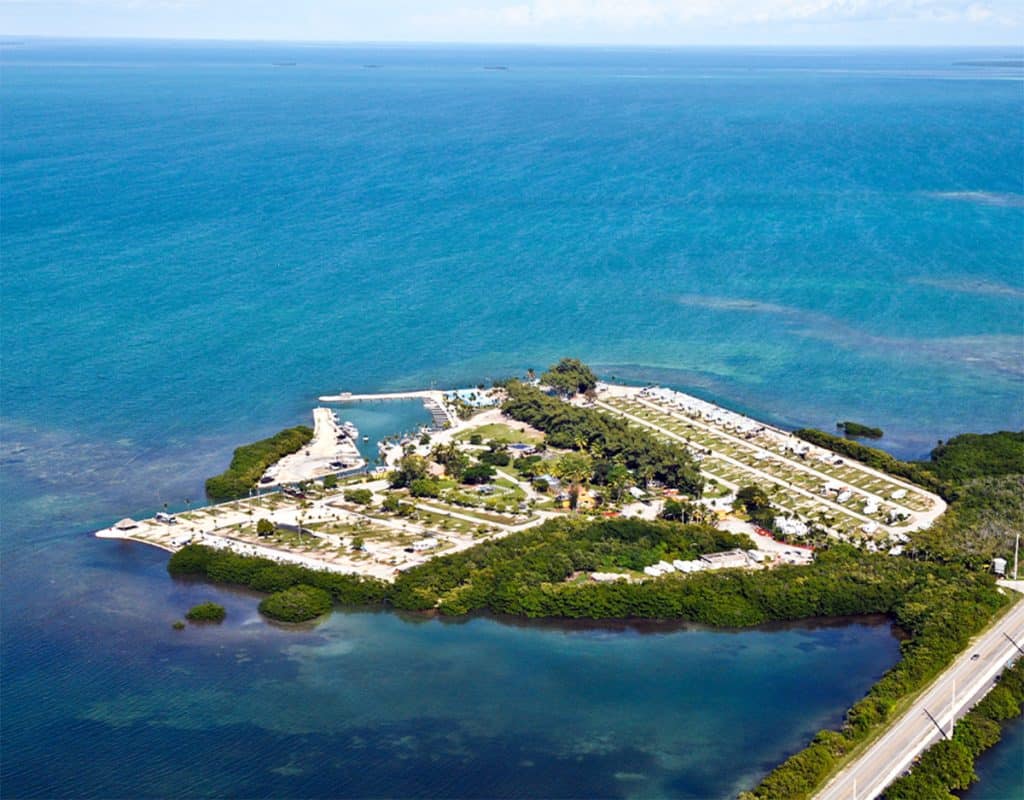 There is a marina on the Gulf of Mexico side with those epic sunsets. There is no cable (although that is in the planning), so this where you come to relax and chill.
There is a restaurant, beach bar, tiki bar and Wifi spots, plus a swimming pool and whirlpool hot tub. You're not far from all the other things to do and see in the middle keys, including Robbies for kayak and boat rentals and tours. Plus dining and a little souvenir shopping.
Choose from oceanfront, creek, lake or canal sites. This pet-friendly resort also has a boat launch area and fishing from the beach.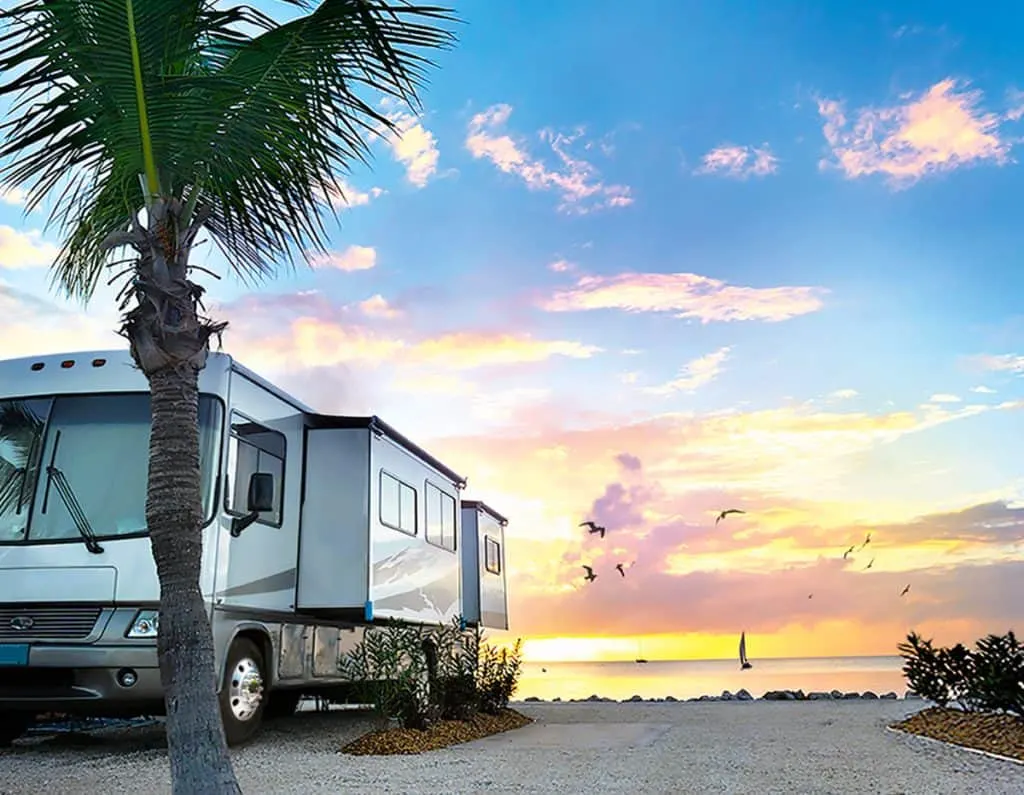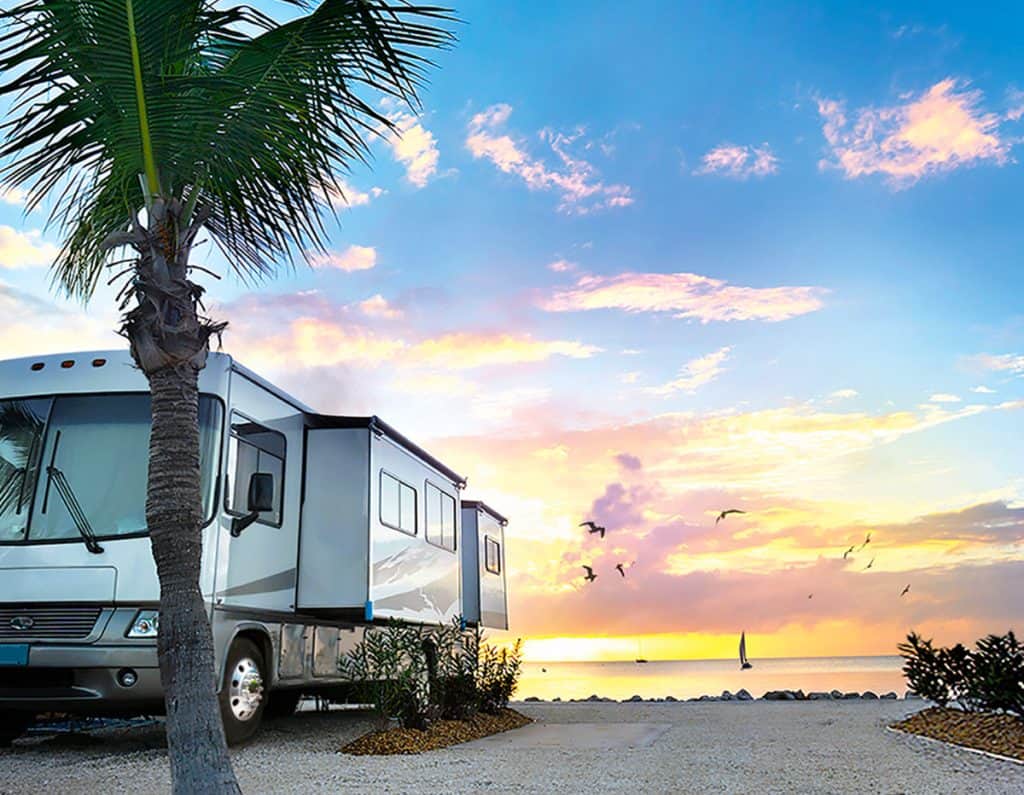 RV Parks in Marathon FL
Located in Marathon, the Middle Keys, halfway between Key Largo and Key West, Coconut Cay RV Resort is a must-visit on your tropical road trip.
If it's luxury RV resorts you're after, the newest resort on the Keys opened in 2020 and offers full hookups and boat docking and launching from the boat ramp.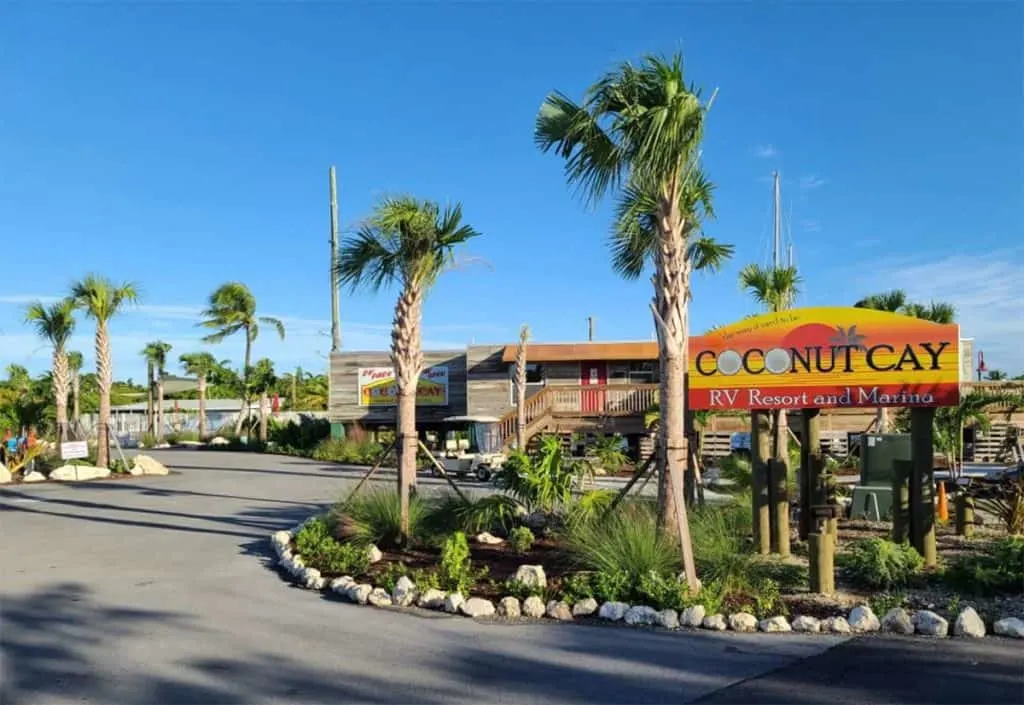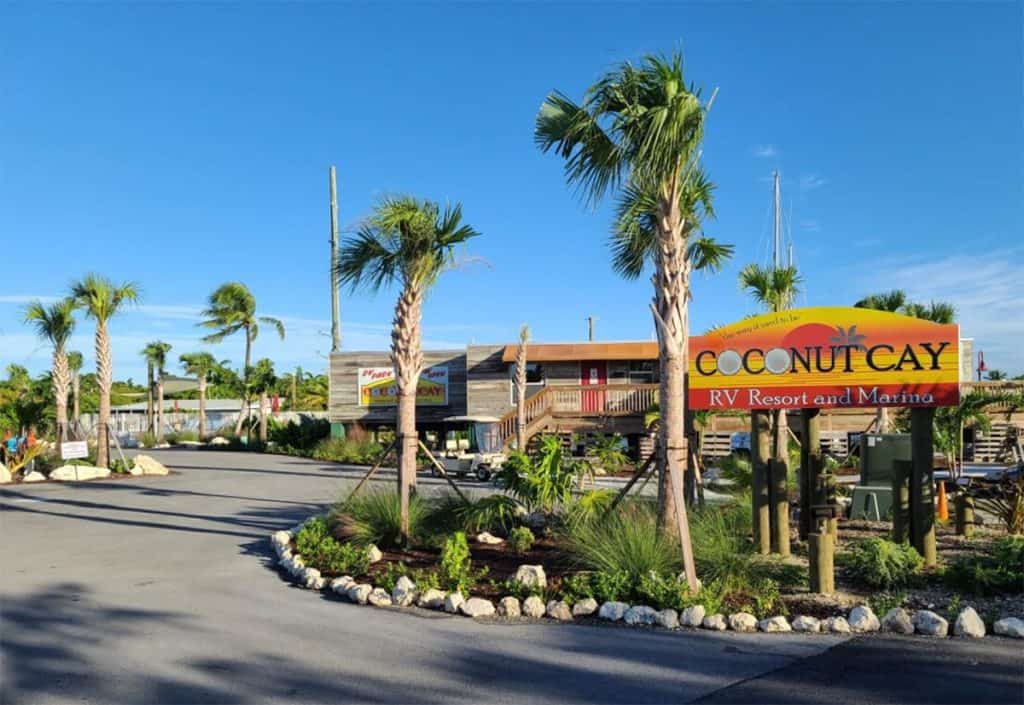 It is an excellent destination for large groups since the park has a bath and luxurious hot showers on site, plus laundry room and Cable TV.
Coconut Cay offers a variety of amenities including a swimming pool, a private beach, and a book exchange library. They also have bike and kayak rentals available.
But its central location also means an easy drive to Key West or other Florida Keys beaches each day and return back to your park at night. Make sure you're back in time for the beautiful sunset.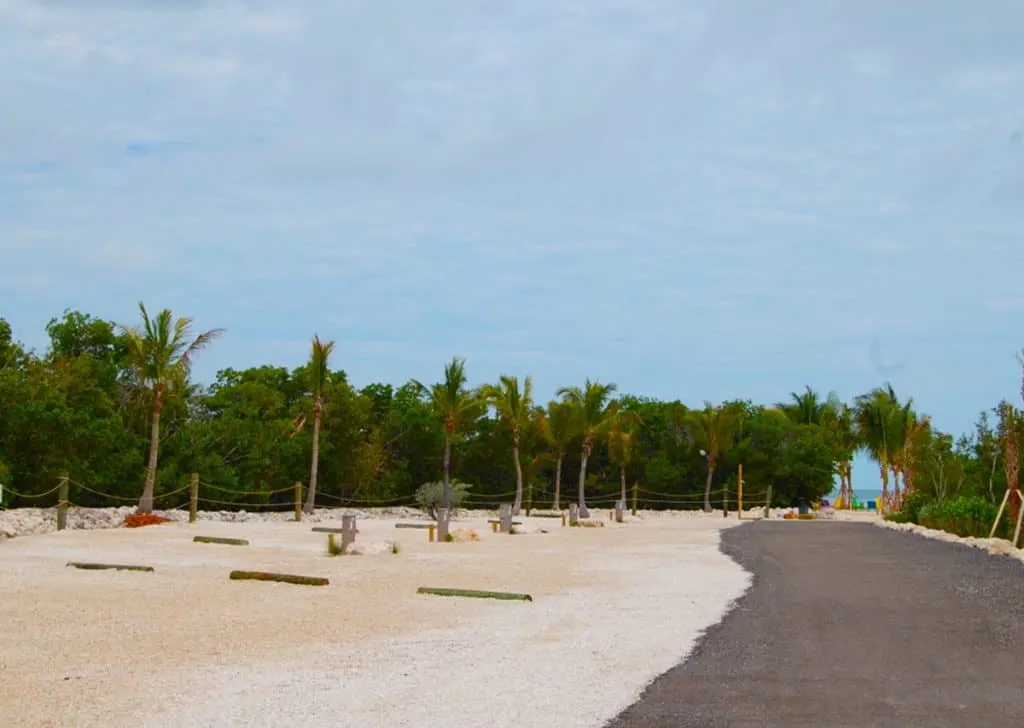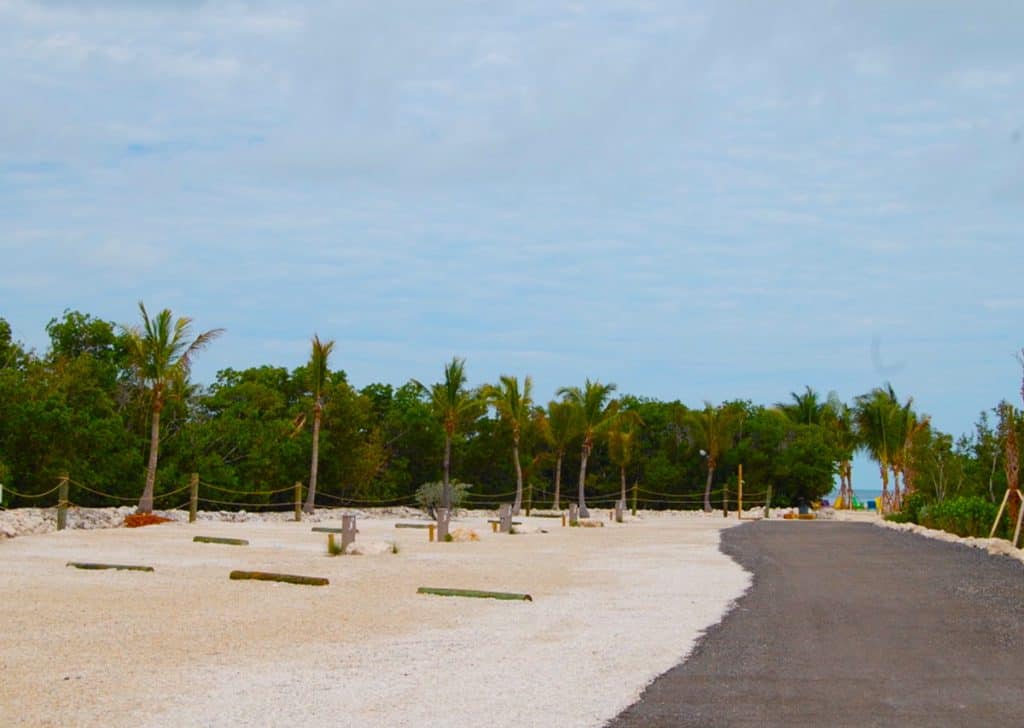 This RV Park is also pet-friendly, so your furry friends are more than welcome to tag along on your road trip. In addition, there are designated paths that are perfect for walking your dogs.
Each of the 25 pull-in sites offers electricity, water and sewer. Price varies based on the season but is typically around $200 per night. Contact the RV resort's office directly for more information and to make reservations.
Grassy Key RV resort boasts exceptional waterfront views and laid-back vibes. Located at Mile marker 58.7.
It is a beautiful campsite featuring a private white sand beach, swimming pool, and volleyball court, located on the Gulf side for stunning sunsets.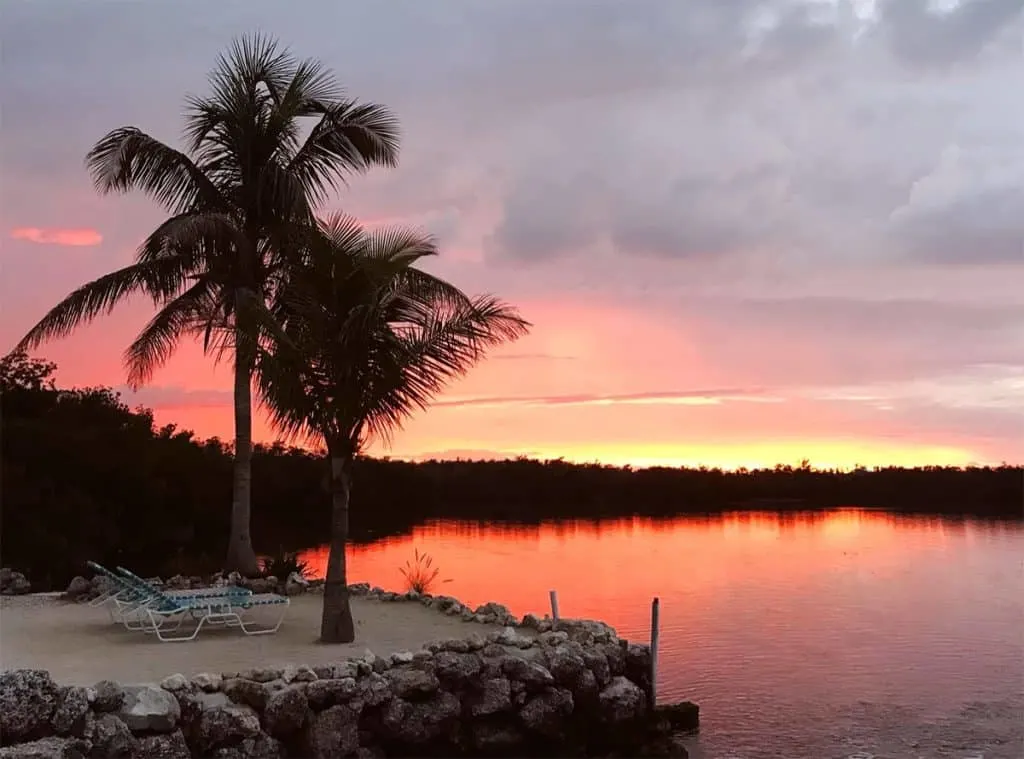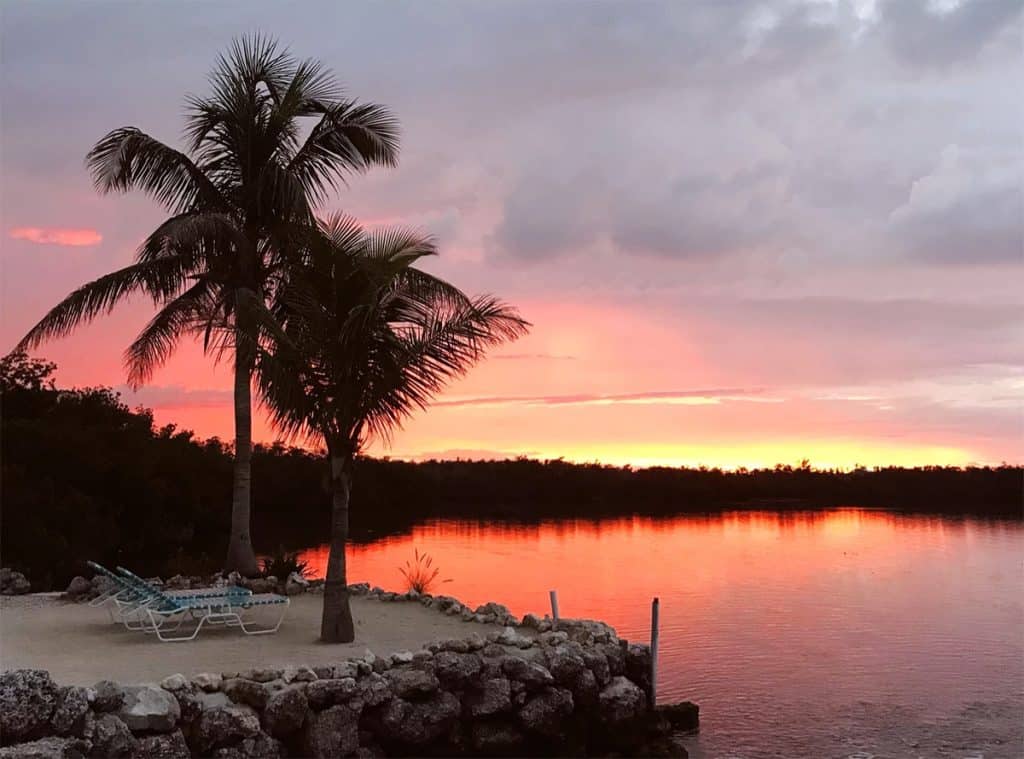 The resort is also close to noteworthy attractions such as the Dolphin Research Center, Turtle Hospital, and stunning Sombrero Beach.
Plus, the resort is pet-friendly, so feel free to bring your fur babies to this RV resort. You may also obtain Wi-Fi access at the clubhouse, which is ideal for the nomad traveler those working from home while traveling.
Rates begin at approximately $80 per night but are significantly higher during the peak season from mid-December through mid-April. The nightly cost will also be higher if you decide to stay at a waterfront hook-up site. There are also laundry facilities and a large pier if you bring your boat.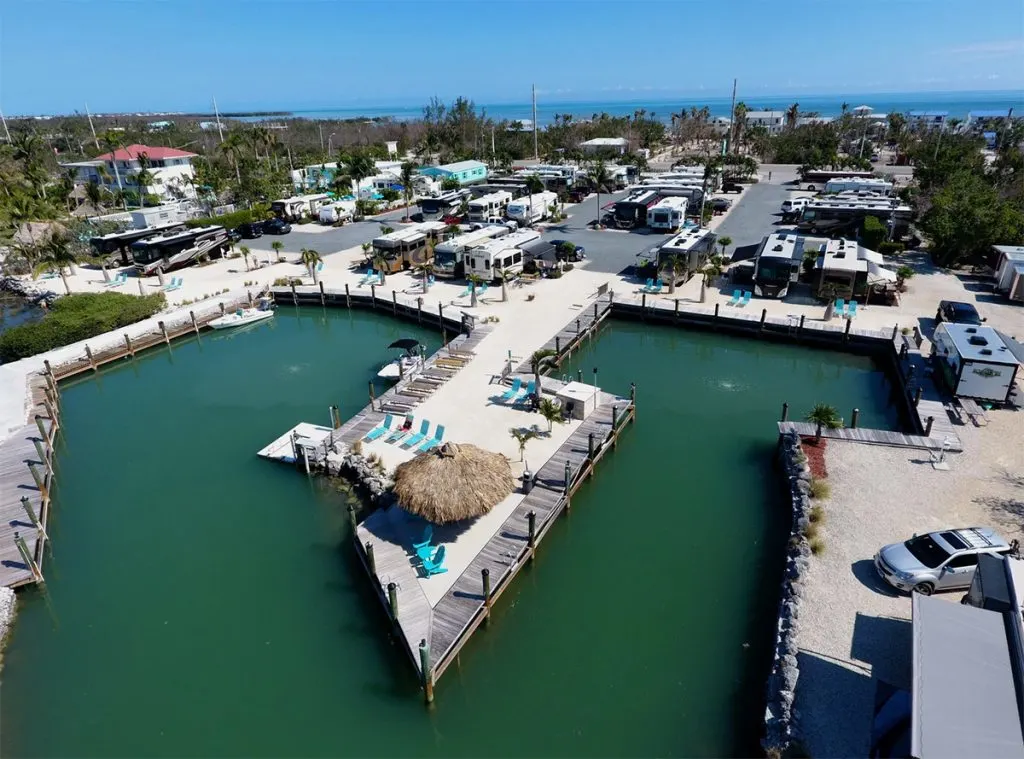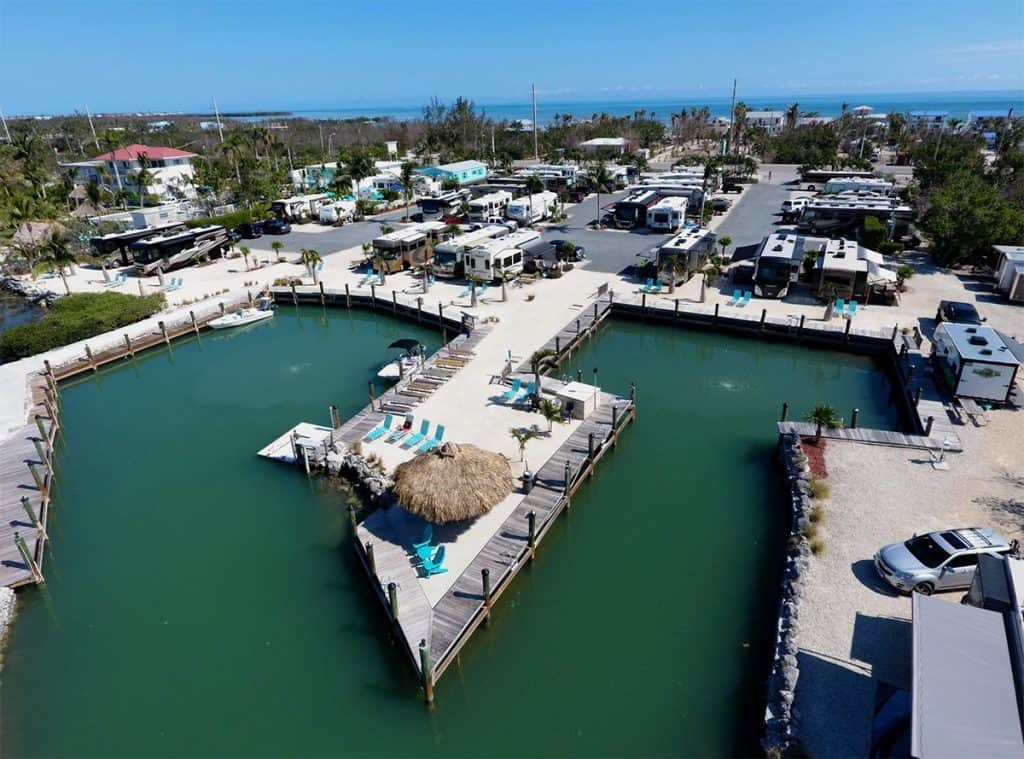 This RV park is an affordable and fun option for families sprawling over 11 acres.
Jolly Roger has a swimming pool, snorkeling gear rentals and an outdoor pavilion available to meet with other guests. Cable television and laundry. Wifi is available throughout the park, including at your individual campsite.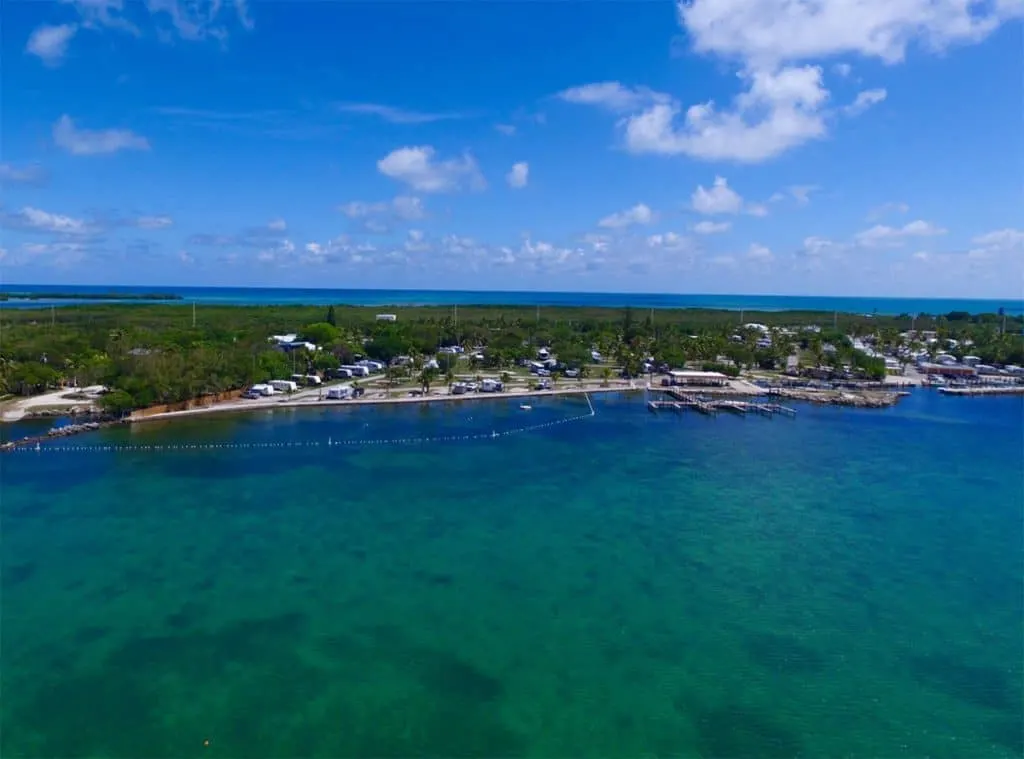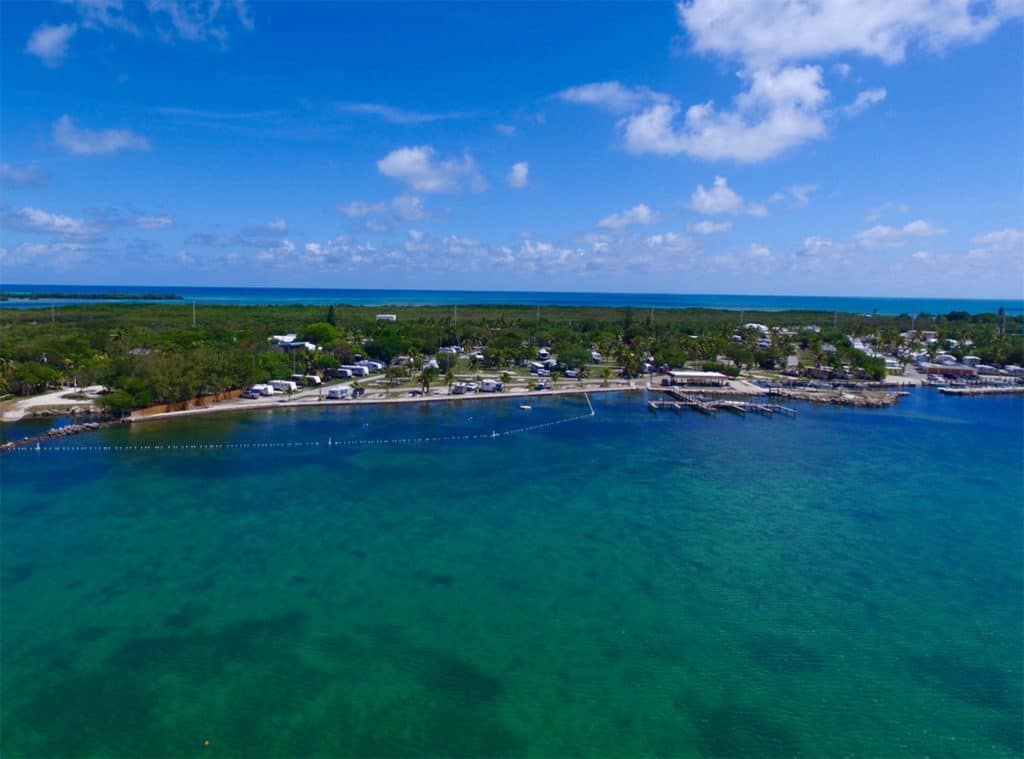 Pets are also allowed at the RV resort, especially at its gated "bark" dog park where your pets can play and run around safely.
Nearby is the Dolphin Research Center where you can swim with dolphins, plus you're a one-hour drive from Key West for a day trip.
There is great snorkelling here right off the dock and along the sea wall. Pets are welcome (limited to two per RV site). There is a nearby Bark Park where they can run off the leash.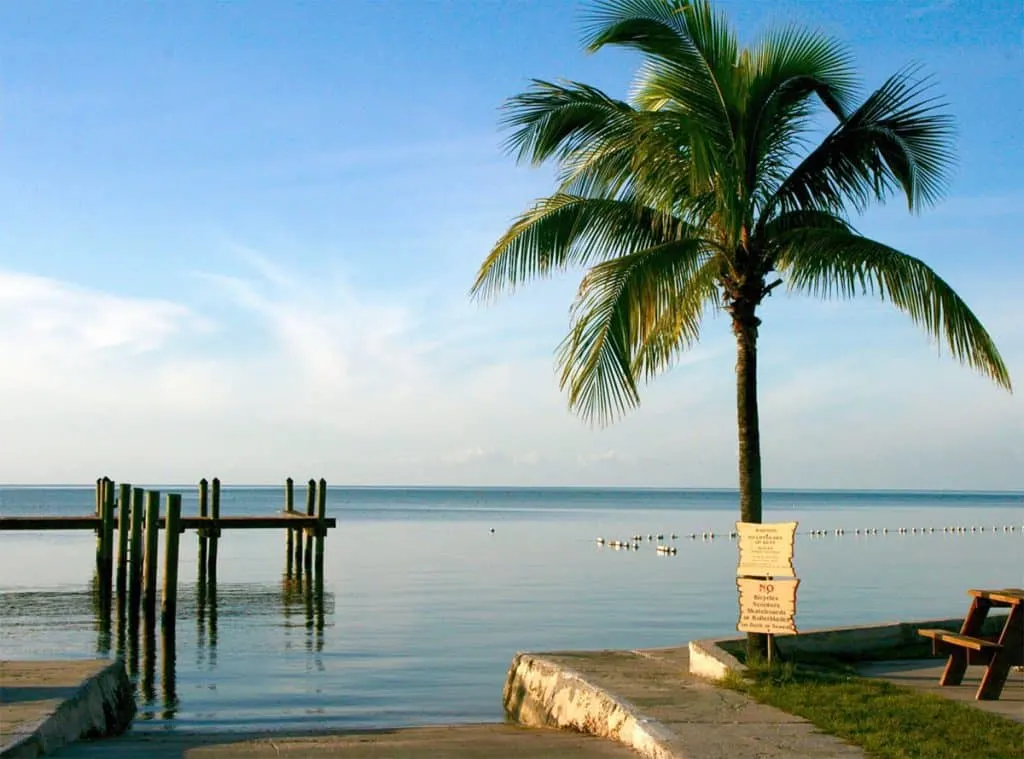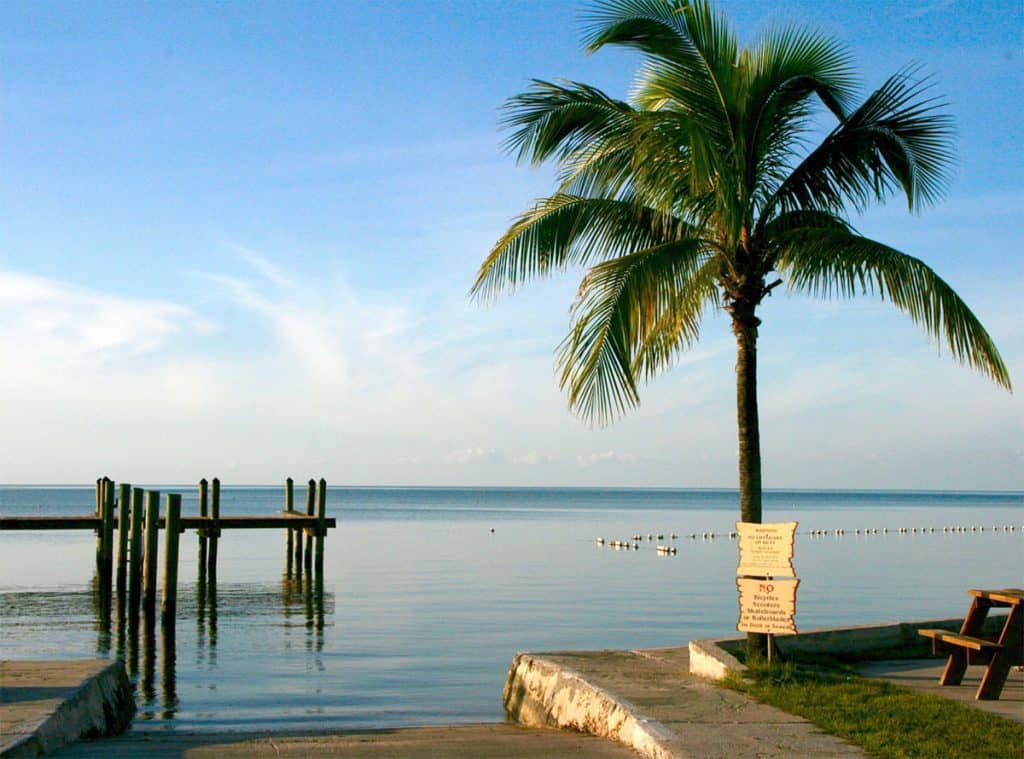 More than 160 sites are full hook up. Rates are currently set at $77 per night through November thanks to Jolly Roger's summer special offer. Although, daily rates typically start at $104 dollars and vary depending on site.
There are also plenty of things to do in Marathon, so plan to spend a few days exploring this key.
RV Parks in Key West
Key West is a busy town filled with shops, restaurants and bars and surrounds by beaches. If you're not staying here, you might want to visit for a wonderful day in Key West and visit the likes of Ernest Hemingway's house, try key lime pie and hit up some wonderful bars.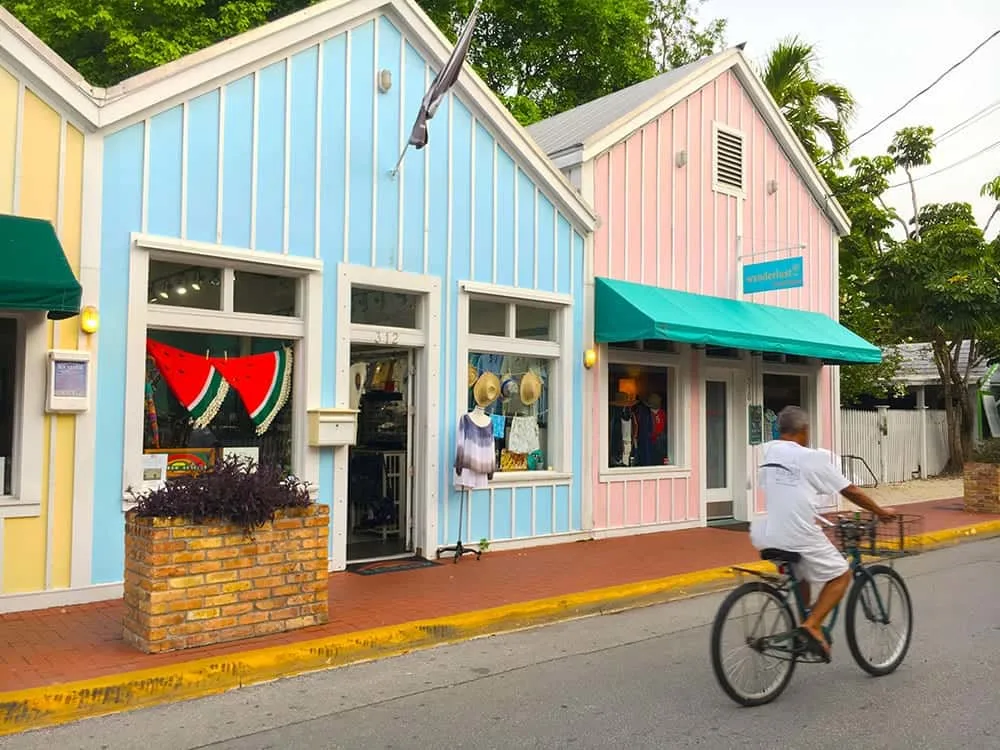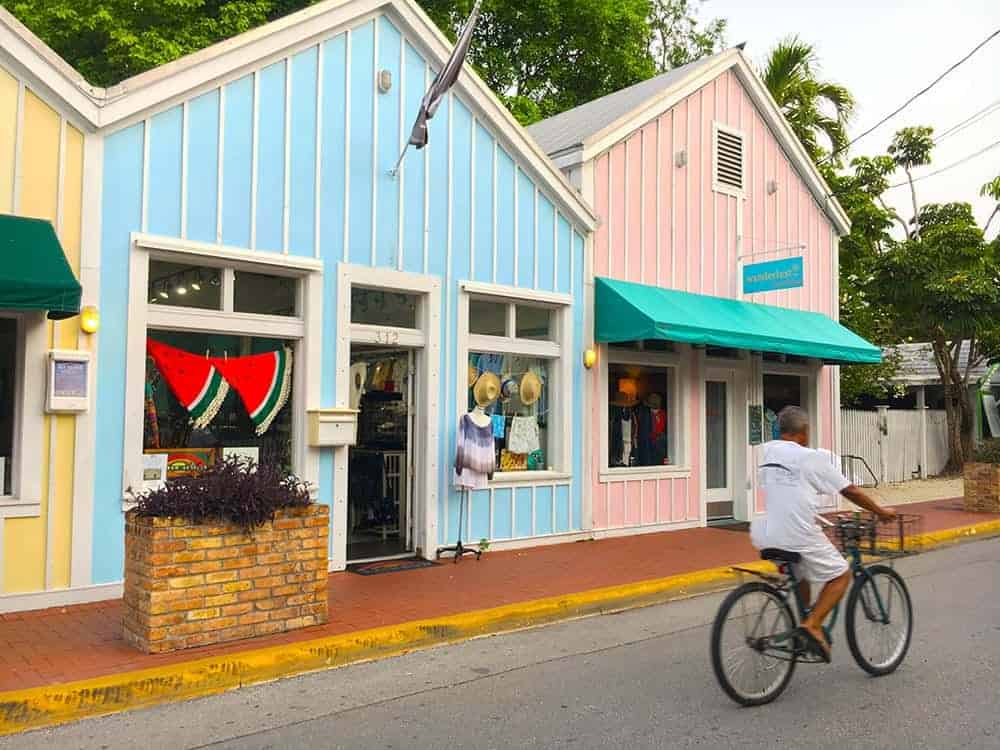 #Best family park
This iconic campground in the Lower Keys has been pleasing the tourists of Key West since 1963!
Boyd and Elsie Hamilton, the founders, loved everything about the Florida Keys when they traveled here to escape harsh Canadian winters. Thus, they started this business to provide a great place for families and other travellers.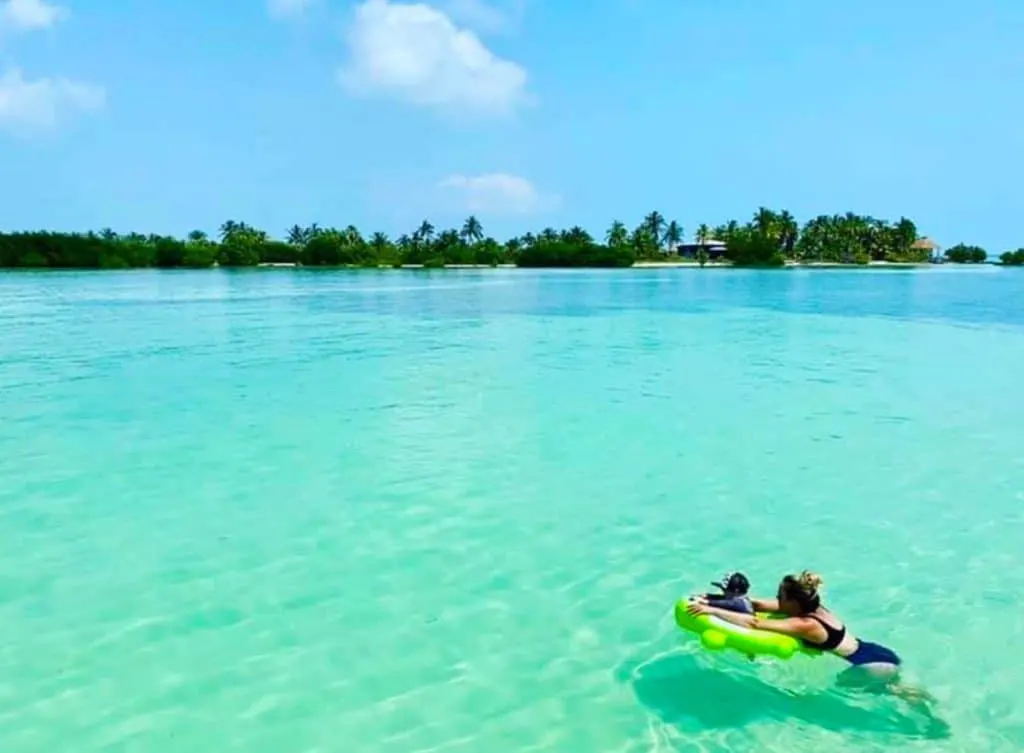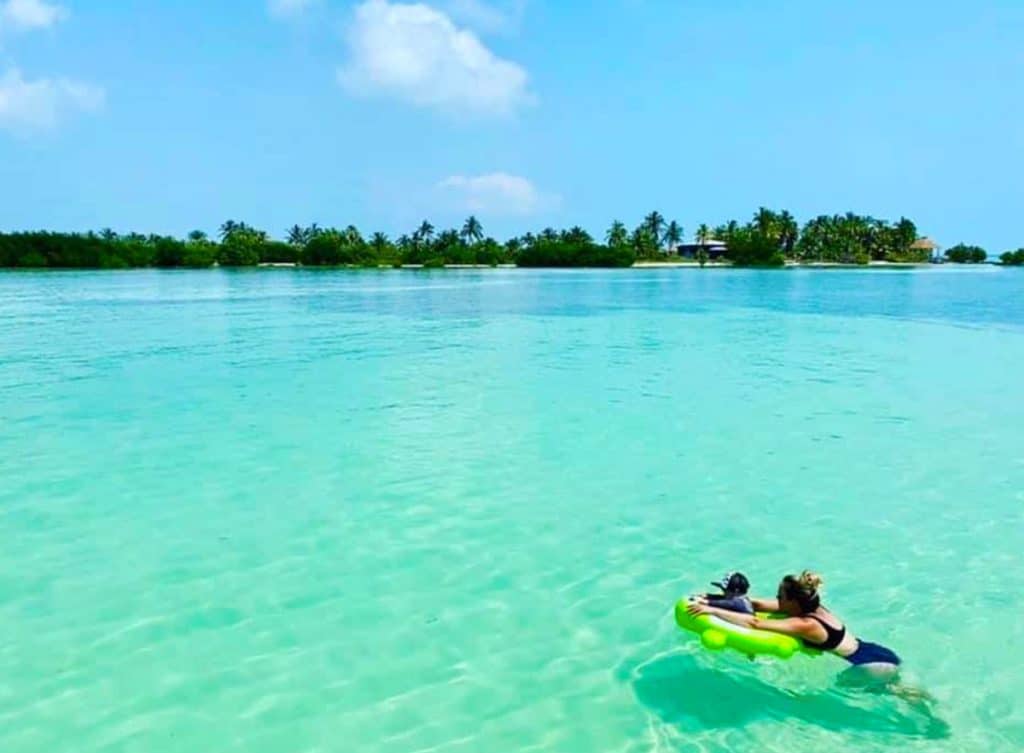 The facility has grown a lot since their opening weekend. The campground now has a game room, swimming pool, and even a general store.
Paddleboard and boat rentals are available onsite allowing guests to enjoy a day out on the water. In addition, the campground boasts a beautiful garden, fishing pier, and numerous bike paths for those who want to remain on dry land. If you're here to fish, you'll also appreciate the fish cleaning station. You can rent a golf cart to get around.
Rates for inland RV full hookup sites begin at $105 per night; waterfront full hook up sites range from $127 to $137 per night. If you are camping in a tent the cost will range from $61 to $77. It is also important to note that rates may increase depending on the season.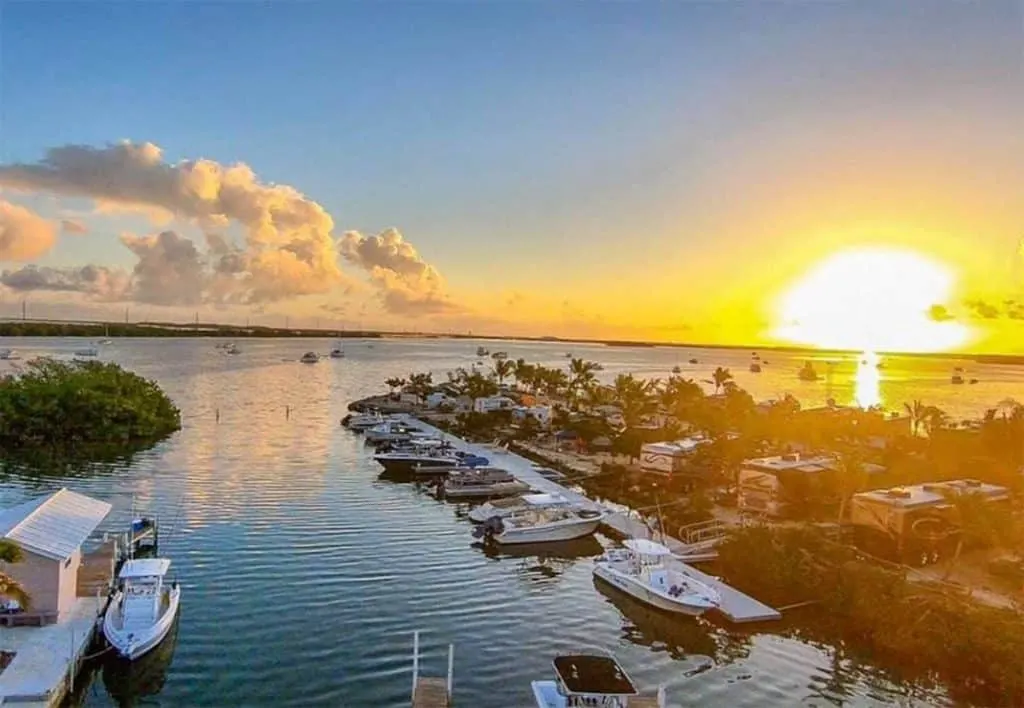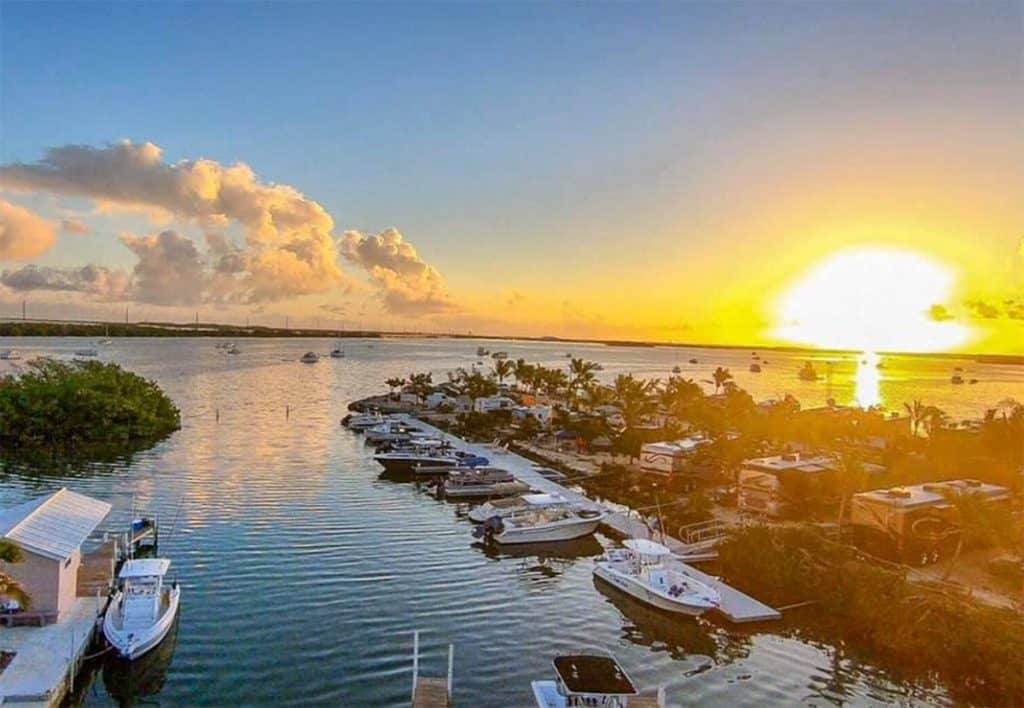 #Best adults park
Geiger Key RV Park has phenomenal waterfront views, clean campsites and a fun atmosphere. Many locals even head over to the campground to listen to live music and eat at their on-site restaurant, Fish Camp.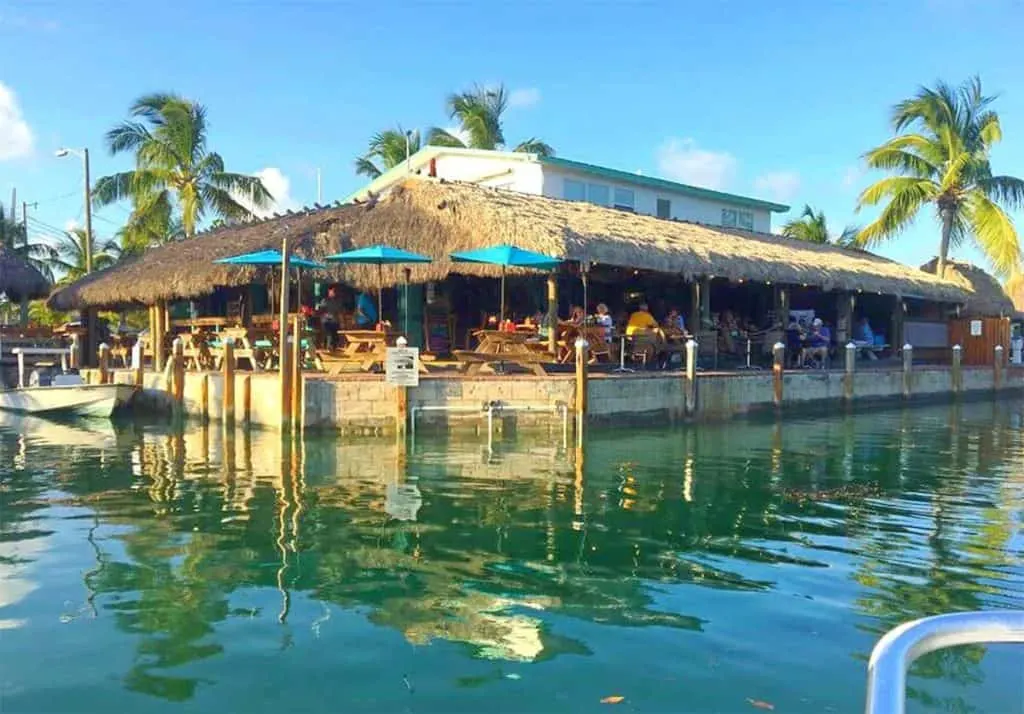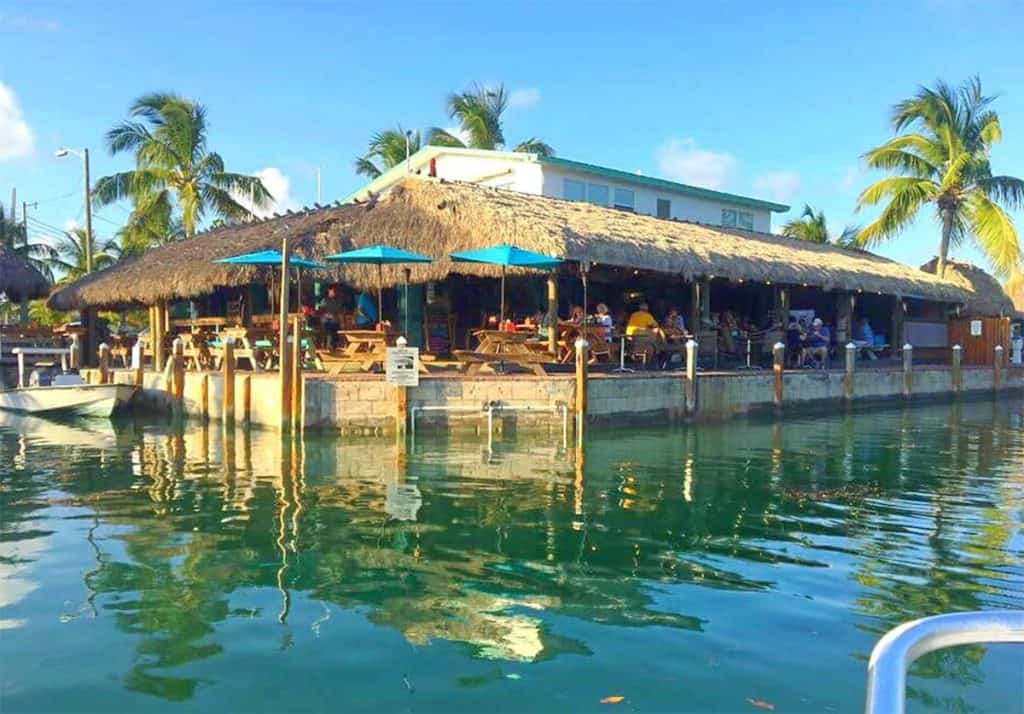 The menu offers exceptional seafood dishes including blackened mahi mahi sandwiches, seared tuna nachos, and lobster bisque. It also has a tiki bar serving up tasty (and strong) tropical cocktails.
This RV park is recommended for adults since there are no playgrounds or activities available for young children. If you are taking this trip with your friends or girl gang, Geiger Key Marina is a must-try on your Florida Keys roadtrip.
Rates start at $175 to $200 per night for waterfront hook up sites during peak season but are slightly lower from June through September.
The RV park also has some campers available to rent out nightly or weekly that can sleep anywhere from two to six people. Laundry facilities on site.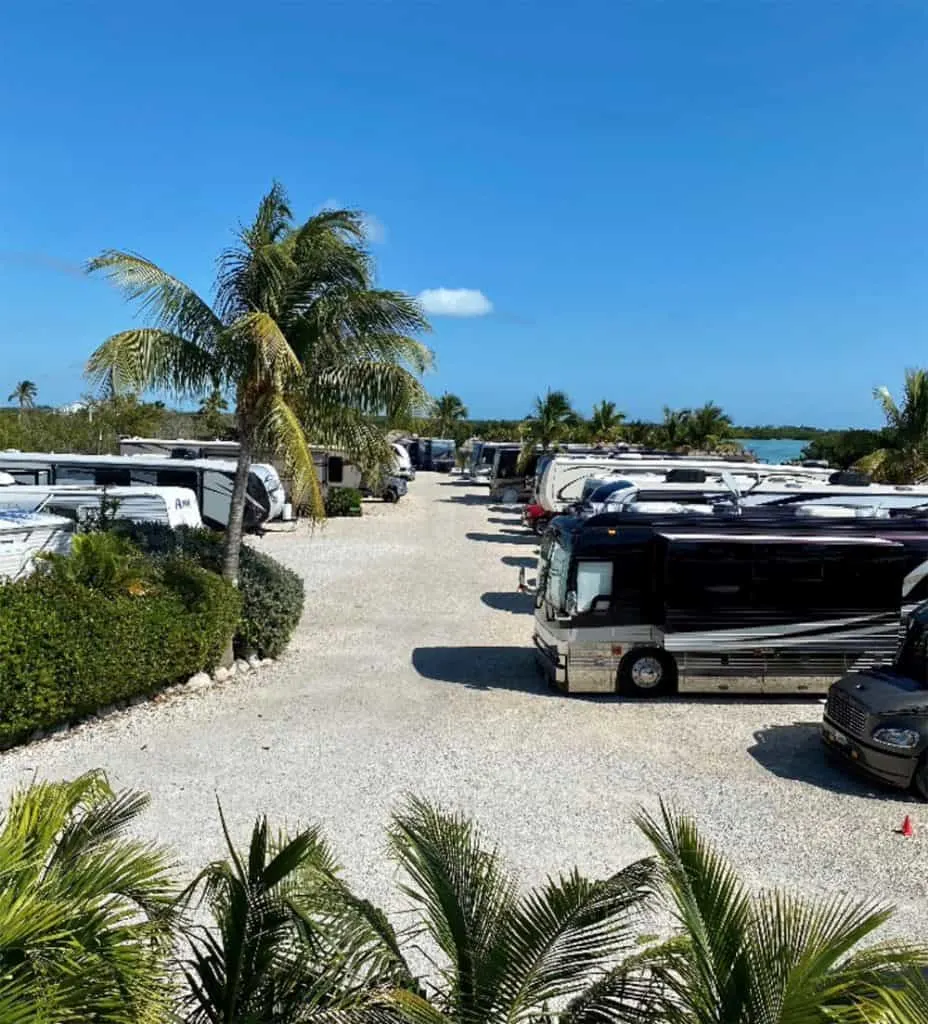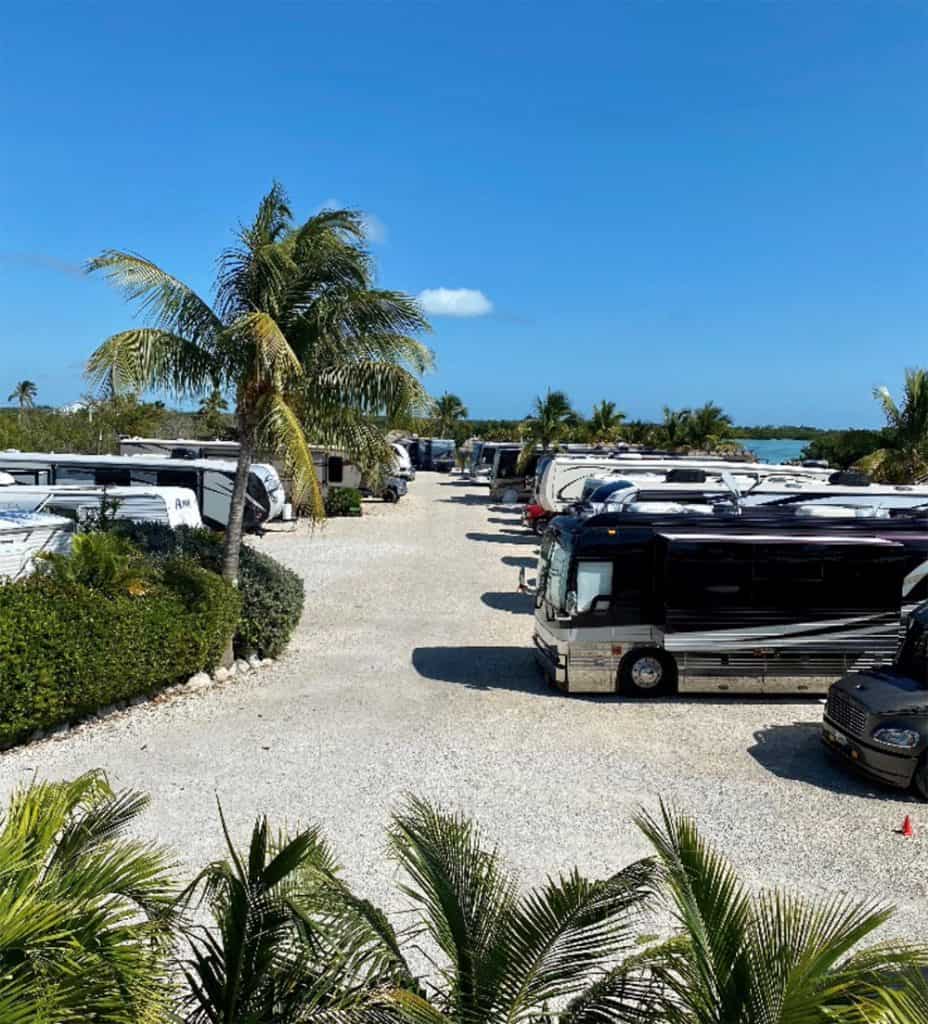 If you can imagine yourself playing a round of giant Jenga with waterfront views, Leo's Campground is the prime location for you. It is a family owned and operated facility that prides itself on showing guests excellent hospitality.
Besides oversized board games, Leo's Campground offers bicycle and electric scooter rentals that guests may use to explore the island.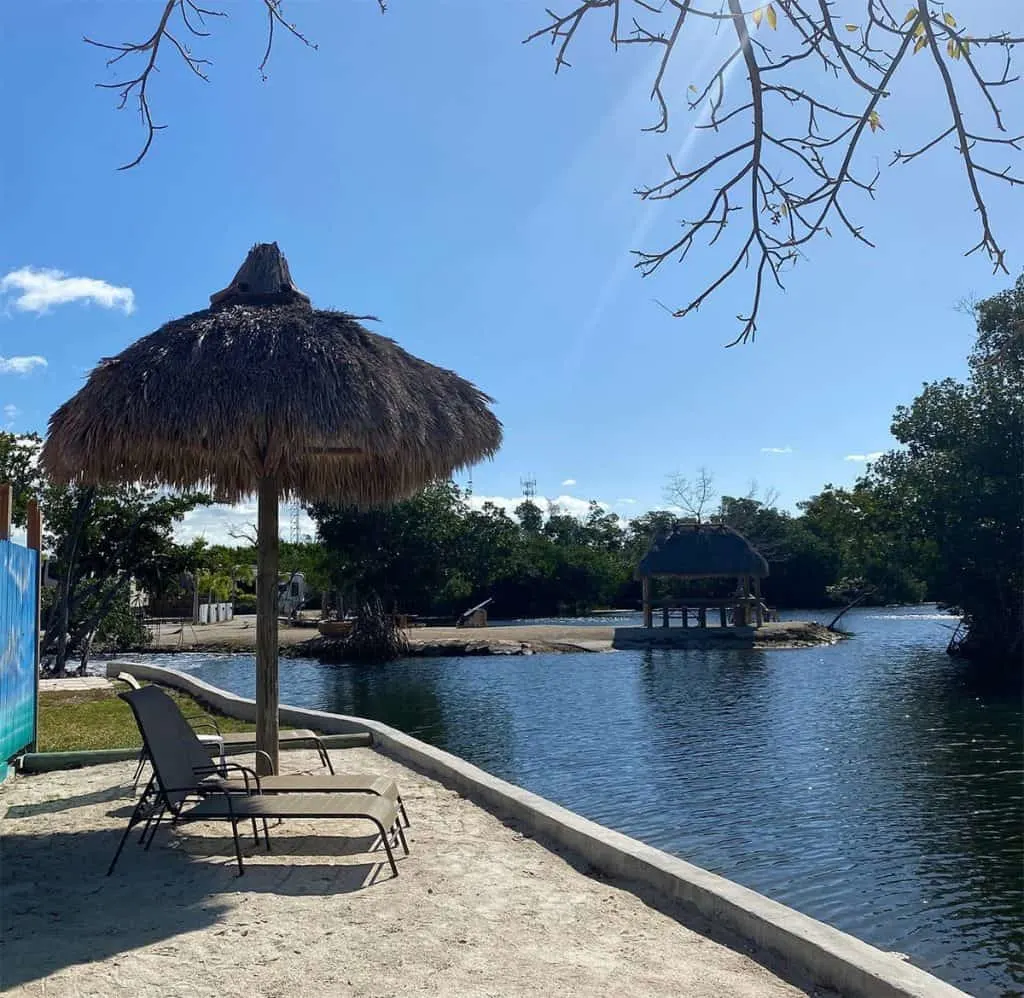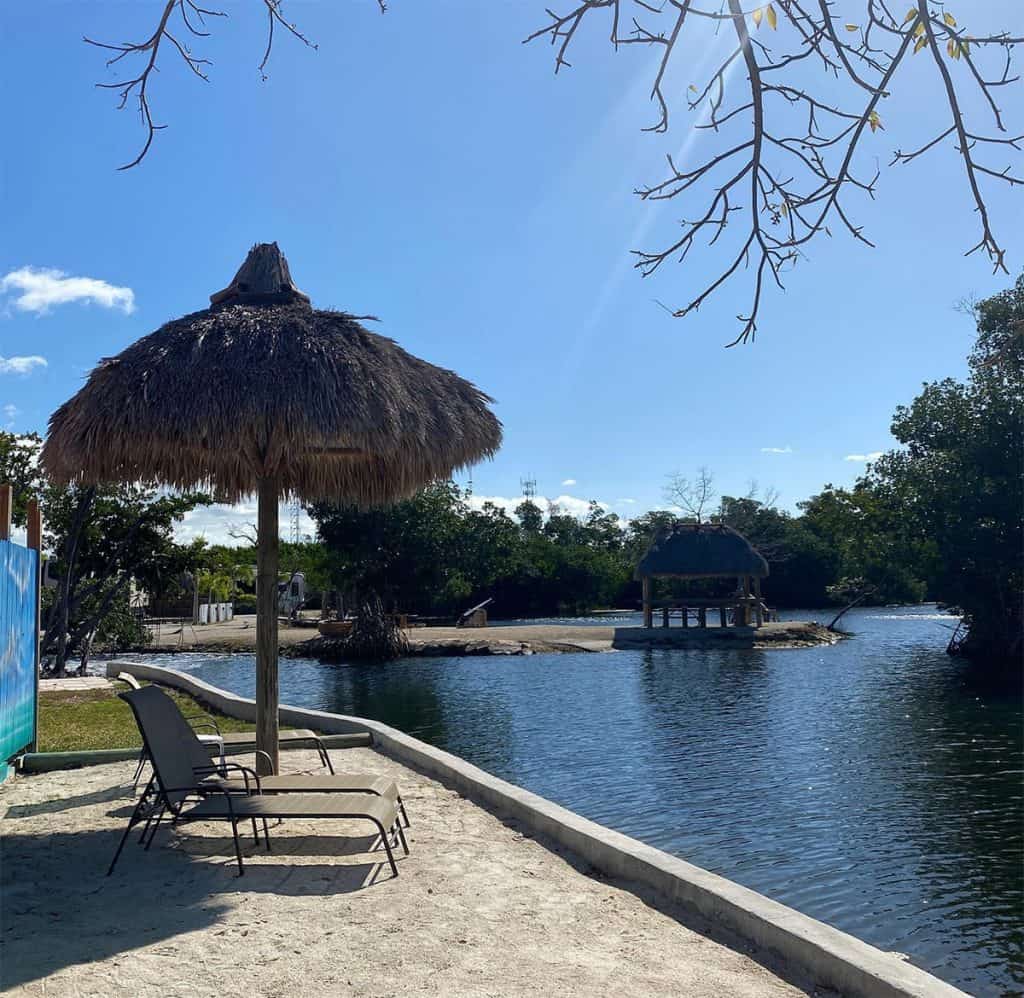 The staff also hosts nightly events at their group pavilion and tiki bar, including happy hours, movie nights, and cornhole tournaments. It is dog friendly and has laundry facilities.
All RV sites are full hookup and start at $89 per night off-season. Although the campground does not have a bathhouse so that is something you will have to consider if planning to stay here, you'll need to be self-contained.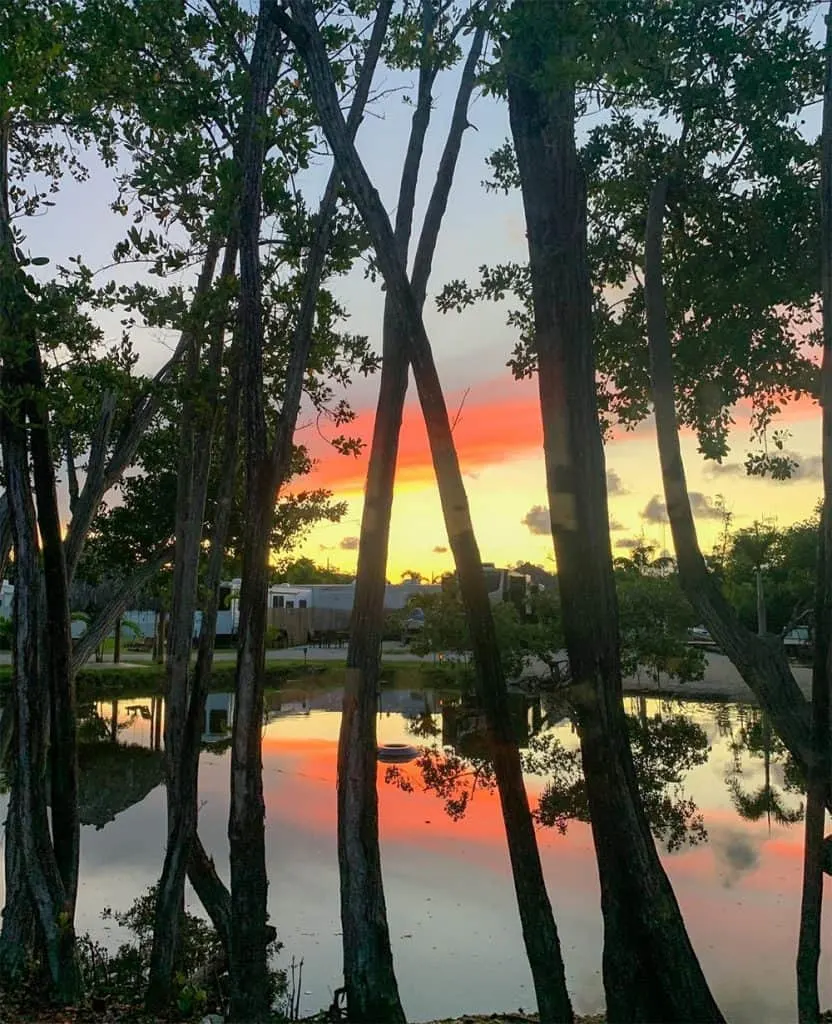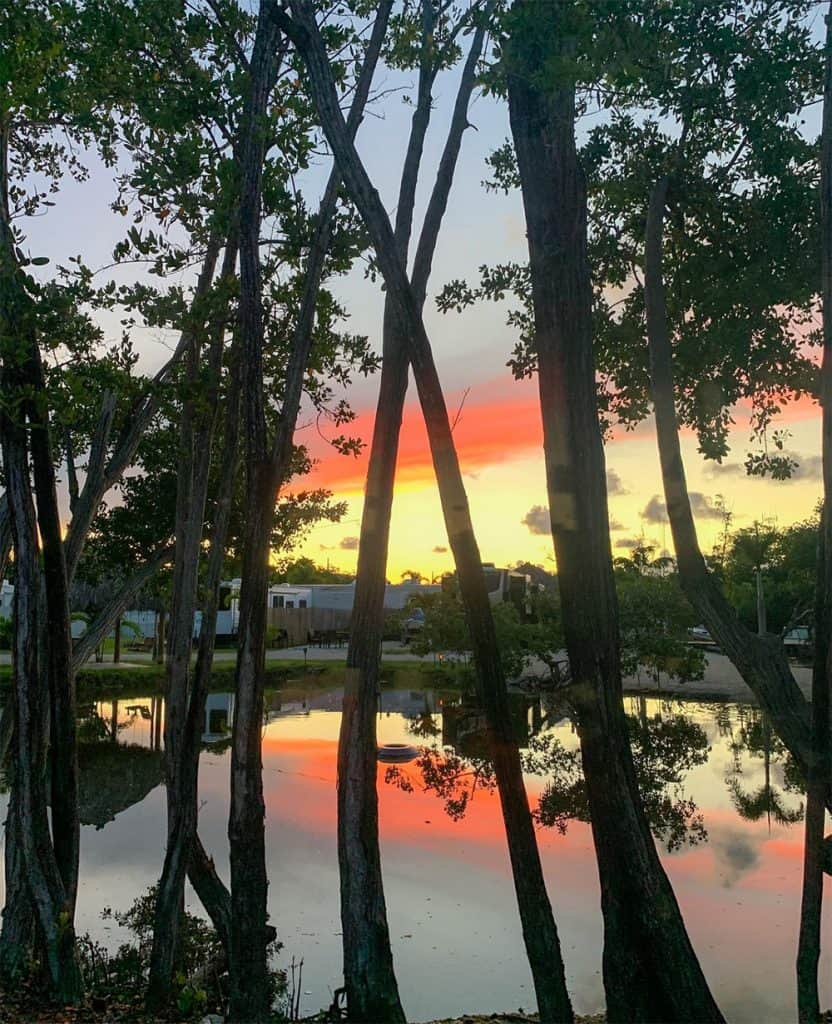 Read more: The best beaches on the Florida Keys for a dip – these provide wonderful places to stop for a swim or a snorkel on your way through.
Read more: My fabulous 4-day Miami to Key West drive for a great weekend getaway.
Read more: If you love photography and are thinking about getting a drone camera, read my reviews for the best drone cameras under $200, under $500 and under $1000.
Below are some of my favorite things to take on your road trip for RV living:
*These are affiliate links. If you make a purchase I may make a small commission.
Jump here to see my curated Amazon list of Beach Essentials to make your shopping easier!