I love flea markets! I'm totally hooked on the TV show Flea Market Flip hosted by the gorgeous Lara Spencer, and if you're as in love with that show as me, you'll know she regularly goes to flea markets in and around New York City.
Don't get me wrong though, I'm probably even more in love with shopping malls and outlets. If you are looking for the best NYC neighborhoods for shopping, I've got you in this post.
But have you ever wondered why flea markets are called flea markets? Well I Googled so you don't have to.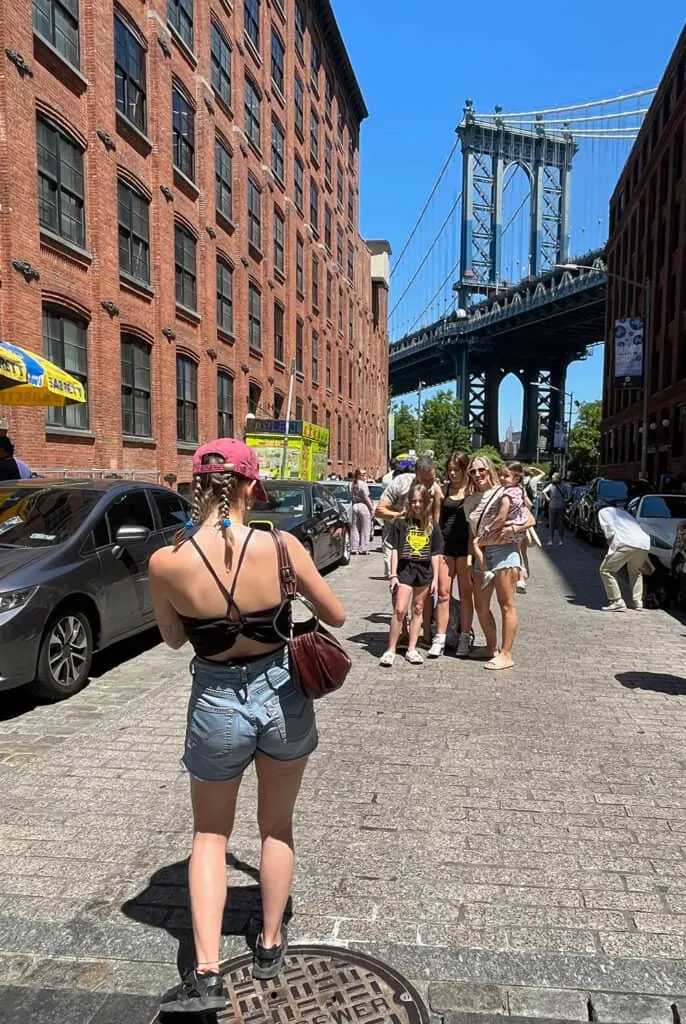 There are two opinions, but the main one is that it comes from the French phrase marché aux puces, first seen in the 1860s to describe an outdoor bazaar in Paris, where old furniture would literally be for sale and full of fleas. Uggh.
These days there are no jumping biting bugs in sight at the many flea markets spread across the five boroughs of New York City.
Flea markets are some of the more unusual and fun things to do in NYC, but they're not on most visitor's bucket list.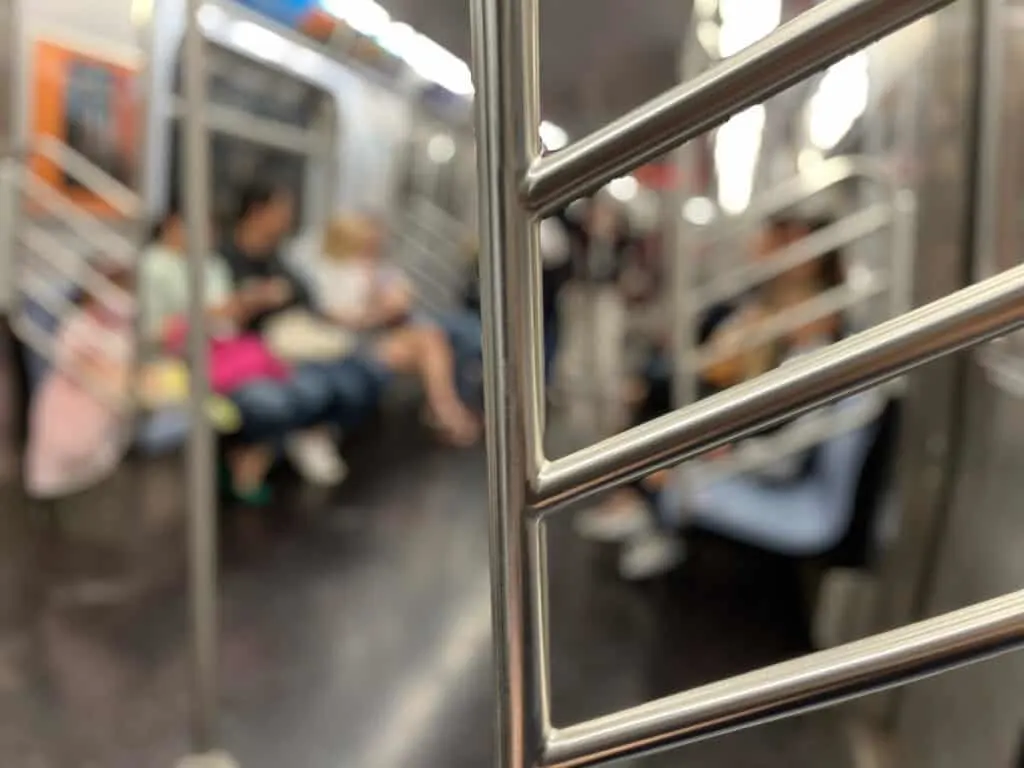 You'll find local merchants and food vendors in pop-up shops selling their fascinating wares, some handmade, some antiques. A day spent at the market scoring unique goods or vintage clothing is a day well spent in my book!
If you only have one day in NYC, maybe you're here a day early for a conference or you've got a layover, this post covers how to spend one perfect day in New York, including shopping and some fab places to stop for lunch and dinner.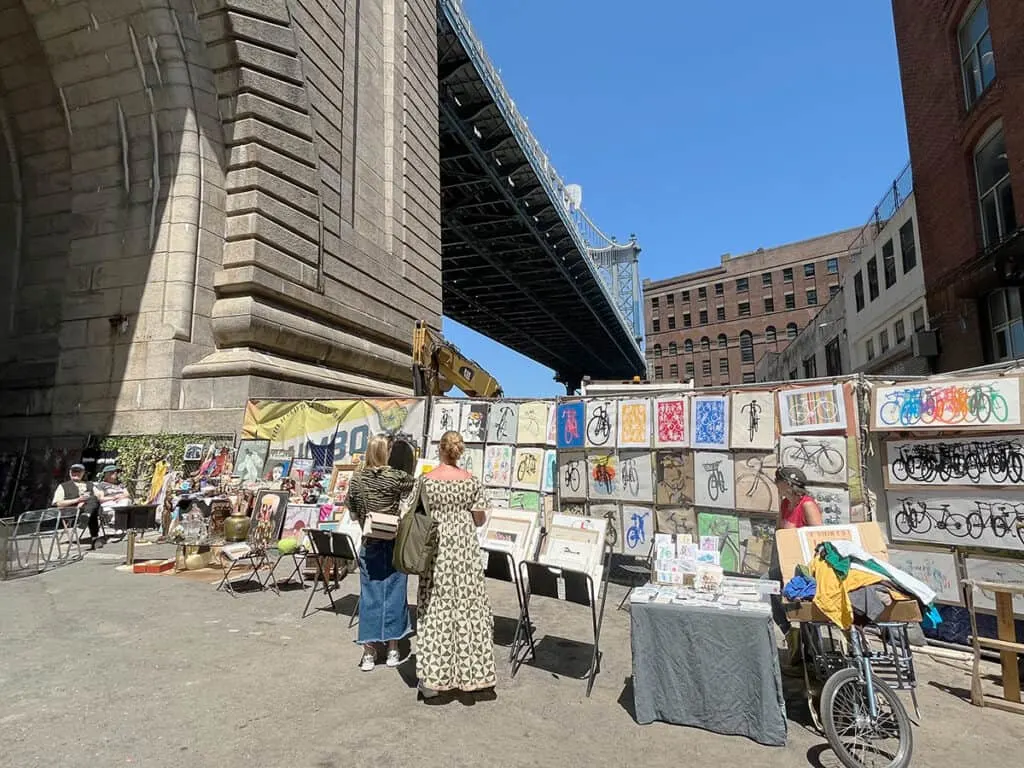 New York can be a very expensive city, but these markets are not only fun, but great places to snag a bargain. If you want more info on how to do New York on the Cheap, you'll like this post too.
So without further ado, here are my top picks for some of the best flea markets in NYC including indoor markets, large-scale outdoor markets and even a nighttime flea with fab live music.
Nestled at the front of Chelsea Market, the eclectic, indoor Artists and Fleas market has so many unique and vintage finds to offer.
Artists & Fleas at Chelsea Market is home to over 30 vendors that fluctuate all the time, therefore expect to see different items with each visit.
The market has several merchants that bring in handcrafted crystal jewelry and funky sunglasses, art prints, handmade soaps, clothing and vinyl records.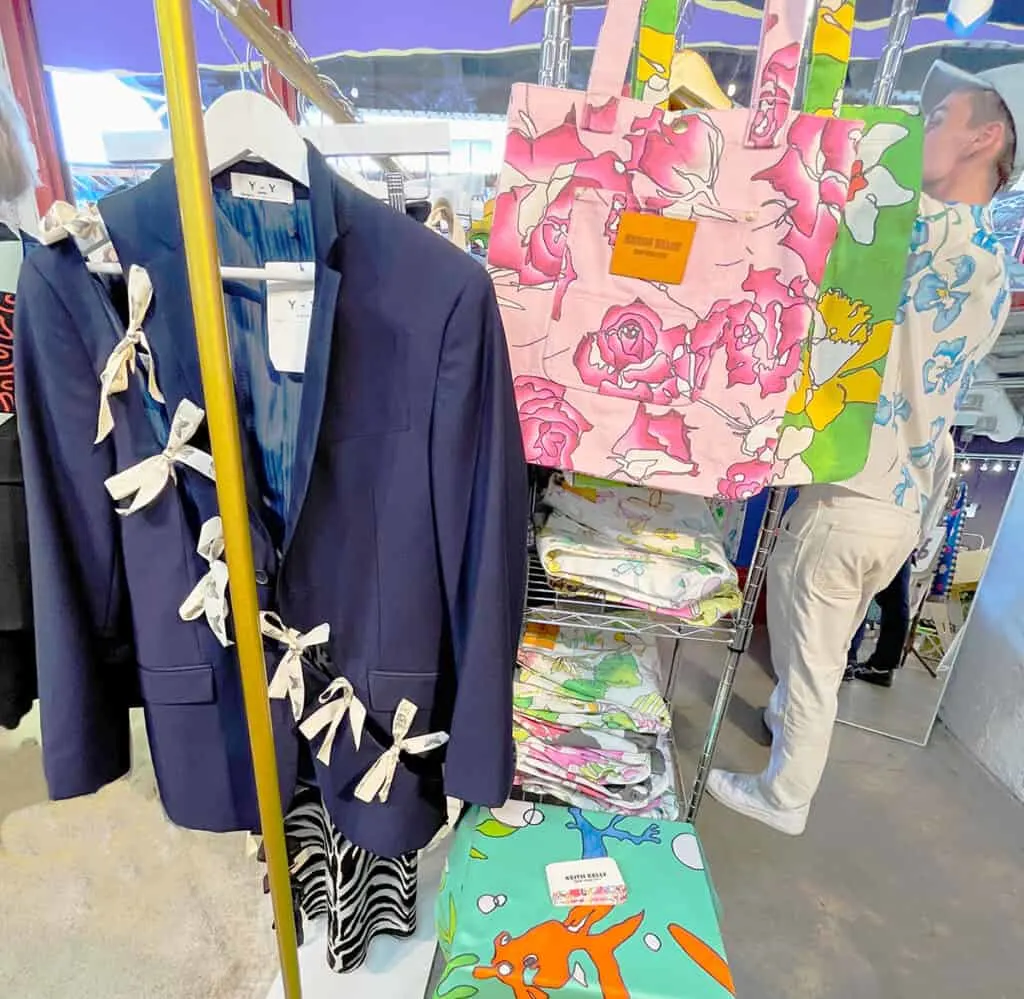 It is an excellent spot to start your trip to the famous Chelsea Market. Then head straight over to the High Line after you enjoy some tasty food at one of the market's various restaurants.
Some particularly delicious dining options include the grilled cheese from Creamline, Friedman's for yummy brunches, and Carne Asada tacos from Los Tacos No. 1.
Located at 88 10th Avenue and W 15th Street. Open Thursday through Monday.
This lovely flea market is one of the most popular ones in NYC located in DUMBO under the photogenic Manhattan Bridge.
There is genuinely so much to see and purchase at Brooklyn Flea. From vintage clothing to well-designed glassware, you are sure to score some unique finds.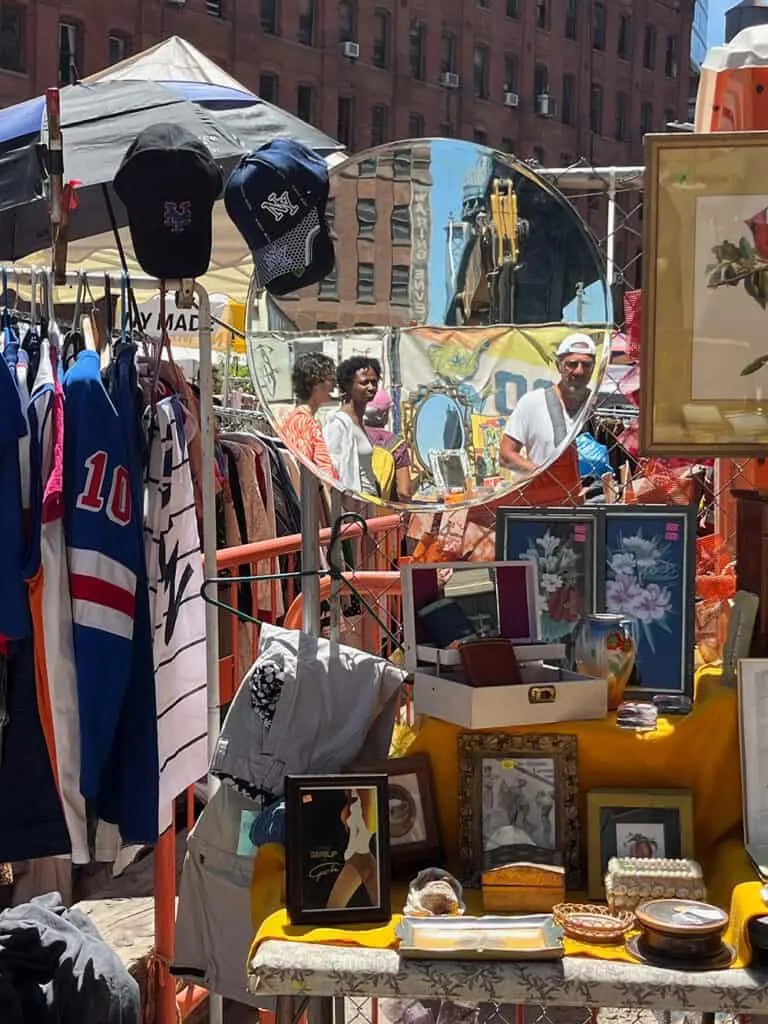 Plus, they have a stand with various vintage cameras that make for a cool Instagram-worthy photo opportunity. If that is not up your alley, you may enjoy one of the market's handmade items like coasters or leather bags.
Brooklyn Flea is open weekends, rain or shine, at two separate locations. On Saturdays, it is held in Williamsburg at 90 Kent Avenue. Or you can catch the flea market set up at the iconic Manhattan Bridge Archway in DUMBO on Sundays.
Several food vendors are also available at the market, so you can enjoy some tasty treats while you shop.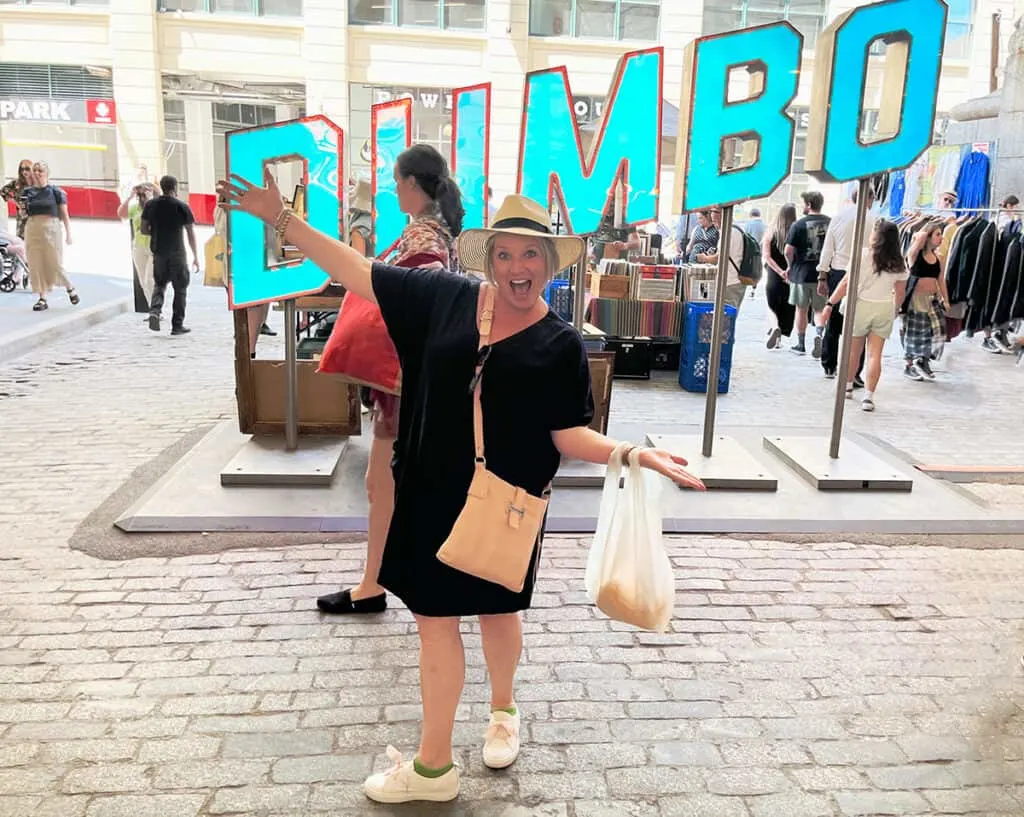 Located on West 25th Street, Chelsea Flea is a must-visit for anyone looking for crazy good flea market finds.
Over 50 vendors at the flea market sell a myriad of items including handcrafted African masks, quirky furniture and musical instruments. The market also offers an excellent vinyl record and vintage magazine selection.
Chelsea Flea also has a fully stocked bar on-site so that it can act as a perfect pregame destination or before a night out at one of the area's many bars and dreamy rooftop restaurants in NYC.
In addition, food vendors from Smorgasbord (a famous weekend food market) set up shop at Chelsea Flea.
If you plan to visit Chelsea Flea, we highly recommend bringing cash as several vendors do not accept credit cards or electronic payments. The market is situated between 5th and 6th avenue every weekend.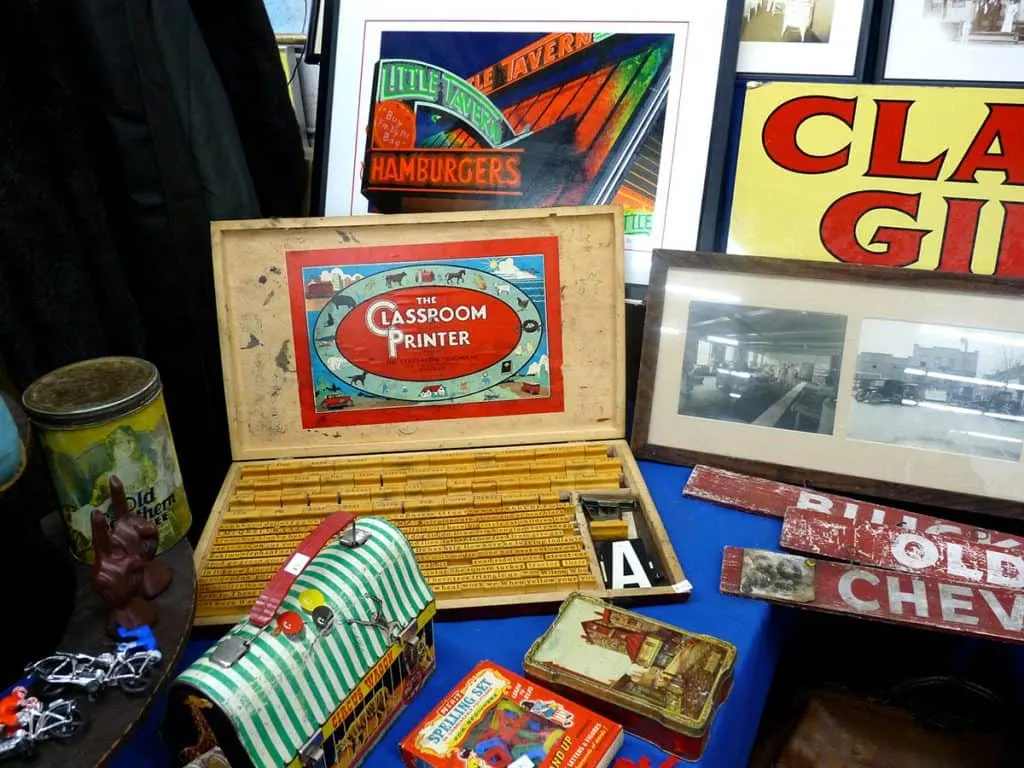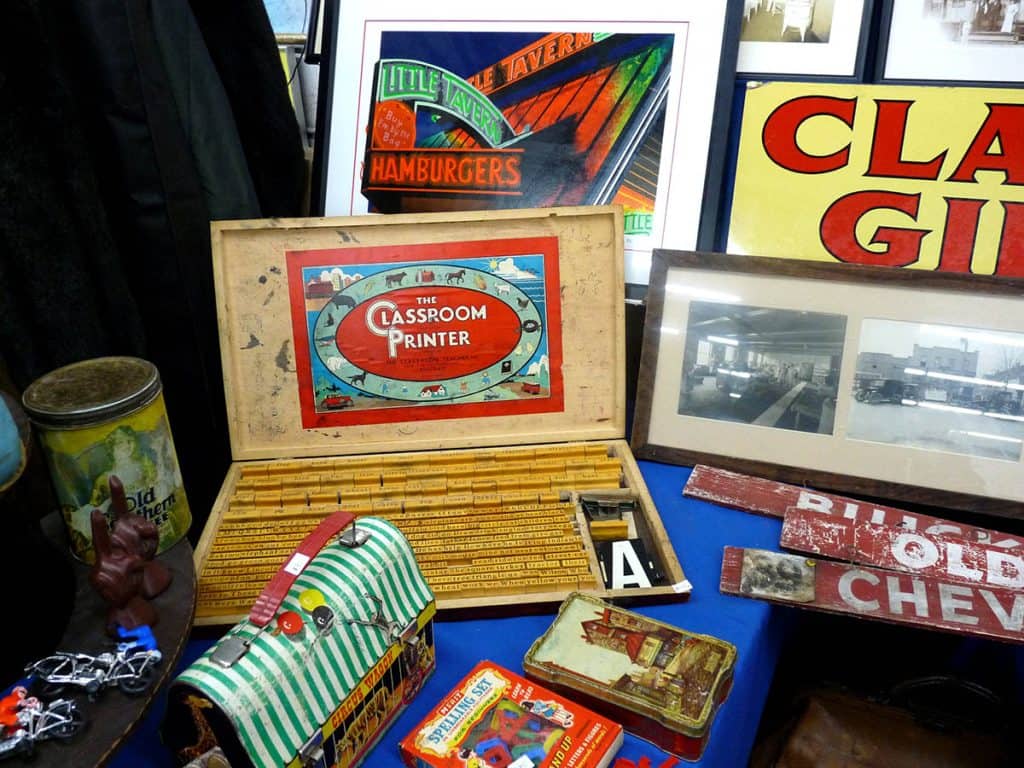 To shop at the largest flea market in NYC, head over to the upper west side to check out Grand Bazaar.
It is also the oldest flea in New York City (formerly known as Green Flea Market). It has remained open due to the community's continued support.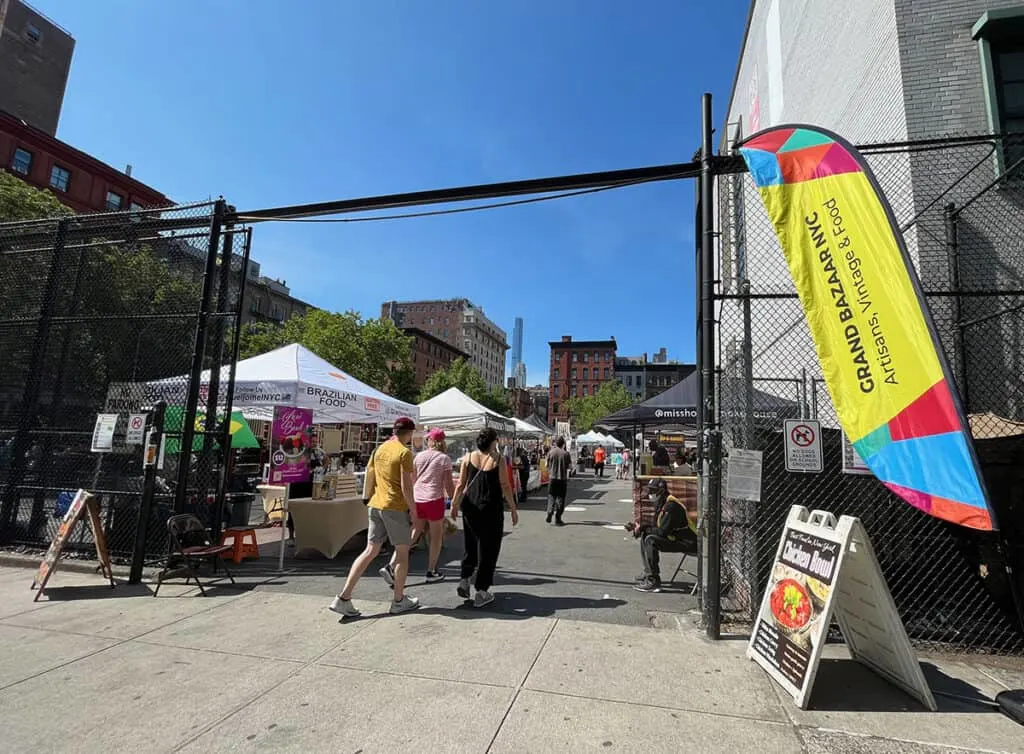 Each Sunday they offer a different theme and experience, allowing frequent shoppers to snag new items.
This fabulous flea provides a diverse assortment of antiques, collectibles, and vintage finds at the tip of your fingers, from spiritual crystals to seventies-style flared jeans. I fell in love with these travel-inappropriate crystal chandeliers!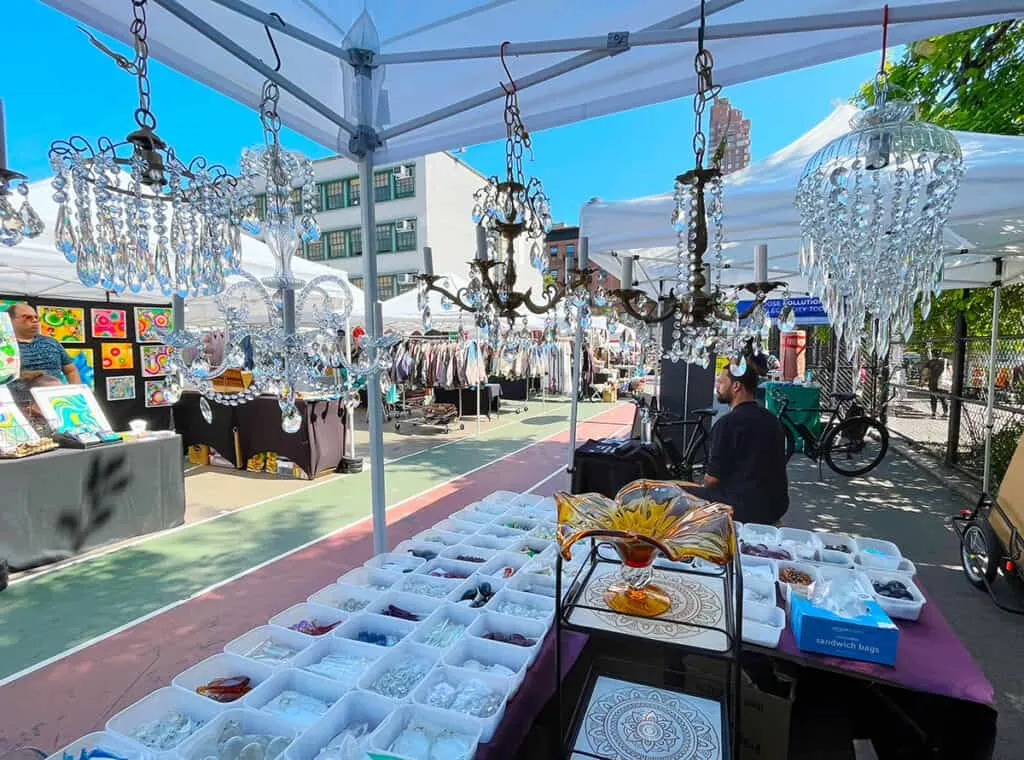 Various food pop-up shops are available to visitors at the flea market particularly for sweet treats. We enjoy it when the fresh Mexican-inspired elote stand makes an appearance.
Grand Bazaar is an indoor and outdoor market, which is ideal for unpredictable fall and winter weather in NYC.
Like all the flea markets on this list, admission is free but remember to bring along some cash to avoid payment issues.
Sundays 10am – 5pm.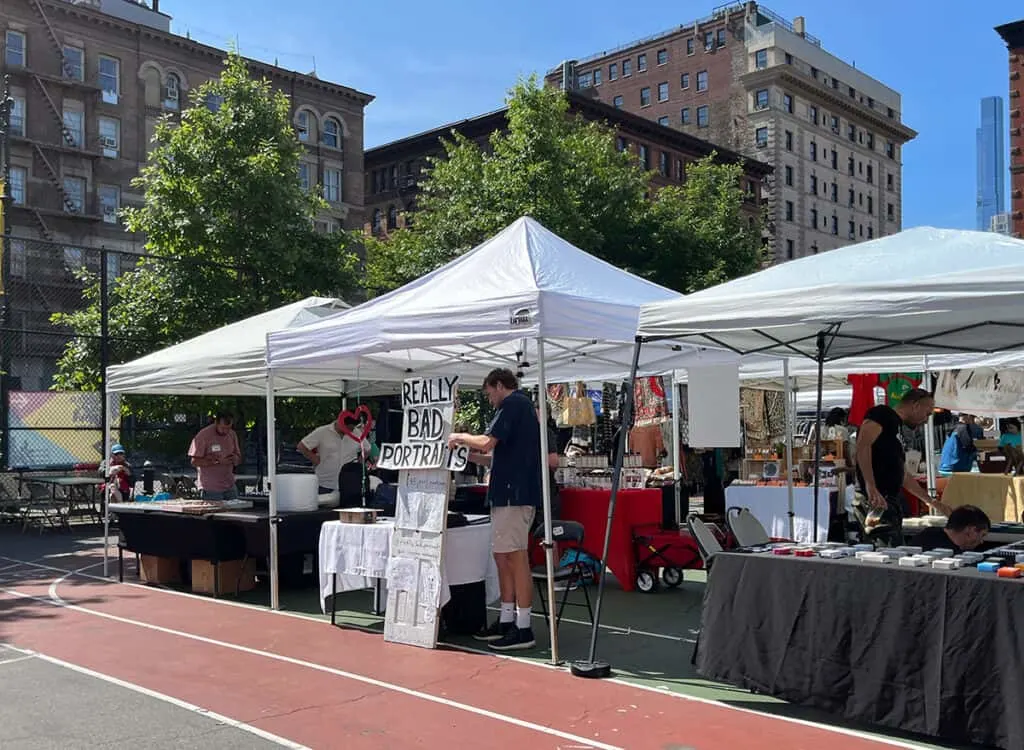 Hester Street Fair offers incredible vintage finds and laid-back vibes. You can find this flea market gem at the South Street Seaport in Lower Manhattan.
It is also dog-friendly, so your fur babies are more than welcome to tag along on your shopping trip.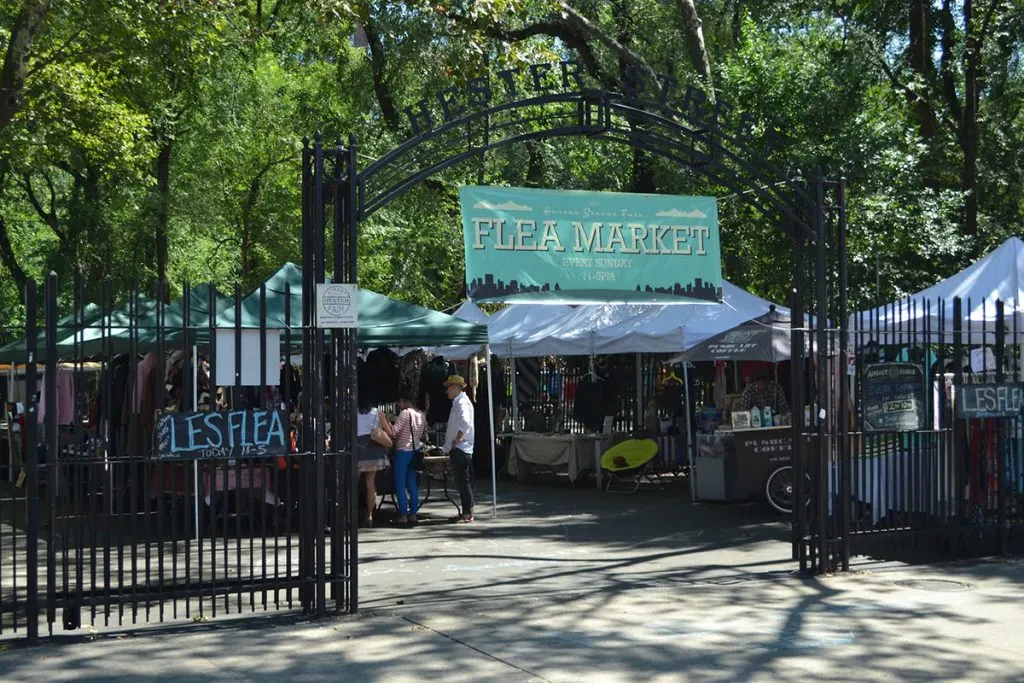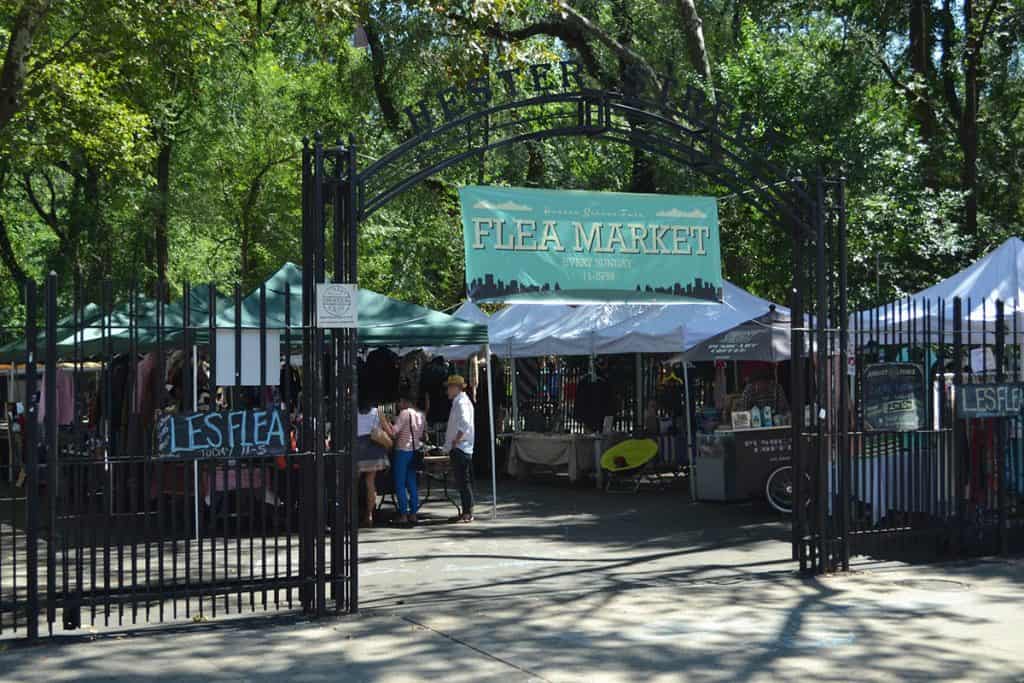 Not only can you score various artisan goods and vintage clothing here, but Hester Street Fair has many food vendors available.
Grab a quick bite or a yummy cup of freshly brewed coffee to start your day at the flea market.
Several vendors also offer fresh produce and flowers at the flea market. One of the more frequent vendors, Plant-it, has a nifty table set up with stellar premade floral arrangements.
The flea market is typically set up on Saturdays but occasionally on Sundays, depending on the weather.
This may be one of the smaller fleas on this list, but that does not stop Nolita Market from serving high-quality goods and food.
Around 15 vendors set up shop to share their products with the community every Friday, Saturday, and Sunday.
At this flea market you will find fantastic artisan jewelry and home décor pieces. Plus several vendors offer a wide range of vintage clothing and accessories. I personally enjoy browsing through their trendy ring selection.
After your shopping trip, try to make a stop at the beautiful Elizabeth Street Garden. It makes for an excellent photo shoot background to show off your newly found vintage pieces!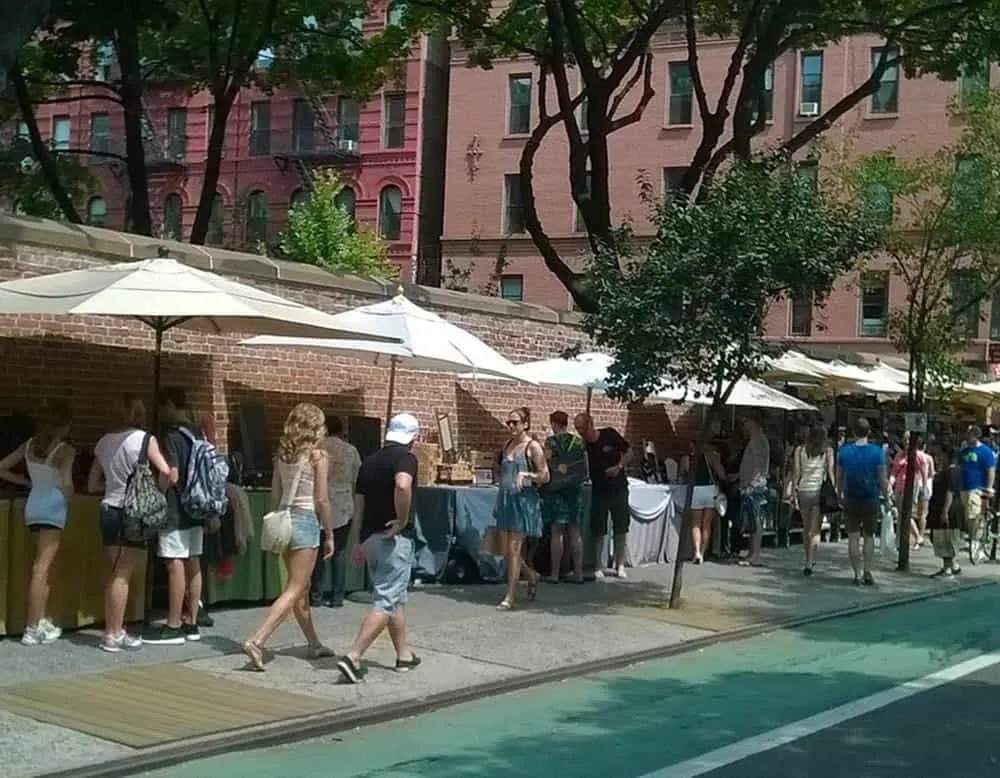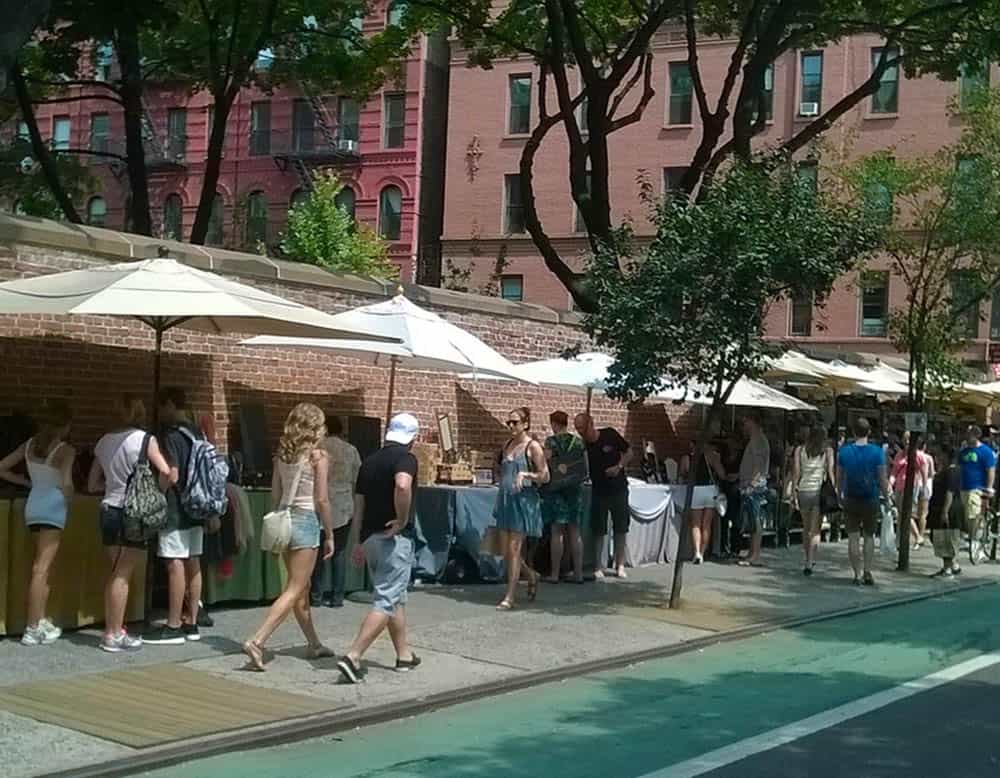 Even if you work over the weekend, you can still participate in the flea market fun NYC has to offer, thanks to the Queens Night Market.
Every Saturday this event is held in stunning Flushing Meadows Park near the New York Hall of Science. It begins at 6:00 pm and remains open until around midnight.
While this market has a myriad of superb shopping opportunities, a big reason people flock to the event is to enjoy live music and eat tasty food.
There are various cultural cuisines available around the venue, so you can eat your way round the world at the Queens Night Market!
This stellar flea market is now closed for the season but will open back up next summer! In the meantime, you may still check out Flushing Meadows Park as an exciting outdoor activity.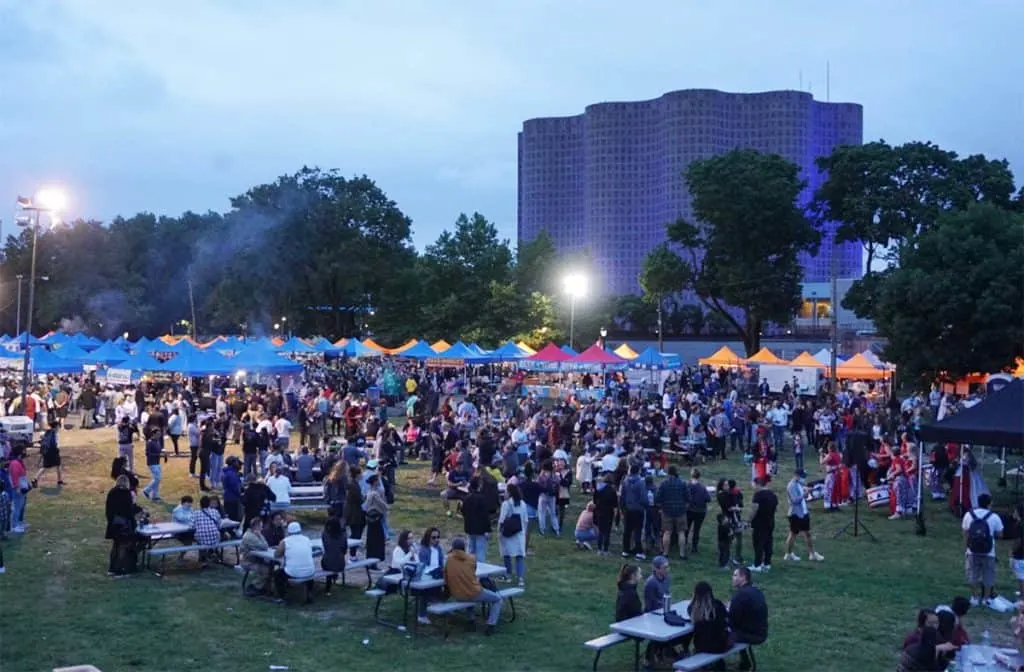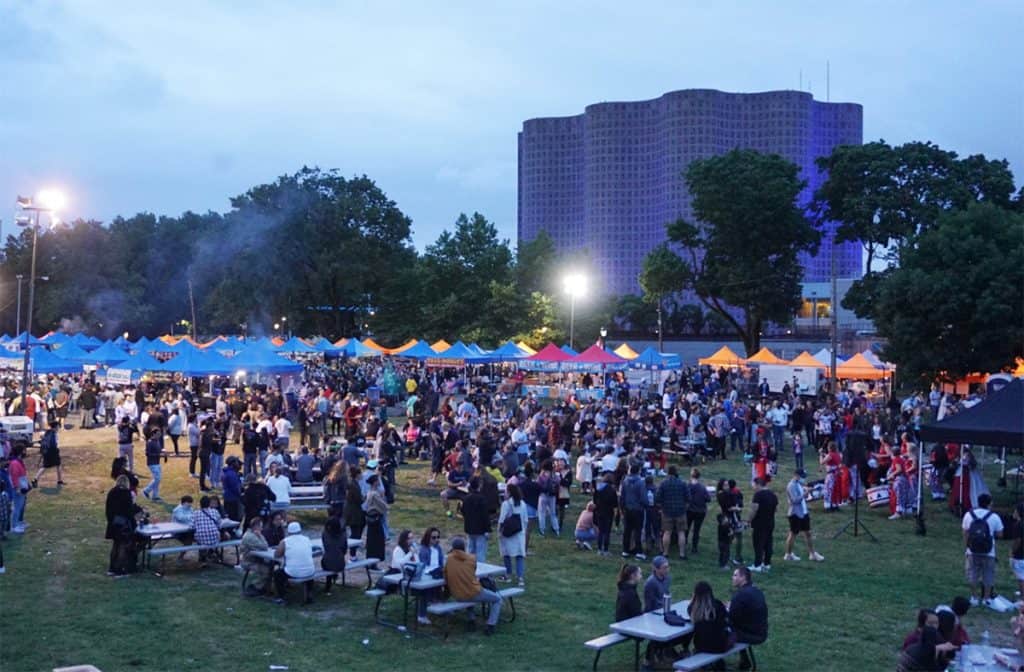 Before you go though, you'll want to get your game face on and read my post on 14 Tips for How to Haggle at the Market!
What else shall I read?
If you need somewhere gorgeous to go eat, you'll love my post on the best dreamy rooftop restaurants in NYC.
You might love my post on How to do Christmas in New York City covering unique events, pop up markets, best neighborhoods for lights and of course, skating!
And who doesn't love to start the weekend with a bottomless brunch in NYC or just a lazy brekky at one of these best brunch spots in New York City?
For the inside word on the best neighborhoods in NYC for shopping, read this post.
And if you're planning to be town over new year's you'll want to know all the fabulous ways to have the best new year's eve in NYC!