If you're planning to visit New York City, and you're anything like me, you'll probably have "where to eat and drink in New York City" on the top of your list!
New Yorkers take pride in their food and bar scene and when you put that combination on a rooftop with epic views, you have the best places to taste everything that NYC has to offer.
If you're visiting the Big Apple, spend the day shopping in the neighborhoods, and eating with epic views!
Note: are you in NYC for 4th of July and want to know where to see the Macy's fireworks display from five barges on the river? I've got you in this post.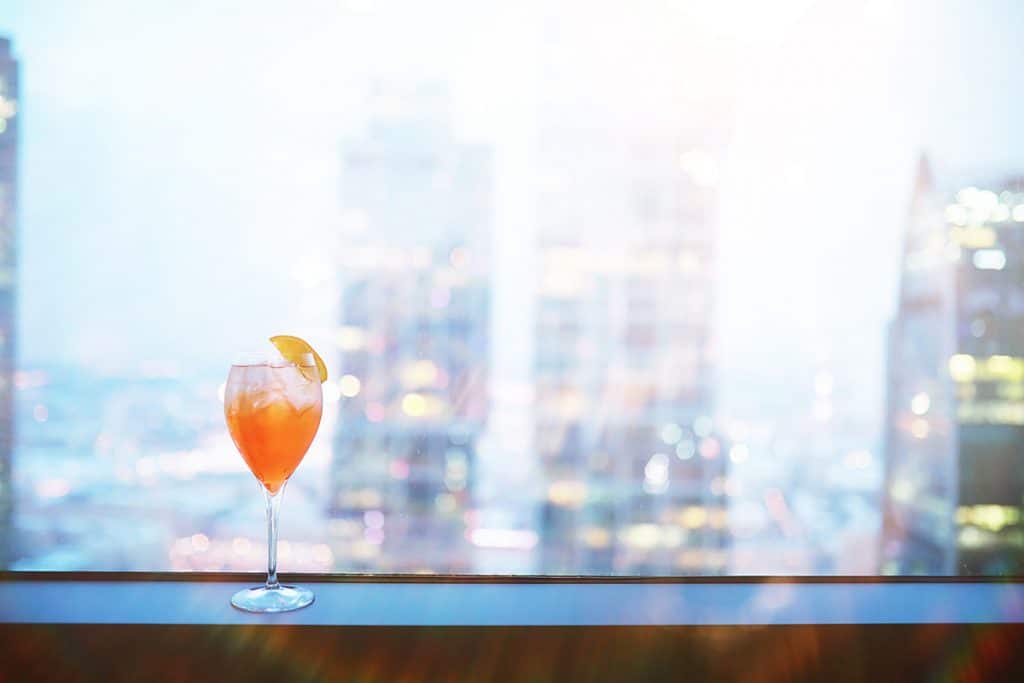 Here is the inside scoop for where to have lunch or dinner, celebrate a birthday, take a date for igloo dining or just enjoy a couple of craft cocktails at one of the city's many rooftop restaurants with exceptional views of the skyline.
So, gather your friends or partner for a night on the town. We've broken down the best rooftops depending on the occasion.
Or if you'd rather keep your feet closer to the ground, get the low down on where New Yorkers eat all around the city.
If you only have one day in NYC, maybe you're here a day early for a conference or you've got a layover, this post covers how to spend one perfect day in New York, including shopping and some fab places to stop for lunch and dinner.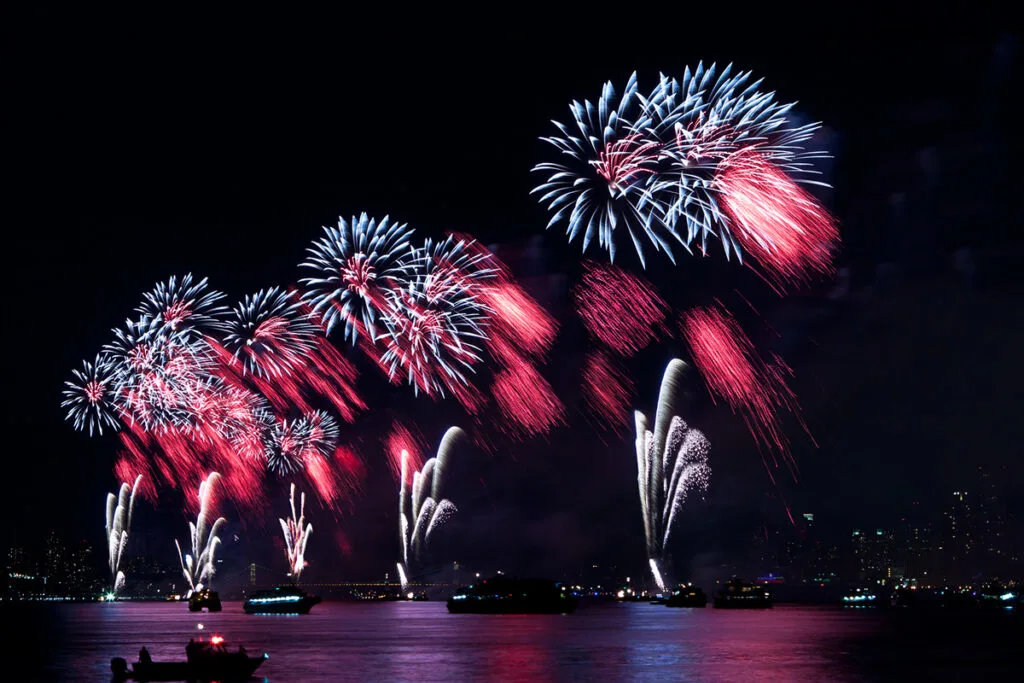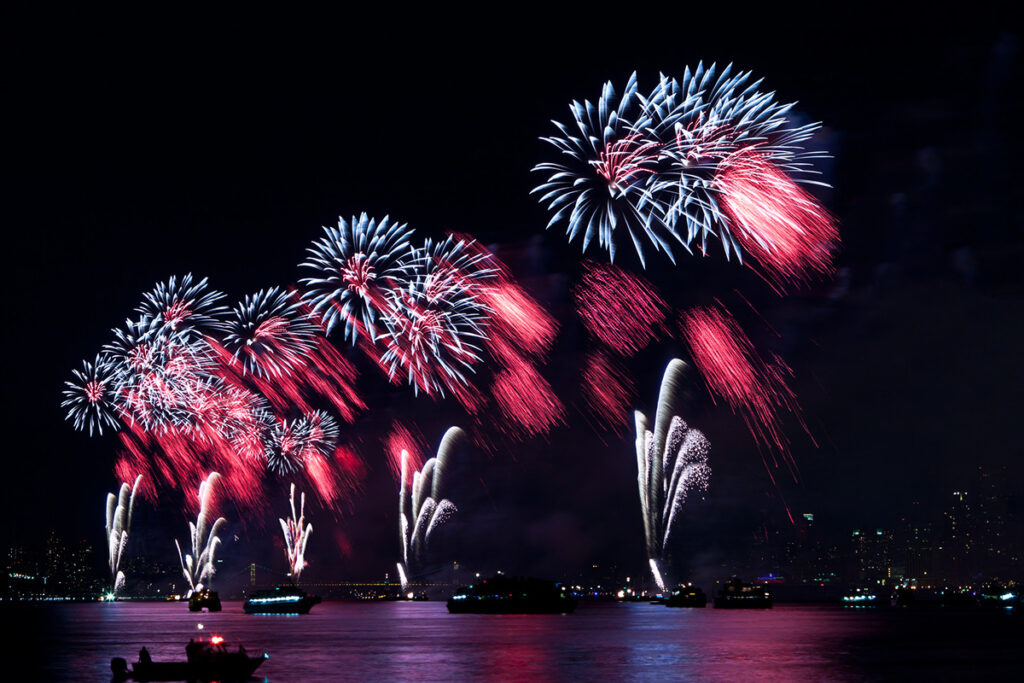 Best rooftops for brunch with the girls
This classy outdoor terrace offers one of the best bottomless brunch options in New York City. The Parisian-style restaurant is in the Lower East Side. It also has a heated rooftop so you don't need to wait for the warmer months, it is open year round.
Hotel Chantelle offers several tasty brunch dishes including breakfast pizza, stuffed French toast, and truffle tater tots. Pair those with bottomless mimosas and your girl gang for immaculate vibes.
Hotel Chantelle is one of the few places that are worth all the hype it gets on social media. It has great live music, friendly staff, and a vibrant atmosphere. In addition, the Instagram-worthy photo opportunities at this rooftop are endless, especially in front of its black and white abstract wall murals. You should definitely give this a place a try if visiting NYC with your favorite group of girls.
This spot would also make an amazing place to celebrate Valentine's Day in NYC.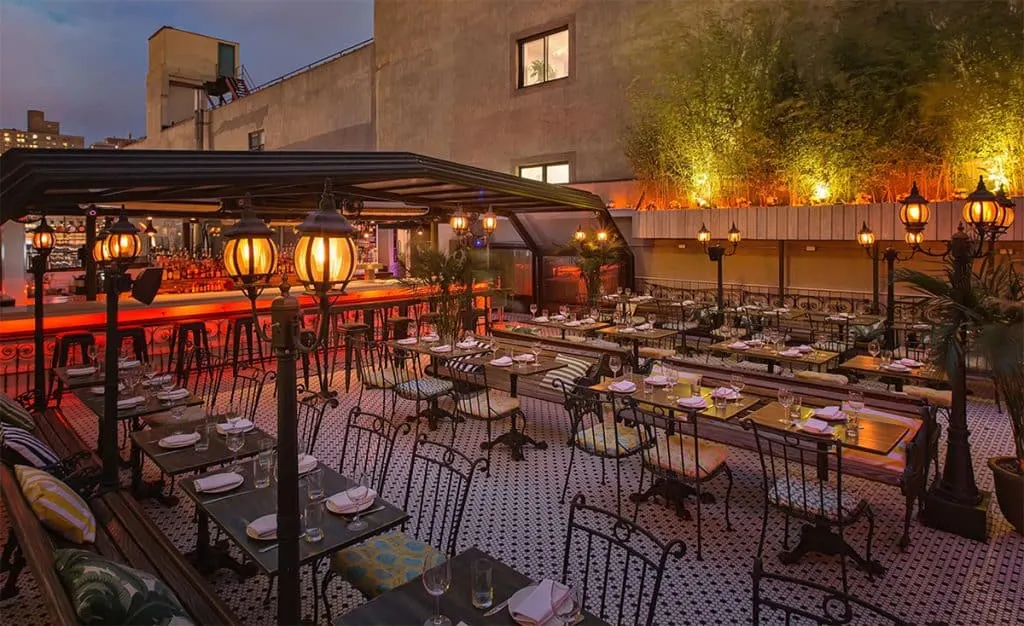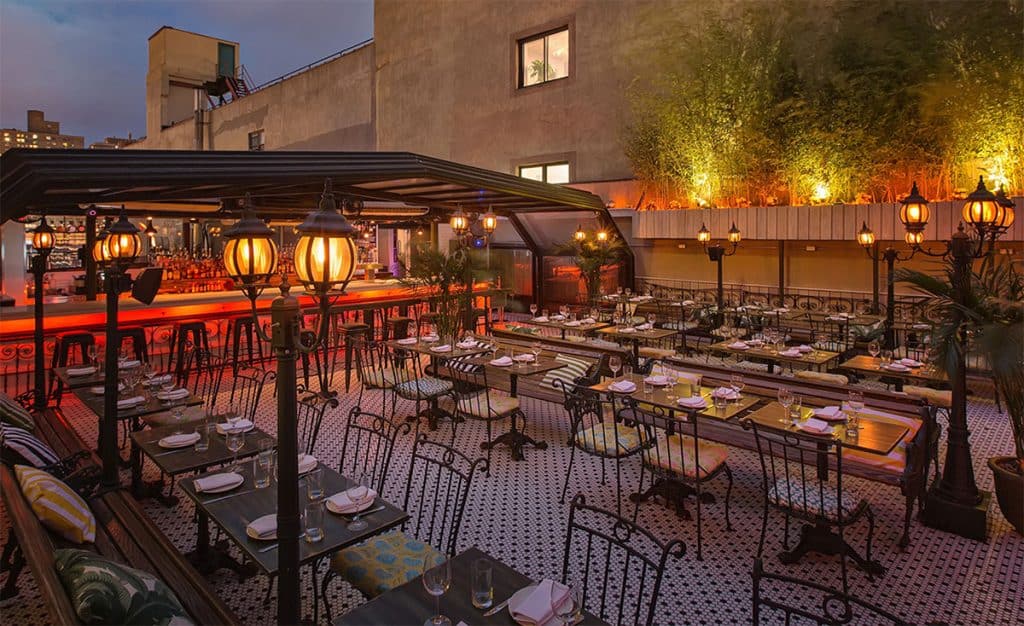 When you think rooftop restaurants in NYC you can't go past Serra By Birreria in Eataly Flatiron. Serra means 'greenhouse' in Italian and each season they switch out the décor and change the menu to reflect the seasons.
The decor and the ambiance is an explosion of foliage. The season's most beloved ingredients inspire the menu, and Eataly's chefs have crafted a menu featuring the season's best produce from the neighboring Union Square Greenmarket (think fresh salad ingredients and cocktails to match!)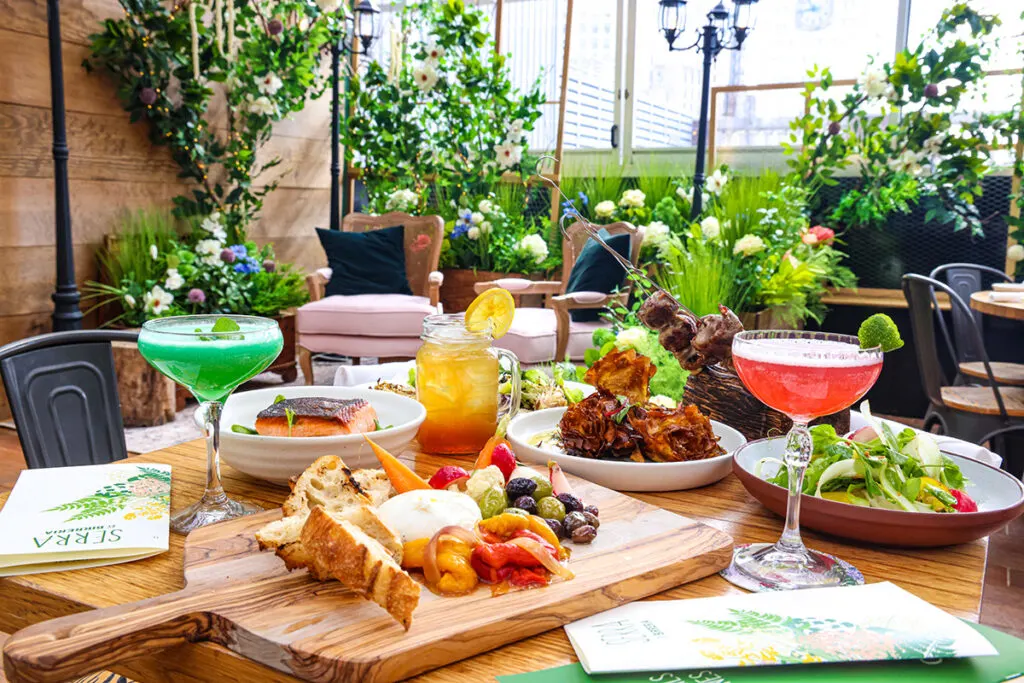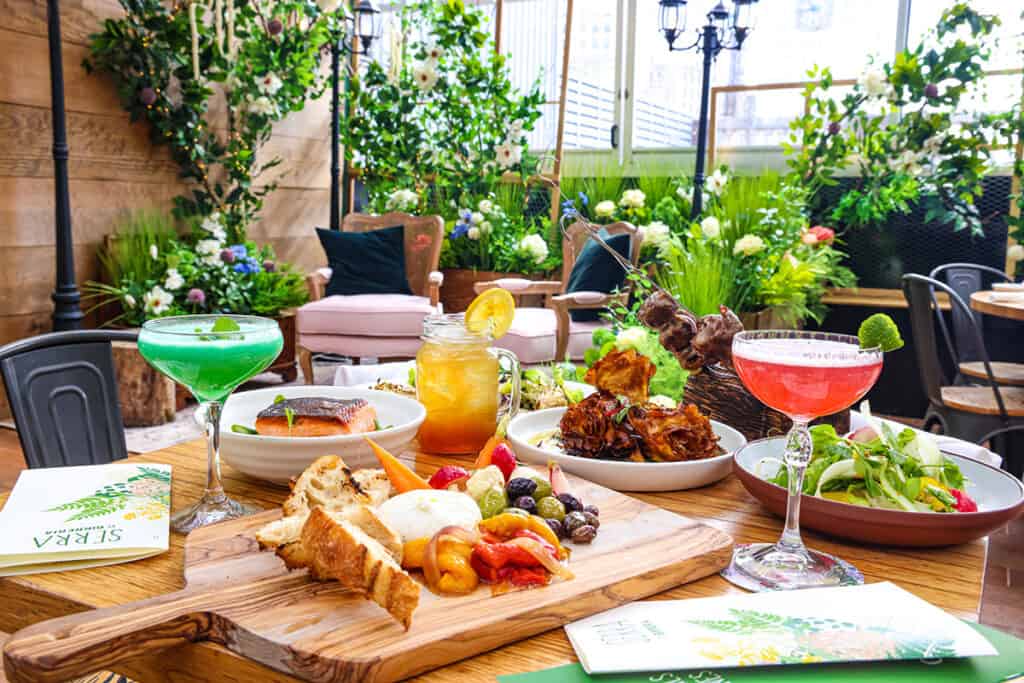 As for the beverage selection, Eataly's experts have crafted an entirely new menu based on spring's best flavors. A cocktail well worth mentioning is the Cosmopolitan, with housemate pomegranate and cranberry reduction.
Many ingredients are also imported directly from Italy and may be purchased at the stores below the rooftop.
If you are a foodie you will adore the wide range of appetizers, imported cheeses, and tasty cocktails Serra By Birreria has to offer. I highly recommend their warm Otto bread with bone marrow butter.
This is a perfect place for a weekend brunch with the girls.
Open for brunch on Saturday and Sunday from 11.30am – 3pm, this indoor and outdoor rooftop is 18 floors above the city.
Magic Hour has five distinct areas including two outdoor areas: the east side overlooks the the Empire State Building with garden party furnishings.
On the west side it's like a carnival with a rotating seating area like an antique carousel. The gallery-like entrance is a little risqué with topiary animals caught in naughty positions!
You'll also find a menu of light bites inspired by the state fair with modern takes on things like curly fries and lobster rolls. Plus an impressive list of decadent and sharable cocktails, along with beer, wine, Champagne, and spirits.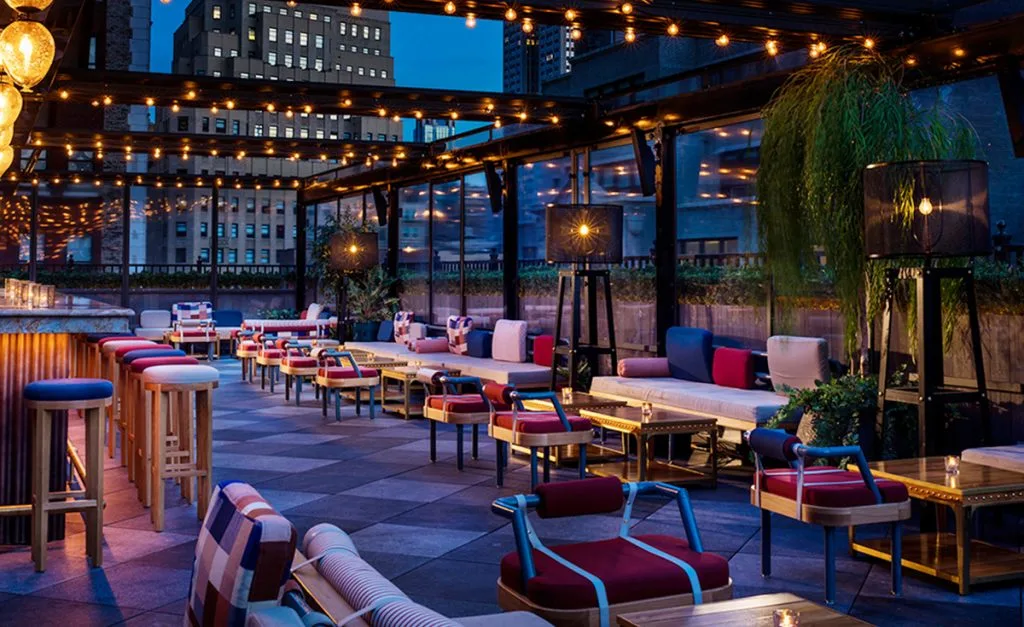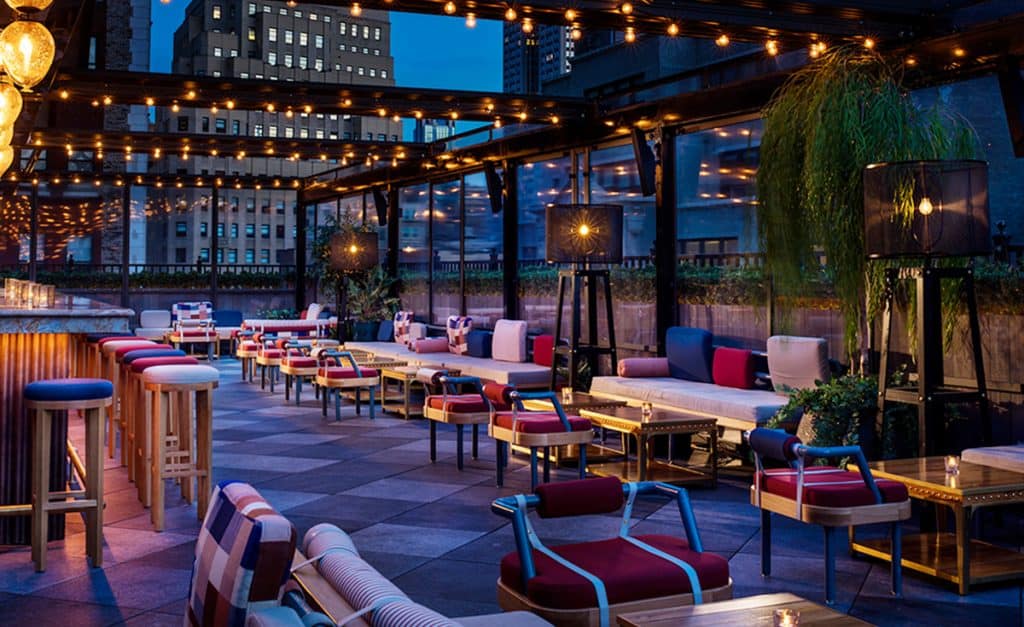 Best NYC rooftop restaurants for a birthday
This hidden gem rooftop bar in Williamsburg is terrific for a fun night out with friends. It has a pretty relaxed atmosphere, so you do not have to worry about breaking out the heels this time.
There is usually excellent music and plenty of room for dancing. Berry Park has a wide selection of creative and classic cocktails, craft beers, and wines available. Plus, during the summertime you may catch a glimpse of the Fourth of July fireworks over the NYC skyline.
Since it is located near some of the area's best restaurants, you can head over there to keep the party going after a yummy birthday dinner. Although, the rooftop has a lengthy menu with traditional and elevated bar food staples. Berry Park has got you covered if you are looking for a lowkey yet lively rooftop bar to celebrate your birthday.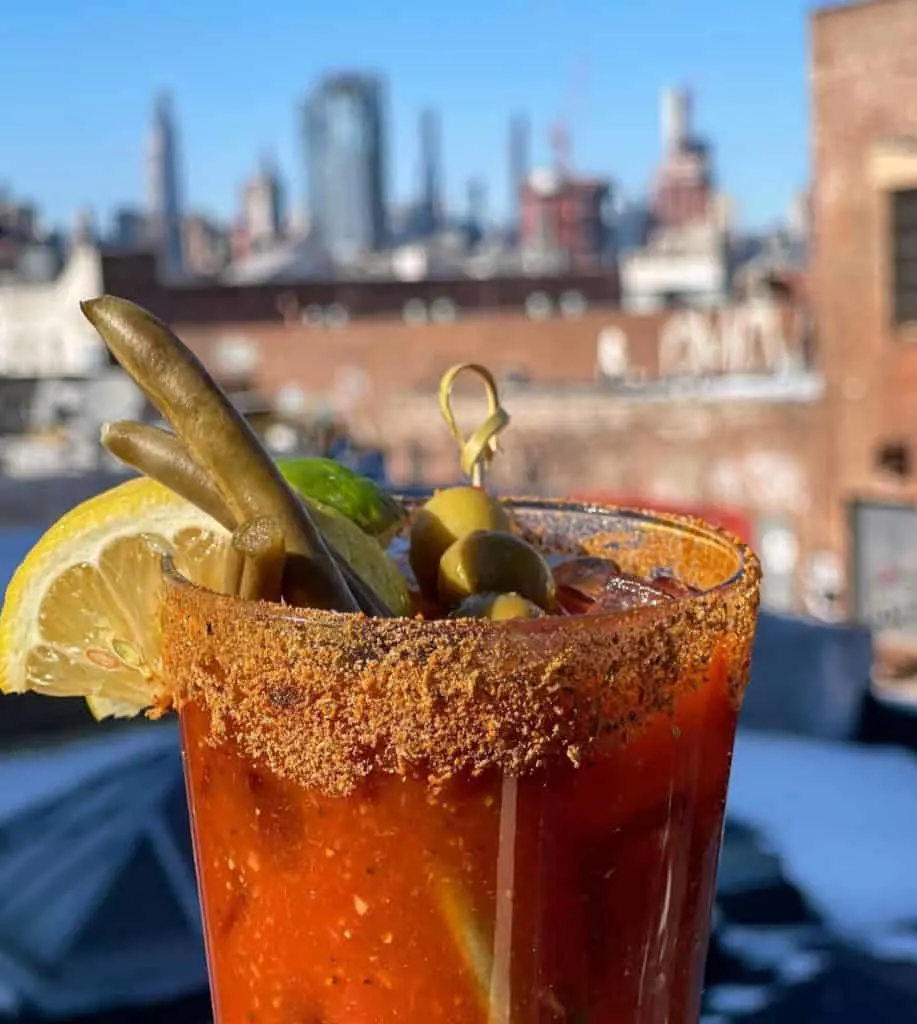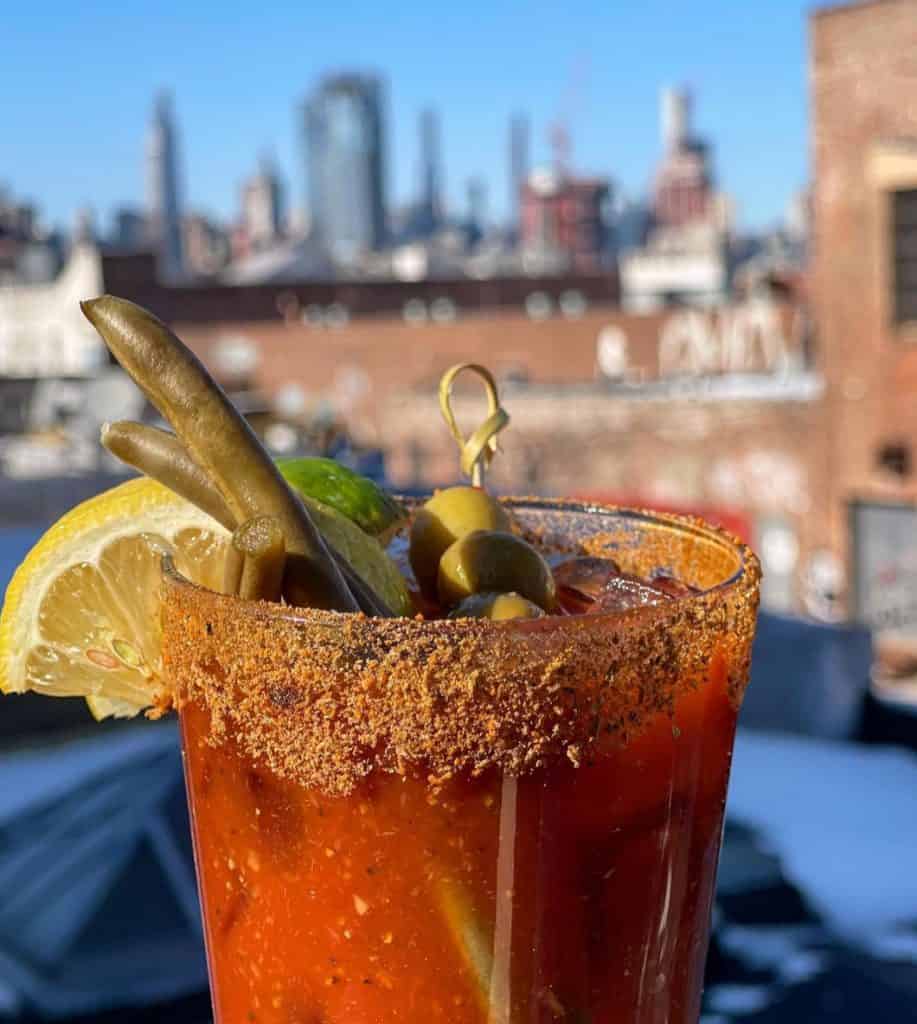 This vibrant rooftop is located in the Lower East Side on the 15th floor of Hotel Indigo.
Mr. Purple boasts an exciting atmosphere. The rooftop has both indoor and outdoor seating options. The hotel's pool is also located in the middle of the rooftop so wear your bikini under your cocktail dress! They have great music throughout the day with plenty of room for dancing.
Additionally, they set up a giant igloo equipped with seating and cozy pillows during the colder months. Therefore, you can enjoy the great vibes this rooftop bar has to offer year-round.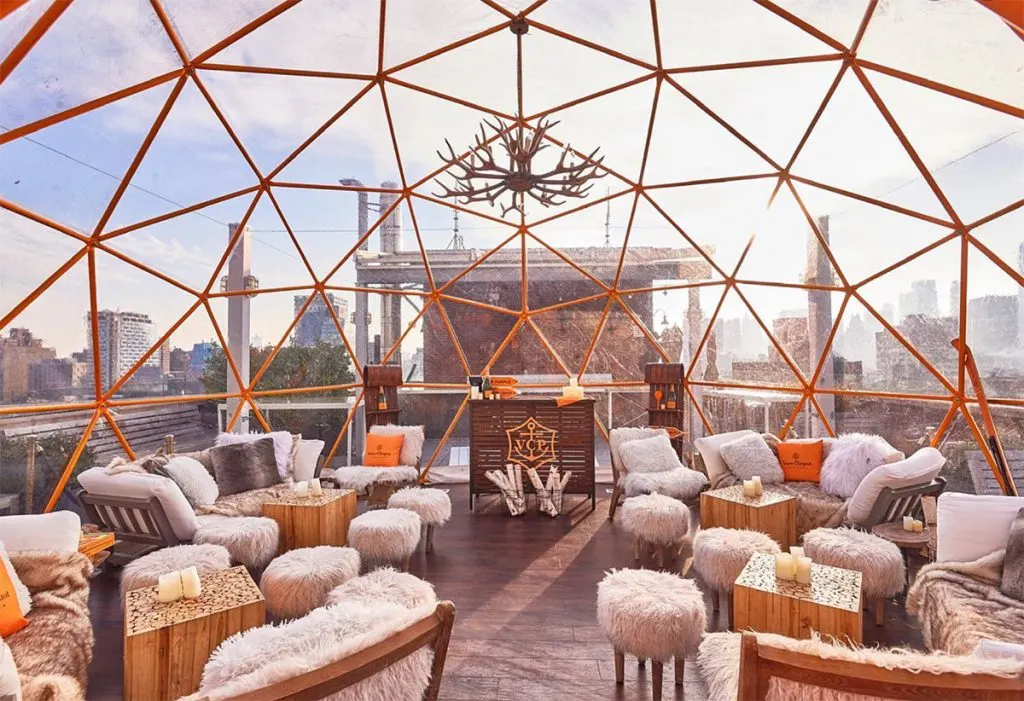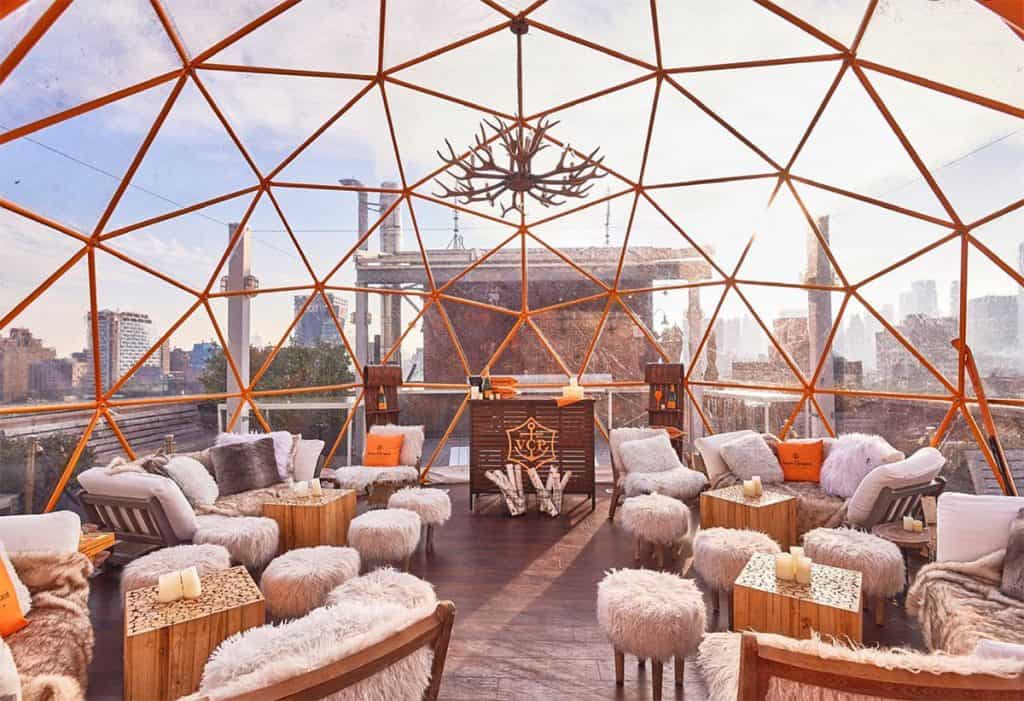 While their food menu is somewhat limited, Mr. Purple has creative cocktails featuring toy dinosaurs inside so that's worth coming for alone! I highly recommend trying out their frozen frosé during the summer. It is so refreshing and delicious! Plus, their fun cocktails look spectacular in photographs.
On top of all that, Mr. Purple boasts exceptional views of Downtown Manhattan. This rooftop has excellent vibes, great music, and the friendliest bartenders. It is a great place to visit with groups, especially if you can catch a seat in the igloo once it is up for the season.
Thanks to Rooftop Reds, there is no need to travel to a vineyard in Long Island or the Finger Lakes.
The spectacular fully operational rooftop winery located in Downtown Brooklyn is the first of its kind. It has a great ambiance and friendly, knowledgeable staff.
They offer wine tastings each week and wine flights daily. Their food menu consists of small bites, charcuterie boards, and pizza from a local restaurant, Il Porto. In addition to wine tastings, you can attend weekly sunset yoga and movie nights at the venue.
You might also like my perfect one-day itinerary in Brooklyn.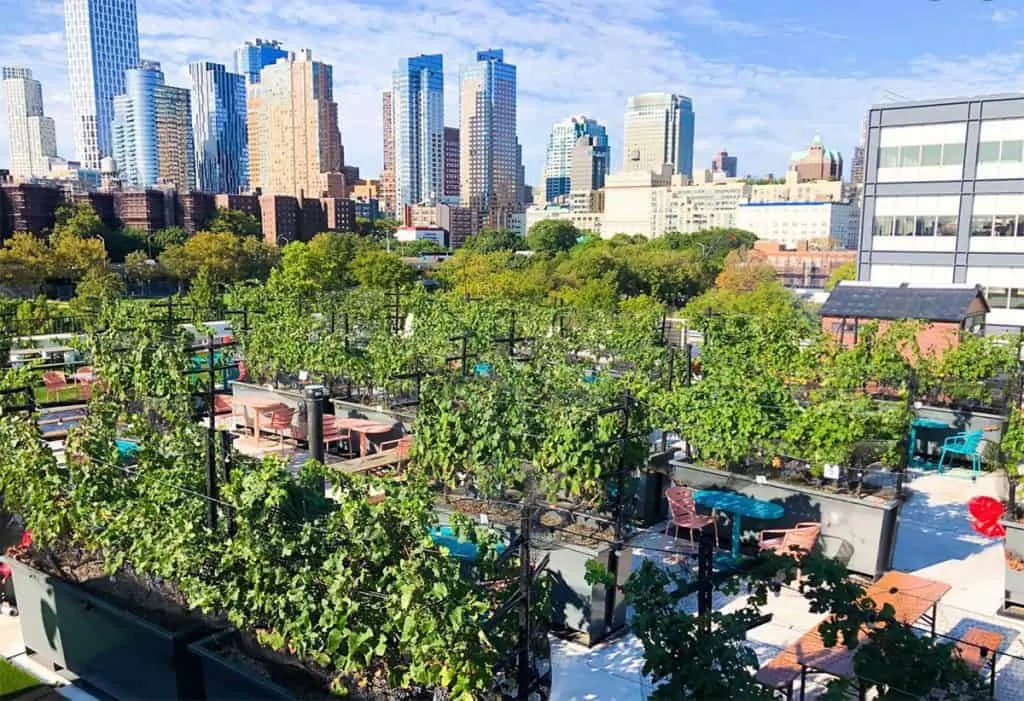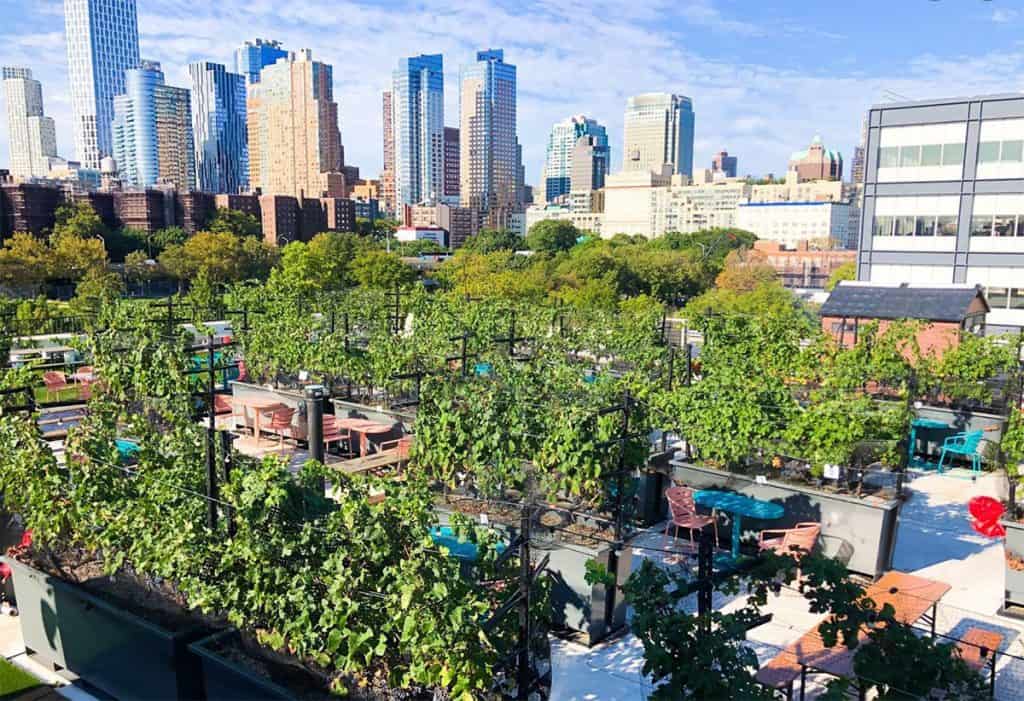 Rooftop Reds is an amazing place to spend your birthday. There is so much to do at this venue, from exploring the rows of grape vines to lounging in a hammock enjoying the skyline views. It is sure to be a unique and memorable experience for your guests.
Best NYC rooftop restaurant for a romantic dinner
If you are looking for an unforgettable omakase dinner, you must check out Sushi Lab NYC. This stunning rooftop restaurant in Midtown Manhattan serves up delicious chef's selection courses of up to sixteen sushi pieces. Plus, some incredible Wagyu beef is included in each set menu.
They also offer a diverse selection of appetizers, including black truffle edamame and toro chips. It truly is such a fun way to try some Japanese-inspired dishes that you may not have ordered at your go-to sushi restaurant.
While Sushi Lab's food may be out of this world, one of the biggest reasons to visit this rooftop is for the atmosphere. The restaurant boasts beautiful décor with vines and faux flowers draping across the ceiling. You can also catch great views of Times Square on this lovely rooftop. It is an excellent date night location to enjoy a unique dining experience.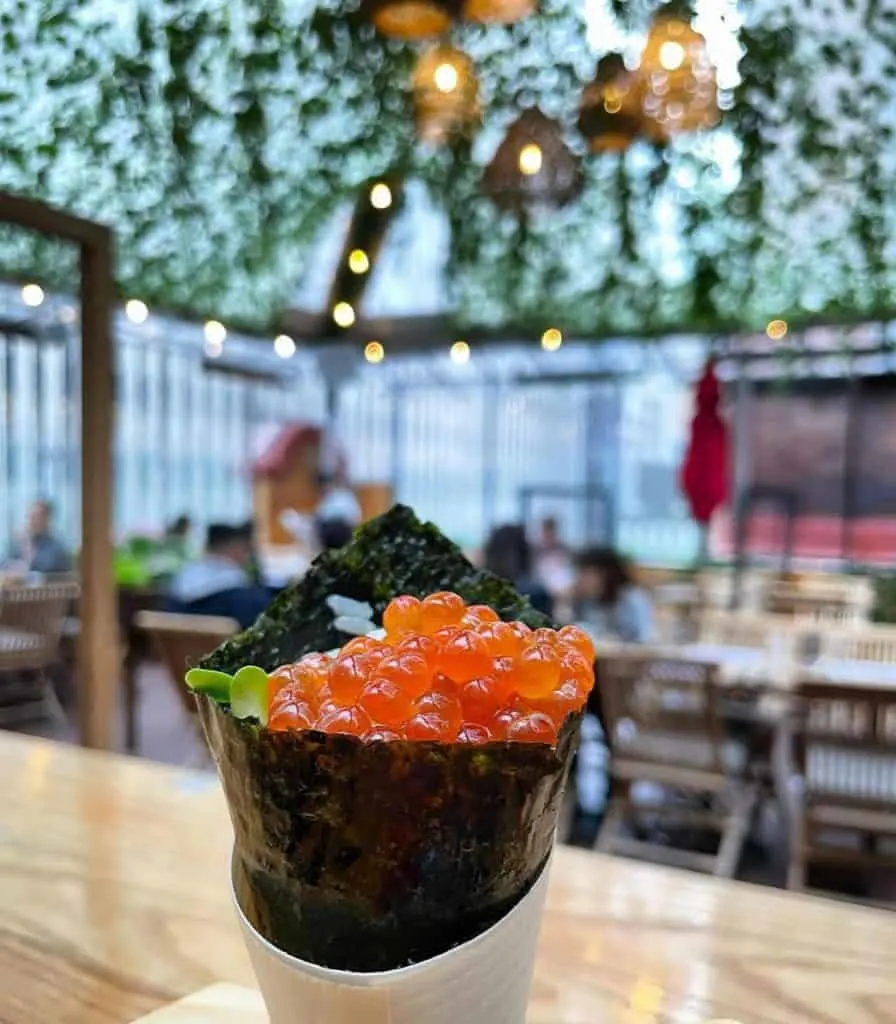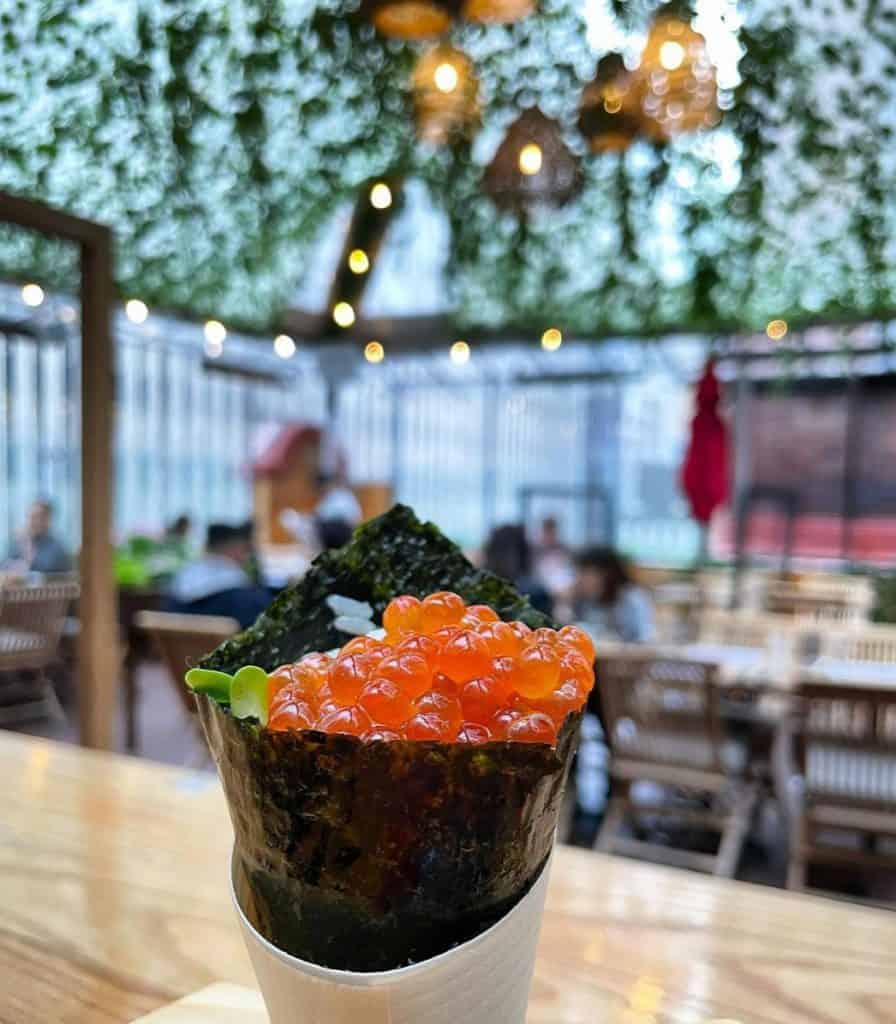 Best rooftop restaurants with unforgettable views
This popular rooftop bar is situated in the heart of Midtown Manhattan. You can catch a glimpse of the iconic Empire State Building while enjoying their various signature cocktails. I highly recommend trying the raspberry mojito; it is one of my favorites in the city.
In addition, this lovely rooftop is open year round, unlike some of the others on this list. During the colder months they set up an array of heated igloos on the rooftop to enjoy city views even in the chilly weather. The igloos are first-come first-served so come early you might catch a seat inside one (November till May).
This rooftop is fantastic year-round for a night out with the girls, birthday celebrations, or gazing at the skyline with a tasty cocktail menu. Happy hour is 2pm – 5pm.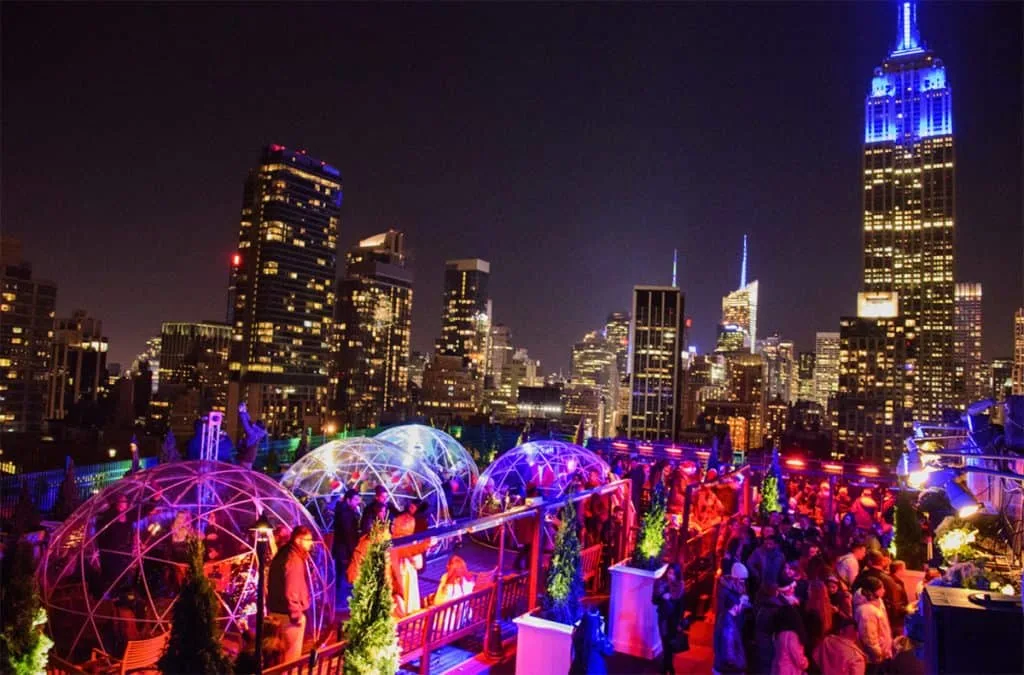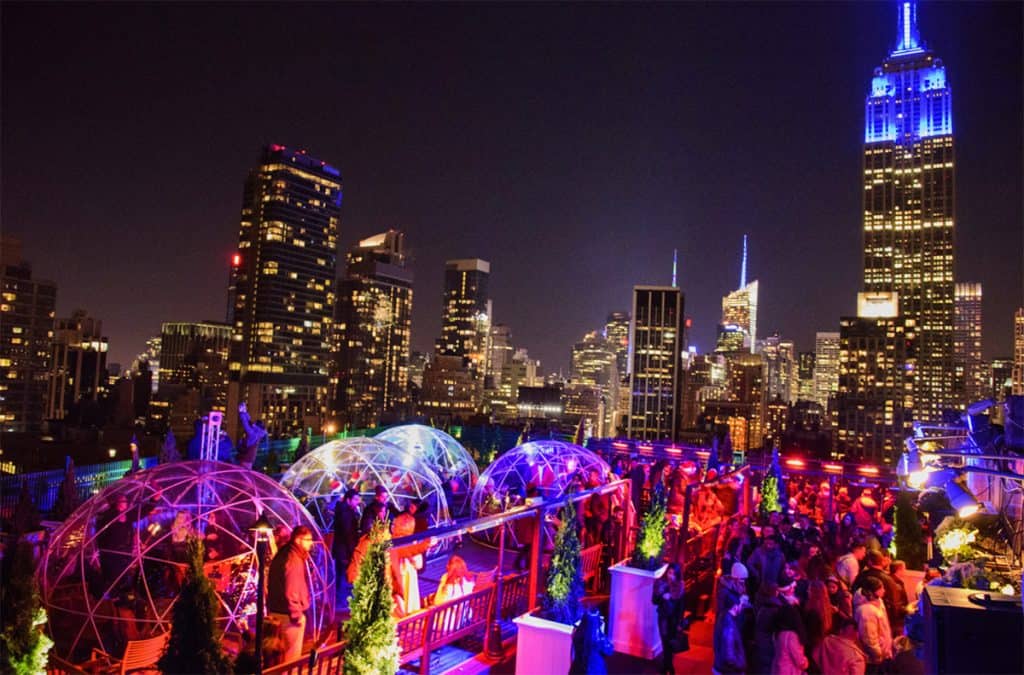 This luxurious NYC rooftop restaurant and bar has incredible panoramic views of the New York City skyline across the East River. It is part of Noho Hospitality Group and is located on the 22nd floor of the William Vale Hotel in Williamsburg, Brooklyn.
Westlight features both indoor and outdoor lounge seating. Additionally, their outdoor roof deck is bordered with glass panels to enhance the skyline views. You can also find tower viewers placed around the bar, which allows for fun photo opportunities.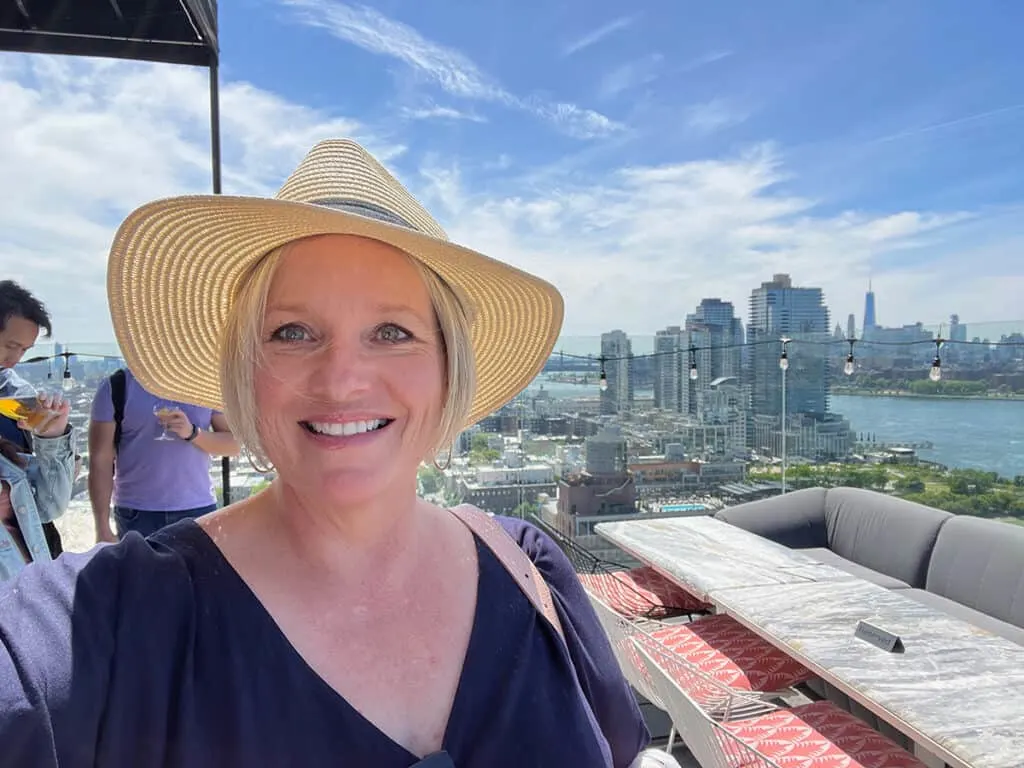 Their cocktails are on the pricier side, ranging from around $16 to $18. Although, they are super yummy, particularly the Cedar House Mule. You'll find plenty of small plates on their menu as well, including a delicious burrata plate and garlic parmesan French fries.
As far as rooftop restaurants NYC goes, I believe that Westlight boasts the best views of all the rooftops on this list. You are sure to get a breathtaking view whether you go during daytime or nighttime. As long as you do not mind slightly splurging on cocktails, this phenomenal bar is well worth the visit.
BONUS: Best NYC rooftop for ice cream!
Look no further for a delicious dessert spot when you can visit the rooftop deck at Ample Hills Creamery in Gowanus, Brooklyn.
You are sure to catch great views of the city while enjoying some treats sitting in their colorful Adirondack chairs. The ice cream shop is known for its unique flavors, from its bestselling "Ooey Gooey Butter Cake" to "Peppermint Pattie." Ample Hills also offers plenty of vegan ice cream flavors for those looking for a dairy-free alternative.
This Brooklyn-based staple has several scoop shops located throughout the five boroughs. They have also expanded to other states, including California and New Jersey. You must visit this hidden gem if you are an ice cream lover exploring NYC.
New York has a reputation for being expensive, but I've uncovered some tips for doing New York on the cheap in this post.
If you're planning on spending New Year's Eve in NYC you'll love my post on 5 ways to have the best time!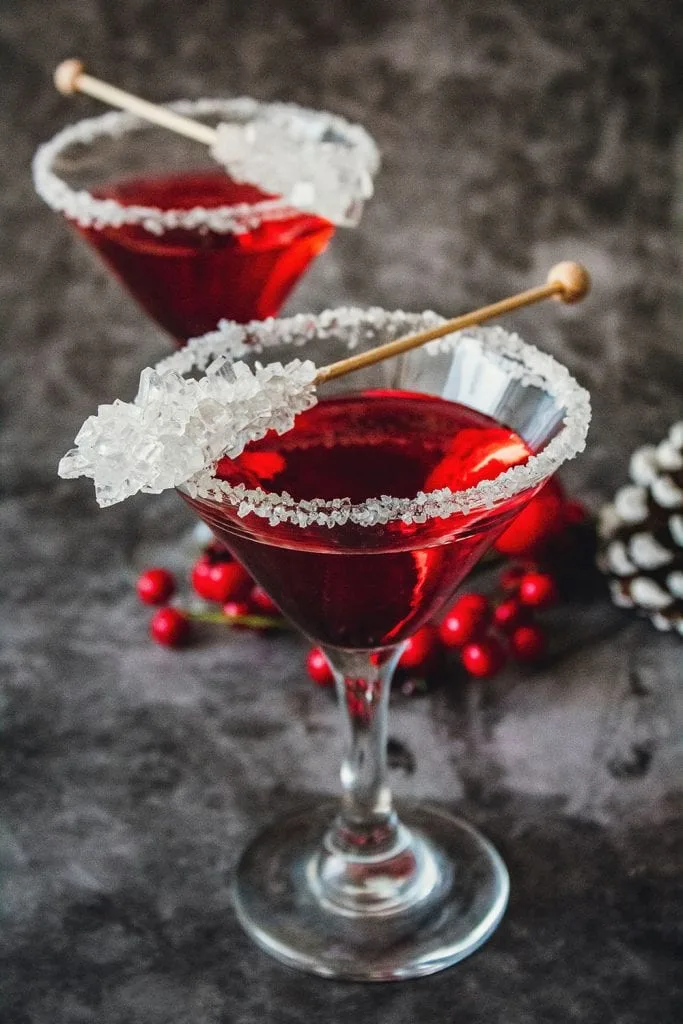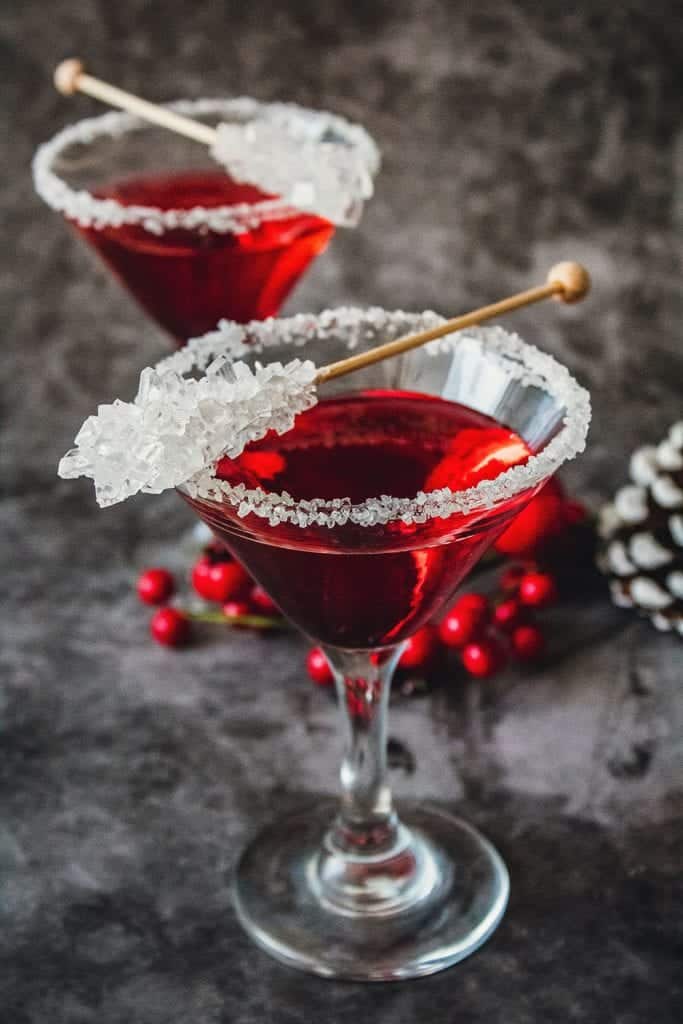 This post has been my one of my most popular posts of 2021. See the rest of them, if you want to read only my best content!
Other fun NYC rooftop bars worthy of note
The Ready : East Village. The Ready at Moxy East Village has a cool beer garden vibe with a bar made from plastic milk crates and a retractable roof for all weather eating and drinking.
Harriet's Rooftop and Lounge : Brooklyn. With indoor (Harriet's Lounge) and outdoor (Harriet's Rooftop) open air seating, this venue offers outstanding views of the Manhattan skyline. Harriet's sits atop 1 Hotel Brooklyn Bridge.
The Crown NYC : Lower Manhattan. On the 21st floor of Hotel 50 Bowery. They call it the crossroads of cool! Featuring seasonal cocktails and globally inspired small bites.
Electric Lemon : Hudson Yards. Located on the 24th floor of the Equinox Hotel, this indoor restaurant sits in the trendiest neighborhood in NYC with floor to ceiling windows. But you need to step onto the massive rooftop garden terrace featuring water features, sculpture and fire pits for a drink.
Refinery Rooftop Bar : Awesome views of the Manhattan skyline and the Empire State Building from on top of the Refinery Hotel. It's open for breakfast, lunch and dinner and has a great signature cocktail list.
Sandbar Rooftop : Fashion District. Located on the 23rd floor of the Hilton Hotel, this place is designed as a beach bar in the Hamptons with lifeguard chairs and swing seats. Enjoy a pizza and a handcrafted cocktail up here.
Cantina Rooftop : If you love Mexican food and love it even more with a view, then Cantina is your place. Located in Hell's Kitchen with a riot of color on the open air patio and jugs of margaritas, enjoy great tacos and great company.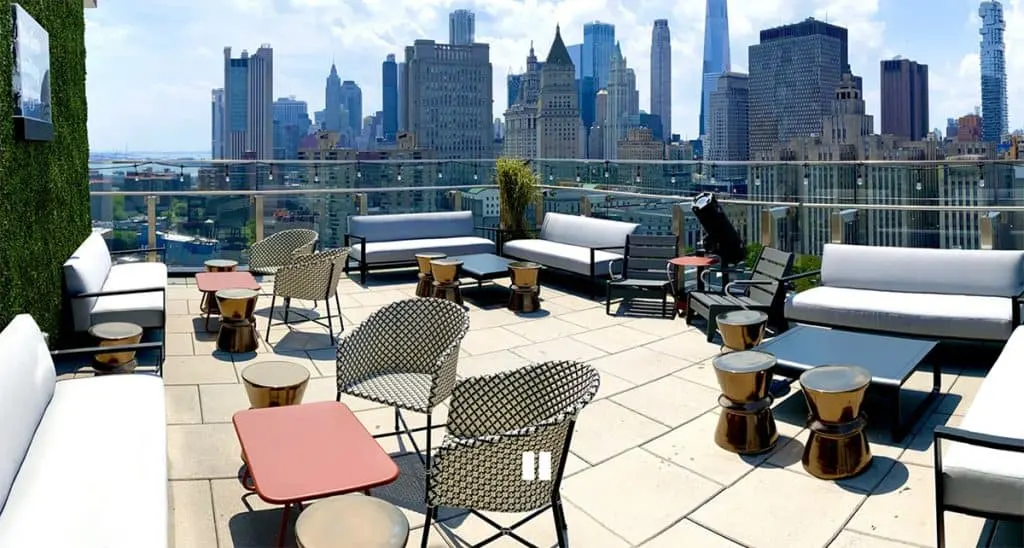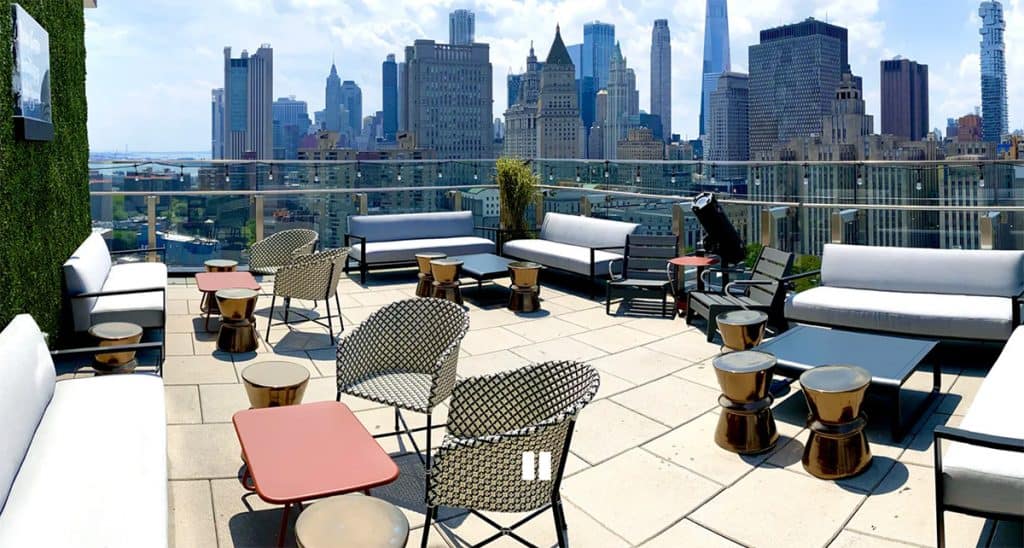 More things to do in New York City
You can buy your tickets for these experiences online direct on these links below.
Please note, they are affiliate links so if you do make a purchase, I will make a small commission at no extra cost to you.
I find the best way to get around the best sights of a big city like New York is a hop-on-hop-off bus tour. The best value is also to get a 24- or 48-hour ticket and that way you can plan what to see on which days and use the bus as your taxi service. Try this Big Bus sightseeing tour.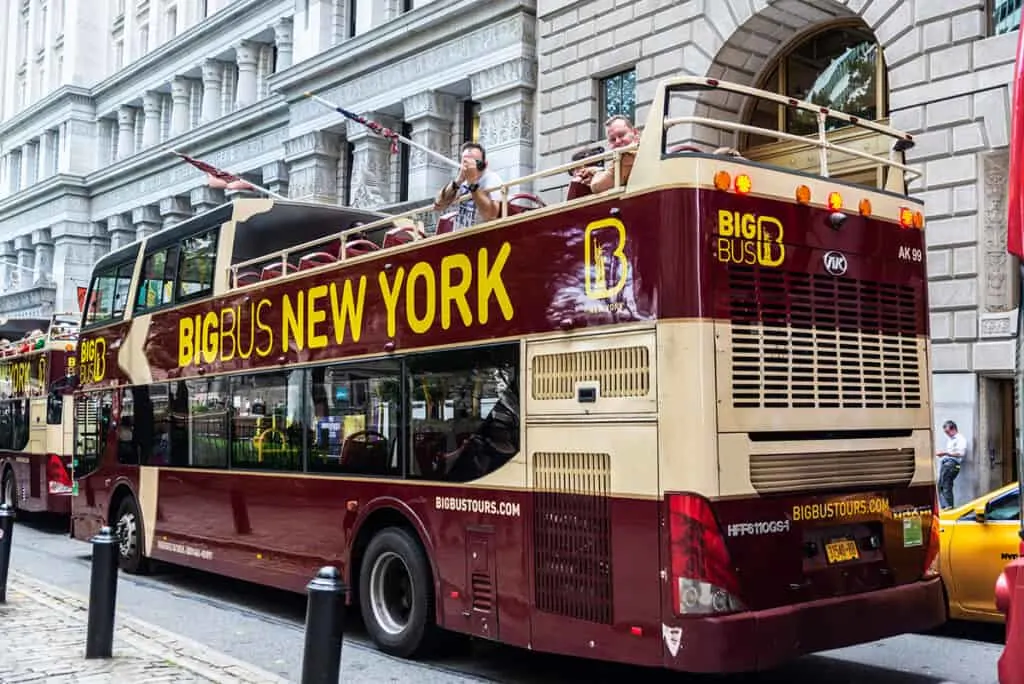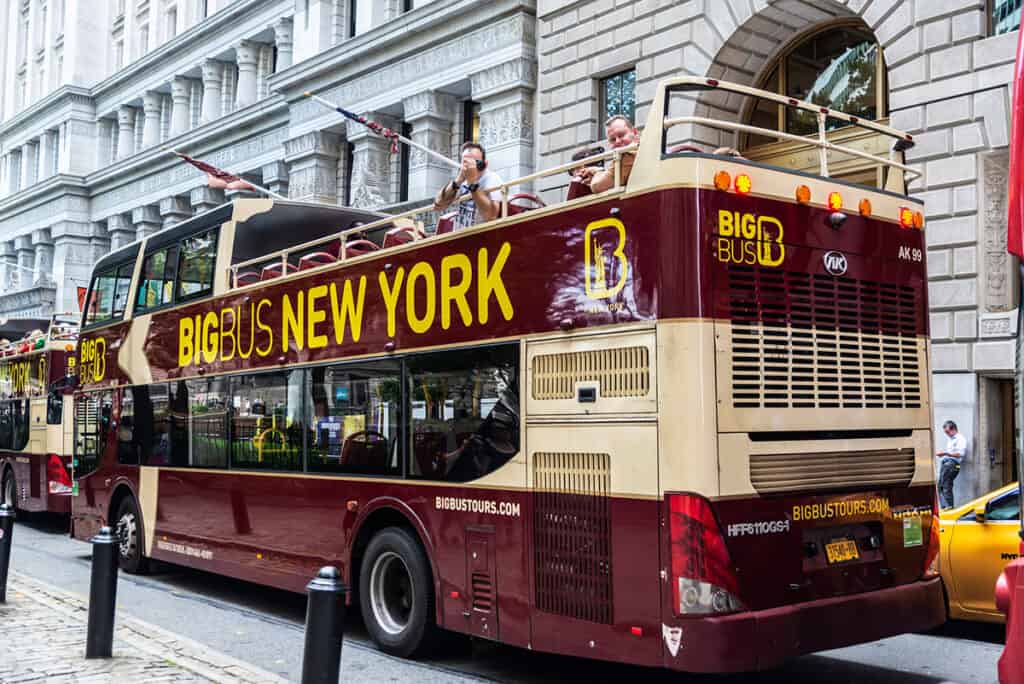 Visit the 9-11 Memorial with these skip-the-line timed entry tickets. This is a self-guided tour but you can download an audio tour onto your phone, or you can take a guided tour of the 9-11 Memorial to ask questions and learn so much more.
Head to the top of the Empire State Building with skip-the-line tickets to outstanding views – and maybe even a marriage proposal !
Take the ferry out to Ellis Island and visit the museum with an audio guide to go at your own pace. This tour includes the Statue of Liberty museum on Liberty Island.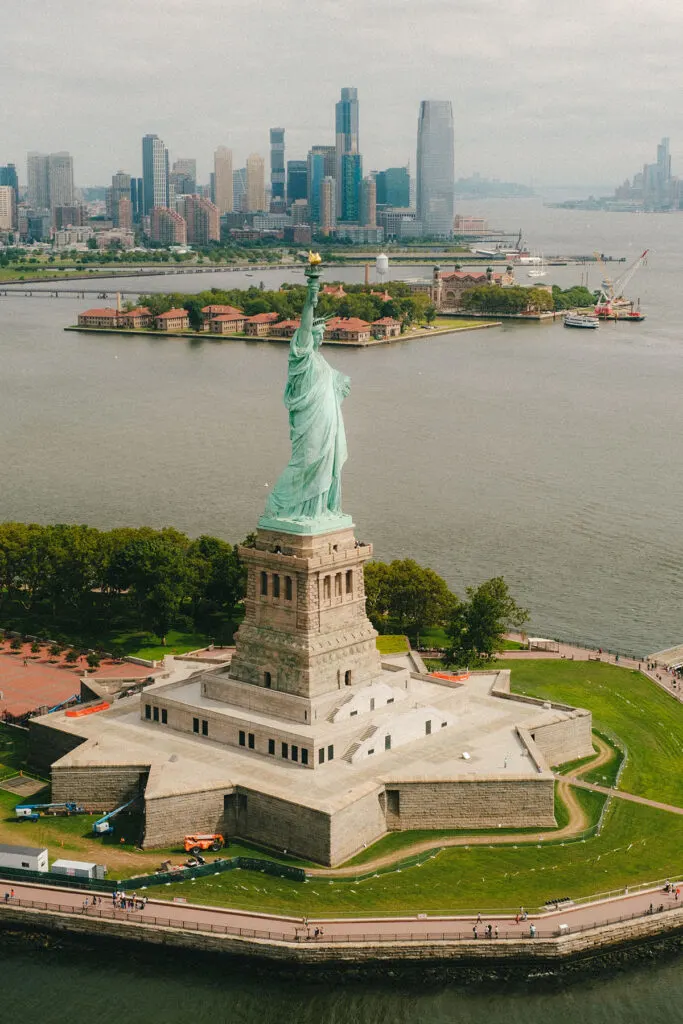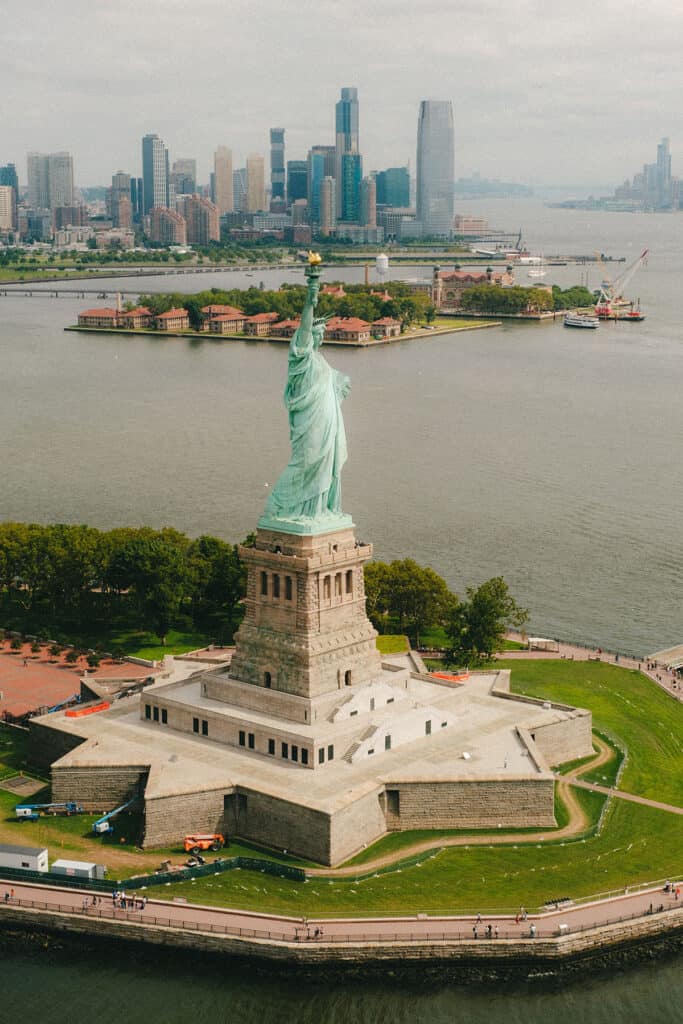 Prepare yourself for a multi-sensory art experience at SUMMIT One Vanderbilt, 93 floors above New York City for 360-degree views.
Get skip-the-line tickets to MoMA – Museum of Modern Art with timed entry. See Andy Warhol's soup cans and Marilyn Monroe pop art, plus masterpieces by Matisse, Gauguin, Dali, Picasso, Van Gogh, and Pollock. This tour comes with a free audio guide.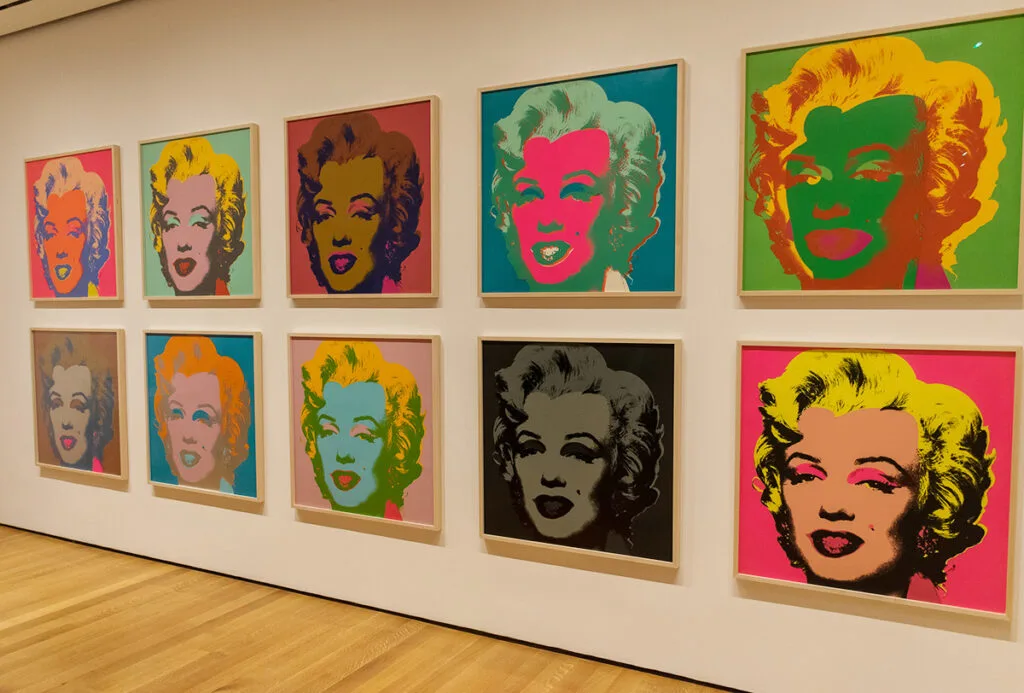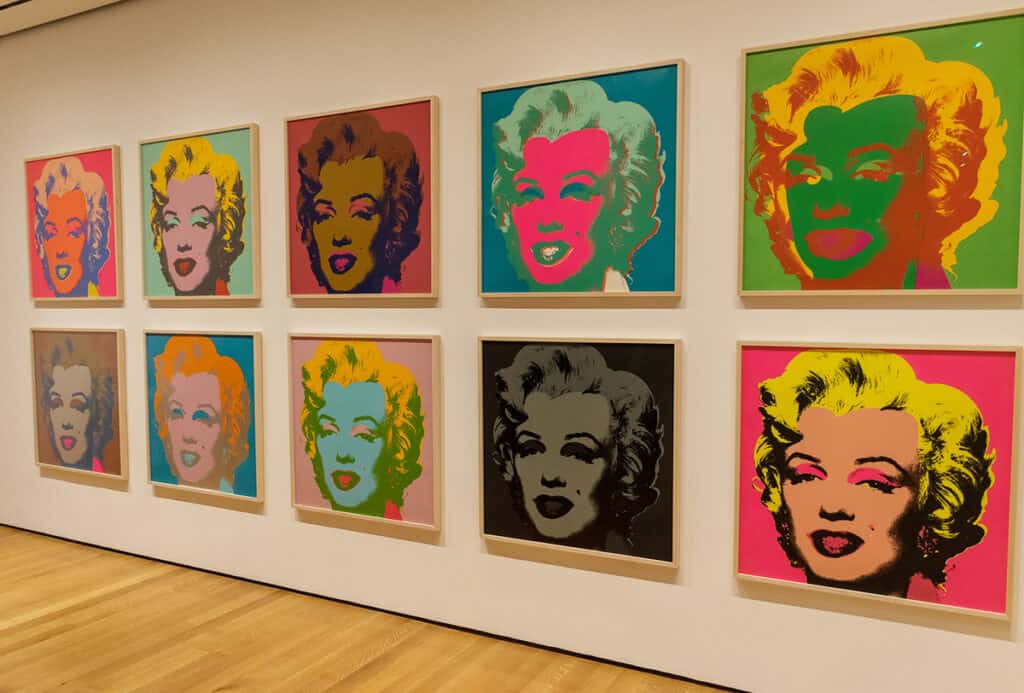 Because post is never enough, you might also like:
Stay in one of these hotels with river view rooms to see the July 4th fireworks from the roof, your room or even your bathtub!
My picks for awesome flea markets in NYC to pick up a quirky gift or enjoy the street food.
If you're looking for best brunch spots in NYC, especially if you love a great bottomless brunch, you'll love this post.
Shop till you drop in these 12 shopping locations in NYC which I've reviewed in this post.
You might love my post on How to do Christmas in New York City covering unique events, pop up markets, best neighborhoods for lights and of course, skating!
This post covers crazy fun ways to have Valentine's Day in New York, whether you're loved up or single!
Read more: Visit the best bars in Santa Monica for some cool West Coast vibes, or if you're heading to WeHo you'll love these incredible rooftop bars in West Hollywood.