Spending new year's eve in New York City is on the bucket list of countless travellers across the world. It has all the excitement and magic that one needs to see in a new year and whether you're on a budget or money's no object, this post is for you.
Let's hope by this new year things in NYC are looking good and the virus is contained!
New York is a constant buzz of activity throughout the year. It's no wonder it is also known as "the city that never sleeps" – just one of its slogans – so where better to welcome in the new year than the Big Apple?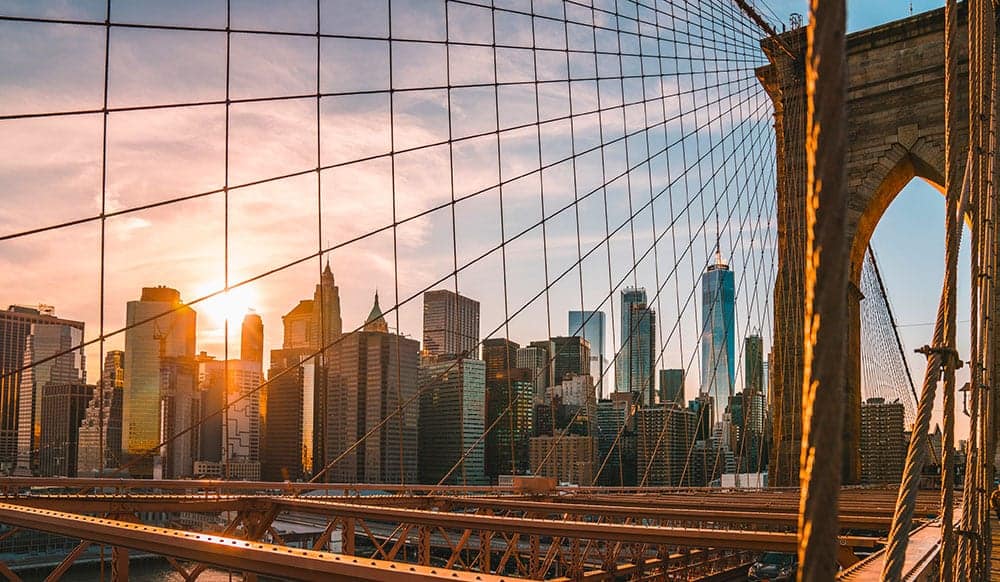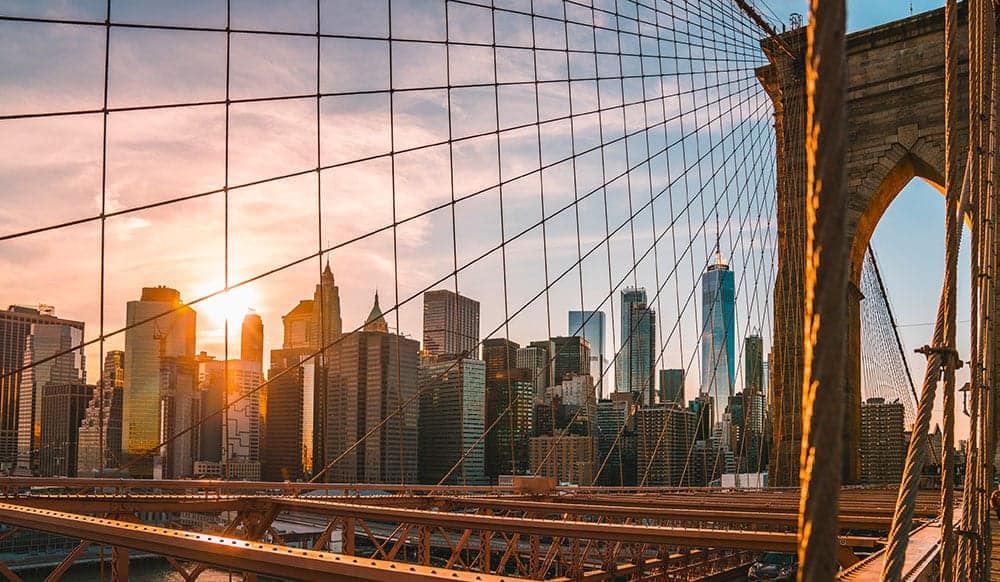 5 ways to celebrate the New Year in New York
To help you make the most of your New Year's Eve celebration, and to better experience New York on a budget, I've put together a list of five epic ways to begin the new year. Whether you prefer a more exclusive and elegant night out, or to be one of a million jostling in a throng of people, I've got you covered.
If you're looking for a New Year's Eve party, New York has a long list to choose from and each event has its own details on dress code, time and cost. But, the following five experiences are guaranteed to provide an unforgettable start to the new year.
1. Attend an NYC New Year's Eve cocktail party
New York City drips with elegance and attending a cocktail party is a great way to get into the vibe as the countdown begins. Take your pick from a variety of different events, such as the cocktail party at the Library of Distilled Spirits. Or choose a more casual approach and walk into one of the city's many festive cocktail bars.
NYC and cocktails go hand in hand, so keep in mind that there will be plenty of people with the same idea as you. Make sure that you head out early so that you can get a good seat at the bar and take advantage of those happy hour specials.
If you want to dive deep into an NYC cocktail experience, then you can book a craft tour whenever it best suits your itinerary.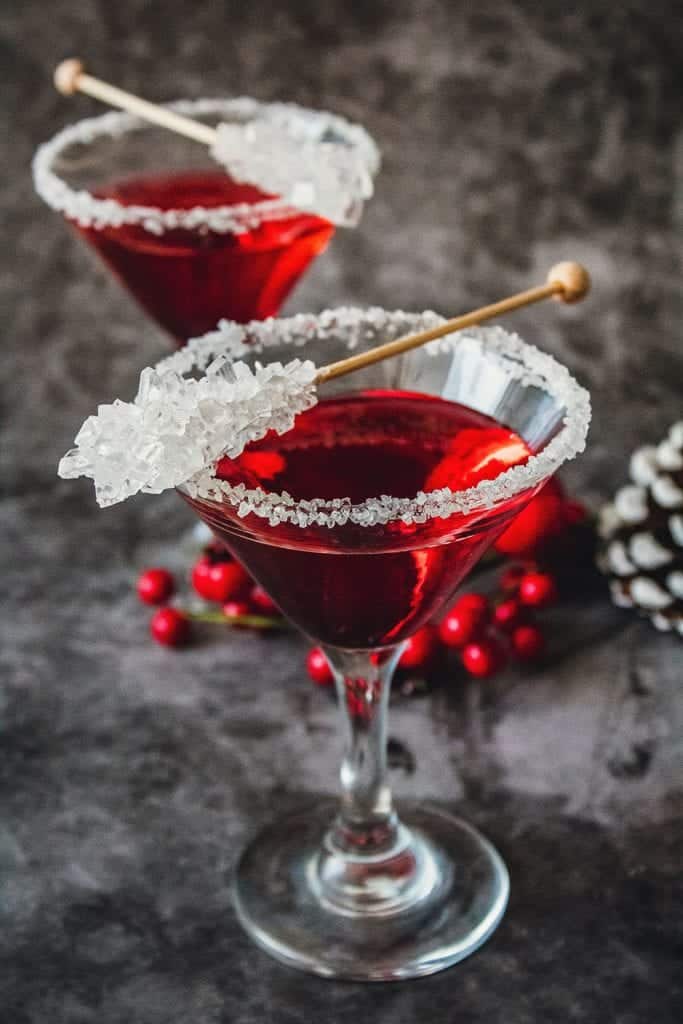 2. Watch the New Year's ball drop at Times Square
This should probably be #1, but I put it second because you'll need a cocktail (or two) first!
Every year a million people gather in Times Square and watch the iconic ball drop when the clock strikes midnight on New Year's Eve. In fact New York's New Year's Eve would be incomplete without this tradition!
There are live performances and entertainment starting from about 6pm and people begin to gather from early afternoon, so if you're not bothered about the crowds, join the masses to see the giant, sparkling ball drop 141-feet (43 metres) from the roof of One Times Square.
The best view to see the ball drop is where Broadway and 7th Avenue meet, also known as the 'Bowtie'. However, it can still be seen from quite far and the entire scene is televised across the city too – so maybe just stay in the cocktail bar and watch it on the telly!
Keep in mind that New Year's Eve in New York is in deepest darkest winter and the ball drop is an outdoor spectacle, so dress warmly and get there early if you want to get a good spot to view the drop live.
3. Skate into the new year!
Ok, disclaimer: I can't skate. In fact I hate the whole idea of slipping and sliding so I don't ski either, but for those who do not share my phobia, here are three great places to ice skate in NYC.
The Rockefeller Center Ice Rink, under the famous Christmas tree, is a hot spot in the cold climate over New Year's Eve. Even just wandering past to take a few photos is a must, and the experience is an affordable way to enjoy the city.
But if the busyness of the Rockefeller Center intimidates you, then you can visit one of the many other ice rinks that pop up across the city.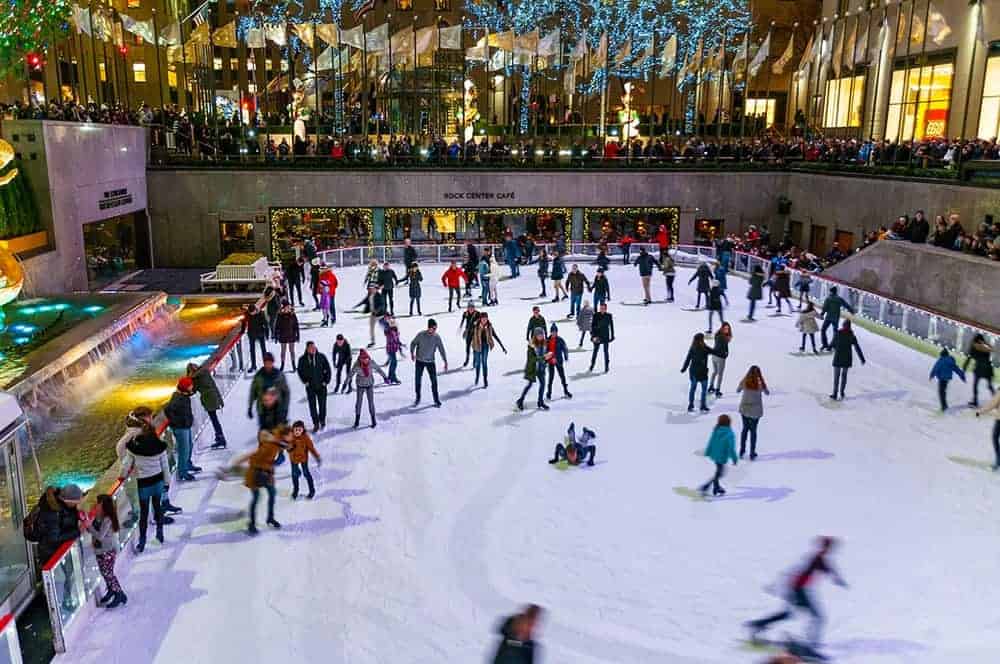 In fact skating at Central Park is just as iconic as the Rockefeller rink.
For a more inclusive NYC tourism experience, you can book a Central Park ice skating and walking tour.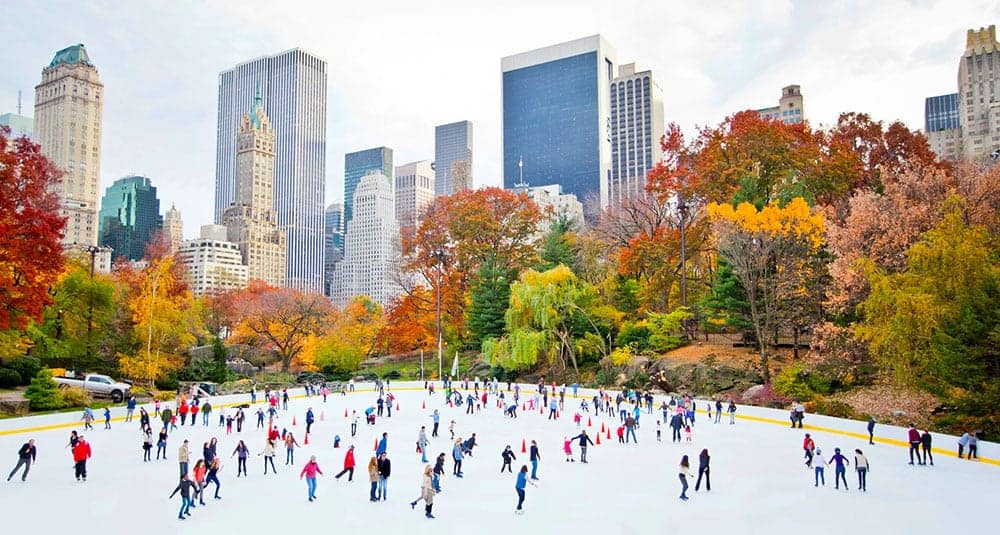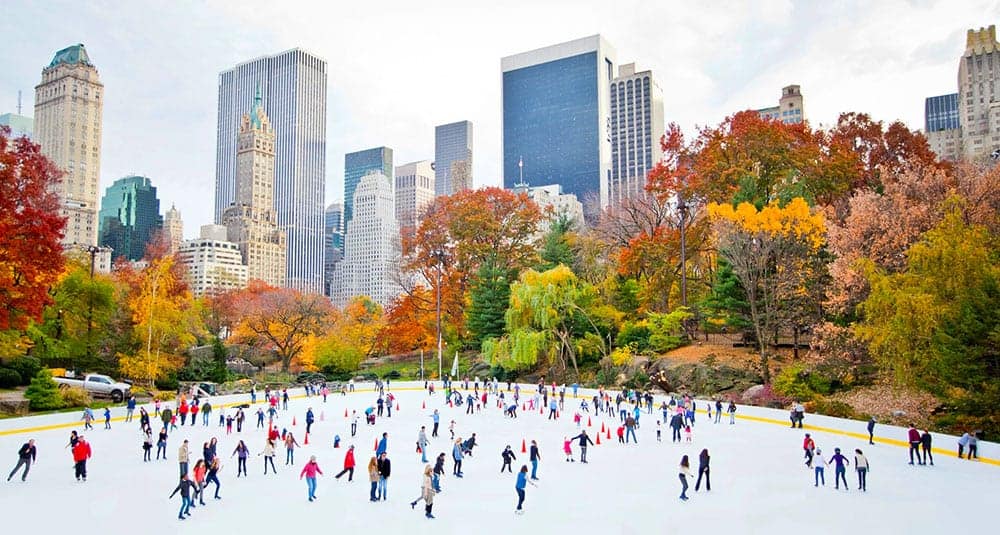 Or head to the pop-up Winter Village in Bryant Park and don your skates there – then shop in the surrounding market stalls and grab a bite to eat.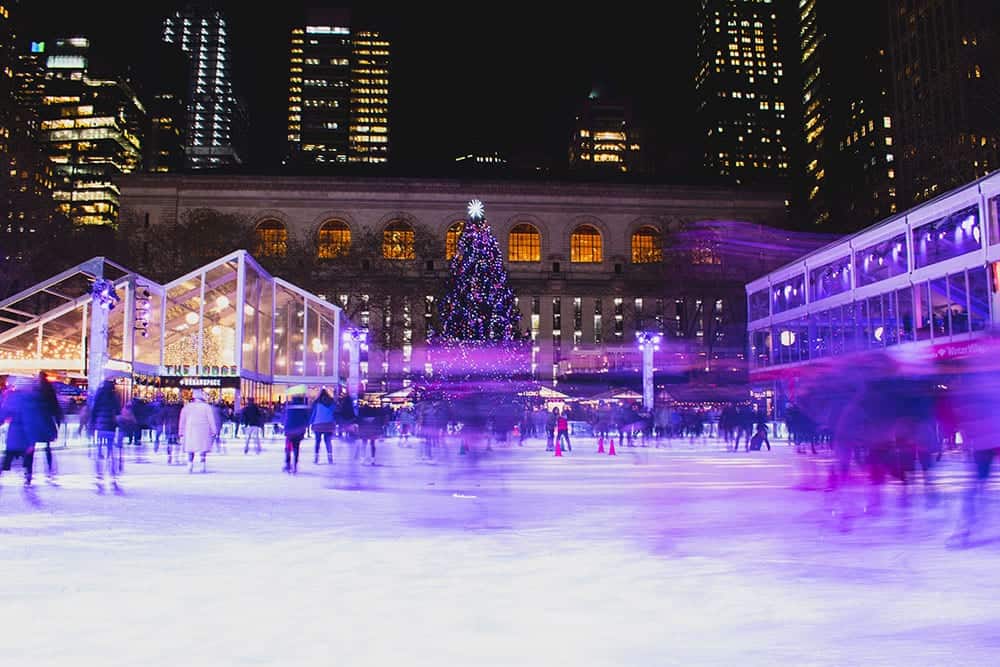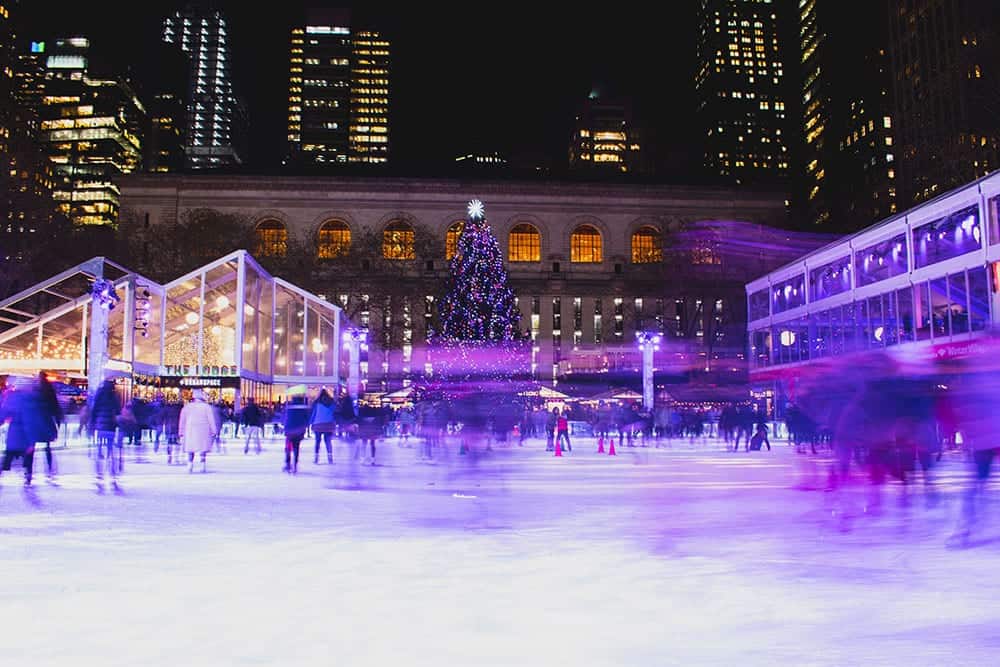 4. Take a cruise on New York harbor
If you prefer to get away from the throng or want the sophistication of a more calm evening, then head over to the New York Harbor to enjoy a cruise under the dazzling night sky.
This is the ideal location to be, champagne in hand, the sound of sultry jazz in the air, to watch the fireworks and festivities from the water.
This New Year's Eve fireworks cruise and champagne tasting on board the Yacht Manhattan II is one such cruise that promises an unforgettable night. Although slightly pricier, it pays in glamour and decadence. And imagine the selfies!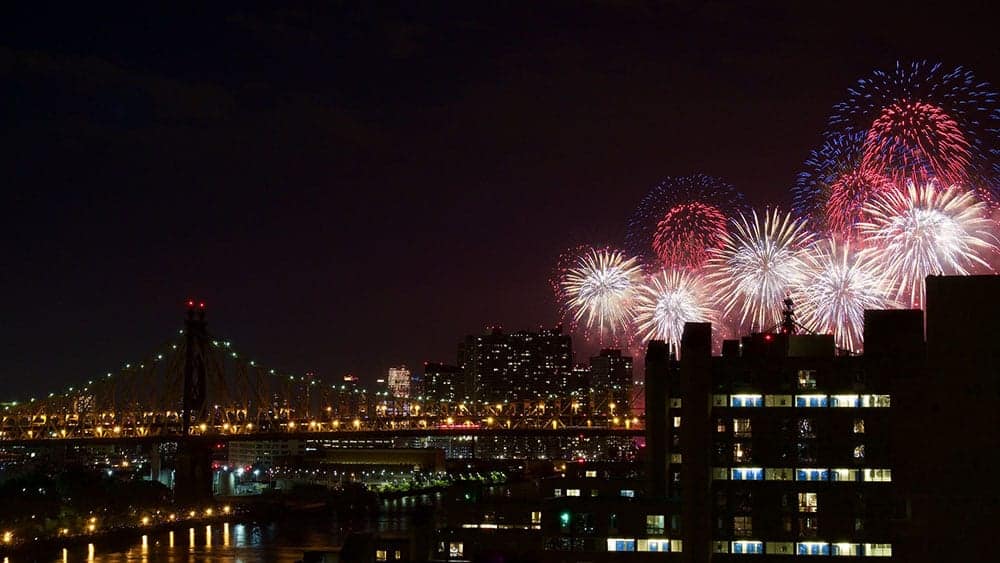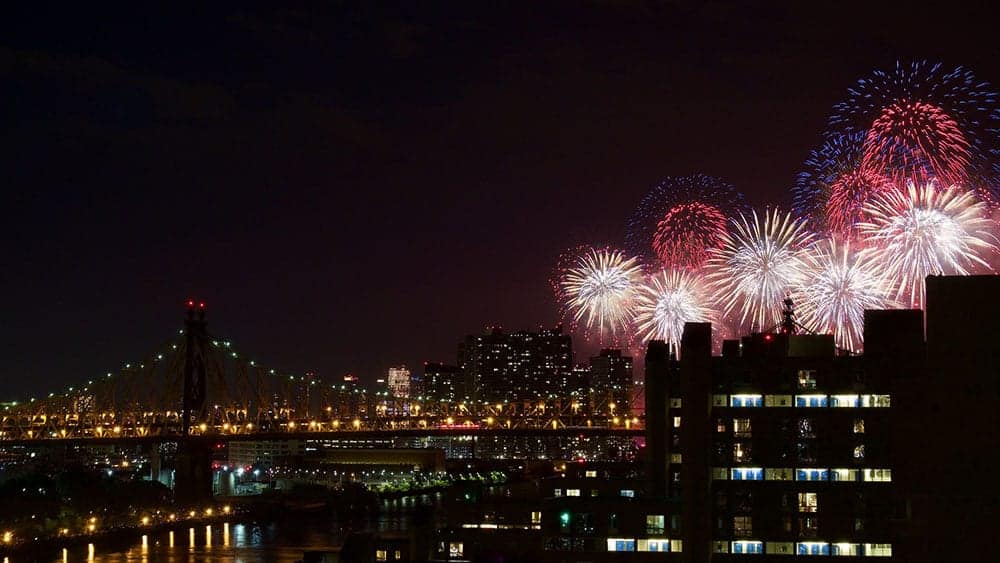 5. Experience the thrill of Coney Island
Looking a more unique and exciting way to celebrate New Year's Eve 2019? Coney Island in Brooklyn will give you a whirlwind adventure.
The famous amusement park's celebrations kick off at 6pm and include all of the perks expected from New Year's Eve: fireworks, live entertainment and a happening social scene.
Located right by the beach, Coney Island is particularly exposed to the city's winter chill, so make sure that you dress warmly. And, perhaps bring an extra jacket for when the heated excitement of the rides cools you down.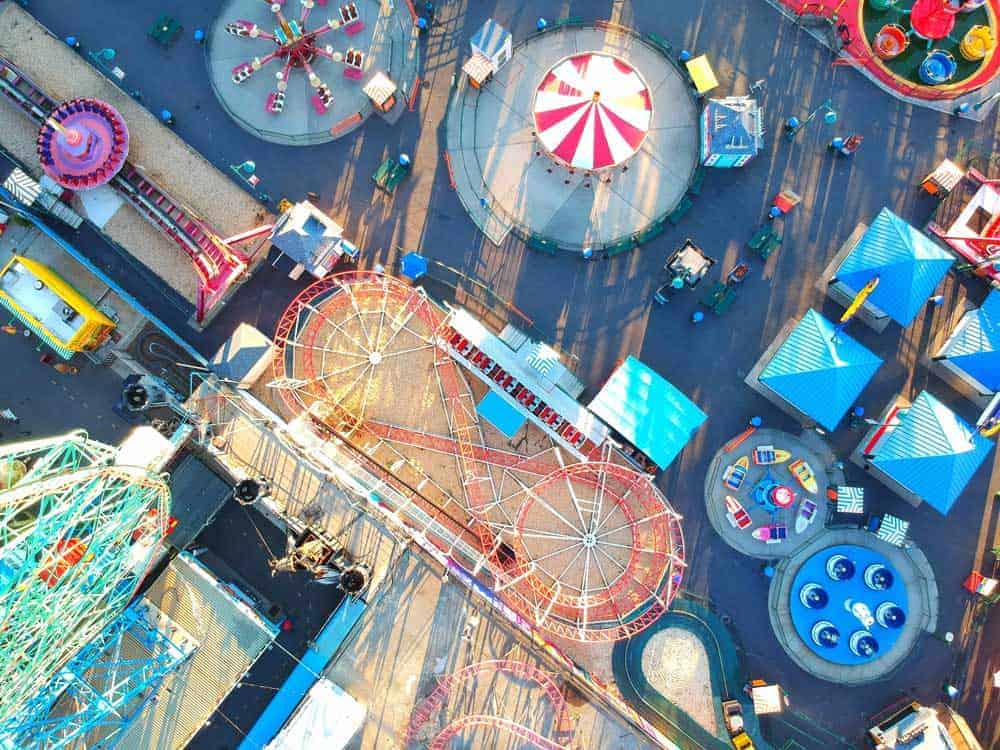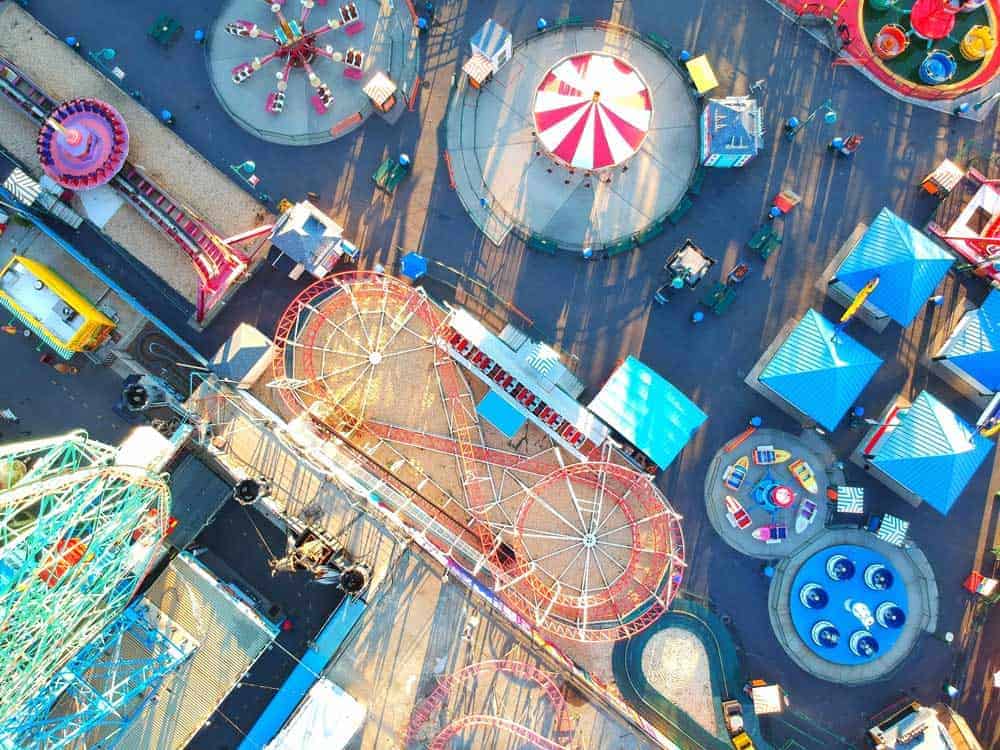 Top tips to have the best New Year's Eve in NYC
Dress warmly
Get to your destination early
Set out a budget beforehand
Beware of crowds, which are huge on a normal day, and the size of revellers will only increase during the festivities
To avoid getting caught up in the traffic jam to get home, book somewhere central to stay. Hotels such as The Time New York and its surrounds are a sure bet that you'll be in the thick of the action without worrying about the headache of transportation.
Final Thoughts On New Years Eve In New York
New York City offers a wealth of different, exciting and fun activities to celebrate the end of the year. Regardless of your interests and preferences, spending New Year's Eve in New York will be memorable, whether it's shopping or a Broadway show, a stroll through Central Park or out to see the Lady Liberty…
I love the symbolism of welcoming in the New Year and letting go of the past one. Choose a New York experience that will inspire you to celebrate the fresh start that 2021 provides, and enjoy the beautiful city as it pumps with festivity!