Each Thanksgiving Day in New York City since 1924, the Macy's Thanksgiving Day Parade is the biggest event on the calendar.
It's only been cancelled three times in its 95 year history, due to helium shortages during the WWII years. And in 2021 with Covid changing all sorts of events the world over.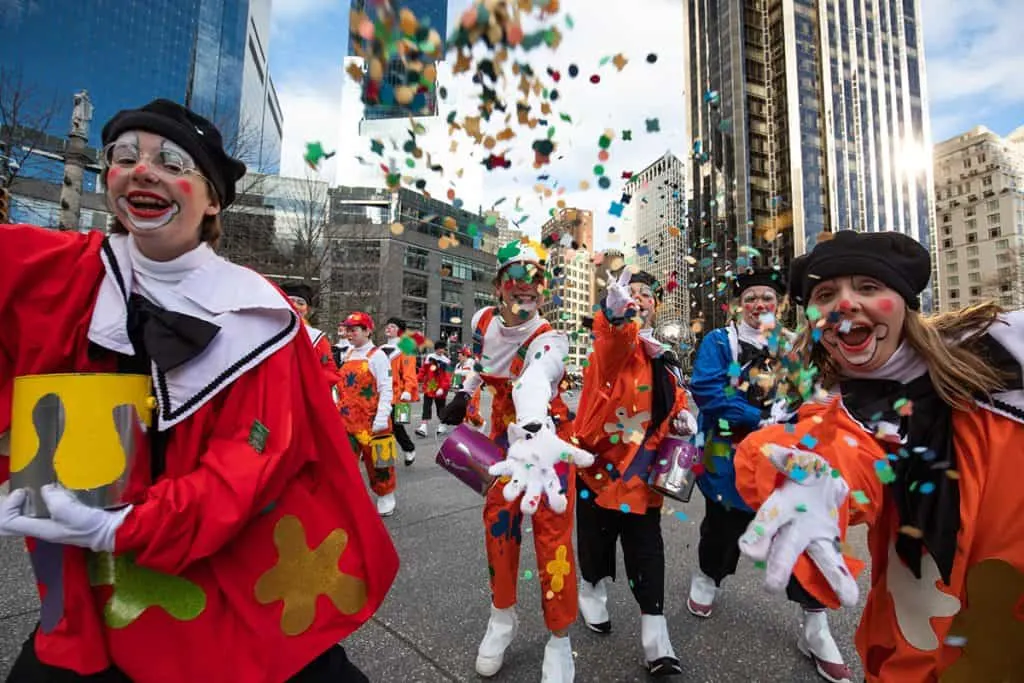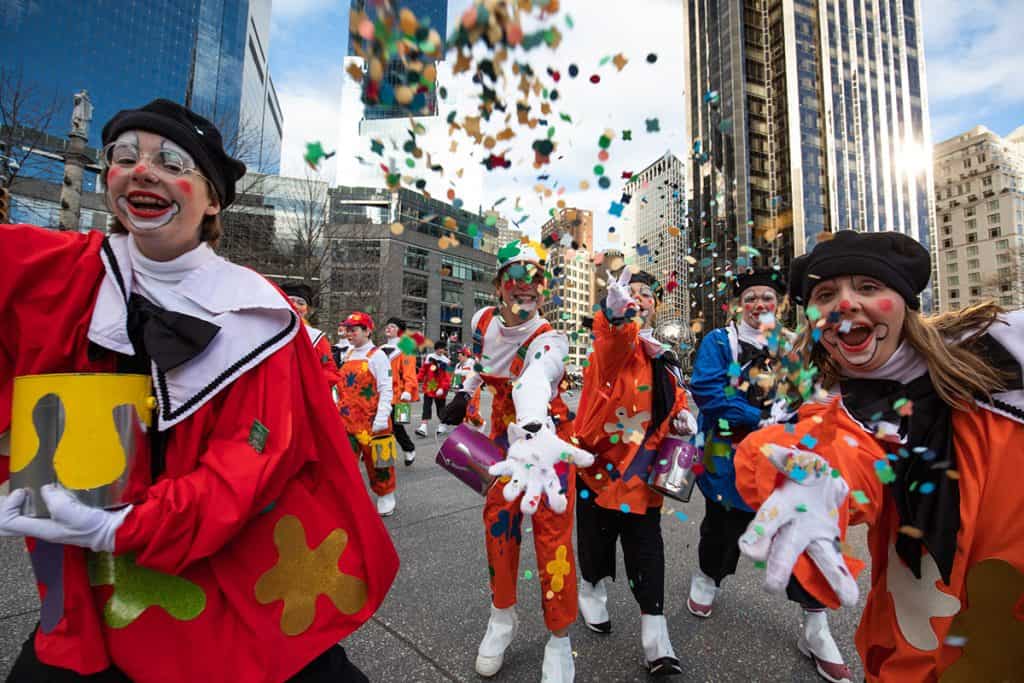 Check the route and best places to stand on Macy's Thanksgiving Day Parade website >
What is Thanksgiving Day actually celebrating?
For my non-US readers, Thanksgiving Day falls on the fourth Thursday in November and you'd be forgiven for thinking it is all about stuffing one's face with turkey and green bean casserole (get my recipe here >>) and watching football from the vantage point of the couch all afternoon.
But giving thanks to God for the harvest, that's what Thanksgiving is really about – ever since the pilgrims first came over from Britain to America and harvested their first crops.
In November of 1621, the newly arrived Pilgrims and the Wampanoag Indians from southeastern Massachusetts and Rhode Island gathered at Plymouth for an autumn harvest celebration, and thus the tradition of Thanksgiving began.
And by the way, a New England road trip in the fall is simply magical. (Bookmark this post for next year!)
Thanksgiving is also famous for the three-hour live TV coverage of the parade in NYC with hundreds of floats, helium balloons, marching bands and the occasional superstar looking for a bit of nationwide coverage.
Most blogs about the iconic Macy's Thanksgiving Day Parade in New York City focus on the event itself, but this post covers all the funny and terrifying balloon accidents over the years!
Originally the Macy's Parade was a Christmas parade with Santa enthroned on Macy's balcony on 34th Street. And I've now added this great post on how to do Christmas in New York, if you're going to be in the Big Apple for this most magical time of the year!
But the enormous helium balloons first appeared in 1927 and have been the parade's hallmark ever since, now involving around 8000 handlers, wranglers, marching bands and floats in front of a crowd of over three million – and millions more who watch on TV.
The night before the parade is also an event in itself that you should get to if you're in town: the filling of these monstrosities with helium just off Central Park and holding them down under netting until their flight the next day.
In 2023 Leo the Lizard debuted at nearly 13m tall. Balloons this size cost up to $500,000 just to fill them with helium!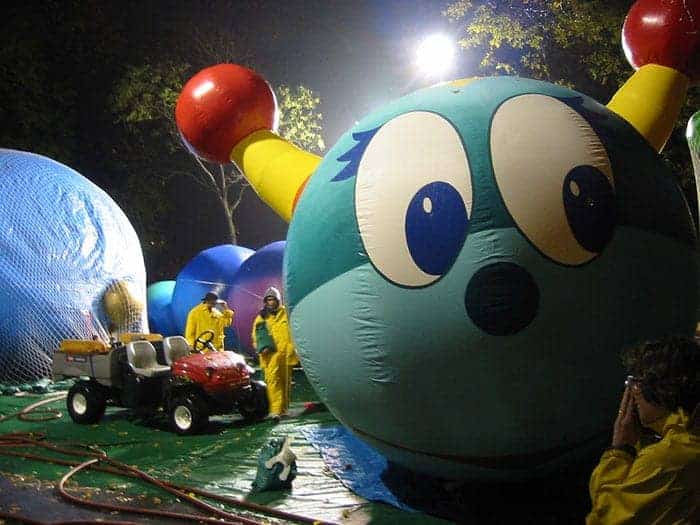 And when Thanksgiving day dawns one can only imagine how hard it is for the "balloon wranglers", up to 30 for one balloon, to control these beasts should the weather turn inclement.
And yes, over the years there have been a few Thanksgiving day balloon disasters. Scroll on down to see video of Barney's demise!
Thanksgiving Day Parade balloons that have run amok!
1927: Felix the Cat was the first one to make an appearance in the parade – but he caught fire after tangling with telephone wires.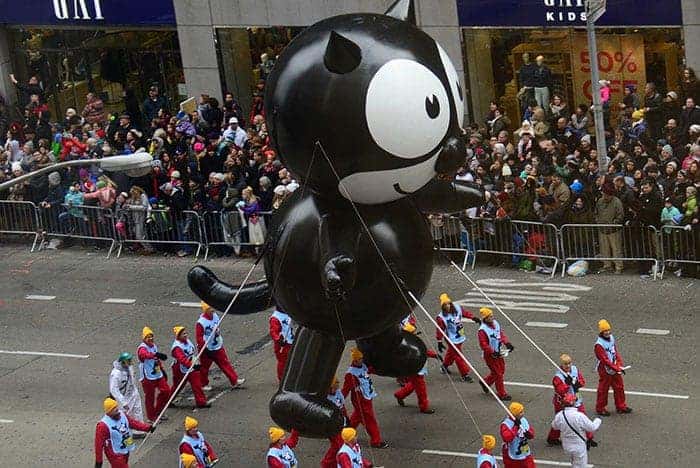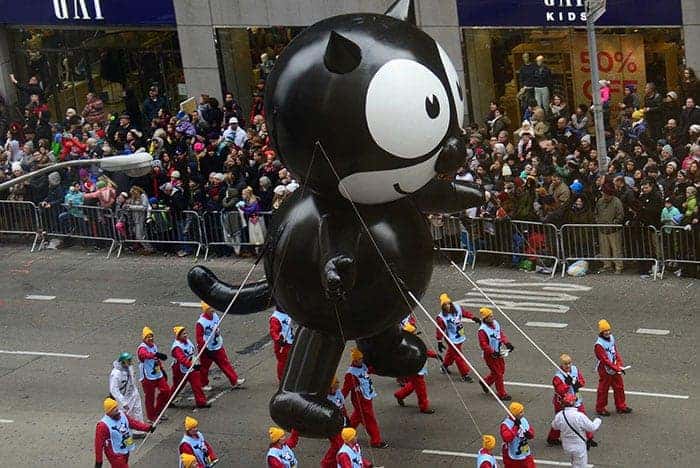 1957: Popeye the Sailor's hat filled with water during a heavy downpour of rain, which threw him off-course and poured 50 gallons of water on an unsuspecting and unhappy crowd.
1985: Kermit the Frog experienced a nasty stomach injury and collapsed to the ground in a heap.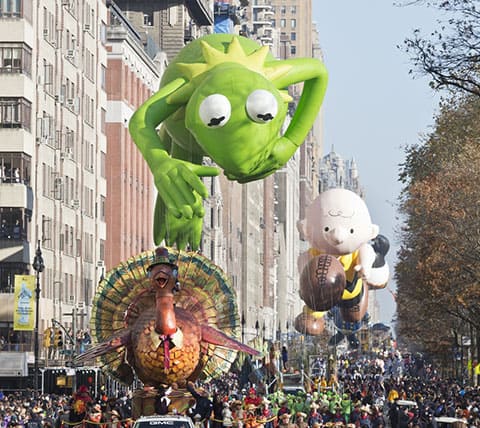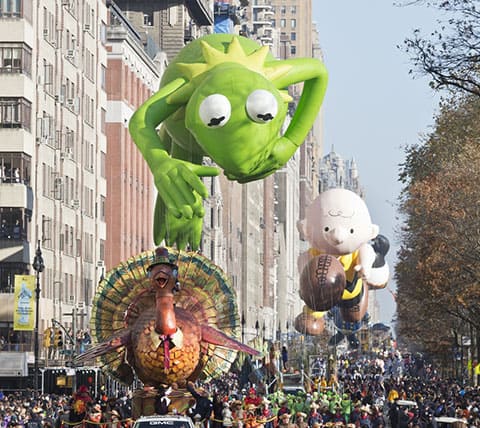 1986: Raggedy Ann crashed into a lamppost and sent it into the street. The same year, Superman had his hand torn off by a tree. Neither incident caused any injuries to humans.
1993: Sonic the Hedgehog crashed into a lamppost at Columbus Circle and broke an off-duty police officer's shoulder.
1994: Barney tore his side on a lamppost and had to be removed from the parade with the help of knife-wielding officials, crying kids and cheering adults.
1995: Dudley the Dragon, who was leading the parade, was speared and deflated on a lamppost and showered glass on the crowd below.
1997: This is the worst balloon disaster I found. High winds pushed the Cat in the Hat into a lamppost. The falling debris struck a parade-goer, fracturing her skull and left her in a coma for a month. She sued the city for $395 million and "settled for an undisclosed sum" in 2001. Size rules were subsequently implemented in 1998, banning larger balloons.
Those same high winds also caused the New York Police to have to stab and stomp down Barney over crowd concerns. They also stabbed Pink Panther for the same reason. I have searched Youtube for two days trying to find footage of the balloon stabbings, alas nothing. (If you have any please comment!)
2005: M&M's balloon caught on a streetlight in Times Square. Two sisters were struck by falling debris, suffering broken teeth and other injuries. The M&M's balloon was retired after 2006 and replaced by a float saluting Broadway theatre and musicals. The sisters got a lifetime supply of M&Ms.
2008: a balloon took out the NBC camera booth taking their pictures off air. No word on "who" was the naughty gas-filled perpetrator.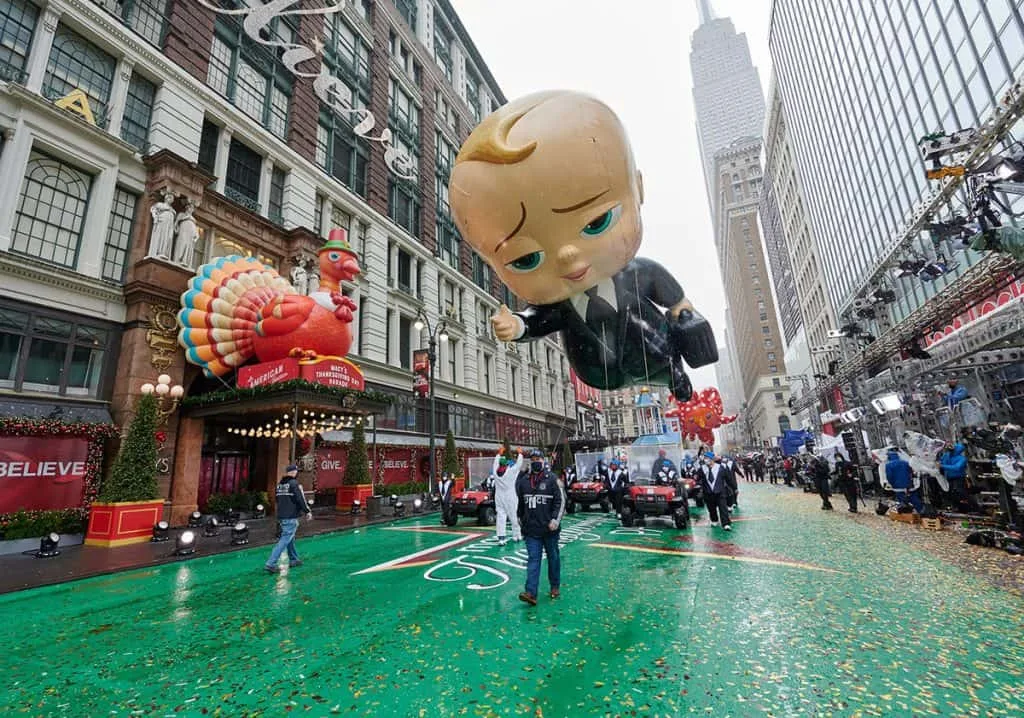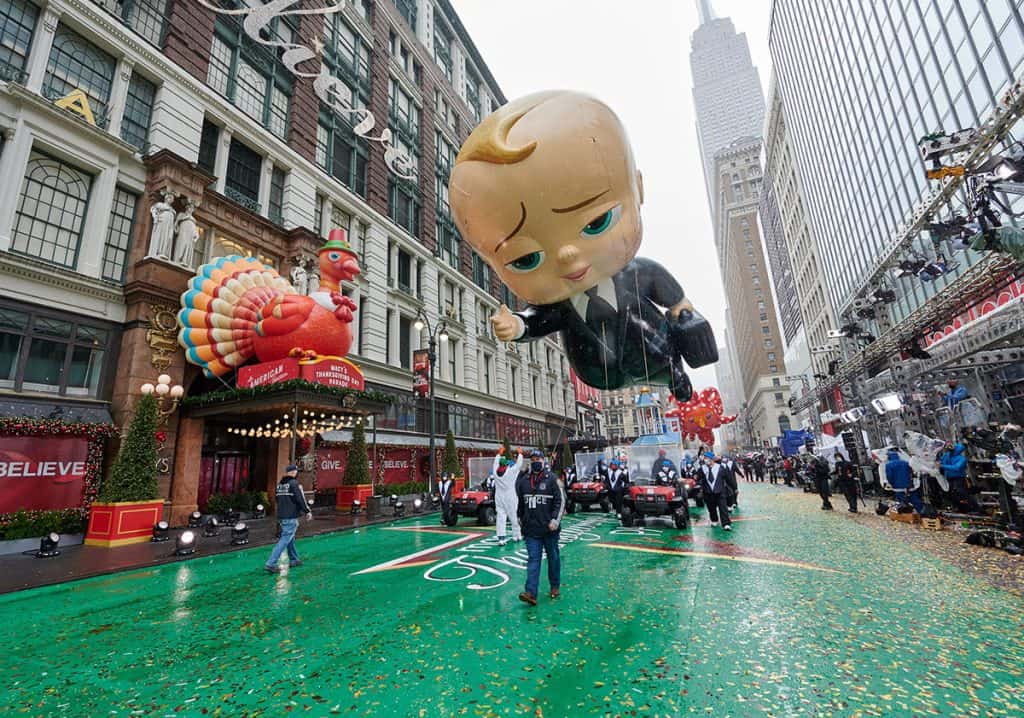 2011: the Kool Aid kid deflated and fell over. A bit like some of the people he purports to assist I'm thinking.
2012: Buzz Lightyear ripped his helmet and nearly went beyond infinity, ending up in a river while his handler ended up in hospital.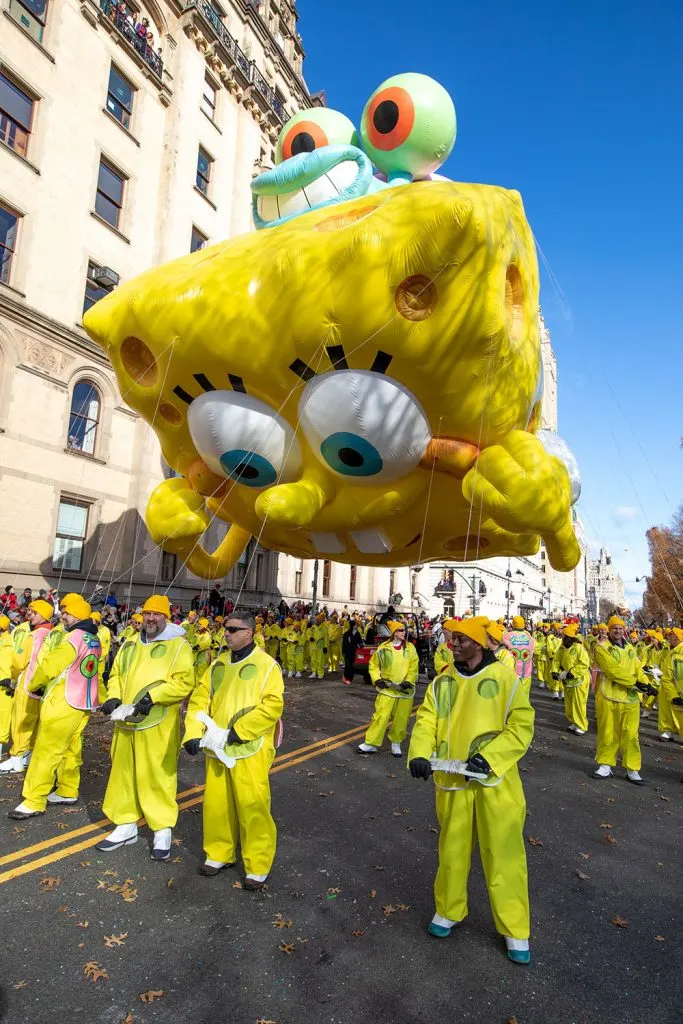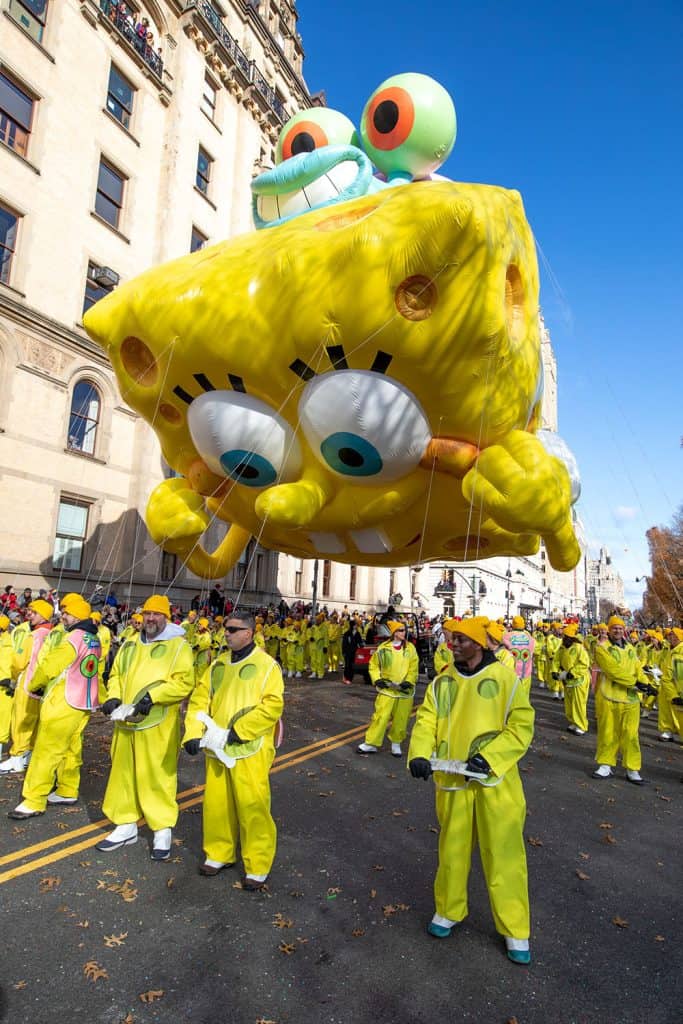 2019: Ronald McDonald had to be led off the parade with a tear in his leg. The rip had been noticed in the morning as he was still trapped under his net, but as Macy's staff apparently couldn't find tape to fix the 3-inch tear, they sent him on his way. However the tear grew and he began to sag and was taken off for "aesthetic reasons".
On the same day Nutcracker cracked one of his handlers and knocked her to the ground. He was allowed to continue however.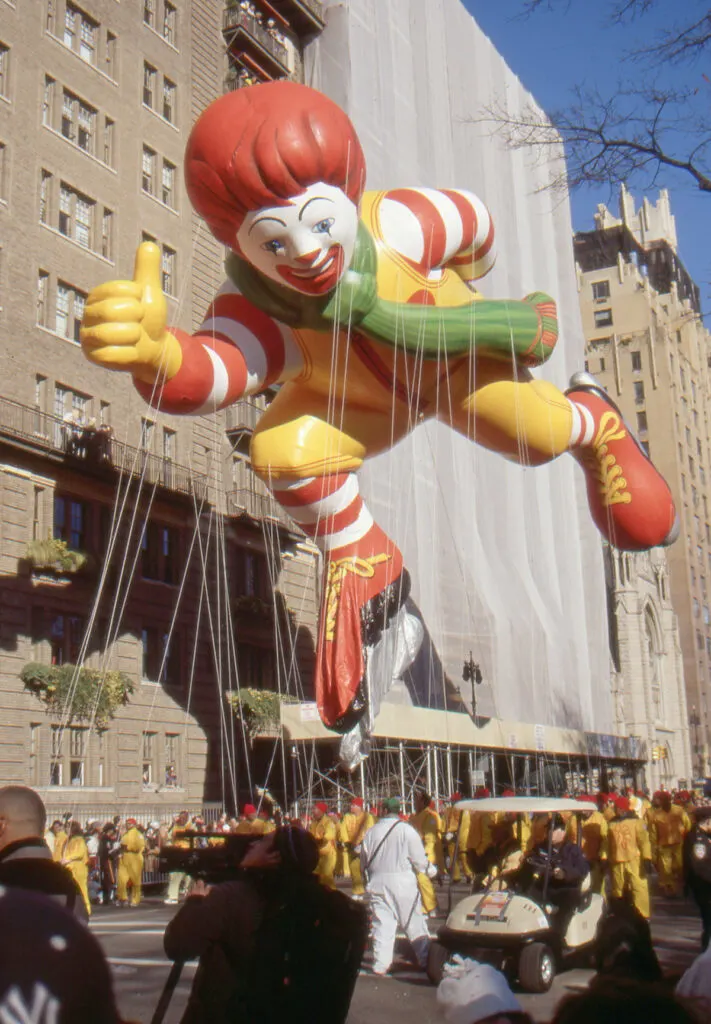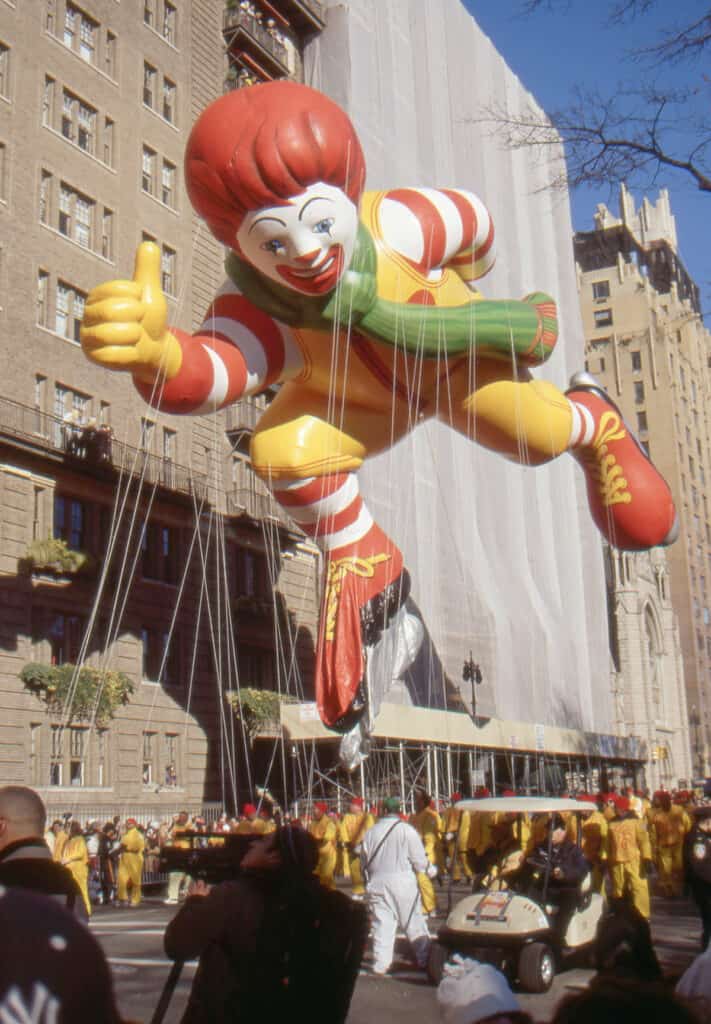 More posts I think you'll love!
Macy's 4th of July fireworks display, and where to stand to get the best views.
You might like to read my post on how to have a fantastic New Year's Eve in NYC!
Find my picks for the best dreamy rooftop restaurants in NYC in this post!
See my fun and practical Gift Guide for Travelers