Imagine an airline where you don't get a seat allocation. Sounds like the stuff of pandemonium right?
Well that's Southwest Airlines' business model, so in this post I lay out all the tips for ensuring you're not stuck in a middle seat down the back somewhere.
If you search online for flights on the likes of Expedia, you won't find Southwest Airlines.
I'm not sure why, except that perhaps they don't want to pay commission to third party booking sites, so you need to book direct on Southwest.com.
But is Southwest Airlines good?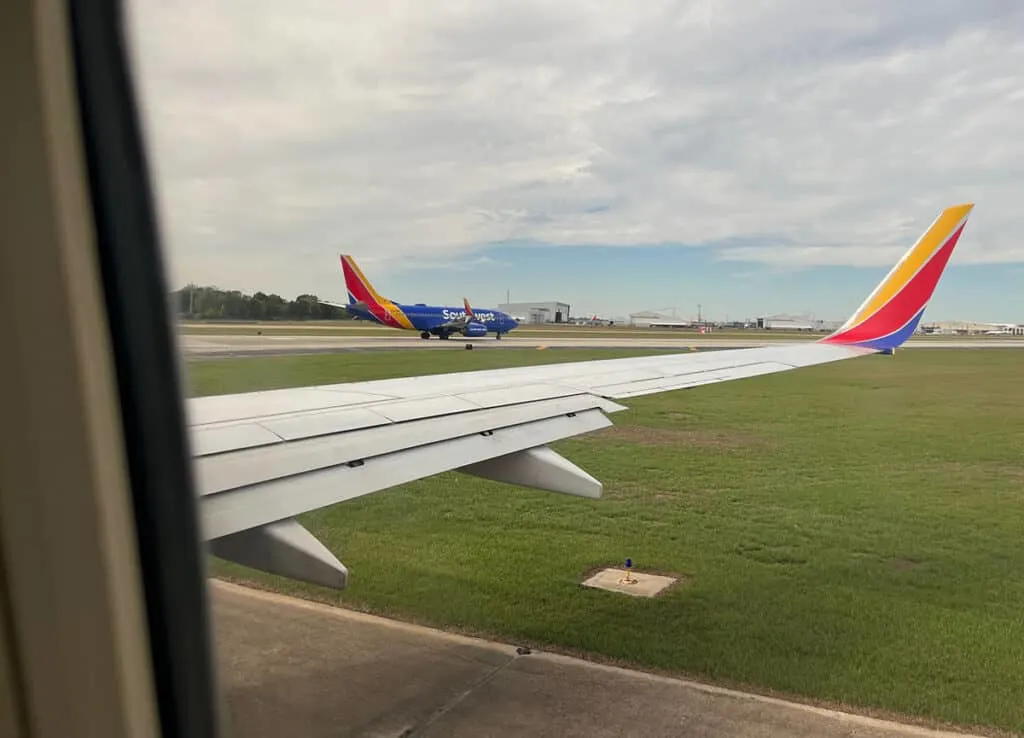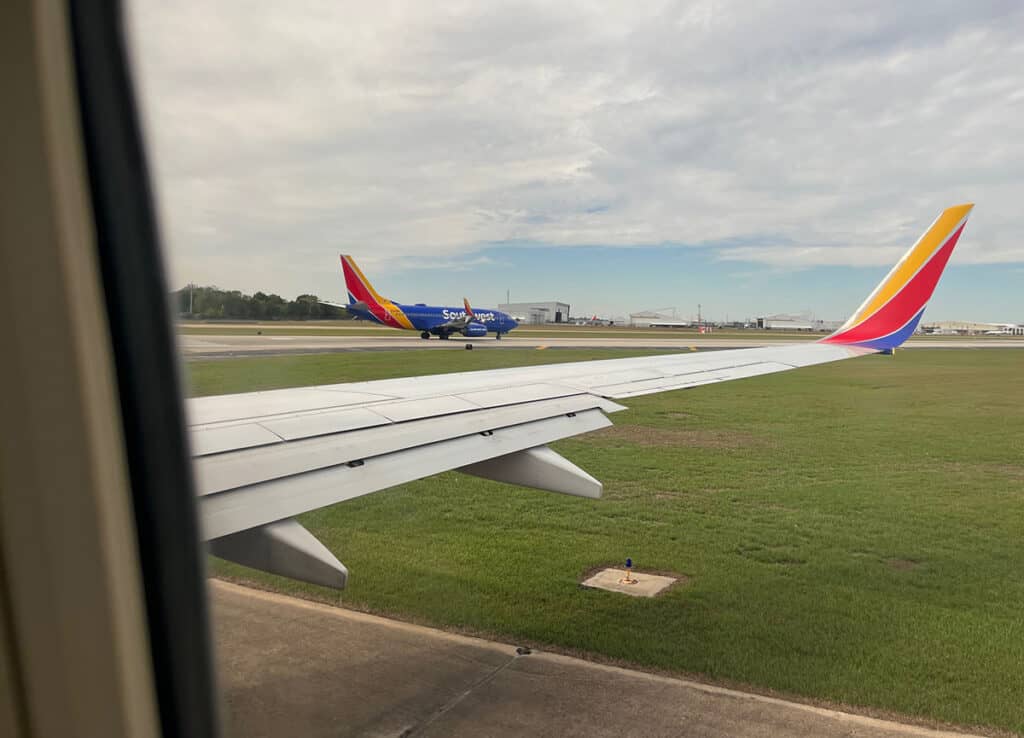 This no-frills, low-cost carrier is my go-to airline when looking for cheap flights within the United States. Here's why I like them – plus two super annoying things about Southwest that I've added at the bottom!
These days Southwest are adding frills, yet also still offering better value than the major airlines like United, American Airlines or Delta Air Lines when flying within the US.
They started as a no-frills, low cost airline offering domestic flights within the United States, now they offer international flights to a small number of destinations (like Mexico).
They have four price categories including Business Select, Anytime, Wanna Get Away Plus, Wanna Getaway. I've explained what you get in each category below under FAQs.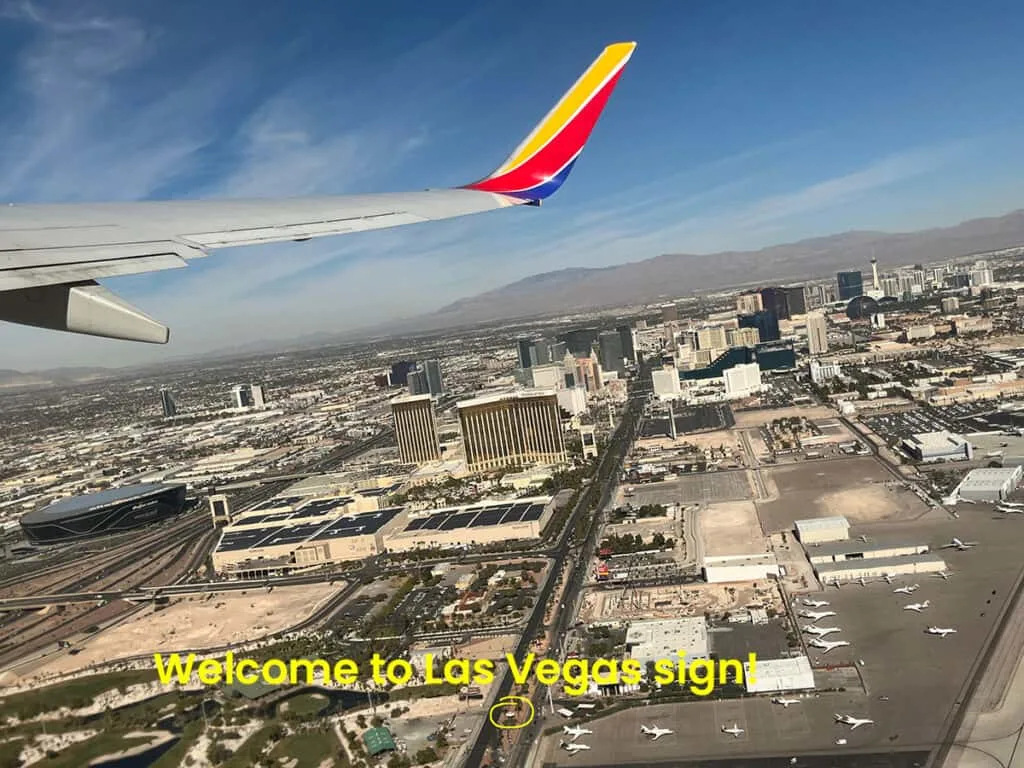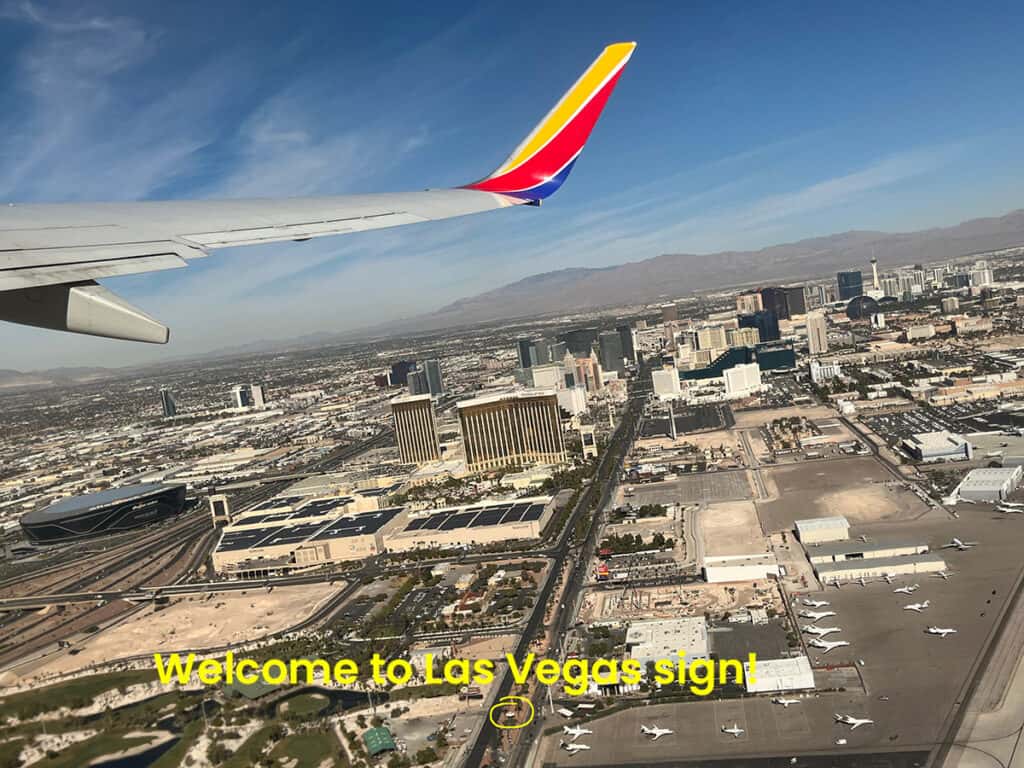 I've been flying Southwest for about five years but there are some things you need to know before taking a Southwest flight:
1. They don't assign seats!
This can be quite disconcerting, especially if you are a family wanting to sit together. Instead they assign boarding numbers, which you get by checking in online.
That means when you get to the departure gate, your boarding pass will simply have boarding group A, B, C and a number up to 60 on it. That is literally your boarding position and where you stand in line, and file down the airbridge when the boarding process begins.
You can check in online 24 hours before your flight and you really should set a phone alarm as your boarding number is important! If you buy a Business Select ticket you are automatically in zone A1-15.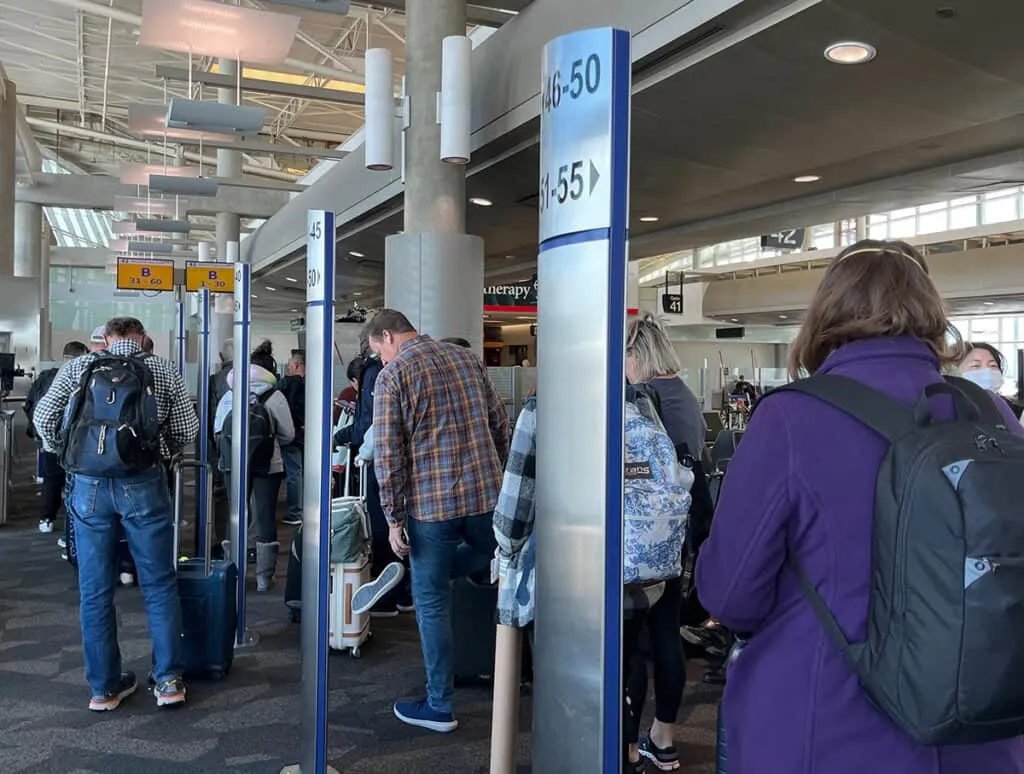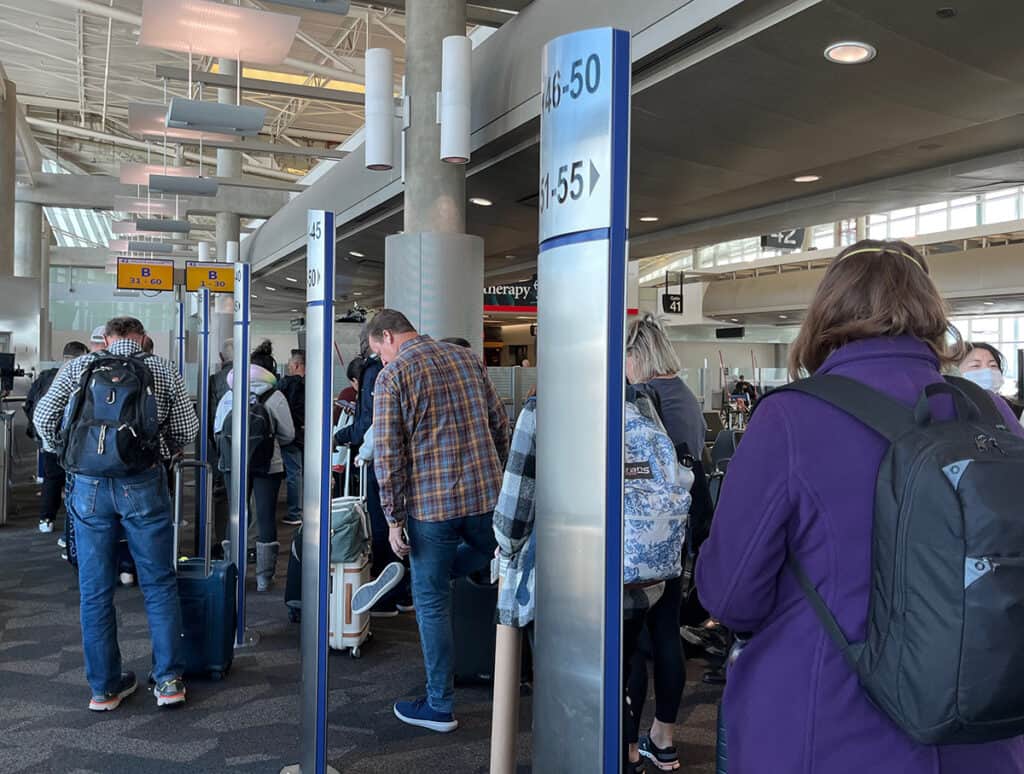 2. They sell boarding upgrades to A1-15
You can pay to get a higher boarding number, and the price changes the closer you get to the date of travel. I upgraded on the morning of my flight to this zone, after checking in online the day before and seeing we were assigned C5 for boarding.
The C-zone would have meant we'd likely be in a middle seat, not together, with little chance of getting space in an overhead locker anywhere near us.
So I used the Southwest app and upgraded on the day of travel to Business Select: US$40 per person.
We galloped onboard in positions 9 and 10, but didn't choose the front row, as I like to have a pocket in the seat in front of me to put my things: phone, kindle, M&Ms. Instead, for me the best seats are in the exit rows for more leg room.
Pro tip: I upgraded my next flight in a week's time: $20 per person to be automatically checked in the second it opens. We got A51 and A52.
Here's another pro tip: most people fill up the front first, even middle seats. If you are not boarding in the first few places, then my tip it to head down the back and you'll likely get a spare seat between you. Yes, you'll deplane last, but if you have checked your luggage (like we do because we've already come from NZ and have LOTS of luggage), then you'll still wait at the baggage carousel.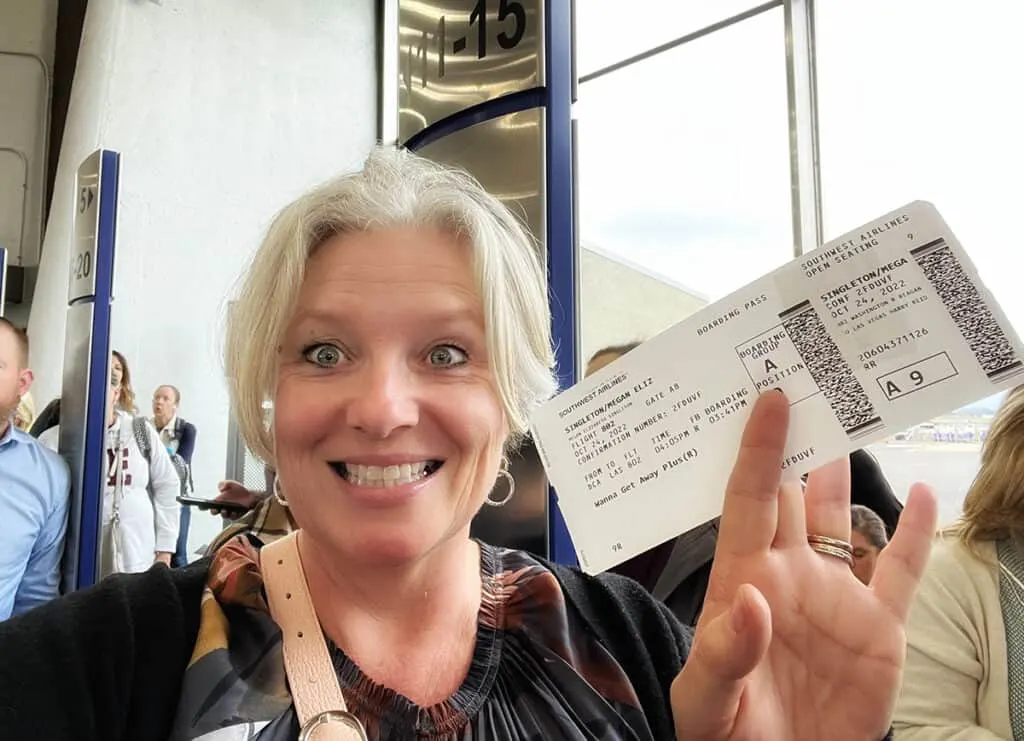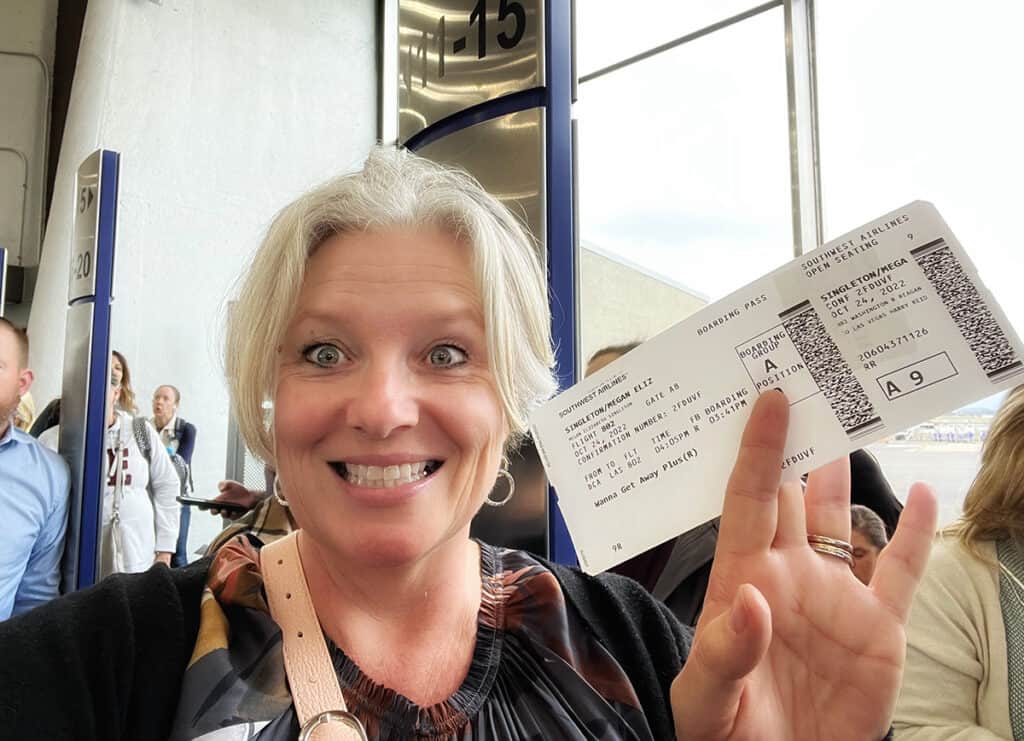 3. They offer two free checked bags!
This is virtually unheard of for US air carriers to charge no extra fees for luggage, and certainly for low-cost airlines. You'll find United Airlines adding about another $50 for each bag.
So, because you can take all the luggage you want, you might like my free ultimate packing checklist 🙂
You also get a free carry on bag (which most travellers do, rather than check their luggage, so there are very few bags being checked in these days), plus a free laptop bag or handbag.
The flight crew are also not above helping you find a space in the overhead bins and loading it in for you!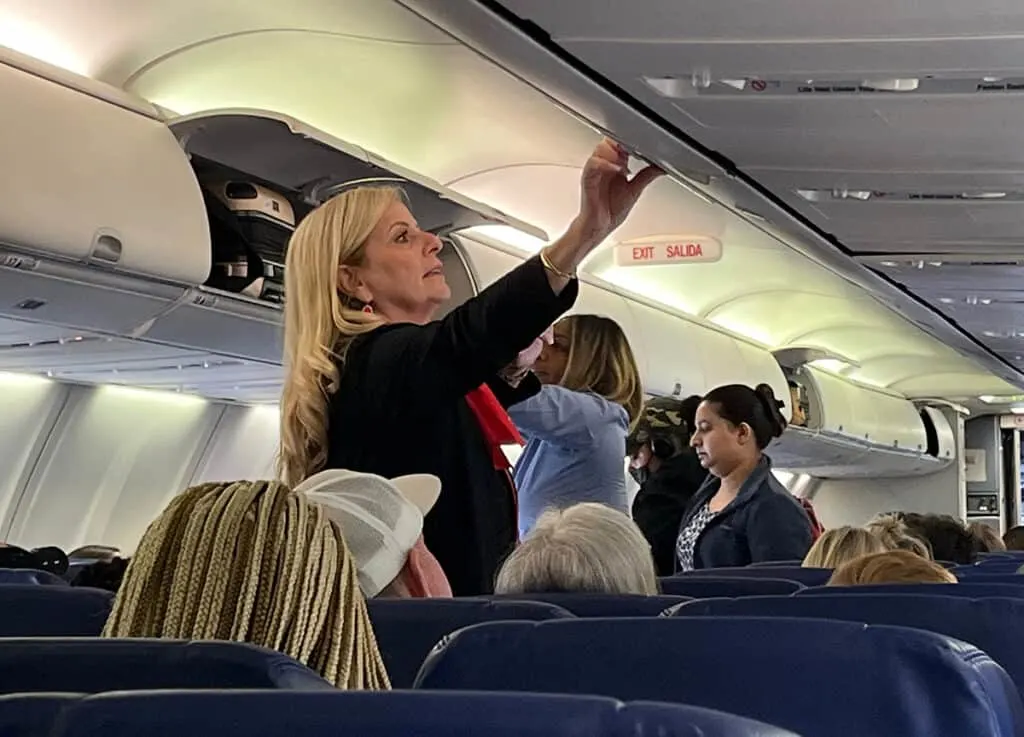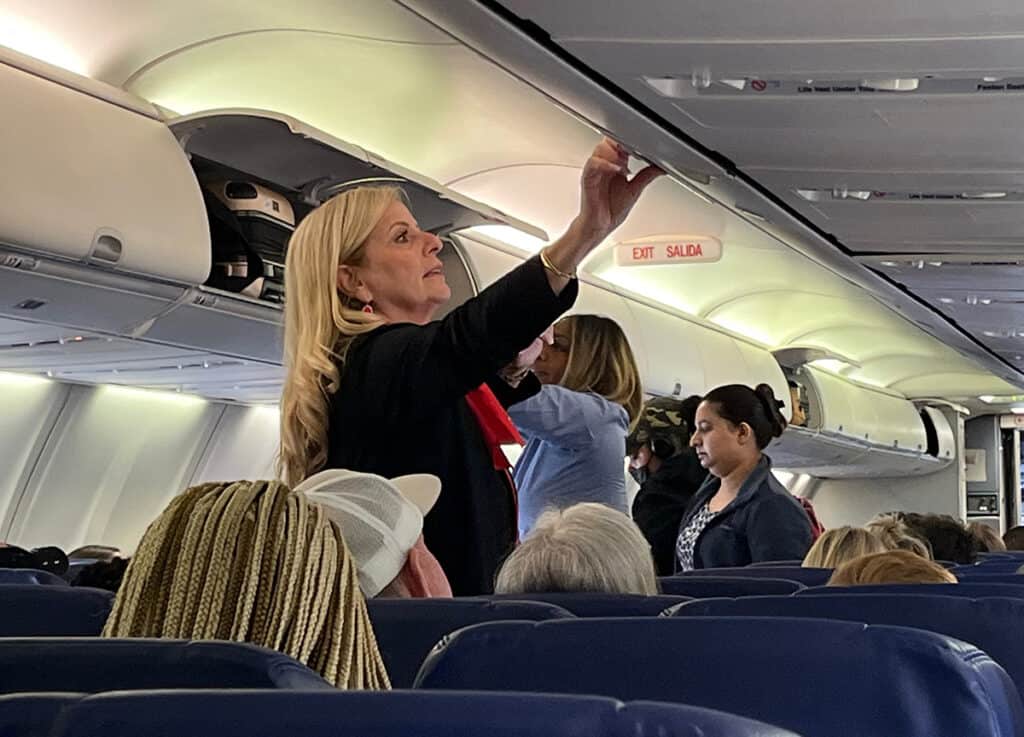 4. They don't fly into lots of airports!
You may not always find a direct flight, but never fear, just look for the nearest airport and you'll find it's probably cheaper and maybe even closer to the city.
We just visited Washington DC and flew from Houston to Reagan National Airport, which is closer than Dulles anyway – see the Pentagon when we took off in my pic below. Then we flew back out of Reagan to Vegas so I could update this post on the coolest things to do in Las Vegas.
You'll also find lots of flights that stopover part way along. Sometimes you don't even get off the plane, sometimes you change planes.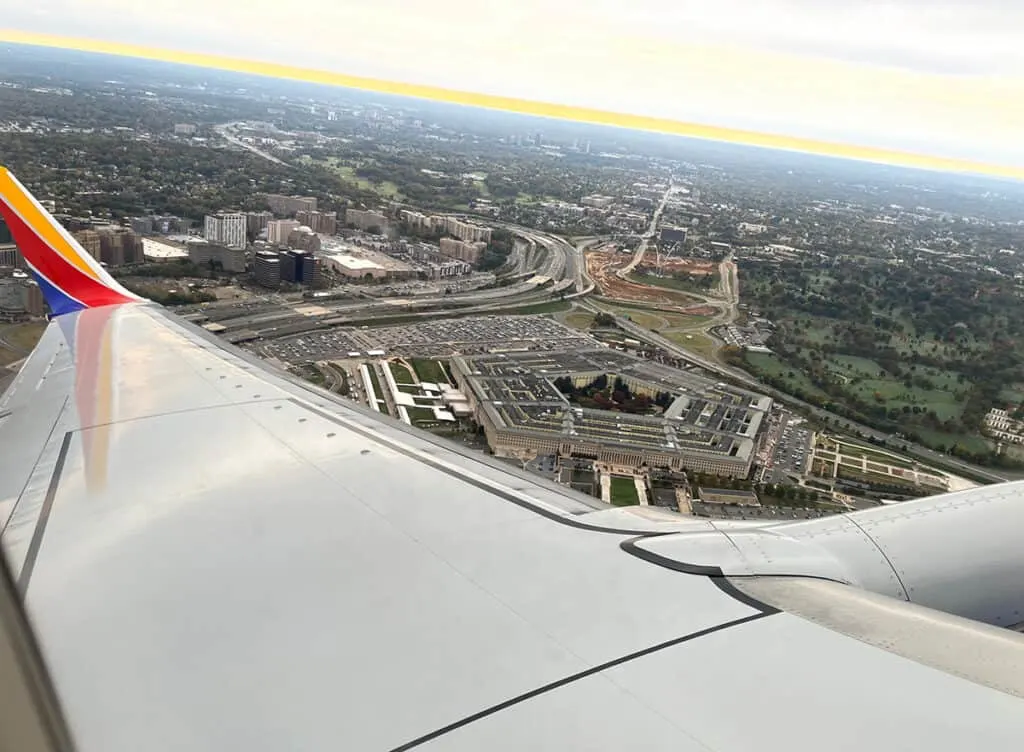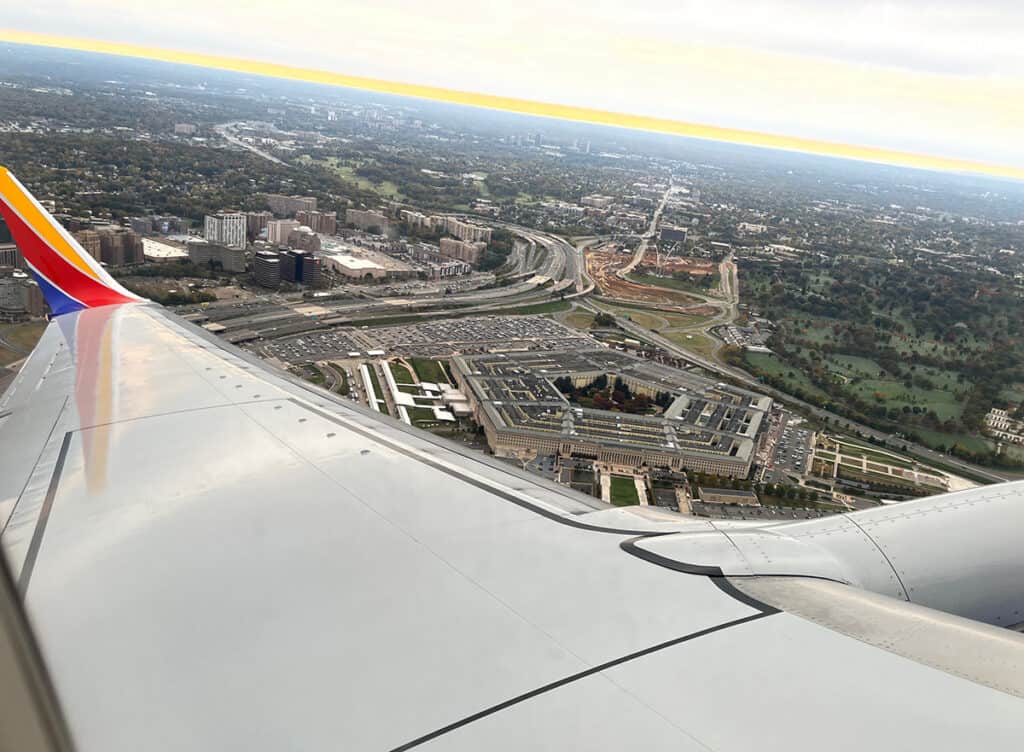 5. They provide free snacks, drinks and TV/movies
Despite being a "no-frills" airline Southwest offers free drinks, snacks and they come round twice on longer flights for no extra charge.
They also have free live TV and free movies to watch on your own devices once logged into their onboard Wifi. For $8 you can have full Wifi for your flight.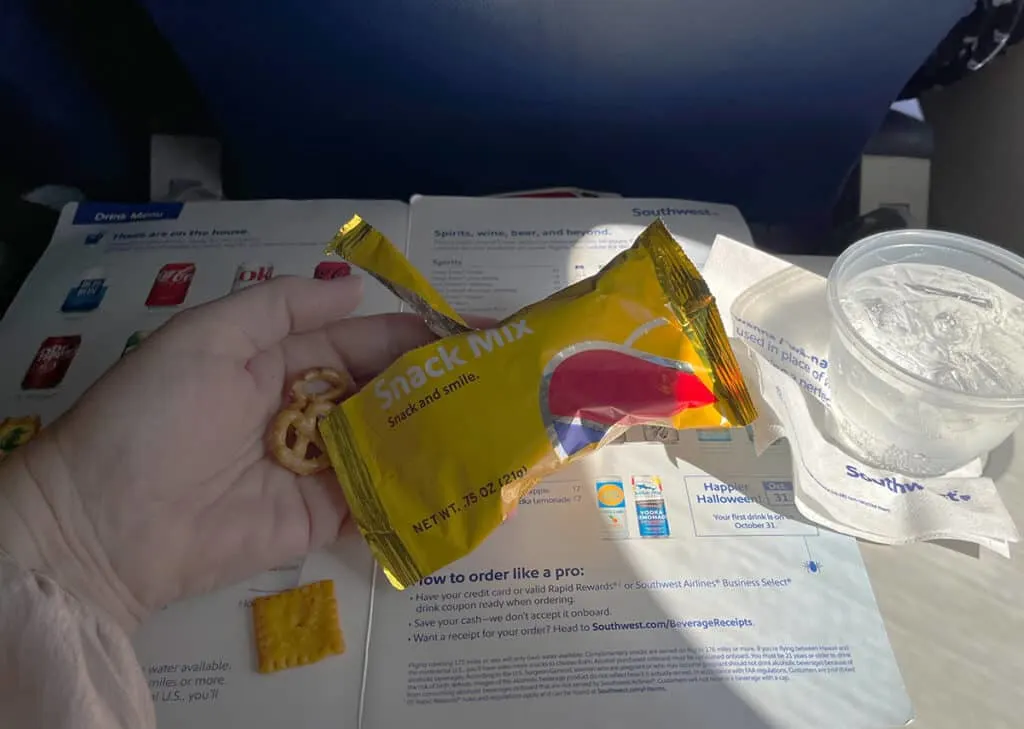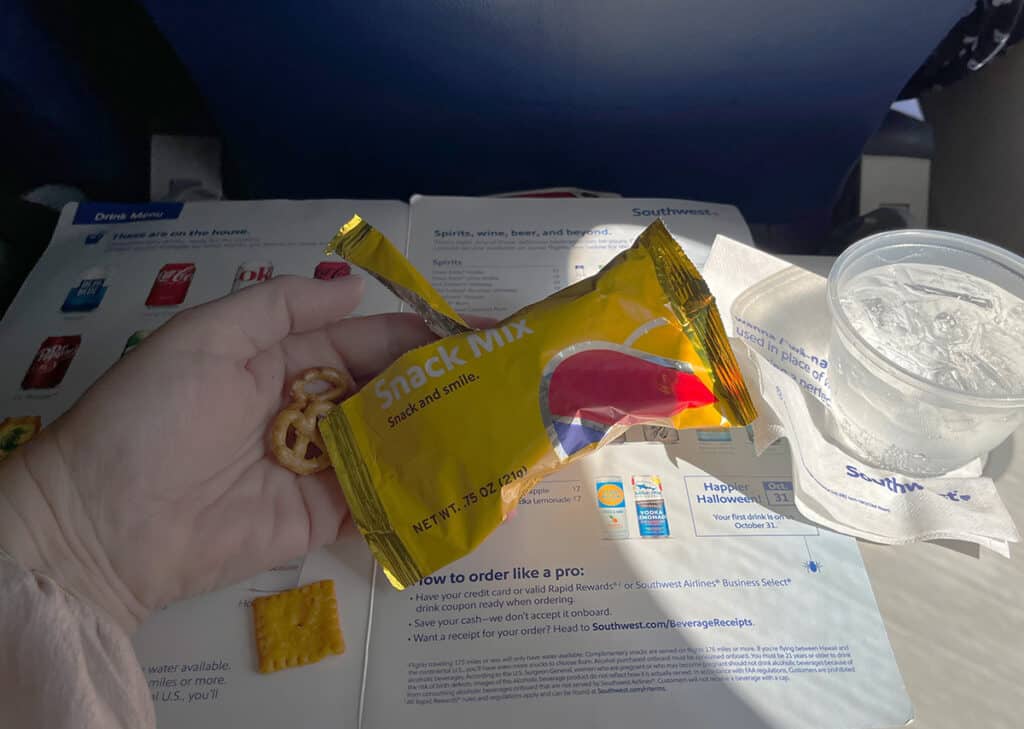 6. They offer price categories
You'll see from the quick search I just did (below) for flights from Las Vegas to Houston, there are four booking categories, and all offer low fares.
The cheapest "wanna get away" still allows for two free checked in bags, and you'll still get the snacks and drinks on board.
The benefits are all about no change fees and your boarding priority (which you can upgrade for $20-$40 any time prior to flying – subject to availability).
Note also that your flights might not be direct, although there is one in the example below, so weigh up price vs time.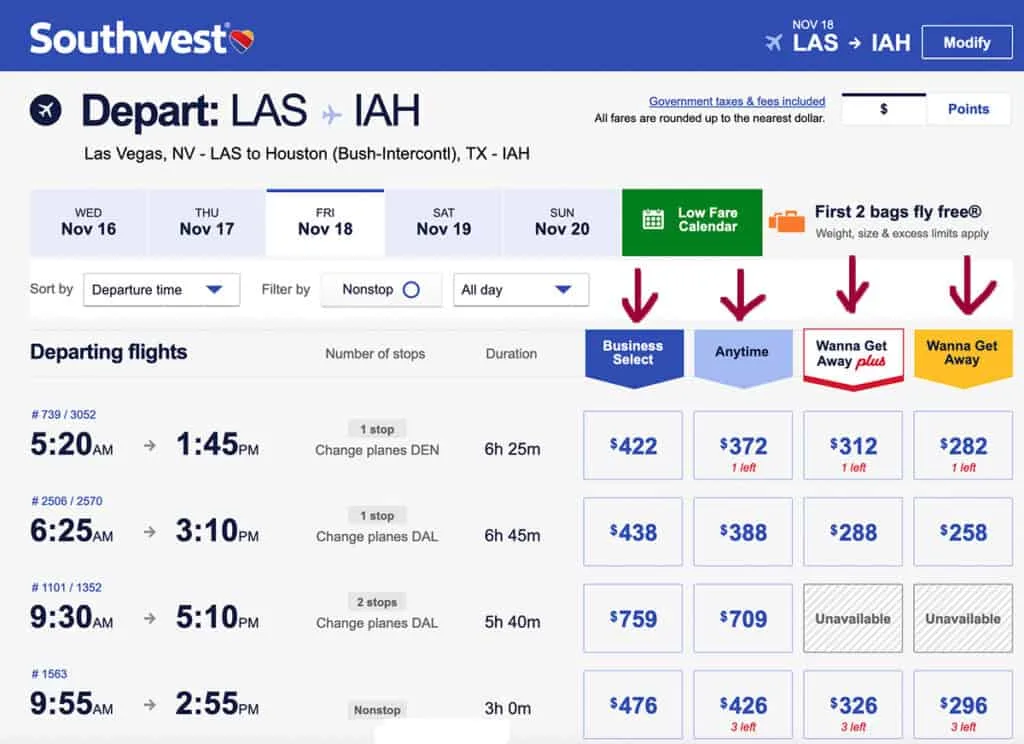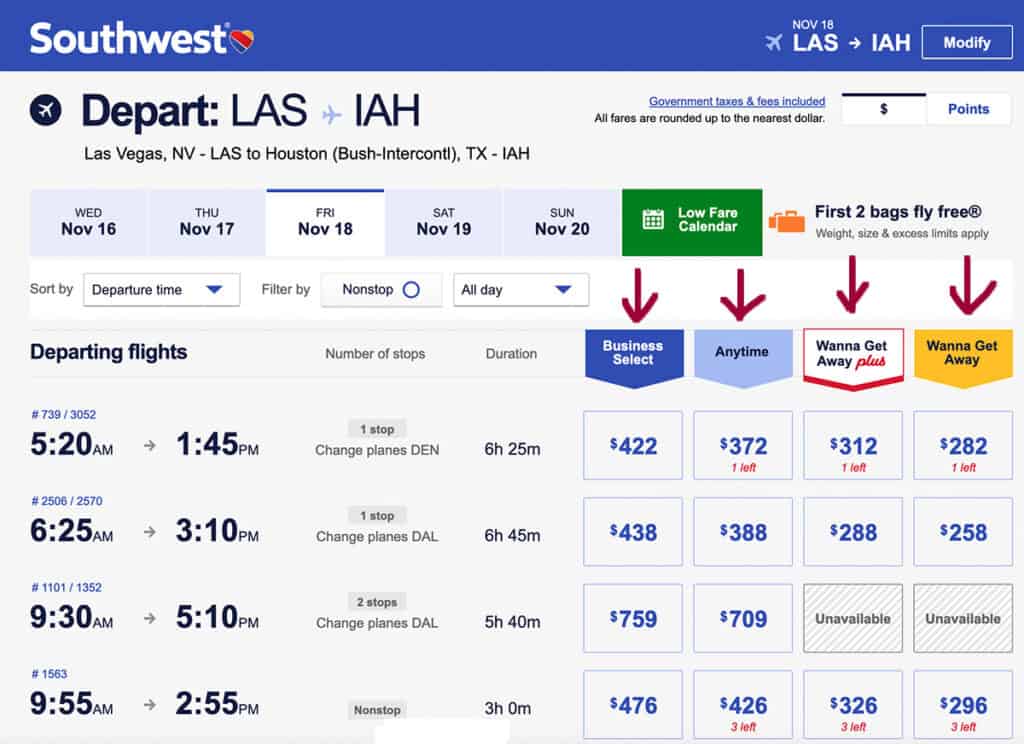 FAQs
What is Business Select on Southwest? There is no Business Class on Southwest, no separate boarding area or even larger seats. This is a low-cost carrier after all! What you do get if you book Business Select is priority check-in (meaning you'll get an A position), priority boarding and more Rapid Rewards air points. You'll also be able to make same-day changes for no fee and get a premium drink, and your tickets are fully refundable, not just credits.
What is Anytime on Southwest? This category gets you early bird seat allocation (which cost me an extra $20 on my cheaper fare). It's also more flexible than the cheaper options if you want to make changes with free flight changes even if you cancel on the day of departure (possible fare difference will apply), or full refunds. Plus you earn more points in their Rapid Rewards program.
What is Wanna Getaway Plus? This is a non-refundable ticket, but still eligible for a flight credit for future use – even on same day. Plus access to same-day Standby list.
What is Wanna Getaway? This is lowest cost of the low cost! For even cheaper flights, this ticket is non-refundable yet still available for a flight credit if you cancel. You still get two bags flying free. There are no fees to change your flight, but you earn about half the Rapid Rewards points as Business Select.
For more information on the booking classes, visit Southwest.com/airfare-types-benefits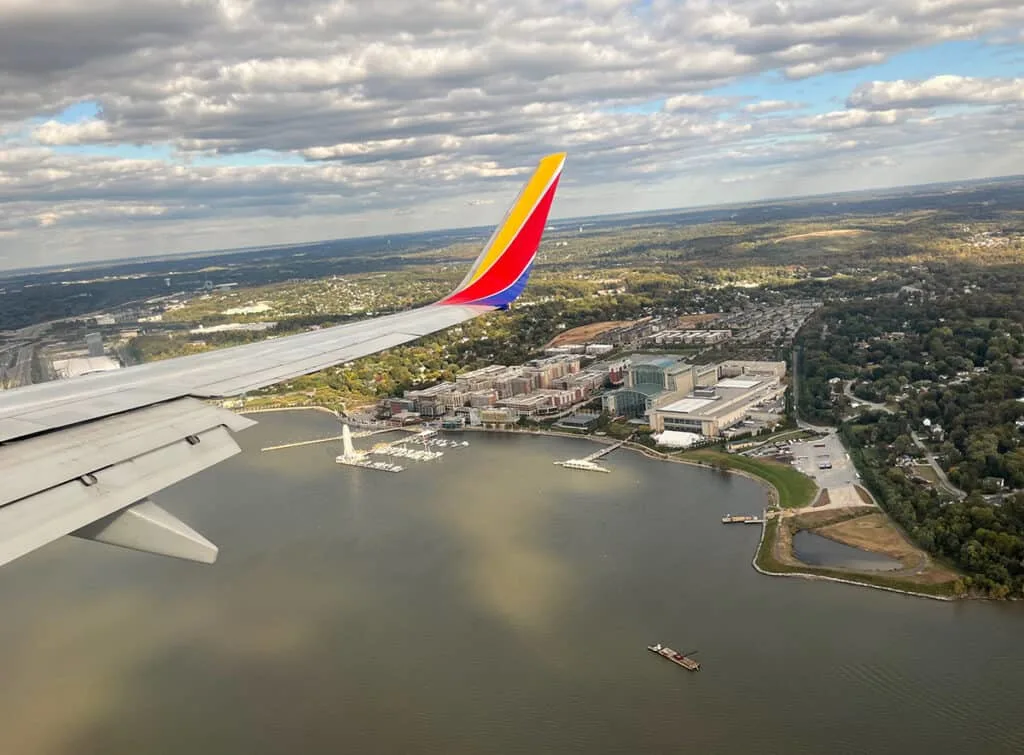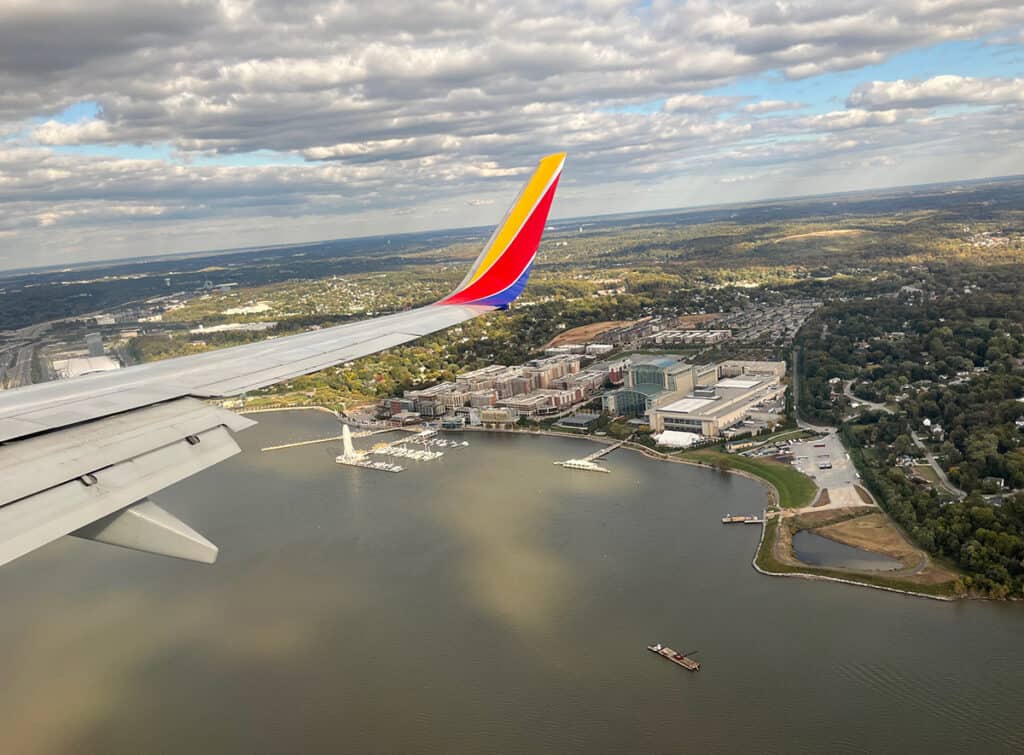 Super annoying things about Southwest Airlines
People seat save. Grrr! The crew say it's a grey area, they don't tell people not to. I saw a lady saving two seats in her row and asked her if they were free. She said they were for her husband and son (who obviously didn't pay for the upgraded boarding number). But whatcha gonna do?
Flights are not always direct. What this means is you might get on in Las Vegas, but that plane started in Chicago and those passengers flying through to Houston didn't deboard in Las Vegas, but moved seats. Yep, they can do that. Move right up the front, into the exit rows, wherever they like. So your paid-for early boarding might just be in vain.
I still find it affordable and with the few frills thrown in (free bags!), Southwest is my go to for US domestic flights.