Is Las Vegas on your Bucket List to visit?
I've been four or five times now, staying in different hotels along the Strip to get a feel for my surrounds.
My best tip: – stay in a couple of different hotels and take advantage of the fabulous hotel guest facilities, book more than one hotel on your Vegas vacation.
Las Vegas is the entertainment capital of the world, known for its casinos and Elvis weddings, tourist attractions, spectacular live shows (I've picked 24 of my favorite shows in Las Vegas covering acrobatics to concerts to magic and everything in between) and the food scene, but there's so much more to Sin City than that.
Actually you'll find incredible Michelin-star restaurants, there's a fabulous shopping scene with malls and even outlet shopping, so many live shows like several resident Cirque du Soleil shows, concerts with mega stars and sport, plus loads of crazy fun activities for the whole family.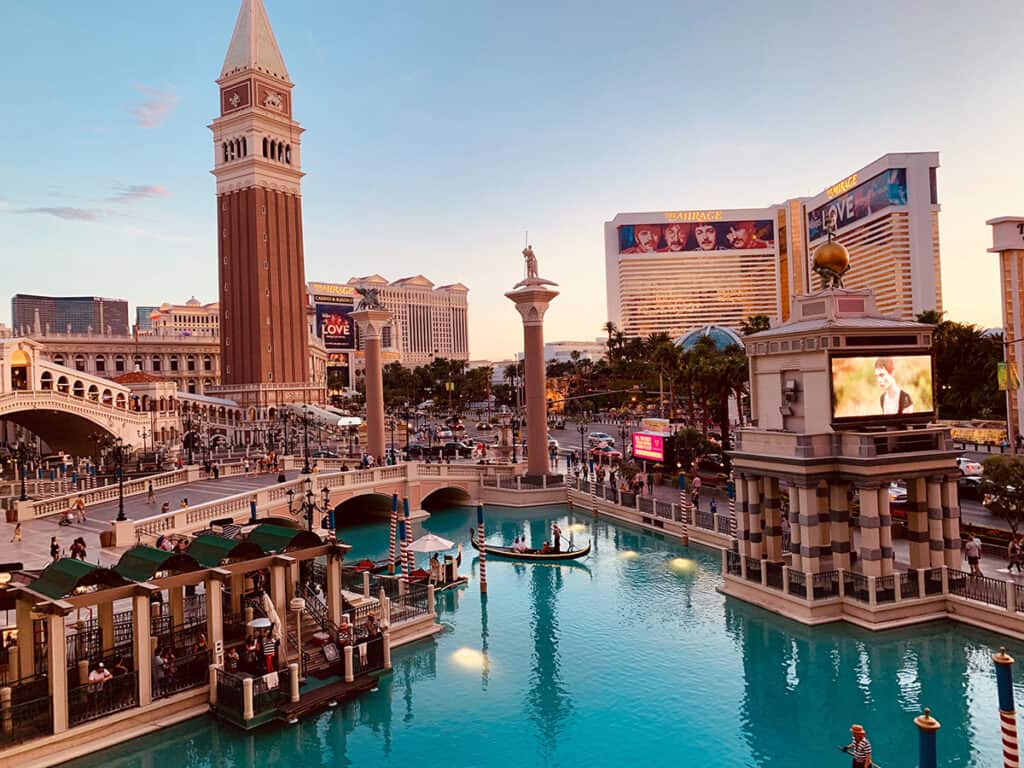 It's also helpful to know the inside tips for first-timers to Las Vegas like how to get around and how to get cheap deals.
If you have kids, you'll also love this post on 19 epic things to do in Las Vegas with kids.
But if you plan to visit soon, take a read of these unique, quirky and fun things to do in Las Vegas, as recommended by these top travel bloggers.
*This post contains affiliate links. If you make a purchase I will earn a small commission at no cost to you.
1 Dine at Hell's Kitchen
From Francesca at Travel Heal Love
I have been a massive fan since the first season of the Hell's Kitchen show. I never get tired of watching Gordon Ramsey, one of the most famous chefs in the world, lose his temper over raw chicken, overcooked meat, and bizarre food combinations.
So it was only natural for me when visiting Las Vegas, to dine in the famous fine dining restaurant, located in front of Caesar's Palace, which takes its name from the TV show.
Hell's Kitchen is like a sort of museum for the show and it feels like being on the set. I particularly loved the entrance with the pictures from all the past winners as seen so many times on TV.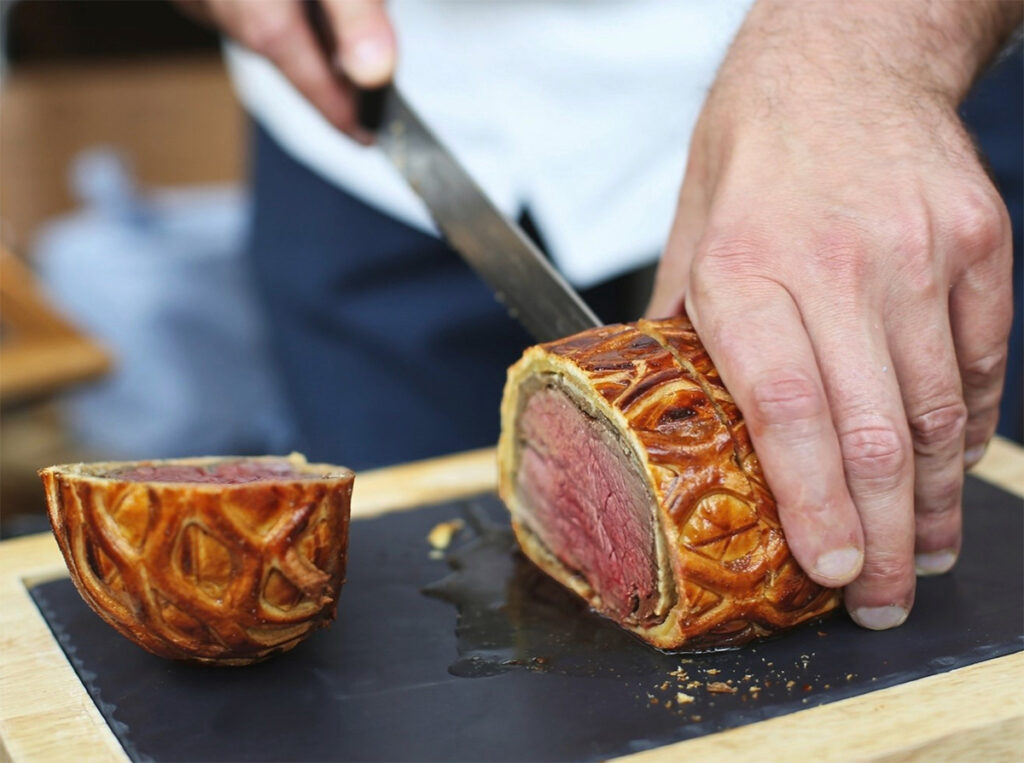 The open show kitchen has got chefs dressed as "teams" in red and blue uniforms and a giant vertical screen shows Gordon Ramsay himself welcoming you.
And the food! There are no words to describe the finesse and the quality of the plates served in the restaurant.
I had to go for the iconic beef Wellington and it was one of the best dishes I have ever tasted in my life!
Let's talk about numbers now. Because this is one of the main attractions in Las Vegas you need to book your spot in advance, at least 3-4 months before if you are looking for a specific date and time.
Also, forget about having a cheap meal because you are in for an expensive night.
The prices for the dishes vary from $20 for a soup (starter) to $70 for the main course. And, if you fancy drinking wine with the food, the least expensive bottle is around $65.
This may not be something you would do every night, but to me, it was one of the best experiences I had while in Las Vegas.
The prices are high, but I can promise it is totally worth it and you will not regret trying it!
Check out the room rates to stay at Caesars Palace here.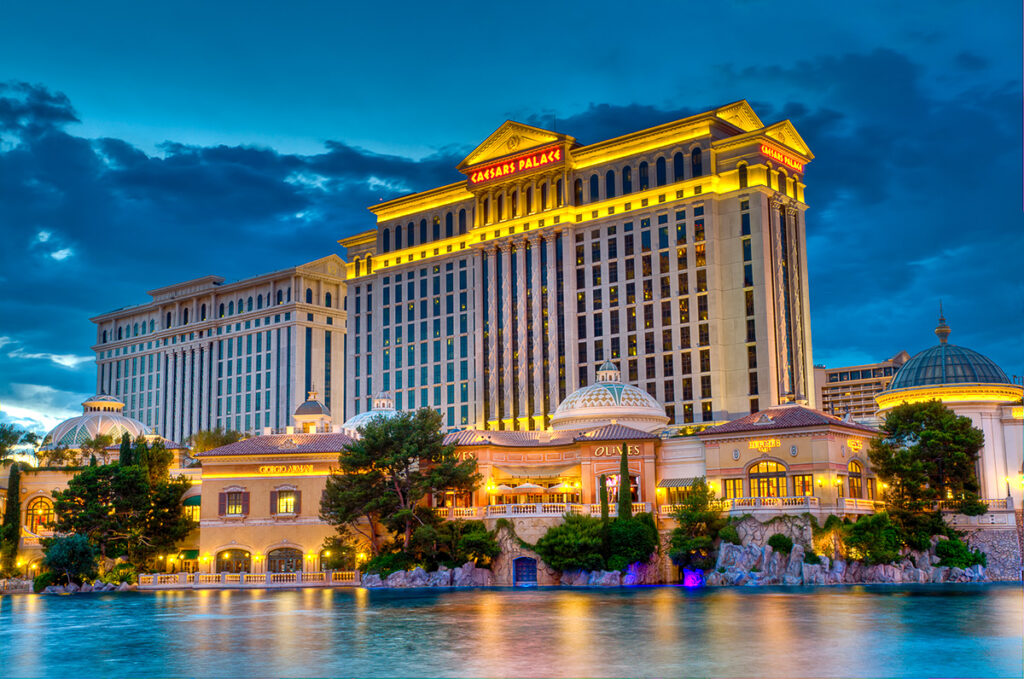 2 Visit the Mob Museum Las Vegas
From Gwen Kleist of California Family Travel
Did you know the Mob pretty much founded Las Vegas?
The city took off as a settlement when the Hoover Dam was being built from 1931 and the Mob built casinos and theaters to entertain the young men working on its construction.
So a visit to the Mob Museum is a history lesson, with a twist!
If you're looking for fun things to do in Las Vegas, head downtown. The Mob Museum provides an authentic look at organized crime from its roots in the late 1800s through today.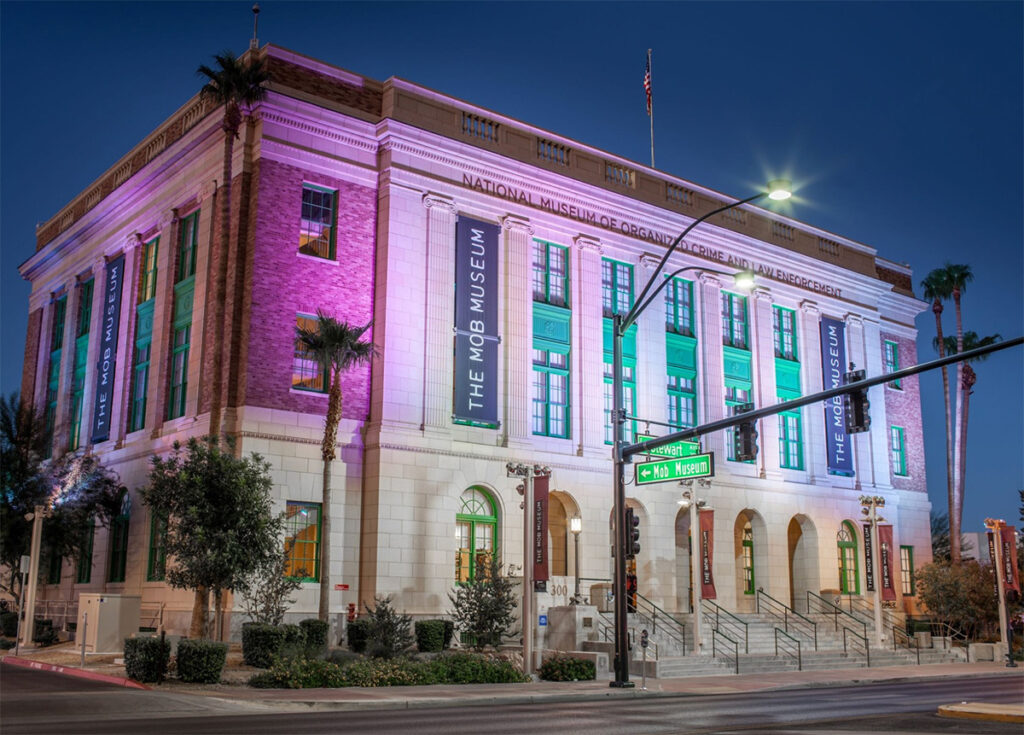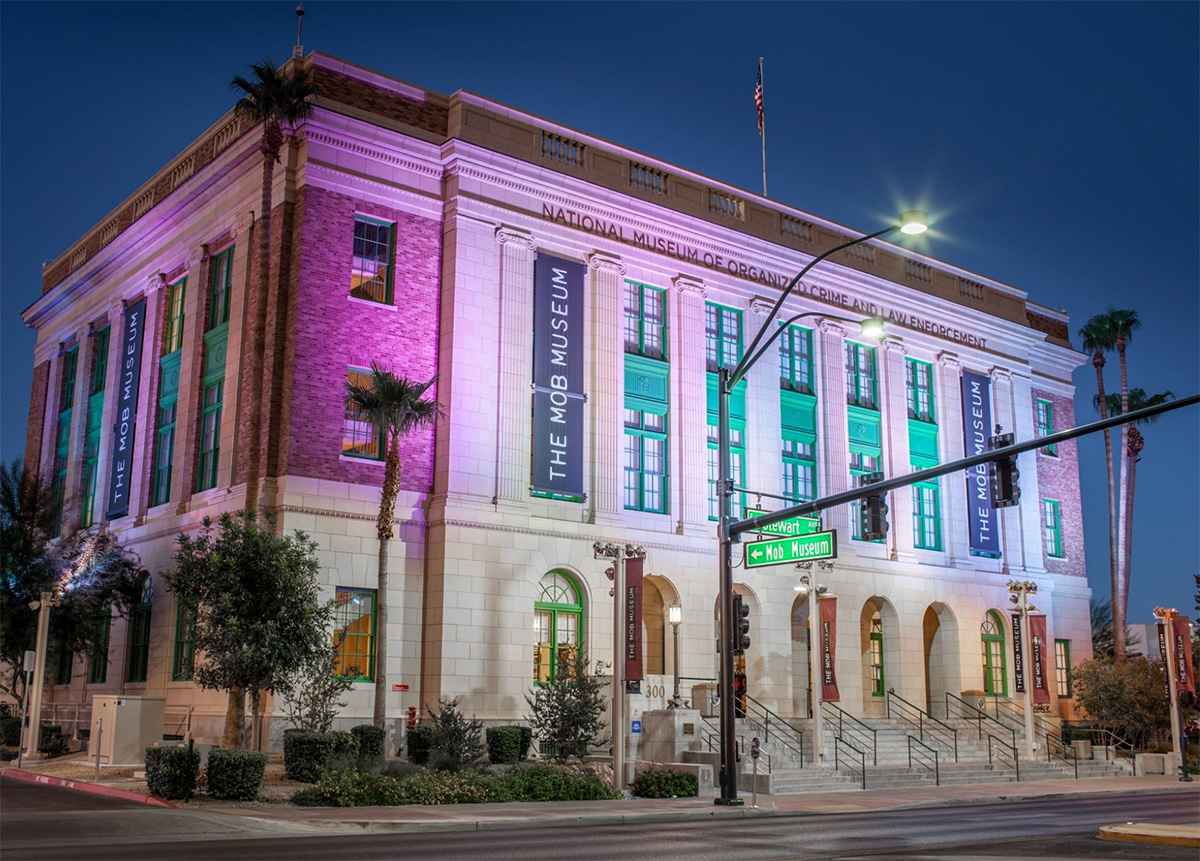 Officially named the National Museum of Organized Crime and Law Enforcement, the Mob Museum traces the history of the mob through artifacts, photos, video, and interactive exhibits that explore organized crime, as well as how law enforcement works to stop them.
The museum opened on February 14, 2012 – the 83rd anniversary of the notorious St Valentine's Day Massacre in Chicago, and is housed in the former Las Vegas Post Office and Courthouse, which was built in 1933.
This locale gives it an authentic old, gangster feel. In fact, the centerpiece of the Mob Museum is its second-floor courtroom, which was the actual location of mob hearings in the 1950s.
A trip down to the basement of the Mob Museum is a trip back in time to the Prohibition era, when thousands of speakeasies were operating in the shadows.
The exhibit features a collection of artifacts and stories from the Roaring 20s – including the history of bootlegging and rum running.
And while most museums may have a snack bar, the Mob Museum has a Speakeasy. Adults can even sip moonshine or order a Prohibition cocktail! Buy your Mob Museum tickets online and skip the line.
The Mob Museum is a quintessentially "Vegas" experience that shouldn't be missed. A perfect way to start your evening.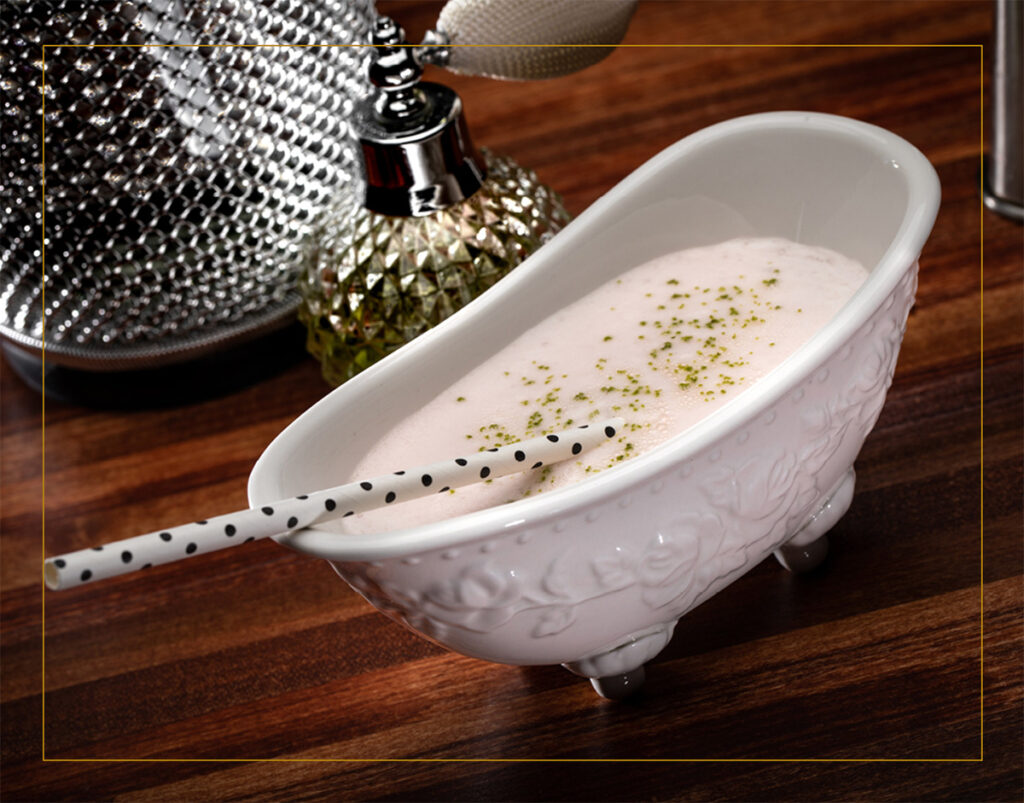 3 Get down to Fremont Street
From Pamela Drager of Directionally Challenged Traveler
One of the best things to do in Las Vegas is to head to downtown Las Vegas and visit Fremont Street, located off the Strip but filled with plenty of personality and activities.
This is Old Las Vegas and it was actually the first paved road in the city and home to the first traffic light!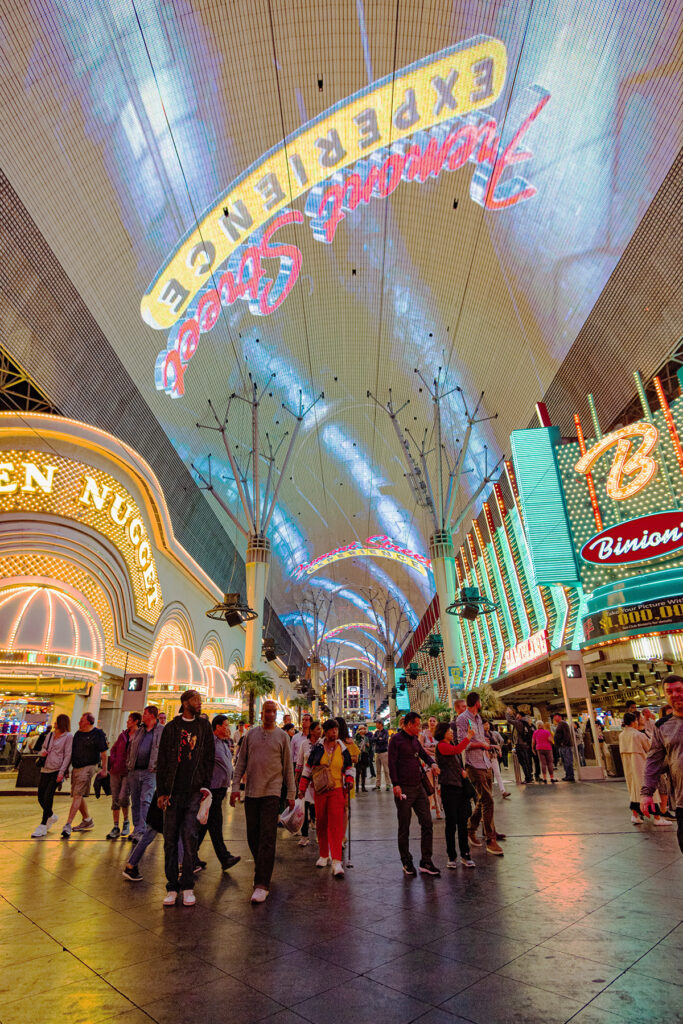 There aren't many free things to do in Las Vegas when looking for a good time, which is one of the reasons Fremont Street is a must-do! Not to mention being one of the most fun things you can do in Vegas.
Fremont Street is about 15 minutes drive from the Strip and worth visiting in the early evening into night. The highlight is the lit-up tunnel.
From 6pm through 2am, every hour there is a light and music show on ceiling of the tunnel!
No matter where you are on the street, be sure to look up. It's the world's largest LED Screen, so it's hard to miss.
You can get your heart racing is to go zip-lining from the world's largest Slot Machine at Slotzilla. You zip line above the street and thousands of people below.
After your exhilarating ride, head to the bar for an oversized drink! You can literally get a cocktail the size of your head for pretty cheap (be sure to drink responsibility though).
If you're new at gambling, Fremont Street is the perfect place to learn!
The tables are much cheaper than the strip, starting at $1 for blackjack and cheap slot machines at casinos like the legendary Golden Nugget. You can learn the skills without losing a lot of money.
No matter what you decide to do here, you'll leave agreeing that Fremont Street is one of the best things to do in Las Vegas.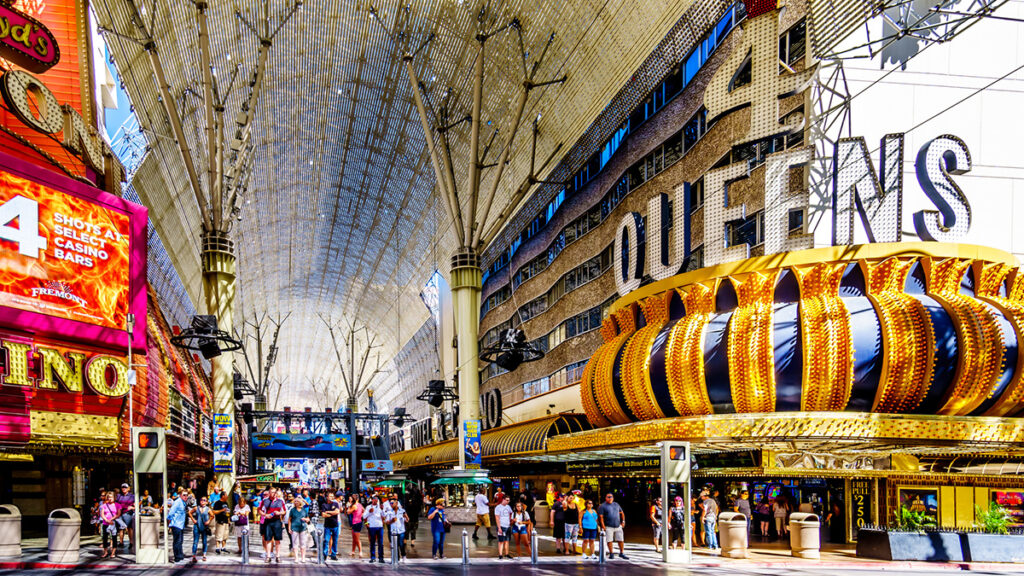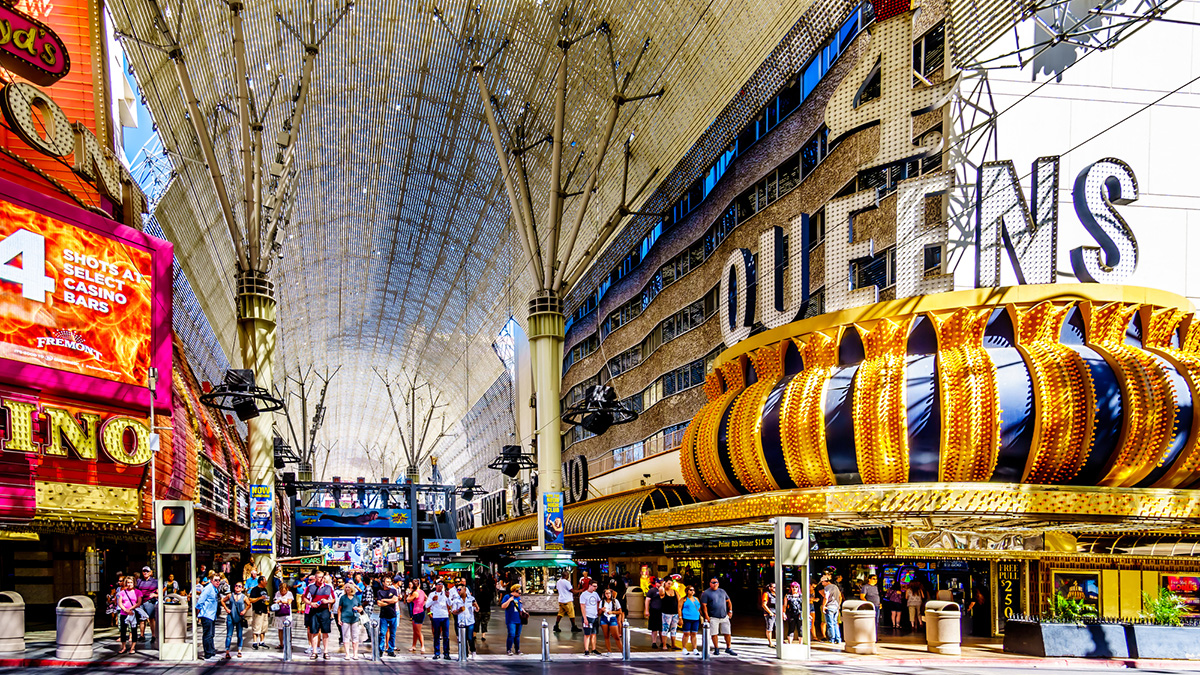 4 Drive a race car!
From Ashlee Fechino of The Happiness Function
Has driving a Ferrari, Mclaren, Lamborghini, or Porsche down a racetrack been on your life bucket list?
If so, Dream Racing is the place to make this wish come true and a great way to get the adrenalin rushing!
Dream Racing is the real deal when it comes to exotic supercar racing.
They offer clients an experience of a lifetime with their world-class supercar racing facility in Las Vegas.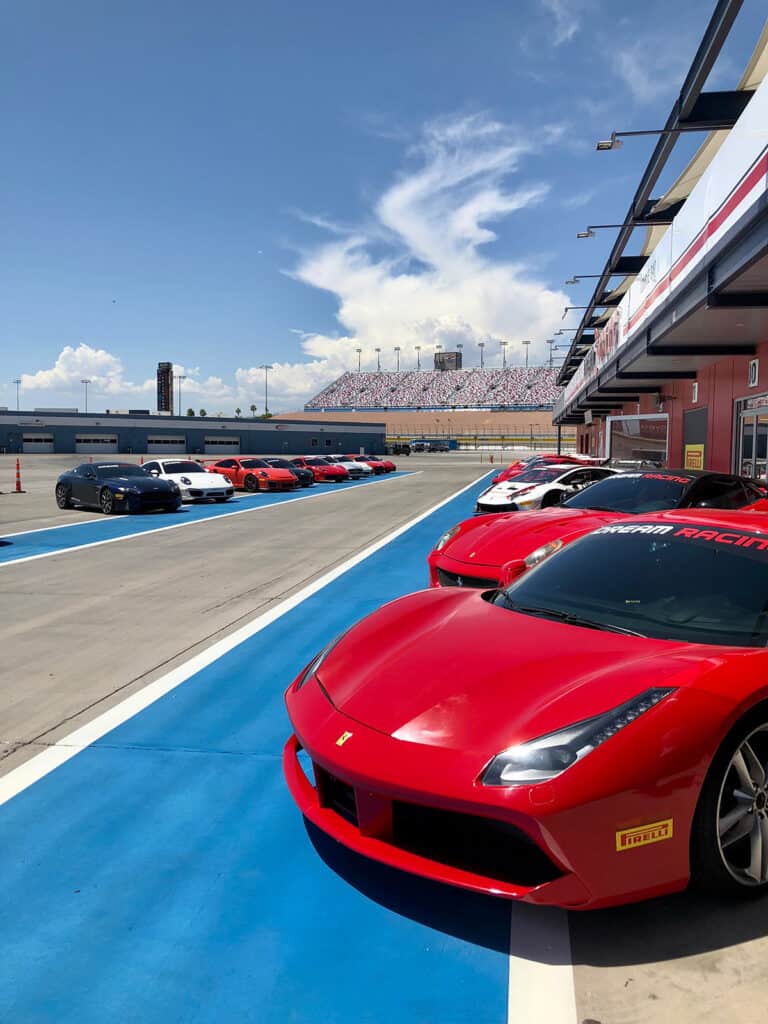 Dream Racing has several different race packages for Las Vegas thrill-seekers. So, anyone can have their dream day at the tracks on their next trip to Vegas!
Pricing is dependent on the supercar selected, and laps spent driving.
Dream Racing offers a shuttle service that takes guests directly to the Las Vegas Motor Speedway if you're staying on the Strip.
From there, you take a safety driving simulation before you can hop in a car and race. In addition, you get exclusive lessons for driving a supercar.
If you're not into racing, but maybe your partner or friends are, you can still watch along the tracks.
They have a shaded area to watch the cars race. It is an enjoyable and thrilling experience!
Plan to spend at least half the day out at the Las Vegas Motor Speedway. The Speedway is about 20-30 minutes from the Strip if the traffic is light.
Be sure to book your visit ahead of time. This is an insanely popular activity!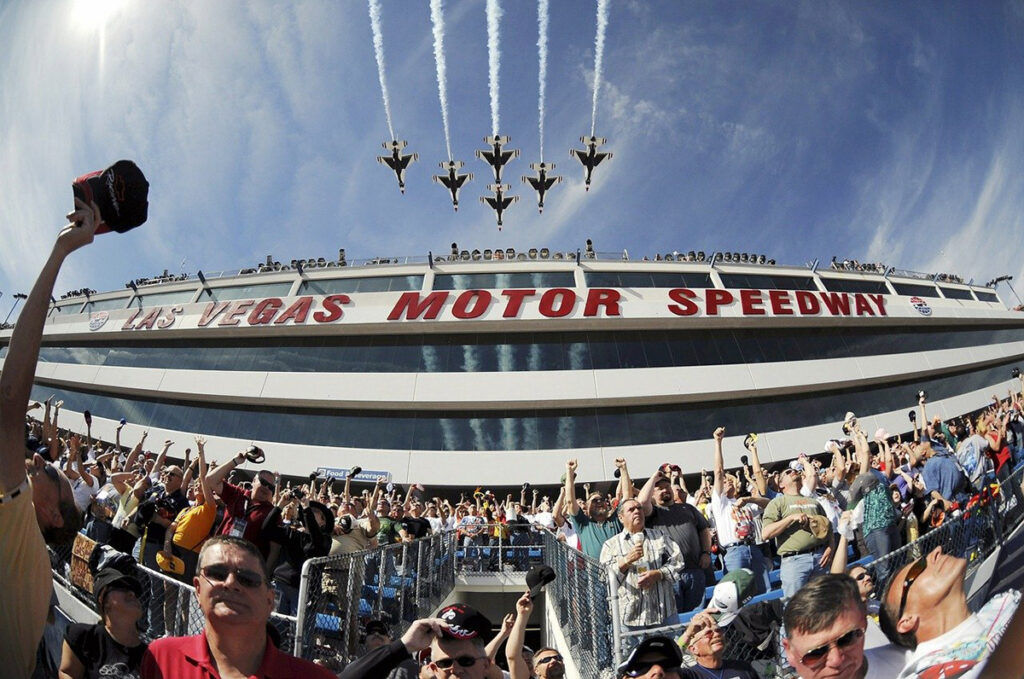 5 Experience Area 15
From Portia O'Laughlin at When I Wander
When you want something really out of the ordinary in Las Vegas, head 15 minutes from the Strip over to Area 15 and enter an immersive world of experiences inside this mega entertainment center.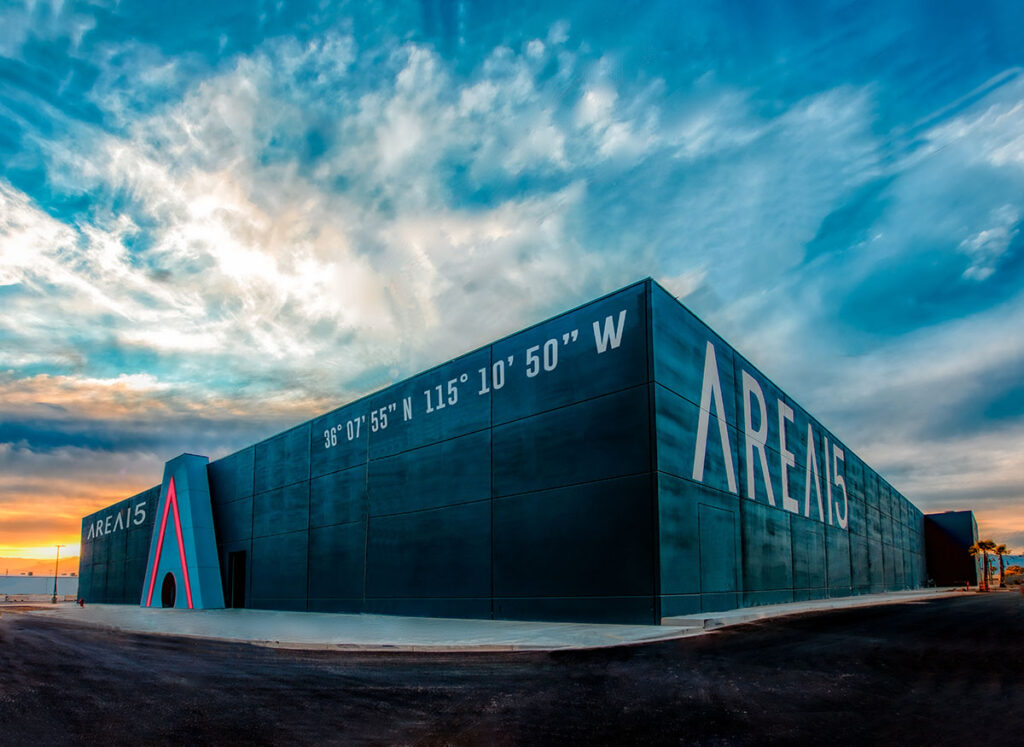 You can hang-glide, throw axes, experience light and sound in new ways, explore art, and even tour a distillery in a way that has been called Willy Wonka style.
Besides Dueling Axes, Lost Spirits Distillery, Museum Fiasco, and a Virtual Reality World, you'll also find Meow Wolf Omega Mart. This supermarket is a gateway to surreal worlds and secret portals.
Take the quest or just soak up all the wonder inside. You'll need at least 90 minutes to thoroughly explore it – and be sure to walk through the freezer at least once.
Closed toe shoes and comfortable clothing to slide down the multi-story slides might be necessary for your best adventure.
General Admission tickets for this experience are $55 for adults, $40 for children 4+, Seniors and Military save $5.
The Beast by Todd English serves up space tacos and Korean corn dogs. There's Beast burgers, beast breath smoke house, and beast pizza but they didn't forget about vegans with some veggies madness options as well.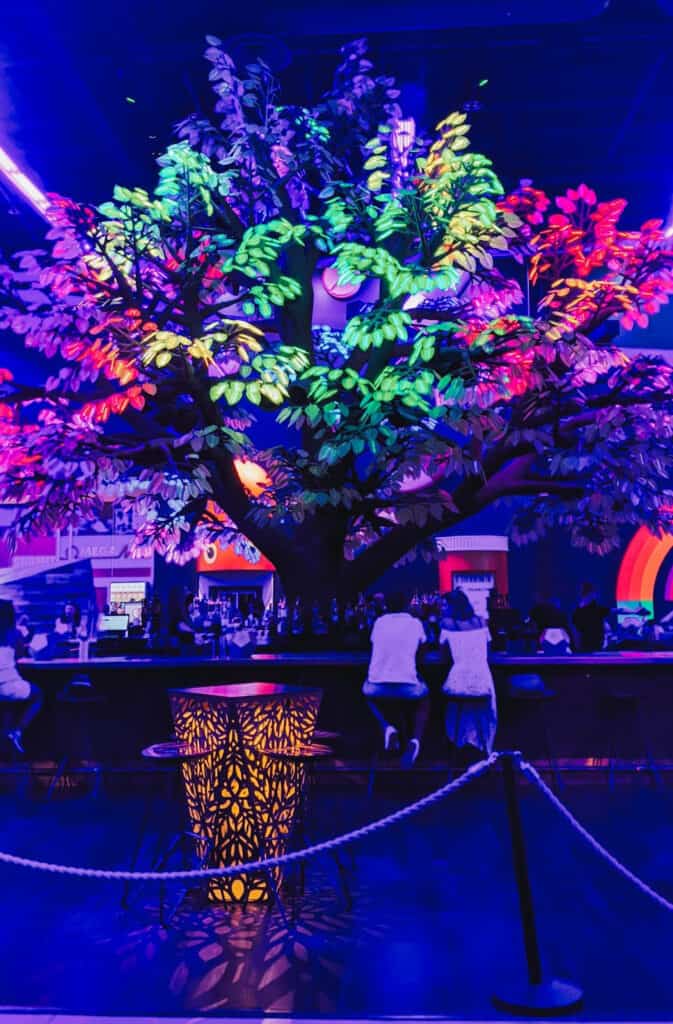 Under the glow of the Digital Forest at the Oddwood Bar, you can sit under a 25-ft tall digital LED maple tree that creates a space cocktail bar ambience under vibrant colors and patterns.
The menu features specialty cocktails and mocktails but you can also order most drinks without alcohol. Try the Dragon Margarita – tequila, ginger, agave, honey, lime juice, and a hibiscus salt rim.
The first thing you should do is book an entry pass to get inside, it's free on weekdays but does not give access to many of the other experiences. Those will need to be booked separately and have different prices.
A family Fun pass or Repeater pass is another option available for select experiences. All ages welcome until 10pm and 21+ only after 10pm. Entry Passes are $15 on Friday and Saturday nights. You only need 1 entry pass per group.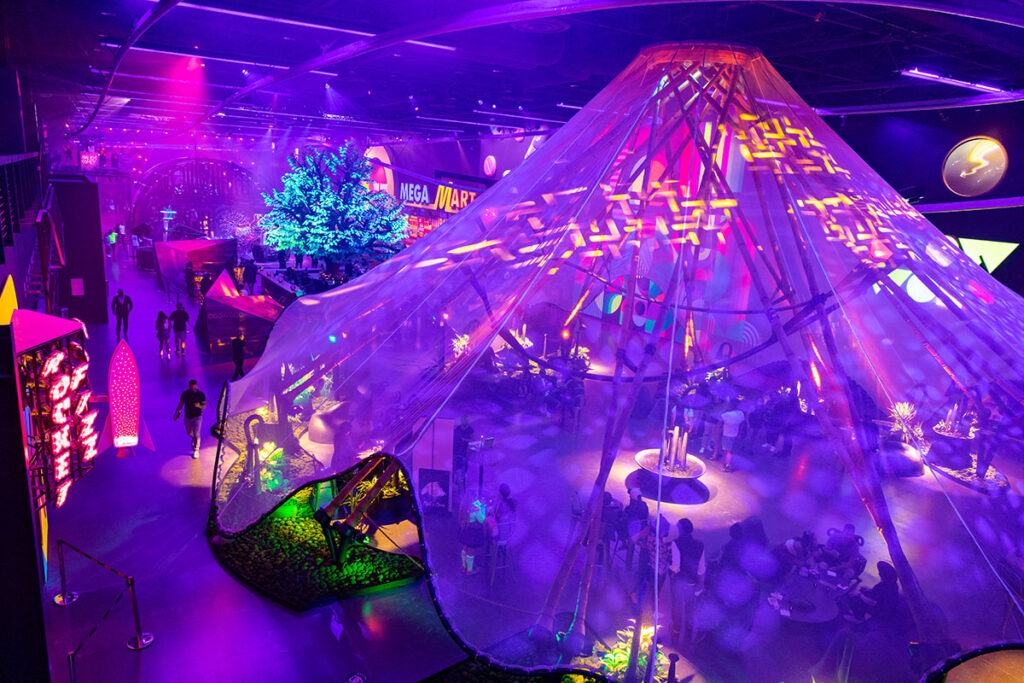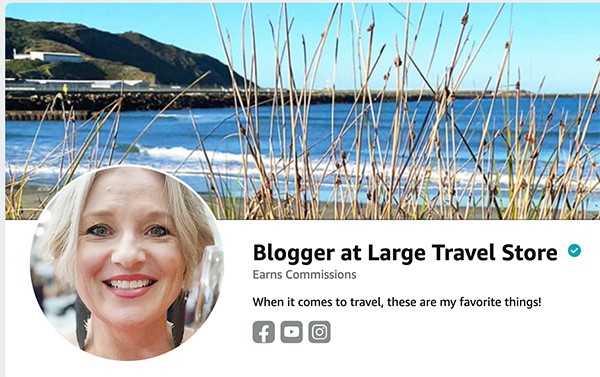 Visit my curated Travel Store on Amazon, where I've selected great luggage and clever accessories for your next trip.
6 Renew your vows with Elvis!
I once crashed an Elvis wedding and it was hilarious. In fact the couple were renewing their vows and when they saw me hanging around, invited me into the chapel with just two other witnesses.
The groom stood at the front, the witnesses sat on the left and I slipped into a seat on the right. Then the music started, Love me Tender – and the doors opened behind us and Elvis with the bride on his arm, giggling and laughing, while he crooned the words, walked up the aisle.
You can read all about their wedding here, including a bunch of other songs that were part of the ceremony.
There are several Elvis wedding chapels in Las Vegas, and you can book all types of wedding packages. I also suggest who is the best Elvis in Las Vegas in the link above.
7 See a Cirque du Soleil show
From Bernadette at Live a Relaxed Life
One of the many reasons people flock to Las Vegas is to see a concert or show at one of the hotels along the Strip.
Since 1993, Cirque du Soleil has been a mainstay here with its incredible circus acts that include aerial performances and body-bending acrobatics.
There are now five permanent shows in various hotels on the Strip – and I've seen them all (-Megan)
They are famous for massive and elaborate sets such as the watery world of 'O' or the other-worldly pirate ship that soars through 'Ka'.
Each story is unique told through music, dance and acrobatics and very little dialogue. The imagery and live music are all that is needed to understand what is happening.
Several troupes travel the world delighting audiences but it is only in Las Vegas that fans can watch the classic 'Mystere', 'Ka', 'O', 'Michael Jackson ONE' and 'Love'.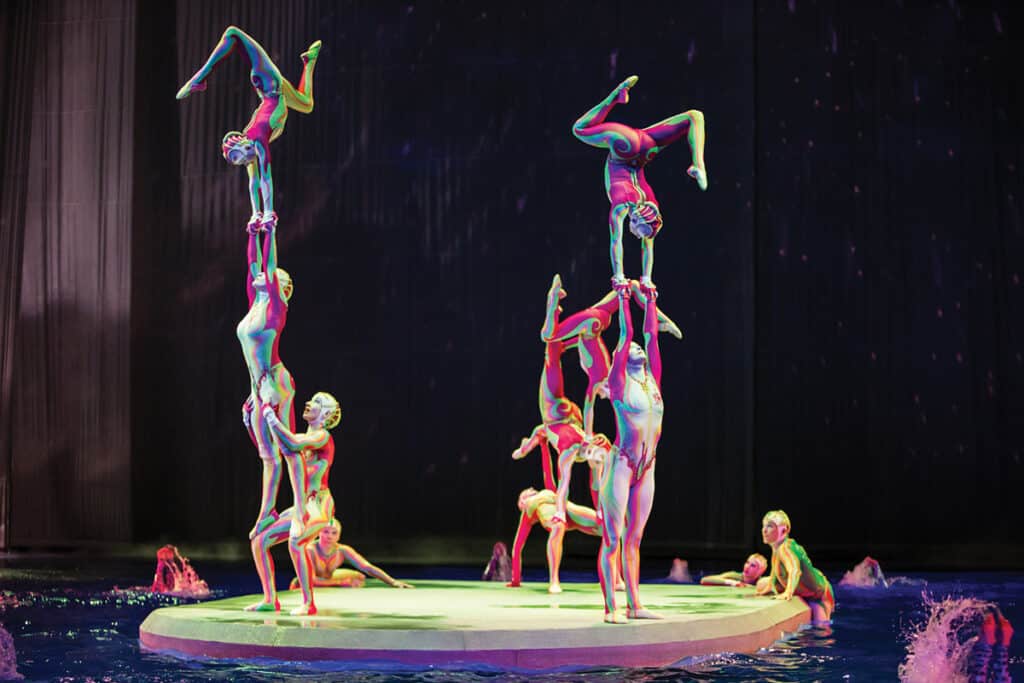 The Beatles LOVE is a collaboration with the iconic band and the show transports people back in time to see historic moments of the group.
The music from the show are recordings of popular songs like 'Get Back', 'Help', and 'All You Need is Love', among others.
This one is a must-see for die-hard Beatles fans and because of the great music and performances, it will be a delight for anyone to watch.
Editors note: they say the first Cirque show you ever see is the one you will love the most. I think that's because it just blows you away with the incredible gymnastics and gravity-defying stunts. My first show was Mystere, the oldest running Cirque du Soleil show on the Strip. But I highly recommend O and Michael Jackson One. – Megan
For more great shows in Las Vegas, I've listed 24 in this post.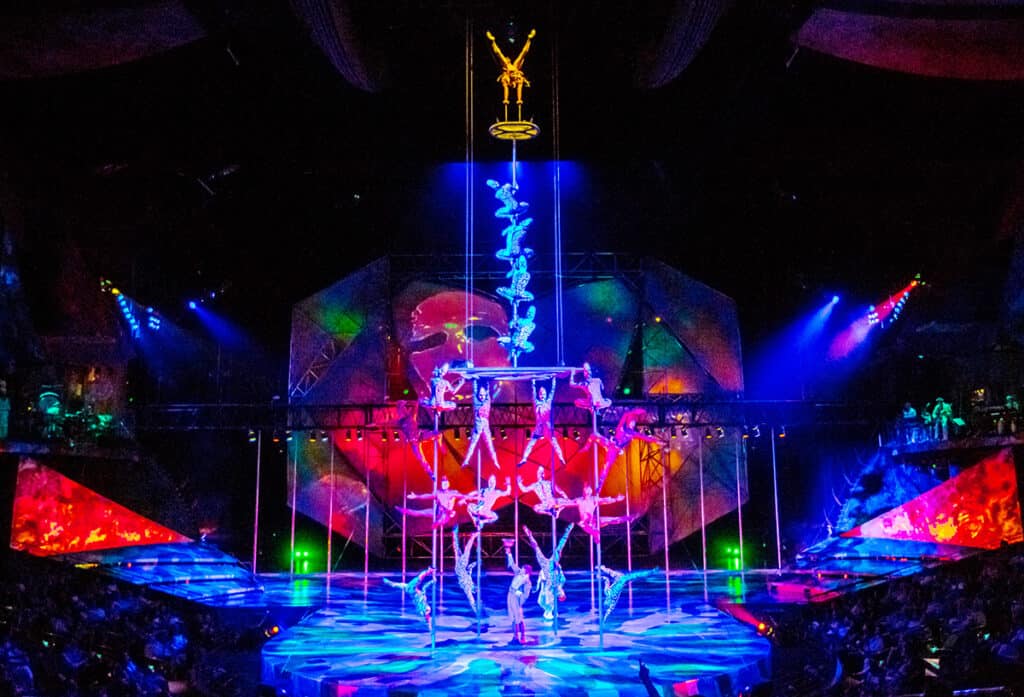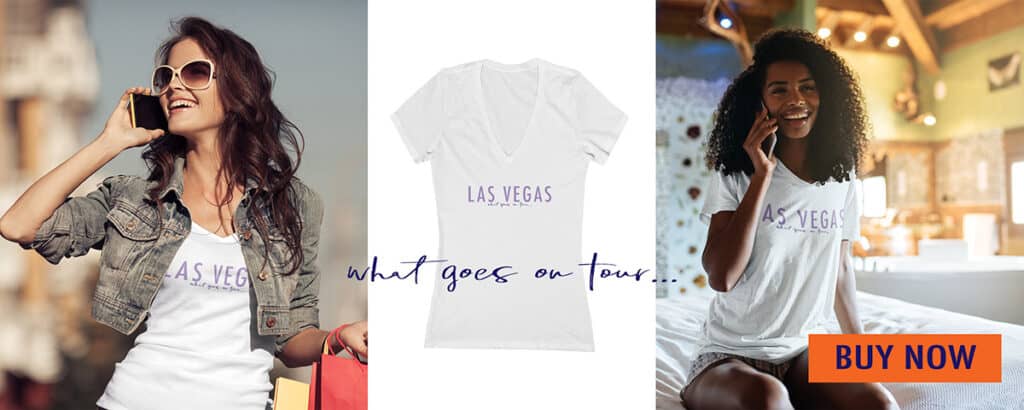 8 Skydive over Las Vegas
From Bea Pinnegar at Bea-Adventurous.com
How about seeing Las Vegas from a whole new perspective? A skydive over Las Vegas will get the adrenaline pumping and give you an experience like no other!
Freefall at 120 miles an hour as you look over the Strip, Hoover Dam, Lake Mead, Red Rock Canyon, and the Colorado River.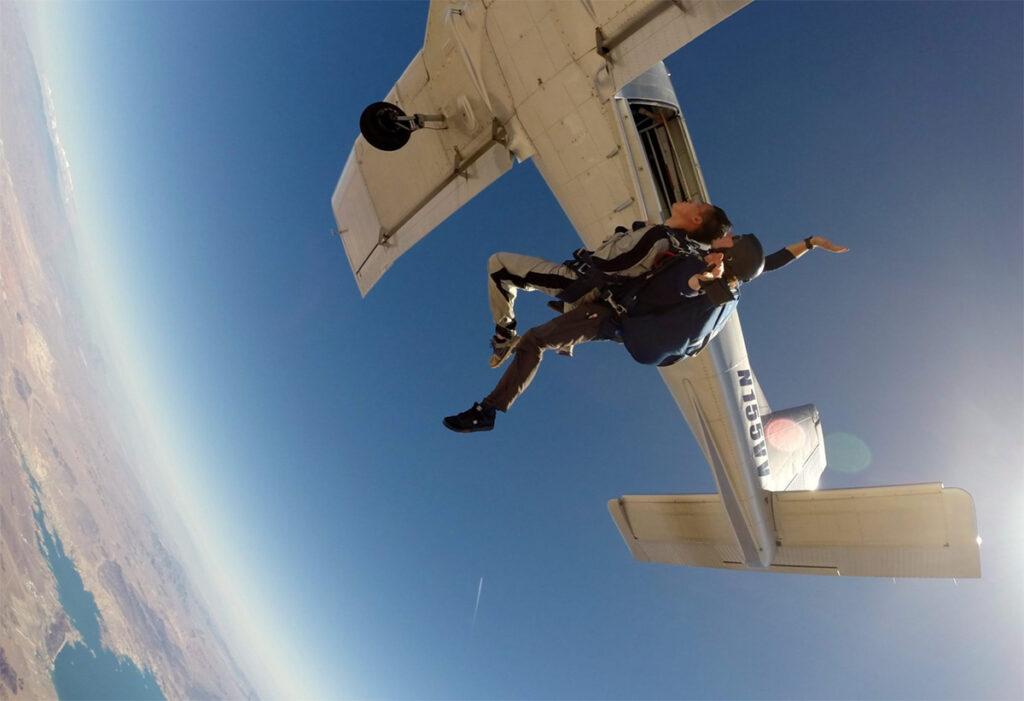 If you haven't done it before, there is no need to worry, you will be strapped to a professional who will undoubtedly joke about how it is their first time doing it. But rest assured, it won't be!
You will learn the basics on the ground (i.e. how to position yourself) before jumping on the plane and soaring into the sky.
Once it is your turn, you will shimmy to the edge of the aircraft, where before you know it you will be racing towards the ground, unaware of where the whoop of joy has come from and a massive smile plastered on your face.
The best company to Skydive with in Las Vegas is Sky Dive Las Vegas. They have been in operation since 1993, jumping over 10,000 times, successfully, every single year. If anybody knows what they are doing, it is them.
They offer free pick up and drop off from the Strip and are the only sky diving centre where friends and family can watch you take off and land.
This surely has to be the most exhilarating way to enjoy Las Vegas!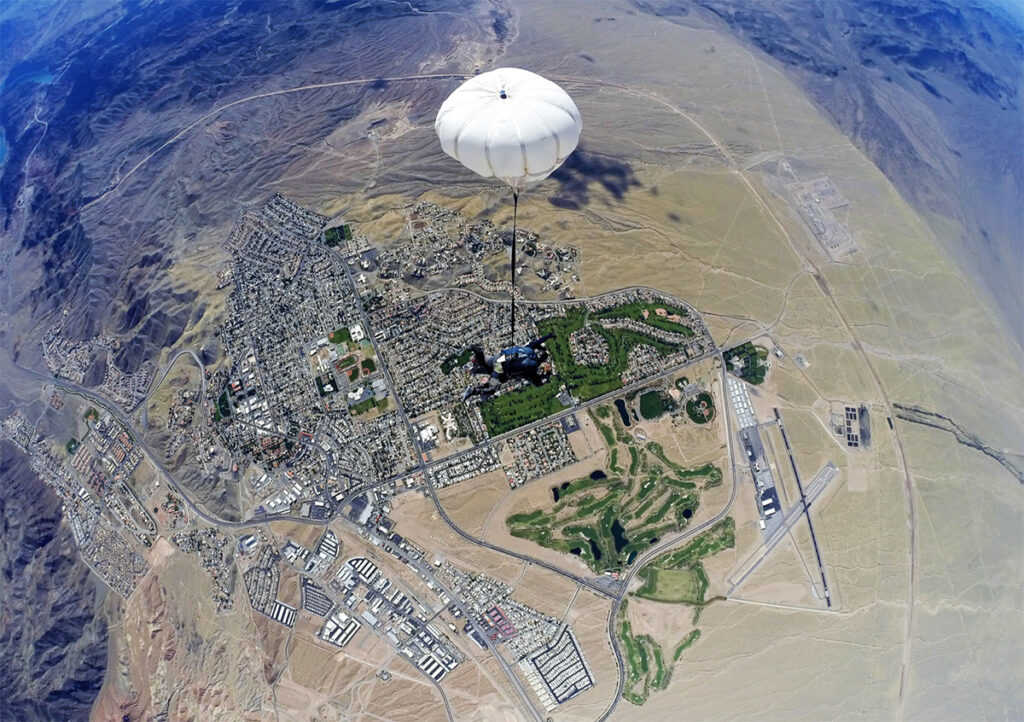 9 Drive a NASCAR race car!
From Debbie Fettback from World Adventurists
Take a break from the hustle and bustle of the Vegas strip and learn to drive a NASCAR race car, or have a NASCAR Ride along in Vegas at the Las Vegas Motor Speedway.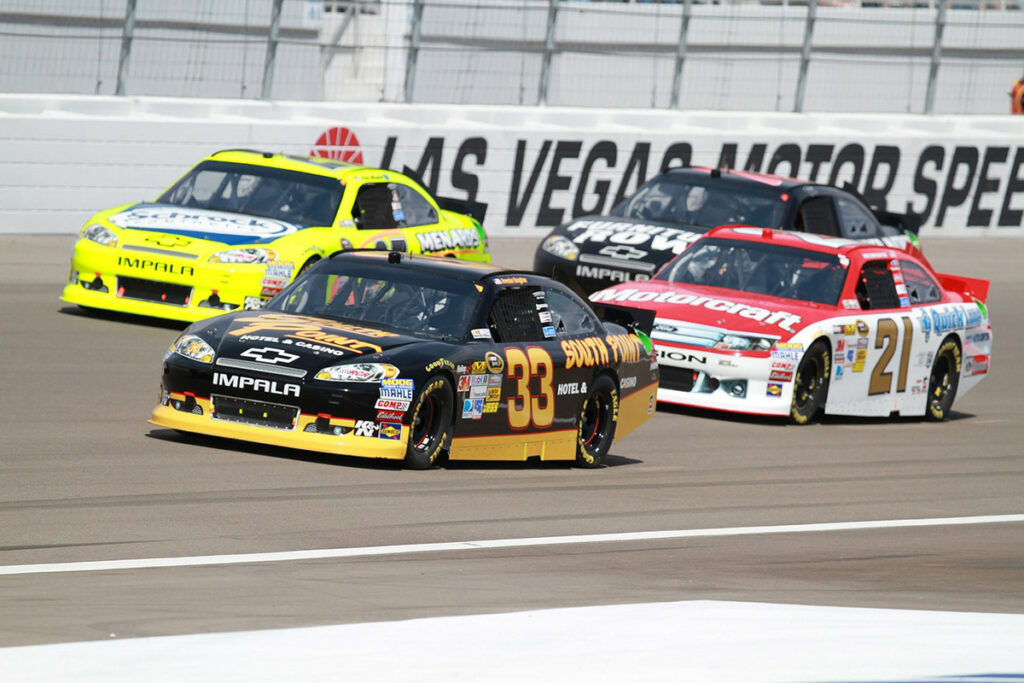 As you fly around the race track at 160mph, you will feel the rush of adrenaline and want more. This adventure is truly a thrill of a lifetime and an experience you will never forget.
The Las Vegas Motor Speedway is home to two annual NASCAR cup race weekends, as well as the year-round home to a few NASCAR experiences.
Choose from the NASCAR Racing Experience, Richard Petty Driving Experience, or the Mario Andretti Racing Experience for some top-speed fun around the track.
The 1.5-mile tri-oval racetrack has 12 to 20 degrees of banking in the turns.
The fun begins as you maneuver into the race car. There is nothing graceful about getting inside, as you hop in through the "window". A roll cage makes it an even tighter squeeze, especially with a giant helmet on. Once inside, you'll buckle up the five-point harness and put on the foam collar for your neck.
You will walk away from the experience on an adrenaline high, but also with massive respect for the skill level that professional NASCAR drivers have.
The Las Vegas Motor Speedway is located 7 miles outside of the Las Vegas Strip.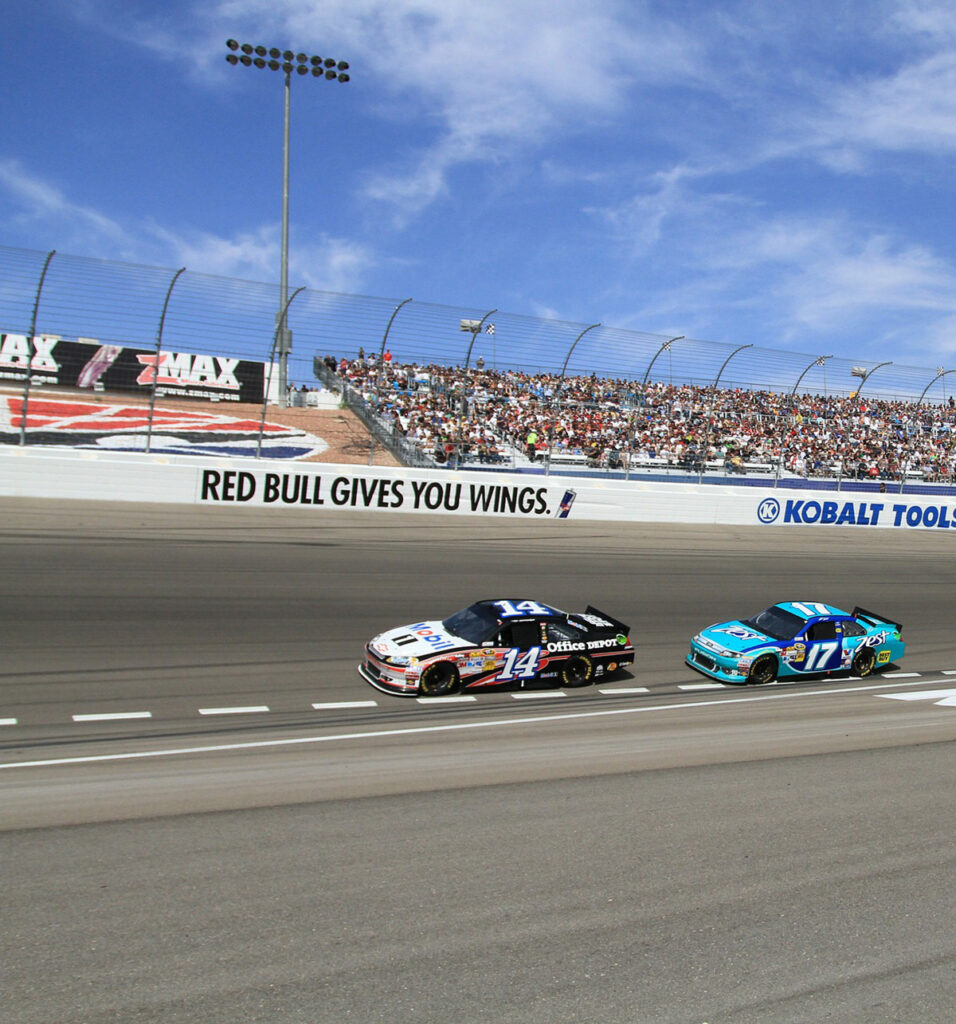 10 The Neon Museum Las Vegas
From Erin Hynes of pinatravels.org
The famous neon lights of Las Vegas don't die, they go to this museum when they are retired to be preserved and enjoyed by the public – and a great place for selfies!
The Neon Museum is an open-air museum and a non-profit organization that is dedicated to collecting, preserving, studying and exhibiting the iconic neon signs of Las Vegas.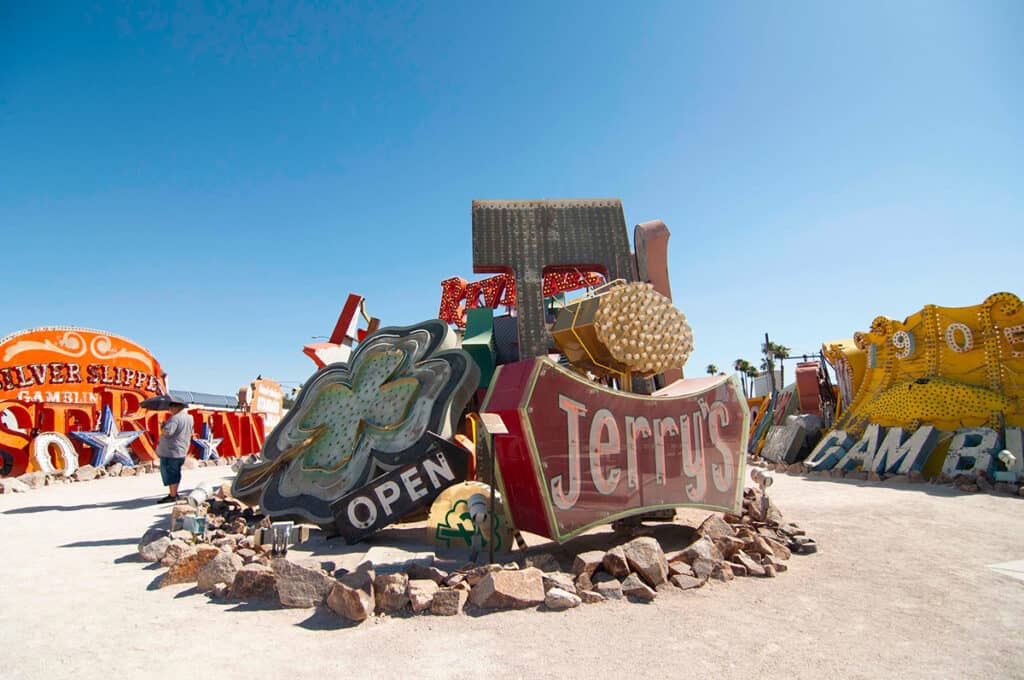 There are three parts to the museum: the outdoor Neon Boneyard, a visitors' center in the old La Concha Motel lobby and the Neon Boneyard North Gallery.
The outdoor Neon Boneyard is the main collection that visitors like to explore. It has more than 200 unrestored signs that are spread across more than two acres.
After dark, the signs are illuminated, making for a special experience!
If you get tickets for a guided tour, your guide will teach you about the specific history behind each sign, including who created it, the inspiration for the sign, and how it fits into the historic landscape of vintage Las Vegas.
The best times to visit the Neon Museum are either early morning, or in the late afternoon or evening. Avoiding the middle of the day will save you from the midday heat in the summer months.
But, if you do end up visiting when the sun is high, you can borrow a free umbrella from the Museum to protect you from those rays.
Pro tip: Go later in the day and stay till dusk to see them all lit up.
During peak tourist season Las Vegas Neon Museum tickets and tours sell out really fast, so book your tickets online ahead of your visit.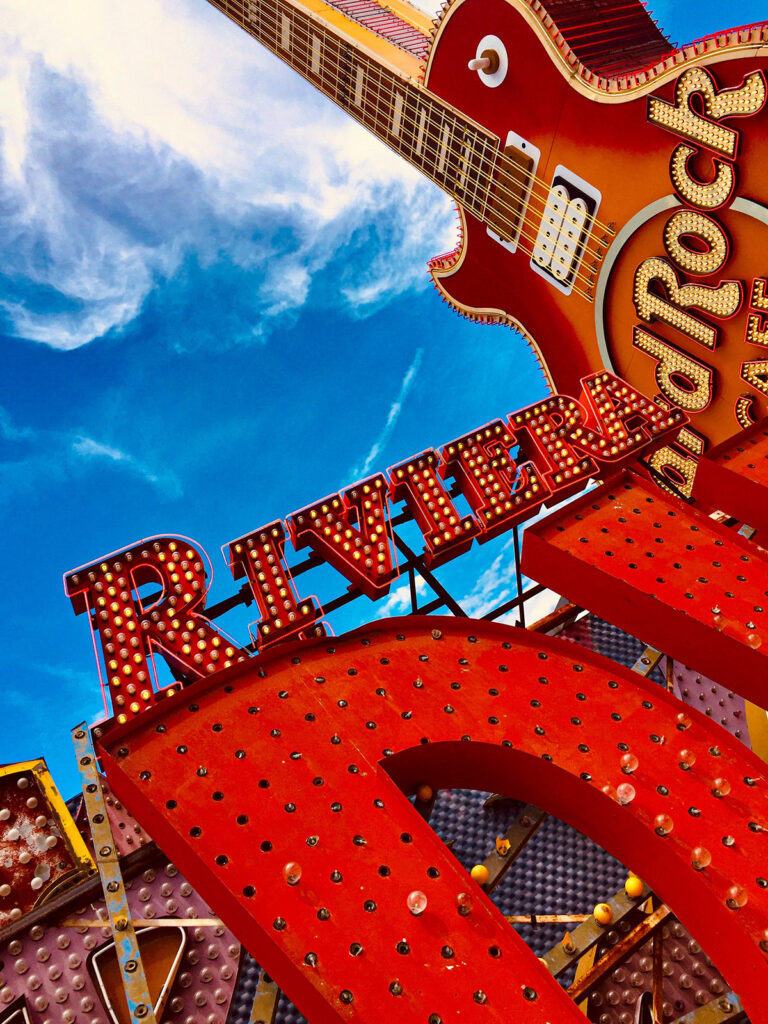 11 Visit Bellagio Botanical Gardens
From Faith Hansen at 3 Tickets Please
When you think Las Vegas, you probably don't think of nature. And yet, you should, because you can get amongst it on the Strip.
Thirty minutes at the Conservatory and Botanical Garden in the Bellagio will absolutely change your mind. Across from the front desk of the Bellagio, visitors are flooded by light. The conservatory, enclosed by a 50-foot glass ceiling, holds the 14,000 square-foot botanical gardens.
The very talented horticulture team of 120 people change the floral and fauna displays of this secret garden five times throughout the year to match the following seasons: Holiday, Lunar New Year, Spring, Summer, Harvest.
The elaborate displays, almost entirely made of flowers and plants, are not only beautiful for the eyes, but also for the nose. Visitors will smell cherry blossoms in the Spring, roses in the Summer and evergreens during the holidays.
It is entirely free to enter the Conservatory and Botanical Gardens, putting this excursion on every "Best Free Things to Do In Vegas" list.
While you are at the Bellagio for the Conservatory and Botanical Gardens, also see Dale Chihuly's suburb glass sculpture, "Fiore di Como" that covers the ceiling of the lobby.
Every day, 15,000 to 20,000 people come to the Bellagio lobby just to see the Conservatory and Botanical Gardens and the Chihuly sculpture.
On your next visit to Vegas, you should absolutely be one of the thousands.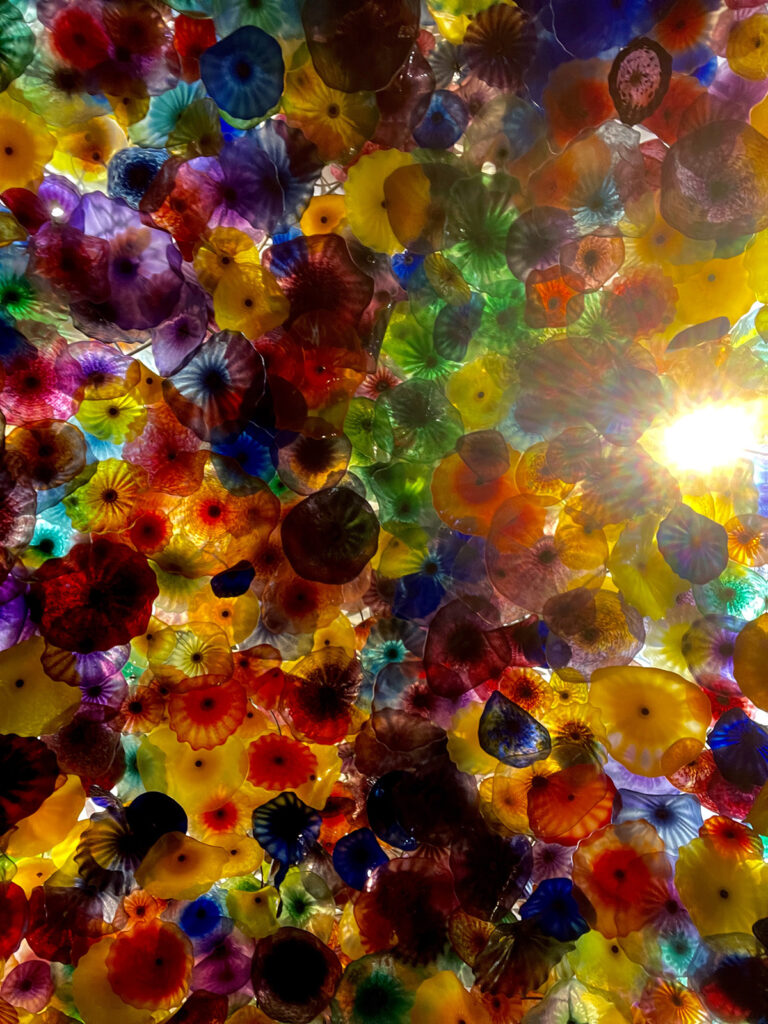 12 Drink at Minus 5 Ice Bar
From Michelle Moyer at Moyer Memoirs
For my 50th birthday party in Las Vegas, we celebrated at the Minus 5 Ice Bar.
The whole bar, from top to bottom, is made of ice for a truly unique experience. I chose to wear the snuggly white fur coat, included in my package, to keep warm while in the chilly bar enjoying cocktails and lounging on ice sofas.
The cocktails were served in glasses which are also made of ice, providing a nice 'chill' to my drink. The gloves given out at the entrance to the ice bar came in handy while holding onto my ice glass!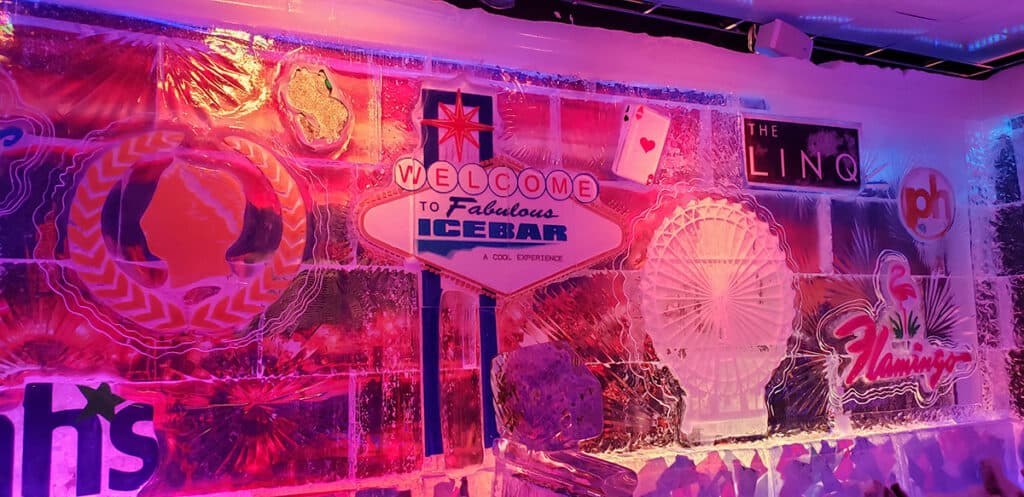 We chose the location at the LINQ Promenade, but there are two other Minus 5 Ice Bar locations throughout the Las Vegas strip: the Shoppes at Mandalay Bay and the Grand Canal Shops at the Venetian.
We checked in at the front desk, purchased our package, and were escorted inside the colorful ice bar.
The music was loud and invigorating and the LED lighting made the ice sculptures look even more amazing. There were ice displays on every wall. I can't imagine how much work went into designing it all!
Our bartender took great care of us and made sure our drinks were to our liking. When all our drinks were finished, we had a contest with our bartender to smash our ice glasses.
Whoever was unable to smash their glass in one dunk had to stay all night to clean up the bar! I did it! I needed two tries, but I still got my slamdunk!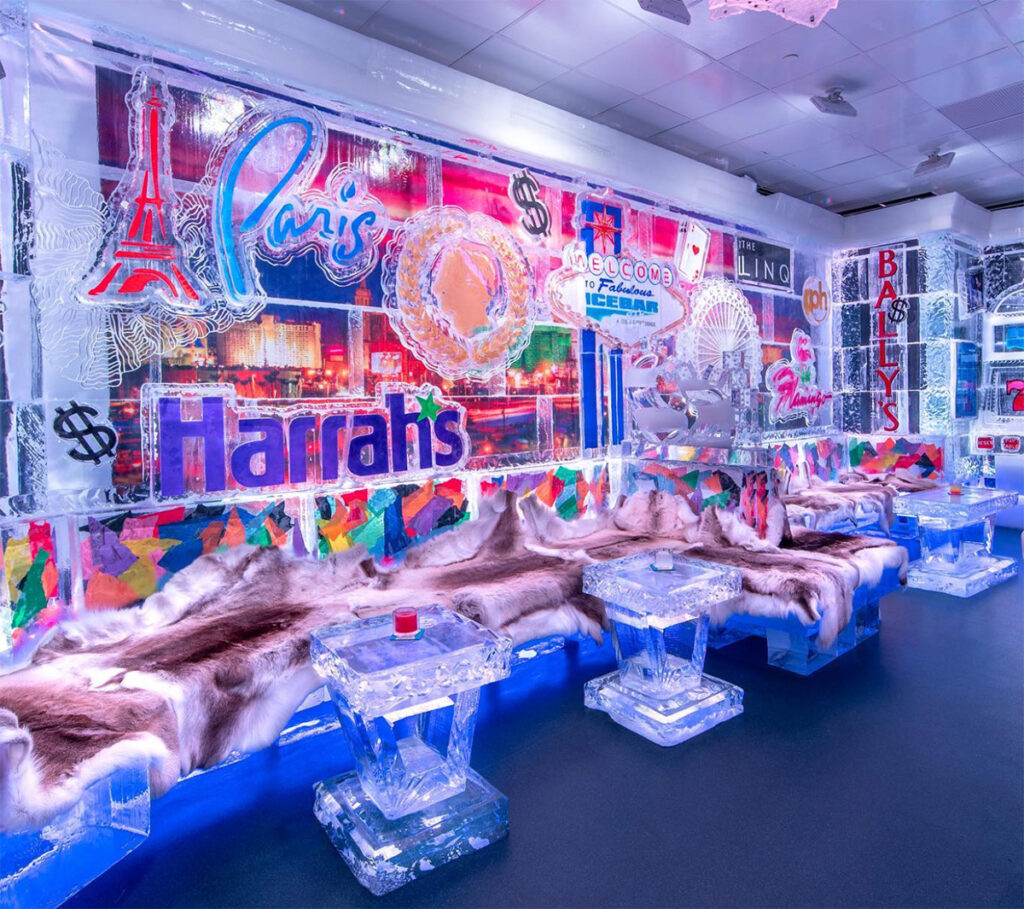 13 Check out Madame Tussauds Wax Museum!
From Celeste at Slow Travel Blog
No trip to Vegas is complete without a visit to Madame Tussauds!
Wax museums can be a bit polarizing. Some say they're creepy, and others revel in the chance to "meet" their idols. No matter where you stand on the topic, it is a unique experience.
The original Madame Tussauds is in London, but the Las Vegas branch was the first outside of Europe, and has been open for more than 20 years.
In the Las Vegas Madame Tussauds, you will find the figures of famous celebrities organized loosely into groups: Big names, Sports, TV, Music, and Las Vegas.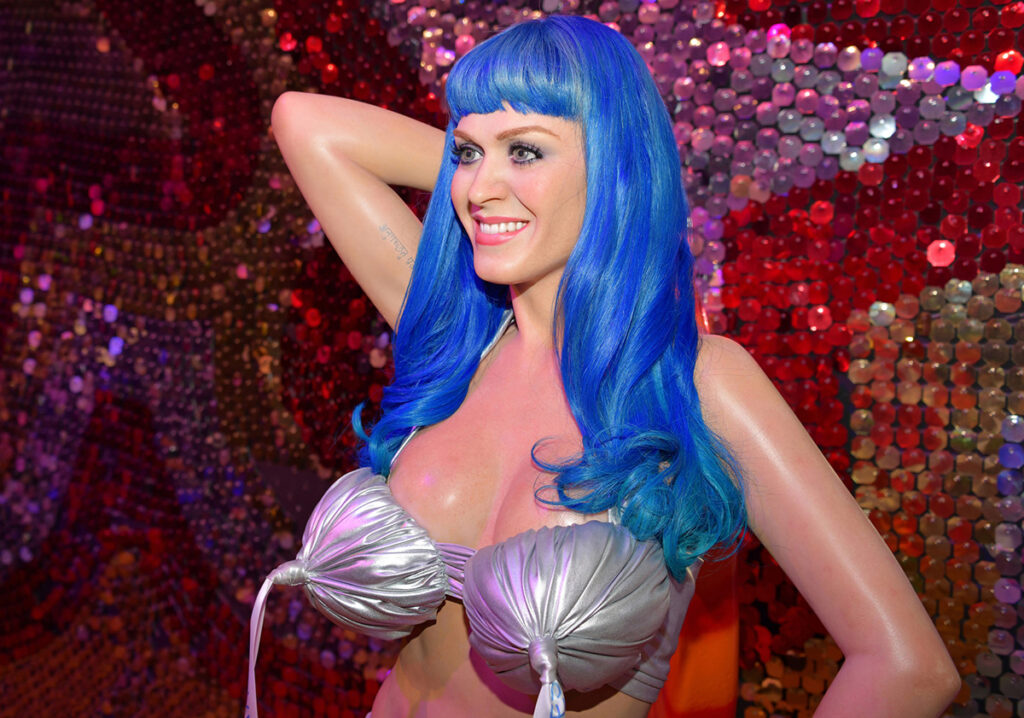 The music exhibit is the place where everyone will find somebody they know! Beyonce, Katy Perry, Justin Bieber, Rihanna, and Drake all have wax figures here. (Plus many more!)
If you want to see Katy Perry for real, she is in residence in Las Vegas performing her Play concert. See more amazing live shows in Vegas in this post.
Or head to 'The Hangover' Bar Experience to get in the set for pics and have a cocktail, wine or beer with "the boys".
The figures are all pretty lifelike, but they range in quality from "are you sure this isn't a human?" to pretty good replicas.
Even the big kids will love the Marvel characters and the 4D movie!
Some of the figures at Madame Tussauds rotate, so there will always be something new to discover.
Typically you can touch and take photos with the wax figures, which is really the best part, but be sure to check the latest protocols before your visit so you won't be disappointed!
Madame Tussauds is a popular place to visit, so try to go on weekdays if possible. The best time of day to visit is before noon or after 5 pm.
Get your tickets for Madame Tussauds here >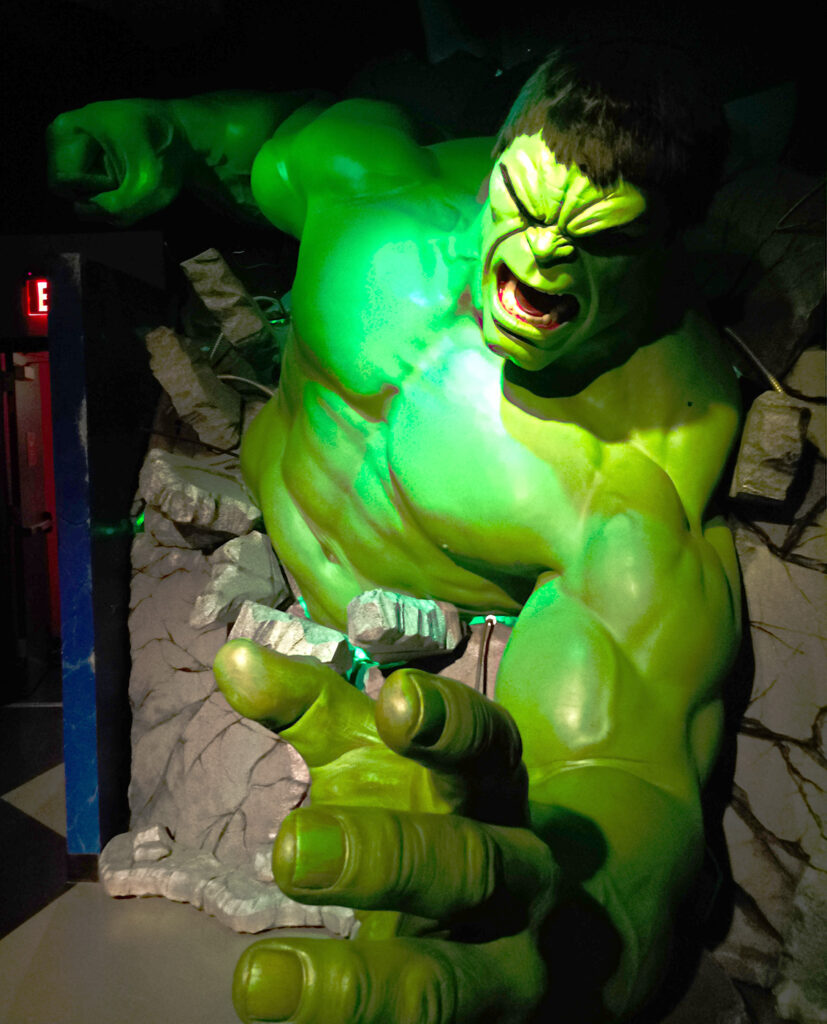 14 Seven Magic Mountains
If you are a fan of quirky art and have a car – or maybe you're driving to Las Vegas and can stop in here on your way past – about 10 miles south of Las Vegas you'll find Seven Magic Mountains.
This impressive and weird sculpture park is visible across the desert along Interstate 15.
Designed by Swiss artist Ugo Rondinone, these are boulders he sourced locally, painted in bold dayglow colors and set on top of each other so they stand 30-35 feet high (10-12 meters) and look like they are precarious and solid at the same time.
Originally erected in 2016 and expected to stay only a couple of years, they have become such a hit that they are still here today.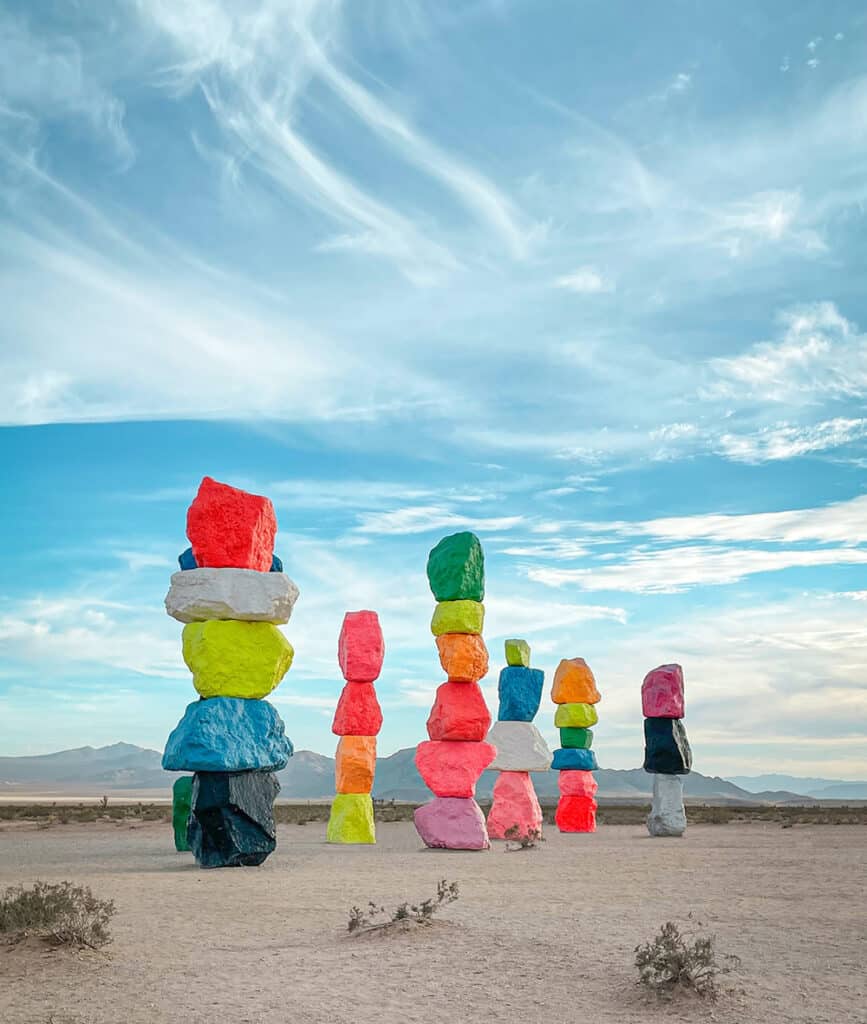 Day trips from Las Vegas
15 Tour Antelope Canyon
From Candace at CSGinger.com
If you're looking for a day outside the hustle and bustle of Las Vegas, a great thing to do is take a day trip to Antelope Canyon.
Antelope Canyon is a beautiful slot canyon that has been formed over millions of years. Wind and water erosion has shaped the smooth sandstone and created one of the most famous slot canyons in the world.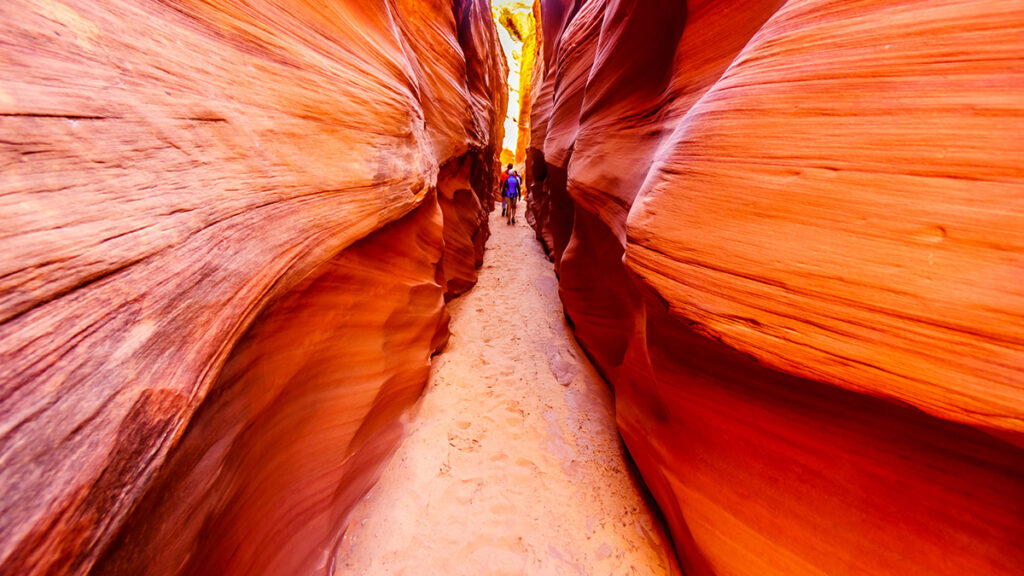 Antelope Canyon is about 4.5 hours drive east of Las Vegas, past Grand Canyon. You can either drive yourself to Page, the closest city to the slot canyon, and take a tour, or you can go on a guided Antelope Canyon tour with a pick up from your hotel in Vegas.
If you do drive yourself to Antelope Canyon, you will need to book a guided tour to go through the canyon.
There are no self-guided tours through the canyon. It is on protected Navajo land and only designed tour guides are allowed to take people through.
During popular visiting times and seasons, tickets do sell out so it is a good idea to make your reservations as early as you can.
While in Page, also be sure to visit the Horseshoe Bend Overlook. It is another beautiful part of the area and shouldn't be missed.
The best time to visit the canyon is from 11am to 1.30 pm. More light enters this canyon during the time so the walls will have more color and design (of course it also needs to be sunny!).
May through September is also the best time to see the light beams that the slot canyon is so famous for.
16 See Hoover Dam
From Bernadette at Explorer Chick
At only 30 minutes away, Hoover Dam is worth a visit, on the border of Nevada and Arizona – so you will be able to say you were in two places at once!
Pro-tip: parking on the Arizona side is free 🙂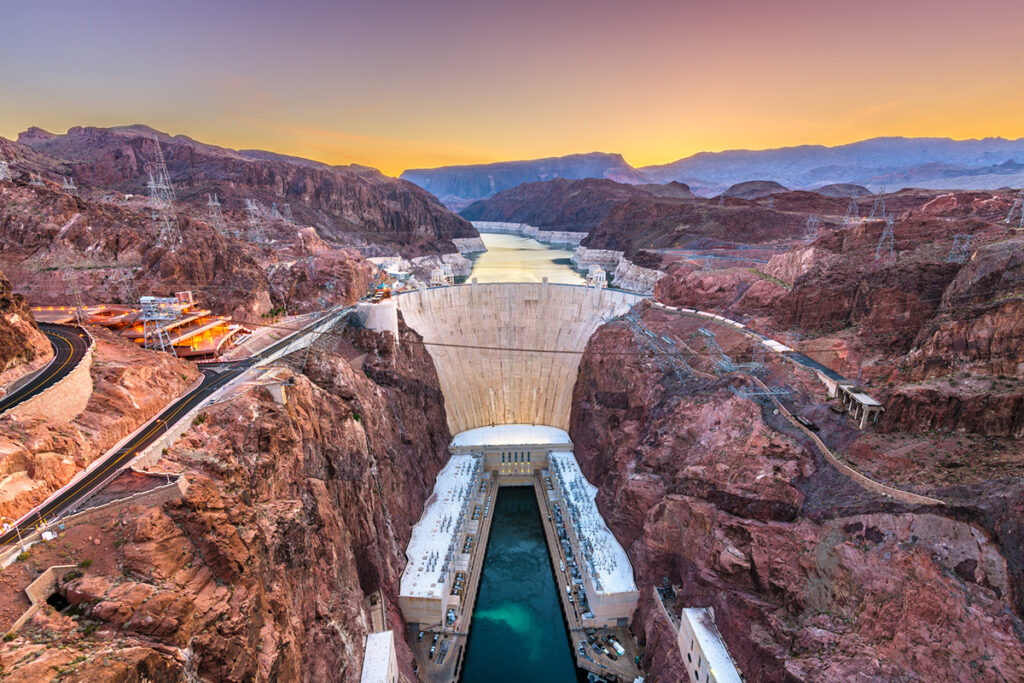 The Hoover Dam is a man-made marvel that supplies hydroelectric power to Nevada, California, and Arizona.
It was completed in 1936 during the Great Depression and is as high as a 60-story building and as wide as two football fields.
There is enough concrete in the dam wall to pave a two-lane highway from San Francisco to New York!
It also has some nice art deco touches and Native American imagery on its spillways and towers.
If you're not into the history and engineering of the dam, there is still plenty of nature to enjoy.
The dam created Lake Mead and the reservoir is a great place to spend the day swimming, boating, and even fishing. The reservoir also serves water to the surrounding communities and farmlands.
There are multiple tours that explore the inside of the power plant or the nature that surrounds the dam by authorized vendors.
At the moment, official power plant and dam tours are not available. But the Visitor Center is still open to learn more about the historic site.
Some people like to combine a tour of the Hoover Dam with a visit to the Grand Canyon too. See this full day Viator tour, which is hugely popular.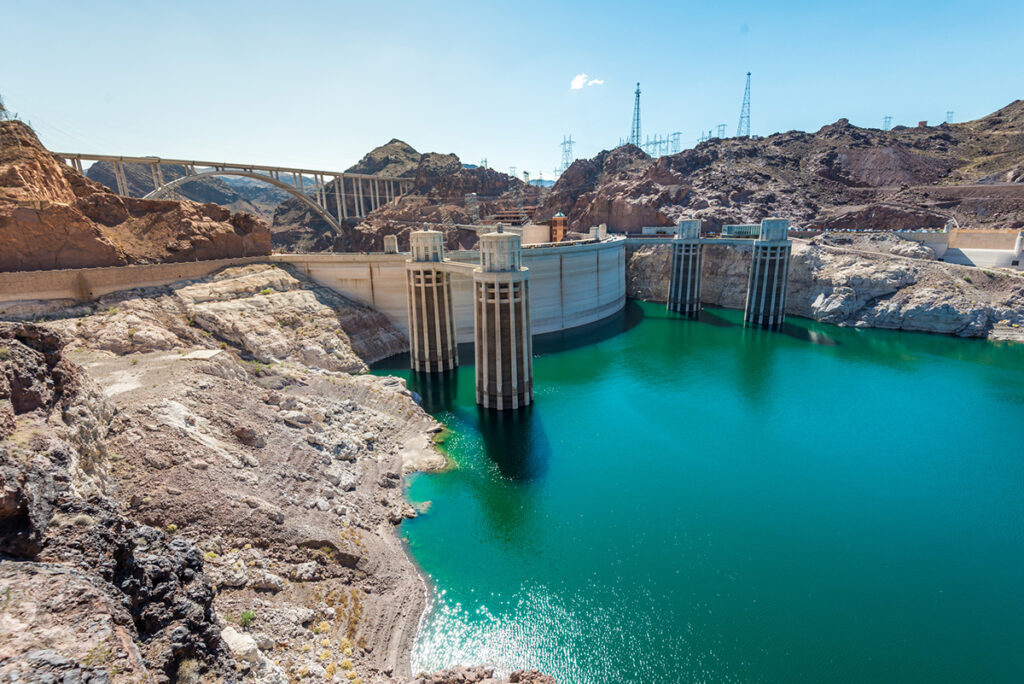 17 Visit Red Rock Canyon
From Daria at The Discovery Nut
When you get sick of the hustle and bustle of the Strip, take a hike.
Las Vegas is located within a few hours drive from some of the best national and state parks in the West as well as refuges, recreational areas and many scenic vistas.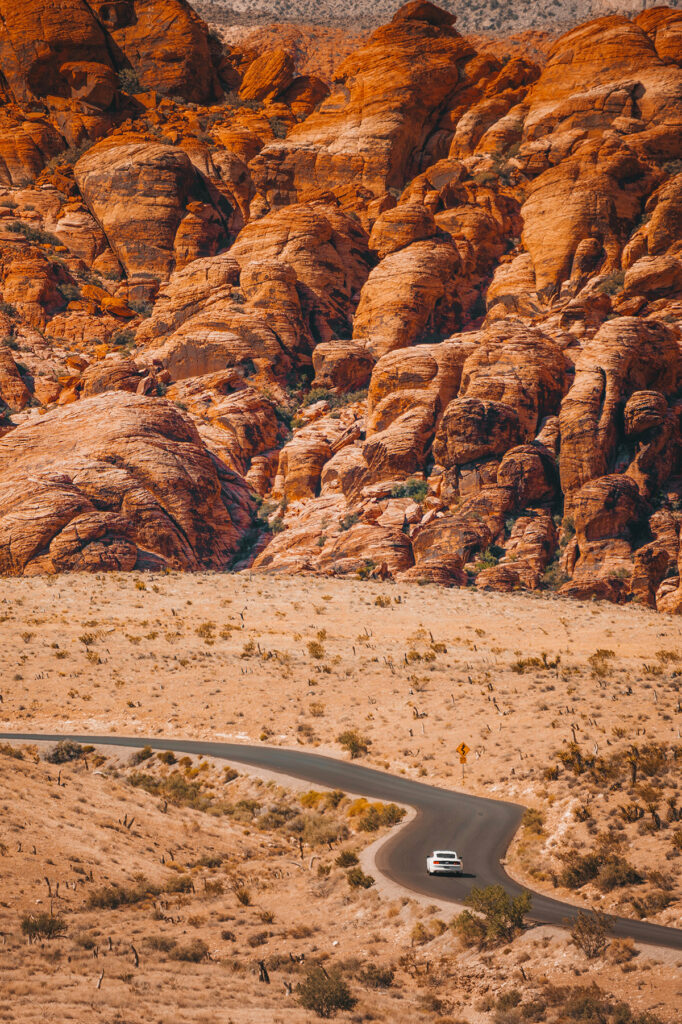 But you don't have to drive for hours to experience some of the best places near Las Vegas. Red Rock Canyon is about 25 minutes drive west of the Las Vegas Strip (Red Rock Canyon National Conservation Area).
This is one of the most popular places to visit near Vegas thanks to its close proximity and spectacular scenery. To enter the park, visitors need to pay a $15 fee.
Many hikes at Red Rock Canyon begin near the 13-mile loop-drive that cuts through Red Rock Canyon.
The best time for hiking at Red Rock is not summer, because of the triple-digit heat in Las Vegas! Come in late fall through mid-spring for milder weather and plenty of sunshine, with temperatures hovering in the low 60s.
This is a perfect time to hit the trails and explore some of the most scenic areas of the Red Rock Canyon National Conservation Area.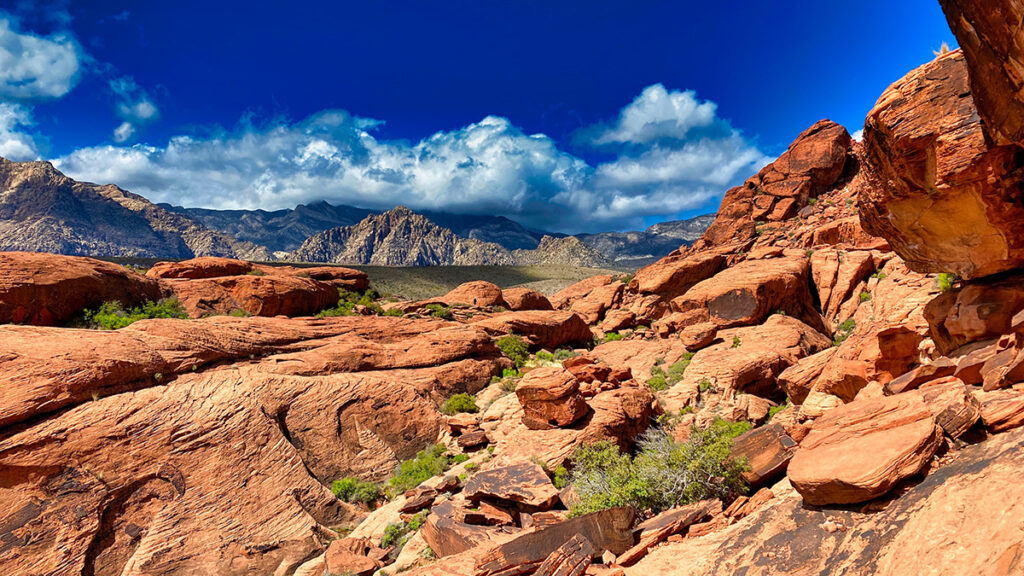 More things to do in and around Las Vegas
You can buy skip-the-line tickets for these experiences on these links below.
*Please note, they are affiliate links so if you do make a purchase, I will make a small commission at no extra cost to you.
18 I find the best way to get around the best sights of a city like Las Vegas is a hop-on-hop-off bus tour. The best value is also to get a 2-day ticket and that way you can plan what to see on which days and use the bus as your taxi service. Try this Big Bus Tour.
19 Take a full day tour out to the Grand Canyon rim and have a good three hours to take all the photos and take in the views. Includes breakfast snacks and lunch on the way.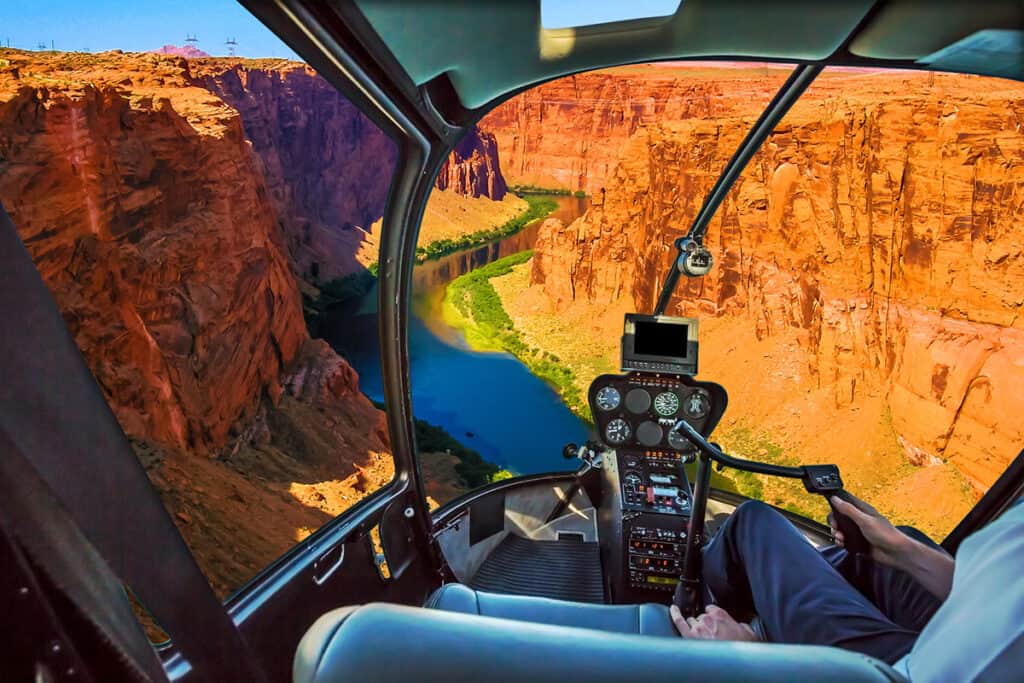 20 Grab skip-the-line tickets to the Big Apple roller coaster inside and outside the New York New York Hotel with a 180˚ twist!
21 If you don't want to spend a day driving to and from the Grand Canyon, take a 70-75 minute helicopter tour over the Hoover Dam and Lake Mead for a flight below the rim of the Grand Canyon and back.
22 Buy your tickets to the Mob Museum and see the history of organized crime and law enforcement here in Vegas.
23 Take a helicopter flight over the Las Vegas Strip with options to upgrade to trying signature dishes from award-winning chefs or add on a sunset landing at Red Rock Canyon.
24 Take a Pawn Stars half day VIP tour including visiting the locations of the TV shows Pawn Stars and Tanked. Visit WelderUp, made famous by the TV Show 'Vegas Rat Rods', Marvel at the customized automobiles of Count's Kustoms and see Acrylic Tank Manufacturing from Animal Planets Tanked!
Vegas is even featured on my list of 20 great places for Spring Break with the family!