Is Las Vegas on your Bucket List?
Las Vegas is the play ground of North America. It really is bedazzling, and you need to brace yourself for your first visit! But once you do, you'll love all that it has to offer.
This list covers the funnest things to do in Las Vegas. It has a little something for everyone to get you started and help you narrow down the best things to do in Vegas.
I've been six or seven times now, staying in different hotels along the Strip (aka Las Vegas Boulevard), because the Strip is lonnng and staying a couple of nights at each end is one of the best ways to get a good feel of what's around you.
You might also want to read my post on 29 things NOT to do in Las Vegas too!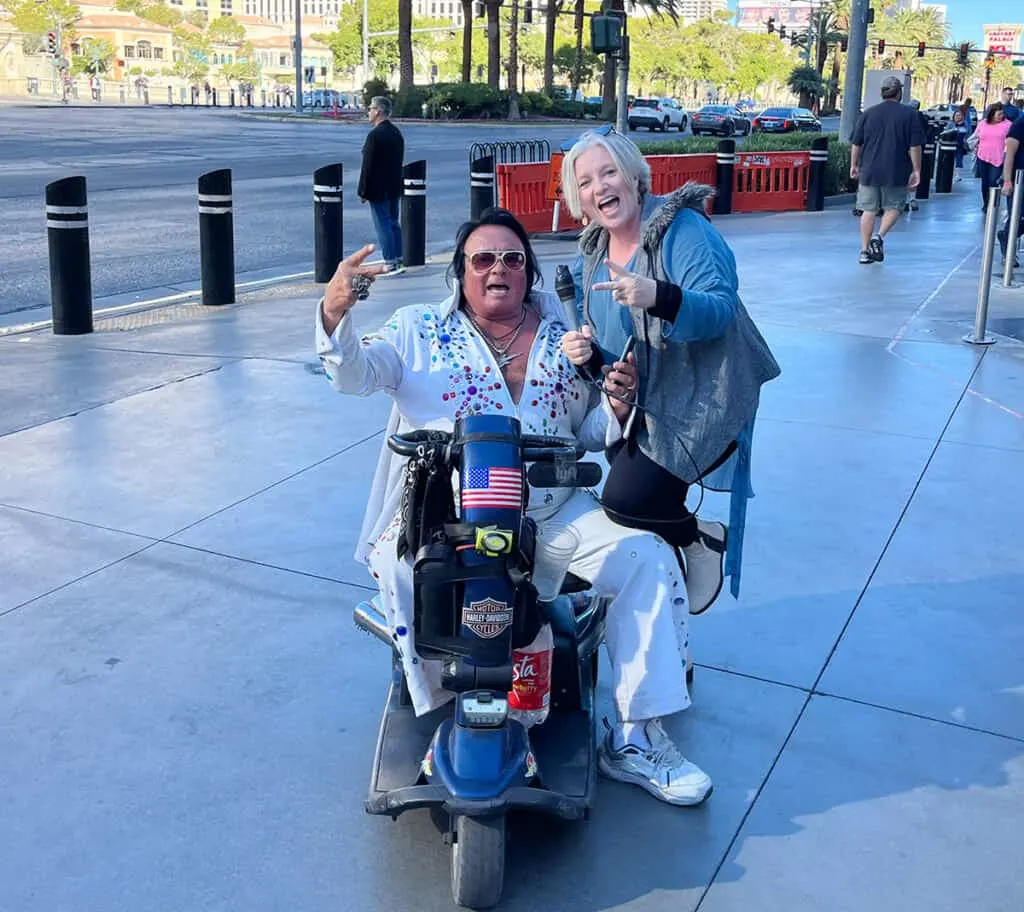 This crazy town, plonked in the 25,000 square mile Mojave Desert, is an eye-opener when you fly in. You'll see nothing but sand then all of a sudden green grass. Golf courses. Palm trees, swimming pools and soaring hotels.
If you're in the planning phase of your Vegas visit, or maybe you're in town right now, take a read of these unique, quirky and fun things to do in Vegas, as recommended by me and some top travel bloggers who've also recently visited.
This list includes mainly things to do in Vegas without gambling. Oh sure, I might have a $10 flutter, but there is seriously so much more to Vegas than gambling these, so read one for inspiration!
Top tip: – stay in a couple of different hotels and take advantage of the fabulous hotel guest facilities like pools, on your Vegas vacation. My top hotel picks are below.
This is the entertainment capital of the world, but what is there to do in Las Vegas besides gambling, you ask? I've got you covered with this fun list.
Give your wallet a break with these fun FREE things to do in Las Vegas!
*This post contains affiliate links. If you make a purchase I will earn a small commission at no cost to you.
These days Las Vegas is less known for gambling and casinos, and more about the spectacular live shows – I've picked 27 of my favorite shows in Las Vegas covering acrobatics to concerts to magic and everything in between.
You'll also find incredible Michelin-star restaurants, there's a fabulous shopping scene with malls and awesome outlet shopping, concerts with mega stars and big sporting fixtures, plus loads of crazy fun activities for the whole family.
And because Las Vegas is in the desert, we just did a four-day Nevada road trip from Las Vegas that included Area 51, Hoover Dam and Red Rock Canyon. So if Vegas gets all a bit much – head out of dodge!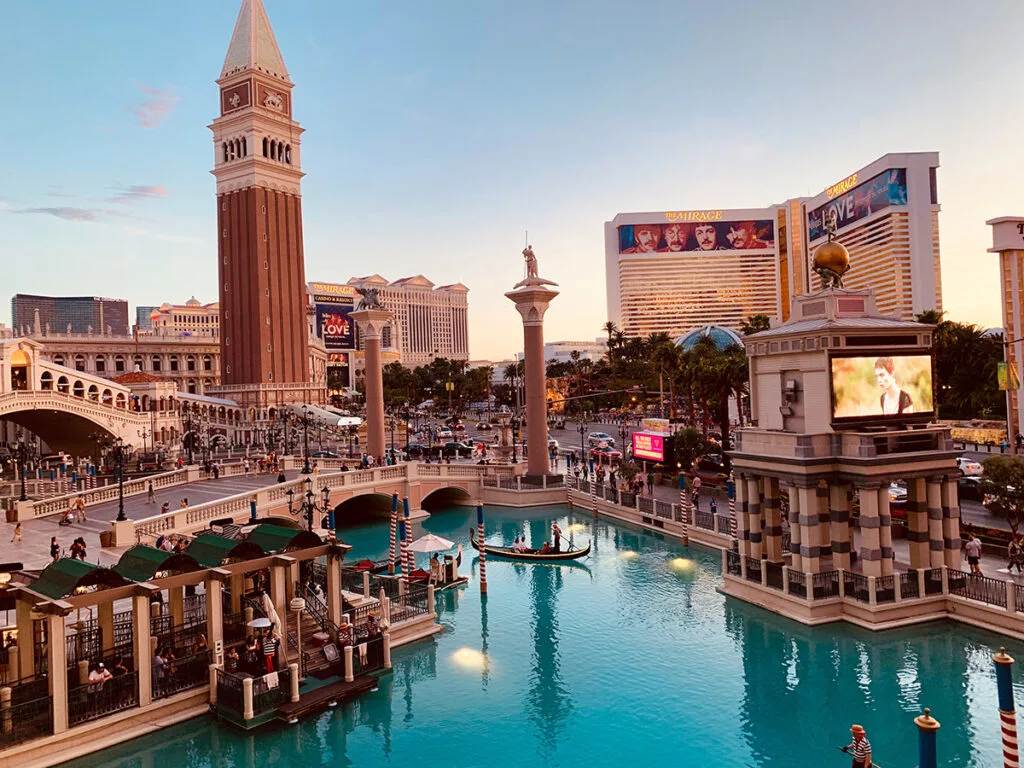 It's also helpful to know the inside tips for first-timers to Las Vegas like how to get around and how to get cheap deals.
And if you're thinking of taking the kids to Sin City, you'll be delighted to know that I have covered 22 epic things to do in Las Vegas with kids in Las Vegas, including the amazing Shark Reef Aquarium at Mandalay Bay, retro arcade games at the Pinball Museum and the huge M&Ms store!
If you only have one day, maybe you're here for a conference or you're just whizzing through, this post on how to spend a day in Las Vegas covers my favorite things to do!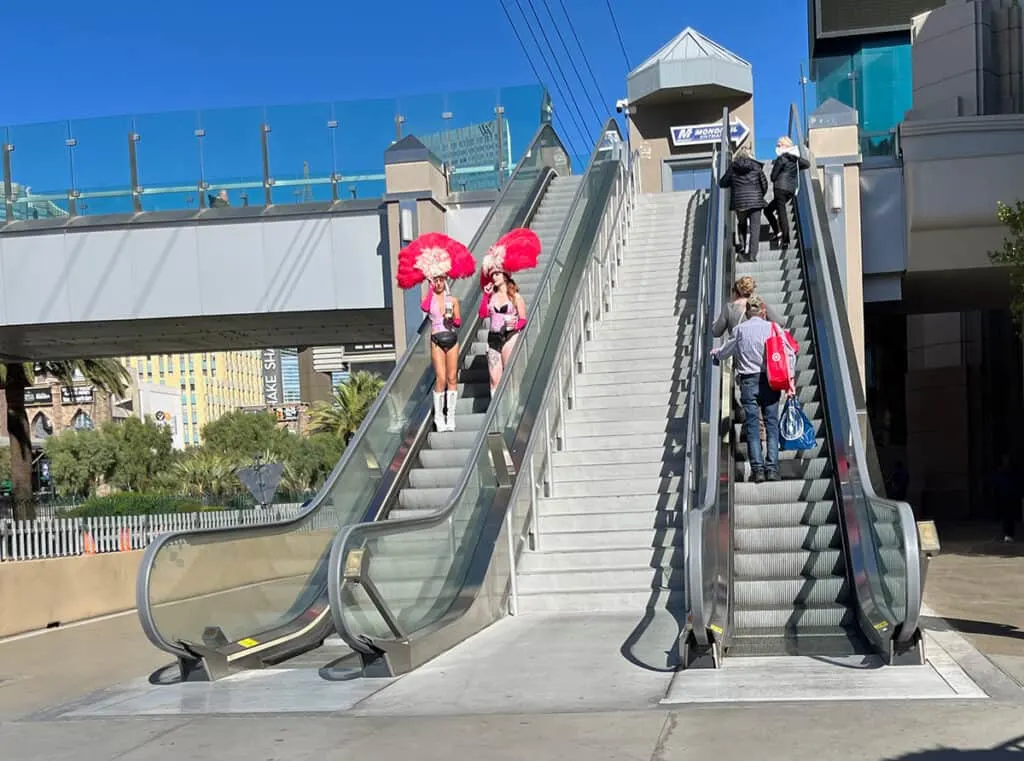 1 Start with a bus tour
The best way to get your bearings is to take one of those sight-seeing bus tours. I always recommend it for first-timers anywhere in the world.
Take a Hop On Hop Off bus tours and you can get a ticket for 24 hours or more, because if you haven't been here before, you'd be forgiven for thinking Las Vegas is just the Strip, but there's more to the city than that.
Also, the Strip is lonnnng. Objects are further than they appear! You'll have your sights set on Mandalay Bay, let's say, but you'll still be walking towards it 20 minutes later. Not to mention the sidewalk escalators and road-crossing bridges you'll be fed up and onto in your quest to reach those golden towers. So see it all at first glance from the top of a double-decker.
A bus tour will also take you downtown to old Las Vegas and Fremont Street too (which I cover in more detail below), so you can make some mental notes for what to come back to.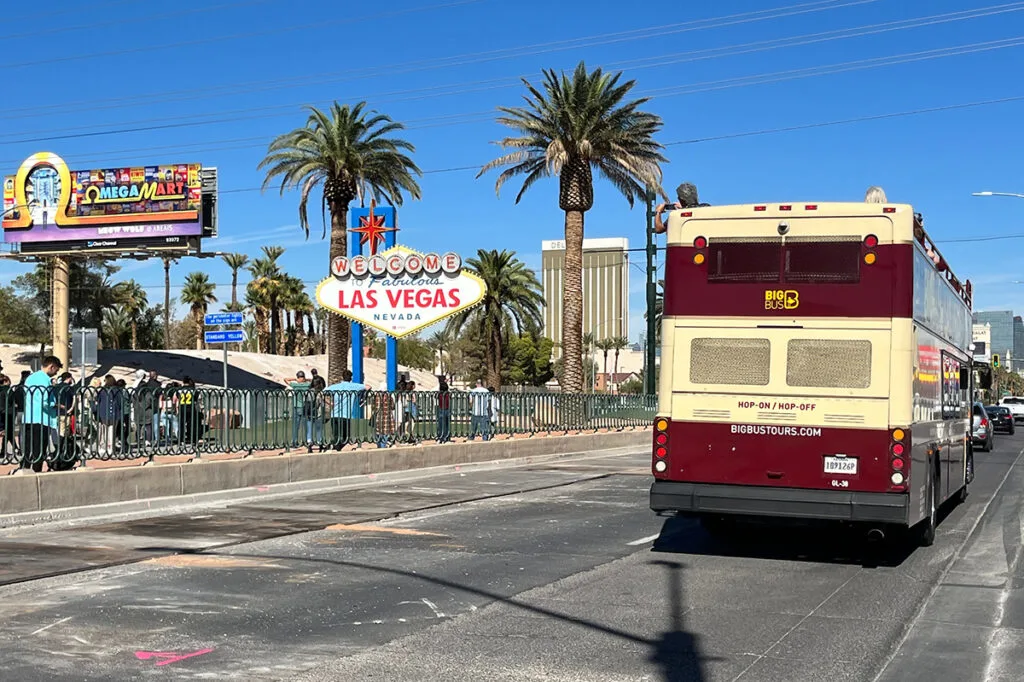 You'll be able to get your bearings on the where the likes of the Outlet Mall or Fashion Show Mall is (very important for some of us!), plus all the huge hotels and casinos you'll have heard about and take photos along the way.
2 Take a night time bus tour
Vegas by night is a whole different show! This open-top bus tour with a local guide provides some fascinating insights into Sin City and how this bizarre city in the desert grew into what it is today. You'll hear about the gangsters and gamblers, all amid the neon lights and blasting fountains. A fun way to spend two to three hours.
3 Nosey inside the best casinos
This is one of the fun FREE things to do in Las Vegas! You don't have to be staying in the hotels, or playing the tables, to walk in and have a good nosey around! Warning though: they are huge, so follow this post for where to go in each one lest you find yourself in there for hours!
Starting at the south end of the Strip, walk around the Venetian Resort. It's designed to be a mini Venice complete with gondolas on water taking tourists for boat rides. If you're lucky you'll get a singing gondolier!
Inside you'll find a replica of St Mark's Square with overbridges as the gondolas float in from outside and back out again. It is lined with shops – the Grand Canal Shoppes. You'll be wowed by the facades of Italian buildings and if you're a steak fan, stop for a meal at Smith and Wollensky's of New York City, and now in many locations across the US.
Caesar's Palace is another opulent hotel/casino that you should see. Another Italian themed hotel, this one is famous for its massive marble statues and water features – like the Trevi Fountain at the entrance to the Forum Shops.
It was in here I first noticed the ceilings, many years ago. Look up as the ceiling is painted like the sky and it will dim according to the time of day/night. I once saw a man waiting outside outside one off the shops in here for his wife smoking a cigarette, obviously forgetting he was not actually outside!
Of course it would be remiss to visit Las Vegas and not step inside the Bellagio! Sadly you'll find you can't see the famous fountains from inside as they lock the little balcony doors (you could book an expense room of course!), but wander through just to pretend you're in Oceans 11 (which was filmed in here in 2001 – how long ago??!!) There is more below of tips for what else to see in Bellagio too.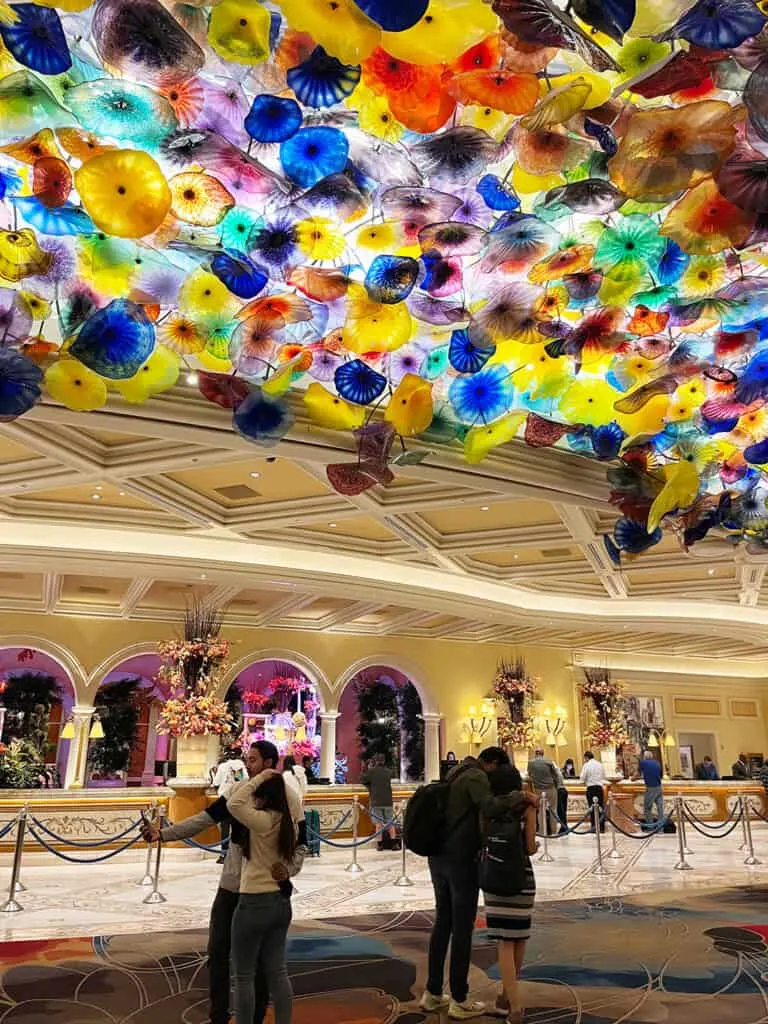 4 Head to the pools!
It would be worthwhile checking out the hotel pools before you make your booking as some of them are simply amazing, and many are free for in-house guests.
Think wave pools, lazy rivers, full-service cabanas and daybeds, and even swim-up black jack tables at the Bellagio's sprawling pool complex. They have live music and DJs, outdoor cinema, pool parties – if that's what you're looking for, or family-friendly.
A day at the pool would be an ideal Las Vegas day when you're done with the sightseeing and just need a moment with your kindle and a cocktail. I cover some of the best pools in Las Vegas in this post with inside tips for using them. Some are free to house guests, some anyone can use for a fee – but book in advance.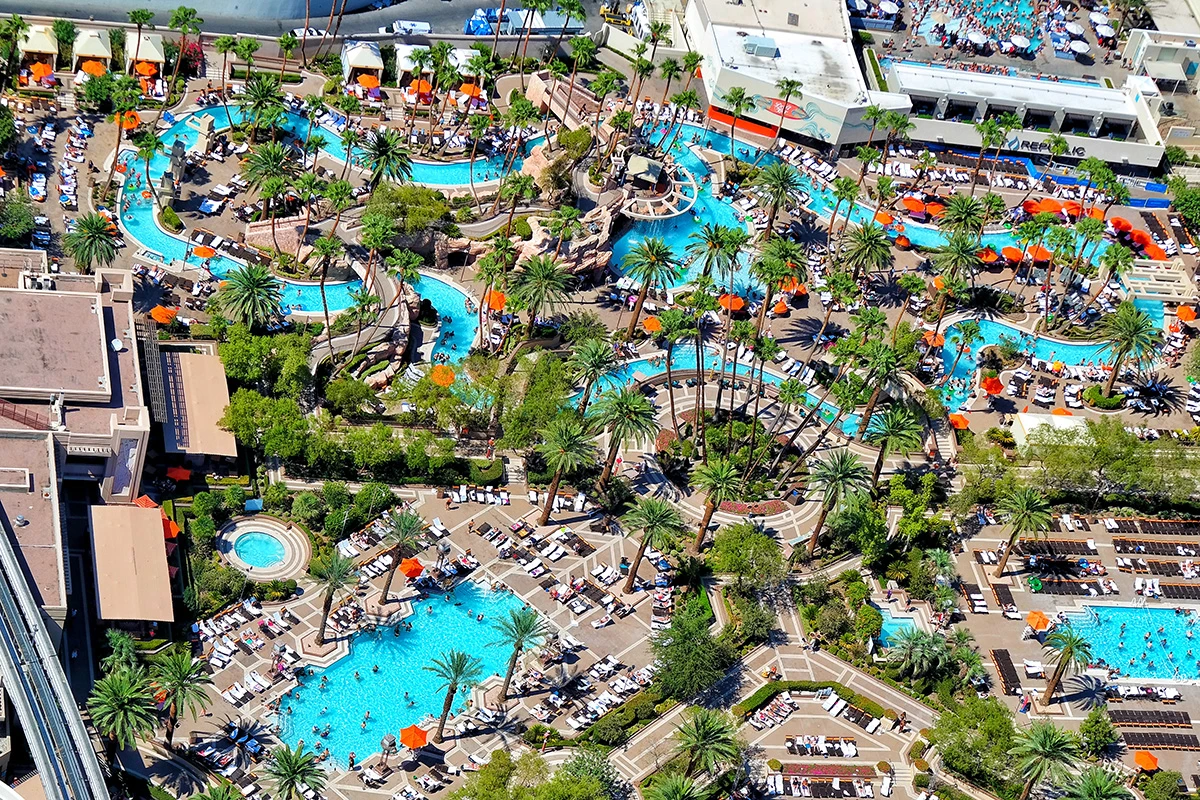 5 Take a walking food tour
This super popular walking tour gets you into three of the best restaurants on the Strip, swanning past the beautiful people waiting for a table, to try some amazing dishes.
I joined Lip Smacking Foodie Tours and about 30 of us met in front of Aria where our host, Donald, gave us name tags and checked who wanted to upgrade to the drinks package. The two-hour eating tour was $199 each, and an extra $60 would mean we'd have a cocktail served immediately at each of the three restaurants when we sat down. We were in!
The reality was, without this, we wouldn't have been able to get a drink at all as there was barely time to see a waiter to give them a drink order, then pay separately for that before we moved on. In fact I think those who didn't opt in for the drinks package only drank water.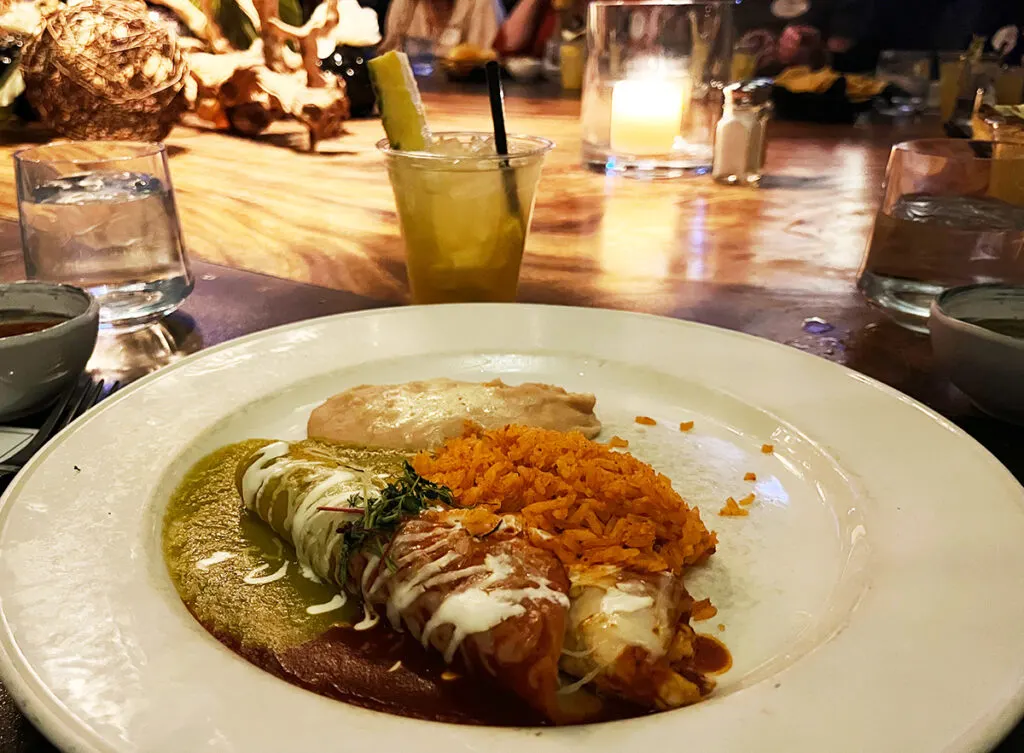 Our first restaurant was Javier's in Aria. The closest thing to Mexican fine dining that you'll find on the Strip.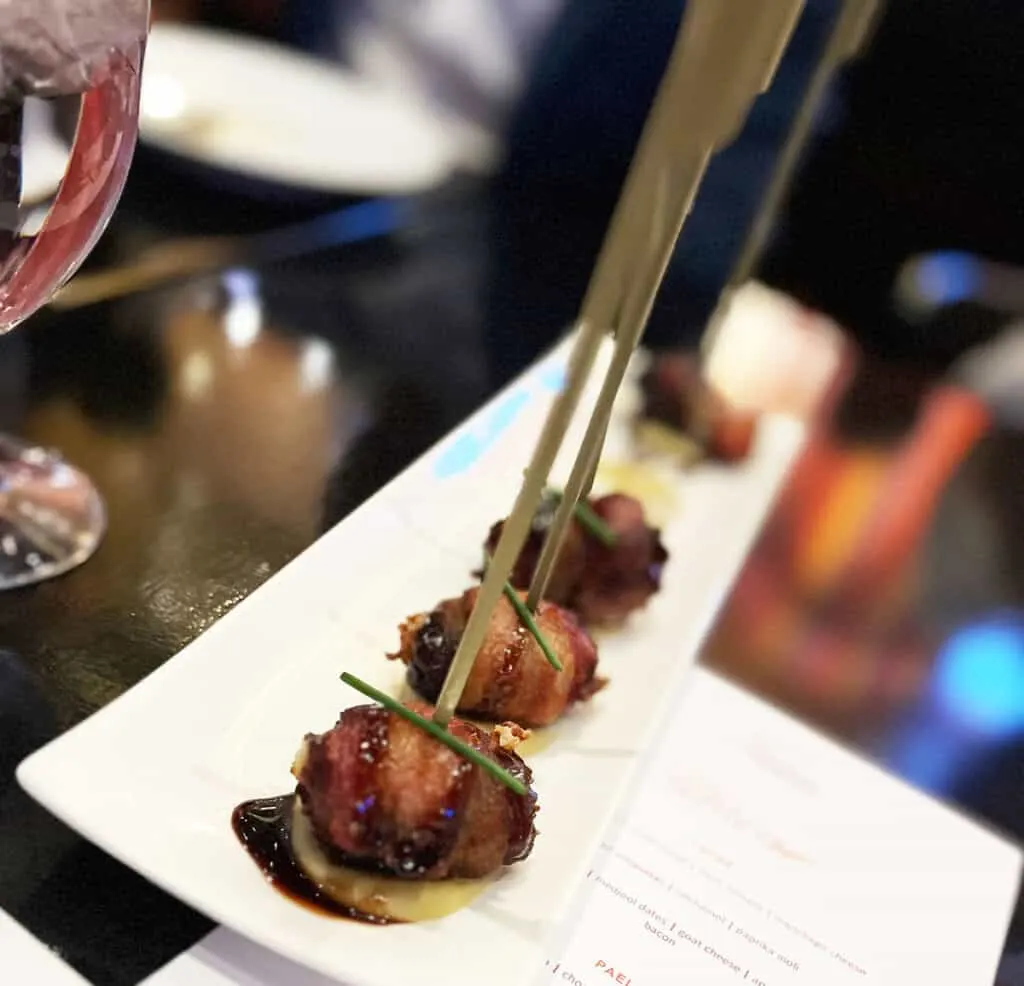 Then we were off walking through Aria to world renown chef Julian Serrano's for tapas. Blinged up ladies dressed to the nines stood outside, and we marched on past them.
As soon as we sat down they whisked out our cocktails and a bruschetta with manchego cheese and tomato, followed by chicken croquettes filled with béchamel on a paprika aoili, then a large medjool date stuffed with goat cheese and wrapped in bacon (pic above).
THEN a monster paella dish with a caramelised base, served family style. I was getting full!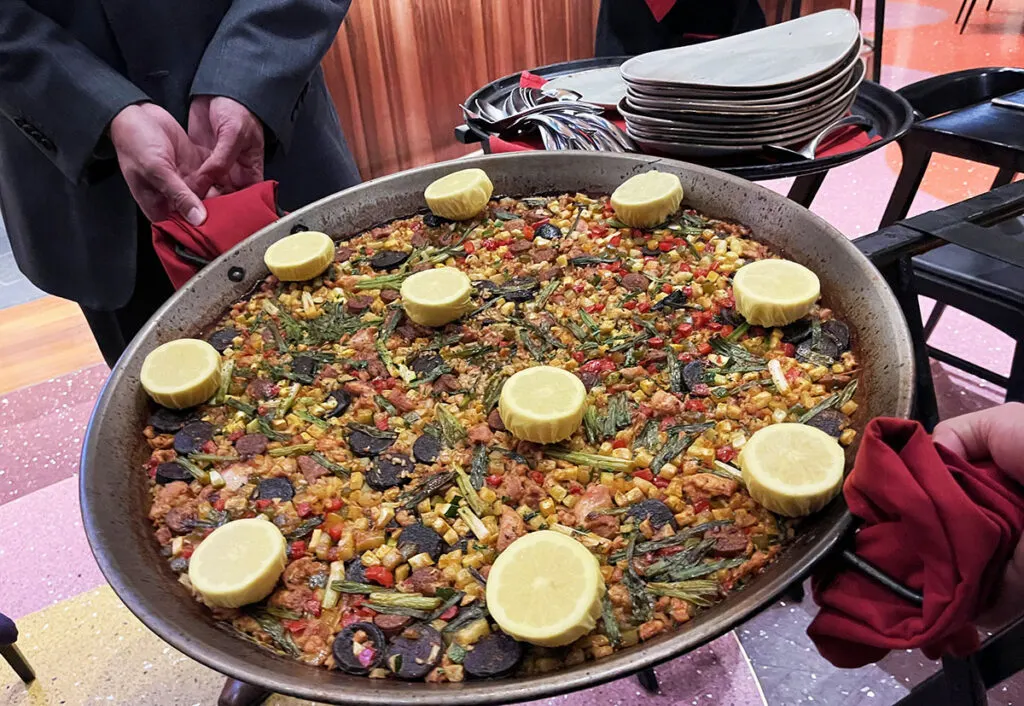 But we still had our final restaurant to come.
We ate, we drank, we chatted with our new-found friends then we set off for Maestro's Ocean Club for steak and dessert, and lo, it was the same restaurant I'd photographed earlier in the day for the cool architecture here at the Crystal Shops in Aria.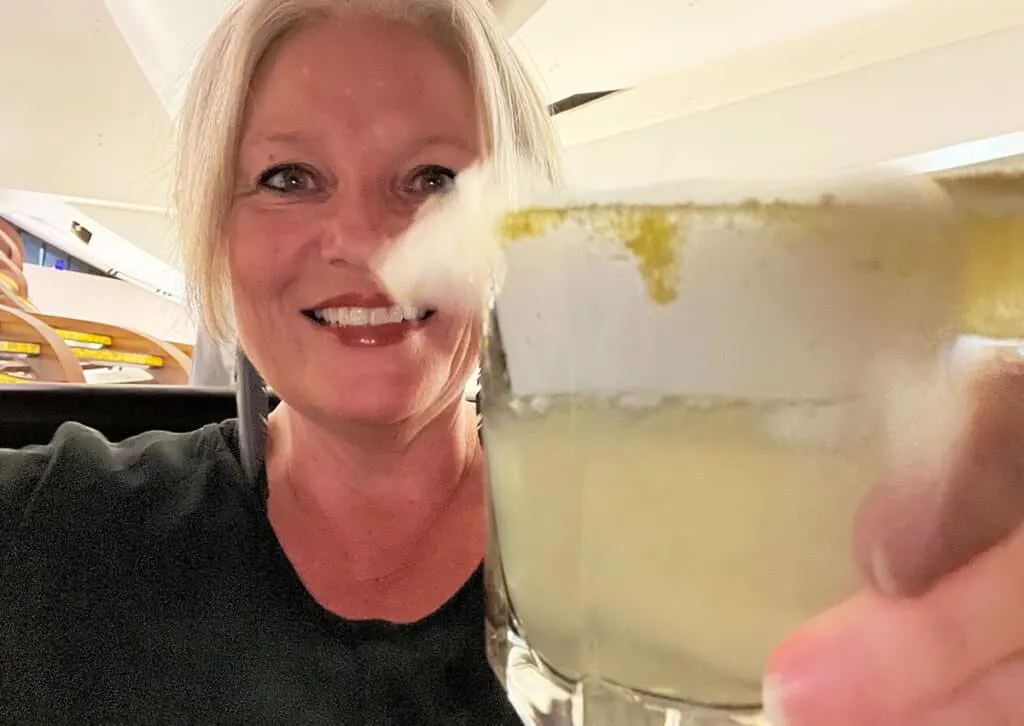 Famous for steaks and seafood, we started with a dry ice cocktail that steamed deliciously as a plate of sliced beef with a tasty bark edge was served in the middle of the table and a colourful tomato and cheese salad.
But that wasn't all! A decadent plate of cheesecake and chocolate cake arrived, which we cut into bite sized pieces and tried as much as we could before our buttons popped open!
Also check out a Secret Las Vegas Food Tour which starts at the Gordon Ramsay Pub. You'll try the iconic shrimp cocktail and learn all about the epicurean scene here in Vegas from cheap buffets to where it is today.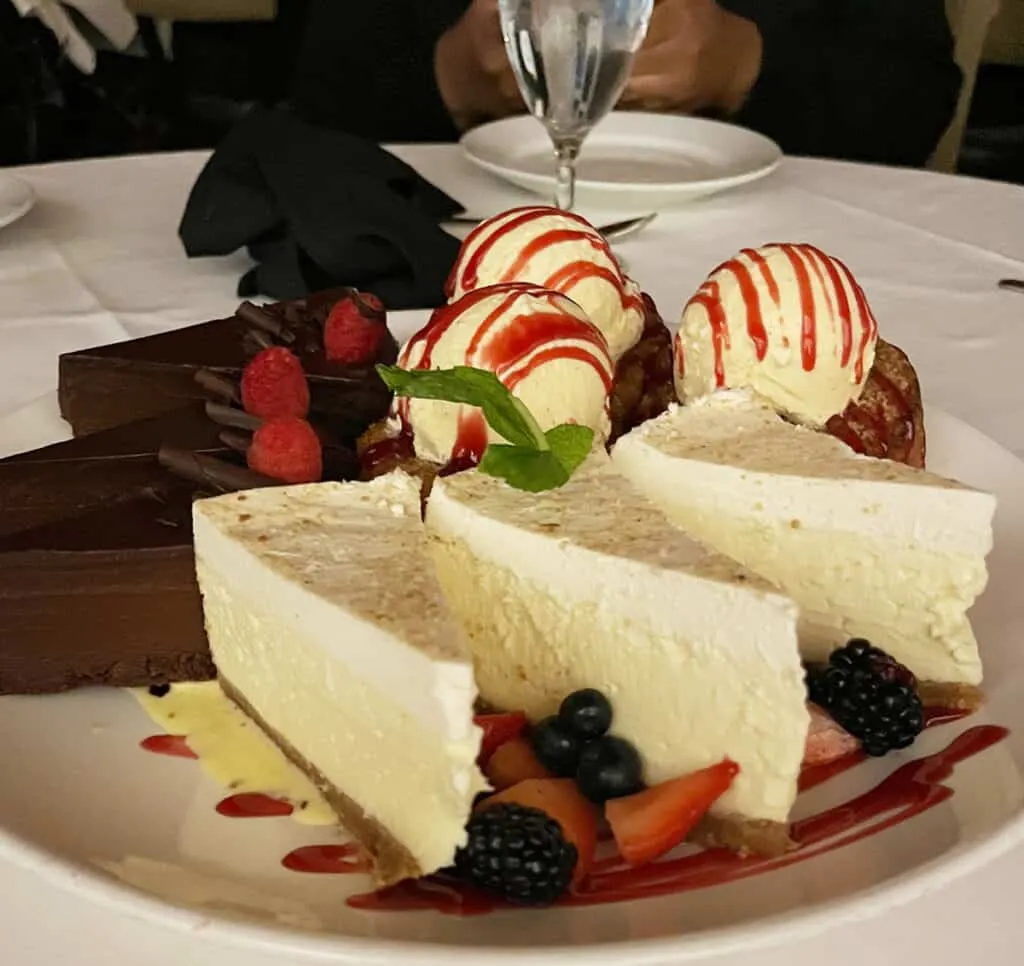 6 Dine in the dark!
Have you always wanted to do this? Dine in a pitch black room with only your hearing, smell and touch to figure out what you're eating and what the heck's going on?
This sensory Black Out Dining in the Dark experience is voted as one of the top things to do, and the best restaurant in Vegas. The seasonally changing seven-course mystery dinner can also be wine or cocktail matched. All that's missing is your orientation!
My brother did this and said when you pour your drink you need to put your finger inside the glass so you don't overflow it. Or let the staff (with their night-vision goggles on) do it for you.
After you've finished your soup, appetizer, salad, entree, dessert – and maybe more surprises, your server will lead you back into the light and reveal what you ate.
I think it'd be an absolute hoot to bring some friends for this.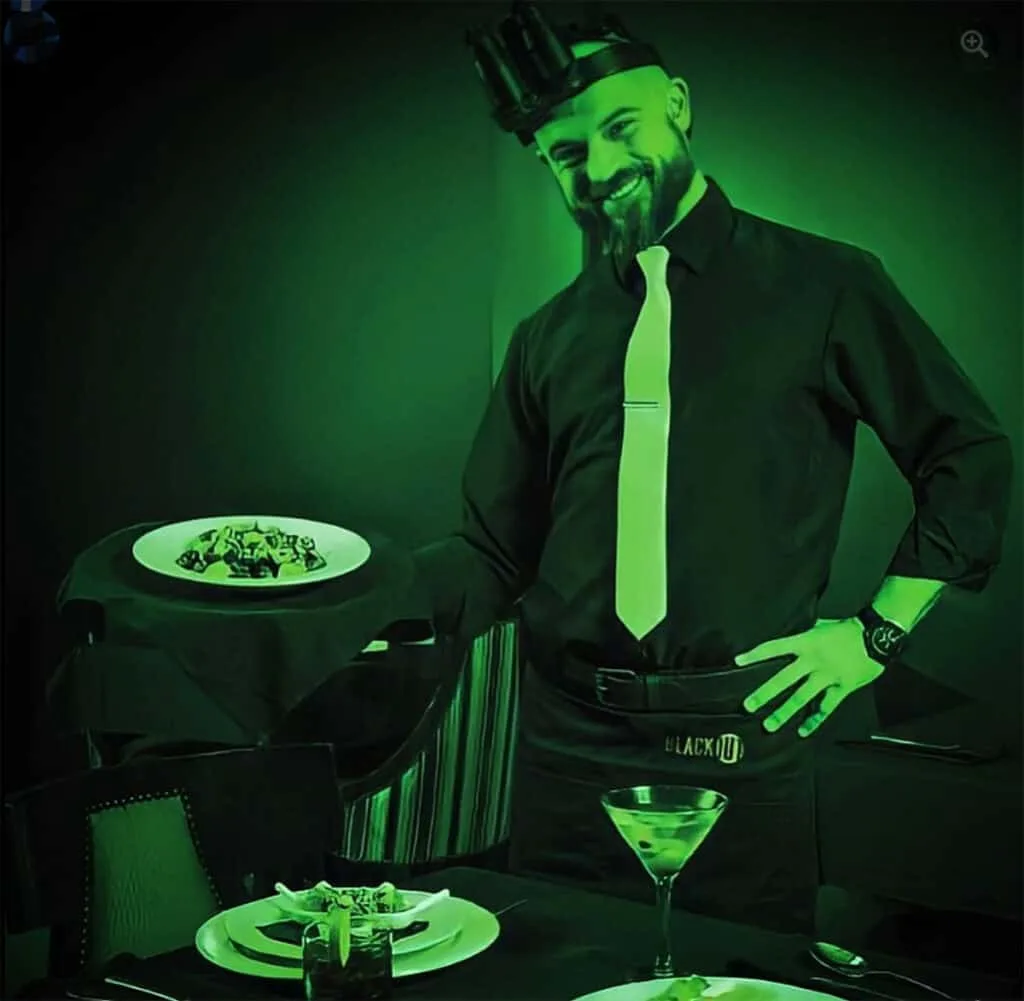 7 Escape from an Escape Room!
I'd never done an Escape Room game before, but if you find yourself with a spare hour and you're near Caesar's Palace, book an escape room. But here's a tip, make sure you have people with you who are analytical enough to plod through the clues!
We booked the Gold Rush room at The Escape Game which is designed like a miner's hut with a tree and some random markings on the walls… which are all hidden clues.
Fortunately my husband is systems and processes man, so while I had collapsed on the slide (yes I slid from one room to the next while he went through the door), he found the next set of four numbers and opened the final padlock to find the gold!
We did have to request a few clues along the way, but it was actually a lot of fun.
*At any time we could have opened the door and walked out.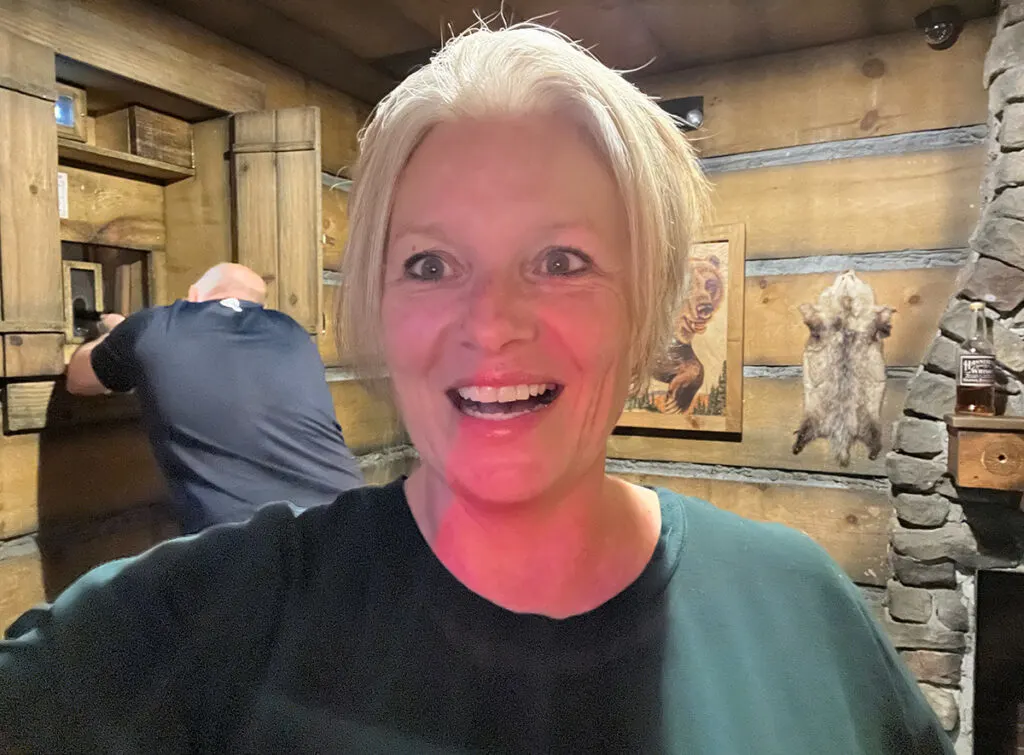 8 Get to the Las Vegas Grand Prix!
Special events are held all the time in Vegas. The first Formula One Grand Prix to be held here is planned for November 16-18, 2023 (not to be confused with the Caesar's Palace Grand Prix). Die-hard petrol heads will want to be booking hotel packages asap as the race will include roaring down the 1.9 mile Las Vegas Strip!
The 3.8 mile (6.1 km) track will start is what is currently a disused parking lot, that will be transformed into pits and paddocks. There are 17 corners on the track including the first one being a hairpin and drivers will hit speeds of up to 212mph.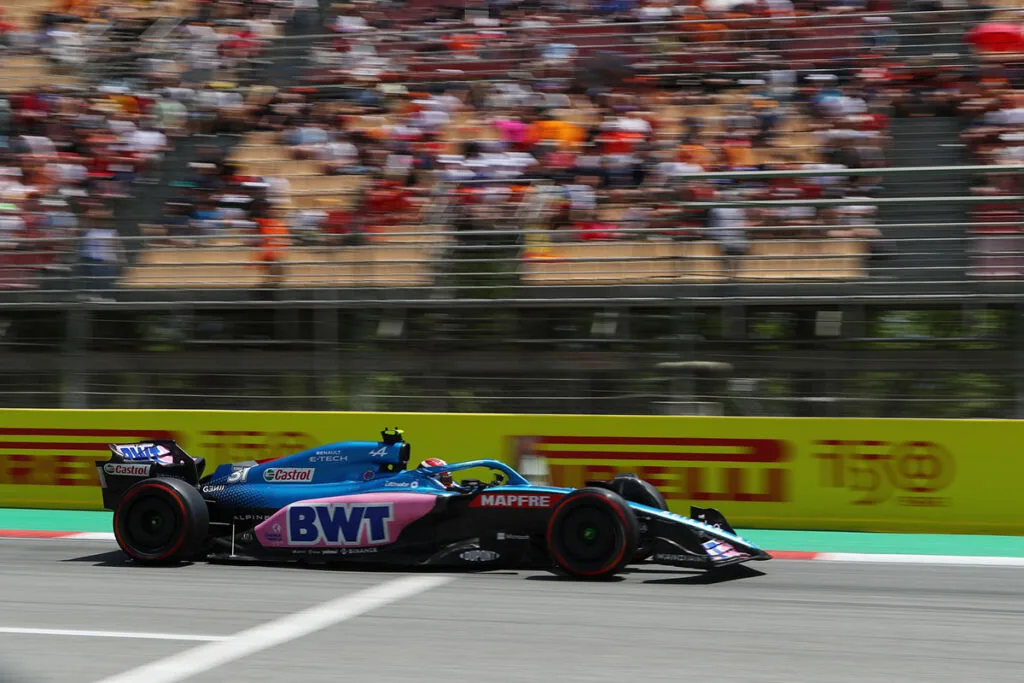 The best views will be any hotel along Las Vegas Boulevard (the Strip) that faces the road. Make sure you book a room with a road front view if this is where you want to watch from. Otherwise you'll be able to buy tickets from F1LasVegasGP which start from a cool $500 for standing only, or from $2000 for three days of corporate hospitality.
9 Dine at Hell's Kitchen
From Francesca at Travel Heal Love
Gordon Ramsay has five restaurants in Las Vegas, but I have been a massive fan since the first season of the Hell's Kitchen show. I never get tired of watching him, one of the most famous chefs in the world, lose his temper over raw chicken, overcooked meat, and bizarre food combinations.
So it was only natural for me when visiting Las Vegas, to dine in the famous fine dining restaurant, located in front of Caesar's Palace, which takes its name from the TV show.
Hell's Kitchen is like a sort of museum for the show and it feels like being on the set. I particularly loved the entrance with the pictures from all the past winners as seen so many times on TV.
The open show kitchen has got chefs dressed as "teams" in red and blue uniforms and a giant vertical screen shows Gordon Ramsay himself welcoming you.
And the food! There are no words to describe the finesse and the quality of the plates served in the restaurant.
I had to go for the iconic beef Wellington and it was one of the best dishes I have ever tasted in my life!
Because this is one of the main attractions in Las Vegas you need to book your spot in advance, at least 3-4 months before if you are looking for a specific date and time.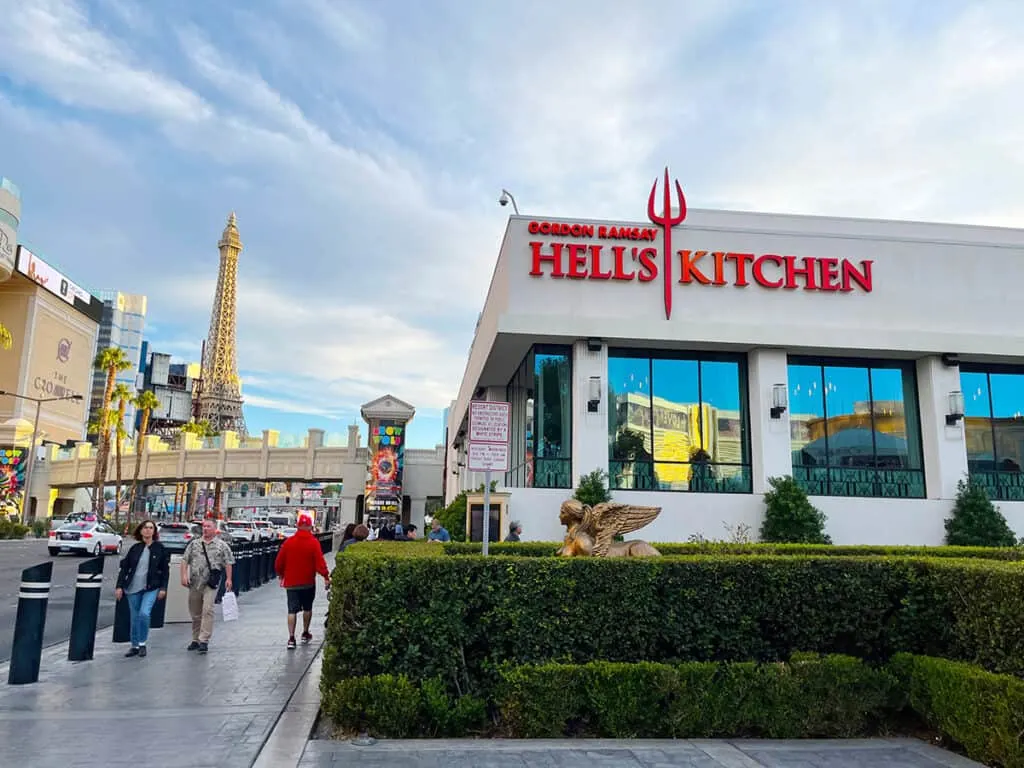 Also, forget about having a cheap meal because you are in for an expensive night. The prices for the dishes vary from $20 for a soup (starter) to $70 for the main course. And, if you fancy drinking wine with the food, the least expensive bottle is around $65.
The prices are high, but I can promise it is totally worth it and you will not regret trying it!
Check out the room rates to stay at Caesars Palace here.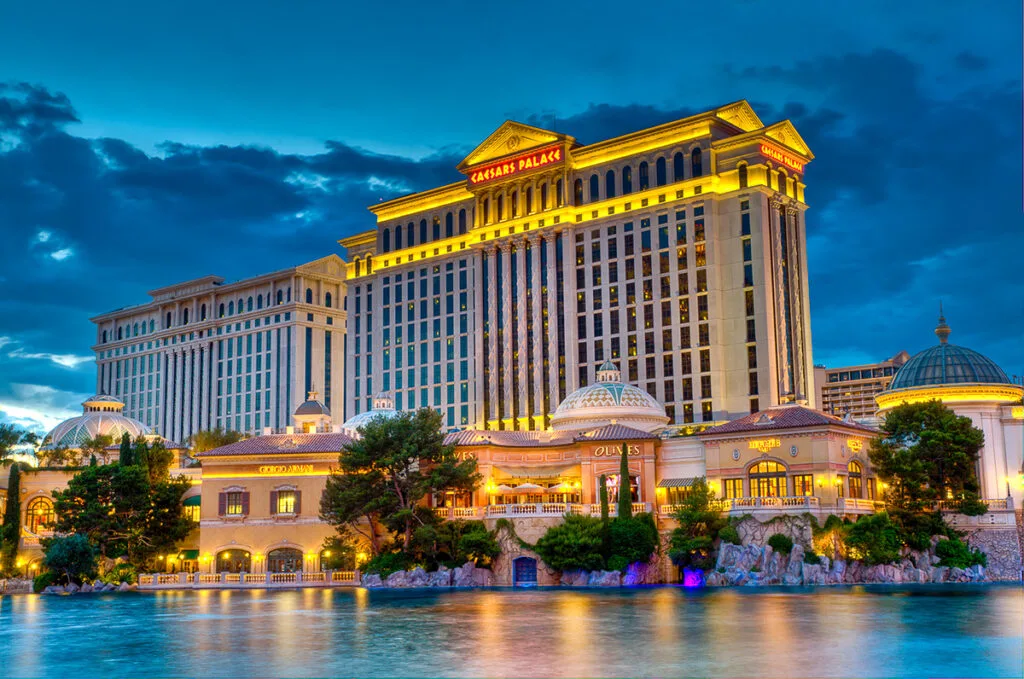 10 Visit the Mob Museum Las Vegas
From Gwen Kleist of California Family Travel
Did you know the Mob pretty much founded Las Vegas?
The city took off as a settlement when the Hoover Dam was being built from 1931 and the Mob built casinos and theaters to entertain the young men working on its construction.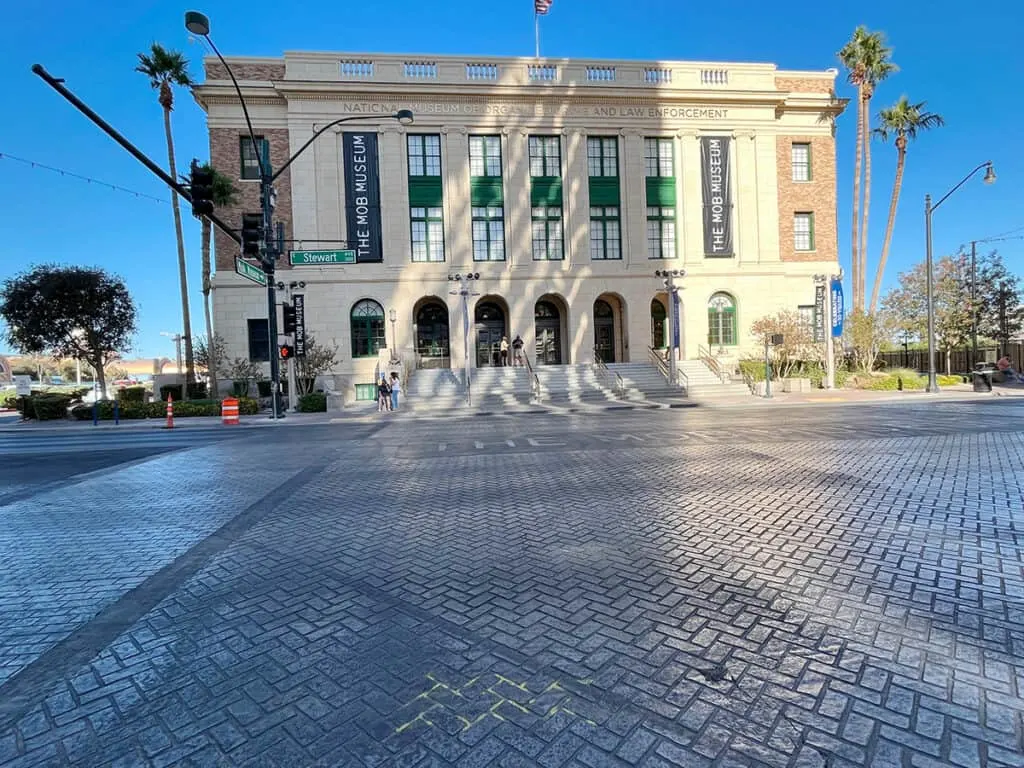 So a visit to the Mob Museum (located within walking distance of Fremont Street) is a history lesson with a twist! It's also not for the faint-hearted or younger kids as the images are pretty graphic and harrowing.
But if you're looking for unusual things to do in Las Vegas, head downtown. The Mob Museum provides an authentic look at organized crime from its roots in the late 1800s through today.
Officially named the National Museum of Organized Crime and Law Enforcement, the Mob Museum traces the history of the mob through artifacts, photos, video, and interactive exhibits that explore organized crime, as well as how law enforcement works to stop them.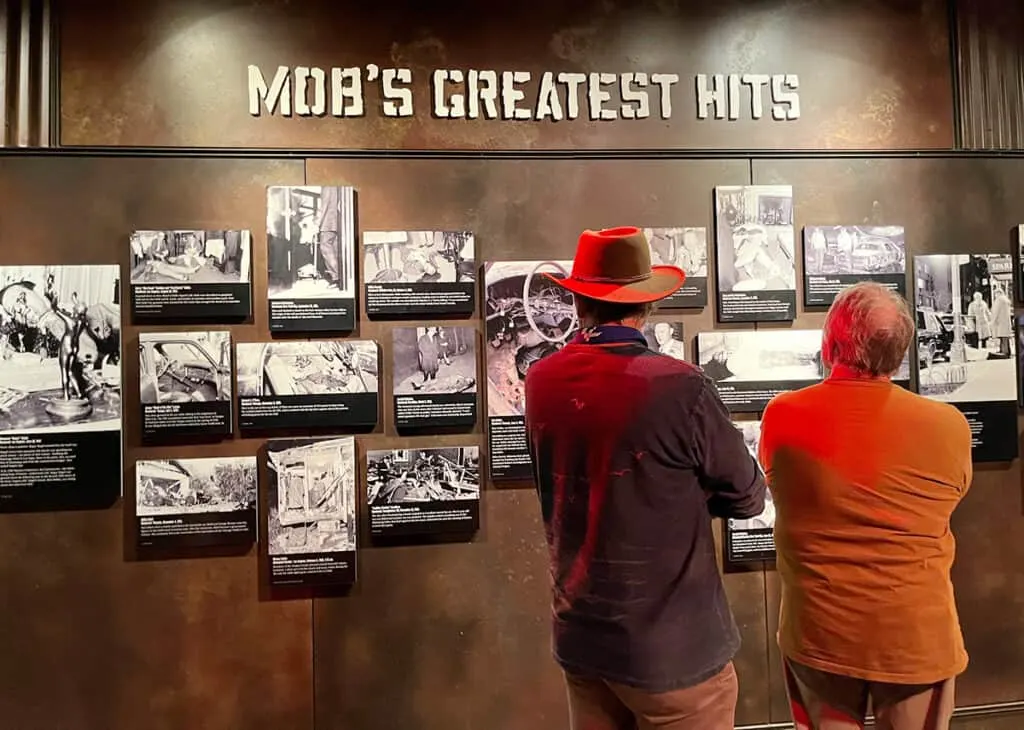 The museum opened on February 14, 2012 – the 83rd anniversary of the notorious St Valentine's Day Massacre in Chicago, and is housed in the former Las Vegas Post Office and Courthouse, which was built in 1933.
This locale gives it an authentic old, gangster feel. In fact, the centerpiece of the Mob Museum is its second-floor courtroom, which was the actual location of mob hearings in the 1950s.
A trip down to the basement of the Mob Museum is a trip back in time to the Prohibition era, when thousands of speakeasies were operating in the shadows.
The exhibit features a collection of artifacts and stories from the Roaring 20s – including the history of bootlegging and rum running.
And while most museums may have a snack bar, the Mob Museum has a Speakeasy. Adults can even sip moonshine or order a Prohibition cocktail! Buy your Mob Museum tickets online and skip the line.
You can do a whiskey tasting tour too, but I wouldn't bother. Just head to the Speakeasy and have a cocktail!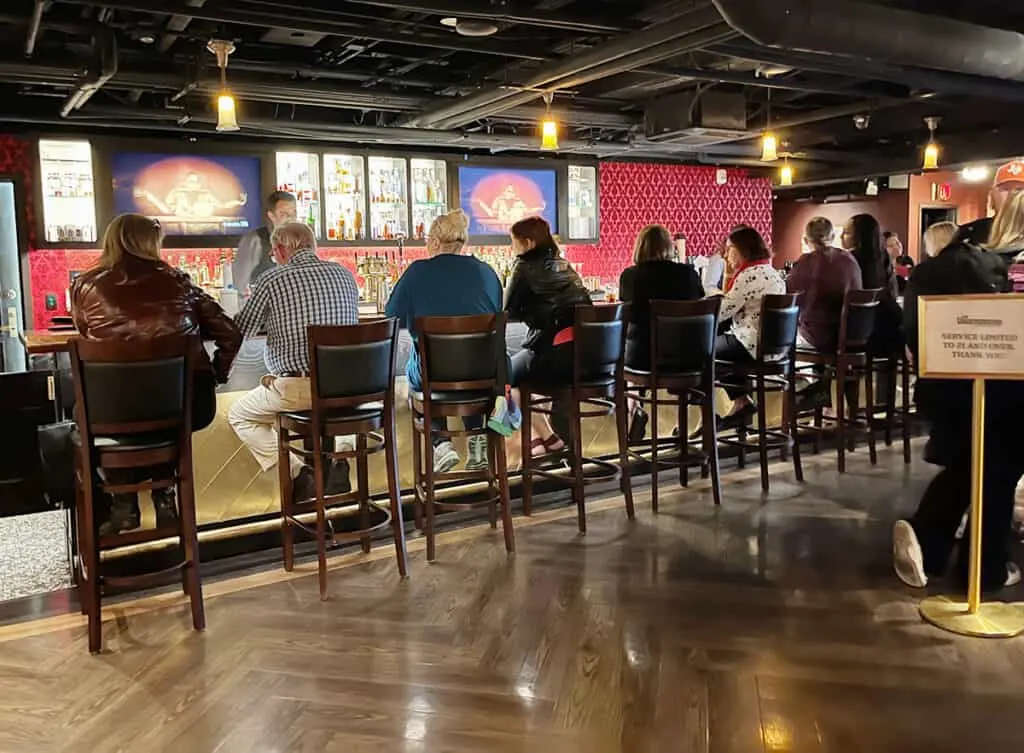 11 Get down to Fremont Street
From Pamela Drager of Directionally Challenged Traveler
One of the best things to do in Las Vegas is to head to downtown Las Vegas and visit Fremont Street, located off the Strip but filled with plenty of personality and activities.
If you thought the Strip was sensory overload, then brace yourself for Fremont Street!
This is Old Las Vegas and it was actually the first paved road in the city and home to the first traffic light.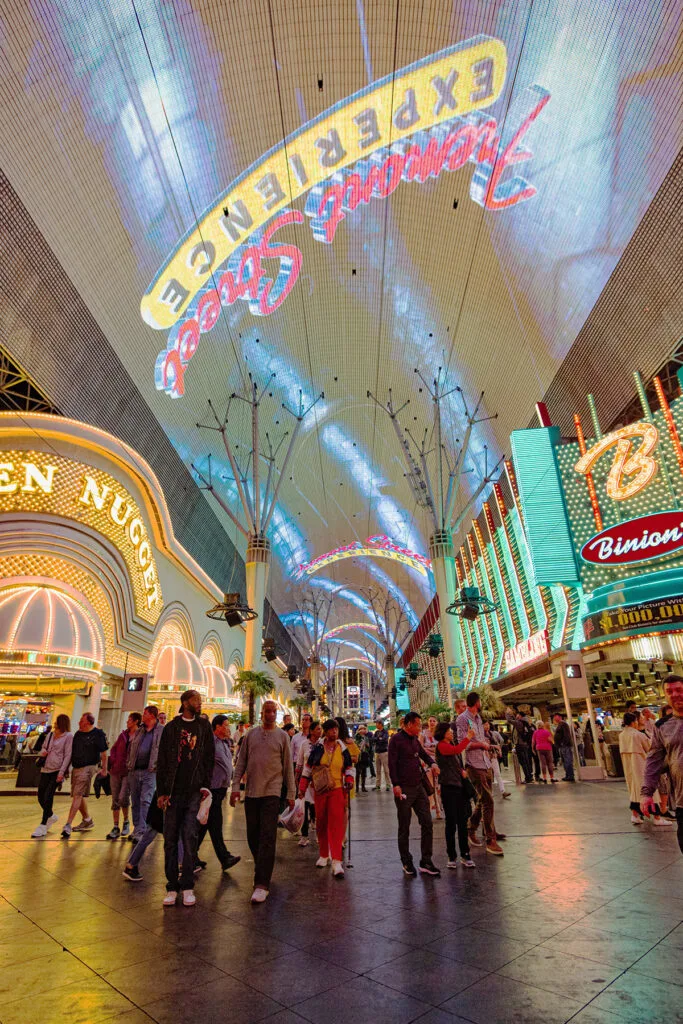 There aren't many free things to do in Las Vegas when looking for a good time, which is one of the reasons Fremont Street is a must-do. It's FREE! Not to mention being one of the most fun things you can do in Vegas.
Fremont Street is about 15 minutes drive from the Strip and worth visiting in the early evening into night. The highlight is the lit-up tunnel. From 6pm through 2am, every hour there is a music and light show on ceiling of the tunnel which covers two blocks.
The last time we came we checked into the Golden Nugget, the classic and one of the original hotels in Las Vegas. It's right there in the heart of the pandemonium and great fun!
You can get your heart racing is to go zip-lining from the world's largest Slot Machine at Slotzilla. You zip line above the street and thousands of people below.
After your exhilarating ride, head to the bar for an oversized drink! You can literally get a cocktail the size of your head for pretty cheap (be sure to drink responsibility though).
Every weekend the Fremont Street Experience has free live entertainment. If you thought the Strip was crazy, this is next level!
If you're new at gambling, Fremont Street is the perfect place to learn. The tables are much cheaper than the strip, starting at $1 for blackjack and cheap slot machines at casinos like the legendary Golden Nugget. You can learn the skills without losing a lot of money.
No matter what you decide to do here, you'll leave agreeing that Fremont Street is one of the best things to do in Las Vegas.
Book a Fremont Street Experience here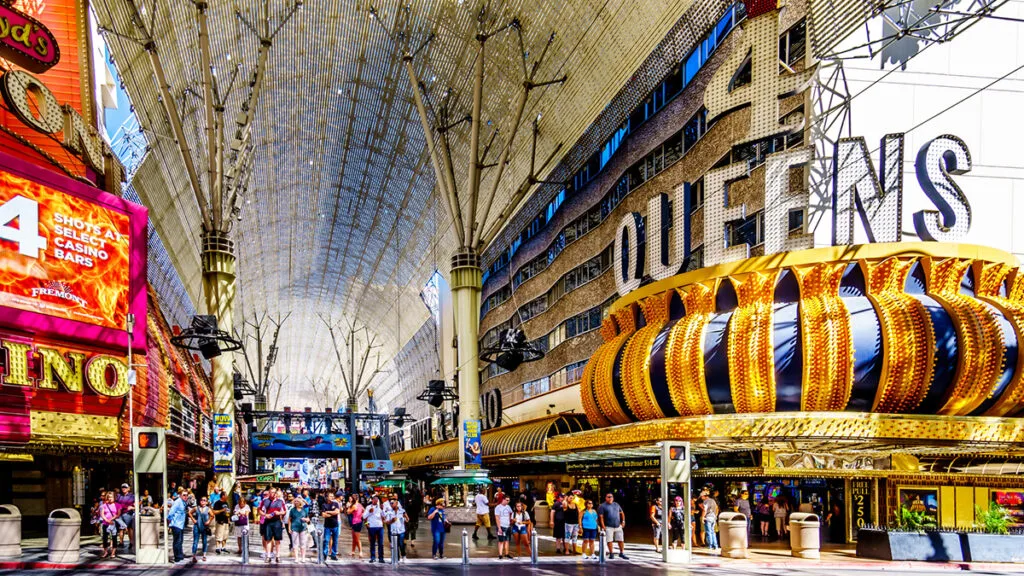 12 Drive a race car!
From Ashlee Fechino of The Happiness Function
Has driving a Ferrari, Mclaren, Lamborghini, or Porsche down a racetrack been on your life bucket list?
If so, Dream Racing is the place to make this wish come true and a great way to get the adrenalin rushing!
Dream Racing is the real deal when it comes to exotic supercar racing. They offer clients an experience of a lifetime with their world-class supercar racing facility in Las Vegas.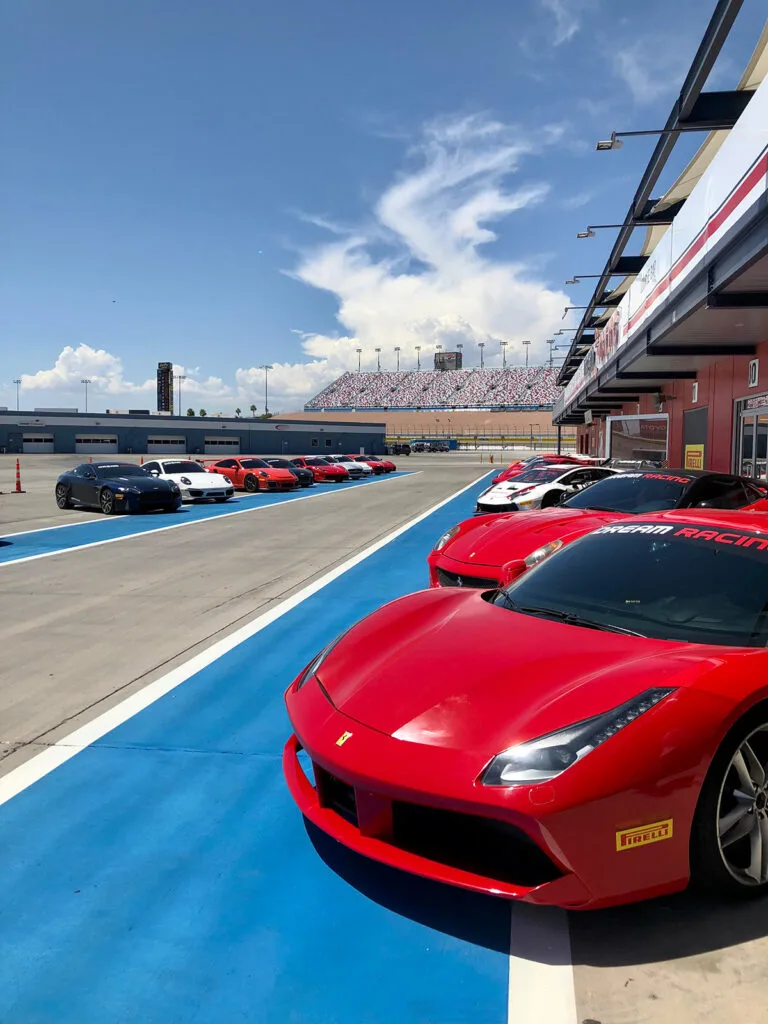 Dream Racing has several different race packages for Las Vegas thrill-seekers. So, anyone can have their dream day at the tracks on their next trip to Vegas!
Pricing is dependent on the supercar selected, and laps spent driving. They offer a shuttle service that takes guests directly to the Las Vegas Motor Speedway if you're staying on the Strip.
From there, you take a safety driving simulation before you can hop in a car and race. In addition, you get exclusive lessons for driving a supercar.
If you're not into racing, but maybe your partner or friends are, you can still watch along the tracks. They have a shaded area to watch the cars race. It is an enjoyable and thrilling experience!
Plan to spend at least half the day out at the Las Vegas Motor Speedway. The Speedway is about 20-30 minutes from the Strip if the traffic is light.
Be sure to book your visit ahead of time. This is an insanely popular activity and ideal for a 40th birthday celebration for guys (or girls!)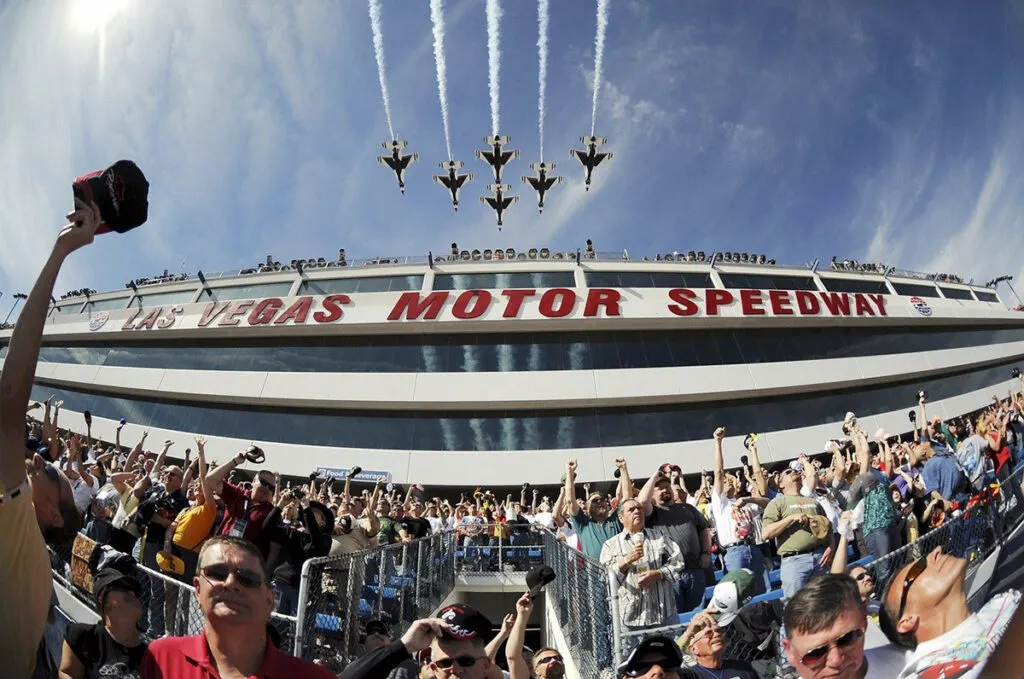 13 Experience Area 15
From Portia O'Laughlin at When I Wander
When you want something really out of the ordinary in Las Vegas, head 15 minutes from the Strip over to Area 15 and enter an immersive world of experiences inside this mega entertainment center.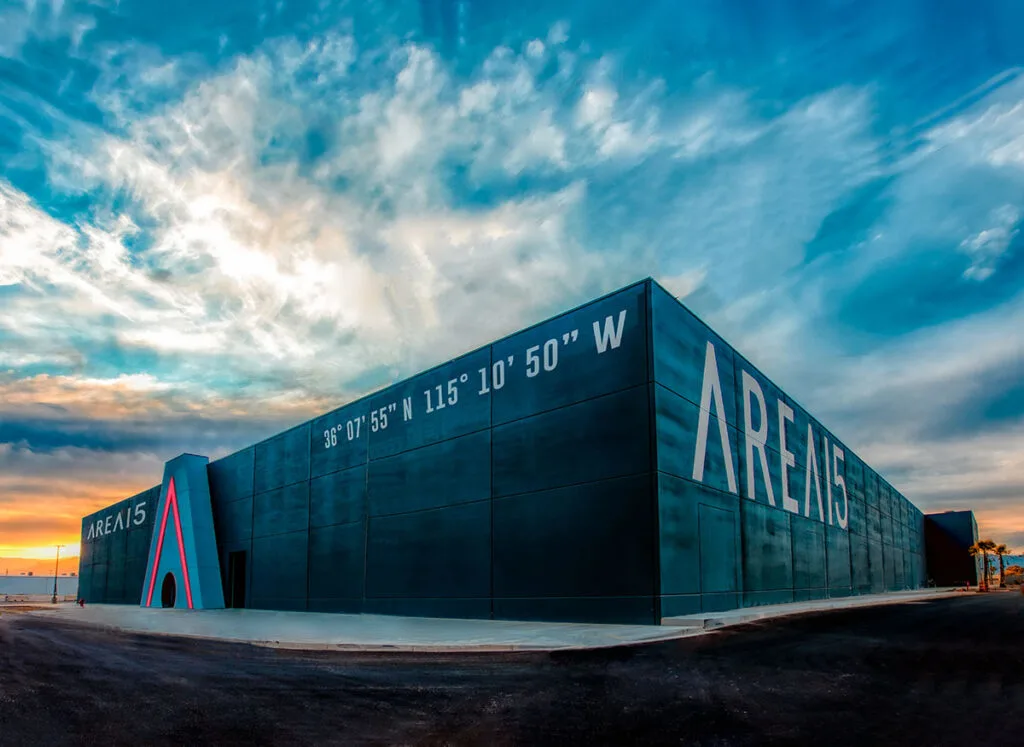 You can hang-glide, throw axes, experience light and sound in new ways, explore art, and even tour a distillery in a way that has been called Willy Wonka style.
Besides Dueling Axes, Lost Spirits Distillery, Museum Fiasco, and a Virtual Reality World, you'll also find Meow Wolf Omega Mart. This supermarket filled with wacky products, is a gateway to surreal worlds and secret portals.
Take the quest or just soak up all the wonder inside. You'll need at least 90 minutes to thoroughly explore it – and be sure to walk through the freezer at least once.
Closed toe shoes and comfortable clothing to slide down the multi-story slides might be necessary for your best adventure.
General Admission tickets for this experience are $55 for adults, $40 for children 4+, Seniors and Military save $5.
The Beast by Todd English serves up space tacos and Korean corn dogs. There's Beast burgers, beast breath smoke house, and beast pizza but they didn't forget about vegans with some veggies madness options as well.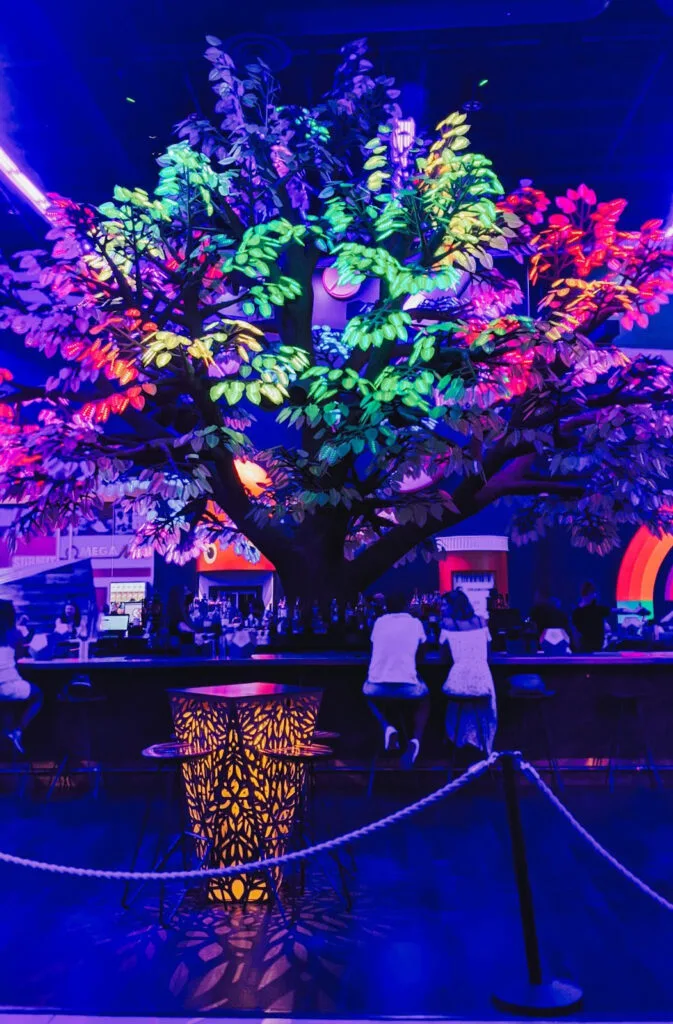 Under the glow of the Digital Forest at the Oddwood Bar, you can sit under a 25-ft tall digital LED maple tree that creates a space cocktail bar ambience under vibrant colors and patterns.
The menu features specialty cocktails and mocktails but you can also order most drinks without alcohol. Try the Dragon Margarita – tequila, ginger, agave, honey, lime juice, and a hibiscus salt rim.
The first thing you should do is book an entry pass to get inside, it's free on weekdays but does not give access to many of the other experiences. Those will need to be booked separately and have different prices.
A family Fun pass or Repeater pass is another option available for select experiences. All ages welcome until 10pm and 21+ only after 10pm. Entry Passes are $15 on Friday and Saturday nights. You only need 1 entry pass per group.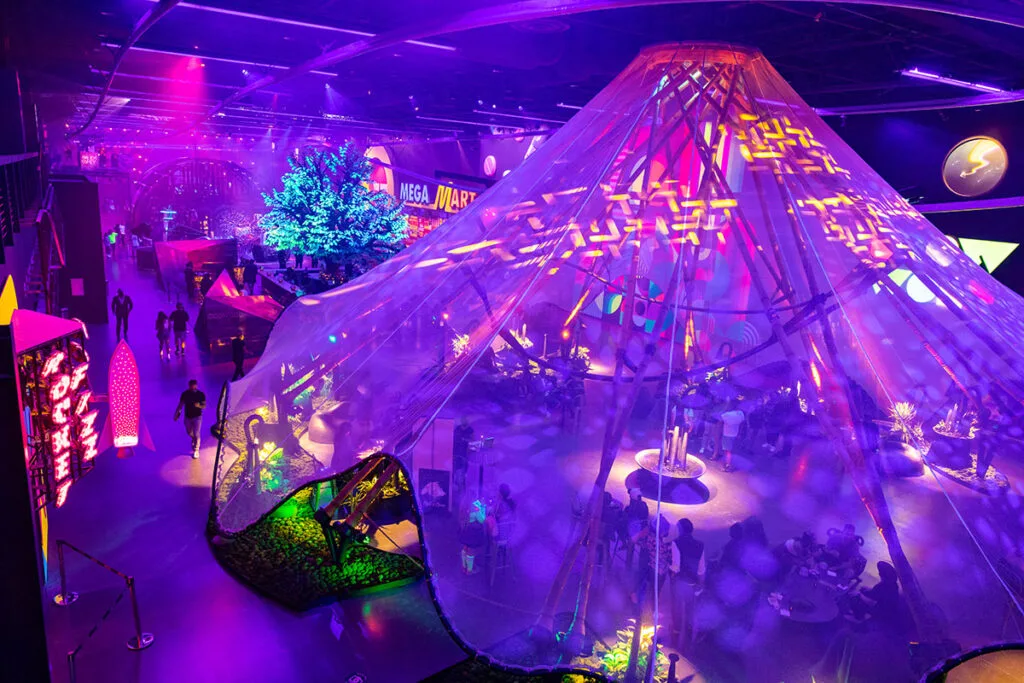 14 Renew your vows with Elvis!
I once crashed an Elvis wedding and it was hilarious. In fact the couple were renewing their vows and when they saw me hanging around, invited me into the chapel with just two other witnesses.
The groom stood at the front, the witnesses sat on the left and I slipped into a seat on the right. Then the music started, Love me Tender – and the doors opened behind us and Elvis with the bride on his arm, giggling and laughing, while he crooned the words, walked up the aisle.
You can read all about their wedding here, including a bunch of other songs that were part of the ceremony.
There are several Elvis wedding chapels in Las Vegas, and you can book all types of wedding packages. I also suggest who is the best Elvis in Las Vegas in the link above.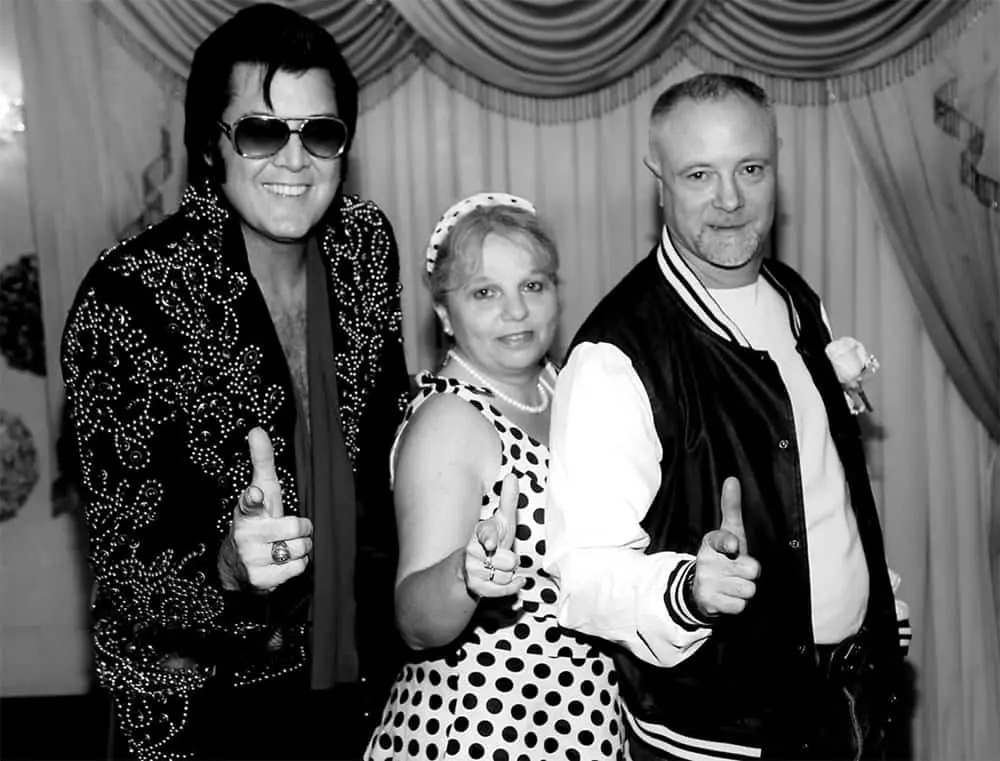 15 See a Cirque du Soleil show
From Bernadette at Live a Relaxed Life
One of the many reasons people flock to Las Vegas is to see a concert or show at one of the hotels along the Strip.
Since 1993, Cirque du Soleil has been a mainstay here with its incredible circus and gravity-defying acrobatic acts that include aerial performances and body-bending manoeuvres.
There are now six permanent shows in various hotels on the Strip – and I've seen them all, except Mad Apple at New York-New York Hotel which is famous for its Big Apple coaster that flies into and out of the hotel!
They are famous for massive and elaborate sets such as the watery world of 'O' or the other-worldly pirate ship that soars through 'Ka'.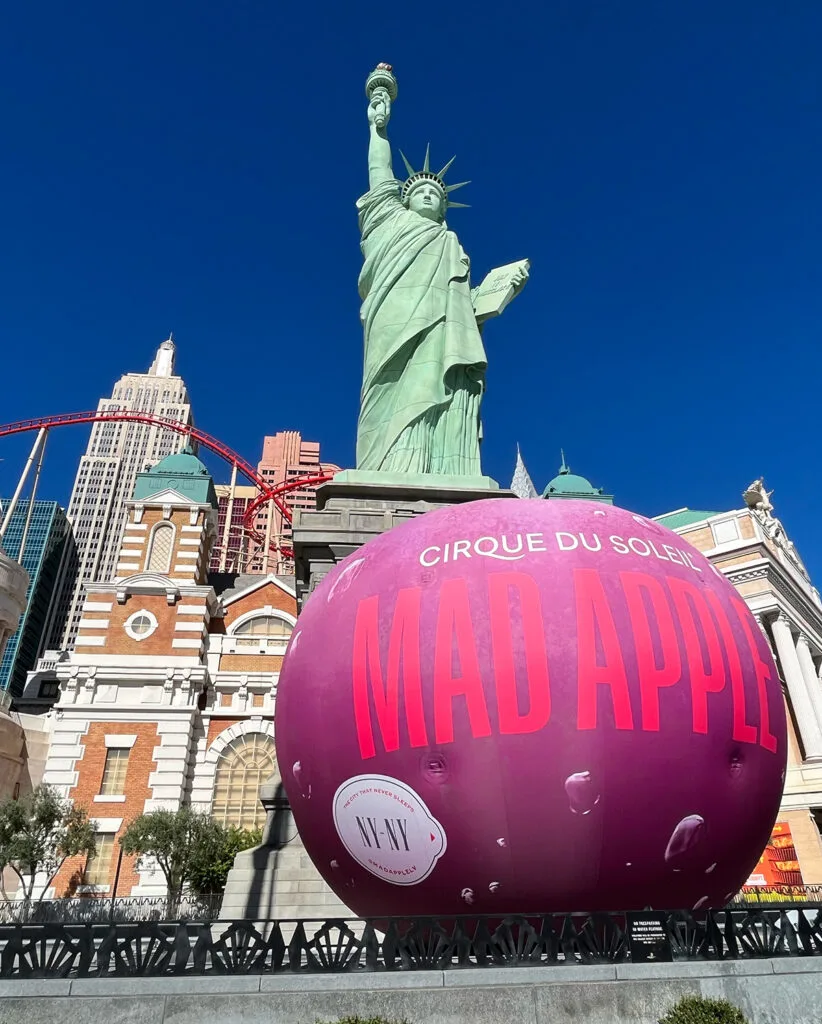 Each story is unique told through music, dance and acrobatics and very little dialogue. The imagery and live music are all that is needed to understand what is happening.
Several troupes travel the world delighting audiences but it is only in Las Vegas that fans can watch the classic 'Mystere' at Treasure Island (where the volcano explodes out the front for some free entertainment!)
Find the best prices on Cirque tickets for: 'Ka' at MGM Grand, 'O' the underwater show at Bellagio, 'Michael Jackson ONE' at Mandalay Bay, 'Love' at Mirage, and the latest one at New York-New York 'Mad Apple'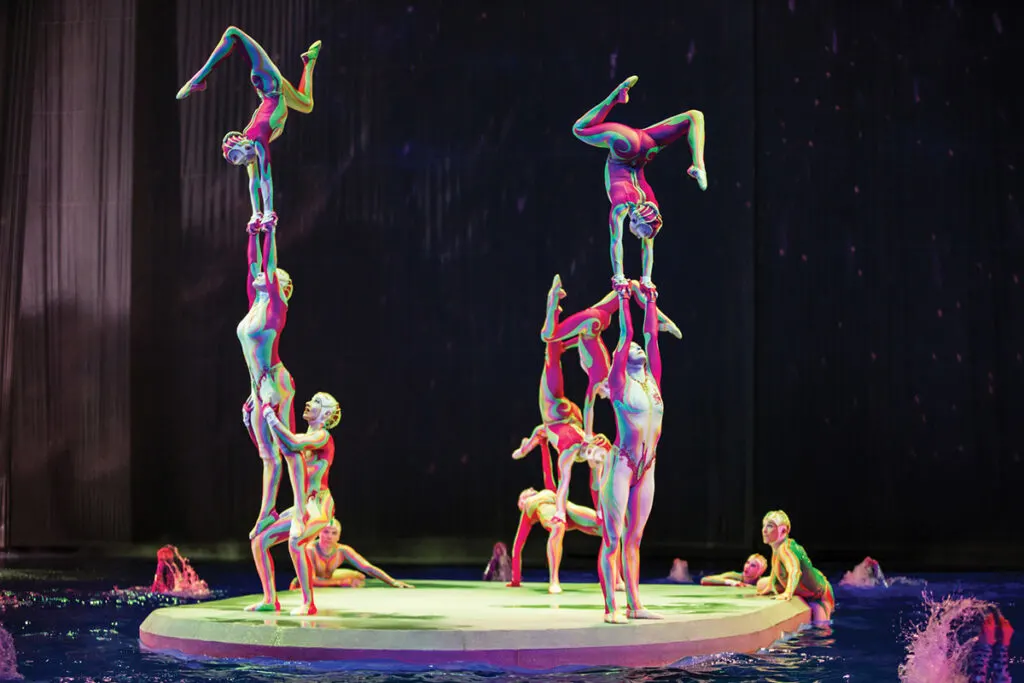 The Beatles LOVE is a collaboration with the iconic band and the show transports people back in time to see historic moments of the group. The music from the show are recordings of popular songs like 'Get Back', 'Help', and 'All You Need is Love', among others.
This one is a must-see for die-hard Beatles fans and because of the great music and performances, it will be a delight for anyone to watch.
They say the first Cirque show you ever see is the one you will love the most. I think that's because it just blows you away with the incredible gymnastics and gravity-defying stunts. My first show was Mystere, the oldest running Cirque du Soleil show on the Strip. But I highly recommend O and Michael Jackson One.
For my picks for the best shows in Las Vegas, I've listed 25 in this post.
Check out best prices on Las Vegas shows here >>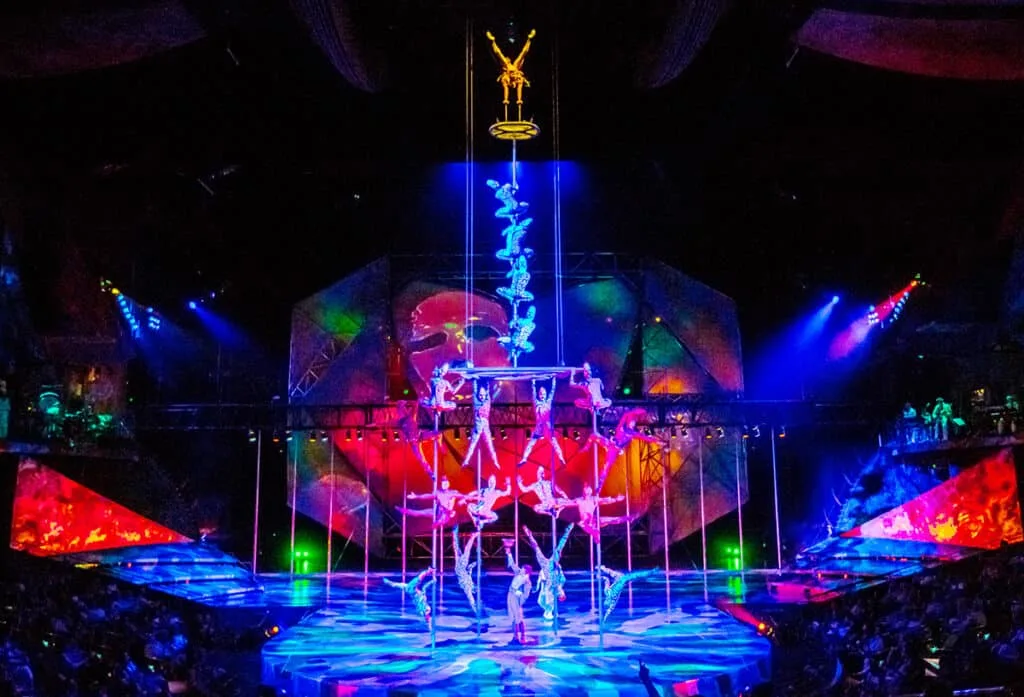 Keep on scrolling for my picks for the best hotels to stay in Vegas
16 Skydive over Las Vegas
From Bea Pinnegar at Bea-Adventurous.com
How about seeing Las Vegas from a whole new perspective? A skydive over Las Vegas will get the adrenaline pumping and give you an experience like no other!
Freefall at 120 miles an hour as you look over the Strip, Hoover Dam, Lake Mead, Red Rock Canyon, and the Colorado River.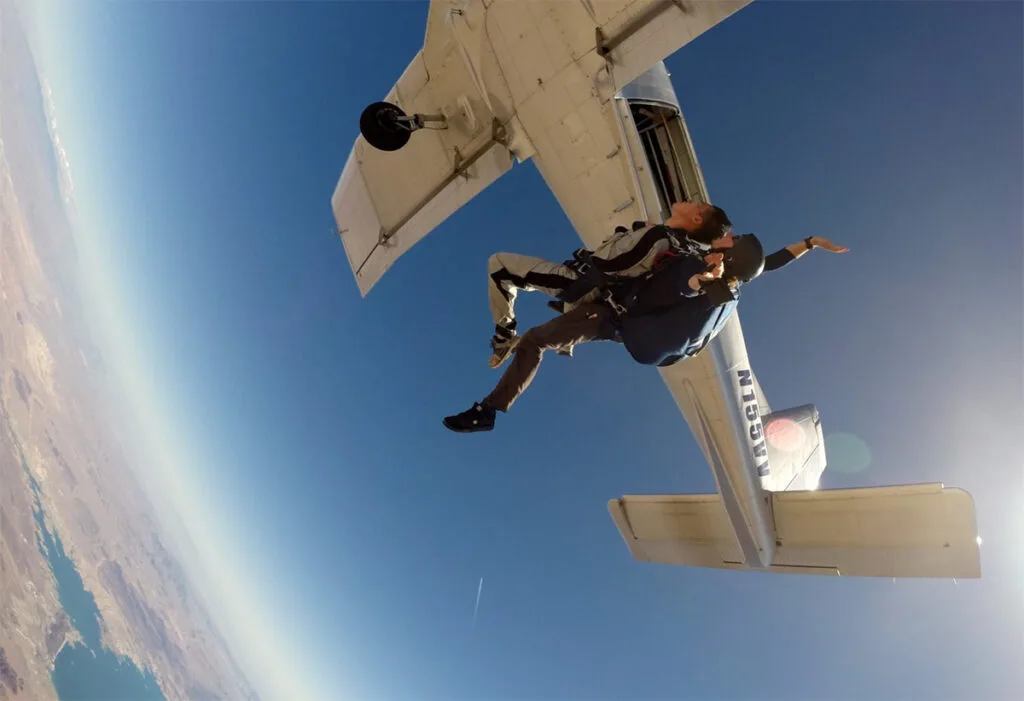 If you haven't done it before, there is no need to worry, you will be strapped to a professional who will undoubtedly joke about how it is their first time doing it. But rest assured, it won't be!
You will learn the basics on the ground (i.e. how to position yourself) before jumping on the plane and soaring into the sky.
Once it is your turn, you will shimmy to the edge of the aircraft, where before you know it you will be racing towards the ground, unaware of where the whoop of joy has come from and a massive smile plastered on your face.
The best company to Skydive with in Las Vegas is Sky Dive Las Vegas. They have been in operation since 1993, jumping over 10,000 times, successfully, every single year. If anybody knows what they are doing, it is them.
They offer free pick up and drop off from the Strip and are the only sky diving centre where friends and family can watch you take off and land.
This surely has to be the most exhilarating way to enjoy Las Vegas!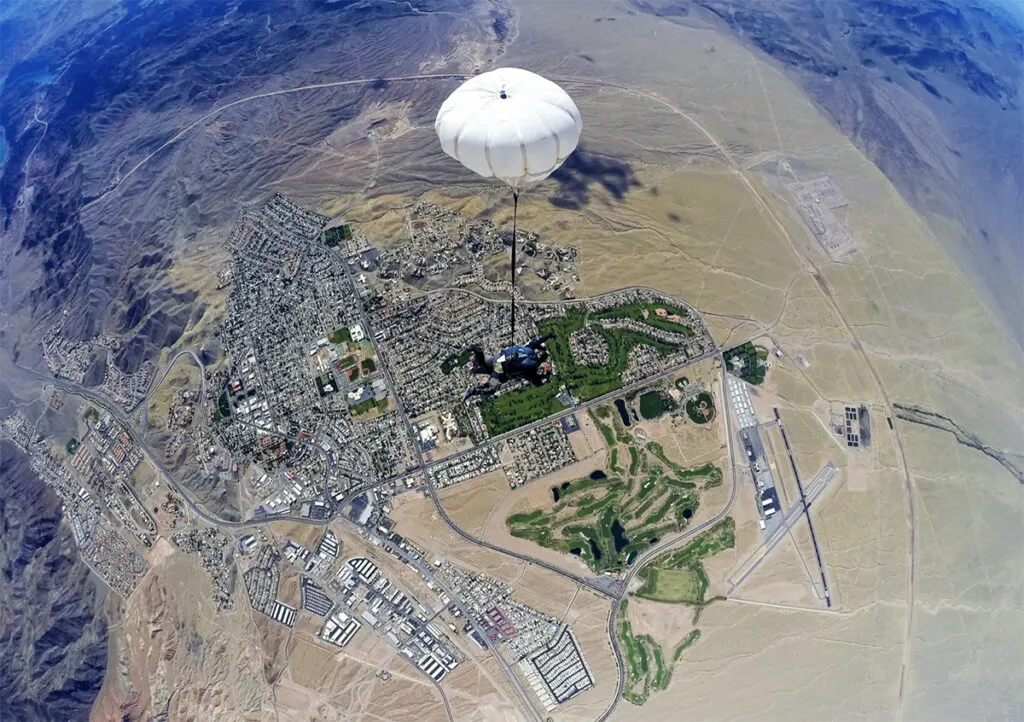 17 Fly over Las Vegas in a helicopter
If you don't want to leap out of a flying machine, but you want the Google Earth views, take a heli flight seeing tour. You can take a quick 15-minute helicopter flight over the Strip by day or by night. You can add limousine rides to this tour too if you really want to impress.
Or make a few hours of it and whiz over the Hoover Dam and Lake Mead out to the Grand Canyon. You can even get heli tours that land on the canyon floor for champagne.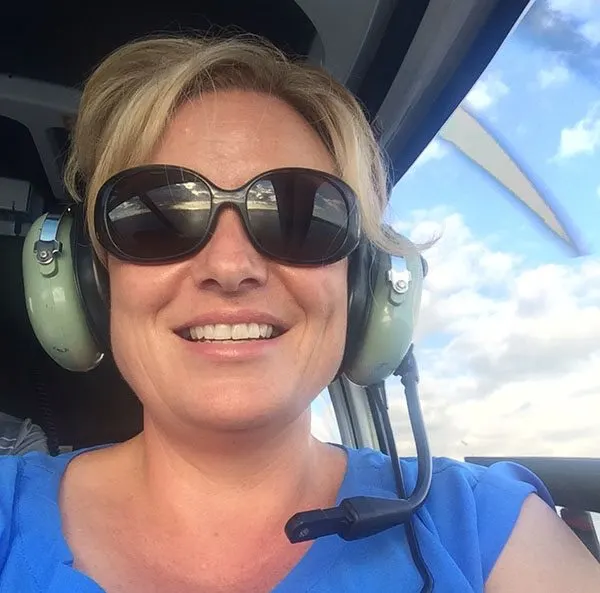 18 See the Princess Diana Exhibit
If you're a fan of the royal family, and even more so, a devoted Diana fan, you must get to the Princess Diana: A Tribute exhibition on the fourth floor of Crystals Shops in the Aria Resort.
You'll walk through 13 rooms all telling different parts of Lady Diana's, then Princess Diana's story from her lonely upbringing to her meeting Prince Charles, becoming his wife and becoming a mum.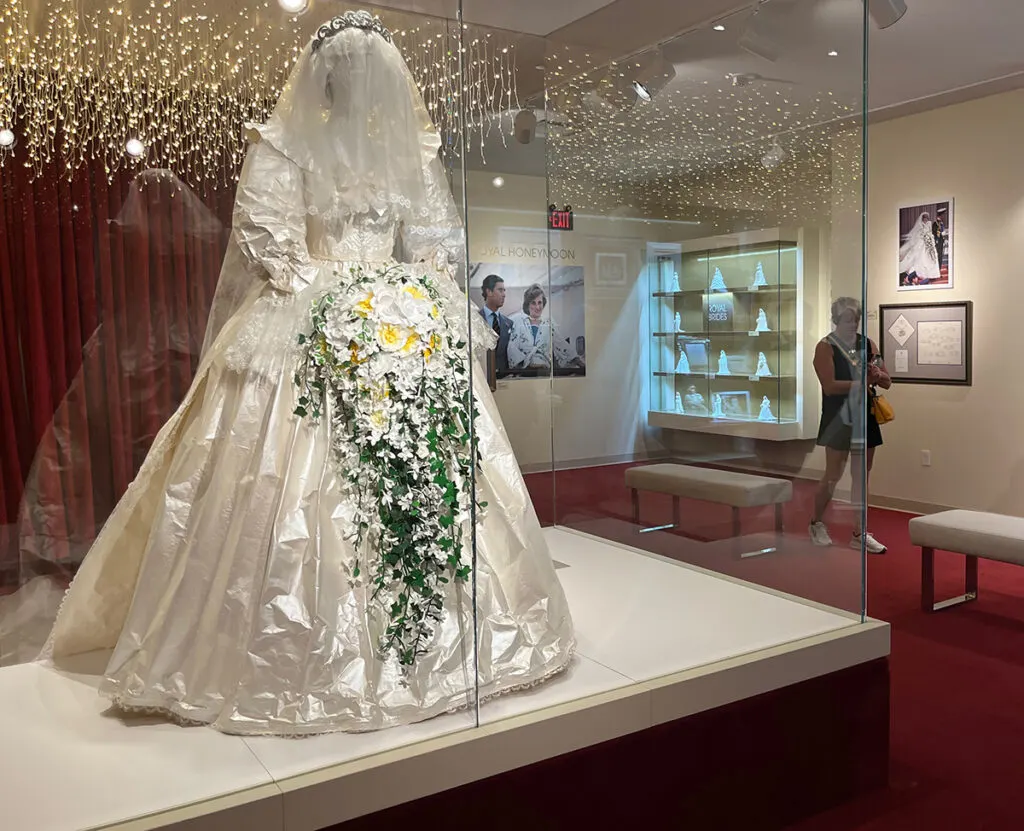 You'll see letters and cards she wrote, some hilarious to the likes of George Michael. Her wedding dress has been painstakingly recreated in full size out of paper. You can even get married in this room!
There is a recreation of the gates of Kensington Palace with flowers laid in front and the room even smells of flowers.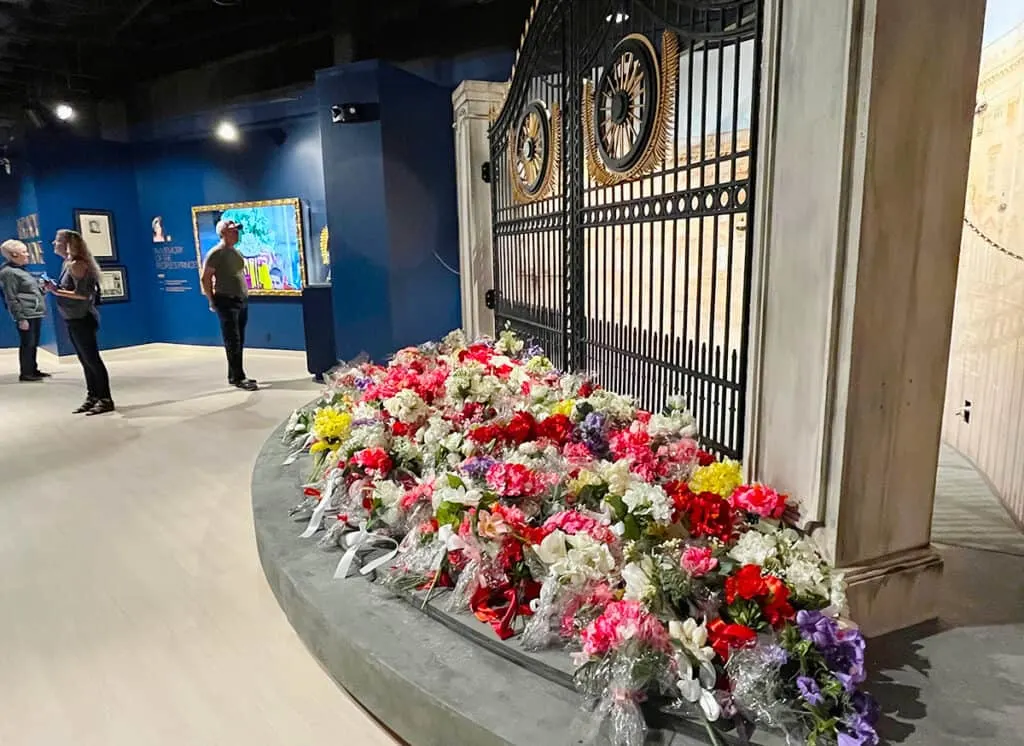 But it was the miniatures of dresses she wore that I loved most. You see pictures of her with her boys and I can't help but think Prince Harry would probably still be in the fold if she were alive today.
And finally, the gift shop, where a replica of the racy skirt/dress that Kate Middleton modelled for a friend on her St Andrews college catwalk that caught Prince Williams' eye is for sale. Just a snip at US$250.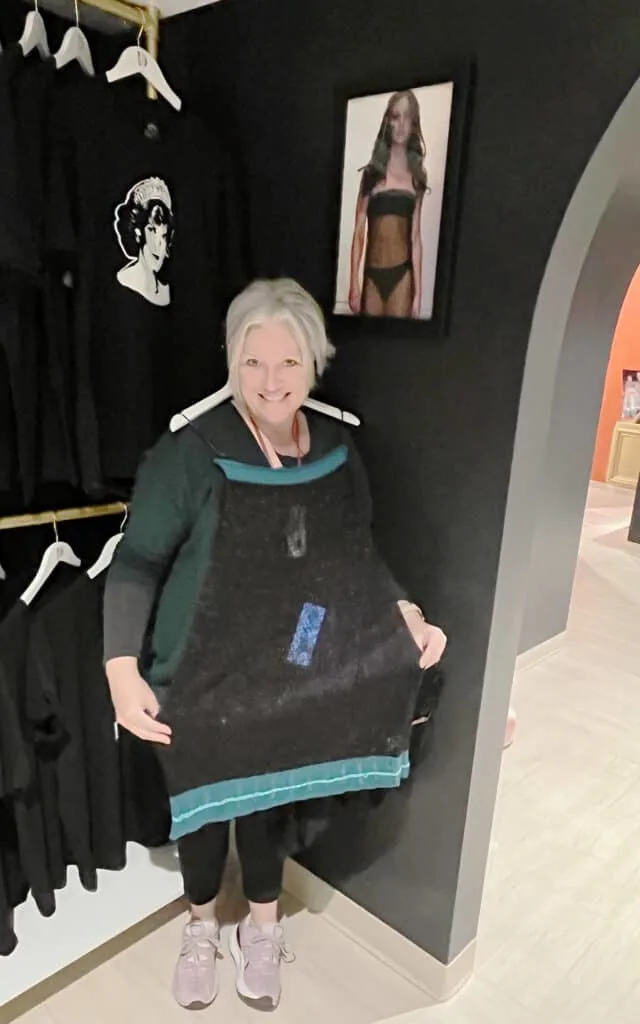 The exhibition is permanent with over 700 artefacts. Adult tickets start at $29 and you get an audio guide to take a self guided tour. Photos are encouraged.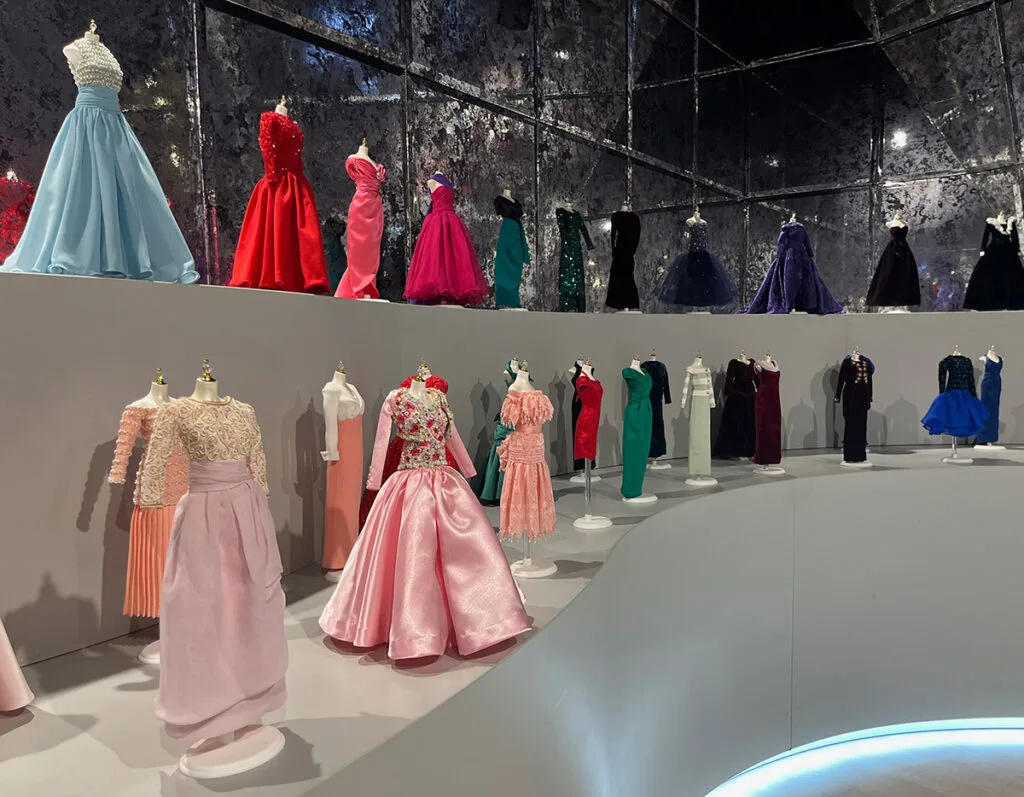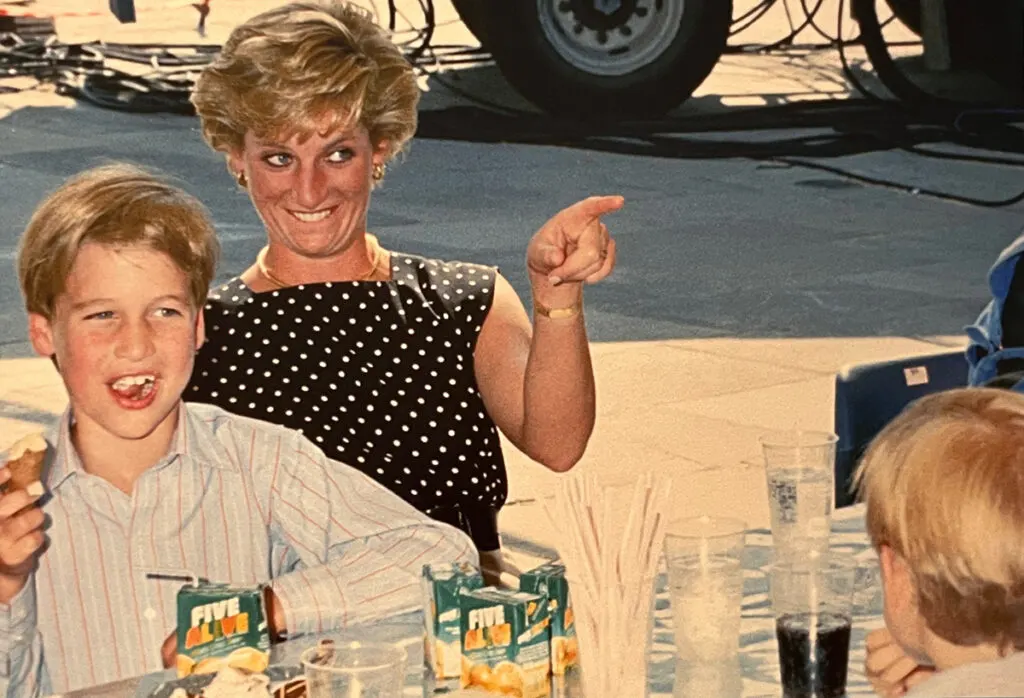 19 Drive a NASCAR race car!
From Debbie Fettback from World Adventurists
Take a break from the hustle and bustle of the Vegas strip and learn to drive a NASCAR race car, or have a NASCAR Ride along in Vegas at the Las Vegas Motor Speedway.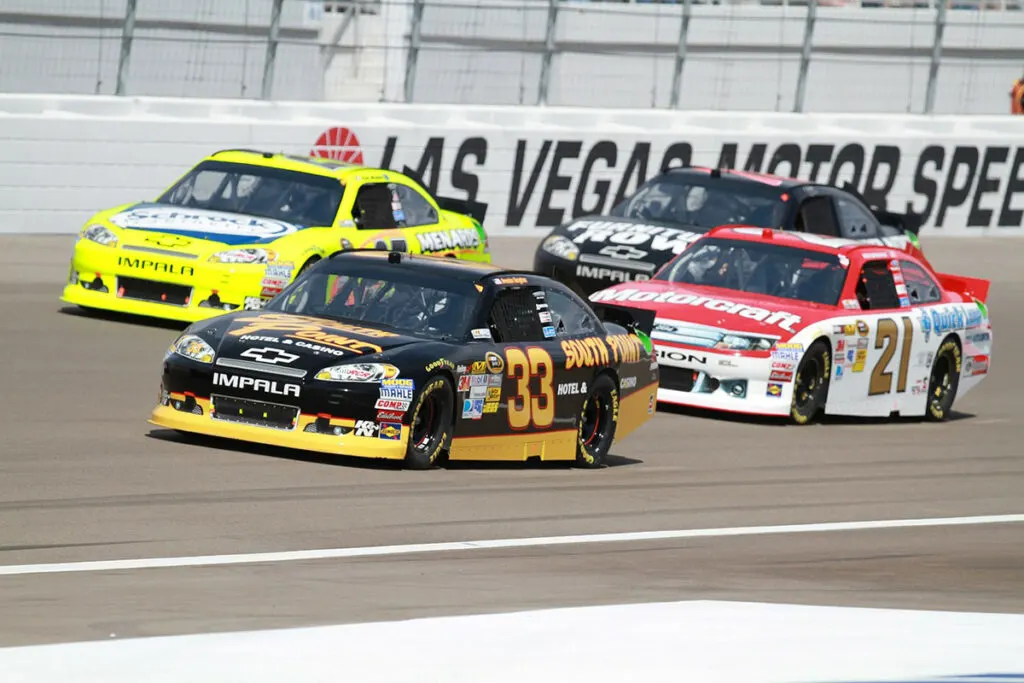 As you fly around the race track at 160mph, you will feel the rush of adrenaline and want more. This adventure is truly a thrill of a lifetime and an experience you will never forget.
The Las Vegas Motor Speedway is home to two annual NASCAR cup race weekends, as well as the year-round home to a few NASCAR experiences.
Choose from the NASCAR Racing Experience, Richard Petty Driving Experience, or the Mario Andretti Racing Experience for some top-speed fun around the track.
The 1.5-mile tri-oval racetrack has 12 to 20 degrees of banking in the turns.
The fun begins as you maneuver into the race car. There is nothing graceful about getting inside, as you hop in through the "window". A roll cage makes it an even tighter squeeze, especially with a giant helmet on. Once inside, you'll buckle up the five-point harness and put on the foam collar for your neck.
You will walk away from the experience on an adrenaline high, but also with massive respect for the skill level that professional NASCAR drivers have.
The Las Vegas Motor Speedway is located 7 miles outside of the Las Vegas Strip.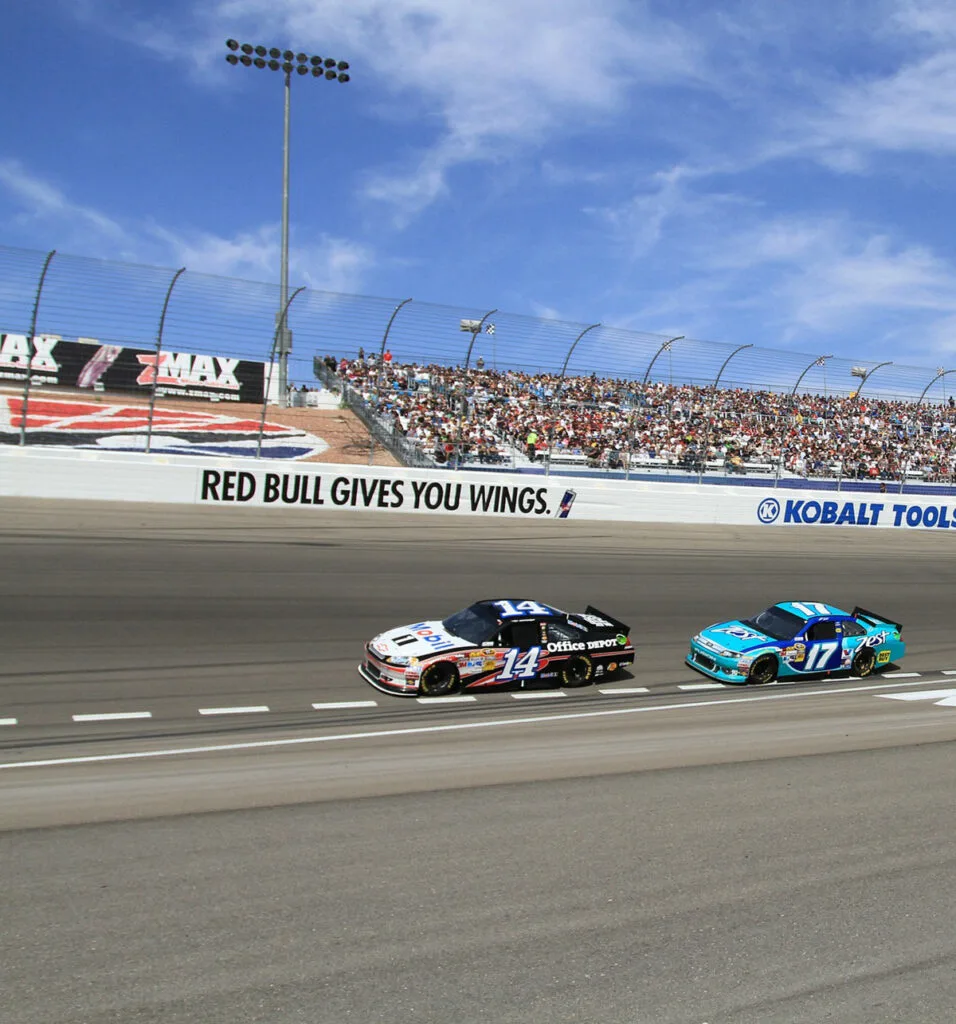 20 The Neon Museum Las Vegas
From Erin Hynes of pinatravels.org
The famous neon lights of Las Vegas don't die, they go to this museum when they are retired to be preserved and enjoyed by the public – and a great place for selfies!
The Neon Museum is an open-air museum and a non-profit organization that is dedicated to collecting, preserving, studying and exhibiting the iconic neon signs of Las Vegas.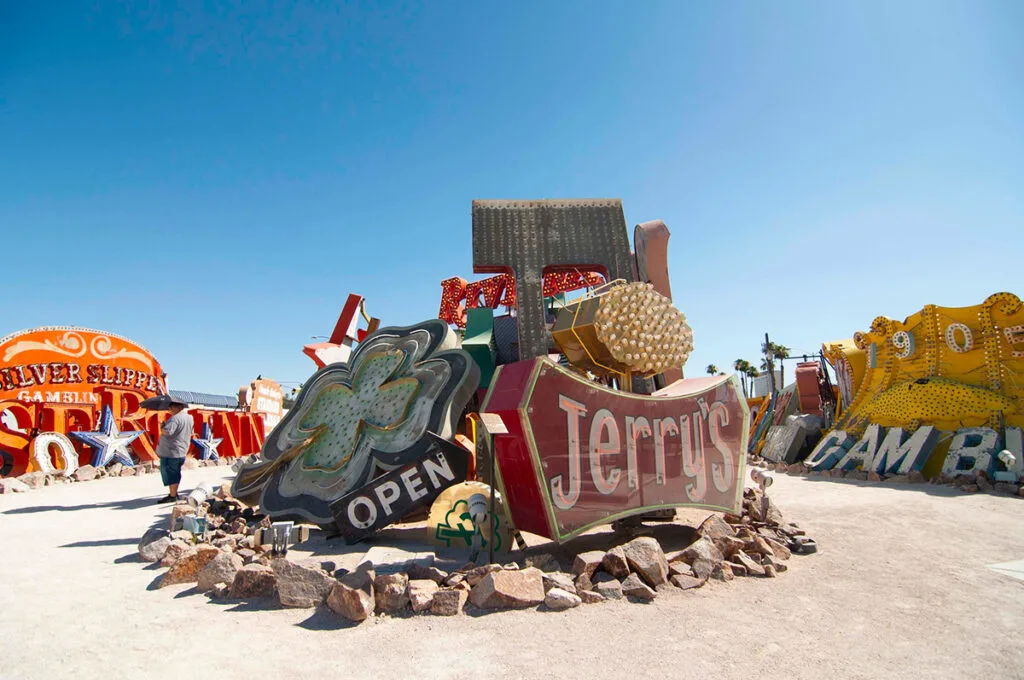 There are three parts to the museum: the outdoor Neon Boneyard, a visitors' center in the old La Concha Motel lobby and the Neon Boneyard North Gallery.
The outdoor Neon Boneyard is the main collection that visitors like to explore. It has more than 200 unrestored signs that are spread across more than two acres.
After dark, the signs are illuminated, making for a special experience!
If you get tickets for a guided tour, your guide will teach you about the specific history behind each sign, including who created it, the inspiration for the sign, and how it fits into the historic landscape of vintage Las Vegas.
The best times to visit the Neon Museum are either early morning, or in the late afternoon or evening. Avoiding the middle of the day will save you from the midday heat in the summer months.
But, if you do end up visiting when the sun is high, you can borrow a free umbrella from the Museum to protect you from those rays.
Pro tip: Go later in the afternoon and stay till dusk to see them all lit up.
During peak tourist season Las Vegas Neon Museum tickets and tours sell out really fast, so book your tickets online ahead of your visit.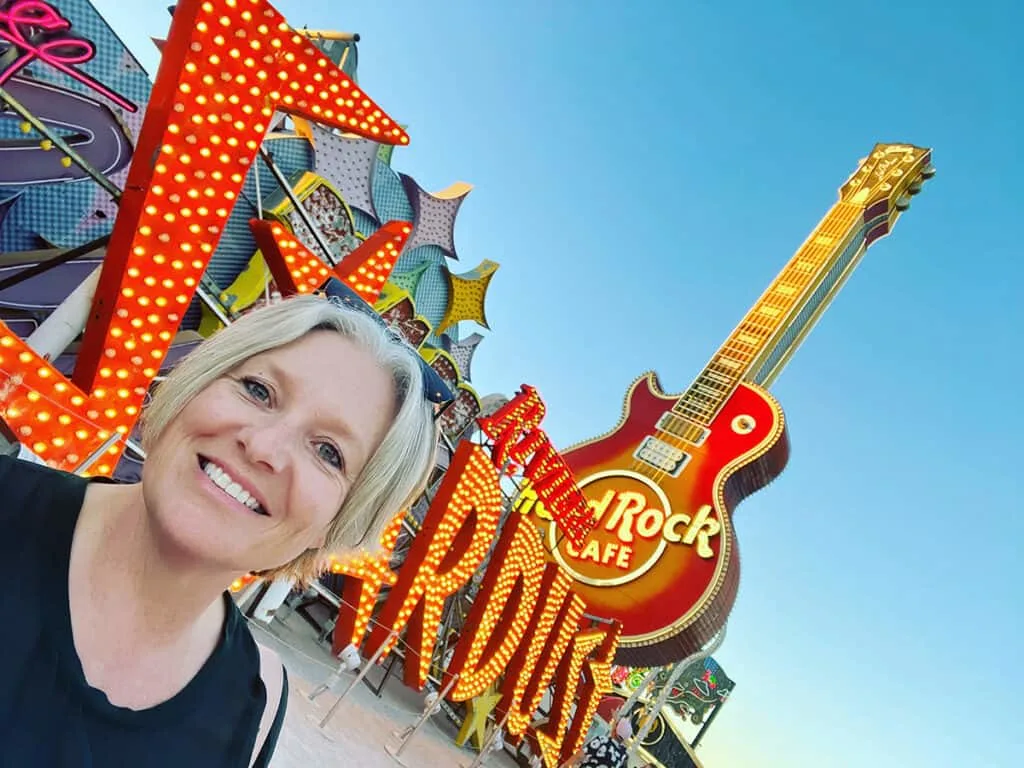 21 Visit Bellagio Botanical Gardens
From Faith Hansen at 3 Tickets Please
When you think Las Vegas, you probably don't think of nature. And yet, you should, because you can get amongst it on the Strip.
Thirty minutes at the Conservatory and Botanical Garden in the Bellagio will absolutely change your mind. Across from the front desk of the Bellagio, visitors are flooded by light. The conservatory, enclosed by a 50-foot glass ceiling, holds the 14,000 square-foot botanical gardens.
The very talented horticulture team of 120 people change the floral and fauna displays of this secret garden five times throughout the year to match the following seasons: Holiday, Lunar New Year, Spring, Summer, Harvest.
The elaborate displays, almost entirely made of flowers and plants, are not only beautiful for the eyes, but also for the nose. Visitors will smell cherry blossoms in the Spring, roses in the Summer and evergreens during the holidays.
It is entirely free to enter the Conservatory and Botanical Gardens, putting this excursion on every "Best Free Things to Do In Vegas" list.
While you are at the Bellagio for the Conservatory and Botanical Gardens, also see Dale Chihuly's suburb glass sculpture, "Fiore di Como" that covers the ceiling of the lobby.
Every day, 15,000 to 20,000 people come to the Bellagio lobby just to see the Conservatory and Botanical Gardens and the Chihuly sculpture.
On your next visit to Vegas, you should absolutely be one of the thousands.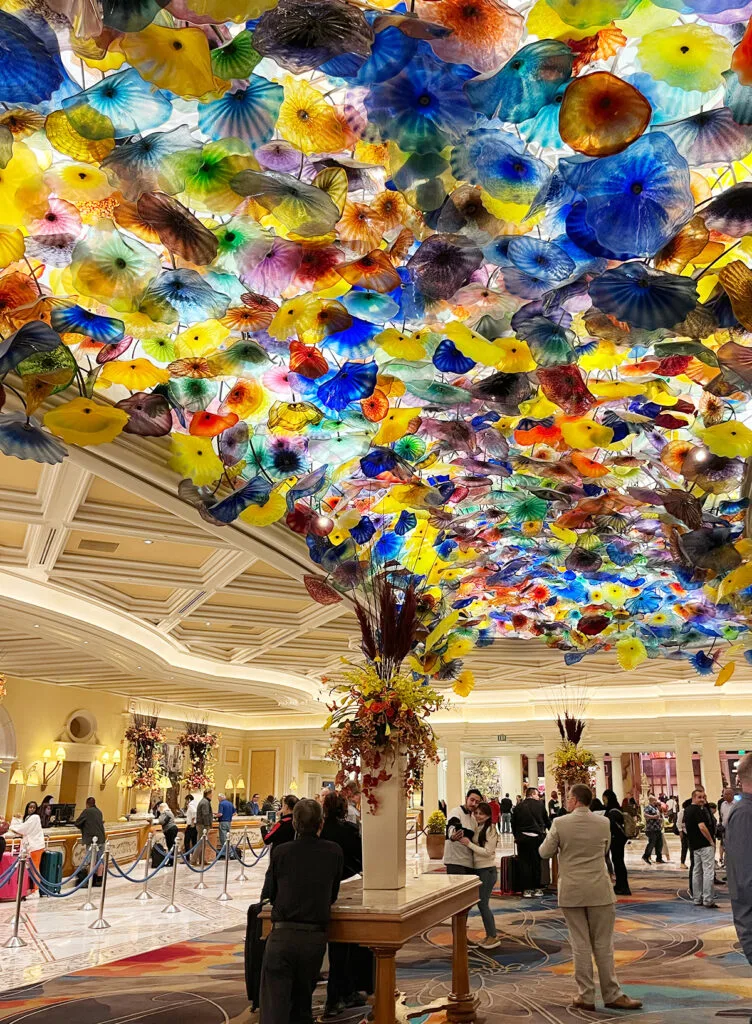 22 See the Bellagio fountain show!
If you're walking down the Strip between 3pm and midnight, you'll see the famous fountains of Bellagio dancing to music in the enormous 8.5 acre lake in front of the Bellagio hotel. And the best thing is – it's a free show and features on my list of fun free things to do in Vegas.
Every half hour from 3pm, then every 15 minutes from 8pm the more than 1,200 water nozzles squirt into life, with about 4,800 lights all choreographed to different mega hits like Celine Dion's My Heart Will Go On or Time to Say Goodbye by Sarah Brightman and Andrea Bocelli.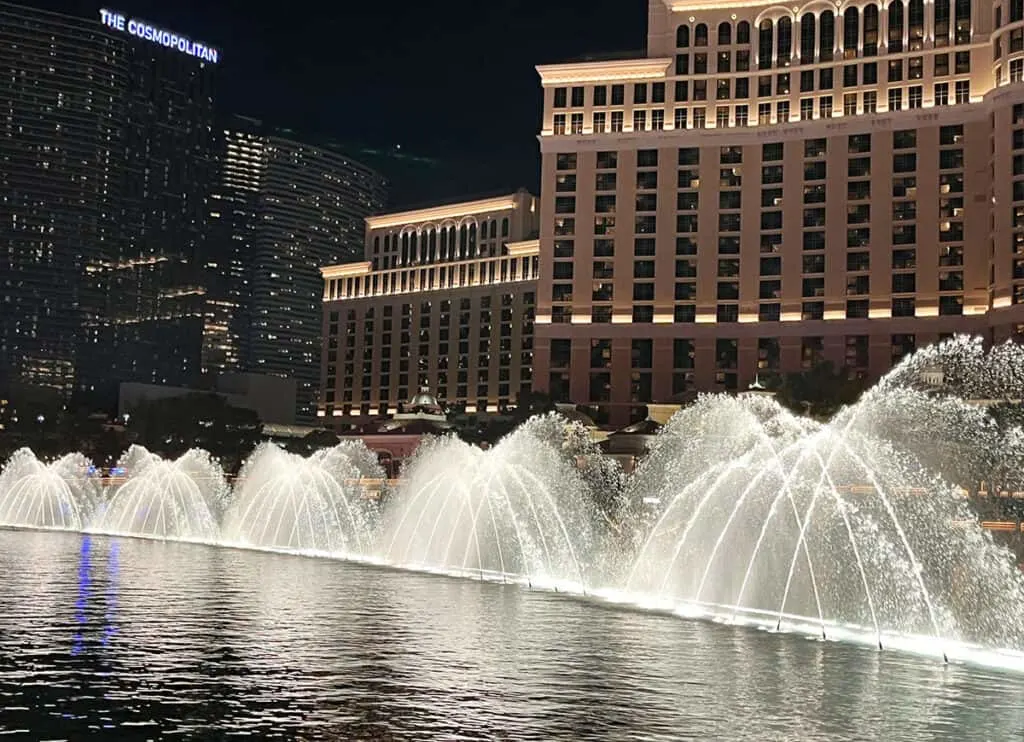 What most people don't know is that the idea was conceived by casino owner Steve Wynn, built for $40 million and opened in 1998. But how many visitors Vegas have stood in front of them, taken photos and all the movies that feature them? Money well spent!
23 See U2 at the new MSG Sphere!
If you've visited Las Vegas recently you'll have seen the gigantic sphere that is being built behind the Venetian Resort, just off the Strip. It is a music and entertainment venue that can seat 18,600 people and U2 will be the first band to play here.
Their opening night date sold out, so now opening night on 29 September will run for 20 shows, then more events will be announced.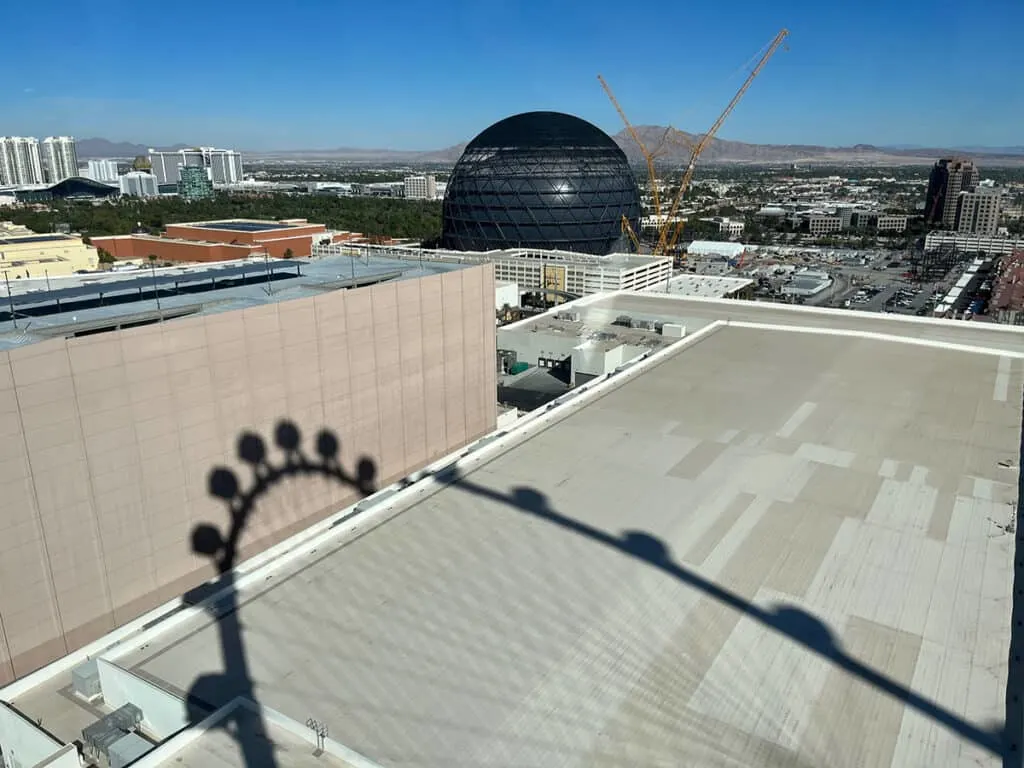 24 Drink at Minus 5 Ice Bar
From Michelle Moyer at Moyer Memoirs
For my 50th birthday party in Las Vegas, we celebrated at the Minus 5 Ice Bar.
The whole bar, from top to bottom, is made of ice for a truly unique experience. I chose to wear the snuggly white fur coat, included in my package, to keep warm while in the chilly bar enjoying cocktails and lounging on ice sofas.
The cocktails were served in glasses which are also made of ice, providing a nice 'chill' to my drink. The gloves given out at the entrance to the ice bar came in handy while holding onto my ice glass!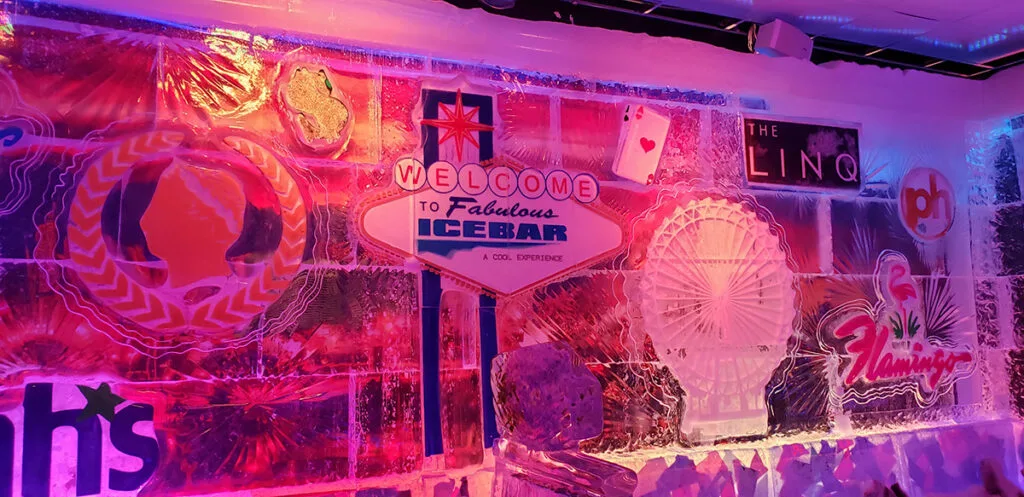 We chose the location at the LINQ Promenade, but there are two other Minus 5 Ice Bar locations throughout the Las Vegas strip: the Shoppes at Mandalay Bay and the Grand Canal Shops at the Venetian.
We checked in at the front desk, purchased our package, and were escorted inside the colorful ice bar.
The music was loud and invigorating and the LED lighting made the ice sculptures look even more amazing. There were ice displays on every wall. I can't imagine how much work went into designing it all!
Our bartender took great care of us and made sure our drinks were to our liking. When all our drinks were finished, we had a contest with our bartender to smash our ice glasses.
Whoever was unable to smash their glass in one dunk had to stay all night to clean up the bar! I did it! I needed two tries, but I still got my slamdunk!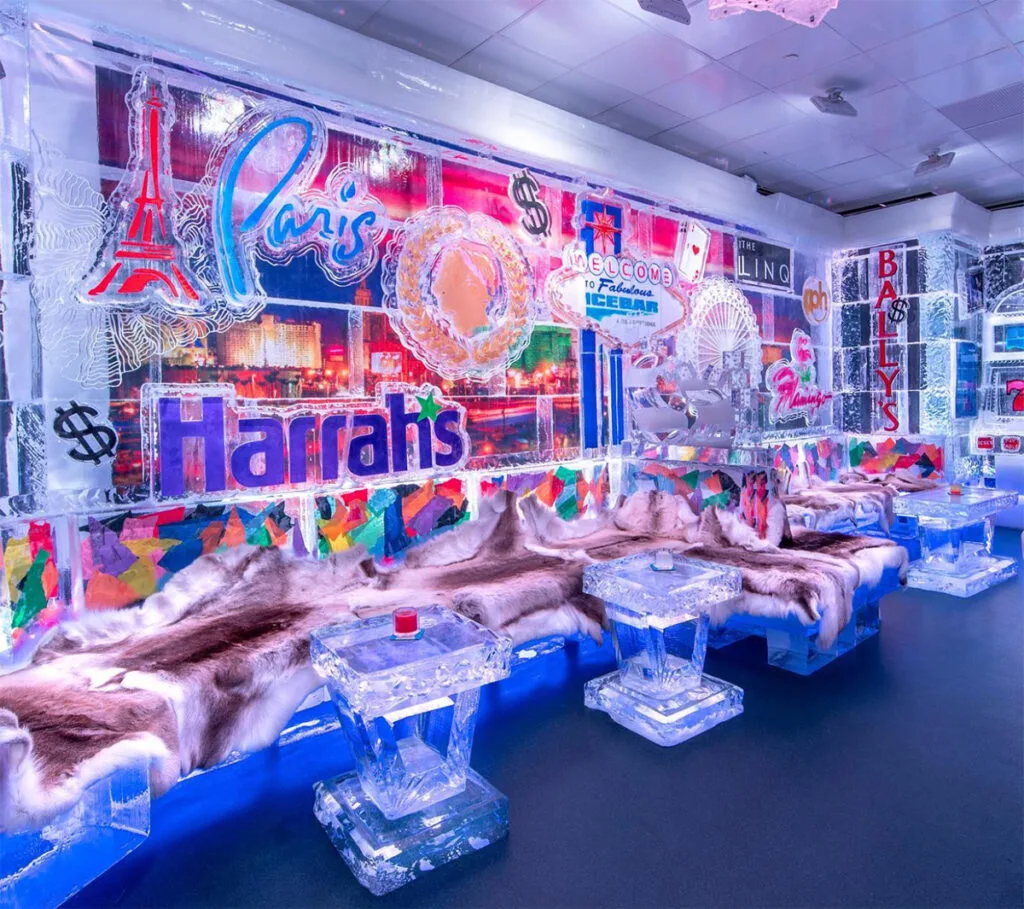 25 Check out Madame Tussauds Wax Museum!
From Celeste at Slow Travel Blog
No trip to Vegas is complete without a visit to Madame Tussauds at the Venetian!
Wax museums can be a bit polarizing. Some say they're creepy, and others revel in the chance to "meet" their idols. No matter where you stand on the topic, it is a unique experience.
The original Madame Tussauds is in London, but the Las Vegas branch was the first outside of Europe, and has been open for more than 20 years.
In the Las Vegas Madame Tussauds, you will find the figures of famous celebrities organized loosely into groups: Big names, Sports, TV, Music, and Las Vegas.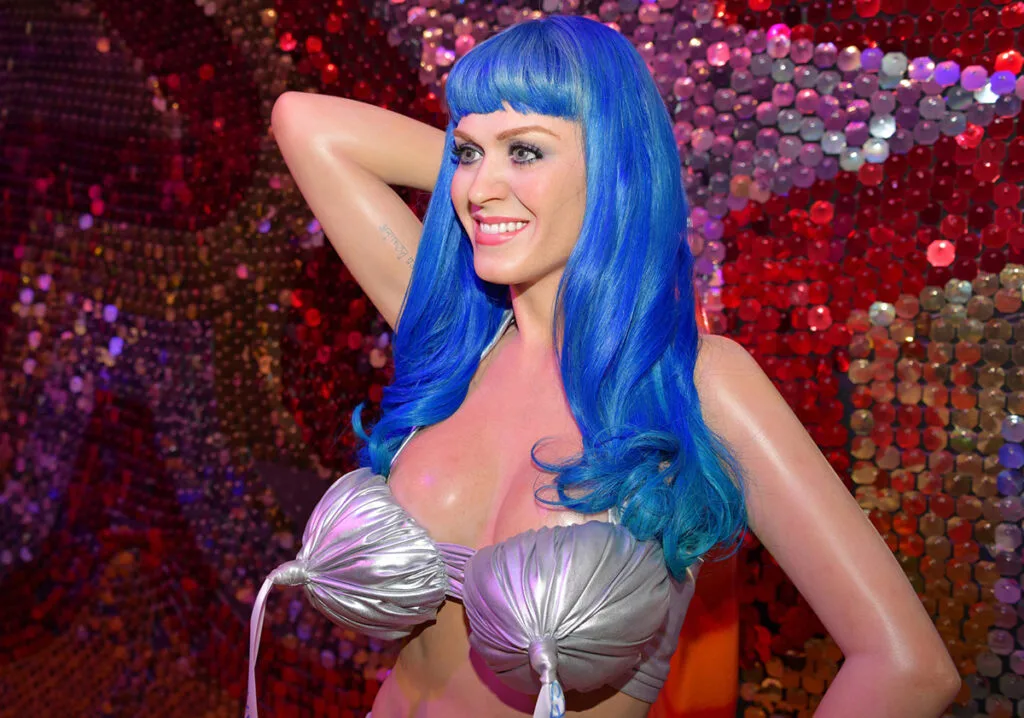 The music exhibit is the place where everyone will find somebody they know! Beyonce, Katy Perry, Justin Bieber, Rihanna, and Drake all have wax figures here. (Plus many more!)
If you want to see Katy Perry for real, she is in residence in Las Vegas performing her Play concert. See more amazing live shows in Vegas in this post.
Or head to 'The Hangover' Bar Experience to get in the set for pics and have a cocktail, wine or beer with "the boys". The figures are all pretty lifelike, but they range in quality from "are you sure this isn't a human?" to pretty good replicas.
Even the big kids will love the Marvel characters and the 4D movie!
Some of the figures at Madame Tussauds are temporary, so there will always be something new to discover. And yes, typically you can touch and take photos with the wax figures, which is really the best part, but be sure to check the latest protocols before your visit so you won't be disappointed!
Madame Tussauds is a popular place to visit, so try to go on weekdays if possible. The best time of day to visit is before noon or after 5 pm.
Take a Gondola Cruise at the Venetian and get free tickets to Madame Tussauds here.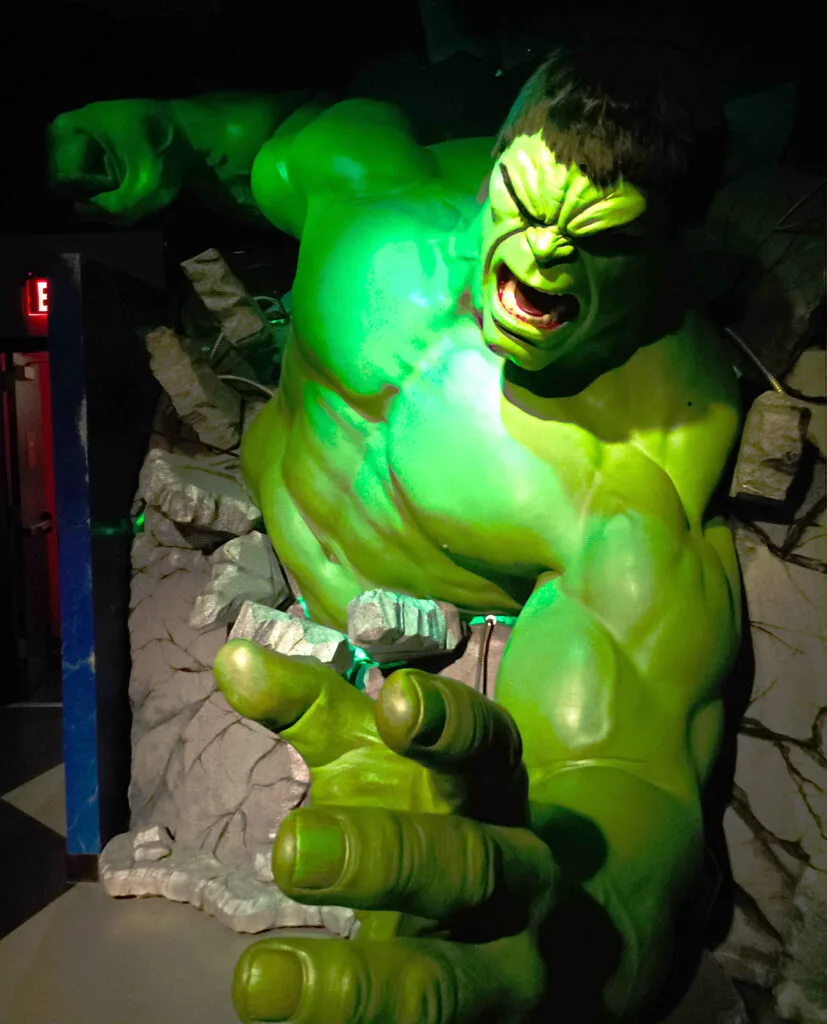 26 Eat at Mon Ami Gabi
The best place for people watching! Fabulous views of the Bellagio fountain night show on the patio table at Mon Ami Gabi, at Paris Hotel.
We arrived in Las Vegas about 7.30pm, checked in to our room at the Paris Hotel (I had booked Eiffel view in the hopes we'd see the Bellagio fountains, and yes we could!), and headed down to see what we might feel like for dinner.
You'll also find Gordon Ramsay Steak, Nobu, Bobby Flay's Burgers, even Martha Stewart is here, Vanderpump, and several other restaurants, as well as being able to go up inside the Eiffel Tower to dine too (read, spendy!). But frankly, people are smoking in the casino and all those restaurants are located in amongst that, so we were thrilled to find the best spot in town!
An outdoor table (on a chilly night too!) for steak and frites with epic views of the Bellagio fountains which erupt into music and splendour every 15 minutes from 8pm-midnight (and half-hourly before then).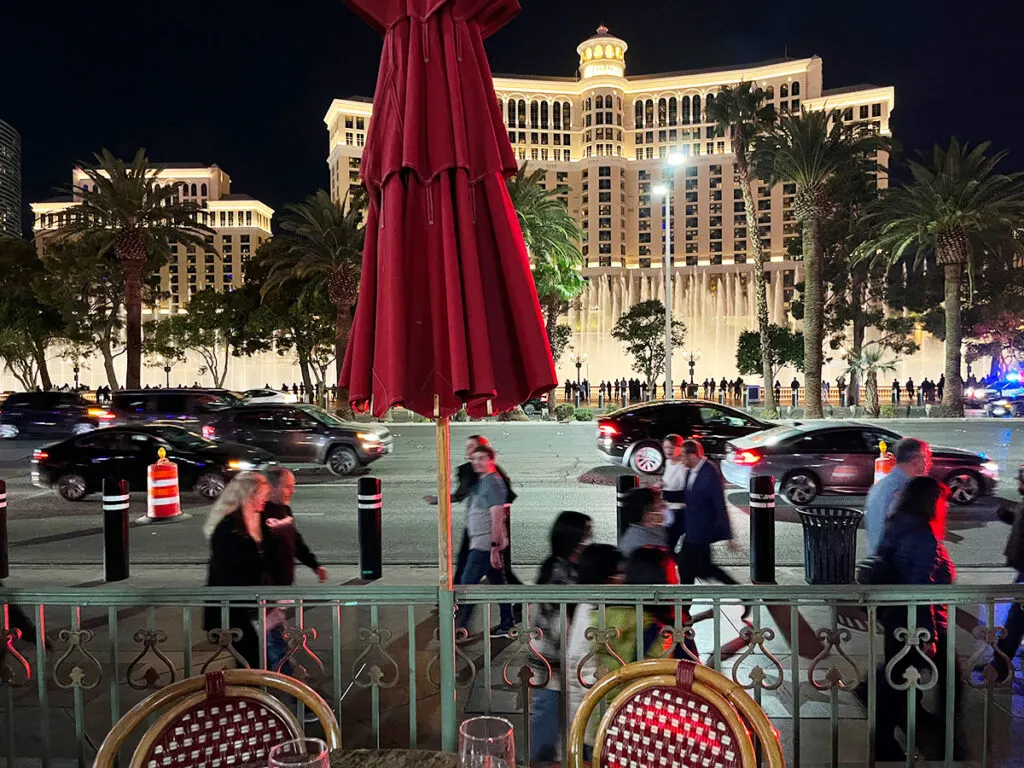 27 Seven Magic Mountains
If you are a fan of quirky art and have a car – or maybe you're driving to Las Vegas and can stop in here on your way past – about 10 miles south of Las Vegas you'll find Seven Magic Mountains.
This impressive and weird sculpture park is visible across the desert along Interstate 15.
Designed by Swiss artist Ugo Rondinone, these are boulders he sourced locally, painted in bold dayglow colors and set on top of each other so they stand 30-35 feet high (10-12 meters) and look like they are precarious and solid at the same time.
Originally erected in 2016 and expected to stay only a couple of years, they have become such a hit that they are still here today.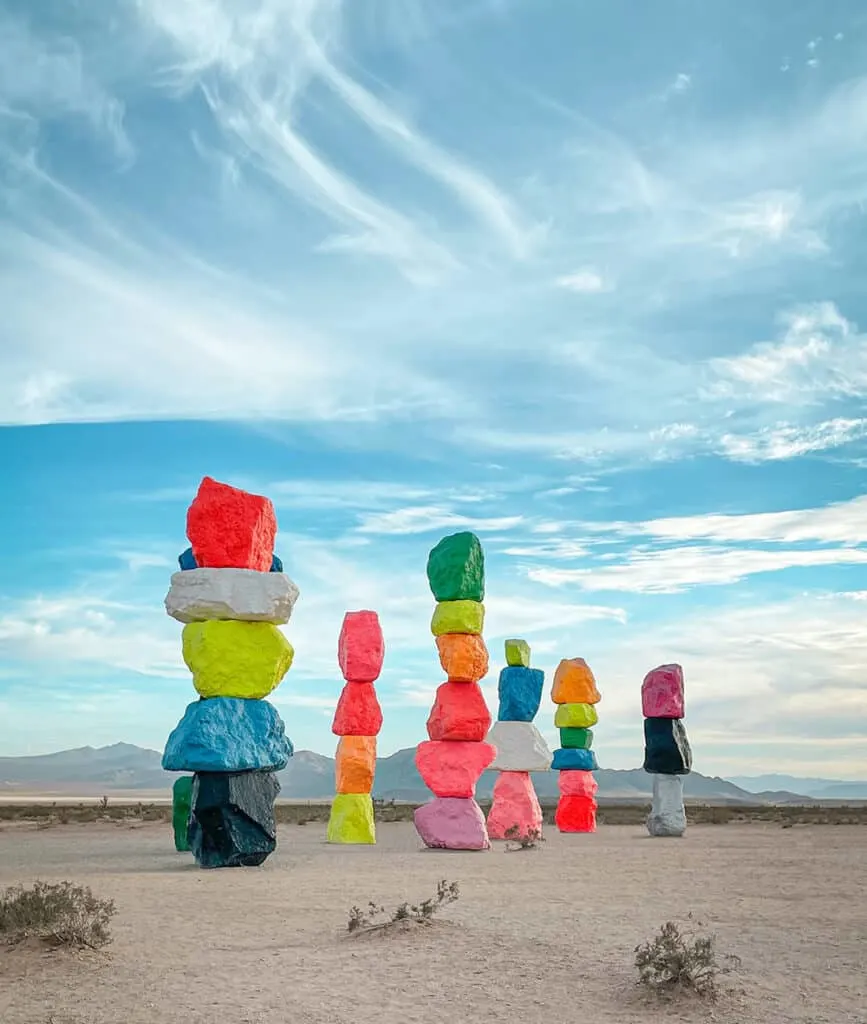 28 Ride the High Roller
For the best observation deck in the city, go for a "spin" in the High Roller. This huge wheel takes 30 minutes to do a full rotation and has air conditioned pods that can take up to 40 people – and some have a bar! When it's not busy, you'll get one for just your group.
It's a great way to see not only the Strip, but the fascinating surrounds of this city that is sprawling across the desert. You can see the craziness of the vivid green golf courses pock marking the endless beige of sand, the excavation sites for new hotels and all the way out to Red Rock Canyon.
Your biggest dilemma will be whether to go during the day for views like I saw, or at night when the lights are sparkling.
Buy your tickets for the High Roller online.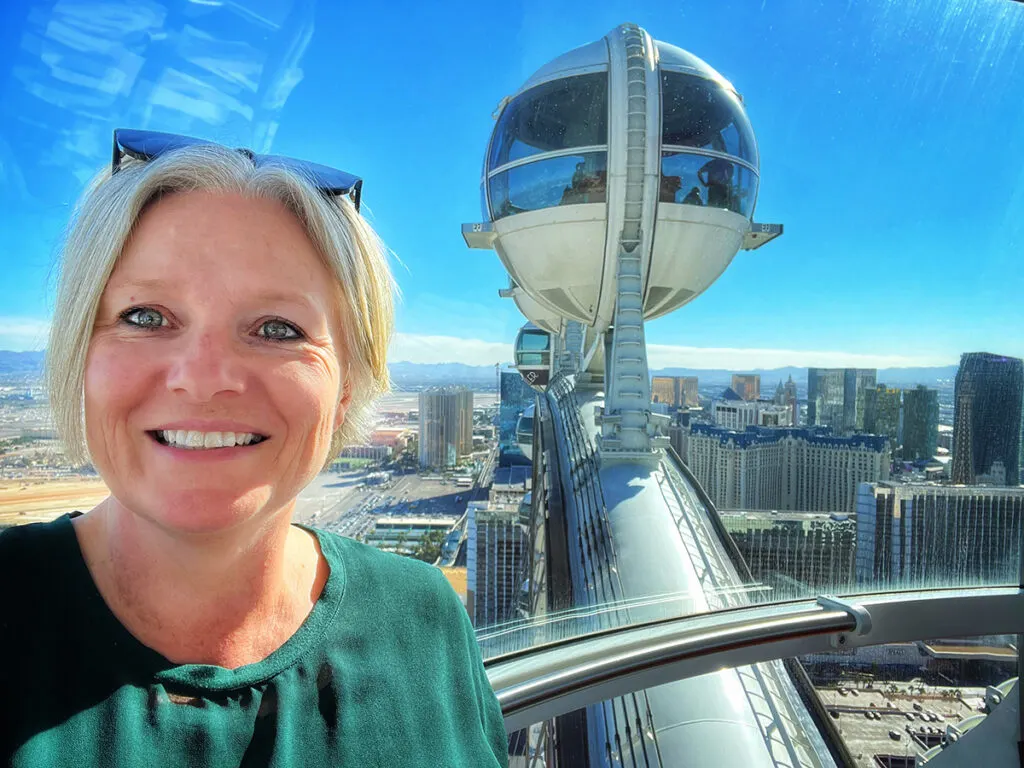 If you have more adrenalin to get rid of, do the High Roller zipline and whiz from the wheel above the shoppers wandering below at the LINQ Promenade.
You can get your Zipline tickets online here.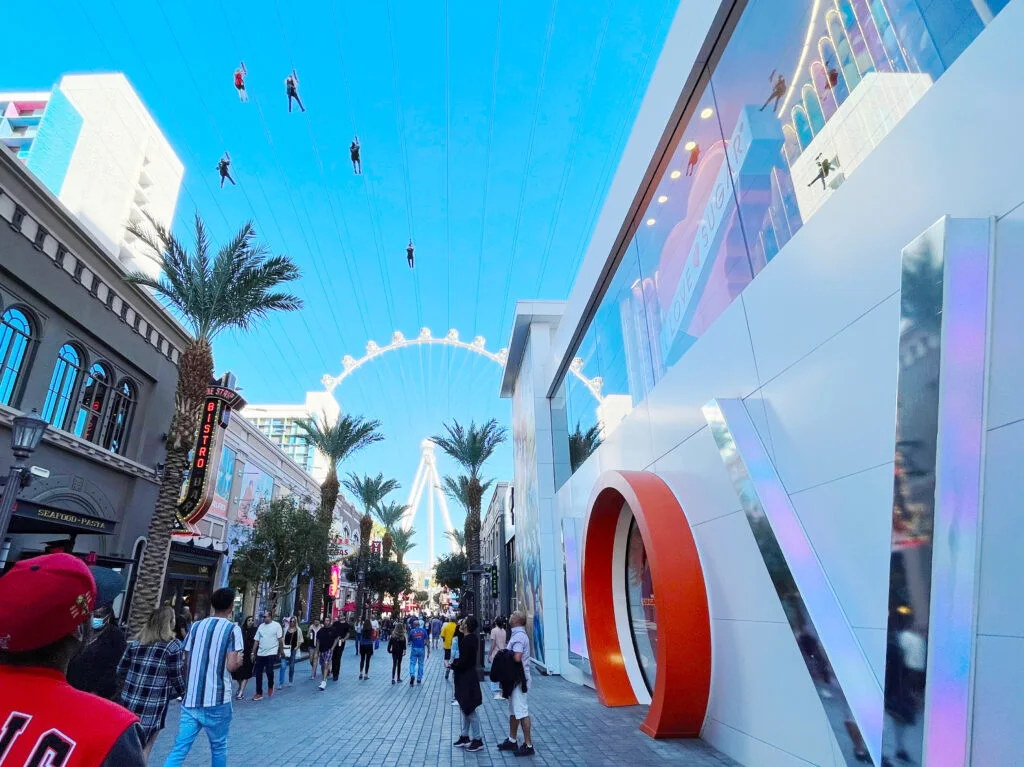 29 Eat the buffet!
I'm usually very wary of buffets and there's definitely an art to stacking your plate so it doesn't look like a mini compost bin. But Las Vegas is famous for its buffets, so if you're a foodie, you'll want to come hungry.
Put on your stretchy pants and try these best buffets in Las Vegas : The Wicked Spoon at Cosmopolitan, The Buffet at Wynn, Bacchanal Buffet at Caesar's Palace, Bellagio Buffet, MGM Grand Buffet, the Buffet at Excalibur, Buffet at Luxor and the Buffet at Circus Circus.
I'd love to know your favorite in the comments!
Or if you want a dining experience that is totally out there – what about eating in the dark? Blackout dining in the dark is a fine dining experience without being able to see a thing! No phones or flashlights allowed while you eat your seven-course meal.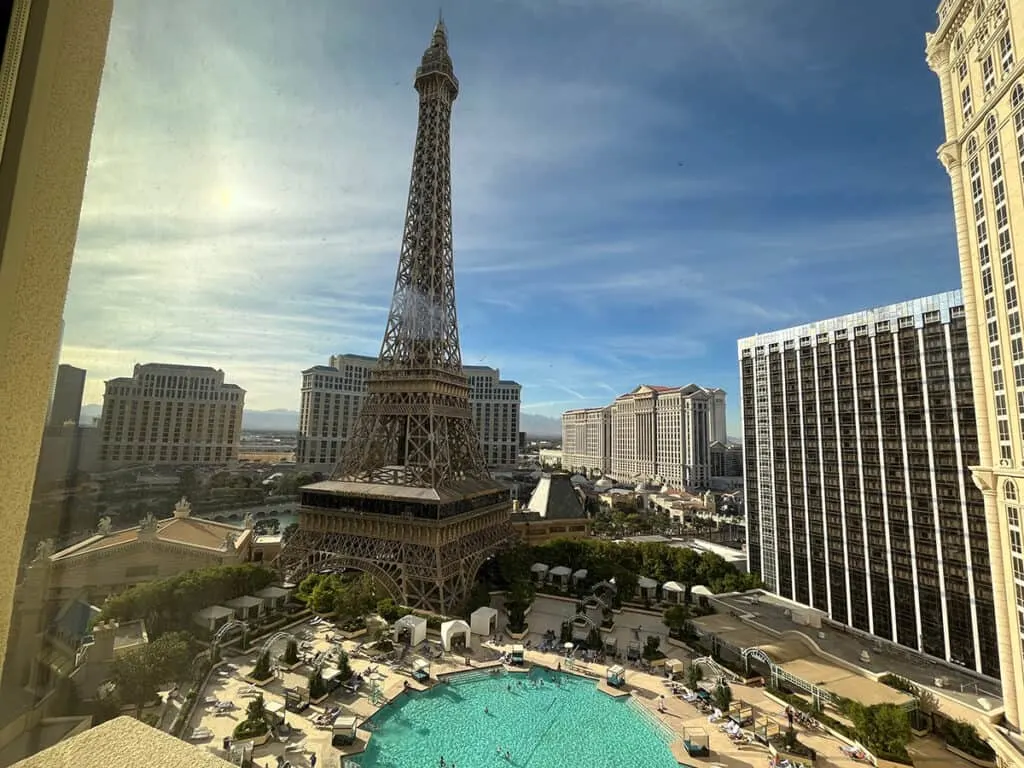 >> New Year's Eve in Las Vegas sees the entire Strip closed to traffic and a massive four-mile block party. Read more about NYE in Vegas in my post here!
Day trips from Las Vegas
Las Vegas is surrounded by National Parks. The closest is Death Valley National Park, which straddles California and Nevada. You're also close (two hours, 40 minutes drive) to Zion National Park, north-east across the state line in Utah for some spectacular rock formations.
Try some awesome day trips:
30 Tour Antelope Canyon
From Candace at CSGinger.com
If you're looking for a day outside the hustle and bustle of Las Vegas, a great thing to do is take a day trip to Antelope Canyon.
Antelope Canyon is a beautiful slot canyon that has been formed over millions of years. Wind and water erosion has shaped the smooth sandstone and created one of the most famous slot canyons in the world.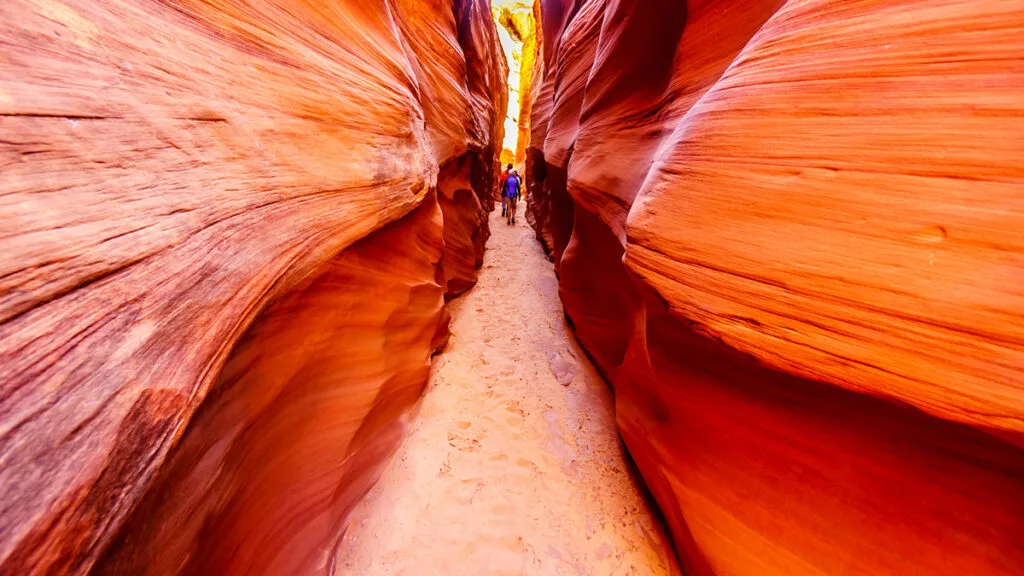 Antelope Canyon is about 4.5 hours drive east of Las Vegas, past Grand Canyon. You can either drive yourself to Page, the closest city to the slot canyon, and take a tour, or you can go on a guided Antelope Canyon tour with a pick up from your hotel in Vegas.
If you do drive yourself to Antelope Canyon, you will need to book a guided tour to go through the canyon.
There are no self-guided tours through the canyon. It is on protected Navajo land and only designed tour guides are allowed to take people through. During popular visiting times and seasons, tickets do sell out so it is a good idea to make your reservations as early as you can.
While in Page, also be sure to visit the Horseshoe Bend Overlook. It is another beautiful part of the area and shouldn't be missed.
The best time to visit the canyon is from 11am to 1.30 pm. More light enters this canyon during the time so the walls will have more color and design (of course it also needs to be sunny!).
May through September is also the best time to see the light beams that the slot canyon is so famous for.
31 See Hoover Dam
From Bernadette at Explorer Chick
At only 30 minutes away, Hoover Dam is worth a visit, on the border of Nevada and Arizona – so you will be able to say you were in two places at once!
Pro-tip: parking in the car park on the Arizona side is free, and just walk across the bridge – which you want to do anyway for the photos.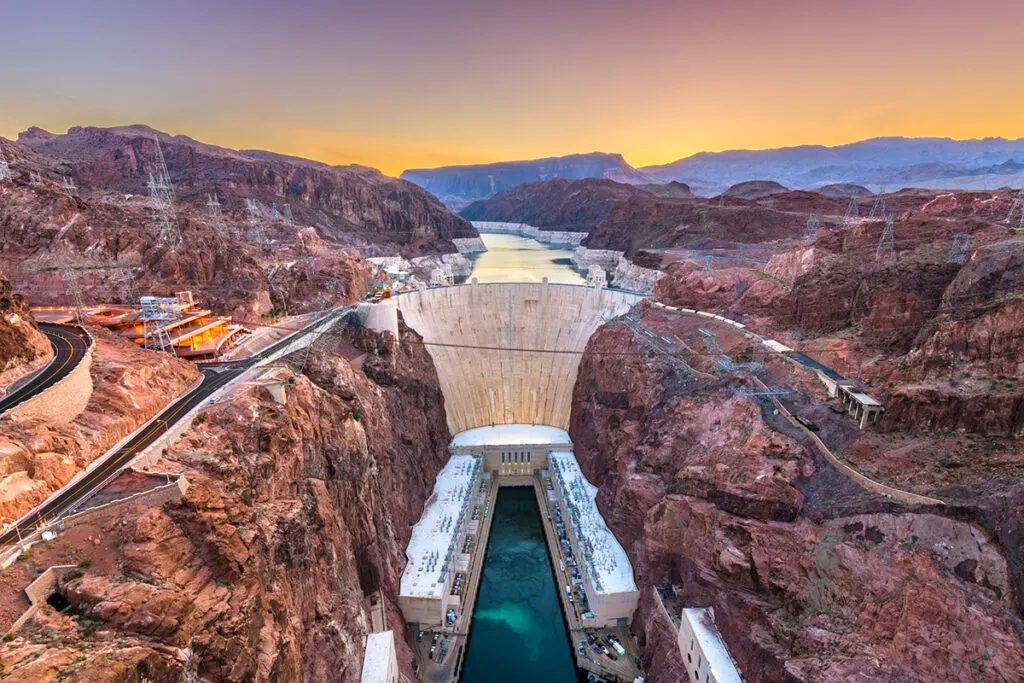 The Hoover Dam is a man-made marvel that supplies hydroelectric power to Nevada, California, and Arizona. It was completed in 1936 during the Great Depression and is as high as a 60-story building and as wide as two football fields.
There is enough concrete in the dam wall to pave a two-lane highway from San Francisco to New York! It also has some nice art deco touches and Native American imagery on its spillways and towers.
If you're not into the history and engineering of the dam, there is still plenty of nature to enjoy.
The dam created Lake Mead and the reservoir is a great place to spend the day swimming, boating, and even fishing. The reservoir also serves water to the surrounding communities and farmlands.
Some people like to combine a tour of the Hoover Dam with a visit to the Grand Canyon too. See this full day Viator tour, which is hugely popular.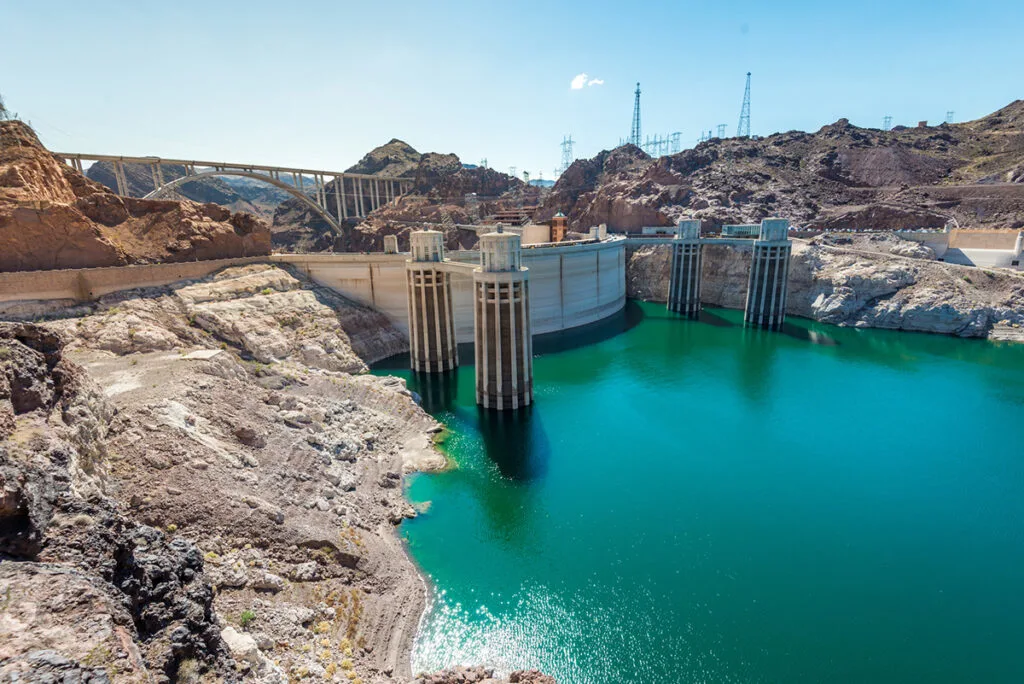 32 Visit Red Rock Canyon
From Daria at The Discovery Nut
When you get sick of the hustle and bustle of the Strip, take a hike.
Las Vegas is located within a few hours drive from some of the best national and state parks in the West as well as refuges, recreational areas and many scenic vistas.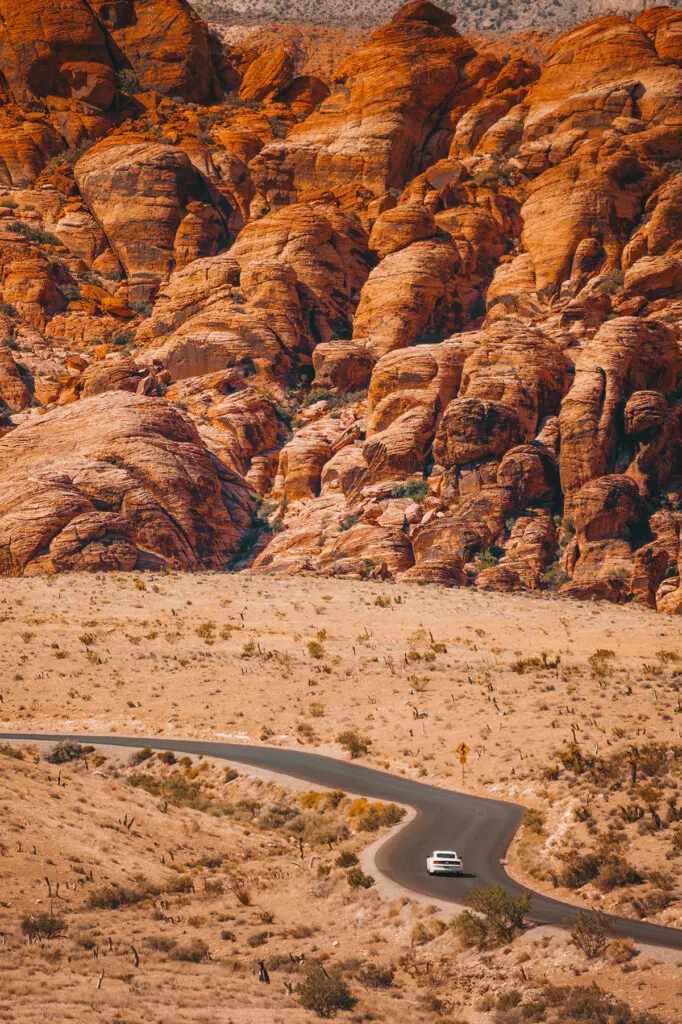 But you don't have to drive for hours to experience some of the best places near Las Vegas. Red Rock Canyon is about 25 minutes drive west of the Las Vegas Strip (Red Rock Canyon National Conservation Area).
This is one of the most popular places to visit near Vegas thanks to its close proximity and spectacular scenery. To enter the park, visitors need to pay a $15 fee.
Many hikes at Red Rock Canyon begin near the 13-mile loop-drive that cuts through Red Rock Canyon.
The best time for hiking at Red Rock is not summer, because of the triple-digit heat in Las Vegas! Come in late fall through mid-spring for milder weather and plenty of sunshine, with temperatures hovering in the low 60s.
This is a perfect time to hit the trails and explore some of the most scenic areas of the Red Rock Canyon National Conservation Area.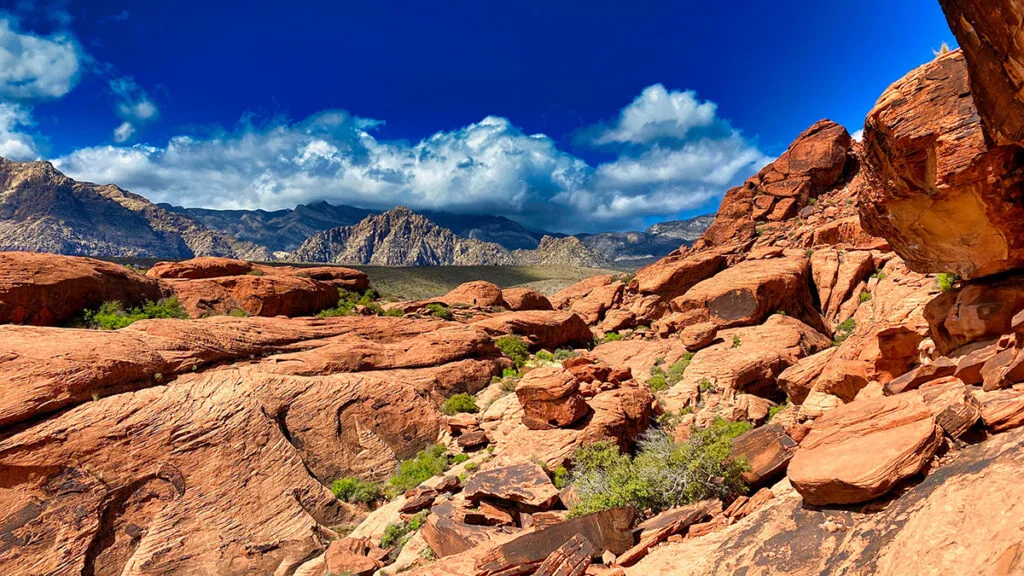 More things to do in and around Las Vegas
You can buy skip-the-line tickets for these experiences on these links below.
*Please note, they are affiliate links so if you do make a purchase, I will make a small commission at no extra cost to you.
33 Take a full day tour out to the Grand Canyon rim and have a good three hours to take all the photos and take in the views. Includes breakfast snacks and lunch on the way.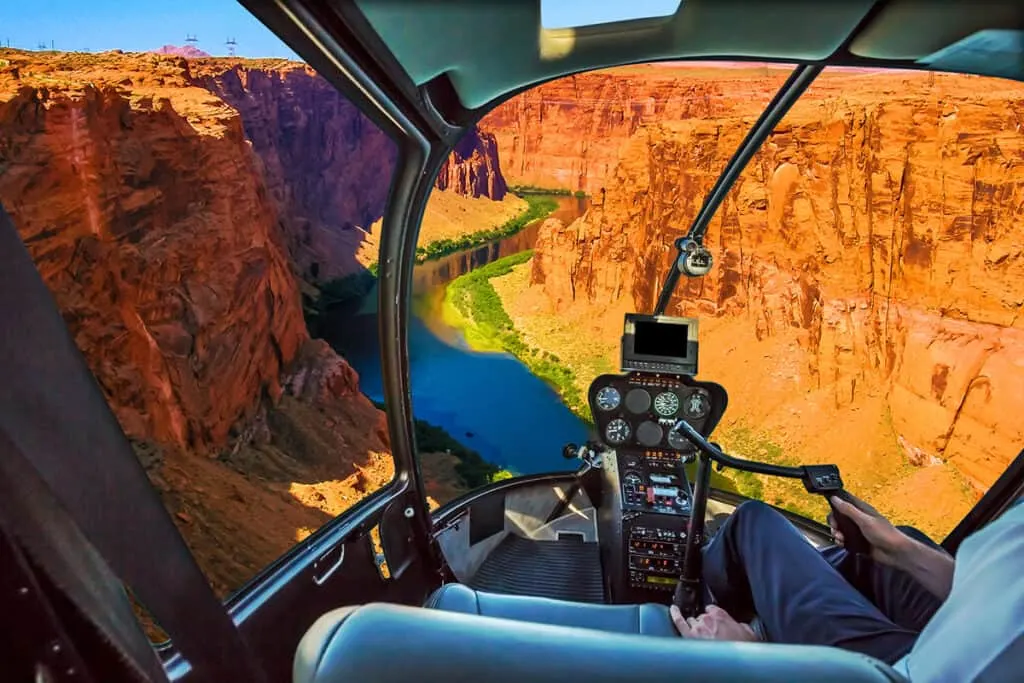 34 Grab skip-the-line tickets to the Big Apple roller coaster inside and outside the New York New York Hotel for thrill rides with a 180˚ twist!
35 If you don't want to spend a day driving to and from the Grand Canyon, take a 70-75 minute helicopter tour over the Hoover Dam and Lake Mead for a flight below the rim of the Grand Canyon and back.
36 Take a Pawn Stars half day VIP tour including visiting the locations of the TV shows Pawn Stars and Tanked. Visit WelderUp, made famous by the TV Show 'Vegas Rat Rods', Marvel at the customized automobiles of Count's Kustoms and see Acrylic Tank Manufacturing from Animal Planets Tanked!
You don't need to visit Pawn Stars on a tour, just Uber to the shop and wander on in. That's what we did. The "stars" weren't there and it was a little underwhelming, but we had BBQ at Rick's Rollin Smoke next door and walked through the store.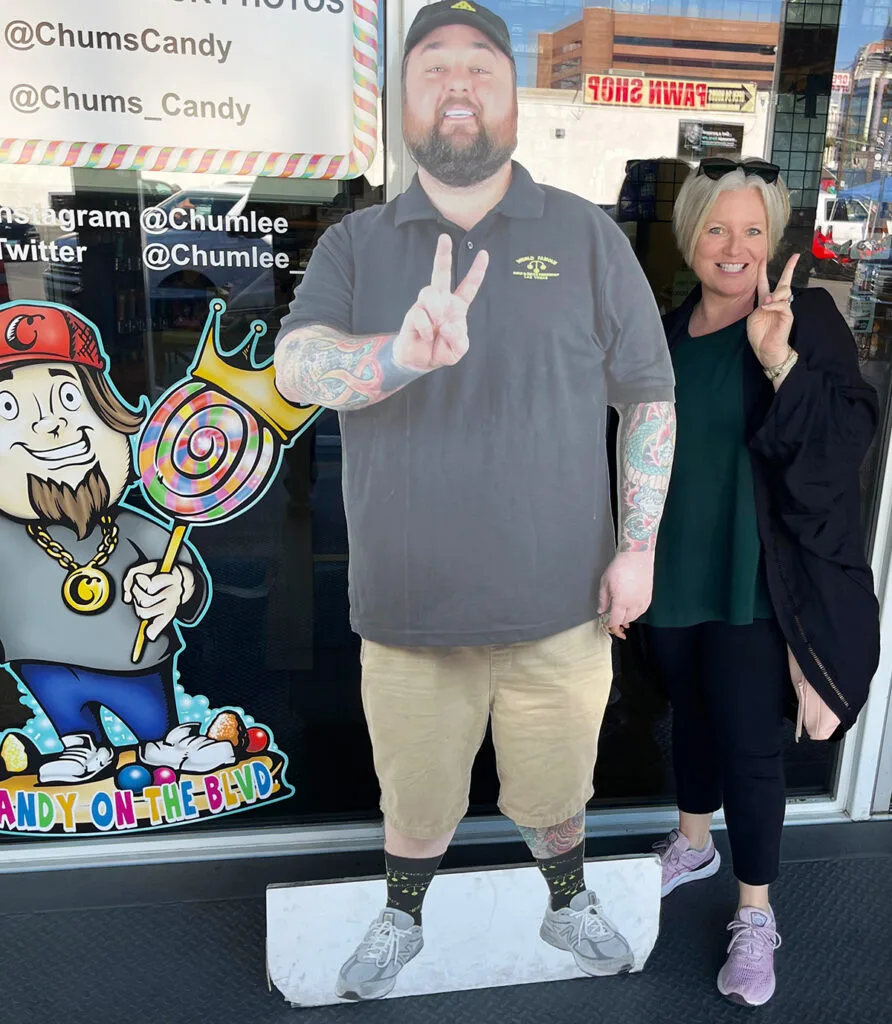 Las Vegas FAQs
What should you NOT miss in Las Vegas?
If you are short on time, you should not miss the Bellagio Fountain show every afternoon/evening (free), a Cirque du Soleil show, a visit to crazy Fremont Street (free), a ride in the High Roller wheel for amazing views.
Is there a dress code for clubs in Vegas?
Yes, and it can be strict. You'll want to check out the club's website before you rock up in your flipflops and shorts, lest you get turned away. *shame!
Do we have to wear a mask in Las Vegas?
No, in February 2022 the mask mandate was lifted. You might find some locations (like schools or government buildings) where mask wearing is still a requirement.
Is smoking allowed in casinos
Yes, on the gaming floor. Which is kind of like the pee-ing section of a swimming pool. While not as many people smoke indoors as they used to, you'll notice it.
Is 3 days long enough in Las Vegas?
Yes I think so. It can be a bit overwhelming, so I don't like to stay too much longer than that. And with my list above, you can decide on which things are must-do's, then get out of dodge. We took off in a rental car and did a 3-night Nevada road trip, which was cool.
Grab the Las Vegas Pass
This 2- 3- 4- or 5-day pass will likely pay for itself on the first day. You get discounts off more than 35 brilliant Las Vegas attractions including a premium attraction choice between a Las Vegas Strip helicopter ride, a Zion National Park tour, tickets to The Beatles LOVE, and more.
You'll also get a digital guide to help plan your Las Vegas itinerary.
Las Vegas is also featured on my list of 20 great places for Spring Break with the family!
If you're visiting Las Vegas with kids, there is so much to do here for them too. This city doesn't have to be all about gambling and clubbing at all! Check out retro activities like the Pinball Hall of Fame and play old school pinball machines.
Give your wallet a break with these fun FREE things to do in Las Vegas!
Need to rent a car in Las Vegas?
Because I like to compare all the deals, I love to use Discover Cars which compares all the rental companies in one easy-to-see page. We picked our rental up at Luxor for our 4-day Nevada road trip and dropped it off at the airport.
You might also like my post on how to have a fun three-night/four-day Nevada road trip from Las Vegas visiting ghost towns, aliens and the mighty Hoover Dam.
Where to stay in Las Vegas
Right bang in the middle of the Strip:
We just recently stayed at Paris which was really nice and easy to get to both ends of the Strip for riding the High Roller, shopping and visiting other hotels.
Best family hotel:
I love Mandalay Bay for its incredible wave pool, lazy river and sandy beach. Plus it's next to the Pinball Museum for cheap entertainment! Plus Cirque du Soleil's Michael Jackson ONE is based here and they have a huge aquarium with sharks and a komodo dragon (which I walked with in Indonesia, by the way!)
Best romantic hotel:
I love Bellagio for the grandeur, the fountains (get a room with a fountain view), the incredible on-site gardens, the Ocean's 11 vibe and general lavishness. Plus it's centrally located for walking everywhere.
Best cheap hotel:
Excalibur. I stayed here with my brother once and we had a blast with all the jousting and maidens wandering around the place. You can get a room for as little as $35 a night depending on the time of year. It's also linked to Luxor and Mandalay Bay by monorail and is close to New York New York and MGM Grand.
Most expensive room on the Strip:
If money's no object, or you just won big, go book the three-bedroom villa at the Nobu Hotel which is within Caesar's Palace. Price starts at $35,000 a night and you need to email direct. No booking websites for this level!
Nearest hotel to T Mobile Arena:
Aria and Park MGM. They're virtually out the back!
Best golf resort on the Strip:
If you're bringing your clubs, you want to stay at luxurious Wynn Las Vegas with its 18-hole golf course including three lakes and 8000 trees – in the desert!
My favorite Airline!
We also used Southwest Airlines to fly to Las Vegas from Reagan National Airport in Washington DC (and three more times in the same month). I love this low-cost airline and have written about their no seat allocation and all the things you need to know before you choose Southwest in this post.
My favourite quick resource links