Sin City has a huge reputation for being an outstanding entertainment destination. Yes, it's got casinos and a rocking nightlife, but did you know Las Vegas is a great place for retail therapy too?
Aside from the gambling (which you don't even need to do and you'll still run out time to do everything here!), incredible live shows, Michelin-star restaurants, acres of hotel pools and getting married by Elvis (check out my post of the time I crashed an Elvis wedding in Las Vegas!), Las Vegas has an incredible shopping scene.
You'll find a mix of luxury brand stores, unique boutiques, outlet shopping, and specialty shops that are unlike any others.
There is almost 7 million square feet of shopping heaven in Las Vegas, so where should you even begin? Don't worry, I've got you!
*This post contains affiliate links. If you make a purchase I will make a small commission, at no extra cost to you.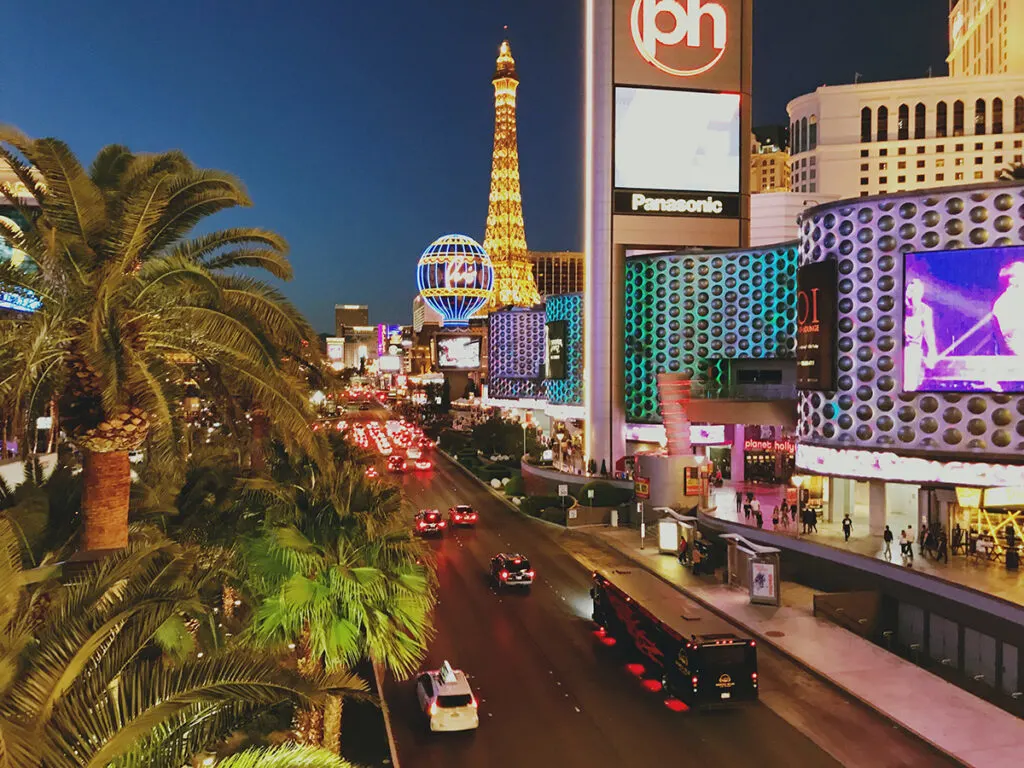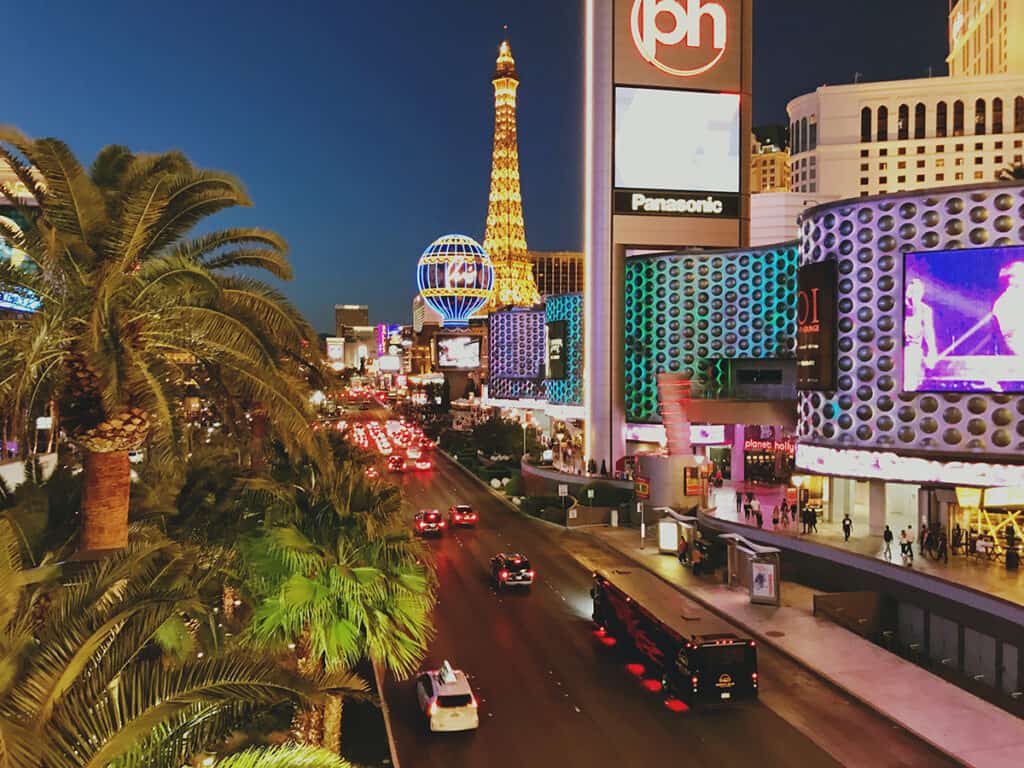 Warning: You could spend a whole weekend in just one hotel resort and never step out onto the Strip with the amount of things to do in each one! Especially hotels with shopping malls, casinos, pools surrounded by cabanas and nightclubs, multiple restaurants and live shows.
Hence my pro tip (below) of staying in a couple of locations.
Oh and you'll want to read my post on 29 things NOT to do in Las Vegas, lest you find your vacation not quite what you hoped it'd be.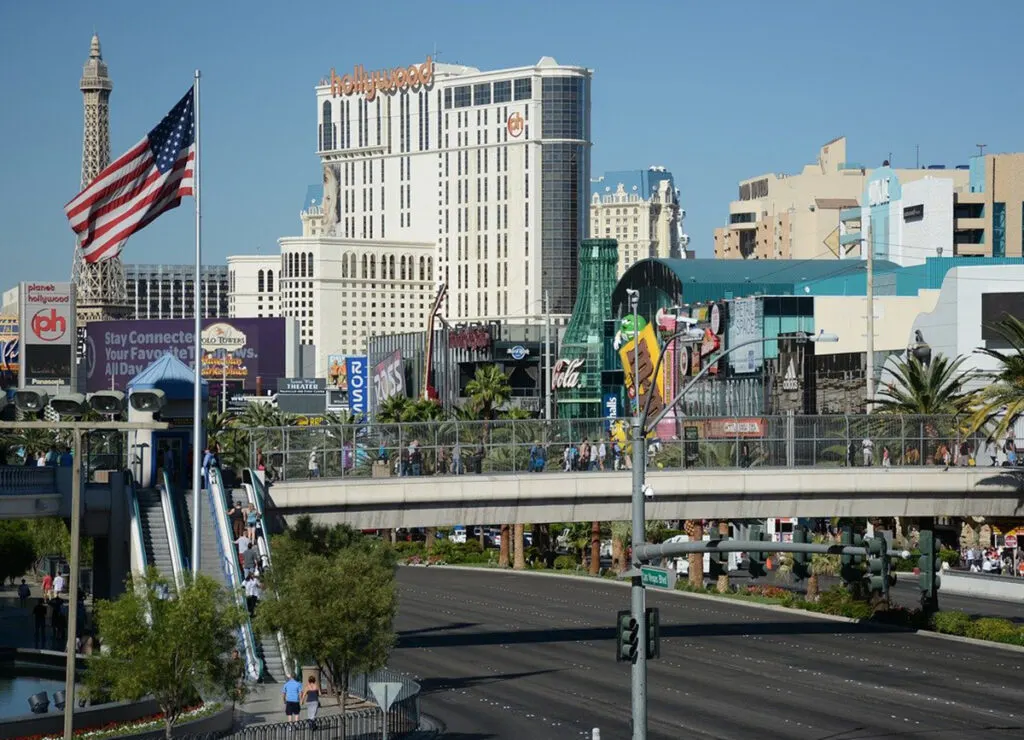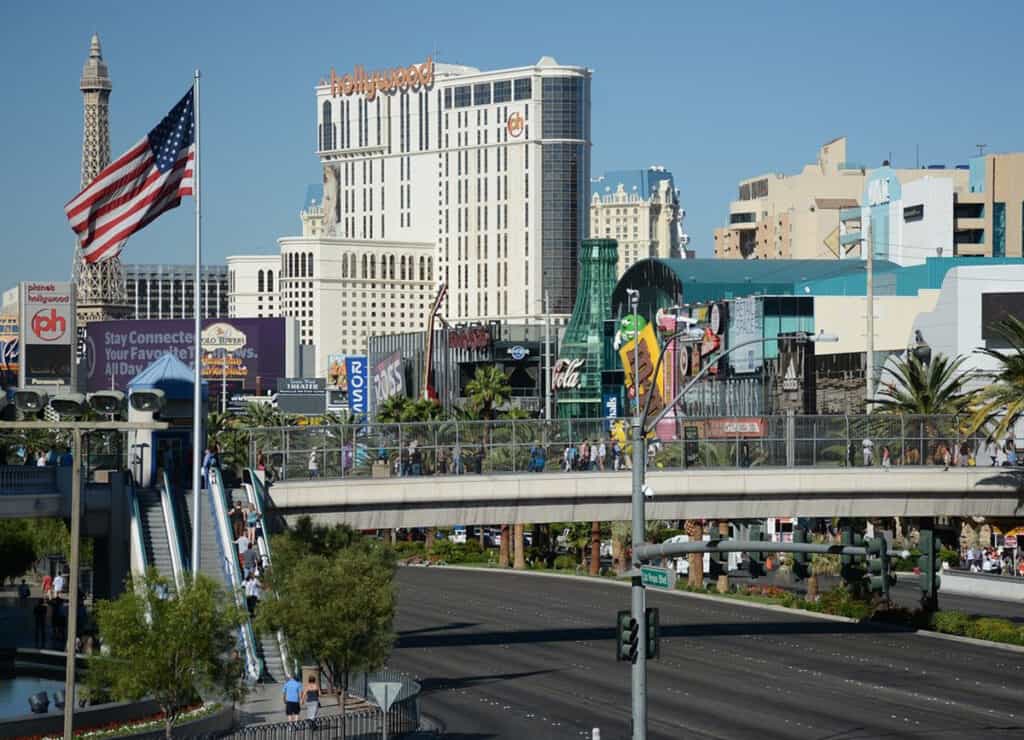 Pro Tip: I've been to Vegas a few times and if you're staying for a few nights I suggest staying at two hotels at either end of the Strip so you can explore your surrounds for a couple of days each.
---
If you're ready to shop til you drop, here are 11 great places for shopping in Las Vegas
---
Grand Canal Shoppes
This gorgeous shopping mall, located at the Venetian Resort, is modeled after Venice, Italy. It has cobblestone walkways and canals complete with gondolas for tours with singing gondoliers.
The Grand Canal Shoppes are a must-see while you're in Las Vegas.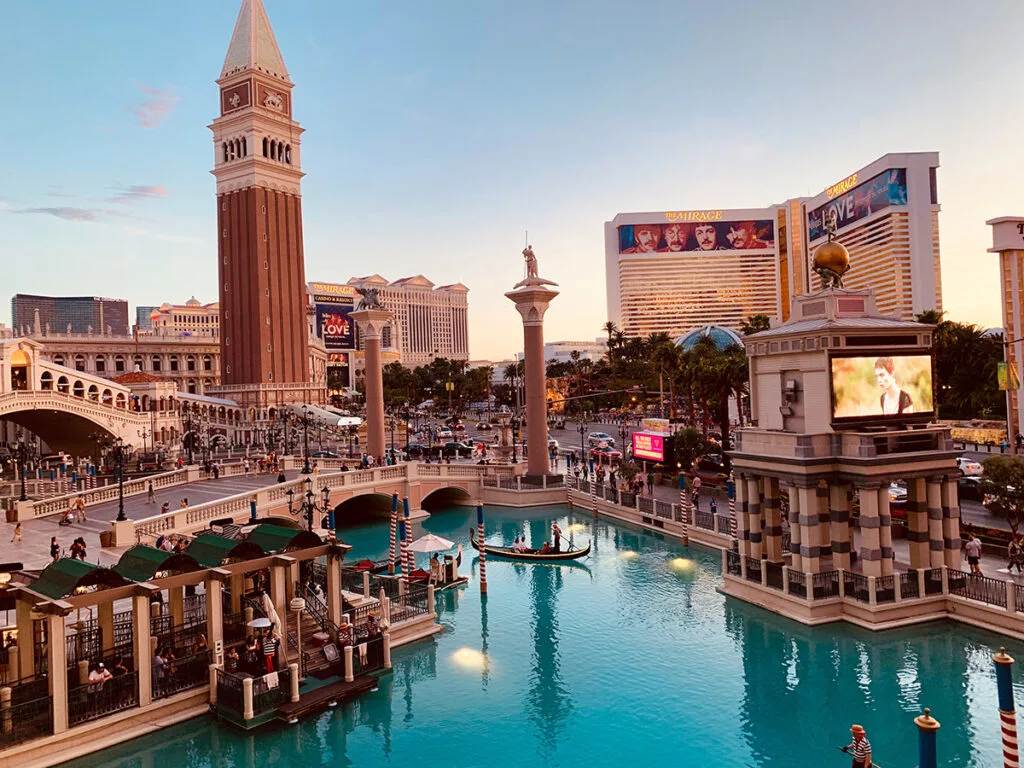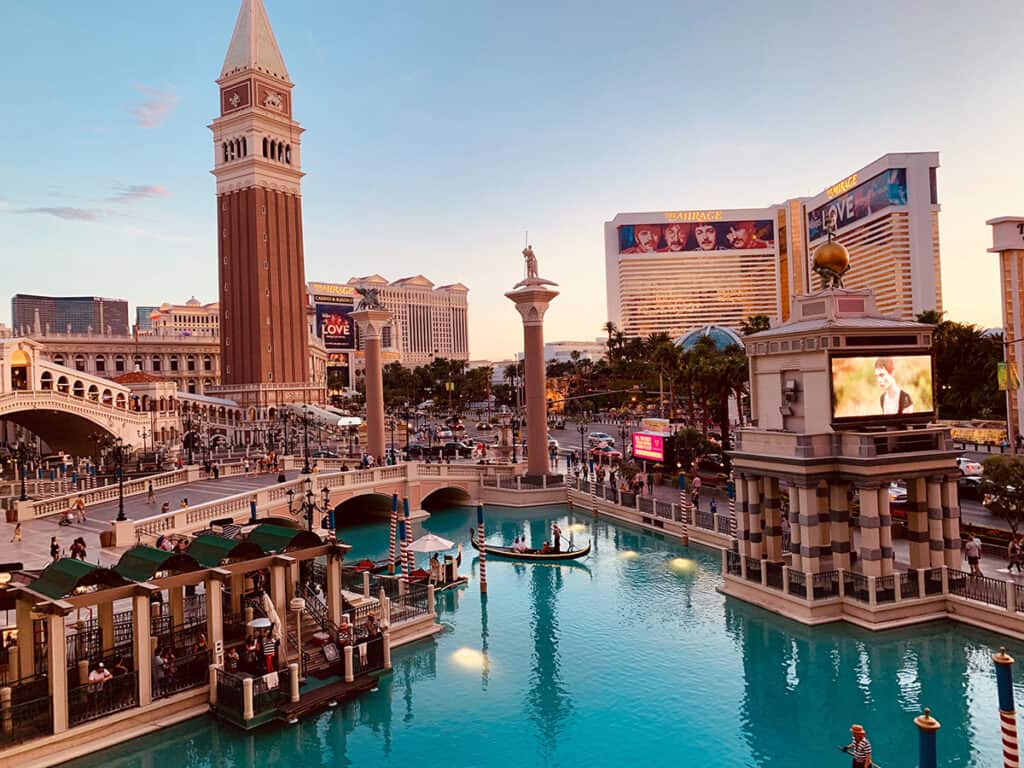 In addition to being beautiful, this shopping destination has more than 160 shops and restaurants that will fill your time here very nicely.
There's something for everyone here in the Shops at the Palazzo from high-end stores like Louis Vuitton, Tory Burch and Burberry to high street stores like Banana Republic and unique boutiques featuring candies, accessories and more.
In terms of food options, there are over 20 different places to eat, ranging from fast food joints to award-winning chefs at Delmonico Steakhouse and Wolfgang Puck.
Even if you're not in the mood to buy anything, wandering around is a great time, providing plenty of opportunities to watch performances or even take a ride on one of those gondolas.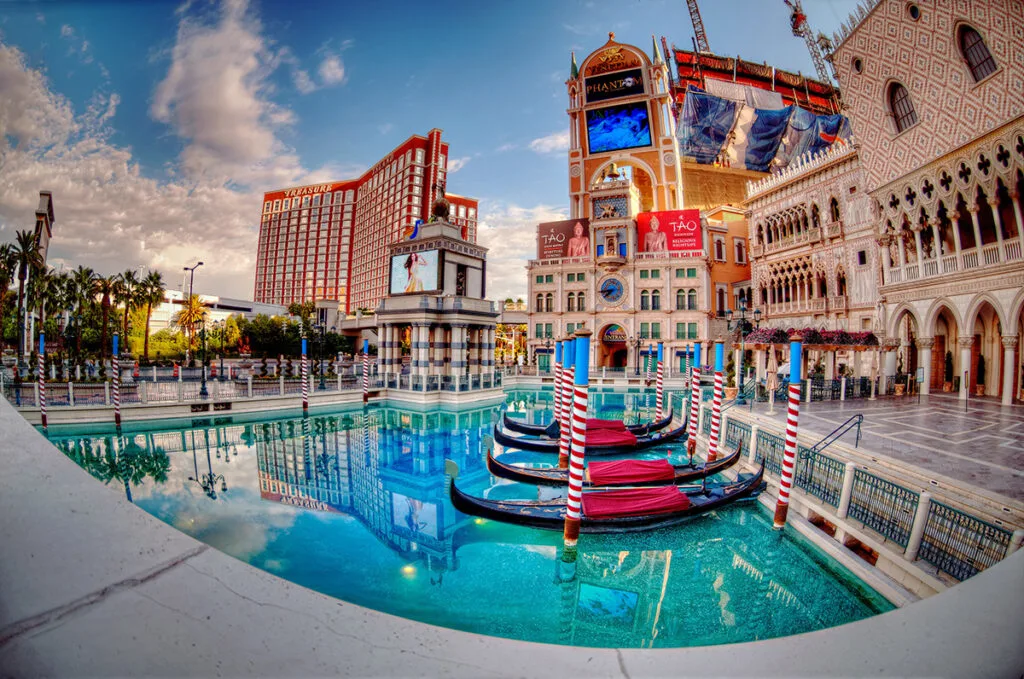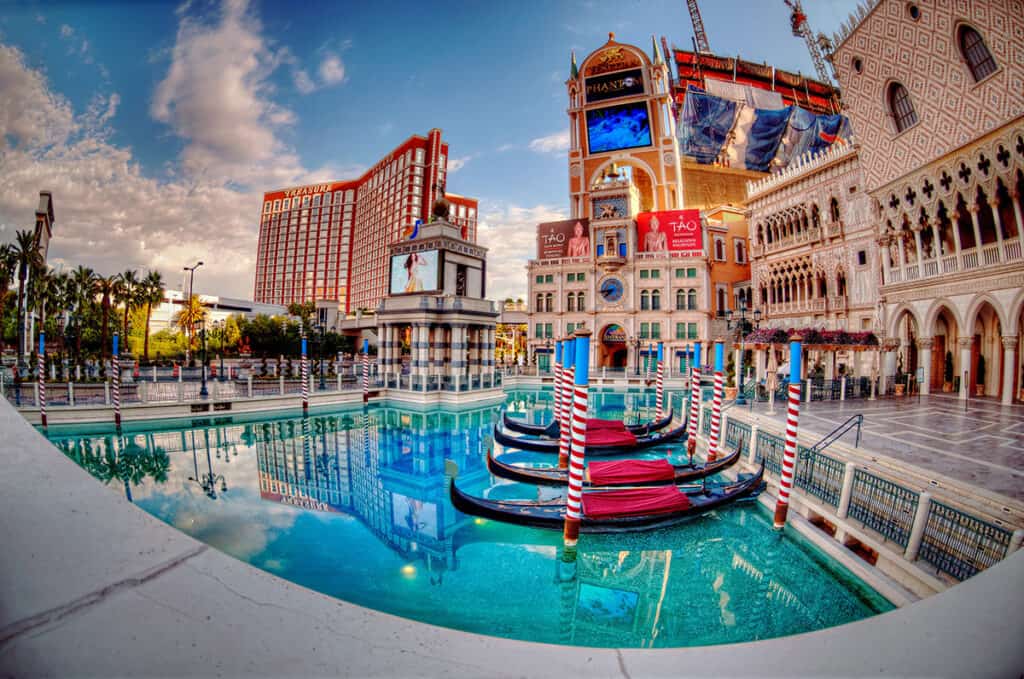 ---
Miracle Mile Shops
Located at the Planet Hollywood Resort & Casino, Miracle Mile Shops is a massive shopping center with a little something for everyone.
With over 200 stores and restaurants it really is one of the best malls in town. This place is enormous and can easily take up an afternoon or more of your time.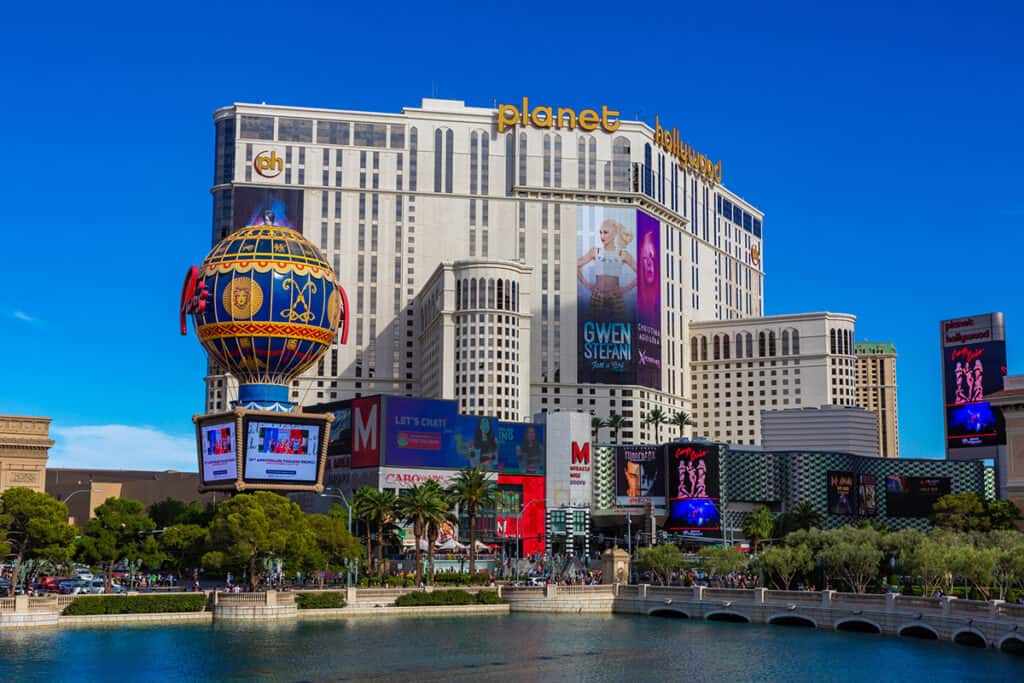 There are all sorts of different stores here from my favorite brands such as Mac Cosmetics, Bath and Body Works, Urban Outfitters, along with specialty stores featuring an array of collectible sports merchandise.
You'll also find great places to eat like Cabo Wabo Cantina, Blondies, Ocean One Bar and Grille, and Pampas Brazillian Grille.
And if you're looking for entertainment while you shop, there's plenty to be found here from live music performances to comedy shows.
Pro Tip: If you have a car in Las Vegas, parking is really expensive, so using an Uber might be your best bet if you want to save money.
---
Fashion Show Mall
If you're after high-end stores and designer brands, the Fashion Show Mall is where you need to go.
This downtown Las Vegas mall features over 250 different stores including department stores Saks Fifth Avenue, Neiman Marcus, Macy's and more, making it one of the best shopping malls in the United States.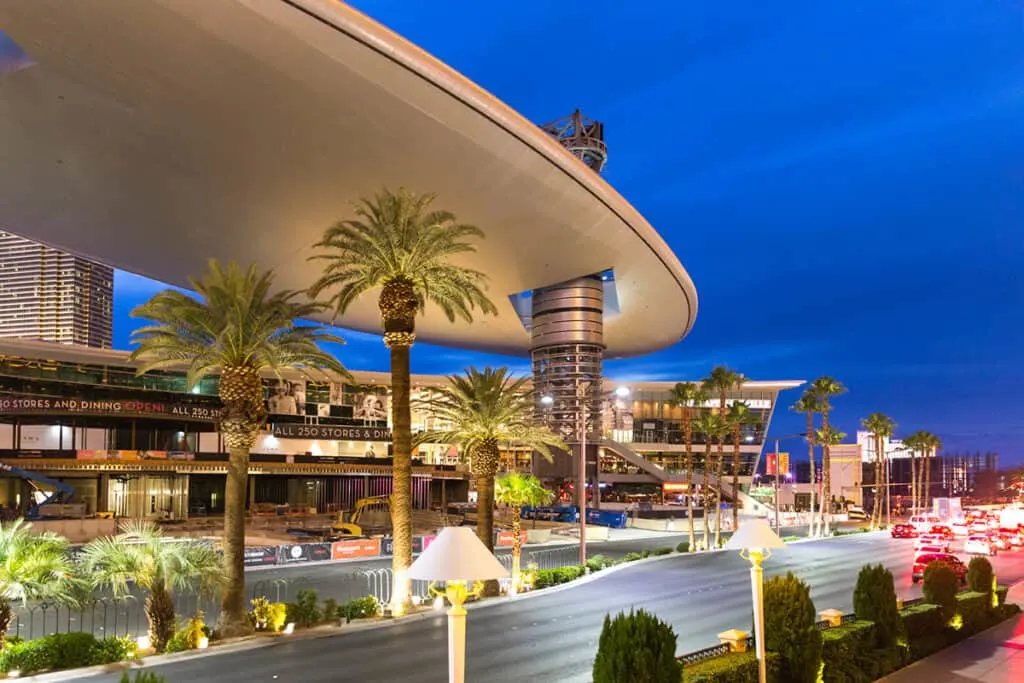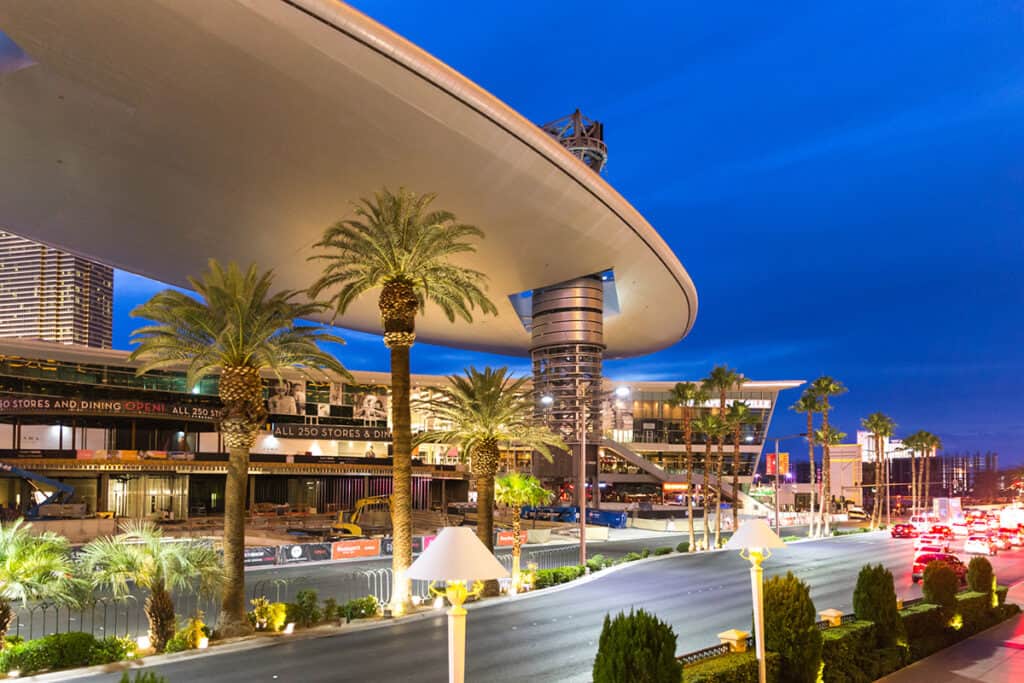 In addition to its plethora of shops, the Fashion Show Mall also offers a wide variety of restaurants to choose from. You can find everything from fast food options like Chick-fil-A, Chipotle, and Subway to sit-down places such as The Capital Grille and Maggianos.
If you're looking for some live entertainment while you shop, this mall is known for its exclusive events and catwalk shows offering a unique display like you've never seen before like the Prismatica Kaleidoscope Experience to exclusive dining events.
---
Caesars Palace Forum
Out of all the shopping centers in Las Vegas, the Forum Shops is one of my favorites.
The Shoppes at Caesars Palace Forum is also modeled after ancient Rome featuring famous statues and various fountains around the property and a painted ceiling that fools people into thinking they're outdoors. So much so, that I saw a man step out of a store and light a cigarette one time!
If you're here between January and April 2022, Adele is in residence performing Saturday concerts. I know, whaaat!
You'll find over 160 specialty stores here in Caesars Palace Forum including Armani Exchange, Bernini, Brooks Brothers, Coach, Dior, Fendi, Giorgio Armani, Michael Kors and more.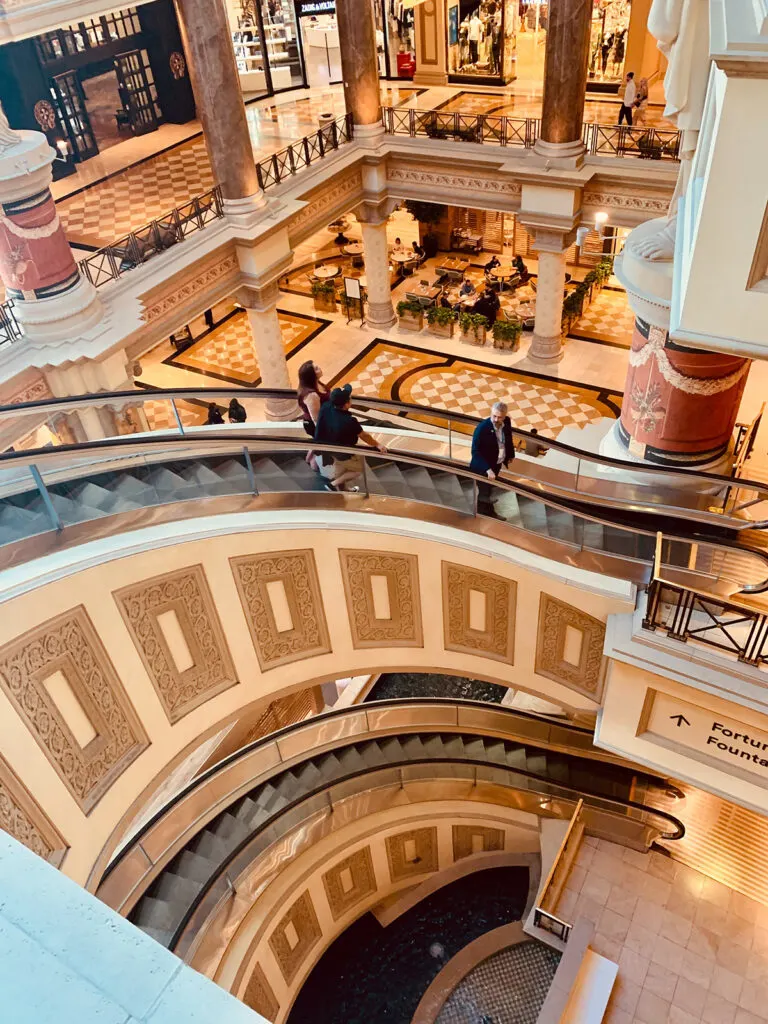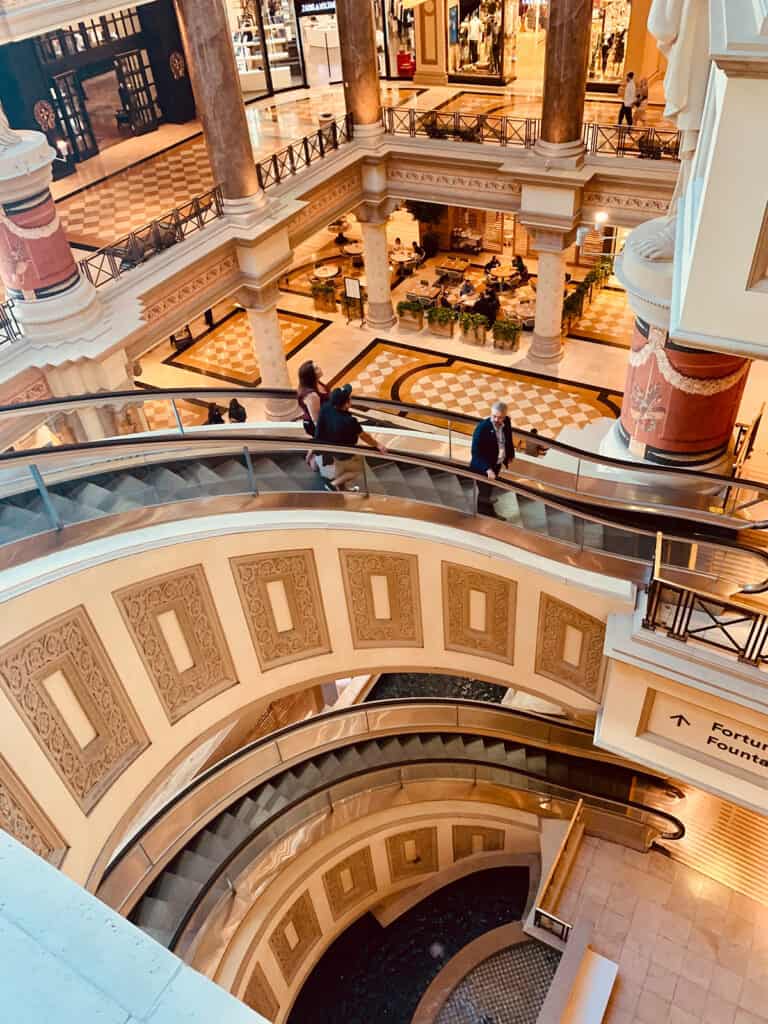 There are some really great restaurants here as well. Dining options include Sushi Roku, True Food Kitchen, and Planet Hollywood.
But there's also plenty of entertainment options outside of just shopping and eating. The most popular is the Escape Game which features in my list of cool things to do in Las Vegas after we found the gold in the Gold Rush challenge!, offering guests a fun way to spend time as a group – and yes, the casino.
---
The LINQ Promenade
The LINQ Promenade is an outdoor mall with a small shopping and dining precinct in front of the LINQ Hotel (part of Caesar's Entertainment) also connected to the Hotel Flamingo. It's smack bang in the middle of the Strip and you'll find 35 shops and restaurants like potty-mouth chef Gordon Ramsay Fish n Chips, IN-N-Out Burger and Yard House.
This is where the High Roller, a 550 foot observation wheel, is located. It is the tallest 'eye' in the world offering and impressive 360 degree view of Las Vegas. (Nevada residents receive 20% off). I love the High Roller. It takes 30 minutes for a full rotation and the views are awesome. You can also book one of the pods that has a bar!
Plus the Strip's only zipline is here. Fly the LINQ Zipline down The Promenade for a bit of a thrill!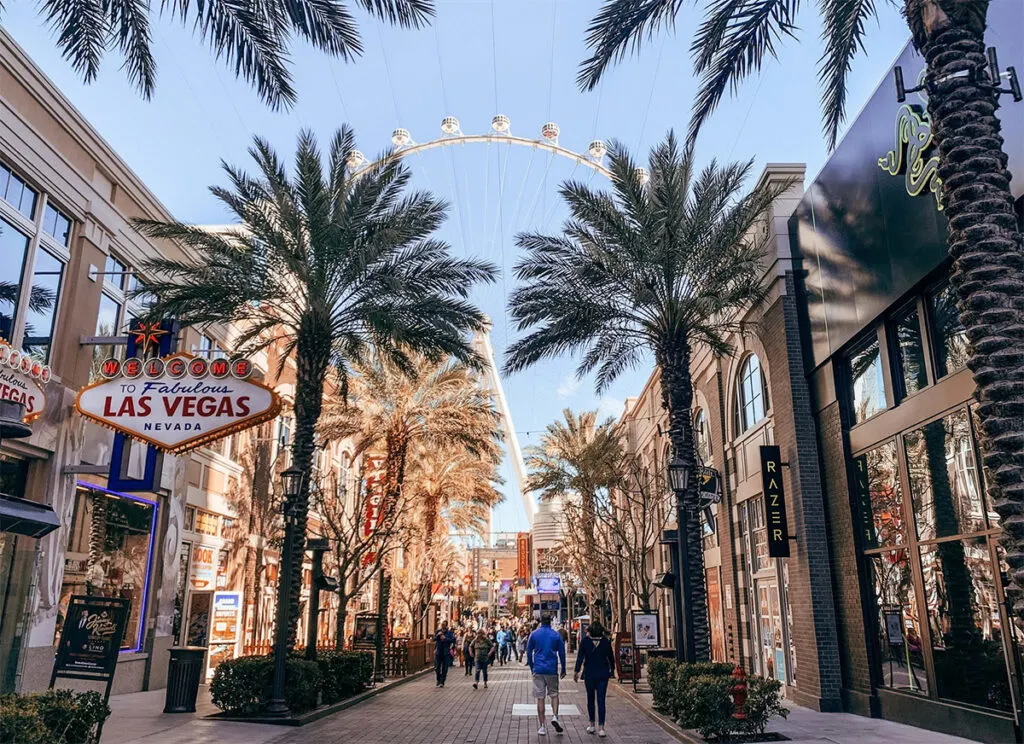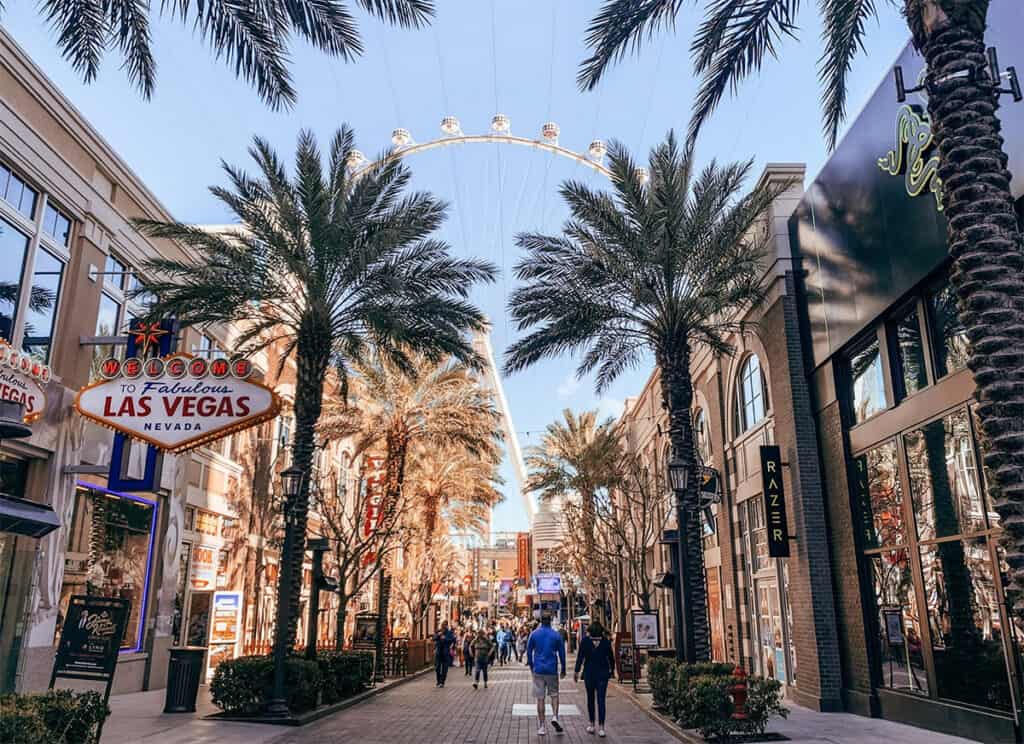 ---
The Shops at Crystals at Aria
If you have more money than you know what to do with, come to the Shops at Crystals! Or even just walk through here (you'll probably find yourself walking through anyway if you head down the Strip thanks to escalators and foot bridges that lead here).
I had been photographing the cool architecture of Maestro's Ocean Club earlier in the day, only to find happily that our Lip Smacking Foodie Tour came here for steak and dessert that evening.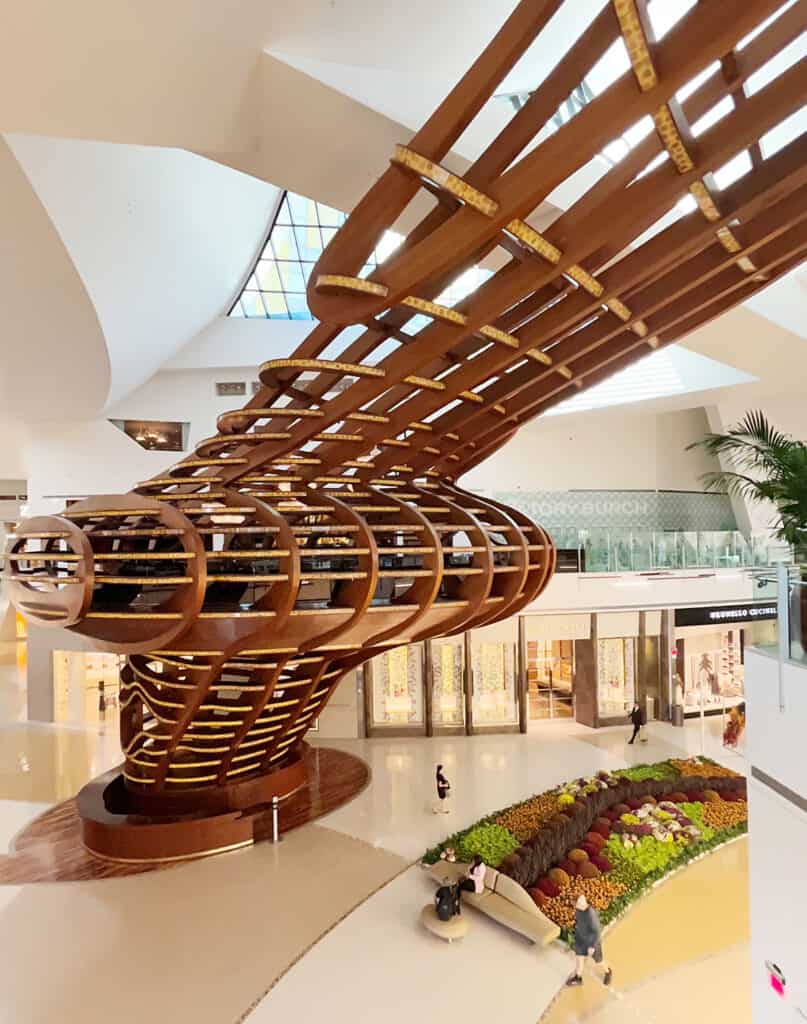 The shops here don't even need to make more than a sale a day to justify their expensive existence. In fact they're considered as much a marketing exercise as retail outlet. You'll find Dior, Louis Vuitton, Hermes, Cartier, Gucci, Fendi… you get it.
Town Square Las Vegas
Situated in the heart of the Las Vegas strip, Town Square is a great place to go for some shopping with the entire family.
There are 26 buildings making up this shopping precinct with popular and more affordable stores like Apple, H&M, Sephora, and more. This is one of the best places to shop if you're not after eye-watering labels.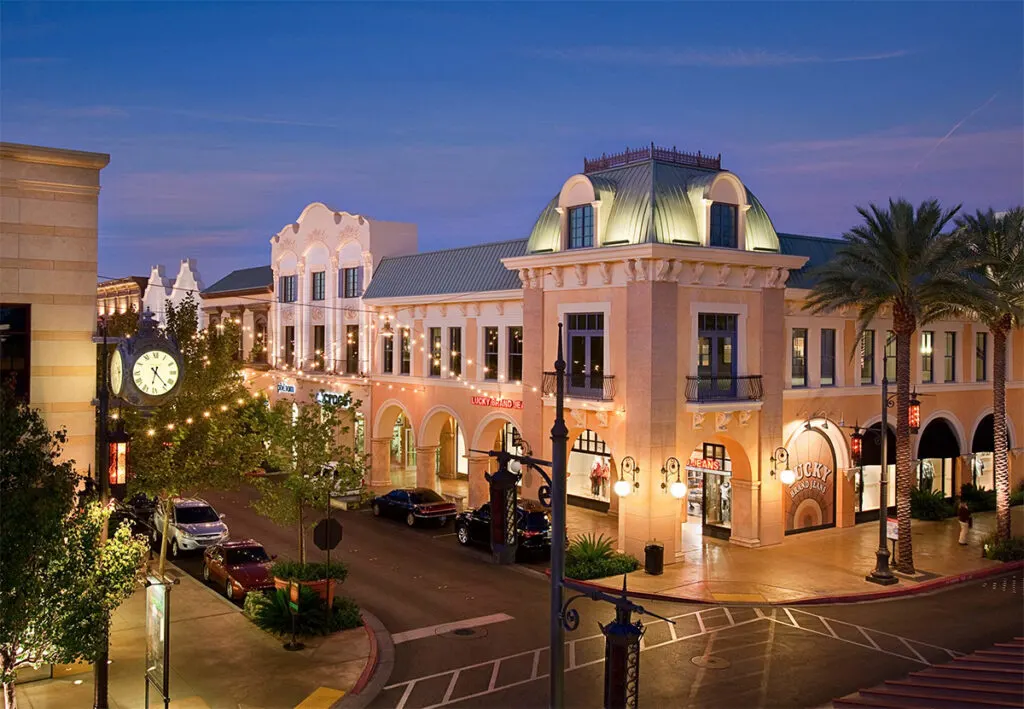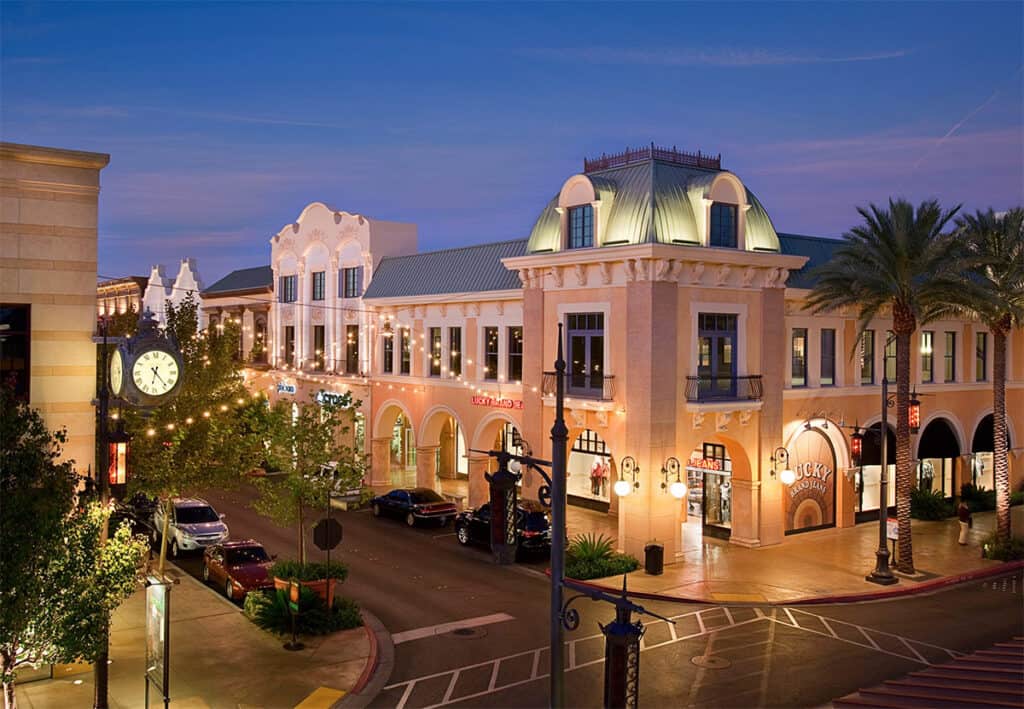 Town Square also offers a variety of sit-down restaurants to enjoy, with family favorites such as California Pizza Kitchen, Brio Italian Grille, Farmable Kitchen & Spirits, and Kabuki Japanese Restaurant. You'll also find entertainment options here including movie theaters, arcades, the children's park, the cactus coaster, and more.
If you're looking for a little bit of everything when it comes to shops and dining or want to bring the kids along, Town Square is the place for you!
---
Pawn Stars Pawn Shop!
I'm only including Rick Harrison's GS Pawn shop because it's the star of TV show Pawn Stars and I confess to watching it. Not that the "stars" are great talent, always fake grumpy and over acting. But the items are interesting.
If you've watched it you'll know owner Rick, his son Corey and gormless side-kick Chumlee are local (and international) celebs as people come by to try and pawn their wares.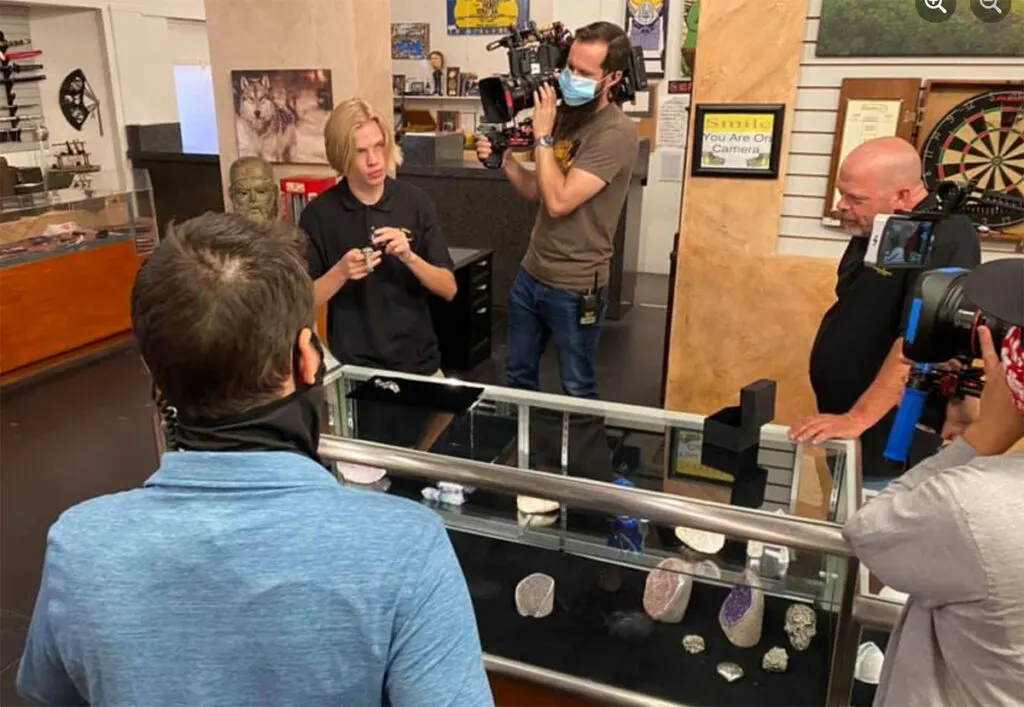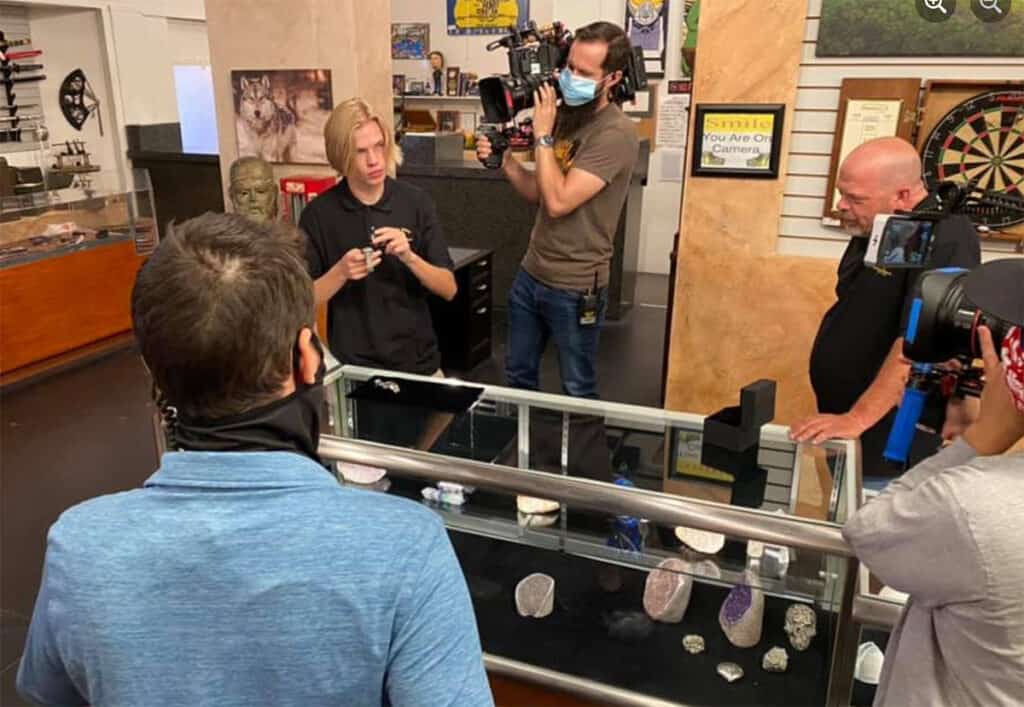 It's a working store, but you may not see Rick and the team. Word is they come out when the cameras are rolling. However, if you're in the area, pop in. You never know what you might find – including a bobble-head Chumlee.
Next door is Rick's Rollin Smoke for BBQ and a beer, and Chumlee has a candy store.
---
Shopping away from the Las Vegas Strip
---
Las Vegas North Premium Outlets
If you're looking for an outlet mall, you're in luck! The Las Vegas North Premium Outlets are where you need to go. This mall offers name-brand retailers at discounted prices up to 70% off, making it perfect if you're on a budget or want to save some money.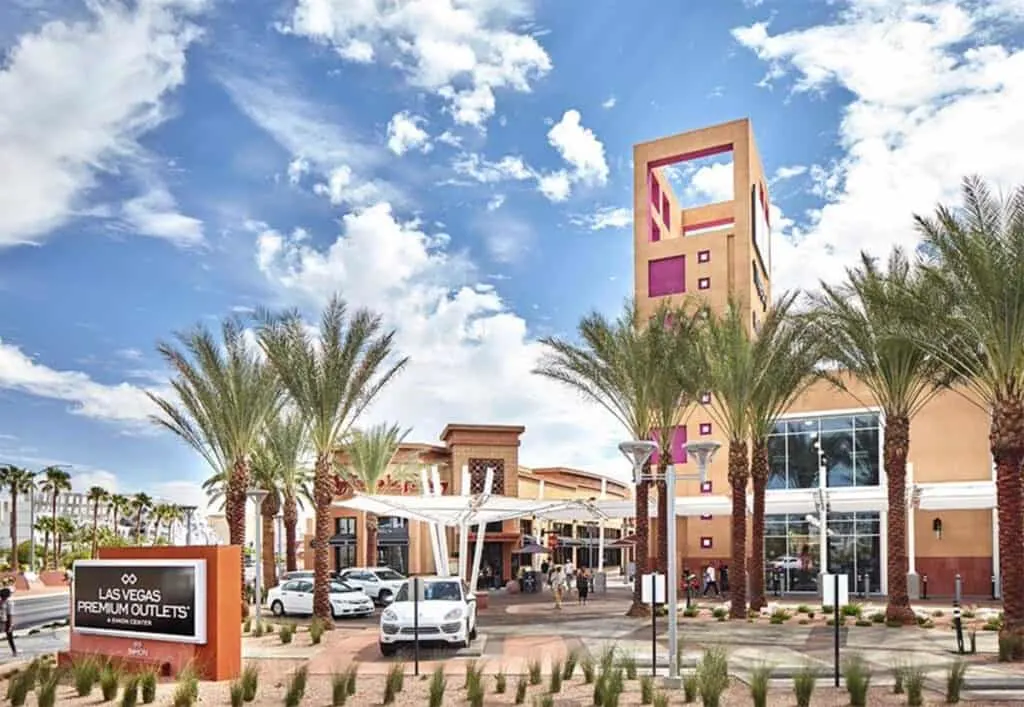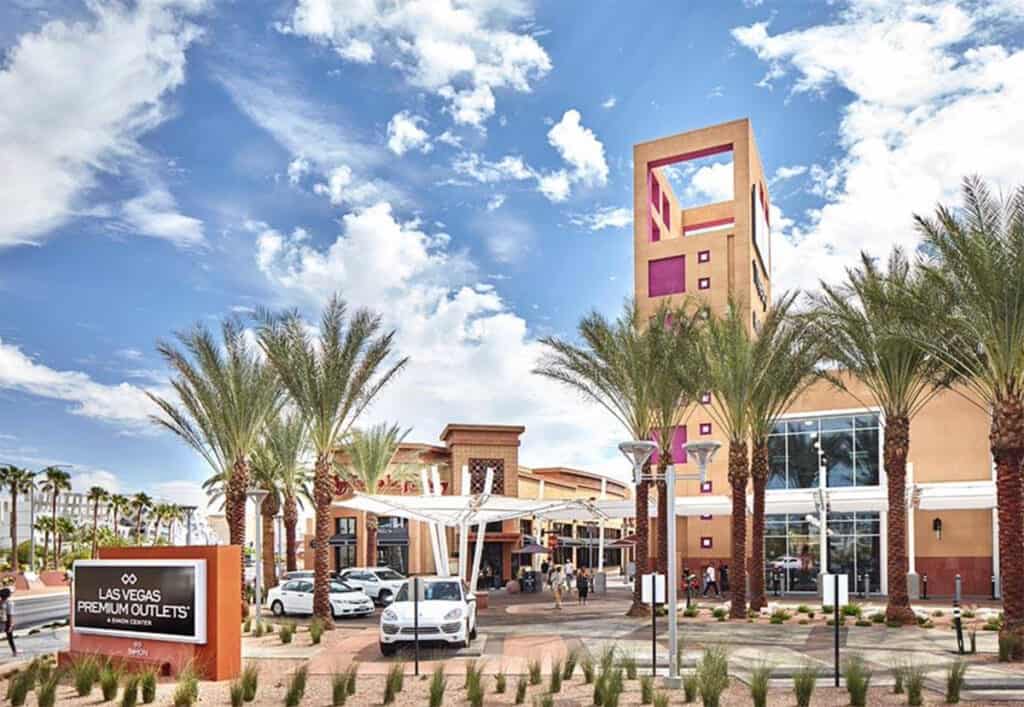 You'll find over 175 stores like Adidas, Nike, Banana Republic, BOSS Outlet, Calvin Klein, Burberry, Canali, Kate Spade, Jimmy Choo, Tory Burch, Prada, Crocs and more here.
In terms of food options, there are plenty of places to eat as well, ranging from sit-down restaurants such as The Cheesecake Factory to fast-food chains like Chipotle and Shake Shake and a food hall for eating on the run.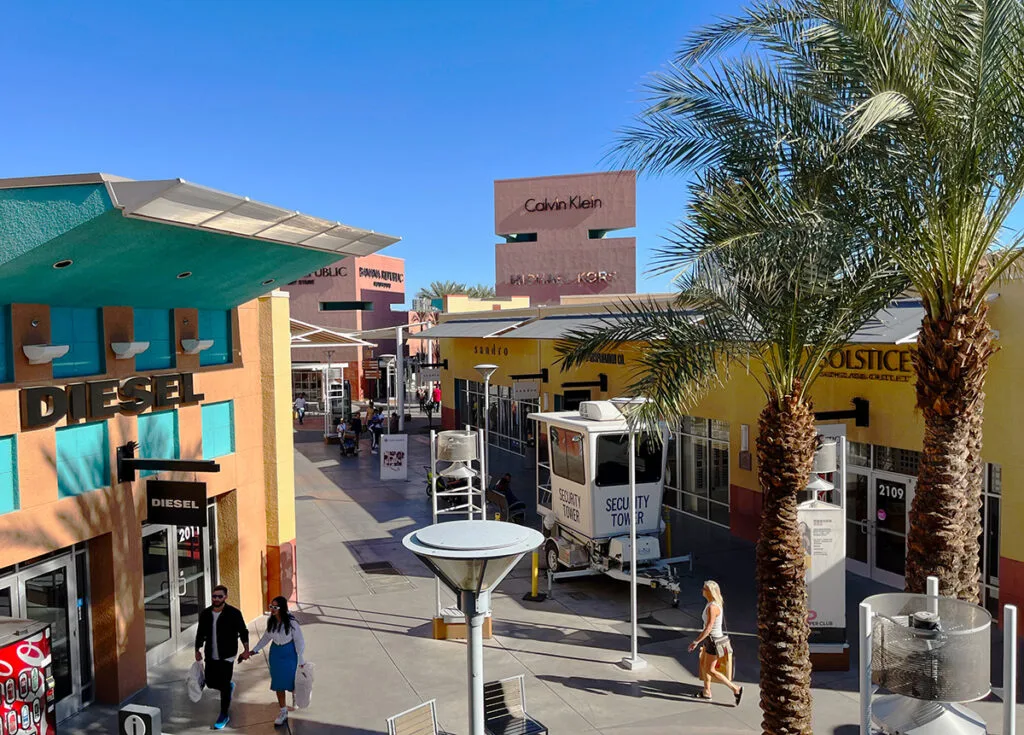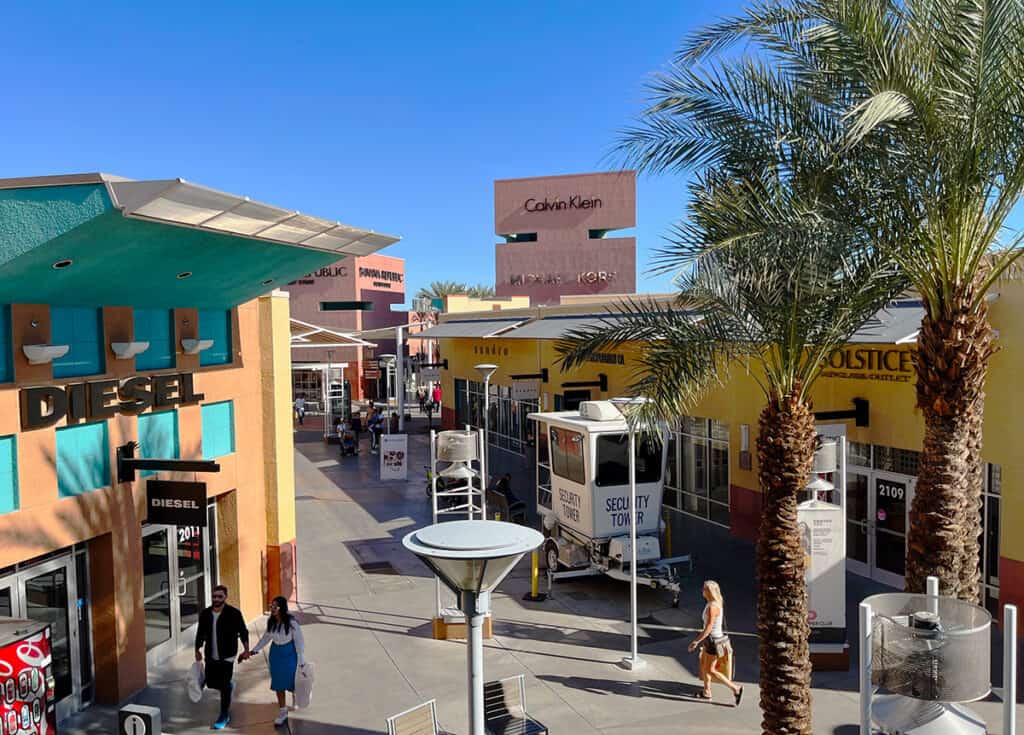 ---
Downtown Container Park
Located downtown on Fremont Street, the Downtown Container Park is another excellent place to shop. The entire mall is constructed from shipping containers featuring art galleries, local artists, and delicious eateries.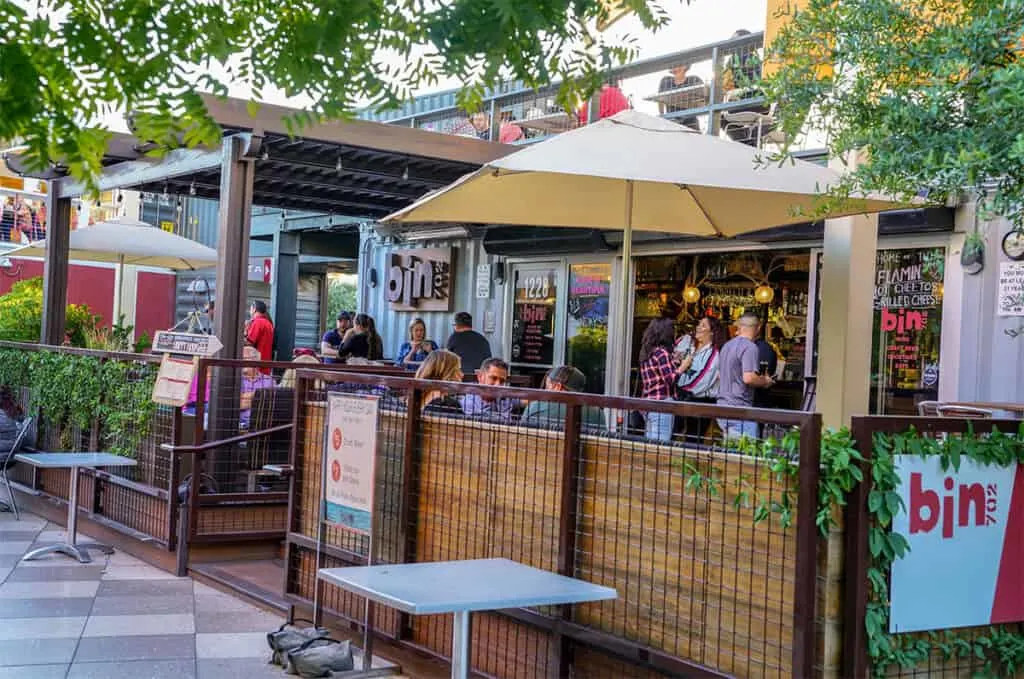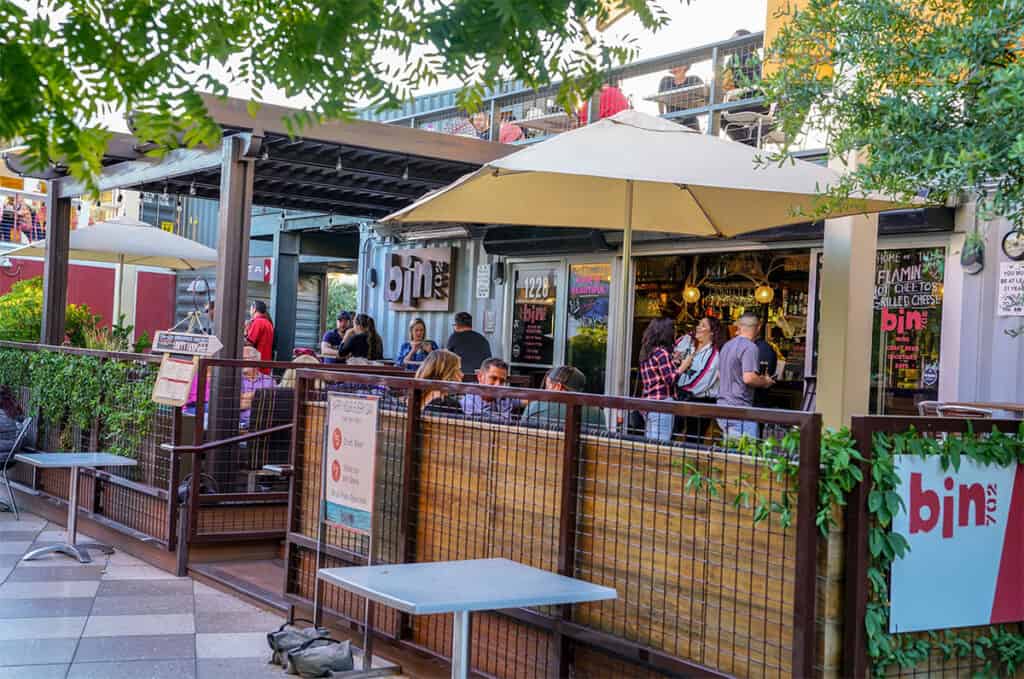 The Downtown Container Park features over 40 stores like The Olive Branch, Third and Arrow and Sassy The Boutique. Many of these places offer local artists and events for the community.
So while you won't find any big-name brands here, you'll most definitely leave with something unique that no one else will have.
Once you're done shopping, make sure to head over to Bin 702 for some delicious sandwiches, wine, and beer or the Mob Pie for delicious pizza. Plus, you can catch their daily drum circles if you stick around until sunset. If you're looking for a truly unique shopping experience, you'll want to check out Downtown Container Park.
---
Galleria At Sunset
If you're looking for a family-friendly mall that avoids the crowds you might find at the strip, you'll want to consider heading to the Galleria at Sunset.
The Galleria at Sunset is located 11 miles away from the strip and is a great place to find your favorite stores all in one place without the tourists.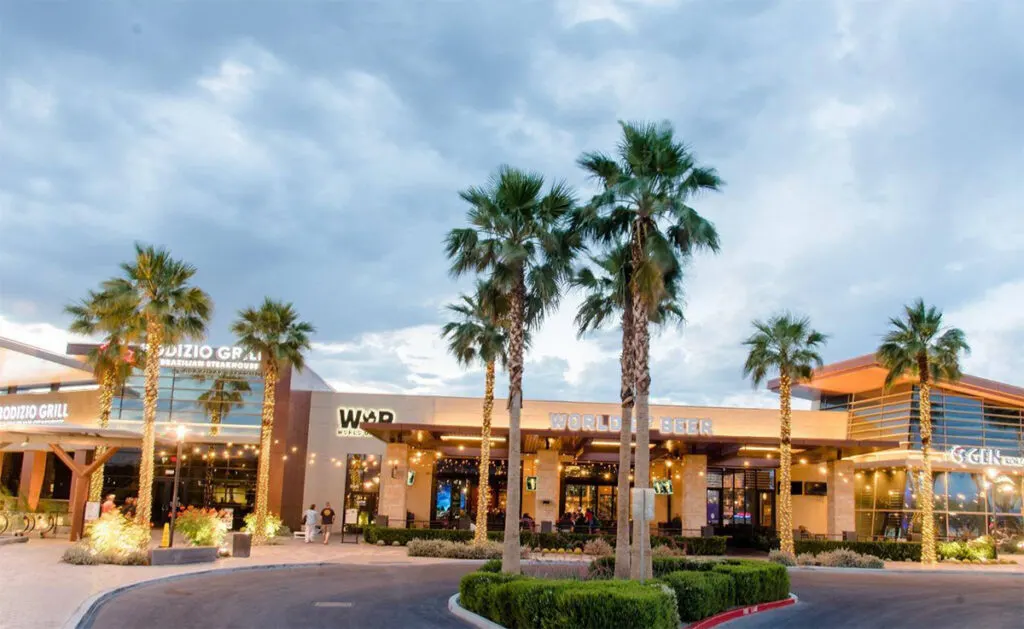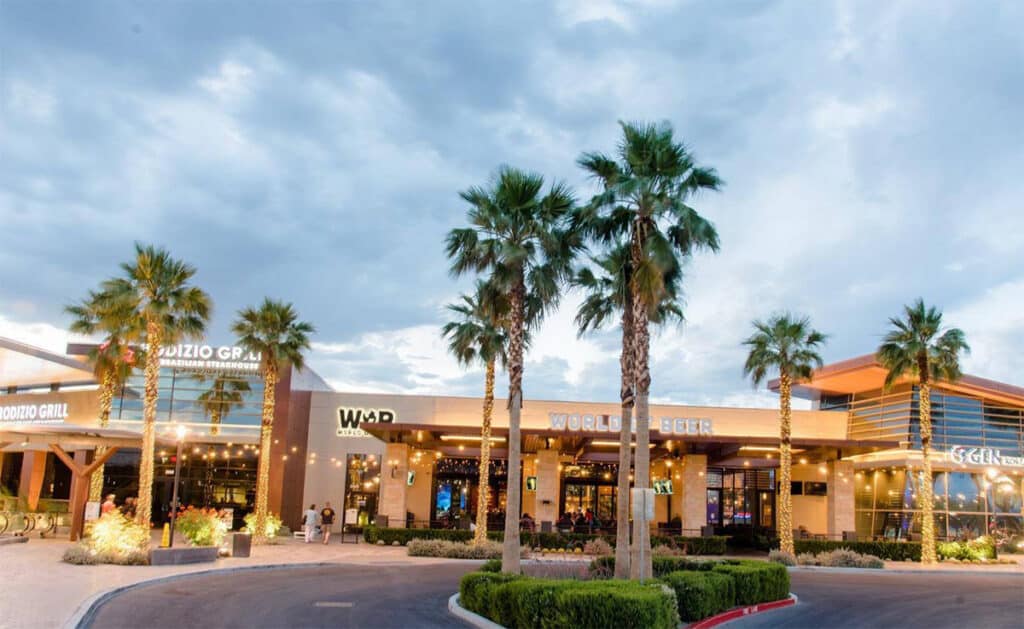 You'll find over 130 stores featured at the Galleria At Sunset, including American Eagle, Bath and Body Works, Charlotte Russe, Dicks Sporting Goods, Daniels Diamonds, Dillard's, Express, Famous Footwear, Forever 21, H&M, Hollister, JC Penney (yes!), Kohls, Macy's, Papaya, and more.
You won't want to miss their outdoor food court with delicious entrees from Gen Korean BBQ House, Red Robin, or DQ. Plus, they also have live performances by various local artists at Rodizio Grill every Friday night!
While it's not anywhere near as fancy the shopping on the strip, the Galleria at Sunset is a great place to find some good deals and escape the hustle and bustle.
More of my Las Vegas posts!
If you're looking for something different and quirky to do in Las Vegas, you'll love this list with some really fab ideas for things to do in Vegas, especially if you're not into gambling.
I cover some of the best pools in Las Vegas for a day relaxing in a cabana or floating on a lazy river, or even one with swim-up blackjack tables!
Las Vegas is also famous for the hundreds of live shows. I've narrowed down the list and picked 27 of the best shows in Las Vegas to see, from magic to concerts, acrobatics to comedy.
Las Vegas is a fun destination for families as there is just so much to do here outside of the big hotels. Check out this list of 21 fun spring break destinations for families in the US, which features Las Vegas.
Or this post all about taking the kids to Vegas, 23 epic things to do in Las Vegas with kids.
If you liked this shopping post, you might love my Shopping in NYC post too!