Prepare yourself! Las Vegas is a crazy, bustling city popping with too much energy in the middle of the desert.
Even as you fly in, the scene is set for what you're about to experience when miles of sand suddenly turns into skyscrapers, pyramids, plops of green golf courses, impossibly blue swimming pools and a spiderweb of roads.
A visit to Las Vegas is all about fun, adventure, creating memories to last a lifetime – and it's not all about casinos any more. In fact there is so much to do in Las Vegas you could be here a month and still not do it all.
And that's before you even get to the incredible shopping in Las Vegas from malls to outlets to Italian cities in the middle of epic-sized hotels!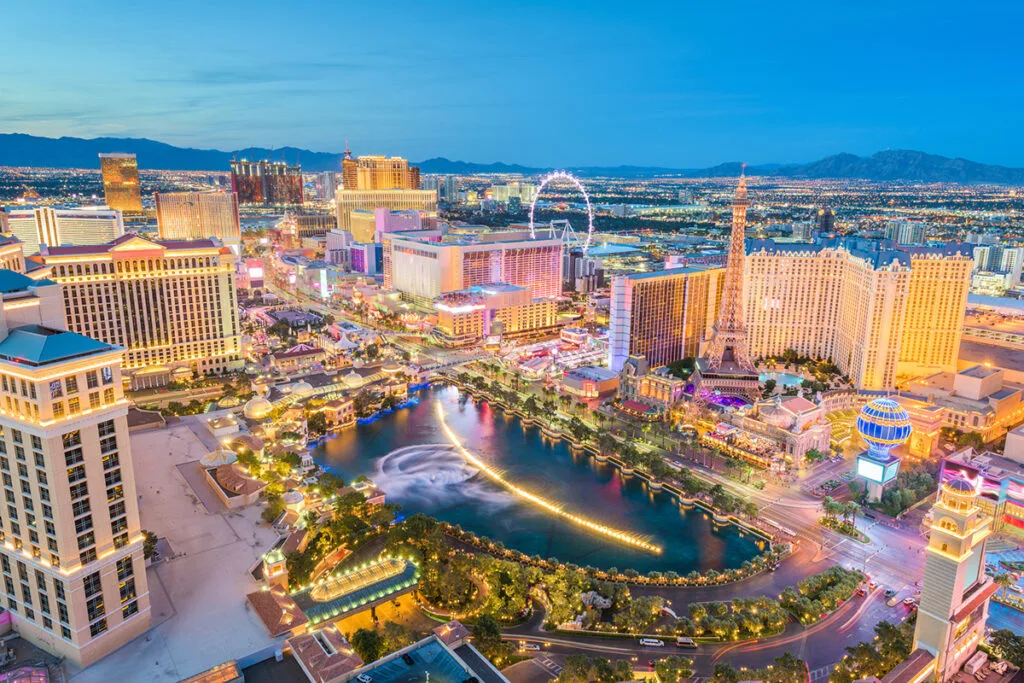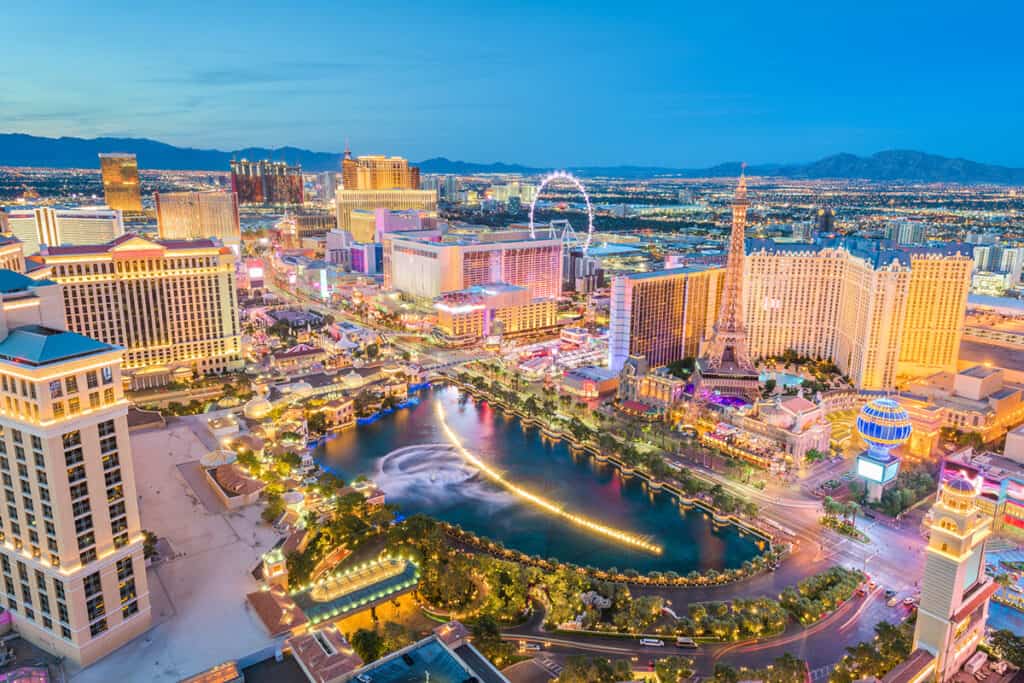 But this post is about the best shows in Vegas, to help you whittle down the list.
With a population of over 600,000 people, Las Vegas is the 26th most populous city in the US. Many have flocked here not only for its abundance of affordable housing, but also for the access to some of the most engaging shows that can be found in the US. Period!
If you only have one day, maybe you're here for a conference or you're just whizzing through, this post on how to spend a day in Las Vegas covers my favorite things to do!
If you've never been to Las Vegas or you tend to only hit the tables when you do, and you want to find out what else this amazing city has to offer, you've come to the right spot.
Through first-hand experience and a bit of research, we've come up with this list of the best Las Vegas shows in the entertainment capital of the world!
And if you want to know what the Las Vegas weather holds for your trip, check out the 10-day forecast on Weather.com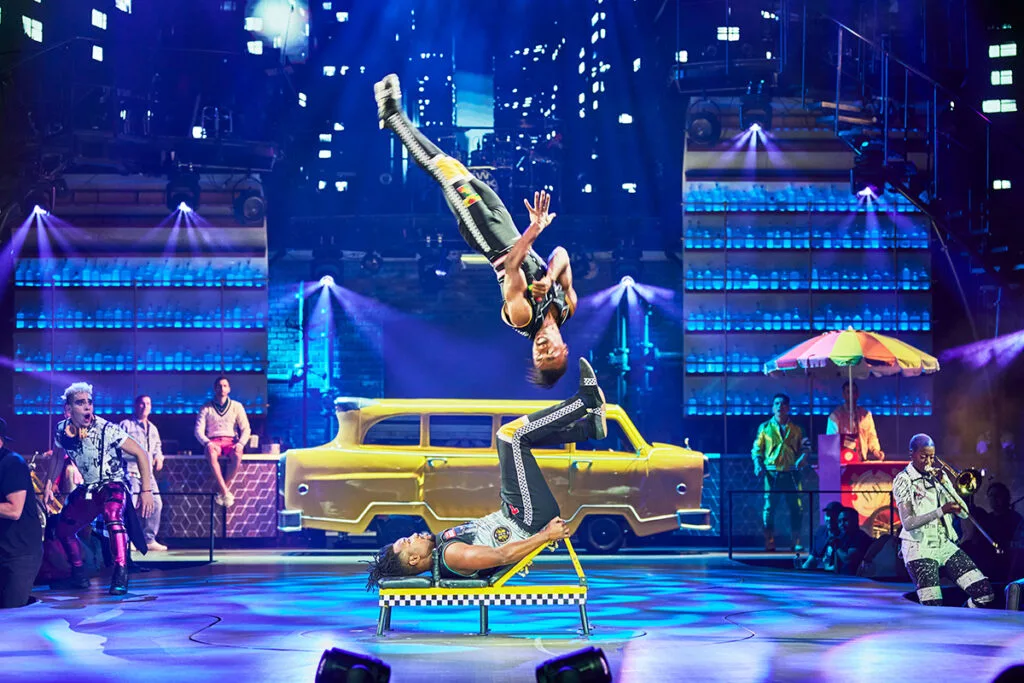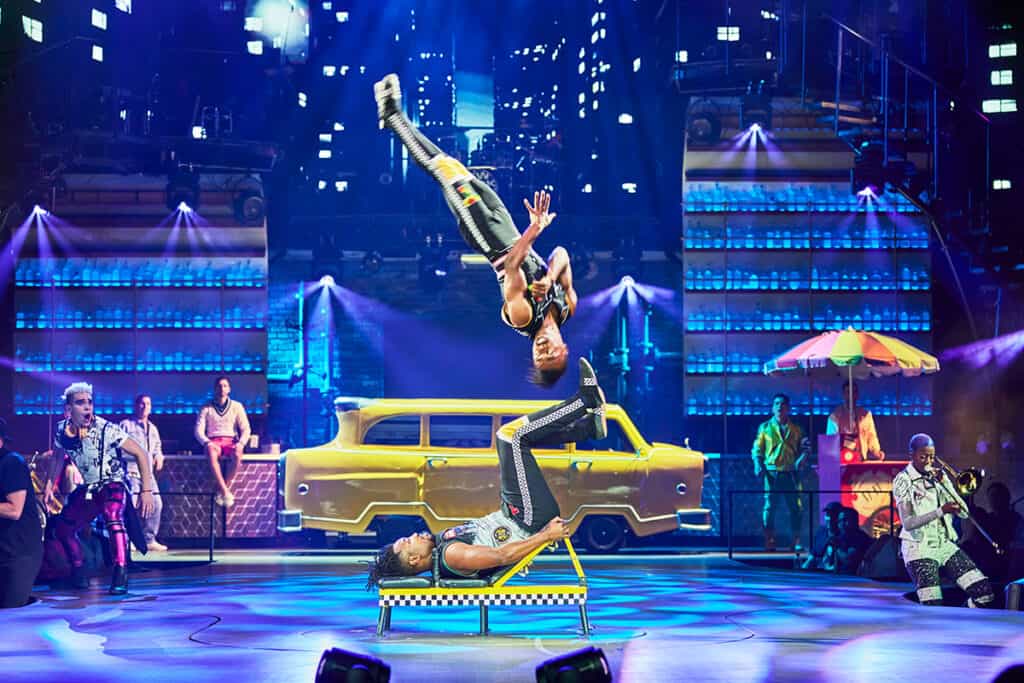 You've got to see a Cirque Du Soleil show!
For a mind-blowing demonstration of human acrobatic skill and incredible costumes and stage design, look no further than Cirque Du Soleil. These hugely popular shows are known worldwide for their eccentric routines.
They use everything from special effects with lights, music, and visual stimulus, plus the breathtaking stunts of the performers (some are ex-Olympic gymnasts) to pull your attention any which way they want to.
There are six resident Cirque Du Soleil shows in Las Vegas and I have been to five of them. (Clearly I need to get back there asap!)
Where: Treasure Island
They say the first Cirque show you see is the one you'll love the most. I think this is true for me. Mystére was my first ever attendance and this spectacular show had me in the first minute.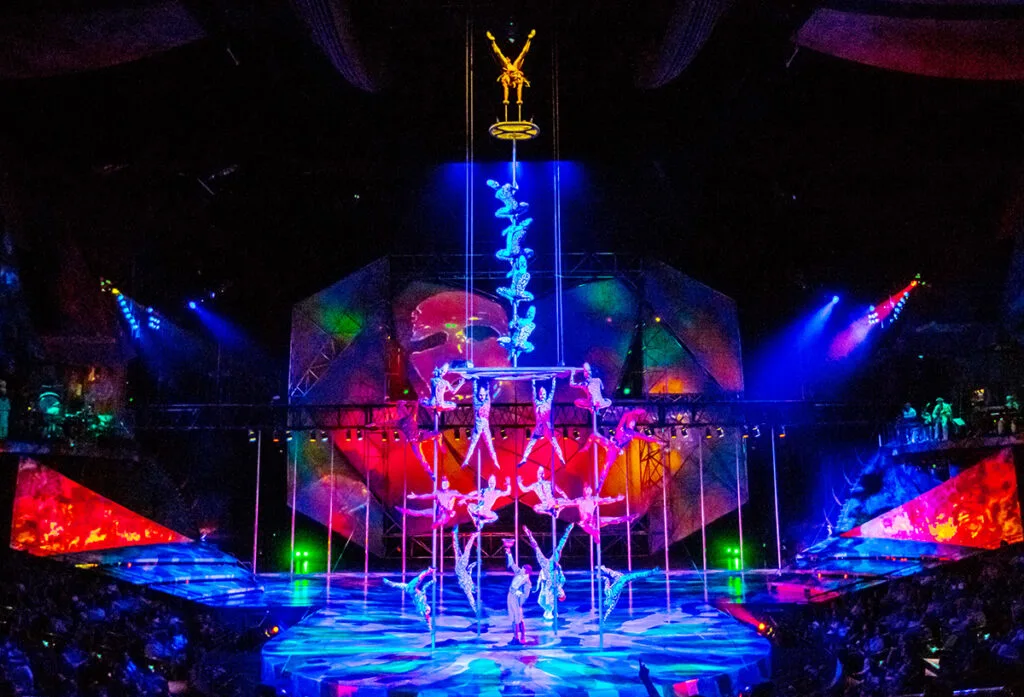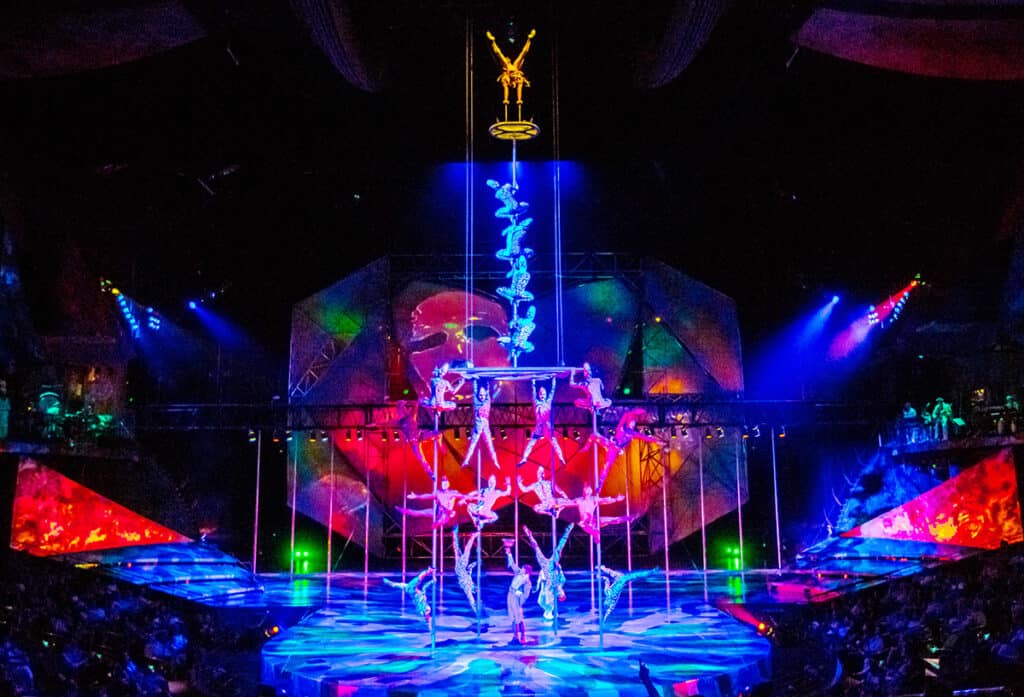 It is also the first-ever Cirque Du Soleil show to score a residence in Las Vegas, and you can expect a fantastic live show full of vibrant costumes and vivid set designs showcasing talented Cirque performers taking you inside the imagination where the world is a jaunty, music-filled adventure bright with color and athleticism.
Where: The Mirage
This show combines the beauty of Cirque with music from the iconic band, The Beatles.
If you thought their Sgt. Pepper era was trippy, wait until you see Cirque Du Soleil's interpretation!
Some of my personal favorite numbers from LOVE include Lucy In The Sky With Diamonds and Yellow Submarine. Although, I am sure you will not be able to keep your eyes off the stage throughout the entirety of the show.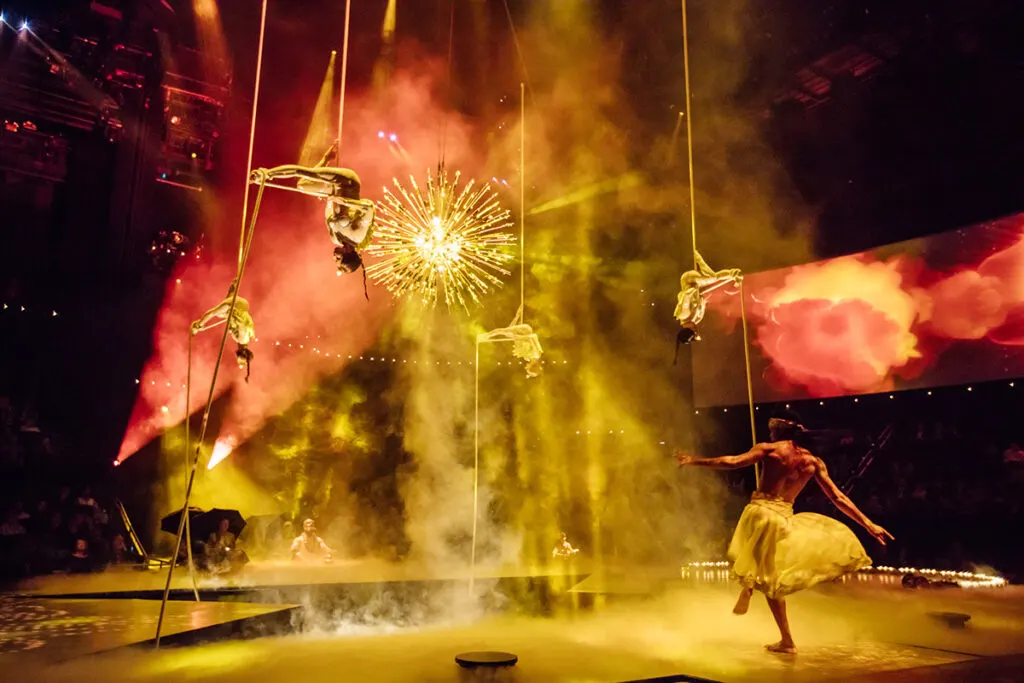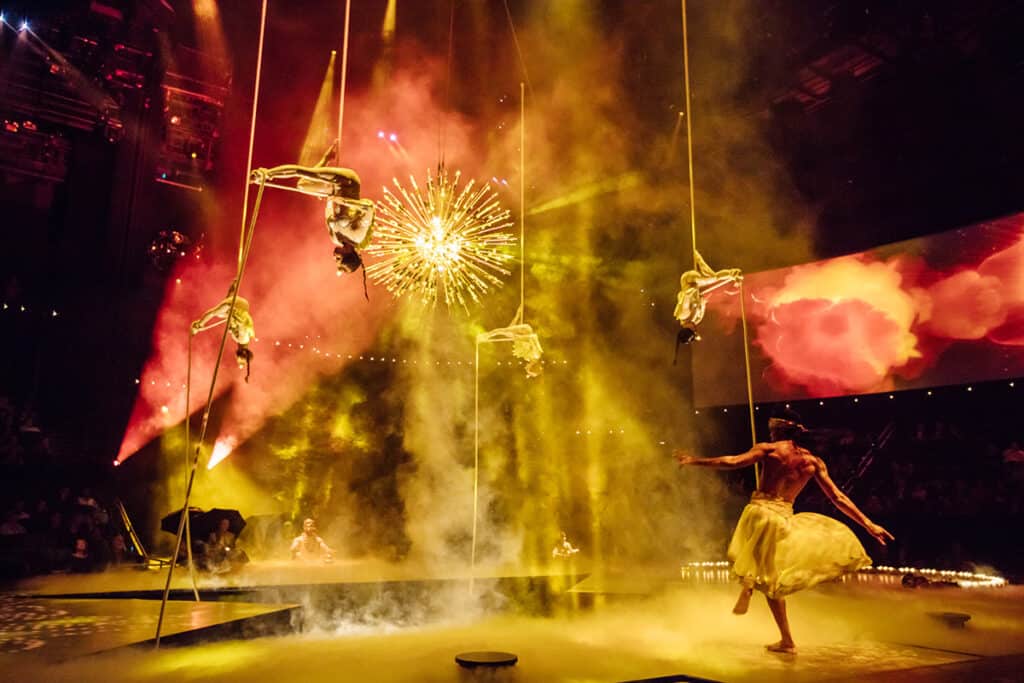 Make sure you don't need to slip out to the bathroom mid-performance, like I did though. When I came back in the entire audience was under a sheet! (I'll leave you to experience what that was about for yourself).
Where: MGM Grand Hotel & Casino
KÀ takes the audience through a series of battles that keep you on your toes the whole time. It's dark and fast and loud, and the stage moves and turns and tips while the performers manage to somehow defy gravity and not fall off!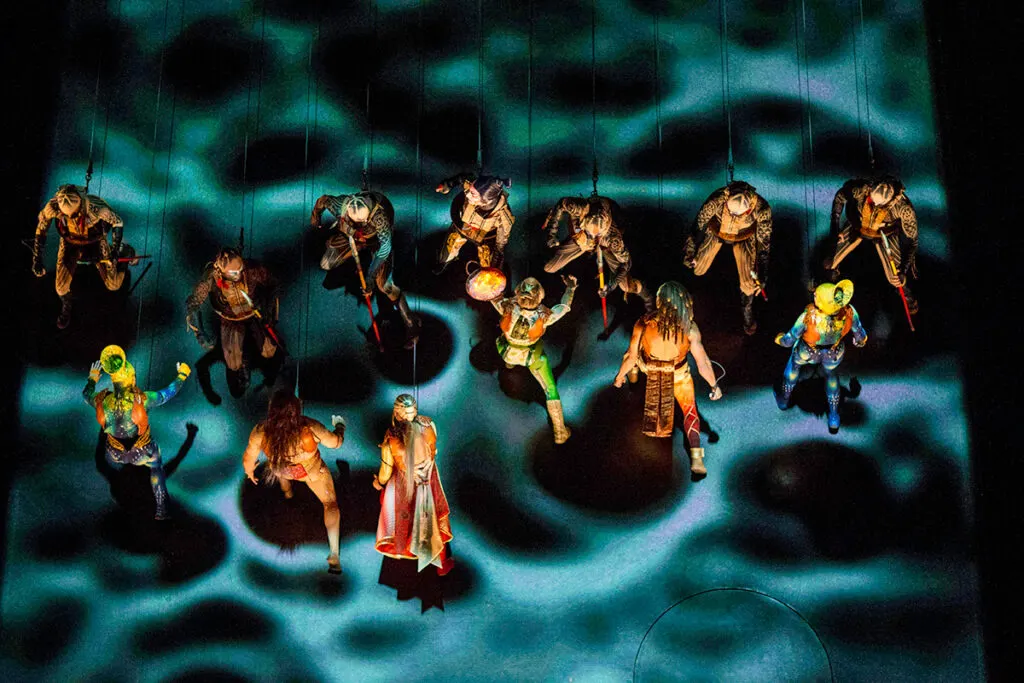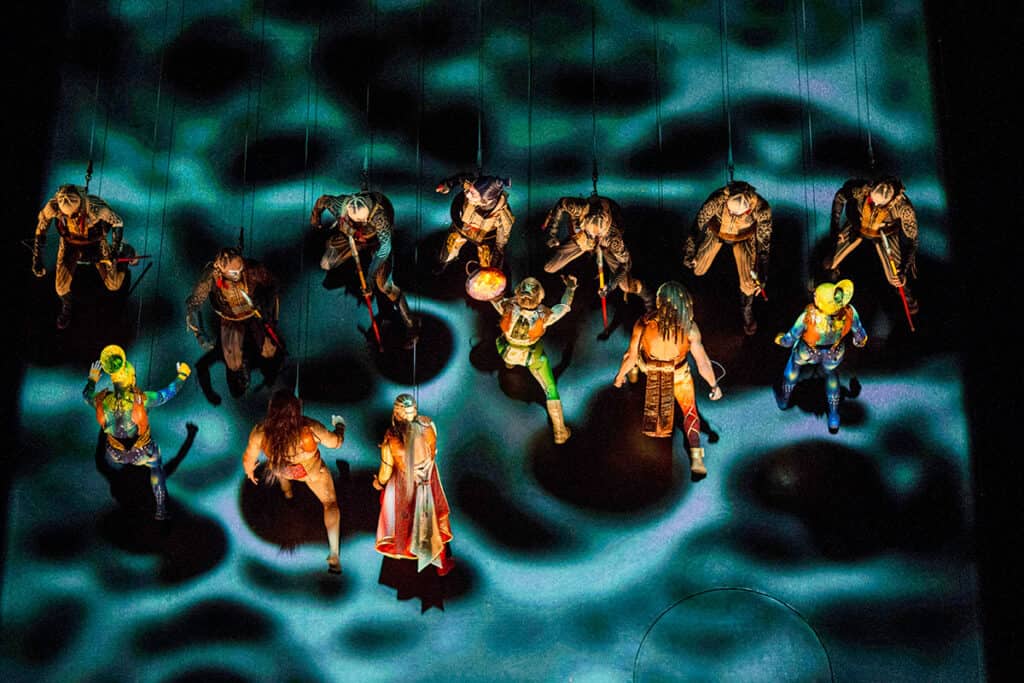 The makeup and costumes truly bring the entire show together. But it's the acrobatic stunts you'll be talking about long after you leave.
Where: Mandalay Bay Resort & Casino
Fans of Michael Jackson will adore this tribute show in honor of the King of Pop.
Talented Cirque Du Soleil performers bring MJ's music to life, complete with beautiful costumes, intricate set designs, and next-level acrobatic stunts that sees them bend and move in ways you didn't know the human body could.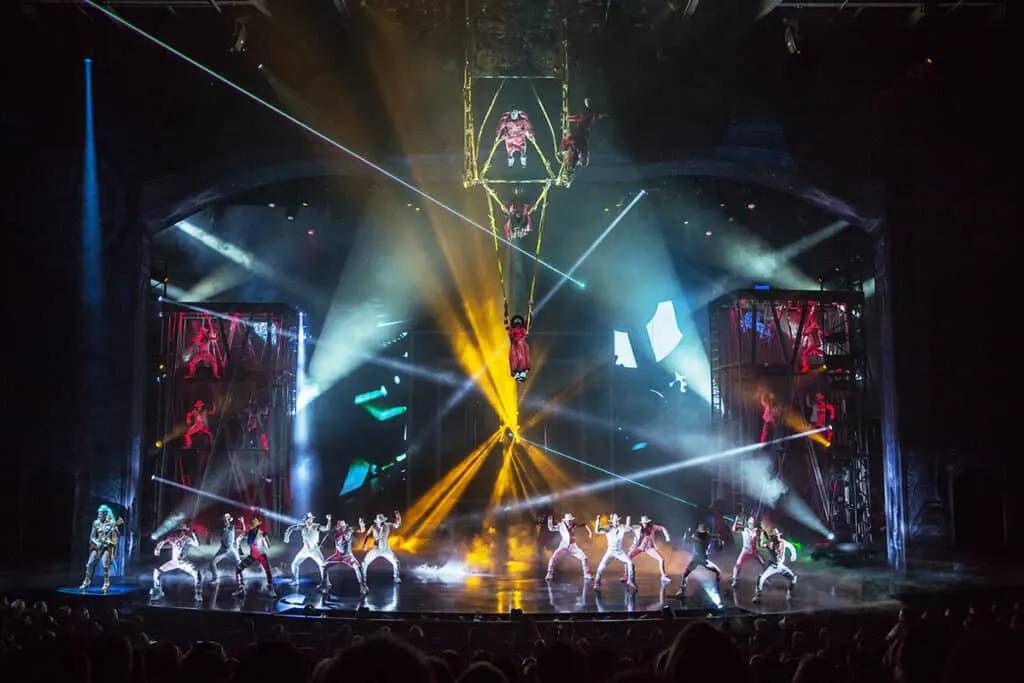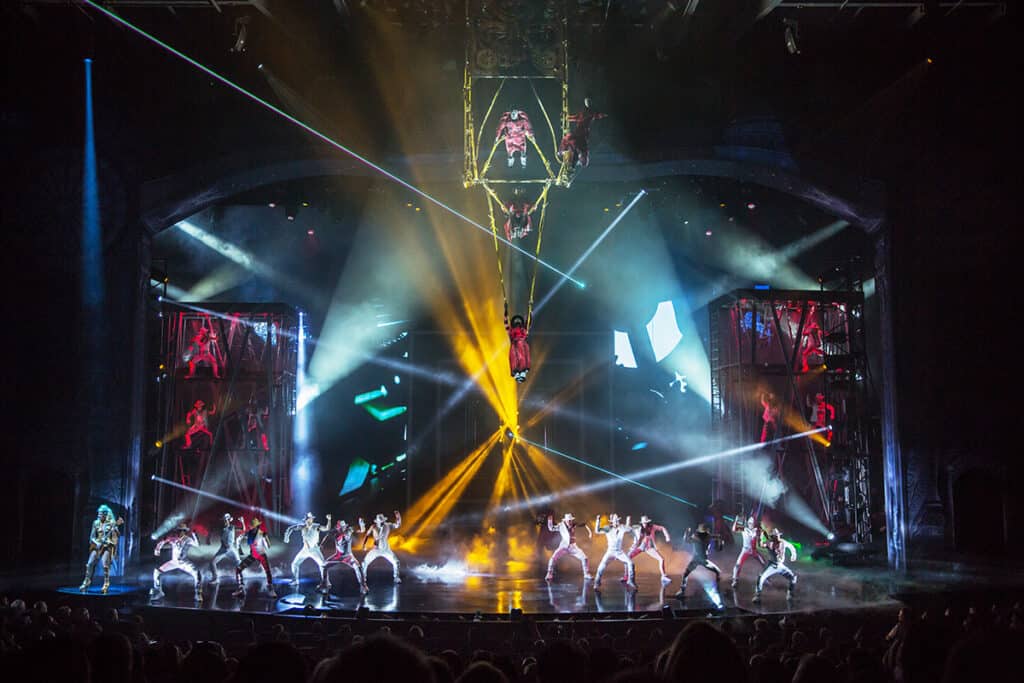 Michael Jackson himself even makes a brief appearance on stage in the form of an exceptionally clever hologram. ONE is undoubtedly an exciting and memorable show that you will not want to miss during your next trip to Las Vegas.
Check out Michael Jackson ONE tickets here.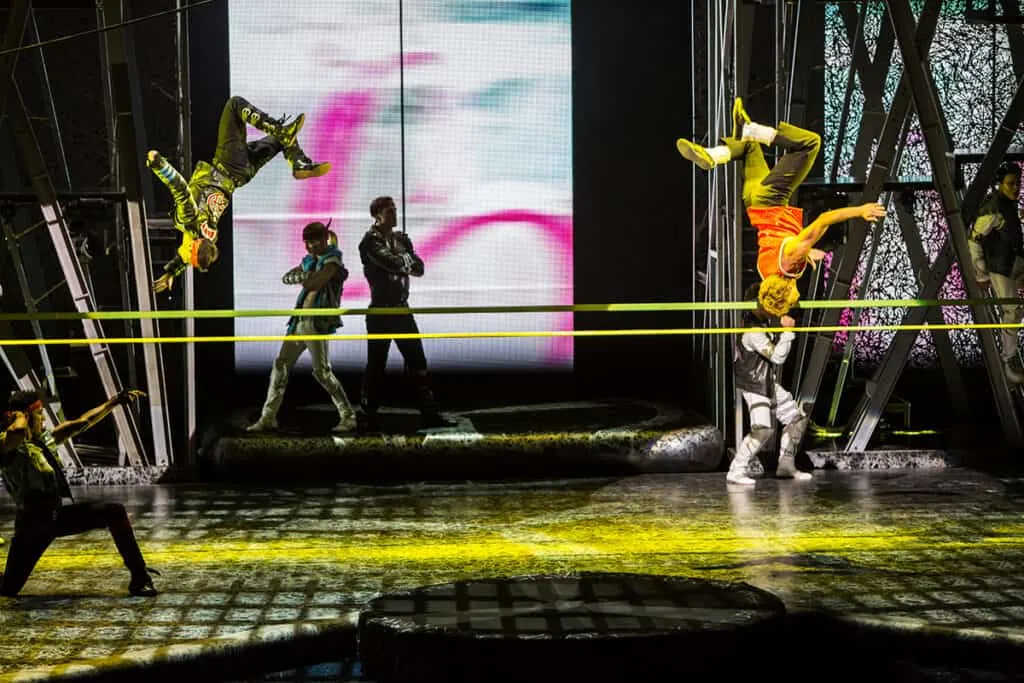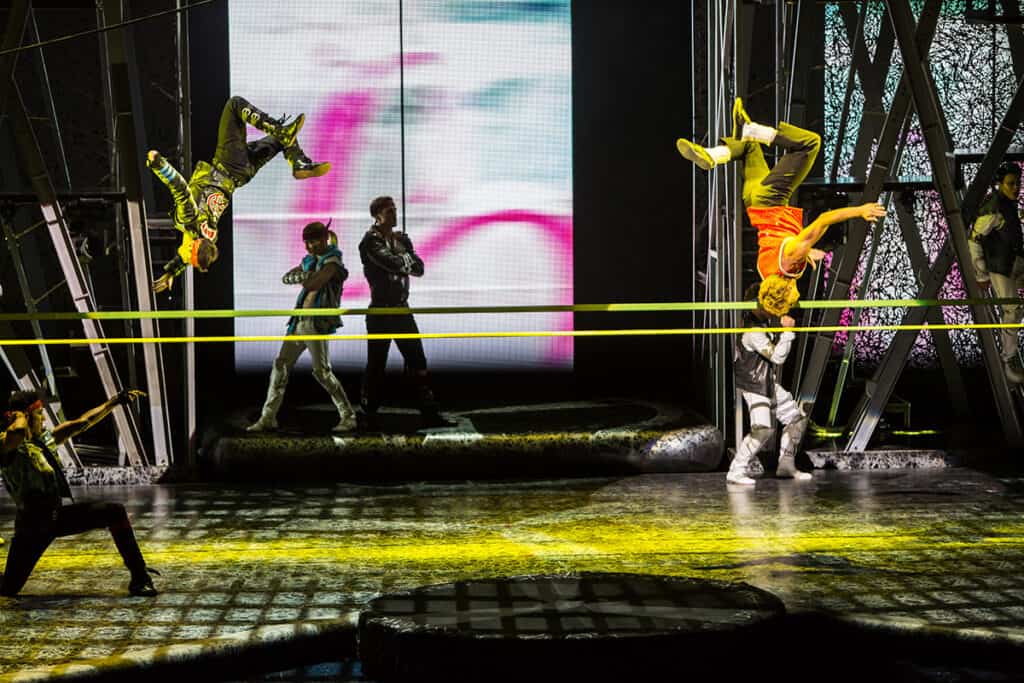 Where: Bellagio Hotel & Casino
This Aquatic-inspired Cirque show is packed with jaw-dropping moments. It is another high-energy show from the Cirque athletes and has one of the most fascinating sets in which the stage submerges underwater.
Performers utilize water in nearly every element of the show. If you want to take the evening one step further with the best seat in the house, splurge on tickets in the Golden Circle.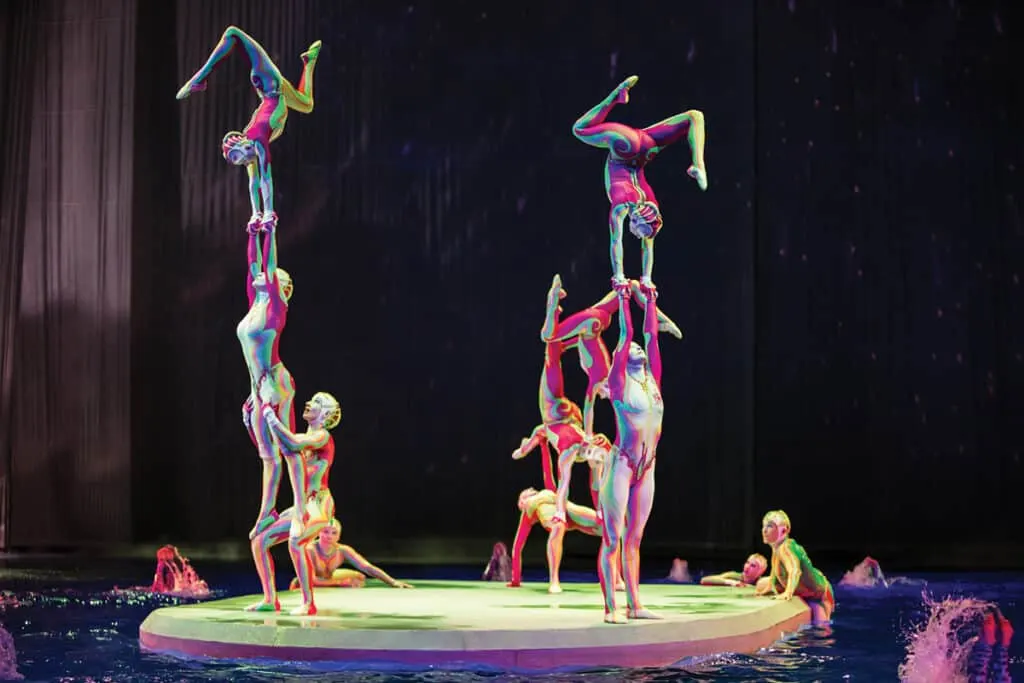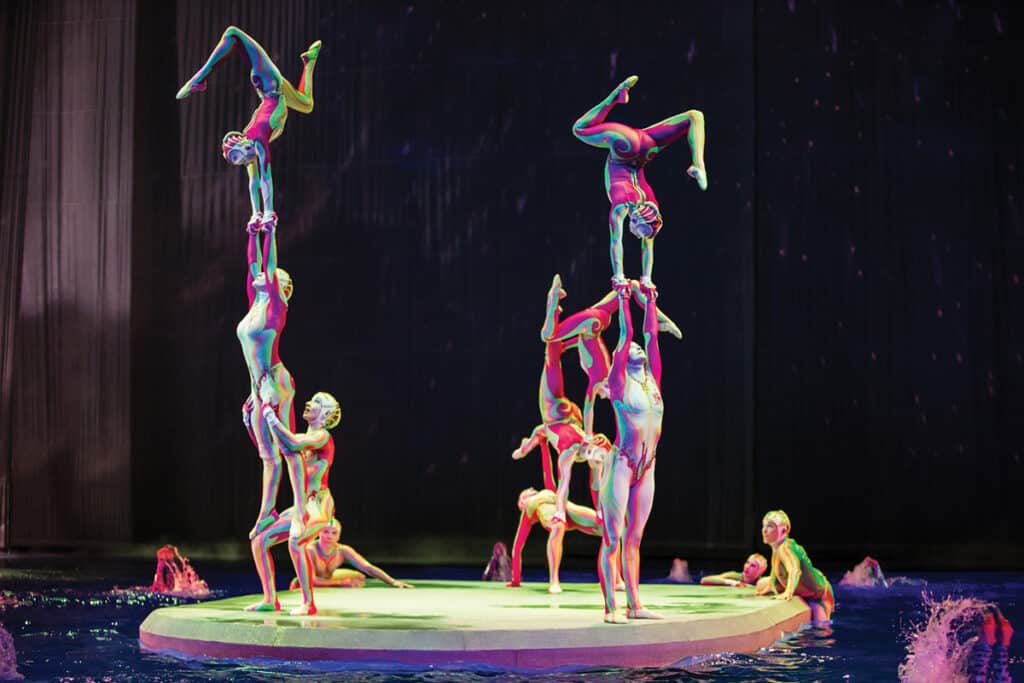 I was lucky enough to have a behind-the-scenes tour here when I was visiting with some media. It was fascinating to learn that divers holding breathing apparatus are positioned under water for the performers to breathe on while they wait for their next stunt.
Where: New York – New York Hotel & Casino
Mad Apple is the newest Las Vegas Cirque Du Soleil show, and it does not disappoint. You will enjoy watching death-defying acrobatic stunts, music, dance and even comedy as well as an incredible cover of Jay-Z's and Alicia Key's iconic hit Empire State Of Mind.
Of course, this Big Apple-inspired show is set at the fabulous New York-New York Hotel & Casino. On most evenings, the hotel also offers live music on the Brooklyn Bridge (the Las Vegas version of the bridge, that is).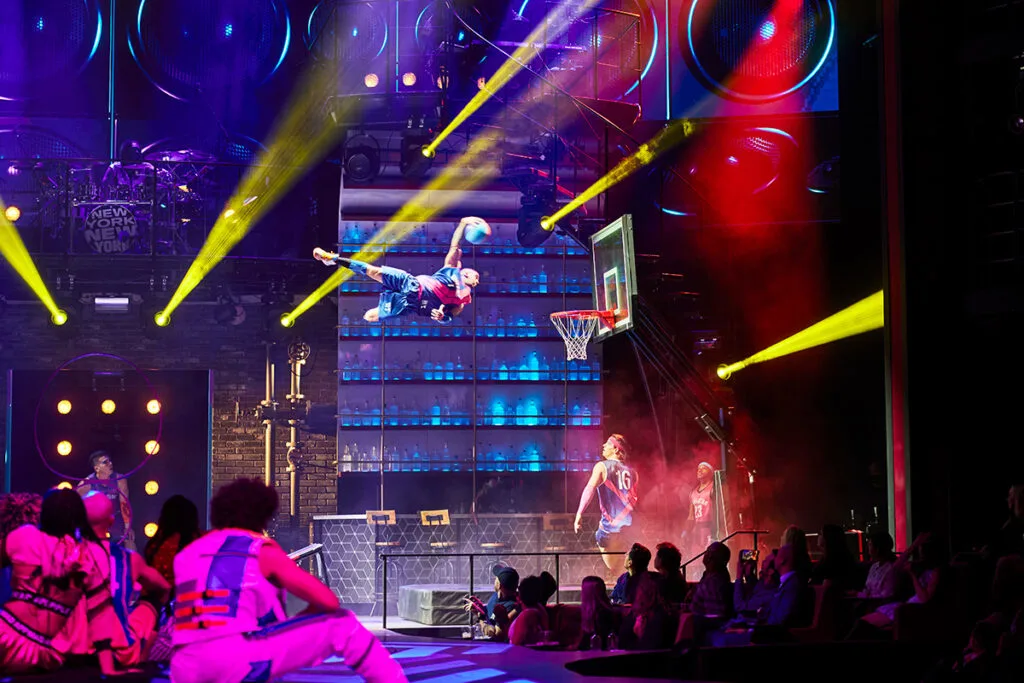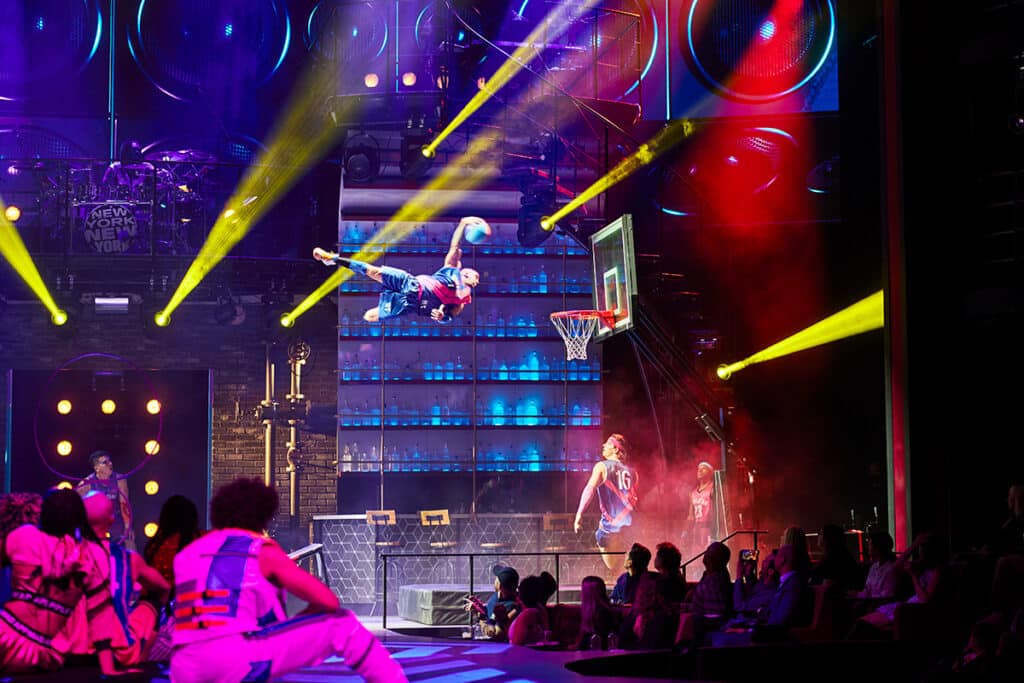 Where: Luxor
If you're an America's Got Talent fan you'll know many of these previous winners now on the stage in Vegas! Come and be thoroughly entertained by past season's winners and fan favorites as they perform their daring feats, hilarious comedy, and fabulous music.
Where: Ceasar's Palace
Leave your sensibilities at the door for this R18 show by Spiegelworld. Absinthe is fast and frivolous with acrobatics and lots of sexy. It's intoxicating in its energy, filled with raunchy jokes – and if you don't want to be pulled on stage for a lap dance, you should look away!
Where: Cosmopolitan
This is another mind-altering Spiegelworld show where you'll travel into space with gravity-defying acrobatics and much hilarity. You'll be served cocktails, pizza and ice cream by "flight attendants", so buckle in and enjoy the ride. Tickets from $99.
Where: Dolby Live at Park MGM Las Vegas
An Evening With Silk Sonic featuring Bruno Mars and Anderson Paak is a must-see. The pair sings classic R&B, soul, and pop tracks. However, we cannot dismiss the nostalgic costumes and set design involved that make the live show unforgettable.
They debuted their Las Vegas residency in February 2022 and have more performances scheduled through to August.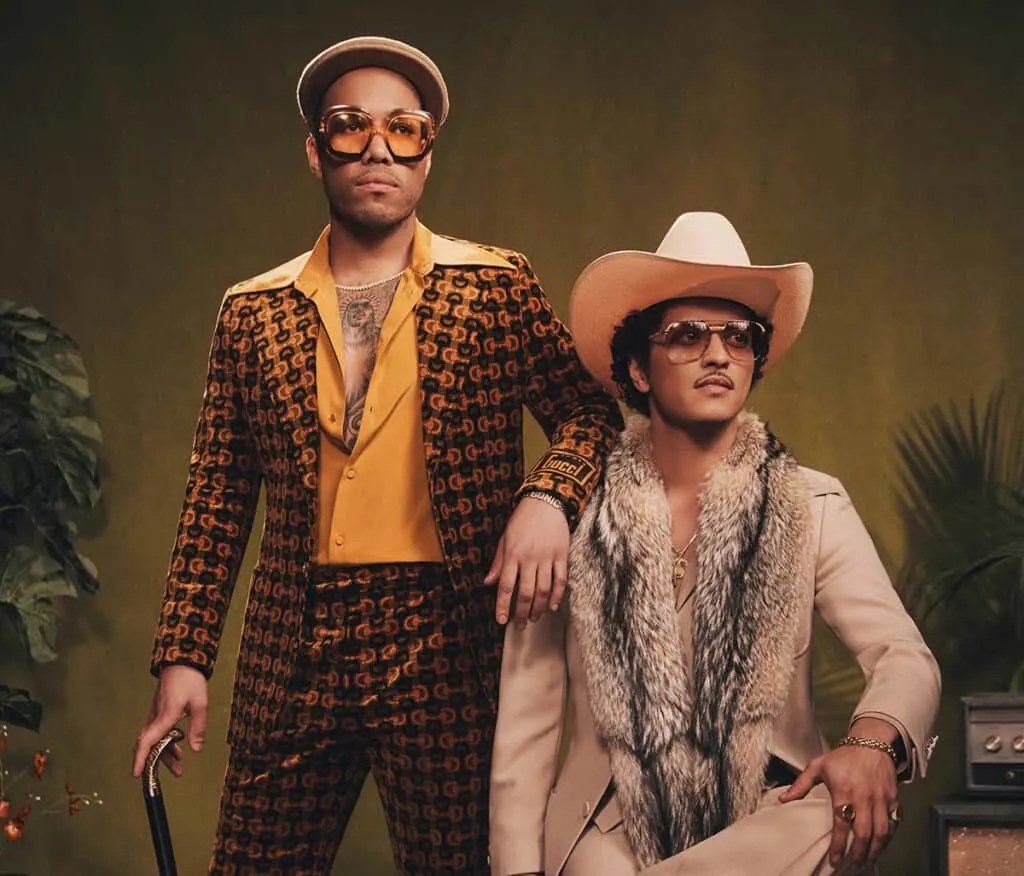 Where: Rio Hotel
Las Vegas is well known for shows that will leave you on the edge of your seat and WOW is one of those shows that accomplishes just that.
WOW has racked up an impressive string of awards as it's been voted as the best family friendly show, best value show, best production show, and best new show in Las Vegas several times over. In fact, it won out on the competition for Best in Las Vegas from all of the shows offered!
WOW incorporates so many different elements into the show that makes is a spectacularly wild ride from start to finish. From acrobatics to plate spinning, roller skating to full blown musical dance routines, your attention will be glued to the stage throughout the entire show.
Where: The Venetian
This raunchy and wildly entertaining show by Spiegelworld should be on your Las Vegas trip itinerary. The Atomic Saloon Show boasts talented gymnasts, dancers, and even an adorable dog. Plus, they offer terrific cocktails at the saloon that you can sip on before the show starts!
Fast, funny and sexy, Atomic Saloon Show is for audiences age 18 and above.
Where: Alexis Park Resort
This stellar live show is the only all-Elvis Presley tribute show in Las Vegas. Fans are in for a treat to hear some of Presley's top hits like Hound Dog and Jailhouse Rock.
Although, you may run into other Elvis impersonators around Sin City, including at the Graceland Wedding Chapel, where the King of Rock and Roll officiates your ceremony. In fact, I gate-crashed an Elvis wedding and it was such fun!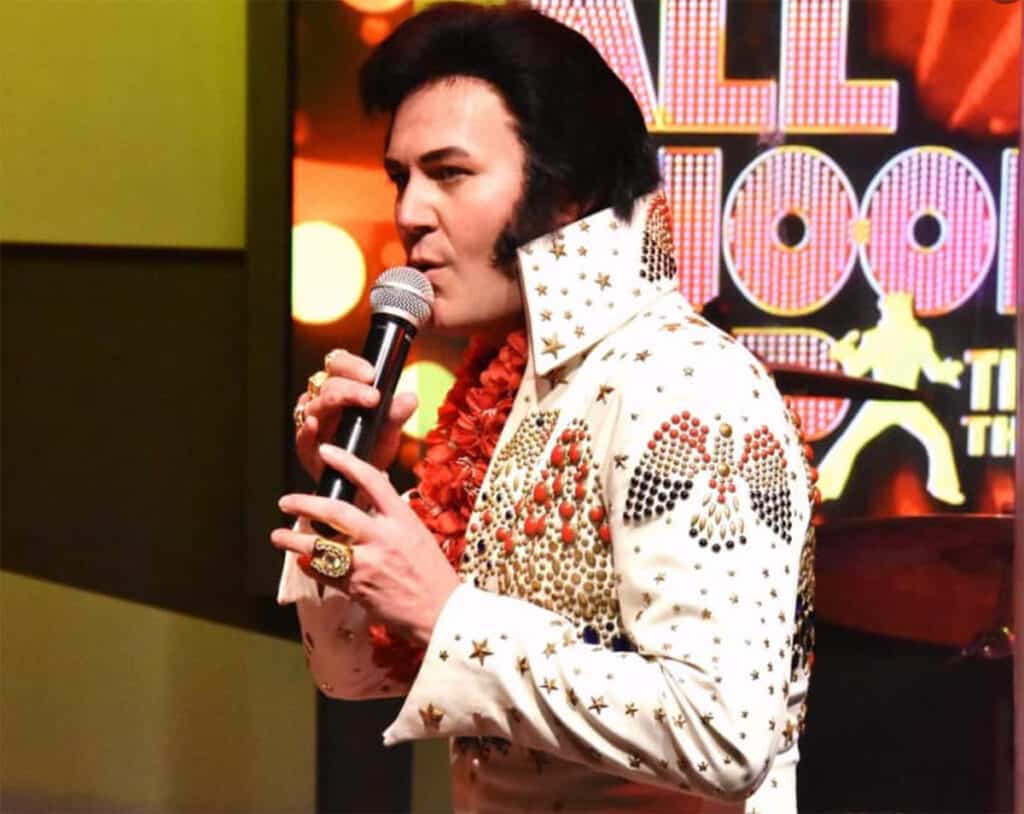 Where: Luxor Hotel & Casino
Another widely recognized group around the world is the Blue Man Group. Known for their signature blue body paint and the absence of ears, the Blue Man Group combines lights, music, paint, and special visual effects to capture your attention for the entire show.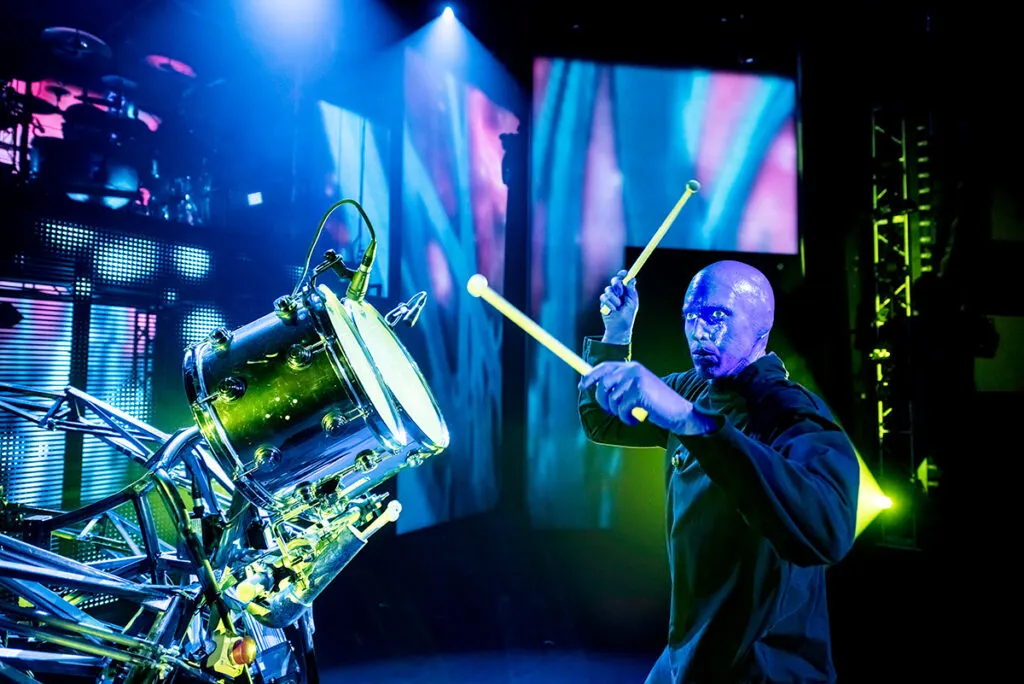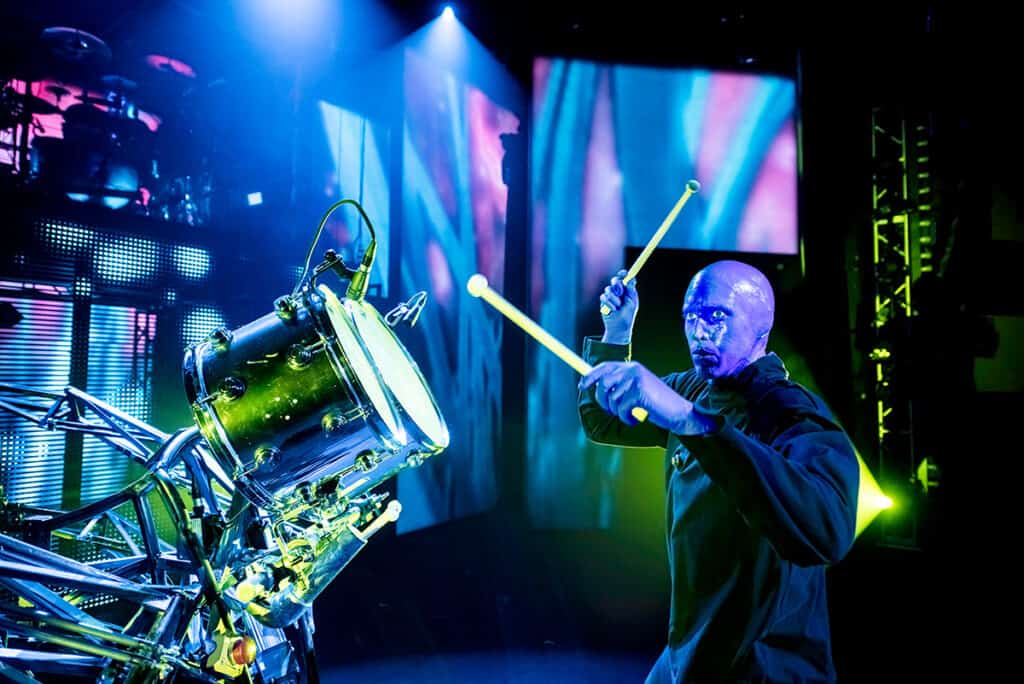 They combine music with comedy to make you laugh and then switch the mood in the blink of an eye to elevate your spirit, pumping you full of energy.
The Blue Man Group is a family friendly show that everyone in your group will enjoy. Not only do they perform in a way that people of all ages will enjoy the show, they also are very progressive by offering sensory-friendly performances so that those who are affected by autism are also able to enjoy the wonder of a Blue Man Group performance.
Tip: sit in front of you want to be part of the action!
If you're taking the kids to Vegas, I have 22 epic things to do in Las Vegas with kids in this post and Blue Man Group is one of them.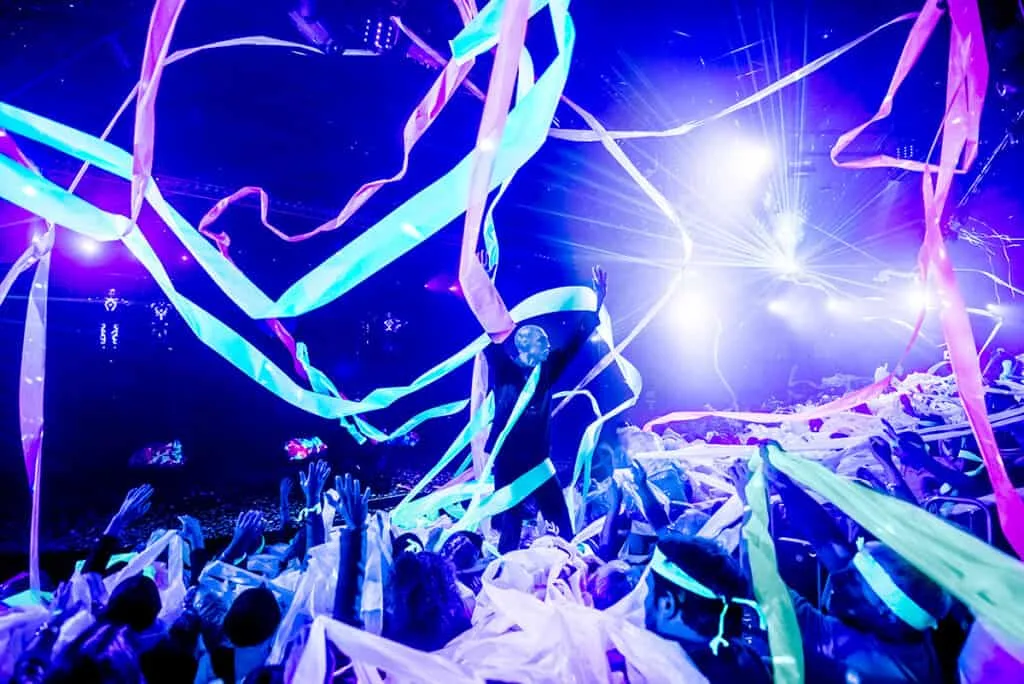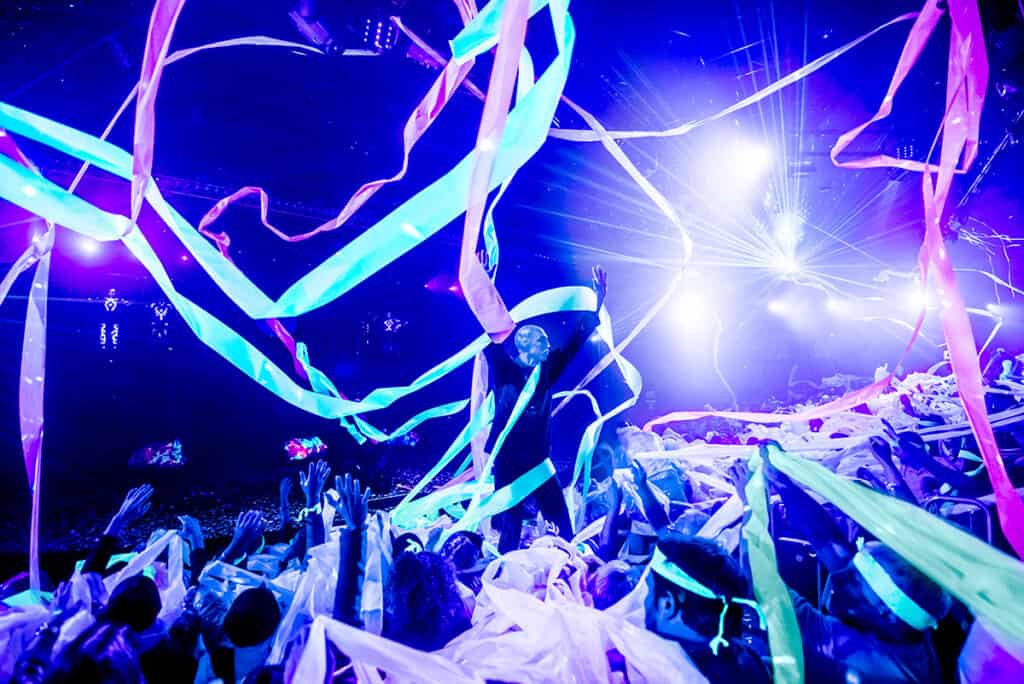 Where: Planet Hollywood
This multi number 1 singer songwriter has a Las Vegas residency with discount tickets starting at $71. You'll have seen him as a judge on American Idol and the Voice Australia, while probably visiting wife Nicole Kidman's family.
Where: Planet Hollywood Resort & Casino
Criss Angel has been performing mind-bending illusions on the Las Vegas Strip for over a decade. From his eclectic, slightly "evil" personality to carefully thought-out magic tricks, the audience will be entertained from start to finish.
He has a way of drawing your attention into the bizarre and his mastery of magic is enthralling. He filmed for his A&E TV special with the same title performing mind bending illusions that make you question what you know about reality!
To add on to his accolades, Criss Angel's Mindfreak was awarded the Greatest of All Time award by Vanish Magazine. If the world's largest magic magazine things that Criss Angel is the G.O.A.T. when it comes to levitation and illusion, you absolutely have to see if for yourself.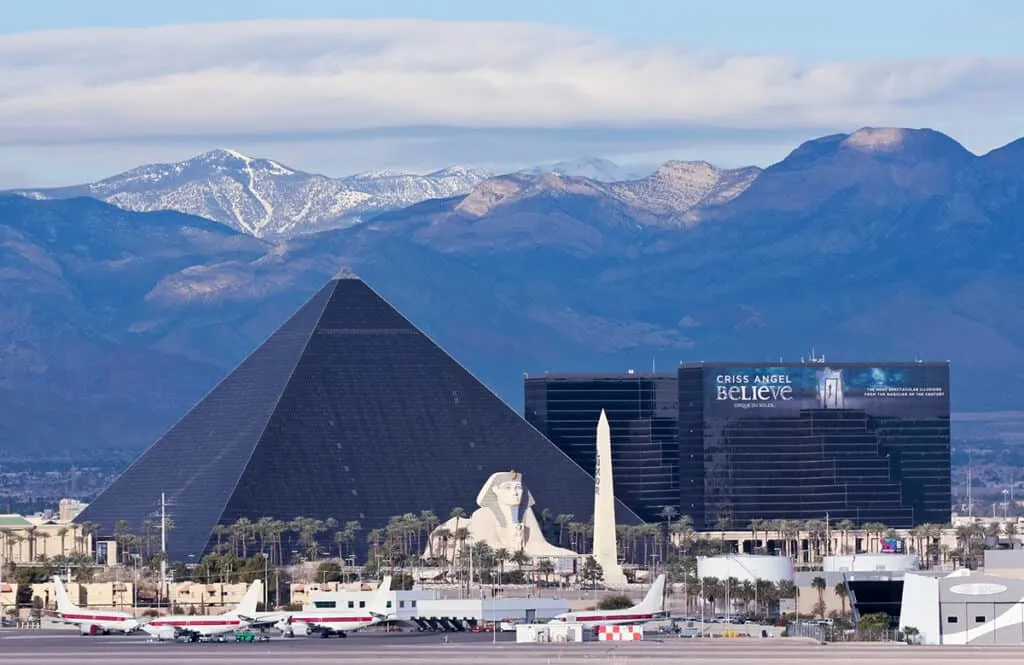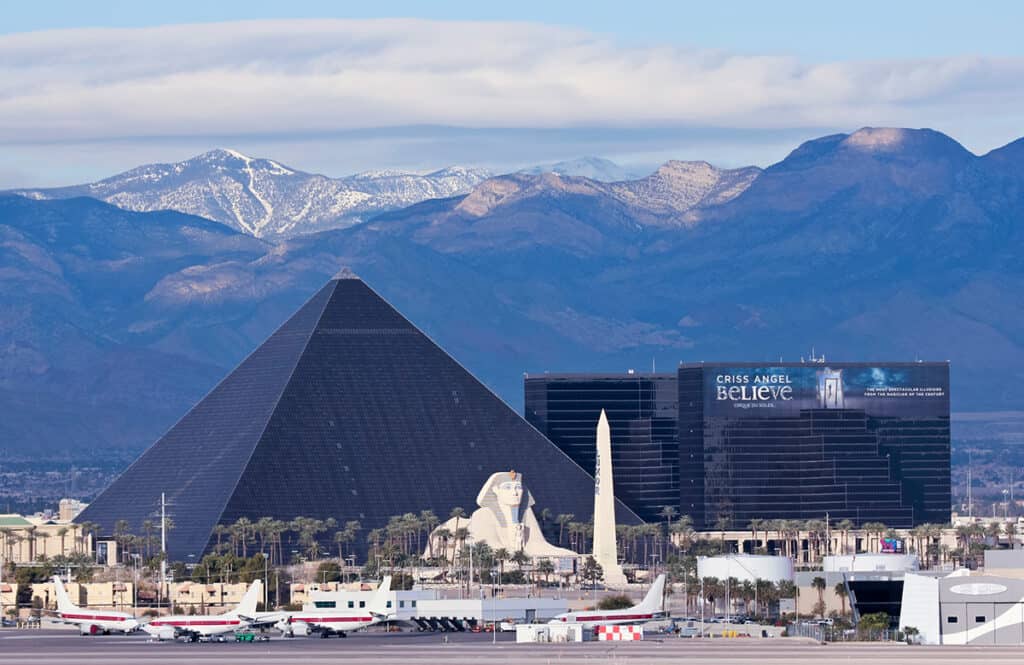 Where: MGM Grand Hotel & Casino
Copperfield is synonymous with magic. He's been performing for over 40 years now, which tells you that he's mastered the art of drawing the audience's attention in.
Through a combination of illusion and storytelling, you'll be whisked away on an hour and a half journey by Copperfield. You'll leave knowing that you've seen one of the best in the world.
David Copperfield gives one of the best live magic shows in the world. This master illusionist has spent over fifty years perfecting his craft and was immensely popular in the 1980s, particularly for making the Statue of Liberty disappear.
Today, he continues to wow his audience at his Las Vegas residency at MGM Grand.
Check ticket prices here for David Copperfield.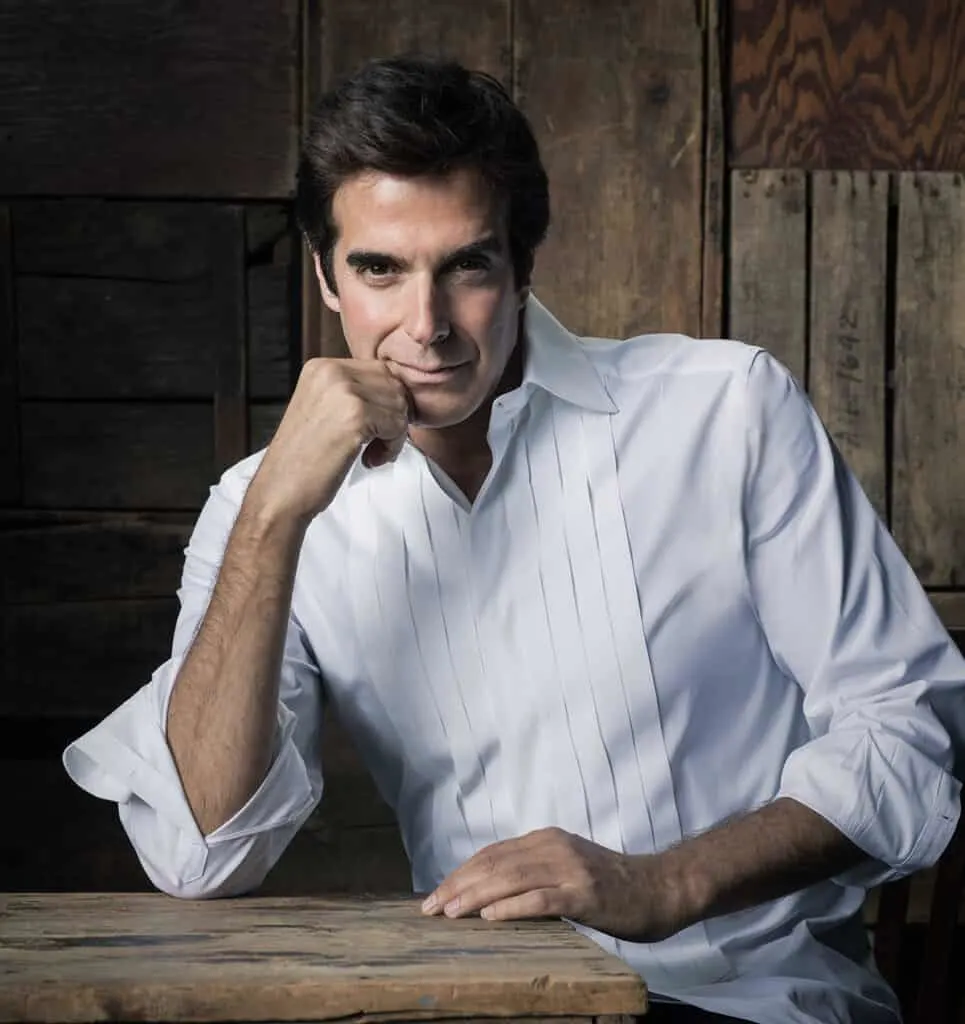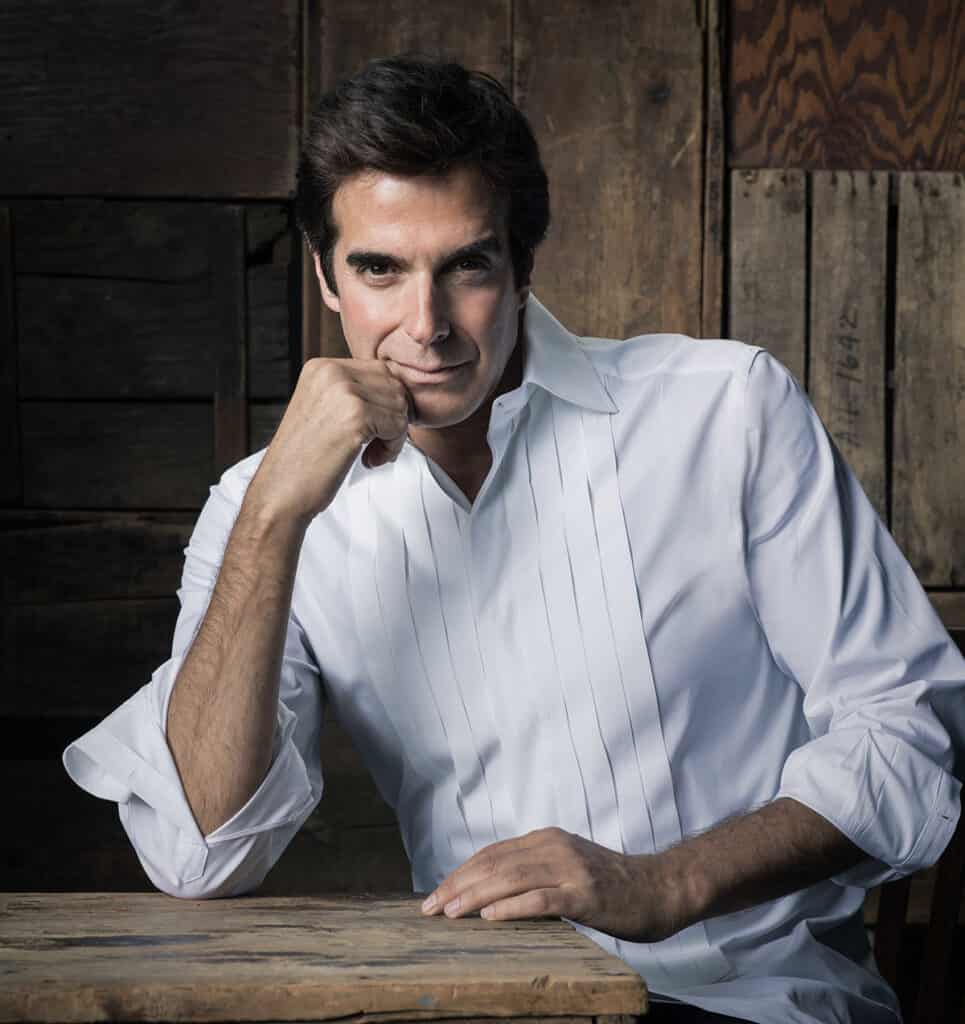 Where: Resorts World Las Vegas
I dressed up as Katy Perry for a 'K' party recently, and while I confess I looked more like I'd eaten KP, I would love to see her show for real. She is a talented artist that embodies all things fun and camp.
Her new show, Play, showcases her musical career banging out 19 hits over two hours and too many costume changes to count with stage props of oversized toys and enormous household objects.
You'll leave the show with Firework stuck like an ear worm in your brain, but it'll be worth it.
Grab tickets for the final shows here.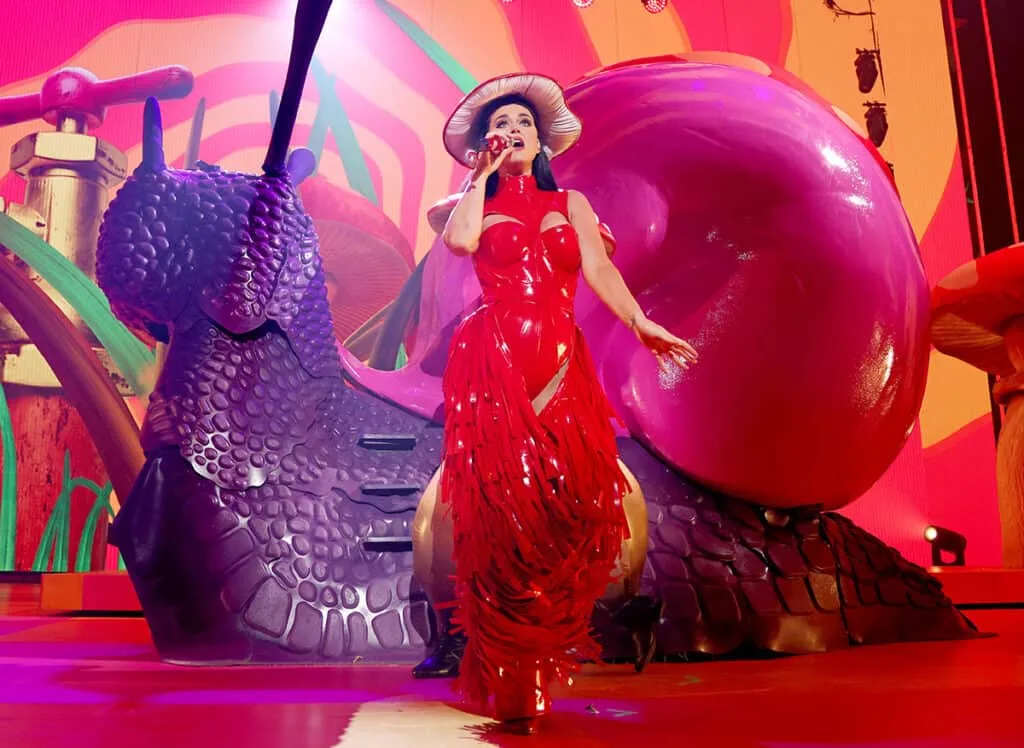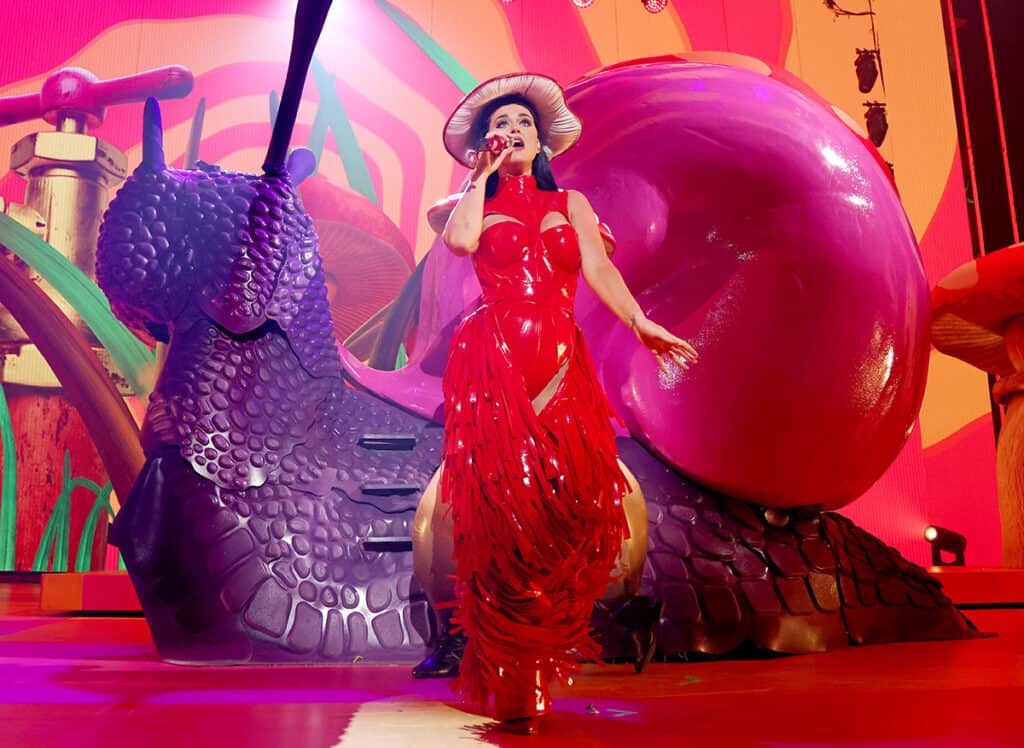 Where: Dolby Live at Park MGM Las Vegas
I am excited to see that Lady Gaga has returned to her Las Vegas residency this year and this is another show in my Bucket List.
Gaga performs some of her greatest hits like Born This Way and classic jazz numbers while dressed to the nines in the extravagant outfits we've come to know and love about her.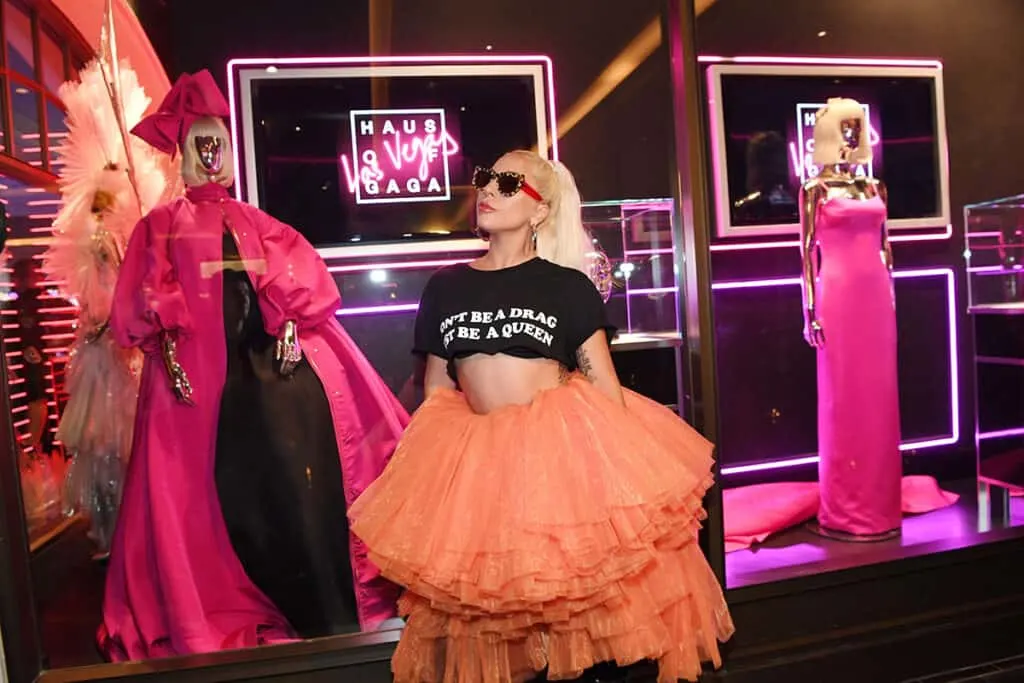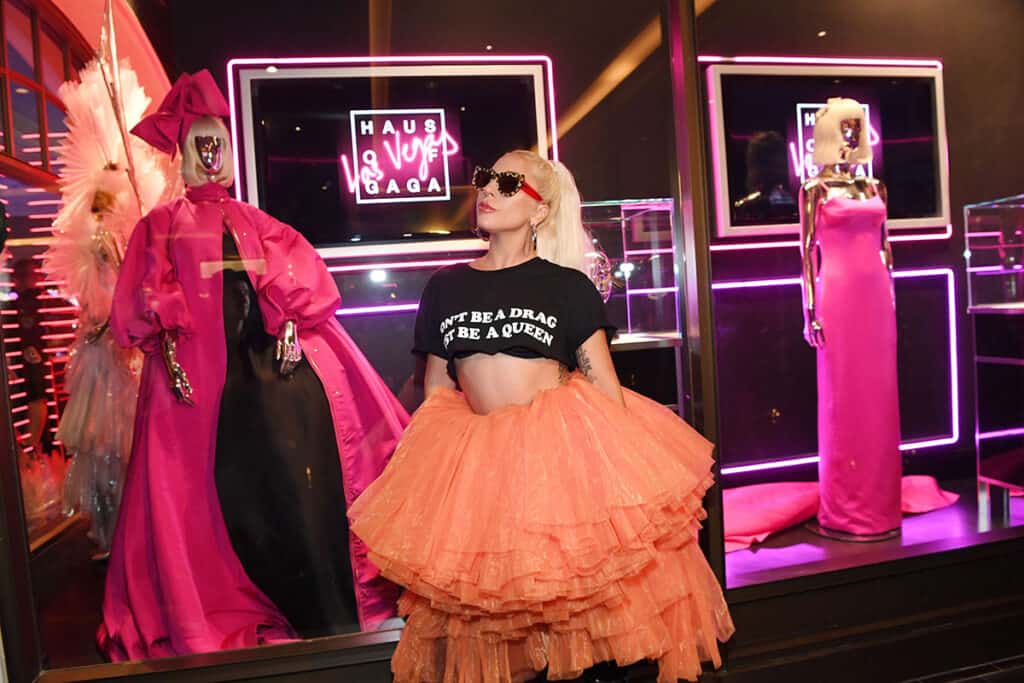 Where: Rio All-Suite Hotel & Casino Las Vegas
Another show in Vegas that has stood the test of time is Penn & Teller. This magical duo has been performing their routine in Las Vegas since 2001 and have performed together for the past 44 years!
These guys are the real deal when it comes to magical performances and partnerships.
One of the things that makes their shows so engaging is that they vary the scale of the illusions. From close up sleight of hand tricks to illusions that take up the entire stage, Penn and Teller will have you on the edge of your seat asking, "how did they do that?!"
But don't worry, the best part is that they walk you through how their tricks are done. Even so, you'll still leave scratching your head and mesmerized.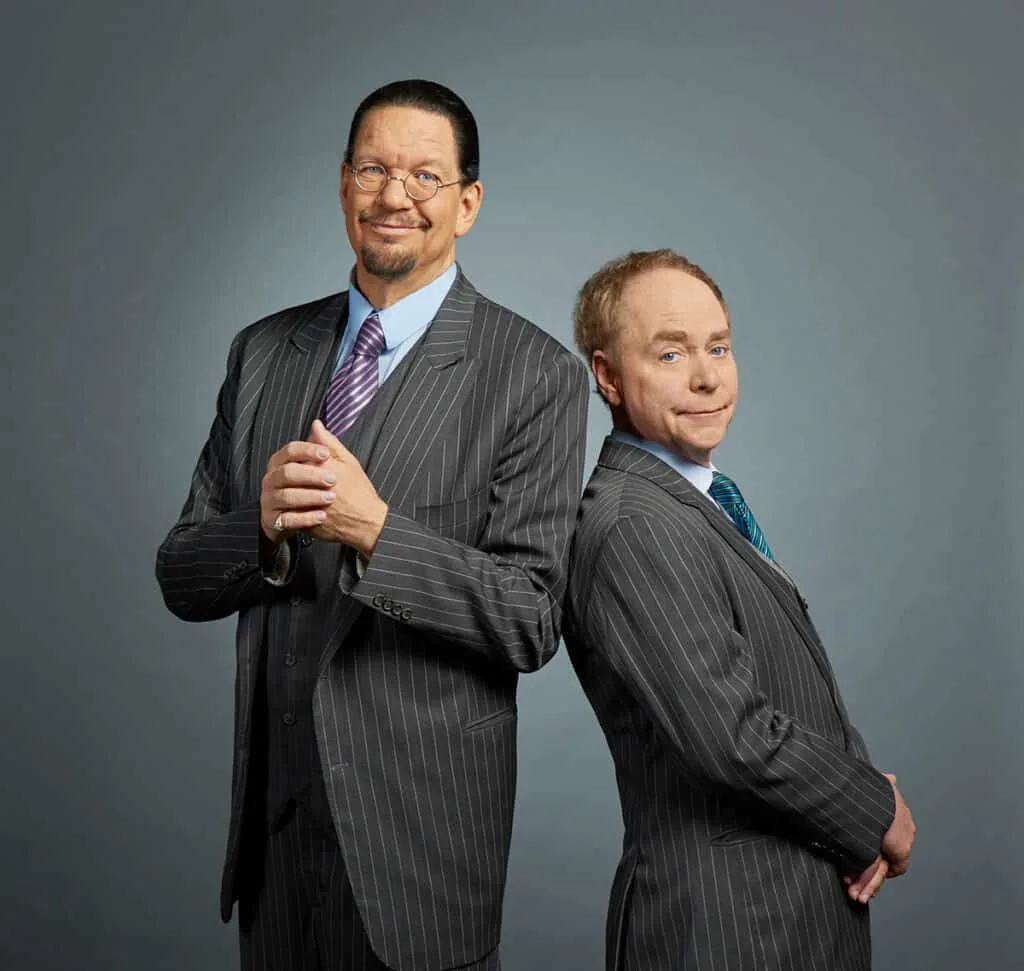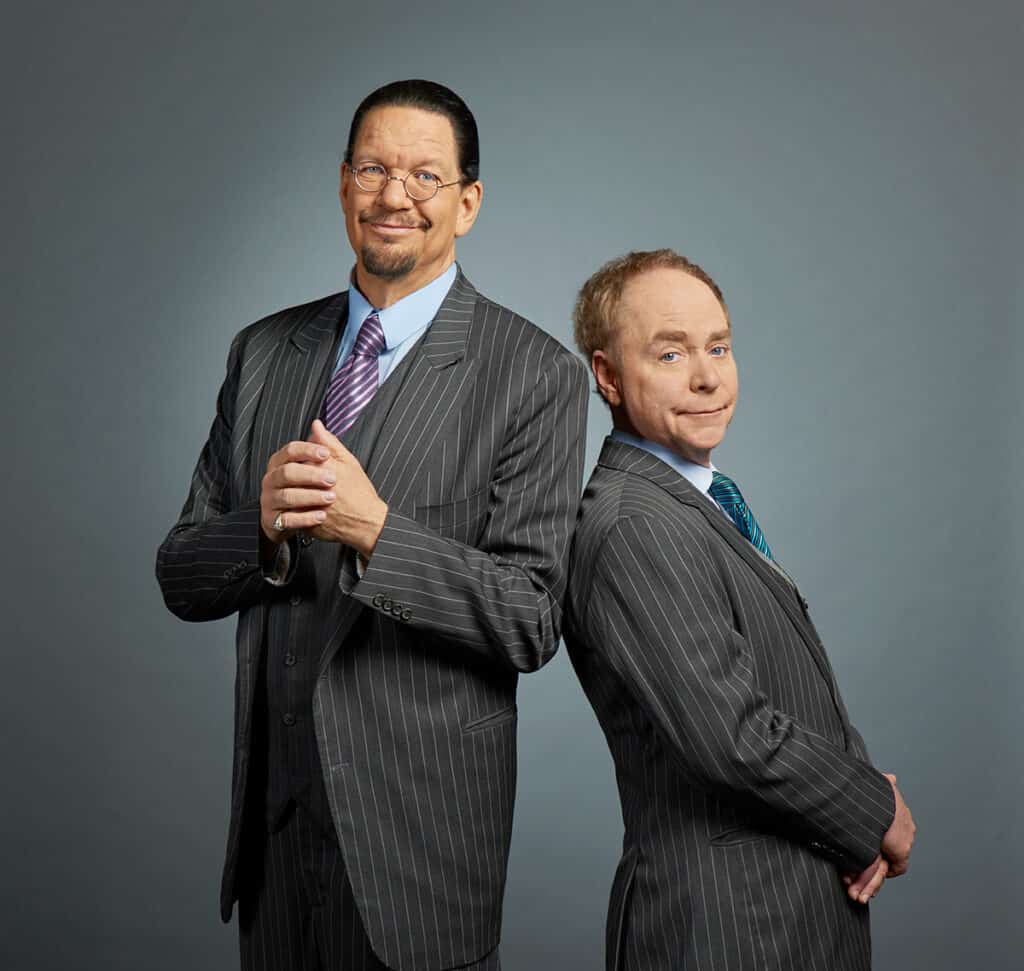 Where: Westgate Las Vegas Resort & Casino
If you grew up in the 70s there's no judgement here if you had a crush on Barry Manilow! After fifty years of singing pop hits like Copacabana and Mandy, Barry Manilow still got it.
This is a must-see for longtime fans who will adore his live ninety-minute show at The Westgate's International Theater.
Barry Manilow lives in Palm Springs sold his midcentury modern home for $25 million in 2020. You can take a tour of these wonderful homes at two festivals a year, or take a guided tour year round. I recently did just that in this post about midcentury modern houses in Palm Springs.
Where: Harrah's Las Vegas
Another one for the teens of the 70s and fans of the Donny and Marie TV show! Donny and Marie Osmond were in residence in Las Vegas for 11 years when they ended their season together in 2019. But never fear: Donny is back as a solo performer!
If you still know the words to Puppy Love, then you need to get Donny Osmond tickets stat! And if you're swooning already, then upgrade to a VIP ticket and meet him before the show where he does a private Q&A for fans.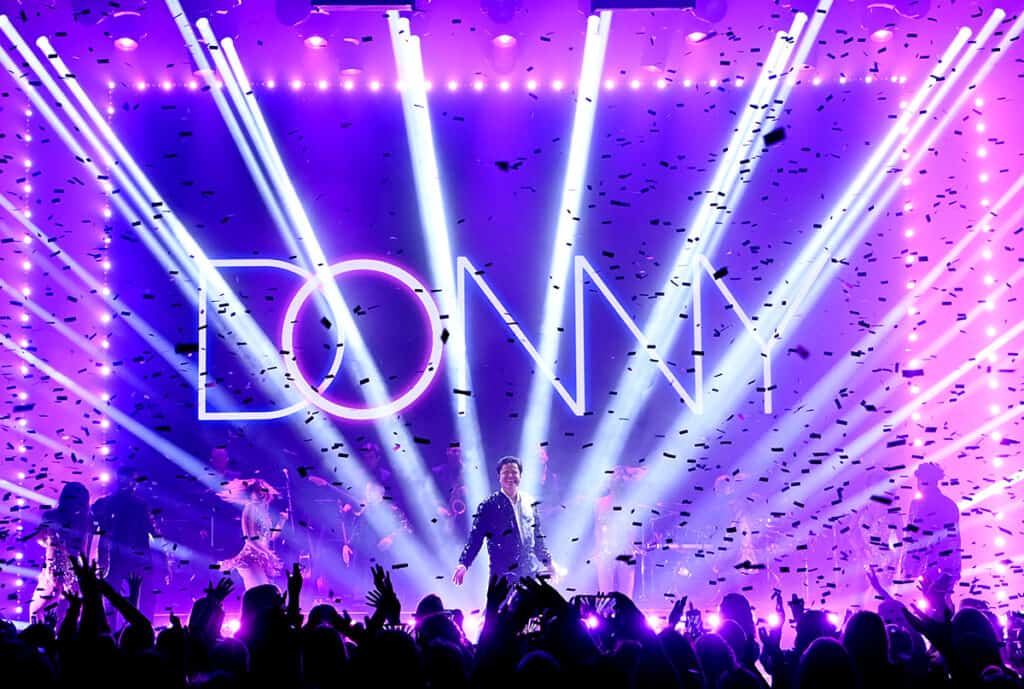 Where: Sahara Las Vegas Hotel & Casino
Whether you are celebrating your bachelorette or on a trip with your gal pals, you do not want to miss Channing Tatum's Magic Mike Live.
Since the film of the same name was released in 2012, viewers anticipated a live show to come. It finally debuted in Sin City and continues to be one of the most fun performances on the Las Vegas Strip.
Please note that this show is for adults only. Thus, you must be at least eighteen years old to purchase tickets.
Where: New York – New York Hotel & Casino
One of the most unique comedy and musical shows in Las Vegas is Terry Fator's.
Terry is one of the most talented ventriloquists in the world and he's been using his puppets to enthral audiences in laughter for years. In fact, he holds the record for being the longest headlining performance at the Mirage Hotel for over 10 years!
He uses a variety of puppets to sing and impersonate over 200 celebrity voices. From Justin Timberlake to Willy Nelson, you'll be rolling with how much you're laughing throughout the course of Terry Fator's unique brand of comedy.
His show is perfect for all ages, making it an excellent activity when traveling with children.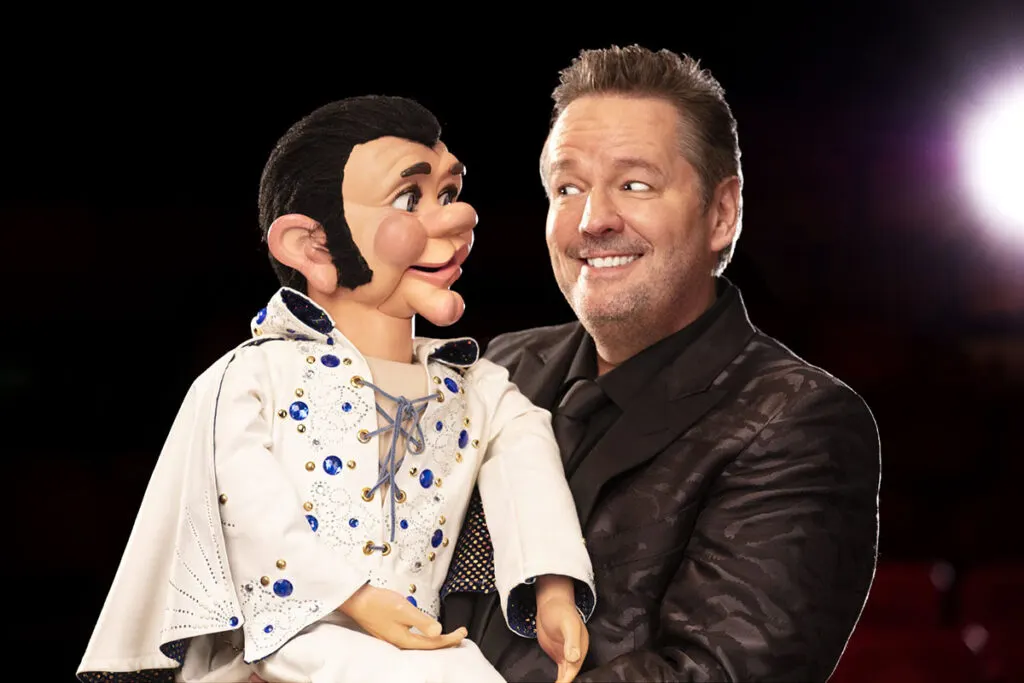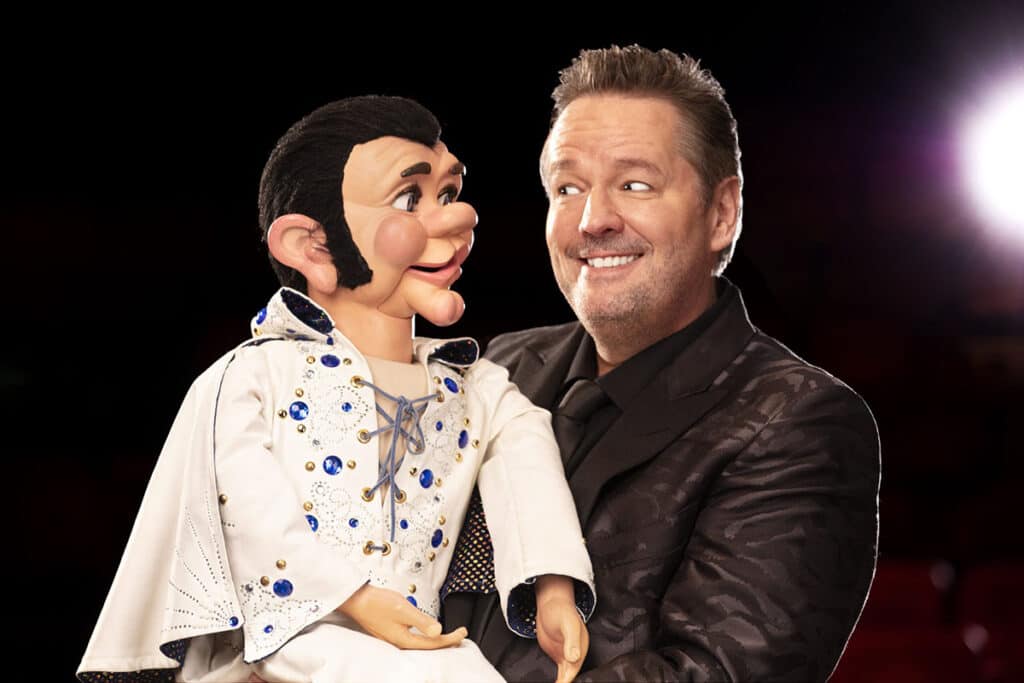 Where: Excalibur Hotel & Casino
Take a trip back in time by checking out the Tournament of Kings – with dinner!
Tournament of the Kings is back from July 2022. It's great for a couple of big reasons: Number 1 is that you get to watch some pretty amazing hand to hand combat up close and personal. If you're a Game of Thrones fan or you love medieval history, the regalia that every one of the performers wears will make you feel like you've transported back in time to an actual medieval tournament.
Number 2 is that the Tournament of Kings not only is a show that you get to watch, but it's also a show that you get to taste!
Each ticket includes an incredibly tasty dinner which affords each viewer the opportunity to use the same utensils that those during medieval times used: your hands!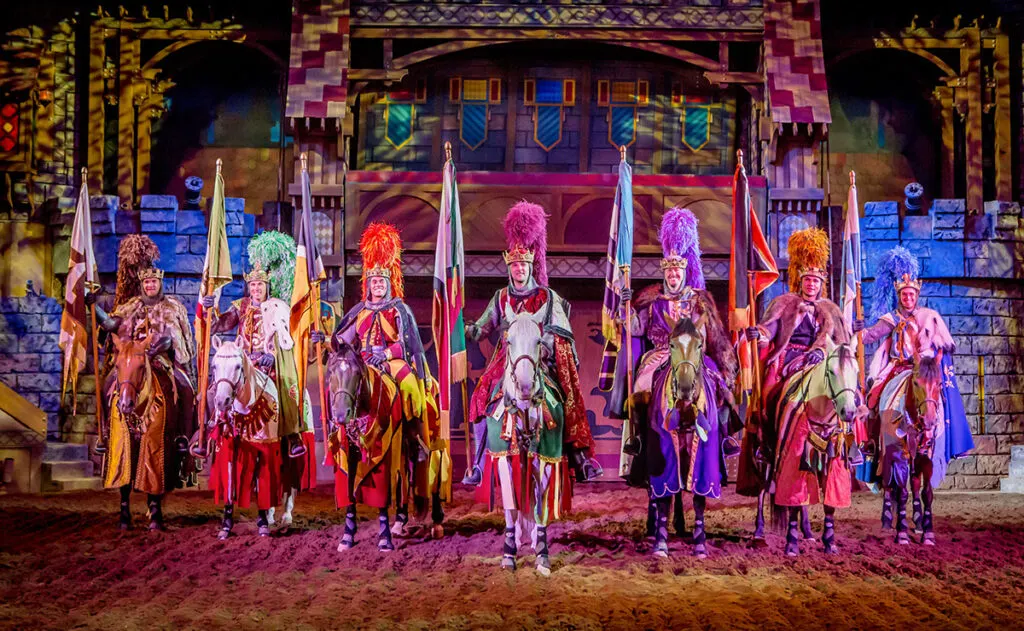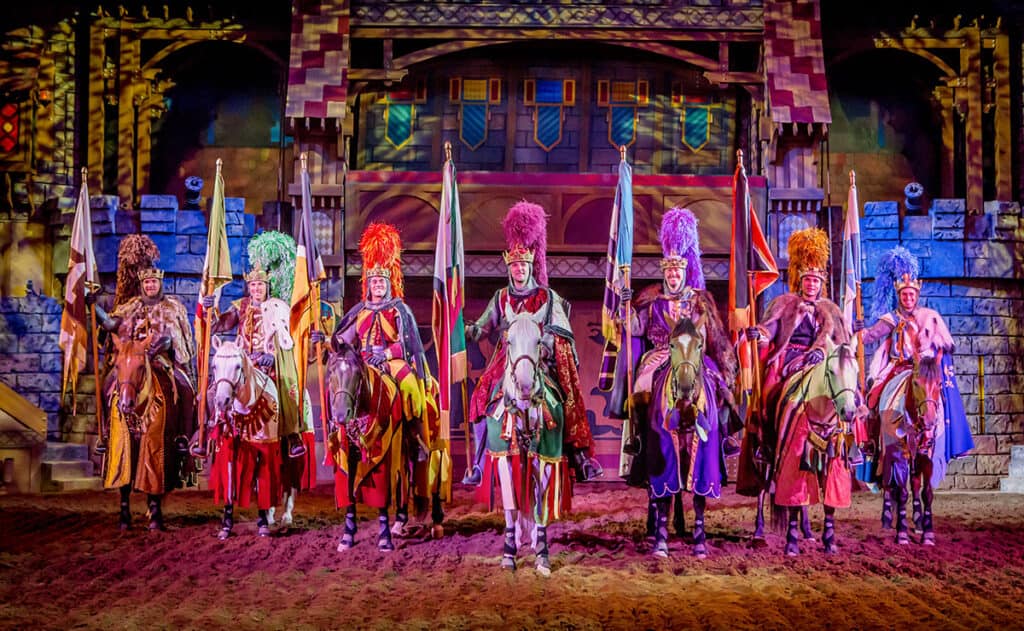 Where: Flamingo Hotel & Casino
If you're looking for a show that will leave you laughing and grasping at reality, make sure to go see Piff the Magic Dragon.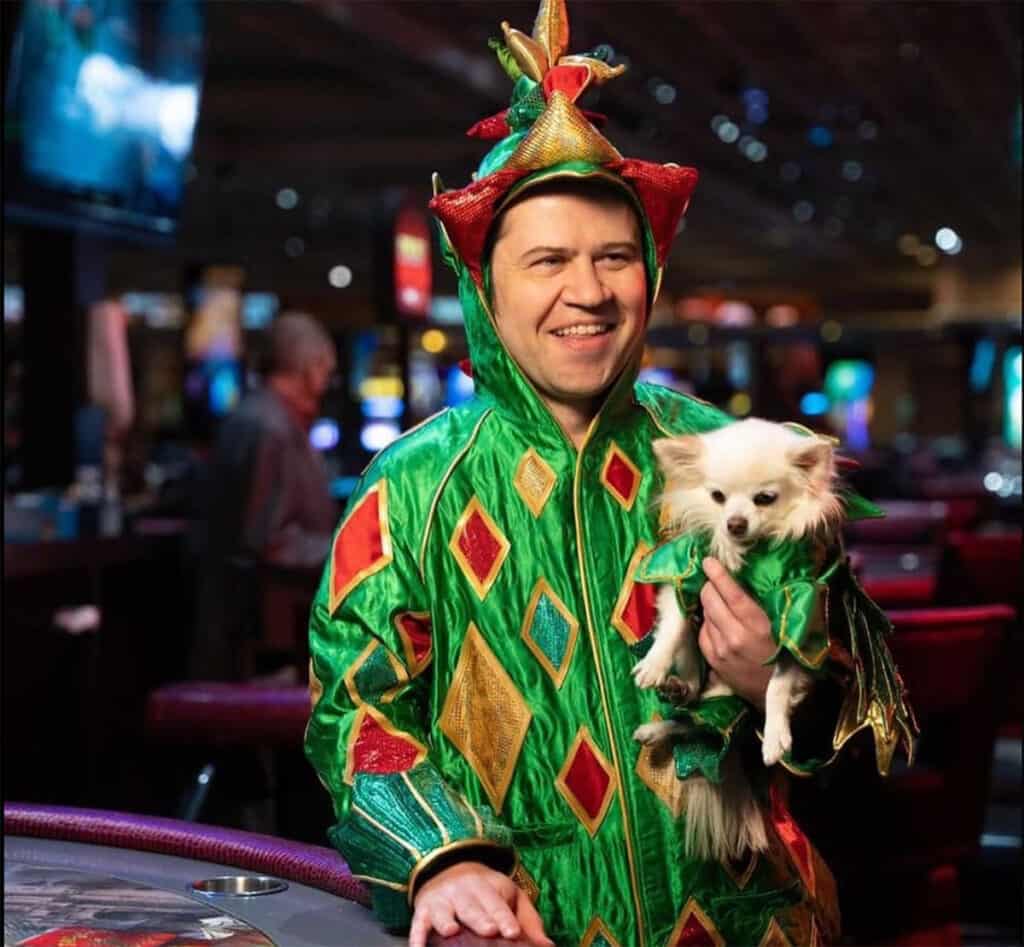 Piff captured the world's attention on his first appearance on America's Got Talent back in 2015. Each time that he went out on stage, he brought a new hilarious and bizarre routine that left audiences craving more.
One of the best parts about Piff's show is that he has incorporated the world's first magic Chihuahua in the show. Mr. Piffles is one of the cutest little dogs you'll see in Vegas and his presence in the show makes seeing Piff the Magic Dragon all the better!
Where: MGM Grand
One of the most internationally recognized groups that performs in Las Vegas is the Jabbawockeez. They gained their popularity almost immediately during their 2006 America's Got Talent performance.
Their dance moves are absolutely spectacular. With almost robotic precision, they synchronize to unique mixes of music which energizes their performance as they match the energy of each song through their routine.
People from all over the world have tried to emulate their mesmerizing style. They capture your attention and tell you a story without saying a word!
And to add to the intrigue, no one knows what any of the dancers look like because they all wear masks to take your attention away from individual dancers and place it squarely on the movement of the group as a whole.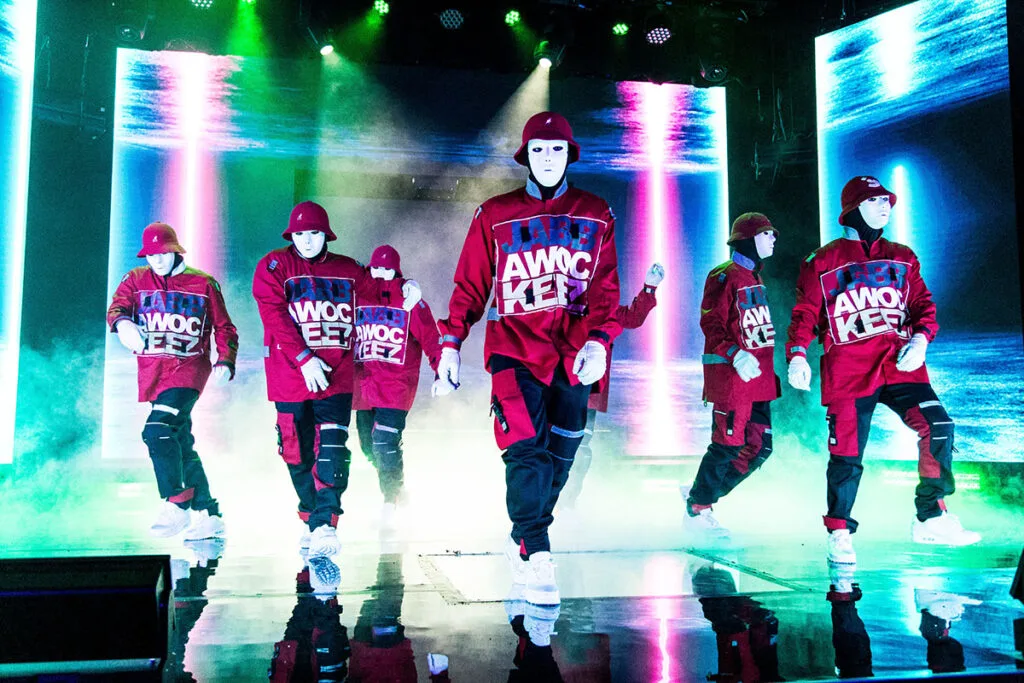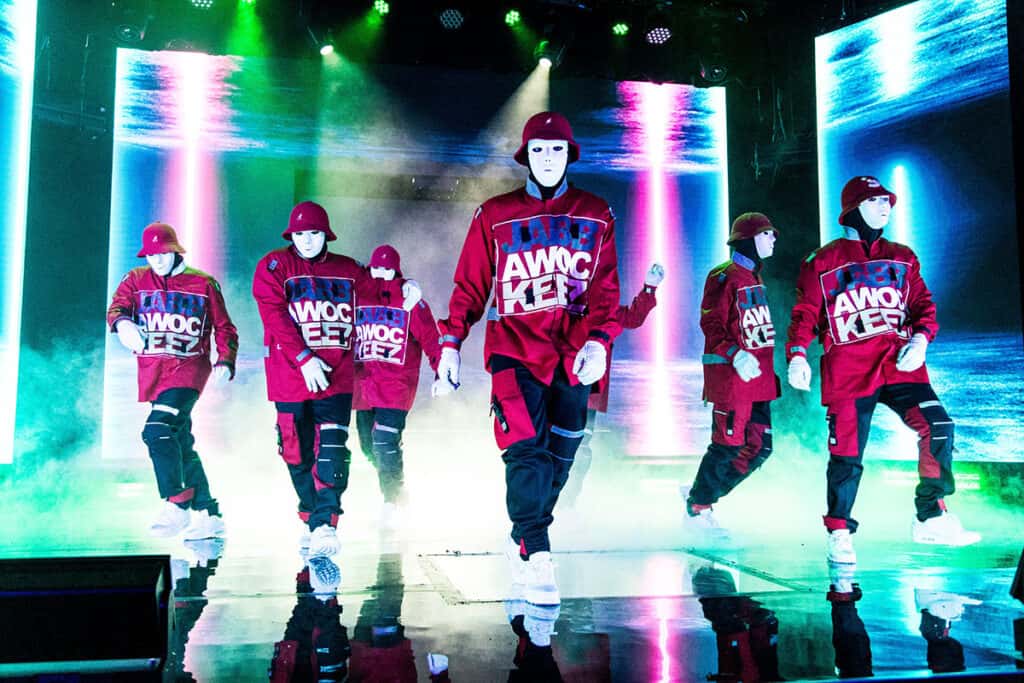 World-class musicians coming to Caesars Palace
And if you needed another good reason to make Las Vegas your next vacation spot for all the fun and entertainment on offer, over the next few months Sting, Morrissey, Rod Stewart, Van Morrison and Adele will all be in residence for at The Colosseum at Caesar's Palace.
Click here for dates and tickets to see some of the greatest music stars in the world!
Free Las Vegas shows
Where: Freemont Street
Downtown Las Vegas is severely underrated. There is plenty to keep you entertained, from The Mob Museum to a slot machine zip line to nightly live music at one of Freemont Street's three outdoor stages.
Unlike some of the others on this list, admission is entirely free. However, it would help if you arrived early to ensure you find a good spot to watch the show.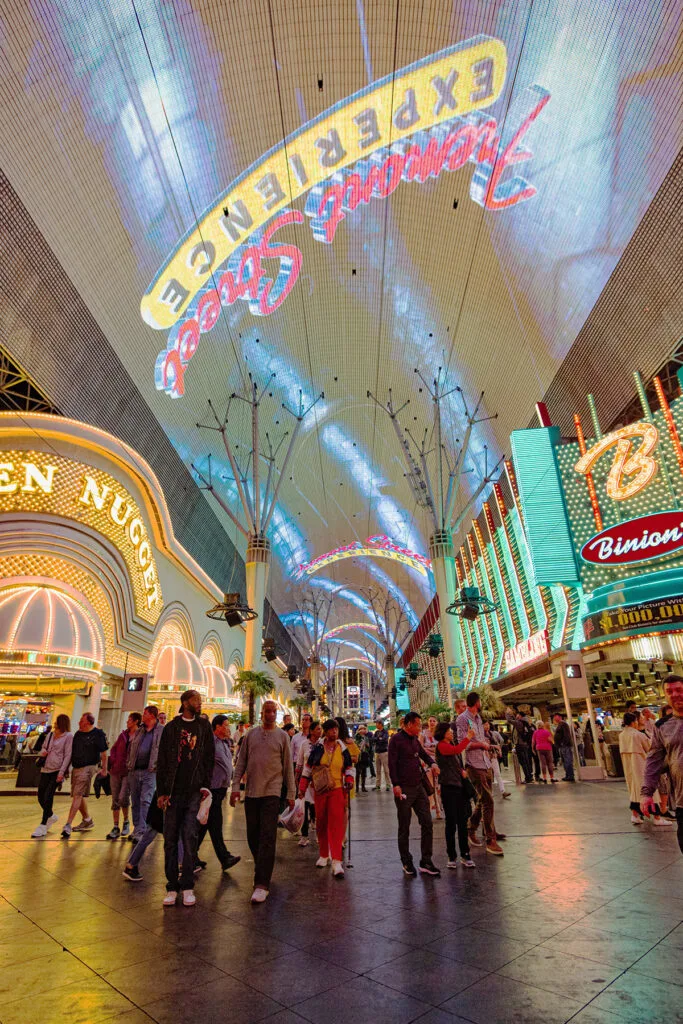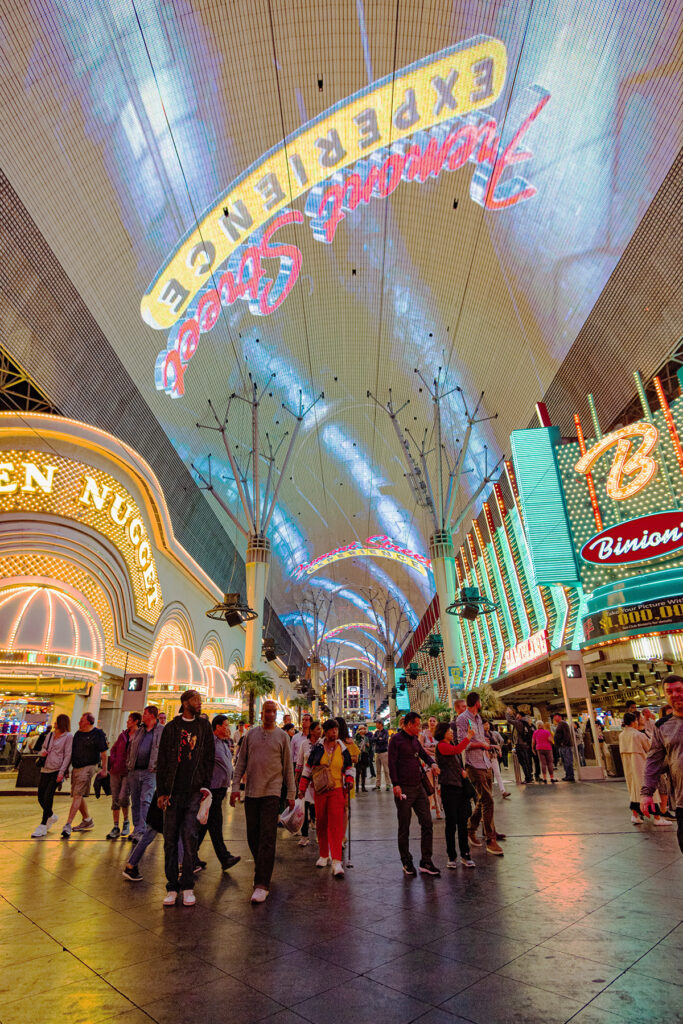 Bellagio Fountains!
You can't visit Las Vegas and not make a point of standing in front of the Bellagio Hotel to watch the mesmerizing water and light show every day from 3pm until midnight.
Click here to see latest timings, but if the weather is good you can expect them to start – accompanied by big music – at 3pm and run every 30 minutes until 8pm, then every 15 minutes until midnight.
Pro tip: the best hotel to stay to see the Bellagio fountains is of course the Bellagio Hotel (make sure you get a Strip view room with full or partial views of the fountains), OR for half the price of Bellagio's fountain view rooms, stay across the road at Paris Las Vegas and make sure you choose 'Eiffel View' to be able to see the fountains.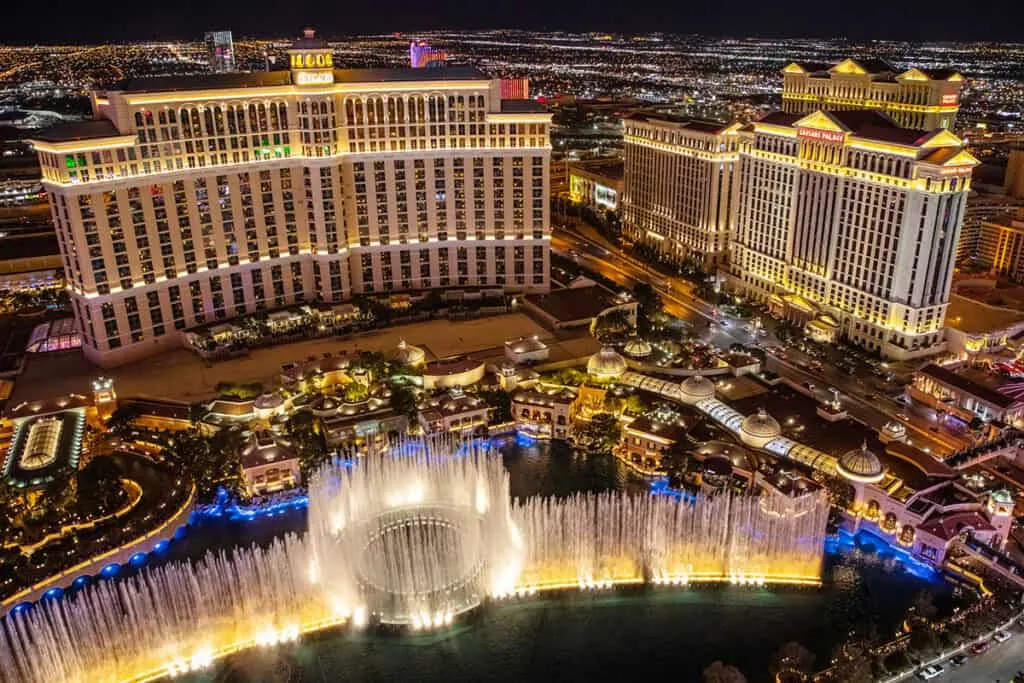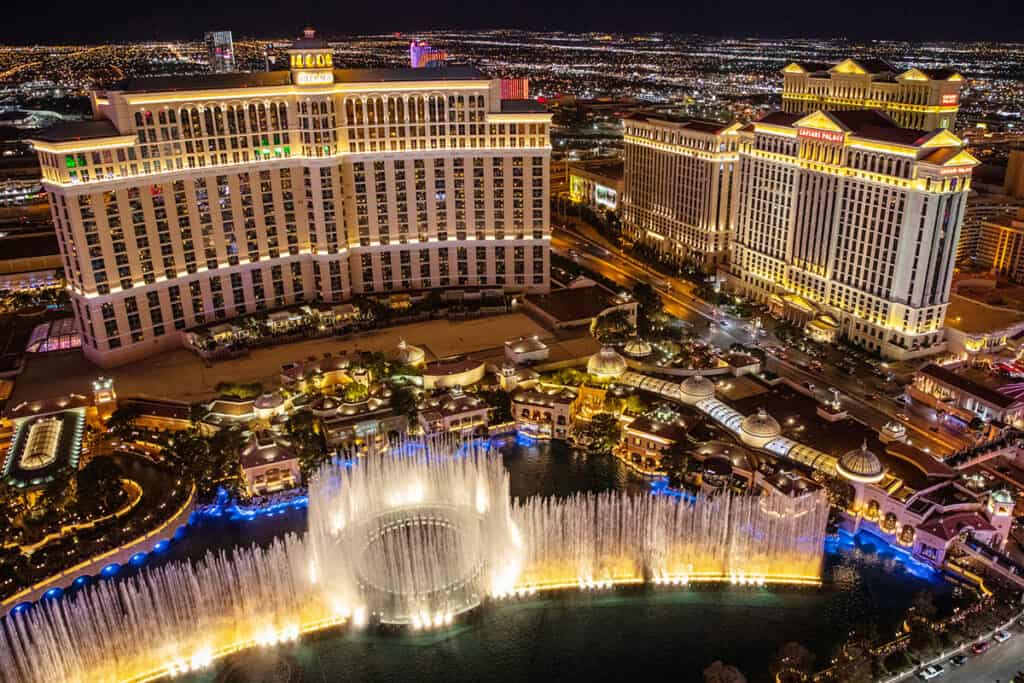 Finding a premium show in Las Vegas is not hard to do. The toughest thing is getting your tickets!
Be sure to plan ahead and purchase your tickets well in advance of when you plan on visiting.
Where to stay in Las Vegas
Right bang in the middle of the Strip:
We just recently stayed at Paris which was really nice and easy to get to both ends of the Strip for riding the High Roller, shopping and visiting other hotels.
Best family hotel:
I love Mandalay Bay for its incredible wave pool, lazy river and sandy beach. Plus it's next to the Pinball Museum for cheap entertainment! Plus Cirque du Soleil's Michael Jackson ONE is based here and they have a huge aquarium with sharks and a komodo dragon (which I walked with in Indonesia, by the way!)
Best romantic hotel:
I love Bellagio for the grandeur, the fountains (get a room with a fountain view), the incredible on-site gardens, the Ocean's 11 vibe and general lavishness. Plus it's centrally located for walking everywhere.
Best cheap hotel:
Excalibur. I stayed here with my brother once and we had a blast with all the jousting and maidens wandering around the place. You can get a room for as little as $35 a night depending on the time of year. It's also linked to Luxor and Mandalay Bay by monorail and is close to New York New York and MGM Grand.
Most expensive room on the Strip:
If money's no object, or you just won big, go book the three-bedroom villa at the Nobu Hotel which is within Caesar's Palace. Price starts at $35,000 a night and you need to email direct. No booking websites for this level!
Nearest hotel to T Mobile Arena:
Aria and Park MGM. They're virtually out the back!
Best golf resort on the Strip:
If you're bringing your clubs, you want to stay at luxurious Wynn Las Vegas with its 18-hole golf course including three lakes and 8000 trees – in the desert!
Read more…
I cover some of the best pools in Las Vegas for a day relaxing in a cabana or floating on a lazy river, or live music and DJs.
How to have the best time in Las Vegas for New Year's Eve in my new post.
For more fun things to do in Vegas check out my next post with 30 cool and unusual things in Las Vegas you might like.
And if you're a shopaholic (aren't we all?) this post covers where to go shopping in Las Vegas including outlets malls.
I also once gate crashed an Elvis wedding, so if you're up for either crashing a wedding, having your own wedding or a wedding vow renewal, you need to read my post to find out where to find the best Elvis is!
If you're taking the kids to Vegas, read my 22 epic things to do in Las Vegas with kids in this post.