Is Komodo Island on your Bucket List?
It was on mine and while I'll admit that for some, visiting Komodo Island might not jingle their bells, it did for me. Why? Because ever since I'd heard of the Komodo Dragon I really wanted to see them.
They look docile, but read on – these creatures are the stuff nightmares are made of!
A few quick facts: did you know male Komodo dragons have two penises? Did you know they can smell blood and death up to six miles away? Did you know they can stand on their hind legs and run up to 20kph?? Read on for more startling facts about the Komodo dragon.
Where do Komodo dragons live?
They live on Komodo Island, of course! But where exactly is Komodo Island? It's one of the more than 17,000 Indonesian islands and located 485km from Bali (where Seminyak is my favourite place to visit).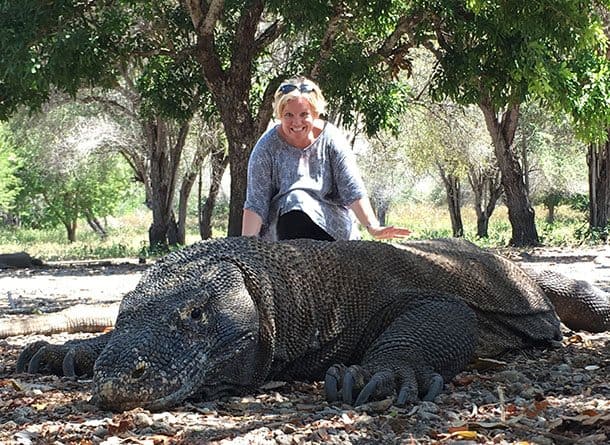 I spent the day on Indonesia's famous Komodo Island walking with dragons. Literally walking around them – keeping a wide berth – and posing for photos like the ones you see of stupid tourists just before they are mauled to death.
Can you actually walk among them?
The Komodo Dragon is a fearful beast and you can only visit this island and walk on the trails with a guide. One guide per five people. All they carry is a Y-shaped stick and stories to spook the daylights out of you.
How big do Komodo dragons get?
Komodo dragons are the largest lizard on earth. They can grow to three metres (nearly 10 feet) and can smell food up to four km (2.5 miles) away.
They are not fed here on Komodo Island, they catch their own prey and poor, innocent deer, wild boar and chickens that also roam here are the losers.
However, if I were the sweet Bambi that I saw sitting beside the toilet, I would hedge my bets that I'd make it as the Komodo only needs about 50kg of meat per month. They are cold-blooded and take a long time to digest their food and don't eat every day.
And yes, it is true they can also smell a menstruating woman. A few girls in our group were scared to the point of tears, but after a quiet word with Hayuri, our English speaking guide, we were assured we'd all be ok. Spoiler: We were.
There are also poisonous snakes out here, said Hayuri, when we were walking along the dusty track surrounded by scrubby bush. Can it get any more terrifying, we exclaimed!
The Komodo dragon typically lies about lazily like an alligator, but don't be fooled. They are acutely aware of you. Any sudden movements, like the member of our party who decided to sprint to the beach, causes them to lift their heads and hone their beady eyes while the guides leapt up and shouted for everyone to remain still.
Even my swinging camera bag had the big male above begin to make steps towards me until I was told to clutch it under my arm and a guide stepped between us.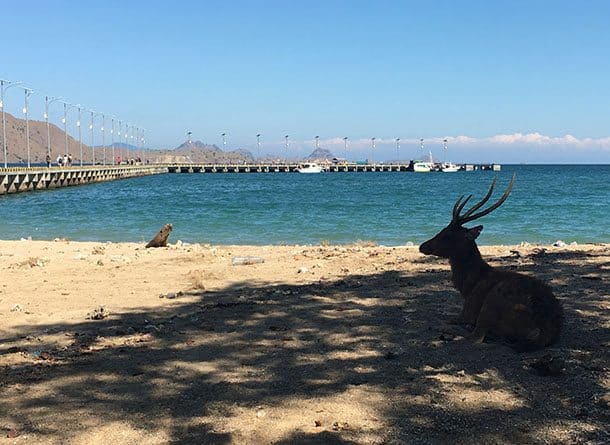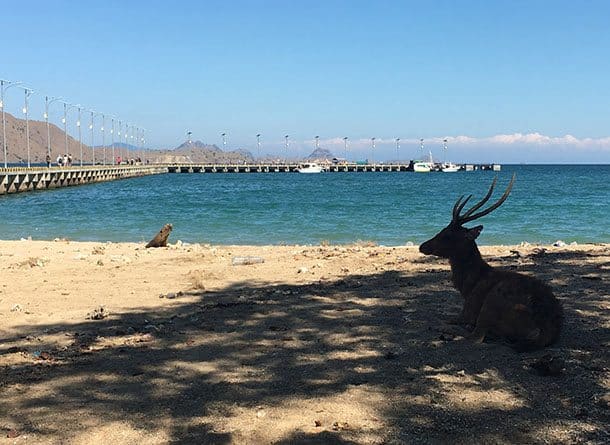 What to do if a Komodo Dragon comes after you?
This was the question I posed to Hayuri.
Firstly he would try and jab his crook under its head, he said. But if that fails, he warned, run. And don't run straight either, run in zig zags. Great.
I was eyeing up the trees. Can they climb trees, I asked? Only the little ones can. They actually live up there. But I reckon I would shoot up a tree faster than a firework. I've also heard that they can stand on their hind legs and run. Good God!
Five freaky facts about the Komodo Dragon
• They can run up to 20kph. I think when the adrenalin kicked in I would possibly get to that speed too.
• They have two penises. Why? I asked. For backup, said Hayuri. Okaaay. And on we continued, now laughing and joking and generally losing our sense of alertness. A twig moved and I nearly collapsed.
• Baby survival instinct. When a baby Komodo dragon hatches it burrows out of its dirt mound of a nest and makes for the nearest tree to stay until it grows up. It must make it to the tree before its mother sees it or she will eat it. Up in the tree it stays living on insects, lizards, birds and anything else that has the misfortune of landing there until it is too heavy to stay on a branch. They wear camouflage grey/brown, so we didn't see them in the trees, and we can barely make them out on the ground.
• There are over 2,200 dragons on the 390sqm Komodo island and two other islands nearby also are home to some. They are also all micro-chipped, which must be a mission! To do that risky job, one lures them into a cage with raw meat and jabs the chip in. I can only imagine how pissed off that would make them.
• Are they venomous or physically lethal? I had heard that the dragon is so poisonous that one lick of its forked tongue and you'd be dead in 24 hours. It is believed, even by the guides, that it's the toxic bacteria that kills, but a scientific study by the University of Melbourne in 2009 dispelled that and proved that there is venom in their saliva. If the prey manages to get away it soon collapses and dies and the dragon can feast on it later. But if medical attention is rendered, you still need to survive their sharp teeth and deadly claws.
Who lives on Komodo Island?
Well I won't be buying a hut here any time soon, but 4000 people live here. They were originally sent as convicts (does this sound like the plot of Hunger Games?) and have now intermarried. Tourism is their largest income, followed by fishing. Hayuri was born here and has never been as far away as Bali (one hour flight). He's only ever taken the one and a half hour boat trip across to Flores to trade fish.
How to get to Komodo Island
From Bali fly to Labuan Bajo regional airport, on Flores Island. The airport has been refurbished to cope with the increase in tourism. Labuan Bajo is a busy little seaside town with outdoor markets and plenty of eating options kicking off about 6pm. You could take a boat from Bali, but that would take about 36 hours (!)
Komodo National Park is made up of 29 islands and is a UNESCO heritage park. Boats leave from the harbour which turns into a night market with food stalls when you return.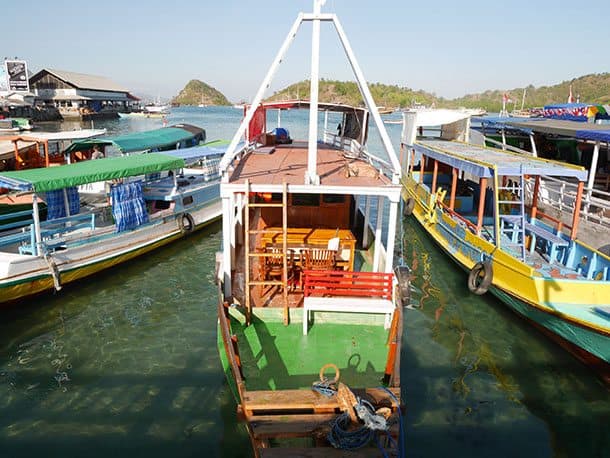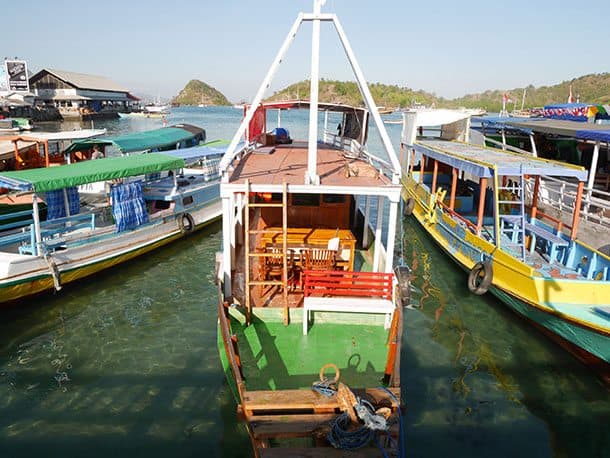 Plenty of operators will take you by boat to Komodo – and make sure you also stop at Pink Beach (Pantai Merah) for a swim on your way home. It's nearby (15 minutes by boat) with amazing views from headlands at each end and strawberry sand that looks like it's been sprinkled with jelly crystals due to a microscopic red amoeba mixing with the white sand and lapping ashore like a cold slushie.
If you're returning around dusk, get the boat to also stop at Kalong Island where thousands of kalong (fruit bats/flying foxes) take flight as the sun departs another day.
A day pass to Komodo Island costs around NZ$30 and another $5 for the guide. And of course it wouldn't be a tourist attraction without leaving via the "gift shop". A group of locals sell T-shirts, jewellery and little wooden dragons. Yes I bought one, actually two for 140,000 (about $14)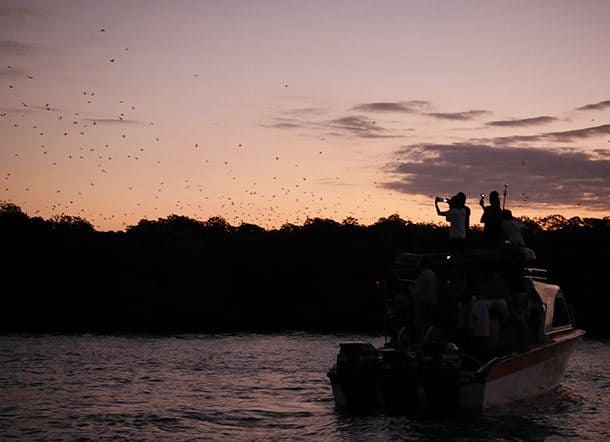 Where to stay to visit Komodo Island
Most tourists stay on nearby Flores Island and take boat tours to Komodo and other surrounding islands.
Jayakarta Hotel is beachfront with a beautiful pool surrounded by cabanas and lush gardens. There are two restaurants and just down the path is the beach where fishermen walk with nets in the morning and the sunset glows across the bay of an evening. Rates including breakfast start from about $130 per night.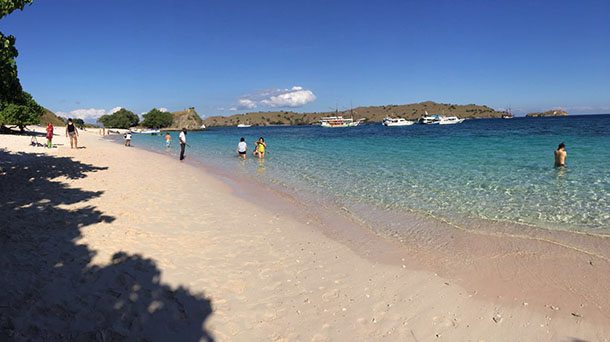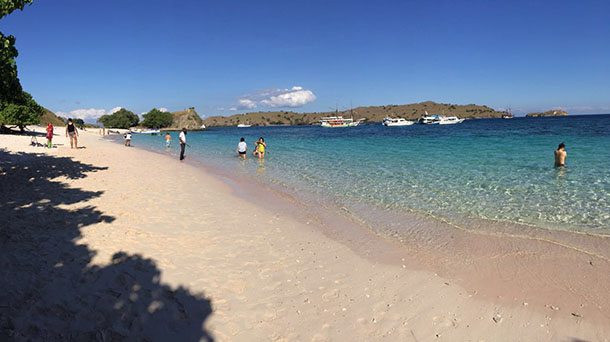 Greenhill Boutique Hotel is right in the heart of Labuan Bajo and is perfect for those who want to be amongst the busyness of late bars, restaurants and $15 hour-long massages. It's right on the harbour for boating, diving and dragon visits as well as a multitude of food stalls mainly selling fresh fish ready to be grilled. Rooms start from about $55.
Or stay onboard a yacht with Phinisi Cruises and visit islands and a local village as well as Komodo in two days/one night. This is perfect for divers as these islands offer great diving. Rates start from $175 per night.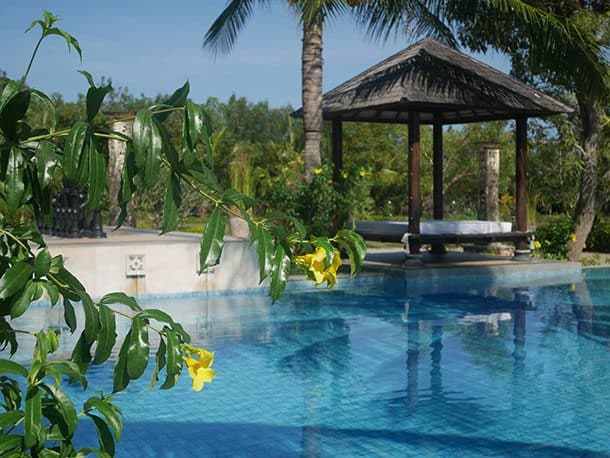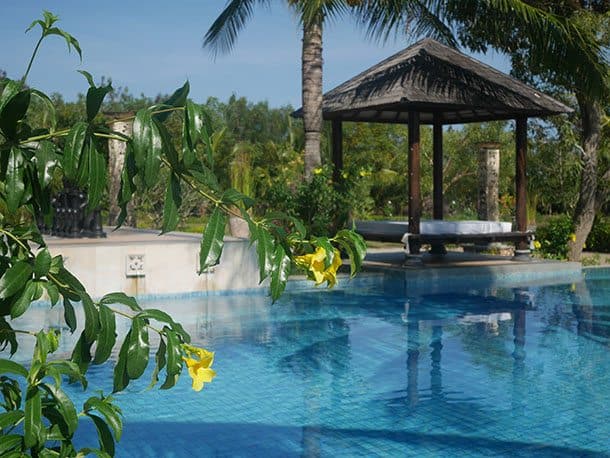 Komodo Island is a vast national park surrounded by beaches so if you like scuba diving to see beautiful coral reefs, manta rays, sharks, you'll love this post on diving in Komodo.