If you're planning a visit to Hanoi, take a side trip – even for just a night or two on a Ha Long Bay cruise. It's really fab. Here's what to expect…
It finally happened – I hosted my first tour and took 10 people to Vietnam! I guess that officially makes me a "tour host/ess?" Not a tour guide because we had Viet, our local guid with us (who was brilliant by the way).
Ha Long means bay of descending dragons presumably because of the rolling look of the karst mountains undulating out of the sea that make for incredible photos.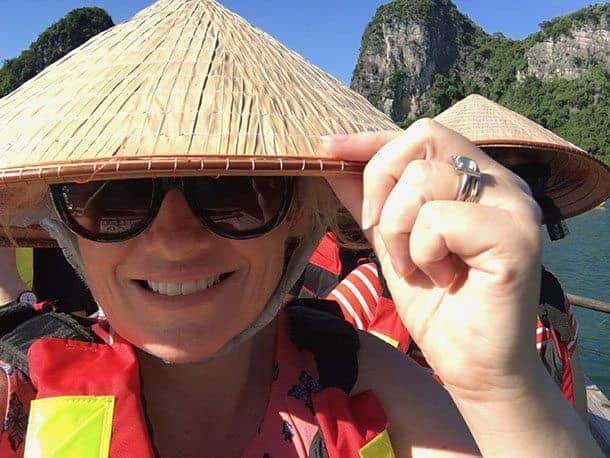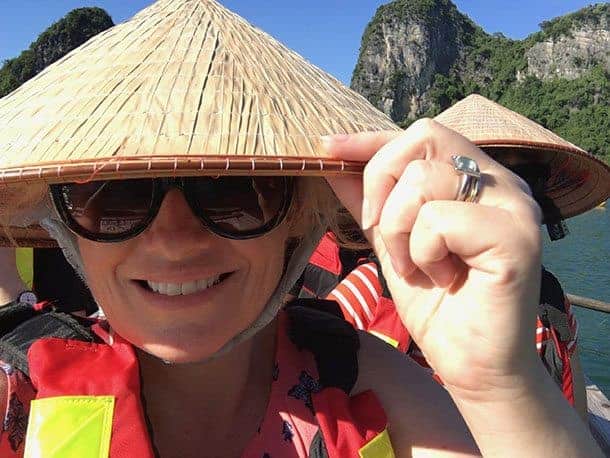 I hadn't ever been here before so my role was really just "camp mother", making sure the ducklings are happy and any of them who are travelling alone have plenty of company if they want it. We started off with a few wobbles though…
Friday at midnight we flew out of Auckland to travel via a fabulous 24 hours in Singapore to Hanoi, and that saw us leave four people stranded in Wellington as strong wind closed the airport. That's ok, they handled the disappointment and came through 24 hours later. But that wasn't all.
We didn't get our full flock together for another 24 hours, as in the meantime one of the group went down with a severe reaction to goodness-knows-what and after what shall be described simply as a shambles on a walk through a temple, we had to get an ambulance and I whisked her off to hospital while the remaining five had lunch and a free afternoon.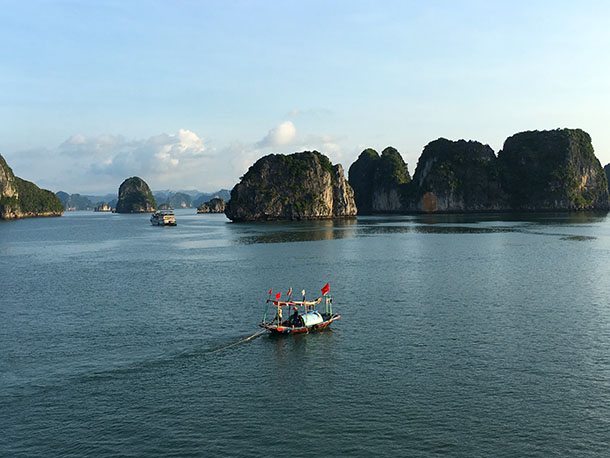 Happily, and grateful that travel insurance will cover it all, she was rehydrated and sent back 24 hours later with electrolytes and probiotics to delicately recover. We now all swear by electrolytes as being a miracle aid when travelling through hot and sweaty countries to aid against dehydration headaches and jetlag even!
Read this post about things to do on what to do with 2 days in Hanoi >
So anyhoo, all that to say, HERE WE ARE – 11 of us (counting me) plus Viet, who is travelling with us for the whole two weeks and is a great singer (we made him sing to us on the bus) as well as historian filling us in with all sorts of fascinating details about customs, culture and history.
Read my post on what to pack for Vietnam >>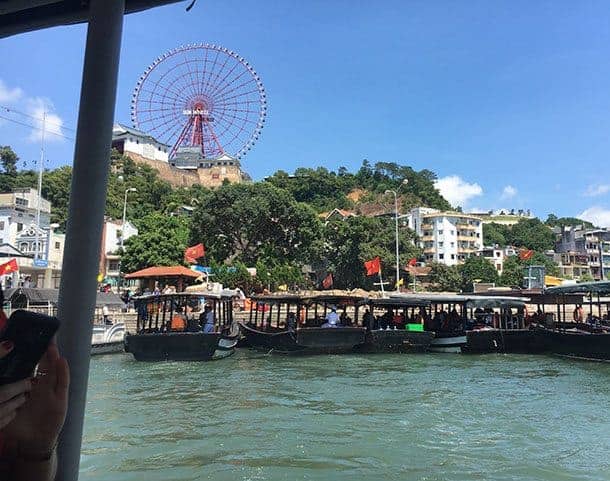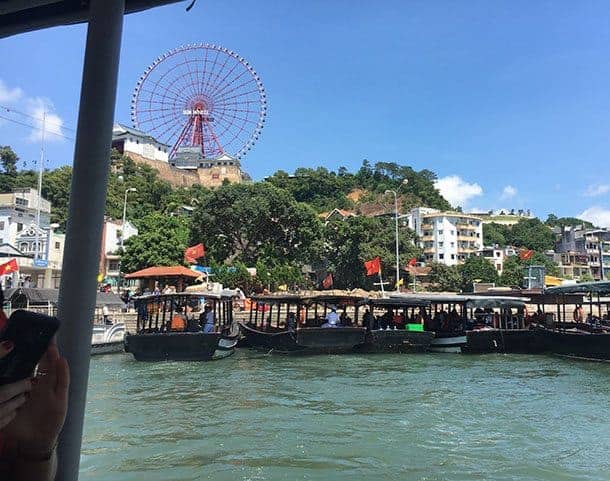 An overnight on Ha Long Bay is amazing!
If you're in Hanoi, an overnight cruise on Ha Long Bay is a must!
Head three hours east (170 km) for a night on what they call a Junk. But do not fear, the word doesn't do it justice! Our vessel was fancy – even with personal spa baths – and a rooftop for ogling the views and partaking in a little spring roll cooking class over happy hour.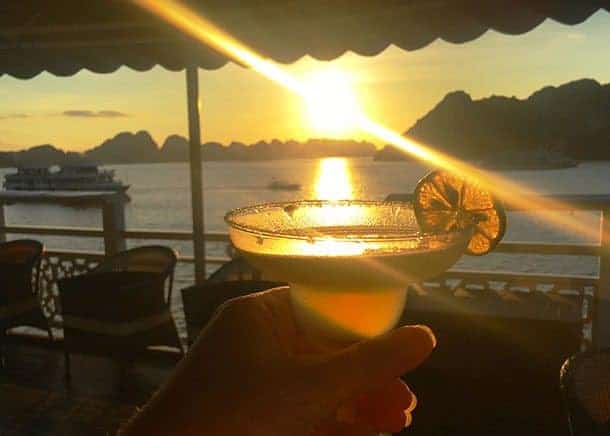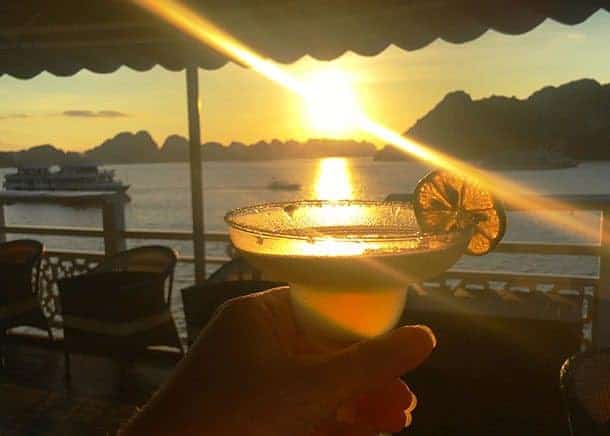 We arrived at the terminal under the watchful eye of the giant Ferris wheel and waited our command to head down to the wharf where many boats are parked off shore and whose tenders nudge together to take passengers out for 24-48 hours in what I can really only describe as a gigantic sculpture park in the water.
Ha Long Bay is where towering limestone "islands" dot the bay across 1500km of Neptune's gallery. The sea was calm as we sped across to step onto the Starlight. (Not to be confused for Andrew Lloyd Webber's roller skate show!)
We had been upgraded from the Calypso Cruise to Starlight, I think because we got lucky and they didn't have a full two boats, so they merged our group onto the larger boat and the next thing we're excitedly bouncing down the hallway after the crew who are taking our luggage to our cabins.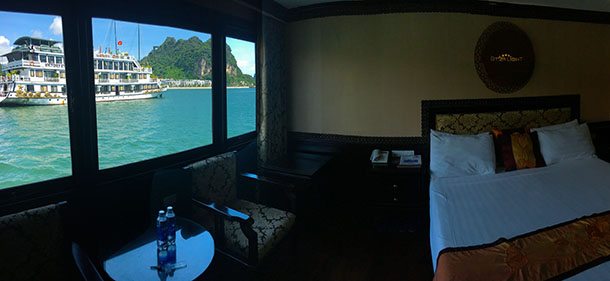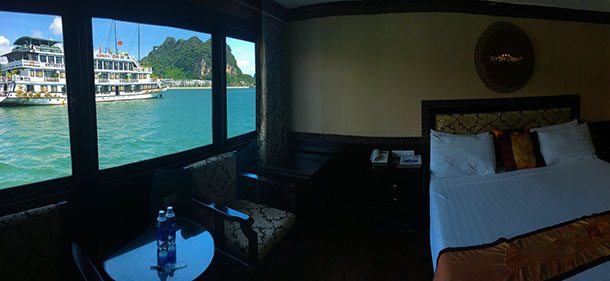 Ha Long Bay is massive and on a one-night cruise you'll sail for just a couple of hours then anchor for a little while where you can either have a snooze, sunbathe on the rooftop deck, or take the excursion around the floating fishing village. What a picture!
We had the choice of two-person kayaks for the hour long paddle, or six of us in a bamboo boat being slowly paddled by little Vietnamese women who live on water in the village. I chose the latter and those that chose the former were seen lying back to release their hip flexors (if I knew what they were?!)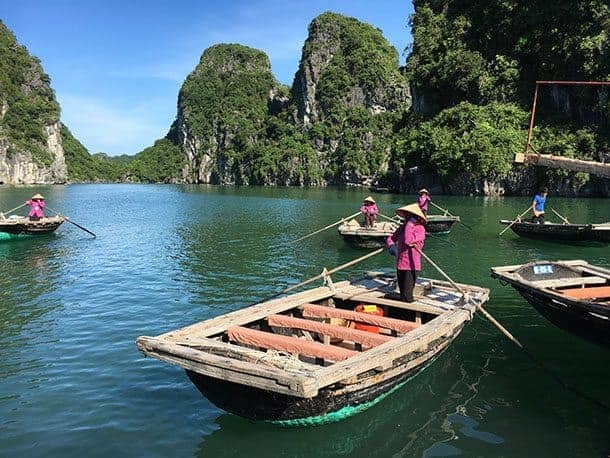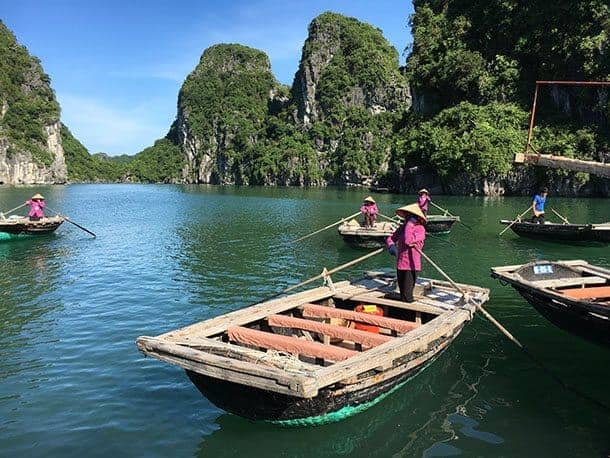 What a stunning afternoon! The tender boat that had dropped us off to the ship-let was still tied up to us, so off we sped to the floating marina where lifejackets and conical Vietnamese hats were doled out and on we gingerly stepped into the bamboo boat.
Pushing off we watched the kayakers and other bamboo boats gently glide through the sea and at this level just stared up in awe at the towering limestone mountains that rise from the sea floor to nearly 100 metres.
It's a photo op around every corner under the blazing sun (we had fabulous weather – take your sunscreen) and it was here that I really appreciated these light weight and airy hats. So much so that I brought four home as Christmas presents (hope my sister doesn't read this!)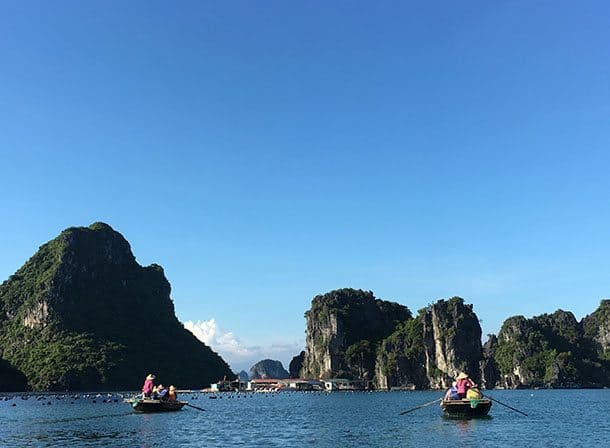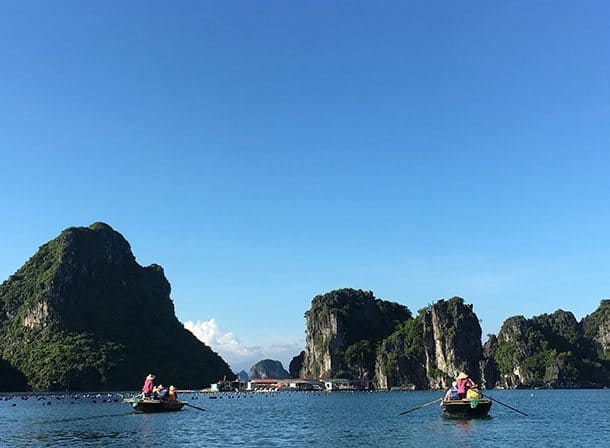 Then an hour later and a swing by the pearl farm where they hand make jewellery (not today thanks) we were back on board and as luck would have it, it was happy hour!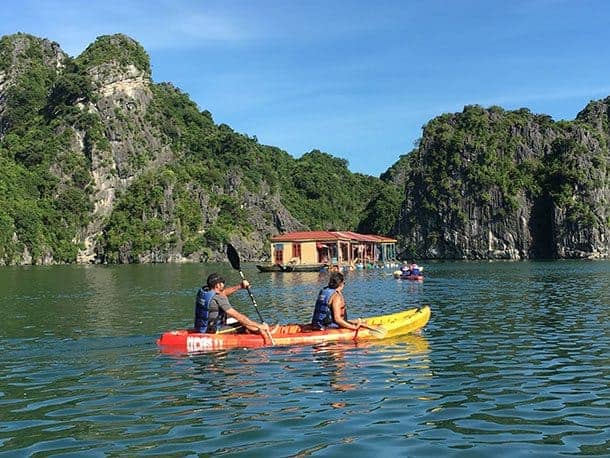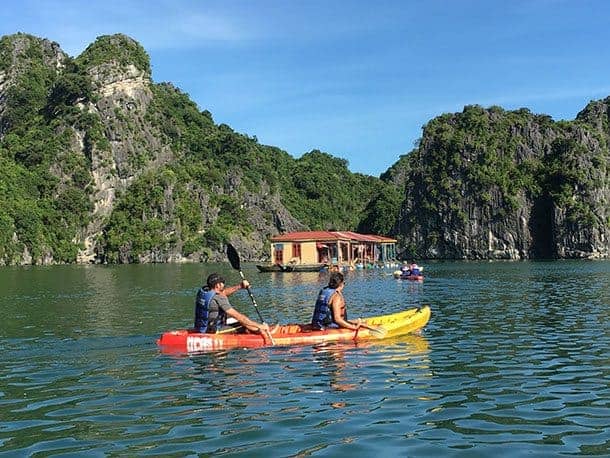 All our meals were inclusive and we paid for drinks. About 100,000 dong for a cocktail (NZ$6) and about 50,000 for a local 333 or Saigon beer.
Before dinner the crew brought ingredients up to the rooftop bar to show us how to make rice paper spring rolls and those who wanted to wound their sleeves up and learned how to roll them before they were deep fried and passed around for nibbles.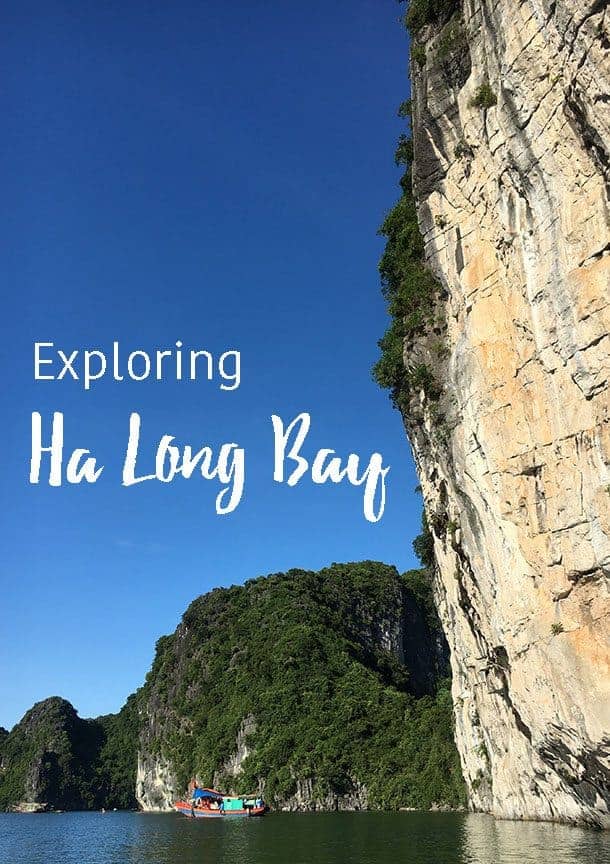 To be honest, the main meals on board were a bit strange – the goose meat was an unusual choice. If I did it again I would specify what I liked, because when were asked if there was anything we didn't eat we omitted to mention goose – or rubbery mussels that look like they have willies!
The next day, after a great night sleep, I rose before the sun did and watched it reach up over the cliffs and joined in the Tai Chi class on the rooftop, then we spent a couple of hours visiting a cave in one of the mountains, before brunch and heading back to the marina to drive to Hanoi where we took a flight to Hue for a couple of days.
Would I recommend you add this to your Hanoi visit? Absolutely!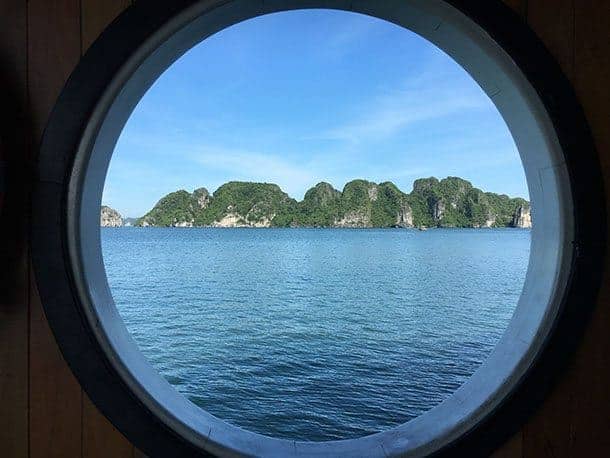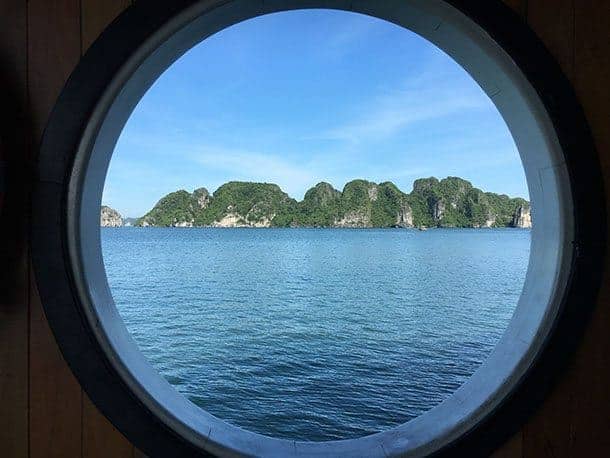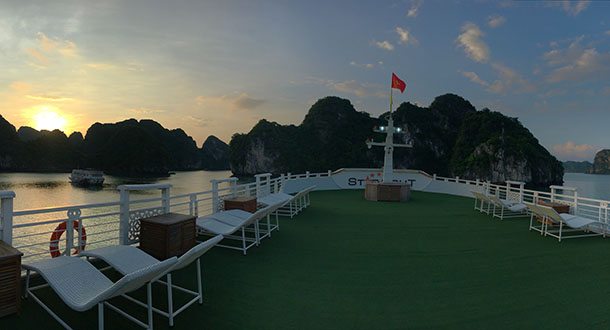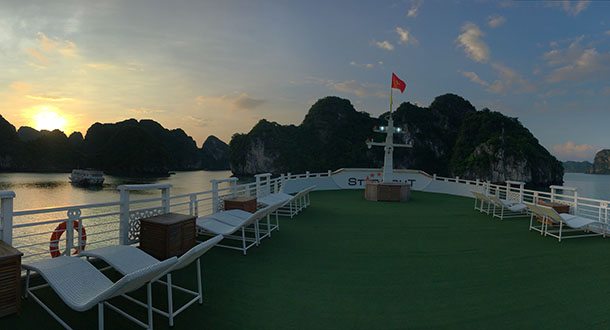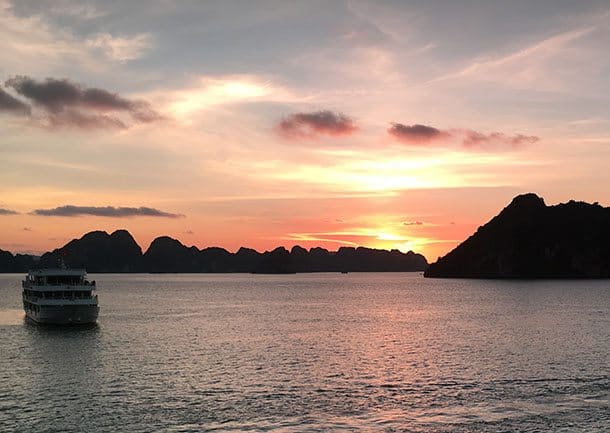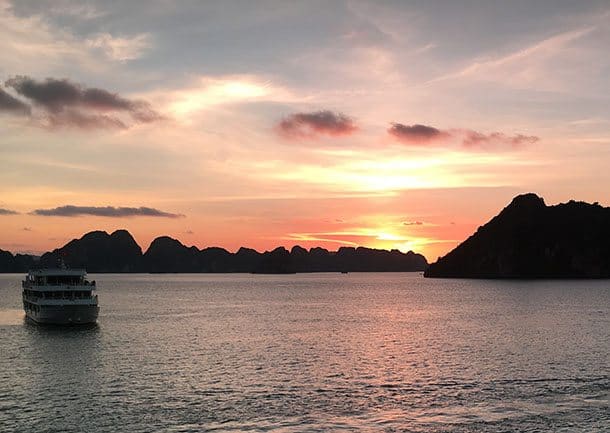 If you're looking for a review of the best Ha Long Bay cruises, you'll like this post from family bloggers WanderLust!
If you like rock climbing, you'll love these tips for where to go rock climbing in Vietnam too.