Las Vegas is a party every night, but if you're going to be in town for the biggest party of the year, New Year's Eve, then here's the skinny on the best places to see the fireworks, the best parties and the best new year's eve events to get to.
On December 31, you'll actually have time to see any one of the amazing shows before the clock strikes midnight, and I have listed 27 of my favorite Vegas shows in this post, that are well worth seeing.
And if you're in town for a few days, you'll like my list of these very cool things to do in Las Vegas – and all without the gambling. That list promises to keep you busy for days!
But when it comes to putting on your NYE finery and finding some of the best open bars and live music in town to ring in the new year, this list is a great place to get started.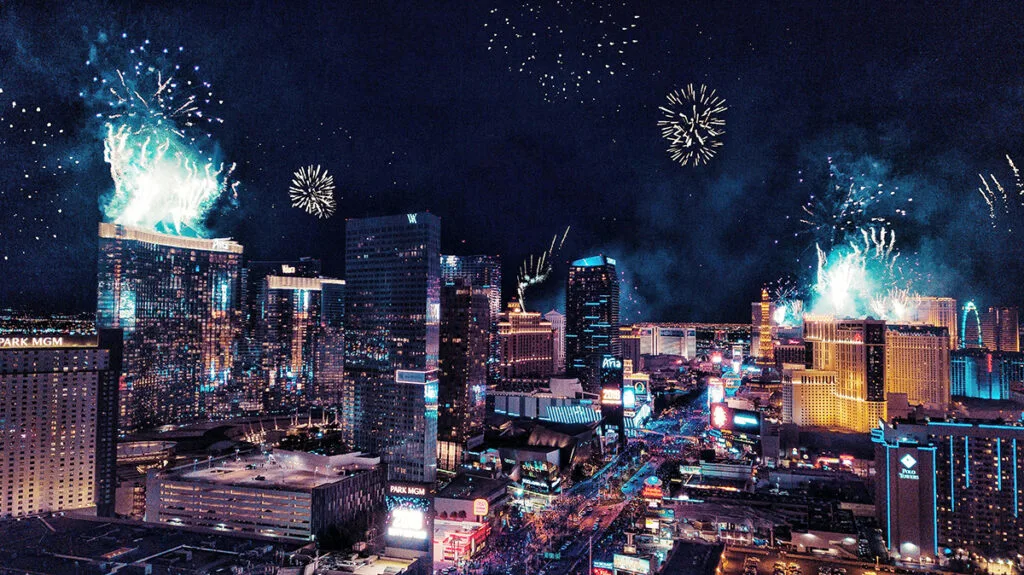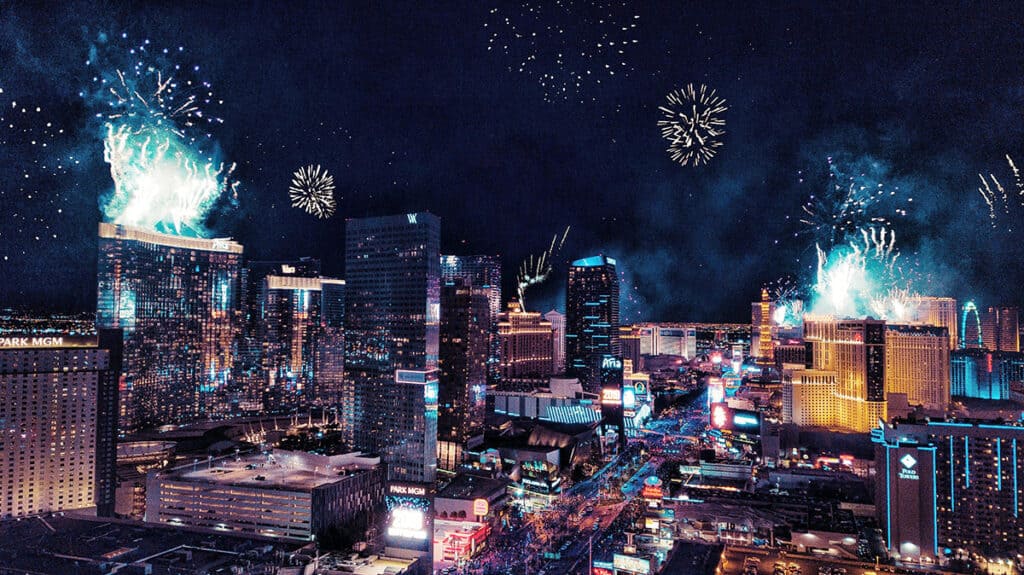 I actually have a post that is hugely popular on NYE in New York City. The big sister over on the east coast sort of owns new year's eve, thanks to her legendary Times Square's ball drop and fireworks on the river.
But you'll be in for a fun surprise here because at midnight in Vegas, eight hotels choreograph an epic firework display that everyone can see from along the Strip and beyond.
You also don't have to buy expensive tickets here, as Las Vegas Boulevard, aka The Strip, is closed to traffic from 5pm for the entire four miles, stretching from Mandalay Bay (which features on my list of the best pools in Vegas!) to STRAT, and pretty much every person in town is out on the street celebrating until after the fireworks have ended.
Wear comfortable shoes because you'll walk more than you plan to!
Vegas VIP dinners and clubs on new year's eve
If you want to sashay into a fabulous restaurant for delicious food, or just take your honey for a quiet dinner, grab a ticket at one of these amazing restaurants and nightclubs run by the Tao Group.
Some have an open bar, live music and DJs, some offer an extravagant dinner before you step onto the Strip to watch the midnight fireworks – a do-not-miss event.
Private NYE parties in Las Vegas
If you want to be seeeen and hang with the beautiful people on new year's eve, I found a whole bunch of amazing New Year's Eve events in Las Vegas, so you can just scroll through and pick the ones you like (or which are still available) for a champagne toast at midnight.
You'll find a fun NYE Club Crawl, lounge parties, bottomless bars (I think they mean the drinks!), rooftops with live bands, live DJ, and nightclubs in this list.
Hard Rock Hotel New Year's Party
Ring in 2024 with great music, unparalleled views of the fireworks displays at midnight, premium open bar, food stations and live entertainment at the Hard Rock Cafe on the Las Vegas Strip. Get your Tickets here >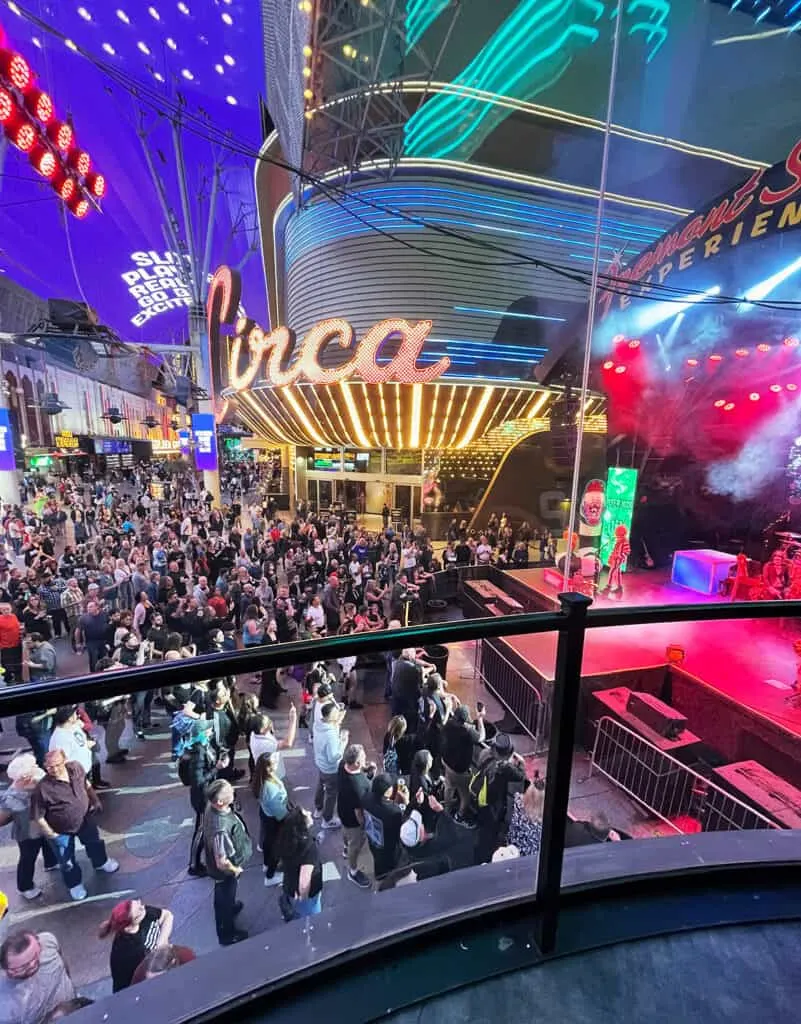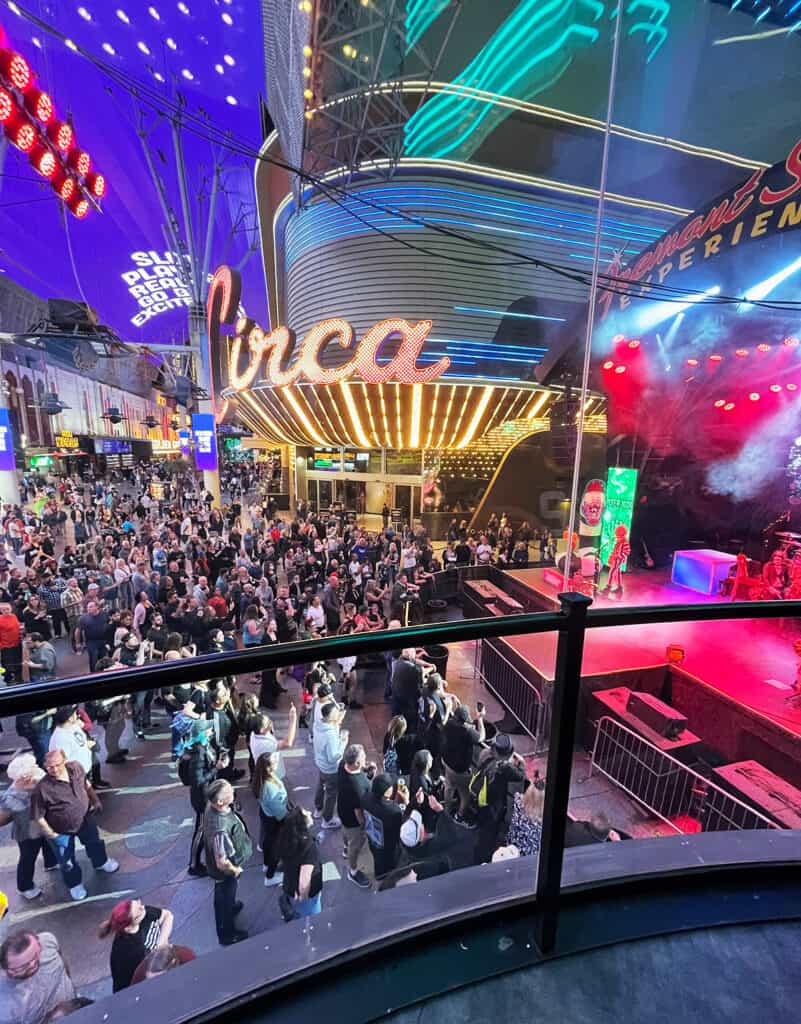 Try the Fremont Street Experience
Head to downtown Vegas and grab a ticket for the Time of Your Life Festival on Fremont Street this new year's eve. They have an awesome line up of musicians and bands downtown and you can soak in the buzz and crazy atmosphere.
The famous Fremont Street Experience is highly strung every weekend with live entertainment, let alone new year!
There will be three stages with live music starting at 6pm and a 20-minute pyro show at midnight. Headline artists for 2022/23 include The Wailers ft Julian Marley, Bush, and The Struts from the UK. DJ Scribble, Sugarhill Gang, All-4-One, Sugar Ray and Tag Team. Tickets $50 and restricted to 21 years and older.
Don't plan for a quiet night here, the party starts at 6pm and runs until 4am new year's day.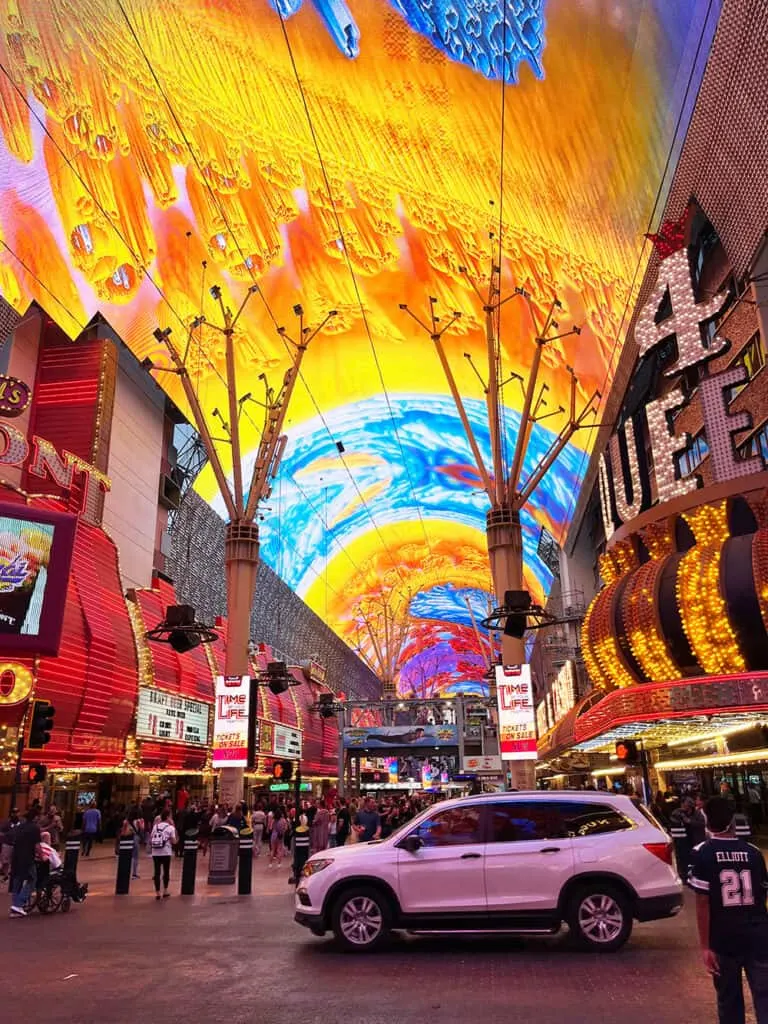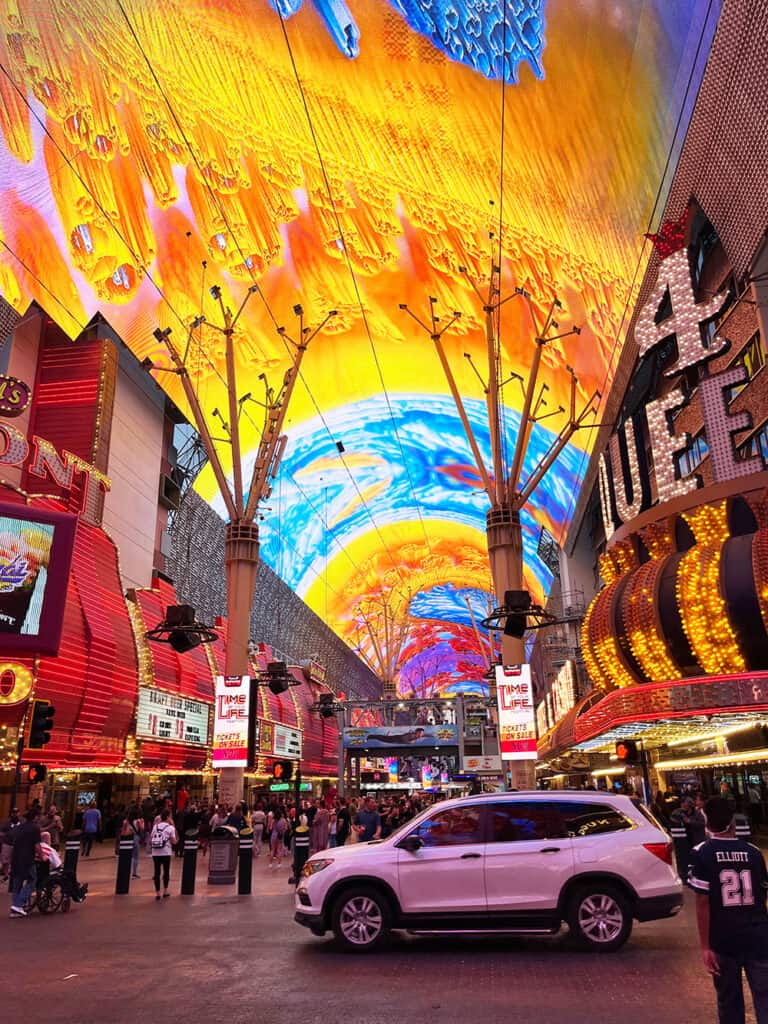 Get tickets for Area 15 on NYE
I visited Area 15 a couple of months ago and I can't even describe it to you. Which is not very good as a writer whose job is to actually describe things! Inside Area 15 you'll find a few businesses like bars and rides that kind of zipline you inside around the roof.
But the main reason people come here is for Meow Wolf. All is not as it seems. All I can say is the creators/designers must be on something. Thank goodness we had the PR guy showing us around, but even then…
The theme for New Year's Eve at Meow Wolf is white and neon glow, so grab your tickets and try and tell me what it was like!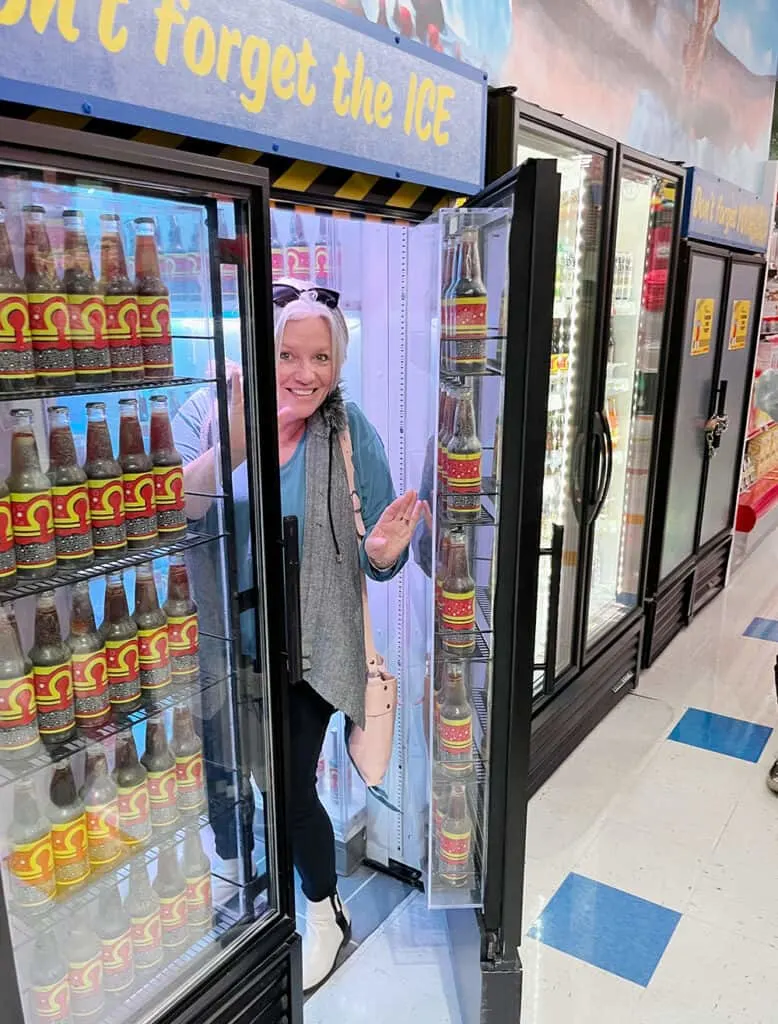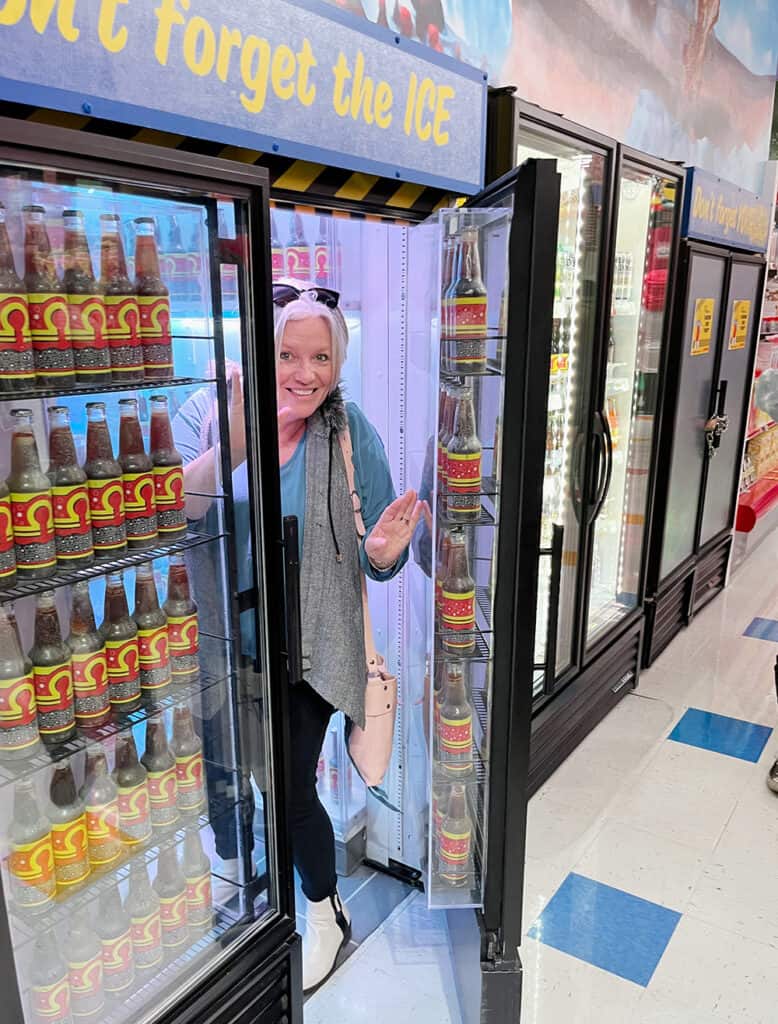 FAQs for New Year's Eve in Las Vegas
What is the weather like in Las Vegas for New Year's Eve?
It's freezing! Literally. You can jump on this link to Weather.com and see the forecast closer to the day, but for now it's looking like 41˚F to 64˚F (5˚C to 17˚C) on December 31. These clever hand warmers are worth buying and having in your pockets.
What time should I get there?
A very good idea is to charge your heated hand warmers, dig out your fur hat, and head out about three to four hours before midnight. Some venues will be crowded so if you're not where you want to be by 11pm, you might not get in. But because of the Strip closure, why not come earlier and get amongst the melee.
Where will the NYE fireworks be?
This year (2022/23) they will be let off from eight casino rooftops along the Strip in an epic ten minute finale of 80,000 explosions!
Where should I stand for the best view of the fireworks?
The eight Vegas hotels the NYE fireworks will be let off from are MGM Grand (you could stand anywhere around that corner including New York New York, Excaliber and Tropicana), ARIA and Planet Hollywood across the road. Caesar's Palace, and Venetian opposite. Further south, Treasure Island, Resorts World and the STRAT.
Make sure you get a pozzy where you can see at least a couple of these rooftops. The pedestrian bridges are your best places to stand. Getting a spot depends on your waiting stamina!
New Year's Eve is not the time to be in Las Vegas if you like an early night. Come with your party face on, pack a whistle or some noise making hollering device, and let your freezing cold hair down!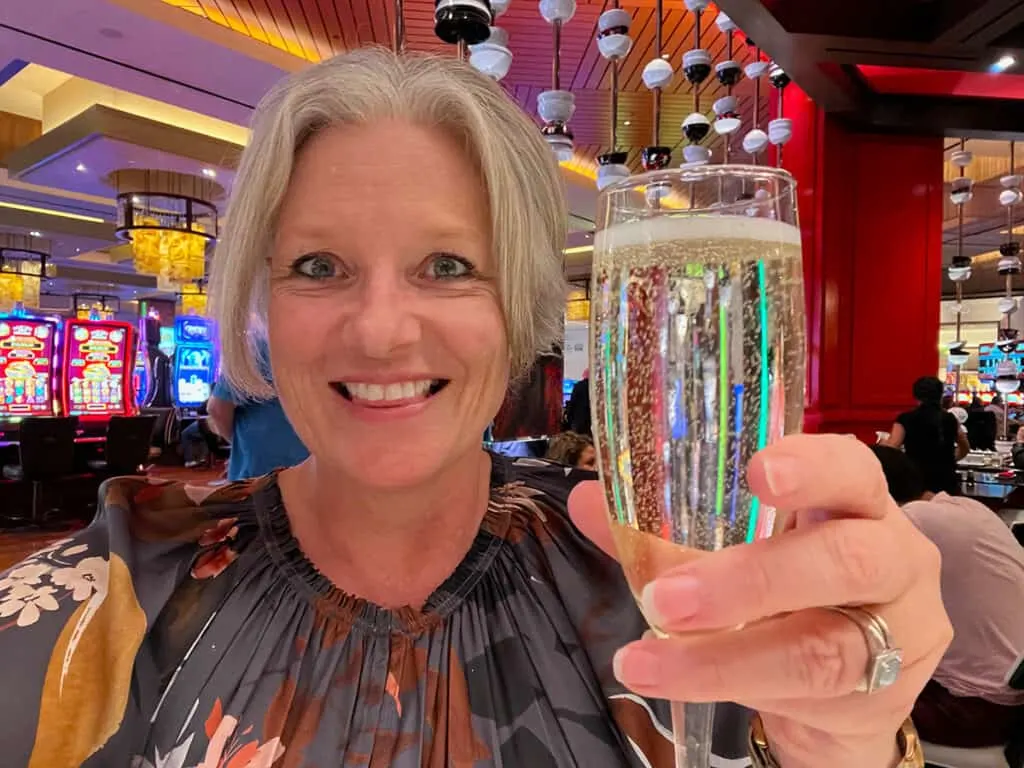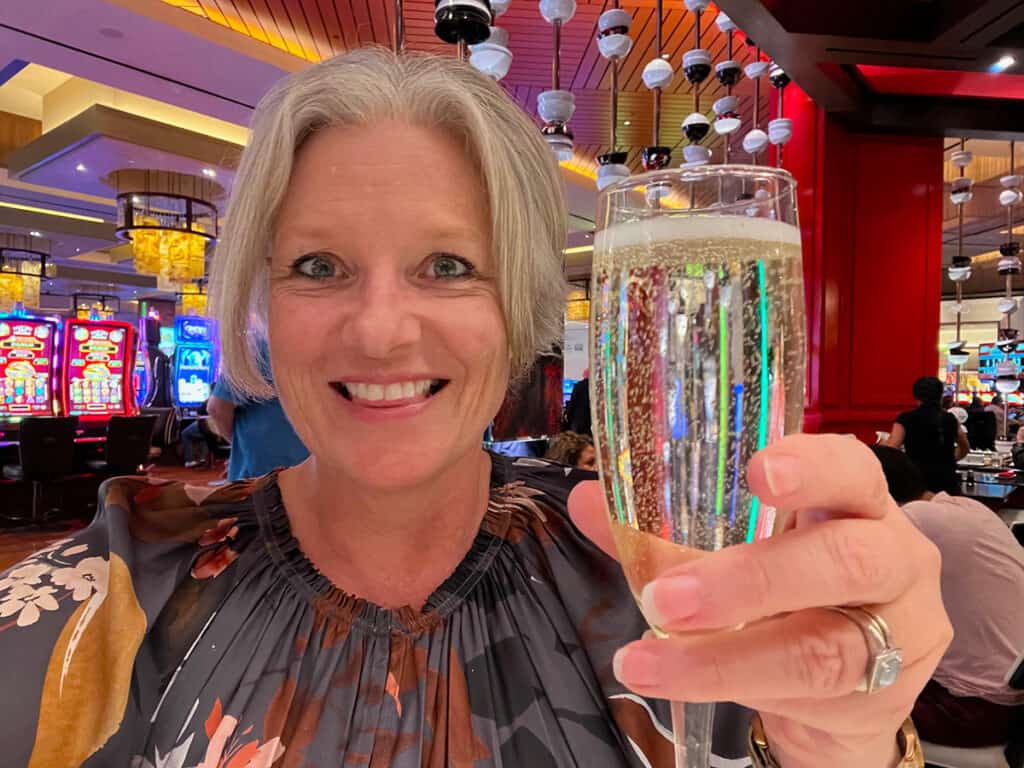 Getting into hotels on NYE
Because of restrictions on numbers, many of the hotels on the Strip restrict entry to in-house guests only on new year's eve. Get a room!
Need a Las Vegas hotel? Check for last minute deals easily on Booking.com. Last time we visited we chose Paris in the middle of the Strip, and then a night at the Golden Nugget in downtown Vegas at Fremont Street.
*Contains affiliate links. This means if you make a purchase, I may make a small commission, at no extra cost to you. Thank you for supporting this blog!
Read more! Because one is never enough…
The Coolest things to do in Las Vegas, features some more fun activities including restaurants, clubs, bars, day trips and more.
My picks for the 24 best shows in Las Vegas covers everything from Donny Osmond (don't laugh!) to Magic Mike and a run down on all the Cirque du Soleil shows.
If you love shopping then you should read these 10 places for shopping in Vegas, including outlets.
Vegas is also featured on my list of 20 great places for Spring Break with the family!
And if you want to get married by Elvis or renew your vows, and need to know which lookylikey is the best, I've found him in this post on the time I crashed an Elvis wedding!
Get out of dodge on this three-night/four-day Nevada road trip from Las Vegas visiting ghost towns, aliens at Area 51 and the mighty Hoover Dam.
Pro tip: Buy a 2, 3 or 5 day Las Vegas Pass and get admission into 30 shows and attractions – more than you'll have time for. The reviews say it's paid for itself on the first day!
Shopping! Shop my curated Amazon Travel Store for beautiful luggage and clever travel accessories for your upcoming trip