Whether it's your first time visiting Los Angeles or you've been loads of times, you're bound to find something on this list of very cool things to do in LA.
I've been to LA so many times I've lost count. I think I've stayed in Santa Monica at least a dozen times, plus about five times in West Hollywood (and can recommend these 7 lovely WeHo hotels), three times in Beverly Hills and also Venice Beach, Marina Del Ray and Downtown LA. Oh and then there's the Disneyland visits…
But this post doesn't just take my word for it, I've called in some of the best travel bloggers in the US to contribute their ideas too.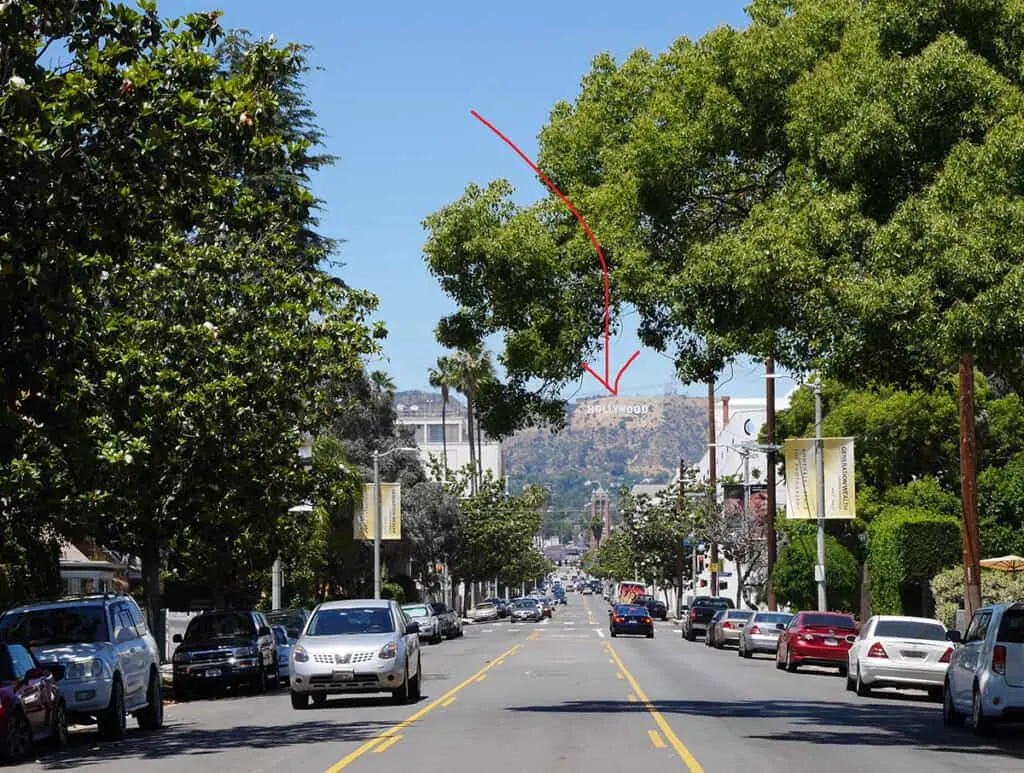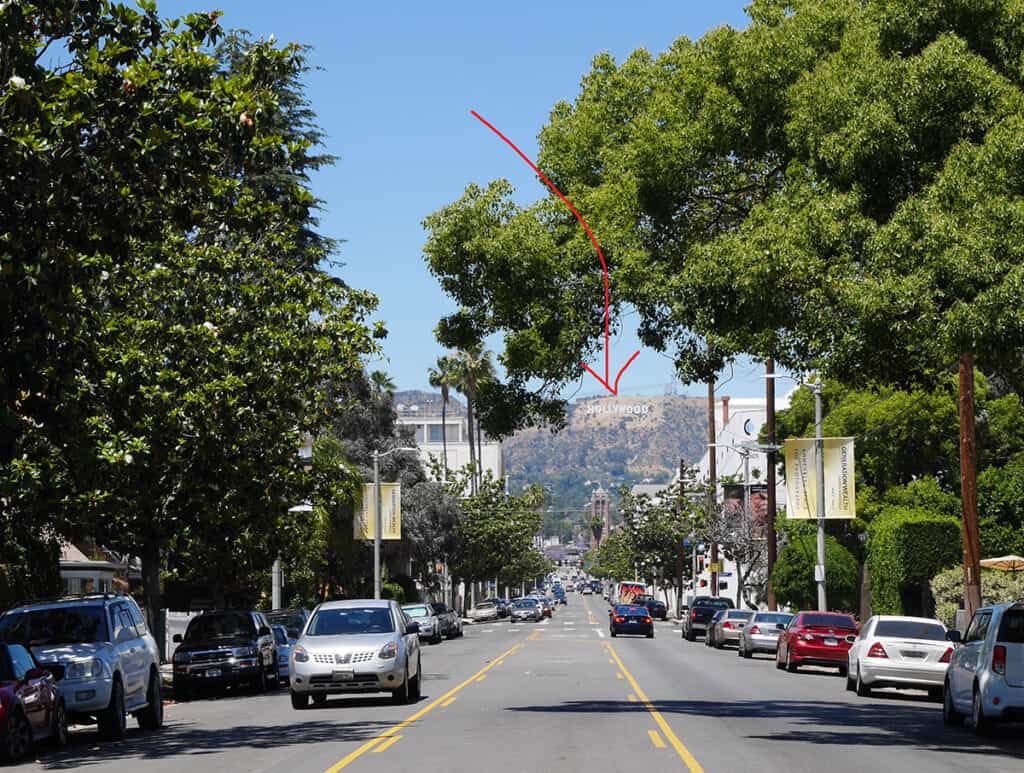 If you're in the planning stage of your Los Angeles trip, I have recommended my favorite hotels at the bottom of this post and why I like them.
But if you only have one day in Los Angeles, maybe on a stopover or you're here for work and have a free day, this post on a day trip to Santa Monica would be my pick for what you should do.
I also like to use Discover Cars for researching car rental prices because they compare all the car rental companies in one easy page, plus have local businesses as well as the big national chains.
*This post contains affiliate links. That means if you make a purchase I may make a small commission at no extra cost to you. Thank you for supporting this blog!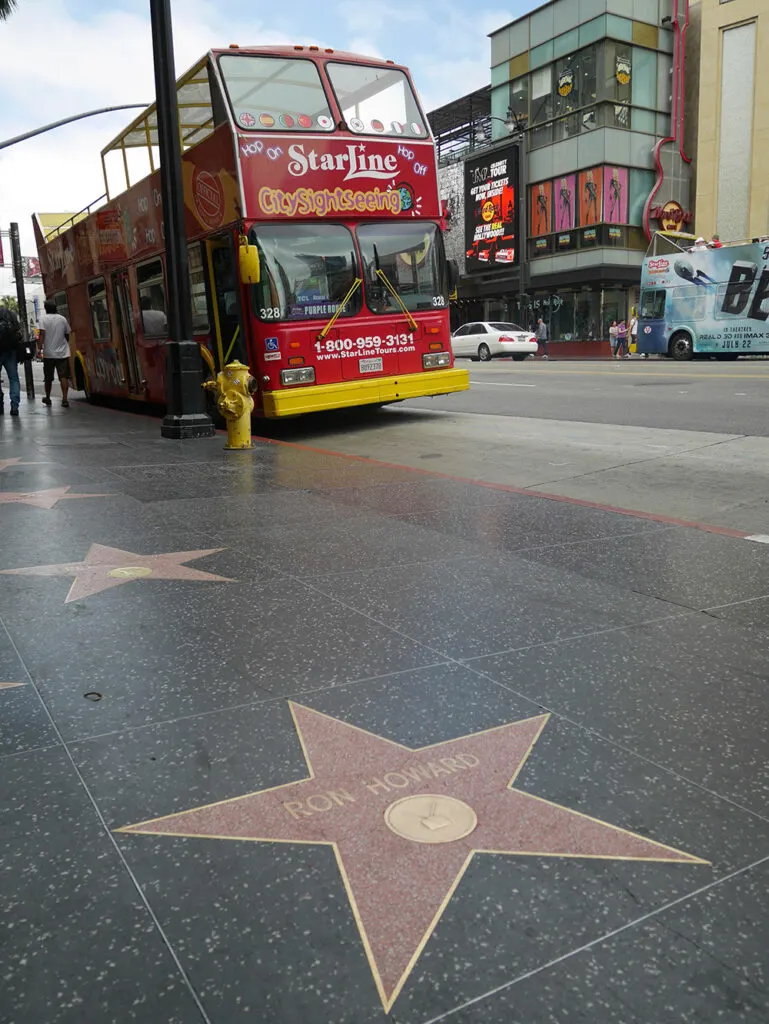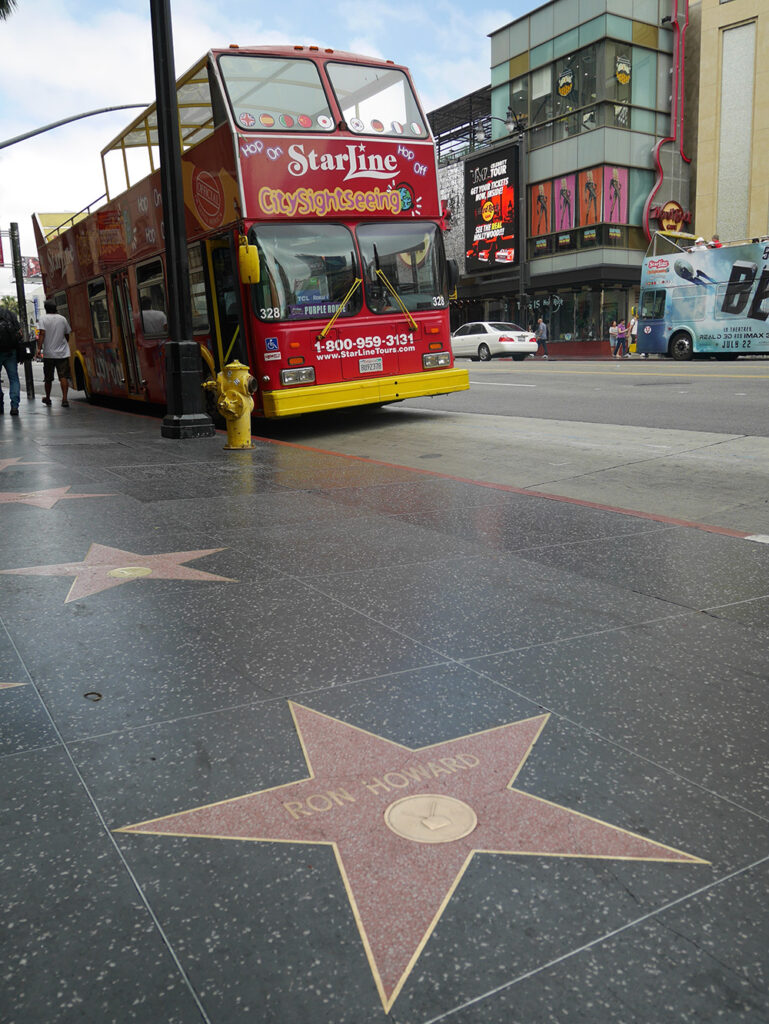 So let's go with my crazy cool list of things to do in LA!
1. Visit Santa Monica
This is my favorite Los Angeles neighborhoods. I try and always stay here at one of the amazing beach front hotels and always recommend it to friends. The shopping along Third Street Promenade will keep you busy for a couple of hours, the dining scene runs from a family-friendly food hall in Santa Monica Place, to luxury hotels and cool beach vibes.
But it's Santa Monica beach I really love. I don't even swim (bathing suit!), but the wide sandy beach is the focal point of this laid back village. And the iconic 100+ year old Santa Monica Pier is a must-see.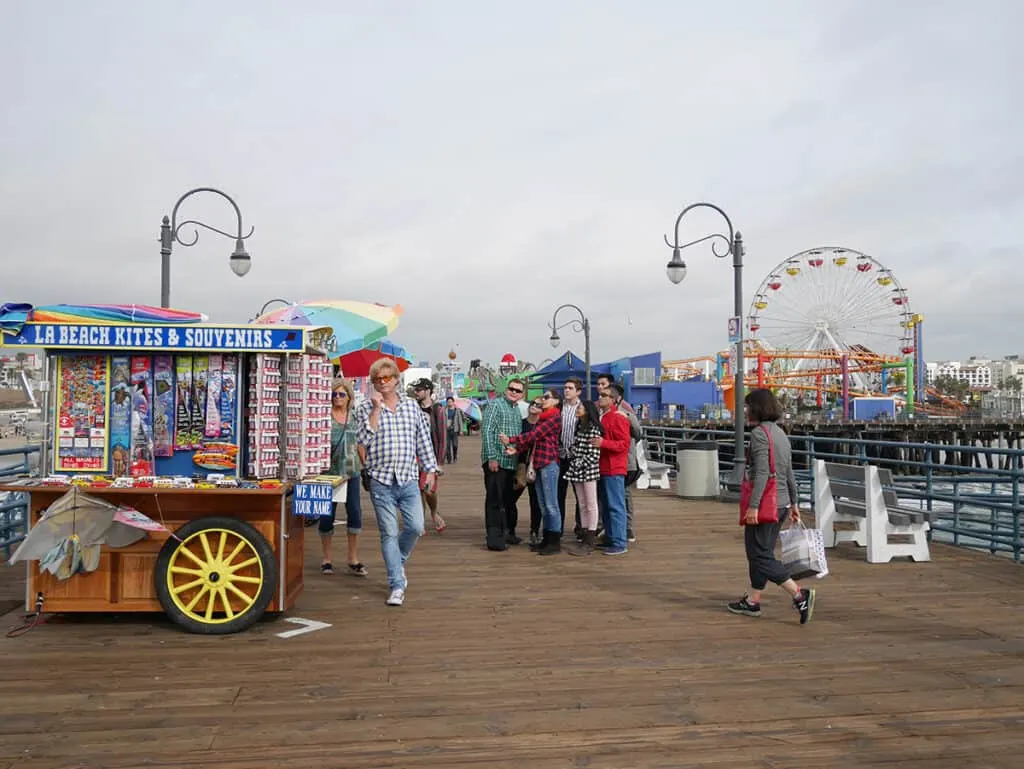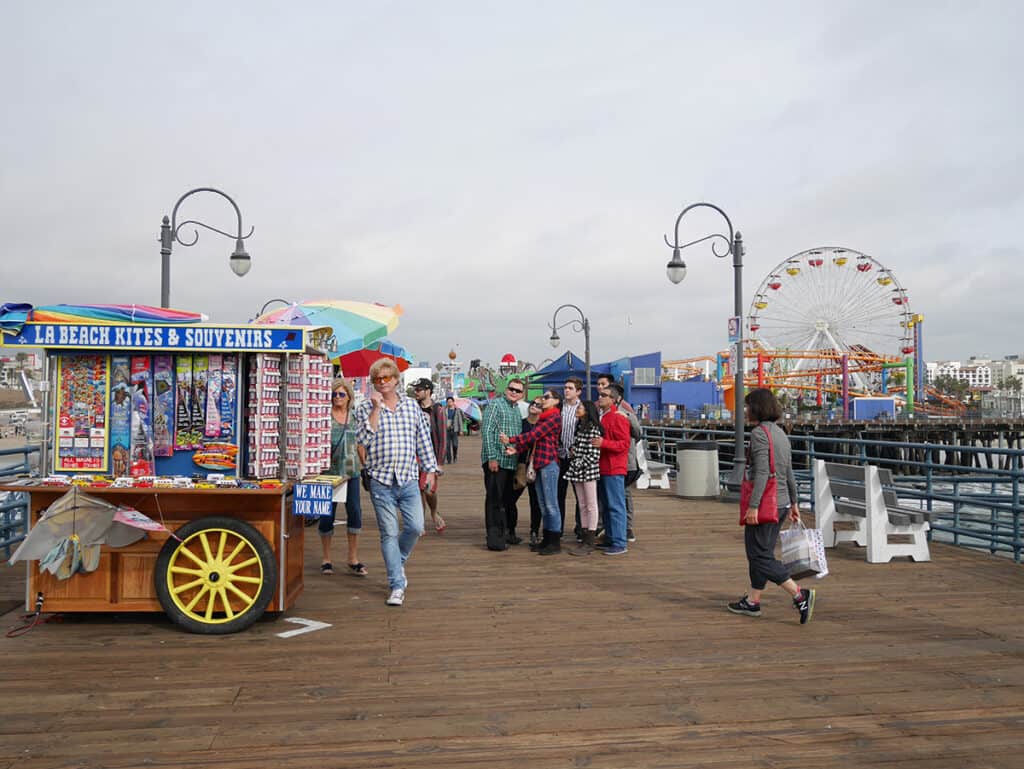 It's cliched, but we love lunch at Bubba Gump on the Pier! (Flip your Run Forest Run sign for a waiter). You can rent bikes and go for a ride down to Venice Beach, or in the direction towards Malibu (no, it's too far to cycle there!)
You can ride the Ferris Wheel, eat waist-altering donuts, and walk all the way to the end to stand at the official start of Route 66. You'll also find souvenir shops dotted along and more places to eat, including one of my absolute faves: The Lobster.
The Lobster is located at the start of the Pier and is famous for, you guess it, Lobster. Plus other foods, but a lobster dish with a glass of something chilled watching the sun slide into the Pacific Ocean is a bucket list moment.
2. Visit Beverly Hills
You might be pleasantly surprised to find that Beverly Hills is not as expensive as you thought.
I mean sure, you could drop more than your house is worth in one store alone on iconic Rodeo Drive, but you can also shop along parallel Beverly Drive at the likes of Pottery Barn, Lulu Lemon and Sephora.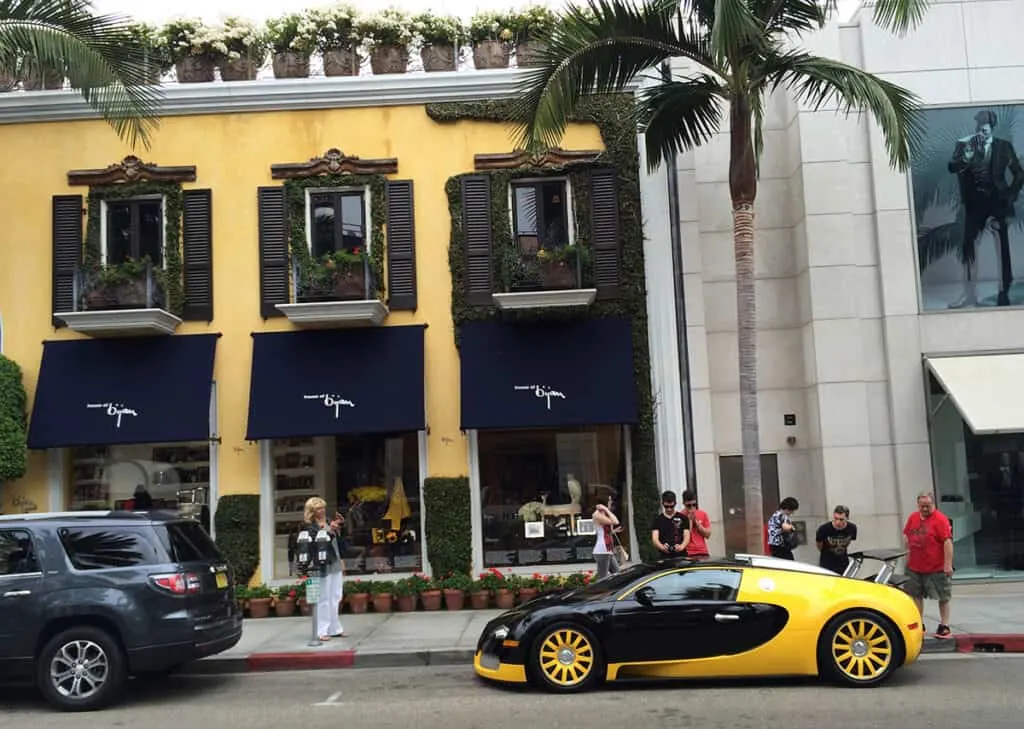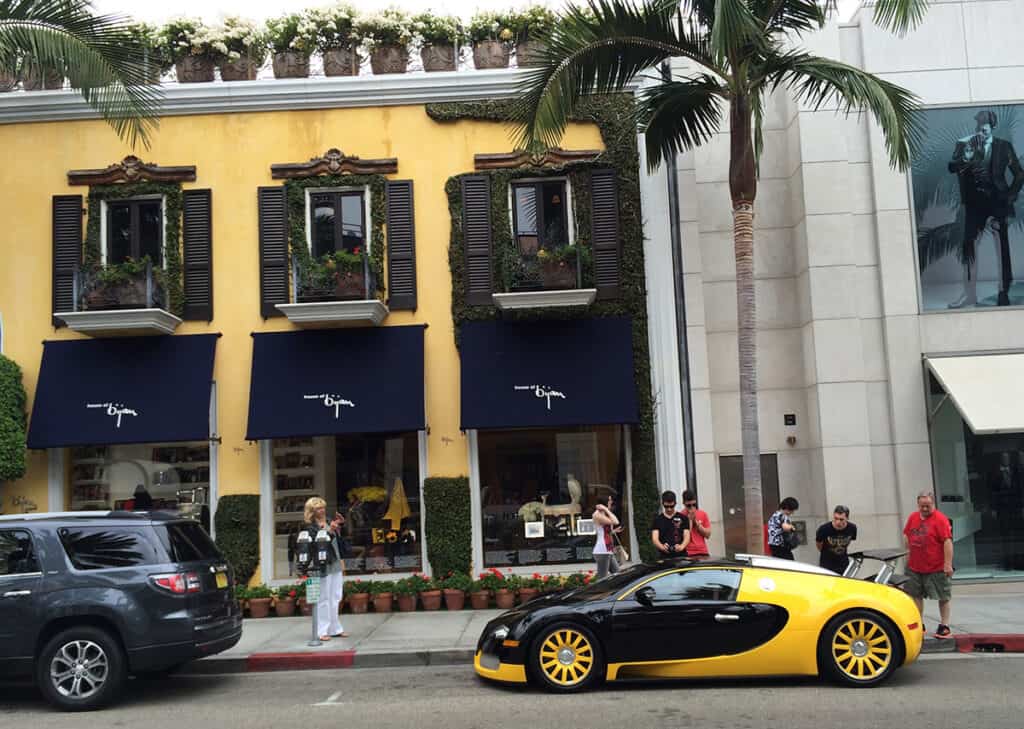 One time we visited LA, we decided to stay in Beverly Hills and found a cute boutique hotel within walking distance of some rooftop bars and plenty of restaurants, and it didn't actually break the bank. In fact you can stay in Beverly Hills for under $200 a night at the Crescent Hotel.
There is also a Sunday Farmer's Market open every Sunday rain or shine from 9am to 1pm. Come here for seasonal produce, delicious baked goodies, fresh squeezed and pressed juices. They have a petting zoo and live music.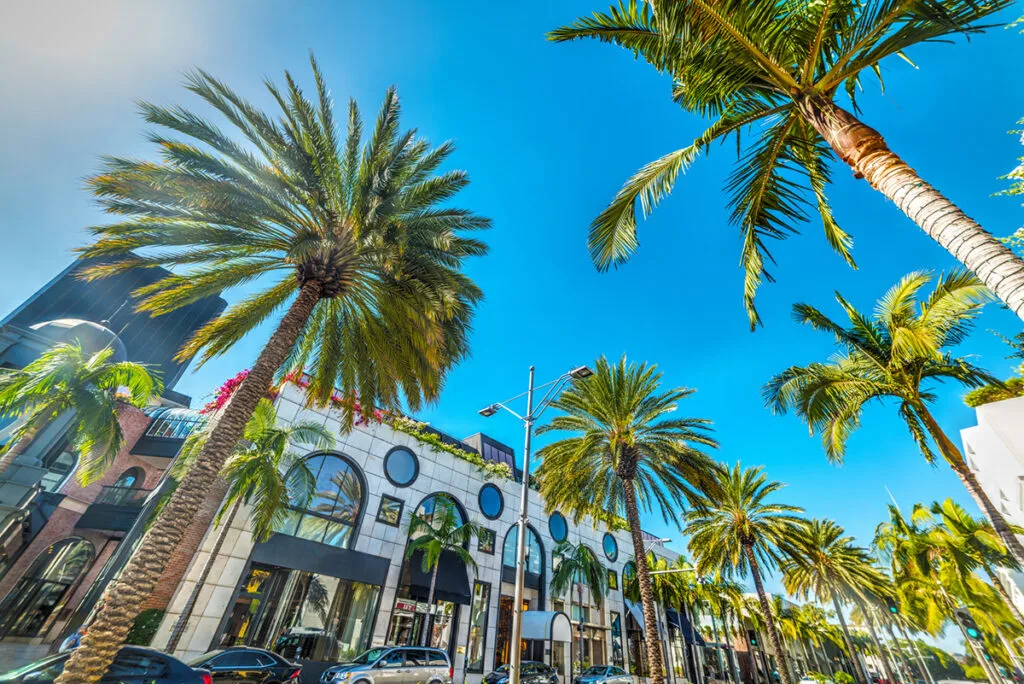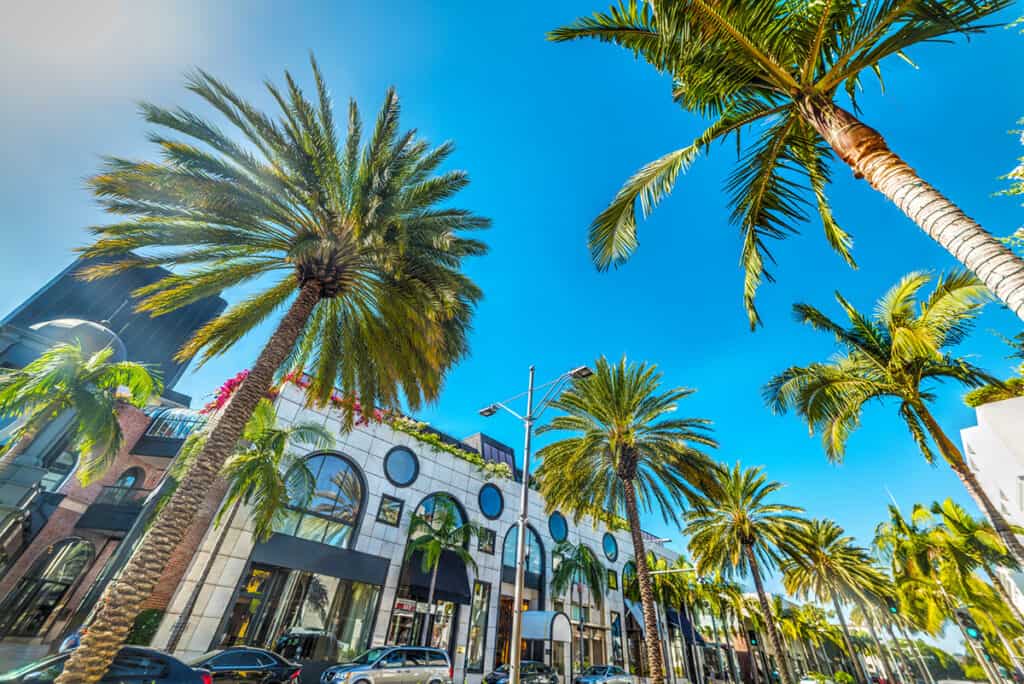 3. Hike to the Hollywood sign
By Catherine from Nomadicated.com
Check off LA's most famous attraction on most people's bucket list must-sees in LA and take a hike to the Hollywood Sign up in the Hollywood hills. The sign, created to sell this neighborhood's homes in what was then Hollywood Land, turns 100 years old in 2023.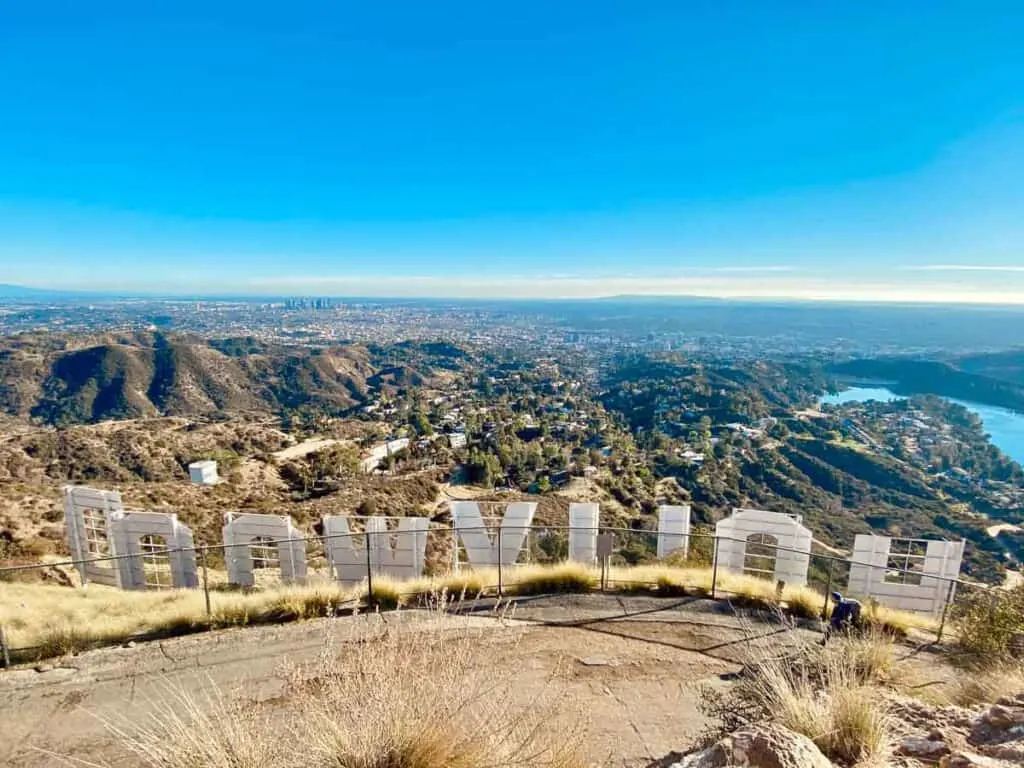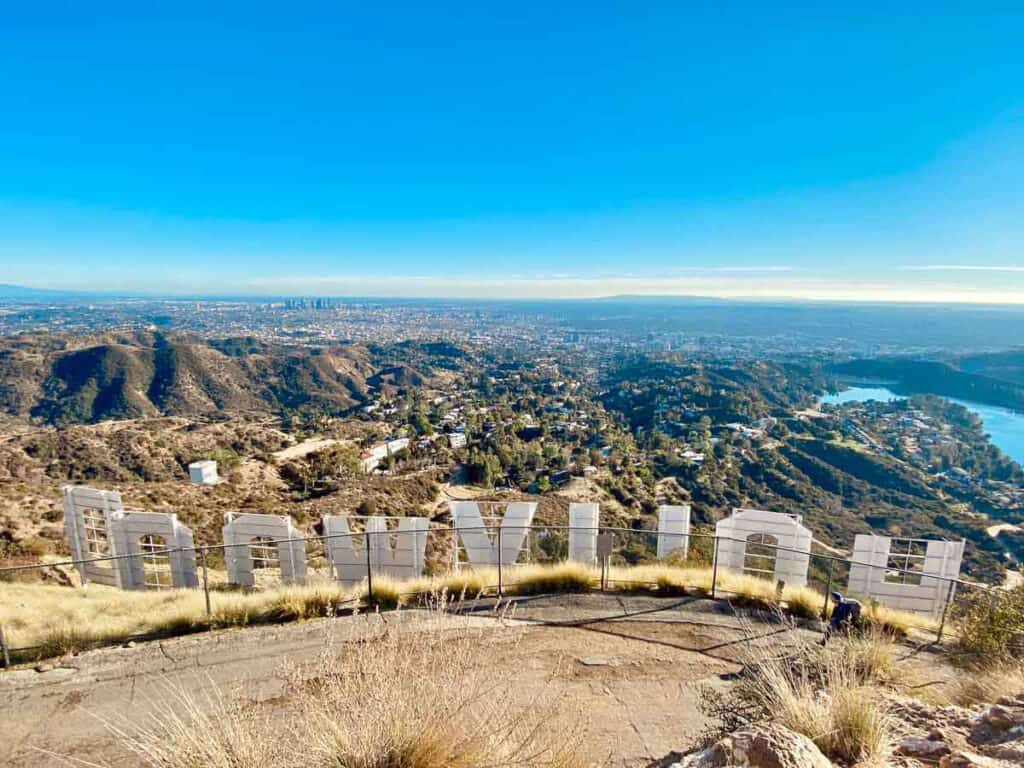 You'll burn more than a few calories along the trail, seeing breathtaking views of Los Angeles. And when you reach its summit, stand in awe at this legendary icon against the backdrop of the city.
If you haven't been here before I'd suggest joining a walking tour with Bikes and Hikes LA. We met Noelle, our fun guide (and stand-up comedian in her spare time) for the 2-hour round trip through secret gates and turnstiles. You don't get close enough to touch the sign. In fact no one can – except the occasional protester. It is possible to add another 90 minutes and hike up above the sign, but this was the view I had come for.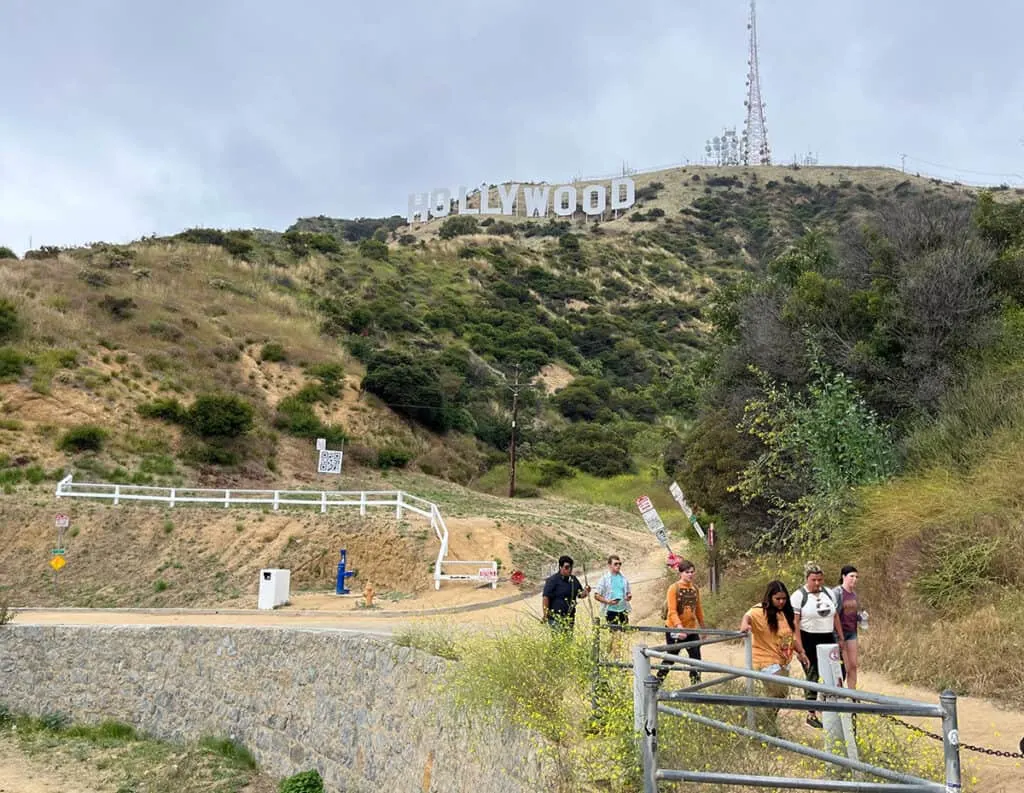 There are four popular routes to get to the Hollywood sign (ranked from shortest to longest):
Burbank Peak Trail (3 miles)
Hollyridge Trail (3.5 miles)
Innsdale Drive (4.6 miles) – the one we did, which is not very strenuous
Brush Canyon Trail (6.4 miles)
The most direct (but strenuous) path to the Hollywood Sign is via Burbank Peak Trail. This scenic yet grueling journey can be experienced with minimal crowds along the trail, but you're sure to feel the muscle burn all the way up!
The next shortest option, Hollyridge Trail, is the most popular but suffers from parking issues and can thus be longer than what trail maps show.
If you're feeling especially ambitious – a fifth route named Griffith Observatory Trail is an 8.8-mile roundtrip hike that will take you all the way from observatory (read more below) to Los Angeles' historic landmark! Plan ahead and bring water and sunscreen.
Hiking paths are accessible from sunrise to sunset, all year round. To ensure you don't break any laws, stick only to the approved trails- do not trespass!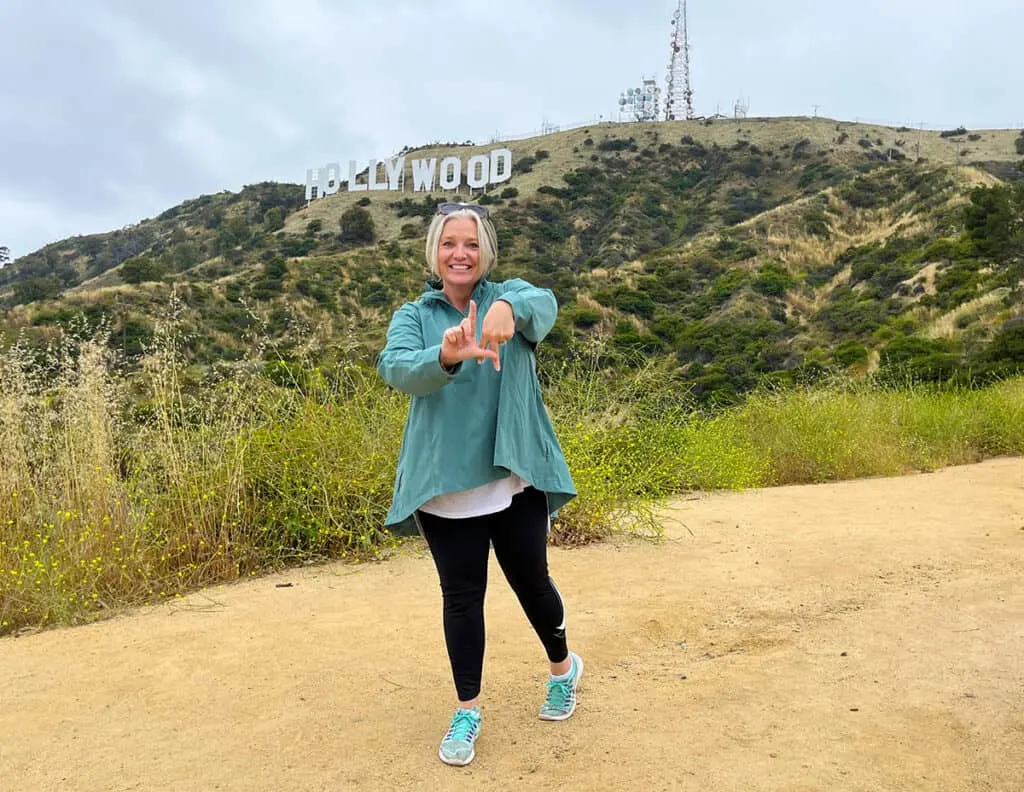 4. Tour Warner Brothers Studios
Also turning 100 years old in 2023 is Warner Brothers. They do a great tour on a trolly around the backlot and into working film sets. If you watch lots of TV as you'll recognise the many sets that are transformed into different houses, schools, city halls, depending on the show.
You'll have the chance to get off and walk through various buildings set up as school corridors or gymnasiums or lake front houses or suburban streets.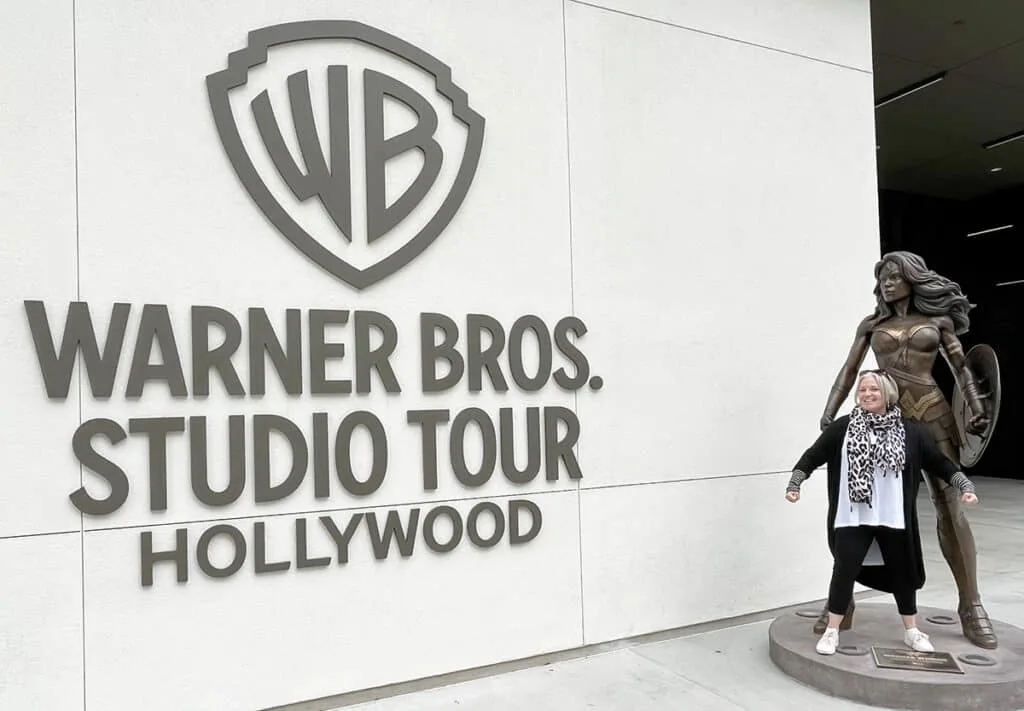 Then you'll walk though working studios that are not currently filming. Look out for celebrities, high power execs, and keep your eye on the huge movie star trailers as it's been known to come face to face with Jason Momona and others.
Then fans of shows like Big Bang Theory and Friends will love sitting on Sheldon's couch or the Central Perk couch for a photo. Have coffee at a replica Central Perk, then wander through interactive exhibits of Harry Potter where you can get sorted into your Hogwarts house.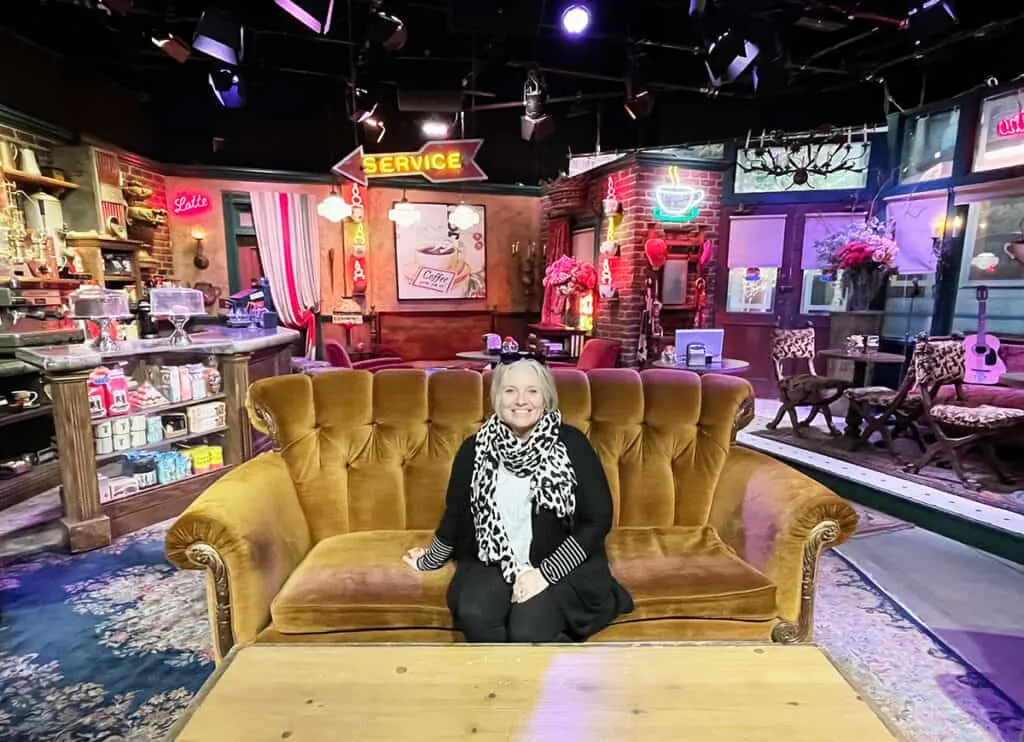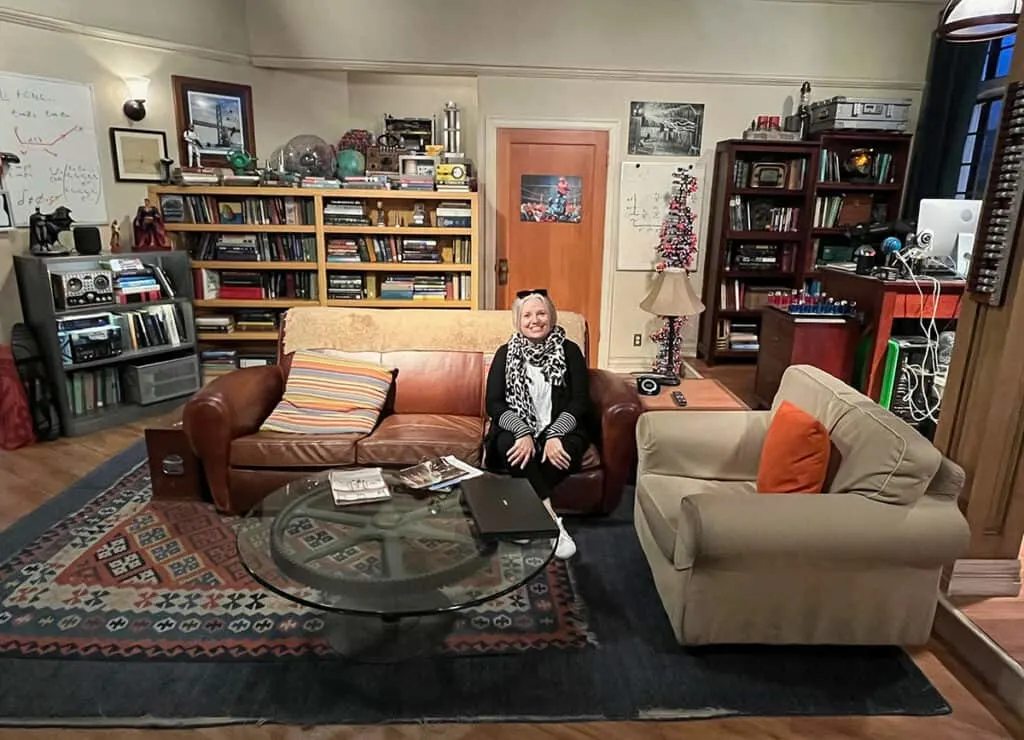 There are no whizzy rides here, it's a working film and TV studio afterall. But you can also get a VIP Pass and eat in the restaurant where the stars go. Or just take the tour like we did, then spend your own time browsing more exhibits. Allow at 2-3 hours.
5. LaLa Land: Griffith Observatory
By Sam Opp from Find Love and Travel
Griffith Observatory should be, without a doubt, added to your list of things to do while in Los Angeles, California.
It is located near the famous Hollywood sign (meaning you get to see two amazing attractions in the same visit). It is actually one of the most visited observatories in the entire world. And the best part is, Griffith Observatory is one of the best free things to do in Los Angeles!
Completed in 1935 and considered a symbol of Los Angeles, the Griffith Observatory will provide you with the most insane sunset views of Downtown Los Angeles, opportunities to hike and explore the trails, a Planetarium, and telescopes to stargaze at the summer night sky.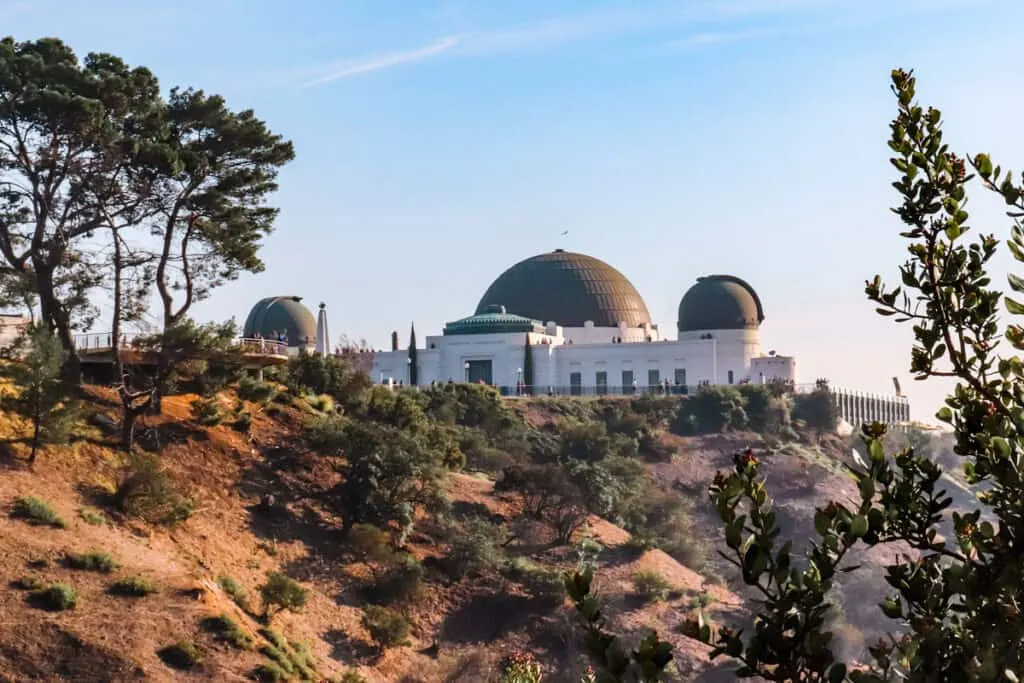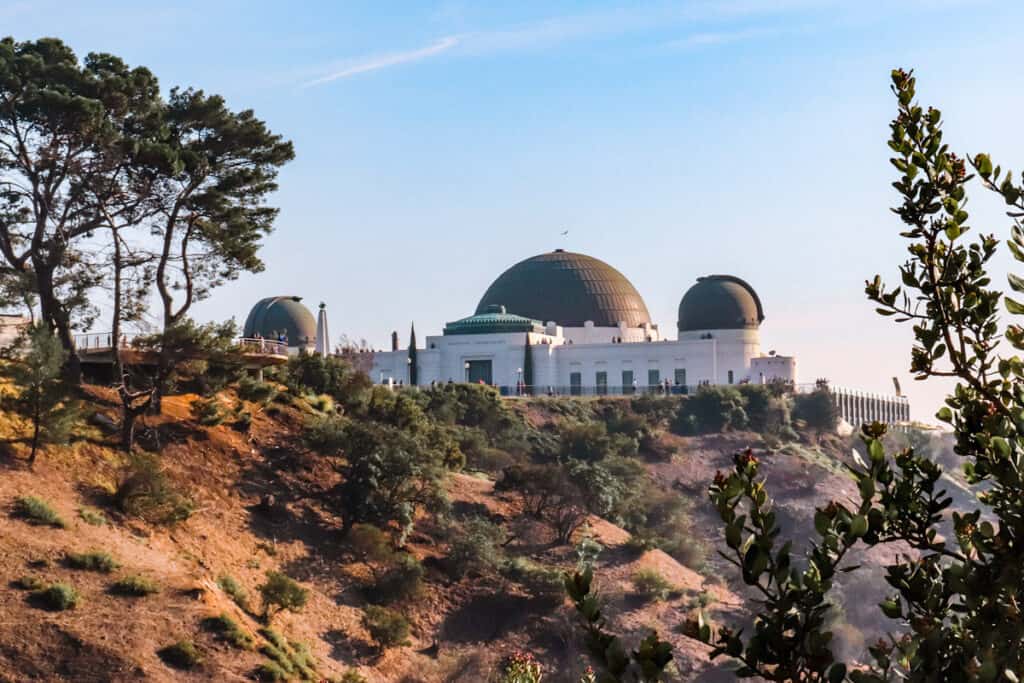 If you're into space or the stars at all, you must stop by. The telescopes provided allow you to observe the sky, learn, be inspired, and be in awe through the complex nature of astrology as you to dive into your own experience and relationship with the Universe. If it's cloudy and you can't see the real thing, you can take in a starry show for $10 in the theater.
One thing to keep in mind is parking may be difficult due to its popularity. You may have to park further down the hill, and take a little bit of a hike up to the Observatory. There is metered parking down the hill. We Ubered.
6. Go foraging!
By Claire Ramsdell of The Detour Effect
You don't have to leave the greater Los Angeles area to find a beautiful hiking trail or state park, but you might be surprised to learn that urban bushcraft is practiced within LA city bounds.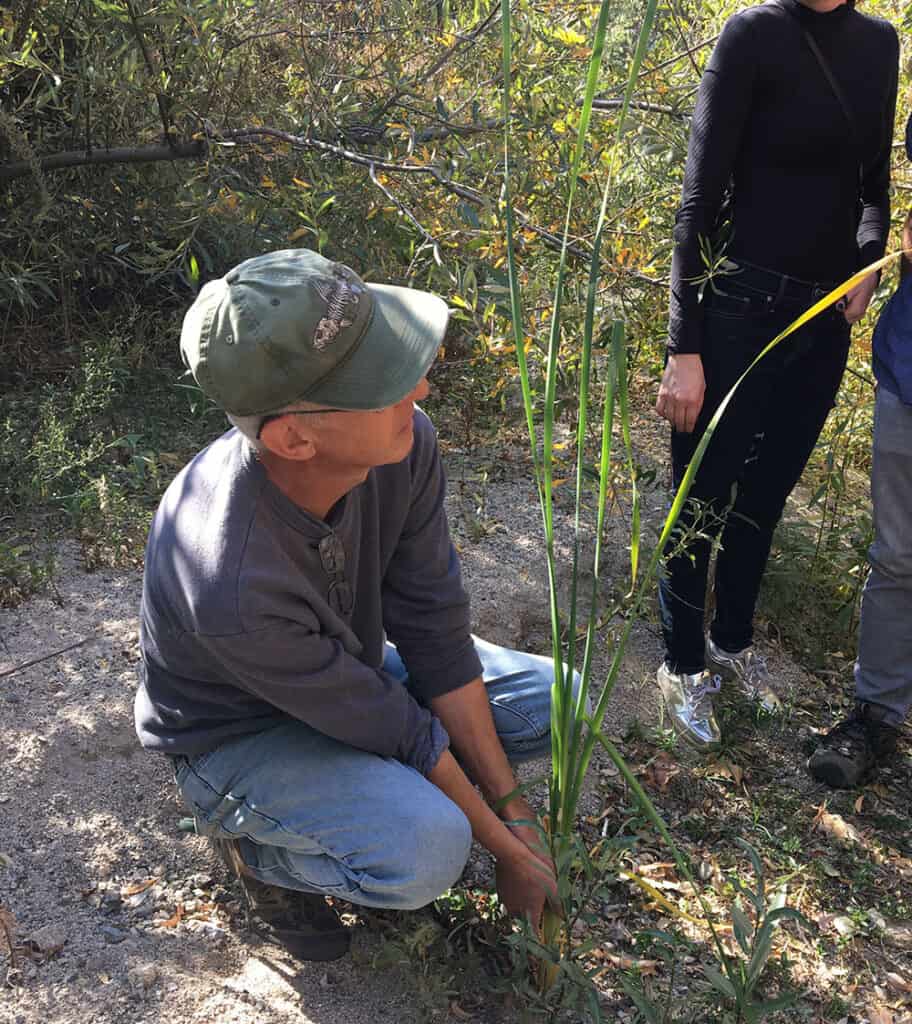 Sign up for a foraging class with Pascal Baudar of Urban Outdoor Skills, and head into the hills of Los Angeles to search for edible plants.
You'll learn not only how to identify nutritious and medicinal native flora, but also how to utilize them in delicious meals through cooking and fermentation techniques. Baudar has used historic food preservation practices to create a "wildcrafted" cuisine that is unique in the modern age, and which fills the pages of his four published books.
Other ethnobotanists offering classes in Los Angeles include Emily Han, Erica Wohldmann-Gift, and Jess Starwood.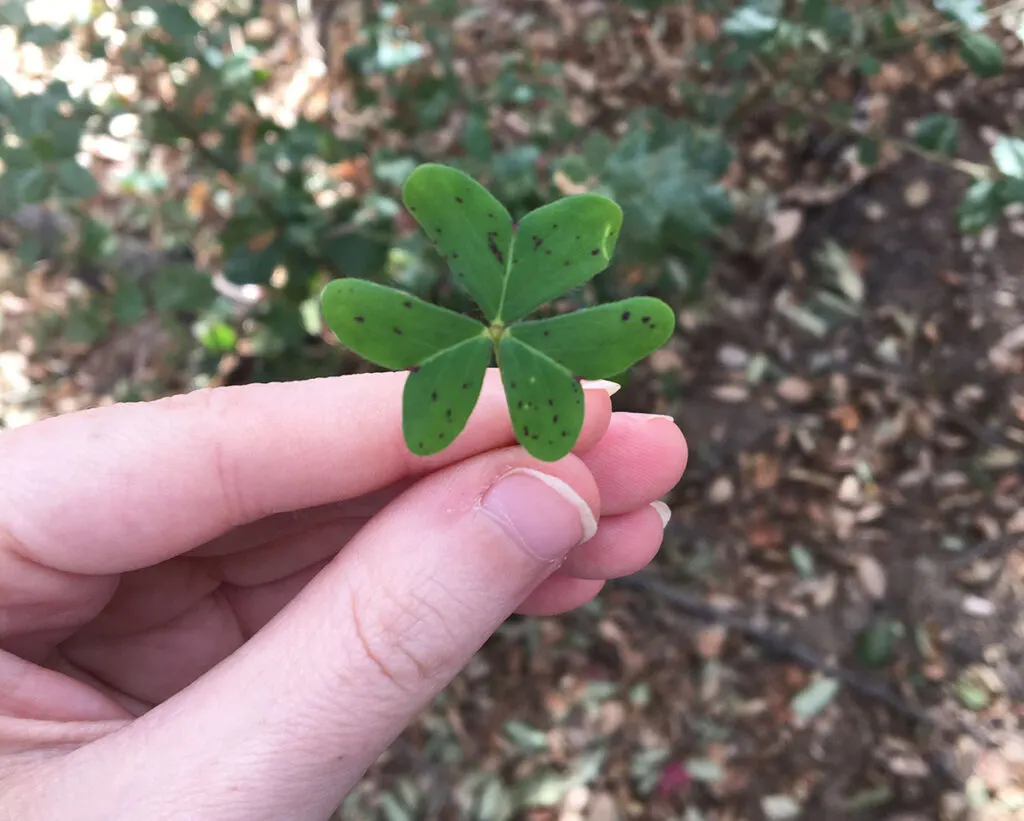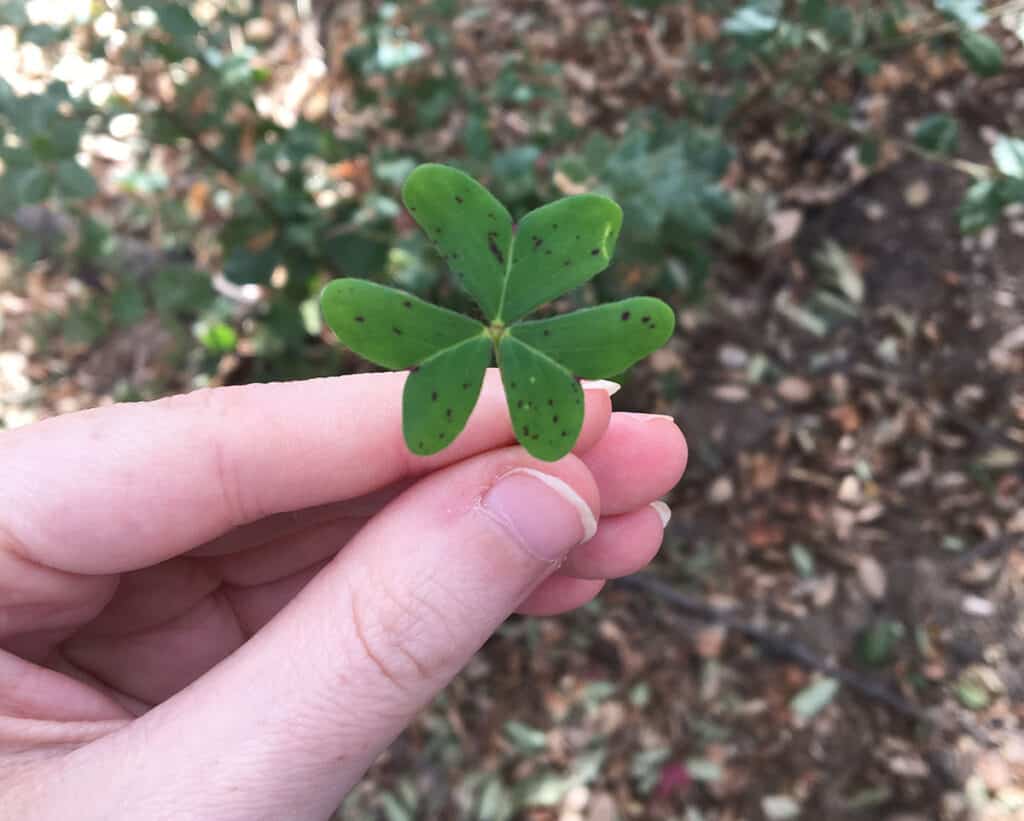 Or take your wilderness skills a step further and sign up for classes at the School of Self Reliance to learn how to make fire and shelter, source water, and create tools from fibrous plants.
The California Survival School also offers wilderness survival classes in addition to Wilderness First Aid certification. Even if you don't see yourself as a "survivalist" per se, these classes are invaluable for hikers setting out on California's Pacific Crest Trail or for folks interested in off-grid living.
If you are feeling suffocated by paved roads, high-rises, and Hollywood, remember that natural areas like the San Gabriel Mountains, Angeles National Forest, Santa Monica Mountains, and Malibu Creek State Park are within your reach anytime you need a change of pace, plus classes to help you navigate them.
7. Visit Venice Beach
By Catrina of 24 Hours Layover
A visit to the buzzing area of Venice Beach is one of the best things to do in Los Angeles. Venice Beach has quintessential lifeguard huts, which makes this one of the most Instagrammable places in LA.
The towers are spread out along the beach and there's even a rainbow coloured one, which is really cool!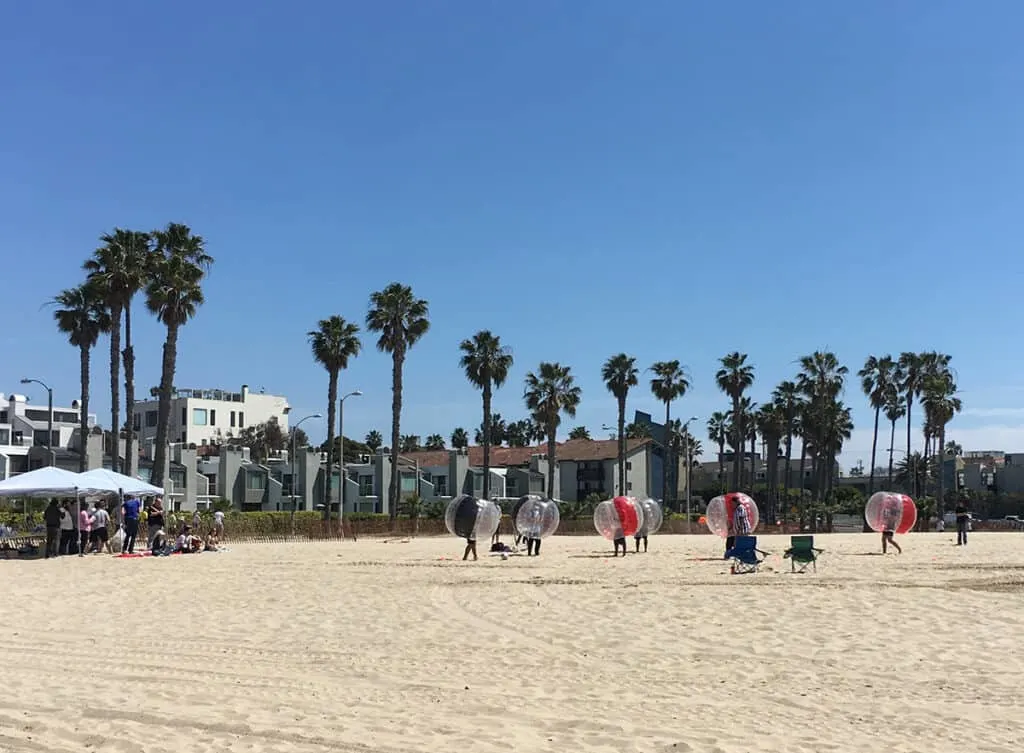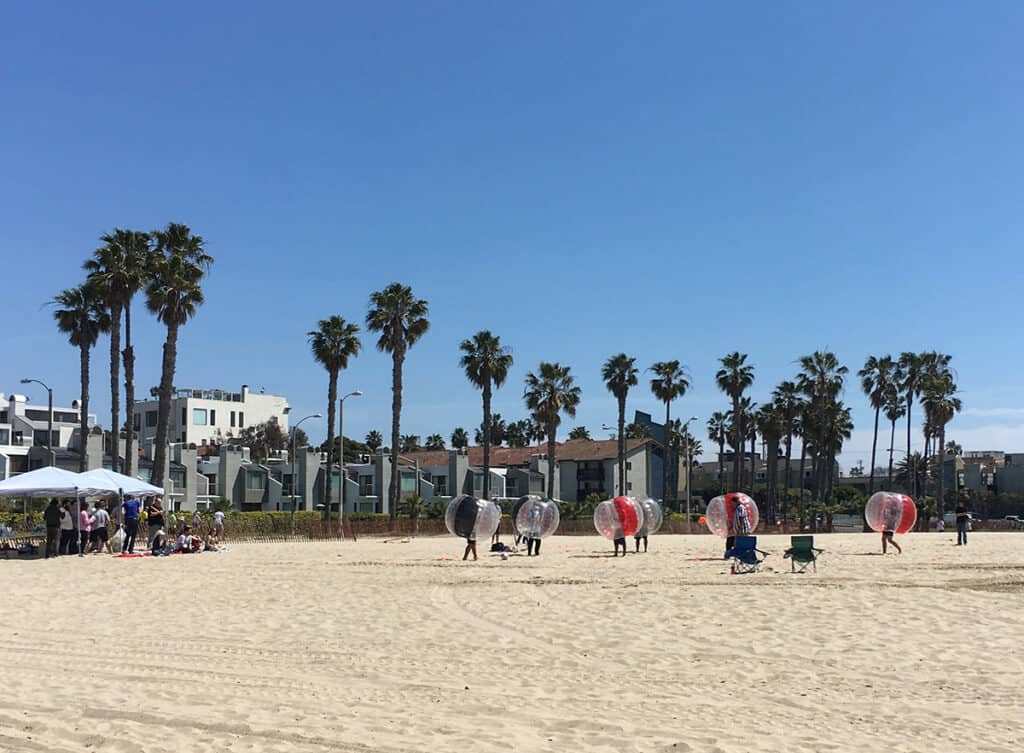 Besides relaxing on the beach and going for a dip, there are so many other things to do in this eclectic neighborhood.
The Venice Beach Boardwalk is a 2.5-mile (4km) long promenade that leads from Venice Beach to Santa Monica Beach. This is a lovely stroll and along the way you'll see lots of street performers, sports events, fortune tellers, colorful street art and funky shops.
There is definitely an upbeat free-spirited bohemian vibe here and it's perfect for people-watching. Love it or hate it, you have to experience the unique Venice Beach Boardwalk on the weekends!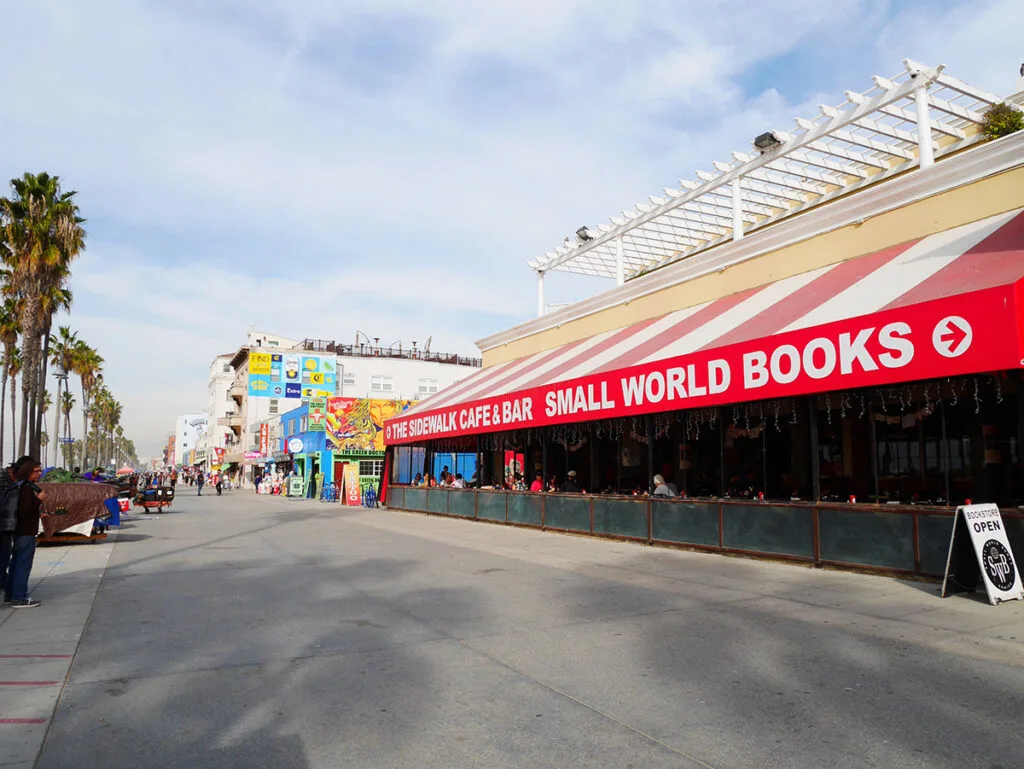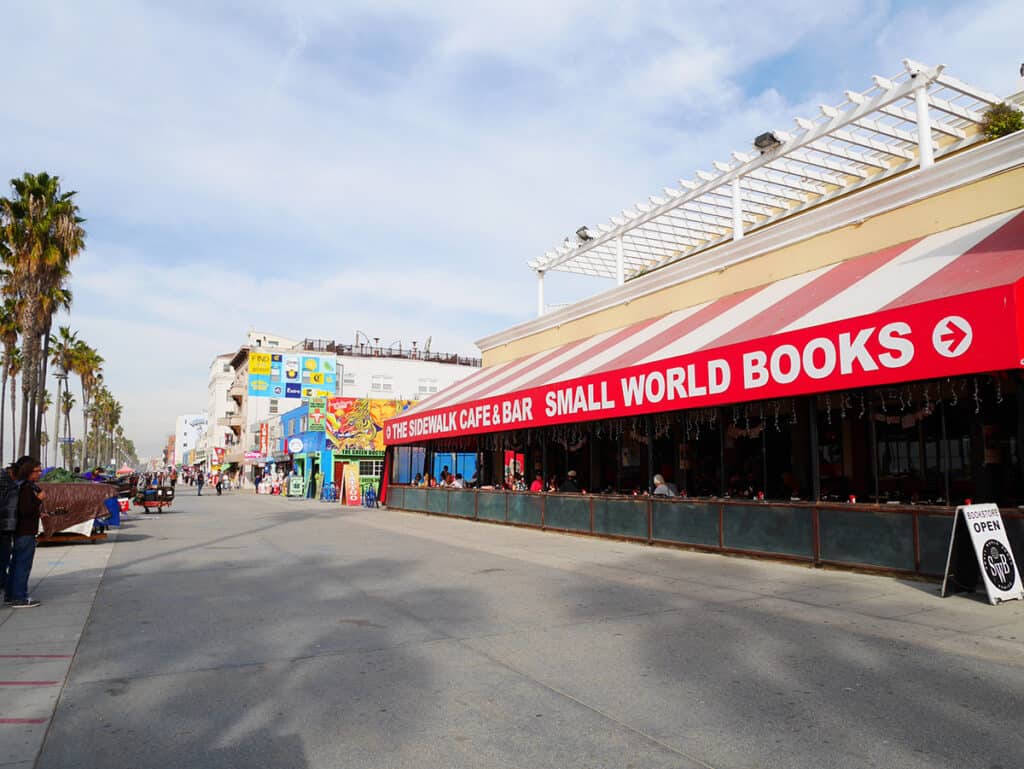 Check out the 'Venice' sign at the entrance to the beach on the busy junction of Pacific Ave and Windward Avenue. It looks really cool in the day and at night it is lit up. Just be careful taking photos here as there is lots of traffic!
You'll also find 'Muscle Beach' at Venice Beach. Muscle Beach is a popular outdoor beach gym with lots of weightlifting equipment. Bodybuilding events are frequently held here, so see if there is one when you are there.
If you want to see a completely different side of Venice and escape the liveliness for a while – head to the Venice Canals. There are three idyllic canal-lined streets a few blocks behind the beach on Dell Avenue. Here you'll find beautiful beach houses and pedestrian bridges, and even sometimes people kayaking or paddle boarding.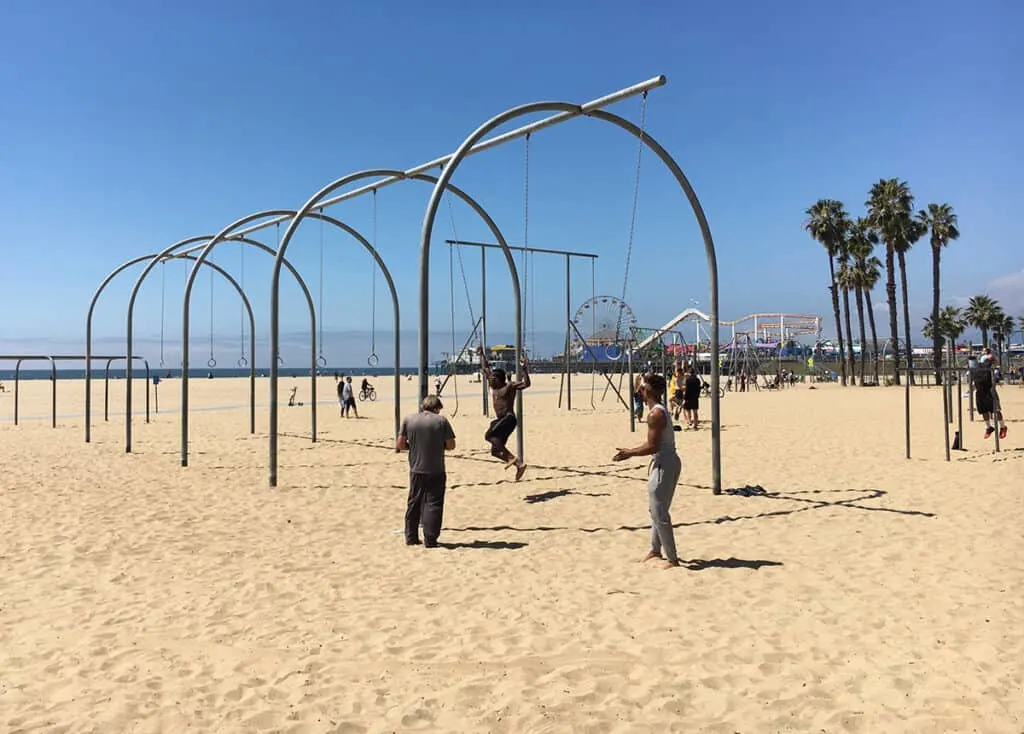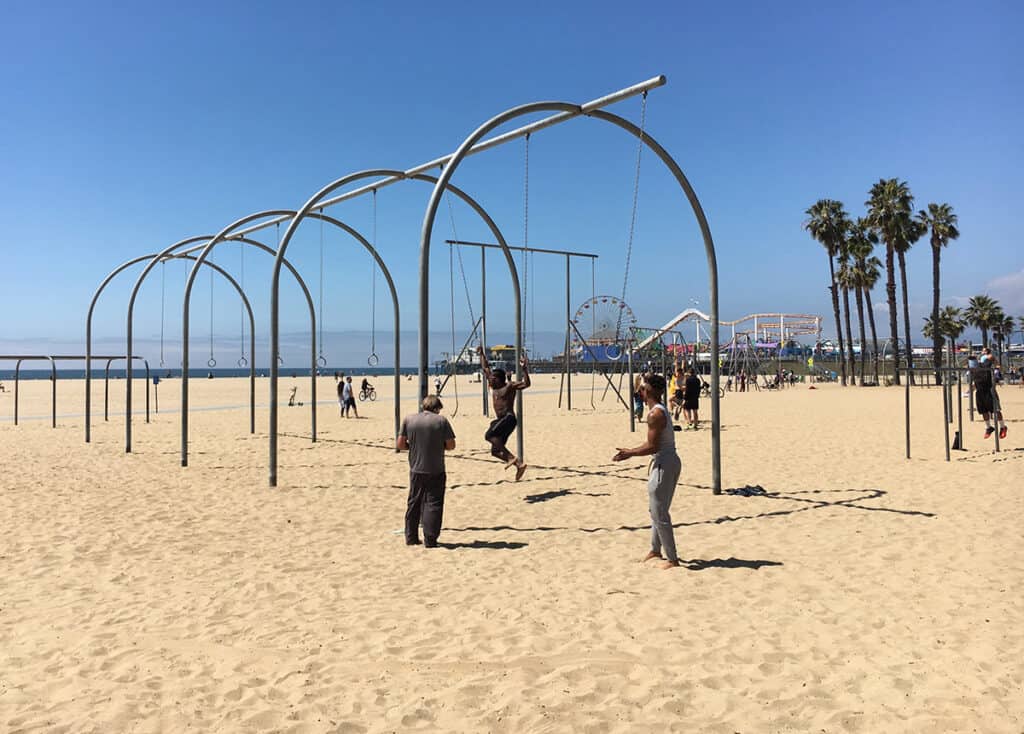 8. Eat at Grand Central Market
If you're craving a lobster roll but your travelling companion wants Mexican, head to Grand Central Market in Downtown LA where every appetite is satiated!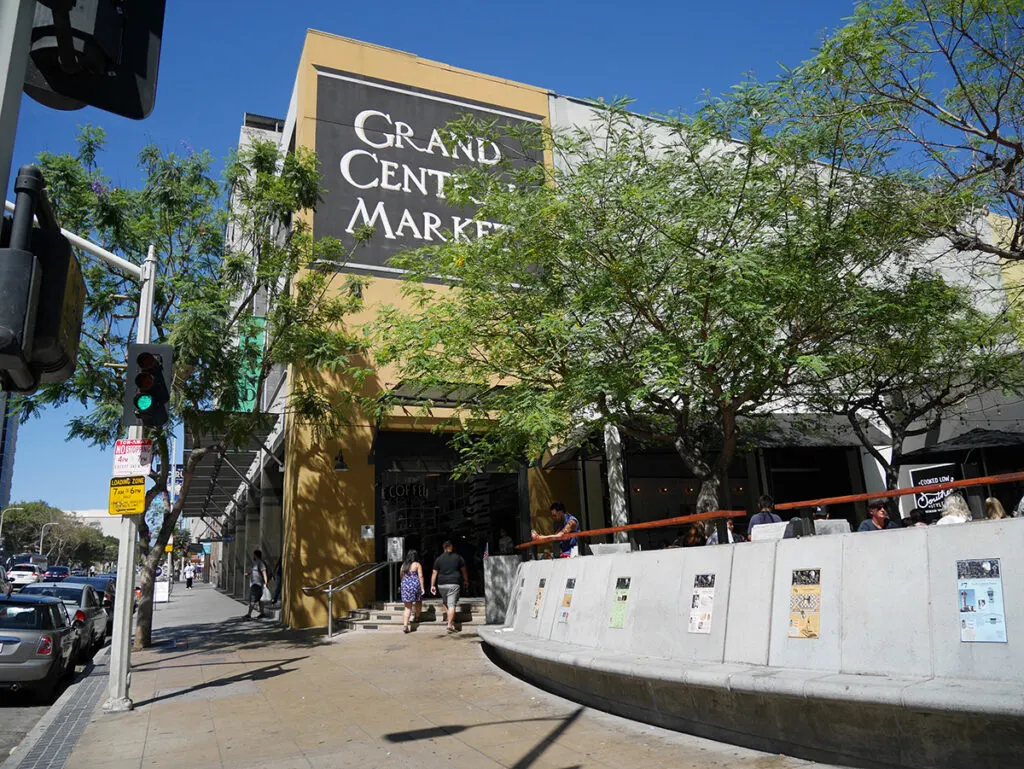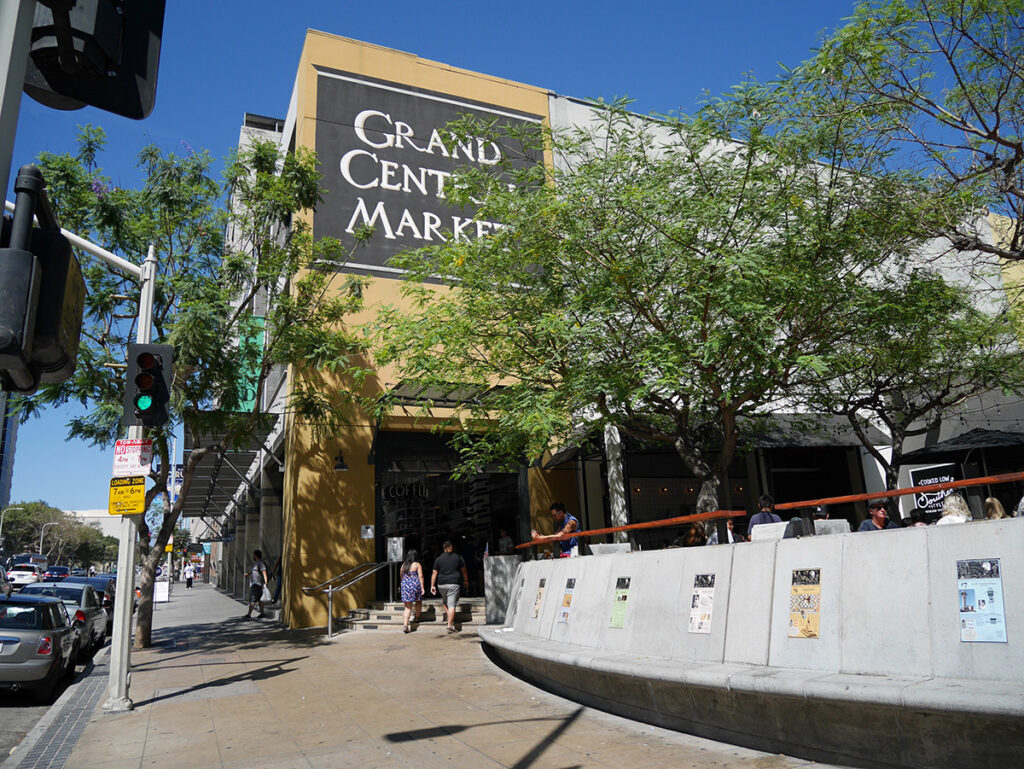 This Los Angeles institution has been filling hungry bellies since 1917 with an array of international and local culinary delights, showcasing great LA chefs and their businesses.
It's a bit of a tourist magnet and seating is limited, but by the time you do a circuit (or two) deciding what your taste buds crave, you should be able to nab a seat.
There are 40 vendors in here, located about a block from Pershing Square. As an aside, I also recommend a couple of cool rooftop bars down here too, so maybe come to the market to eat in the afternoon, then head out for a drink with a view at Perch or Ace (see more below).
Opening hours are 9am-8pm seven days.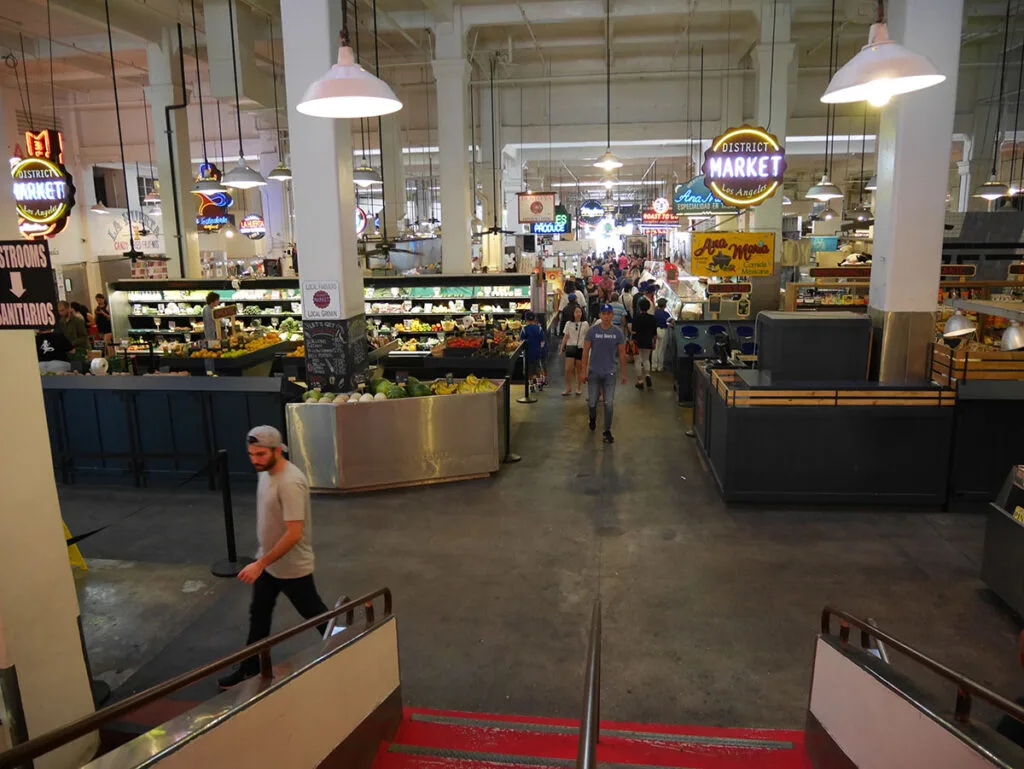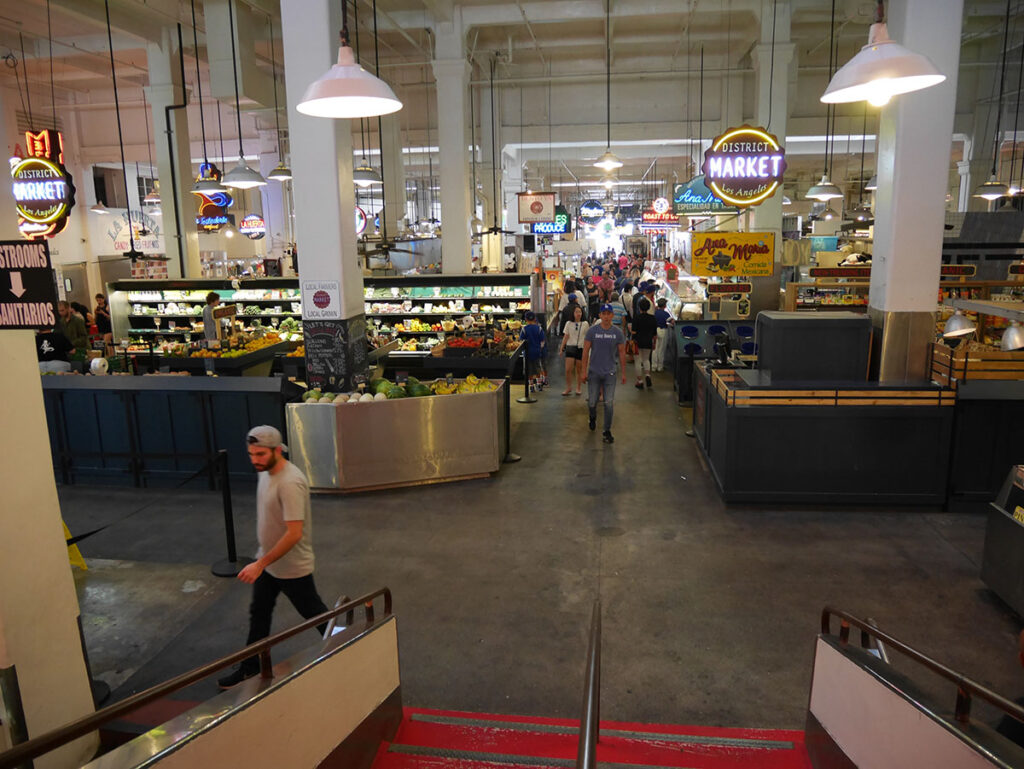 9. See Andy Warhol
Well, not actually him, but his work! One of the best places to see the iconic pop artist's screenprints, acrylics and pencil sketches is at The Broad in Downtown LA.
The Broad is one of the best contemporary art musuems in the world, and it has a collection of Warhols that you could pop in and see after you've eaten at Grand Central Market (see above).
You'll also find Japanese artist, Yayoi Kusama's mirrored Infinity Rooms here, which are another reason to save an hour or two for the Broad. I saw her exhibition at the Hirshorn in Washington DC and was quite mesmerized.
10. Go surfing!
By Janelle Axton of Make the Trip Matter
If you're looking for something new and exciting to do, try surfing! Los Angeles has plenty of beaches with great swells to catch some waves, and the city is known for its incredible beach culture.
You'll also find a great list of lovely beach camping spots in California in this post.
Whether you're an experienced surfer or just starting out, there's a beach that's perfect for you. And if you're a beginner, you can take surf lessons from some of the top pro surfers!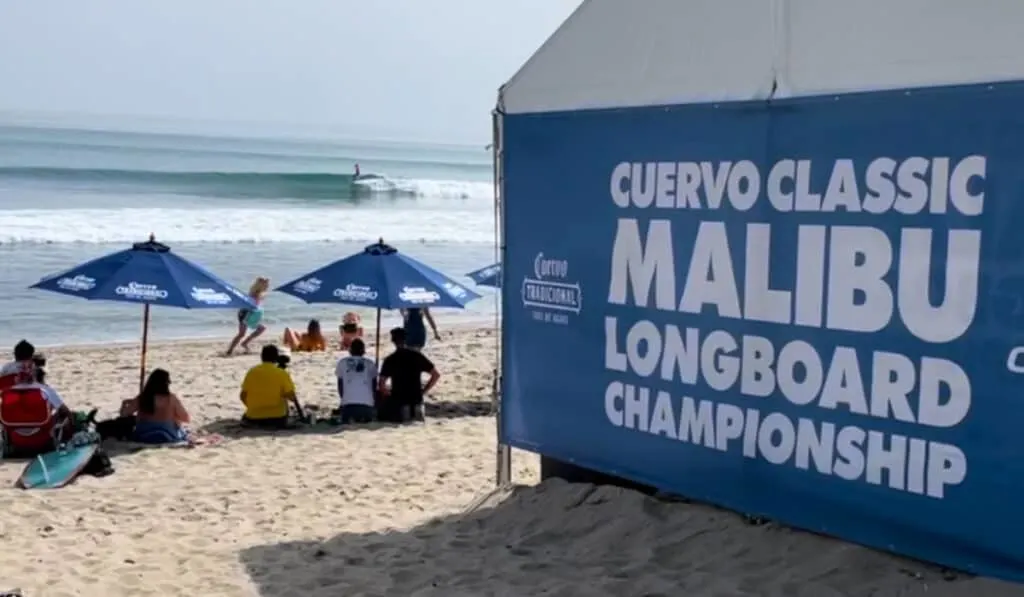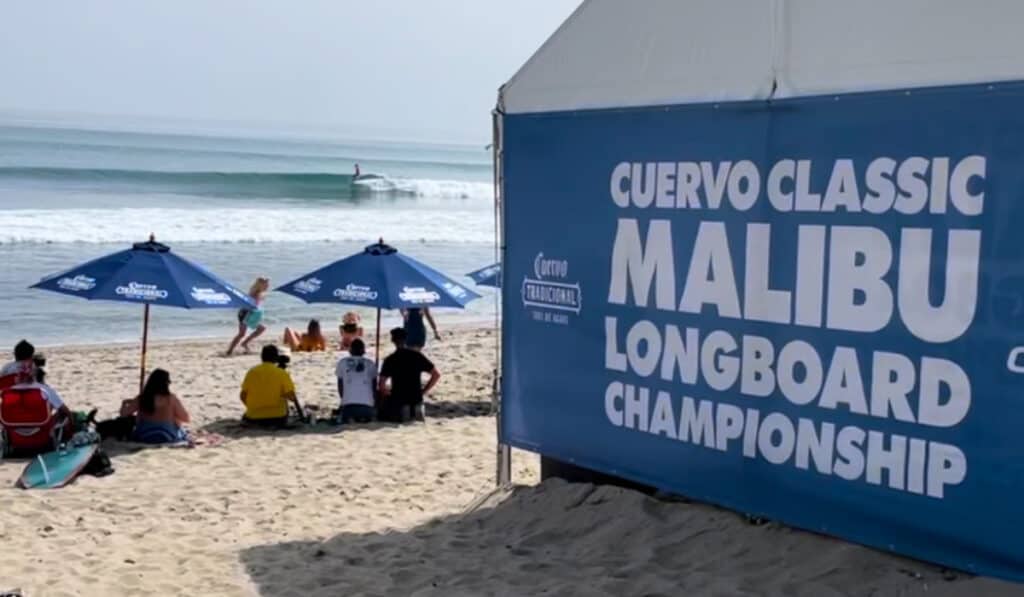 For beginner surfers, head to Malibu – home of some of the most legendary longboard waves in the world. First-time surfers can find lessons at a handful of beaches around LA, but one of the best is Surfrider Beach in Malibu. The waves are gentle and rolling here, perfect to catch your first wave!
(We stayed in Malibu a couple of nights and enjoyed the dining scene, the board walk and Malibu Market for spotting celebs! – Megan)
Those who have experience surfing may enjoy Topanga Beach. This area breaks into three main sections, offering both long, gentle waves and quicker, more challenging waves.
There are surf board rentals all along the coast in Malibu, but one of the best and most convenient is Zuma Jay's.
If you prefer to watch the surfers and enjoy the vibe, spend some time at Venice Beach. It is full of interesting people from skaters to artists and street performers. Wander along the strand for some great people-watching and shopping.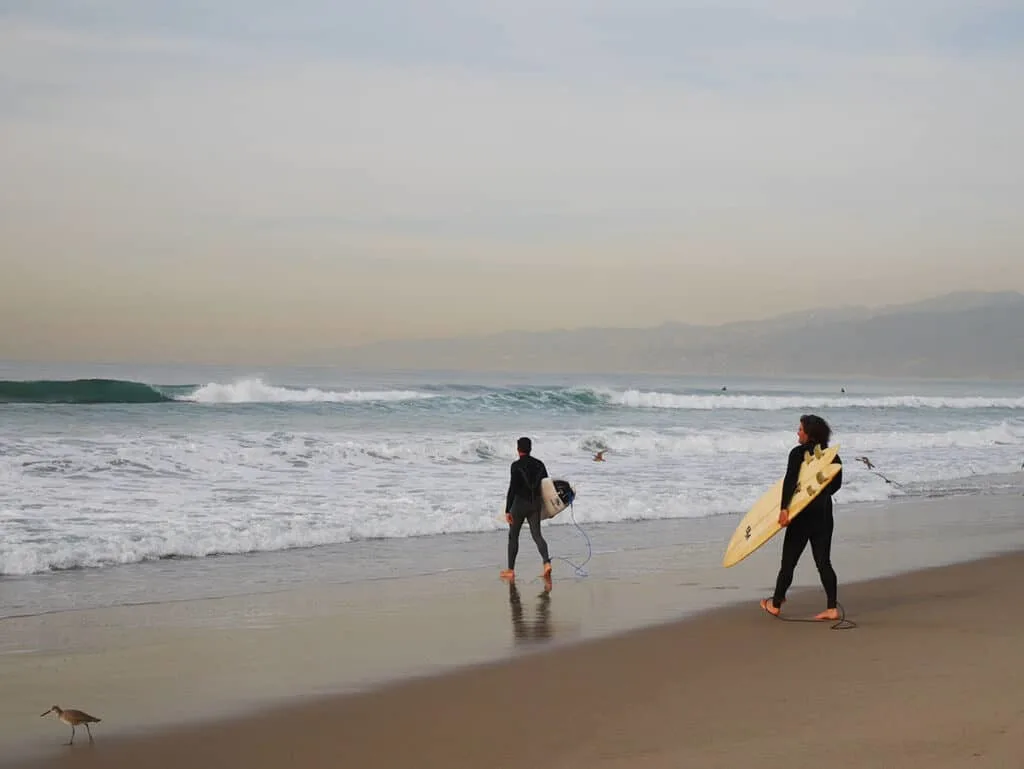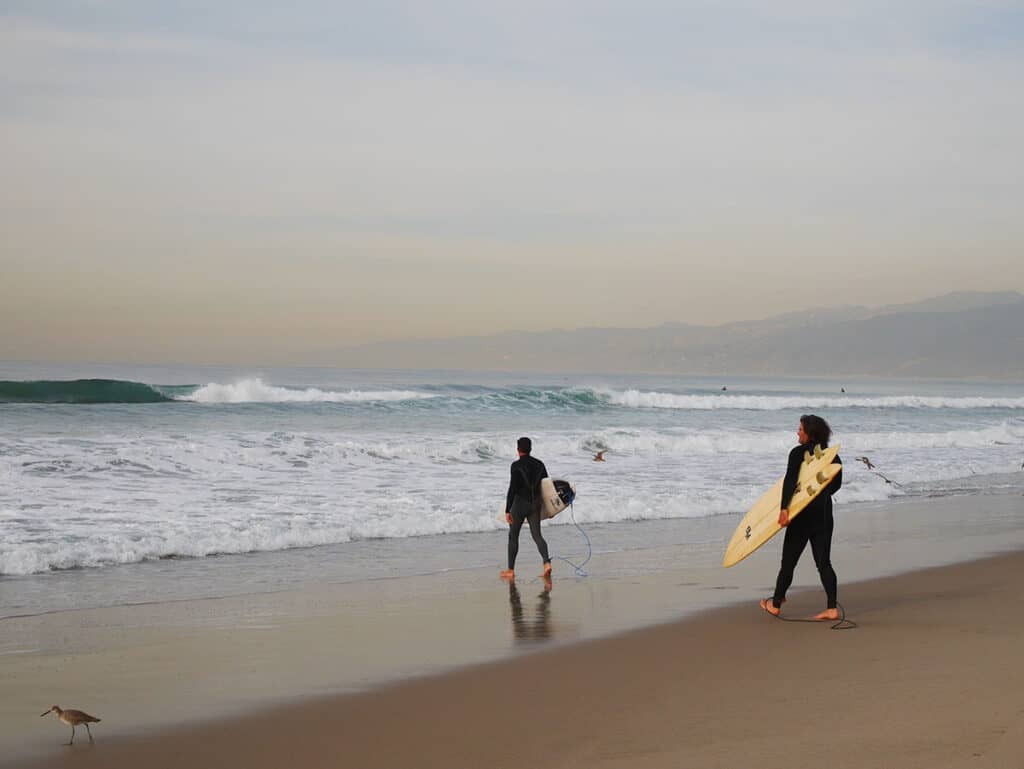 If you want a surf lesson, walk along to Santa Monica where Learn to Surf LA and Santa Monica Surf School both offer private or group lessons and surf camps, all of which include gear rental.
While the summer offers more gentle waves, you can surf year-round in California with a wetsuit in the winter months. Surfing in Los Angeles is an incredible way to soak up the sun and experience a true local activity!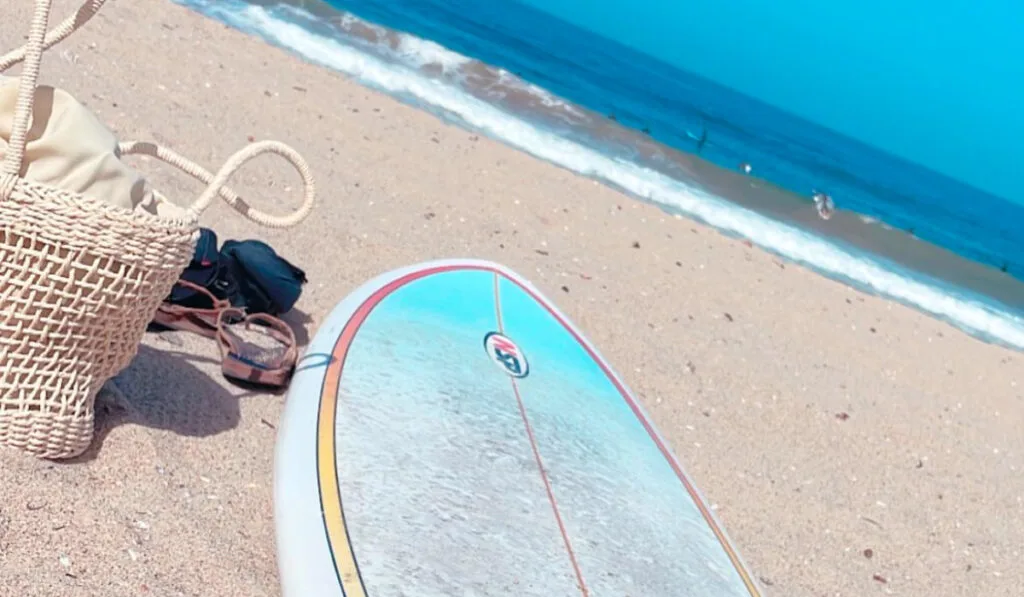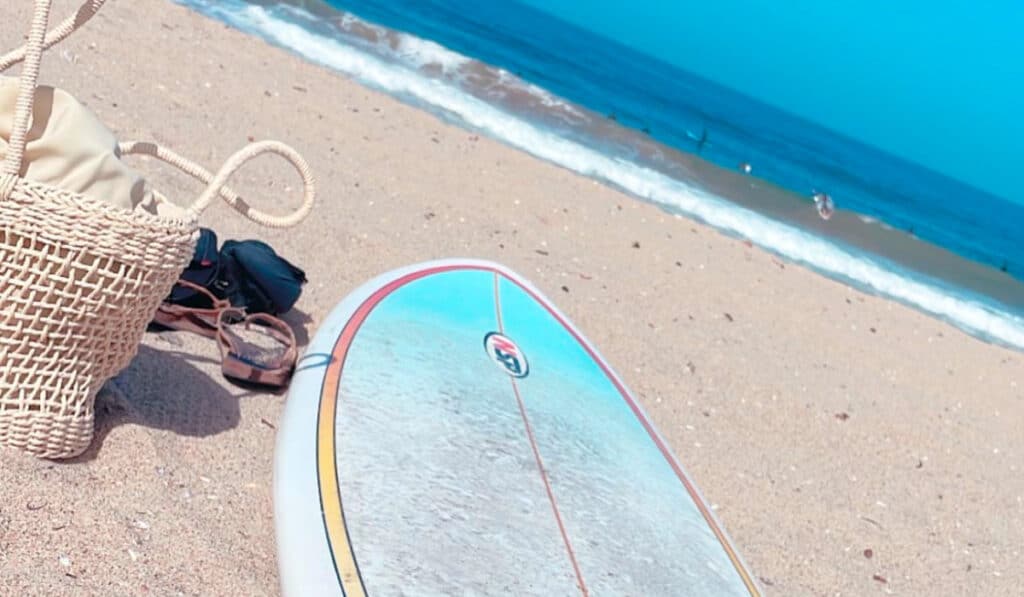 11. Tour USS Iowa Battleship
By Karen from Forever Karen
The USS Iowa was one of six Iowa-class battleships commissioned by the US Navy. While the Navy completed only four, all four have been decommissioned and are preserved as naval museums. The most famous of these is the USS Missouri, in Pearl Harbor on Oahu.
The Iowa battleship saw lots of action after she was launched in 1942. She was eventually decommissioned in 1990 and removed from the Navy's registry. Destined for scrap, the fate of the Iowa-class vessels was uncertain for a long time.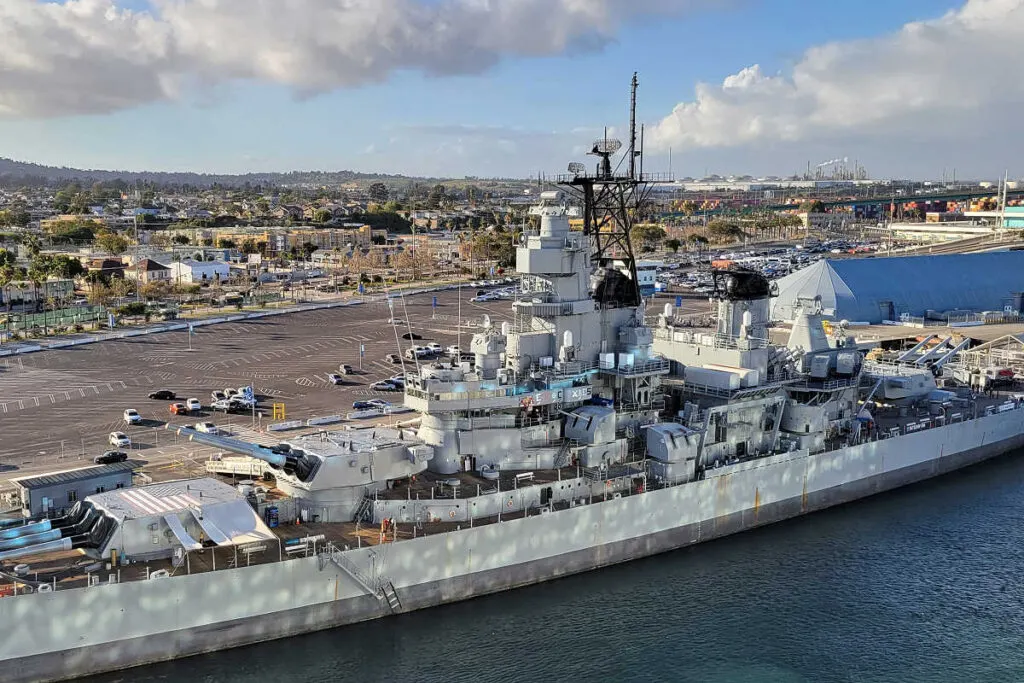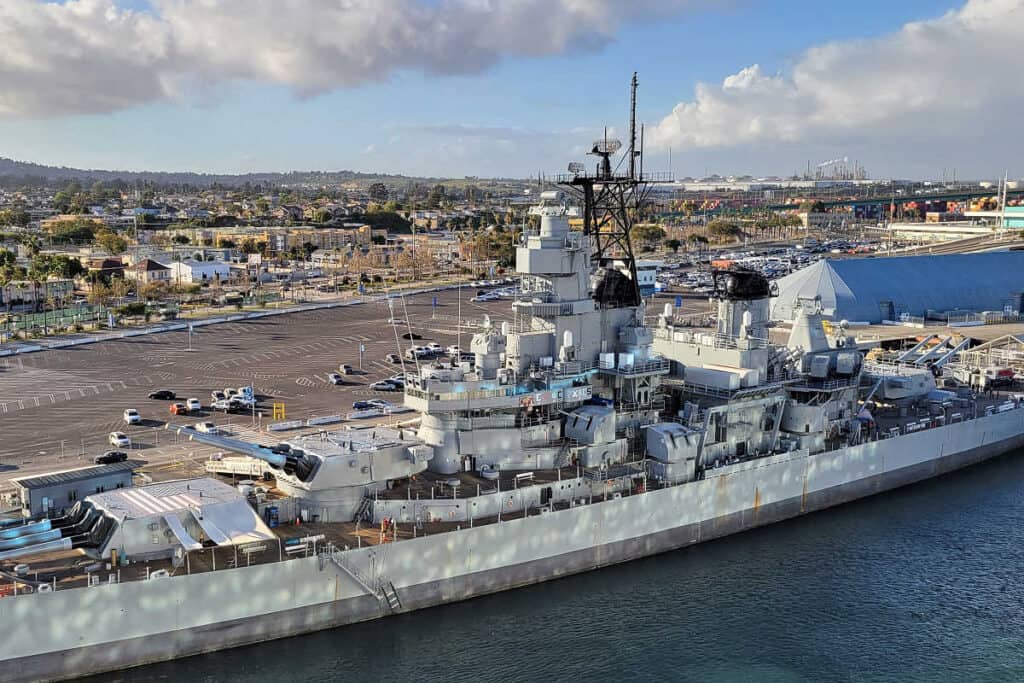 Eventually, the USS Iowa made its home at berth 87 in San Pedro at the Port of Los Angeles. While she sits alongside
new cruise ships which come and go daily, the battleship is a living museum of a retired warship.
Immerse yourself in naval history and learn about the crew who called it home. Self-guided tours are available daily, from 10 am to 4 pm.
Exploring the warship, you can see the exterior and interior spaces. Using an app, you can learn about the ship's battles and life onboard for its crew.
Compared to the crew quarter bunks, the Officers' rooms seem pretty spacious. While the crew's bunks are three high, these are an upgrade from the five high sling-type beds they initially had.
Be prepared to walk a lot of corridors and up and down staircases. You'll appreciate the vessel's size, from the navigation bridge to the crew's mess. Expect to spend two to three hours touring every nook and cranny.
In 2019, the USS Iowa Battleship became the first National Museum of the Surface Navy. It plans to have a celebratory grand opening in 2025.
12. Disneyland – of course!
By Anu Agarwal of Destination Checkoff.com
No LA list would be complete without a visit to Disneyland and Disney California Adventure (technically in Orange County and not LA). It is not just for kids either, these world famous theme parks are loved by grown ups too!
Disneyland in Anaheim is the original park that was envisioned by Walt Disney himself and has the classic themes and attractions based on older Disney movies that are nostalgic to most grown ups. But it soon got too small, so he opened the monstrous Disney World in Florida.
You can read about the best times to visit Disney World and get some inside tips from a local, in this post.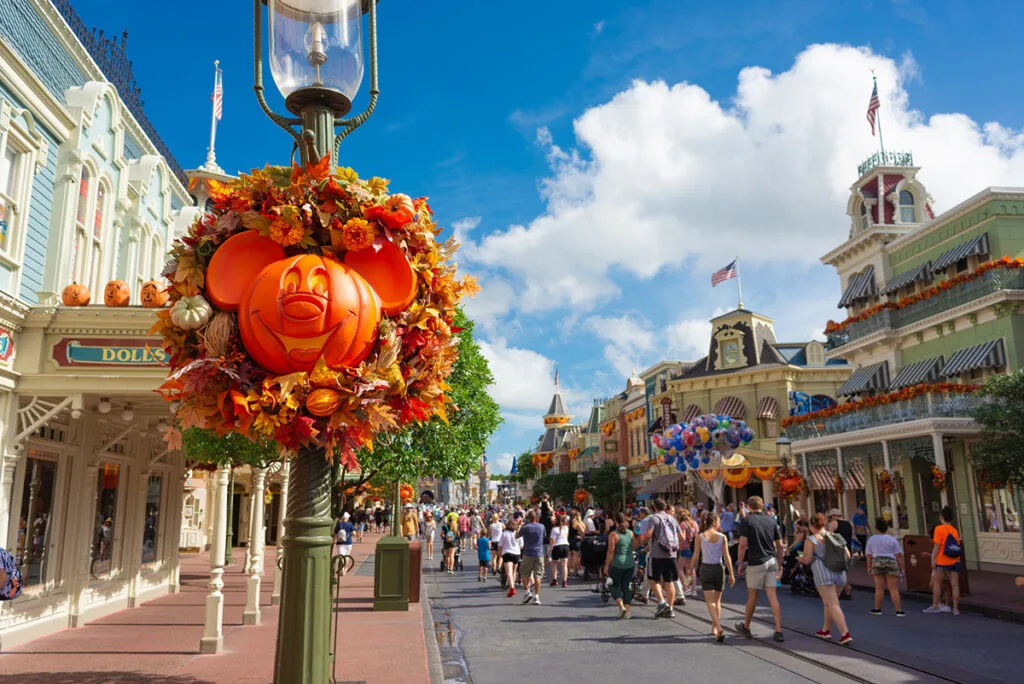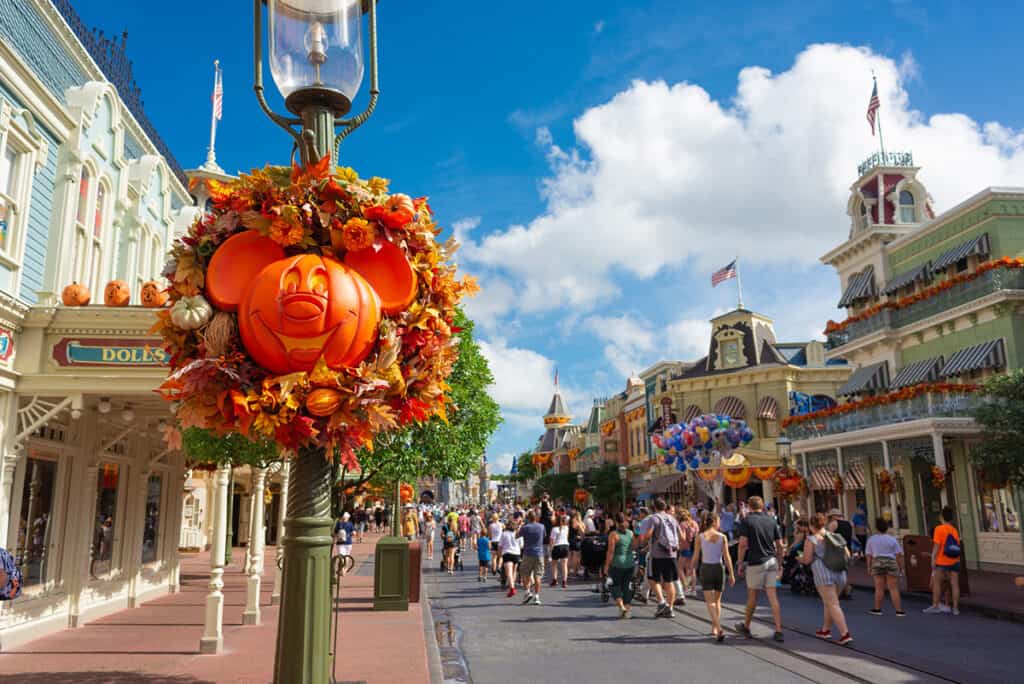 California Adventure is a newer park, across a boulevard from Disneyland, and its popular attractions are Cars Land and Avengers Campus. The food scene at California Adventure is also more vibrant and varied with several international cuisines.
Disneyland has the classic rides like Indiana Jones, Haunted Mansion, Pirates of the Caribbean and Fantasyland rides.
The new Star Wars Land is a must see and is amazing with the very popular Star Wars: Rise of the Resistance Ride. The ride is a first of its kind on a trackless vehicle and is just really cool. The ride cast are all in movie costumes and act the part. It feels like you are actually in the Star Wars movie.
California Adventure recently launched the Avengers Campus where you can find Marvel movie characters like Captain America, Black Widow and Spiderman roaming around. The new Spiderman: Web Slingers ride is very popular and uses state of the art technology.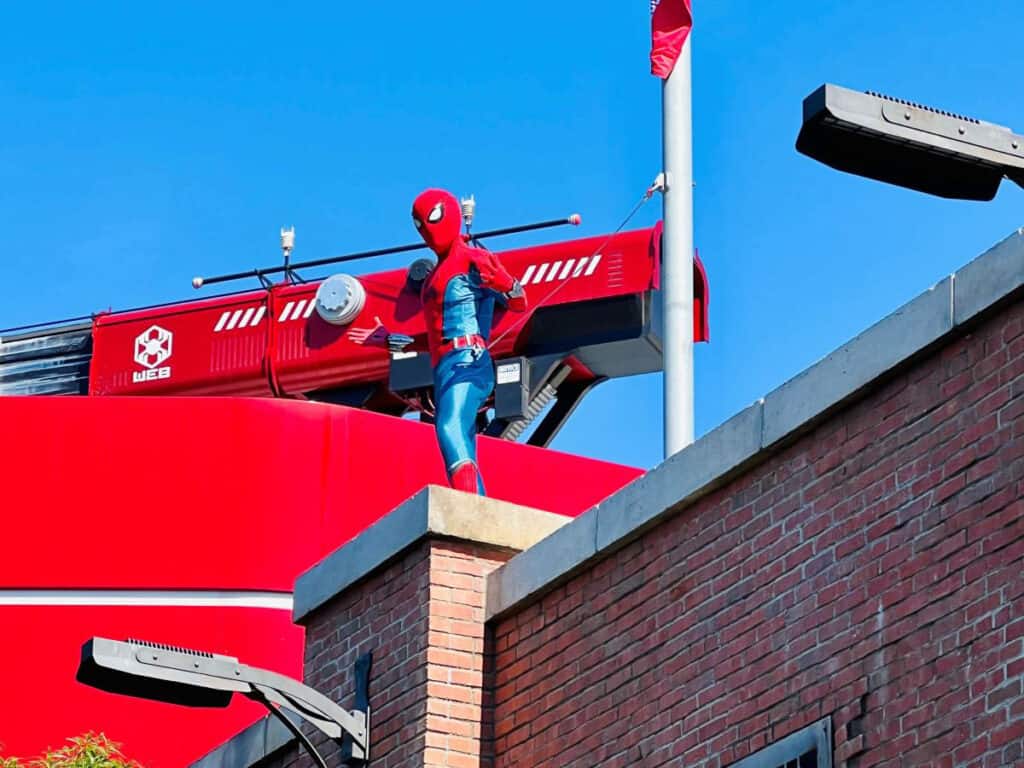 BUT the wait times for these popular new rides can be hours long. Using the new Genie Plus paid priority system, you can reserve ride times through the Disney Genie app and then go through the Lightning Lane entrance instead of the regular entrance (there is an extra cost for this).
You should plan to spend one day each at Disneyland and California Adventure or get a park hopper ticket and do both on the same day!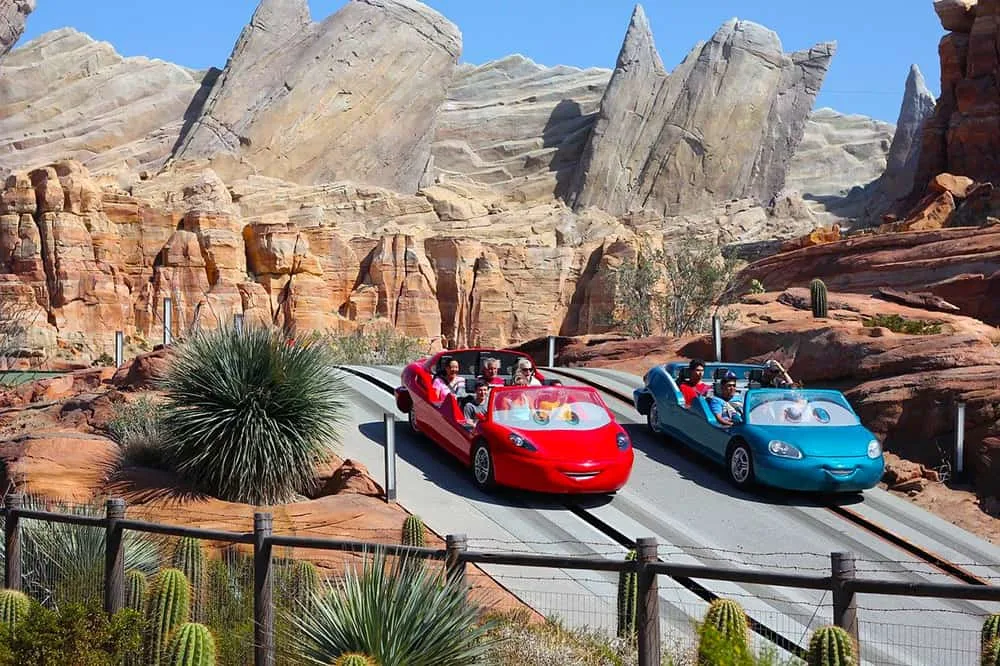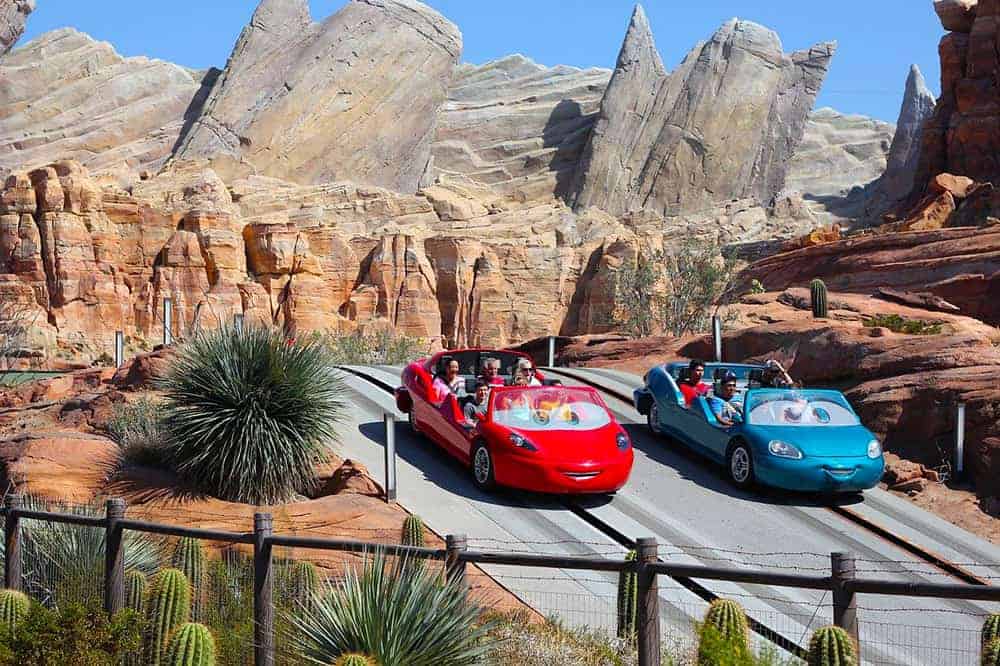 13. Visit Universal Studios
Keeping with the amusement park theme, and located much closer to LA than Disneyland which is in Orange County, Universal Studios Hollywood has opened some new rides recently too.
If a theme park is on your wish list, but maybe time is tight, or you just don't want to trawl the miles through Disneyland, Universal Studios is a great park.
You still have the movie lot, which is home to so many movies and where you'll see the clever tricks they use to create historic towns, or fake facades creating office blocks. And yes, the Back to the Future clock hangs in pride of place.
The fun Jurassic Park water ride is still a must-do on a warm day (you will get wet!). There are simulator rides but it's likely you're really coming for Hogwarts and Harry Potter!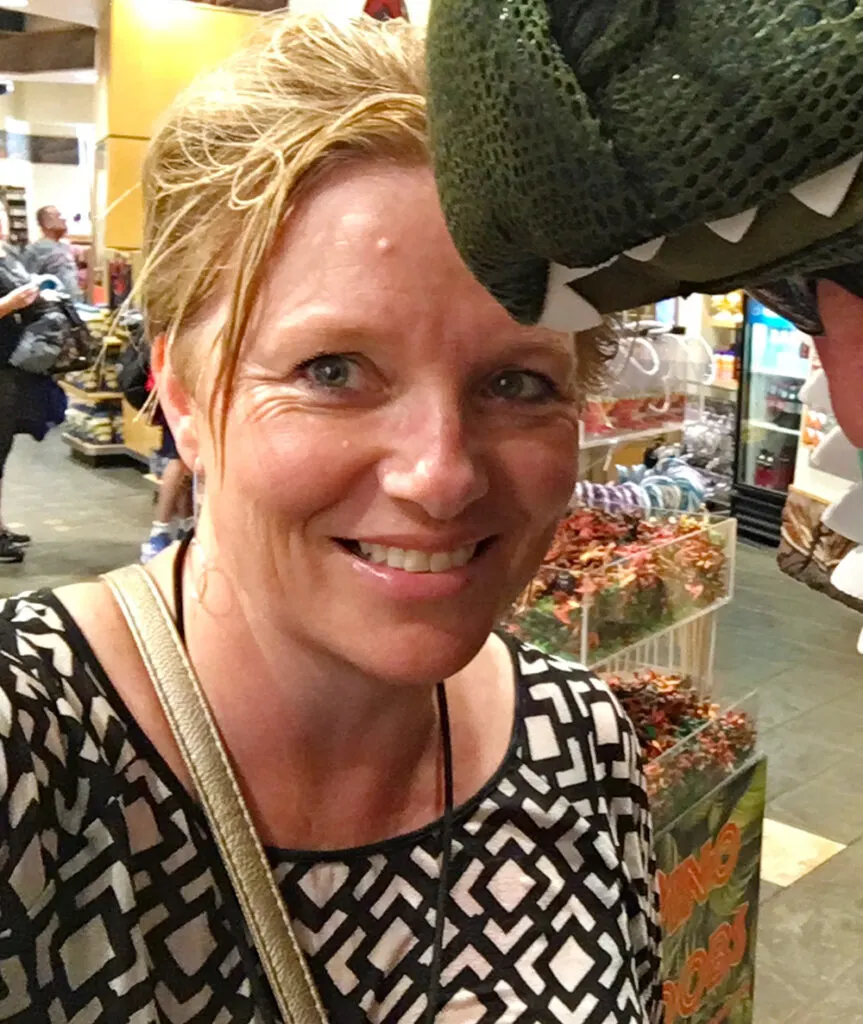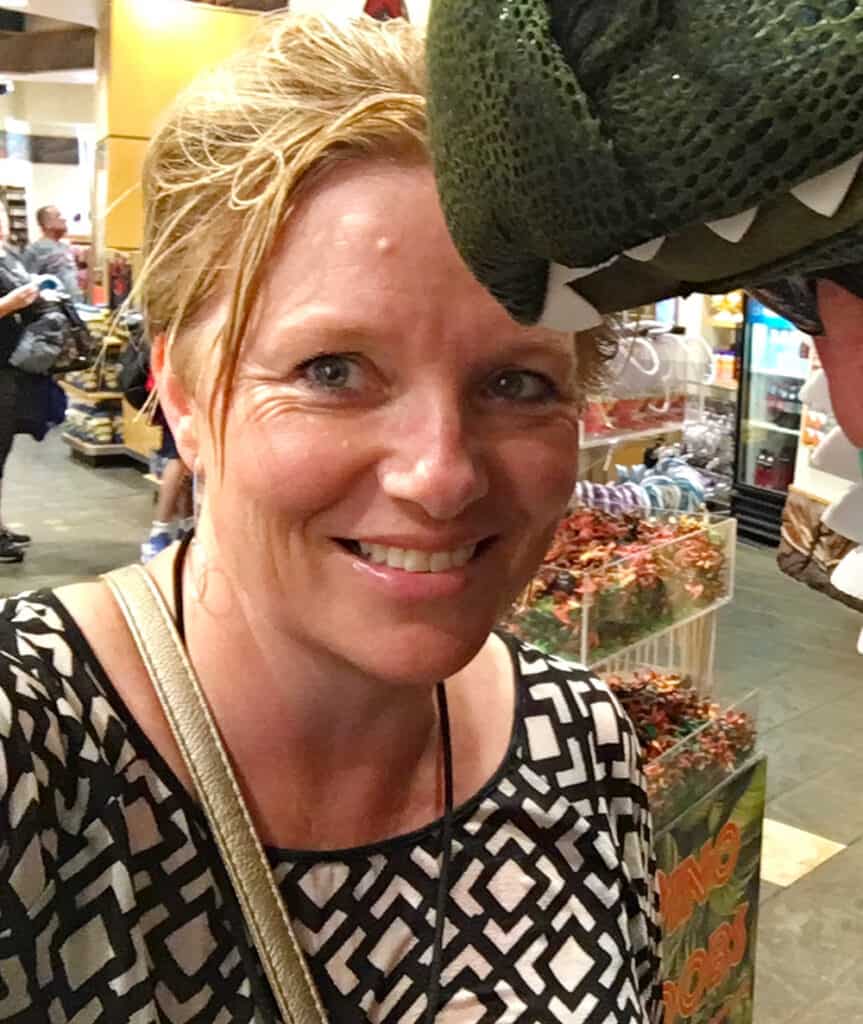 Diagon Alley is a theme park within the theme park. Plan to spend time trying butter beer and pumpkin juice. Buy exploding sweets from Honeydukes and games from Zonko's Joke Shop.
You can buy a wand at Ollivanders Wand Shop and stand in line for the two rides through Hogwarts.
If you're hungry, grab a bite at the Three Broomsticks tavern (this is where you can try butter beer) for fish and chips or shepherd's pie.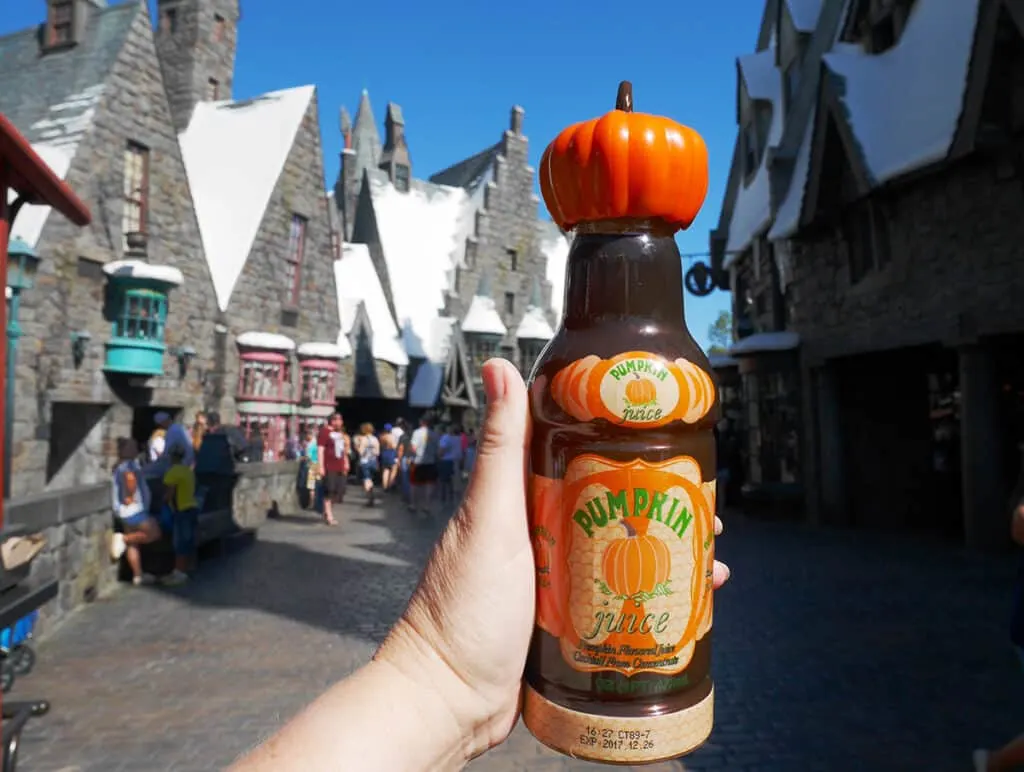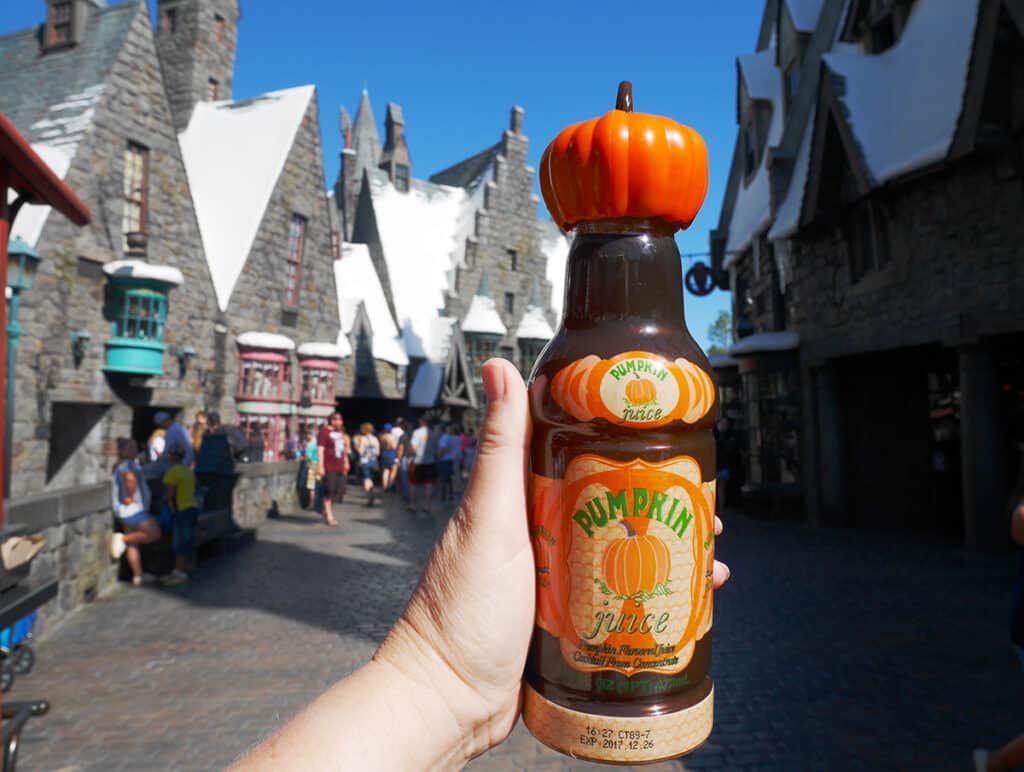 14. Tour Walt Disney Concert Hall
By Grace Roberts of Pixie Dust and Passports
Walt Disney might be better known for the House of Mouse in Anaheim (otherwise known as Disneyland California which is a perfect attraction for all ages!).
But his name is also attached to one of the most stunning buildings in Los Angeles – The Walt Disney Concert Hall!
This architectural marvel is proudly perched on Grand Avenue and is home to the Los Angeles Master Chorale and the ever-popular Los Angeles Philharmonic. The wonderful concertos are a major draw of this famous building, but there's much more to this iconic concert hall than first meets the eye.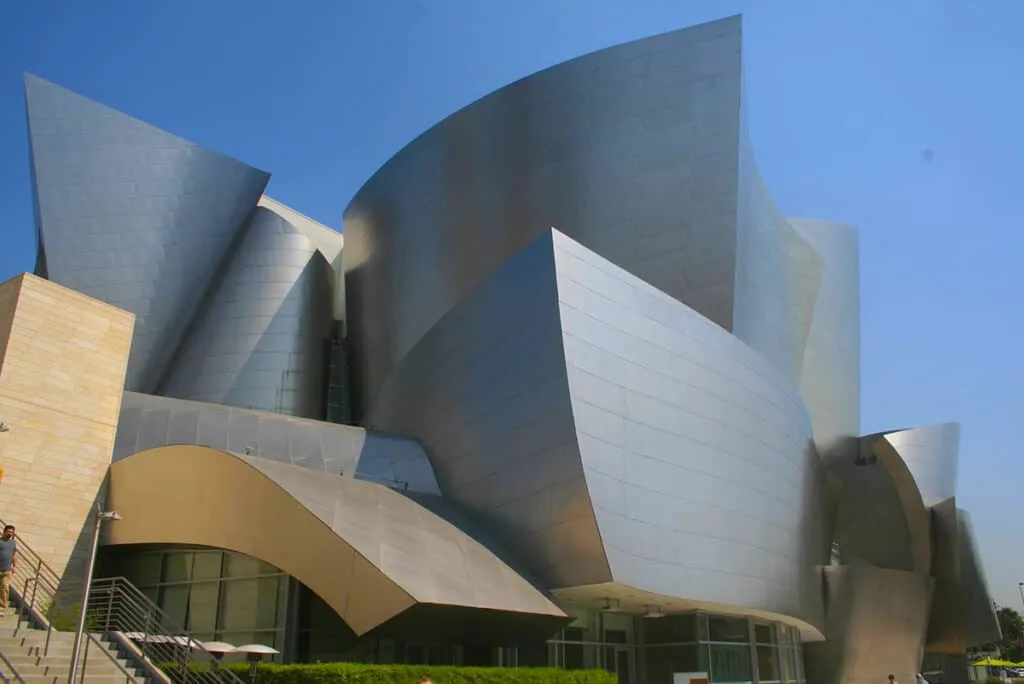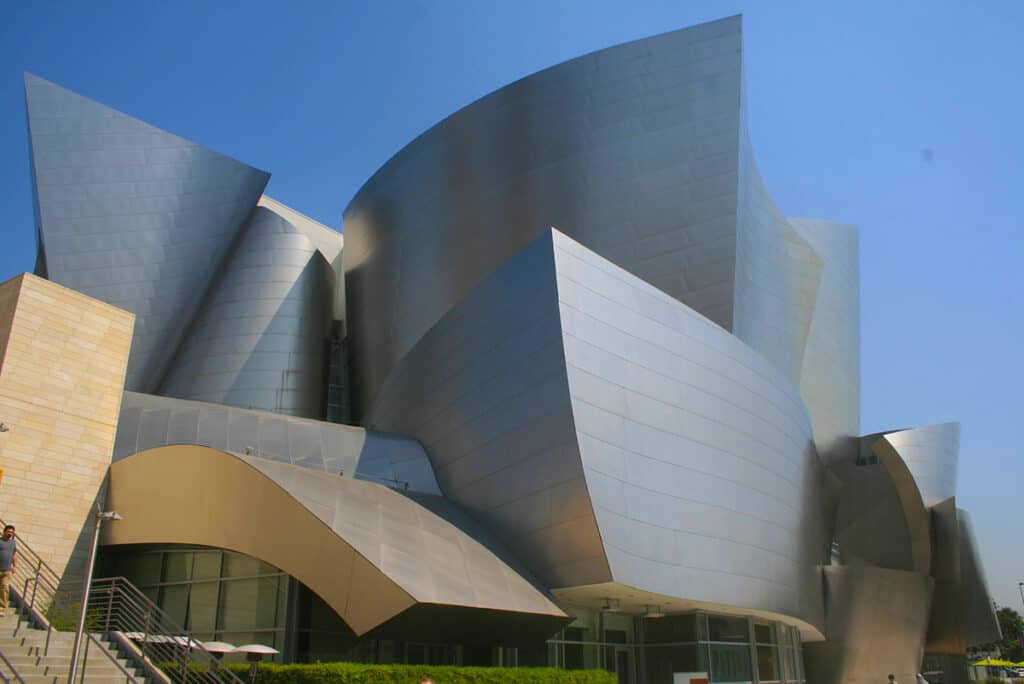 In case you were wondering, the fascinating, almost metallic-looking building was designed by the Pritzker Prize-winning architect Frank Gehry and it's simply spectacular.
From the impressive seating capacity to the titanium exterior and aesthetic silver sails, it's no surprise that this is one of LA's most popular architectural attractions. When you throw in the incredible acoustic work of Yasuhisa Toyota, the immense recital rooms, and the enormous pipe organ, you'll struggle to leave!
You can take a self-guided tour around the interior and exterior of the building with an audio guide. It's narrated by John Lithgow and runs you through everything from the construction of the building to hidden gems dotted around the concert hall.
If you'd prefer to have an expert guiding you, the guided tours last 60 minutes and are entirely free for groups of under 14.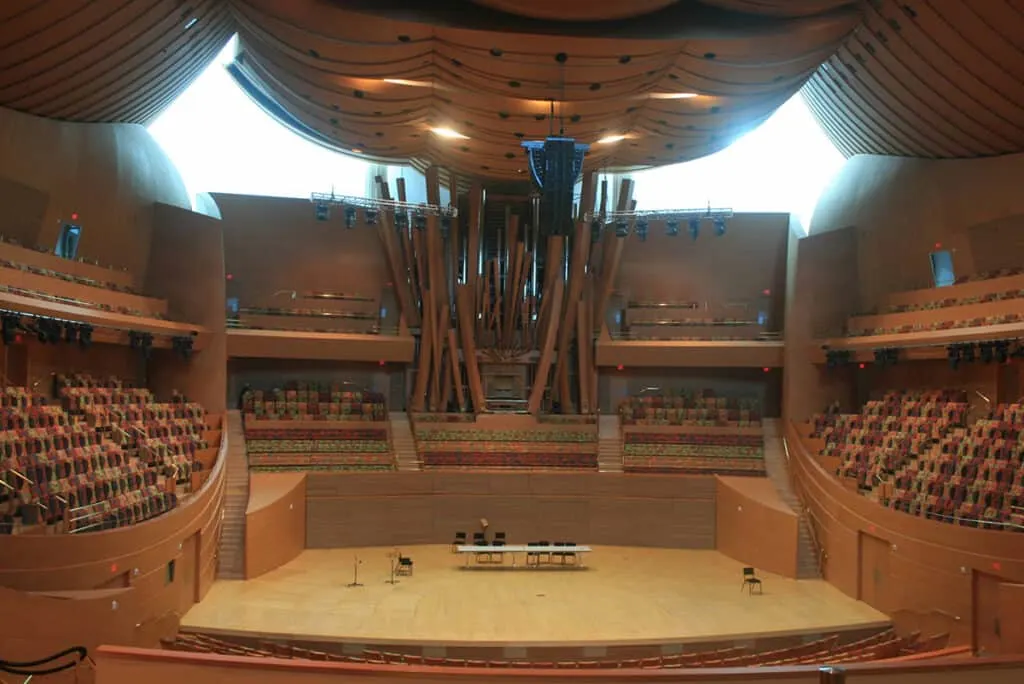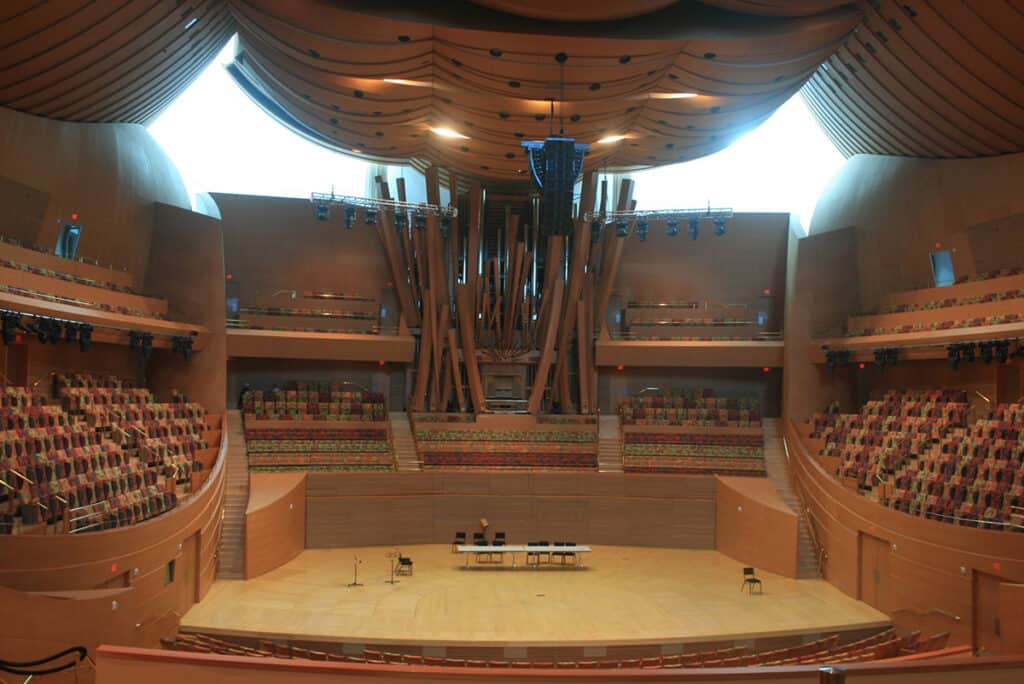 If you have time to spare after touring here, be sure to stop by the Library of Congress and Ira Gershwin Gallery. It's packed with fascinating books and gorgeous artwork that rivals the finest galleries in town.
Oh, and don't miss the glorious Blue Ribbon Garden either! Not only is it nearly an acre in size, but it's beautifully landscaped and boasts a fountain that represents Lillian Disney's love of porcelain and roses.
Whatever you do here, you're bound to agree that it's one of the most impressive things to do in LA!
15. Visit the Getty Center
By Milijana of World Travel Connector
Keeping with our cultural theme, the incredible free admission Getty Center is an art museum, high in the hills over Los Angeles. It is known for its outstanding architecture, remarkable art collection, spectacular gardens, and panoramic views of LA.
Getty Center has a fabulous collection of European paintings, photography, decorative arts, drawings, sculpture, and illuminated manuscripts. The collection includes many masterpieces like Van Gogh's Irises and Rembrandt's Rembrandt Laughing.
Families with kids especially enjoy Getty Center for the cool Family Room which has kids-entertaining treasure-hunt walls and caves.
You'll also find spectacular gardens. The stunning central garden with lush paths, shaded spots, beautiful fountains, and over 500 plant varieties, is one of the most serene and beautiful parts of the Getty Center.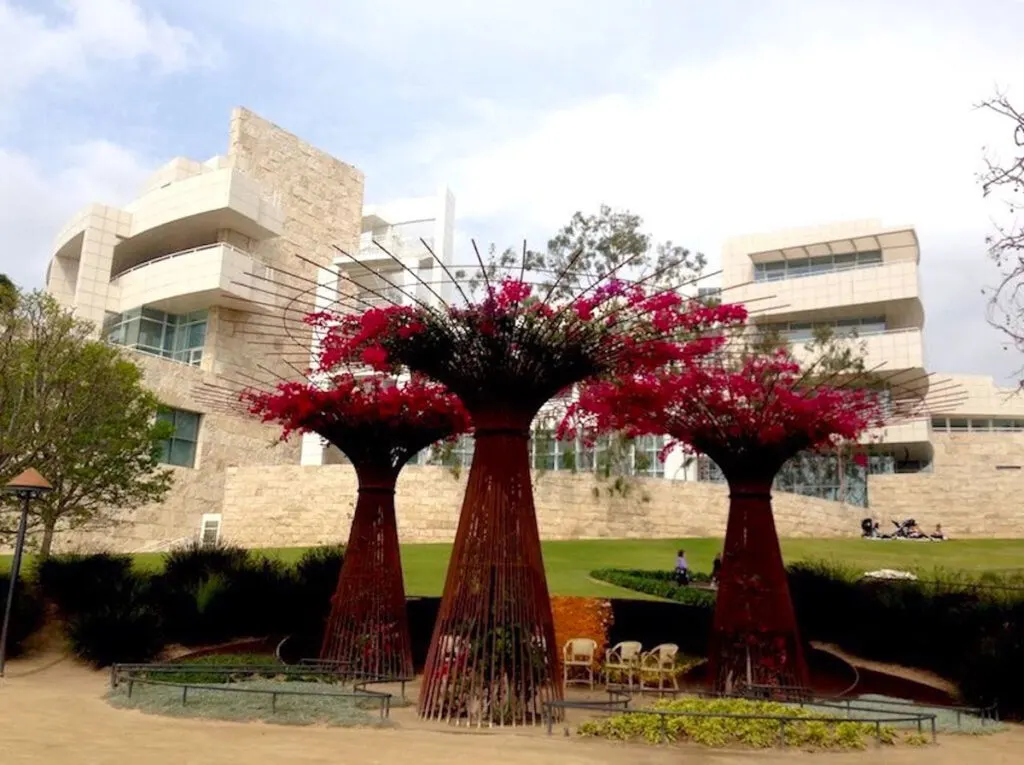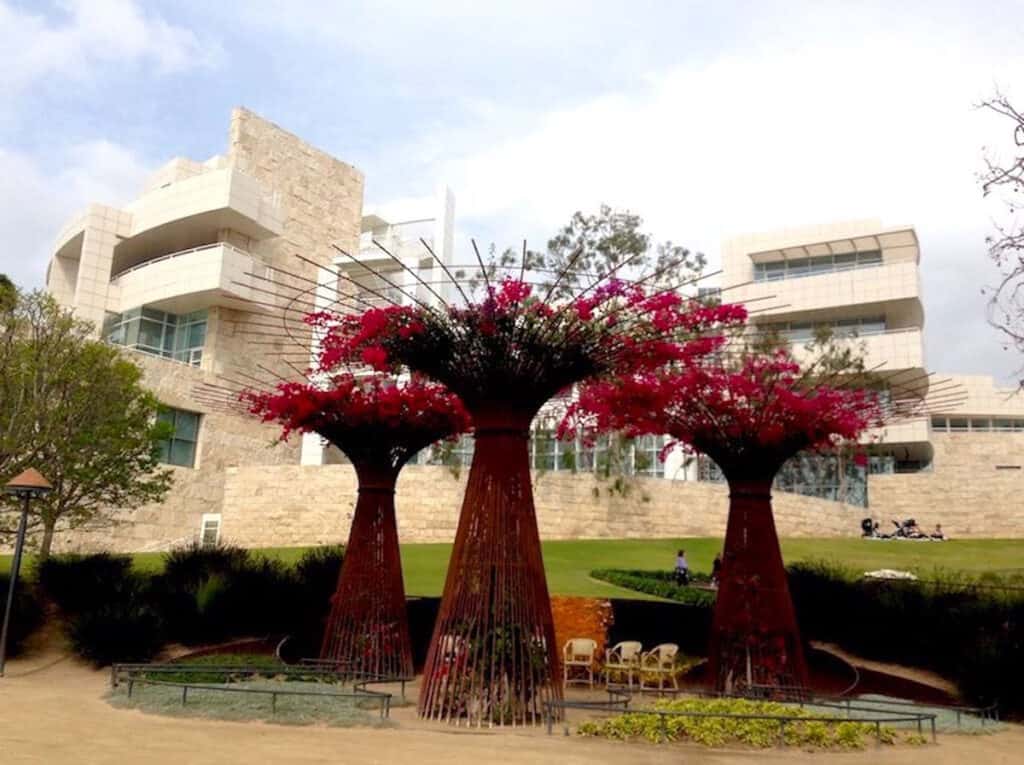 If you seek some tranquil moments among trees and plants, strolling the Central garden is a must-do. But for the panoramic views, head to the Cactus Garden for sensational views of LA. If you love gardens, believe or not Los Angeles has a few botanical gardens hidden away and you can see a list of gardens in the Time Out post.
The center is at the top of a hill in the Brentwood neighborhood in the Santa Monica Mountains with views of the Pacific Ocean, San Bernardino Mountains, and the San Gabriel Mountains.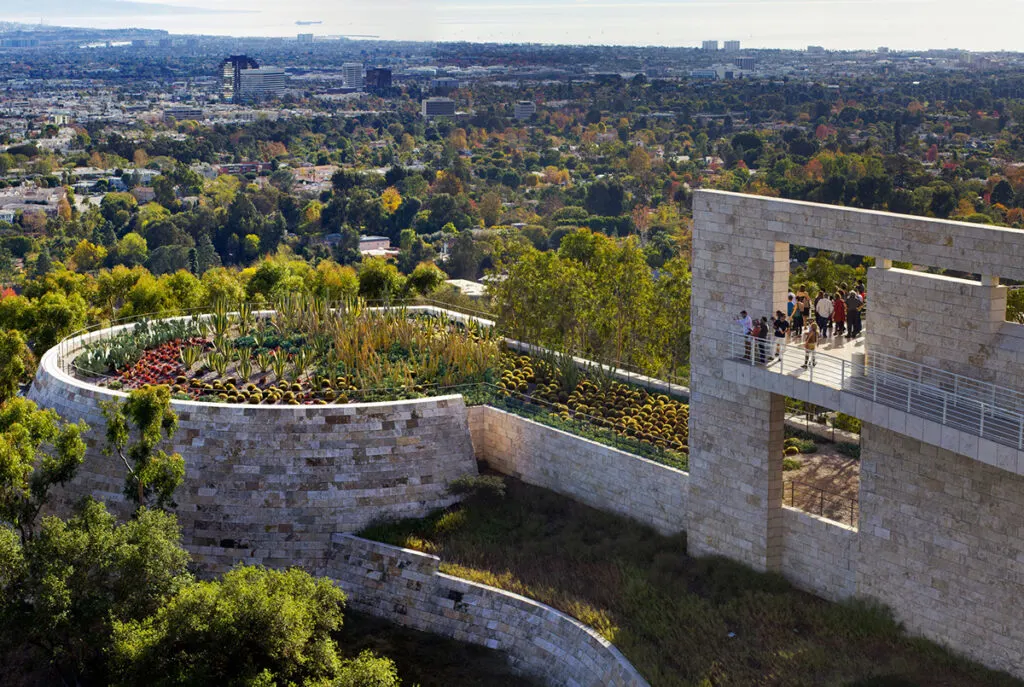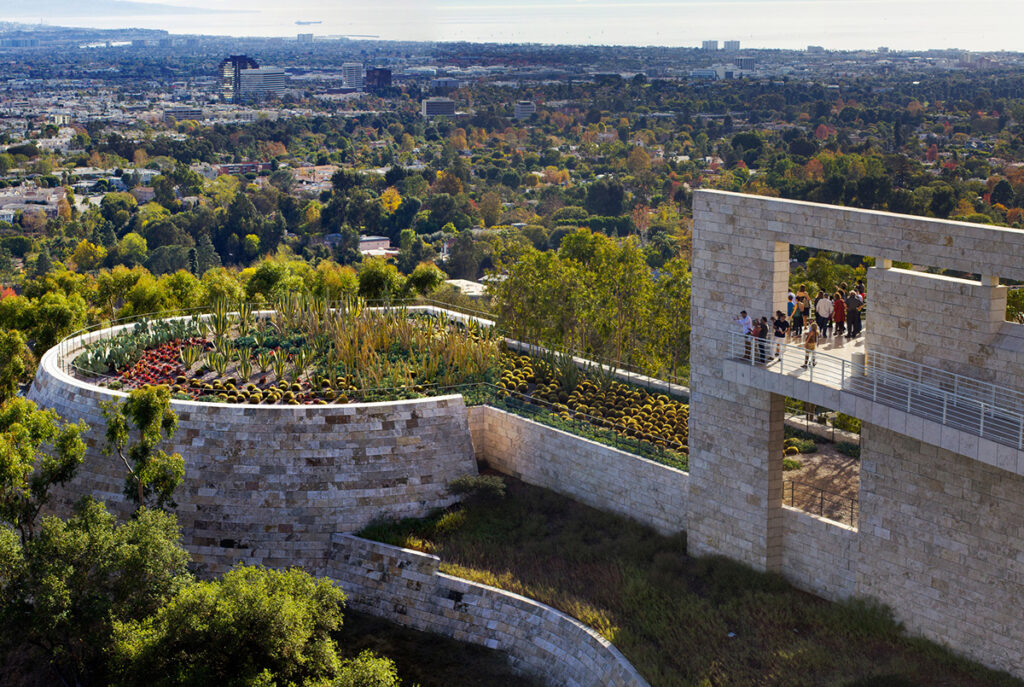 Admission is free, but visits are limited, so you need to reserve your time-entry tickets. Allow about four hours, but you could spend the entire day here. There is a full-service restaurant, a self-service terrace cafe, pizza carts, and even boxed lunches available for picnics on the lawn.
The Center is part of the Getty Museum complex which gets almost two million visitors annually, along with the Getty Villa on the border of the Pacific Palisades and Malibu neighborhoods. (Brentwood, Malibu, and Pacific Palisades are affluent neighborhoods of LA and are some of the best areas to stay in Los Angeles for luxury travelers and families.)
16. Cycle to the Le Brea Tar Pits
One time we arrived in Los Angeles and got off the plane, dropped our luggage and went straight to Bikes and Hikes LA for a pick-me-up cycle tour. We'd just flown 12 hours from New Zealand so it certainly was refreshing!
Bike rides are a great way to see a city without having to do all the walking, but they're also slow enough that you can take in the smaller details that you would miss on a bus tour.
The La Brea Tar Pits are a natural phenomena that are quite underrated but immensely fascinating, especially if you love history or sciencey stuff.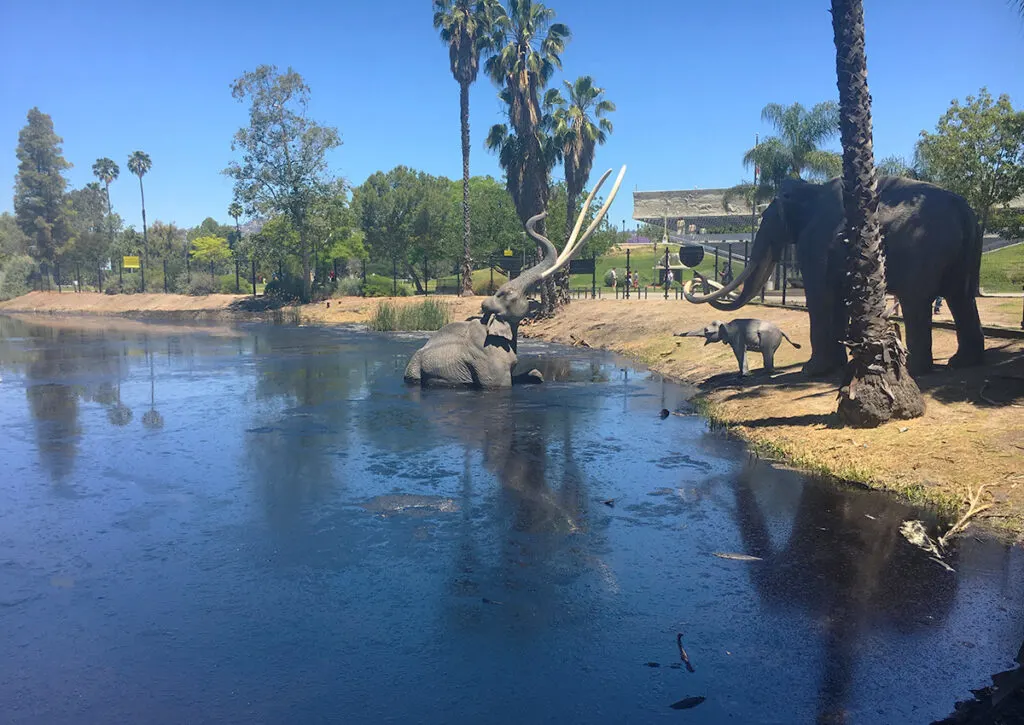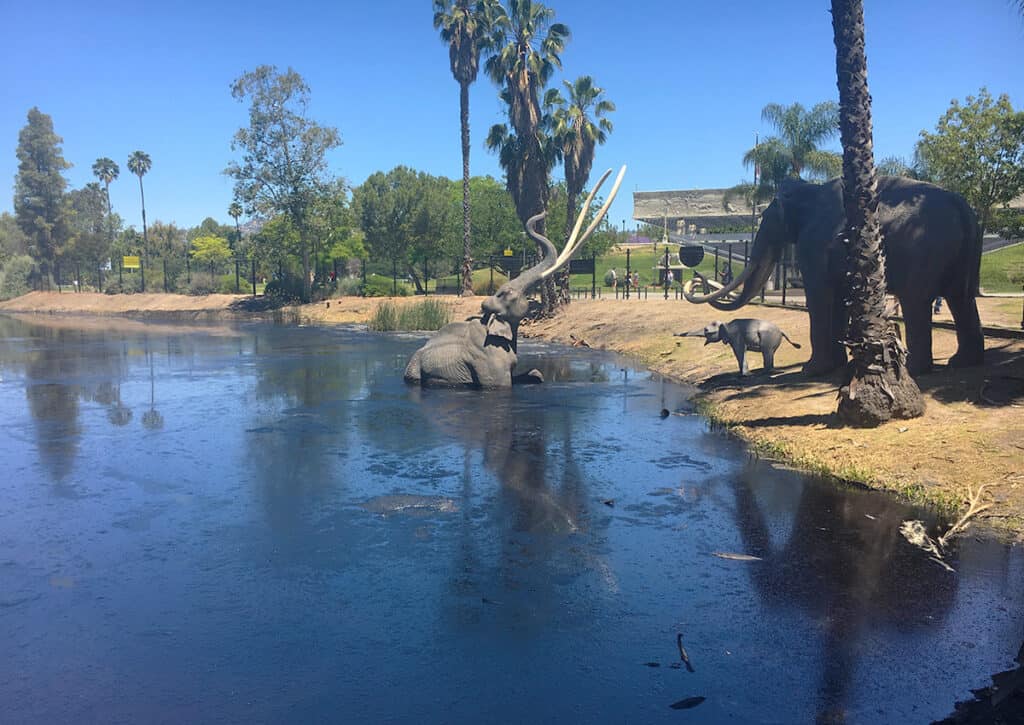 They are a naturally occurring enormous oily tar reservoir, which has been oozing asphalt for thousands of years in the middle of Los Angeles, and where the remnants of extinct animals have been retrieved over the years – and still are. You'll smell them before you see them.
But the intrigue is in the museum where ice age animals that have been recovered are on display and paleontologists still dig for fossils and study the area today.
17. Visit the famous Chinese Theatre
By Alex at Travels and Baffles
Visiting the Chinese Theatre in Los Angeles is like visiting Times Square in New York City.
You HAVE to see it at least once, and once you do, you don't necessarily have to visit again!
Outside of this unique building on the Hollywood Blvd are the iconic cemented hand and footprints of some of the most well-known celebrities in the world. Here, you'll find the marks of Marilyn Monroe, George Clooney, and more. If you've ever wanted to "touch hands" with some of the most prominent celebs, this would be your chance.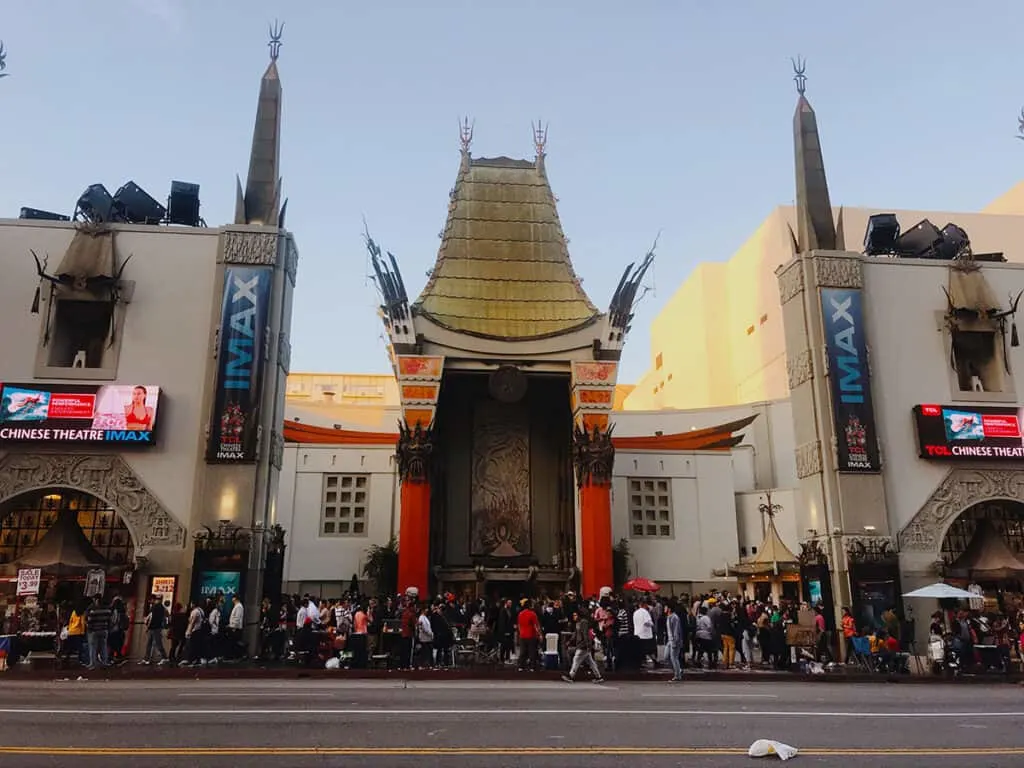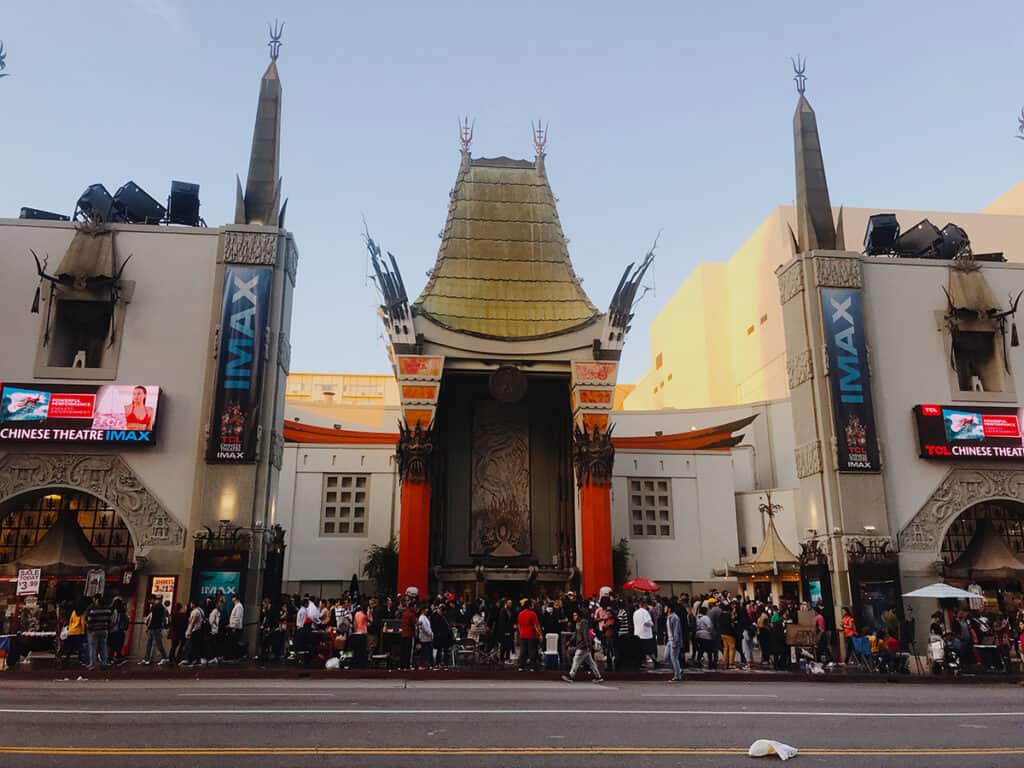 This has obviously become one of the most popular photo opportunities in LA too and street artists dressed as super heroes are also hanging around for a pic and a tip.
Inside is a beautiful theater, known for hosting some of the grandest movie premieres in history. While you might not get invited to an exclusive movie premiere, you can at least take a tour of the building and catch a film in the largest IMAX theater in the world.
You will also find the Hollywood Walk of Fame lining the sidewalk of Hollywood Boulevard outside the theater. It can also get super crowded and busy, so maybe reserve this excursion for non-peak times. No matter the circumstance, you should be sure to add this destination to your trip's itinerary.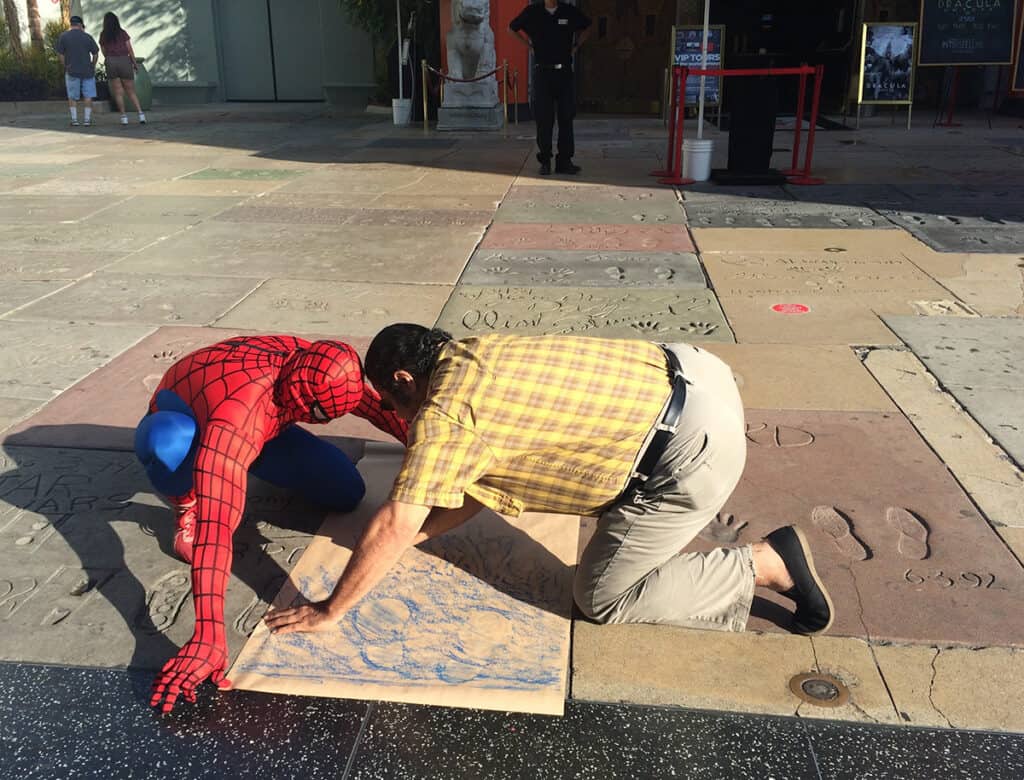 18. Visit the Hollywood Forever Cemetery
This is not as spooky as it sounds, and if you come in summer you can bring a picnic and a rug and watch an outdoor movie or a concert in the cemetery!
On our Bikes and Hikes cycle tour, which included the La Brea Tar Pits (above), we also whizzed through the famous Hollywood Forever cemetery. We had been another time and indeed seen an outdoor movie – it was Grease.
It turned into a singalong night with some punters dressed as pink ladies and bringing their pets! You can read about our movie night in the cemetery in this post, including what to bring and what you don't need to bring.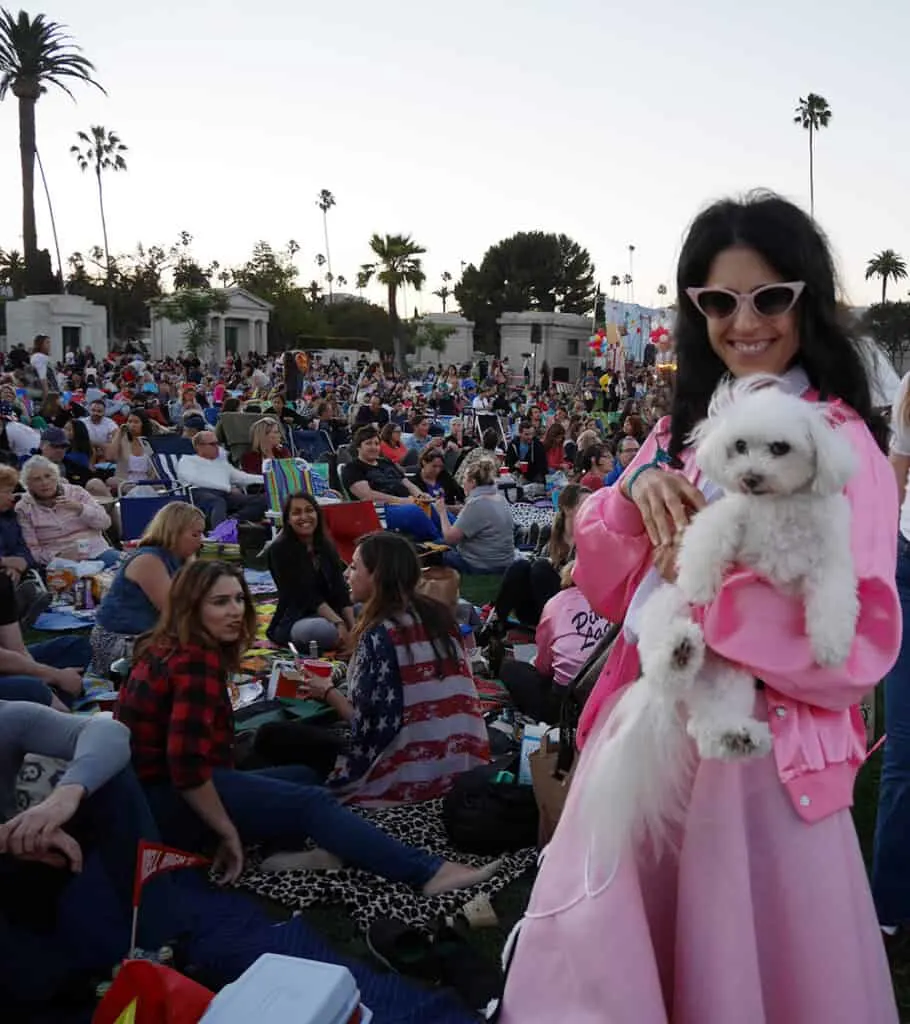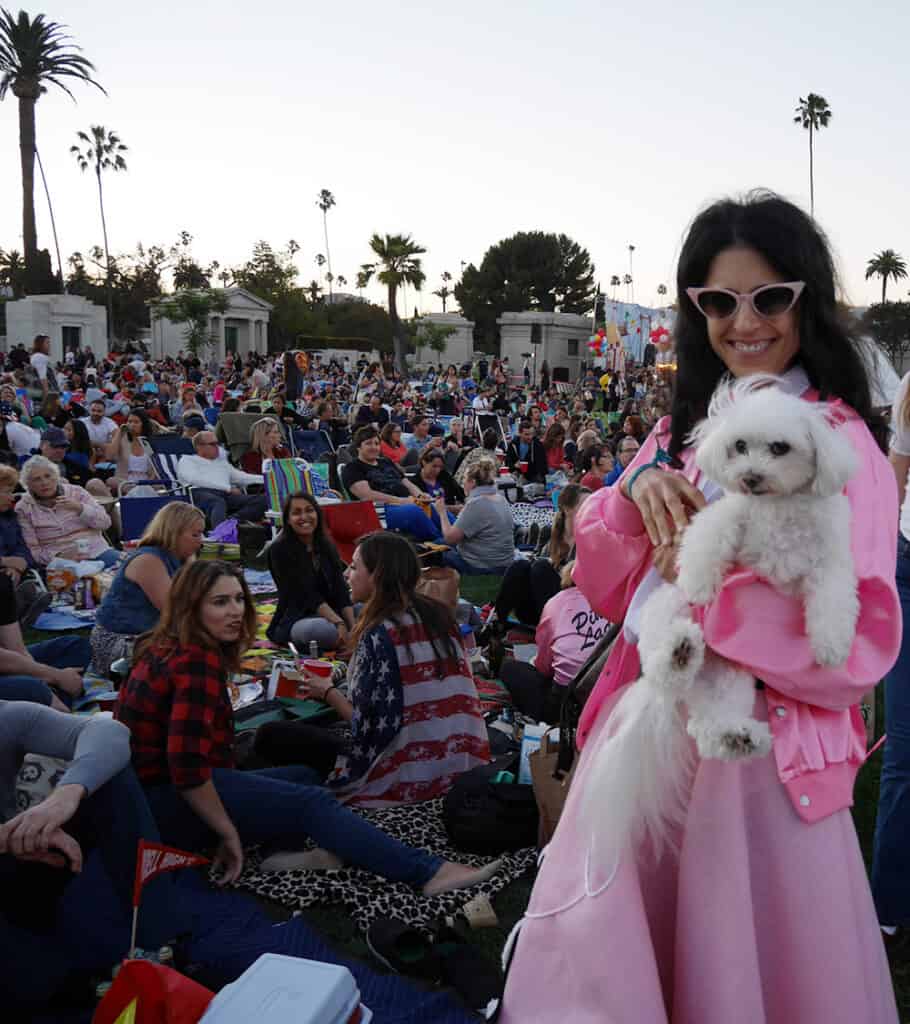 Hollywood Forever is the final resting place for people of all cultures and faiths, with honors and without. In mausoleums, buried in the ground, or little cremation niches.
On a tour you'll be able to stop and pay your respects to movie stars and many famous people all while enjoying the serene grounds, gardens and water features.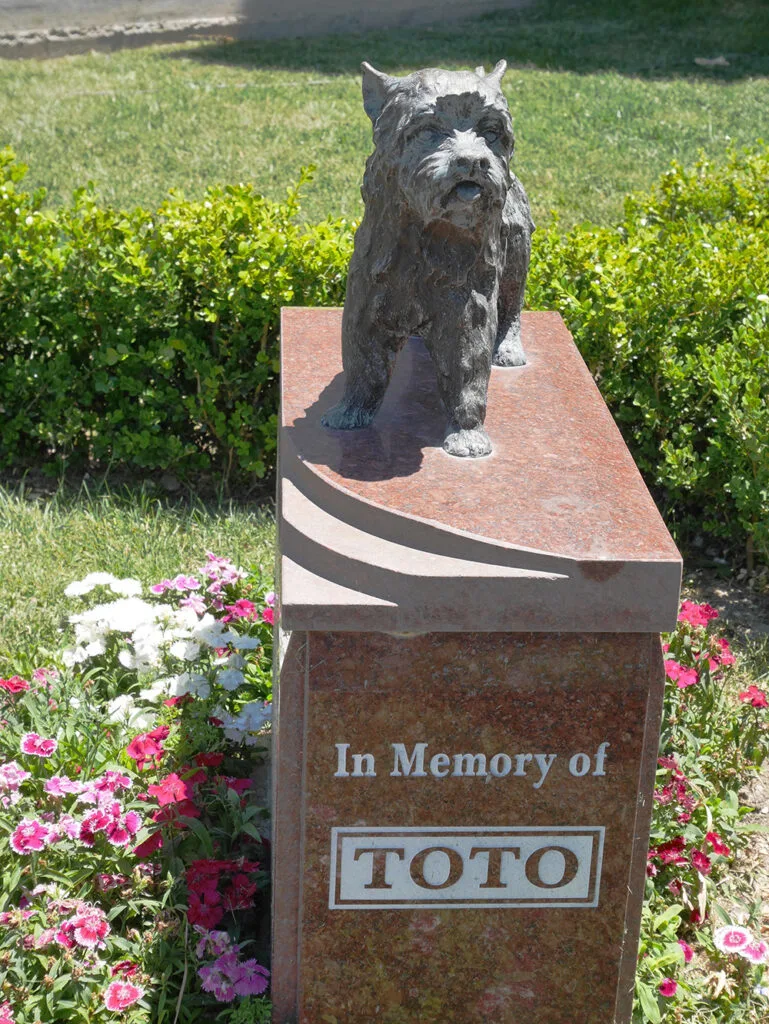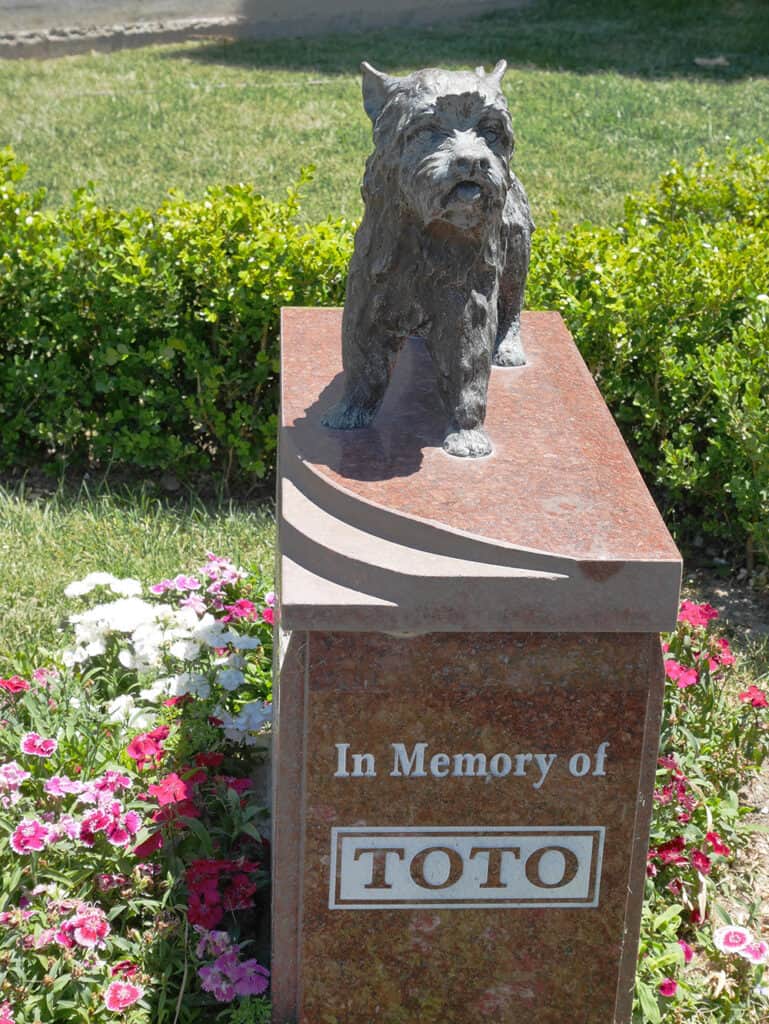 I am fascinated by cemeteries and have also enjoyed touring No. 1 Cemetery in New Orleans. But doing it by bike is the best way to see it because it's massive. Hollywood Forever Cemetery covers 62 acres (25 ha) of prime Hollywood land, on Santa Monica Boulevard and is open from dawn to dusk.
19. Have a sunset drink at a rooftop bar
For the best views in LA without the huff and puff of hiking up a hill, get thee to a rooftop bar. Uber works perfectly well here!
In Hollywood, pop up to the rooftop of Mama Shelter. This is a fun hotel to stay, with a unique vibe and and happily won't break the bank. (You can read my review of Mama Shelter in this post).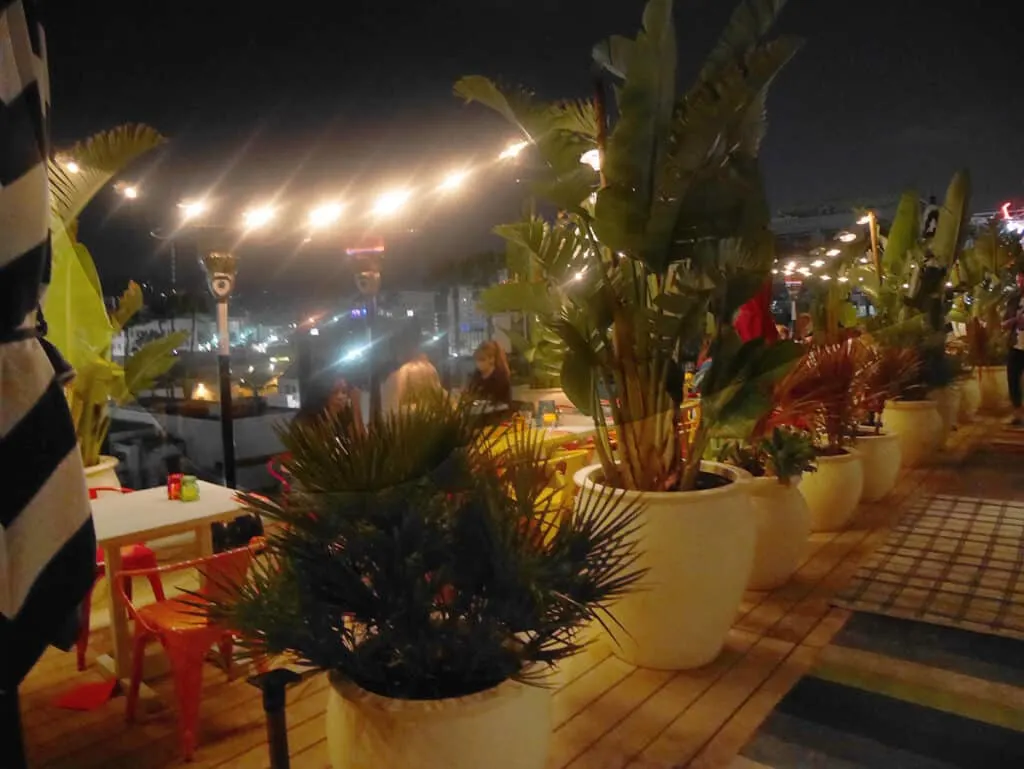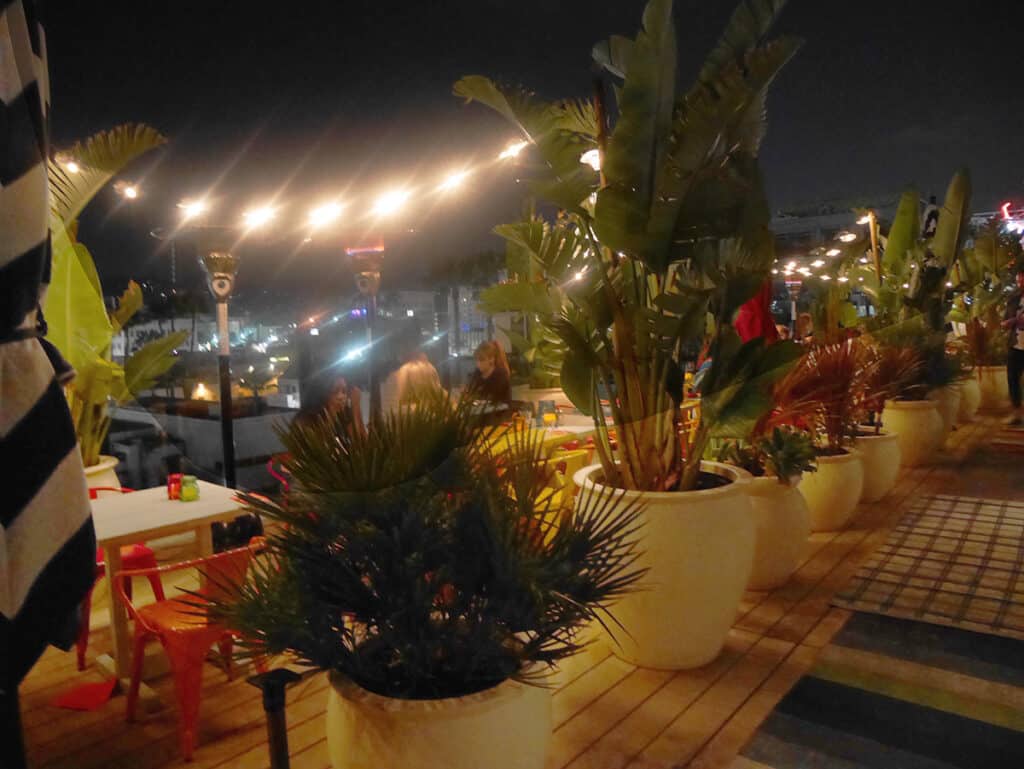 Located just a few blocks from the Walk of Fame, in the day the rooftop is used for yoga classes and ping pong. By night it transforms with music and outdoor movies for a drink with the city lights below.
If you're near Downtown LA, head to Perch or Ace. I visited both these bars and wrote about them in this post when we stayed at the now closed Standard.
And out on the west coast, you can't beat Santa Monica's rooftop bars at sunset. There are a lot more that are to technically on roofs, so they're in my post of the best bars in Santa Monica. But for the epic views with your Margarita, head to the rooftop of the Shangri La Hotel.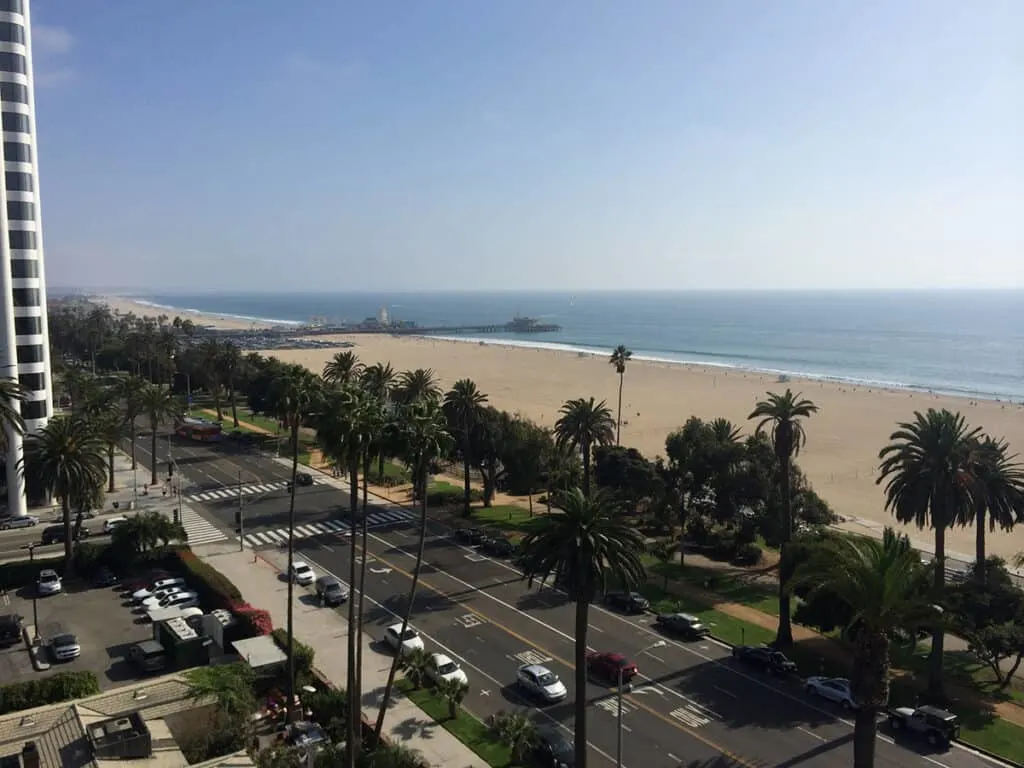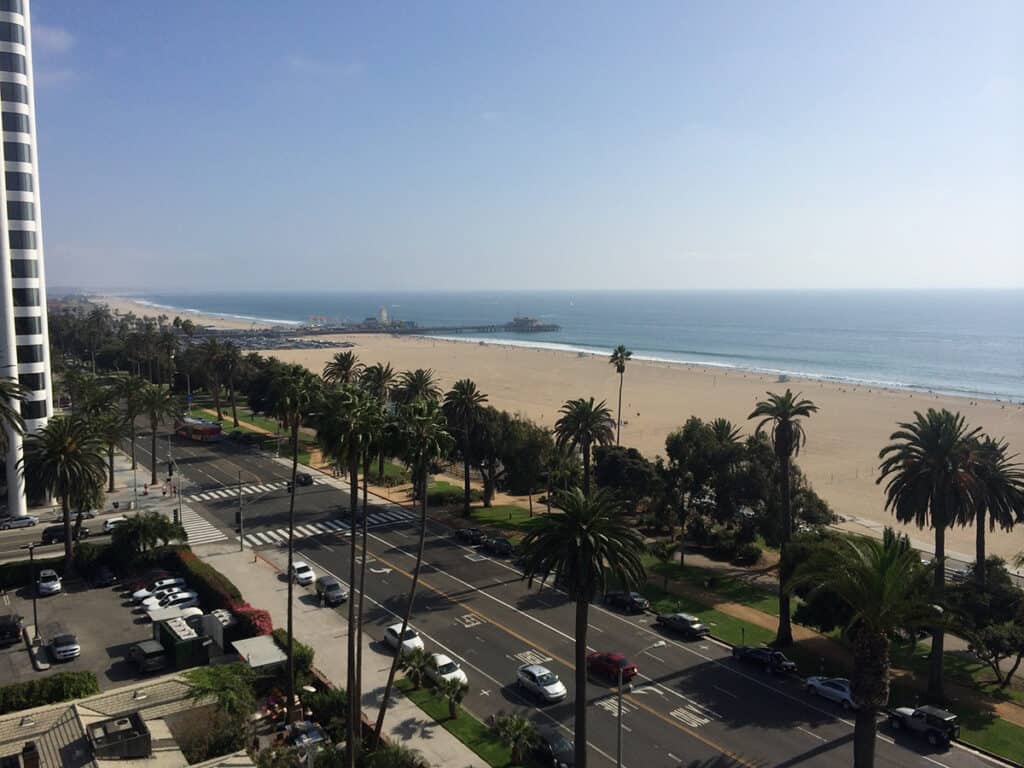 20. See a performance at the Hollywood Bowl
By Geeves Joy of Real Girl Review
If LA is known for anything, it is keeping its thriving cultural, art and music scene alive and well.
Therefore, you can't say you have fully explored LA without heading to the Hollywood Hills to check out its world-renowned amphitheater, the Hollywood Bowl, hot spot for entertainment in Southern California since 1922.
Here, you'll get to experience world class performances ranging from concerts and comedy shows to amazing annual events such as The Hollywood Bowl's Fireworks Spectacular to celebrate 4th of July, which in recent years has featured performances by comedians, the Los Angeles Philharmonic as well as other musical acts, ending the night with a show stopping fireworks grand finale!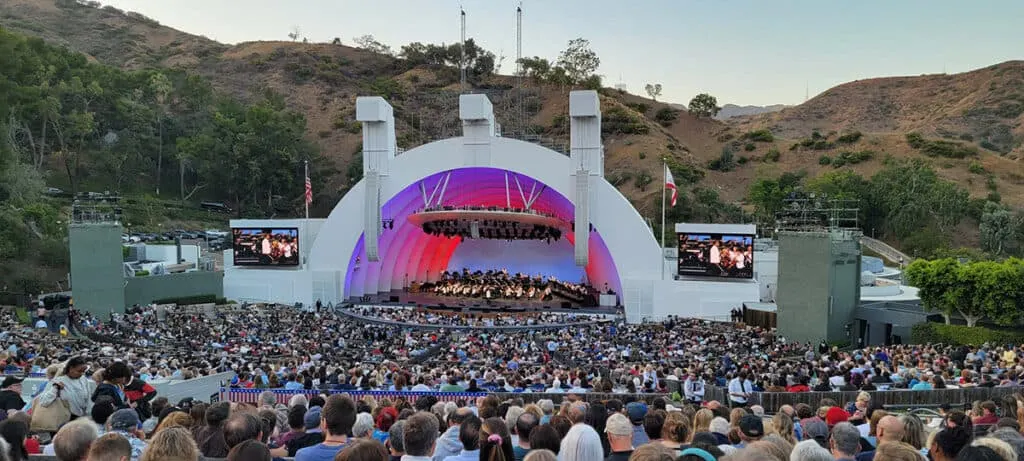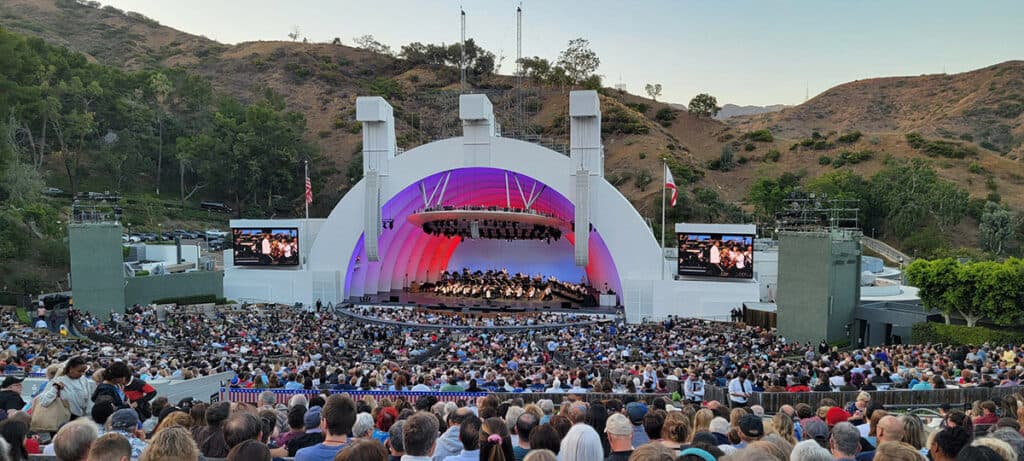 The natural shape of the venue and its multiple TV viewing screens allows everyone in the audience to see and hear what's going on whether your seats are in the front or the back of the Hollywood Bowl.
You won't be hungry either. There are many food options for every budget and taste. Stop into Hollywood Bowl's marketplace or a nearby Trader Joe's for your own food and wine or for a Hollywood Bowl style picnic in one of the many areas to relax in on the property.
You can also order a picnic box or elegant fare to be delivered to your seat before the show. If you're feeling a little snazzier, treat yourself to a three-course meal at one of the venue's restaurants and a glass of your favorite wine at the wine bar.
Speaking of wine, since you're in Southern California, check out all that Solvang has to offer!
This amazing venue is named for its natural bowl-shaped amphitheater carved into the hillside in Bolton Canyon, above Hollywood Heights. The domed band shell makes the Hollywood Bowl one of the best in the world for live music.
21. Hike Los Leones
By Rebecca Gade-Sawicki of Veggies Abroad
If you want to get out of the city and enjoy gorgeous ocean vistas, you must hike Los Leones.
This heart-pumping hike is near (my favourite LA beach) Santa Monica and is nowhere near as busy as some of the other LA hiking spots — you might get lucky and have the place mostly to yourself (that is a rarity in LA)!
Whether you want to get out and spend time in nature with a long hike or have a quick one for the views, there are options for both. Just be prepared that both include steady climbs through the canyon.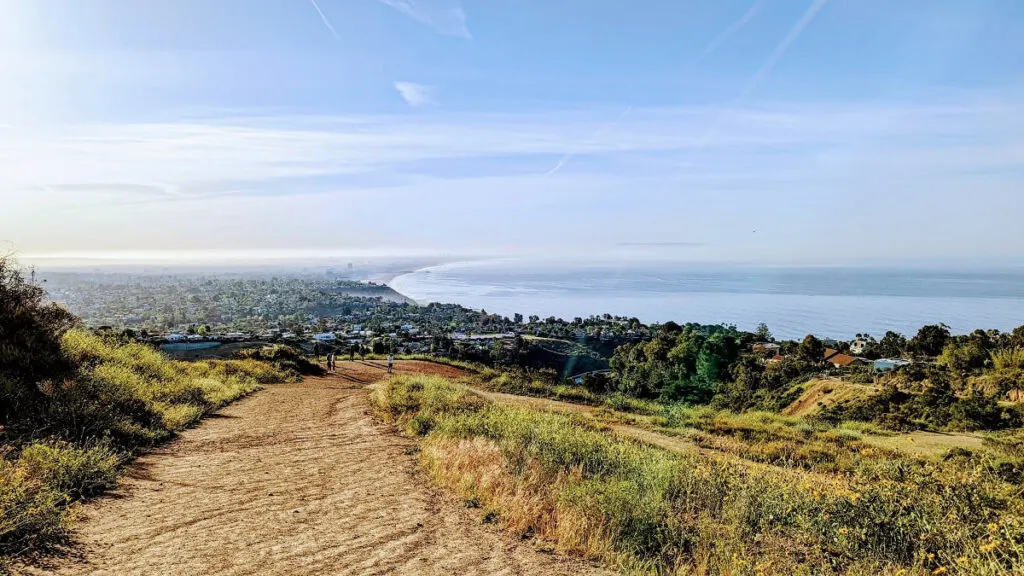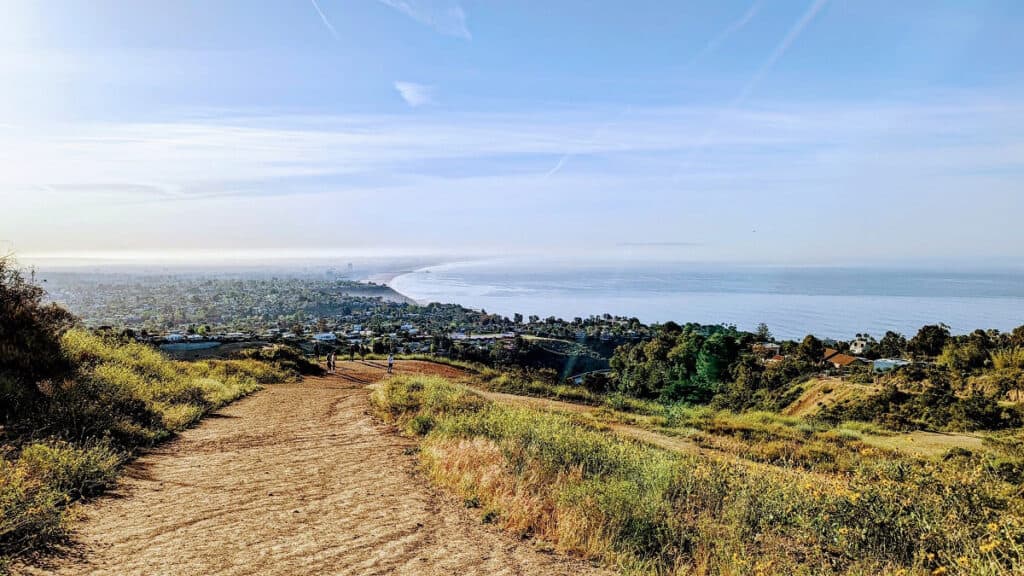 For those who love hiking and want to spend a couple of hours out here, head to the Los Leones Canyon Trailhead just off Los Leones Drive. You can park on the right side of the road — it's free! If you start from this point, the hike is about four miles one-way or eight miles round trip.
For a shorter hike, head to the Paseo Miramar Trailhead tucked back into a neighborhood. It may seem like you're going in the wrong direction, but you'll come to a dead-end road which is where the trail begins. You can park on the street, watch for the no parking signs — you will get towed!
The best spot for scenic views on this hike is the Parker Mesa Overlook. You can see Santa Monica and even Catalina Island on a clear day.
You'll be hungry after the hike; there are plenty of fabulous LA vegan restaurants in the area or for a quick re-fuel, check out Juicy Ladies on Sunset Blvd.
22. Wine tasting in Malibu
By Denise at Chef Denise
Head up the Pacific Coast Highway about 25 minutes to Malibu for some wine tasting!
Sure you've seen the famous Malibu beaches in countless movies and TV shows, but a little known secret about Malibu is that it's the best place in Los Angeles to go wine tasting.
But you're not going to find these vineyards along the Pacific Ocean, they're hidden in the Santa Monica Mountains. In fact, on the scenic drive from the freeway through the windy canyons, they're easy to miss. But if you're looking for them, you'll notice the vineyards of Malibu Family Wines, Rocky Oaks Winery, Triunfo Winery, Rosenthal—Malibu's first winery, and more.
The Malibu wineries don't attract hoards of tourists, so you'll find it is much more mellow than Napa Valley or even California's Central Coast. And therefore Malibu a day of wine tasting here is generally a lot less expensive than at the California big hitters.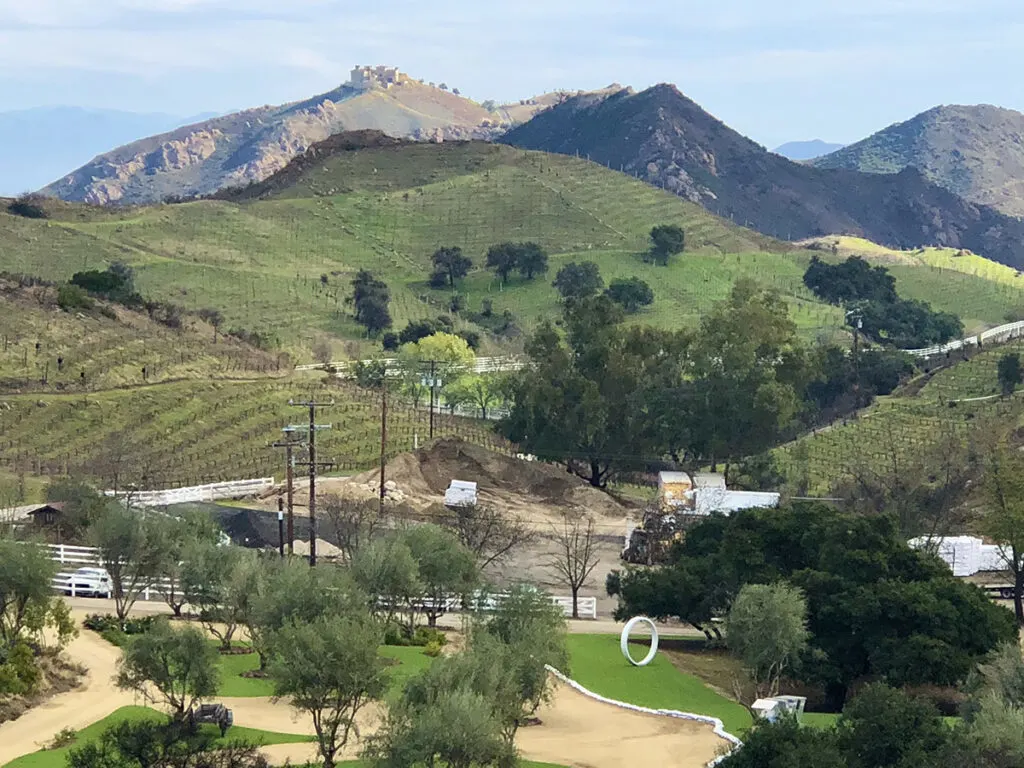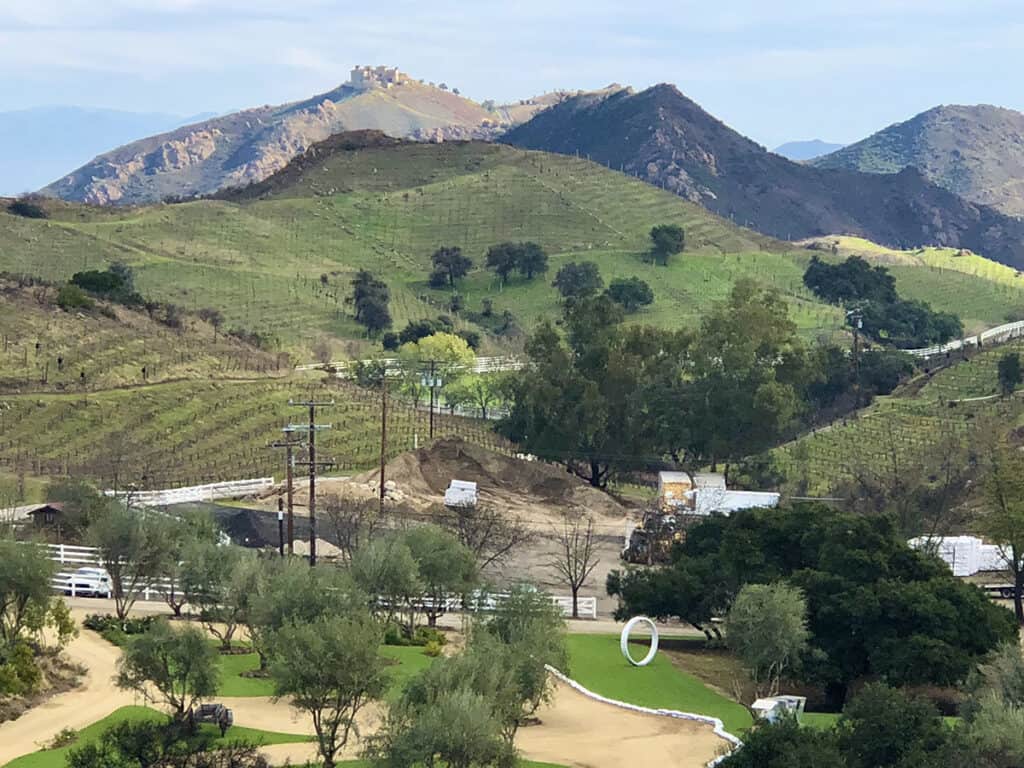 But there's still plenty of delicious wine to try! The most popular red wines in this region are Syrah, Cabernet Sauvignon, and Merlot. And the whites include Sauvignon Blanc, Chardonnay, and Viognier.
Many of the Malibu wineries don't have tasting rooms, so Cornell Tasting Room on Mulholland Hwy is a great place to start your day. There you'll find a one stop shop to taste the local wines.
Next head to Cielo Winery for one of the best views of the surrounding vineyards and mountains. Make a reservation to ensure you get a table.
Then take your party to the beach where you'll find Rosenthal's tasting room right across the street from the crashing waves. And a walk on the beach is a perfect way to end the day.
23. Island time on Catalina Island
By Gwen from California Family Travel
Located just 22 miles off the coast of Southern California, Catalina Island is a fun and easy day trip from LA and also features on this list of the most fabulous day trips from LA.
With its Mediterranean charm and relaxed island atmosphere, Catalina Island will truly transport you to another world.
There are many fun things to do in Avalon, the island's main town: Take a stroll along the waterfront or relax on the beach. Wander through Avalon's quaint shops and galleries. Go for a bike ride. Take a sightseeing tour. Rent a golf cart. Enjoy lunch or dinner at a harbor-view restaurant.
Avalon is where you'll find the majority of restaurants, hotels and activities, including the world-famous Casino Building and is almost free of cars, with most people opting to walk or drive golf carts.
It is only one square mile, so is easy to get around the picturesque harbor to slow down and enjoy the view.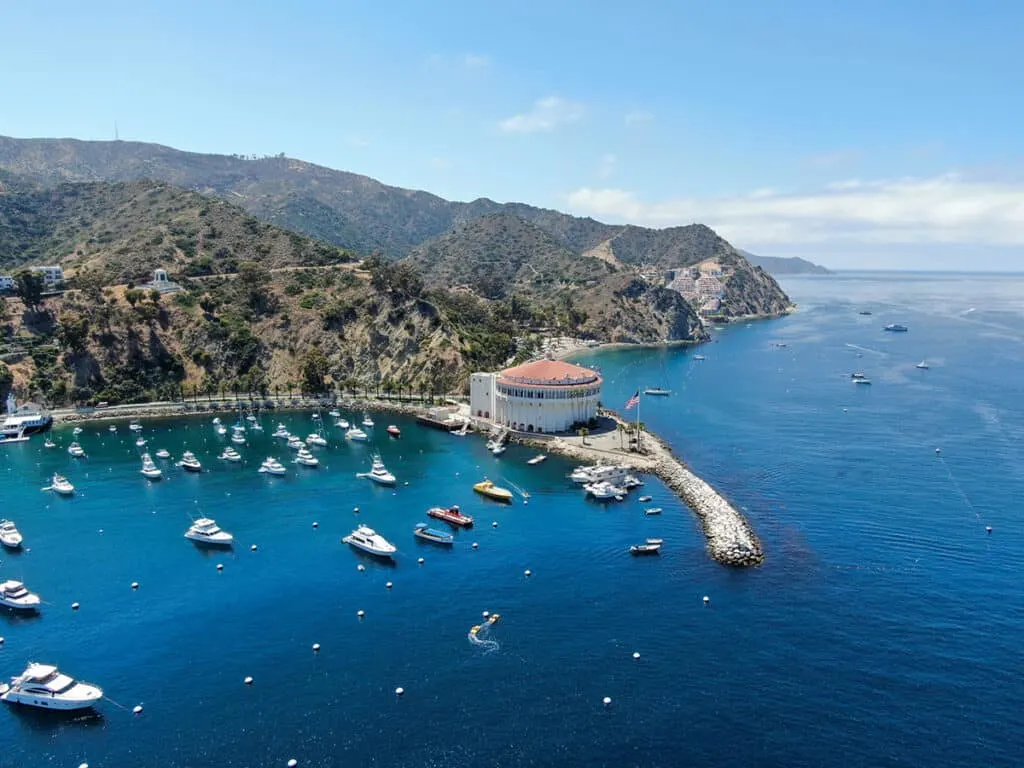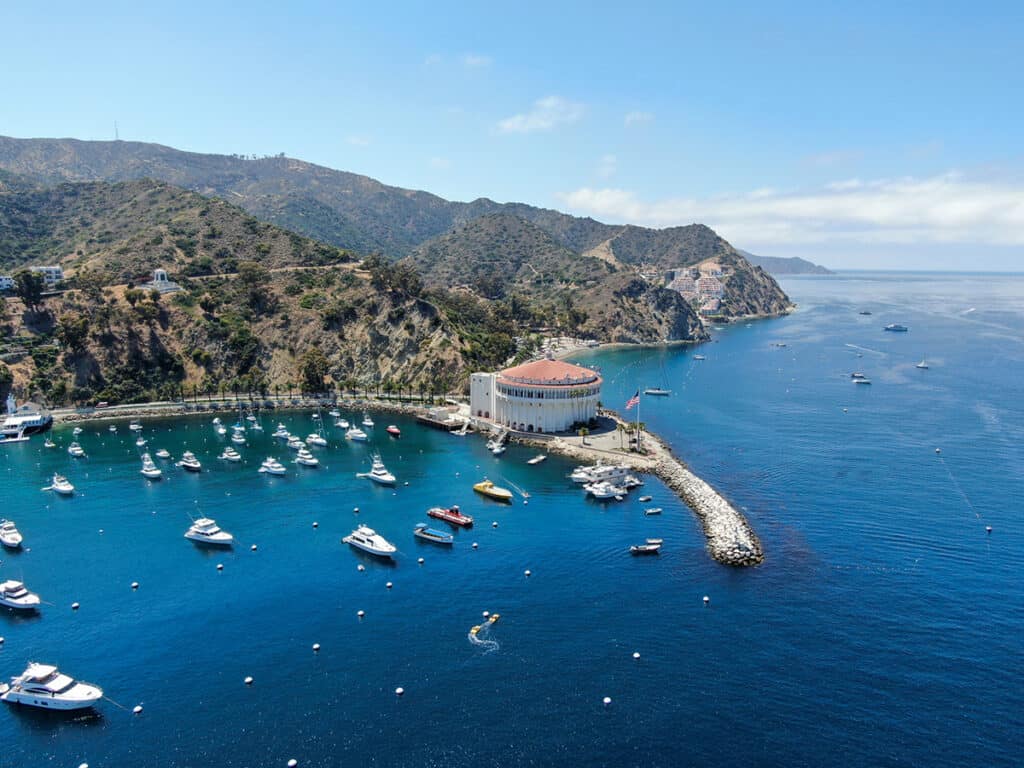 As wonderful as the town of Avalon is, it is only a very small part of Catalina Island. If you want to experience the "wild" side of the island, a journey into the island's vast interior is a must.
Catalina Island's interior, about 88% of the island, is owned and managed by the Santa Catalina Island Conservancy. The interior is covered with broad valleys, isolated coves, pristine beaches and is home to thousands of species of unique native plants and animals.
You can go camping, hiking or mountain biking in the island's protected wilderness. Or explore the island's interior on a Jeep Eco-tour or sightseeing tour. You can even go zip lining!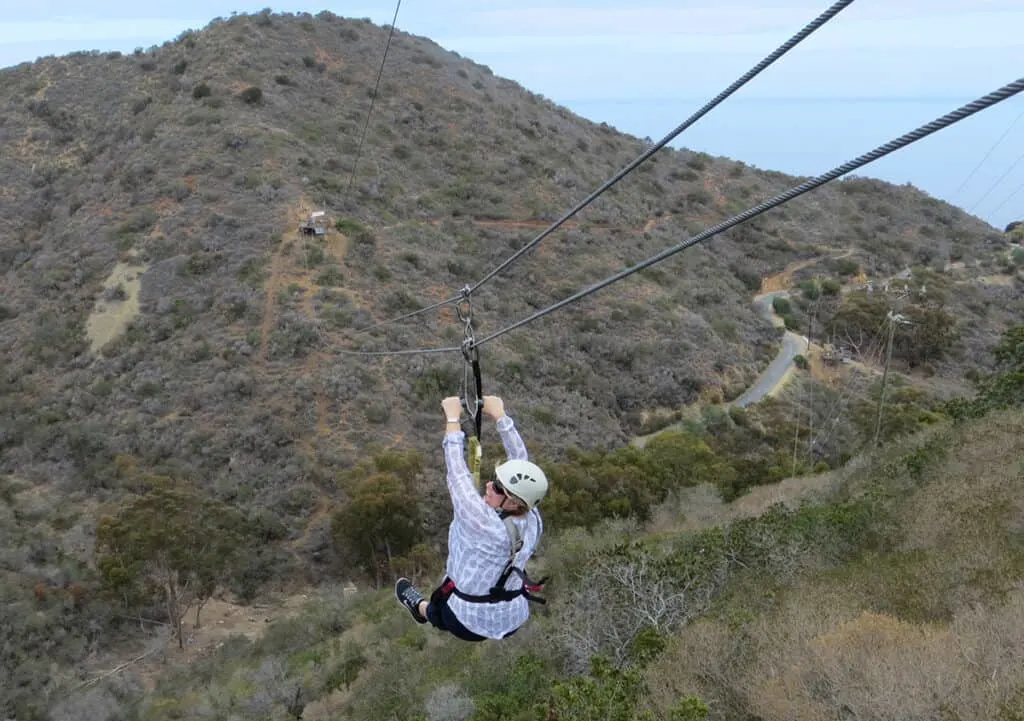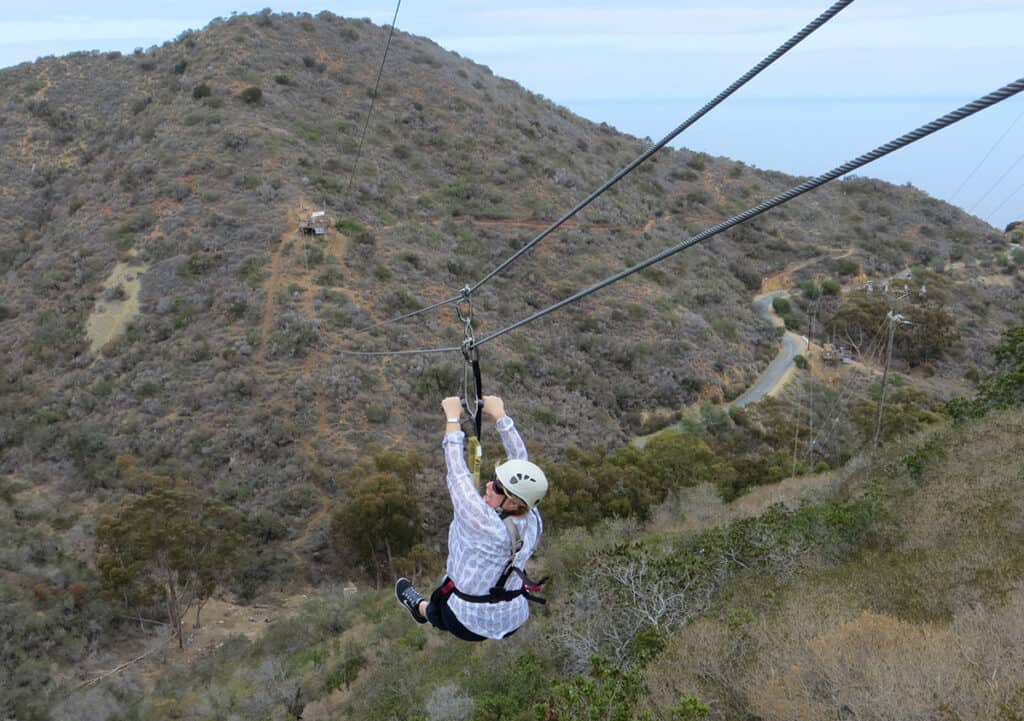 Whether you are looking for a romantic getaway, a solo escape, or a place to bring the entire family for some fun in the sun, Catalina Island is easy to get to from Los Angeles (about a 60 minute boat ride from Newport Beach, Long Beach or San Pedro).
I have a bunch more fun day trips from LA in this post, including Catalina Island. Some are so good, you'll want to stay over at least one night!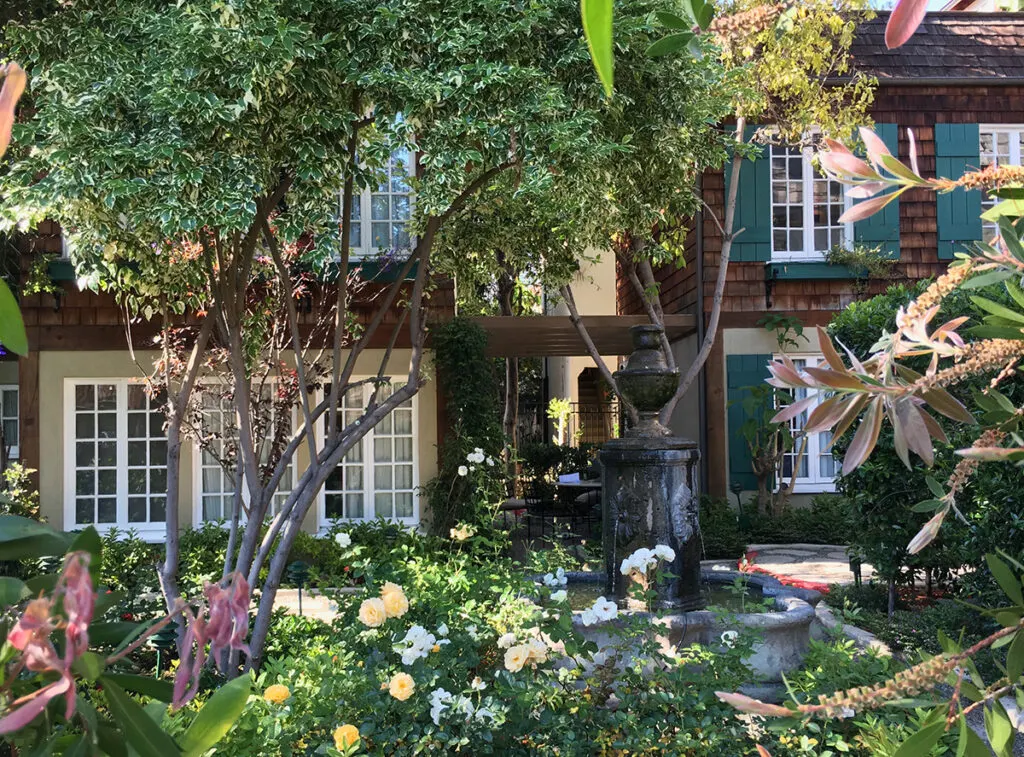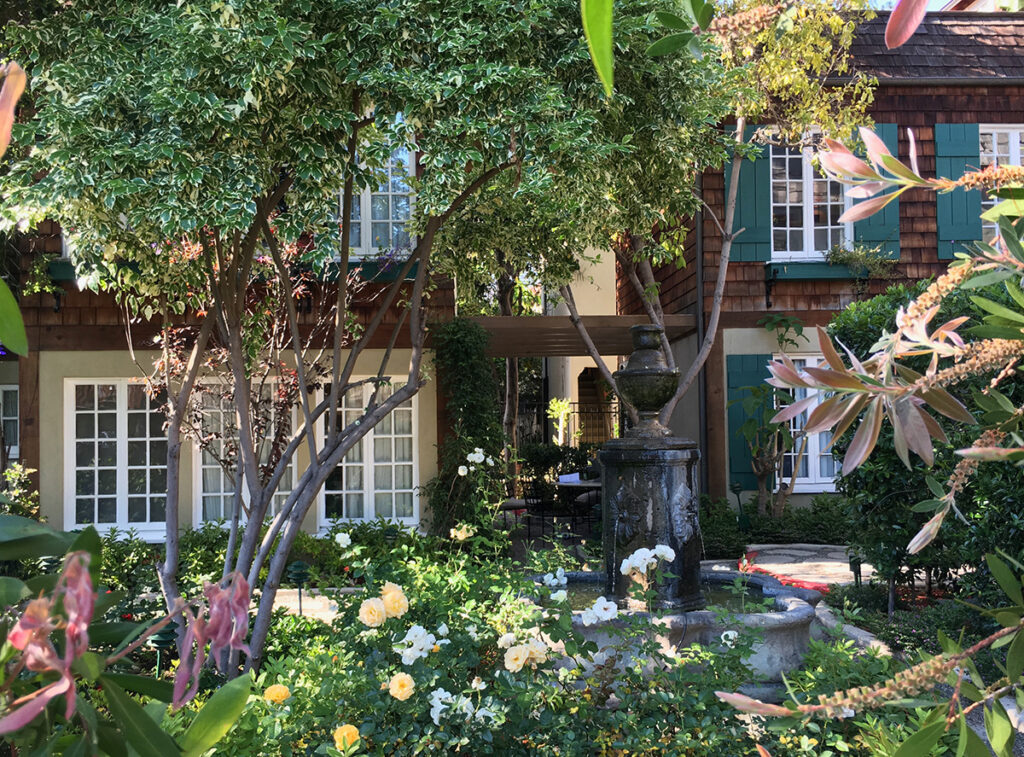 On one of my first visits to LA I stayed in Beverly Hills at a hotel frequented by celebrities. I met Dennis Farina. Who? You might ask. He was on Law and Order back in the day. Anyway, he made me a cocktail. And if that's piqued your interest, you read all about how Dennis Farina came to make me a drink in this post!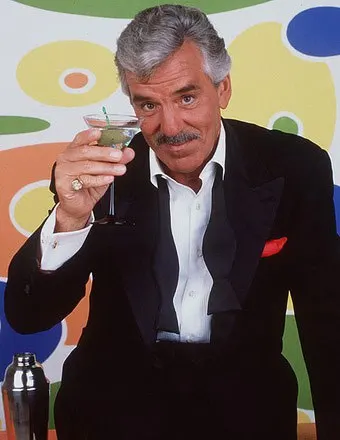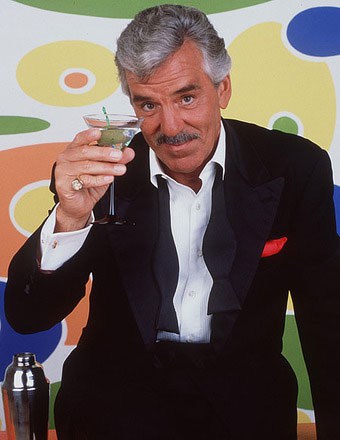 ---
Because one post is never enough!
Plus I love the outlet shopping in LA. This post covers Citadel Outlets and my secret sauce that includes getting a VIP lounge pass to come and go from. Ideal if you do this on your last day before a flight.