LA has quite a few quirky, hidden gems to discover – like watching an outdoor movie in a cemetery – once you've done the theme parks, rooftop bars in West Hollywood and beaches.
In fact Hollywood, a tiny city within the city, has loads of things to do to keep you busy for days, but when I first heard that they show outdoor movies in the Hollywood Forever Cemetery in Los Angeles, I wanted to go to one.
It took me a few years to get my timing right over a weekend in summer, but finally we did and it was great fun!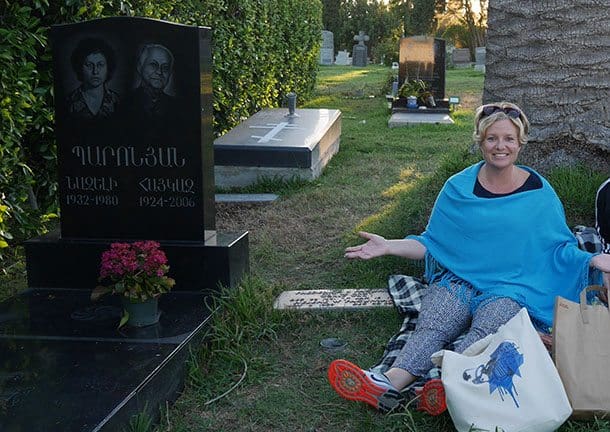 If you're looking for what to do in Los Angeles and you've visited the City of Angels a gazillion times before, you're probably looking for something new, or maybe you love the weird and wacky and you're all about unique things to do in LA, but if you want the weirdest most fun thing of all in summer, this is it!
But it's not as freaky as it sounds, seeing an outdoor movie in a cemetery! Especially when everyone joins in for a massive sing song…
I'd heard about these weekly summer outdoor movies by Cinespia in the Hollywood Forever Cemetery a few years ago, and finally it worked out that I was in LA on a Sunday so finally had the opportunity to go.
We had bought our tickets online before we arrived in LA so popped into a nearby Trader Joes for our picnic, then to Walgreens for $5 picnic rugs, hailed an Uber and off we went to see Grease.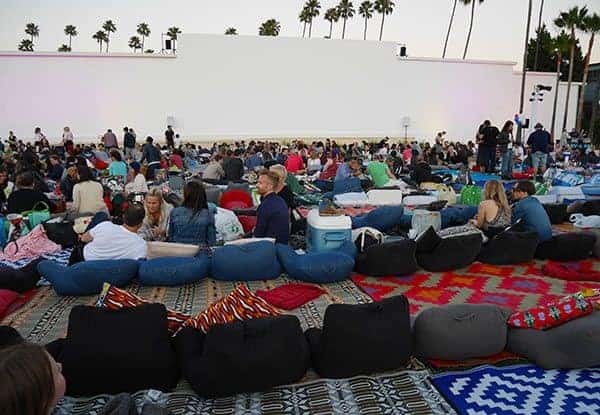 Traffic was lined up for a couple of blocks with taxis dropping people off and thousands of punters with their picnics and cushions walking up the road that goes through this iconic cemetery.
There is no seating plan, it's first come to find the best spot, although you can buy VIP tickets and sit in front on preprepared rugs.
By the time we arrived the main grass area in front of the big white crematorium wall that the movies are screened on was filled up, so we ended up finding a nice spot next to Frederick Pagunsan's grave.
He served in WWI and has been resting here since 1978. I know this because as I laid out my cheese, salami, guacamole and more chips than I could possibly get through, I read his plaque.
Along with 4000 others we sat among the tombstones and mausoleums. There were food trucks and pop up bars there for those who didn't bring a picnic but I'd recommend bringing your own in to save lining up for ages.
A tall burly security guard with a movie star voice pointed out that my rug was actually ON Mr Pagunsan's head stone and that my feet were in fact on his body (under the grass) and I needed to move them. Yikes! I shimmied over a couple of inches and everyone was placated.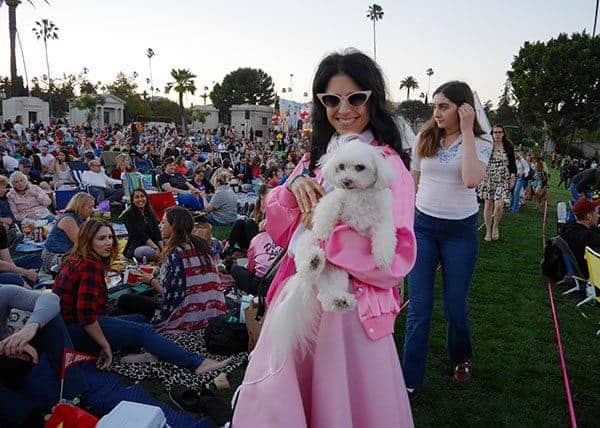 I'm not freaked out sitting among dead people, but my husband wasn't overly comfortable as we unloaded the picnic among the madding crowd. Others had beach chairs, pillows and even little tables laden with cake and grapes and I suspect there was more cheese among the masses than what was left in the grocery stores within a five mile radius.
People kept piling in and several walked on and over Frederick. I started to get annoyed by their lack of respect. My security guard mate had put a huge wheelie bin in front to protect his honour. Several moved it aside and just walked over him.
To be honest, it was only us late-comers sitting literally among the graves. The rest were on that large lawn where the party was clearly under way and had been for some hours.
I hadn't told the husband that we were seeing Grease lest he poo poo the experience. You know how they can be!
It was a rollicking good night. At the first song the crowd were cheering and by Greased Lightening we were all aha-ing and clapping as if Olivia and John were in the house!
Oh and as it was 4th of July weekend it ended with an awesome fireworks display. Then 4000 people filed out and grabbed an Uber…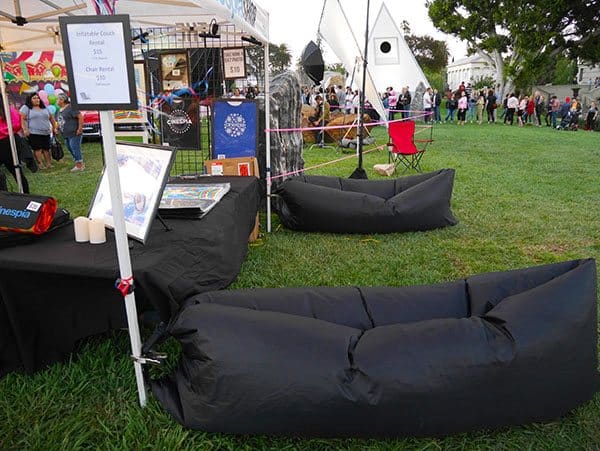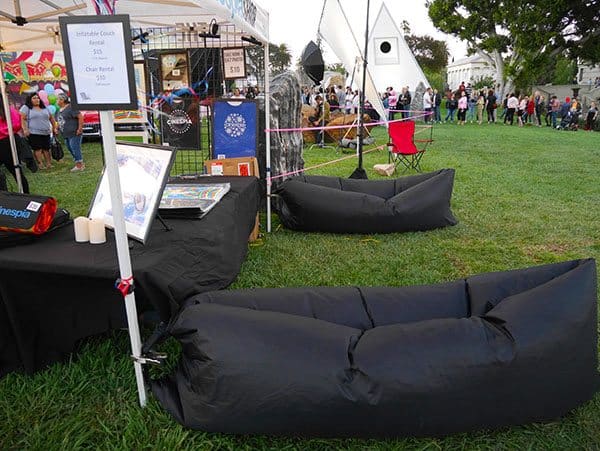 Sprawling 25 hectares on Santa Monica Boulevard, Hollywood Forever cemetery opened in 1899 and has its own tales of drama and financial skulduggery leading to almost ruin and disrepair, but today its graves have been restored and since 2002 outdoor movies have been played on Sunday nights in summer by a company called Cinespia to the crowds on the bright white enormous marble wall of the Cathedral Mausoleum.
What to know and what to bring to the movie
Tickets for the Hollywood Forever Cinespia movies are $16 for GA. Get here early to get a good spot so you can actually see the movie.
Gates open for early birders from 6.30pm and everyone else started pouring in from 7.30. The movie was set to start at 9 and while we waited for it to get dark, music played, people looked for spaces between dead people, and others lined up for tacos, burgers and wine from the stands located around.
They're pretty relaxed on what you can bring in – yes alcohol is allowed. Blankets, beach chairs, beanbags are all welcome and for $15 you can hire an air-filled couches. (You just need to find the space to run with it to fill it up!)
Click here to see what's on this summer at Hollywood Forever Cemetery's outdoor movies.
Frederick Pagunsan, I hope you enjoy your rest.
If you like outlet malls, you'll like my post on the best outlets in Los Angeles – Citadel Outlets!SaveSave