This is guest post from Niki Schuck who has fallen head over hiking heels for this annual walking weekend on Waiheke Island.
Having holidayed on Waiheke for the past 15 years, Niki is now a resident, living and working from beautiful Sandy Bay. She is heavily involved in the McKenzie Reserve as a volunteer and recently set up a women's networking group on the island that now boasts over 400 women on the database ranging in age from 25 to 83 years old. Her goal in the next five years is to take a week off work and walk all the way around the Island during the Waiheke Walking Festival.
Here's what to expect on this annual walking weekend and why it would pay to become a Friend of Waiheke Walking Festival so you can get on these sought-after limited numbers walks.
__________________________
Shake off the winter on Waiheke
There's nothing quite like winter to really get me down. Dark mornings, short days and then throw in rain or a southerly chill. I know it's nothing like living down south, but this Southern Girl has completely acclimatised since moving north in 2002! It's fair to say my vitamin D levels take a dip through these months which is why last winter a group of my girlfriends and I decided to walk three times a week – rain, hail, or sun, with the aim of catching up, keeping fit and boosting our mood. My husband liked to call it "Walk and Talk" with more emphasis on the talk…harsh to say the least.
Goal setting is important
We all decided over a glass of wine that having a goal was important and each of us put forward an idea. Mine was for the four of us to stay on Waiheke for five days in November and participate in the Waiheke Walking Festival. We pored over the website and all agreed this would be a lot more fun than a spa day and dinner out, mostly because we worked out we could add those into the five days on Waiheke as well as walk in the festival!
Who knew chafing was a thing…?
Motivated, I even sprung for some new walking shoes, a great pair of sports leggings and a waterproof jacket – so the weather wouldn't deter me, but who knew chafing is a trap for inexperienced walkers! One of my girlfriends decided to wear shorts, now that was a mistake…with a rainy but mild day, we were an hour in and she was walking as if she'd been riding a horse for a week. Poor Trish! But every group of girlfriends has that "extra organised ex teacher or nurse" and Lynn had brought a spare pair of leggings in case she got wet. Crisis averted. Over the weeks we were enjoying ourselves so much we added in an extra walk before work, and it didn't take long before we all noticed our jeans felt more comfortable, we could go up hills without puffing as much and some of us were even opting for the stairs at work instead of the lift.
(See Megan's post on how to avoid chafing in humid countries! >>)
Why become a 'Friend' of the Waiheke Walking Festival?
Early on we decided to become 'Friends of the Waiheke Walking Festival' and this proved to be a great move. Amazingly it doesn't cost anything to do the walks, apart from those that finish at a vineyard for lunch or wine tasting. This wonderful community event is all about encouraging people to explore Waiheke and get off the beaten track. However, with the numbers of participants capped for each walk for safety reasons, we didn't want to miss out on the walks we were keen on – and we wanted to support this initiative.
Easy solution – the public can become a 'Friend' which requires paying $100. In return for this we were able to book more walks (10 instead of six) and book a month prior to the festival walks opening to the public on 1 October. This gave us confidence to book accommodation and even some dinner reservations, oh and that massage. As a bonus becoming a 'Friend' also gives you a ticket to the Festival Finale at beautiful Rorohara – food, wine and a chance to reflect on what you've seen and done.
Let the walking begin
Before we knew it November rolled around and the four of us were on the Fullers Ferry, glass of wine in hand on our way to Waiheke. We'd each picked a walk, easing into it with a night walk that not only educated us on the night sky but allowed us to view the galaxy through Astronz telescopes with experts to guide us on what we were seeing. It was a fantastic evening under the Waiheke sky, the lack of light pollution adding to the experience, besides any excuse to don a headlamp and I'm in! We all decided the 'family friendly' version offered would be fantastic for kids and one to ear mark for 2018. After a couple of nightcaps we stumbled into bed, knowing it was going to be a pretty magic five days together.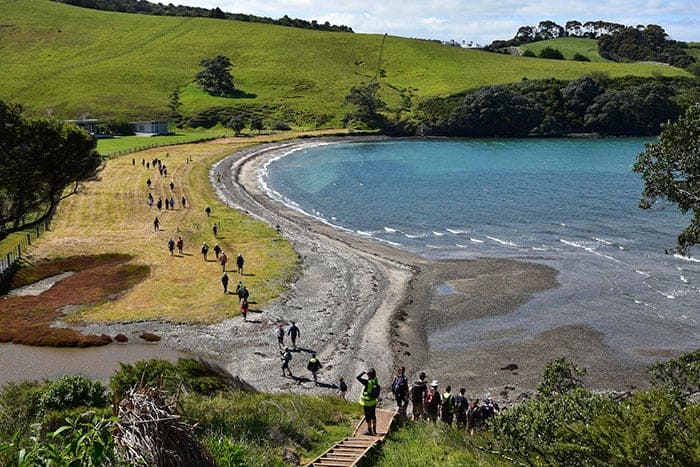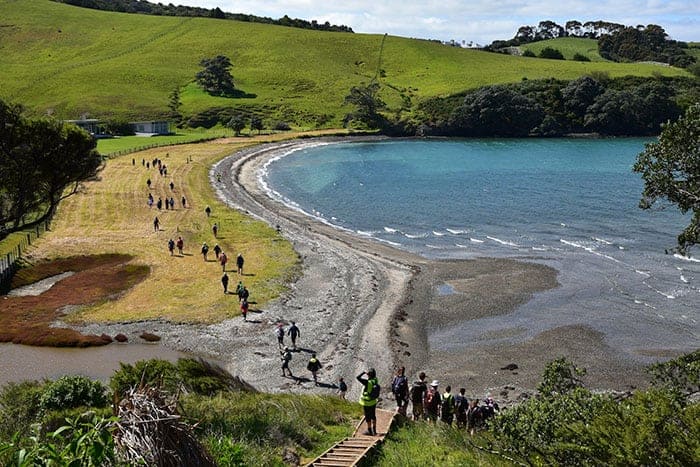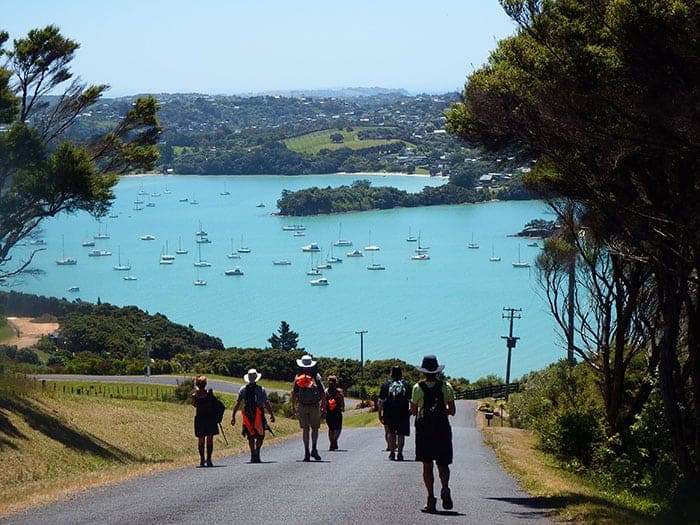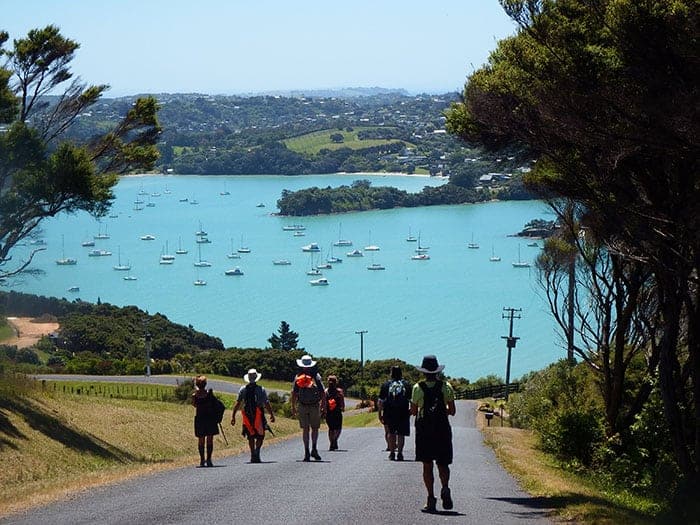 Sunday dawned and after breakfast over million-dollar views and great coffee in Oneroa, we were on a bus to Orapiu Wharf, right across the other side of the island. This immediately gives you a feel for how different Waiheke is, with its rolling hills and farmland only minutes from world famous beaches. Orapiu feels like Waiheke of old, there's even a fisherman on the wharf pulling in a catch as we spray our boots for Kauri Die Back Disease and listen to last minute instructions.
We walked the coastal track to Pearl Bay and then ducked in to the brand new Te Matuku Scenic Reserve track that's simply stunning. The bush felt breathtaking as we meandered through it, with plenty of time for photos and importantly, just to sit and soak it all up. We finished at Passage Rock Vineyard for lunch, toasting ourselves with a glass of their Sisters Syrah! And pinch ourselves, we are actually doing this!
Do the photography walk with a pro
I was excited because we were doing a photography walk with an award winning professional photographer, taking in the shoreline as well as in the bush starting from Matiatia Wharf, where the Fullers passenger ferries dock. We learned all sorts of tricks and tips and it's done in a way that we all enjoyed, even Jo with her iPhone! Several months on, this walk has made me really see what's around me, the detail and to look up and down, not just out.
We were done by 12 which left the afternoon to explore the many art galleries and studios on the island, from painters to ceramics artists and sculptors. We stopped for a coffee and a relaxing walk along Onetangi Beach before freshening up for dinner at the exquisite Casita Miro – tapas and sherry, what a treat!
Drinking and walking is positively encouraged!
We've saved the best to last! This is an uphill and down dale walk filled with scrumptious treats along the way! Beer tasting at Alibi Brewer's Lounge back at Tantalus Estate then over to Peacock Sky Vineyard, near the air strip for wine tasting that's perfectly matched with the food. Named for the peacocks that roam wild in the bush, this is a more rustic and authentic vineyard to experience. A bit more walking took us to Batch Winery with its 180 degree views of Auckland city and up the East coast beaches and out to Coromandel and beyond. We were on top of the world before finishing off with that famous Waiheke Island olive oil, oh and even more wine at Rangihoua Estate!
As we ate fish and chips on the beach at 'Little O', as the locals call it, we felt chuffed that our bodies had stood up to the four days of walking with no problems, perhaps we need a bigger challenge we muse…
A few last things to do on Waiheke Island
We left the next day but not before we managed to visit Eclectic Boutique and Timmy Smith Jewellers…some retail therapy to support the local economy, and then its time to drop off the rental car and catch our ferry. As we glided back to Auckland, we pored over each other's photos. We've already decided we're coming back this year, but we made a pact, we're coming for longer with the aim of tackling the Te Ara Hura walk – five days and 100kms walking all around Waiheke Island. We all shake on it – we are definitely "Friends" of the Waiheke Walking Festival!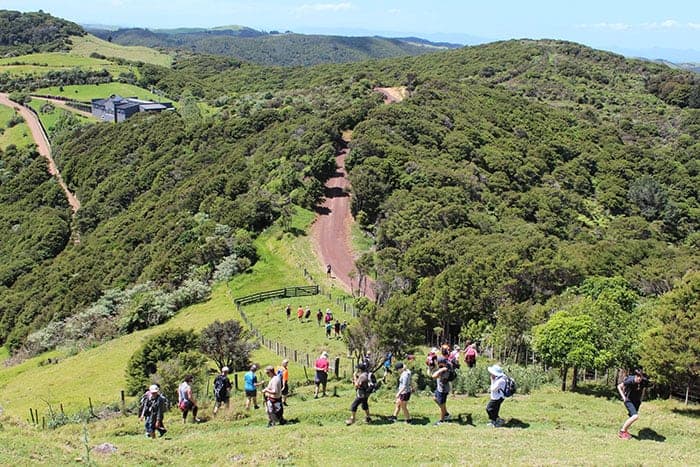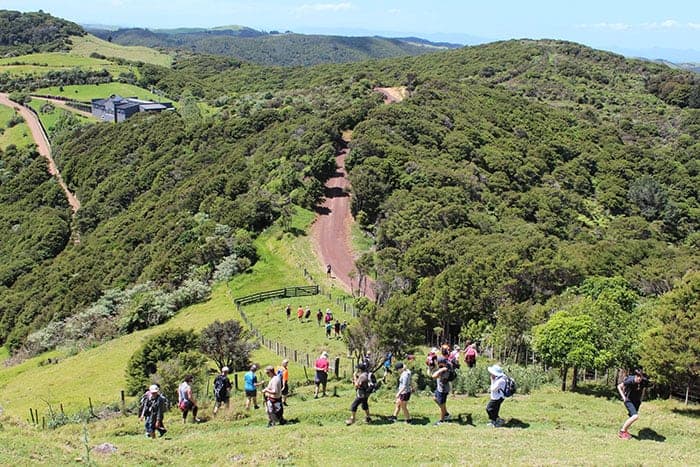 _______________________
The 2018 Waiheke Walking Festival runs from the 17th– 25thNovember 2018. Over nine days the Festival offers a range of walks (50) which sees over 500 walkers a day, out walking somewhere on Waiheke Island. For more information and to find out how to become a "Friend" of the Waiheke Walking Festival, visit www.waihekewalkingfestival.org
_______________________
What you need to know about the Waiheke Walking Weekend
ADDITIONAL COSTS: Please note that, whilst all walks are free, some walks may have supplementary charges for charter buses and/or food and refreshments.
BOOKINGS: You MUST book for each walk as all walks have limited numbers. To book, visit www.waihekewalkingfestival.org. Bookings go live 1 October but if you become a 'Friend' by paying $100 you will have access to bookings one month earlier than the public.
BUSES: Please ask your friendly bus driver to point out your stop. All charter buses from Matiatia will also make scheduled stops at Oneroa, Surfdale, Ostend and Onetangi.
DOGS: Waiheke is home to some of New Zealand's endangered birds. Please no dogs unless specified in programme.
RUBBISH: We have a strong commitment to zero waste, please carry out what you carry in.
DONATIONS: The Waiheke Walking Festival is proud to be a FREE event however donations are gratefully accepted.
FESTIVAL FRIEND MEMBERSHIP: Receive early bird and additional walk registrations, a ticket to our fantastic Festival Finale and provide much needed financial support for this wonderful event. For more information and to sign up visit: www.waihekewalkingfestival.org
KAURI DIEBACK DISEASE: Waiheke Island is free of this devastating disease, let's keep it that way and protect our beautiful native Kauri trees. Please ensure your footwear and paws are thoroughly cleaned before arriving on Waiheke. It is a requirement that every walker scrubs and disinfectant sprays their shoes at the start and finish of every walk during the Festival.
SAFETY: While all care is taken by volunteers to ensure your safety, walkers participate at their own risk and are responsible for their own belongings and vehicles.
WALK GRADING: Each walk has been given an approximate time and grading. The grading reflects the type of terrain and walking surface you can expect. All of Waiheke is hilly, in some places very hilly!
E: Easy – mainly road.
M: Medium – off-road walking track, may have some narrow, muddy or steep sections.
H: Hard – mostly unformed, may be tricky underfoot, prolonged steep hills.
What to bring:
A hat, sunscreen, water, sturdy shoes, walking poles can be helpful on the medium/hard walks, a good waterproof/windproof jacket.