I've just spent three days staying in Hollywood, and was pleasantly surprised by the many cool things I found to do here, and some really fabulous rooftop bars that you must visit!
Spoiler: Hollywood is not actually laid in footpaths paved with gold and A-listers gliding gently down the street, as its glitzy reputation to those of us who have formed our views from the silver screen, might believe! Sorry to burst that bubble.
In fact only recently have the vacant buildings and empty lots along Sunset and Hollywood Boulevards been given some much needed attention and the makings of a revitalisation are afoot.
But it's a fun place to visit and even better if you know some inside information for things to do in Hollywood, so below are some of the best places to check out.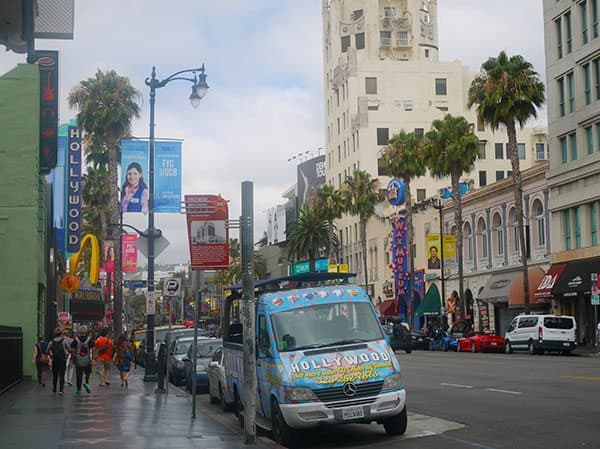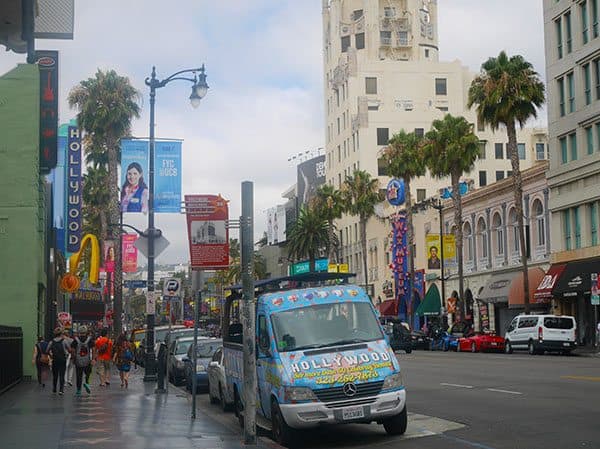 This post contains some affiliate links. That means if you make a purchase from one of my links I will earn a small commission at no extra cost to you. Thank you for supporting my blog.
Hollywood is one of 88 cities that make up Los Angeles, and I also have this post covering a whole range of really cool things to do in LA here.
It's also different to West Hollywood. While that neighborhood is only a glitter star toss away, the two are completely different. I have stayed several times in WeHo too, and wrote this post about 7 great hotels to stay in West Hollywood.
Where to stay in Hollywood
This time we stayed at tommie in Hollywood. It's super cool and surprisingly affordable. With rooms under $200 a night, you'll be pleasantly surprised with the free happy hour cocktails and snacks in the lobby every evening.
On the rooftop is a swimming pool and some cabanas, and a surprising fun bar – designed for country and western fans, complete with line dancing!
Also, within a block or two from tommie are four fabulous rooftop bars/restaurants and some more great places to eat. Because, yep, travel is eating. And taking photos. Oh, and walking about 20,000 steps a day even when you don't mean to!
Here's my list of awesome things to do in Hollywood
1 Wander along to the Hollywood Walk of Fame, which stretches 15 blocks of Hollywood Boulevard and three blocks on Vine Street, lined with stars embedded in the pavement and see how many names you recognise. You'll even see "movie star" Donald Trump here!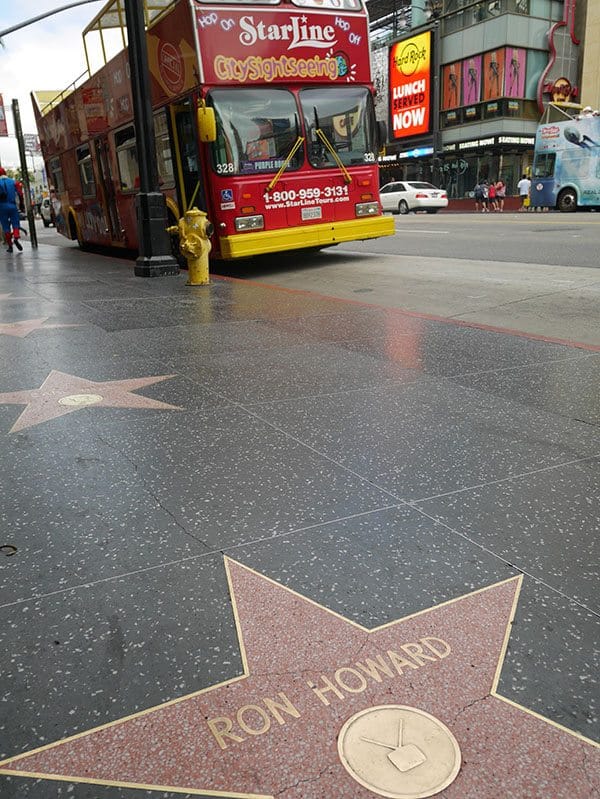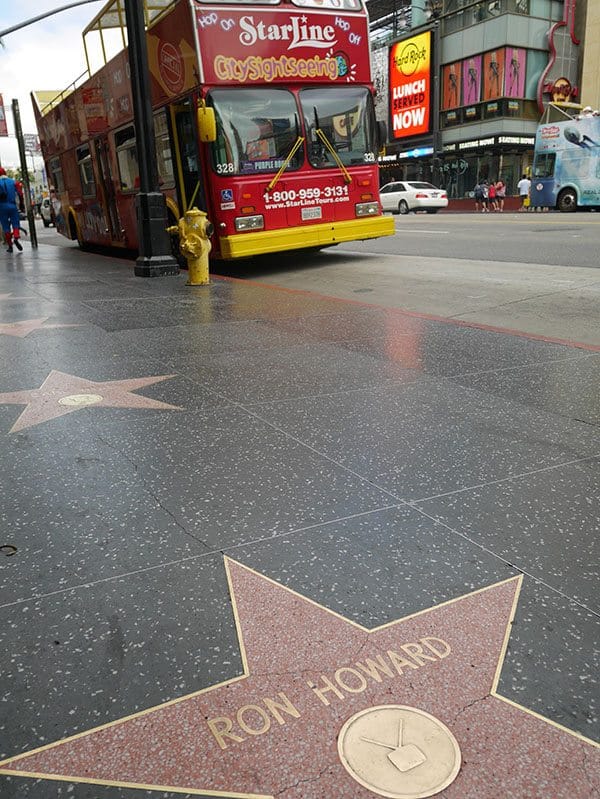 2 In front of the TCL Chinese Theatre (formerly Grauman's Chinese Theatre, Mann's Chinese Theatre, Dolby Theatre) you'll find the moulded concrete hand and footprints of the stars. A fun photo is to stand in their shoes, as it were.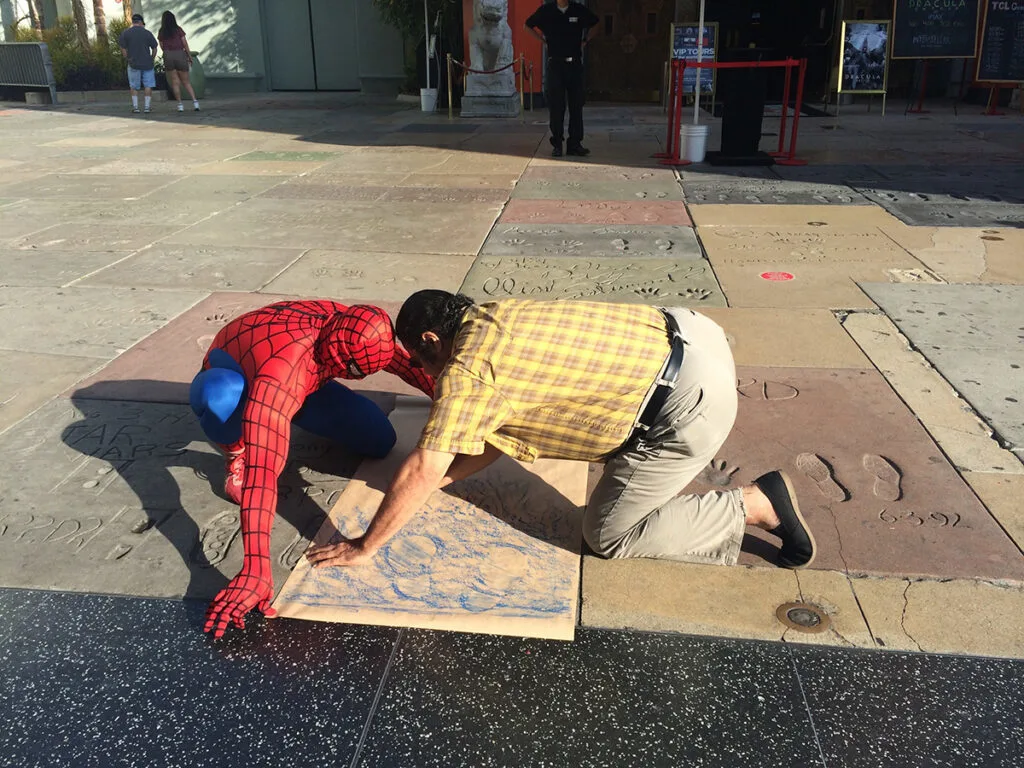 3 Take an open-air Hollywood celebrity homes sightseeing tour. These are a fun time sightseeing from your coach down Rodeo Drive through Beverly Hills and finding out all sorts of tidbits about the celebrities who live and shop around here. Then you'll drive slowly past several of their houses – and may even spot some!
4 Take a private tour inside the TCL Theatre, home of the Academy Awards, to learn about Oscars night, see a statue and get in on some goss. There's an IMAX cinema in here and lavish events are held year round.
5 Visit Madame Tussaud's wax museum. There are two wax museums on Hollywood Blvd, the Hollywood Wax Museum and Madam Tussaud's. At the former you'll only find wax figures of Hollywood stars, but at Madame Tussauds Hollywood you'll see 100 life-sized famous people to get up close and personal, "touch" the stars, take selfies with Marilyn Monroe, Judy Garland, Brad Pitt et al and fill your friends Insta feeds!
You can even pose for selfies for free with whoever is in the lobby. Today it was Hulk and the Rock!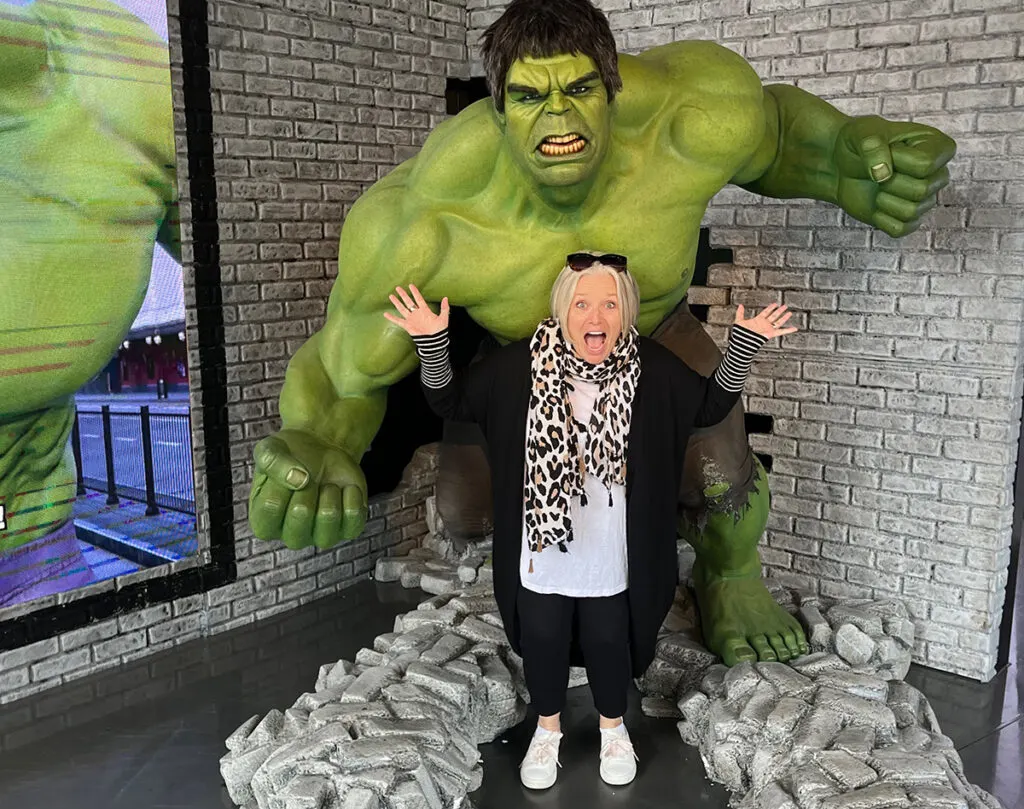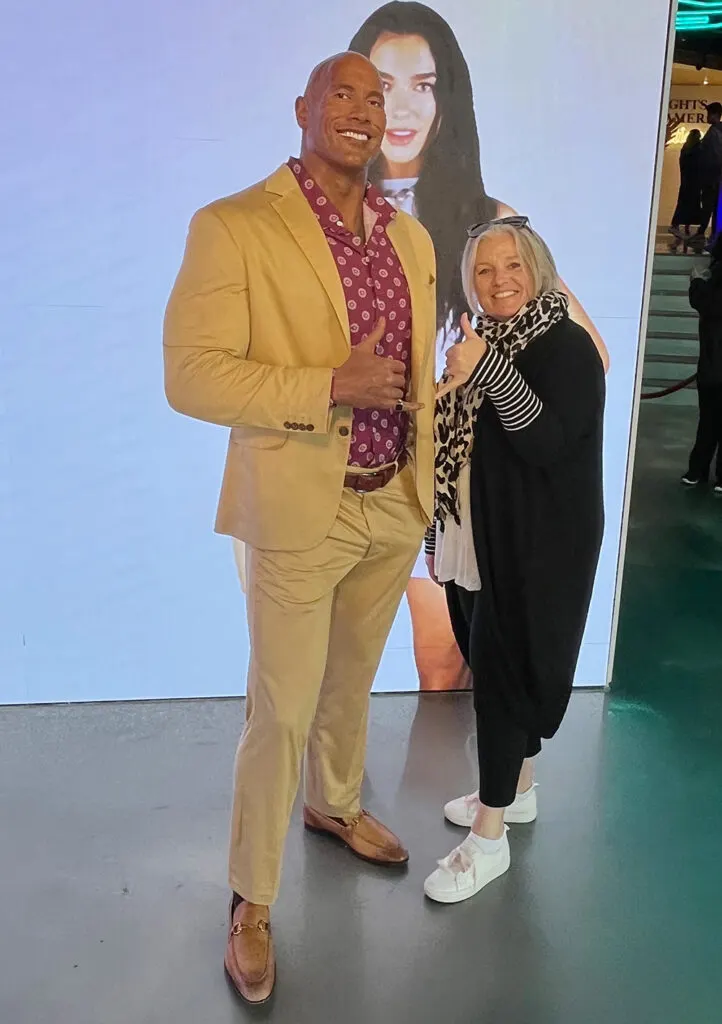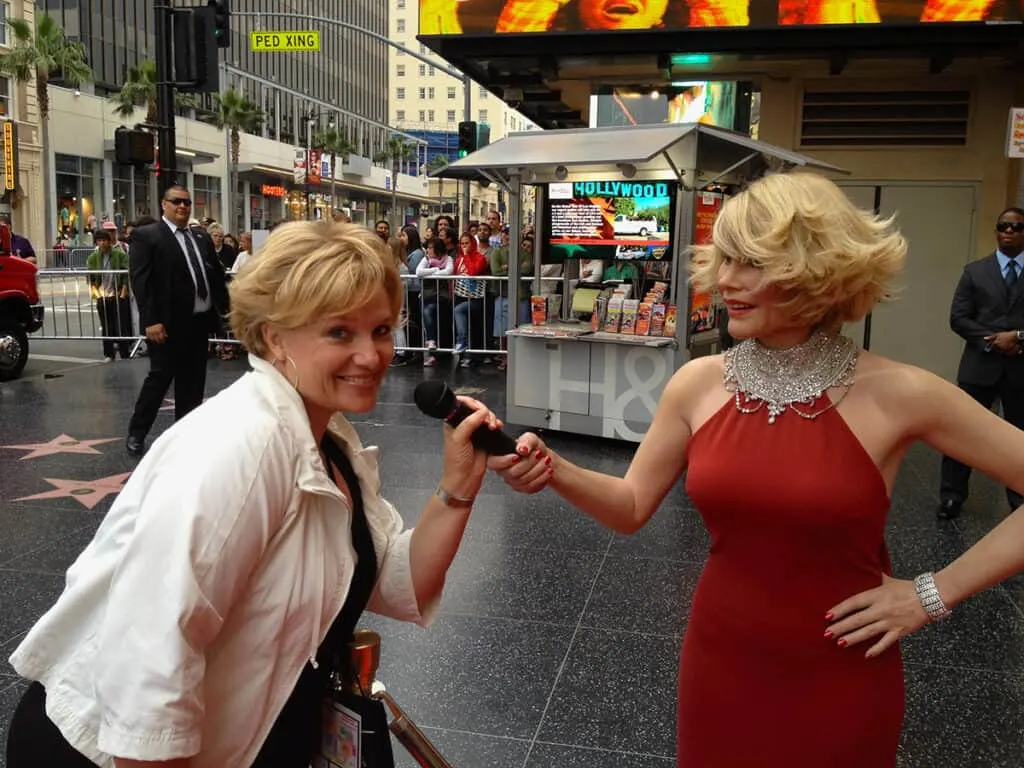 6 Visit the Hollywood Museum. This historic building in the Max Factor Building. True movie buffs will want to see 10,000 pieces of film industry memorabilia, treasures and artefacts spread over four floors. You'll see props, photos, scripts, cars, clothes and more.
7 Visit the Guinness World Records Museum here on Hollywood Blvd. A fun place to bring the kids to see the world's most tattooed person (don't get any idea kids!), the tiniest waist (not in America!), the heaviest person, the tallest man and a huge amount of record-breaking achievements.
8 Go to a live taping of one of ABC's TV shows. Jimmy Kimmel Live, Dancing with the Stars, America's Funniest Home Videos are all filmed in front of live audiences. Tickets are free, but you'll need to book online in advance.
9 Shop and eat at the Hollywood Farmer's Market. I love a farmer's market! This one is on Ivar and Selma Ave and is open on Sundays from 8am to 1pm. You'll find 160 farmers, growers and artisans, live music, arts and crafts, activities for the kids, book signings with authors. Come for coffee, eat the oysters, buy the bread and go home happy!
10 Dine at the Highlight Room Grill, on the rooftop of the DREAM Hotel. This 10th floor restaurant and bar is set just past the pool which is edged in cabanas and is totally where the celebs come to eat – and be seen. The views across the city are amazing, the decor is styly and the food was great.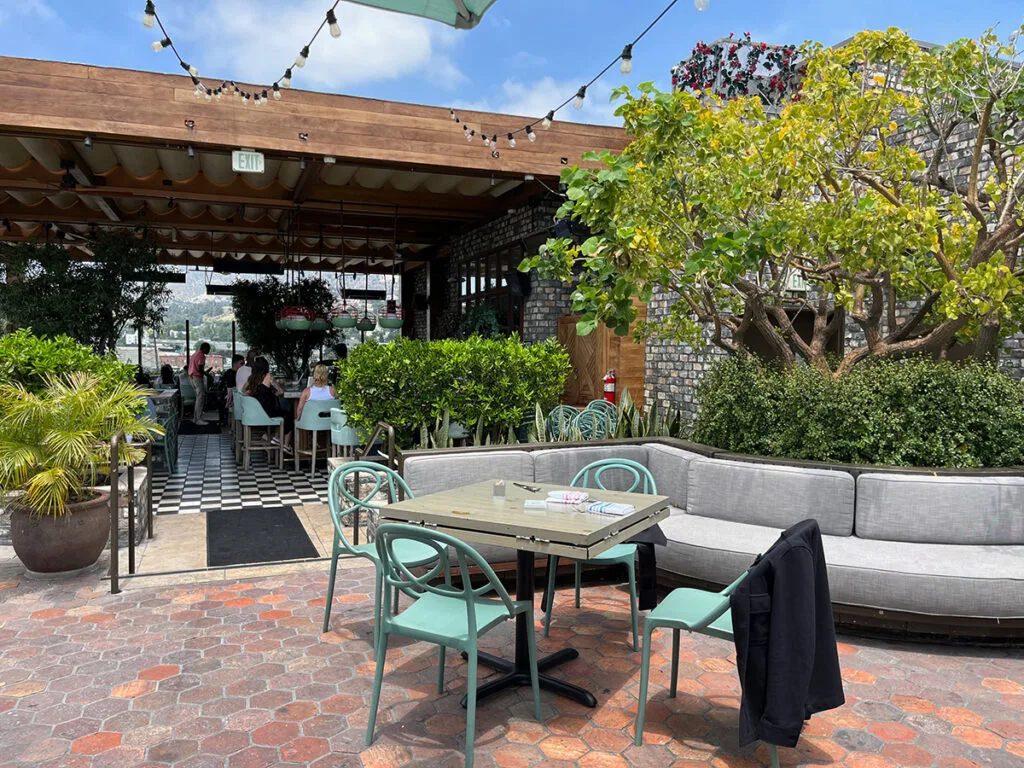 11 Have a drink or dine on the rooftop at Mama Shelter. We've also stayed here a couple of nights, and the rooftop is a great place to start or end your Hollywood evening. They sometimes show outdoor movies in the summer, run yoga classes and the brightly colored cushions make it a fun and happy spot.
Or have breakfast or lunch here in the ground floor restaurant under the chalk-painted ceiling.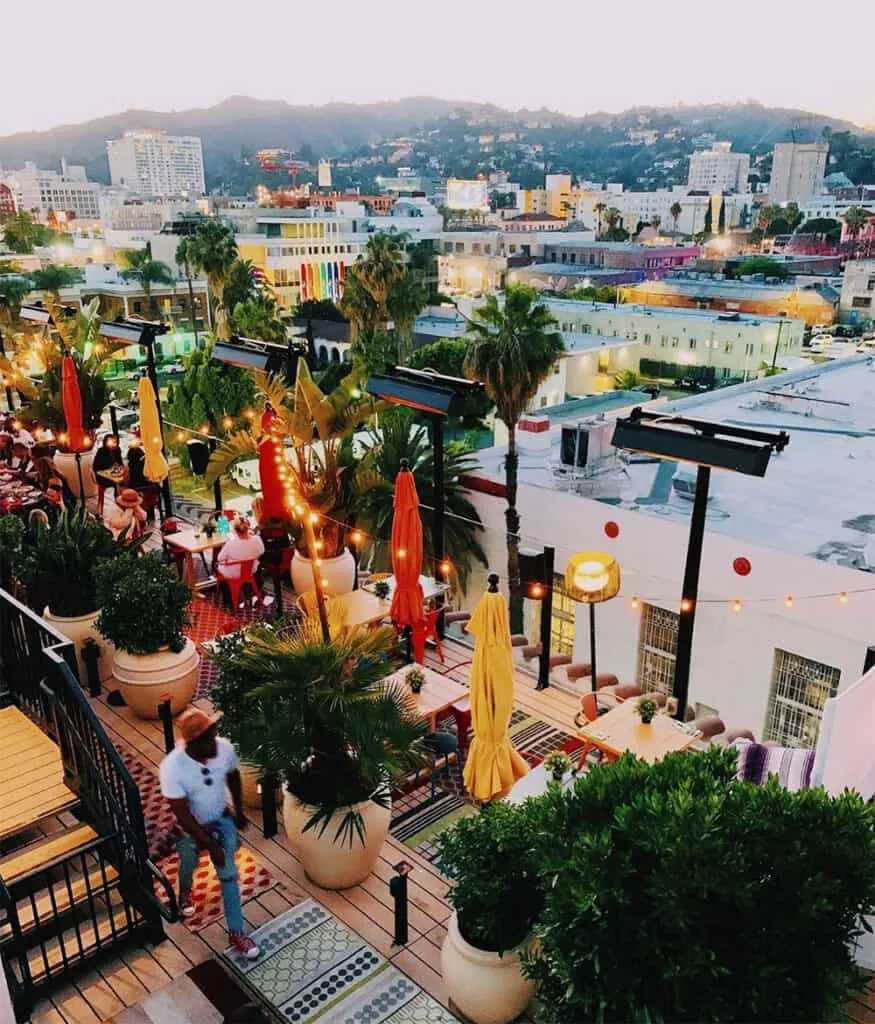 A couple more bars to try are Good Times at Davey Wayne's on El Centro between Hollywood Blvd and Selma. This is a 70s bar with shag pile carpet owned by the Houston brothers. Or No Vacancy located on Hudson between Yucca and Hollywood Blvd.
12 Have lunch with the movie execs at Superba. Famous for their homemade breads, this menu had some dishes on it I'd heard about but never tasted so we got a few things to try. Like chicken matzo ball soup, which is a chicken broth with veggies and plenty of dill. I also tried the tuna sandwich with a pickle and potato chips on the side, oh and their home made bread!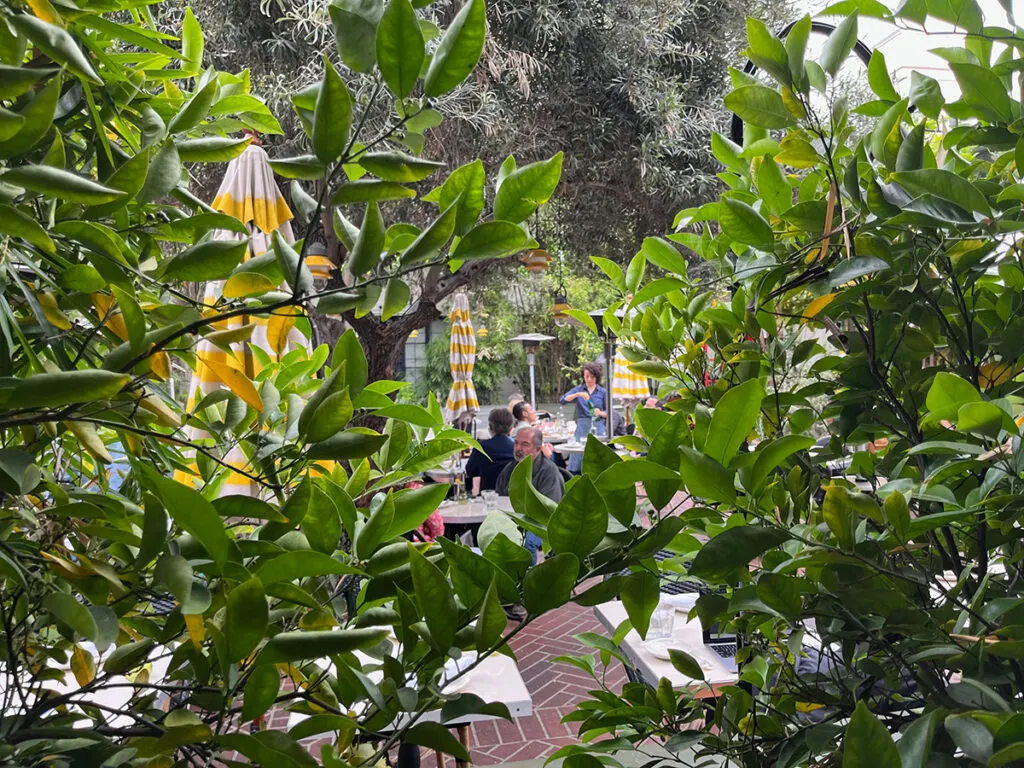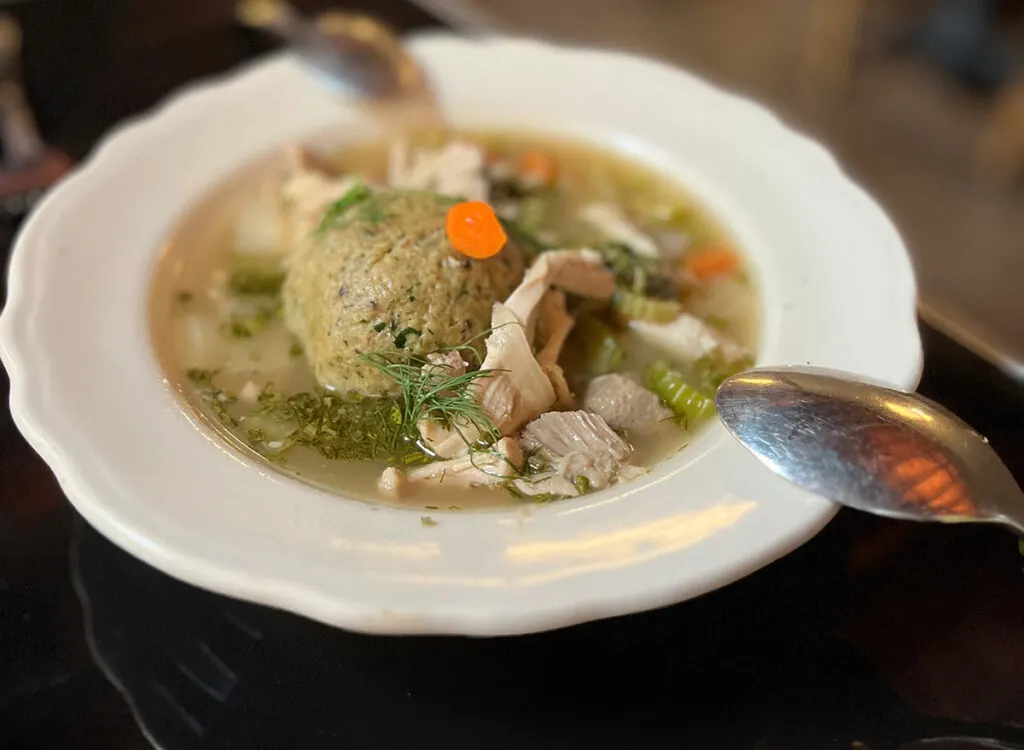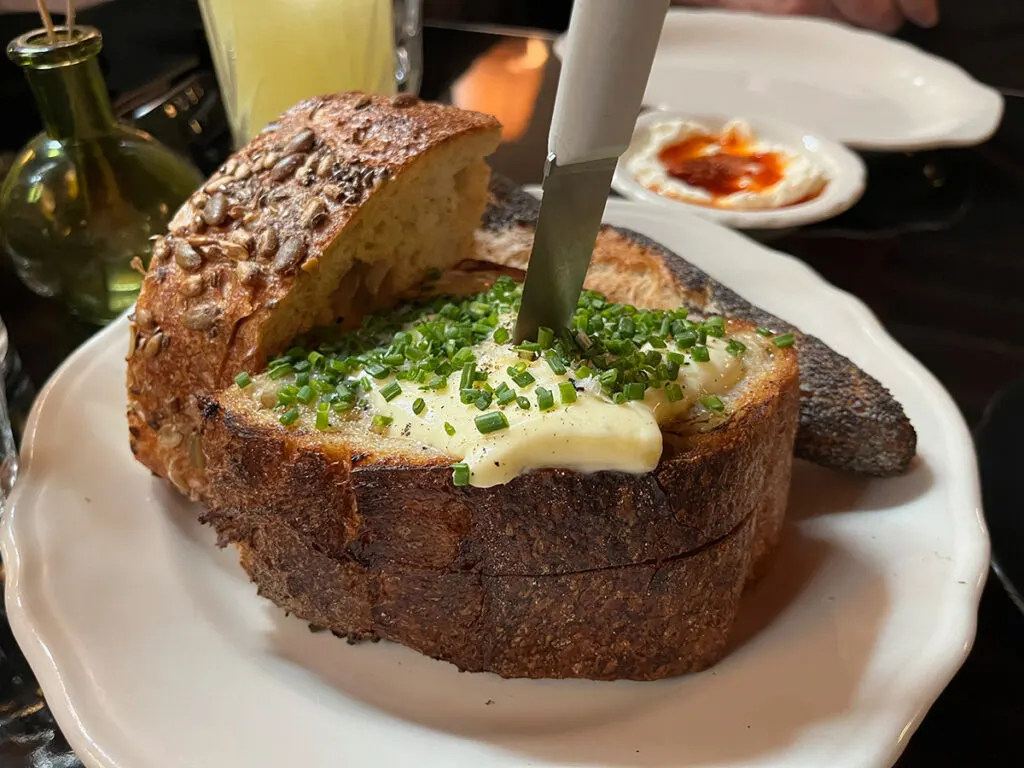 13 For dinner head to Birch on North Cahuenga Blvd (or one of the neighboring restaurants on that street) or Sugar Fish on Sunset Blvd.
14 Visit LaLa Land's Griffith Observatory for outstanding views over the city. Even if you don't want to go inside, just hiking up to here is amazing. But inside you can use telescopes (for free!), learn about the laws of physics, see exhibits and generally be quite over-awed. A popular destination for a marriage proposal too! Pro tip: get here for the magic pre-sunset hour for best photos.
15 Hike to the famous Hollywood sign if you're feeling energetic. We Ubered to the meeting point (which is a fascinating tour in itself just driving up in to the Hollywood Hills and staring at the homes!) We went with Hikes and Bikes LA and enjoyed our local comedian/guide Noelle telling us all the goss.
If you don't fancy hiking but you want to see the sign, you can take a tour. In fact this full day LA Grand Tour would be a good one covering many of these sights and sites.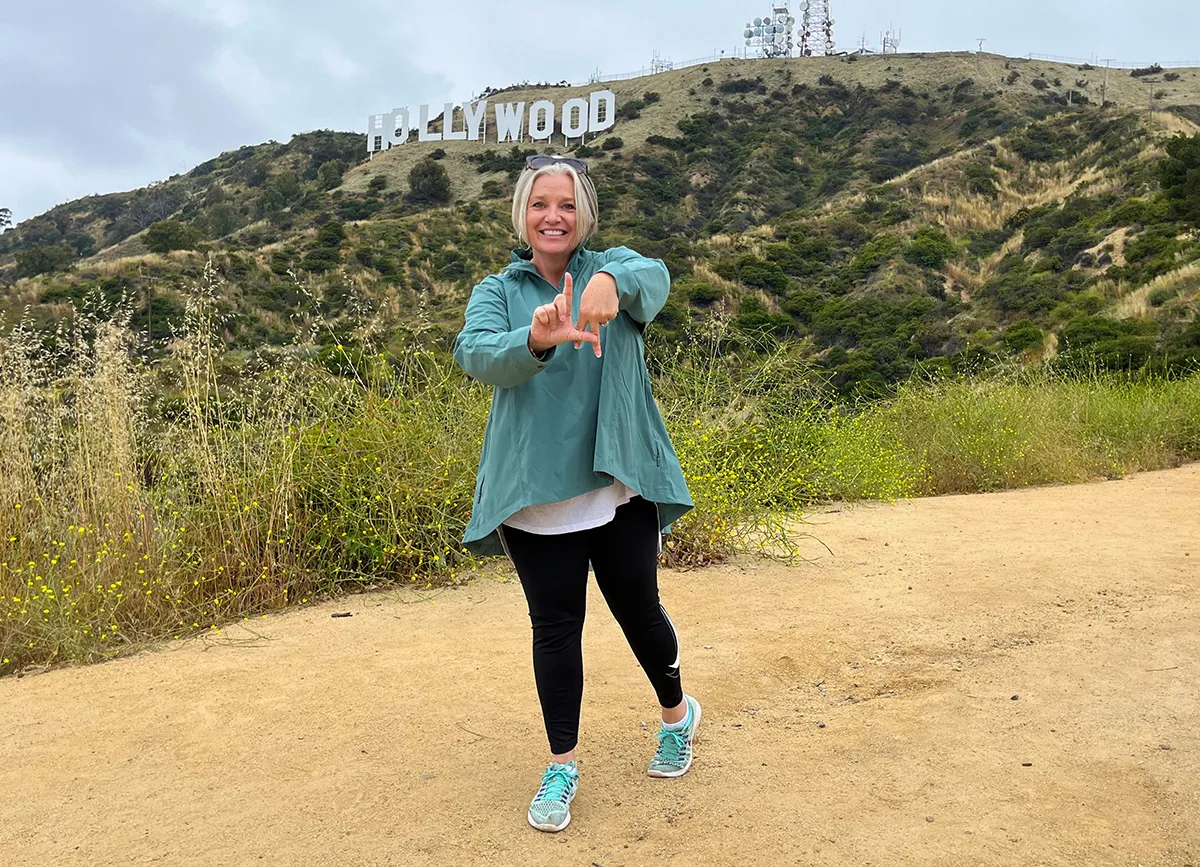 16 Get your fitness freak on and take a spin class at Soul Cycle or a high-intensity circuit class at Barry's Bootcamp, both at the Easttown L.A. Center
17 Then, maintaining your LA health-kick, grab a post-workout juice from Pressed Juicery or a salad from Greenleaf. If you go at night, you'll probably see performers filing in from the nearby stages or perhaps even "industry" folks reading scripts.
18 Catch a show (theater or music) at one of the area's storied theaters:
• Hotel Café which showcases musician before they hit the big time
• BroadwayinHollywood which has the big shows
• World famous Hollywood Palladium
19 See an outdoor movie at the Hollywood Forever Cemetery. Truly! You can sit among the gravestones and watch a movie screened on the big white crematorium wall. The night we went it was Grease and fans were dressed as Pink Ladies while everyone sang along. It was surreal!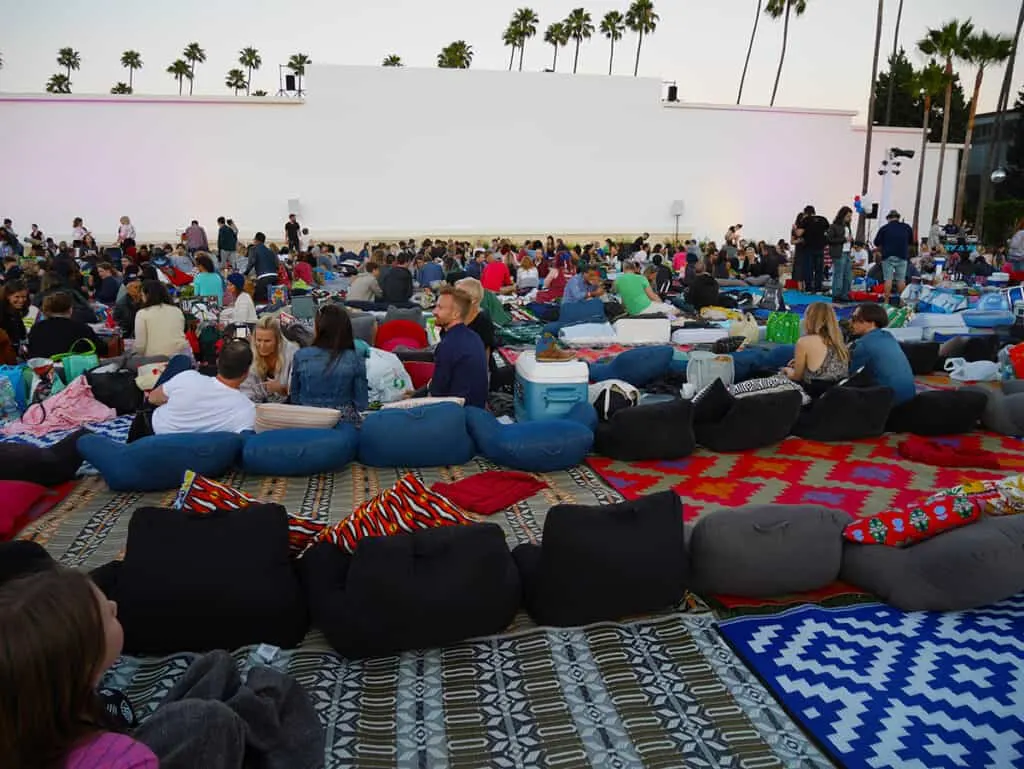 20 Tour Hollywood Forever Cemetery – movie night or not – here on Santa Monica Boulevard. In fact we did this the next day after singing along to Grease, on a guided bike tour with Bikes and Hikes LA, which is a faster way to get around this enormous cemetery (and also included the La Brea Tar Pits, see below). This massive cemetery is the final resting place of thousands of people, not just the famous. I find cemeteries such peaceful places and really enjoyed cycling through.
21 Shop in the warehouse-styled Space15 Twenty featuring an Urban Outfitters, Free People and more.
22 Visit iconic record stores Ameoba, The Record Parlour, As the Record Turns.
23 If you want to freak yourself out, visit out the Museum of Death. (You can read my scary review of that here>>) In fact I was so disturbed I wrote about the whole genre of dark tourism in that post.
24 Visit the La Brea Tar Pits if you're into natural phenomena. This is an active paleontological research site where natural asphalt (bitumen, pitch, tar, brea – the Spanish word) has been seeping up through the ground for millennia. They've discovered the preserved bones of animals, micro fossils, and large mammals that wandered in here and got stuck. There's also a museum here if you're into this stuff.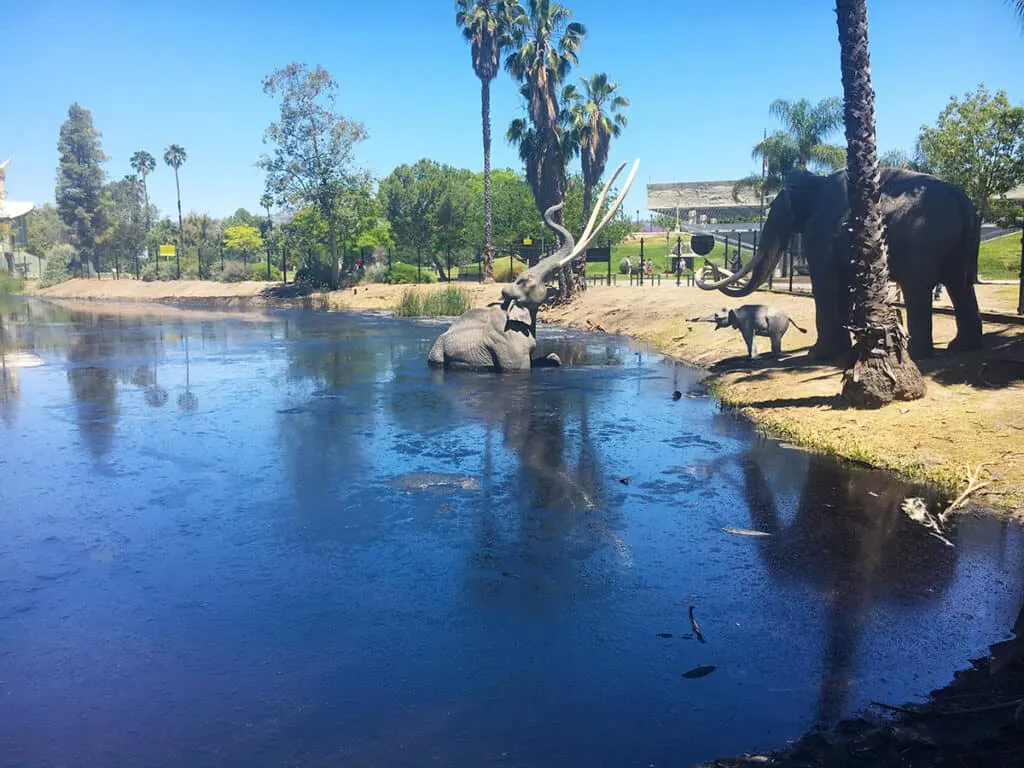 25 Catch a concert, or the ballet, or the orchestra at the Hollywood Bowl. Events are on here year round in this amazing outdoor amphitheatre in the Hollywood Hills, known for its shell-like band stand. Check for upcoming events.
26 If you love a theme park, spend a day at Universal Studios! Especially if Disneyland is too far (or maybe you have time for both), plan a day closer to Hollywood at Universal Studios Hollywood. There are some really great rides here like the Wizarding World of Harry Potter, Fast and Furious, Despicable Me and the old classic Jurassic Park ride (you'll probably get wet!) Take a backlot studio tour too and see how they create many of the Hollywood stunts.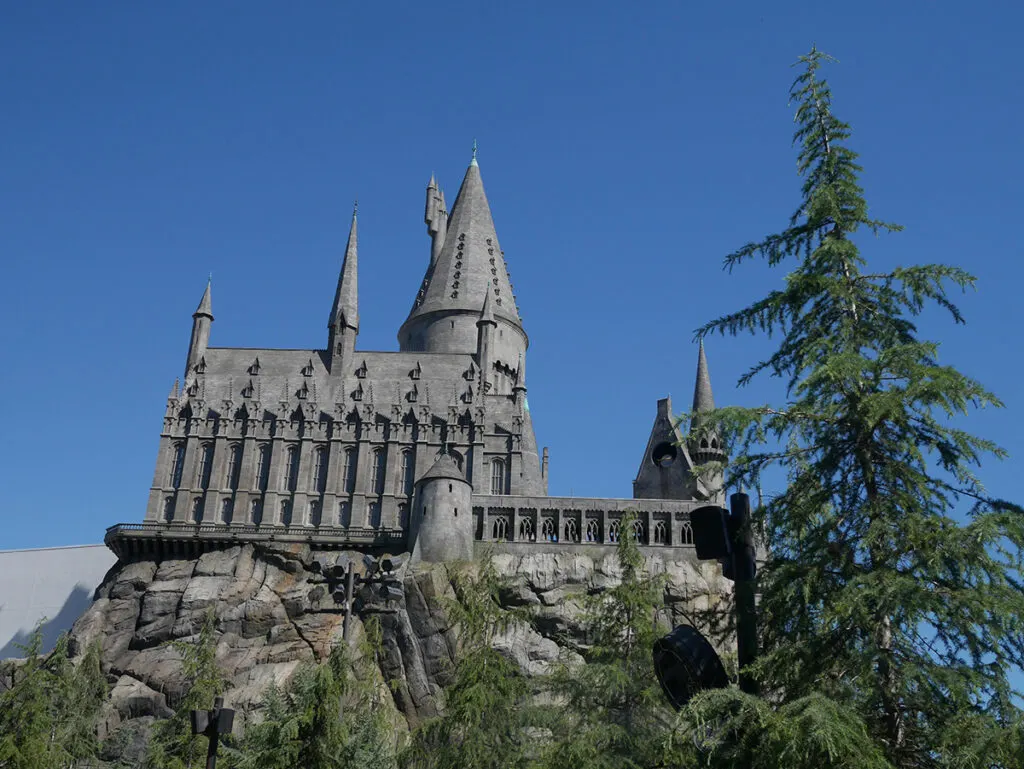 One of the best things to do is a Hollywood Studios tour where you can get behind the scenes and sit on the couches at Central Perk (Friends), ride Harry Potter's broomstick and hop in the Batmobile at Warner Brothers.
The city of Los Angeles is made up of 88 cities (each with its own mayor and city council), and West Hollywood on Sunset Boulevard is one of them, right next to Hollywood.
I've stayed in Weho five or six times now. There are some lovely rooftop bars for a drink here, and some cool places I can recommend to stay from self-contained apartment style rooms to high rise hotels, to celebrity spots.
The famous Sunset Strip is a 1.6 mile strip of Sunset Blvd and is where you want to come for eating out, getting your rock and roll on at some live music venues and generally being beautiful!
The best way to get around while you're visiting LA is to get a 1 or 2 day Hop On Hop Off tour bus pass. That way you can jump off at most of the stops above and hop back on again when the next bus comes.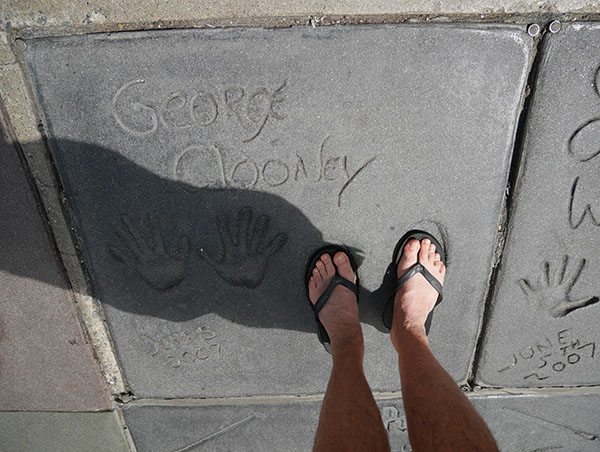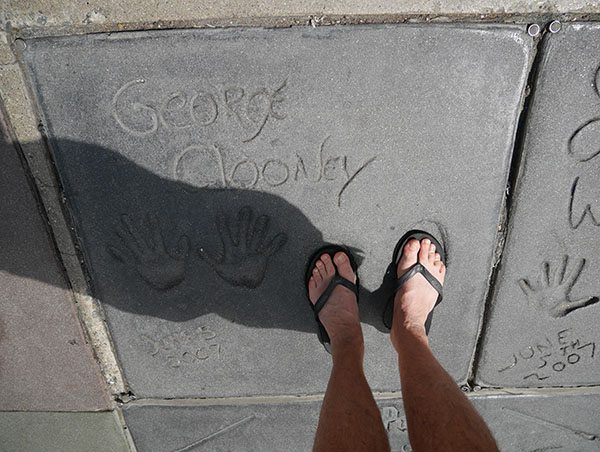 Save