If you're wondering where to stay in Los Angeles, you should consider some of these beautiful West Hollywood hotels with fabulous views of Los Angeles!
I've stayed seven times in WeHo, in boutique hotels, luxury hotels and apartment style hotels, and there is so much to see and do in and around West Hollywood that you could be kept amused for days!
Really? Yes, and here's why…
Just when you think you know Los Angeles, another little nook pops up that begs to be explored.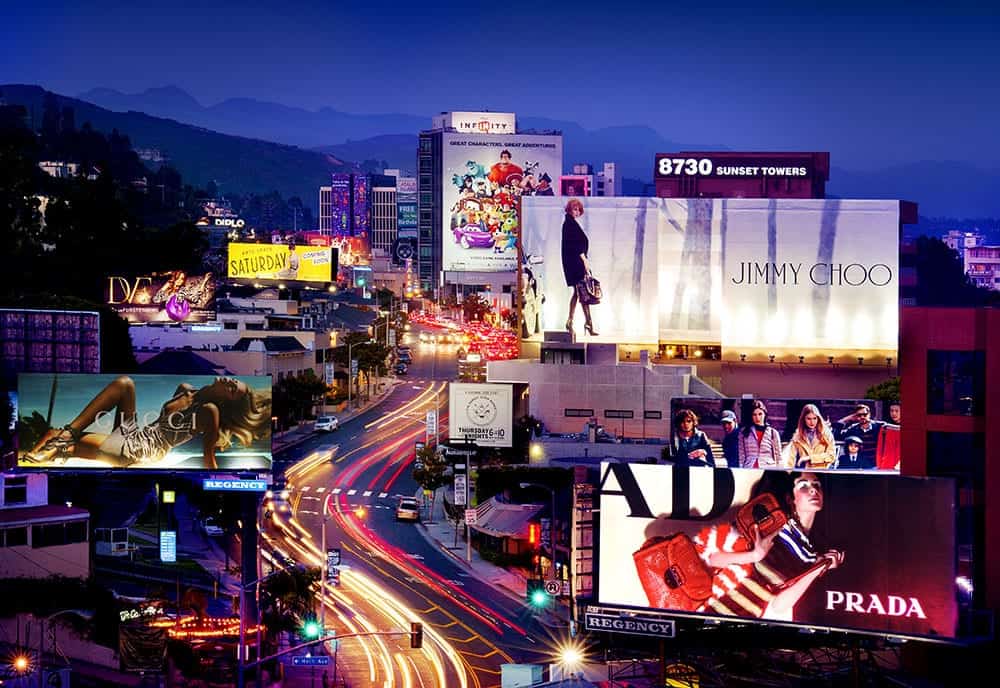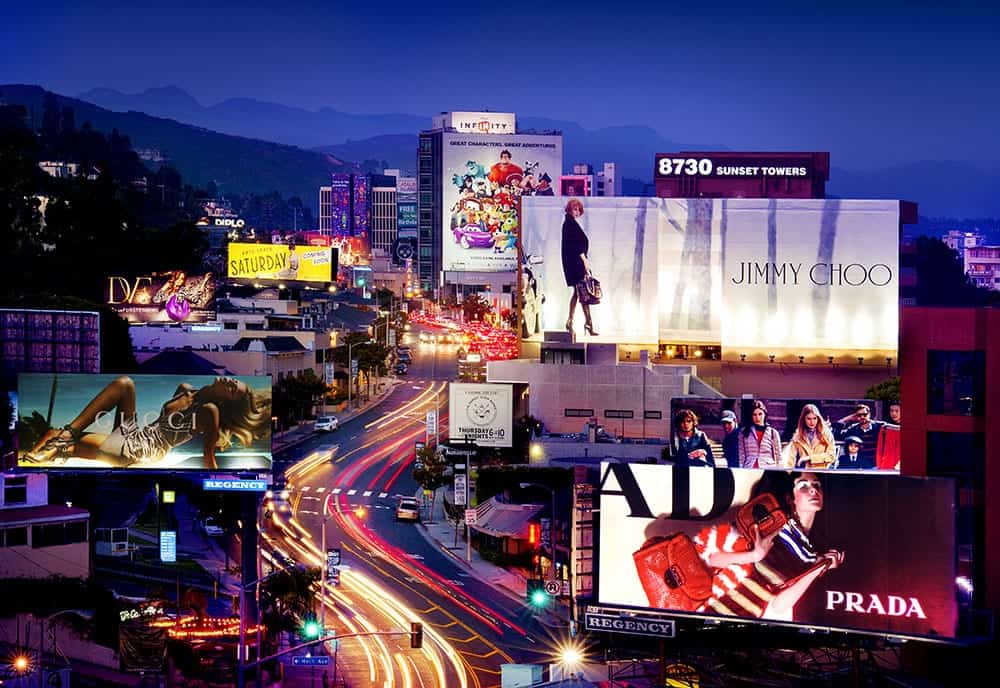 Los Angeles is actually made up of 88 cities – many of which you'd probably not want to visit, but many of them you will! Some have their own tourism teams and budgets and they run separate "councils", if you will.
Readers familiar with this blog will know that I love the beachside city of Santa Monica and I've written about 7 great places to stay there and also my top picks for Santa Monica's best rooftop bars, pool bars and beer bars.
Plus I like to stay at Marina del Ray (where I learned to SUP), Beverly Hills (which isn't as expensive as you'd think) and Downtown LA too (with some more fabulous rooftop bars that I have written about).
But if you're not familiar with West Hollywood, then this little two square-mile nook you will certainly want to explore.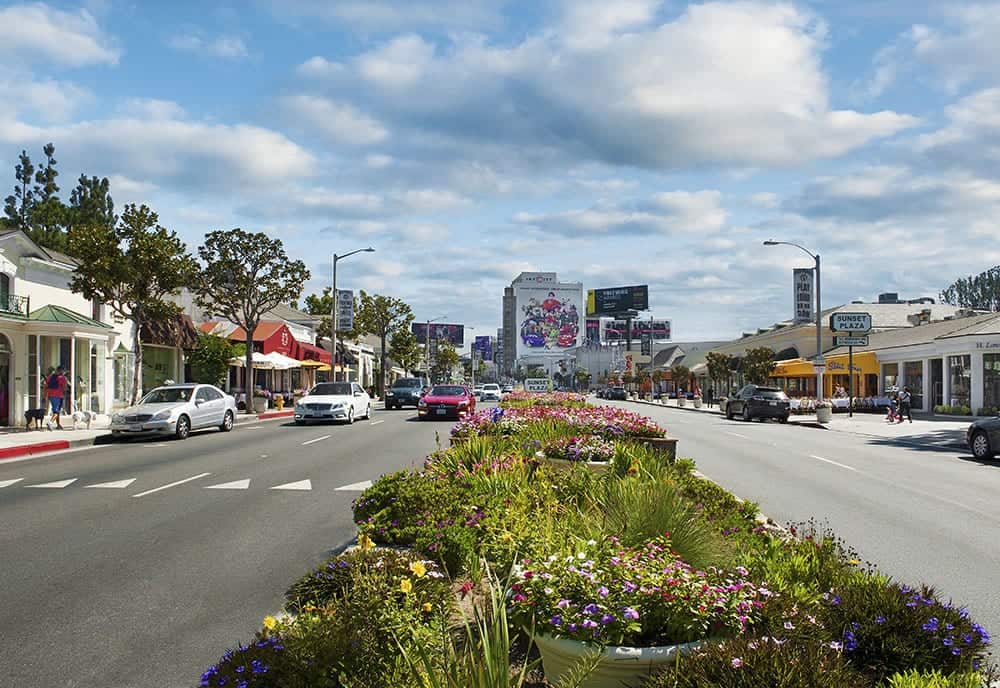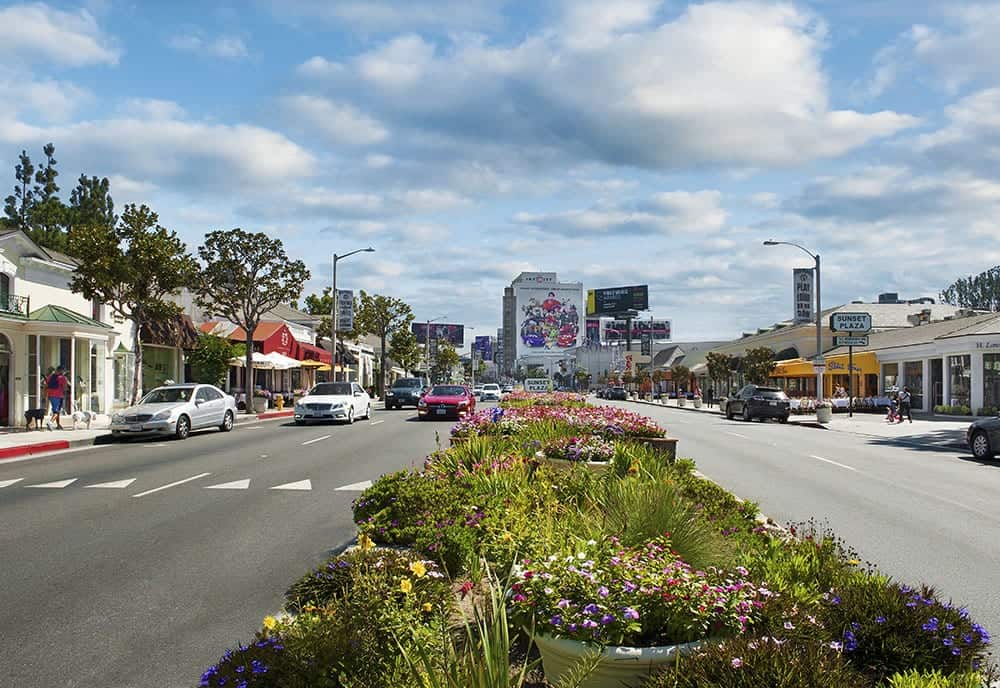 Why stay in West Hollywood?
Firstly, it's not Hollywood. That's the next city over. West Hollywood doesn't have the star walk or the crowds, the tourists and cheap shops.
WeHo, as the locals call it, has the famous Sunset Strip. In fact that is the border between it and the Hollywood hills and canyons where the rich and famous live.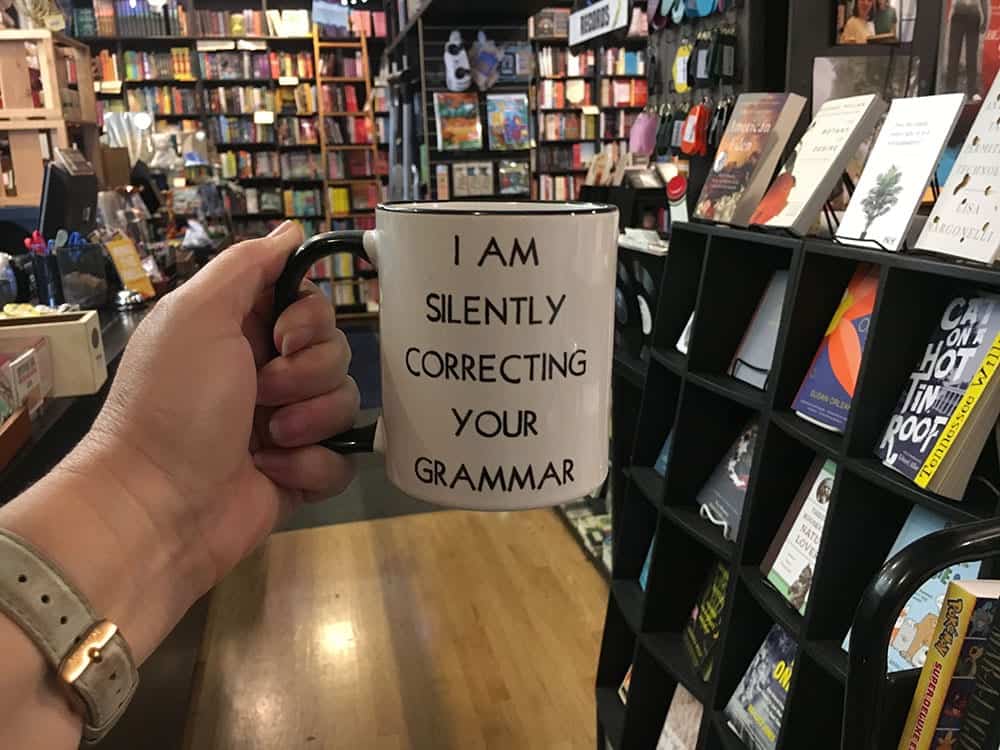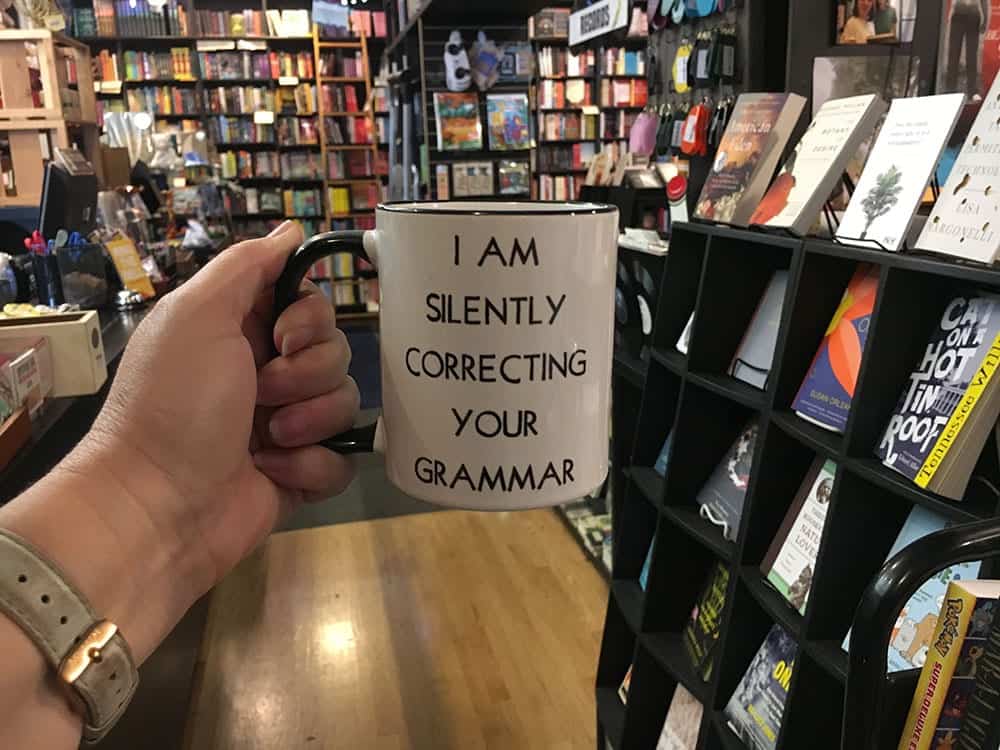 But here you'll also find comedy clubs and night-clubs like the Viper Room and Whisky A Go Go just down the road from Book Soup – quite possibly the coolest little bookshop in the world!
The dining scene in West Hollywood is also really great and includes old favourites like Dan Tana's Italian, where you need a booking but we got in by phoning at 5.30pm. Unheard of, I later learned!
Plus newer celebrity hot spots like Fig & Olive, Pump and Craig's where paparazzi will be hanging around hoping for a movie star. Or busy Connie and Ted's which is famous for their lobster.
But read on down because a couple of the hotels I am recommending have restaurants well worth dining at even if you're not staying, like Sunset Marquis and the London West Hollywood.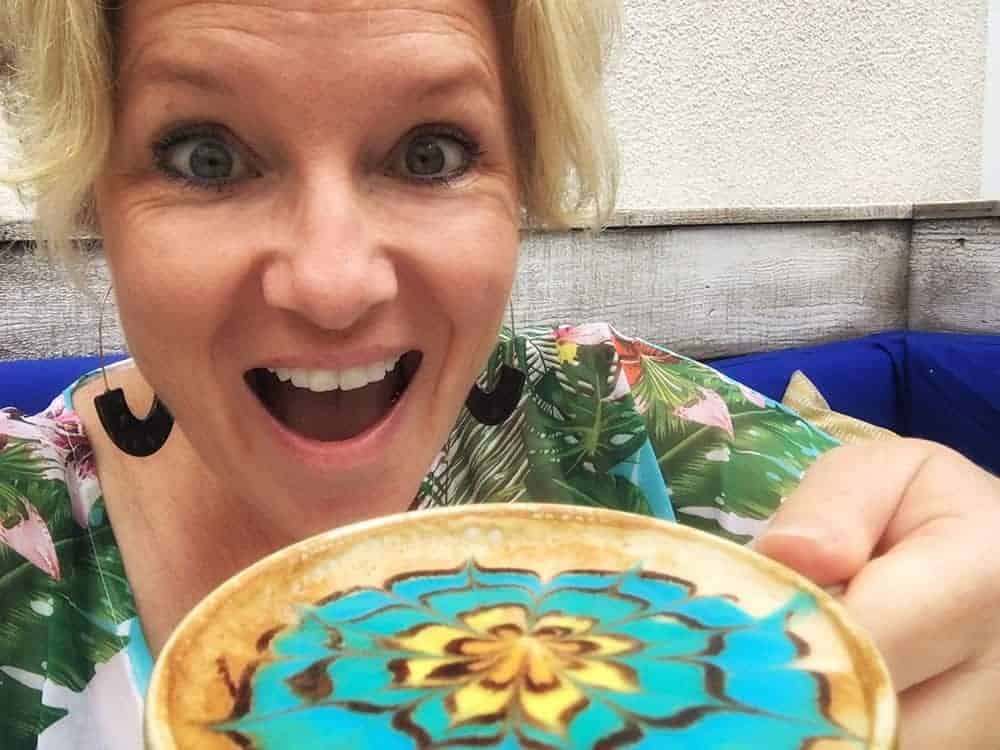 As I said up front, I've stayed seven times now in WeHo, each time in a different hotel and each has its unique point of difference that I really love.
So this post is rounding up those seven beautiful, stylish, classic and boutique best hotels West Hollywood to help you find the right one for your visit.
You might also like my picks for 12 marvelous day trips from LA post! featuring beaches, desert, small towns, islands and yes – a certain theme park 😉
Here are my picks for best West Hollywood hotels!
The Charlie Hotel
Named after Charlie Chaplin who bought a little cottage here and surrounded it in gardens and more tiny cottages, The Charlie is a boutique hotel is like nothing you'll find anywhere else and especially not in the heart of one of the busiest cities in the world.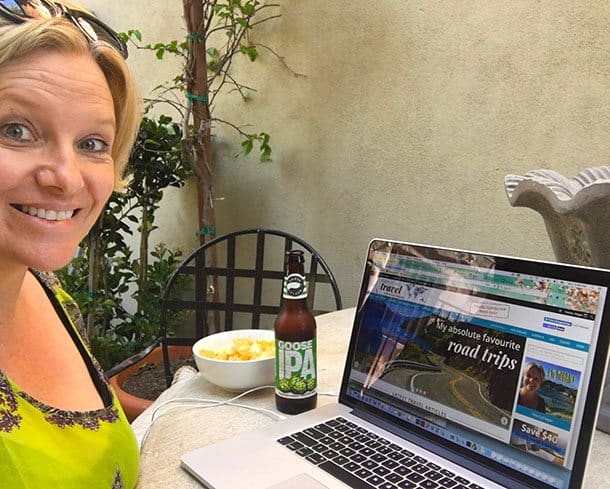 The Charlie is not a "hotel" in the traditional sense with one building and a reception.
Instead, you buzz in through the discreet gate on a residential street where water fountains dance and flowers smile, turn left into a little office to check in, and get the key to your private cottage. And yes, you can book Charlie Chaplain's personal cottage down the back where he stayed when filming nearby.
You can read my full review of the Charlie here as well as the places we found within walking distance for eating and drinking. If the budget allows, choose this one! (Read my Charlie Hotel review and see more pics >>)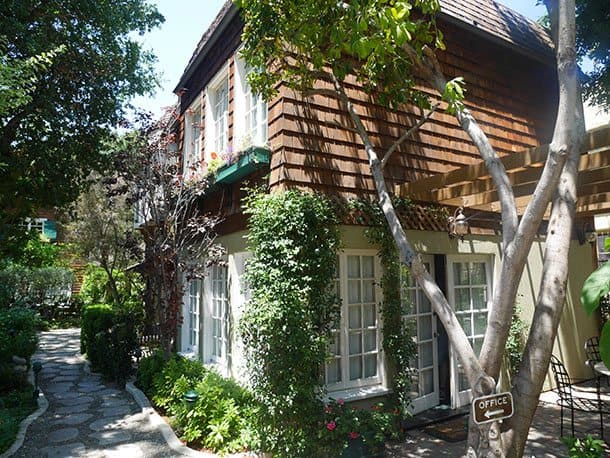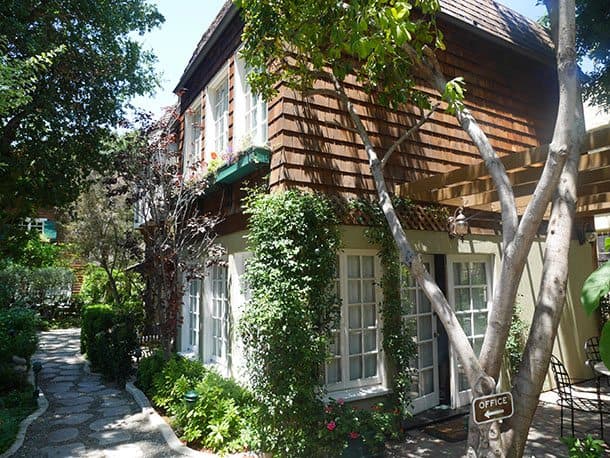 The London
The London West Hollywood is elegant and stylish. This luxury hotel is "West Hollywood meets Beverly Hills".
Sweeping through the marble-floor lobby I wanted to buy everything in it for my own place – except the ceramic bulldog. But I have a friend who would love that!
On the ground floor is Gordon Ramsay's Michelin star restaurant which we splashed out and indulged ourselves at with a five-course degustation (which I of course photographed here!).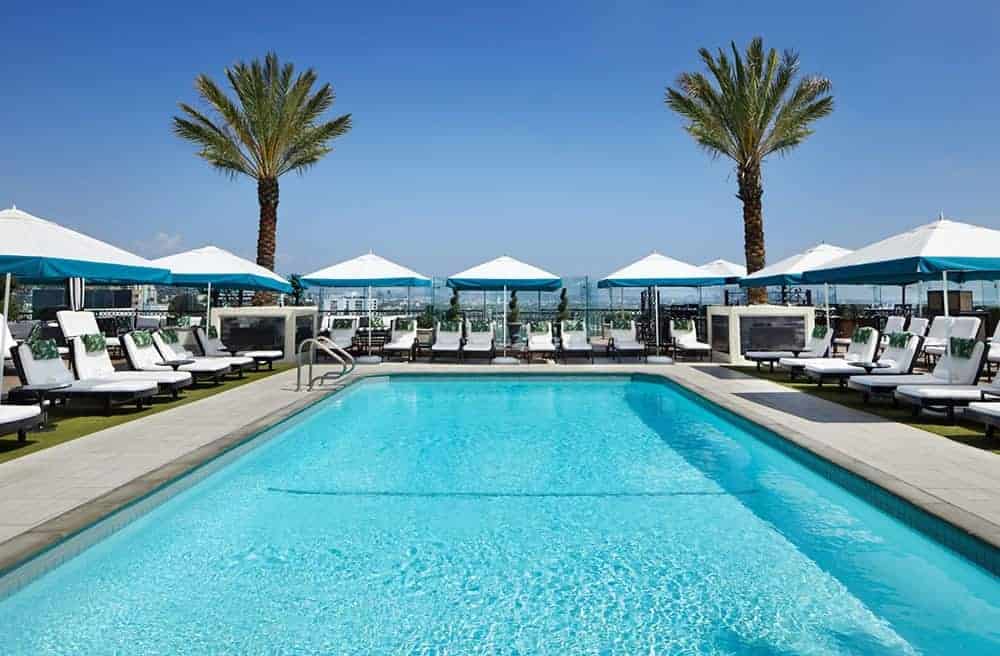 The guest rooms are all huge and the bathrooms are even huger. I felt like a superstar!
The location is ideal for touring as the Hop On Hop Off bus actually stops right outside, but you will need to have your tickets already (purchased either online or from the Starline Tours desk at the Dolby Theater in Hollywood). However once you have them, it's so easy to go on a loop around West Hollywood, Beverly Hills, Sunset and Hollywood and be back in time for a wine on the top floor pool deck.
The outdoor pool deck surrounds a salt water pool and is where the beautiful people meet. I gatecrashed. It's easy to act like one though: adopt a nonchalant look, killer heels, sunglasses perched on your nose and look relaxed as you browse the wine list.
Don't rock up in your trainers and trackies from your day on the Hop On Hop Off bus. But you'll be pleased to know that bowls of fries are sold here.
This rooftop would be great for posh birthday drinks or dinner.
This hotel has a cool story. The "Riot Hyatt" is smack in the heart of West Hollywood in the middle of Sunset Boulevard with views all the way down the neon-signed street in both directions.
It was originally a Hyatt (Andaz hotels are now owned by Hyatt) and back in the 70s was known as the Riot House (and the bar and restaurant still is) where the likes of Keith Richards and the Who's Keith Moon trashed rooms and dropped TVs out of the windows for fun.
Jim Morrison once dangled out of the 10th floor, Roberts' Page and Plant would rent six floors at a time for huge parties where all sorts of shenanigans went on.
Today the Andaz is ultra modern and high tech. They describe it on their website as a hip boutique hotel, but I beg to differ. To me 'boutique' means small and each room with a bespoke design.
Note: I am no dictionary, but the Andaz is big (about 10 floors), very cool and very trendy. You check in with tablet-bearing staff that look like hotel guests standing at internet kiosks in the lobby. The bar and restaurant are on the ground floor and the rooftop pool is only available to guests and doesn't have a bar.
I love people watching and the floor to ceiling windows in my room kept me mesmerised for house (almost!). In fact I plonked myself there with a glass of wine and watched the sun go down over LA as the lights came up.
You'll also see a nod to its past with arty pictures of musicians on the mezzanine and random sculptures dotted throughout.
A great spot if you want to be in the heart of the WeHo action.
Sunset Marquis
I've stayed at the amazing Sunset Marquis once, then a couple of years later had dinner here – and a spa treatment in the afternoon too!
While the Riot Hyatt above WAS a rock and roll hotel, this one still is. It has a recording studio built by Rande Gerber which is booked by artists and DJs and when I stayed American Idol winner Chris Daughtry was using it.
This is the kind of hotel celebrities love because it's discretely positioned on a leafy cul-de-sac just a stone's throw from the Strip, yet surrounded in 3.5 acres of gardens and a high paparazzi-deterring wall.
Walk under the canopy off the street into the lobby and on your left is a small, but perfectly formed, whisky bar (Bar 1200) where many a singer has been known to hold court (including U2, Rolling Stones, Robbie Williams, Aerosmith and on it goes). It can only hold 45 people, so you can imagine the intimate entertainment here – whether impromptu or booked for a private function. (Oh to be fly on these walls!)
To the right is the Morrison Gallery with a changing collection of rocking art.
Then walk through, past the pool on the right and the hotel rooms, under a walkway with more rock paraphernalia, over a small footbridge which separates the restaurant Cavatina with a little moat.
I once interviewed Dominic Bowden here for TV (yes even the Kiwis get their celebrity on in here).
We had an amazing dinner (review and pics here!) and I was looking out for Matthew McConaughey. Why? Because I had to wait for his wife to have her nails done at the spa earlier in the day and thought surely they'd be here tonight eating with the riff raff. No.
Perfect for a quiet stay, incognito, glamorous with a dash of celebrity spotting.
This is a former apartment block turned hotel with 133 huge suites that include a kitchenette in every room beside a little balcony, opening into a large lounge with a gas fireplace and furniture.
Even in summer it's tempting to turn the air con and the fire on at the same time!
Then in the back, separated by a little railing and a heavy curtain to close off the light coming in from the street, is the super king bed with a large bathroom behind that.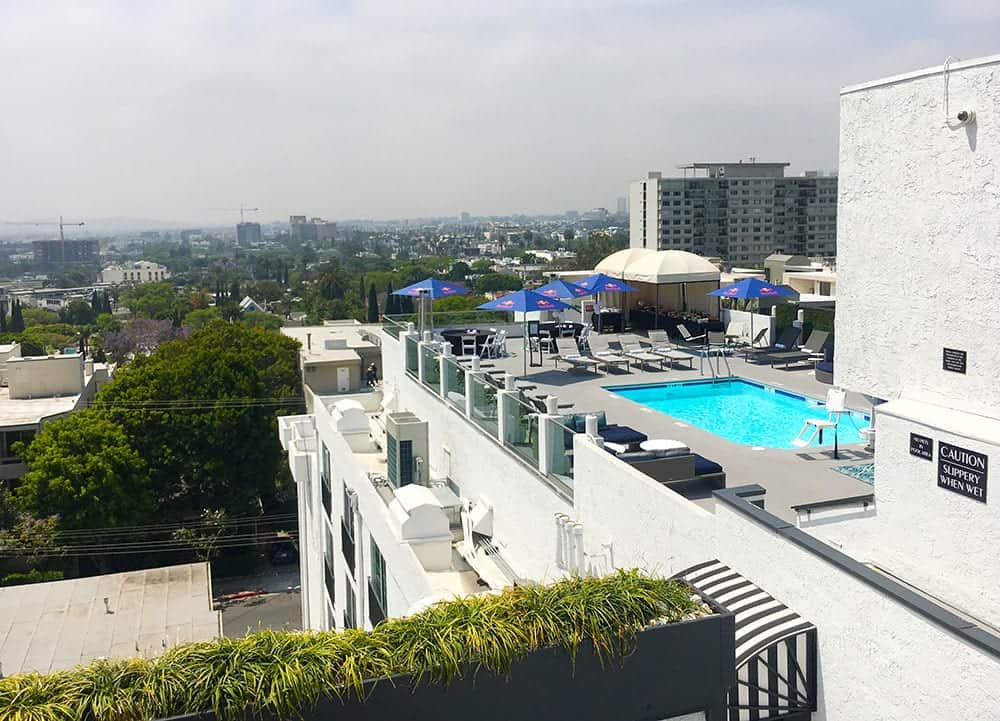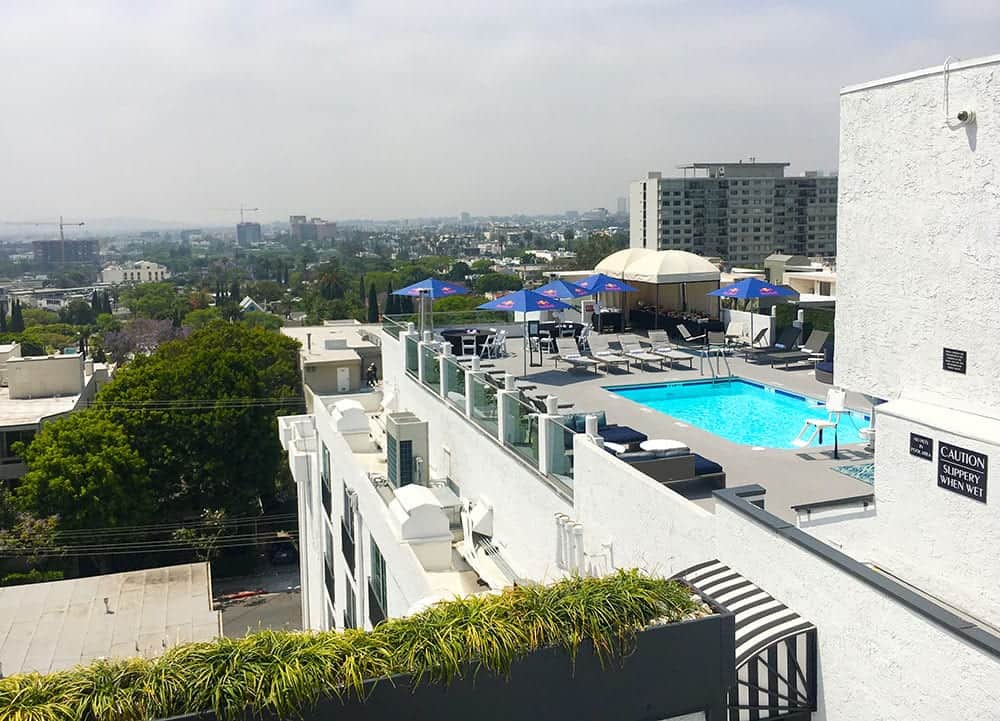 The Montrose is on one of those quintessential leafy West Hollywood streets and is ideally located for easy walking to Sunset Strip in one direction and Santa Monica Boulevard in the other (where we ate at Dan Tana's).
There is a rooftop pool and bar, as well as a full size tennis court, with great views over the city and a small restaurant in the lobby. But with so much choice for where to dine just around you, you'll probably head out.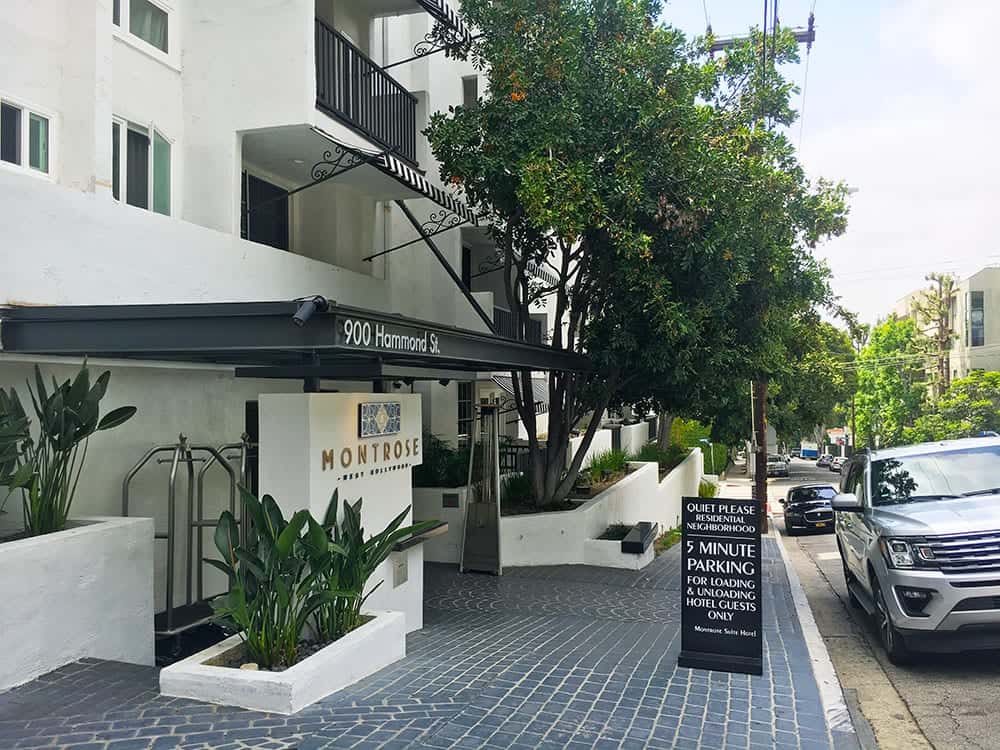 Chamberlain West Hollywood
If your taxi driver didn't know this was a hotel you'd drive straight on by. The Chamberlain West Hollywood is in another former apartment block on a quiet residential street.
The rooms are therefore huge and almost a replica of the Montrose : one bedroom, living room, kitchen and bathroom, all now open planned with your own gas fireplace.
The decor is simply stunning. Elegant not gauche, but you couldn't really describe it as understated. I just know I'd like to nick everything and ship it off home.
The staff are so helpful and they have a hotel car which will take you anywhere you like within three miles of the hotel for free (which gets you a long way in this neighbourhood). Subject to availability of course.
I always err on the side of generosity with the tip when stuff is complimentary so an Uber ride would probably be cheaper as tips are included!
The lobby is marble with mirrors and sumptuous furniture and just down a small flight of steps is the restaurant and a long bar. I poked my head in, but did not partake. I also took a nosey at the rooftop pool area which is small, but if you had a couple of hours to kill and the thought of a lounger and a book is a bit of you, join the other scantily-clad guests and bask here.
You're not in the thick of the West Hollywood throng, but for some, that's the best thing about The Chamberlain. And actually a ten-minute walk will lead you to all the highlights of WeHo, so you're also not miles away.
Perfect for a quiet, romantic stay far from the madding crowds.
This apartment hotel is another sister of The Chamberlain with a similar room layout and the same chic interior designer.
So if apartment hotels are your thing, this one has it all – including a tiny kitchen. Big, cosy armchairs with colourful cushions facing the TV and fireplace and under a huge round wall mirror that, you guessed it, I wanted to pilfer. Each room has a little balcony so you can fling your door open and allow the trees and breeze to get a look in.
It's a good walk to Sunset (about 2km), but one block from Melrose Ave and close to the Pacific Design Centre. There are also several eateries nearby, depending on which direction you set off.
Oh and just like The Chamberlain, they also offer free drop offs in their hotel car within a three mile radius.
The rooftop Sky Deck has a small outdoor heated pool for those who fancy a dip, or just repose on a sun lounger with your styly shades on in one of the cabanas.
Tennis? Surprisingly there is a lighted court here too for a bit of activity. There's also alfresco dining up here with sweeping views across the LA and a restaurant indoors.
Perfect for those who want to walk to the main drag, and a great business hotel as they have conference facilities.
Now your decision is which one to choose… 😉 Type your dates in below to get a list of hotels and prices in West Hollywood.
6 more cool West Hollywood hotels that rate a mention:
Kimpton La Peer Hotel
Hotel 850 SVB West Hollywood
Read more: One of my most popular posts is driving the Pacific Coast Highway from Los Angeles to San Francisco. I did it 5 really fun days. You can read about it here if you're planning a road trip >>