If you're looking for the best places for a rooftop cocktail with a view, a cool beach bar with just right vibe or where to find the best craft beer in Los Angeles, here are my top picks for the best Santa Monica bars.
The Santa Monica nightlife scene offers everything from pool patios overlooking the beach to dive bars to live music venues and loads of happy hours to make you, well, happy!
But this post covers my absolute favourite Santa Monica bars that are worth visiting.
They all have a relaxed vibe, are mostly outdoors or have outdoor areas (because you can do that in the great weather here!) and are places you can definitely take your friends on a Saturday night, for a special occasion or just for an after-work drink.
The fancy bars are listed first and scroll on down to my picks for some very cool Santa Monica beer bars!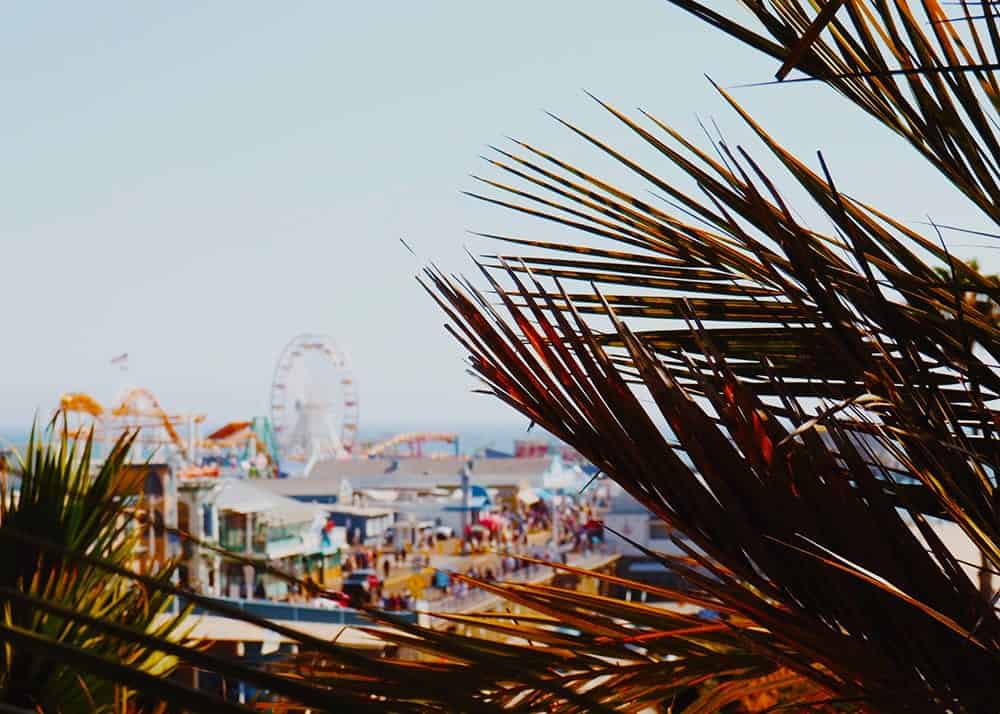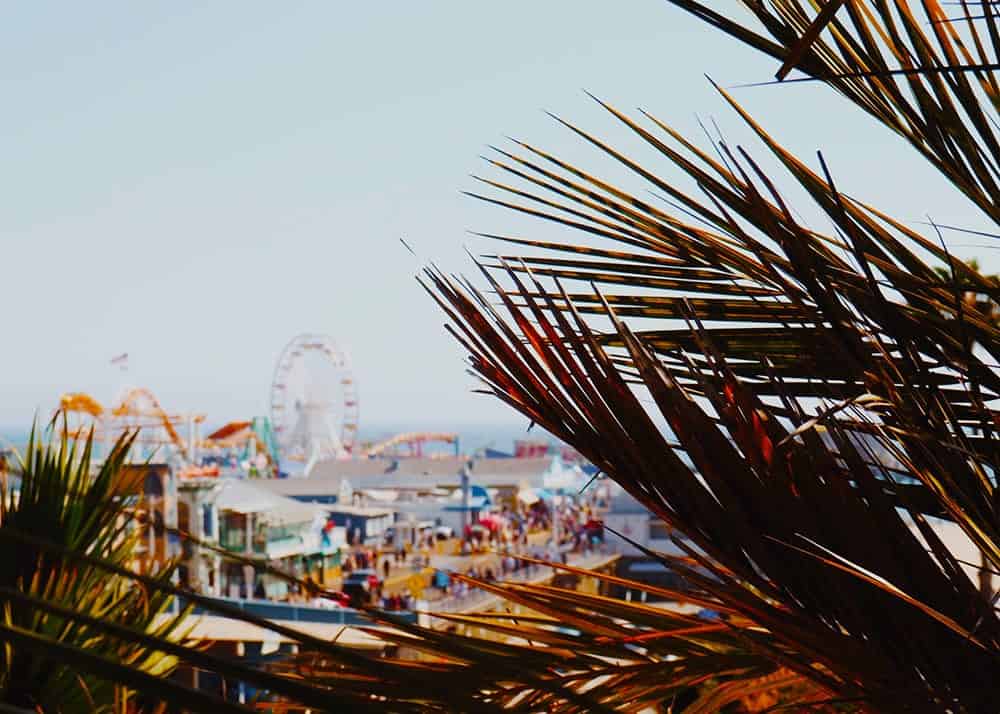 Spoiler – in no particular order, here are the best bars in Santa Monica!

This post has been my one of my most popular posts of last year. See the rest of them, if you want to read only my best content!
1. The Bungalow
The Bungalow at the Fairmont Miramar Hotel had been waiting to burst onto the scene forever and is now my top pick for a laid back beachy vibe with a twist of class.
I remember staying in the hotel years ago and the space that is now the Bungalow, to the right of the entrance, was just meeting rooms!
Today this cute outdoor cocktail lounge is nearly beachside (well – it is across the road from the beach) but finally its location and charm were recognised and it was out with the suits and in with the cocktails!
Now at The Bungalow you'll find an eclectic mix of mismatched furniture under trees festooned with lights and the outdoor furniture dotted with fire pits. It's a laid back vibe inside and out.
Cosy up by the fireplace indoors and sink into one of the leather suites, play a game of pool or hide away in a little nook for a quiet te ta te, or sit outside under the trees and soak up the night with a couple of delicious cocktails.
2. Viceroy
This is a hotel bar with a difference. The Viceroy is probably the most unassuming Santa Monica hotel (don't blink, you'll miss it).
It was an office block in the 60s that now hides a jaw-droppingly chic lobby (with an indoor bar) and an even cooler pool area surrounded by cabanas and high wing-backed chairs.
The Viceroy (and the Tides in Miami which we've also stayed in) is designed by my girl-crush Kelly Wearstler. I just love what she's done with a very plain office canvas, transforming this place into my pick for the chicest restaurant and bar in Santa Monica.
For a great time book one of the poolside cabanas for your group, but when I was last there they were empty so we just plonked ourselves in one and chose the charcuterie platter with cocktails. The perfect spot.
This is a great hotel to come for dinner or to start (or end) your evening here in the great ambience.
3. Regent Hotel
The former Santa Monica Loews Hotel was shuttered and will reopen as the Regent Santa Monica Beach Hotel in late 2023. The hotel is undergoing a $4 million renovation and will reopen with a celebrity chef at the helm in the kitchen.
We're sure they will keep the epic beachfront pool deck and beachside bar with amazing sunset views across the wide sandy beach to the pier.
You are literally on the beach here in this outdoor bar – well up one story from actually squishing your toes in the sand, but the closest Santa Monica beach bar I have found. Stay tuned!
To get here, walk like you own it through the hotel lobby and wind your way down in front of the Loews pool, grab a seat by a fire pit and prepare to settle in with a cocktail and a view.
They have a tantalising cocktail list and a delicious bar snack menu to while away a few hours with incredible views of the Santa Monica Pier as the sun sizzles into the Pacific Ocean.
4. Onyx Rooftop
Onyx is the wonderful rooftop bar at the totally styly art deco Sonder (formerly Shangri La), with sweeping views of the Pacific Ocean right across the road. This bar is my pick for a bit more of an occasion.
It's only a stone's throw from Santa Monica Pier (well you'd need a good arm) and is another great spot for soaking up the sunsets.
But if the rooftop bar is a bit breezy you can go down to the ground floor pool bar and hang out in a cabana to watch the beautiful people watching each other.
5. Penthouse at Huntley Hotel
Don't you just love a bar with a Mixologist on the payroll? Ask for a specialty drink at the Huntley Hotel (that's why they're there!) while you enjoy your 18-storey 360° views from to Malibu Beach and over to Hollywood.
This is what you call an Ultra Lounge – a signature LA experience. Great for an occasion. It's also where you want to come to meet a rich suit, so I'm told…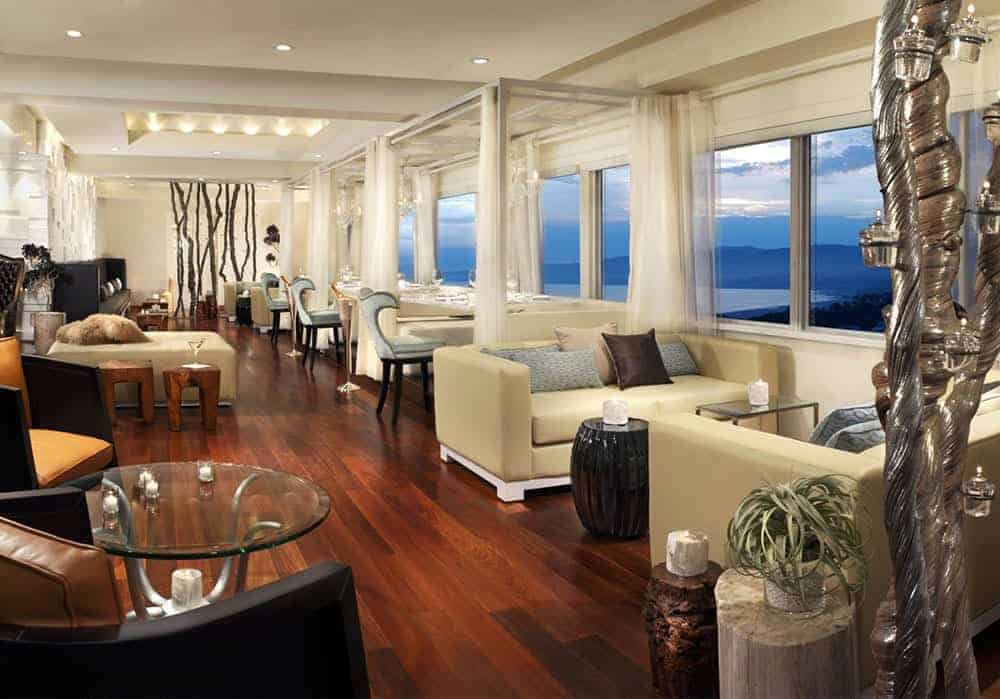 6. The Lobster
Located at the start of Santa Monica Pier, The Lobster is a delicious seafood restaurant, established in 1923, is one of our favourite places to dine in Santa Monica.
We bring our friends here for amazing lobster, crab legs and everything in between! They also serve steaks, so you meatatarians will be fine too 😀
It brazenly lauds itself as being a great location for film shoots with its iconic view of the Pier.
While it's most well known for the good food, they have a teeny little bar on an outdoor patio, which really serves as a place for waiting for a table, but the views are exceptional so it made this Best Bars in Santa Monica list!
The Lobster is famous for its truffle fries (I was reliably told they are best on earth – even described as crack!) The patio overlooks the 100-year old Santa Monica pier with its gigantic ferris wheel.
This place is also cool with local celebs dropping a few bucks on whole Maine lobsters.
7. Seaside on the Pier
As the name says, Seaside on the Pier restaurant is ON the famous Santa Monica Pier meaning there is no better ocean or sunset view than here!
You can dine in (their soft serve ice cream push pops are renowned).
But Seaside on the Pier is famous for the best fish and chips in Santa Monica! The menu is casual and affordable. Check out the lobster rolls, crab cakes, poboys and burgers too.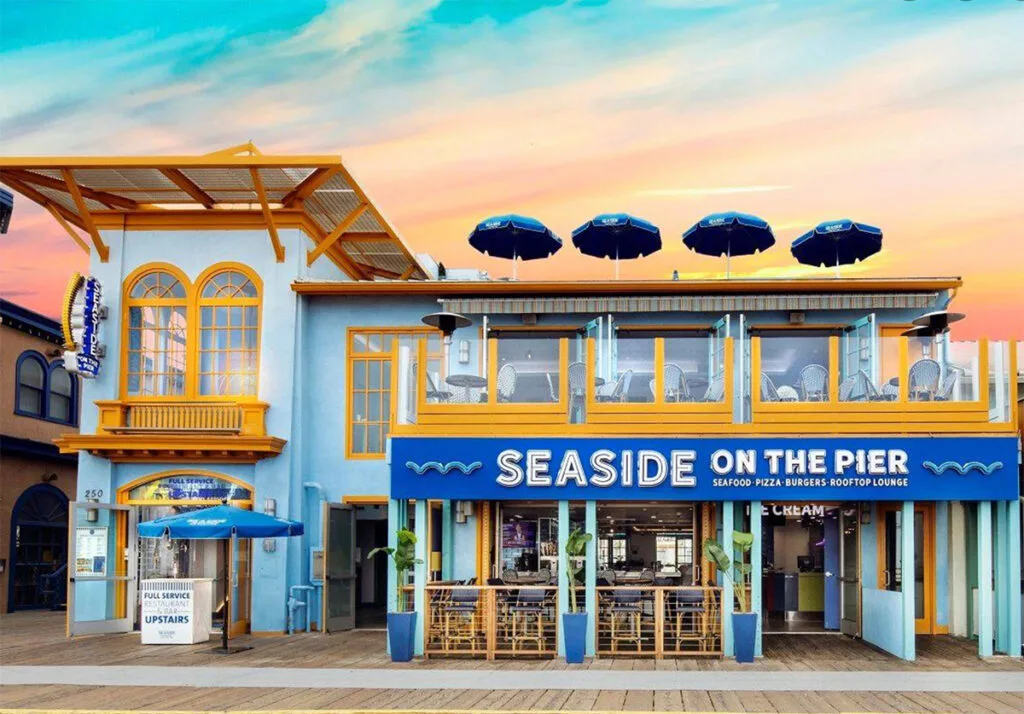 8. High at Hotel Erwin
The rooftop of the Hotel Erwin, is aptly called High. It is located right on Venice Beach, where medical marijuana is sold from the "doctors clinics" below – and you will smell the medication.
The hotel is about 200m from the sand and two miles from Santa Monica. It has been voted in the Top 20 rooftop bars in America. We've stayed at the Erwin and really enjoyed its casual chic vibe with a great location.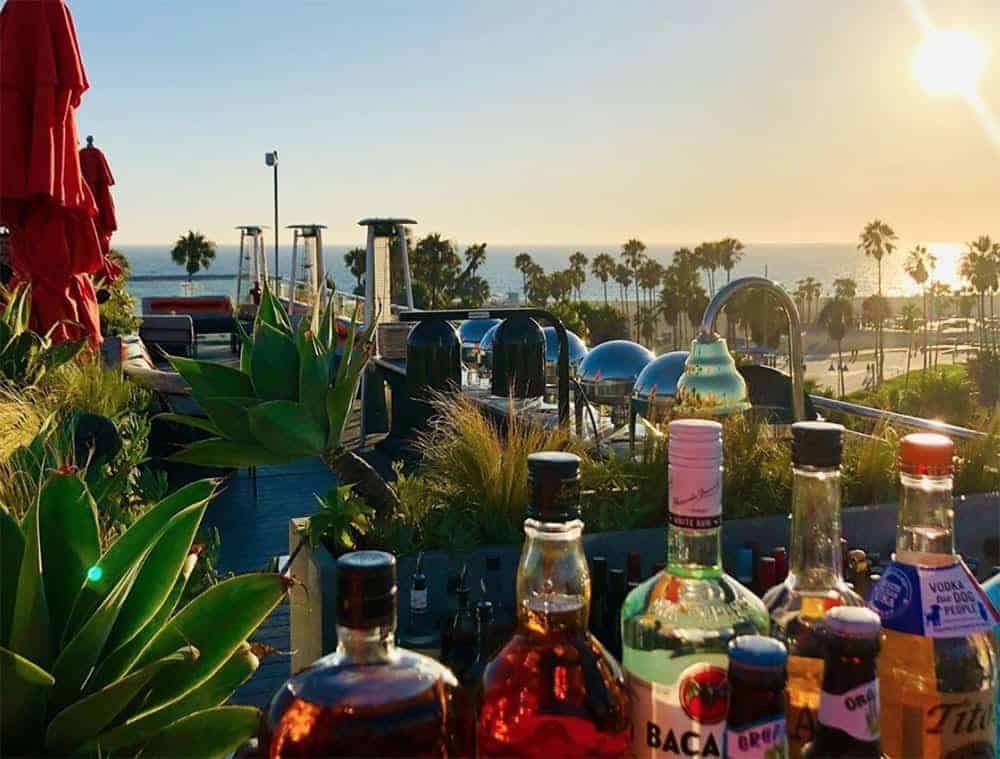 Views of Muscle Beach make this a great spot for perving, not to mention the chill vibe with the arty crowd like the techies from Pixar and the like. (Yes geeks can be groovy!)
Sit in front of the flaming gas heater and watch the sun set. Sublime.
9. Casa del Mar
Terrazza Lounge is the new beach front patio bar and al fresco restaurant at Casa del Mar, one of the very best beach front hotels in Santa Monica. Open until 9pm, this is your perfect sunset spot or even dinner.
They also have an indoor cabana lounge for a more intimate setting. This would be ideal for a catch up with the girls in this grand old hotel that opened in 1926 and was the premier playground for Hollywood A-listers. And now us!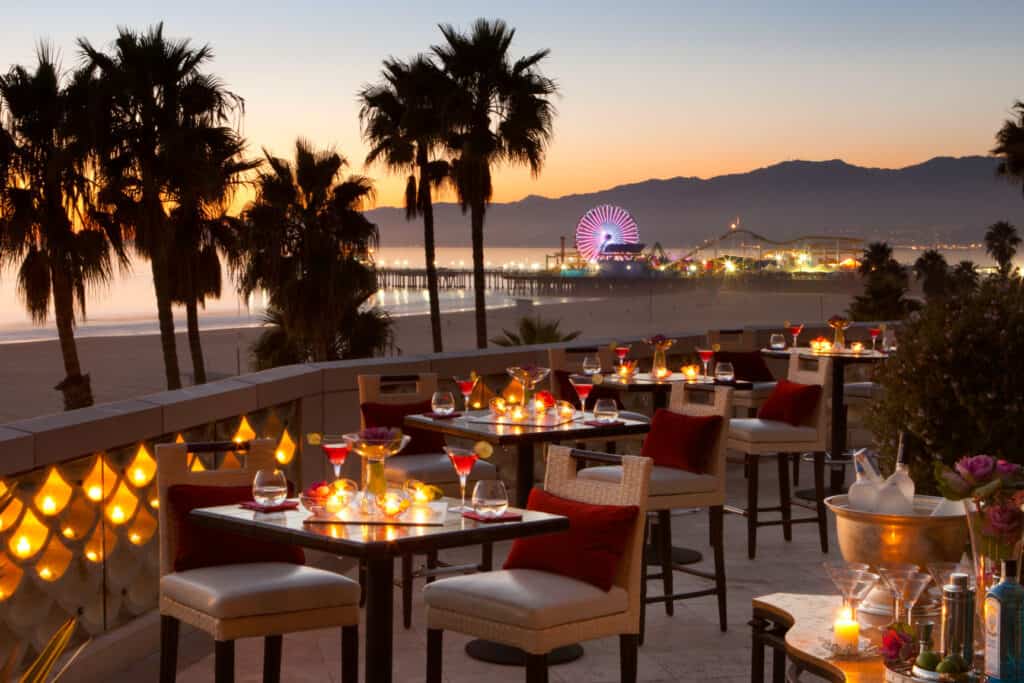 10. The Victorian
The Victorian is an icon that really needs to be on this list. This lively bar/restaurant nightlife venue has been filling the hospo scene since 2010 in a Victorian mansion, halfway between Santa Monica Pier and Venice Beach, and one block from the beach.
Sit outside under trees decorated with fairy lights and flickering fire pits with a glass of wine. Or grab a pizza and your mates to listen to live music.
Join salsa Thursdays for classes and dancing on the upper two floors. Come for weekend brunch and enjoy the vibe.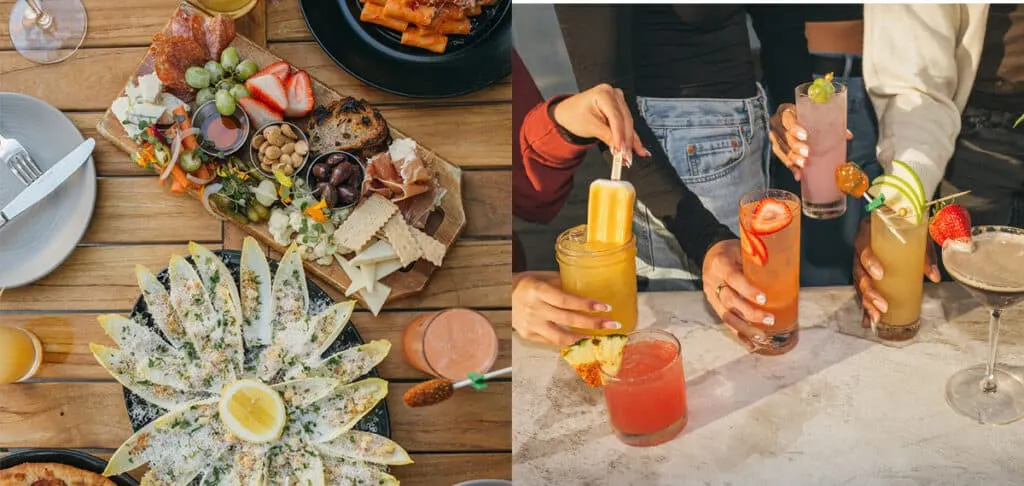 Now the best beer bars in Santa Monica:
California is home to 286 craft breweries, the most of any state in the United States and Santa Monica boasts several spectacular craft beer bars.
You'll find low key dive bars to upscale microbreweries, live bands, outdoor seating and even pool tables in this part of my list.
11. Santa Monica Brew Works
Located on Colorado Avenue, the eclectic Santa Monica Brew Works is well worth a visit. It is the first and only craft beer brewery in the area.
They also host beer tastings frequently in their well-designed tasting room, allowing you to sip beer next to fully operational tanks.
You are sure to snag a table at this massive restaurant that features indoor seating as well as an outdoor beer garden. I recommend trying to sit outside if going with large groups to take advantage of the many long tables and benches.
Santa Monica Brew Works also has an online store. Check it out if you are unable to visit in person but still want to see what all the hype is about!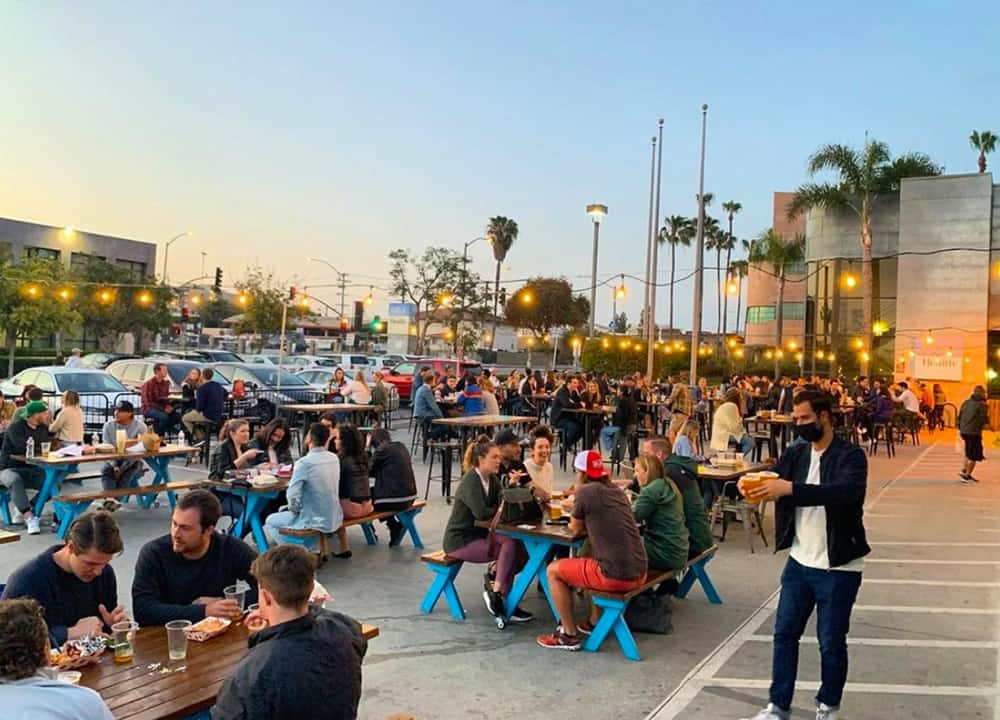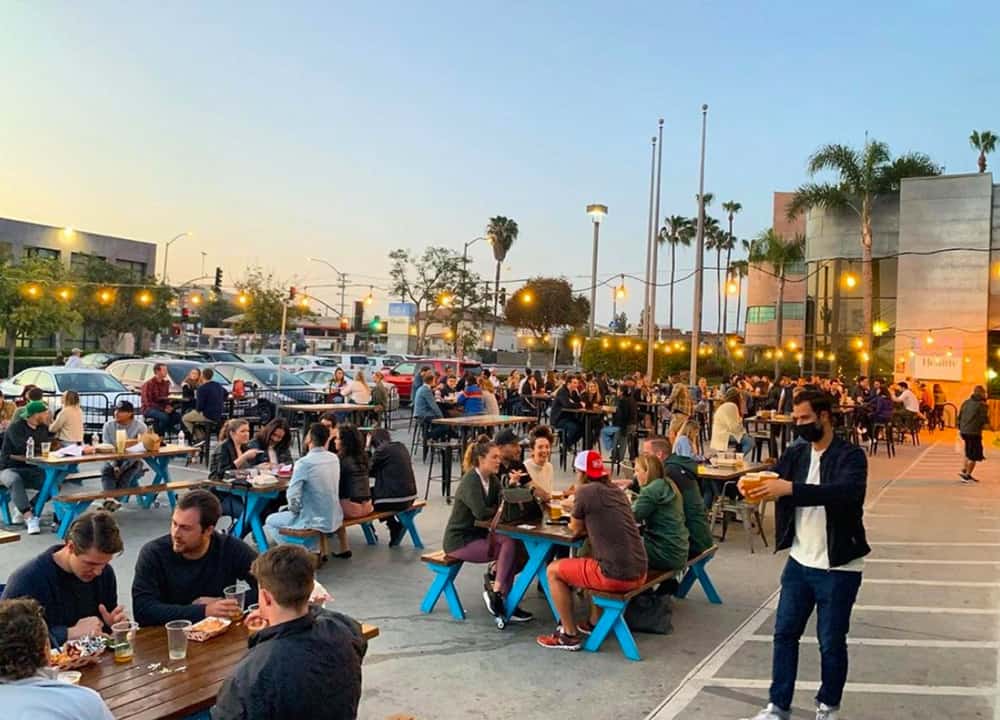 12. Ashland Hill
Ashland Hill is a lovely restaurant and bar located along historic Main Street. You will not want to miss out on this date night staple! It has three outdoor patios, delectable food options, great gin cocktails and exciting craft beers.
Of course, your furry friends are also welcomed to tag along for dinner at this pet-friendly establishment.
You can find various local draft beers that rotate weekly, offering a new experience with each visit. In addition, the restaurant's menu features an extensive drinks list with craft cocktails, signature drinks and classic favorites.
Be sure to stop by for weekly happy hour to check out Ashland Hill's drink specials and $5 menu. Their mouthwatering burgers pair perfectly with a pint of beer.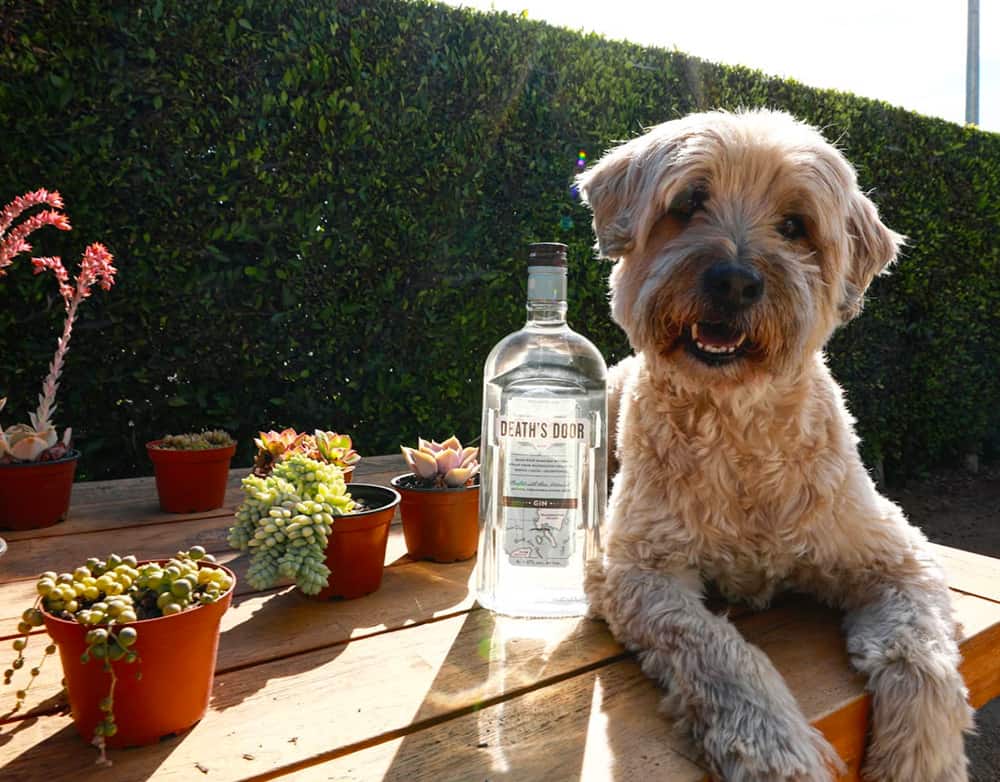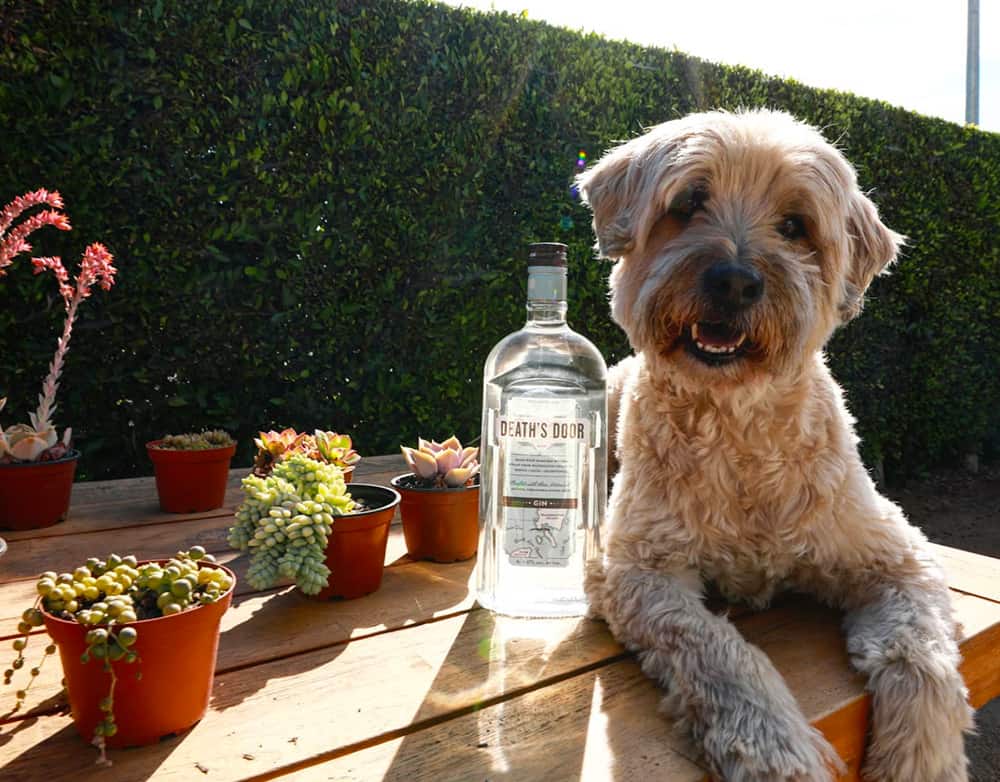 13. The Daily Pint
Look no further for a fantastic dive bar for your next night out because The Daily Pint has it all!
There is so much to do while enjoying your beer and cocktails, from board games like Jenga to shuffleboard and billiards tables. They also host whiskey tastings and game nights each month.
The pub is acclaimed as one of the best bars in the area, with locals and tourists alike bonding over incredible craft beer.
The Daily Pint's owner, Phil McGovern, achieved his "American Dream" upon purchasing the bar twenty-five years ago. He prides himself on providing customers with a delicious and unique craft beer selection.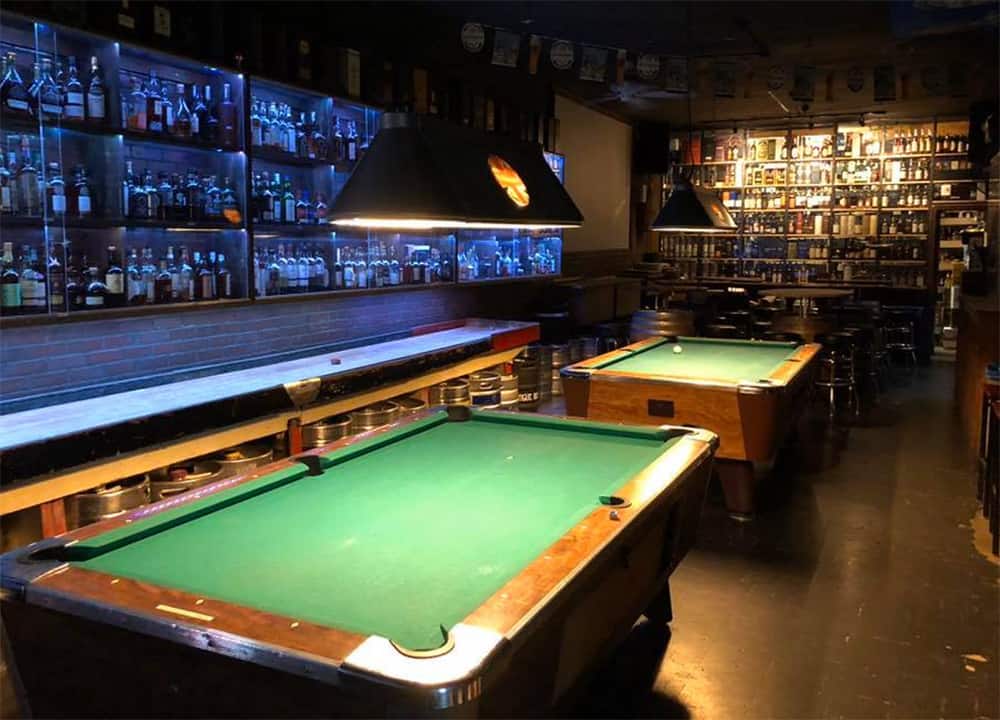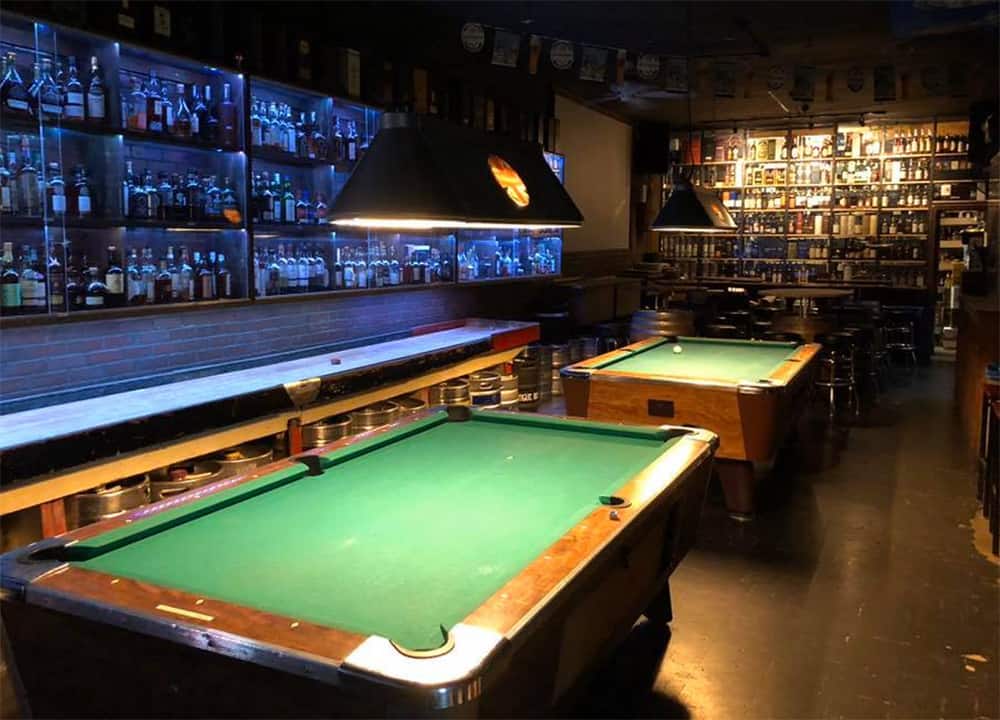 14. The Dudes' Brewing Co.
The Dudes' Brewing Co. is another must-try for craft beer fans.
It's located on the third floor of Santa Monica Place, the mall that anchors the shopping precinct of Third Street Boulevard. Both the interior and exterior of the bar are lined with barrels as tables.
The vibes are fun yet laidback, perfect for a night out sharing a beer flight with great friends.
They offer twenty-seven unique craft beers, including five barrel-aged varieties. Some of the most notable beers available at The Dudes' Brewing Co. are their California I.P.A., Double Trunk, and Wiser Man.
In addition, each of their cans boasts picture-perfect labels with clever odes to their flavors that are worth the flick for your Instagram story.
This Los Angeles based microbrewery is also proud of its scratch kitchen, in which all their food, sauces, and dressings are made entirely in-house. I recommend ordering one of their tasty pizzas featuring their signature beer crust.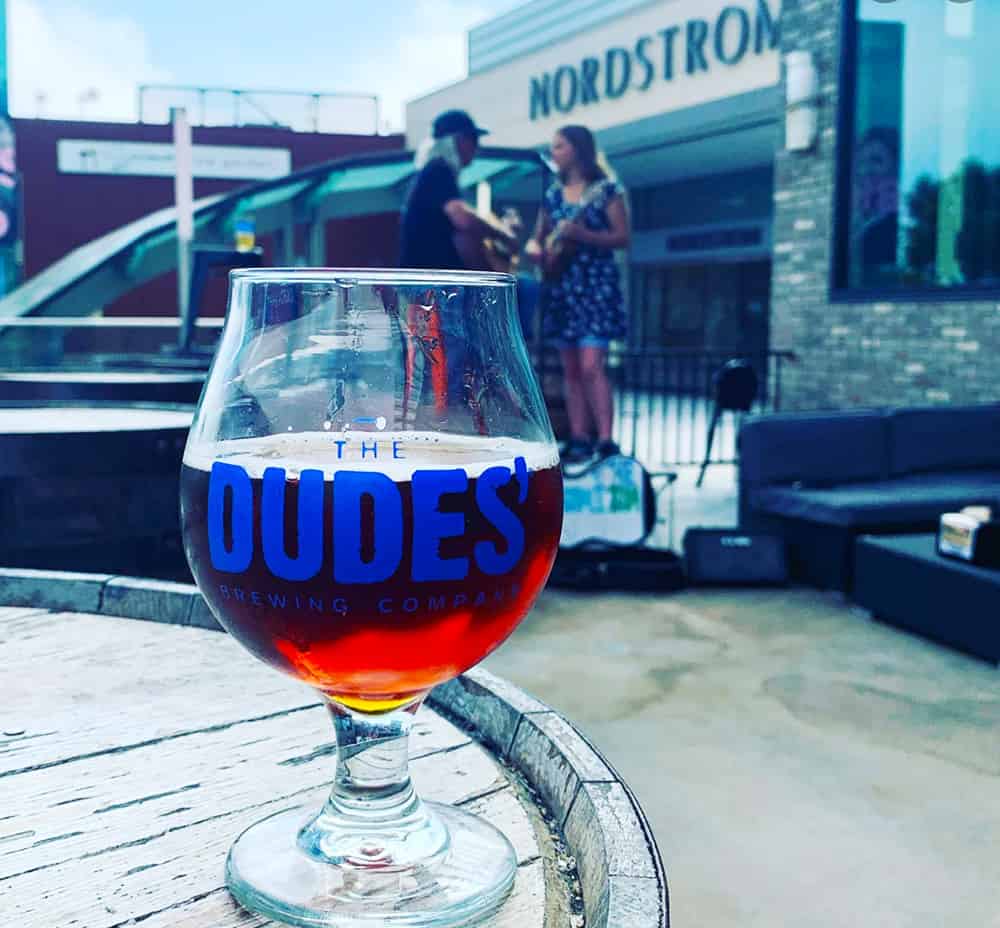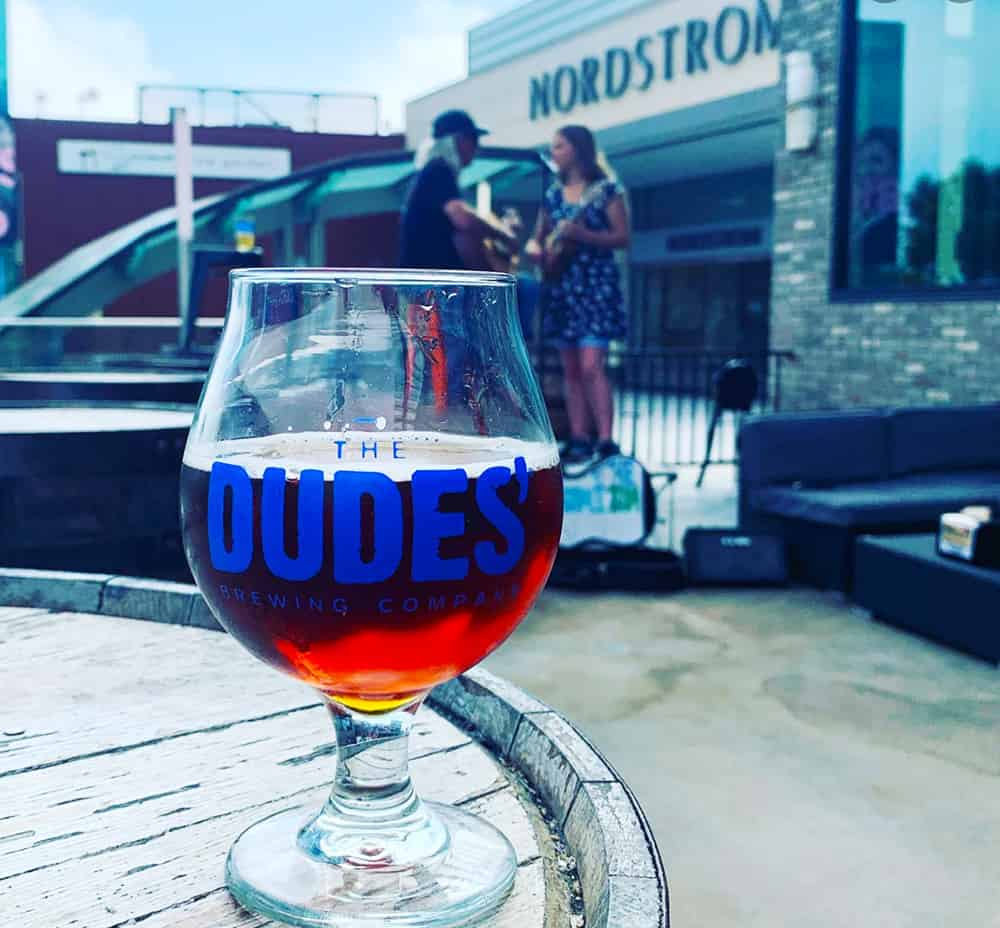 15. Library Alehouse
Bookworms and drinkers unite at this historic bar! This Santa Monica staple has been serving up delicious drinks to the community since 1995. The Library Alehouse was actually one of the first craft beer bars established in the area.
Dine inside to check out their bookshelf-lined walls or outside on their beautiful patio. You can even get some remote work done during the day for a nice change of scenery.
The Library Ale House boasts an extensive craft and draft beer menu, even featuring several locally brewed ales.
Pair your brew with some of the kitchen's specialty chicken wings topped with their homemade buffalo sauce. The pub's burger selection, especially their "Hell Burger," has received rave reviews from satisfied customers.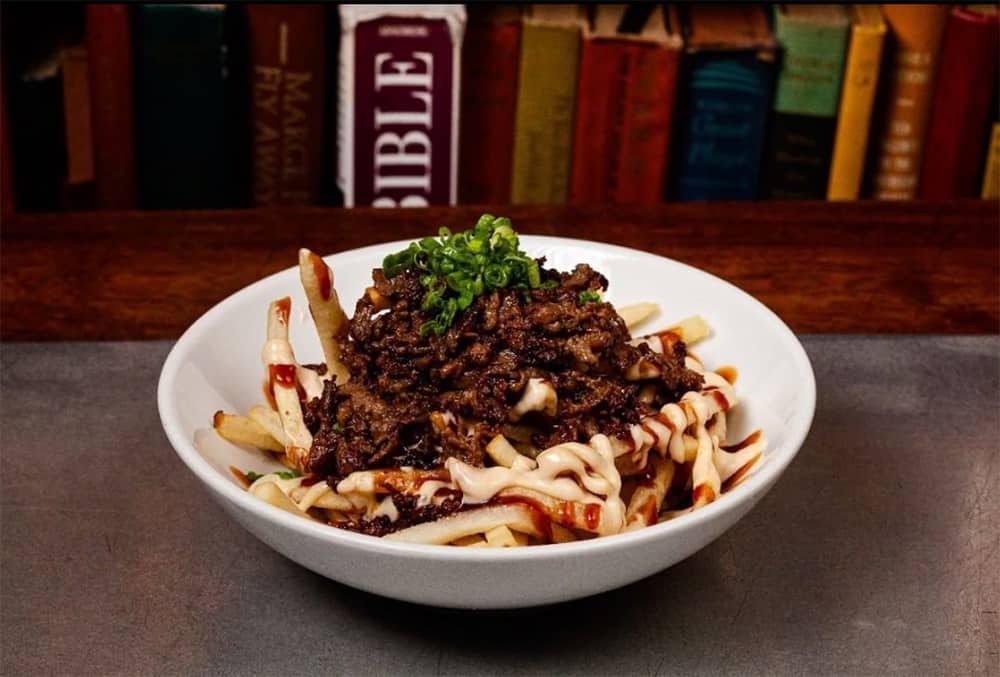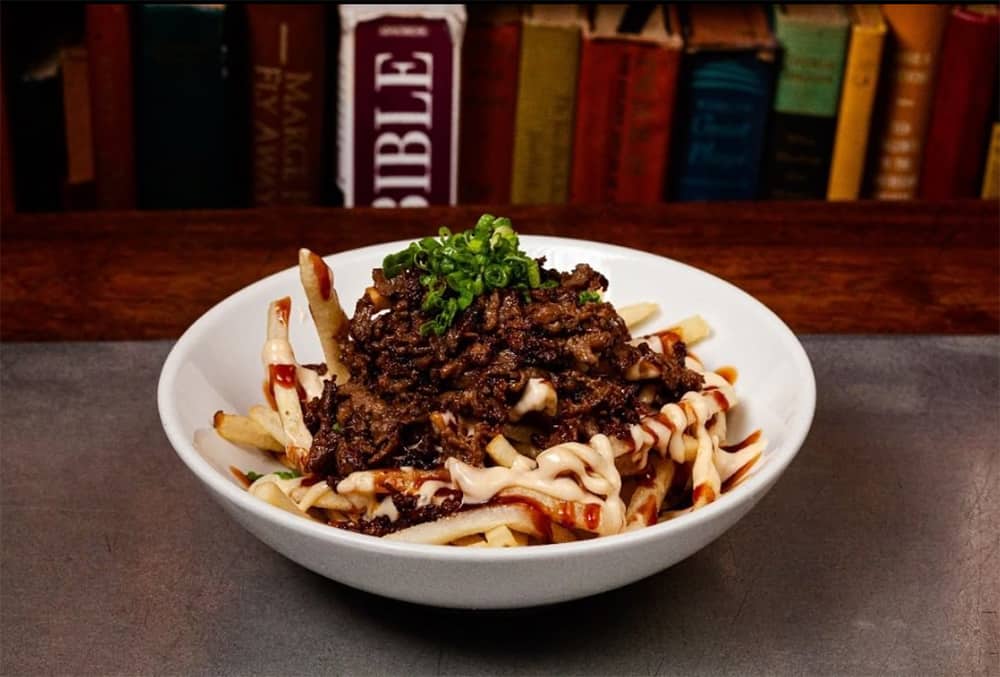 16. The Misfit Restaurant & Bar
The Misfit Restaurant and Bar has something for everyone in your friend group!
It is located in the historic Clock Tower Building (another must-see when visiting Santa Monica!) on Santa Monica Blvd. The restaurant has a lovely outdoor patio and inviting atmosphere.
Head over to try some of The Misfit's weekly happy hour and drink specials. With many draft beers on their menu, even the pickiest drinkers are sure to find their new favorite brew.
And as if that was not enough, The Misfit also offers a wonderful weekend brunch with D.I.Y mimosa kits. Their brunch food menu boasts an exciting combination of American breakfast staples and international cuisines.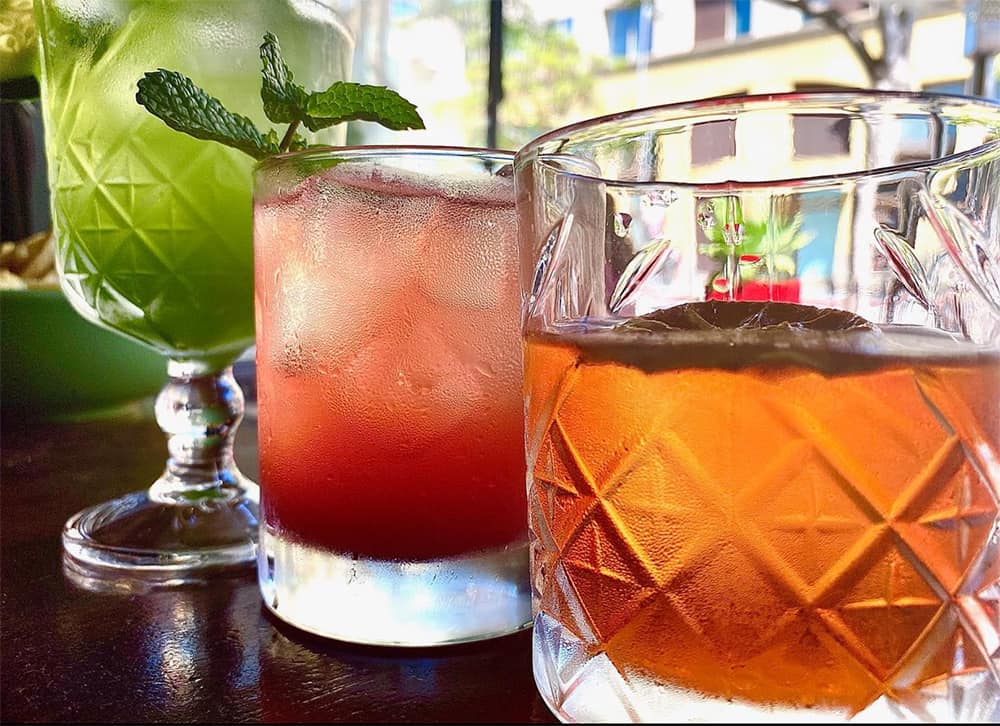 17. Stout Burgers & Beer
Stout Burgers and Beer is an upscale gastropub dedicated to providing customers with quality draft beers. It has an enormous outdoor patio that may be rented out for private events.
This eatery's burgers do not disappoint with a wide selection of specialty topping combinations. Each of their expertly crafted burgers utilizes fresh ingredients served on a perfectly toasted white bun. In addition, Stout also offers chicken and plant-based vegetable burgers as alternatives.
Sides and bar snacks are a must-try when enjoying a pint of craft beer at Stout. Check out their classic beer-battered onion rings, loaded fries, and savory pretzels.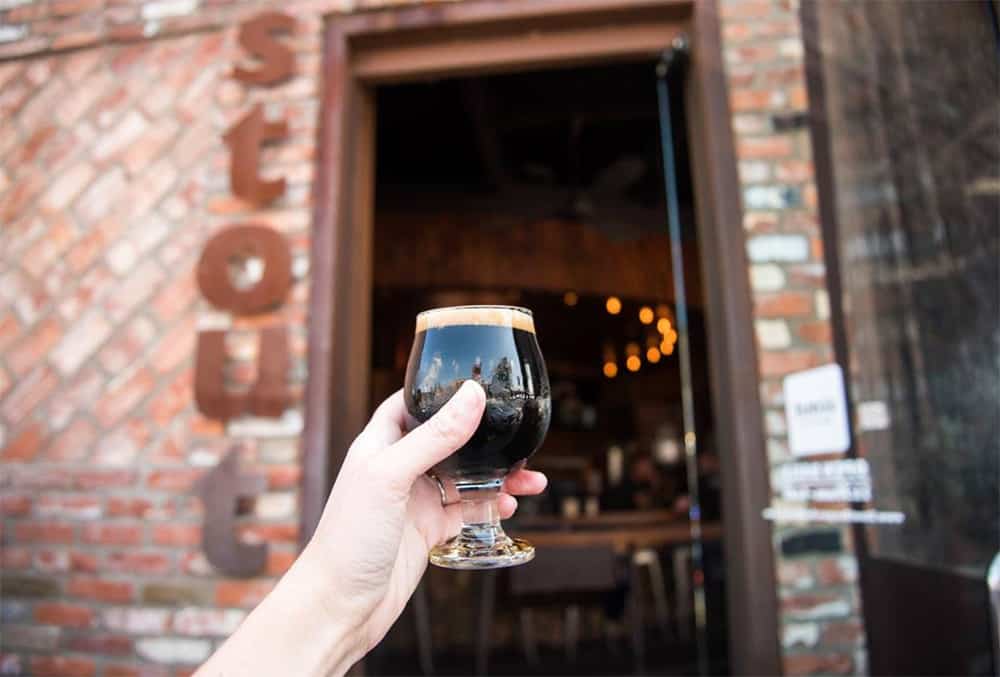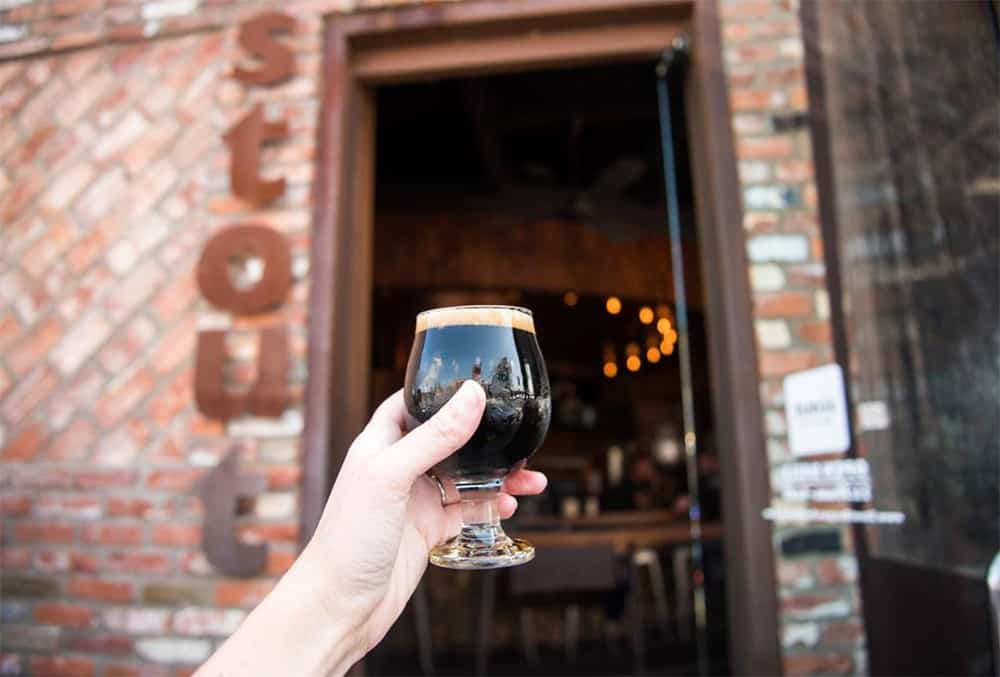 18. West 4th & Jane
This New York City-inspired gastropub serves up some of the most incredible local and international craft beers.
Although the interior may resemble an East Coast bar, West 4th & Jane is located only a few blocks away from the glistening Pacific Ocean.
They also have a pop-up beer garden from 12.30pm – 7pm on Third Street Promenade so you barely need to walk from the shops (or leave your other half here while you madly try on clothes!)
You'll find excellent happy hour pint and food specials. You must give the sriracha ginger wings and fried chicken sandwiches a try! All of their mouthwatering specialty sauces are made in-house.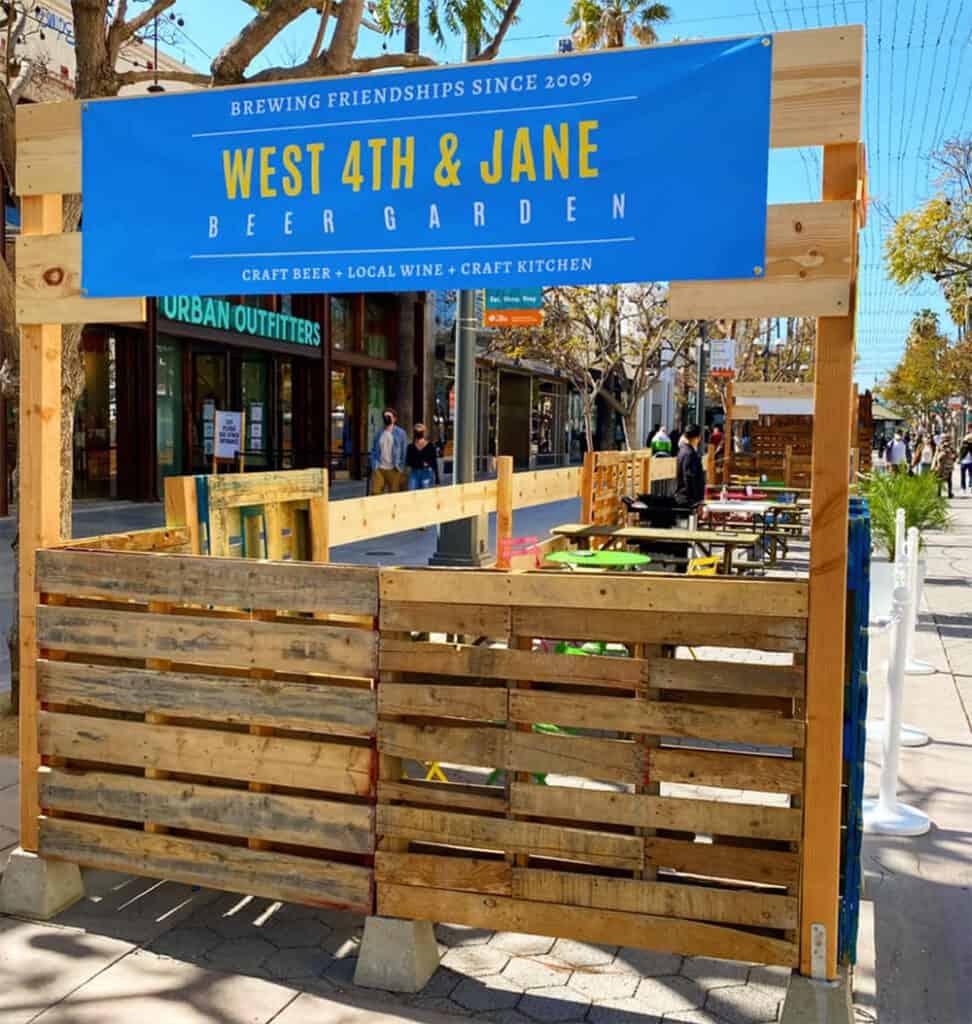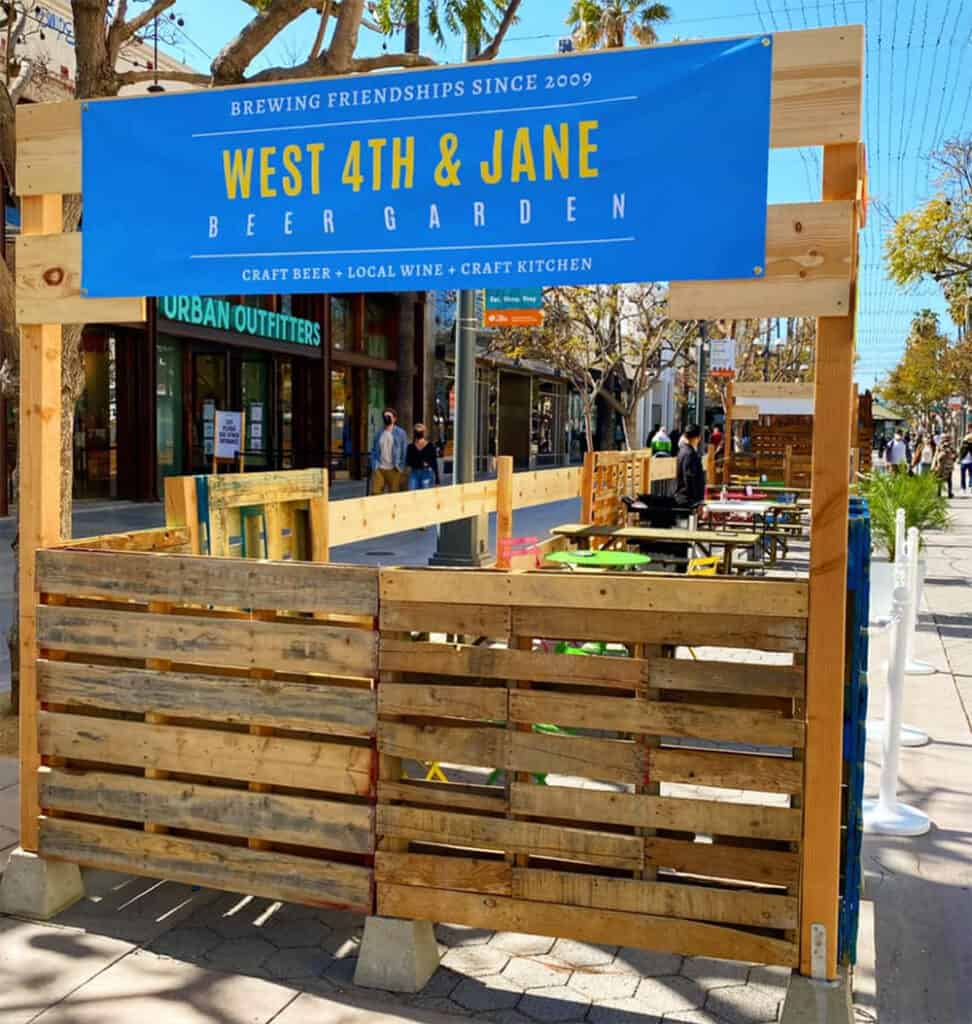 What else shall I read?
If you're planning to stay in Santa Monica, here are 7 really great Santa Monica hotels that I can totally recommend (some are in the list above – and some aren't!)
You might also like my post on 12 marvelous day trips from LA! It covers beaches, the desert, small towns and yes – a certain theme park 😉
Or further inland, I love these 3 cool rooftop bars in West Hollywood for a sunset drink and these fun rooftop bars in downtown LA.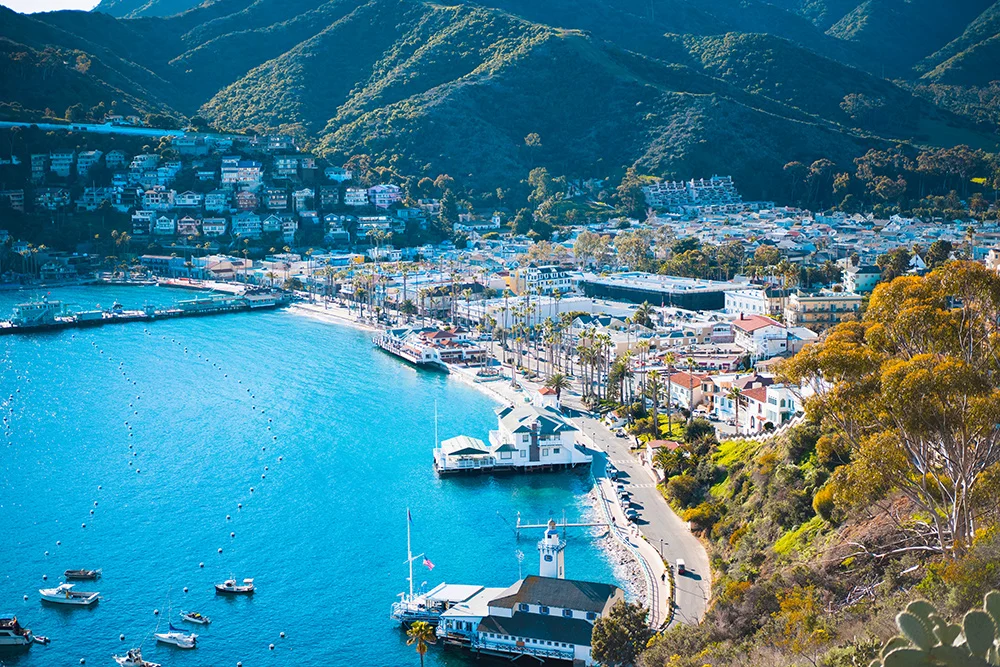 I was asked to write about one of my favourite LA beaches, so where did I choose? Of course, Santa Monica! Here's that story on why I like it so much and other bloggers picks for 4 more. Read it here >>
If you're looking for some cool East Coast vibes, you'll love this post: The best dreamy rooftop restaurants in NYC. This list features outdoor open-air terrace bars, floor to ceiling window views over Manhattan, neighborhood beer gardens in Brooklyn and even a rooftop winery!