Downtown Los Angeles has undergone a huge facelift.
If you haven't visited downtown since the dodgy days of old, you won't recognise the place. In fact the nipping and tucking is still going on as this part of LA experiences a renaissance.
You'll find hidden bars, great food choices, live music and 360 views of the city from rooftop bars here in downtown LA.
I spent two nights staying at The Standard and got around via a few thousand foot steps, Uber and even a public bus.
Here are some great bars I discovered that I think you might like too…
Three great rooftop bars in Downtown LA:
My stupid GPS tried to get me walking down an alley, but you don't have to do that. The Ace Hotel is at 921 Broadway (yes a major road) in the former United Artists building built in 1927. The entrance to the rooftop bar, creatively named Upstairs, is through another door on the right of the main lobby doors. There's also a bar/restaurant on the ground level, but you'll walk right across the black and white checkered tile floor to the elevator at the back of the room and hit the button for the top. Or someone might do it for you. They're very helpful.
Upstairs was my favourite bar of the three. Probably because it wasn't as crowded as the others, but it had a relaxed vibe and a quirky cocktail list too. The names some genius has given the cocktails is so unusual that I don't understand the name of the bar. They're all named after famous rail stations around the world with a narrative about loving the moment when your life passes by someone elses in a moving train. Anyone think of calling it Station?
I chose the delicious Downtown Santa Monica which is a shaken together glass of blanco tequila, amaretto, creme de pamplemousse, coconut, oraange and hopped grapefruit bitters. See what I mean?
Be sure to take in all sides of the view, especially at the stunning Eastern Building and if you're hot, slip into the pool!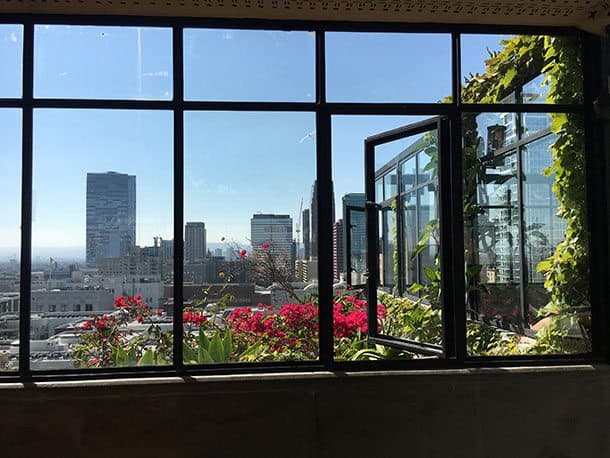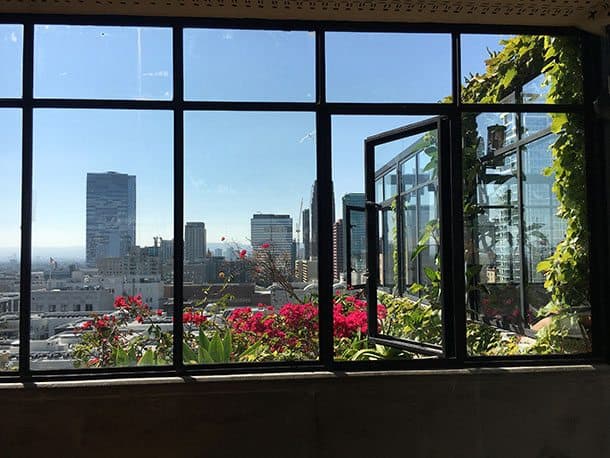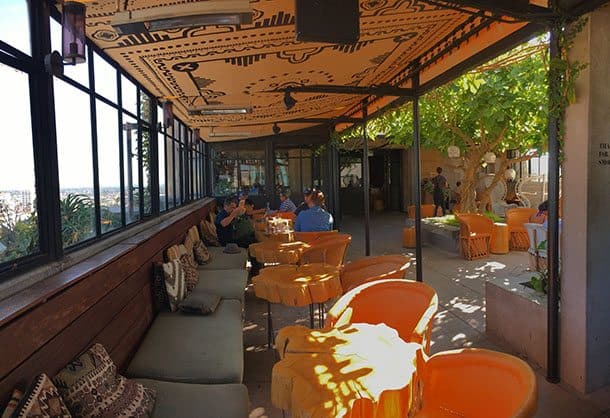 Occupying the top two floors of the Pershing Square building, this rooftop bar oozes classy French style but with a relaxed LA vibe. Think French cuisine with classic cocktails and live music. Lounge chairs and an indoor/outdoor dining room that, while only a few years old, looks like it's been here since LA began. The menu covers shared plates (my fave so I can hedge my bets) with things like baked brie and Ahi tuna tartare as well as stand alone dishes like filet mignon and bouillabaisse. It's French inspired but not pretentious – unless you consider sucking on a frog leg with your vino to be pretentious.
When I went up the place was buzzing. It was a sunny holiday Monday afternoon and it seemed like every beautiful person had taken the lift up to the 15th floor of this office building, to then take the stairs up to the 16th. The band were setting up and the vibe was relaxed and convivial. Views stretch between surrounding sky scrapers on all sides and if you can get a nook of couches or a table, stay for dinner.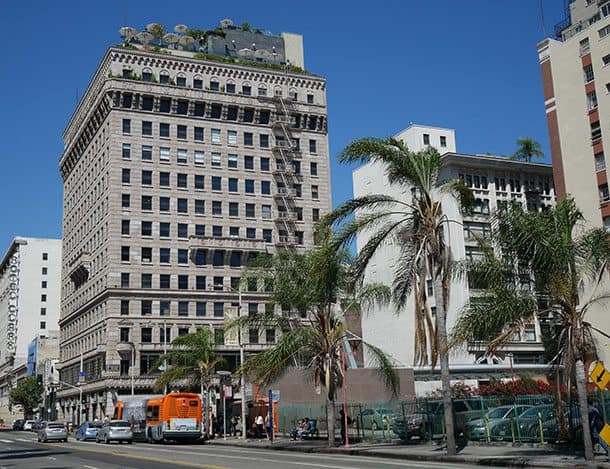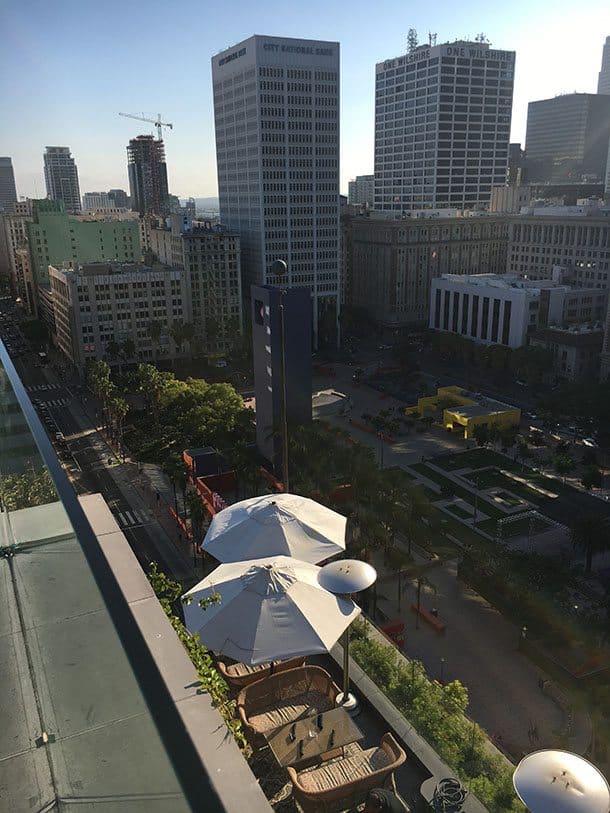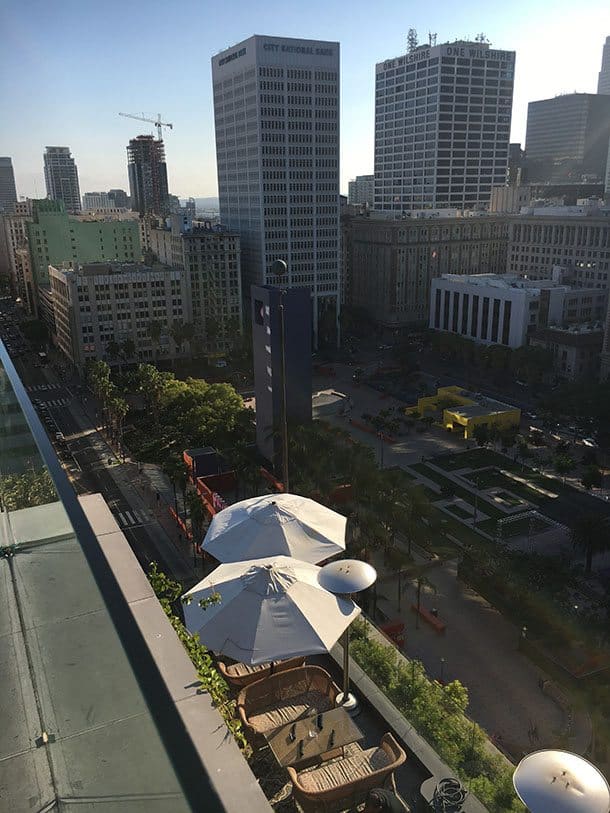 We had two visits to this rooftop because we were "in residence" and the first time was a sold out 4th of July afternoon party. I strode around and then walked out pretty much, after bumping into too many scantily clad young things.
But the next afternoon, lying on a sofa under the serenity of see-through umbrellas, I could see why this bar is a must if you're staying in downtown LA.
Quirky features include the ping pong tables, topiary animals, red astro turf, a heated swimming pool, a German biergarten and red waterbed pods for lazing with your friends in (or making new ones). Live music features along with guest DJs. There's a dance floor and fire pits and the menu covers things like sliders, pork belly bites and sandwiches.
By day it's a cool vibe for hipsters and travellers, by night it's sexy with movies projected onto the building opposite.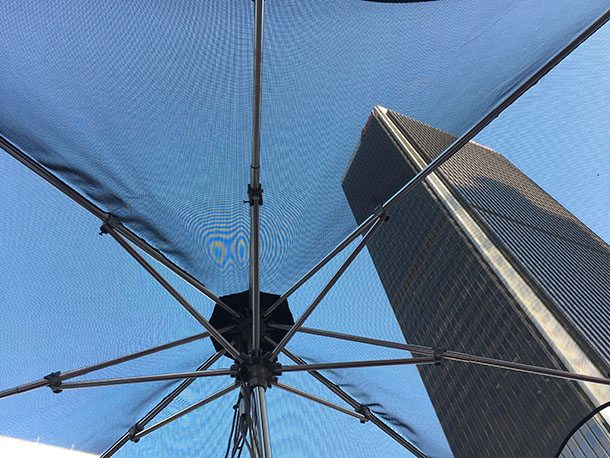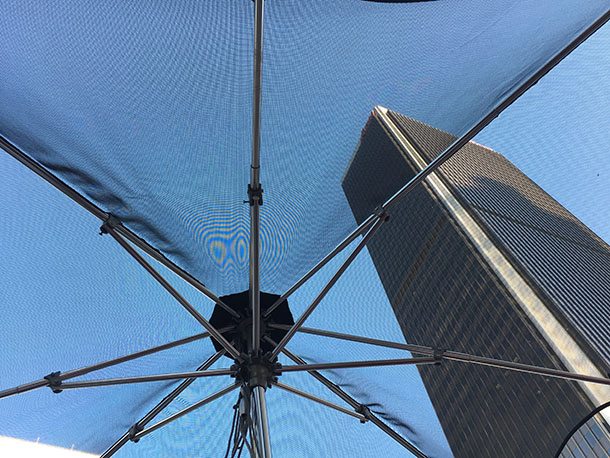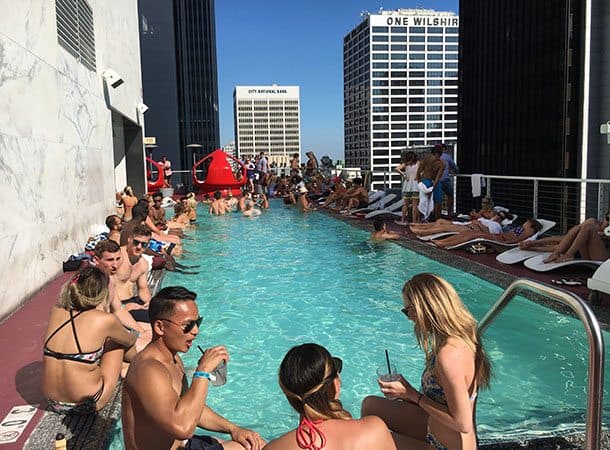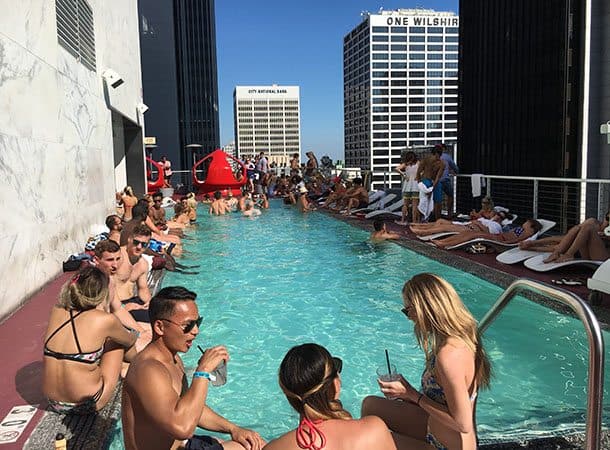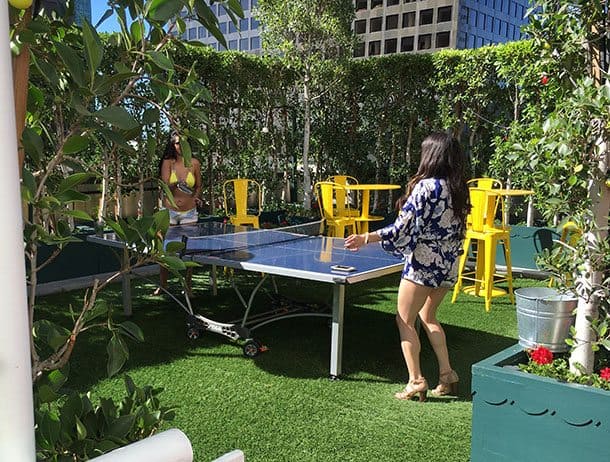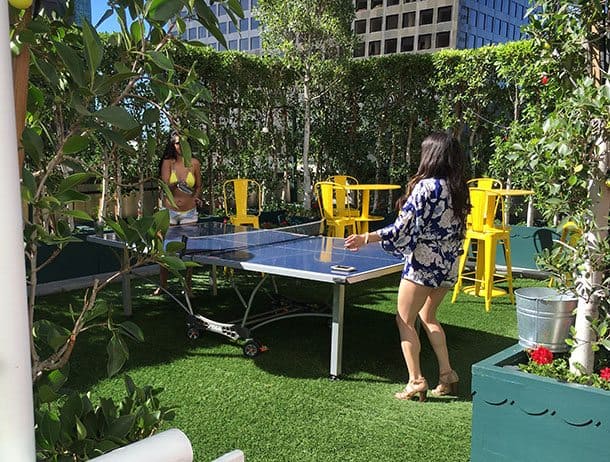 If you liked this post you might like to read about my favourite bars in Santa Monica! >>>
___________________________
Where to eat in Downtown LA:
Of course you can have snacks or even dinner at the above three rooftop bars, but here are a couple more places we found and really liked: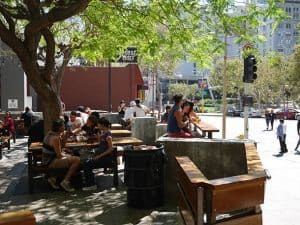 Grand Central Market
This fresh produce and food market has been here for 100 years when it started as a farmers market for the wealthy residents of downtown LA who would descend on the now defunct Angels Flight funicular – which still sits there, waiting for an investor to make it fly again. The food hall is the width of an entire city block filled with specialty vendors from Mexican to ice cream, the sassily named Eggslut and wine bars, fish mongers, cheese and fresh produce.
Bring your appetite for breakfast/brunch/lunch, but it is also open until 10pm in summer.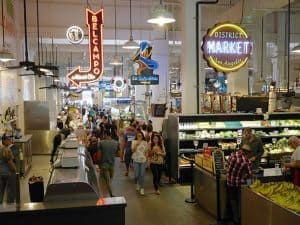 It's situated just two blocks from Pershing Square and at the S Hill street entrance is another well regarded restaurant with seating under the trees, Horse Thief BBQ.
Nick and Stef's steakhouse
If you're like my husband and fancy a great steak on your last night of vacation but don't want to taxi across town, you ask your wife to ask her contacts in the LA travel scene where to go within cooee of your hotel.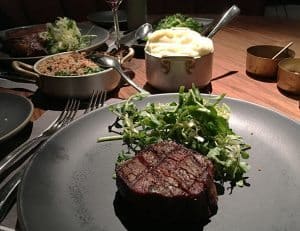 They suggested a couple of options and after setting off for six blocks in the wrong direction due to not being able to read Google maps (that would be me) we finally made it to Nick and Stef's. I thought we were still lost though as we ascended the steps of an office block at 330 S Hope Street with scarcely a soul around. But no, we were bang on!
It's elegant and the staff attentive. The wine list includes enough by the glass if you're not wanting to go large. But it's the steak you've come for, right? Your choices run from Wagyu to grain fed to dry aged, sirloin, eye fillet, New York strip, bone-in or out. I chose the 6 oz Wagyu petit filet which was divine. We also went for their delicious creamy mashed potatoes and the decadent creamed spinach. The perfect end to our LA stay!
___________________________
See a game in LA!
The cool thing about staying downtown, or near the new Metro line that now runs to Santa Monica, is you are really close to the LA Live and Staples Center complexes.
This is the home ground for basketball teams LA Lakers and LA Clippers and the women's basketball team the LA Sparks, plus the ice hockey team LA Kings. It's also a venue for concerts and there are plenty of restaurants and bars down here to keep you amused. No shopping though!
If baseball is your thing you can get to Dodger Stadium to watch the LA Dodgers by Uber for less than $20 and enjoy your hotdog in at one of the oldest baseball parks in the country.