Who would ever think of holidaying in Beverly Hills?
Shopping, cocktails and dining out – living the life of lovelies? Not me. Until I did!
It was actually quite affordable and not nearly as pretentious as those TV shows would have you believe…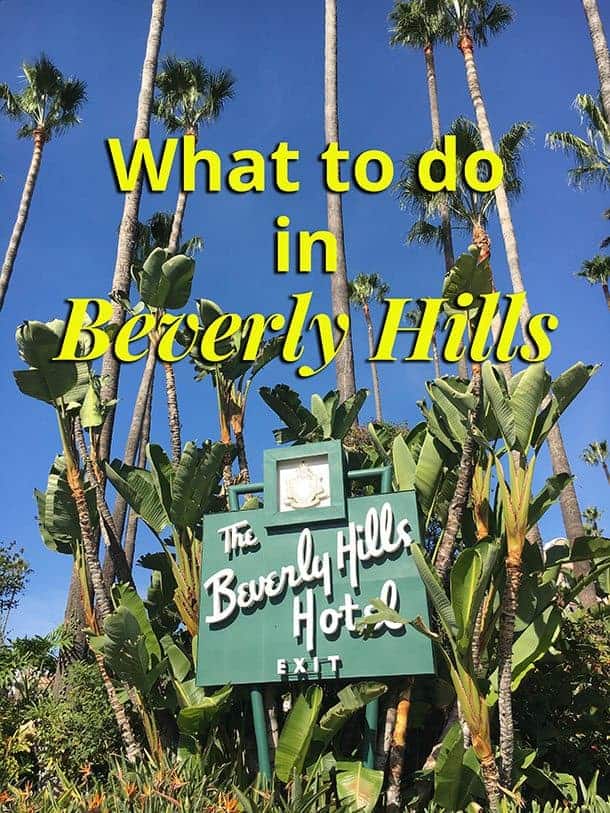 My usual go-to place for stopping over in Los Angeles is Santa Monica. The beach, the shopping, the dining, the sunsets. Just the overall healthy and relaxed vibe and my visits to Beverly Hills have been limited to driving through on a Starline Hop On Hop Off bus – which aren't allowed to stop on Rodeo Drive anyway – so I have really only stood on the open top and taken the obligatory photographs of the tanned and toned teetering their way between Rodeo and Wilshire.
BUT I've just spent three days pretending to be a Beverly Hills Housewife! Well, sans the sky high shoes and the attitude…
Many of you will know that I visit LA probably two or three times a year and that I have my favourite places to stay.
Read: 7 Great Places to Stay in Santa Monica here >>
Read: 5 Cool Hotels in West Hollywood here >>
But this time Santa Monica was too busy for me and consequently room rates were through the roof. Remarkably and contrary to what you might have believed, I found a gem of a hotel for under $300 a night in Beverly Hills. I knowww! (Info about that hotel is at the bottom of this post…)
It was such a delight to stay in this little "city" of LA (it has its own mayor and is considered a separate city, like Santa Monica and West Hollywood also are), to explore some of the reasons why you'd want to base here for two or three days and enjoy brunching and shopping like the rich and famous.
Shopping in Beverly Hills
We're all familiar with the eye-wateringly expensive Rodeo Drive where ringing a doorbell to enter a shop is not unusual, but did you know that the surrounding streets cater for normal people like us? Once you've strolled the famous tree-lined street with shops wrapped in metallic and glass and cars that cost more than an Auckland house are parked out the front (I'm talking about YOU Bijan with your bright yellow Bugati!), take a turn and head over to Beverly Drive, parallel to Rodeo.
Here you'll find the delights of homeware store Crate and Barrel, Pottery Barn, Sunglass Hut, Sephora, MAC, William-Sonoma, Lulu Lemon, Nespresso and Starbucks – to name a few.
Where to eat and drink in Beverly Hills
Above Sixty – the rooftop above Sixty Hotel is aptly named Above Sixty and is more casual than I expected. The wooden booths and tables around the central bar were taken, so we ended up eating small plates at the bar after having a cocktail in a cabana by the pool. Sadly they closed this area at dark so we couldn't have our dinner up there, but the views across LA are great with a mojito!
BLVD – there are two restaurants at the Beverly Wilshire Hotel and this one, BLVD, while it does have white tablecloths and a pianist, feels a little more casual. The best dish at our table was the Wagyu steak that my husband had and I nicked a bite of. I had the lamb which was also nice, but a taste of that Wagyu and oh my. But before that we started with a baked brie and I loved it so much the chef came out to tell me how to make it!
Recipe for BLVD baked brie: Get a little cast iron dish or oven-proof ramekin big enough to fit a circle of brie in. Drizzle the cheese with honey and add dried fruits like cranberries, apricots, prune slices (chef used sliced figs). Bake at 200C (400F) for about 15 minutes and serve with crostini or crackers. So easy!
Polo Lounge – this is at the famous Beverly Hills Hotel which opened in 1912 and has heard so many secrets over the last century being frequented by the Rat Pack, Marlene Dietrich, Humphrey Bogart, et al! It's now part of the Dorchester Group owned by the Sultan of Brunei. We walked to it from Rodeo Drive. It was over 30 degrees C and a good 2km walk, so you might prefer to Uber, but it was a fabulous lunch sitting among the lovelies and trying to eavesdrop on surrounding conversations. A pianist accompanied conversations of contracts and prenups and I spotted at least one diner with sunglasses on as I drank in the room with its tartan carpet. It must be the place to come for birthdays as that was plunked out on the ivory at least four times during our lunch!
Cheesecake Factory – expect monstrous portions at this famous American restaurant chain that has a lot more than cheesecake. In fact the menu is so huge that you'll need at least half an hour just to digest it (pun intended!) It's two blocks from our boutique hotel (one block from Rodeo Drive) and great place to dine if you're after a burger or wings or a huge salad. And cheesecake!
Sprinkles Cupcakes – I had to add this little shop here (on South Santa Monica Boulevard) mainly because it's JUST the spot you need after dinner. And what's more, you don't even have to go inside as they have a cupcake-dispensing ATM!
Crescent Hotel Terrace – we stayed at the Crescent Hotel (see below) but even if you stay elsewhere, their ground floor terrace has a separate entrance and is exactly how I now want to furnish my outdoor space at home! Think lanterns, lavish plants, outdoor furniture creating separate spaces, a gas fireplace and lots of colourful cushions popping the space.
Where to stay in Beverly Hills
You can pretty much spend as much as you like for a night in a Beverly Hills hotel. But if you're like me and keen on getting a lovely hotel that won't break the bank, I think you'll like the Crescent Hotel as much as I did.
It's been here since 1927, three blocks from Rodeo Drive, and is a small, 35-room boutique hotel where the decor has been personally chosen by the owner (you need to pop upstairs and see the celebs in huge portrait photographs down the hallway). The ceilings in the lobby, dining room and bar are clad in antiqued mirror making the rooms seem cleverly much higher than they are over the black and white tiled floors and brightly coloured cushions scattered over outdoor furniture surrounded by tropical plants in oversized pots make the Terrace THE place to come for a drink whether you're staying here or not!
The lovely Winston at the front desk couldn't have been more helpful and friendly and happily showed me around this small hotel so I could have a good snoop at all the room types to tell you about it.
Each room is decorated uniquely but with the glamorous and chic theme running throughout. Handpainted bedheads feature hummingbirds, butterflies and seashells. The larger rooms have a table and lounge suite and the petite rooms are just big enough for your bed (so you should hang out with the large room people!)
Each morning coffee is made in the lobby and is free for guests, but their chia seed parfait with coconut cream and fresh fruit was my favourite breakfast dish.
The location is superb with it only being a five minute walk in any direction to the bars and restaurants and shops I've written about above.
Check out the rates at the Crescent Hotel here on Booking.com >>
What else to do in Beverly Hills
Aside from eating, drinking and shopping that is!
If you fancy a massage, facial or a mani/pedi – on Rodeo Drive no less – then pop into The Spa on Rodeo (421 Rodeo Drive). I had the works! An hour-long massage tailored to my quirks and needs and including the suction cup on my back. I hadn't tried it before, but the idea behind this silicon cup is that it lifts the muscles (it is gentle!) and allows blood to gush around the achy spots and also reach into places that the therapist can't reach, like along the spine. I then had a facial that also included ridding me of a few black heads as well as moisturising my face for an hour! Then finished with a mani and pedi. I saw three different women throughout and it was probably the most decadent morning I've had in my life! Totes recommend 😉
Take a walking tour and visit a few of the classic buildings and places like the Paley Center for Media, the Wallis Annenberg Center for the Performing Arts, the Witch's House, with its pointy roof, tiny windows and overgrown English garden and a whole lot more. Download the Beverly Hills free Art and Culture walking guide tour >>
There are also yoga studios around, you could try the spin phenomenon Soul Cycle and visit the surrounding galleries and the Sunday Farmers Market.
_______________________
*My visit to Beverly Hills was assisted and planned by the great team at Love Beverly Hills. And I do! Jump to their website for all sorts of info about staying and playing here.
Save
Save
Save
Save
Save
Save
Save
Save
Save
Save