If you're looking for fun spring break ideas for where to take the family, you'll love these suggestions from some of the top travel bloggers in the US, as well as a few from me.
We have each picked a favorite spring break destination, and explained why we think you'll love them too.
Road trips are one of the biggest trends for travel, for obvious reasons. We're all about visiting national parks for the wide open spaces, and spring is the best time to visit them for the mild weather and fewer crowds. (Read my post on 52 fun and hilarious car games to play).
But some of you will be flying with the family, so we've written this post filled with great tips and advice on how to have a stress-free flight with a toddler.
You'll also find skiing (yes there's still snow in spring), beaches and big cities to entertain the family on this round up post of some of the best spring break destinations in the United States.
*This post contains affiliate links. That means if you make a purchase, I will make a small commission at no extra cost to you.
If beachfront camping is a bit of you, then you will love my post on gorgeous spots for beach camping in California.
I flew SouthWest Airlines three times in three weeks recently and wrote this review on things to know before you fly. I like them for the great value and a surprising amount of frills (for a no-frills airline), but you don't get an assigned seat. Here's my review and how to ensure you're not stuck in a middle seat!
Sedona, Arizona
From Debbie Fettback at WorldAdventurists.com
Visiting Sedona during the spring, you will enjoy comfortable weather to explore the red rock paradise that is full of towering cliffs, majestic scenery, and cultural treasures.
There are plenty of family-friendly hiking trails to choose from, perfect for a picturesque nature adventure. Devil's Bridge (4 miles) is one of the busiest and most beautiful.
Bell Rock Pathway (3.6 miles) and Bell Rock Loop (1.5 miles) give views of Courthouse Butte and, of course, Bell Rock.
The Sedona View Trail (1.2 miles) shows off Chimney Rock, Coffee Pot Rock, and Thunder Mountain. No matter the distance, you will be left in awe.
Rip around on an off-road Jeep tour to explore more breathtaking and dramatic red rock views against a bold blue sky. Or, take a calmer drive along the Red Rock Scenic Byway 179 and 89A for additional perspectives of the mesmerizing scenery.
Bring a swimsuit and have fun splashing around at the natural waterslide at Slide Rock State Park.
Or, take the 20-mile journey on a train ride along the Verde Canyon Railroad. Also, you will not want to miss a visit to the Out of Africa Wildlife Park, a must-visit for animal lovers.
Sedona is also known for its strong energy vortices and as a place of healing. You can find these different energies at Airport Mesa, Cathedral Rock, Bell Rock, and Boynton Canyon.
Finish off a long day of exploring by watching the sunset from the Sedona Airport Overlook.
There is no shortage of fun experiences in Sedona to create long-lasting family memories.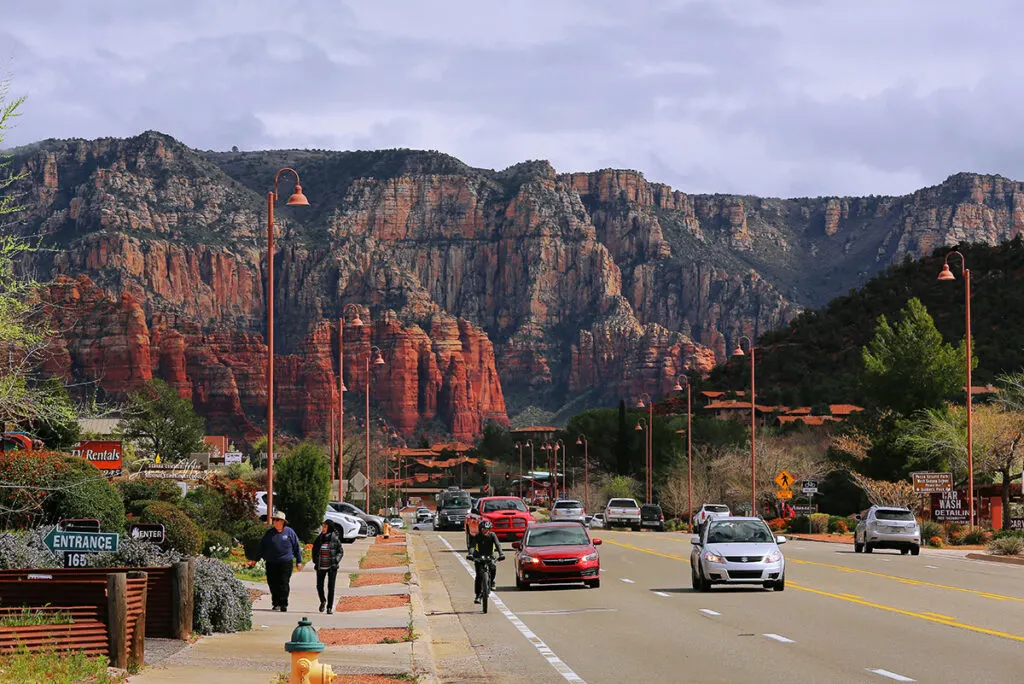 Visit Yosemite, California
From Olivia at Girl With Blue Sails
Yosemite National Park sits in California's beautiful Sierra Nevada mountain range, California and makes a great spring break vacation.
The park itself is massive and can endlessly be explored. The most popular spot for families, however, is Yosemite Valley and the most opportune time to visit this valley, surrounded by towering mountains and booming waterfalls, is during spring break in April or May.
Springtime in Yosemite National Park means the winter snow in the high mountains will be melting and rushing down into the valley below.
There are waterfalls all around the valley, but the most legendary is Yosemite Falls, one of the tallest waterfalls in North America, which reaches heights of 2,425 feet.
Visiting during spring break is perfect because that is exactly the time of year when Yosemite Falls will be at its most full.
There are also less crowds visiting Yosemite in the spring than during summer, which means more room on the hiking trails.
There are plenty of hiking trails in all levels of difficulty, plus some ranger led nature walks that are fun for both kids and adults alike. Hiking the trails allows unique views of spring wildflowers and animals.
Yosemite also has shuttle tours around the valley floor as well for those who prefer not to hike. There is a lodge, a hotel, and several campgrounds in the park, as well as plenty of great towns in which to stay just outside the park.
If planning to visit during spring break, be sure to make your reservation in advance to ensure your family gets to experience the magic of Yosemite in the spring.
San Francisco, California
From Jiayi at The Diary of a Nomad
If you're looking for a scenic, cultural, and delicious family spring break, don't overlook San Francisco – one of the best vacation spots in the US.
Known affectionately as 'The Golden City', San Francisco has something to offer all ages. Whether you're looking for a cultural city break or an outdoor getaway, SF has you covered.
One of the best ways to explore San Francisco is to rent a bike and ride over the famous Golden Gate Bridge. (There are bike rental stores right next to the bridge.)
You can ride all the way to Sausalito to enjoy delicious seafood on the waterfront. This scenic bike ride can be enjoyed by both adults and children, although it is about five miles.
Another amazing place in SF for families to visit is the beautiful Palace Of Fine Arts. Culture-lovers will love the art exhibitions and performances inside. The building's exterior facade is also incredibly photogenic.
A place that children would particularly enjoy is the California Academy of Sciences inside the Golden Gate Park. There, you can find fun and interactive science exhibitions and learn about everything from earthquakes to volcanoes. Afterward, you can enjoy a family picnic inside the park.
San Francisco is also a foodie's paradise. You can find authentic cuisines from countless different cultures around town. Take your family to Palette Tea House for some exquisite dim sum, and Sotto Mare for top-notch Italian food.
Better yet, be sure to stroll the Embarcadero Farmer's Market that takes place every Saturday. It's the perfect place to enjoy scenic pier views, organic local food, and then wander down to Fisherman's Wharf for more family fun like the Aquarium, a boat ride out to Alcatraz and more restaurants.
Monterey Bay, Central California
From Dhara at Roadtripping California
Monterey Bay in Central California is a fun spring break option for active families.
There are lots of things to do in Monterey for kids and adults alike, and spring is a beautiful time of year to visit with great weather and minimal fog.
There's a regional airport in Monterey with flights from a few major US cities, or you can fly into San Francisco, San Jose, or Oakland, and just drive down to the Monterey peninsula.
Kids will love visiting the Monterey Bay Aquarium, renowned for its living kelp forest and collection of marine life from the Monterey Bay. Adults will find the experience informative as well.
For more wildlife encounters, book a whale watching tour. On a tour of the bay, you will very likely see whales, but you will also likely see dolphins, otters, and more. Sea lions bask on the rocks by the shore. Kayaking is another way to look for marine life in the area.
South of the bay, Point Lobos State Natural Reserve offers easy scenic hikes that are enjoyable for all skill levels. In the spring, you will see harbor seals and nesting sea birds in the park.
If you want some beach time, head to beautiful Carmel Beach, a sandy beach where you can stroll by the water or enjoy a picnic. The waters of beaches on the Monterey coast are generally not safe for swimming and too cold, so enjoy beach sports and walks instead.
Whatever you choose to do in Monterey with your family, you are guaranteed to have a fun spring break here!
Sacramento, California
From Emilie at Love Life Abroad
Did you know that the California Gold Rush started in a small village of Northern California called Coloma?
This fun family spring break trip starts with a California Gold Rush tour in Sacramento Old Town, which was created as a commercial center. The first store was opened by the river. It quickly became a trading center for miners.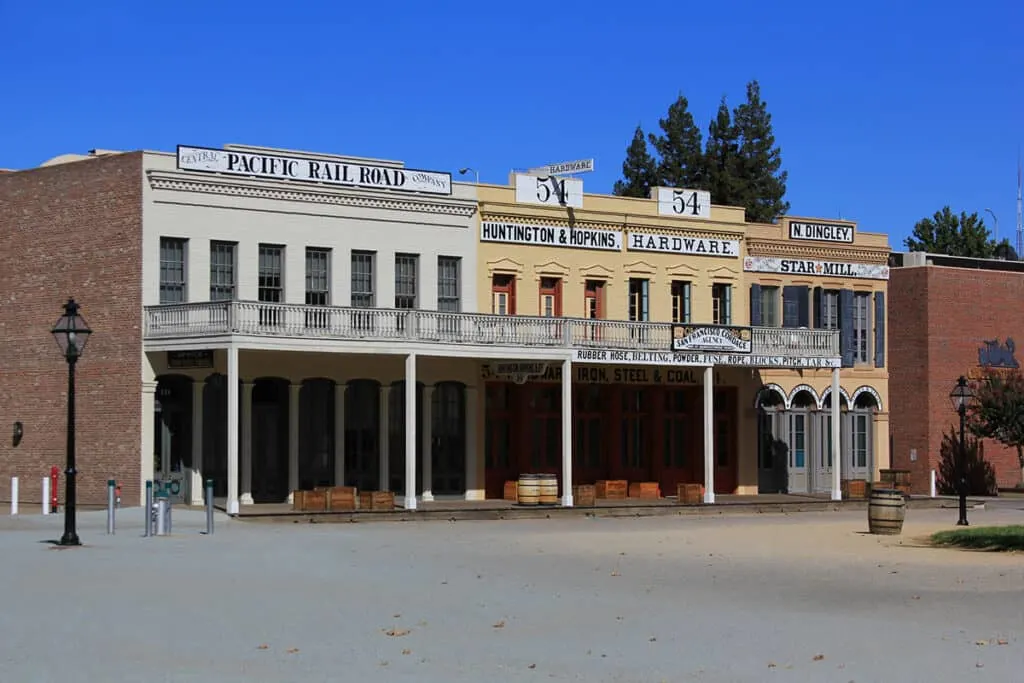 Then, you'll want to head to Sutter' Fort State Historic Park a few blocks from Old Sacramento. While this fort was used for many things, it's in that fort that John Sutter had been informed of the Coloma gold discovery.
After a few days in Sacramento, drive towards Auburn and take Highway 49. This highway was named after the "49ers", the immigrants rushing to California looking for gold.
Highway 49 runs north and south of Auburn, and the main California gold rush stops are:
Empire Mine State Historic Park in Grass Valley
Auburn
Marshall Gold Discovery State Historic Park in Coloma
Columbia State Historic Park in Columbia
California Mining and Mineral Museum in Mariposa
There is nothing better than learning about the California Gold Rush than doing a road trip where this historic area took place. Enjoy your visits, make sure you ask for the Junior Rangers program at each state park, and dive into history.
Spring break in Lake Tahoe, California
From Cortney Edwards of Tin Can Living
Lake Tahoe is a beautiful place to visit during the spring. The crisp mountain air, the sunshine and the wonderful activities available will make your family's vacation one they'll never forget!
Your children will love playing in all of the snow that still remains on the ground while you enjoy some time away from work. Your significant other may also want to find their way onto one of the many ski slopes for an afternoon of fun. And yes, there's still snow here in spring!
Tahoe makes a great spring break destination, different from the traditional US destinations because it is less crowded and the activities are numerous.
Did you know that you can ski in April? While others spend time on crowded beaches, you can hit the slopes.
Kids will enjoy the sunshine and fun activities available on the lake. They can go from splashing around in Lake Tahoe to playing with snow!! They can go tubing down a mountain or biking along the bike trails.
Adults can hit the numerous casinos, or if you're feeling energetic, how about a day of hiking in the beautiful Tahoe National Forest?
The best place to stay is at a vacation rental home or condo.
There are so many things to do in Lake Tahoe. You'll never want to leave!
Mammoth Lakes, California
From Jenifer at The Evolista
A Spring Break trip to Mammoth Lakes is perfect for families.
There are tons of fun activities to choose from and spring skiing in California should absolutely be on your USA bucket list. Imagine ideal snow, sunny skies and oodles of fun activities for the kids!
Hitting the slopes is definitely the highlight. Mammoth Mountain is consistently rated as one of the top resorts for families.
There are plenty of beginner and intermediate trails included in Mammoth's 3,500 acres of skiable terrain. For younger kids, the ski school offers lessons for skiing and snowboarding that make the learning process so much fun.
Another thrilling adventure for families is Woolly's Tube Park, where you can go flying down the groomed lanes on big, cushy innertubes.
For littlies, the snow play area is just their speed. Ice skating and snowmobiling are other great family outings. In the evenings, Mammoth Village hosts a variety of events and there are plenty of great restaurants.
In Spring, as the cold days begin to fade, California's incredible wildflowers are in full bloom, just in time for a family hike and a bunch of selfies.
The kickoff for fishing season happens in April, and there are multiple lakes for catching trout.
Last but not least, don't miss the sightseeing opportunities at the old Mammoth mine or Hot Creek Geologic Site.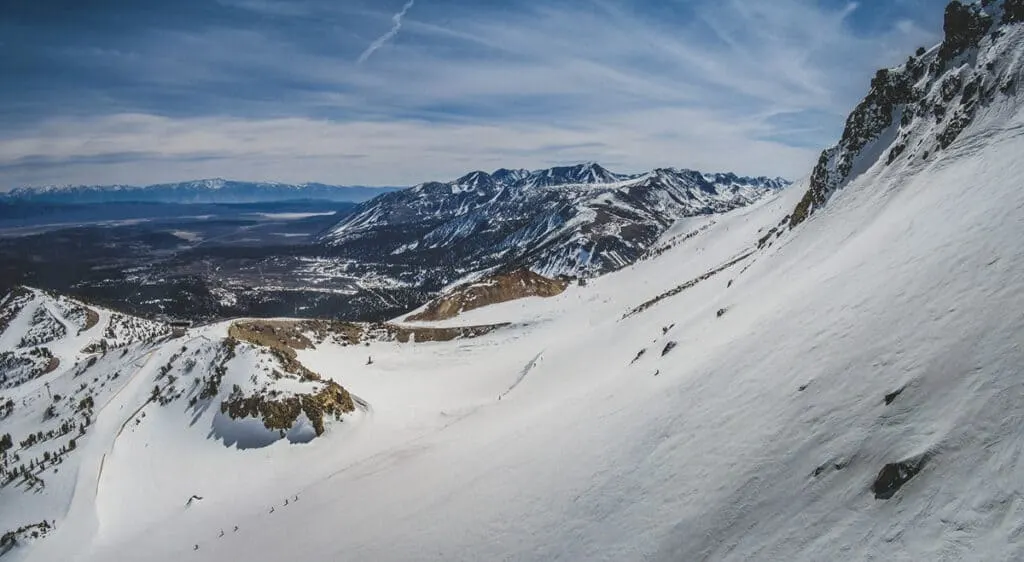 Joshua Tree National Park, California
From Katy at A Rambling Unicorn
If you're looking for the perfect family-friendly destination this spring, look no further than Joshua Tree.
Joshua Tree National Park's otherworldly landscape is filled with twisted trees and piles of boulders that are great fun to explore.
Spring is the ideal time to visit the park when temperatures are mild – not too hot or too cold.
You'll find miles of hiking trails for visitors of all skill levels. One of the best hikes in Joshua tree is the Hidden Valley Nature Trail. This one-mile interpretive loop showcases some of the park's best scenery.
Other easy hikes include the Barker Dam and High View Nature Trails. Kids will love exploring the unusual rocks found in the Mojave Desert.
Skull Rock is one of Joshua Tree's most distinctive formations and shouldn't be missed. This large granite boulder was formed over many years by erosion and now resembles a misshapen skull. Arch Rock is another popular formation and comprises a natural arch spanning 30 feet.
While visiting the National Park, be sure to explore the nearby communities for other fun activities.
Joshua Tree is famous for attracting artists and other quirky types. Be sure to stop by the Noah Purifoy Outdoor Museum or the World Famous Crochet Museum for oddball art that is sure to make you smile.
Pioneertown is another family favorite. This old west-themed community was initially constructed as a movie set and now makes a great destination for kids of all ages.
Editor's note: I have visited Joshua Tree National Park several times and love to stay in Palm Springs. Here is my post on 9 fab things to do in Palm Springs – especially great for mid-century modern architecture lovers.
Spring break in Colorado Springs
From Meg at Fox in the Forest
Looking for the ideal spring break destination for your family? If so then check out Colorado Springs.
It's home to Great Wolf Lodge Colorado Springs, a family-friendly resort with an amazing indoor waterpark, which is perfect since you never really know what the weather will be like during spring in Colorado.
You'll love amenities like a Cub Paw Pool for smaller children, Howeler's Peak Ropes Course, the Rustic Ridge Rock Climbing Wall, and more!
Afterward, check out some of the other family-friendly things to do in Colorado Springs like the Mount Cutler Trail and the Palmer Trail at Garden of the Gods.
While at the Garden of the Gods, admire the exquisite red rock formations that have made this area famous as you experience some of the best Colorado Springs hikes of them all.
Just be sure to check the weather conditions prior to starting your hike since snow can linger around the area well into spring.
Next, stop by Cheyenne Mountain Zoo to say hi to over 800 different animals that live here before uncovering real dinosaur fossils at the Dinosaur Resource Center.
Finally, visit the always awesome May Natural History Museum. It's a fascinating place that is known for world's largest private collection of insects that big and little kids alike will love.
Orlando, Florida
From Candice at CS Ginger
One of the best places for a family spring break is Orlando, Florida.
There are so many fun things to do in Orlando with kids. Orlando is home to some of the best amusement parks in the world as well as lots of fun outdoor activities the entire family will enjoy. Plus, you're guaranteed warm weather here!
Walt Disney World and Universal Studios both have great theme parks but there are also two fun (and free) parts of the theme parks to visit, even if you aren't going into the parks.
Disney Springs and the City Walk are shopping areas outside the theme parks that are free to go to. You can catch a show, grab a bite to eat, grab some souvenirs, and do some shopping which would easily take a few hours.
Editor's note: For info on the best time to visit Disney World, I wrote this post. Hint: Spring Break is one of them for the weather. Not so much for the crowds!
Another fun place kids will enjoy is Gatorland. It is a zoo home to hundreds of alligators, crocodiles, and other animals. There are shows throughout the day where you can watch them feed the alligators. Older kids can go ziplining over the alligators as well.
If you're looking for an activity in nature, visit the natural Springs. There are a few fun springs to visit within an hour of downtown Orlando.
You may see a few manatees lingering behind from the winter season. The springs are great places to go swimming, river floating, and kayaking. They are so pretty and are a great place to spend half a day exploring.
Just outside Orlando is the Kennedy Space Center. It is about an hour west of downtown Orlando, but the drive is well worth it. Make this a day trip as there is so much to see here.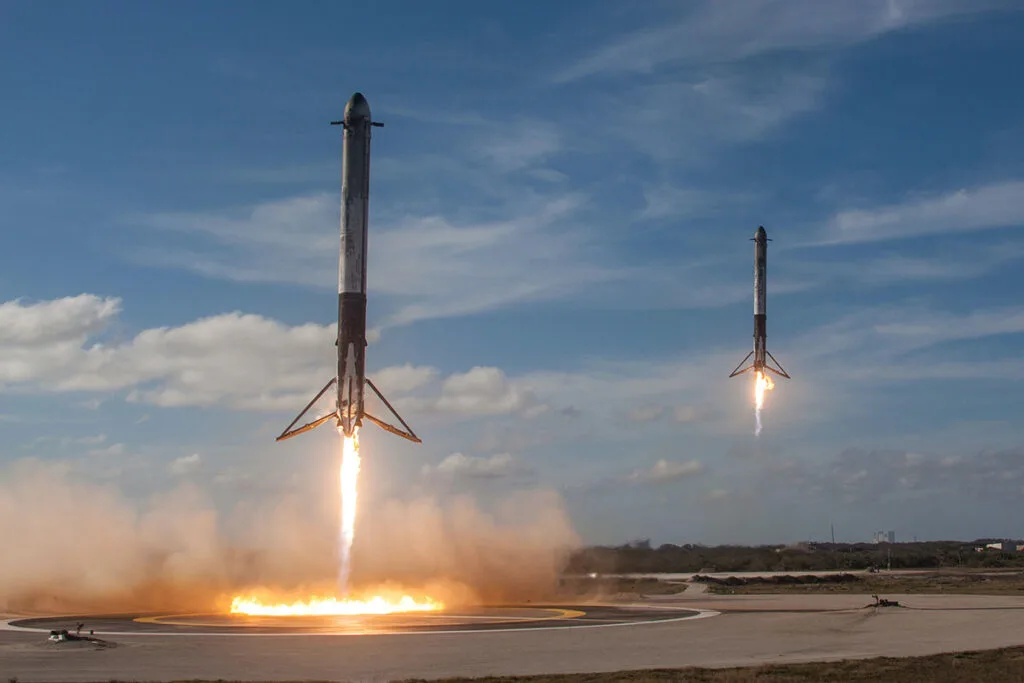 The Kennedy Space Center is one of the most visited space campuses. Take some of the fascinating tours, go on some G-force rides, or even attend a chat with a real astronaut! Then spend a few hours at nearby Cocoa beach.
As you can see, Orlando has more to offer than theme parks. Read more of the fun things to do in Orlando besides Disney World, like outdoor movies and incredible gardens.
Maui, Hawaii
From Pafoua at Her Wanderful World
For an exotic Spring Break, Maui, one of the gorgeous Hawaiian islands, has long been popular for those looking for a tropical escape filled with lush nature, beaches, and life-changing experiences.
Maui is an amazing spring break option for families as there are many fantastic things to see and do in all seasons.
One of the most iconic bucket list items to complete in Maui is to drive the Road to Hana, which is a 65-mile road that runs from West Maui to East Maui.
There are waterfalls, rainforests, and beautiful vistas of the Pacific Ocean along this road. The drive takes about four to five hours due to the slow speed of traffic.
One of the best things to do on is to visit the Waianapanapa State Park, which has black sand and hiking trails to explore. Families can even camp overnight!
The best place to stay, and also where all the magic happens for families staying in Maui, is at the resorts at Ka'anapali.
The Marriott Ocean Club has the best option for families with full kitchens, separate rooms, and amazing views of the ocean. You will have access to the large swimming pool down below as well as premium access to stake your spot on the beach for paddle boarding, surfing, snorkeling, and swimming.
Other activities for families in west Maui are taking a tram tour of pineapple plantations with Maui Tropical Plantation, experiencing Maui's ziplines, driving ATVs up the mountains, attending a luau, and buying some Hawaiian cookies at Front Street in Lahaina.
No matter what you add to your Maui family itinerary, you are bound to make memories and have a wonderful time!
New Orleans, Louisiana
Who doesn't love New Orleans for spring break? I've visited the Crescent City seven times and I just love it. I even wrote this totally awesome guide to New Orleans, which you might find helpful.
To be honest, I'm not in love with massive crowds and NOLA is famous for its parties. It doesn't even have to be Mardi Gras for the city to be pumping and alive with music and parades and plenty of cocktails.
(By the way, did you know the cocktail was invented in New Orleans and the city has a cool cocktail bar scene? So now you have no excuse to at least try a Sazerac or a Pimm's Cup or even brave the absinthe Green Fairy!)
Spring in New Orleans heralds the start of three months of festivals from Mardi Gras to St Patrick's Day, Jazz Fest and the French Quarter Festival. It's also crawfish season so plan to find some great places to try the uniquely delicious critter and Creole food.
But also save room for some classics like fluffy hot beignets at one of the two Cafe du Mondes. You can also get them at other cafes if the line is too long. Try a shrimp po-boy for lunch and check out the food down at the French Market.
I wrote about my top picks of the best places for live music in New Orleans, and while Frenchmen Street is great, I found some of other French Quarter bars and even one random but fantastically good time with trumpet legend Kermit Ruffins out in Treme.
If you're visiting New Orleans for spring break, probably leave the kids at home! My pro tip is to stay in the French Quarter. There's just too much walking if you stay elsewhere. Here's my top picks for the best hotels in the French Quarter.
Biloxi, Mississippi
From Disha Smith at Disha Discovers
Biloxi, Mississippi may not be stop of your Spring Break list, but is a popular hotspot for a family vacation because of its mild weather and great attractions.
Whether you're planning an exciting getaway or a more relaxed one, there are plenty of things to do in Biloxi that will keep the family entertained during your stay.
The most popular thing is to soak in the sea and sun. The best beaches in the area include Gulfport Beach, Biloxi Beach, and East Beach. You can even rent kayaks and jet skis at these beaches.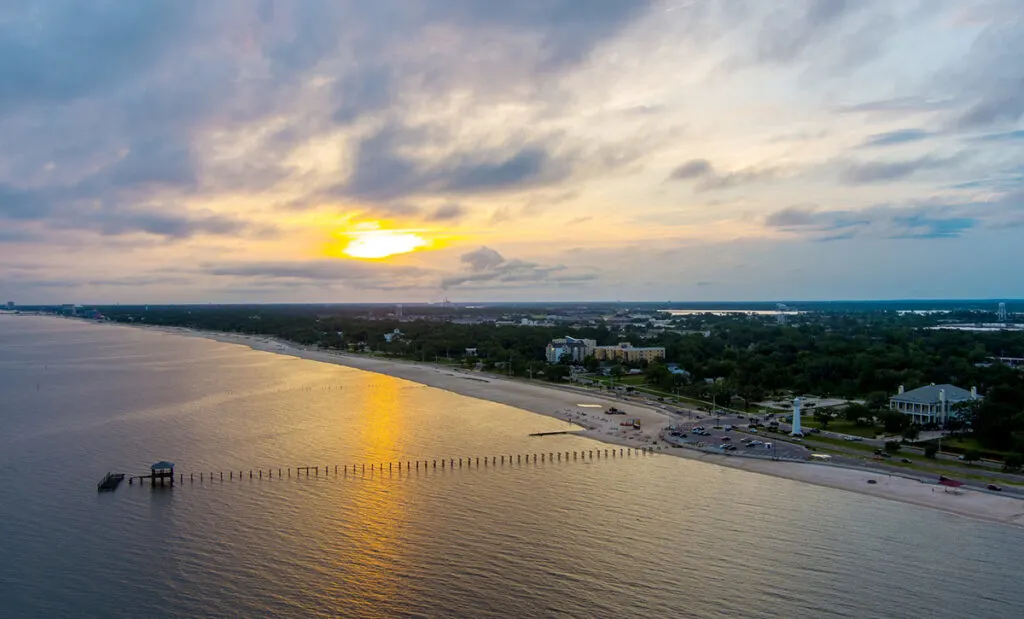 If you and your family want a little bit of adventure, head out to Ship Island. In 1969, Hurricane Camille hit and divided the island into two separate barrier islands. These islands are natural beauties and you might like to visit Fort Massachusetts while you're there.
You can also learn about Biloxi's fascinating history at one of the city's fantastic museums. The Maritime and Seafood Industry Museum tells the story of Biloxi's deep connection to the seafood industry. Another must-visit museum is the Ohr-O'Keefe Museum of Art which features the pottery work of artist George Ohr.
Biloxi is also known for its world-class resorts. The most upscale one is Beau Rivage Resort. The hotel has several restaurants, shopping, casino, a golf course, and more.
Other great hotels in the area are Hard Rock Hotel, Margaritaville Resort, and Harrah's. Some of these hotels offer day passes for purchase so you can enjoy the amenities, such as the pool without staying there.
Last but not least, spend an evening on the Betsy Ann Riverboat for a little cruise on the Biloxi Bay. You'll get to see stunning views of the Gulf Coast while relaxing.
If you're looking for more reasons to put Biloxi on your travel list, you'll love this post on 30 unmissable things to do in Biloxi.
Las Vegas for Spring Break
From Angela Price at Where Angie Wanders
Las Vegas may not be the first place that comes to mind when planning a family spring break, but it is in fact a fun destination for all ages.
There are lots of things to do in Vegas that don't include gambling or clubbing that will keep everyone entertained from amazing shows to Escape Rooms and fun museums and attractions.
For Marvel fans head to Treasure Island to train as an Avenger or why not head to Madame Tussauds and find your idol immortalised in wax.
Thrill seekers will find the adrenaline pumping rides at the Stratosphere hotel or the 180-degree rollercoaster at New York New York hotel literally out of this world.
For the calmer members of the family perhaps a trip to Shark Reef at the Mandalay Hotel would be a better option. And for a fabulous free attraction head to Circus Circus hotel, where you will find the world's largest permanent circus performing as you wander around or grab a bite to eat.
If the wonders of Vegas become too much, then hire a car and take a trip to Red Rock Canyon. There are several easy trails to hike with children to let them see the natural side of this otherwise unnatural city.
And if funds allow, then the ultimate spring break experience in Las Vegas for all the family is a helicopter ride above the city and out to the Grand Canyon.
Land in the canyon and experience the Skywalk and native Indian village where children can buy handmade dreamcatchers, arrows and the like to take home as a souvenir of a fantastic family spring break trip to Las Vegas.
Lake Tahoe, Nevada
The Lake Tahoe Loop offers so much in terms of diversity of activities and things to do for a fun spring break road trip.
Start in Reno, with its "Biggest Little City" vibes. There's been a revitalization happening in Reno over the past handful of years with new restaurants and boutique shops opening, especially in the Midtown area, which cuts right through the vein of downtown Reno.
Reno is also a great basecamp for outdoor adventure with hundreds of miles of hiking and biking trails and a short getaway to Lake Tahoe, which is stop two on this road trip.
Lake Tahoe is a stunning alpine lake with wintery spring break activities for your family or girl gang. You can have the epic spring break ski trip or bring your swimsuit for a polar plunge.
Just over the hill from Lake Tahoe is the town of Carson Valley, comprising Gardnerville, Minden, and Genoa. In Genoa, visit Nevada's Oldest "Thirst Parlor" for a beverage or book a tour with a local photographer who will take you into the hills to see wild horses up close.
Just up the road is the state capital of Carson City. One of my favorite things to do in Carson City is embark on their triathlon. But not your usual triathlon! It includes a drink from the ShoeTree Brewing Company, a soak at the adjacent Carson City hot springs, and dinner at the connecting Sassafras restaurant. That's my idea of a triathlon!
The last stop along the Lake Tahoe Loop is Virginia City. The town rose to fame after millions and millions of dollars' worth of silver was discovered there – known as the Comstock Lode. The town celebrates its history and today, you can go deep into a mine shaft, pan for gold at one of the shops, take a train ride, or even hunt for the paranormal in buildings said to be haunted.
Virginia City is also known for its wacky events, including the Outhouse Races, Camel & Ostrich Racing, and Rocky Mountain Oyster Festival.
Read more info on Lake Tahoe Loop.
New York City, NY
From Lanie van der Horst at Make More Adventures
New York City offers all of the components for the perfect spring break destination for families. Lanie has also written this post on the best of New York City with kids, to dive even deeper into great things to do here.
Everyone will enjoy the major sites in NYC; from Central Park to the Statue of Liberty, the Empire State Building to the Brooklyn Bridge, because New York City has so many well-known sites that appeal to all age groups.
Spring is usually a beautiful time in the city too. The flowers are starting to bloom and while it sometimes snows (bring a warm coat!), the weather is generally getting warmer and sunnier. The temperature combined with longer days of sunlight makes spring a perfect time to explore NYC.
Just because it is spring break does not mean school has to be out! NYC offers many amazing museums that teach both kids and adults.
Families will have fun with math at the National Museum of Mathematics, play with science at the NY Hall of Science, and learn about the past at the Tenement Museum.
For families who want to explore The Met, MOMA (buy your timed MOMA tickets online), or any of the other big well-known museums, many of the museums offer tours and workshops for children.
Another fun way for families to explore museums is through a scavenger hunt. Watson Adventures offers scavenger hunts through neighborhoods and museums.
Families with older children can take a walking food tour where they can learn about a neighborhood and its history while getting to try delicious food from the top restaurants and bakeries. Or this tour Mafia tour with food tastings designed by a retired NYPD officer.
New York City has something to offer every member of the family, and the most important piece of advice is to try to see as much as you can, and definitely don't just stick to Times Square and midtown.
You'll find several great posts on NYC on this blog including best rooftop restaurants with gorgeous views, a round up of the best flea markets across all five boroughs, and some inside tips on how to do NYC on the cheap!
Cool Family Fun in Oklahoma
Step away from the electronic devices and plug into spring break with plenty of family fun options around Oklahoma.
Thrill Seeking
Competitive families will love a thrilling climb to the top of the world's tallest adventure course right in the heart of Oklahoma City. The SandRidge Sky Trail towers 80 feet above the Oklahoma River and is just one element of fun offered at OKC Riversport Adventures.
Nature Loving
With twelve different eco regions in Oklahoma, there is never a shortage of outdoor recreation opportunities. Drive the whole family right to the top of Mount Scott at the Wichita Mountains Wildlife Refuge in Lawton.
When you're 2,500 feet above the southwest Oklahoma prairie, the free range buffalo and elk that make their home in the refuge look very small. Hiking, fishing and wildlife watching are simple pleasures that adventurous families will savour.
Western Wandering
Celebrate the history of the American West at the Chisholm Trail Heritage Center in Duncan. Interactive exhibits allow you to pick up a lasso and try your hand at roping or feel the rumble of a cattle stampede and smell the cowboy coffee in a special effects theater.
Other great Western experiences in the state include Ben Johnson Cowboy Museum in Pawhuska, National Cowboy & Western Heritage Museum in Oklahoma City, and Woolaroc Museum & Wildlife Preserve in Bartlesville.
Farm Exploring
More farm fun awaits at Express Clydesdales Ranch in Yukon where you'll get up close and personal with internationally acclaimed black Clydesdale horses that tour the world appearing in parades and equine events. Families will also enjoy the Orr Family Farm in Oklahoma City.
Oregon Coast road trip
From Emily Mandagie at The Mandagies
If you're looking for a fun spring break road trip for your family, consider the Oregon Coast!
It actually forms part of the epic Pacific Coast Highway which starts down in San Diego and finishes beyond Seattle with the Los Angeles to San Francisco drive being the most famous.
In the springtime it's still shoulder season in the Pacific Northwest, meaning that you'll encounter fewer crowds and have easy access to a lot of popular attractions.
The best way to take an Oregon coast road trip would be to start from Portland, drive to the coast and head south on Highway 101. A road trip down the coast is just over 350 miles, and can easily be done in 5-7 days. Once you reach the bottom of the state, take I-5 back up north for a quick return to Portland!

Most activities on the Oregon Coast are accessible for all ages, and the majority of them are outdoors.
On the Northern Oregon Coast, you'll find walkable (and dog-friendly!) beaches like Cannon Beach and Seaside. You can also take the Oregon Coast Scenic Railroad on a fun steam train tour, perfect for young and old visitors.
On the Central Coast, you can explore tide pools, take hikes, and spot sea lions lounging on the Newport docks.
Towards the Southern Coast, you can encounter giant trees and dense coastal forests similar to the Redwoods in California!

You'll likely encounter a little rain in Oregon during spring break, but with a good raincoat and a waterproof pair of rain boots, you can tackle short hikes and trails just fine.
There are a wide variety of accommodations available too, including campgrounds, hotels, and bed & breakfast spots all along the coast. The major towns include Cannon Beach, Newport, Coos Bay, and Brookings, all with convenient gas, food, and accommodations.
Newport, Rhode Island
From Brittany Sawyer at Travel by Brit
Although it may be overlooked by warmer, sunnier spots like California or Florida, Newport, Rhode Island, is a fabulous spring break destination for families!
While the spring weather in Newport is usually too chilly to relax on the beach, there are still plenty of fun things to do in Newport that the whole family will love.
You can peruse the tennis-related artifacts and memorabilia from the International Tennis Hall of Fame, take a guided tour of the city on the old-fashioned Newport Trolley, marvel at an historic home like The Breakers or The Elms, or burn off some energy walking down the scenic Cliff Walk.
If your kids like to shop, you'll love the boutiques and local stores scattered down Thames Street and Bellevue Avenue.
You'll also find tons of local places to grab a tasty bite to eat. Consider stopping at CRU Café for a cost-effective breakfast that kids will love, Pasta Beach for authentic Italian pizza or pasta for lunch, and a seafood dinner at The Mooring Seafood Kitchen & Bar.
No matter what you choose to do during your spring break family vacation in Newport, Rhode Island, your family will love the historical sites, taking in the scenic views, and eating all the great food the city has to offer!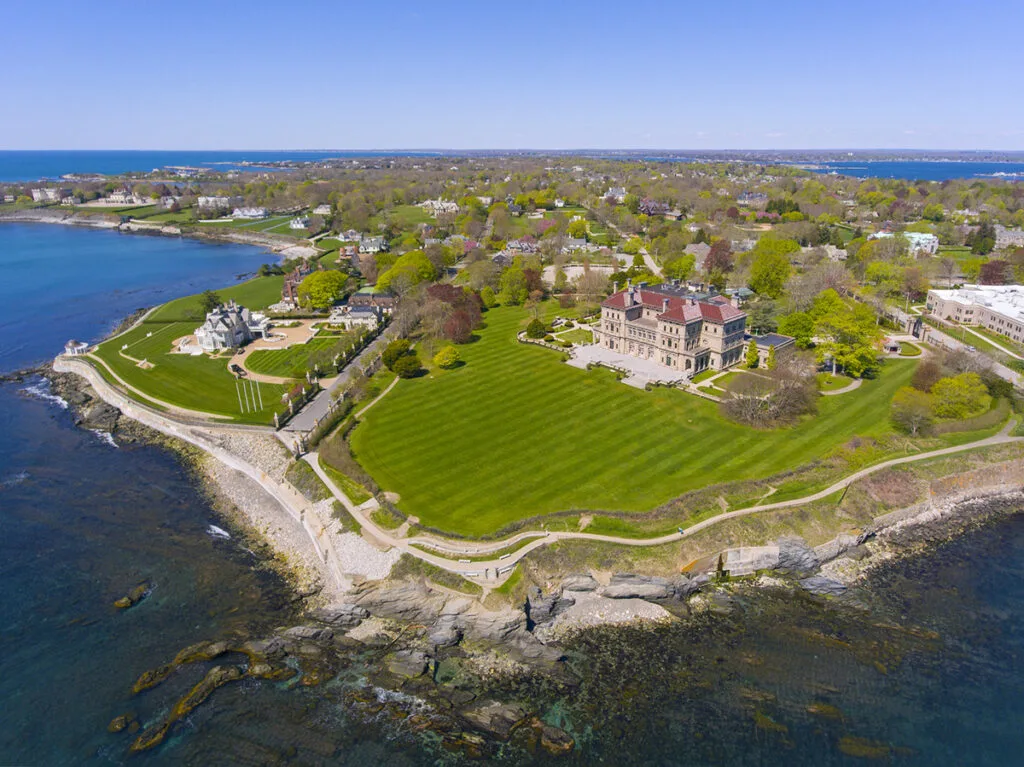 Myrtle Beach, South Carolina
From Marianne at The Journeying Giordanos
Looking for a family-friendly spring break destination in the US? Then look no further than Myrtle Beach, South Carolina!
Home to over 60 miles of beautiful beach area, this sunny piece of paradise is the perfect to place play, lounge, explore, or just sink your toes.
Daytime temperatures during spring break average between 62 and 67 degrees Fahrenheit, and can fall between 39 and 45 °F at night.
And although some people may find it a little too soon to swim in the ocean during March or early April, the beaches are definitely warm enough during the day to relax and play in the sand.
If you are spending the day at the beach, there are several water sports to try. Learn to surf on the gentle waves, take up paddleboarding, or search for marine life while snorkeling.
But if you are not keen on swimming in the ocean, it's not hard to find a resort with a heated outdoor pool.
Of course, there are plenty of things to do in Myrtle Beach that don't involve the beach. Head over to the Skywheel which offers some of the best views of the area.
Or spend the day at the Ripley's Aquarium where you can ride the glide path through the incredible tunnel. Watch as large sharks, sea turtles, fish, and eels swim above and beside you.
You can also go for a hike at Myrtle Beach State Park, play some mini-golf, visit a car museum, or explore Broadway at the Beach shopping center and entertainment complex.
Myrtle Beach is jam-packed with things to do for kids of all ages!
In addition to all the activities, Myrtle Beach offers a ton of family-friendly accommodations and restaurants, is only a short drive from the airport, and is accessible via several major highways.
Grapevine, Texas
Family fun abounds in Grapevine! Feel like a kid again chugging along the rails on an authentic 1920s Victorian coach on board the Grapevine Vintage Railroad. Get a bird's eye view of Grapevine and beyond with a tour at the Grapevine Main Tower or try your hand at the ancient art of glass blowing.
Have a go at the fastest growing sport in America at the world's premier pickleball restaurant and entertainment destination, Chicken N Pickle. A unique indoor-outdoor "eatertainment" complex, featuring 12 year-round pickleball courts, lawn games, a rooftop bar and a casual, chef-driven restaurant that offers a variety of delicious dishes.
Feed friendly stingrays at SEA LIFE Grapevine Aquarium where you can dive into an amazing underwater world! Take a fascinating journey from the coast to the ocean depths through 16 themed zones and get up close to thousands of amazing creatures including graceful rays, mysterious jellyfish and majestic sea turtles.
Or unleash your inner LEGO® maniac at LEGOLAND® Discovery Center the ultimate indoor LEGO® Playground. Explore and immerse yourself in the world of LEGO adventures on interactive rides: Merlin's Apprentice, Kingdom Quest and LEGO City Forest Ranger Pursuit.
Read more about the surprising number of things to do in Grapevine, the city squeezed between Dallas and Forth Worth in this post.
Zion National Park, Utah
From Jenna of Up and Away Magazine
Seasonal waterfalls, flowing rivers, moderate temperatures and the start of wildflower season make Spring one of the most beautiful times to visit Zion National Park.
Easy trails, accessible shuttles, ample picnic areas and an excellent Junior Ranger Program make it a great fit for families too.
When planning your family-friendly Spring Break itinerary, don't miss Lower Emerald Pool Trail, a short 1.5 mile out-and-back hike that includes ample shade and the opportunity to walk behind a waterfall. Another highlight for families with children is the Riverside Walk – an easy 2 mile out-and-back path that meanders through Zion Canyon and ends at the iconic start of The Narrows.
Since the walk runs parallel to the Virgin River, there are lots of fun opportunities for water play along the way. If time permits, also squeeze in The Watchman Trail and Pa'rus Trail.
For older children, teenagers or parents in search of a challenge, Angels Landing is known as one of the scariest hikes in the country and promises an experience that won't soon be forgotten.
With phenomenal views over Zion Canyon, sections of the trail are lined with chain cables and follow a narrow ridge with steep drop-offs on either side. Needless to say, the trail is not recommended for young children or those with a fear of heights.
In terms of family-friendly Zion National Park lodging, Zion Lodge is the only hotel situated inside the park borders. Nearby Springdale also offers a variety of lodging and dining options, and Watchman Campground is great for those wanting to camp.
Editor's note: I've also been to Zion and hiked the Narrows. It was one of the most breathtaking landscapes I've ever seen! We stayed in Springdale (where the entrance to Zion National Park is located) at the Hampton Inn. It's a Hilton property and with the towering backdrop of the mountains behind.
Spring break in Moab, Utah
From Krystianna at Volumes & Voyages
One of the best spots for spring break for families is Moab, Utah, located in the northeastern part of the state and is only a quick drive from Denver or Salt Lake City!
Moab is truly an adventure-lovers paradise. It's home to Arches National Park and is also right near Canyonlands National Park and Dead Horse Point State Park. Plus, the town of Moab itself is filled with tons of excellent local shops worth exploring.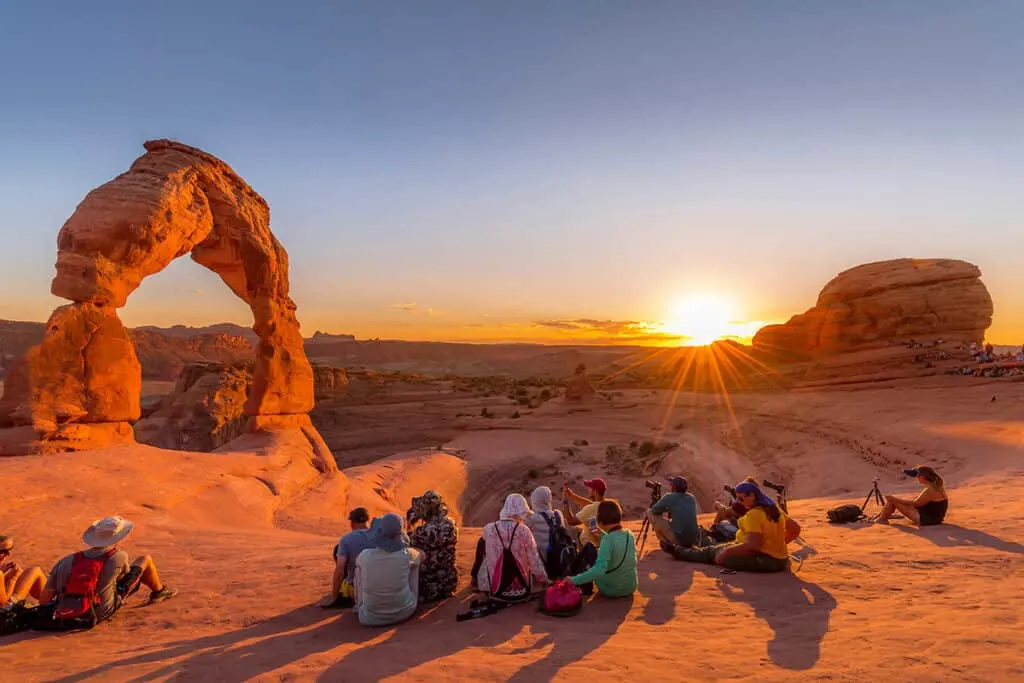 One of the best things to do when visiting Moab with kids is to wake up bright and early (before sunrise) and make your way to Arches National Park.
Drive right over to the Balanced Rock parking lot and get out of the car to watch the sun rise over the mountains and the rock formations. It will truly take your breath away!
If Arches National Park is already too busy, especially if you're visiting in the summer, then it's worth heading to Canyonlands National Park.
Even with just one day in Canyonlands, you can check out the highlights, many of which are kid-friendly. Go on the scenic drive through the park, hike to Mesa Arch (it's a kid-friendly hike), or attend a program run by a park ranger.
Consider staying right in downtown Moab to get the most out of your trip. The Element Moab is a great option, as the rooms are large for the price you pay!
Spring Break in Capitol Reef, Utah
From Michelle of Travel With Intention
Capitol Reef, the least crowded park on the impressive Utah National Park scene, will be an amazing experience. Explore history, hike, go off-road, or even spend a day trekking with llamas!
Enter early and you may get the benefit of pie from the Gifford House. Opening each year on March 14th (pie day) this unique gift shop sells out quickly. Grab one first thing and then come back to Fruta for a picnic lunch.
With pie(s) secured take Scenic Drive. Spend half a day stopping to take stunning pictures along the Waterpocket Fold.
At the end you'll find a parking lot. Continue down the unpaved road on the left toward Capitol Gorge Trailhead, an easy 1.5-mile hike to the Pioneer Register and petroglyphs.
Also, from Scenic Drive you can take a gravel road to the parking lot for Grand Wash trail, a 2.2-mile hike. Or for more of a challenge take Cassidy Arch trail.
Along Hwy 24, Hickman Bridge trail is a short hike along the Fremont River and Petroglyph Pullout is just after the small Fruta Schoolhouse. Sunset Point and Goosenecks Overlook at the end of the day provide amazing canyon and sunset views.
Stay at Capitol Reef Resort (a Best Western Hotel) and book a llama excursion! During trips that range from 2 hours to overnight campouts, the informative guides will teach you all about the personality of your working llama as well as details about the stunning landscape all around you.
Come back to the park at night to star gaze. From Capitol Reef you can go off-roading in Cathedral Valley, drive less than an hour to Boulder, UT to visit the Anasazi Museum, or head just over an hour to run wild in the incredibly unique Goblin Valley State Park. Each opportunity is a one-of-a-kind experience!
Washington, DC
A visit to the nation's capital during spring break is a magical time to go because CHERRY BLOSSOMS!
However, they are tricky little blooms and you never know from one year to the next when exactly the city will be carpeted in petal confetti like all those famous Instagram shots.
But even if you miss the 3000 trees, donated by Japan, in blossom (which is usually late March to early April), there are plenty of other really cool things to do in DC for families.
Start at the incredible Natural History Museum, one of the 21 free Smithsonian museums – which also includes the Zoo. You'll want about two hours here. Or maybe the newly re-opened Air and Space Museum is more suited to your family.
Last time we visited we took a free Capitol Building tour. You need to get tickets online and they run from 9am to 3.30pm.
Another fun thing we did was a Monuments Cycle Tour. Actually we did the night time tour, but by day will be just as good. Probably better for photos too!
Depending upon the age of your kids, this is a great way to easily get around the vast National Mall and see up close the Washington Monument, Lincoln Memorial, WWII Memorial, Jefferson, Martin Luther King Jnr and more.
You'll pick up your bikes at The Wharf, which is a new neighborhood of restaurants, bars and apartments right on the marina. Another great place to hang for lunch or dinner with the family.
I've also written this post on 19 things to do in Washington DC for first-timers covering all the main sights and some fun ideas you might not know about.