New Orleans is synonymous with jazz!
Walk through the French Quarter and you'll see talented street musicians on so many corners, you could spend an entire day just tapping your feet along with them. Bring a few $1 bills as they're grateful for every dollar as you take your photos and videos.
Many bands play gigs for free in bars too and beer gardens and then there's the nightlife… but at night you really do have to know where to go, as the live music in the bars on Bourbon Street barely scratch the surface. In fact, I avoid most of them!
Here are three must-visit venues for live jazz in New Orleans: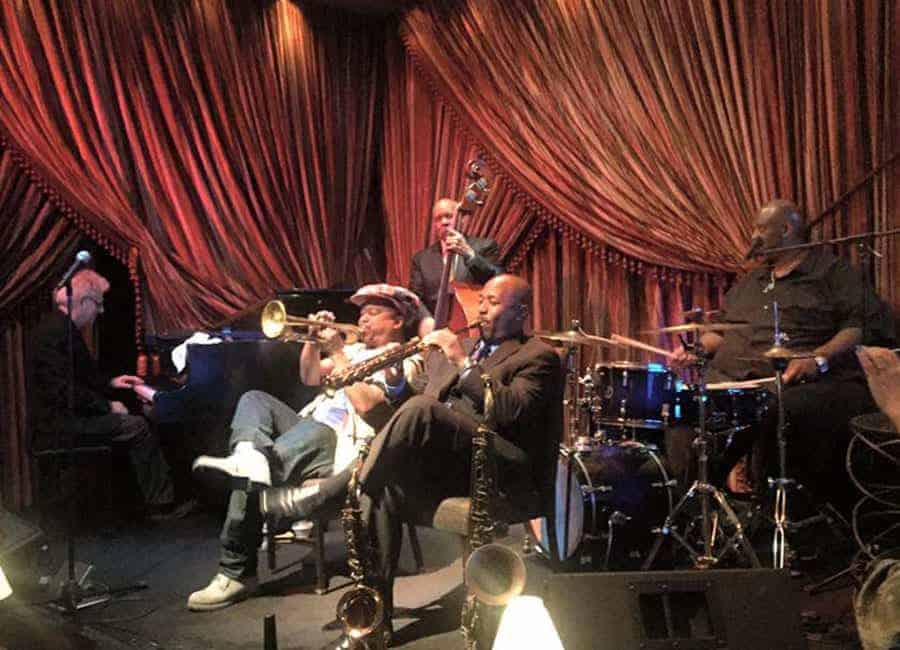 Located on Bourbon Street, the Royal Sonesta hotel itself is stunning and elegant and I'd recommend you stay here if your wallet can handle it. But every night of the week live bands play at the Jazz Playhouse, just inside the lobby.
No cover charge, and a really great vibe with low lighting and table service. Order a cheese platter and a couple of cocktails and enjoy the laid-back atmosphere of up and comers, old timers and musicians generally just loving what they do.
This is a cramped room with no sound system, just acoustic jazz played in four 45-minute concerts each night, where you can line up for tickets ($20) on a first come first served basis, but it's absolutely worth it.
If you don't want to line up (and potentially miss out on a spot in the standing-room only room), book tickets online ($40-$50) and grab one of the two rows of bench seats for a much more comfortable experience.
They play 4x 45-minute concerts each night starting at 5pm, then on the hour, so if you miss the first one, you'll get the next. Cushions on the floor take up the first 2 rows, then 2 rows of benches and it's standing only in the back.
Preservation Hall is more of a room really and has been the home of jazz legends since the 1960s. And once you're done, pop next door to Pat O'Briens for a drink at the dueling piano bar.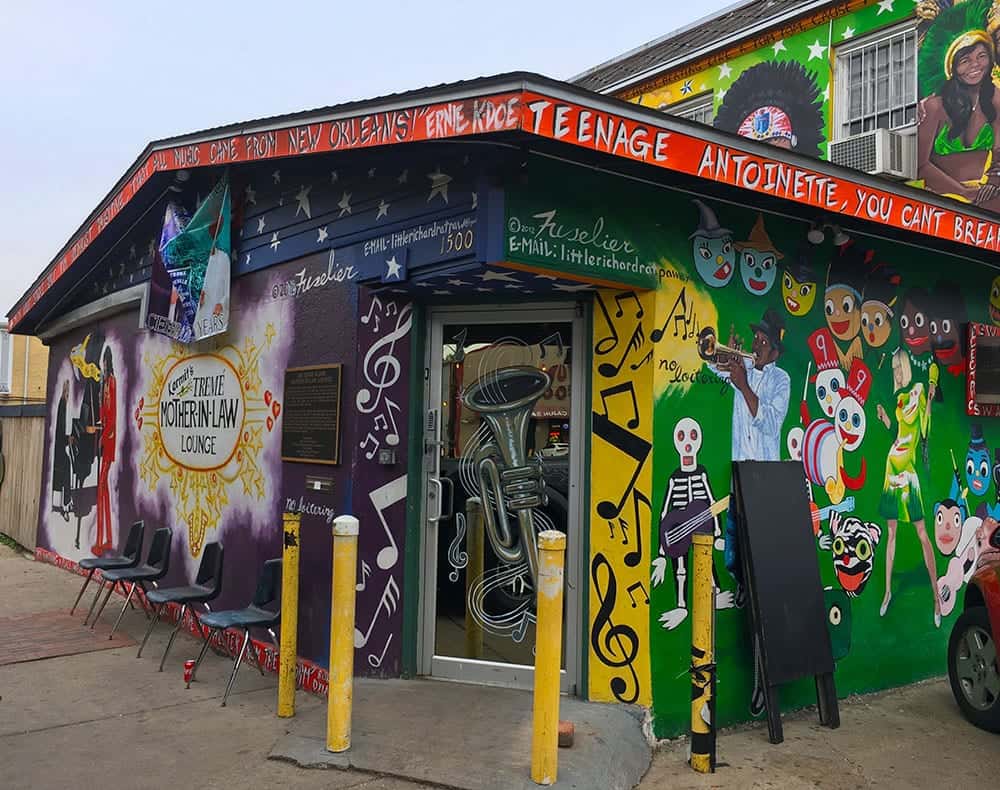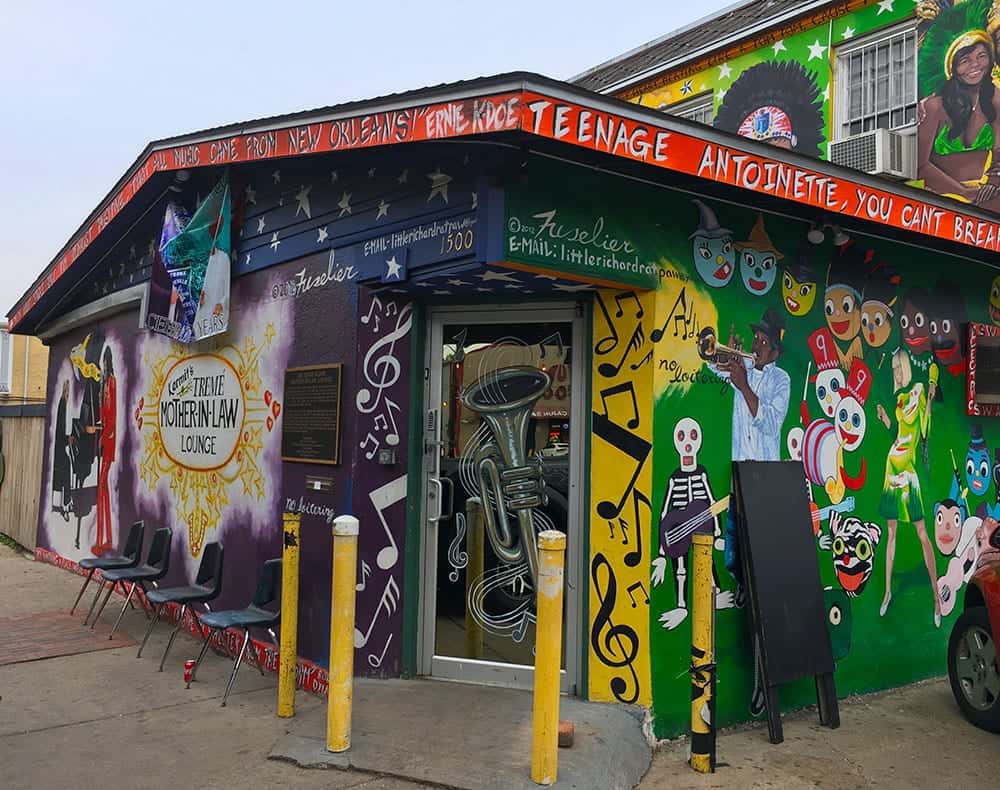 This was my latest find – on my seventh visit to New Orleans! I'd read about it in a blog or in a magazine somewhere and honestly, it was the musical highlight of my latest visit. I had a group of nine on this tour and we would all agree.
Out in the neighbourhood of Treme, virtually under the freeway bridge, jazz trumpeter and singer Kermit Ruffins owns a bar with a large courtyard out the back and every Monday night (when he's in town) they serve beans and rice and he and his band, plus a few of his talented friends and family, take to the outdoor stage and play.
It's casual and fun and the seats are at picnic tables or old couches or rocking chairs. Be there by 7pm – we got there for 6.30 and got a couple of picnic tables together. It's $20 per person and they'll come round and collect your money, then you just pay a tip for the beans and rice and also there were steaks cooking on a bbq.
The bar inside serves generous drinks and it's all over by 9.30 – which is early for New Orleans!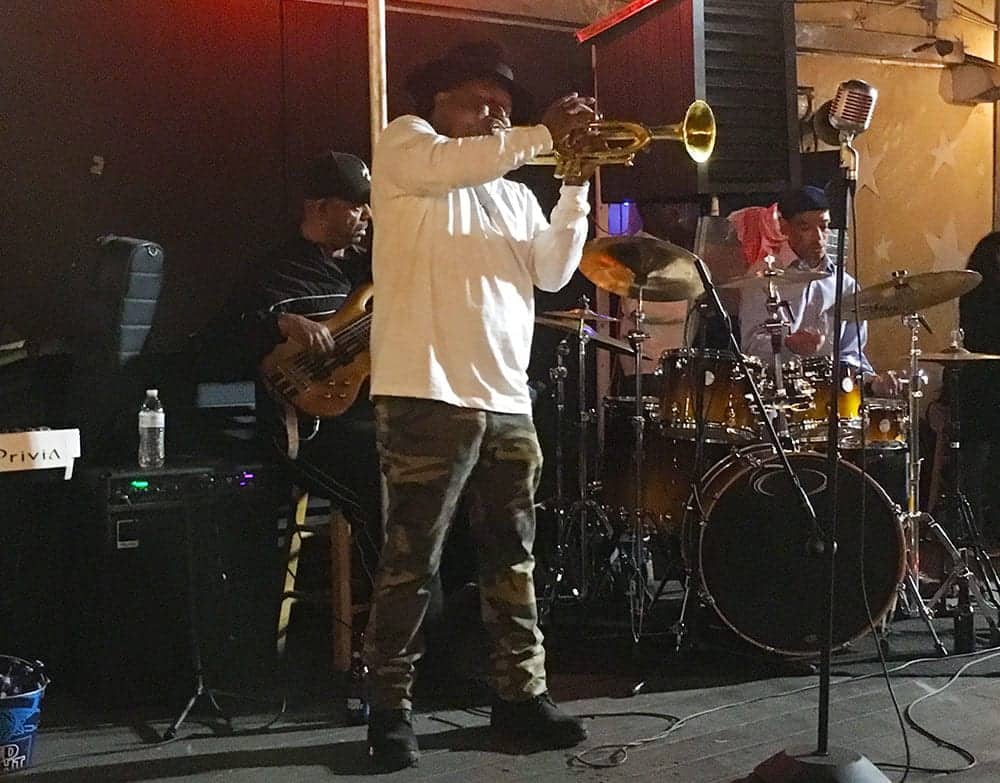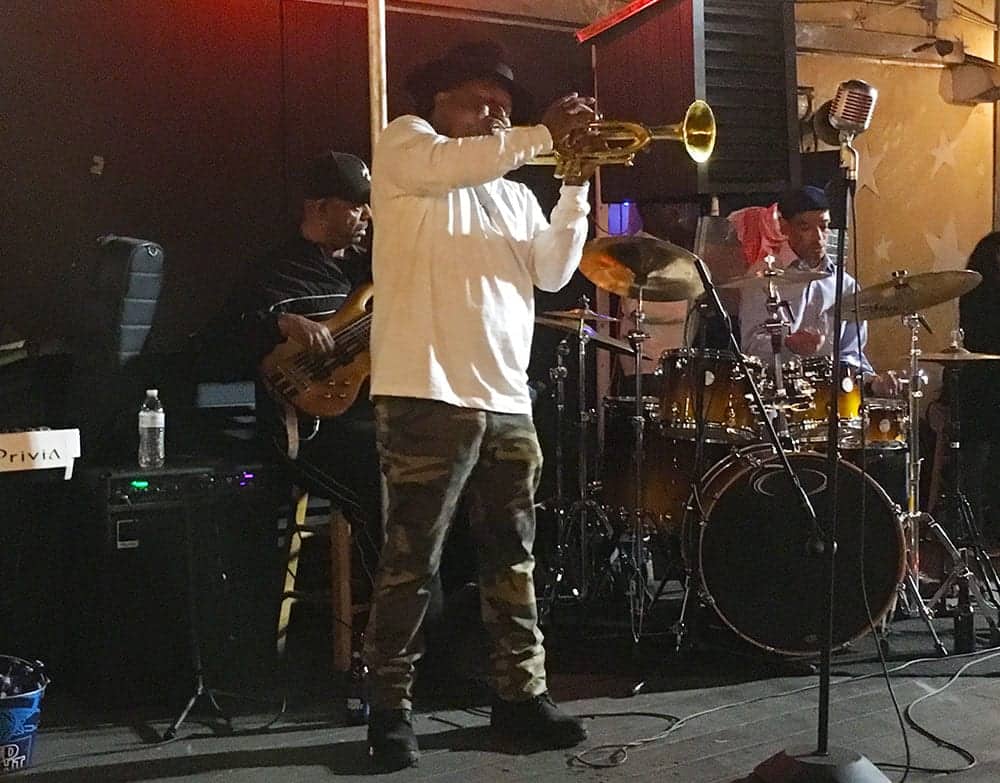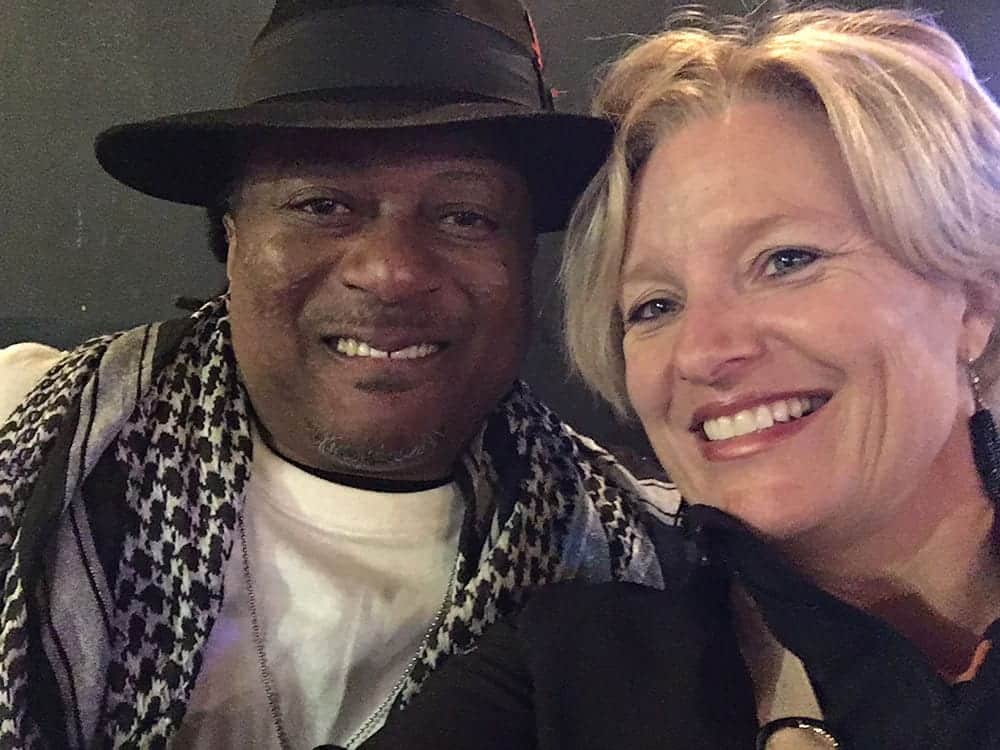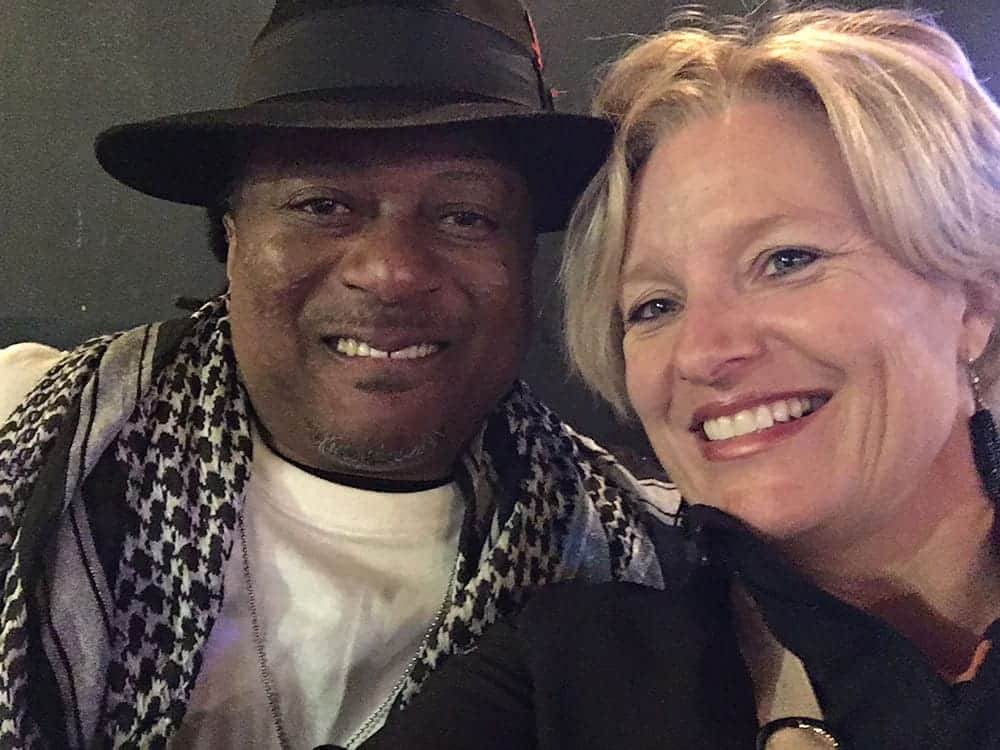 For more great live music head to Frenchman Street
For a whole lot of music all in the one place, the locals (and tourists in the know) head to Frenchmen Street just outside the French Quarter in the Faubourg Marigny district.
You could walk there, or get your Uber to drop you off at Snug Harbor (home of legend jazz pianist Ellis Marsalis who plays on Friday nights) and work your way back down the street from here, popping into any bar that sounds like a bit of you.
Drop into Three Muses and Spotted Cat too. Each night a new band is playing. Some times there are cover charges, sometimes not. We wandered into Cafe Negril. A Jamaican influenced jazz bar that was absolutely going off with a 9-piece jazz band that grew from 4 as people just arrived, one carrying his motorbike helmet and trumpet case, and stepped on to the stage to join in.
Then we called in on Maison where a big band standing shoulder to trombone on a tiny stage were making huge sounds and over the back all I could see was the tuba bobbing up and down.
You can't go wrong on Frenchmen Street, said our concierge when we were heading out. He was right.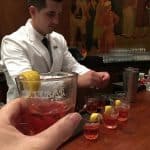 ____________________________
Read my next post on doing a cocktail tour of New Orleans where several famous drinks were created and even the word 'cocktail' comes from!
If you're looking for somewhere cool to stay in the French Quarter, I've stayed at three of these hotels and checked out the other three, so you can read my thoughts on these 6 Great Hotels in the French Quarter here >>
Save