Whether you're traveling with your kids for the first time or you're a seasoned pro, it's rarely an easy task.
It starts getting easier as they get older, but flying with a toddler can be your biggest challenge if you're not prepared.
This is a guest post by Erin Pearson, an experienced flyer with toddlers at www.toddlertrips.co.uk
Since more and more young families are choosing to travel with their young kids, we've put together a quick guide to show you how to navigate flying with a toddler, the best time to do so, and the most important things to avoid.
If you're taking on one of the world's longest flights (like we can from New Zealand to New York or Dubai), I have this post on 17 things to do on a 17 hour flight. Yep, that's LONG!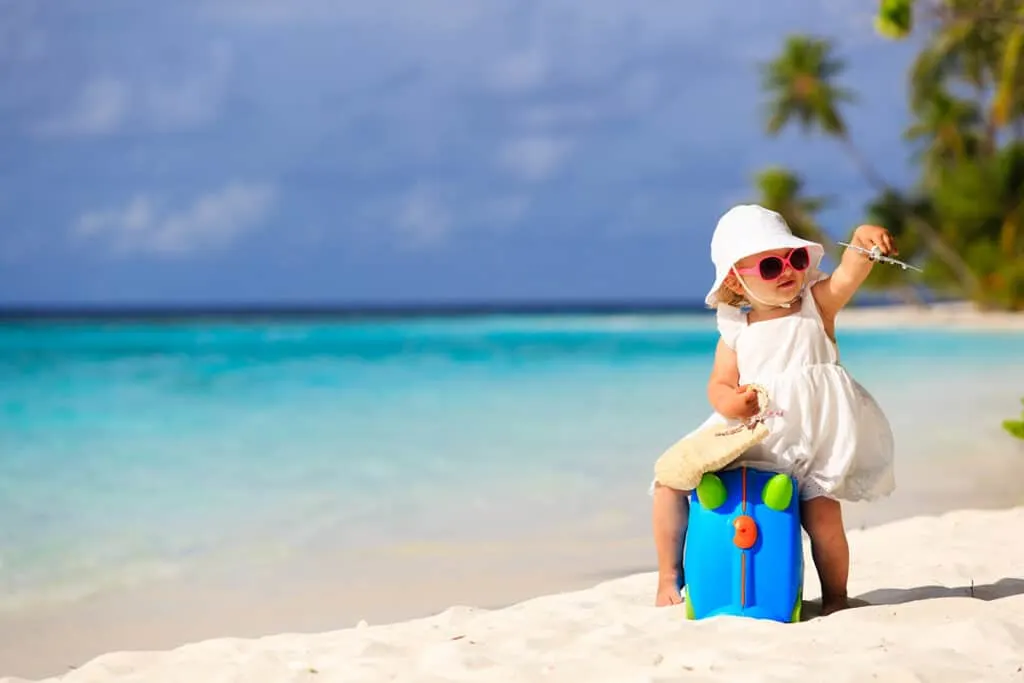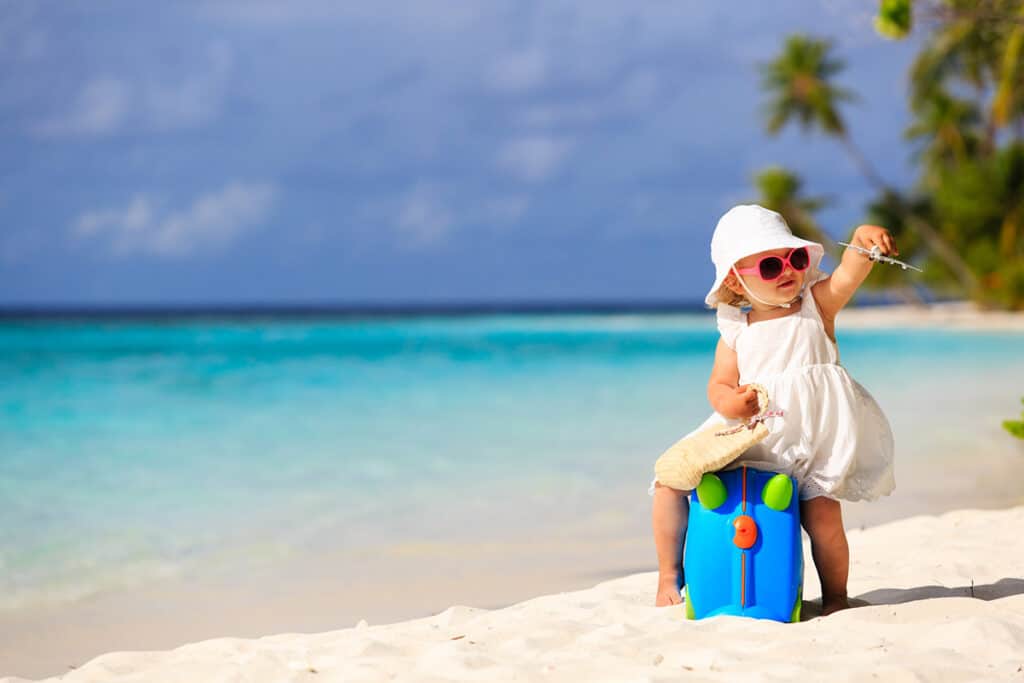 *This post contains some affiliate links. That means if you make a purchase I may make a small commission at no extra cost to you.
What is the best age to travel with a toddler?
It's hard to plan trips around your child's age, but knowing the best age to travel with a toddler is always useful.
Most experts agree that the perfect time for traveling with a child is between three and nine months or any time after two or three years (which bypasses the toughest travel years).
When they're between three and nine months, they're not yet mobile, so flying can be easier. However, you're more likely to have an unhappy baby on your hands because of the pressure changes in airplane cabins.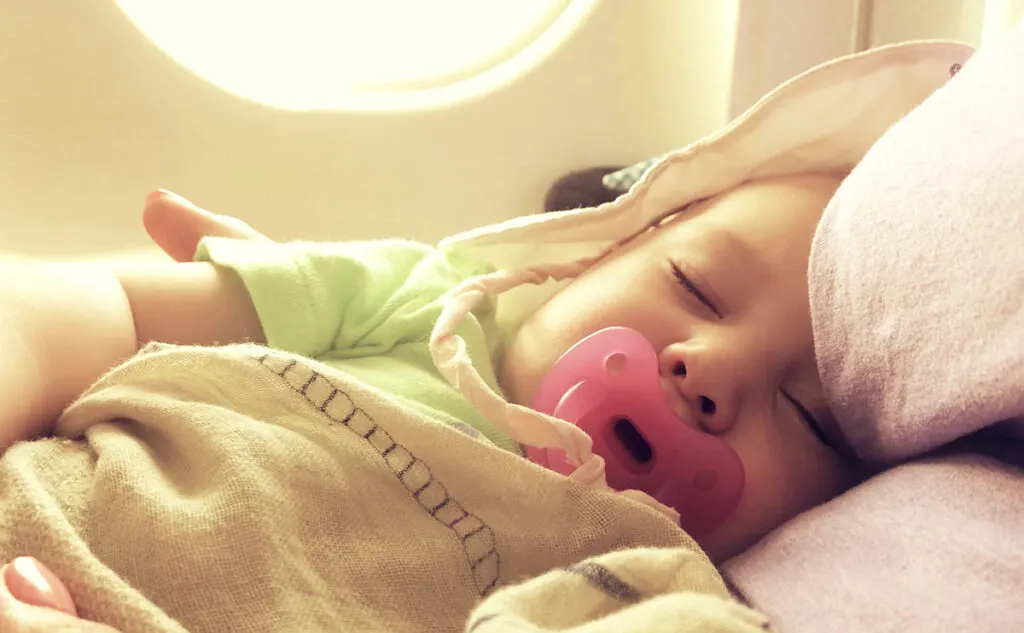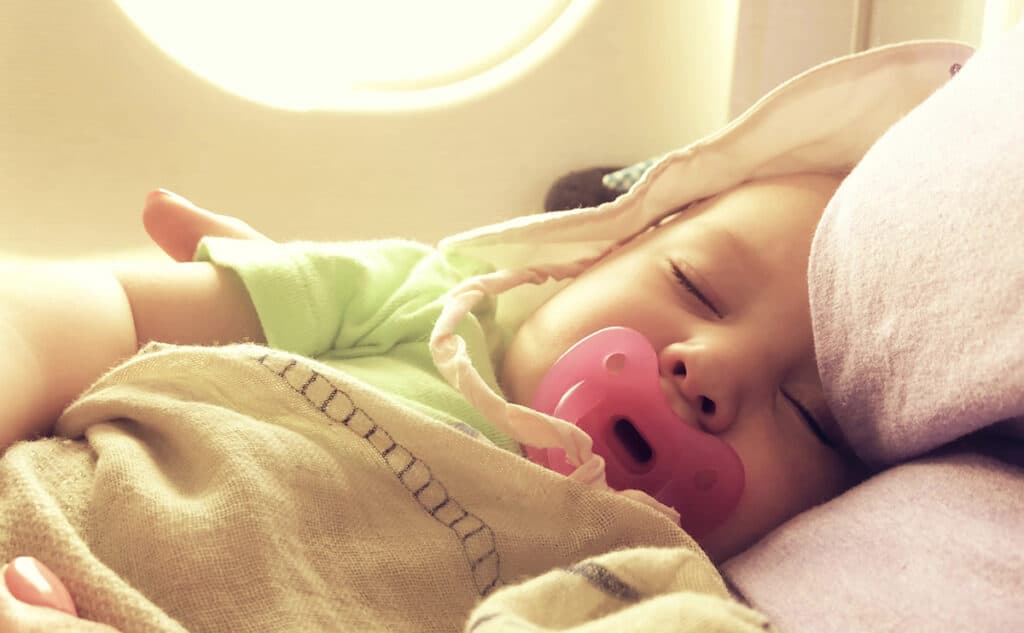 Once they're past the age of two or three years, they become a little easier to reason with, and it's much easier to keep older children occupied.
However, if you're traveling with a toddler in the middle of these age ranges, don't stress. We have plenty of tips to help you out later in the post.
This post on how to do a road trip with kids will also provide lots of good info for your upcoming trip.
How do you travel with a two-year-old on a plane?
Of course, we can't always control how old our kids are when we travel. If you're planning a trip with a two-year-old, here are some of the biggest tips:
Although a two-year-old doesn't need their own seat, you will need to purchase a plane ticket for them, and the extra seat means extra room on the flight.
Make sure to have their ticket ready with the rest of your documentation to get through check-in quickly.
If you're flying internationally, you'll need a passport for your toddler, too.
If you're taking domestic flights, your two-year-old won't need a passport, birth certificate or other form of ID. In the US, children under 18 years don't require ID when accompanied by an adult.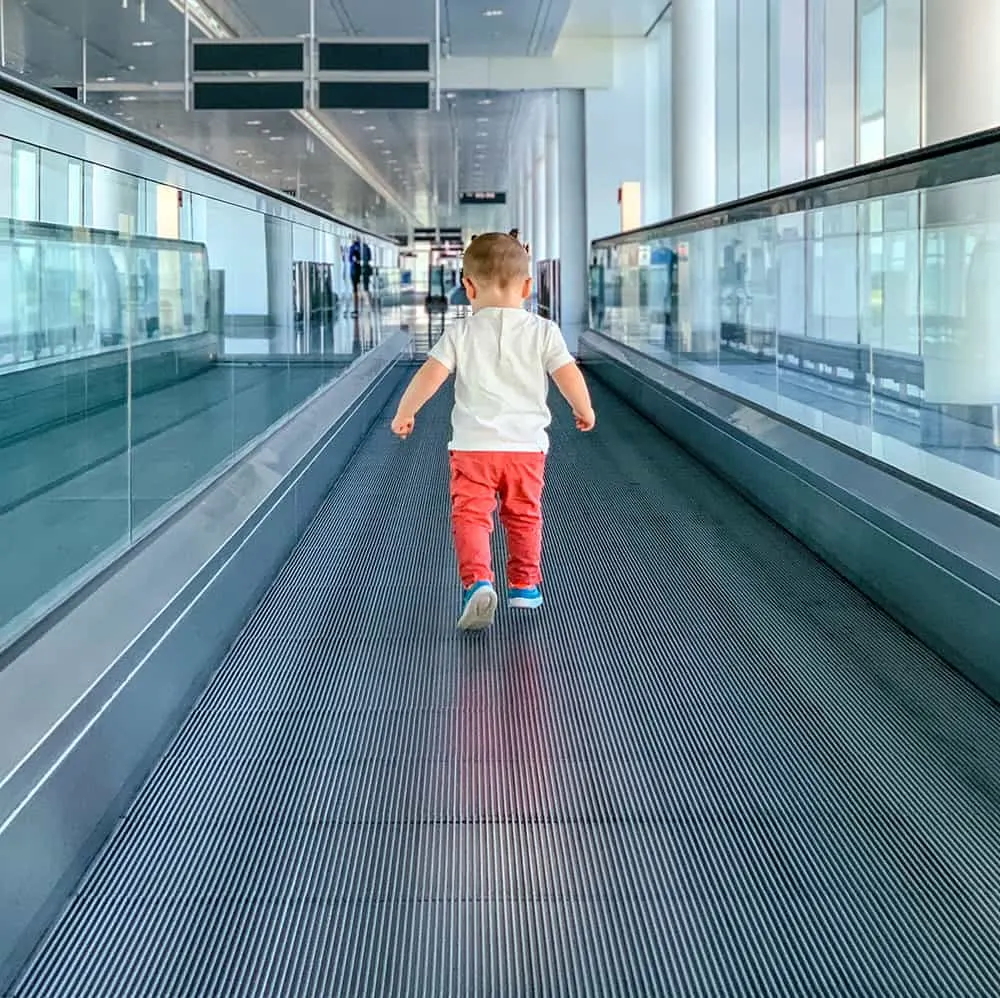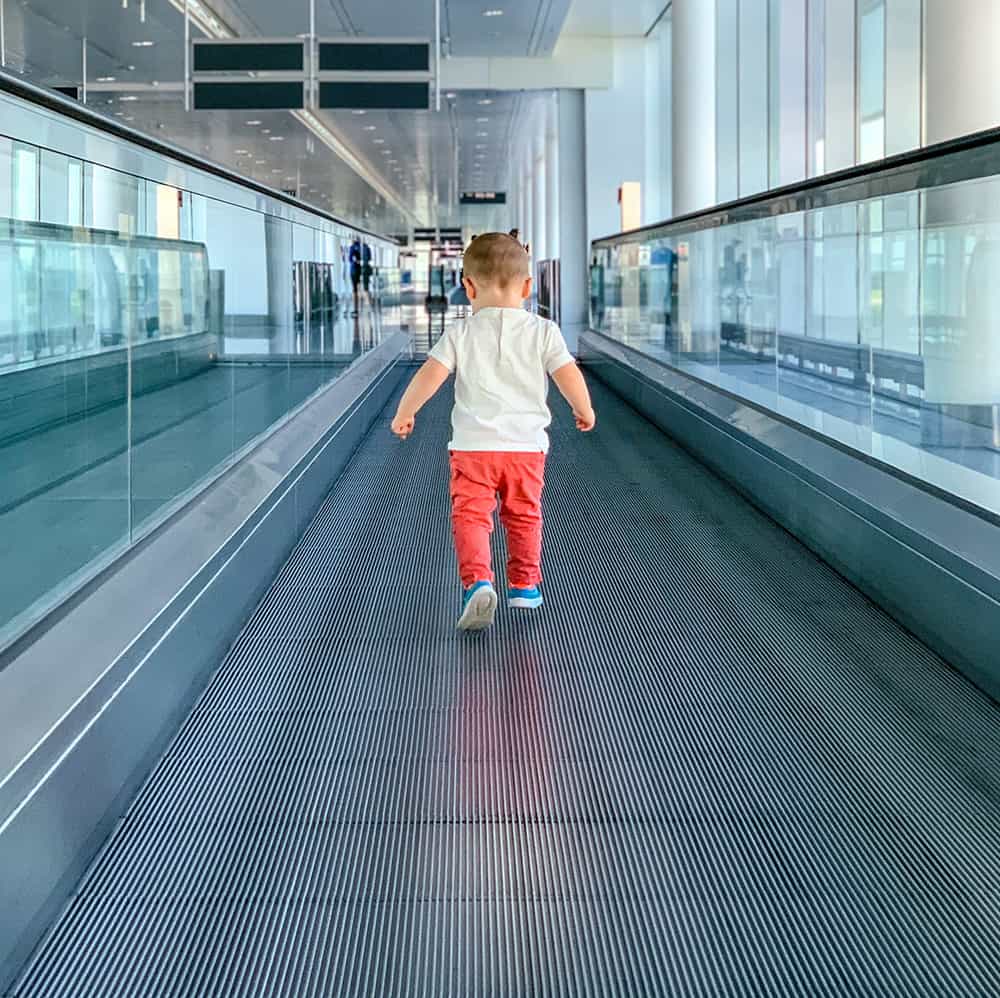 Is it difficult to travel with a toddler?
It's no secret that traveling with a toddler can be tough! Airports are crowded, and little ones often don't want to sit in a travel stroller. They're also hard to keep busy and get easily distracted.
If your gate is miles away from the check-in desk, you've also got the task of getting there. If your little one prefers walking or you're not planning on taking strollers or baby carriers, that walk alone can be difficult.
Luckily, we've put together a checklist below to help you make your trip as stress-free as possible. With some planning, you'll breeze through the airport and flight with minimal complaints from your toddler.
Checklist tor traveling with a toddler
Here is a quick checklist of tips, tricks, and pitfalls to avoid when flying with a toddler.
Picking a destination
If you have the luxury of choosing where you travel, stick to short-haul for their first flight. This will help get your toddler used to flying without being stuck on the plane for too long.
And believe it or not, there are actually some fun things to do in Las Vegas with kids, including hotels with lazy rivers and wave pools.
Here are a few of the best holidays for families to look for:
Holiday resorts
Kids can get bored in a hotel very quickly, especially little ones. However, resorts are often catered to families. Within the different resorts, you'll find water parks, kid's activities, theme parks, swimming pools, and lazy rivers, so they're a great choice for kids.
It's much easier to keep your little ones entertained the entire time in these huge resorts, and there are plenty of amenities for adults, too – including spas, fitness centers, and bars.
Island and beach holidays
Soft, sandy beaches are a must when you travel with a toddler. The sea water is also warm during the day, which is perfect for paddling and swimming with kids.
Depending on where you're coming from, the Canary Islands (especially Tenerife) are known for their white, sandy beaches (UK travellers).
The Pacific Islands have the beautiful beaches and plenty of hotels with kids clubs (NZ and Australian travellers).
Or for US readers, you could look at Hawaii (this packing list for Hawaii is one of my most popular posts), the Cayman Islands (this post covers things to know before you go to the Cayman Islands and feeding the stingrays there), or other Caribbean islands and beaches.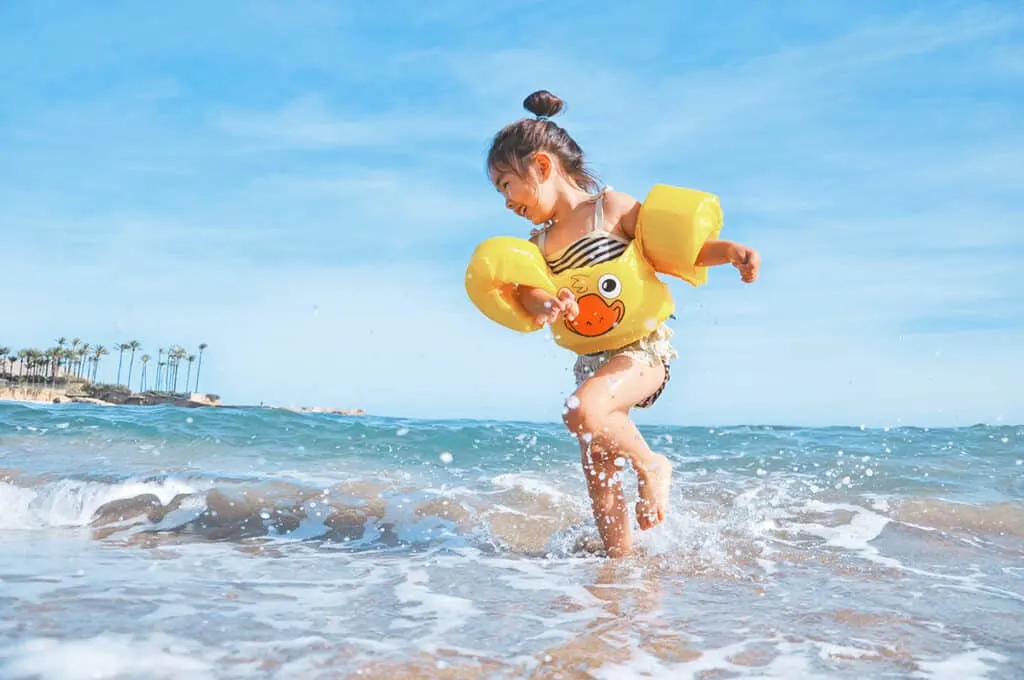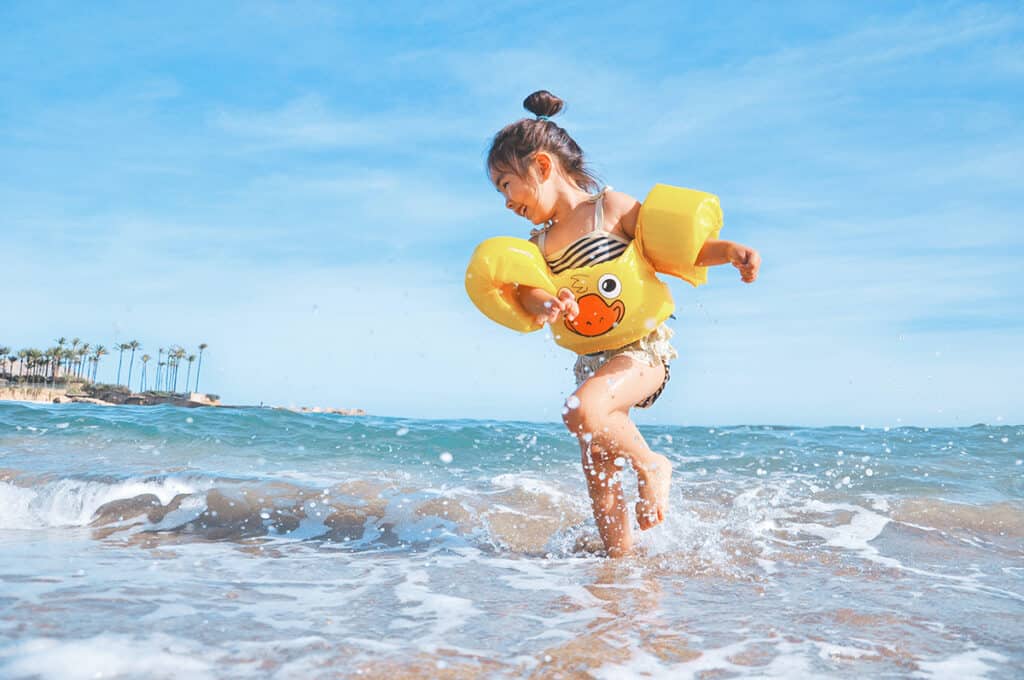 Choosing Accommodation
It's always a good idea to choose kid-friendly, fun hotels when you're traveling with a toddler. Make sure the hotel has all the facilities you'll need in the room and play areas to stop them from getting bored.
Some hotels provide babysitting services, which are ideal if you want to check out the spa or spend alone time with your partner.
Others have soft play areas, shallow pools, and playgrounds – all of which show you've found a kid-friendly hotel.
Not all hotels are suitable for little ones, so do your research before you start making air travel arrangements. A couple of red flags to look for are:
Balconies with low covers or wide gaps in the railings.
Deep pools with no shallow areas.
Hotels that aren't centrally located.
No visible facilities for children – this usually means they're not catered for well.
Plan your packing list
The last thing you want to do is leave behind the most important items, like the one toy your toddler needs for nap time or the blanket they just can't live without.
A week or two before your trip, make a physical list of everything you need to take. This will help make sure you don't miss essentials when it comes time to pack.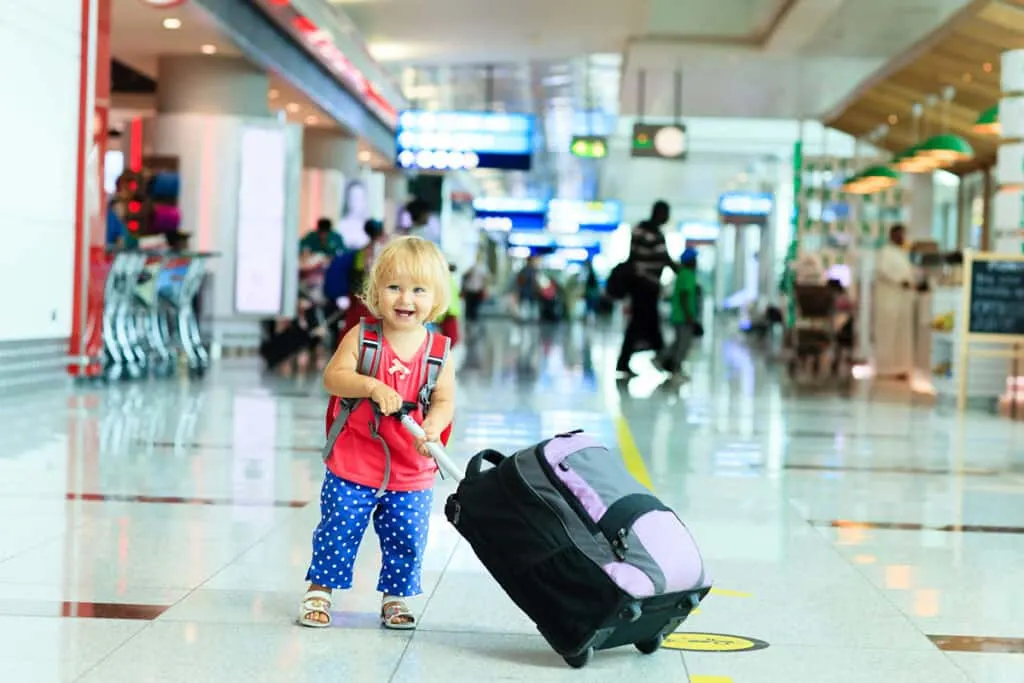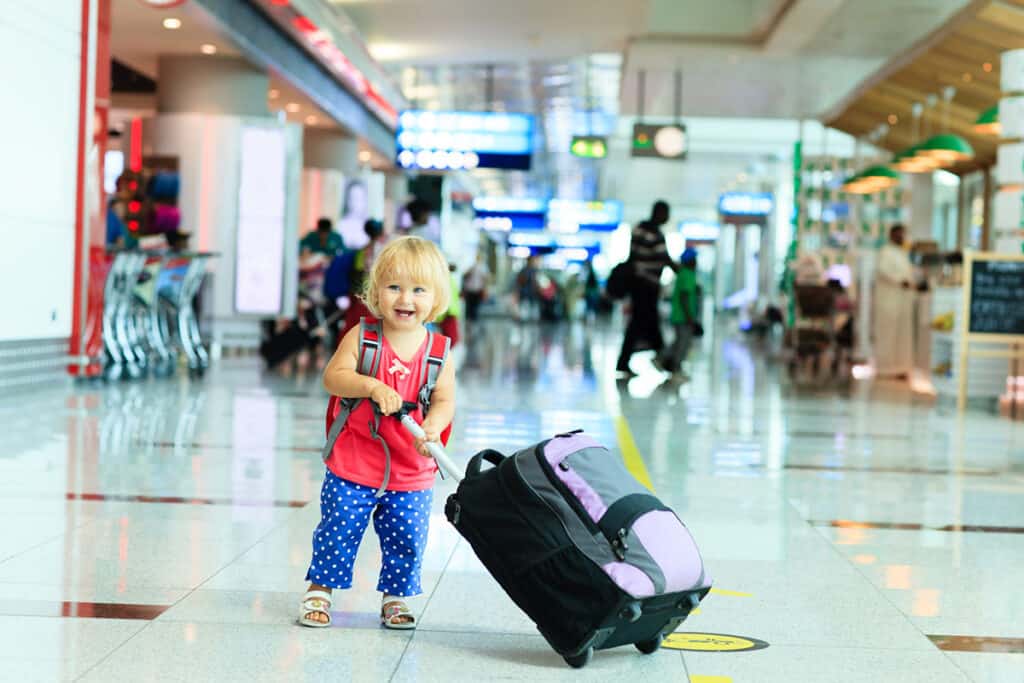 Here are a few essentials you won't want to miss:
A diaper bag with extra diapers or pull-ups (for emergency diaper changes)
Extra breast milk
Wipes or hand sanitizers
A backup pair of shoes
A potty seat (if they're toilet trained)
A change of clothes for the airport
Easy-on and easy-off outfits (these come in so handy when flying with a toddler)
You can download my free packing list here and check off the items as you go.
Another tip when travelling with children – of any age – is dressing them in the same colours for easy spotting if they wander off! It's one of the best tips for visiting Disneyland with kids too.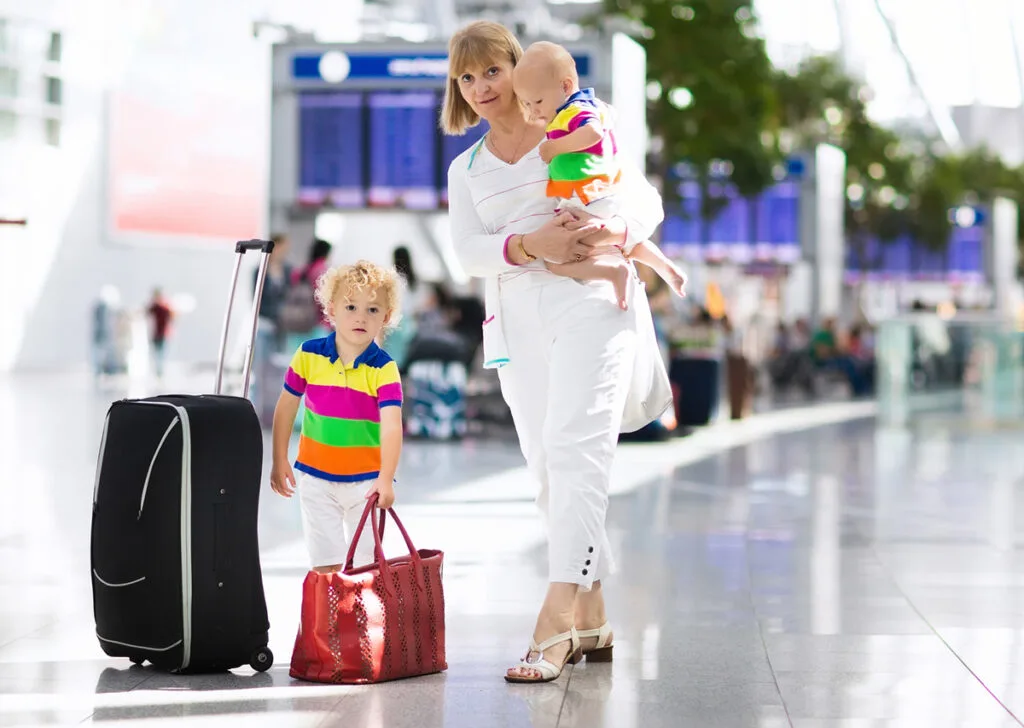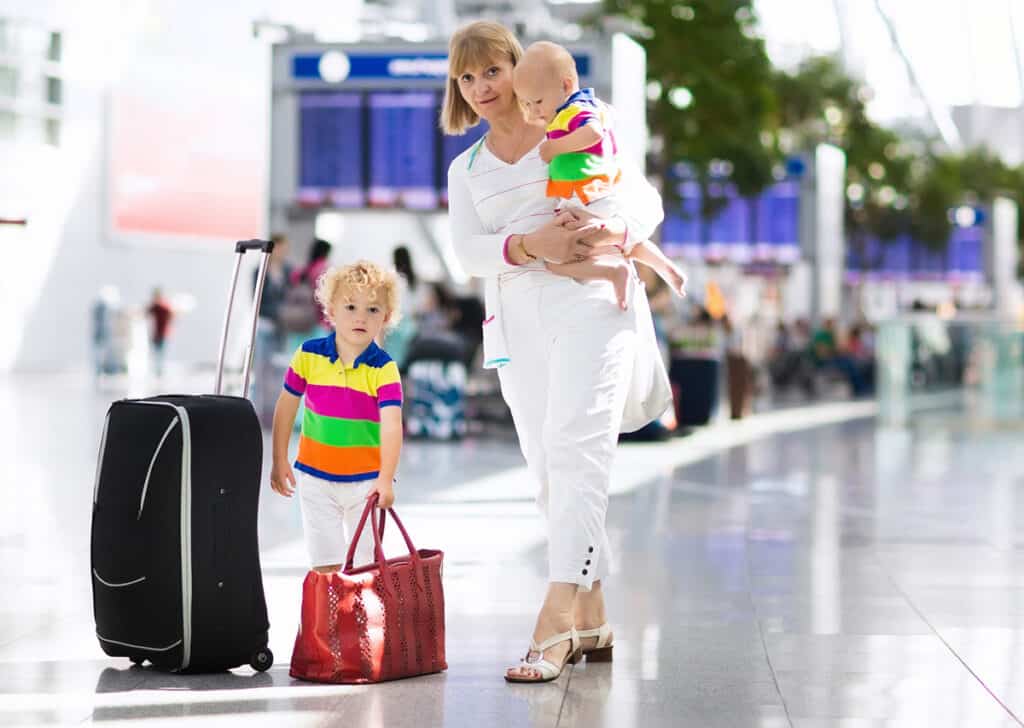 Book a direct flight
This one probably goes without saying, but a direct flight makes traveling with a toddler much less stressful. Transfers and long-haul flights can be overwhelming without even having kids in tow, so stick with direct flights, even if they're slightly longer.
A direct nine hour flight with your kids might seem like a lot of traveling, but when you factor in the time you spend at different airports, transfers usually end up being the longer option.
Bring healthy snacks
Between checking in and flight delays, you'll be in the airport for some time. Put together a bag of your toddler's favorite snacks. This will stop them from getting cranky and distract them when they start getting bored.
Aim for low-sugar snacks if you can to avoid those sugar highs and crashes on the airplane. Here are some ideas:
Dried fruit
Animal crackers
Rice cakes
Veggie straws
Veggie sticks
Raisins
Trail mix
Sliced grapes
A good thing to remember is that wet snacks run the risk of spilling in your bags and making a mess, so choose your snacks wisely, or buy those little silicon resealable bags.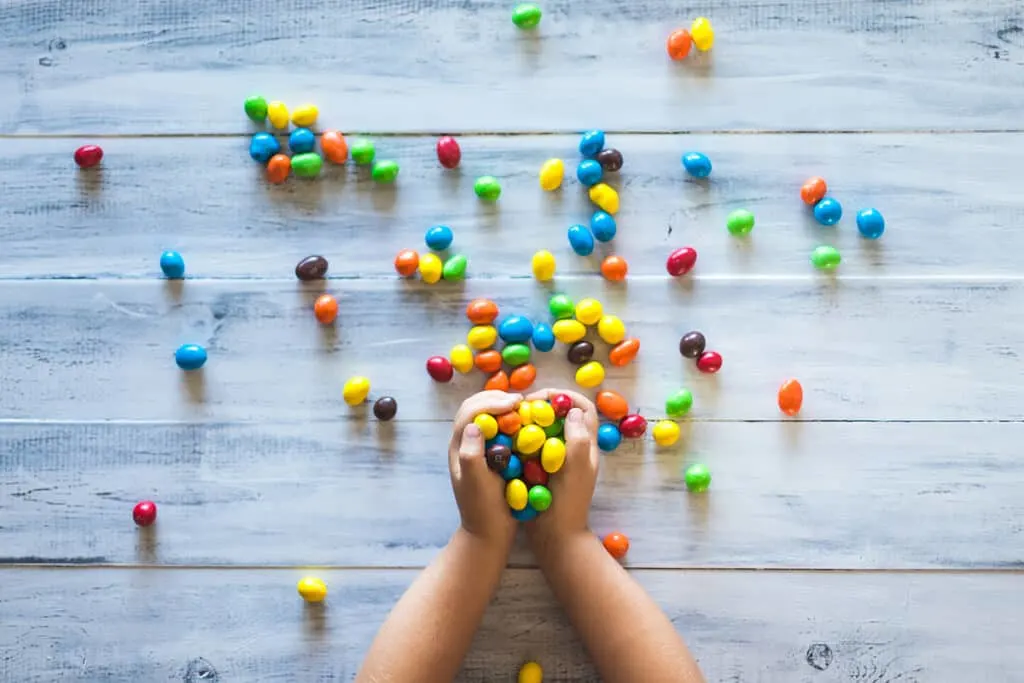 Get to the airport early
It's tough hanging around an airport with young children, but checking in and getting your stroller and extra bags through the airport security checkpoint and the metal detector takes plenty of time.
The best way to avoid rushing to your gate is to get to the airport a little earlier than you normally would, and do a gate check just in case so you know exactly where you need to be.
The good news is once you're in the airport, there is plenty to keep your toddler occupied. Here are some easy ways to do so:
Take a stroll around the shops or grab a snack at the airport restaurant.
Turn it into a scavenger hunt as you move through the airport and see if your little one can spot things you name.
Try to find a comfortable seat or bench and get them settled in with a game or snack to pass the extra time.
If you're taking overnight flights, do your best to get them to take a nap while you're waiting for your flight – you'll be thankful when they're less grouchy the next day.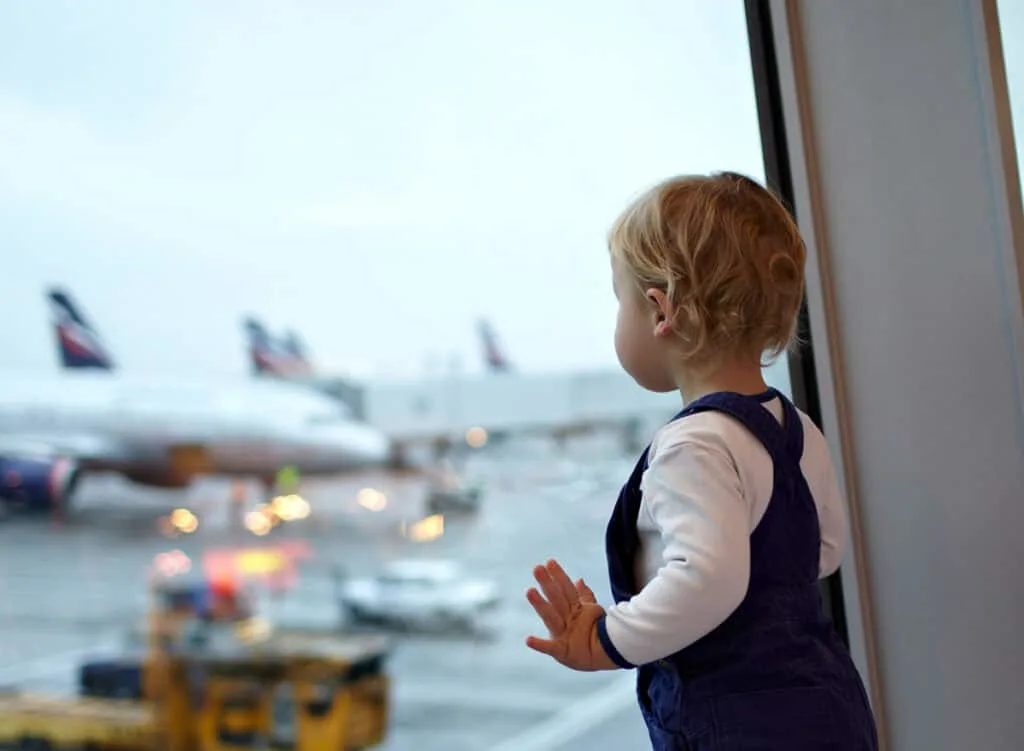 Prepare toddler airplane activities
No one can blame a toddler for getting bored on a plane, even on a shorter flight. They have a short attention span, and being strapped into a seat for hours isn't fun for anyone.
Pack plenty of activities in your carry-on bags to keep them busy in their airplane seats. Whether that's screen time with an iPad, drawing supplies, their new toy for the holiday, or something to read. Choose activities they love to do and take a few options to help ease boredom for the full flight.
You might like to read this list of 17 things to do on a 17 hour flight to keep boredom at bay for adults too!
Whatever activities you choose to bring, aim for lightweight, mess-free, and compact. The last thing you want is paint all over the tray table or a heavy game they're only interested in for ten minutes.
One of the most entertaining activities we've found for flying with toddlers is suction cup spinners. Book a window seat and these stick to the airplane window to keep them entertained for a while. As a bonus, they're silent, so they won't disturb other passengers, and you'll spend less time trying to pack and unpack activities.
Bring a travel seat
Even if you don't plan on using it on the airplane (or the gate agents make you check it into the hold), having a travel seat when abroad is a lifesaver and could be the safest place for your toddler to sit.
"If you have the extra space in your luggage allotment, invest in a toddler travel seat to keep your little one comfy on your travels. These booster seats come in handy at restaurants, family dinners, and on a road trip when you're away on your vacation, and they're the safest option for your toddler." – Stephanie from Toddler Trips
Toddler car seat laws for motor vehicles differ from country to country, so make sure you know the rules before you travel. If you get it wrong, you could face fines, which is a surefire way to ruin your holiday.
If you're planning on renting a car on your travels, for an additional charge you'll be able to hire a travel seat for your toddler along with the car, so you shouldn't have to worry about packing one.
Also check if a booster seat is acceptable on the airline you choose. Some only allow strapped in car seats as the seat belt may not fit properly.
Ease ear pain
The cabin pressure can be a real issue for toddlers who don't understand why their ears are beginning to hurt.
The only way to stop ear pain in toddlers on an airplane is to encourage swallowing on ascent and descent. It's never recommended to give toddlers sweets, but you could give them a sippy cup or a water bottle to drink from when they start getting agitated.
This post on how to avoid ear pain on a plane might be helpful if you can do this with your little one – before the tears start.
Seat selection: Book the right airplane seats
We'd all love to take first class flights with multiple seats and plenty of space for our kids, but it's not always an option!
Different airlines have different rules about where toddlers are allowed to sit on short flights and long haul flights. However, the better option is the bulkhead. These are the seats right at the front of economy class and have the most legroom.
Many airlines will reserve these seats for families with little ones for an extra cost, so book early to snag these prime seats.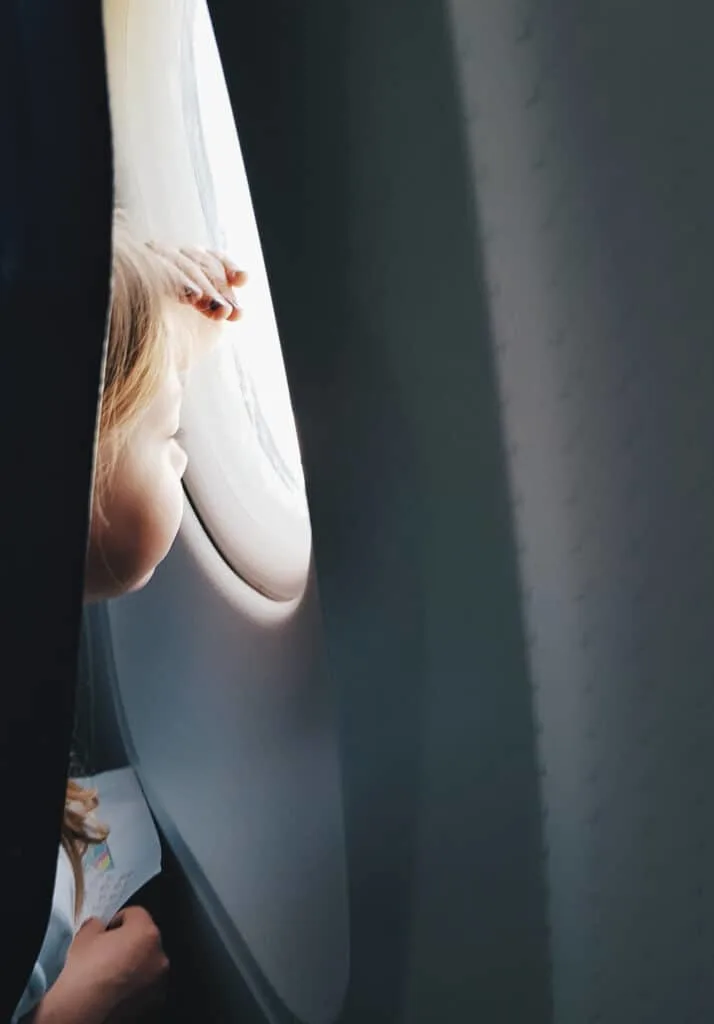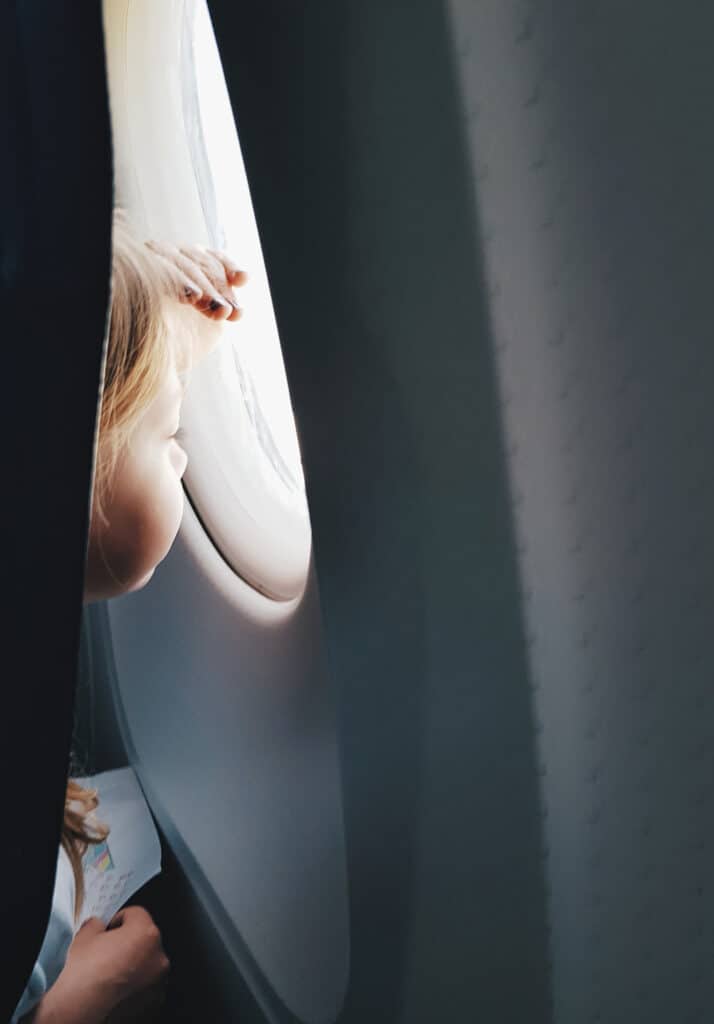 If you can't get the bulkhead, the window seat provides a nice distraction for your little one and keeps them a little more penned in than an aisle seat. Of course, an aisle seat means you have easier access to the toilets. This will be a personal decision based on what you think would work best for your family.
On Air New Zealand, you can book a Sky Couch seat which means all three seats in the row, or choose to use just one or two, have leg/foot rests that come up to sit flat with the seat, thereby creating a little bed.
Encourage them to nap
There is a lot going on aboard an airplane, not to mention a lot of noise that will disrupt a napping toddler. But do your best to get them to have a nap if it's their normal schedule, even if they have too much energy to snooze.
If you can, keep them belted in to avoid disturbing them if the seatbelt sign comes on, and tuck them in with a blanket to get them cozy. Some major airlines, like Southwest Airlines, provide sleep masks for red-eye flights, which can help minimize disruption (if they'll keep it on).
Even if they aren't due for a nap during a long flight, the extra sleep will help prepare them for the trip and stop them from feeling cranky when it's time to travel to your accommodation.
Consider flight attendants as your best friends on the flight
Flight attendants fly with hundreds of little ones every single year, so they are pros when it comes to helping with small children on international flights. Make sure you introduce yourself and your toddler to the flight attendants early and let them know in advance if you have any worries or concerns.
They will have the best tips and tricks for helping to ease any discomfort your toddler might be having, and they're usually incredible at distracting little ones when they get a little cranky.
If you're travelling with older children, these 52 fun games to play on a road trip or any time really, will help pass the time too.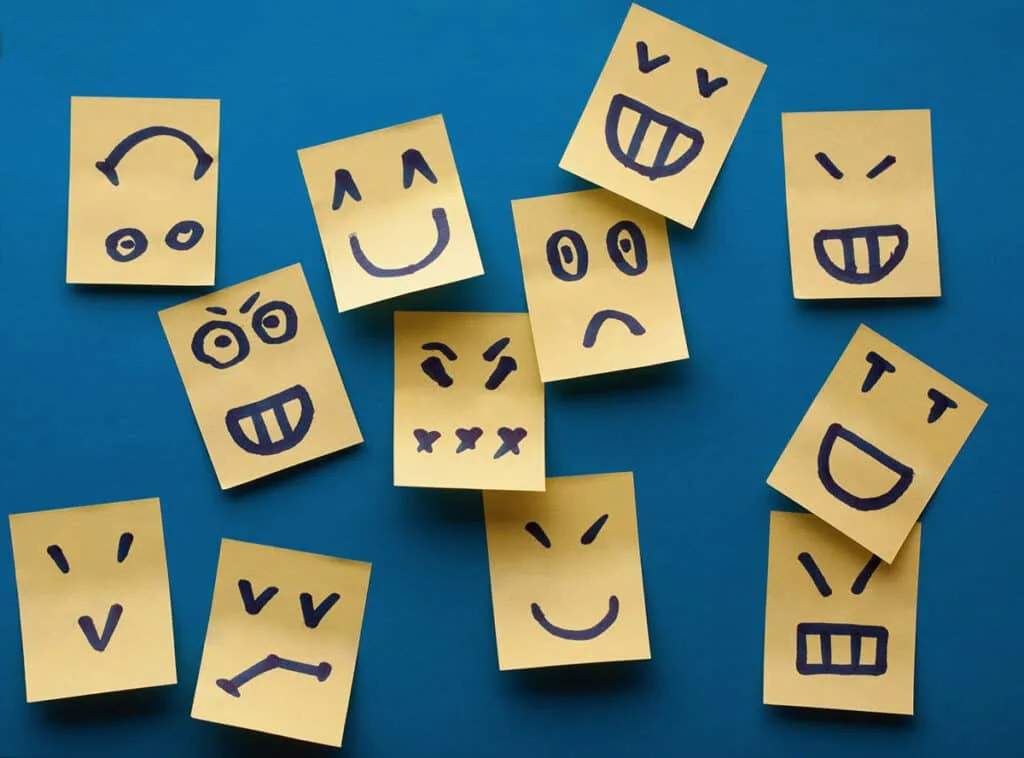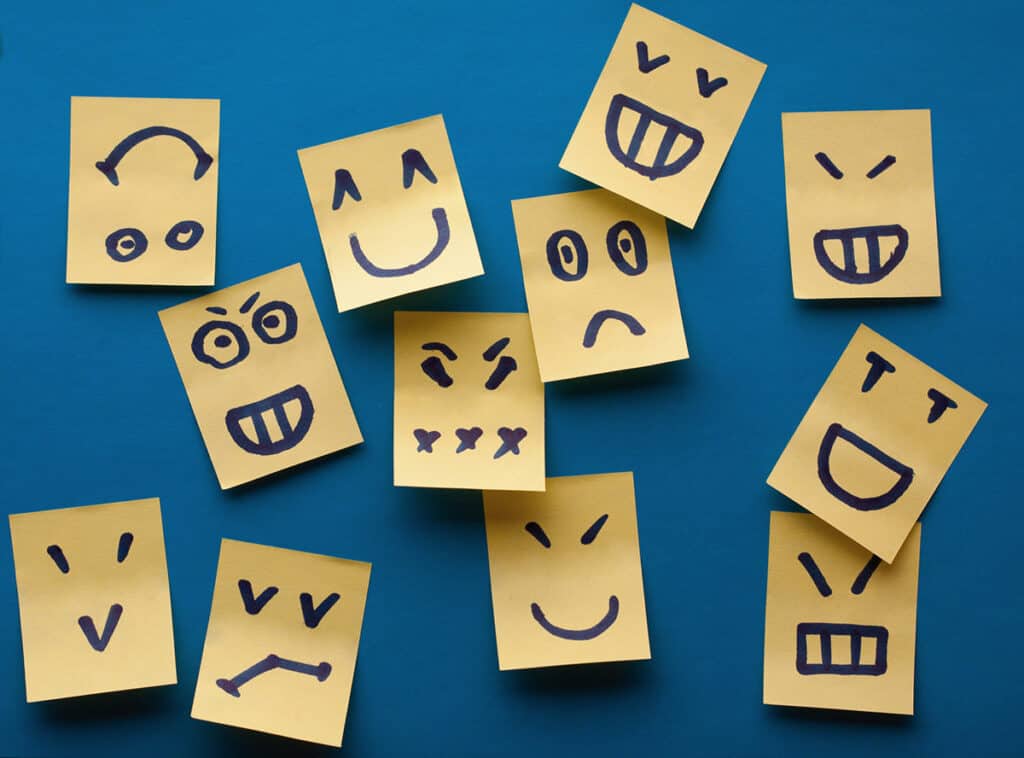 Cherish these early memories
Always remember that everyone flying with a toddler will go through the stresses of traveling. No matter how well you plan and prepare, it's impossible to completely avoid a few tantrums and the dreaded painful ears.
But by using some of the top tips and tricks in this guide, you can make your trip as stress-free as possible for you and your little one.
And remember, the most important thing is that these are the early memories you'll look back on and cherish, so try to enjoy these travel days as much as you can!