I am planning on taking two monstrous long-haul flights this year: the first Auckland to New York on Air New Zealand and then Auckland to Dubai later in the year on Emirates.
The downside is they're about a 16- or 17- hour flight. When you live this far from anywhere, it's big international flights to get you only half way across the world!
These are some of the longest flights in the world, so how on earth do you occupy yourself for that length of time!?
Would you do it? COULD you do it? What if the airfare was SO compelling you just HAD to?
The longest flight I've flown is about 13 hours, but if New Zealand is on your bucket list and you live on the Eastern Seaboard of the US, or Europe, or maybe you're in NZ and hanging out to get to the rooftop restaurants of NYC, here are my best tips on how to cope with a LONG-haul flight…
*This post contains affiliate links. If you make a purchase I will earn a small commission at no extra cost to you.
And note, this post is not for the posh people in first class, although I guess they might get bored too! It's ok for flight attendants who get to disappear off into their lie-flat crew rest beds for a snooze, but if you're down in the back in economy, sitting upright, you need some strategies!
The following tips will help you break up the flight into manageable hour-long segments.
1 Dial it down
The first thing you need to do before you even get to the airport is dial your brain down. This is important. Don't get on board already worrying about it. Plan to relax, plan to unwind, plan to sleep, plan to think. Dial it back and conquer your head space.
2 Get comfy
This is vital. Wear comfortable clothes and wear layers. I choose leggings and a loose top. Never jeans! I also pack slippers, eye mask and a travel pillow and with the aircraft blanket, their small pillow and maybe my own pashmina, I make a little nest and snuggle down. It works best in a window seat. A good idea is to take a foot rest or bring down your cabin bag from the overhead bins to put your feet on (if you're a shorty like me!)
I have another post on what I take on a long haul flight in my carry bag to set myself up in a cosy nook when flying cattle. My long flight essentials include a water bottle, lip balm (because dry air), noise-cancelling headphones or ear buds, and the things above.
3 Read
Bring a good book, download some titles on your Kindle or have at least 2 or 3 magazines to start your epic journey. Your mind will be active at the beginning so this is the time to get lost in a good read. (Although usually I've done such a good job of point 1 I just want to sleep!)
4 Listen to audio books
However I do find when I read on a plane I get very sleepy, so take your own entertainment by pre downloading a few audio books. It's an ideal way to get through some of those titles you've been wanting to read but never have the time for in a normal day.
You can even get a free trial with Audible Plus, a brand new all-you-can-listen membership that gives you access to thousands of titles, including a vast array of audiobooks, podcasts and originals across genres, lengths, and formats.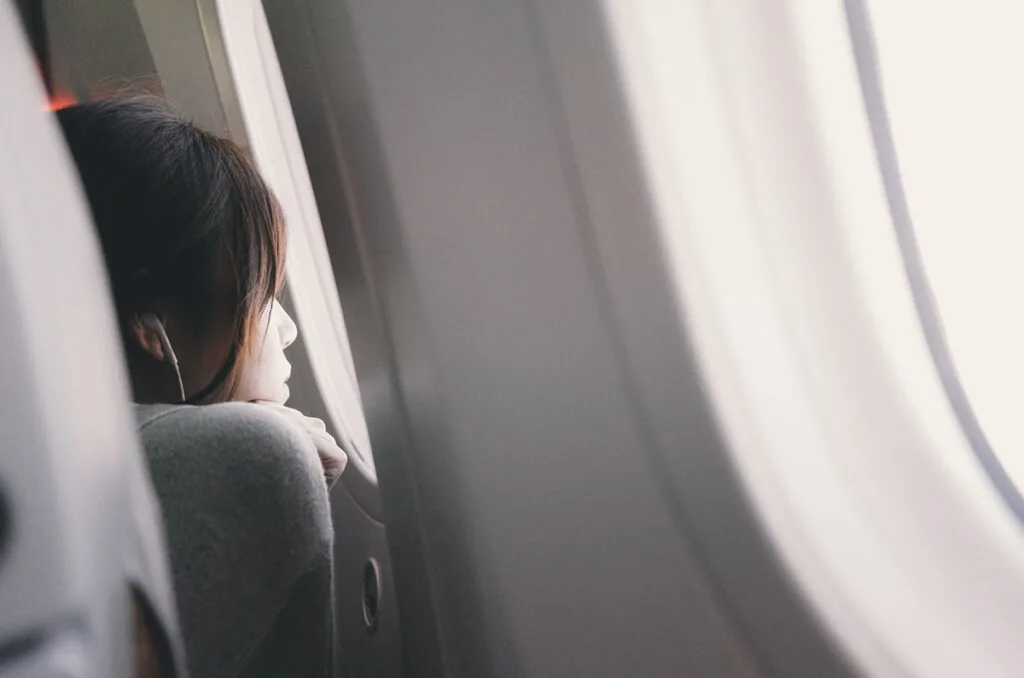 5 Watch the movies
Air New Zealand has a great selection of movies. I watched King Richard on my Southern Lights flight (before and after we were in the aurora zone!) Go through the movie options on your in-flight entertainment system and select which ones to put in your short list. On a long flight like this you can binge watch two series' of Homeland, for example!
As a side note I keep a list of my friend's recommendations for Netflix series on my phone and a long flight is the perfect time to knock some of them off. To get you started have a look for: The Tunnel, The Night Manager, Happy Valley, Stranger Things, Valley Uprising, The Killing, Sour Grapes, The Shooter, Designated Survivor (add your suggestions in the comments).
6 Box sets and docos
If you've seen the movies, or you don't like what's on offer, check out the box sets of TV shows. I watched the whole five-part Chernobyl series on a flight to Bali and back the last time I flew.
I also love TED Talks and documentaries and at only 20 minutes to an hour each, they are great for whiling time in smaller chunks without committing to a two-hour movie. I've learned so many things from watching inflight documentaries too about people doing clever things to recycle plastics and clean up oceans…
7 Play games
If your inflight entertainment has a games section, you can probably link up and play a game with a fellow traveller. But otherwise there's always Solitaire and Sudoku. The very organised might even pack some games like adult colouring in books or word searches and crosswords in paper form or on your phone.
I've got this post of 52 fun games to play on a road trip but many will work on the plane too if you're travelling with friends and family.
8 Catch up on Work
This might be the very thing you're trying to avoid, but there's nothing like the lack of distraction on a plane to get your laptop out and get some writing done. I find I can crank out at least the bulk of a couple of blog posts. Maybe you have a novel whirring around in your head! Or a new business idea.
Maybe you can break the back of a report or just journal stuff you'd like to pursue in your life and see what comes out.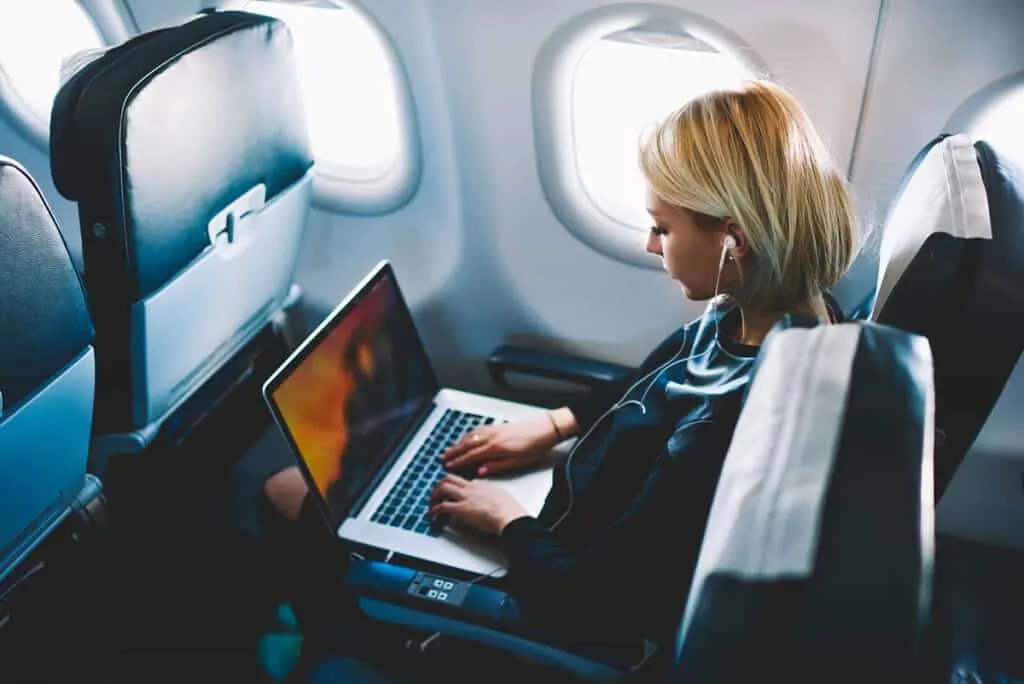 9 Cull images on your phone
This is an unenviable job. I have tens of thousands of images on my phone and if you do too, you know you really should go through and delete the ones that aren't great.
A long flight is the ideal time to get that job done. You can also keep your phone charging while you do it (in airplane mode) – and just think of all that memory you're freeing up for your final destination!
Pro tip: did you know the iPhone has a feature where you can get it to find duplicate images for some quick easy wins.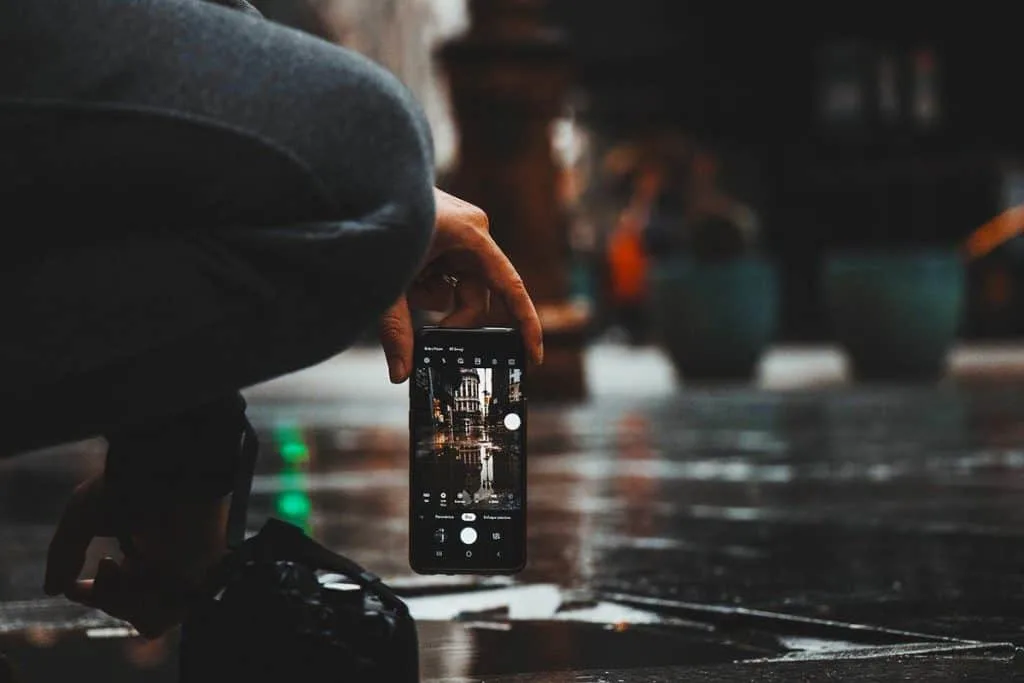 10 Write letters
How old fashioned yet utterly lovely! Take some cute cards with you and write letters, cards, thank yous, encouraging notes to people and either post them from your destination, or just tuck them away to give out when you get home.
11 Eat and drink
If you're anything like me, eating and drinking equals comfort. I hate those no-frills flights. I need to eat just to break up the journey, if nothing else! If you're flying a long haul flight like New York City to New Zealand on Air New Zealand you'll get at least two meals and snacks in between – all included in your ticket price.
Enjoy a glass of wine – and yes, have your own water bottle with you (that you've filled up AFTER security in the airport, or on the plane when the stewards come by). Don't have too much alcohol though because there's nothing worse than feeling bad and you can't get off.
Pro tip: if you want to be first served, order a special meal like a vegetarian meal or vegan. They always come out first.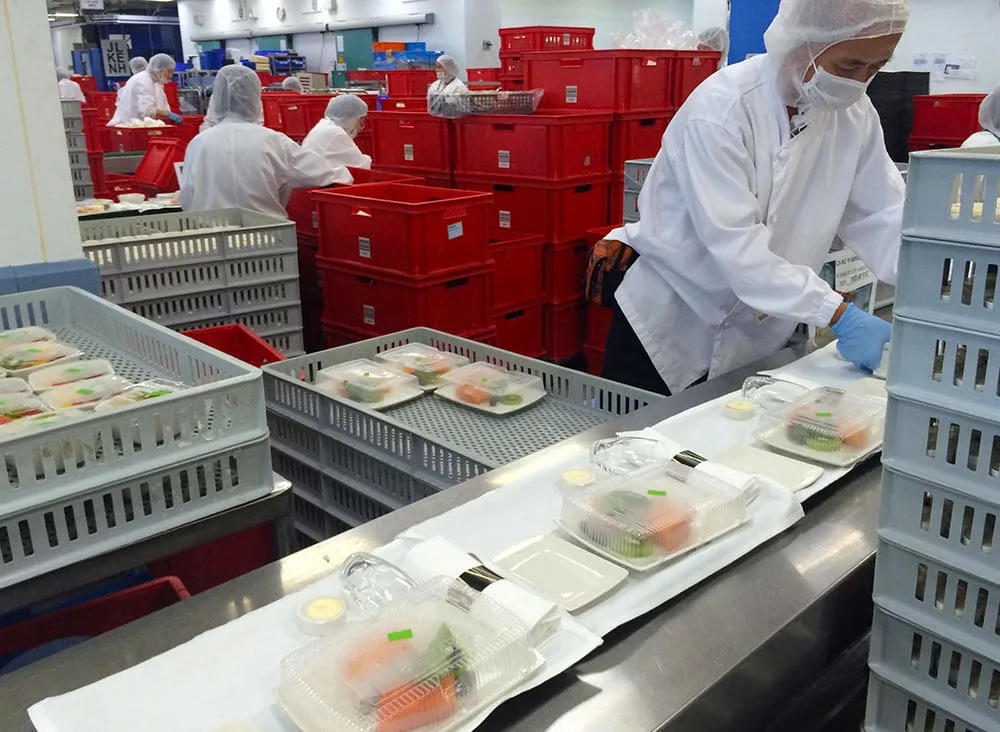 12 Listen to Podcasts
I love podcasts and listen to an inspirational message every day at home when I walk and head to my local coffee shop. It truly sets me up for the day and I really notice when I don't get out and do that. Download some podcasts that you've been recommended or find some new people to listen to. It's great if the airplane seat has USB ports (pack your charger in your carry-on luggage), and you'll find long haul airplanes do.
13 Exercise
Don't panic, you won't be stuck in your seat the whole time! I always stretch and flex my legs and rotate my ankles in my seat, but if the fidgety legs sets in the only thing for it is to go for a walk. Get up, go to the loo, stretch, walk and while away at least 20 minutes. On Air New Zealand planes I always find the flight crew are more than happy for a midnight natter.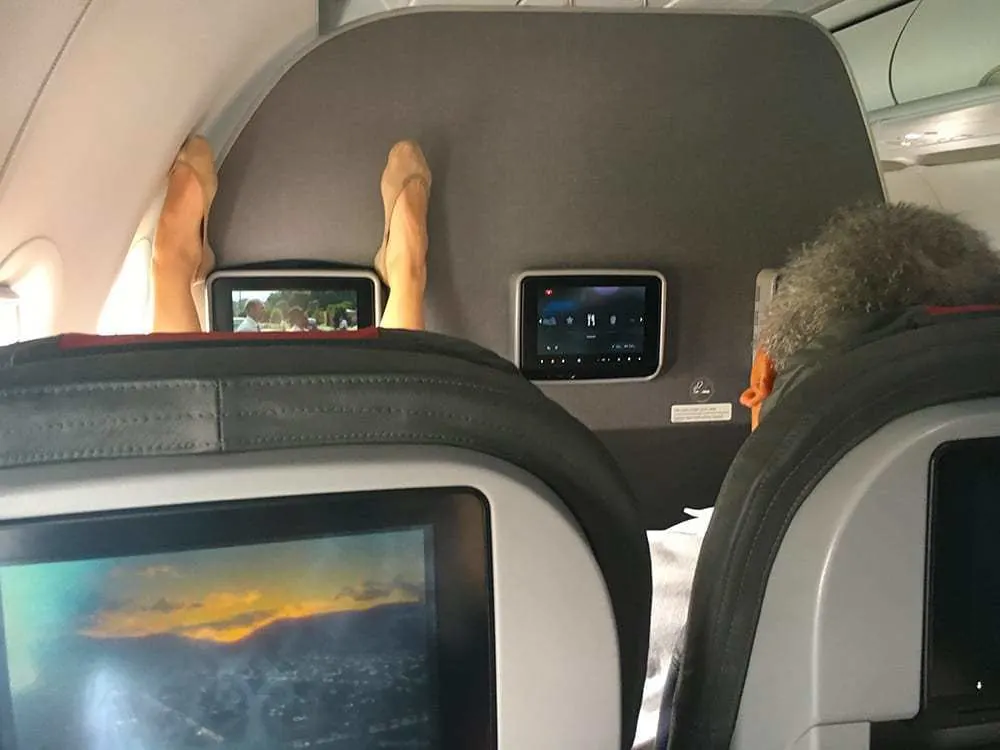 Go for a walk. This not only passes tedious minutes on a long flight, but is essential for your blood circulation. At least do a loop of the full economy class each time you go to the toilet. This is much easier if you have an aisle seat, otherwise you are waiting for the two people next to you to get up!
I have flown Singapore Airlines A380 and the spiral staircase down the back between the two levels both connect to economy so this is a great spot for exercise! On Emirates the staircase leads up to the Business Class bar and no, you can't nip up there for a tipple 😀
14 Upskill!
I don't know about you, but I have downloaded lots of courses over the last year but haven't seem to have found the time to listen to them or read them! A long haul flight is a great opportunity to get some training in.
Latest Pinterest strategies, how to master Keyword Research, how to write killer emails. Download some training courses to watch online.
15 Knit!
Yes you can take your knitting needles on most planes. I know, hard to believe when you can't even take a shampoo over 100mls, but I took the better part of two years to knit a possum and merino wool poncho and got a lot done on some long flights. Just double/triple check with your airline at check in (before your luggage gets taken away) that you can take it. It would be a heinous thing to have them confiscate two years of knitting!
16 Have a facial!
Take a leaf out of Naomi Campbell's flight routine and use the time to hydrate your face with a mask. Ok, not a mud mask perhaps lest you scare small children, but you can take a pack of hydration face and eye masks with you and give your skin a treatment.
The flight will be hard on your skin anyway with the air conditioning and cabin pressure, so this is a lovely, relaxing thing to do.
17 Sleep aids: Take drugs
Prescription of course! Depending on the time of day your flight departs, I'd do all of the above for the first eight or so hours, then pop a cheeky sleeping tablet (Lorazipam or Temazipam are my preferred. Zopiclone leaves a metallic taste for me). I find I can get a good four to six hours in economy and that's a huge chunk of time you've slept off, plus it helps beat the jet lag when you arrive and is the best way to switch time zones.
If you are prone to deep vein thrombosis it is not recommended to take sleeping pills as you will stay still in one cramped position for too long and run the risk of blood clots. Talk to your doctor – when you get the script. Compression socks are a good idea too.
Pro tip: I take another sleeping tablet on my first night in the hotel and that sets me right for the new time zone.
Another pro tip: I always release my seat belt to the longest it can go so I can move from side to side while I sleep.
Choose some items from this list to repeat and before you know it, you'll be there!
If you're travelling with children, you will love this stress-free guide of tips for flying with toddlers.
Extra bonus tips for a long flight
1 If you are lucky enough to spy a couple of spare seats, and let's say you're stuck in a middle seat (the worst seat ever), keep your eye on it and THE SECOND the captain turns off the seatbelt sign, leap into it and make it yours!
2 Sometimes the best seats to choose is down the back. If there are likely to be any spare seats, they'll be down here.
3 In my cabin bag I have my electronic devices like my Kindle, laptop, phone and of course make sure any portable battery packs are also in this bag as they cannot be in your checked bag. Plus my slippers, pillow, travel documents etc. I get these ready for unloading into my seat area before I get on. You also get to take a personal item (handbag) which is where I have my passport, glasses, phone, lip balm, wallet, and the usual handbag stuff.
_______________________
If you want the best neck pillow I have found, see the award-winning Cabeau Evolution pillow! Save
Save
SaveSaveSaveSave