The Cayman Islands is a little Caribbean island paradise, an hour's flight from Miami. It is both posh and high-end or as laid-back and low key as you like.
You might be surprised to know the dining scene in the Cayman Islands is really great and runs the gamut from roadside huts with a great reputation for home cooked food to classy restaurants by the sea with twinkly lights winding up the trees.
You'll also find karaoke bars and Irish pubs, pubs that host quiz nights and cigar bars with a DJ and a dance floor.
But it's the beaches you come here for with gin clear water lapping over soft white sand enticing you to wallow all day.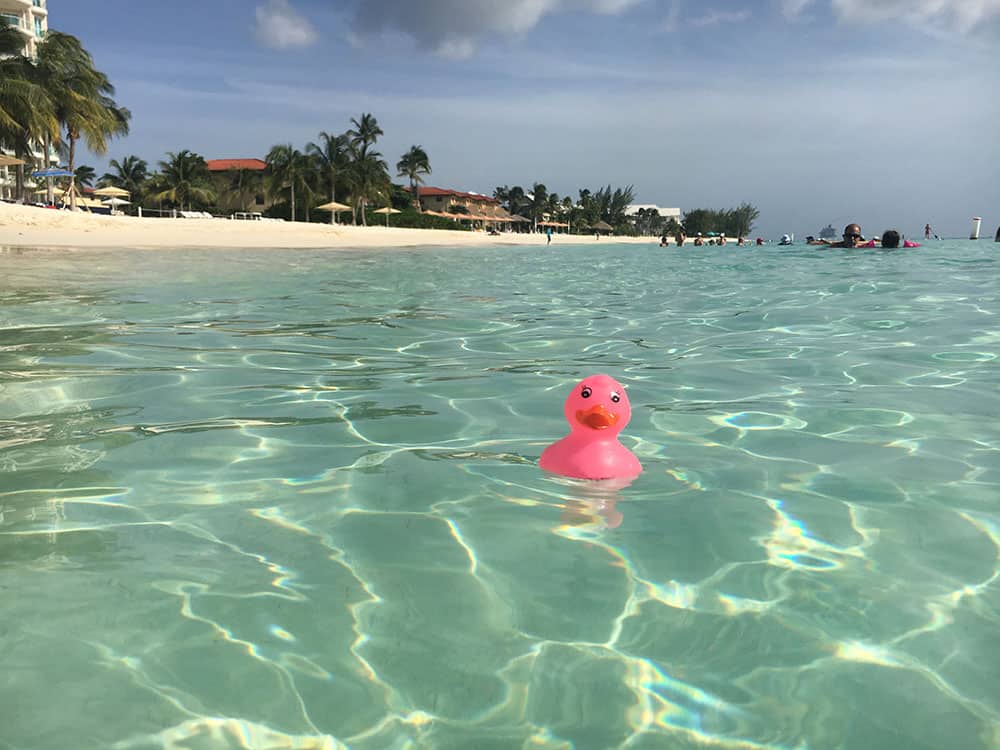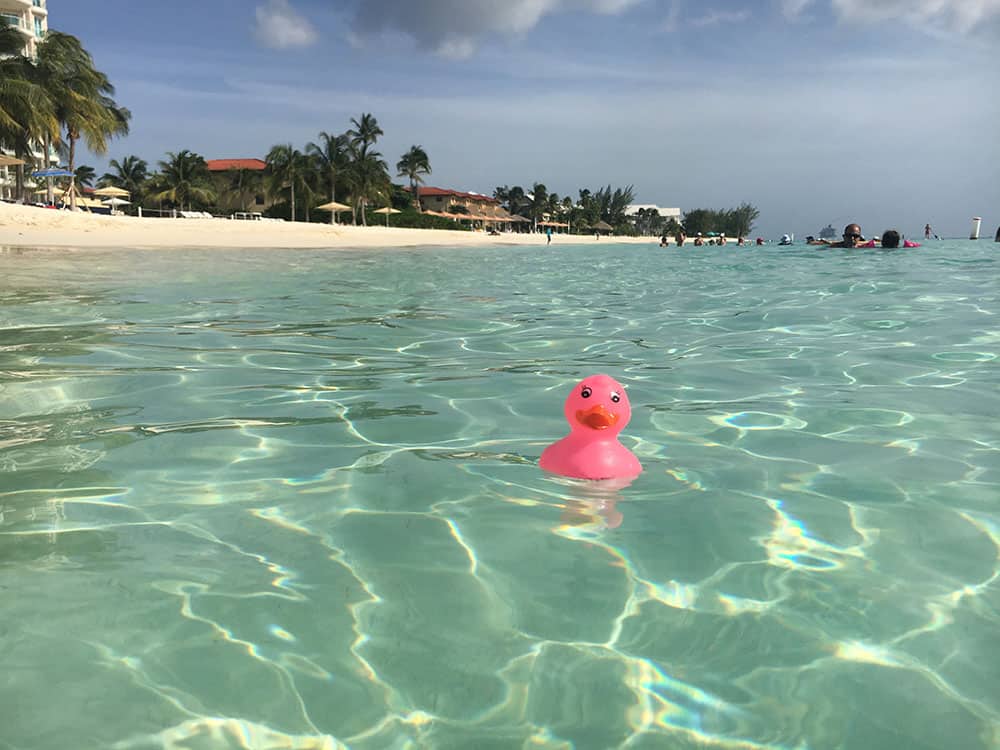 Where are the Cayman Islands?
The Cayman Islands is made of three islands, Grand Cayman, Little Cayman and Cayman Brac and they're located under Cuba in the Caribbean Sea.
The flight time is about one hour from Miami and an easy side trip to Jamaica too.
The Cayman Islands weather
Before you know what to pack, you need to know what the weather's going to be like!
Atlantic hurricane season officially runs from June 1 until November 30, but don't let that put you off. Hurricanes are not regular occurrences in the Caymans. The last one that hit was in 2004, although another passed nearby in 2008.
I last visited in May and the temperature sat at a balmy 90+F/30C all week and dipped to about 27 overnight. Come July/August and you can expect only another 5 or 10F and maybe dipping to the high 70s in January.
But let's face it, it's the beach you've come here for so packing for a week is really easy:
What to wear day time in the Caymans
Flip flops (jandals/thongs) are what you'll live in and a strappy pair of heels if you fancy dining in one of the many great restaurants or have a night on the town.
Bring at least two swim suits as you'll be in and out of the water a few times a day and I only had one pair of togs with me so was always hanging them in the humid sun to try and get them dry before pulling them back on again. FYI wriggling into a wet bathing suit is like trying to wear a balloon skin. It's bloody hard work!
Sarongs and simple sundresses are what everyone is wearing around resort pools, in beachside bars and it's pretty much all you'll be able to buy in the shops too. Don't plan to come to Cayman to shop! Unless it's duty free goods you're after, as the locals can even shop in the duty free stores without needing to furnish the cashier with a passport or ticket. Personally I save my shopping for the US.
I brought a light cardigan and a cotton poncho but never took them out of my suitcase. The only time you might need one is on the plane when the air conditioning can be chilly. Most businesses and homes don't chill the air down below about 22-25C because it's just too expensive.
Sun hats and sun glasses are a whole look in themselves, so enjoy the big brimmed (yet oh-so practical) hat look with some big dark sunnies.
Night time in the Caymans
We girls have it easy when it comes to dressing up or dressing down as a simple dress or tunic and short skirt can be turned into an evening outfit with a bit of bling and a swish of makeup.
The men we went out for dinner with wore jeans and a T-shirt, polo neck shirt or short sleeved buttoned shirt. My brother even wore his flip flops to that fancy dinner in a restaurant by the sea, but husband chose dress shoes and socks. Of course men's shoes are the bulkiest things to pack, so I'd suggest you wear them on the plane as you'll only need them a couple of times in Cayman.
What power points do they use in the Cayman Islands?
They may be a British colony and drive on the left, but they are American when it comes to power, so bring US plugs. My best tip is to bring a multiboard from home and one converter plug so that way you can charge every gadget you brought here in one night. (Read more of my best ever travel tips on this post here >>)
Cayman Islands currency
They use two currencies interchangeably: CI (Cayman Island dollars) and US dollars. The CI is about 20% higher than the US and you'll certainly notice it on your aforementioned food bills! ATMs dispense both currencies so you can pick up your CI dollars when you are here.
The best things to eat in the Caymans
Seafood is the best thing about dining in the Cayman Islands. Try everything from raw tuna tartare to cerviche to sashimi as they are wickedly good. Mahi mahi and wahoo is a nice meaty fish that is often served blackened, on risotto or in tacos
Tipping is expected and don't be surprised if the waiter/ess has already added 15-18% onto your bill. Make sure you check that lest you add it on again!
What is the Cayman Islands drinking age?
Drinking age in the Caymans is 18 years old, but you won't find a load of college students down here in the bars taking advantage like you do in Mexico – maybe because it's a more expensive vacation!
You also cannot drink on the beach or have any open alcoholic container on the beach or in your car. Instant fine.
7 things to do on Grand Cayman Island
Grand Cayman is shaped a bit like a shoe and you'll probably spend most of your vacation on the left of the island, from Georgetown and along Seven Mile Beach. It's a stunning beach with pure white sand and almost warm water that gently laps on the shoreline.
Edged in hotels and bars, it's a great spot to spread out your towel or picnic blanket and settle in for a few hours with some snacks to build sand castles. You can rent jet skis and catamarans here, but do be aware that the hotels don't let you sit on the sand in front of them unless you are one of their guests.
However, don't panic, keep reading and I'll show you where to go!
1 Seven Mile Beach
This iconic and ironic five mile stretch of dazzling white sand that runs from Georgetown (the main hub of the island and where cruise ships tender their passengers into each day).
It is lined with hotels and some of the sun loungers are free to use (Tillies and Tiki Beach), while at others you need to be a paying guest (Kimpton).
2 Tillie's
Hang out on the beach at this bar/restaurant on Seven Mile beach which allows you to use the beach chairs with a minimum spend $25.
3 Stingray City
A must for first-timers, this is a sandbar in the middle of the bay and is a great experience – especially if you have friends with a boat who will take you out there and on to a beach bar afterwards! (Thanks Scott and Mel :))
If you book one of the many tour boats the crew will have squid for you to feed the 50 stingrays who come here each day for their dinner from the many squealing humans. It's only waist-deep and the big females can measure about a metre in diameter as they brush against your legs feeling like a wet mushroom.
If you only have a day, or you're short on time and don't have your brother here to show you around, you can take a fun West Bay and 7 Mile Beach tour with a local guide who will tell you about the history of the Cayman Islands too.
4 Visit Rum Point or Kaibo
These are two really great beach restaurant/bars. You can bring your boat and tie up to their piers or drive around the island. It'll take about 40 minutes to drive from Georgetown or if by boat, you can stop off at Stingray City on the way (as we did!) Kaibo allows dogs and both serve the deliciously moreish mudslide cocktail made of kahlua, Baileys, vodka and at Kaibo, a drizzle of chocolate sauce rolled around the plastic cup.
Morgans is a beautiful restaurant on the water's edge in Georgetown with the byline from ocean to table. We had a great meal here and my wahoo on risotto was to die-for. I also had the chicken liver pate (as I can't resist a mousse-y parfait and our friends who live here highly recommended it). The cerviche and sashimi were shared around to much delight. But breaking from the ocean for a moment, the husb had an Angus fillet which he said was outstanding.
A great thing to do. The Cayman Turtle Farm is a breeding centre as well as an educational, research and conservation centre and a fun park. Since I first visited the Caymans the original turtle centre was destroyed by Hurricane Ivan in 2004, so this one has been built with more bells and whistles including water slides and play pools as well as turtle encounters where you hold them and even swim with them.
There are a reasonably new and terribly exciting discovery of stalagmites and stalactites under the lush tropical forest of Old Man Bay. They're quite a distance from Georgetown so if you have a car and are doing an island tour, they might be worth popping into. There are three caves and you can only see them on a guided tour where pirates used to hangout hundreds of years ago. Tours run on the hour and cost US$40 per adult and $30 per child.
This amazing trip was made seamlessly possible by American Airlines who not only fly direct from Auckland to LA. but also to Miami and then to Cayman. Oh and when you get a round trip ticket, your luggage is free!