I've been to Miami five or six times now. Sometimes it's a quick stopover in South Beach before or after a cruise, once it was an overnight before our Miami to Key West road trip. Twice I've been here for a conference and have had my evenings free to get out and explore the beaches and neighborhoods.
But for this post, I was on the hunt for the very best things to do in Miami, any time of year – including the heat of summer!
This post includes some fun contributions from lots of travel bloggers and their top suggestions for things to do in Miami that you may not have thought of. Plus some insights from my friends at the Greater Miami Conventions and Visitors Bureau about what's new in town. It also includes some affiliate links, which means if you make a booking I may make a small commission at no extra cost to you.
So roll your sleeves on your white blazer up, ala Miami Vice, and let's go!
1. Eat great food during Miami Spice!
Bon Appetite Magazine named Miami the culinary destination of the United States for 2023. A very big call! But you will be relieved to know you don't need to just eat salads beside the beautiful people in South Beach. There are 12 Michelin starred restaurants in Miami, and more that are named as restaurants to watch.
So if you brave it to Miami in summer, August/September is Miami Spice restaurant months. It's hotter than hades outside, but inside restaurants are showing off their coolest fare.
Quite possibly one of the top things to do when you travel is eat, and you'll find three-course lunches/brunches for $30/$35 and three-course dinners for $45/$60 at participating restaurants.
But any time you come, grab a bite from the food trucks which serve up everything from French to Italian, Mexican to seafood. You can check out where the food trucks are located each day here.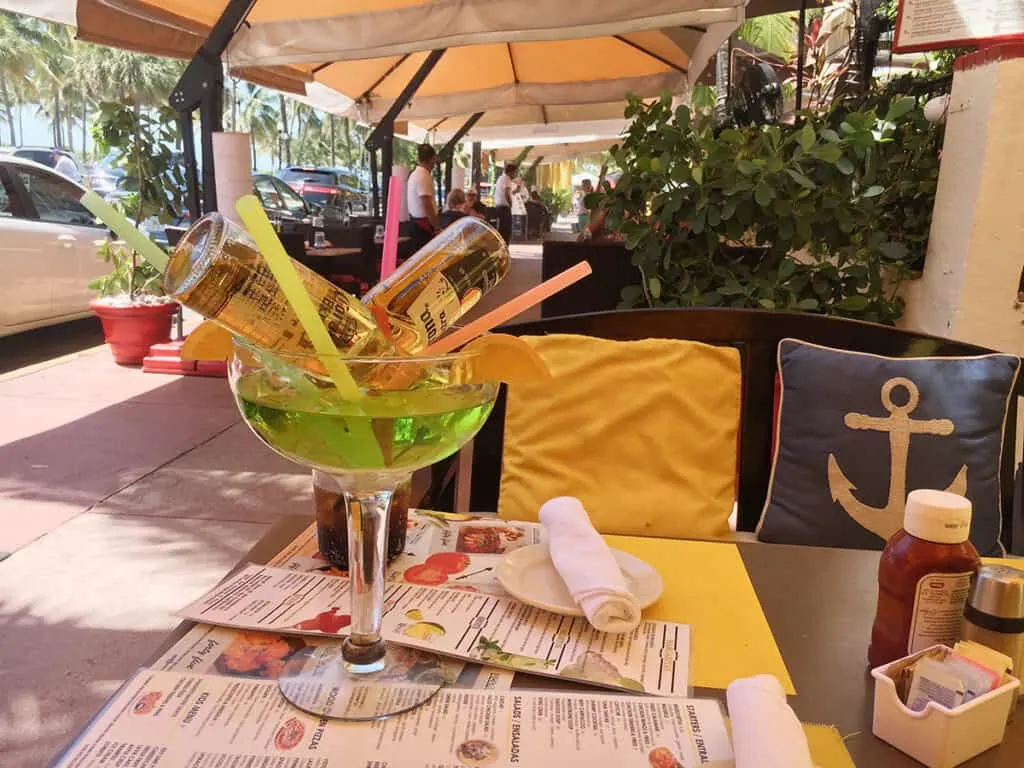 2. OR… Come for the summer spa months
You know you want to be indoors in the heat of summer, so coming for a pampering weekend away is ideal. In July/August when humid weariness is fully kicking in, Miami celebrates its spas! Imaginatively named Spa Months, you can find treatments from $109 at luxury spas across the city.
It's also not the busiest time to be in Miami, so hence the city came up with this unique theme for the hot summer days. Hit the spa! Hotels are also cheaper in summer, so what more could you love?
3. Shop in the Design District
If luxury shopping mixed with modern art installations sounds like a winning combo, you'll want to add the Design District to your Miami itinerary. Dreamt up by Miami native Craig Robins, this neighborhood is home to flagship designer stores, and world-renowned art projects, some the size of parking lots.
It covers 18 blocks, north of Wynwood. A good starting point is Palm Court, where you will find pockets of shade via palm trees and canopies. On the bottom floor, you cannot miss the massive Fly Eye Dome, a geodesic dome surrounded by water.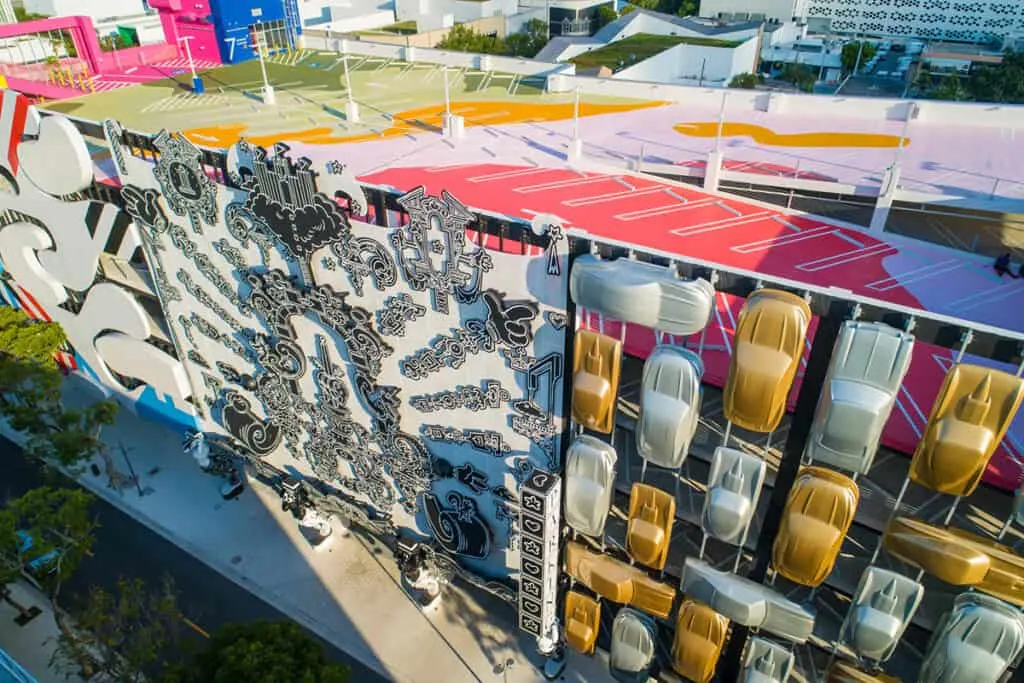 The second floor has views over the City View Parking Garage, designed by IwamotoScott Architecture and Leong Leong, and a statue of the pioneer of modern architecture, Le Corbusier. Finally, a cool spot for swinging is the hammocks at Netscape in front of Mia Market.
For more art, spend time at the free Institute of Contemporary Art, or pop into one of the many small galleries. Head to the Buena Vista Post Office and the Moore Elastika Building to see some history.
Outside of Palm Court, you'll find a pink car garage, a giant red party cup, and a Dior cafe on the rooftop of the Dior store. There are often markets, events, and pop-ups around the neighborhood too.
Make a day of it by dining on Italian at Contessa, steak at the Michelin star COTE, or a variety of food at the gourmet food hall, Mia Market.
By Amanda, Hey! East Coast USA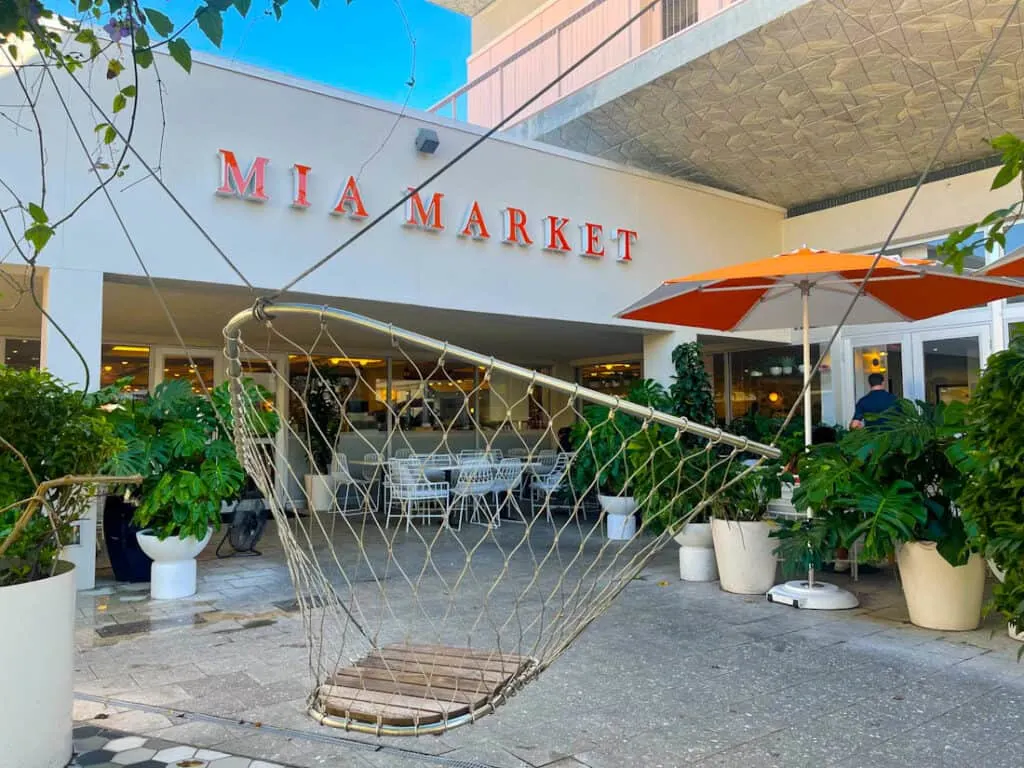 4. Mural spotting at Wynwood Walls
In keeping with the above art and culture tip, the next stop you'll want to check out is Miami's mural art at the cool Wynwood Walls, Miami's open-air art museum.
Inspired by northeast New York arts and culture, this space captures Miami's unique communities and its thriving street art. It's an innovative art space which highlights local artists and urban revitalization with frequently changing creative murals.
They are incredibly varied in topic and style. See classic Japanese styles, diverse portraits, or murals with a social justice leaning.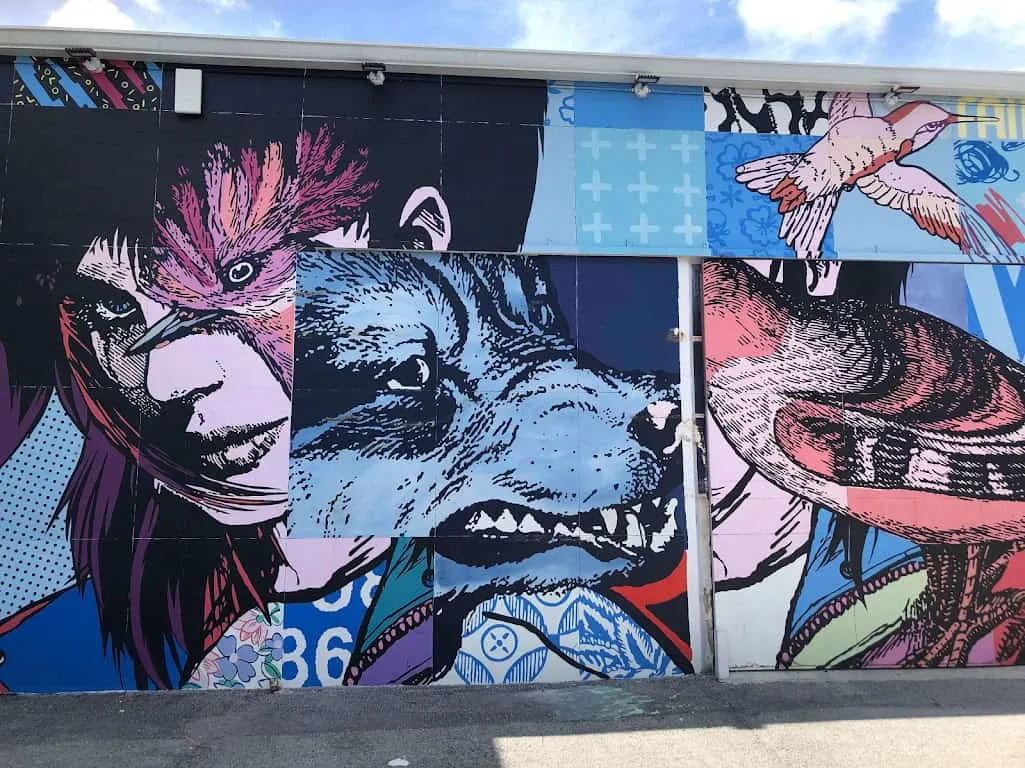 Wynwood highlights cutting-edge creativity and elevates modern art by featuring artists from over 20 countries.
Open daily from 11am-7pm (10-8 on weekends) with two indoor gallery spaces as well as several large outdoor mural areas. The guided tours are highly recommended for an insider view into the art's influence, meaning, and design. Many of the tour guides are artists themselves!
There are even opportunities to create some art and contribute to a mural with spray paint. This interactive and personal experience is perfect if you're looking for a quirky, art experience.
You also may be able to catch some of the artists in action, as there are constantly new murals being created.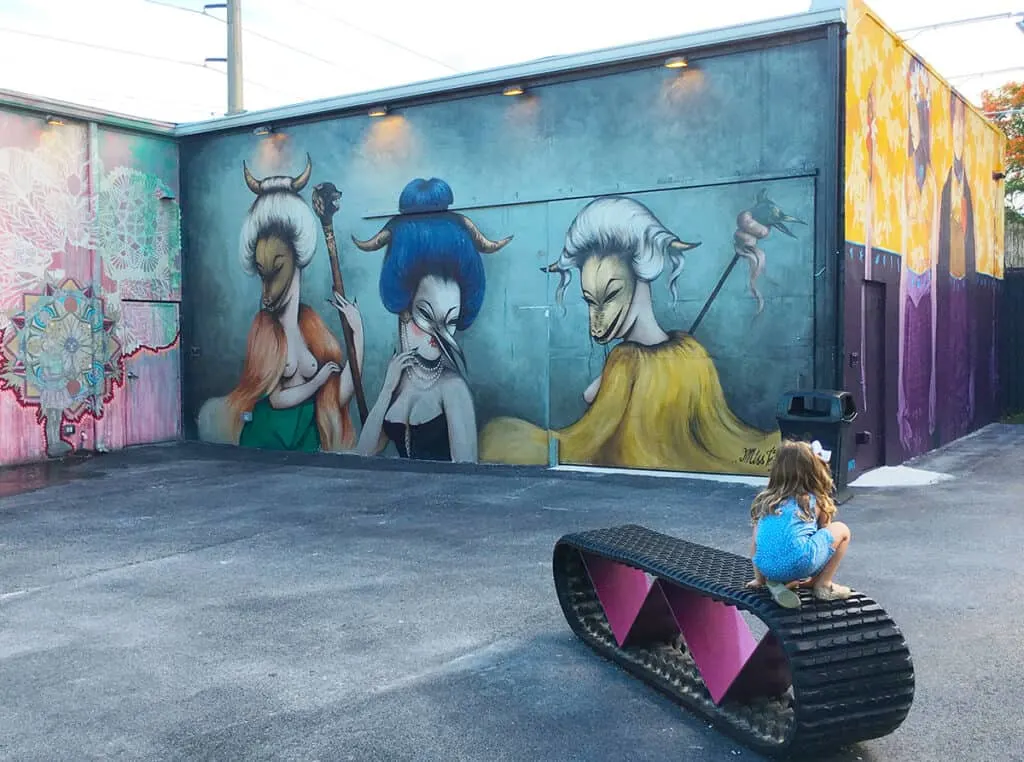 5. Get on yer bike!
Another fun thing to do in Miami is to go for a bike ride to check out the scenic coastal areas nearby.
Miami has several interconnected bike paths that allow bikers to explore the city and its surrounding areas easily. If you enjoy scenic bike rides, you will love the Venetian Islands route from South Beach to Brickell Key. The Venetian Islands were built in 1913 and continue to maintain their grandeur.
On the bike-friendly paths, you will ride over six stunning islands lined with mansions, yachts, and crystal-clear water. You can take in views of Biscayne Bay and even ride over a drawbridge!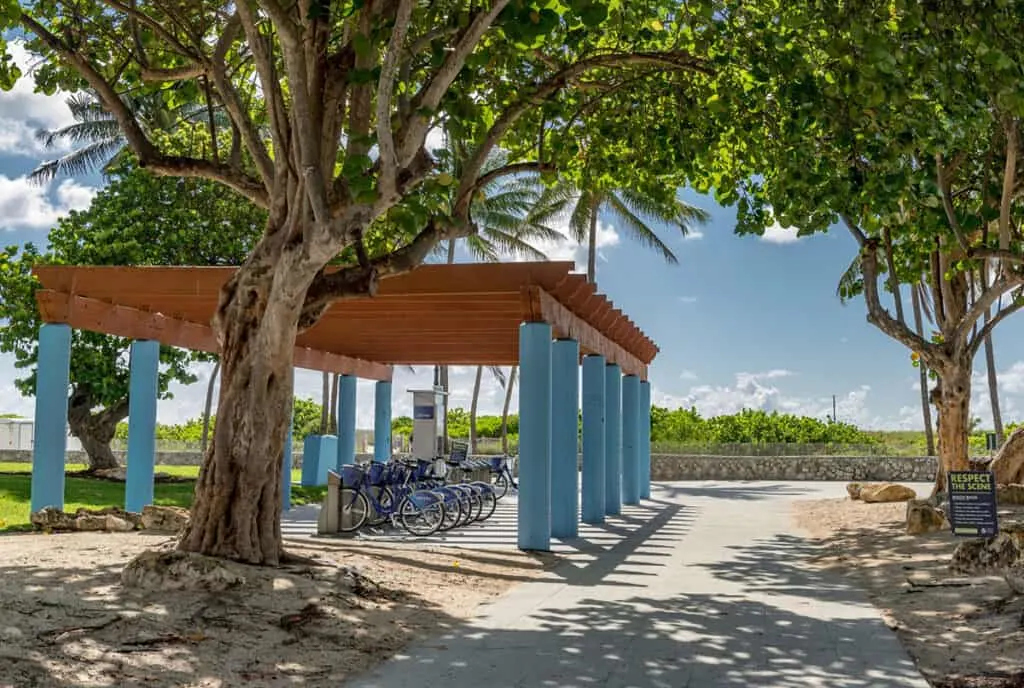 Along the way, you can stop at the Bayside Marketplace or Brickell City Centre to grab a bite to eat. Casa Tua Cucina, an open-concept Italian restaurant inside Saks Fifth Avenue, is delicious.
Pro Tip: Make sure your bike has a basket in case you want to shop along the way.
The Venetian Islands route is just one of the bike paths available in Miami. You can choose from other Miami bike routes, including a ride through Little Havana, the Miami Design District, or Key Biscayne Island.
If you love bike riding, you might also enjoy biking in the Upper Florida Keys, only about 60 miles from Miami, on the Overseas Heritage Trail.
By Michelle Steinhardt of The Trav Nav
6. See a game!
Whether it's the Miami Marlins baseball at LoanDepot Park (aka Marlins Park), the Miami Heat NBA team at Kaseya Center located along Biscayne Bay, or Miami Dolphins NFL team at the Hard Rock Stadium, located in Miami Gardens.
We always check out what's on in any city before we arrive as we love live sport! Honestly, I go for the atmosphere – and the nachos. Husband actually watches the game.
Last time we were in Miami we got to a Marlins game in their enclosed stadium and got local with the locals.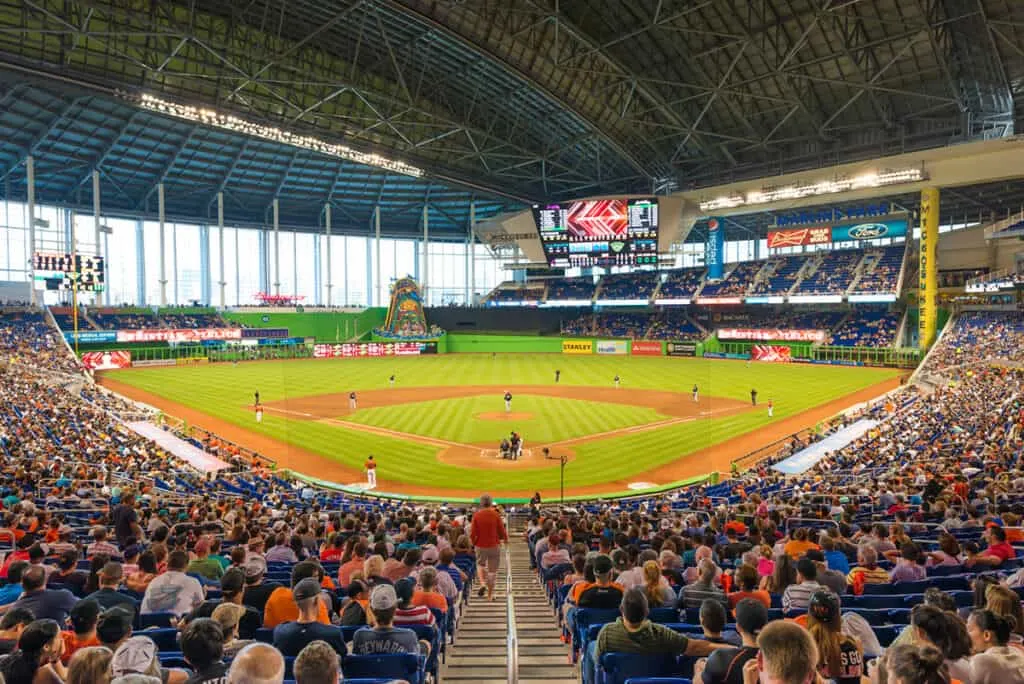 7. Check out Miami Beach
While Miami is just a stopover spot for many visitors heading on a cruise to the tropical beaches of nearby Caribbean islands, Miami has its own stunning turquoise-blue waters, right in Miami Beach.
Miami Beach is famous for its soft white sand, stunning water, and captivating views of the city skyline. The waves are gentle and beautiful, and the atmosphere is chill. While sitting by the water, it's easy to forget you're in one of the fastest-growing cities in the U.S. But thankfully if you need a change of scenery or a bite to eat, world-class restaurants, trendy cafes, and incredible shopping are just steps away.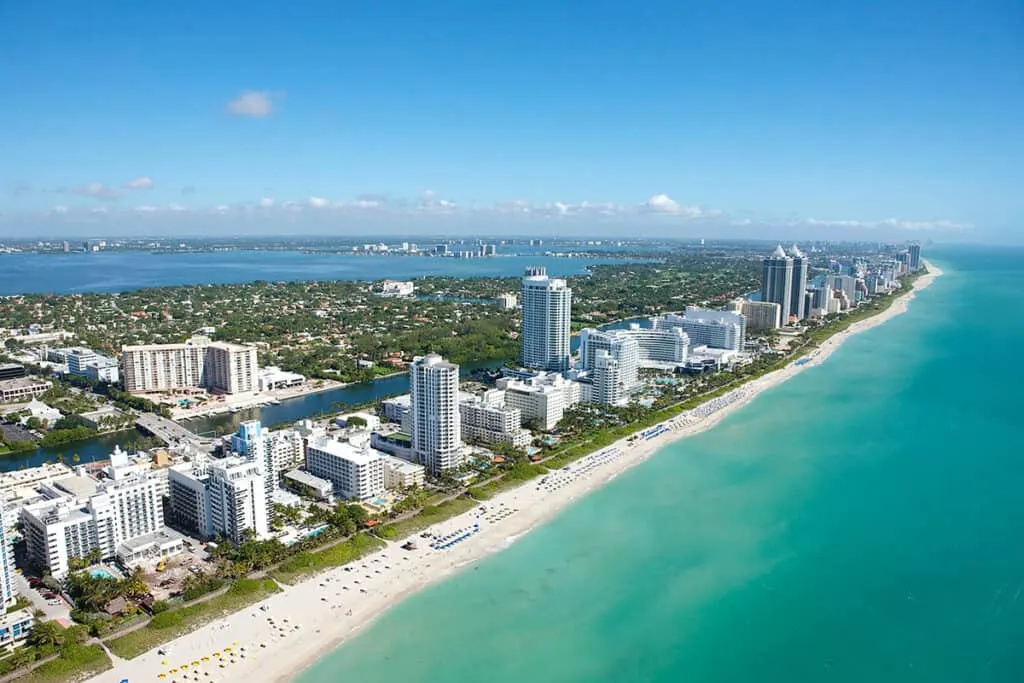 You can also walk along the boardwalk that runs parallel to the beach and city streets, passing running groups, families, and local residents.
South Beach is technically a part of Miami Beach, along with the beaches of Miami Beach's other neighborhoods—Mid-Beach and North Beach. Each is distinct in the type of visitors they attract. South Beach is the famous beach that many tourists stop by just for its namesake, whereas the other beaches are a bit more relaxed.
A visit to Miami is not complete without a stop at this iconic beach, so make sure to add it to your Miami bucket list!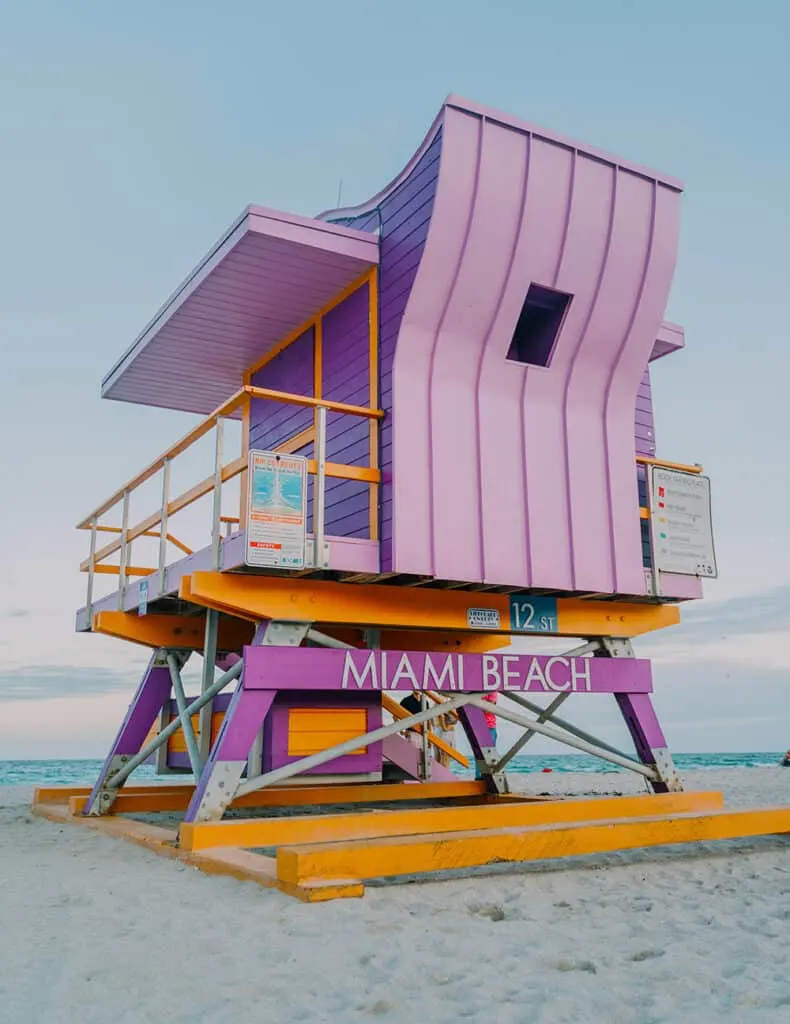 8. Visit South Pointe Pier
Located on the Southernmost end of South Beach, South Pointe Pier is a lush oasis from the bustling city. On its 17-acres you will find grassy knolls, a playground, and stunning views of Brickell and Downtown Miami.
This urban park is welcoming for families, friends, and those who need some quiet time alone. This is where the locals come for acrobatics, enjoying a picnic with friends, roller blading, or fishing on the pier.
Walk through the winding path, and grab a spot on a bench or rock to watch the cruise ships leaving port.
If you end up with an appetite from all the walking, there are plenty of tasty restaurants in Miami nearby. Be sure to grab something to-go from Joe's Take Away or The Lobster Shack for a picnic at the park. You can also dine al fresco at Smith & Wollensky in South Pointe Park to watch an exceptional sunset.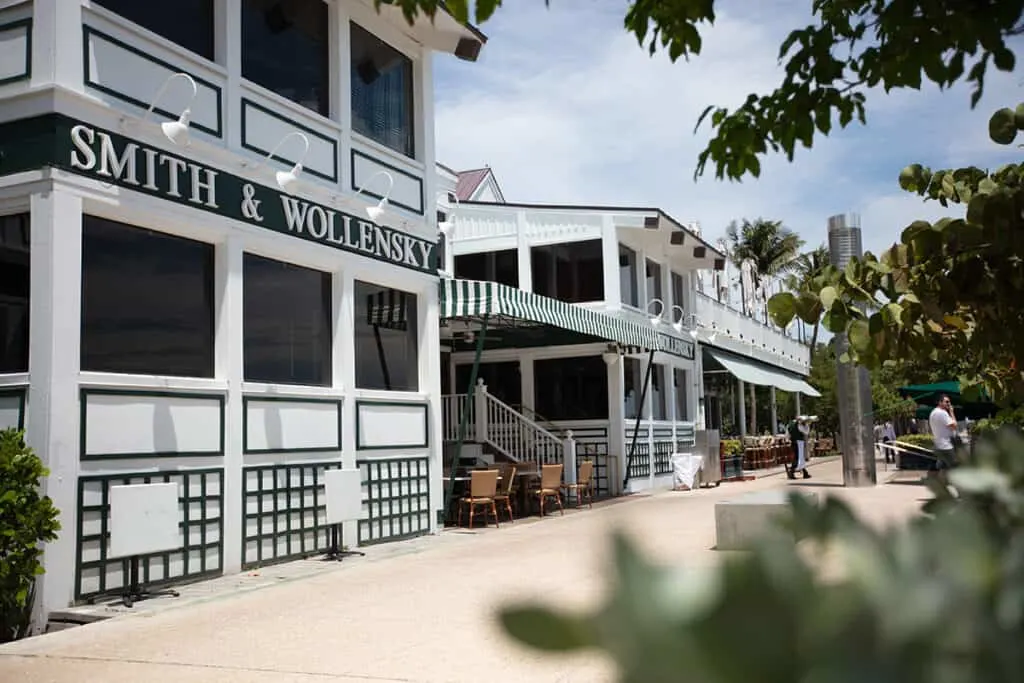 Then take a stroll down the 450-foot pier for a stunning view of the iconic South Beach coastline.
Admission is free to South Pointe Park and you can visit when it's open from sunrise to sunset.
By Chrissy : Jetlaggedroamer.com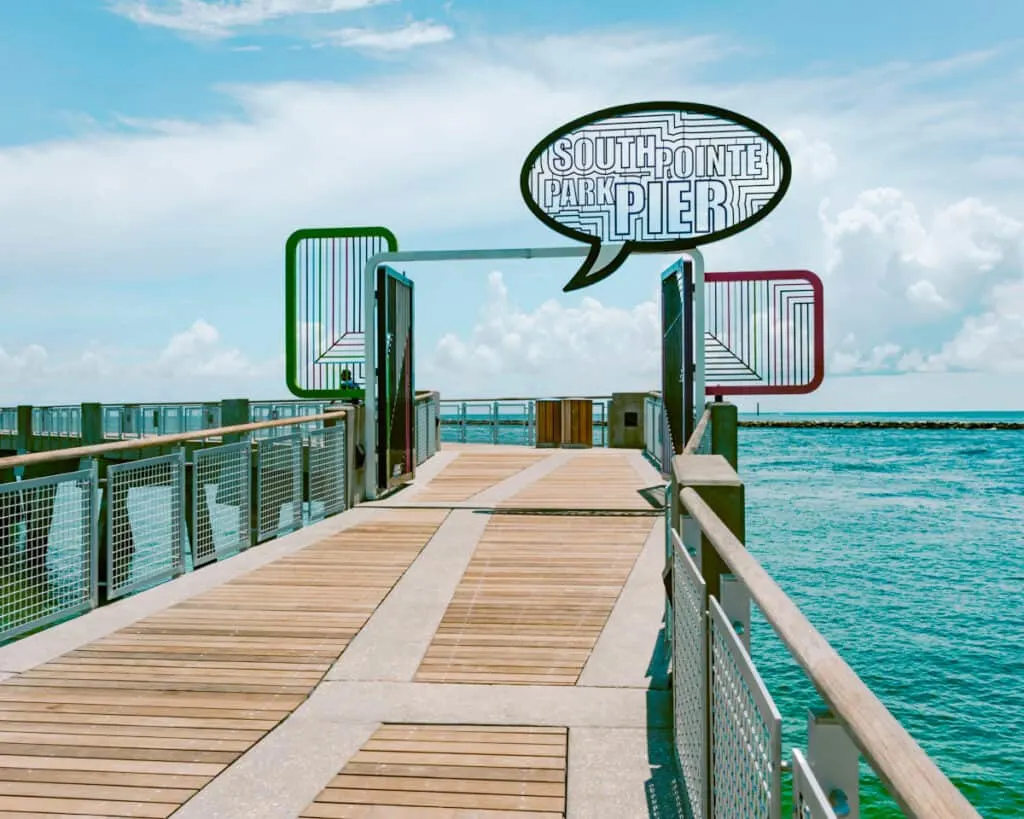 9. Stroll along Little Havana
Little Havana, about four miles west of downtown Miami, is an exciting neighborhood known for its vibrant Latin culture and history. It is home to many Cuban and other Latin American immigrants who settled here in the 1960s.
The area got its name from the capital city of Cuba, as many of the early residents were Cubans who fled after Fidel Castro came to power in 1959. Today, Little Havana is a popular neighborhood filled with colorful murals, Latin music, and delicious food, including many traditional Cuban dishes like ropa vieja and plantains.
The main street is called Calle Ocho, which runs between the 13th and 17th streets. One fun thing to do is to spot the 12 distinct painted rooster statues.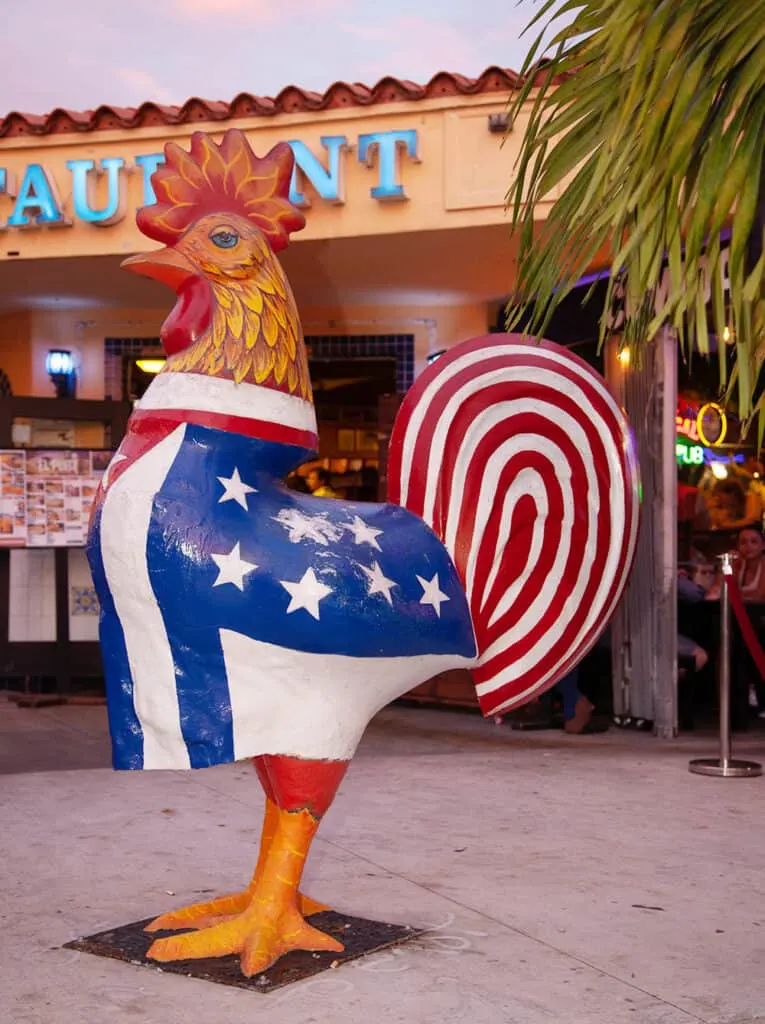 While walking around, also check out the Calle Ocho Walk of Fame which is a series of stars embedded in the sidewalk. They honor various Latino singers and telenovela actors including Selia Cruz, Thalia, Julio Iglesias, and more.
Explore the many shops, restaurants, and cultural landmarks that make the area so unique like the Bay of Pigs Monument, MDC's Tower Theater, and Domino Park, where locals gather to play dominoes and socialize.
A fun thing to do in Miami suitable for families, couples, or solos is to check out Viernes Cultural. Every third Friday of the month, from 7 pm to 11 pm, Little Havana hosts Viernes Cultural (Cultural Friday), which is open to the public. It is one of the fun free things to do in Miami and includes a wide range of cultural activities, including live music, dance performances, art exhibits, and more.
(Get tickets to a Little Havana walking food tour here).
By VKay : TravelAddictedUnicorn
10. Visit Allapattah
Allapattah might have had a reputation you'd want to steer clear of, but it's time to think again! It is now an exciting up and coming neighborhood, home to America's largest Cuban community. It really is a cultural melting pot, since refugees from Haiti, Honduras and Nicaragua came here in the 1980s.
These days visitors come to visit Superblue, an experiential art space with long term exhibits including a mirrored-maze installation that every Insta queen will want to pose in! It's immersive and mesmerising. See your heart beat glowing with 3000 lights, and turn in circles wondering how they did it. (Get your Superblue tickets here).
It's located opposite the impressive Rubell Museum, which moved here from Wynwood in 2019. The former Rubell Family Collection features contemporary art that Don and Mera Rubell have collected since the 1960s. But here's a twist, it has a Spanish restaurant inside, Leku, that Michelin Guide says to watch for its innovative cuisine. That's right, a restaurant in a museum that is on its way to a star!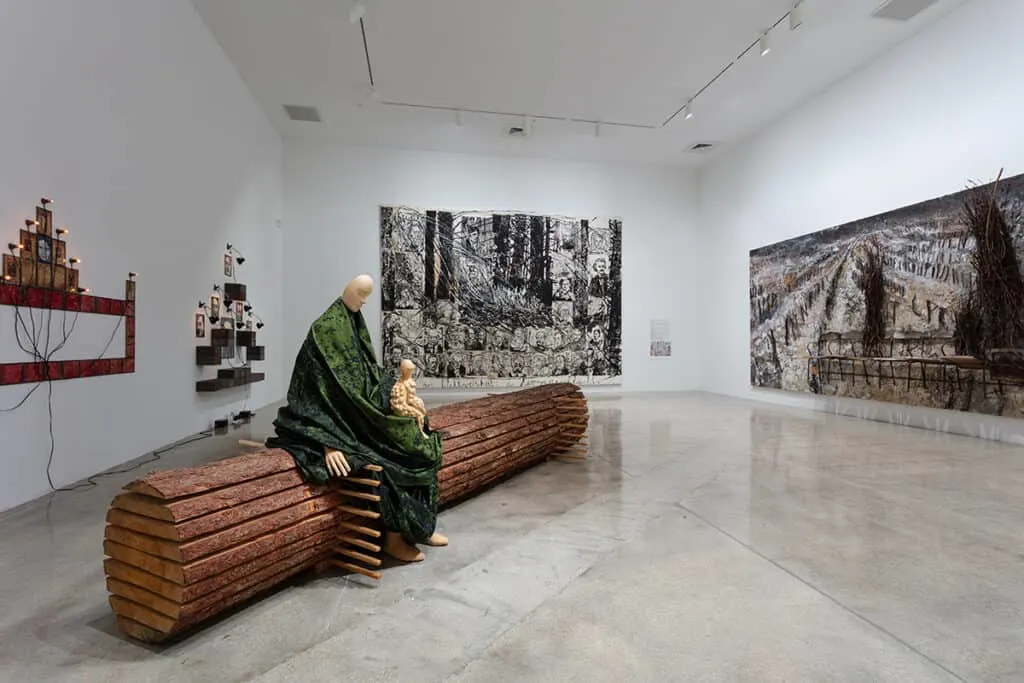 Another great place to eat in Allapattah is Hometown BBQ, from Brooklyn restaurateur Billy Durney serving authentic pit smoked meats and sides. It has earned a Gourmand Bib for Pitmaster Durney who hails from Austin TX, via New York to Miami.
Also, two blocks from the Rubell, try the new distillery that opened in January 2023. Miami's Distillery, Tropical Distillers is part owned by the NFL Pouncey twins, with J. F. Hayden liqueurs and an automated distillery serving in-house made cocktails. The bar has just 30 seats for tastings and they also offer distillery tours.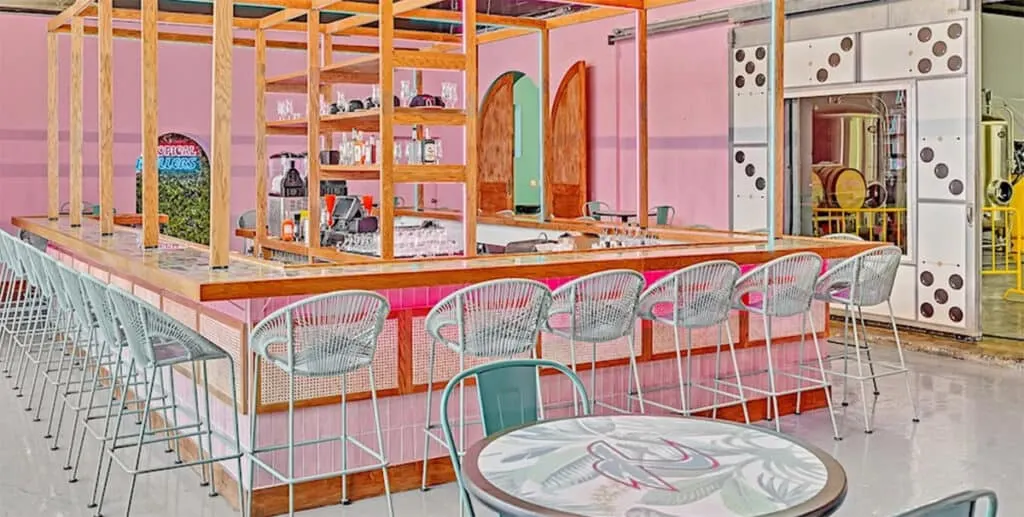 11. Go rooftop bar hopping in Miami
If you enjoy sampling local food and drinks when you travel, you'll love visiting Miami's elevated bars and restaurants. Bounce between clubs, hotel bars, and fine dining rooftops, sampling a different cocktail (or mocktail) at each one. Many offer top quality cuisine, with loads of options from Cuban to Japanese and everything in between.
Begin your tour in South Beach, around Ocean Drive and Collins Avenue. The art deco district is a great place, lined with Art Deco designed hotels with cool decor and beach views. Glam up for sexy selfies or fun group photos at these hip Miami hotspots.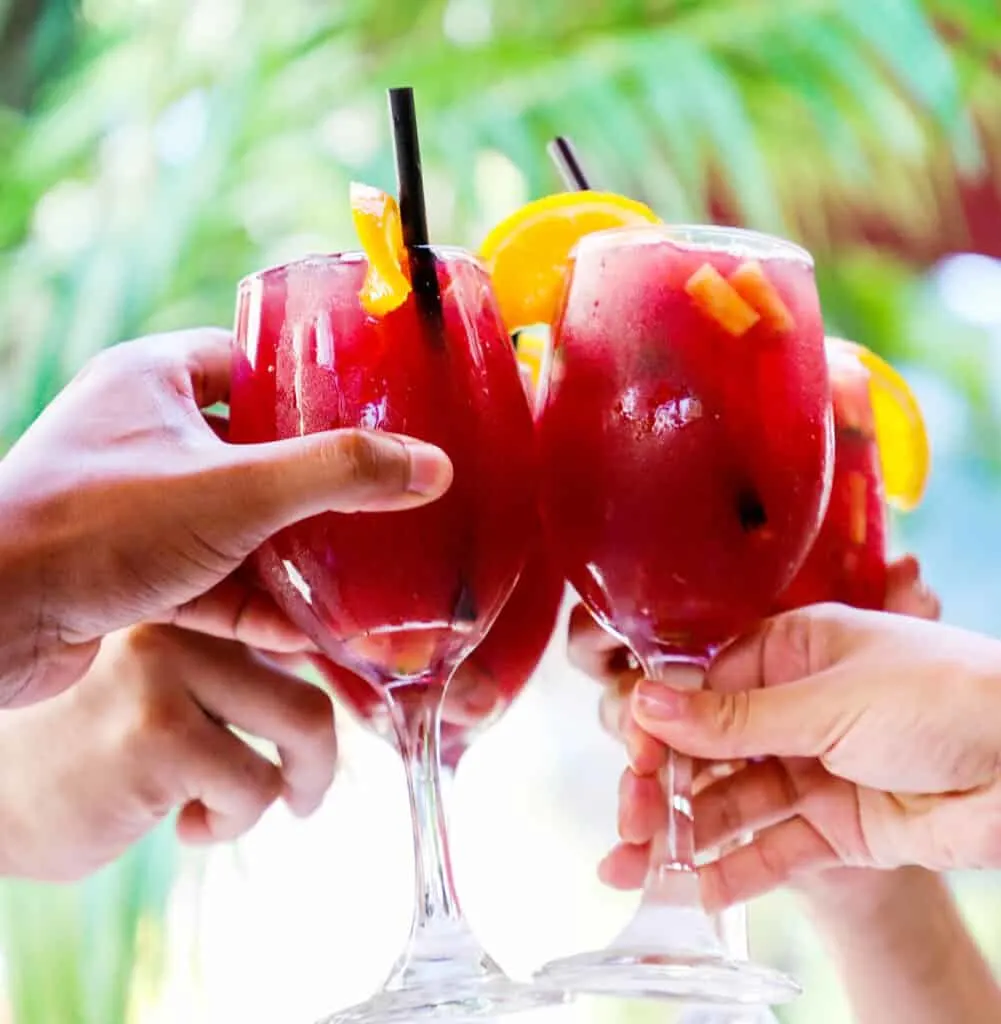 Openings and closings may change but Miami Beach always has options for a fun rooftop bar hop. For example, feast on Mexican food and margaritas in style at Serena Rooftop in the heart of South Beach.
Nearby Wish Café also has a lively rooftop with an added bonus, a pool. Another cool rooftop for a drink with a view is at the Art Deco styled Breakwater Hotel on Ocean Drive. Wherever you choose, stay safe, don't drink and drive, and protect yourself and your belongings. Enjoy Miami after dark!
By Mel, of Mel on the Go
12. Visit one of the best bars in the world!
If you want to hit one of the best places in the world for a drink, head to Café La Trova. Ranked one of the top 50 bars in the world, Café La Trova is more than a place to get a drink or dinner—it's an experience.
Located in Miami's enchanting Little Havana neighborhood, Cafe La Trova comes alive each night with mouthwatering modern twists on Cuban classics, incredible cocktails, and live music.

You definitely need a reservation, unless you're stopping by for their legendary happy hour which boasts cheap drinks and delicious appetizers in an elevated atmosphere. Be sure to practice your Spanish ahead of time though, as it's the primary language here—from the live music to the bartenders and many of the patrons.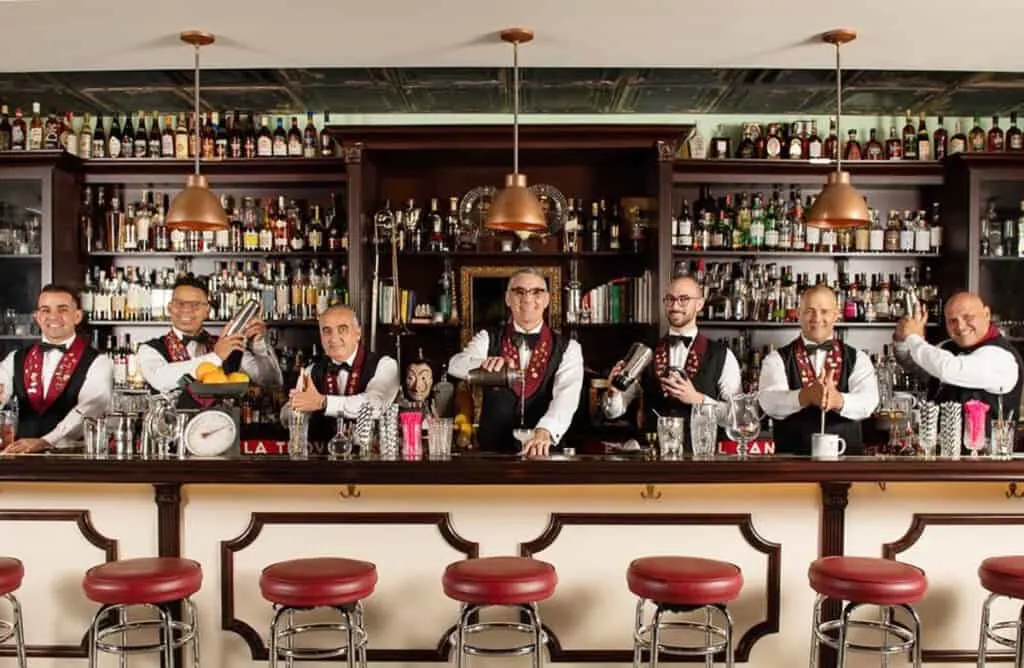 Café La Trova's menu includes a long list of tapas, empanadas, and mains, all inspired by the Caribbean. It's also a great spot for vegan travelers with vegan options on the menu, like the picadillo, cauliflower steak, tostones, and maduros.
Regardless of your dietary preferences, be sure to make a reservation ahead of time and don't miss this incredible experience.
By Annie of Whales and Morels
13. Have dinner at Gianni Versace's house
The former home of fashion icon Gianni Versace on Ocean Drive South Beach, is now a hotel and restaurant. I got a tour inside Casa Casuarina a few years ago with some travel media and took photos of the OTT designer's taste in decor and furnishings!
These days it's open for lunch and dinner seven days a week, and you can swim in the pool inlaid with gold tiles and stay in the rooms decorated for Elton John or Madonna too.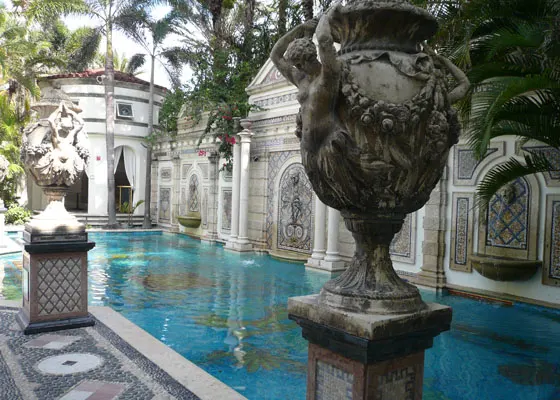 14. Vizcaya Museum & Gardens
One of the best things to do in Miami is a visit to Vizcaya Museum & Gardens, at Coconut Grove.
It is one of the most unique museums in Florida and features 32 traditionally-appointed rooms that are all situated upon 10 stunning acres of well-manicured gardens.
See, the authentic, period-inspired decor from the early 1900s pays homage to the building's beginnings in 1915 as a waterfront estate.
Back then it was known as Villa Vizcaya and was owned and operated by a businessman by the name of James Deering. During your visit, you'll be able to explore the entire first floor of the building and admire unique Mediterranean-style architecture during a fun, self-guided tour.
You'll also learn all about the fascinating history of this home, and the man who built it, through a series of expertly-curated artifacts that are displayed in the music room, drawing room, dining room, and more.
Then you'll want to stroll through the exquisite gardens. They feature miniature hedges, coral stone sculptures, and geometric patterns that are reminiscent of a 17th or 18th-century European garden.
Open Thursday to Monday from 9am to 4.30 pm. Tickets $22.00 for adults with discounts available for children and members of the military.
By: Victoria of Florida Trippers
15. Swan around the Biltmore Hotel
One of the many awesome things to do in Miami is to take a free tour of the Biltmore Hotel located in Coral Gables. The one-hour tours are given every Sunday at 2pm by a volunteer of the Dade Heritage Trust, an organization whose mission is to preserve Miami's culture.
During the free tour, you'll learn about the hotel's incredible history. The Biltmore's grand opening was on January 15, 1926. It had 400+ rooms, along with a country club, golf course, and enormous swimming pool (the largest hotel pool in the continental US).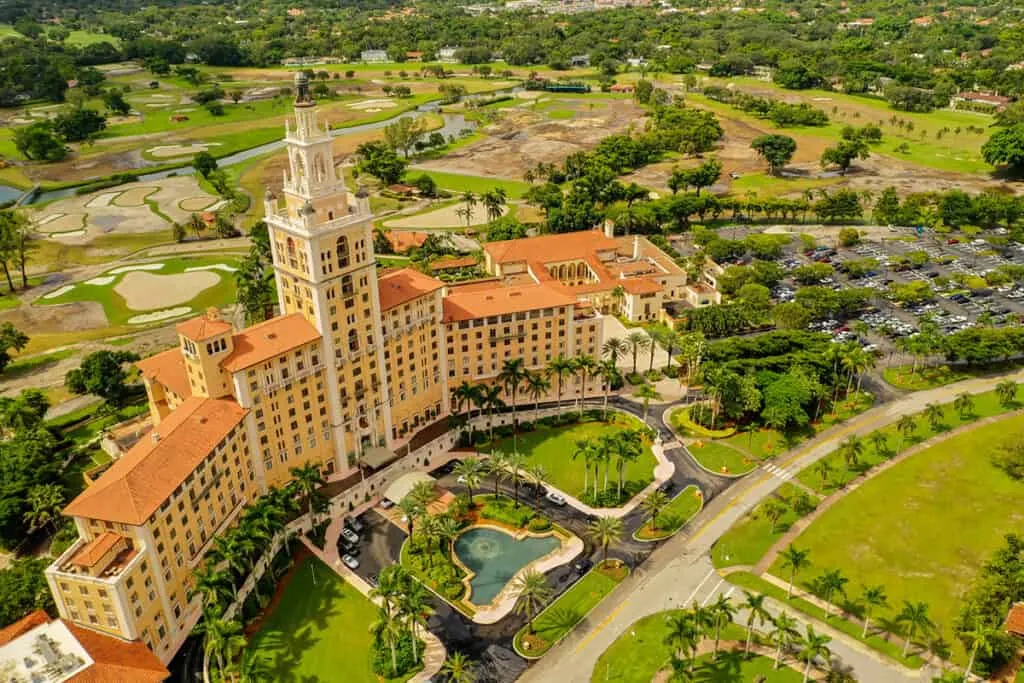 Many athletes, musicians, movie stars, politicians, and even gangsters frequently stayed at the Biltmore to enjoy fashion shows, galas, and aquatic shows. Think Ginger Rogers, Judy Garland, Bing Crosby, Johnny Weissmuller, Franklin D. Roosevelt, and Al Capone.
During World War II, the hotel was seized by the government and converted into a military hospital. After the war, it became a veteran's hospital until 1968 and then remained empty for almost a decade. Eventually, the Biltmore was lovingly restored and everything is now is as it once was, with only slight modifications.
On the tour, you'll learn even more interesting facts and you'll get to see many areas of the hotel, including the pool and some of the extravagant ballrooms.
By Vicky of Buddy The Traveling Monkey
16. Visit Biscayne National Park
If it's more outdoor activities you're looking for, take a day trip to Biscayne National Park for you a very different landscape.
Biscayne National Park is less than an hour outside Miami, in Homestead, FL. Because the park is 95% water, most of it is only accessible by boat. Once out on the water though, there are countless ways to explore Biscayne National Park.
The Biscayne National Park Institute runs a variety of tours and boat cruises that offer an expert's perspective on the park. You will love all the different water activities! From snorkeling the coral reefs to kayaking through the lagoons, there's so much to see and do here.
Fishing and lobstering are other popular activities. You can also access the top of Florida Keys from here (we did a fabulous 4-day road trip from Miami to Key West, which I totally recommend if you have the time) across the bay at Boca Chita Key, Stiltsville, and Elliott Key.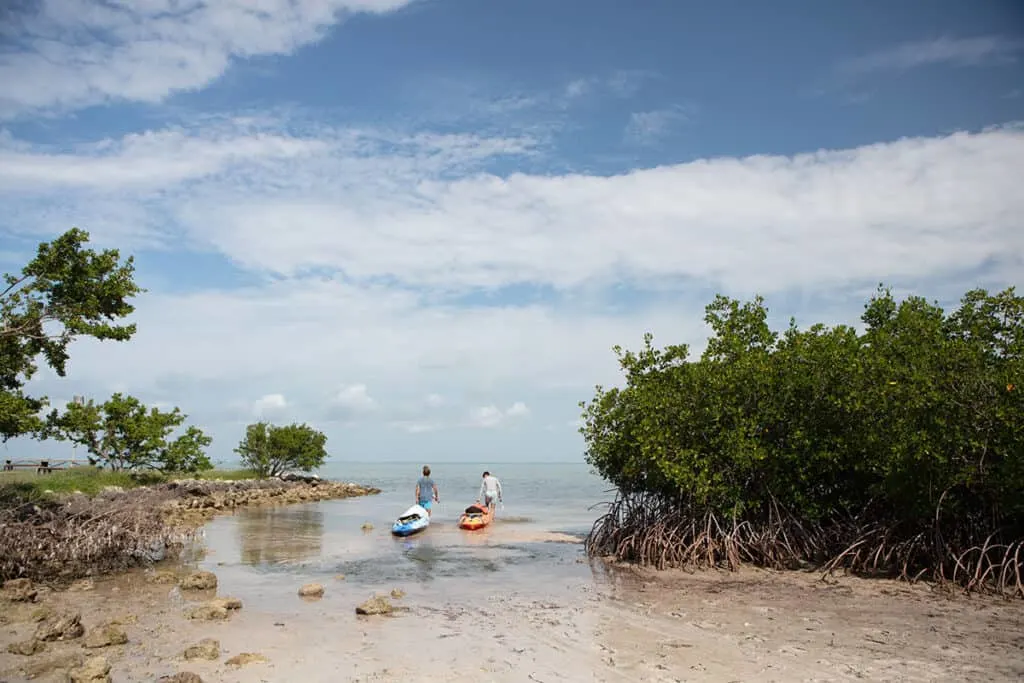 But if you'd rather stay on the land, you can explore a handful of hikes on the 5% of the park that isn't water! There's also a fun visitor's center too.
Don't miss the opportunity to visit this unique national park during your visit to Miami!
By Candice, of CS Ginger
17. Visit Pérez Art Museum
Pérez Art Museum Miami, or PAMM, is a great way to escape Miami heat and enjoy contemporary art, minutes from Downtown Miami.
The museum has protected and displayed modern art since its establishment in 1984. The PAMM's main collection encompasses almost 3,000 works of art from the 20th and 21st centuries.
There are five ongoing museum exhibitions that range from paintings to augmented reality experiences. Another five to six visiting exhibitions are on display at any given time. While art is subjective, you'll likely find most exhibitions to be Instagram-worthy.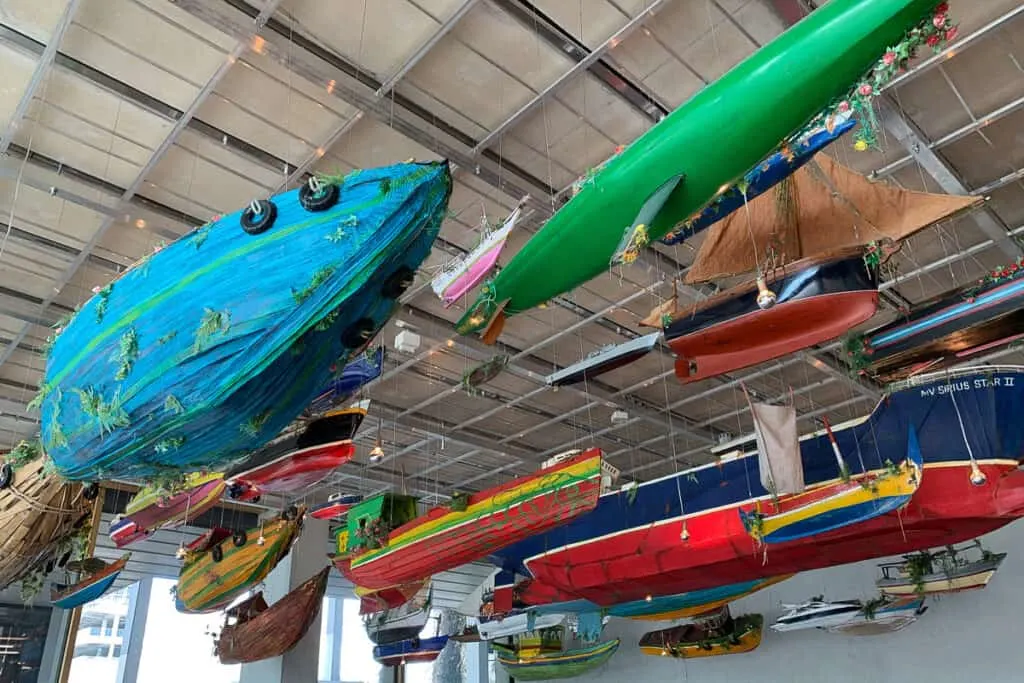 Exhibitions extend to the outdoor Sculpture Garden. This is a great opportunity to stop by Maurice A. Ferré Park that surrounds the museum. This waterfront park offers captivating ocean views, similar to other coastal cities.
You'd need about 2 to 3 hours to explore Pérez Art Museum Miami. For free self-guided audio tours, download the PAMM App from the App Store or visit the museum's partner website.
Keep an eye on the museum's open hours when planning your visit. While PAMM is open from 11am to 6pm on most days, the museum is closed on Tuesdays and Wednesdays. Thursday is the day to catch an exhibition in the evening thanks to the extended hours.
Regular museum admission ranges from $12 to $16 per person. PAMM offers a large selection of free passes for qualifying visitors. And anyone can visit PAMM for free every second Saturday of each month.
If the museum exploration leaves you hungry, you can dine right inside the museum. Enjoy food and views at a casual restaurant overlooking the Biscayne Bay.
By Anastasia of TravelRealist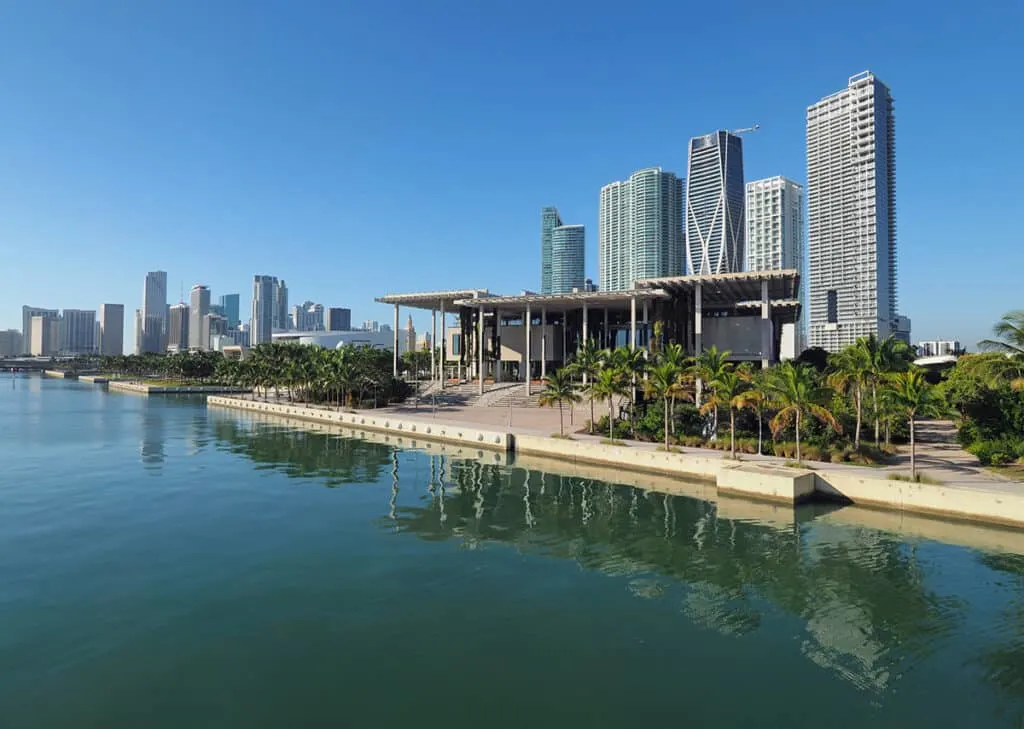 18. Visit the HistoryMiami Museum
If you are a history buff, then the HistoryMiami Museum should be part of your itinerary to the Magic City. Located in downtown Miami, it has exhibitions, artistic projects, tours, and collections, that hope to help people comprehend the significance of the past in molding Miami's future.
The museum aims to protect and share Miami's stories to promote education, inspire a connection to the city, and encourage community involvement by narrating the stories of Miami's communities, people, locations, and happenings.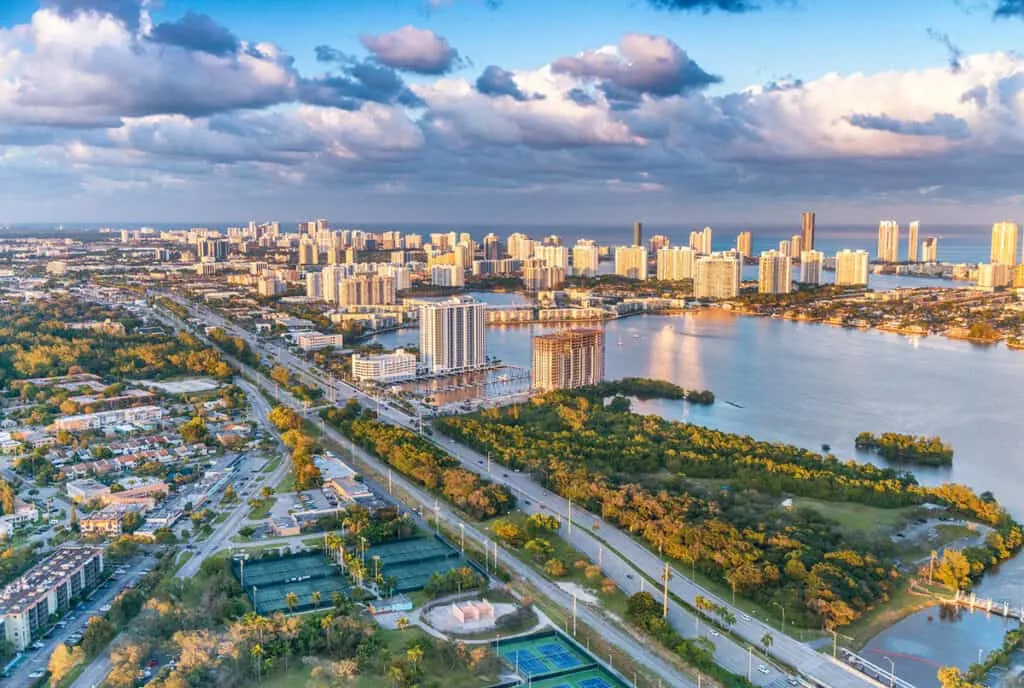 The HistoryMiami Museum is a cultural gem that showcases the evolution of Miami from a small swampy town to a bustling metropolis. You'll learn about the city's Native American heritage, its Spanish colonial past, and its transformation into a center for trade, tourism, and art.
The museum's exhibits are interactive and engaging, making history come alive. You can step back in time to the 1920s and experience the glamour and glitz of Miami Beach, learn about the people who helped shape the city, or explore the impact of hurricanes on the city's development.
Miami is a melting pot of cultures, and the museum celebrates this diversity. You'll gain insights into the lives of Cuban exiles, African American pioneers, and other groups that have contributed to Miami's unique cultural tapestry.
The HistoryMiami Museum is a must-visit for anyone interested in Miami's fascinating past. Plus, it is a good way to escape the heat and humidity during those sweltering Miami afternoons!
By Bernadette of Explorer Chick
19. Get to the water park!
If you are looking for a day of splashing around, the JW Marriott Turnberry Miami Resort is a must. You don't need to be staying here to use this epic water park either, was well as a spa, and a golf course for the adults.
The Miami Turnberry Resort water park Tidal Cove has five water slides, a lazy river, a kiddie splash pad area, flo riders, and really nice pools. The water park is open from 9 am to 6 pm. If you book a stay at the JW Marriott, admission is included. Day passes are available for purchase.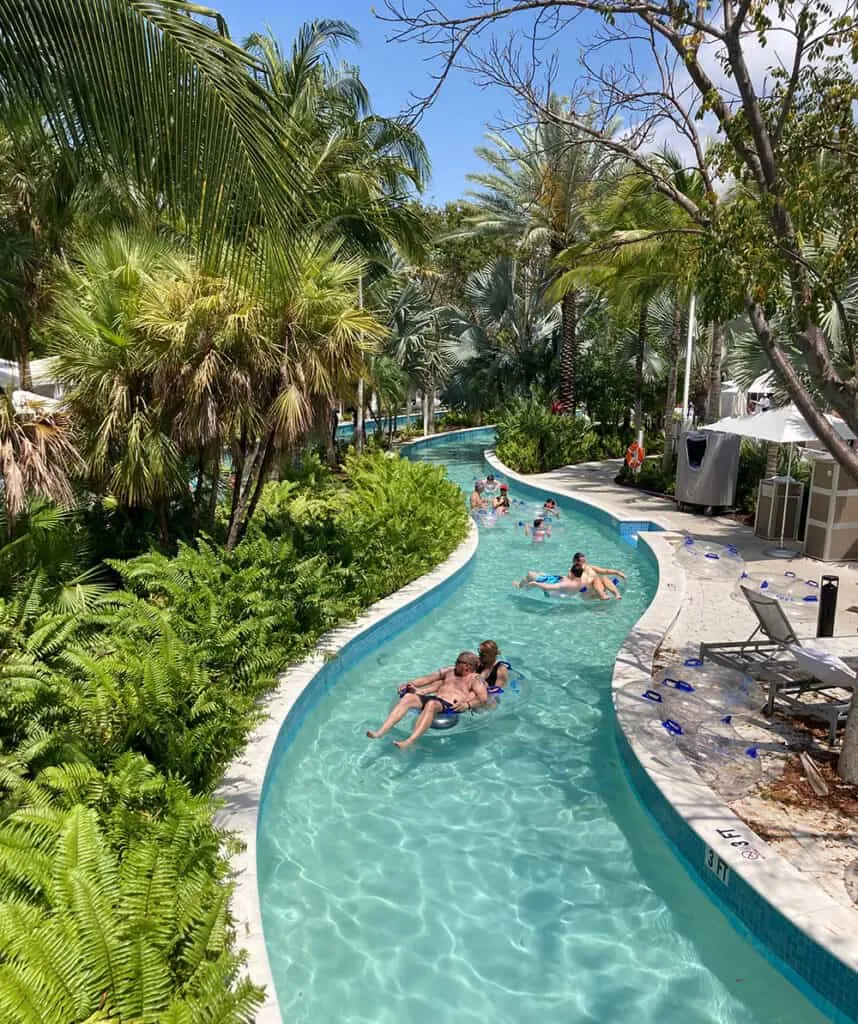 The Miami Turnberry is located in one of the nicest areas of Miami amongst the expensive cars and high-end shopping across the street from the resort. And if you are lucky you will get a balcony that overlooks the area. If you have never eaten breakfast at a JW, this is something you will want to try too. It is incredible!
The Miami Turnberry Resort is a great weekend getaway and a great way to treat yourself to something special!
By Lisa from Planningaway.com
20. Visit the Everglades
One of the largest and most unique USA national parks, Everglades National Park, is about an hour and a half drive away from Miami and makes for a great day trip.
A trip to the Everglades is perfect for families looking for outdoor fun in and around Miami. Securing a place on a list of UNESCO World Heritage Sites, UNESCO World Network of Biosphere Reserves, and Ramsar Wetlands of International Importance – Everglades is a subtropical wilderness at its best.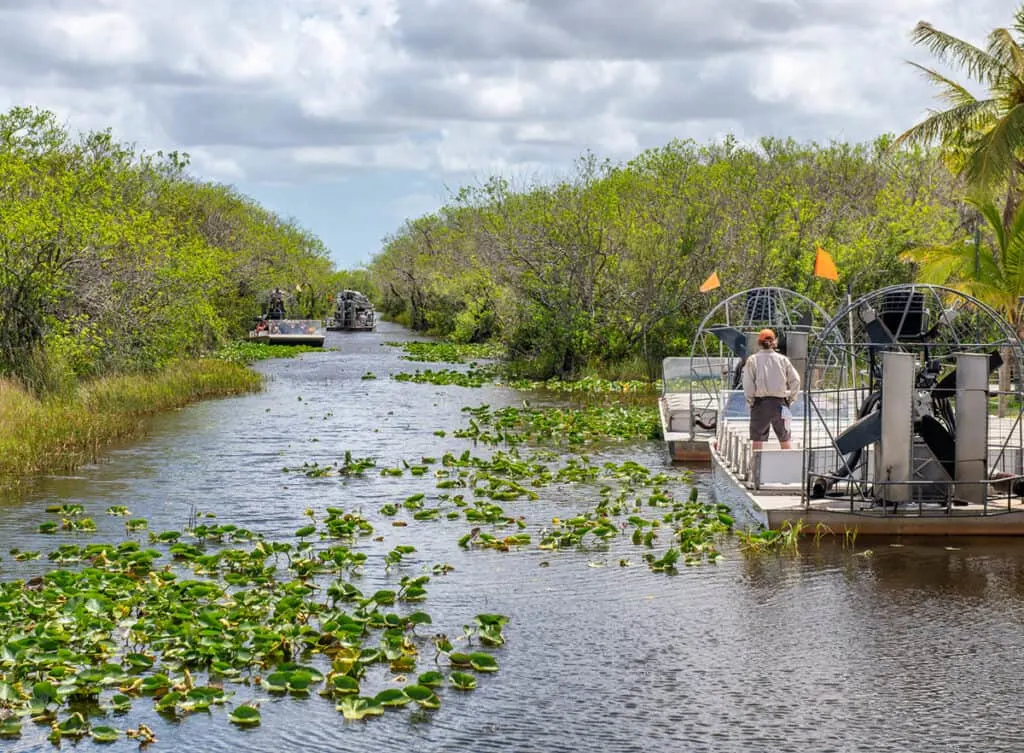 There are many amazing things to see and do in the Everglades, yet, you'll have to choose a few owing to the time limit. Pro tip: start super early.
Among three entrance points, Homestead is one of the most popular as it lets you drive through in your car.
Shark Valley Entrance is the second best. With a panoramic view of the park, the Observation Tower in Shark Valley is the best point to see exotic wildlife like birds, turtles, and alligators.
A 40-minute airboat tour around the wetland is a great way to explore the diversity of the Everglades ecosystem. (Buy your Everglades air boat tour and show ticket here.)
If you want to explore the park at your own pace, take on one of the beautiful trails in the park. Anhinga Trail, Pa-Hay-Okee Lookout Point, and Mahogany Hammock Trail, to name a few.
Canoeing through the mangroves of Nine Mile Pond, catching a spectacular sunset on the water, and touring Florida Bay are the other rewarding activities at Everglades.
Don't forget to bring a hat, sunscreen, sunglasses, insect repellent, dry snacks, and a water bottle.
By Anjali of Travel Melodies
21. Get ice cream at Robert is here!
On your way to the Everglades, stop at Robert is Here! This fruit stand is an institution and a must-stop on a South Florida road trip traveling from Miami.
Robert Is Here is a shop in the middle of nowhere but as soon as you pull up you will see why everyone raves about this place!
It is so much more than a roadside attraction selling fruit. Yes, you can purchase fruit of the tropical and exotic variety such as dragonfruit, fresh mangoes, guavas, papaya, kiwifruit, and all sorts of citrus.
They also make homemade salsas and guacamole daily as well as apple butters, bacon jam, and a variety of hot sauces. But they sell hard-to-find items that you may never have seen like goose and ostrich eggs, and interesting items only found here, including key lime Caesar dressing and gator jam.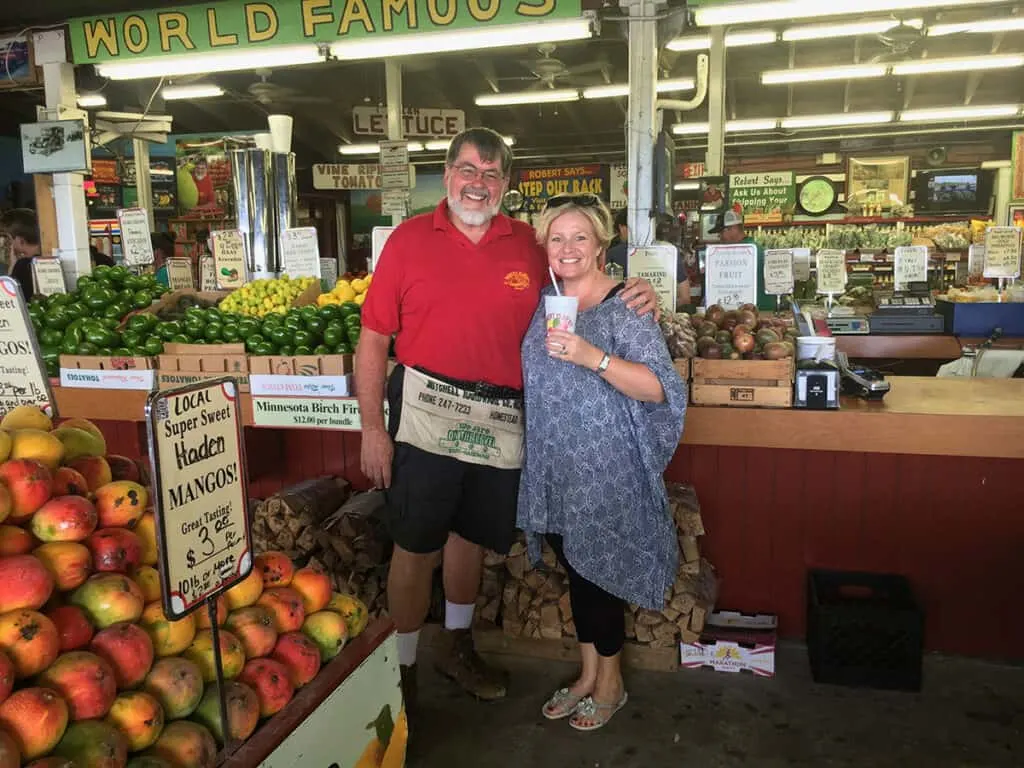 The first thing you will notice is the line wrapping out the door for the freshly blended smoothies and milkshakes, which is worth a stop alone. Order an icy concoction of your choosing filled with simple ingredients and no preservatives from hand cut fruit. Then meander through the produce to the back section of the property, where all the action is!
Robert Is Here hosts live music on the weekends and a delicious barbecue station behind the produce stands. There are large tropical birds, a petting zoo with goats, pigs, and cows, and plenty of shaded picnic areas to sit and enjoy the Florida afternoon just outside of Miami.
By Erin from Super Simple Salty Life
---
Some cool tours to do in Miami
22. Take this 2-hour art deco bike tour
23. Taste the good stuff on this Little Havana walking food tour
24. Or try this 3-hour South Beach walking food tour
25. Get your Miami Vice on with this 2-hour private boat charter for groups up to 6
26. Ride segways around Millionaire Row
27. Take a 30-minute private helicopter tour