This post covers our fabulous Miami to Key West drive down the Florida Keys.
It is an easy 4-day Florida Keys itinerary – and it will certainly get you started if you plan to stay a few days or even a week on the Keys! We started with a few days in Miami first, doing some of these things in Miami that I hadn't done before to scratch below the surface.
Florida is a huge state with so many different experiences from theme parks to beaches, major cities and quiet sunsets.
Your ultimate Florida Bucket List might include all of those, but if you decide to drive the Keys, I'd suggest take some fun detours for a couple of hours – or a couple of days – and visit some of the best Florida Keys beaches on the way down to Key West.
We rented a car from Miami airport and booked accommodation along the way, but another way to really see what the Keys has to offer is to rent and RV and choose from these best RV parks in the Florida Keys.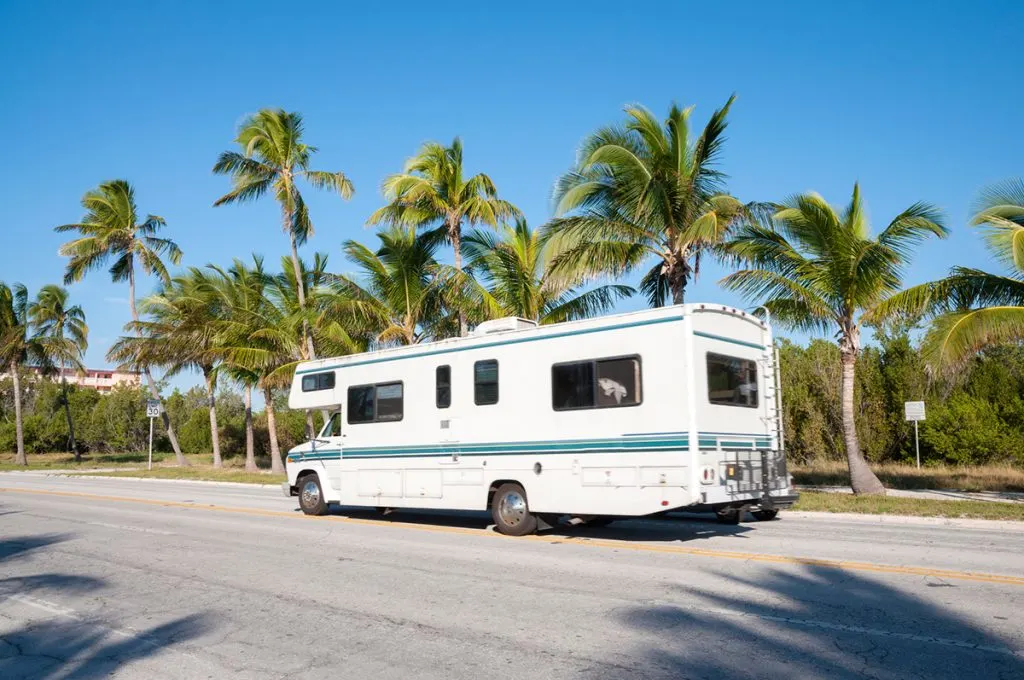 We also broke our trip up and stayed 1 night in Islamorada on the way back, had lunch at Marathon on the way south – to eat some of the pesky Lion Fish that are consuming the native species along the coral reef – and spent 2 nights in cute Key West – the southernmost point, mile marker 0, of the United States.
How far is Key West from Miami?
You could drive down the Florida Keys, all the way to Key West from Miami in about three hours, making it a perfect weekend road trip. Or even spend one perfect day in Key West.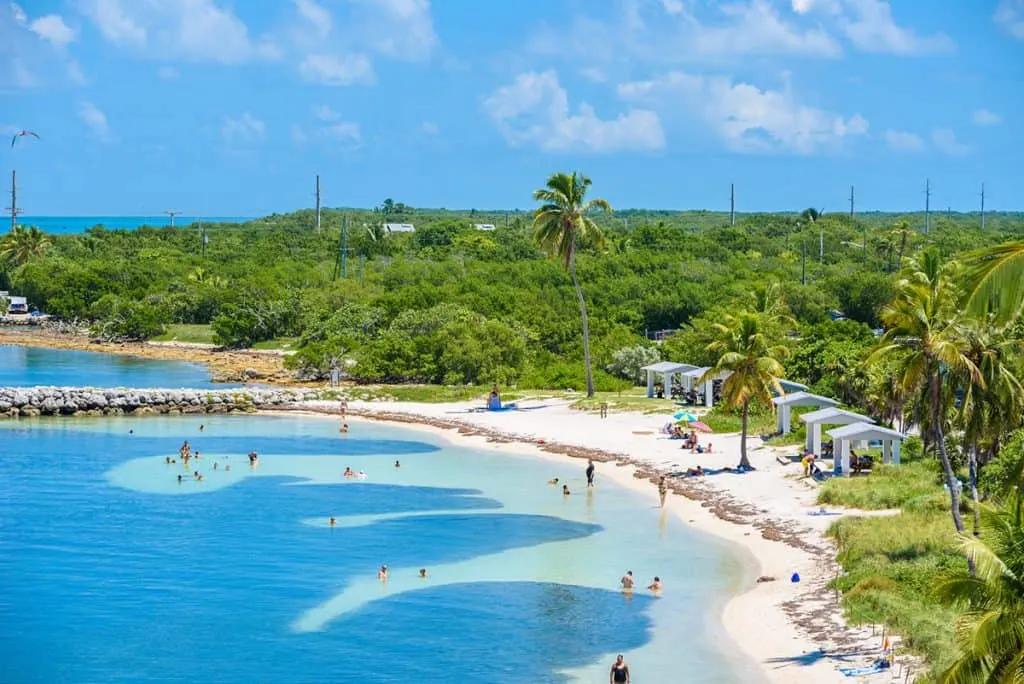 You could even cheat altogether and fly from Miami to Key West – but even without restricted flights at the moment, by the time you check in two hours before your flight then the 50-minute flight from Miami International Airport, where you'd barely get up to altitude before you're coming down again, the best way is to drive!
Besides, this Miami Key West drive provides so much more than just having your own wheels when you get there. It's the sights you'll see along the way that make it interesting.
We took our time driving down the Keys and the reason we chose to stay about half way back to Miami (in Islamorada) on our last night is because the road is only two lanes (one lane each way) in places and we had a flight to catch the next morning.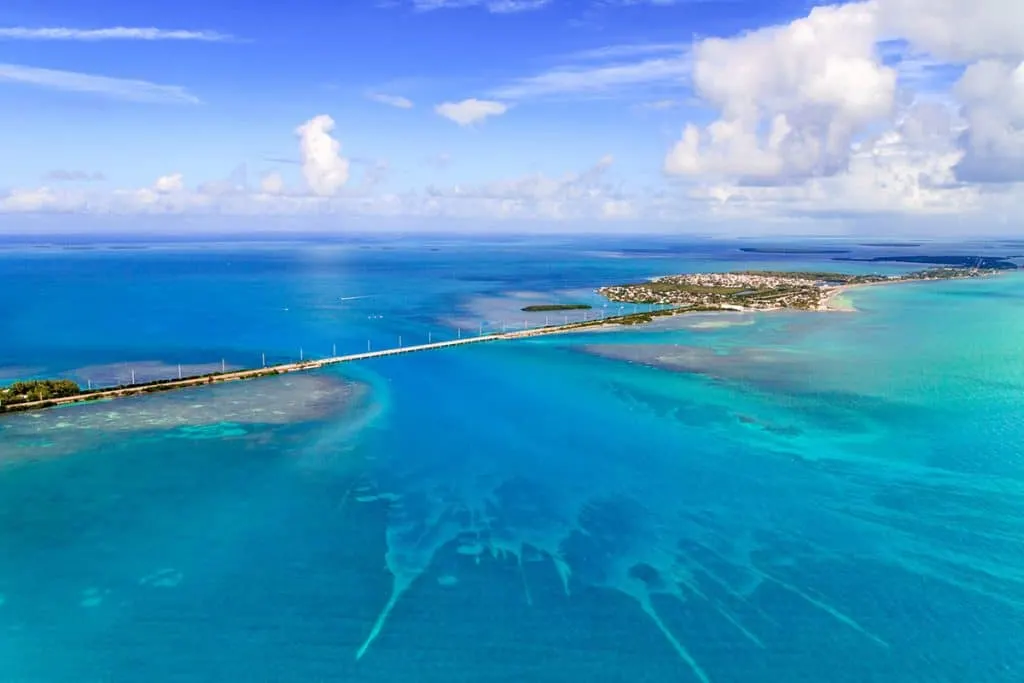 It can get pretty crowded on Highway 1, especially on weekends, or God forbid, there is a crash, and I didn't want to risk missing our flight. I was a bit nervous!
We love a USA road trip, hubby and I. He gets behind the wheel and navigates on the wrong side of the road (we're from New Zealand!) and I give him "helpful" advice along the way, which sometimes he finds annoying – whaaaaat 😉
If you love a USA road trip, check out our 7-day Utah road trip and our PCH road trip from Los Angeles to San Francisco.
There's certainly enough to do and see along the Florida Keys to take four or five days – or even two weeks if you're going to take all your leave!
I've also added the Keys and Key West to this list of 12 fun places to have Spring Break in Florida.
Tip: look for cheaper deals on flights into other Florida airports than Miami. For example you can drive from Orlando to Key West in about 6.5 hours, Tampa to Key West in just about the same time. Or Fort Lauderdale to Key West in about four hours..
Of course, on your visit to Florida you'll probably stay in Miami a night or two – and there's plenty to see and do in Miami for a weekend, that's for sure!
I would have loved to stay longer as two nights in Key West was barely enough time – there are four national parks in the Florida Keys area too, but if you just want to pop down for a weekend, this Miami to Key West drive will give you a few ideas of what to do down here.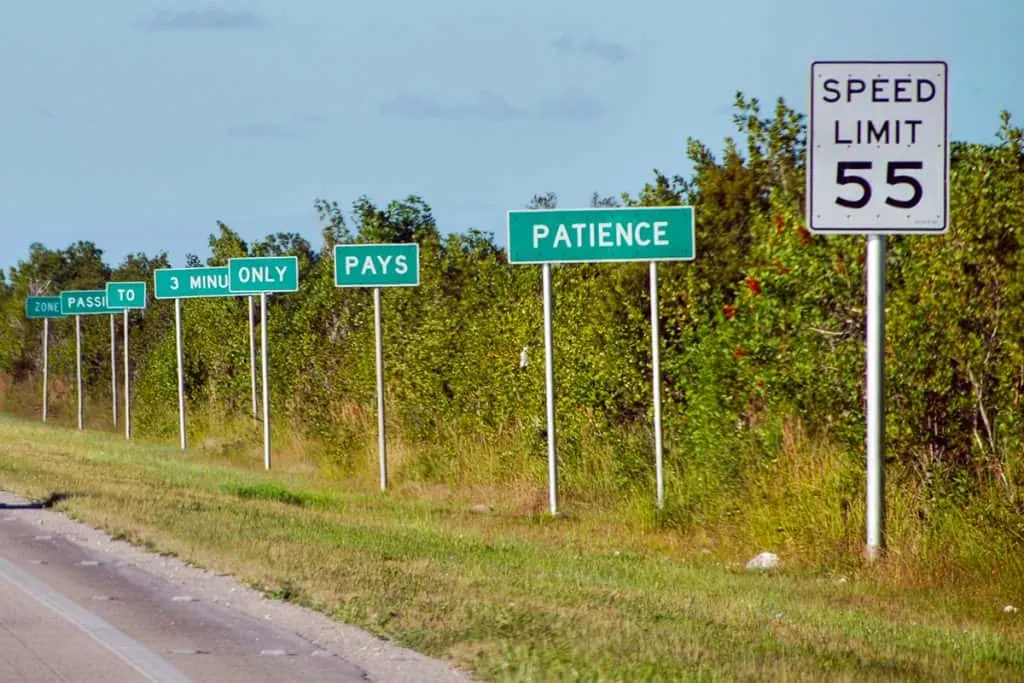 How long are the Florida Keys?
The Florida Keys stretch 180 km (113 miles) from Miami to Key West and the islands (or keys) are linked by a series of bridges, the overseas highway!
These engineering wonders of concrete snake across the Atlantic ocean between mangroves, swooping from sea level to sky, and each key is a little different to the last.
And of course the feat of the Seven Mile Bridge is one to take photos of!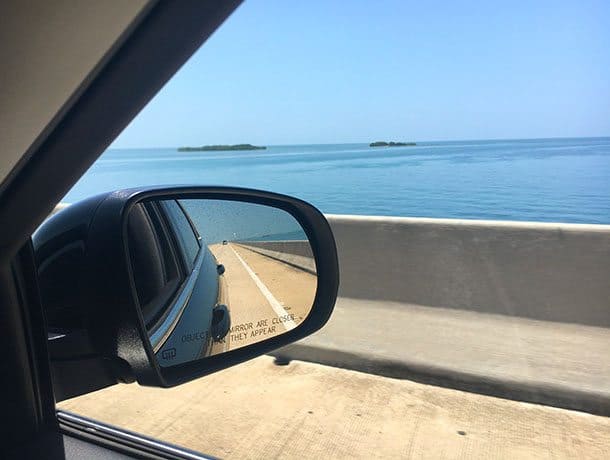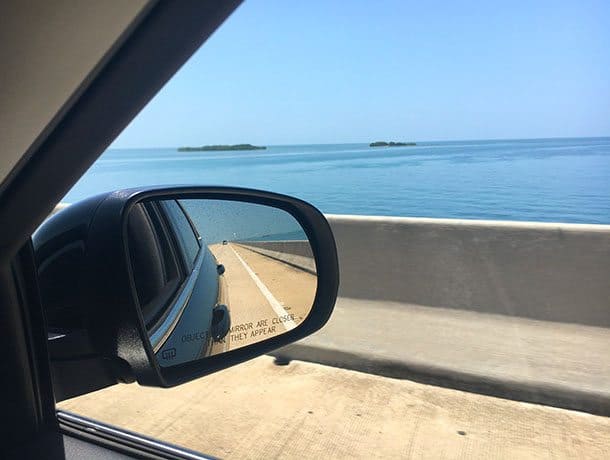 As I mentioned earlier, the road to Key West is only one or two-lanes most of the way, so it can be slow going if you get behind some numpty who never checks their rear view mirror, or worse, get caught up in a queue of traffic because of an accident or a break down. (Hence staying closer to Miami the night before our flight).
However neither of those situations befell us and we tootled down easily from Miami to Key West and back again.
First stop: We stopped to meet the folks who work for REEF at Key Largo fighting the scourge that is the lion fish (more on that below).
Second stop: then we had lunch in the fishing village of Marathon
Third and final stop: Arrived at Mile Marker Zero in Key West a leisurely four or five hours later!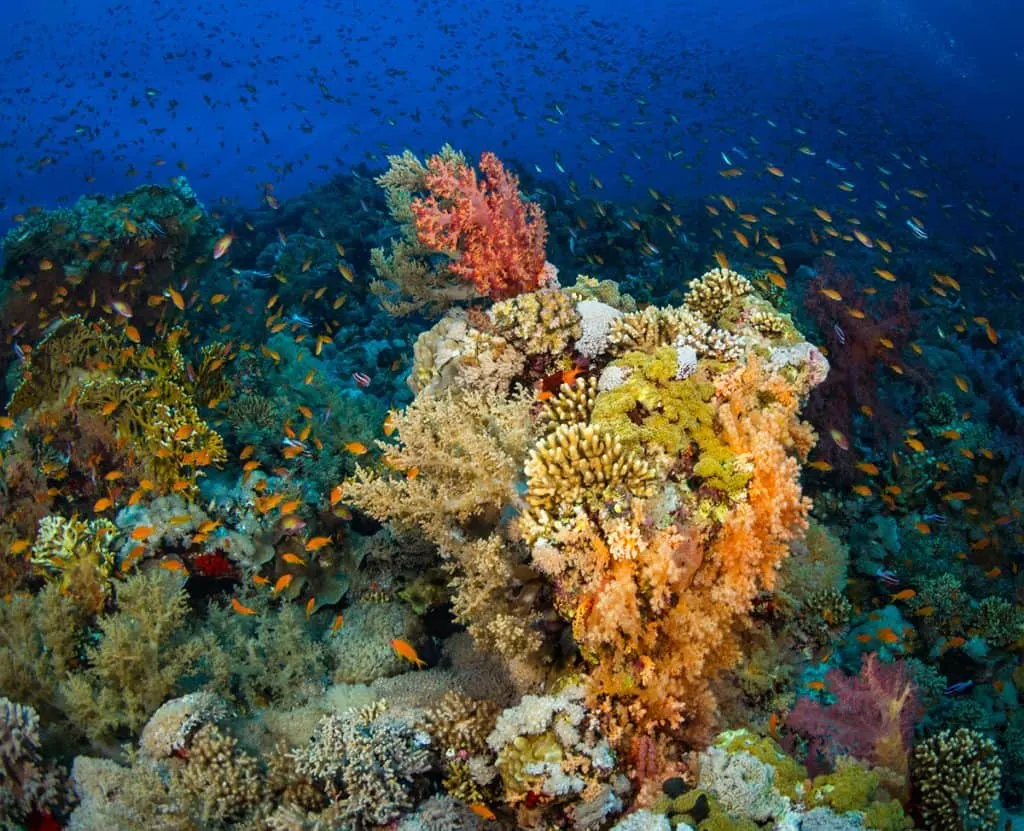 But first: Starting our road trip in Miami…
You can't visit the Florida Keys without first spending a night (or three) in Miami! Even if you've been before like we have several times, it's a great excuse to stay in a different part of this groovy city.
I wrote this post on things to do in a weekend in Miami that includes catching a baseball game and heading down to the Florida Everglades where we fed chicken parts to alligators (not even kidding).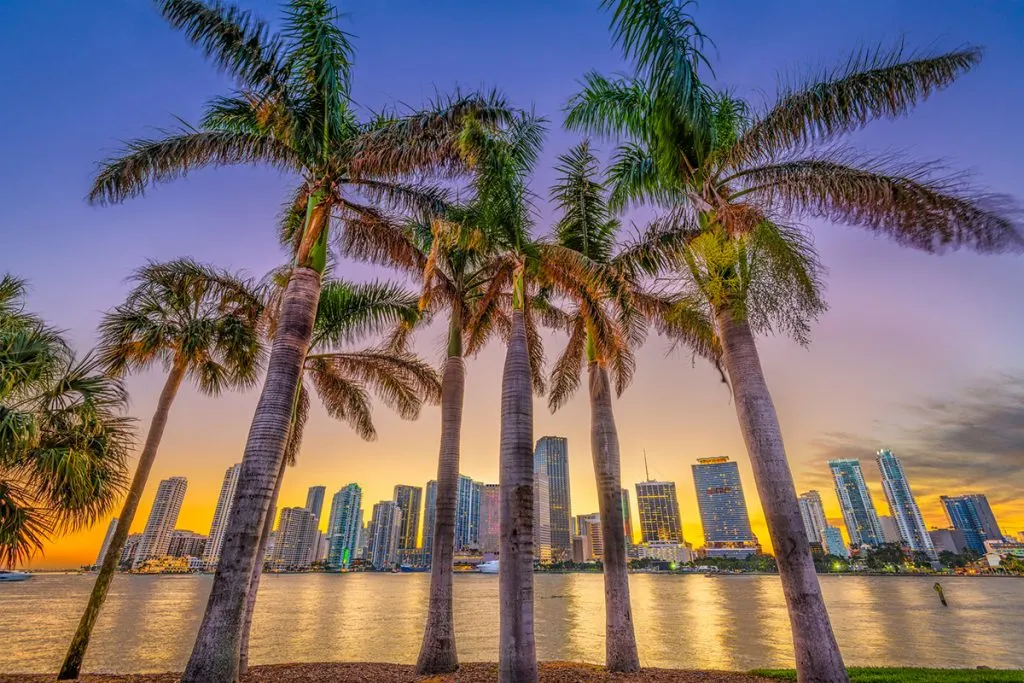 But this time we stayed at the YVE Hotel in downtown Miami as we flew in late and wanted to hit the road early the next day.
YVE is located in a great spot if you're heading off on a cruise from Miami too as it's right there beside the Port of Miami and across the road from Bayside Marketplace which is heaving with restaurants, bars and shops. It was ideal for our one-night stopover.
I also loved visiting Casa Casuarina, the former home of fashion legend Gianni Versace, which is now a hotel. You can see my pics here when I snooped through on a media looky.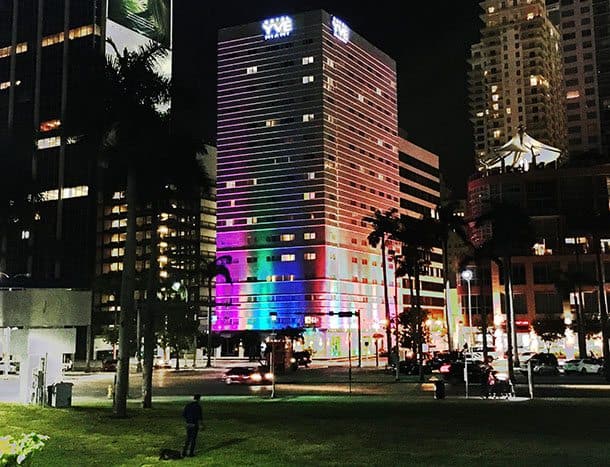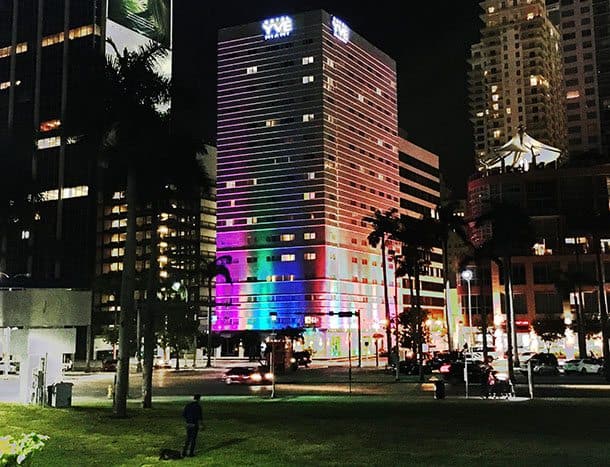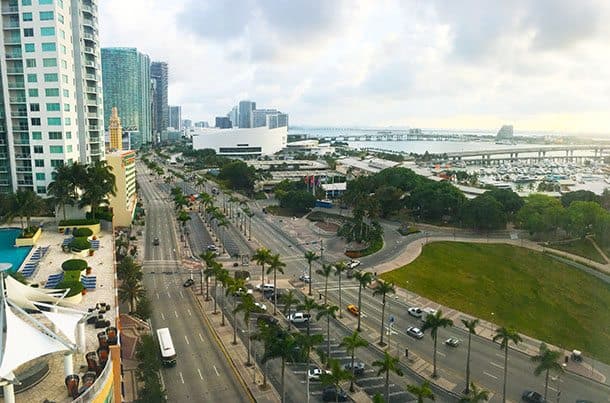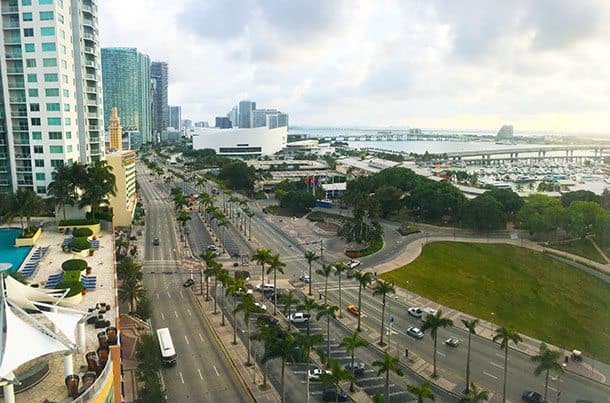 But we've also stayed in South Beach a few times and really love the vibe, the restaurants and the shopping there. And oh the people watching!
If you have time, I loved our visit to the Miami Everglades national park where we got to feed the nashing, grunting alligators! You'd need at least a half day to do this.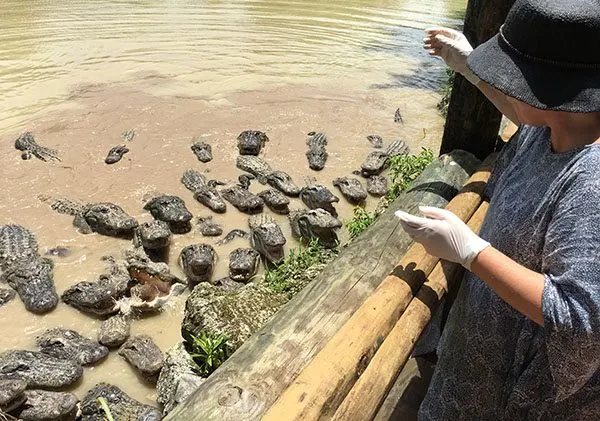 Here is my 4-day Miami to Key West drive itinerary:
If you are driving an RV and are looking for great campsites in places like Bahia Honda State Park, Big Pine Key and Dry Tortugas National Park, you'll like my post covering 10 amazing RV parks in the Keys.
1st stop: Key Largo
Miami to Key Largo driving distance is 69 miles and is the first key you'll come to.
It took us about an hour from Miami Airport where we had Uber'd from our hotel to pick up our rental car so we could return it to the same location and fly out at the end of the week.
As part of my research of things to do and see on our Florida Keys road trip, I came upon the topic of the lion fish and the monstrous eco disaster that this very pretty, small, yet venomous, aquarium fish is wreaking on the marine life of the Keys, the Gulf of Mexico and all the way down to South America.
So my first stop was to visit the team at REEF (Reef Environmental Education Foundation) who are trying to battle the plague.
In a nut shell, the coral reef stretches from Martin County FL, north of Fort Lauderdale, all the way down to well past Key West.
You can read all about the lionfish in my previous post here >>
Don't expect Key Largo to be a metropolis. In fact it's barely marked on a road sign! If you blink you could miss it and suddenly you're on your way through to Islamorada.
We did blink and had to pull off at the next slip road to cross over Highway 1 and come back up again.
You may know that Key Largo is home to the quirky Jules Undersea Hotel where you need to don a wetsuit to get to your room and spend the night sleeping underwater (which would freak me out!) and it's also a great place to learn to SCUBA.
In fact all of the Keys are famous for fishing, diving and snorkeling but they are also surrounded by mangroves so while ocean sports are easy to come by, so too are kayaking and bird watching.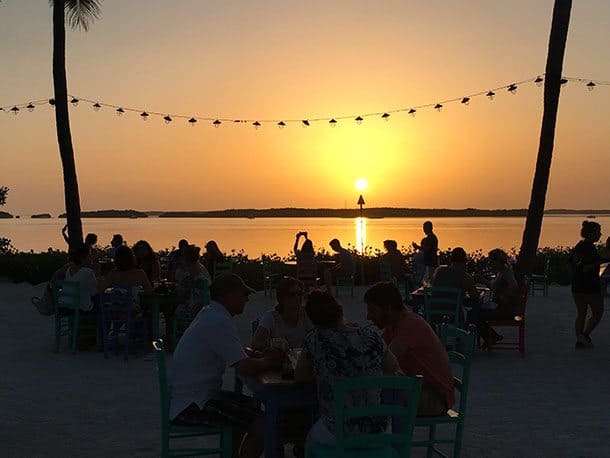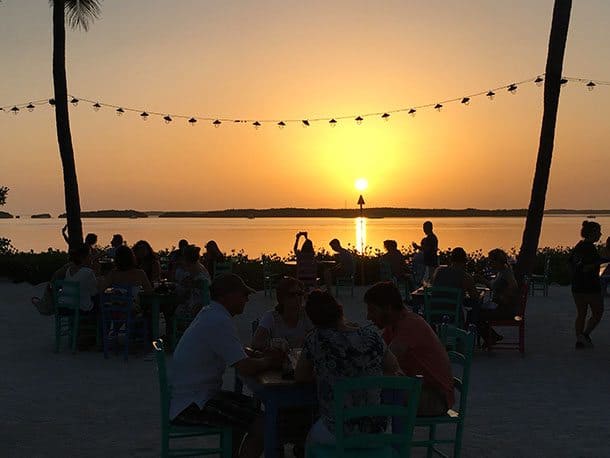 Tip: Sunsets are something to make time to celebrate on the Florida Keys, so head Gulf side each evening for a cocktail with a view at any of the restaurants or bars around the little marinas or beaches.
Click here for Key Largo restaurants >>
2nd stop: Marathon
You'll pass over Grassy Key on your way to Marathon in the Middle Keys (between Key Largo and Key West), but you might decide you need to stop here because the Dolphin Research Center is located here.
They are a nonprofit research and education facility with dolphins and sea lions living in natural lagoons. Some are rescued, some come from other centers and some are born here. All participate in the programs only if they wish to and you can book various activities, including being in the water with them.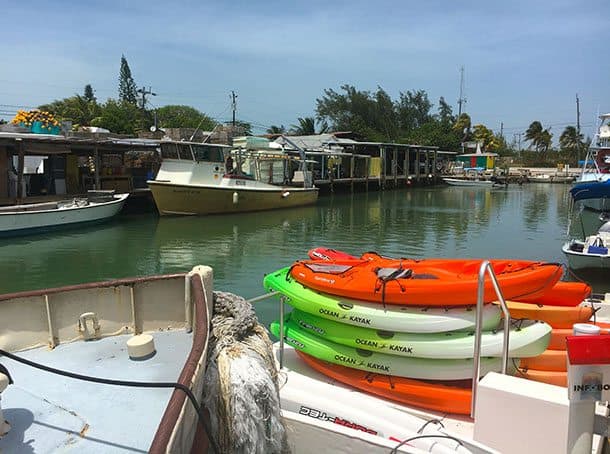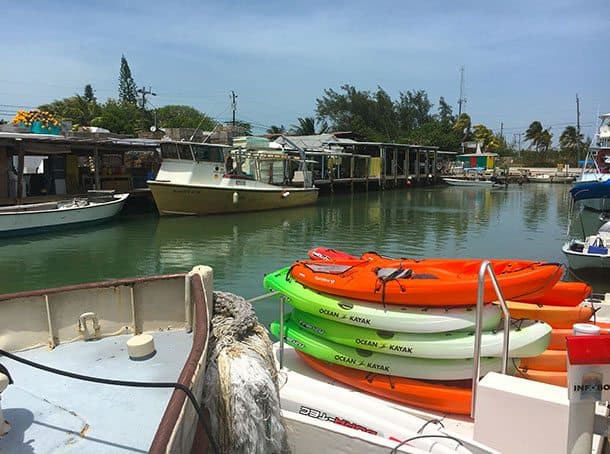 The next key you'll come to heading south is Islamorada (where the Netflix series Bloodline was set), but we stopped at Marathon Key as we were staying at Islamorada on the way back, so saved that for later.
Marathon is at mile marker 48 (heading south to 0, driving distance 115 miles from Miami), and as I was on a quest to seek revenge and eat the beautiful but terrible tropical fish, lion fish, I was recommended to visit Castaway Restaurant for lunch.
Hidden off the main highway on a sleepy marina, I honestly wouldn't have looked twice at if I hadn't had the recommendation. In fact we never would have found it, but I'm glad I had the tip to stop.
It's Marathon's oldest restaurant and one of the few places where you can get lion fish on a plate.
It's a bar/slash/diner that looks like it's been here forever and is frequented by locals. But what makes it unique is that they serve up lionfish as sushi – and use the head and tail for presentation.
There may be a billion trillion lionfish eating the native fish out of house and home on the reefs below, but I played my part and ate this one!
Click here for places to eat in Marathon if you're in the mood for a pit stop >>
The Turtle Hospital is also located in Marathon. It's a fully functioning veterinary hospital that rescues, rehabilitates and releases sick sea turtles. As part of their mission to also educate the public, you can take a guided tour and go behind the scenes, even feeding some of them.
3rd stop: Key West
We drove through the Lower Keys between Marathon and Key West – which have great beaches and RV parks to stop at too.
But I instantly fell in with love Key West! It's officially Mile Marker Zero of Route 1 at the very bottom of the Florida Keys – you can even pose for a selfie by the sign.
It is one of the best places for a weekend getaway in Florida I've been to. The historic part of town, centered by Mallory Square, is cute and colorful and I could definitely have stayed longer here.
My suggestion is to stay in the old town where it's just so quaint, and I'd suggest spending two or three nights in Key West.
We arrived around mid afternoon and checked into our hotel (details below) in a beautiful, refurbished 100-year old two-story wooden house with wrap-around verandas.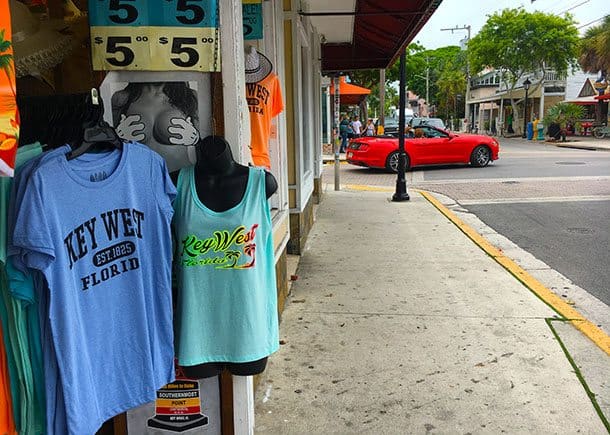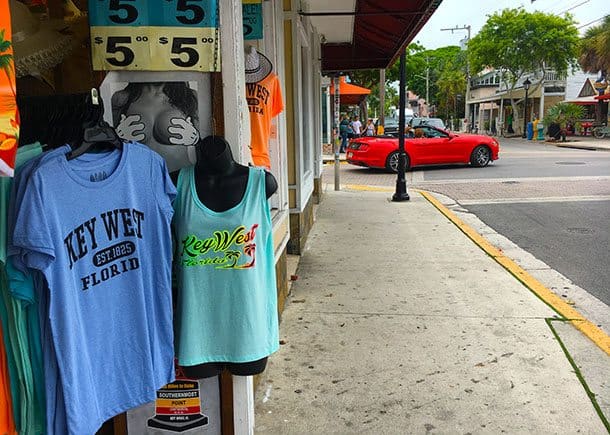 It was located only a couple of blocks from the main street, Duval Street, which is lined with brightly painted wooden shops and restaurants serving cocktails, key lime pie and fresh seafood, as well as lots of little beachy boutiques for sun dresses, souvenirs and a few art galleries.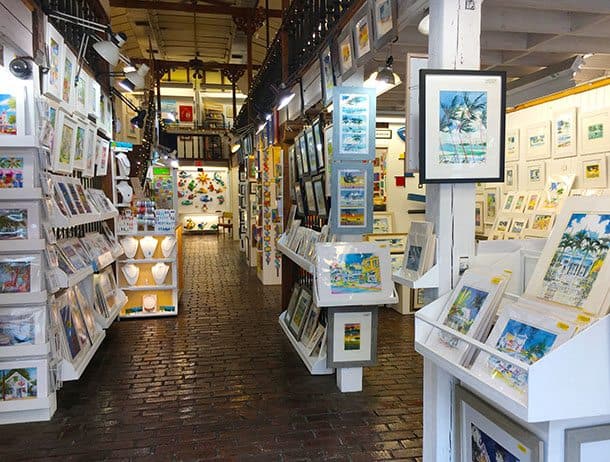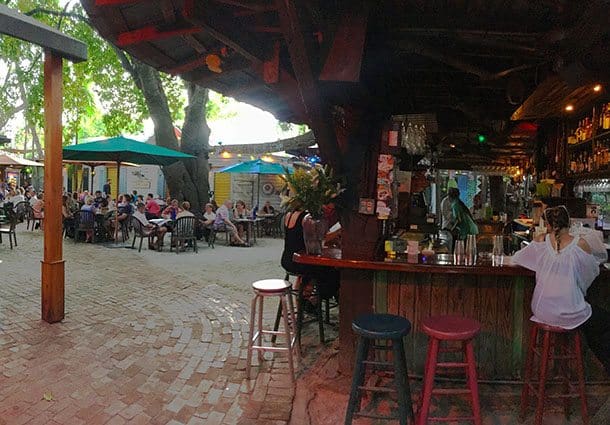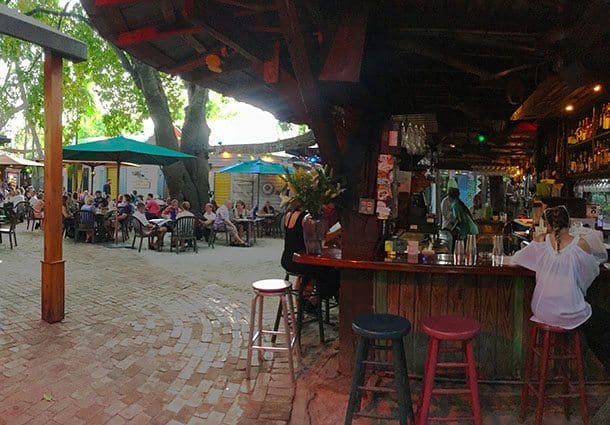 What to do in Key West
1 Ernest Hemingway's House
I nearly didn't visit Ernest Hemingway's house as time was tight, but I'm so glad I did!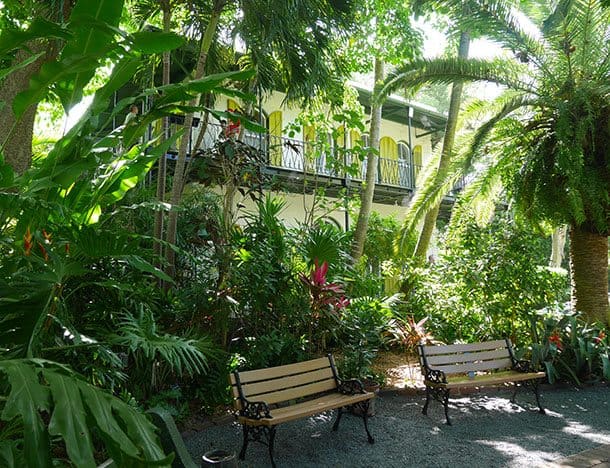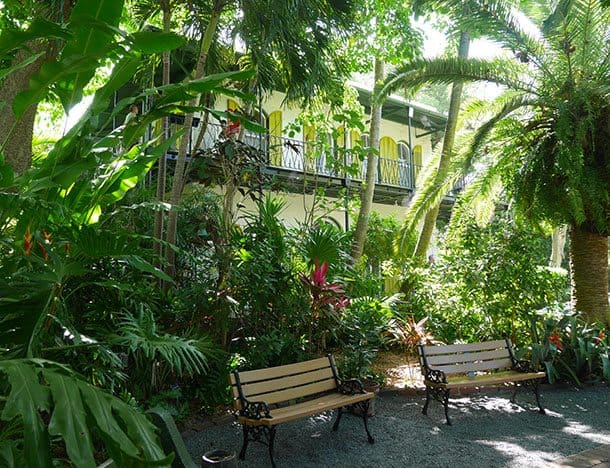 This should be on your list, even if just to see the 53 cats who live here and are descendants from Snow White, a cat with six toes on each paw given to Hemingway's son. Just about all of them have 24 toes and I loved them!
But the house itself is preserved as his ex-wife left it (he had moved to Cuba when she stayed on here). It's a fascinating insight into the author and the man.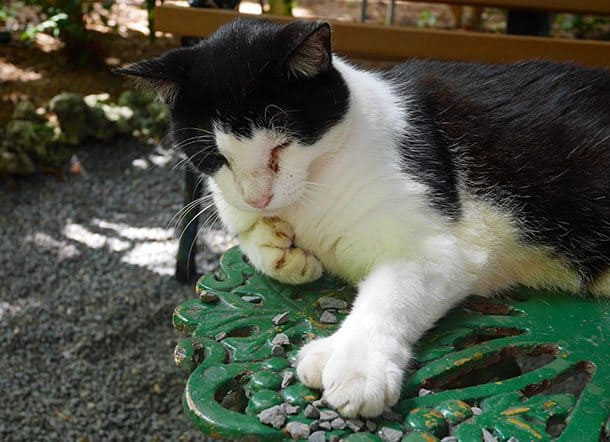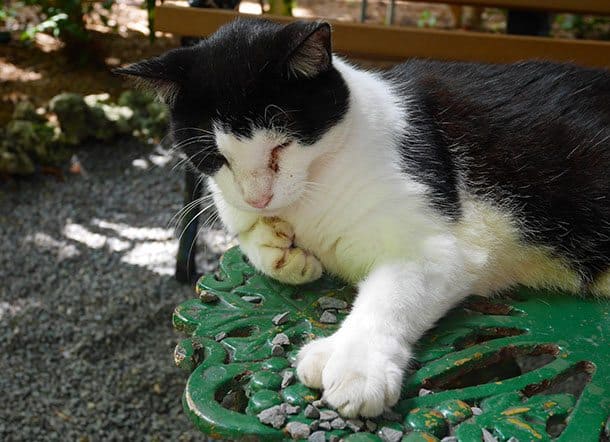 2 Take a heli flight!
I took a helicopter flight over Key West where I could see some of the famous ships lying wrecked on the ocean floor and which used to be a huge industry as businesses were set up just to salvage the many ships that wrecked on the coral reefs 100 years ago with cargo that would be valued at $7 million by today's value.
We could see sharks swimming in the clear water and flew over the US Army special forces base where guys dressed in black were in the pool – probably practicing near drowning techniques!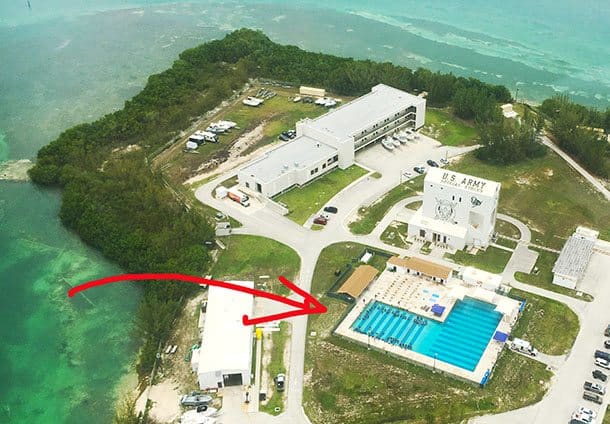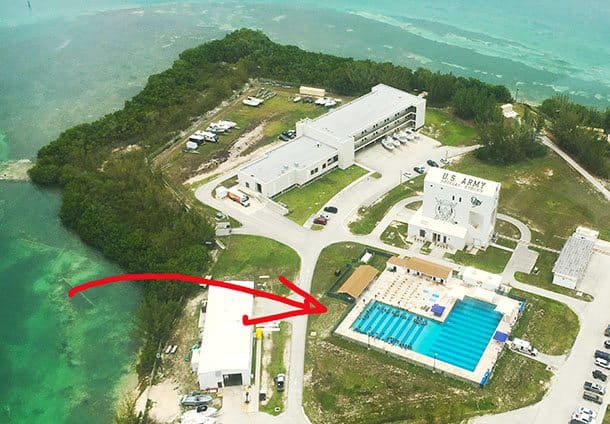 3 Eat key lime pie!
I'm sure you don't need me to tell you to indulge in this sweet/sour/sticky dish on this road trip! And believe it or not there are a few ways to make this tart meringue pie…
Grab a take away Key lime pie at Kermit on Duval Street or sit down and enjoy it outside under the trees strung with lights at Blue Heaven. Actually Blue Heaven is definitely worth going to for dinner.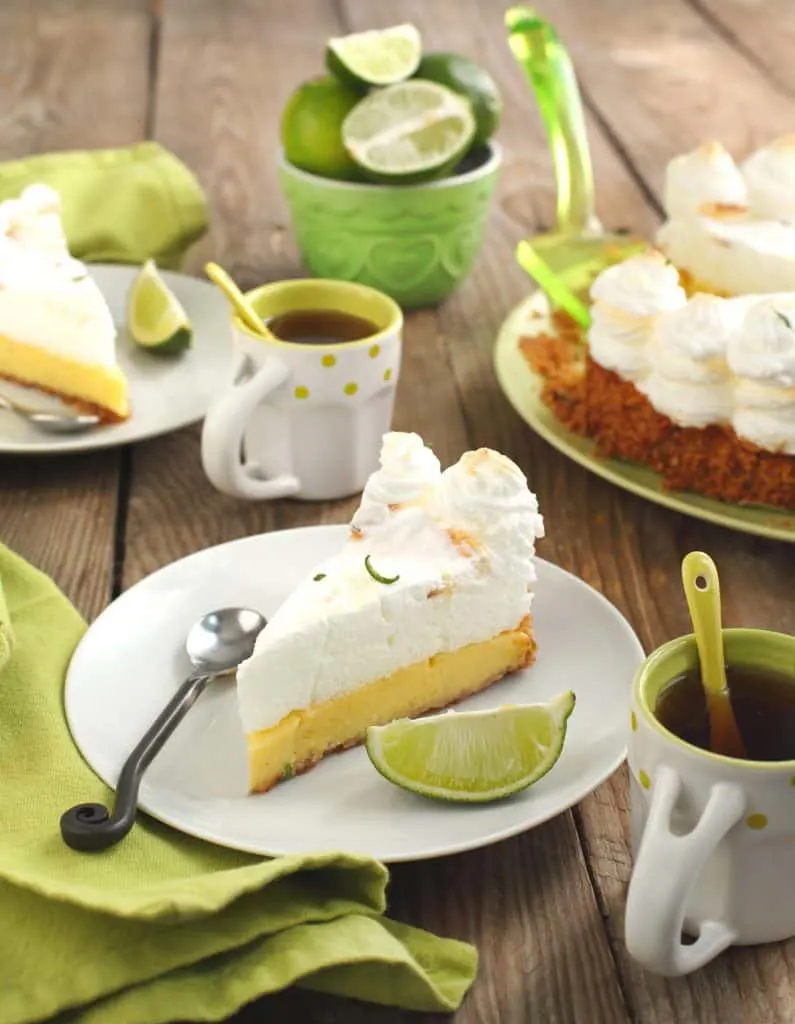 The bright blue wooden shuttered building was once the venue of cock fighting and boxing refereed by local resident Ernest Hemingway.
It was a billiard hall and an ice cream parlour in the basement, a dance hall, a playhouse and a bordello on the second floor and since 1992 it's been a restaurant complete with roaming chickens and a few cats.
Tables are indoors and outside under trees strung with lights. No bookings are made, you just rock up when you're ready, pull up a seat at the bar where the bartender will make your cocktail of choice and wait for them to come find you.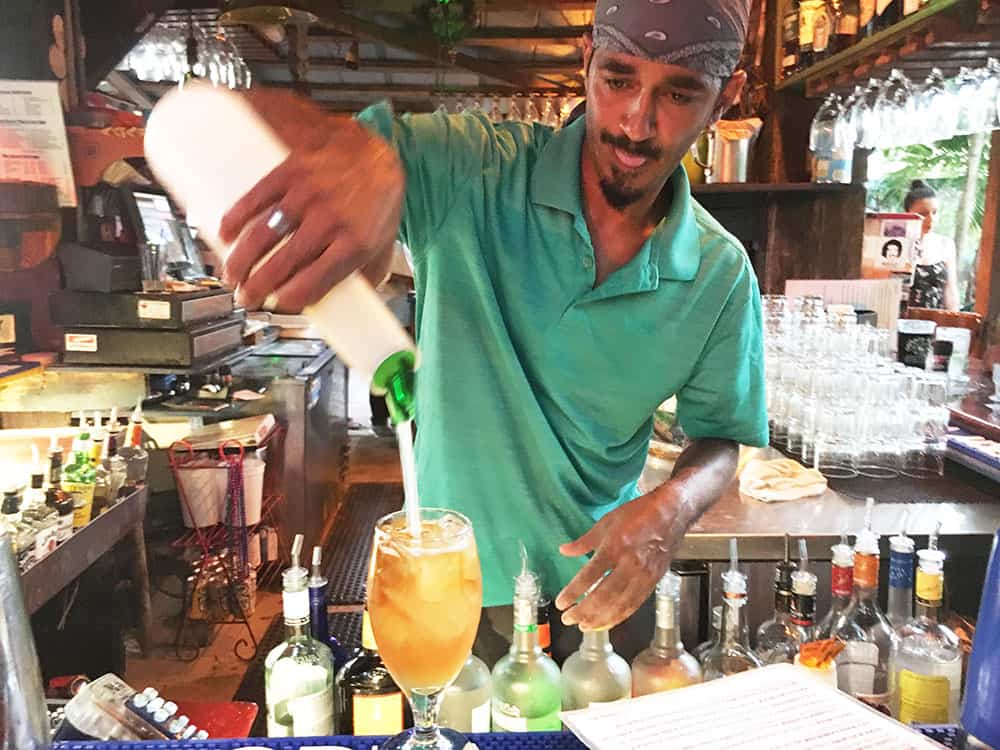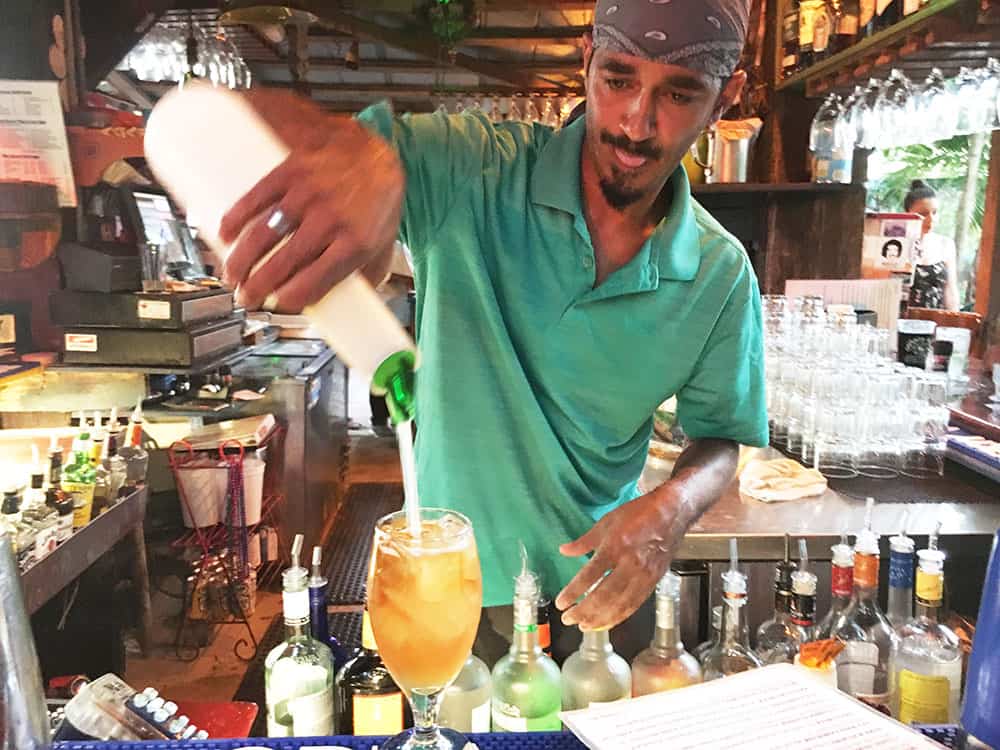 There are also some great bars for live music, so let your ears guide you into a bar, grab a drink and toe tap the night away.
Read my post on the Best things to do in Key West on a Cruise stop (or if you only have a day) here >>
Where to stay in Key West
I absolutely loved our huge room with lush bathroom in the historic colonial Winslow's Bungalows (formerly Chelsea Guest House), one of six hotels which is part of the Historic Key West Inns, cute wooden properties within walking distance of everything you want to do, see and eat.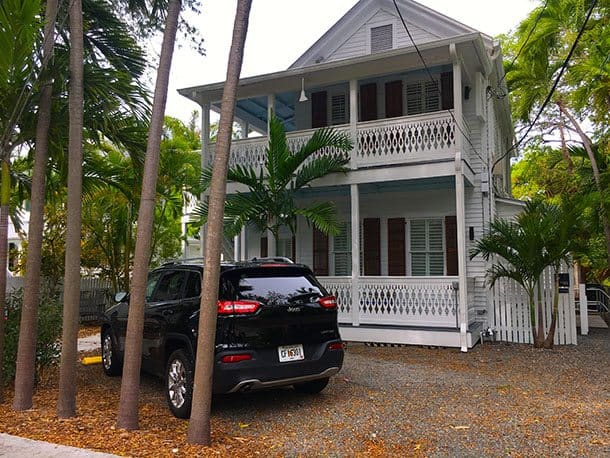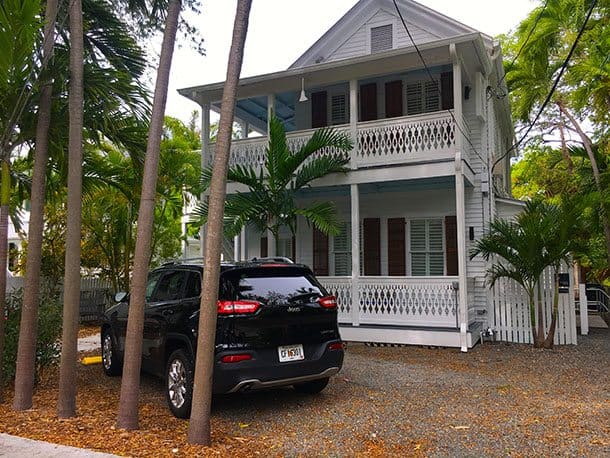 4th stop: Islamorada
On our way back, as I've mentioned, we had a flight to catch about midday from Miami, we opted to stay within 90 minutes of the airport just in case the road got jammed.
It was also a long weekend, so you never know how long the trip could take! As it happened we whistled through with plenty of time to spare.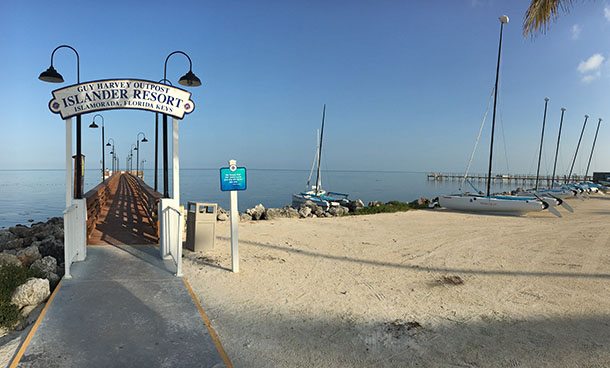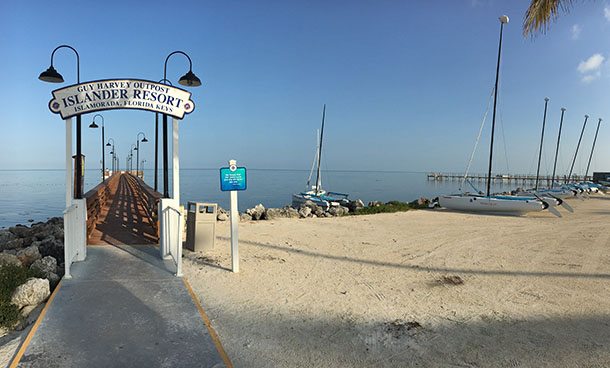 We stayed at Islander Resort, a Guy Harvey Outpost. Named after the famous designer, this is an affordable family resort with self catering rooms, two pools and a restaurant located right on the beach.
There are barbecues dotted around the site so a good time for groups too – and a coin operated laundry which I availed myself of the minute we arrived!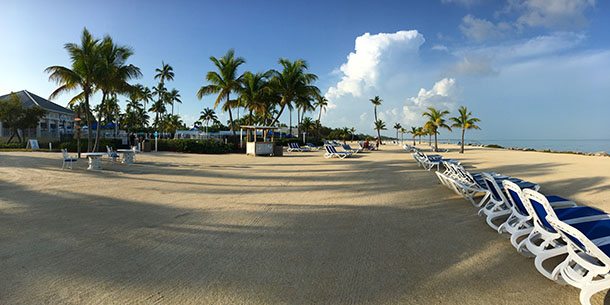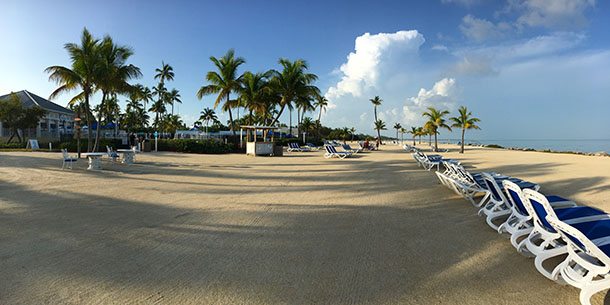 Things to do in Islamorada
Visit Robbie's at the end of the bridge just south of Islamorada.
Robbie's Marina is the best place to visit if you want water sports for everyone, and it's a great place to stop for lunch or dinner and should be on everyone's Key West road trip itinerary.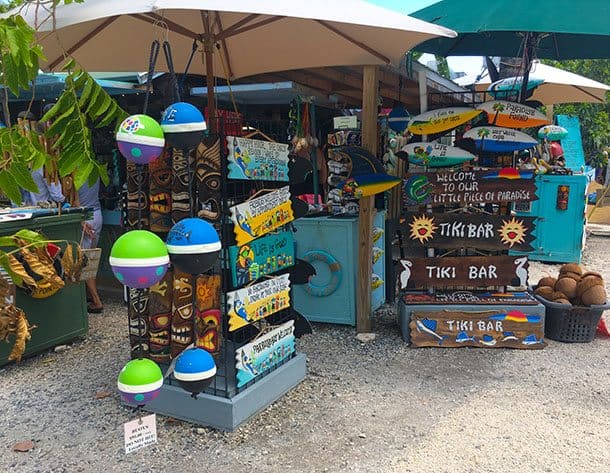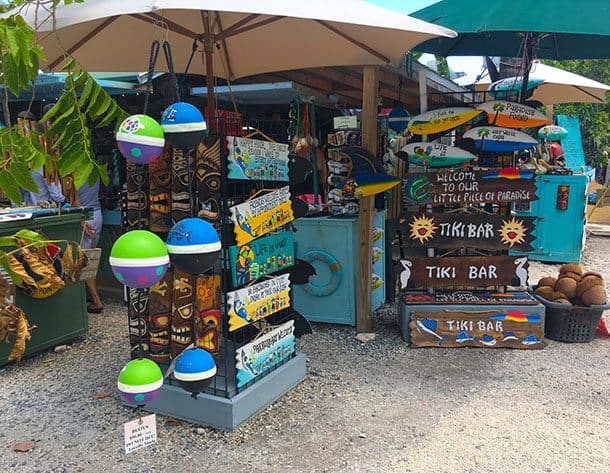 Boating, snorkelling, tarpon fish feeding, shopping for souvenirs, dining on the water's edge with a few beers. You can take tours from here or rent your own boat and equipment.
You could easily spend two or three hours here – even a full day. If you're not staying in Islamorada, stop for lunch at Robbie's, it really is fun.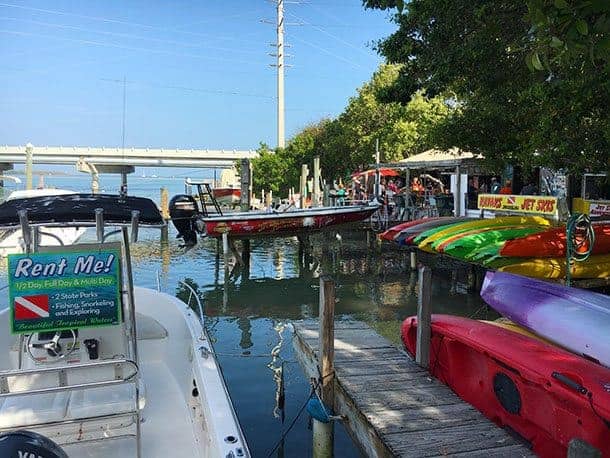 Another must do is catch the sunset with a cocktail or over dinner at any of the eastern beach restaurants.
I grabbed a table on the veranda at Morada Bay along with the many families and friends gathered at tables on the sand in front leading all the way to the shore and watched the sleepy sun drop into the other side of the world while munching on tortillas and guacamole.
Best time to visit Key West
The temperatures in Key West range from the mid-70s to the low-90s year round, so the main thing you want to think about avoiding is the heat (90s!) and the crowds.
Key West is popular with "snow birds" who come here from the north to escape the winter between January and March. The weather in Key West in winter sees temps in the mid to high 70s and only three or four days of rain per month. It's a perfect time of year to visit.
Avoid June through August if humid, sweaty Betty days are not your bag. This is the hottest time of year to visit Key West (and when we went!) If you go then just make sure your accommodation has air conditioning – and ideally a pool.
Budget travellers should visit Key West in September/October – the height of hurricane season and when prices (and crowds) are at their lowest.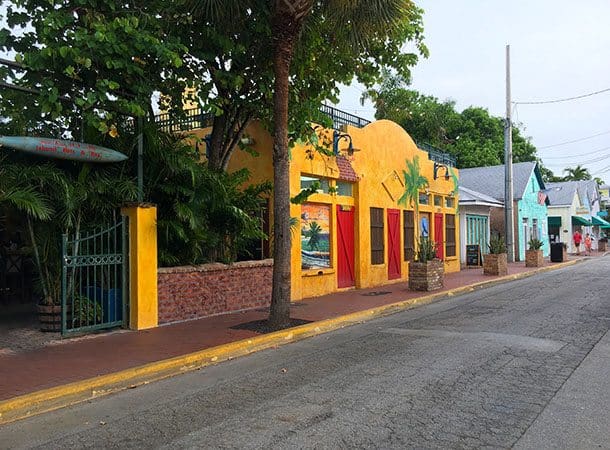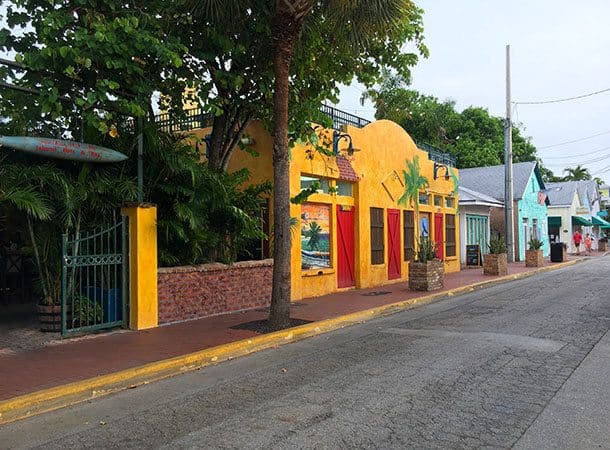 FAQs
How many days do you need to drive the Florida Keys?
You could drive the Florida Keys from Miami to Key West in a couple of hours. But if you have about three-four days, even two weeks, you'd find plenty to do here.
What are the best months to visit the Florida Keys?
You'd want to avoid the heat of the summer months. Florida Keys are popular for snow-birds heading down from the northern states in winter, but between March and May would be the ideal time as hotel rates are not at their priciest – which is winter.
What is the prettiest Florida Key?
Key Largo always tops the lists for the prettiest Key on the Keys. It's only a 90-minute drive from Miami and has gorgeous John Pennekamp Coral Reef State Park. You'll find the famous underwater 8.5-foot statue of Jesus here and it's just a great area for swimming, has a good coral reef for snorkelling and you can take a glass-bottom boat tour. If you want to visit but don't have your own car, you can book a day trip tour from Miami which can include snorkelling, the boat tour, SUP paddle board or kayak rental.
Is Key West a day trip from Miami?
Yes it is. A long day! You can take a tour (see the link above), go by bus, or take a car. Remember, it's 165 miles from Miami to Key West – so roughly four hours of driving each way!
Do you need a car in Key West
If you're staying in the old part near Duval Street, all the restaurants, bars and shops are very walkable. It's only if you want to explore some of the surrounding beaches and other attractions you'd want a car in Key West.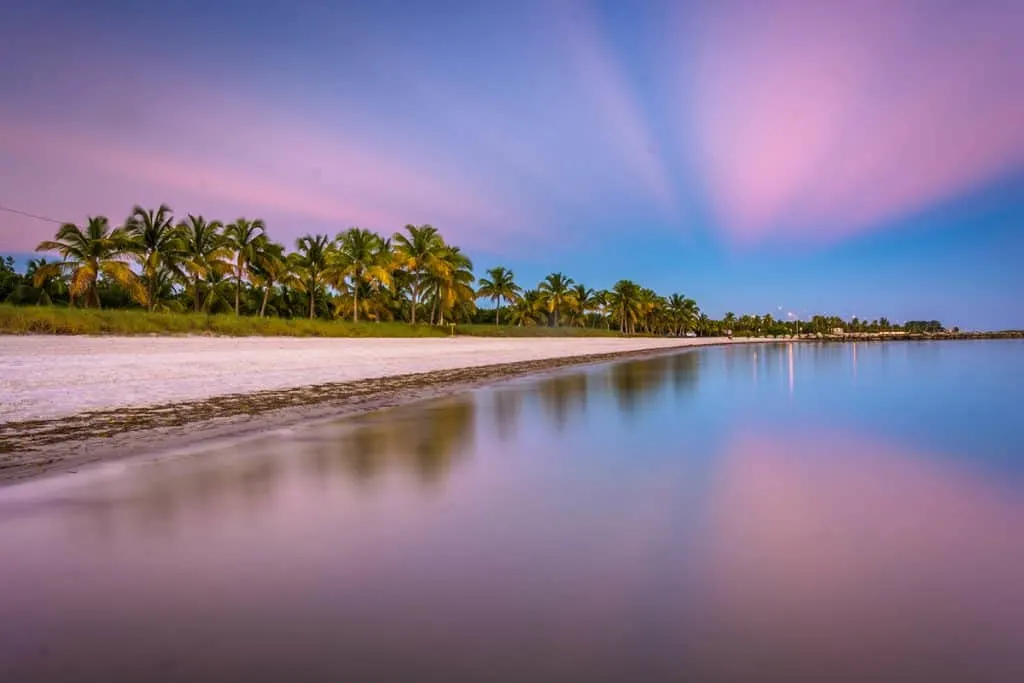 Because one post is never enough…
Read my exciting list of things to do in Miami that scratches below the surface of South Beach.
For the best beaches on the Florida Keys, start with this list. It covers beautiful beaches like Sombrero Beach, and great places in national and state parks. Some are great for kids with lovely shallow water and playgrounds, plus plenty of amazing snorkelling and diving locations – including to see Christ of the Abyss.
Read my post about the best RV parks on the Florida Keys which have wonderful swimming, snorkelling, dog parks and which ones have full electricity hookups.
Check out this list of 12 fun places to have Spring Break in Florida for beaches and cities throughout the Sunshine State.
This post has been my one of my most popular posts of 2021. See the rest of them, if you want to read only my best content!
For more information and everything you need to know about the Florida Keys, jump onto www.Fla-Keys.com
Save