If the idea of taking a dip in gin clear water and lying on your towel on bright white sand to dry off appeals, you'll love these Florida Keys beaches.
When you take a road trip down the Florida Keys from Miami to Key West allow enough time to call into some of the most pristine beaches in the world.
Or better yet, bring an RV and plan a vacation at these gorgeous RV parks in the Florida Keys.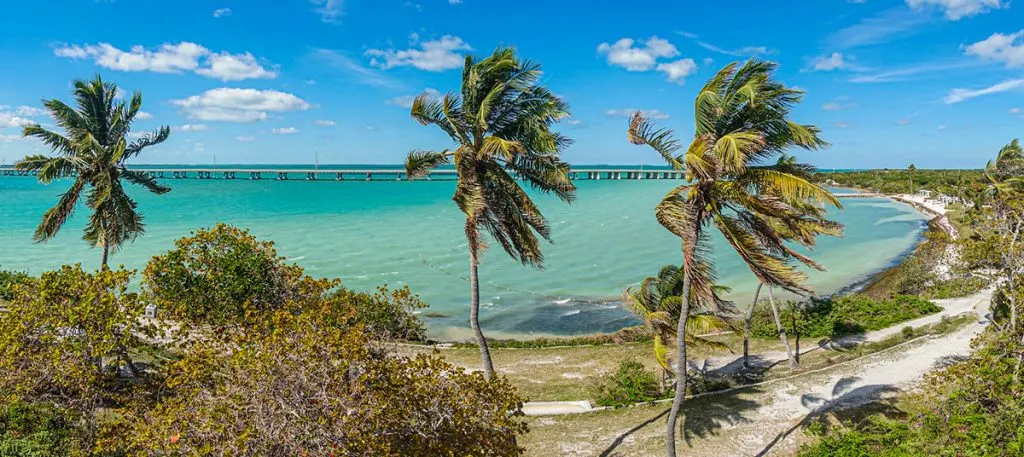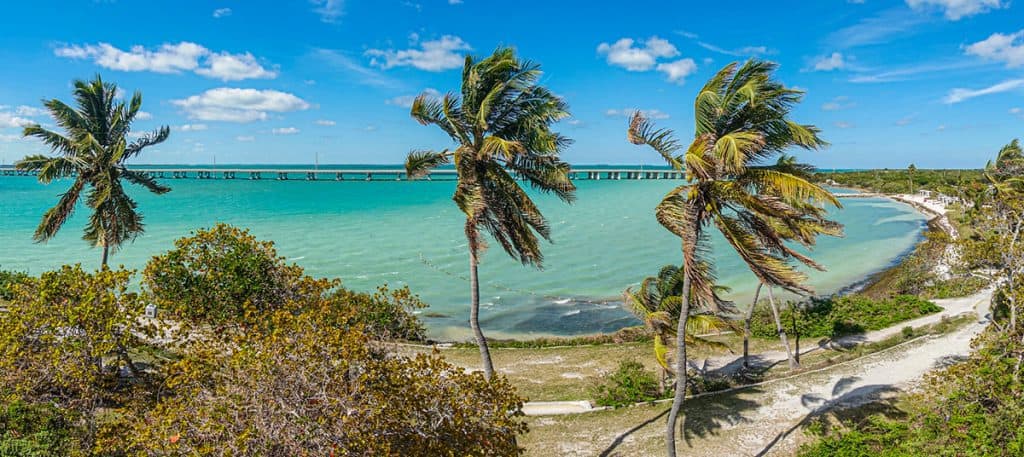 There is so much to enjoy for all ages at these beaches with the lovely shallow water on the Gulf Coast side, outstanding coral reefs and epic sunsets, and the Atlantic Ocean lapping on the east side.
Key West is famous for relaxing beach getaways, historic architecture, and of course, delicious key lime pie. The area is also known for its abundance of beautiful exotic birds and water sport activities. I've also added it to this list of 12 fun places to have Spring Break in Florida.
The southernmost tip of the United States boasts beautiful beaches and seaside state parks. It is also home to the only barrier reef in North America (which is being plagued by the pretty yet evil lion fish!)
The list below covers some of the best beaches in Florida Keys to put on your itinerary.
For the best beaches in Key Largo, start with these three:
Far Beach, Key Largo
You don't to go far to find a gorgeous beach on the Florida Keys. Far Beach is located in Key Largo, the first key you'll come to driving south from Miami.
Far Beach is one of the best beaches in Key Largo with its shallow water. It's also quite rocky so marine shoes are recommended. You could bring a tent (camping is free) and just set up here for a week!
The snorkelling and diving here on the coral reef is awesome, or just enjoy a swim and a picnic.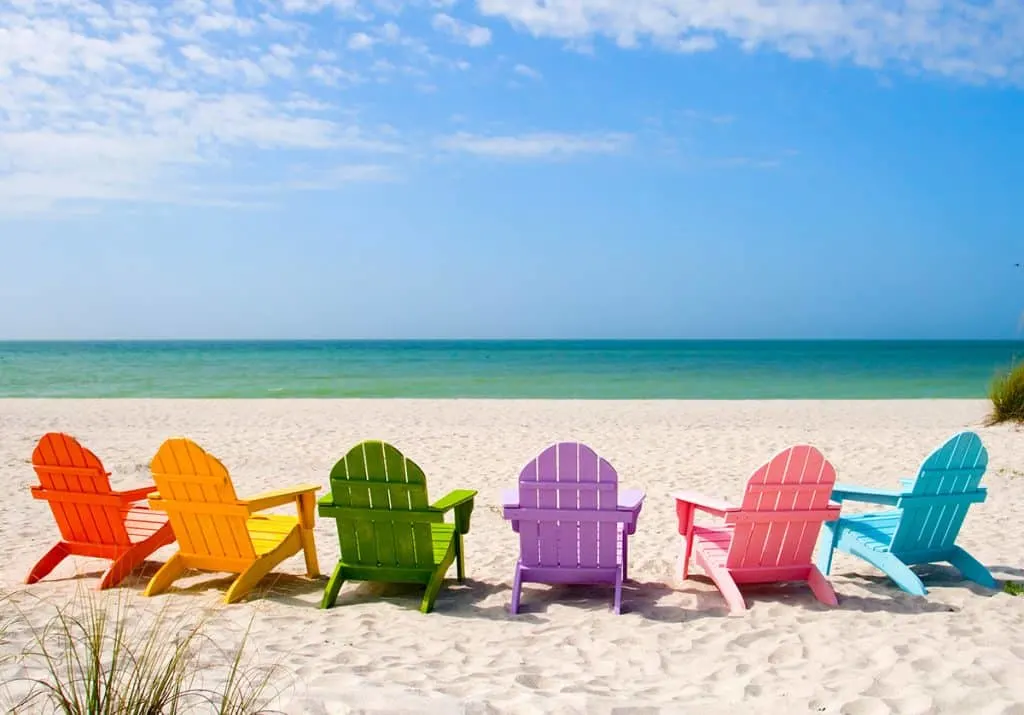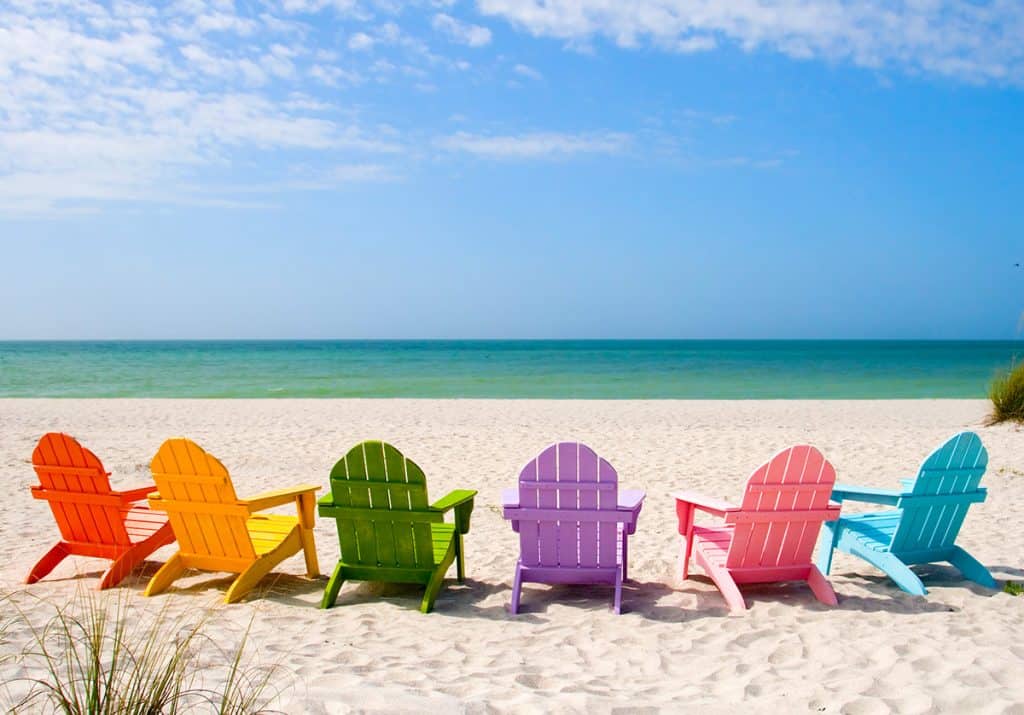 Cannon Beach, Key Largo
This is a lovely beach for families with gentle water for all the fun activities the kids will love. Named for the 17th century cannons that are still here facing out to sea, the white sand and warm Florida water makes this one of the best places for a beach vacation any time of year.
Go for a snorkel at nearby John Pennekamp Coral Reef State Park is which is a marine park filled with tropical fish and corals.
This is also where the famous undersea Christ of the Abyss is located. The third bronze made of this mold – the first being off the coast in Italy. It was placed here, 25 feet off shore, in 1965 and is 11 feet under water.
You can rent kayaks and canoes or take a glass-bottom boat to see the statue and even shipwrecks. It is a hugely popular place for scuba divers. In fact Key Largo is known as the Dive Capital of the World.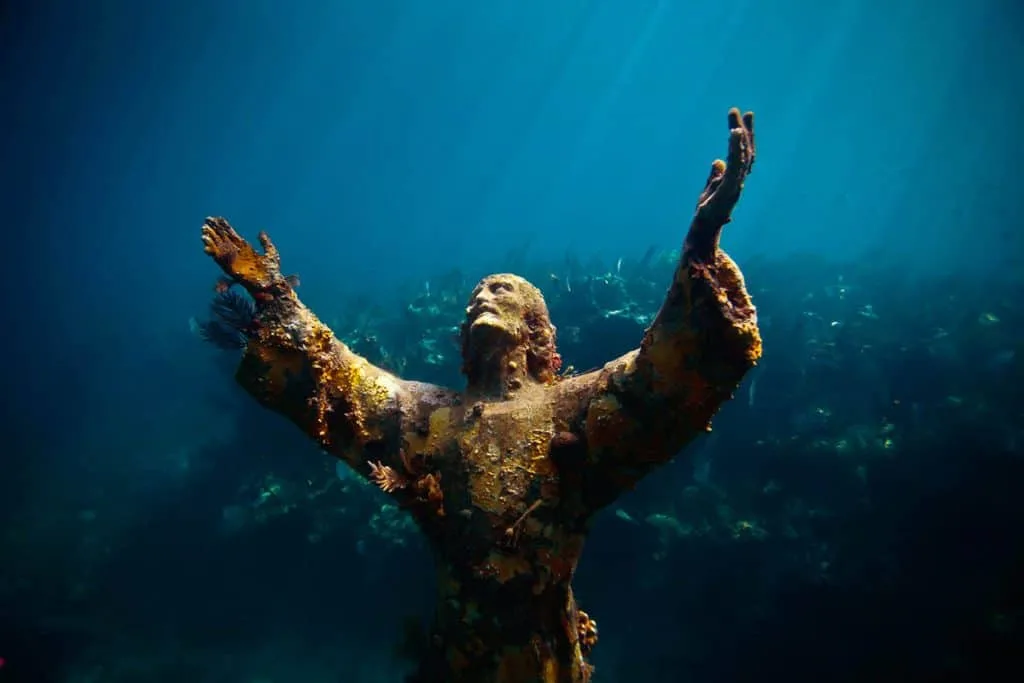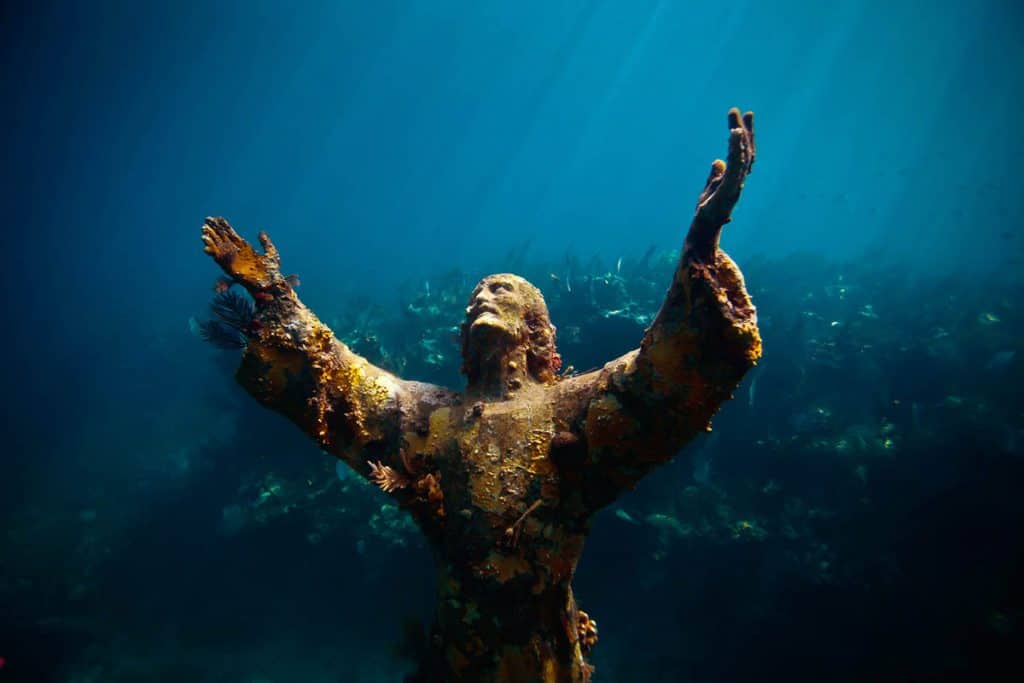 Harry Harris Beach, Key Largo
For a great family beach, Harry Harris Park has picnic tables, beach chairs and even public showers. There's also a boat ramp so bring the jet ski! But the best thing for kids is the tidal pool for calm waters they can swim in, plus the playground and skate park nearby.
Best beach in Marathon:
Located in Marathon, Sombrero Beach is a lovely destination on the Atlantic Ocean.
It is a quiet and unfrequented beach allowing for a relaxing day in the sun. There is so much wildlife to see at this beach, from exotic birds to colorful schools of fish. Enjoy lying under the coconut palms or use the playground, the picnic tables, and volleyball courts.
The area is a known sea turtle nesting beach, particularly for loggerhead turtles, during the months of April through October. Due to nesting season, access to the beach is limited during this time.
The beach is also located near the Dolphin Research Center, a non-profit organization focused on educating the public about wildlife conservation. They offer amazing dolphin encounter packages perfect for anyone over the age of five.
If you are passionate about wildlife or looking for a calm beach day, be sure to add Sombrero Beach to your bucket list and Marathon has some great dining options too.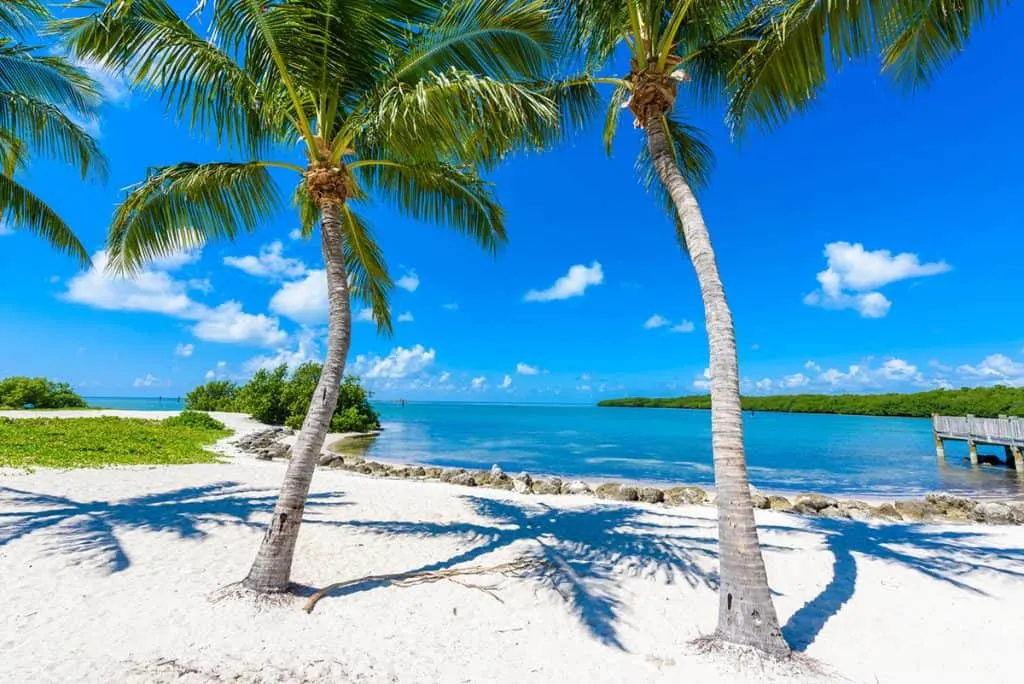 You can't go past these best beaches at Big Pine Key:
This lovely state park features two award-winning beaches, Calusa Beach and Sandspur beach. It is located in Big Pine Key, at the end of the famous Seven Mile Bridge, a relaxing island on the Florida Keys.
The park spans over 500 acres and is packed with various water sport activities. From kayaking to snorkeling, you are sure to find a fun activity in the crystal clear water at this beautiful beach.
Although if you prefer to remain on dry land, you can sunbathe on the clean white sand beaches or go on a bicycle ride around the park or enjoy one of the picnic areas.
There are also three camping grounds with full facilities for tents and this park makes my list of the best RV parks in the Florida Keys.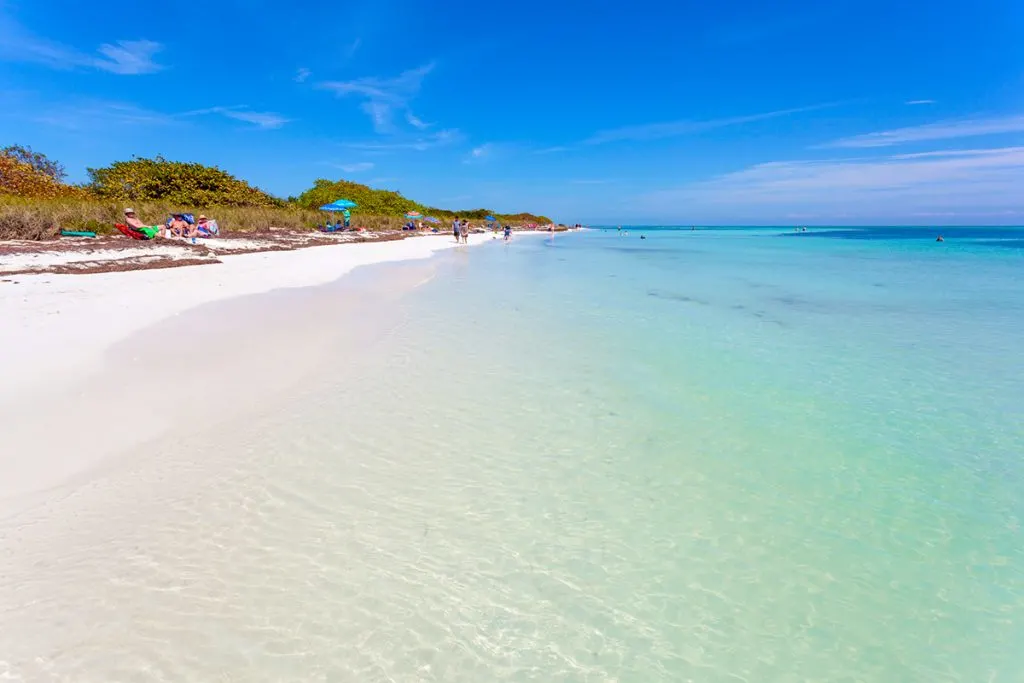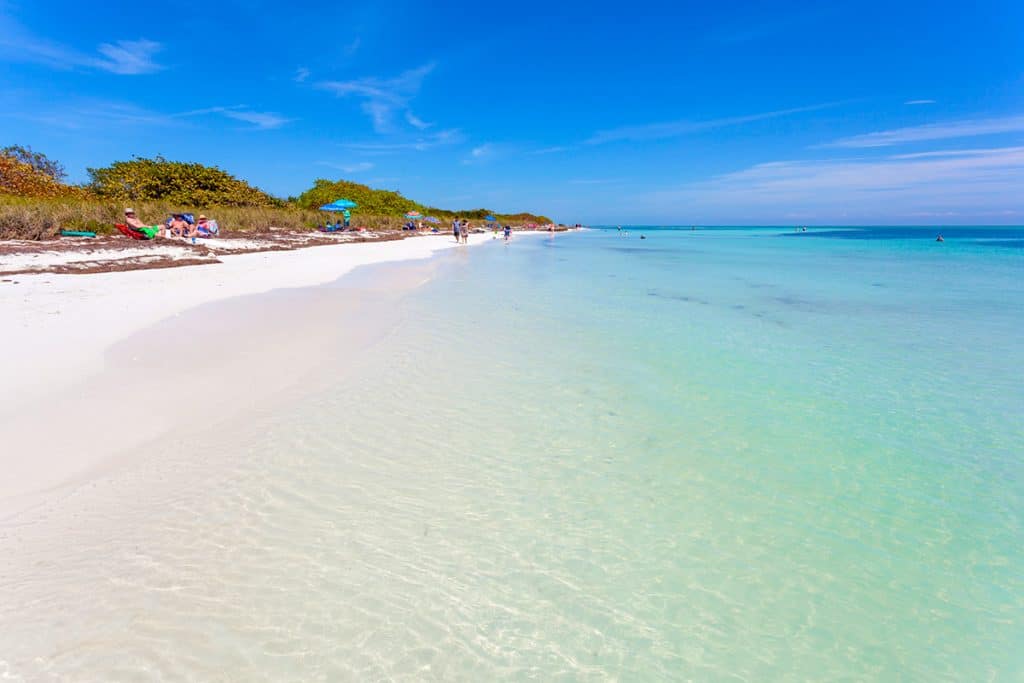 Calusa Beach is a small yet stunning natural beach in the Florida Keys. It is a popular destination for snorkeling and kayaking due to its crystalline water.
The beach has a very relaxing vibe, perfect for spending a day with family or friends enjoying each other's company with great ocean views.
You may also catch a glimpse of adorable wild Key deer, which are native to the area and enjoy spending their time at the beach as much as travelers.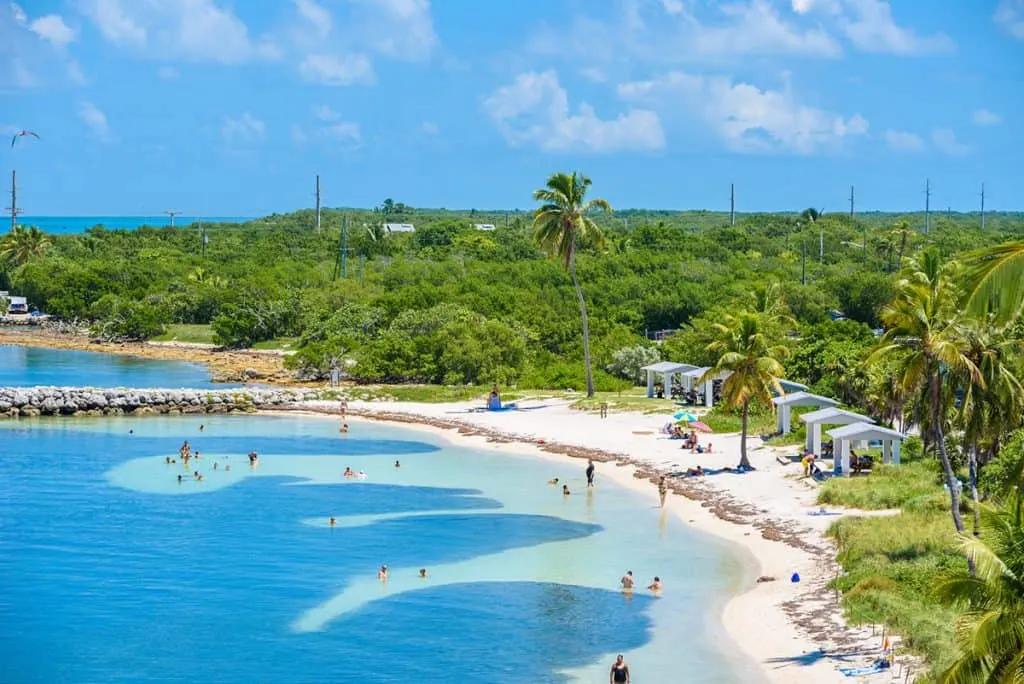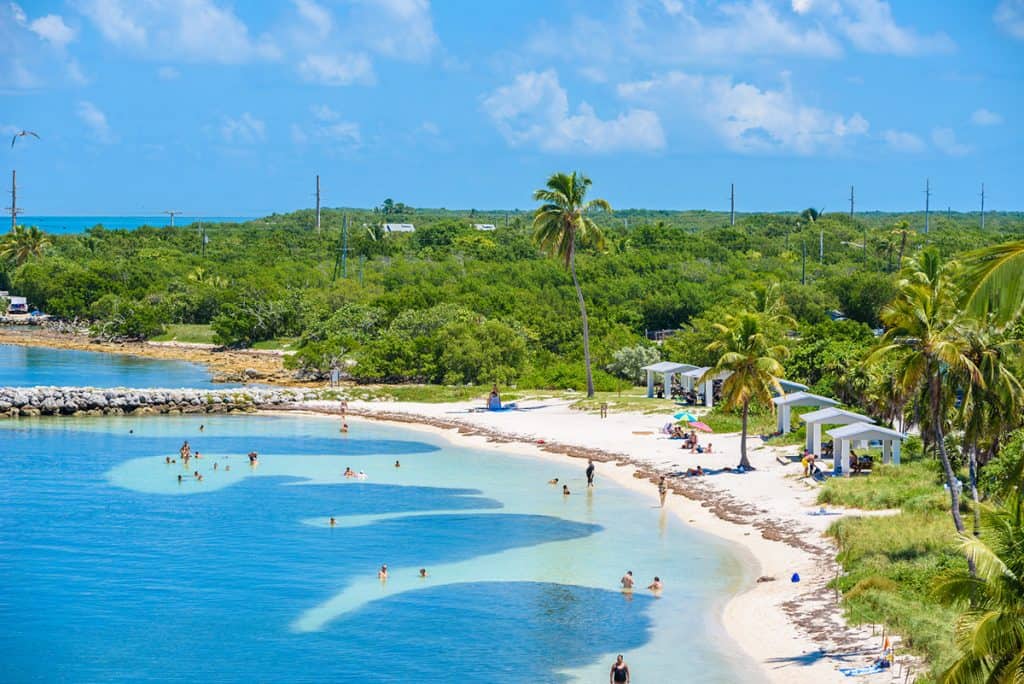 Sandspur Beach is only about one mile long yet is one of the prettiest beaches on the Florida Keys.
It boasts spotless, fluffy white sand and is an ideal destination for a nice, laid-back beach day.
Please note there are plenty of sandspur plants throughout the beach, so be on the lookout to avoid stepping on one. You wouldn't want to ruin a fantastic day at the beach with a painful cut on your foot!




Bahia Honda State Park also offers many lodging and camping opportunities. They have 80 campsites spread over three areas throughout the park.
Or stay at one of three duplex cabins that accommodate groups of up to six. These cabins are an excellent opportunity for traveling in large groups or with children to have a home base to stop at after a day of fun at the beach.
This is an off-shore beach:
This national park is not accessible by car, but makes the list because it's just fabulous! It is one of the top six national parks in Florida.
It is home to a beautiful beach and historic military fort and is one of the least visited national parks since it is much more remote.
It is located approximately 70 miles west of the Florida Keys and is only accessible by boat or plane. The most common way to get there is by ferry the Yankee Freedom, which costs $190 for adults. In addition to your stunning two-hour boat ride to the park, your trip includes complimentary meals and snorkeling gear.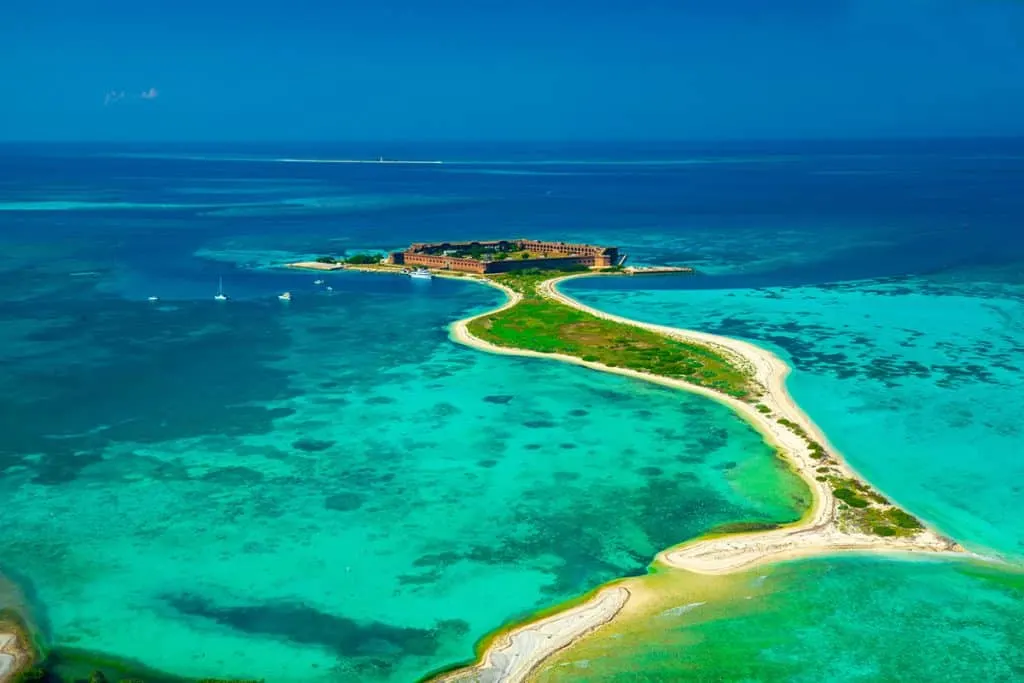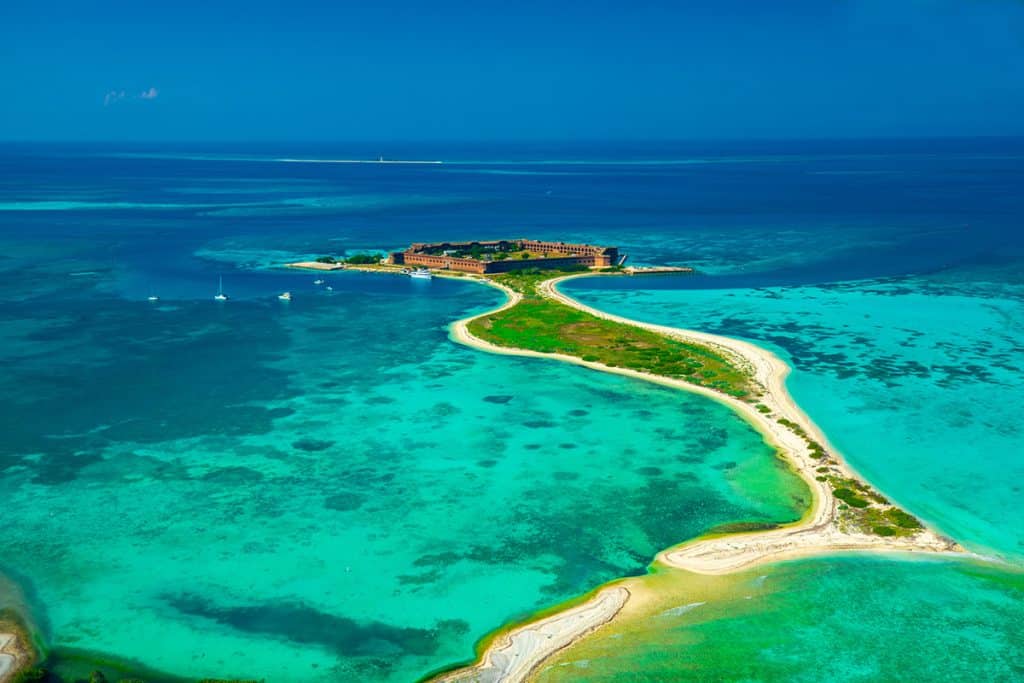 Dry Tortugas National Park offers some of the best snorkeling opportunities in the United States.
There is a vibrant coral reef full of unique and colorful marine life. The island also offers tours of Fort Jefferson, which once acted as a prison during the Civil War. It has a rich history that is shared by informative tour guides.

Plus, the park offers several camp sites, allowing visitors to make the most out of their trip. These campsites are bare, so you will need to bring everything you need ahead of time, including bottled water. Reservations are required and typically made months in advance as space is somewhat limited.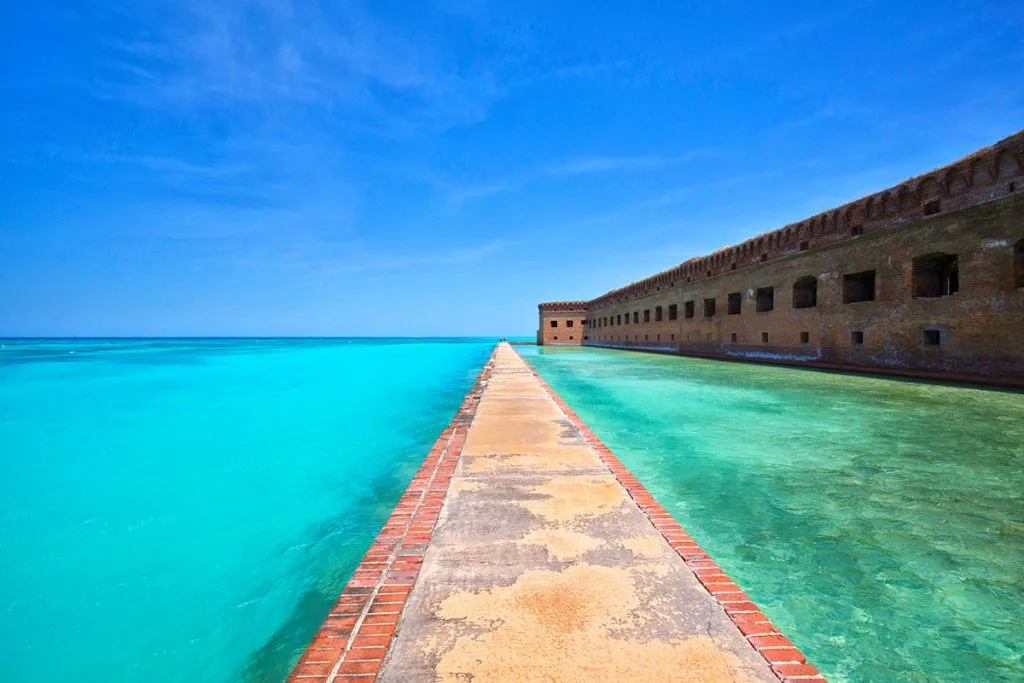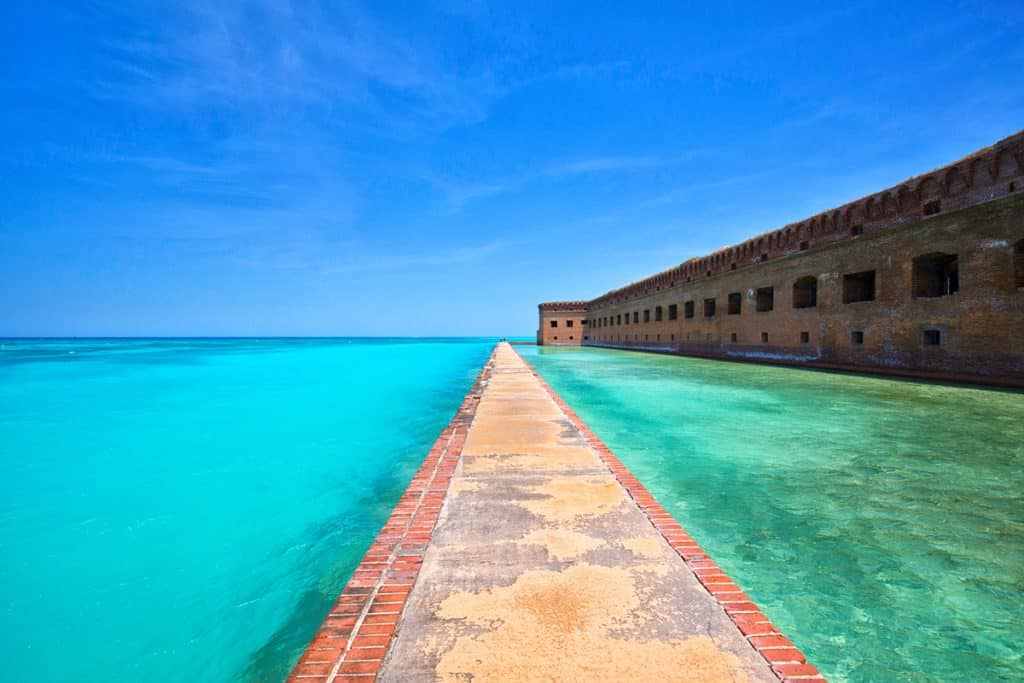 If you are looking for a one-of-a-kind snorkeling and informative experience. In that case, you should consider a trip to Dry Tortugas National Park.
For the best beaches in Key West, try these three:
This famous state park boasts one of the best Key West beaches and is a must for lovers of Civil War history.
Located right on the southern most tip of the United States, this natural sandy beach is extremely clean and well-kept. From sunbathing to snorkeling in the crystal-clear water, there are plenty of activities for a joyful day at the beach.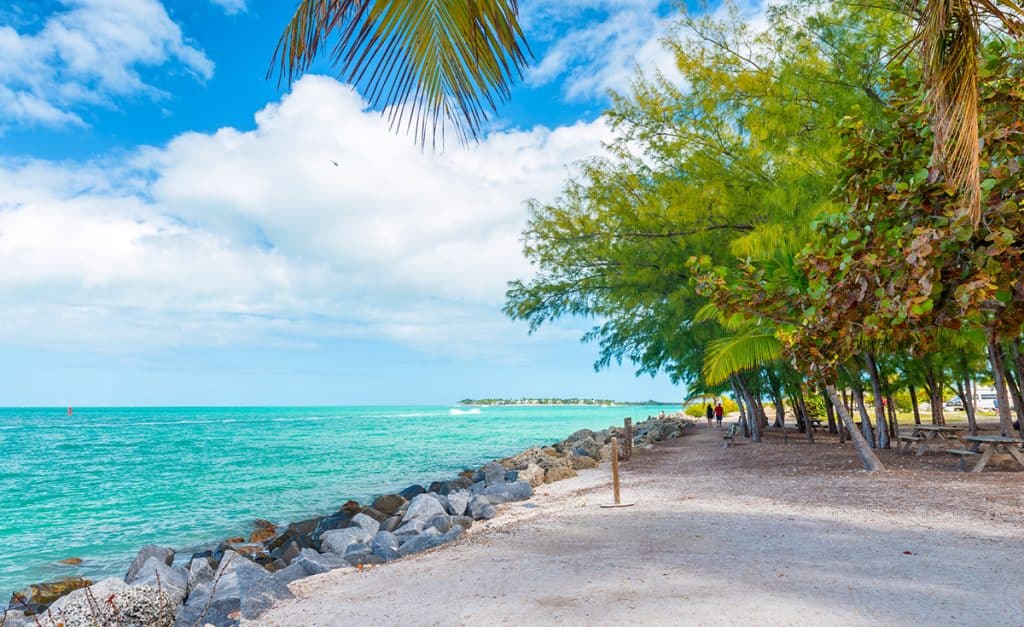 There is also a café on the beach with yummy sandwiches and beverages.
While Fort Taylor has been inactive since 1947, it is an exciting attraction to see enormous civil war era cannons and learn more about U.S. history.
The cost to enter the fort ranges from $4 to $7, depending on the size of your group. It is a unique and memorable experience to check out when traveling along the Florida Keys.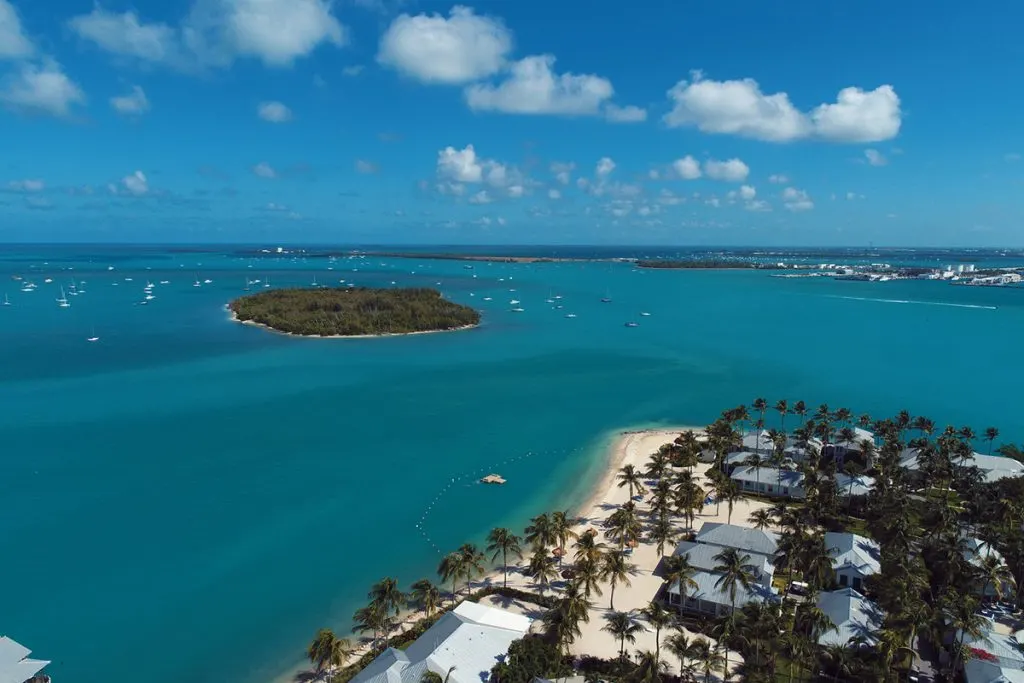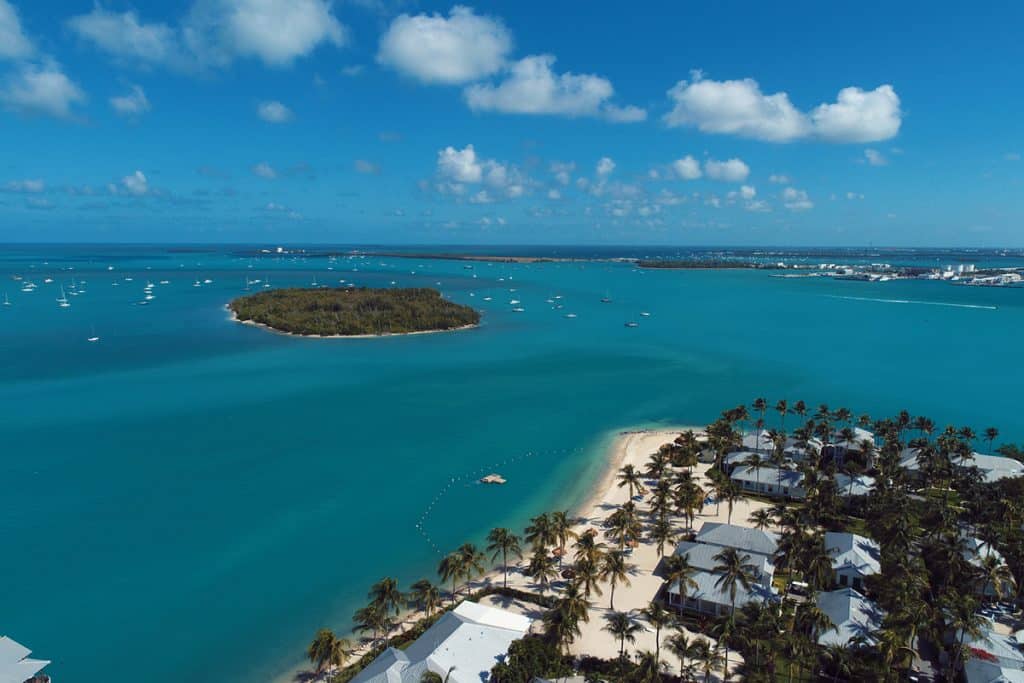 Higgs Memorial Beach Park, Key West
Clarence S Higgs Beach is located on the Atlantic Ocean side down in Key West.
It offers gorgeous ocean views along its clean sandy beaches. There is also a sand volleyball court for some added fun on dry land.
Besides turquoise blue waters and beachside activities, Higgs Beach is home to a civil war fort, an Aids memorial, and the most significant burial ground for African refugees. It also has the only shore-accessible underwater marine park.
This historic and picturesque beach is definitely a must-see on your visit to the Florida Keys.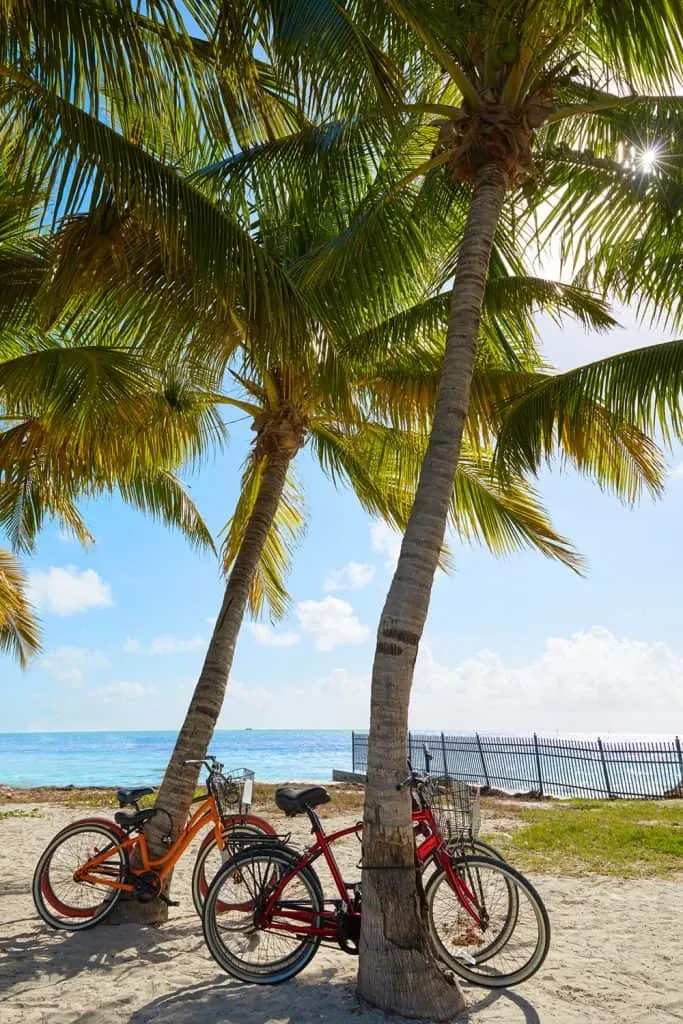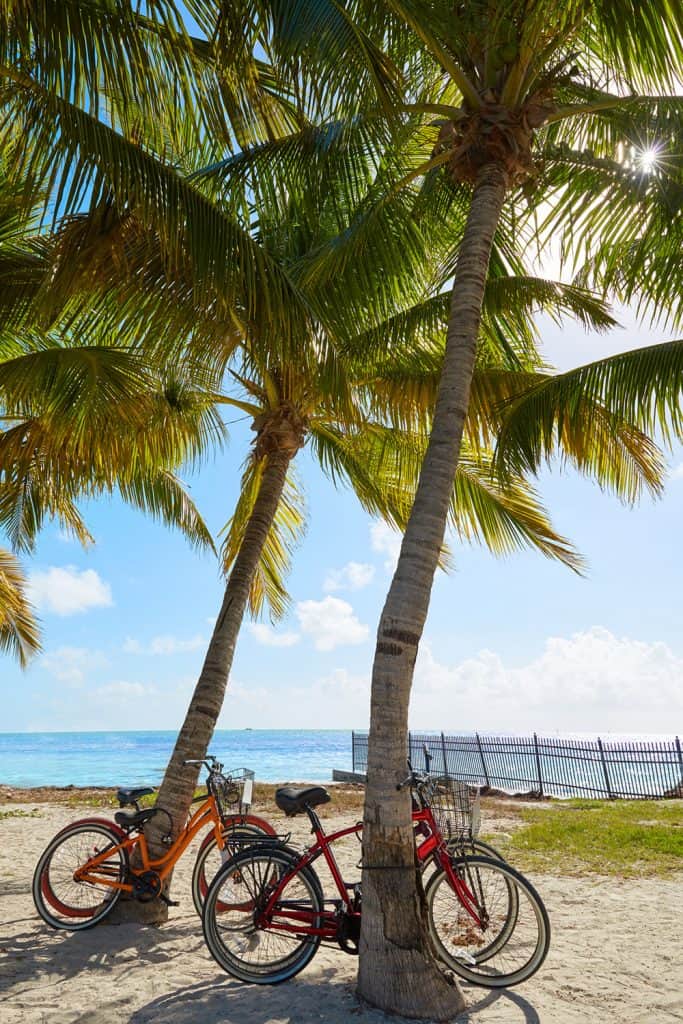 In terms of lodging near the beach, the lovely Casa Marina Beach Resort is an excellent option. It is a Waldorf Astoria Resort with a myriad of luxurious amenities, including a spa, two large outdoor pools, and tasty onsite restaurants. The hotel also has a large private beach along with easy access to the beautiful Higgs Beach.
If you visit Higgs Beach, you should head over to Salute for an excellent meal right on the beach. Their famous blue heaven key lime pie is out of this world. They offer a Caribbean-influenced take on Italian classics with local seafood.
Many locals and tourists alike flock to serene Smathers beach to watch the sunrise over the ocean. It is one of the largest beaches on the Florida Keys.
Along with superb views, Smathers Beach offers jet ski and snorkel gear rentals to spend the day out on the ocean.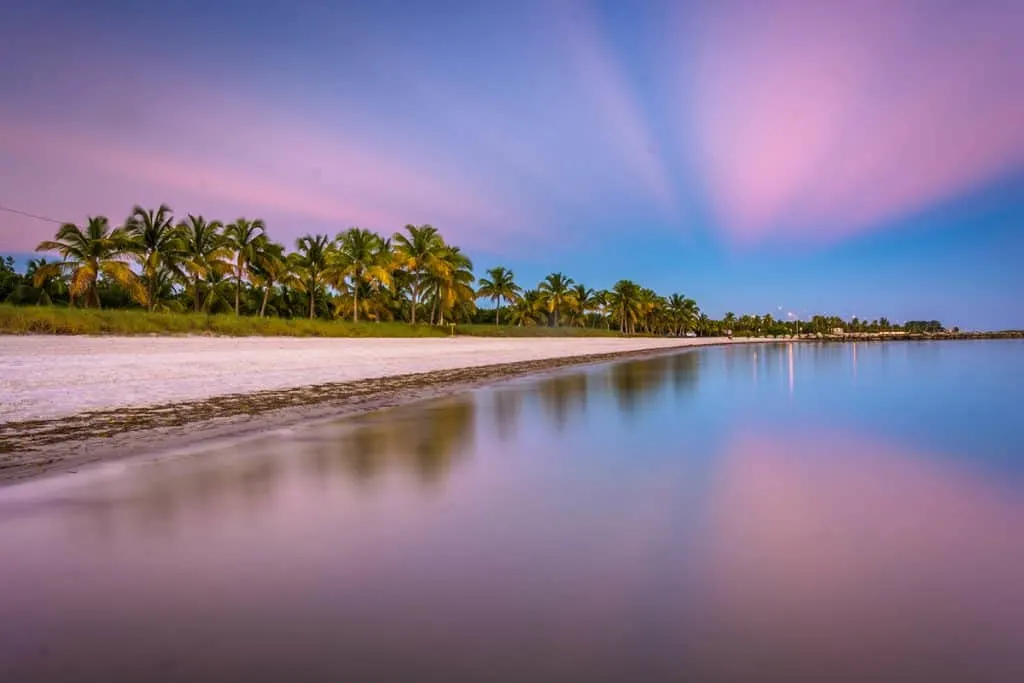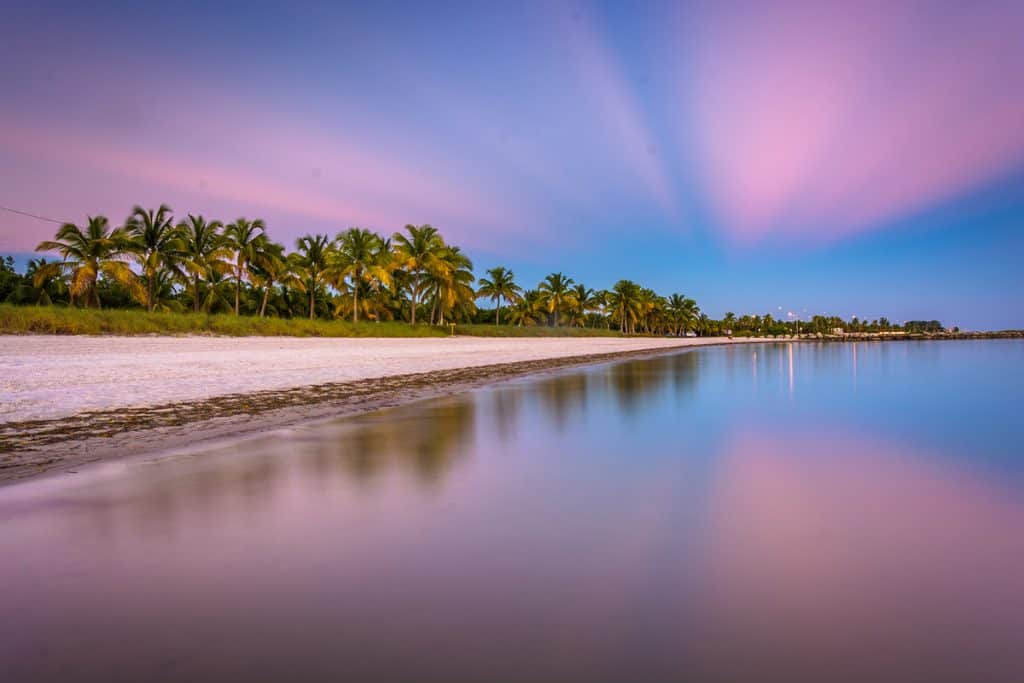 There are various beach volleyball courts around the beach that are frequented by spring breakers. In addition, onsite parking is available and typically costs about four dollars for the entire day.
Smathers Beach is an ideal destination for a quick swim to start off your day exploring the Florida Keys.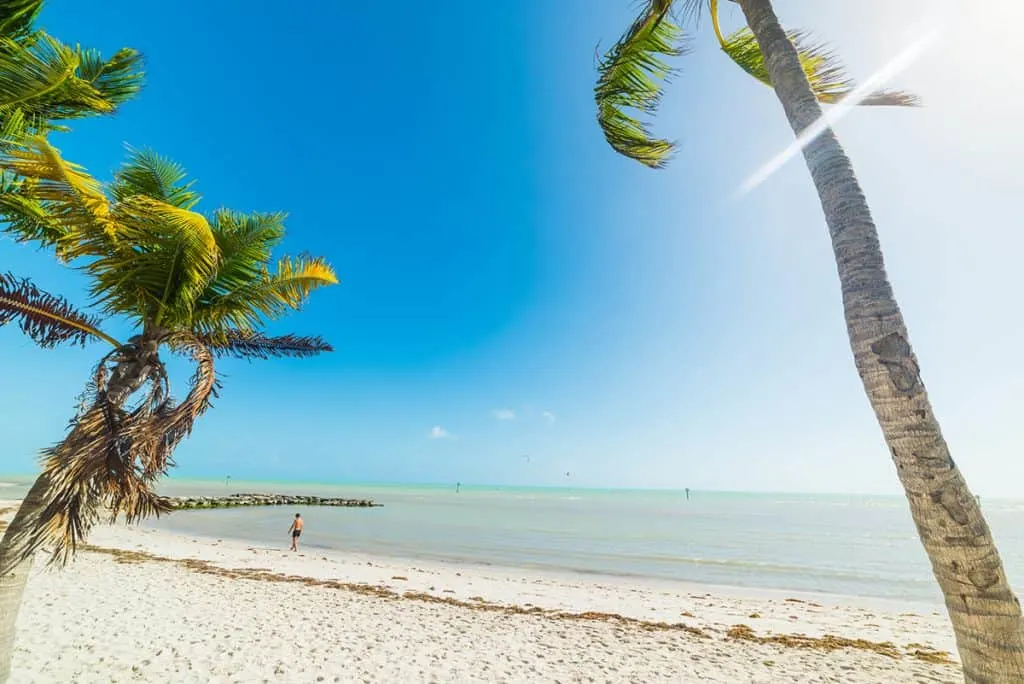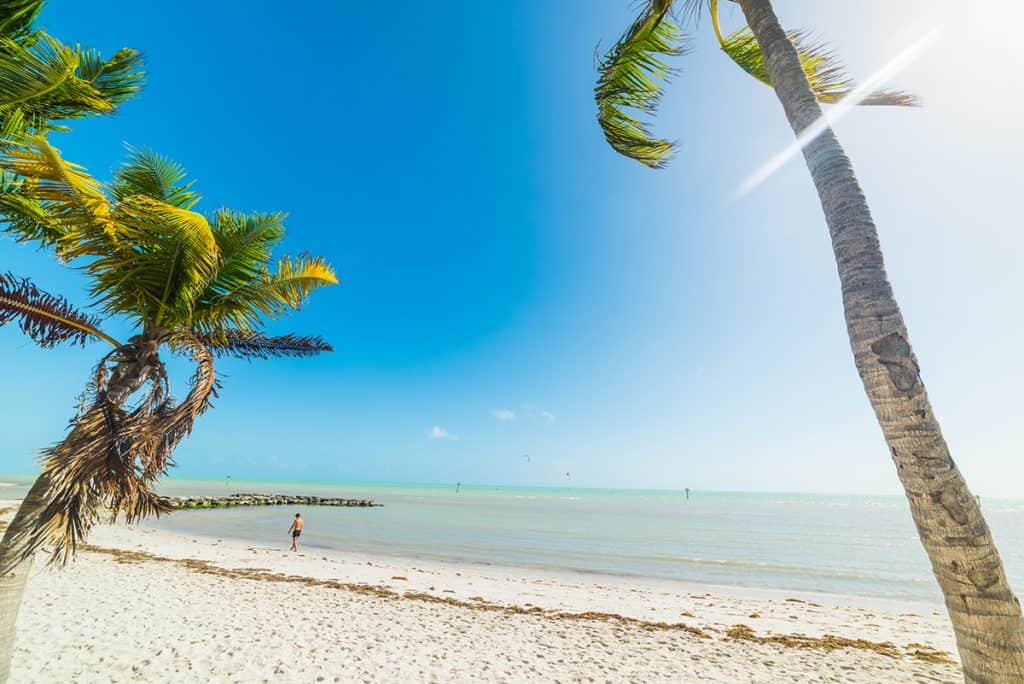 These wonderful beaches could be your entire reason for driving the Florida Keys, but if you do go all the way to Mile Marker 0, you will like my post on the best things to in Key West that covers where to get great key lime pie and visiting Ernest Hemingway's home and his usual cats with six toes on each front paw!
If you're wanting to get photos like the ones in this post (and no I did not take them all!) you'll do well investing in a drone camera. And they don't have to be expensive either. Have a read of this post covering the best picks for drone cameras under $200, under $500 and under $1000.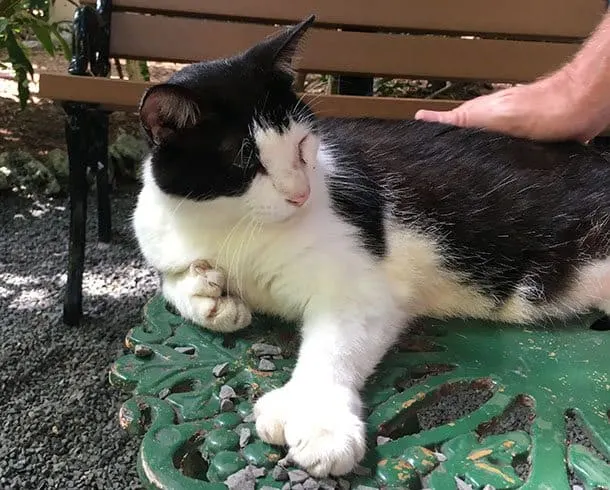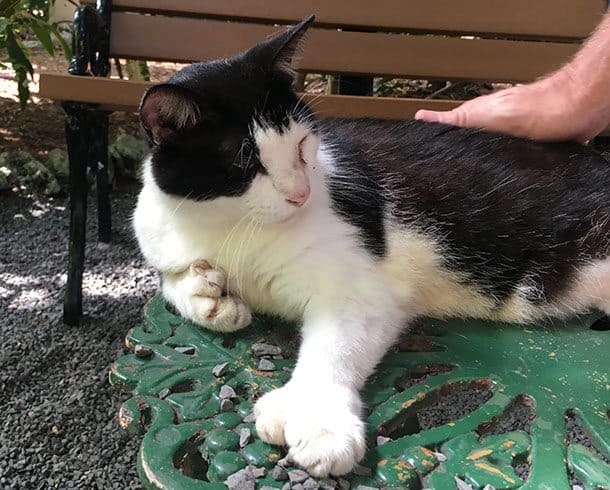 Read next: See my fun (and practical) Gift Guide for Travelers