We just spent the day on my brother's friend Jacko's boat and the boys jumped onto the sandbar at Cayman Island to feed these huge Southern Stingrays juicy squid. Here is the freaky frenzy that follows.
Their mouths are underneath in the middle of their bellies, so you have to hold the squid in a clenched hand with just a wee bit poked out, and they glide over and suck it out. Occasionally they will suck onto you if they get it a bit wrong.
See if you can spot the moment one gives Richie a hicky on his arm:
What to expect when feeding the stingrays
Stingray feeding in the Cayman Islands is a popular and unique experience where tourists can interact with friendly and gentle stingrays in their natural habitat. The feeding site is located in a shallow sandbar area known as "Stingray City" in Grand Cayman, due to many stingrays gather there in large numbers playing while looking for food.
You can wade into the waist-deep water and feed the stingrays by hand with squid or fish. It's a thrilling and educational experience that allows visitors to learn more about these fascinating marine animals and their gentleness despite their sizes.
How to get there
The stingray feeding site is located at a sandbar called "Stingray City" in Grand Cayman, Cayman Islands. It is situated approximately 3.5 miles (5.6 km) north of George Town, the country's capital. You can also check my helpful guide on the things you need to know before going to the Cayman Island.
You can reach Stingray City by boat, as it is only accessible by water. The easiest way to get there is to book a tour with a licensed tour operator, as they provide transportation from various locations in Grand Cayman. Some tours even include snorkelling at nearby coral reefs, which makes for a great combo experience. Getting there takes you on a 25-minute ride (4.3 miles) from the departure station, which is at Seven Mile Beach.
If you prefer to explore on your own, you can rent a boat or hire a private boat charter. These boats stop at either Rum Point or Kaibo Beach Bar for some drinks. Some charters have different routes, so be sure to check them out before booking.
Alternatively, if you're sailing with a cruise ship, be sure to participate in their Stingray Swim Excursion. They'll take you to the sandbars and stingrays, without you being worried about the transport.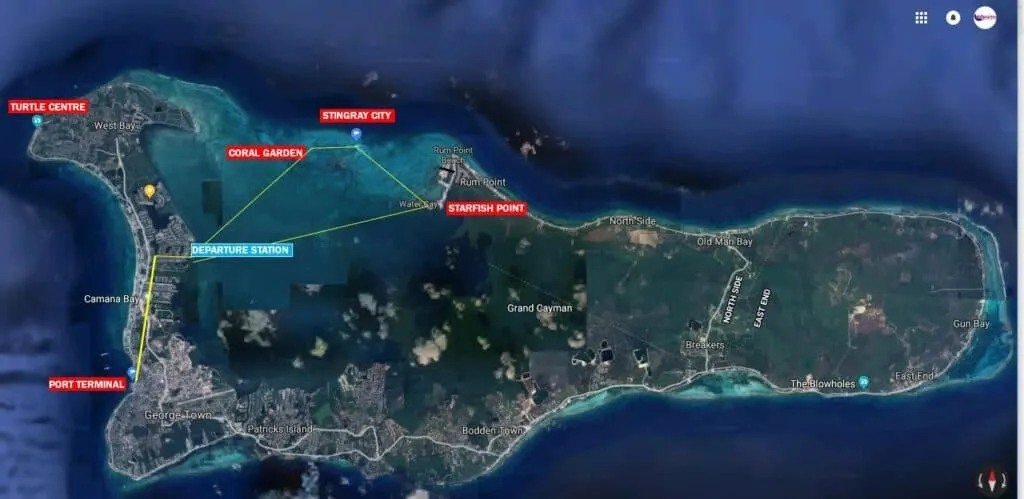 Best time to go and feed the stingrays
The best time to go stingray feeding is during the morning hours, when the stingrays are most active and hungry. They go there to feed and usually start to leave in the afternoon when they are full.
It's also a great time to avoid the crowds, as tours tend to arrive later in the morning. Another thing to consider is the schedule of cruise ships arriving in Cayman Port. There are fewer crowds in Stingray City if there are no luxury ships visiting, so be sure to check their arrival schedules and time it with your visit before booking.
How big are the Stingrays in Cayman Islands?
Southern stingrays in the Cayman Islands are quite large and can grow up to 4 to 5 feet in diameter and weigh up to 150 pounds. They have a flat, diamond-shaped body with two large wings that they use to gracefully glide through the water. The underside of their body is white, and their back is usually dark brown, gray, dark grey, or black.
I remember feeling a bit intimidated by their size at first, but quickly realized how gentle and friendly they are. Their skin was surprisingly smooth and slimy to the touch, almost like a wet rubbery texture. It was amazing to see how they gracefully moved through the water, and how their mouths seemed to vacuum the food right out of my hand.
These stingrays are actually super friendly!
One of the most distinctive characteristics of stingrays is their long, whip-like tails that they use for defence. They also have barbs on their tails that contain venom, which can be dangerous if not handled properly. However, the tour guides were very knowledgeable and emphasized the importance of respecting the stingrays and following their instructions.
Moreover, stingrays in the Cayman Islands have a long history of interaction with humans for many years already long before the feeding frenzy tourism started. This is why they remain docile and friendly when people approach them. They also associate the arrival of boats as a signal for meal time.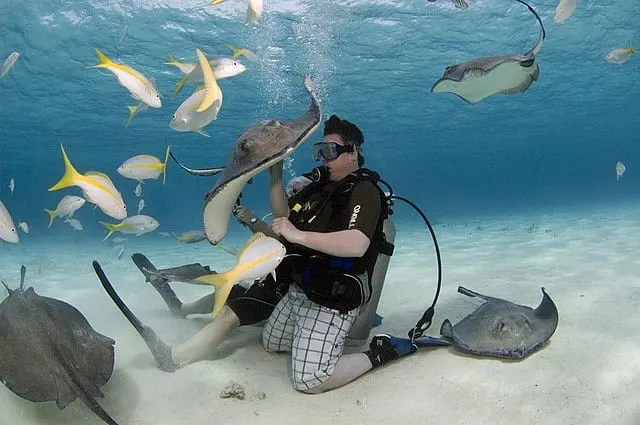 How to feed the stingrays
Stingrays exclusively eat squid or fish in the Cayman Islands and these foods are provided by the tour operators, so you don't have to worry about their diet.
To feed the stingrays, hold a small piece of squid or fish in your hand and submerge it in the water. The stingrays will swim up to you and use their suction-like mouths to gently take the food from your hand. It's important to keep your fingers flat and away from their mouths to avoid accidentally getting pinched.
You can gently touch them on their backs or just observe their cuteness while they snack. Additionally, the tour guides will provide safety instructions and demonstrate the proper feeding technique before allowing guests to interact with the stingrays.