New York City boasts some of the best shopping in the entire world!
You'll find everything from locally owned boutiques to huge retailers, an outlet mall and vintage shops spread throughout the five boroughs (and just beyond).
NYC is also one of the best places to snag incredible handmade artisan goods from one of the city's famous flea markets.
From quaint second-hand shops to luxurious shopping malls, I'm sure you'll score a few terrific items in one of these shopping-centric neighborhoods to take home from your visit to the Big Apple.
*This post contains affiliate links. If you decide to purchase, I will make a commission at no cost to you.
This post covers 13 great places to shop in NYC
If you only have one day in NYC, maybe you're here a day early for a conference or you've got a layover, this post covers how to spend one perfect day in New York, including shopping and some fab places to stop for lunch and dinner.
Battery Park City
This lovely neighborhood in Lower Manhattan is home to two luxury shopping malls, Brookfield Place and The Oculus, the Westfield at the World Trade Center. These are not only great places for shopping, but also for dining out.
You will find many gorgeous stores like Kate Spade, Lululemon, Gucci, and Sugarfina. Plus the stunning Oculus building makes for the perfect backdrop for photographs showing off your new purchases!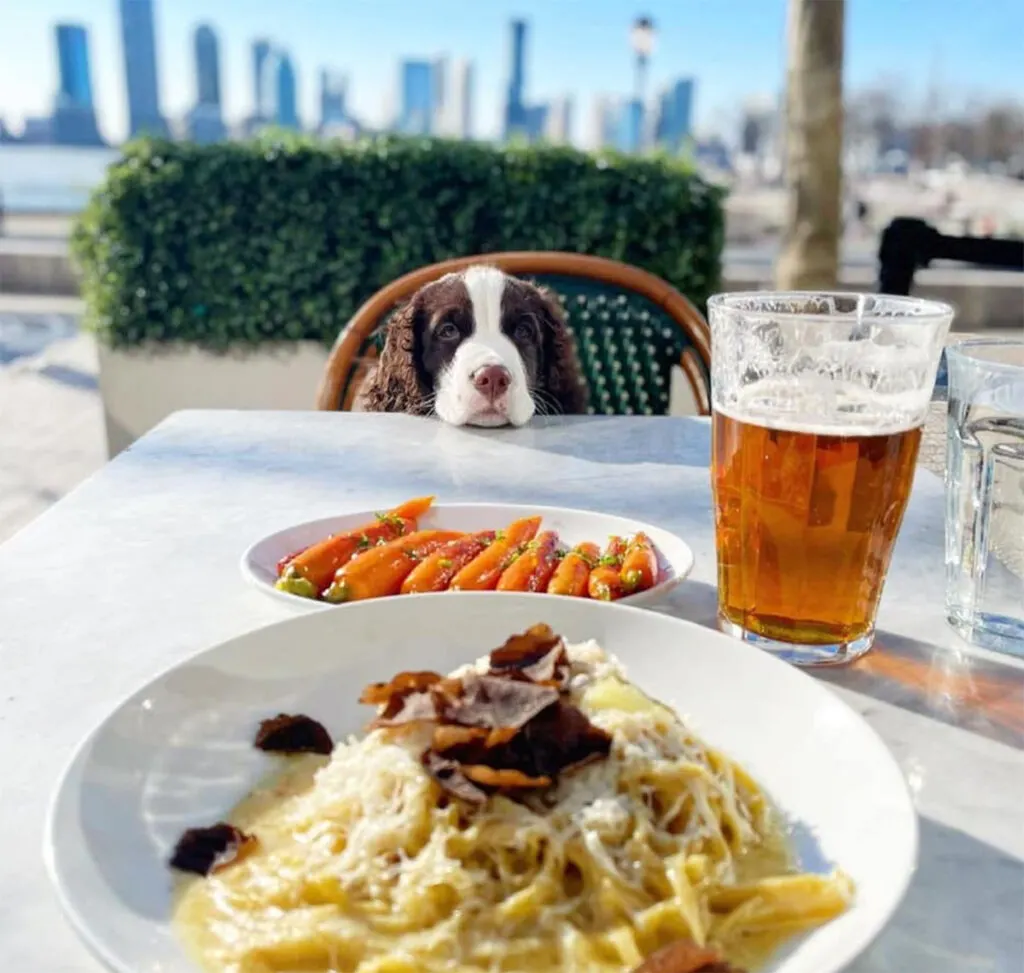 The two malls are relatively close together and are accessible through a quick walk across the 9/11 memorial, another must-see NYC destination.
We also recommend walking to the iconic South Street Seaport to check out the museum and stores. One of the best shops in this area includes McNally Jackson Books, which has served the community for decades. It also doubles as a café and wine bar for patrons over twenty-one.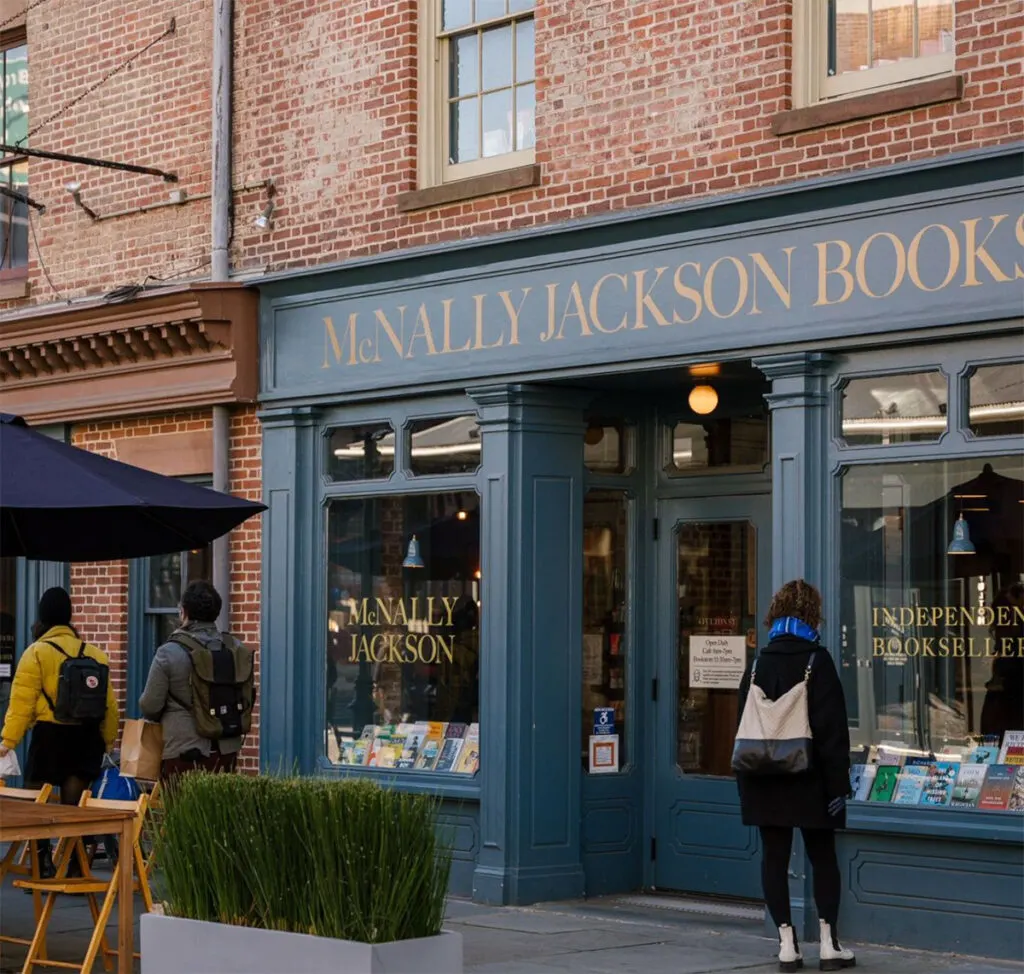 Fifth Avenue
Fifth Avenue at Midtown East, boasts many posh shops and designer brands including the notable Sak's Fifth Avenue flagship store, which has pleased young and old since 1867, especially with their Christmas windows.
NYC is a great place for holiday window shopping too. People come from far and wide just to see the incredible and intricate displays that change every year in some of the best department store windows in the city. Other windows to see are Bloomies, Bergdorf Goodman and Macy's.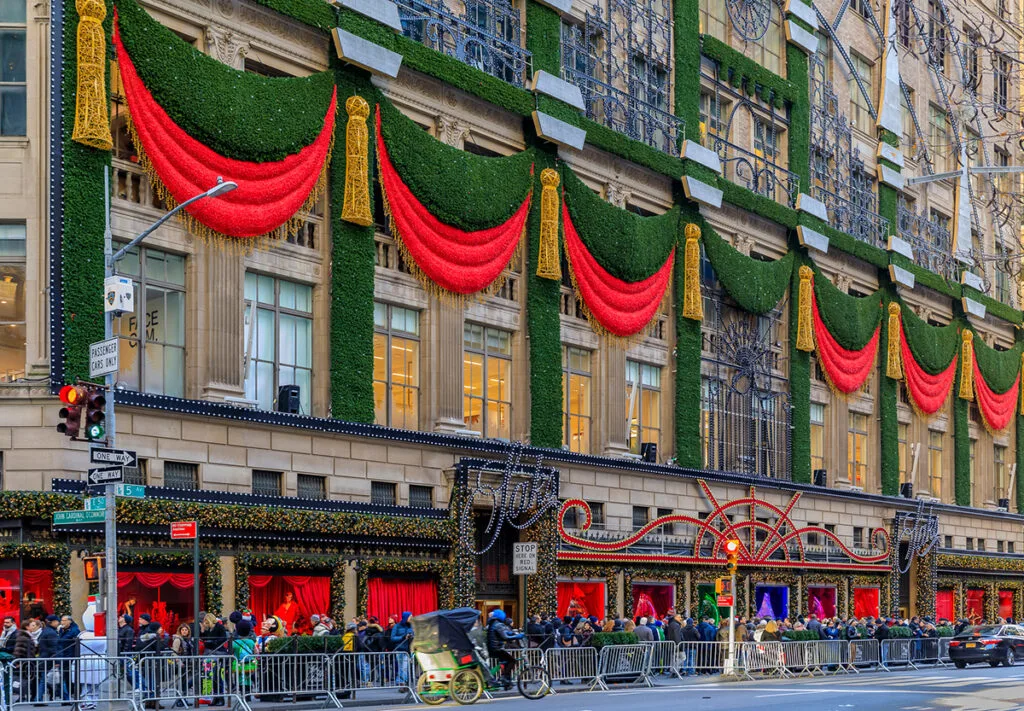 You'll also find other incredible stores on 5th Avenue like Bloomingdales, Prada, Louis Vuitton and Uniqlo, but bookmark the enchanting holiday season for those windows.
There is nothing quite like spending Christmas and New Year's Eve in New York City and the shops along Fifth Avenue only prove that point!
Flatiron District
The Flatiron neighborhood is home to many of the same stores in Soho, including Tory Burch, Aritzia, H&M, and Zara, without the excessive crowds. You'll also find Banana Republic here, although they have several stores dotted around NYC including in Rockefella Center, Hudson Yards and World Trade Center.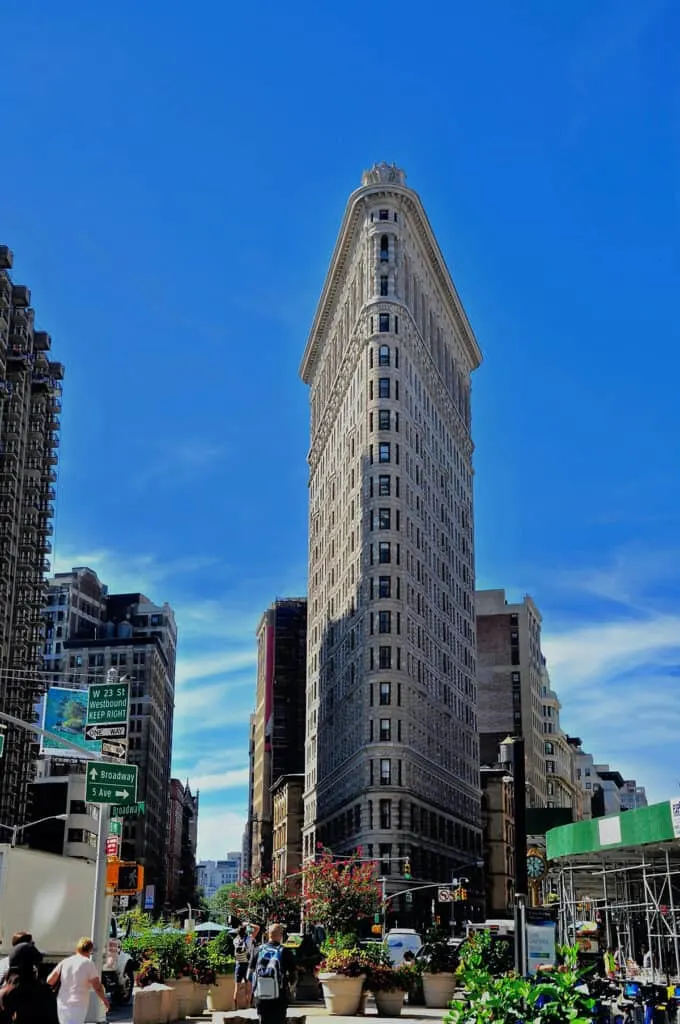 Therefore, if you are looking for a relaxing shopping trip, I suggest spending your day in the Flatiron district. There are significantly more department stores down here, including one of the city's best; TJ Maxx.
The Harry Potter and Lego Stores can also be found in the area, making it an excellent destination when shopping with young children. Although, we are sure plenty of millennial muggles are lining up to visit NYC's newest magical shop.
34th Street Shopping
There are tons of excellent stores in the Midtown Manhattan neighborhood of 34th Street, including Macy's Herald Square flagship store.
Macy's is one of my most favorite department stores. It's also huge. You'll find floors affordable brands, huge cosmetic counters and a maze of shoes to keep you browsing for days!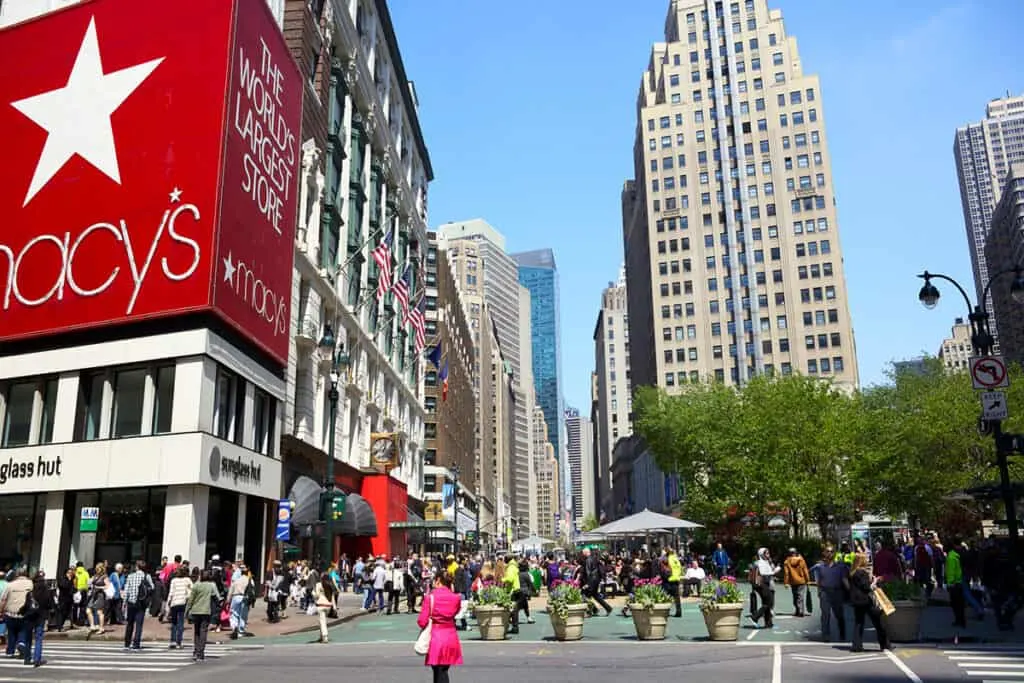 Herald Square area (34th Street) is one of the more touristy destinations in New York City but always a great staple if you are looking to shop in well-known stores like Steve Madden, Amazon Books and Ulta.
Meatpacking District
If it's designer clothes and chic-wear you're after, head to the Meatpacking District.
This formerly industrial area named after the meat packing warehouses of old, has had a tumultuous and fascinating life of rehabilitation and gentrification, filled with nightclubs and a phase of "undesirable" behavior in the 70s and 80s.
But today you'll find Diane von Furstenberg with her upscale apparel and accessories. Rag & bone for chic denim and casual wear. Eberjey NYC for luxurious pyjamas. RH New York for upscale home goods and several big brands like Apple Store, Christian Louboutin, Kiehl's, LuluLemon and the new Marni Market.
This is also where you come for the famous Artists and Fleas flea market and the Chelsea Market.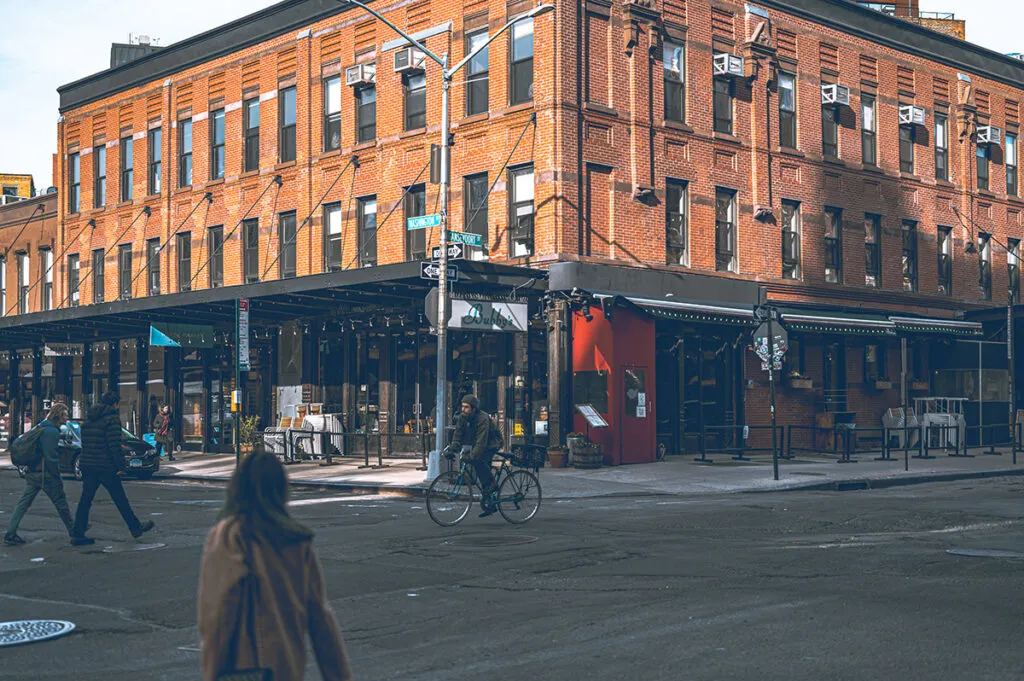 Greenwich Village
This vibrant neighborhood of Greenwich Village has a diverse collection of eclectic boutiques and thrift shops.
A few staples worth checking out include Beacon's Closet, Kass Glassworks, and Mure + Grand. Then after a long day of shopping, you can settle down for a meal at one of the area's many delicious restaurants or try one of these nearby NYC restaurants for like The Half Pint for lunch.
Plus, Greenwich Village is within walking distance from the famous Washington Square Park, below.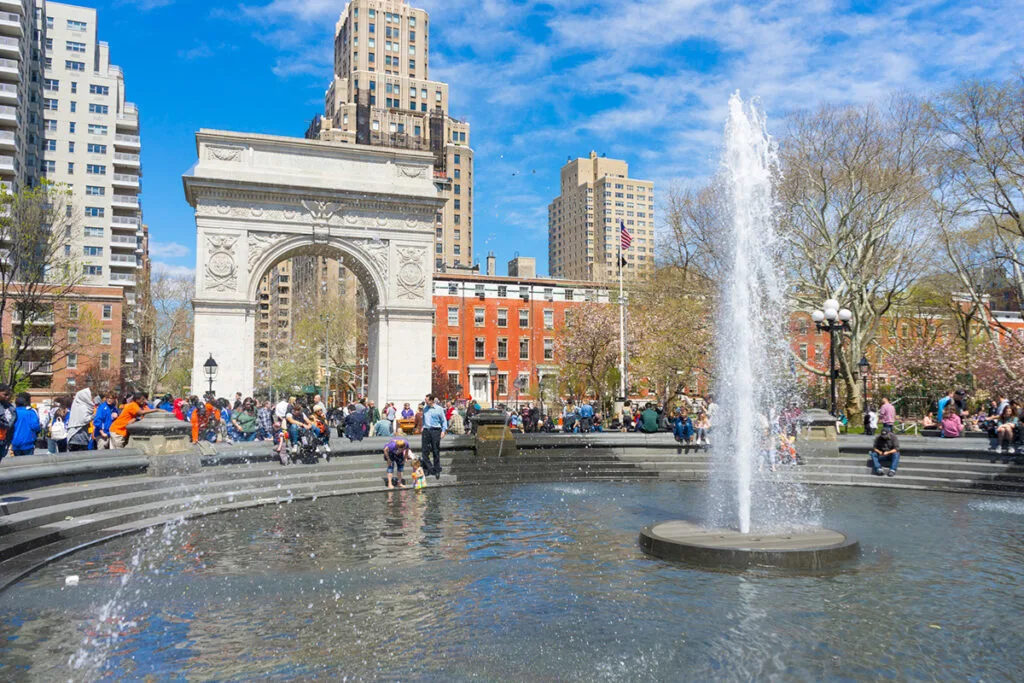 East Village
If you're a vintage shopping fan, you need to come to East Village, just east of Greenwich.
The birth place of punk is now an artists enclave with some of the best thrift stores in NYC. You could even take a second hand shopping tour with a local if you're really on a mission to find the best stuff without browsing aimlessly for hours in these lovely small shops that have stories to tell.
Come poke around the small and eclectic vintage fashion stores including East Village Vintage Collective thrift store, Cloak & Dagger, L Train Vintage, Spark Pretty, and Cobblestones, most along E 9th St.
You need to try a bagel from Tompkins Square Bagels too!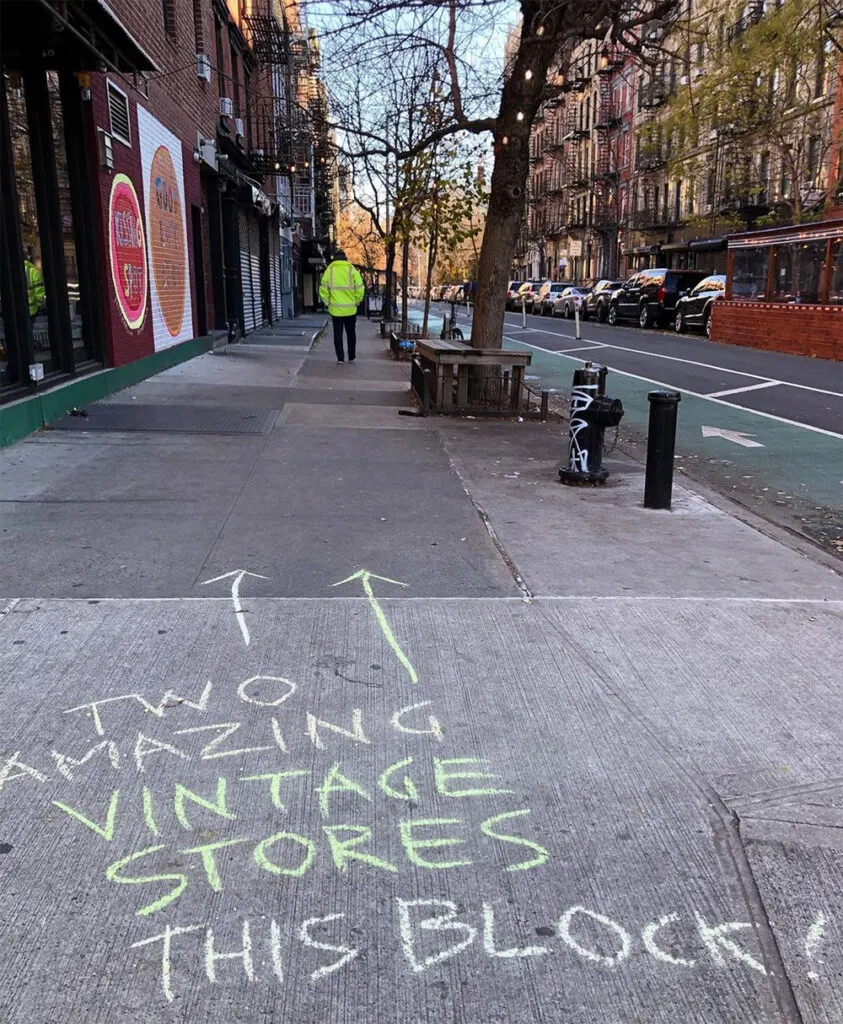 Industry City in Sunset Park
In Sunset Park, Brooklyn, Industry City shopping center features several art exhibits, restaurants, and unique locally owned stores.
As well as shopping and dining, numerous events are held at this venue throughout the year. They set up an ice skating rink during the winter months that makes for an excellent pre-shopping fitness.
Industry City is also a spectacular destination for all things home décor as the ABC Carpet Outlet, West Elm Outlet, Bed Bath & Beyond, and World Market are situated there. I love walking through World Market to find unique pieces and tasty snacks from around the globe.
You might like my post on the perfect one-day itinerary in Brooklyn too.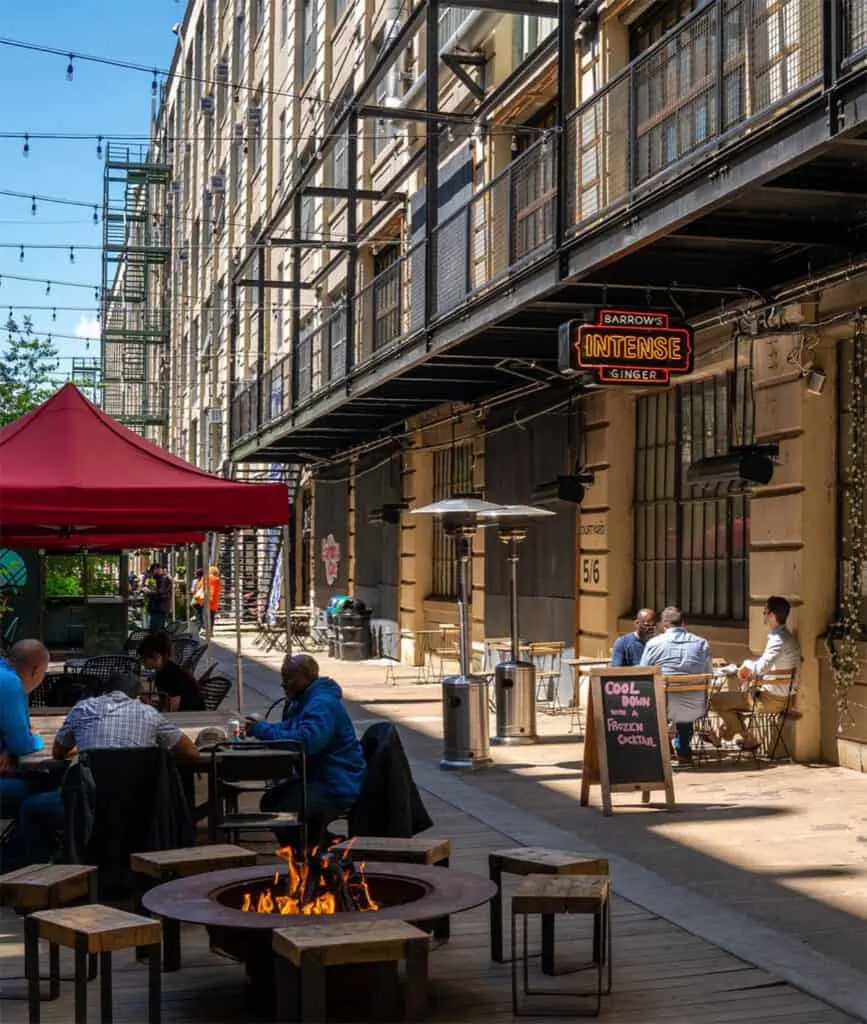 Madison Avenue shopping
Would an NYC vacation be complete without a shopping trip along Madison Avenue on the Upper East Side?
Even if you do not buy anything, this is one of the best areas for window shopping in the five boroughs.
Madison Avenue boasts many luxurious brand-name stores including Acne Studios, Celine, Stella McCartney, Jimmy Choo and Reformation. Then after you've shopped, make your way over to Central Park and if you're not burdened down with purchases, visit the Guggenheim over on 5th Avenue.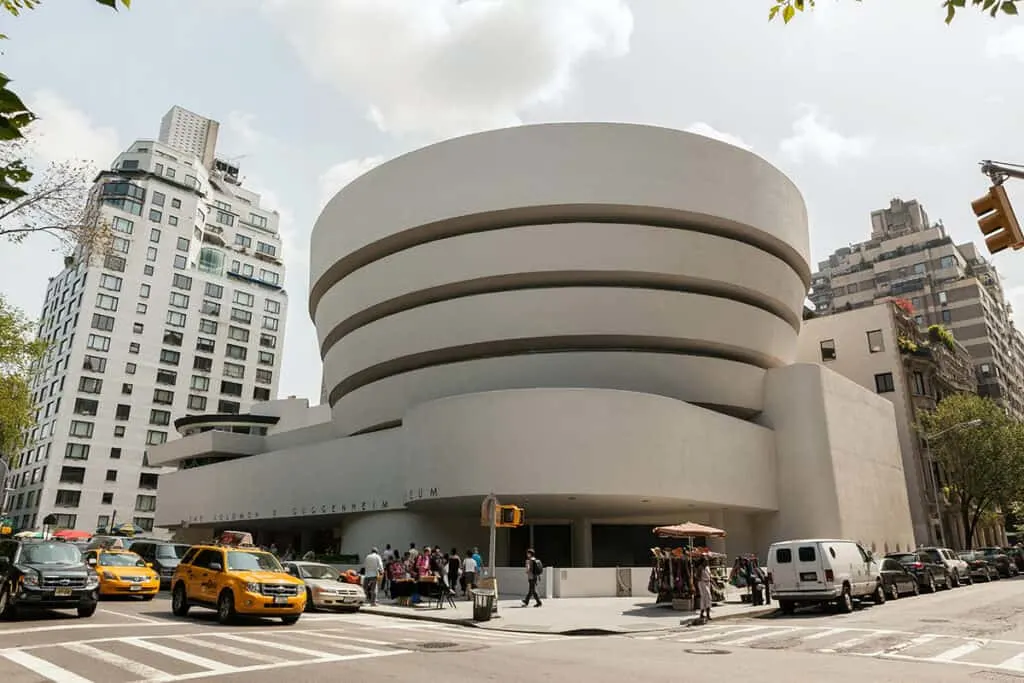 Central Park looks beautiful year-round and is an excellent destination for an outdoor picnic on warmer days and ice skating in winter.
Shopping in Soho
Soho (aka South of Houston Street) is one of the most popular areas for shopping in NYC. This is where New Yorkers shop.
The neighborhood boasts various locally-owned boutiques and name-brand stores spanning over 25 city blocks.
It can become pretty crowded on weekends and holidays, especially around Christmas so I recommend getting here early in the day to make the most of your Soho shopping trip.
You can also head to nearby Chinatown to score goods from various street vendors and family-owned shops. Plus, this is an excellent area to grab a quick bite to eat after an afternoon shopping in Soho, like the amazing dumplings at Nom Wah Tea Parlor.
Union Square
Union Square is a prime shopping destination and one of New York City's most notable attractions.
This area is home to many name-brand stores like Free People, Forever 21, Nordstrom Rack, and Sephora.
If you visit during the holiday season you will likely find yourself in the middle of a Christmas market hosted by Urban Space. This market boasts a variety of vendors and food pop-up shops that provide the perfect opportunity to score a last-minute holiday gift for your loved ones. I suggest grabbing a cup of hot chocolate to enjoy while you stroll through the shops.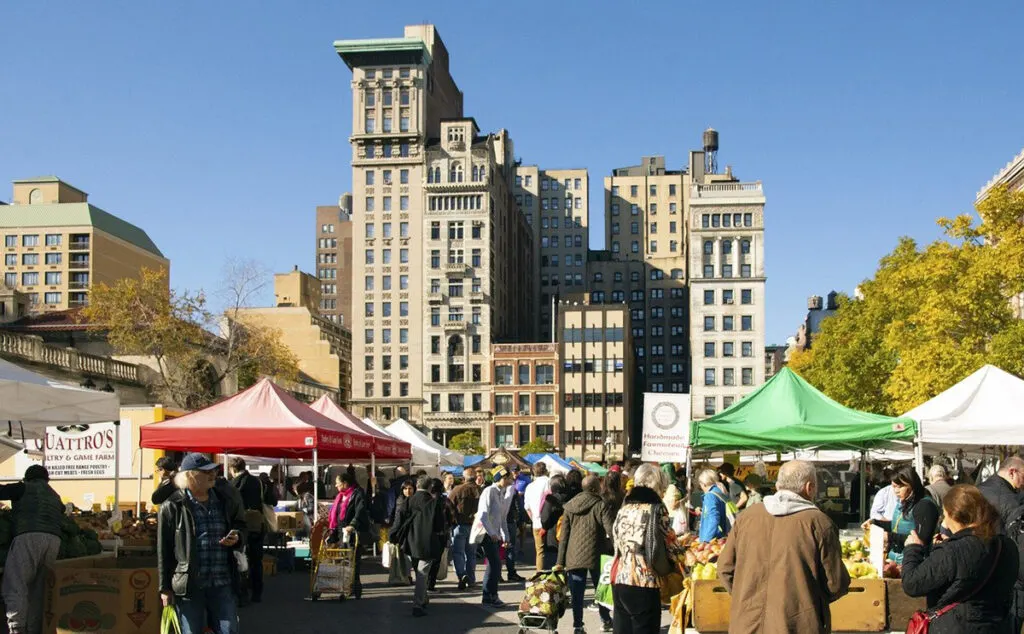 Williamsburg
The quirky Brooklyn neighborhood of Williamsburg is an excellent shopping destination for unique gifts, vintage goods and the famous Brooklyn Flea Market.
Many of the area's shops are nestled along Bedford Avenue, such as popular jewelry stores Brooklyn Charm where you will find lots of little mementos, and Catbird for handmade jewelry pieces.
Williamsburg has numerous thrift shops including Awoke Vintage, Buffalo Exchange, and Crossroads Trading.
You may also find an incredible plant nursery in the heart of Williamsburg called the Chelsea Garden Center. This is an excellent place to stock up on indoor apartment plants and beautiful fresh floral arrangements.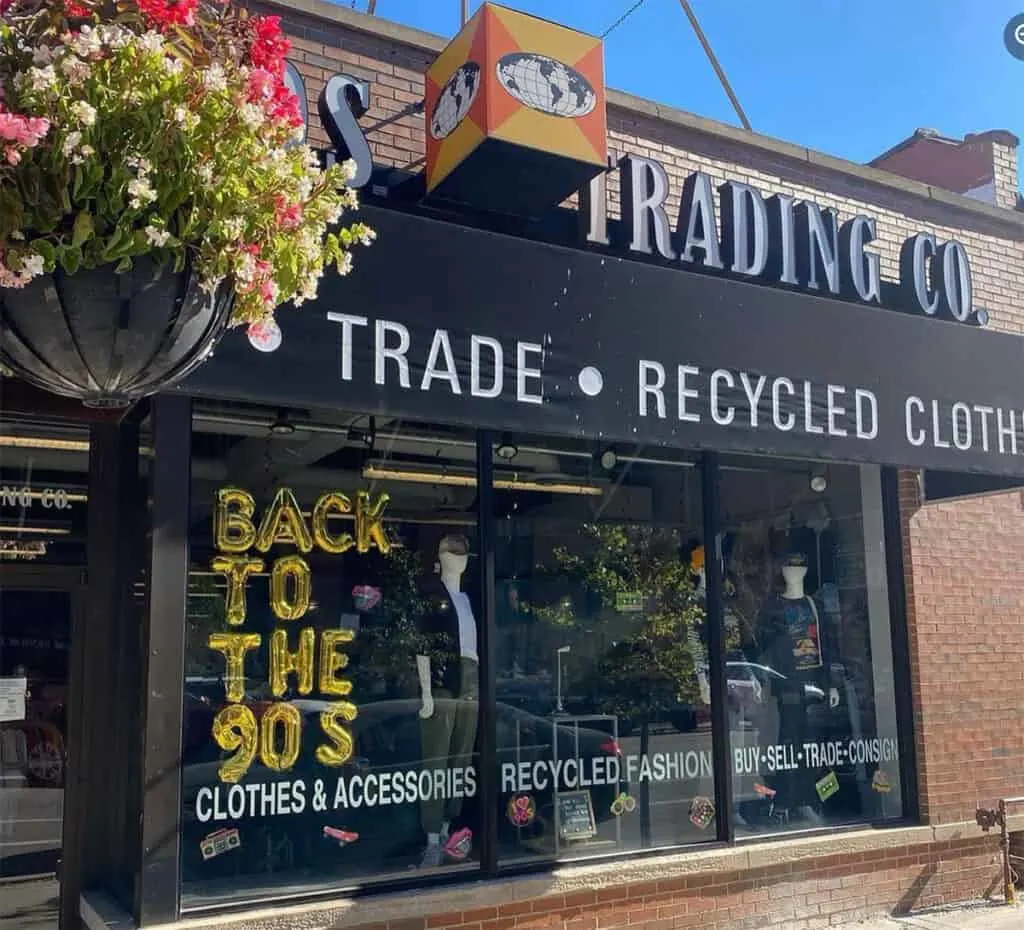 BONUS: Woodbury Commons outlets
If you're an outlet shopper, rejoice! There is a New York outlet within an hour and half drive.
If you're willing to travel outside of the city to catch some fantastic deals, make your way to the Woodbury Commons Premium Outlets in Central Valley, New York.
It is approximately an hour and twenty minutes away from Manhattan and accessible via the Port Authority Bus Terminal or you could book a transfer online and meet the bus at various pick up points and return when you're ready. There are numerous name-brand stores available including Abercrombie, Dior, Lucky Brand, Polo Ralph Lauren and Saint Laurent.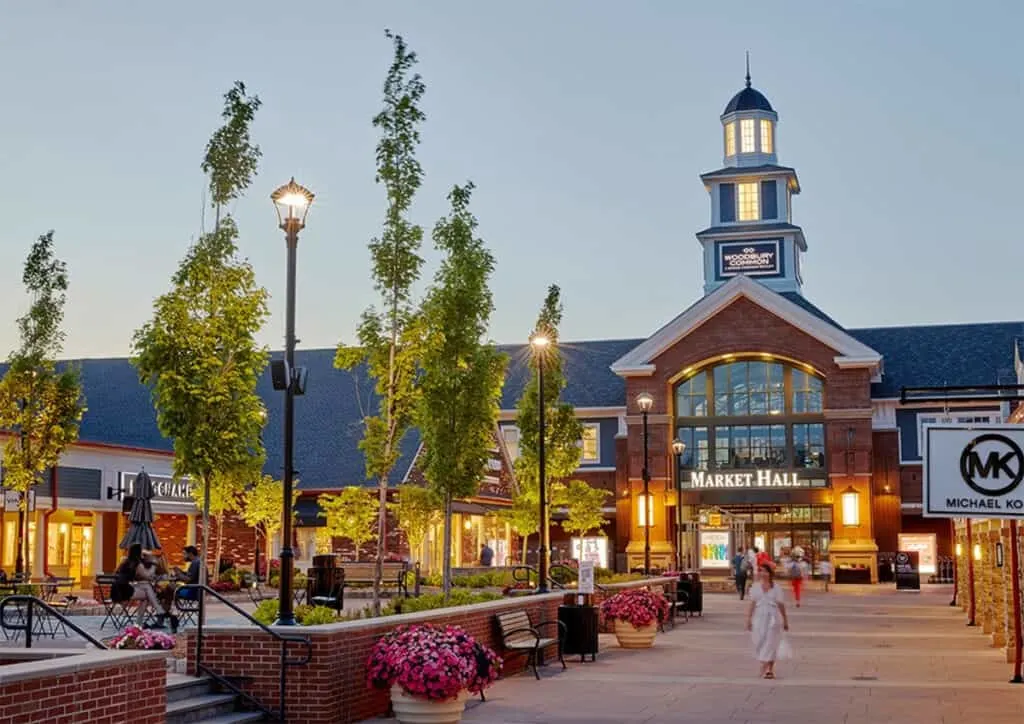 If you're reminiscing about visiting the biggest toy store in world, FAO Schwarz (made uber famous by Tom Hanks jumping on the floor piano in Big) it closed in Times Square in 2004, then became Toys R Us for a while, but was re-acquired and opened again, this time at 30 Rockefella Plaza to give your credit card a work out for the big kid in you. Eek!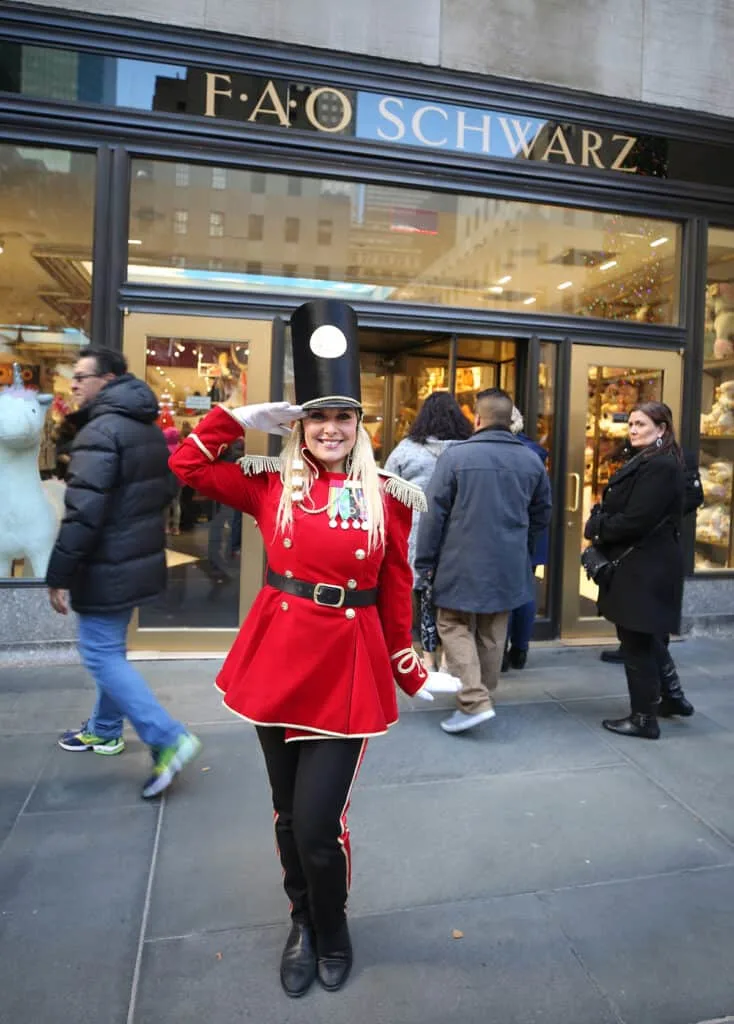 Read more: If you're looking for a gorgeous New York rooftop restaurant with a view you'll love my post listing at least 12 to get you started.
Read more: Believe or not, you can actually do New York on the Cheap! I have lots of tips in this post.
Read more: If you're planning to visit New York City for New Year's Eve, this post has loads of great things to do to see in the new year in NYC.