Believe it or not, Las Vegas can be a fun destination to take the kids.
Below you'll find a brilliant run down of family-friendly attractions to visit, as recommended by me and my fellow travel bloggers who have all taken their own kids to Vegas and lived to tell the tale!
While I don't have kids myself, we're all kids at heart (aren't we?) I have visited Las Vegas tons of times now, seeing and doing as much as I can, so I've included a few fun attractions you may not have thought of to take the kids.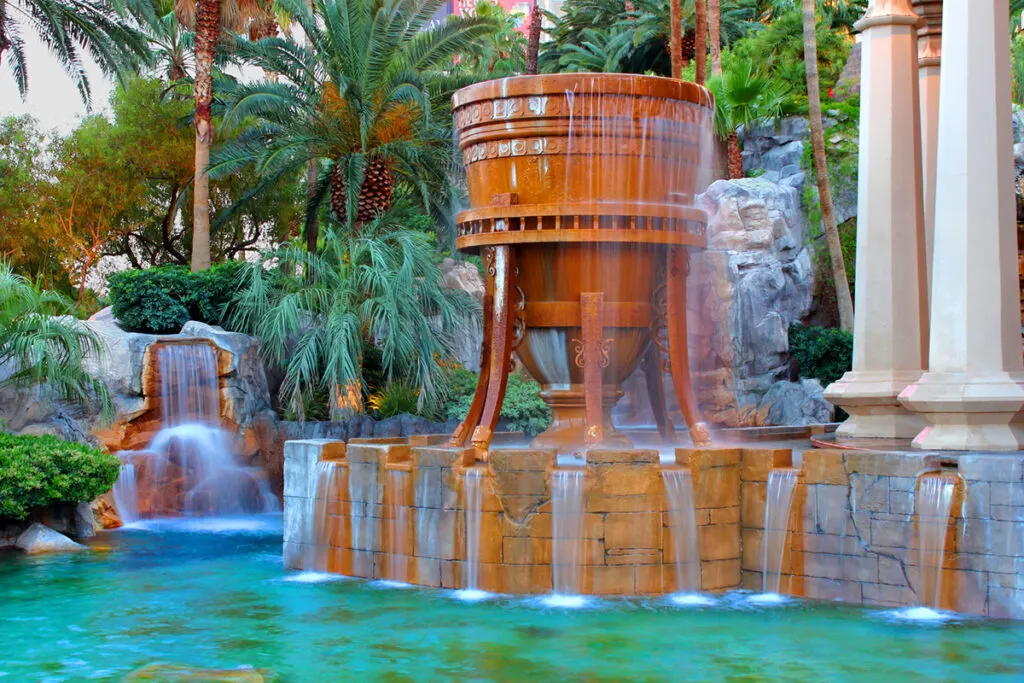 Did you know that some hotels in Sin City don't even have casinos any more? You'll also find incredible family pool complexes complete with wave pools and lazy rivers.
Then we get to the world-class shows like Blue Man Group, Jabberwockies, magic acts and the six resident Cirque du Soleil shows including Michael Jackson and their newest offering, Mad Apple.
You will also find other fun things in my list of the coolest things to do in Vegas like eating at a Michelin star restaurant, driving around a track in a race car, skydiving or zip lining, or even a day trip outside of Las Vegas.
I also have a great post on Shopping in Vegas baby! This covers 10 places to shop in Las Vegas including malls inside the hotels and outlet shopping.
Oh and you'll want to read my post on 29 things NOT to do in Las Vegas, lest you find your vacation not quite what you hoped it'd be.
Give your wallet a break with these fun FREE things to do in Las Vegas!
Believe me, Las Vegas for kids is not an oxymoron!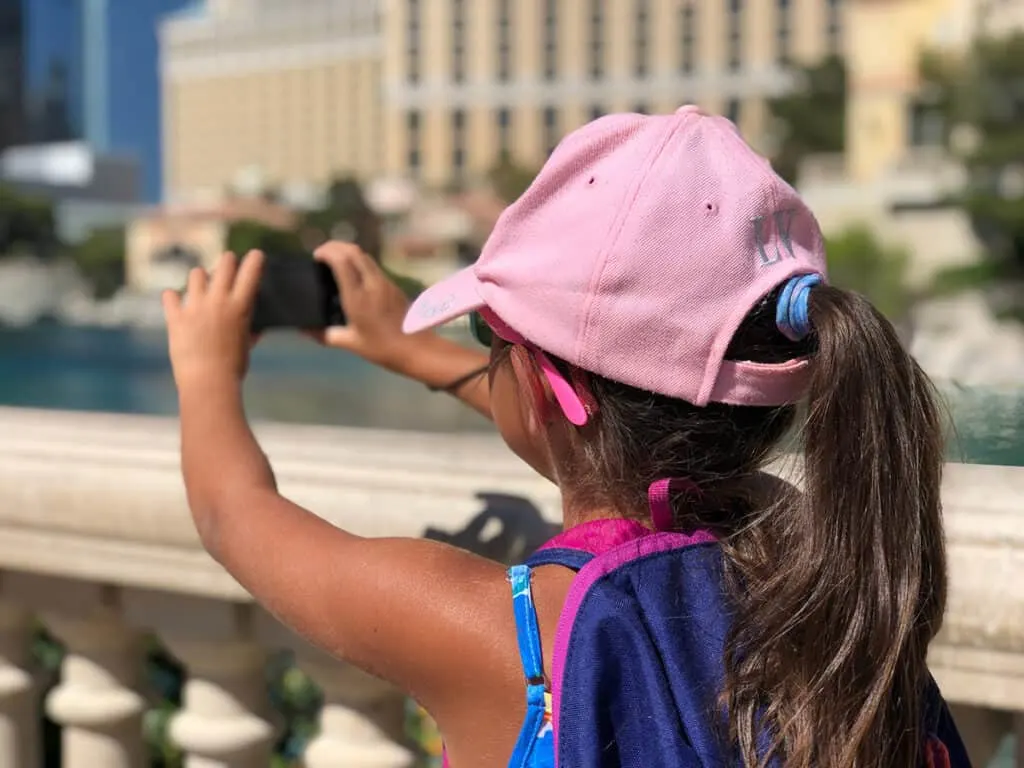 *This post contains affiliate links. If you make a purchase, I will make a small commission at no extra cost to you. Thank you for your support.
1. Play an Escape Room
I'd never tried Escape Rooms before, but when I was last in Las Vegas we headed to The Escape Game at the top of the spiral escalator at the Forum Shops in Caesar's Palace. They have six games to choose from. We chose Gold Rush, hubby and I.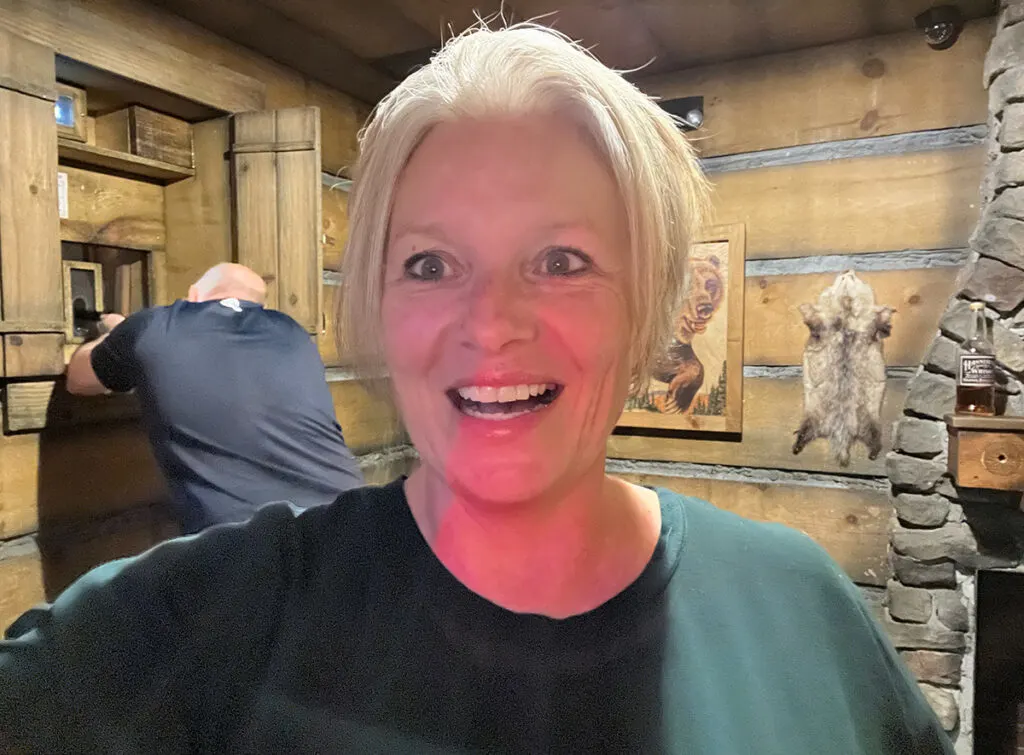 We were taken to our little room, shown some basics to get us started – and the rules, like not taking any of the birds or butterflies discretely positioned and which proved to be clues for later.
Fortunately I have a husband with an analytical brain and he took the lead, with me taking photos and counting said critters for him to put into the combination padlocks and get the next clue out.
We did need a few clues from the master when we couldn't figure out a couple of things, and yes, it took us the full hour!
Tons of fun that teens (and adults) will love.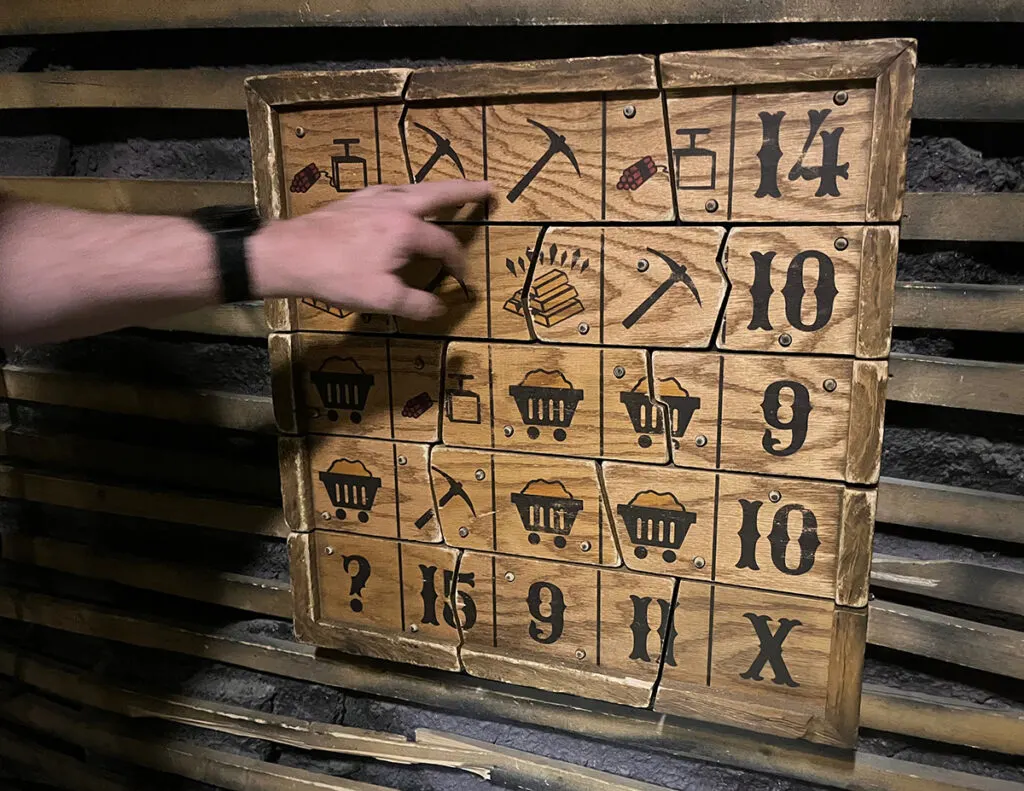 2. Drift racing with a pro driver
Little car-mad petrol heads will love this. Your older children can strap into the passenger seat with a pro driver at Dream Racing and experience the biggest adrenalin rush they'll have this side of skydiving!
If your kids are over 12 years and the idea of screaming two laps around a race track at 155mph while a professional driver shows them what their drift racing cars are capable of, would make your teen's day, then this experience might be one to book.
As an aside, I did a couple of hot-laps with a pro driver in a McLaren race car, and it was utterly exhilarating, which you can see in my video if you want to know what adrenalin mixed with terror looks like!
3. Mandalay Bay Beach
You might never leave the Mandalay Bay Resort once your kids find the beach! That's right, a beach, complete with gigantic wave pool, a lazy river, actual beach sand and a band stage.
There are sun loungers all around this vast pool area and cabanas you can book which come with a server.
In fact this would probably be my top pick for which hotel to stay at in Las Vegas with kids, although it doesn't have the in-house roller coasters like Circus Circus (below) or New York New York.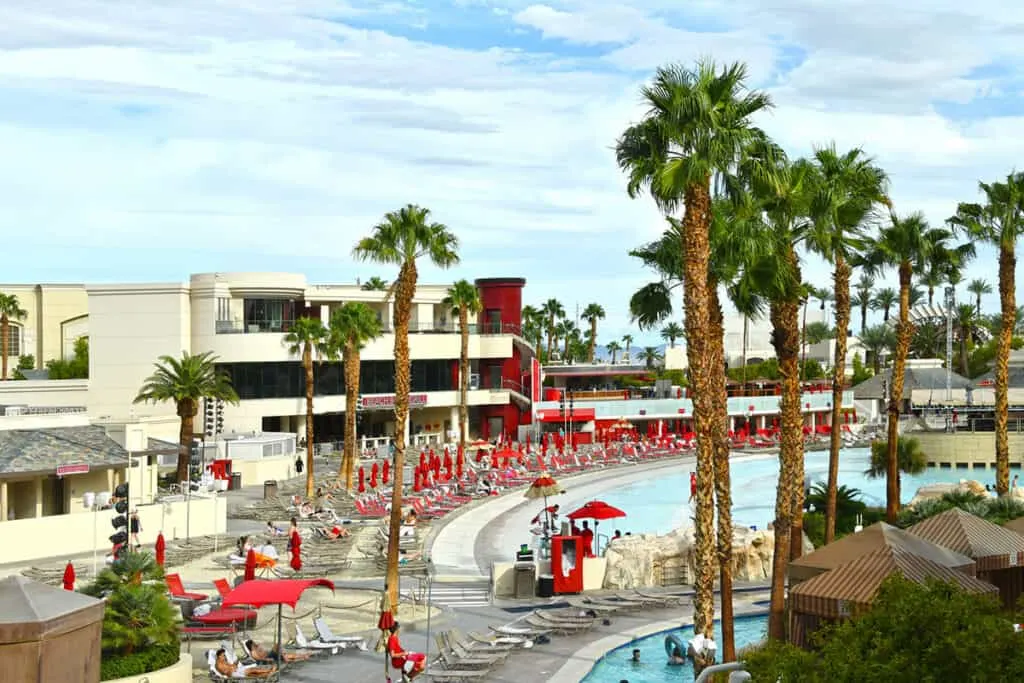 4. Shark Reef Aquarium at Mandalay Bay
Contributed by Taylor of Traverse With Taylor
One of the best kid-friendly things to do in Las Vegas is to visit Shark Reef Aquarium at Mandalay Bay.
This is one of those experiences that was so much better than initially imagined. Shark Reef is huge! A fantastic place to escape the heat of the desert and feel like you're in an underwater slideshow.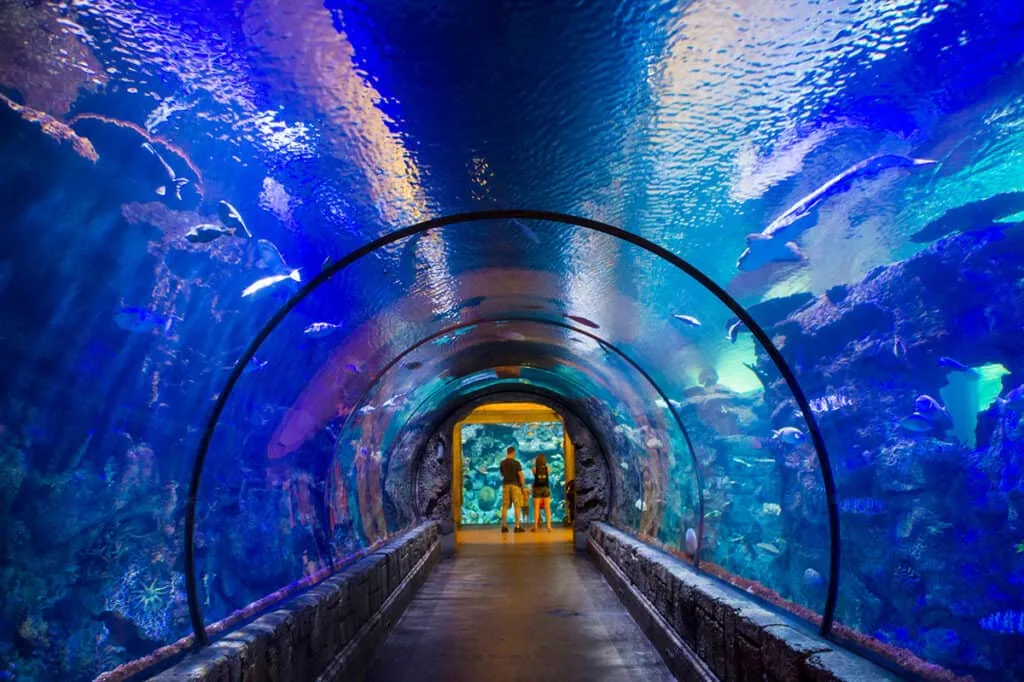 The aquarium includes 2000 species of sealife with sharks of all kinds as well as other aquatic creatures including jellyfish, fish, snakes, and sea turtles. The Shark Reef Aquarium even has piranhas, a Komodo dragon, and alligators – all within a hotel situated on the Las Vegas Strip.
A touch pool experience allows little ones to get their hands wet as they feel stingrays and horseshoe crabs. There is even an entire Shark Reef tunnel that provides an immersive experience and 360˚ views of sharks from below.
You'll need to purchase tickets for a timed entry and additional interactive activities such as shark, turtle, or stingray feeding are available for purchase as well. Last entry is 4pm.
5. See a show!
There are six resident Cirque du Soleil shows in Las Vegas hotels and I've seen five of them.
My pick for the best family Cirque shows would be O at Bellagio which sees the acrobats doing death-defying dives from high diving boards into a swimming pool under the stage. Only it looks like they'll hit the floor as just moments earlier they had been dancing and doing stunts before the floor sneakily opens.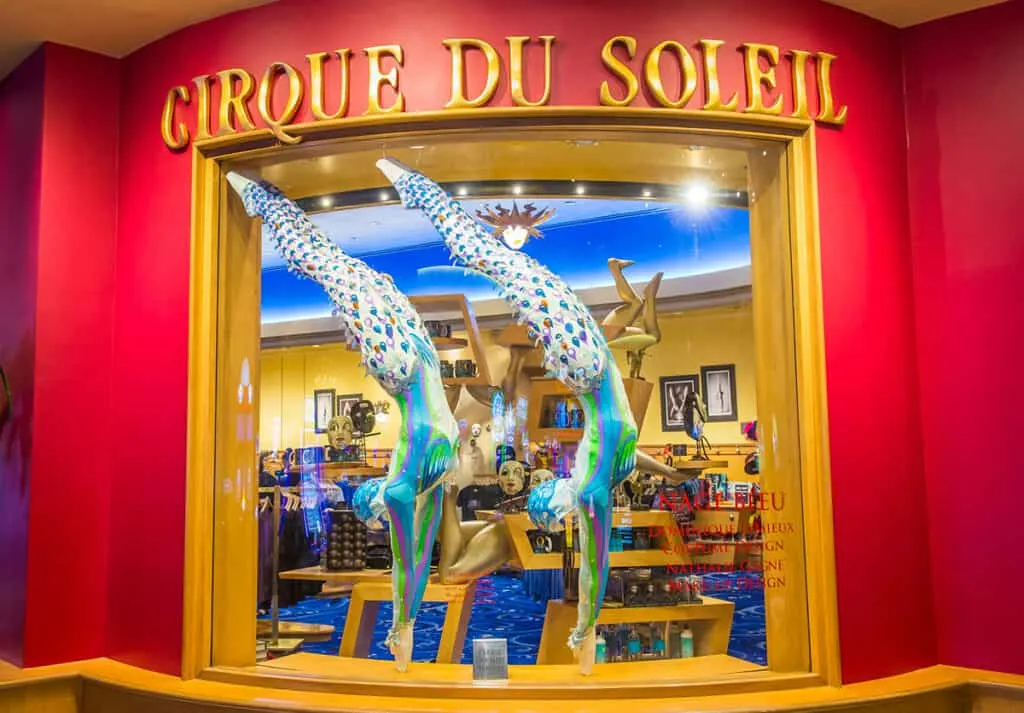 The other great Cirque show would be Michael Jackson ONE, at Mandalay Bay. Depending on your kids ages, it will be a rollicking time, while you'll know the songs, as well as watching mesmerised at the athletic contortions that Cirque shows are so famous for.
Your kids will also love some of these shows in my picks for the 24 best shows in Las Vegas, like Blue Man Group, astonishing magic acts and Jabberwockeez.
6. Amusement parks at Circus Circus
Contributed by Anu Agarwal of Destination Checkoff
Despite Circus Circus being a casino hotel, it's famous for many kid friendly attractions too.
Circus Circus is home to Adventuredome indoor theme park, and is a must visit in any Las Vegas itinerary.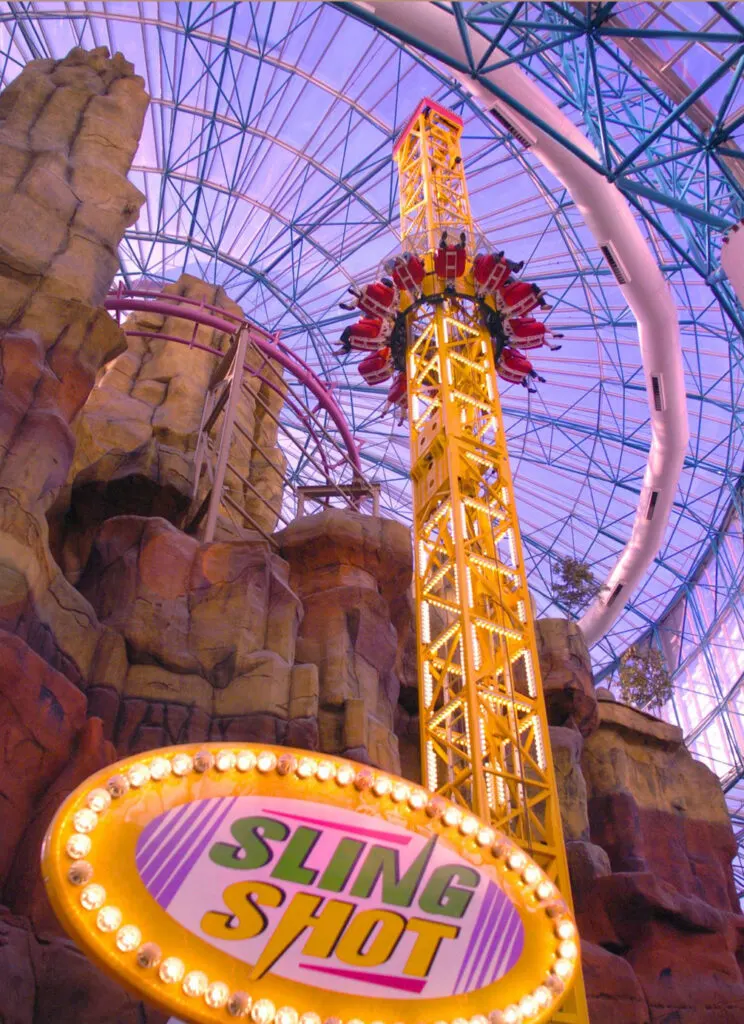 Adventuredome has roller coasters with crazy loops, turns and drops to delight older kids, bumper cars, swinging pirate ships, and also many rides to entertain the younger kids.
There is laser tag, mini golf, and virtual reality games here as well for the teens in your group. You need to purchase an all-day wristband to enjoy all the rides at Adventuredome.

Carnival Midway at Circus Circus is a fun arcade with many classic and new arcade and carnival games. There are plenty of things here to do to keep the whole family occupied. You need to purchase credits on a play card to access the Carnival Midway games.
Catch a free show! You can witness amazing circus shows for free at the Circus Circus Carnival Midway center stage. The skilled trapeze acts, the aerial dancing, the funny clowns, and jugglers will leave your kids awestruck. This is incredible entertainment – and best of all it's free. The circus shows run every hour around the half hour mark.
7. Wander through the Neon Museum
Contributed by Olivia from the Girl With Blue Sails
One of the most unique things to do in Las Vegas with kids is to take them to the Neon Sign Museum.
Located a short drive, about 15 minutes away from the center of the Las Vegas strip, the Neon Sign Museum, also known as the Neon Boneyard, is equal parts fascinating, historical, and at times, a bit creepy.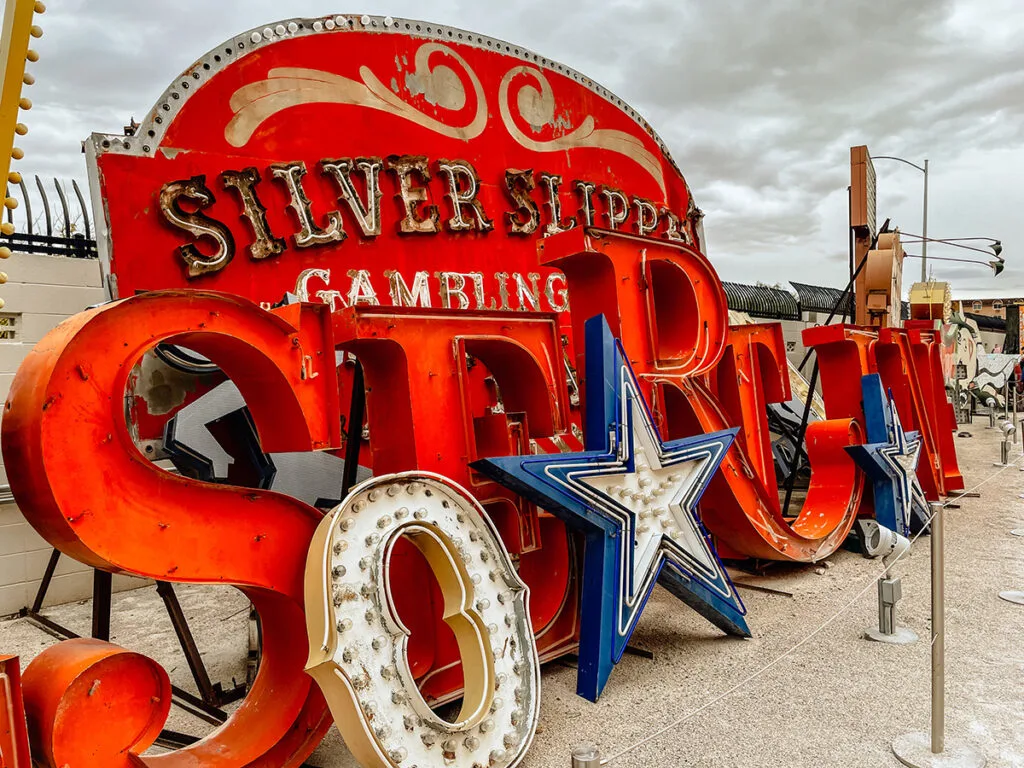 If you have budding photographers in your family, there are all kinds of signs here, from major casino signs to wacky character signs.
Seeing these fallen giants covered in dust while some of them are starting to rust is a bizarre but fascinating experience. There are marked, dirt pathways to follow as you walk around, so as long as kids stay inside of the roped off paths, there is no risk of them getting too close to the signs.
There is a small fee to enter this outdoor museum, and it is recommended to book your time slot ahead of time online, as they limit the amount of visitors allowed per hour.
Pro tip: At dusk the lights turn on in the old neon signs, bringing the boneyard to life. This is the best time to visit if possible, as seeing these old signs light up all around you is truly remarkable.
You could even splash out book this tour which includes your visit to the Neon Museum AND a helicopter flight over the Strip where you get to see it from the sky.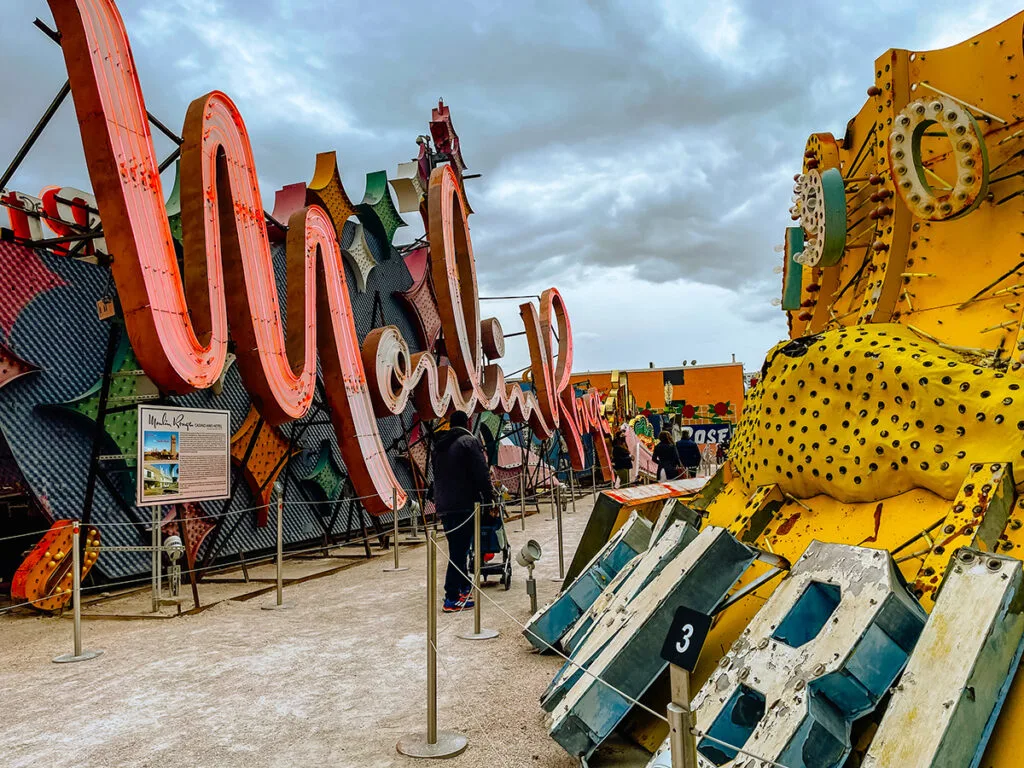 8. Visit the Mob Museum
Contributed by Pam Howard of Our Adventure is Everywhere
Taking teens to Vegas can be rough. They aren't old enough to gamble but are old enough to see the allure.
A terrific way to entertain them without resorting to video games or shopping is to visit the Mob Museum. Most teens seem to be fascinated by stories of gangsters and organized crime, and this museum will deliver.
Located just a block off of Fremont Street, the Mob Museum is housed in the old Post Office and Courthouse, which definitely lends to its historical feel.
From the speakeasy in the basement (that serves real drinks) to the St. Valentine's Day Massacre Wall on the 3rd floor, you'll find dozens of interactive and informative exhibits sharing the history and highlights of organized crime in America.
There is so much to see and experience that you should plan on spending at least a few hours exploring this fascinating museum.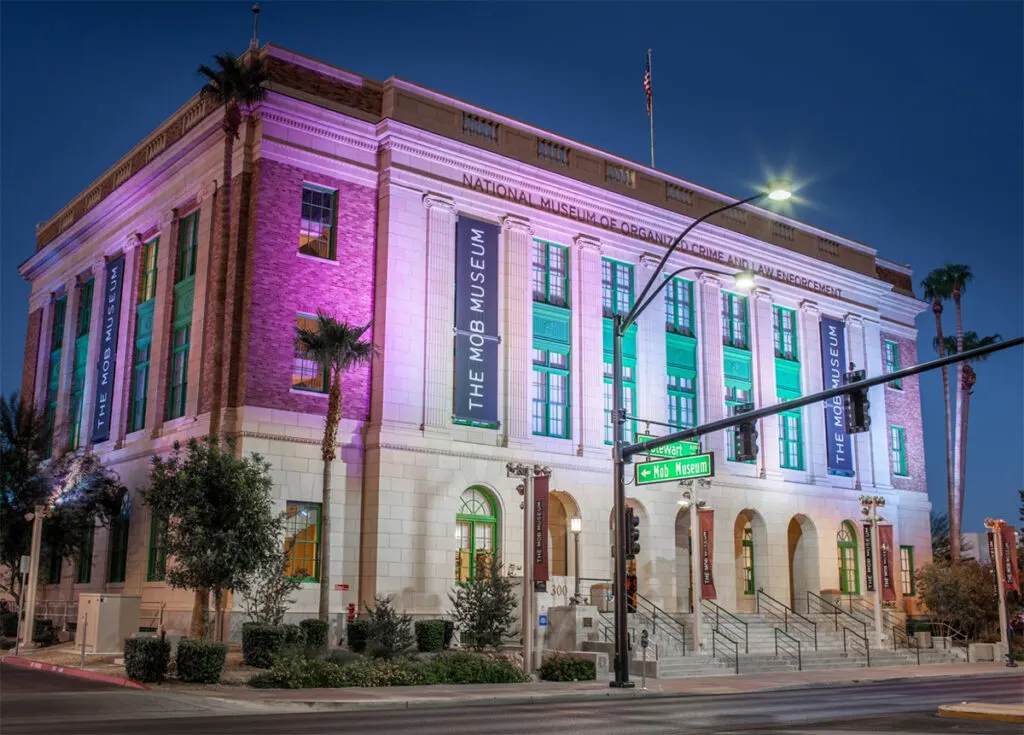 In addition to the regular exhibits, the Mob Museum often hosts special events that dive deep into specific topics, so if your visit coincides with one of these events, definitely consider attending.
Another fun way to get more out of your visit is to pick up an audio tour (for a minimal additional fee) and use that to learn the stories behind the exhibits as you tour the museum.
Pre book up your tickets to the Mob Museum online.
9. SeaQuest: An interactive Aquarium
Contributed by Catherine at Postcard Narrative
At first blush, SeaQuest appears to be an unassuming mall attraction.
Give it a chance though and this interactive aquarium will be among your most memorable family experiences in Las Vegas. SeaQuest's employees love what they do and this shines through in the way they engage with the animals and in how they educate guests through hands-on animal interactions.
You'll be amazed by the wide array of animals in their care, from birds, to turtles, to rays, and sharks. Call ahead to find out when you might catch a mermaid sighting.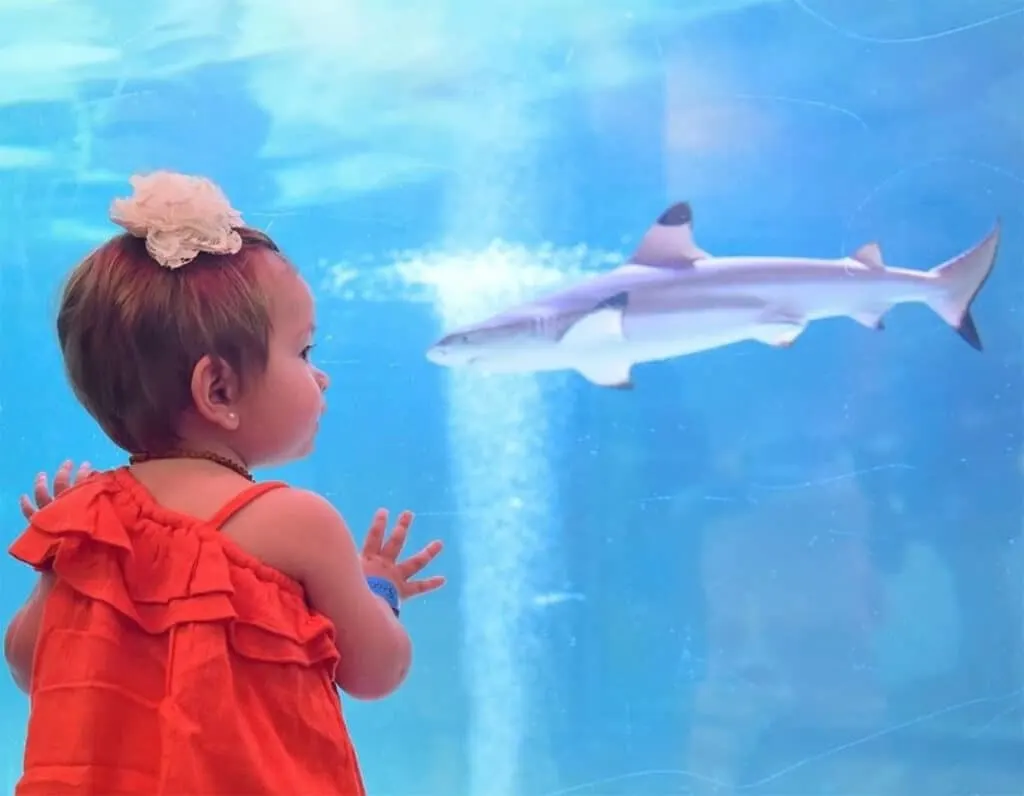 Step inside the aviary where you can feed parakeets from your hands. Kids will love the colorful budgies landing on their hands.
Throughout the aquarium you can purchase food from coin machines to feed the fish.
Make sure to seek out the Archer Fish tank and ask one of the staff members for a feeding demonstration.
You can enhance your visit with special encounters like snorkeling with stingrays, meeting a wallaby up close, or booking a VIP Package to get up close with otters, porcupine, opossum, and a fish spa for your feet. These packages are excellent ways to make the experience ultra unique, especially if celebrating a special occasion.
List pricing is $13.99 for ages 2-11, $16.99 ages 12+, and kids under 2 are free. Tickets are often on sale, 25% off on their website.
10. Fun Themed Museums
Contributed by Alanna from Periodic Adventures
Las Vegas is an entertainment hub with tons of unique and incredible things to do including some of the world's most fun themed museums that are just perfect for kids and families.
First, Marvel Avengers S.T.A.T.I.O.N. is a fun Marvel-themed exhibit full of all your favorite superhero memorabilia and props including Iron Man, Captain America, the Hulk, Thor, Black Widow, and so many more!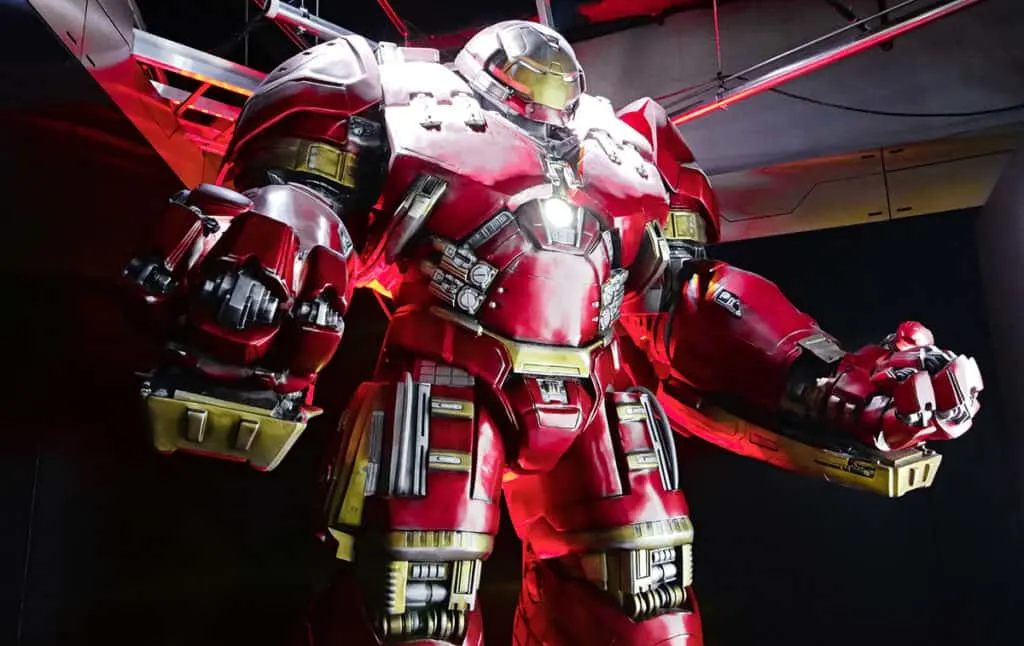 The museum is interactive so kids actually assemble case files as a member of S.T.A.T.I.O.N. and learn about the science, engineering, and history involved with the Marvel Universe. You'll find this museum in Treasure Island.
Next is The Hunger Games Exhibition by the same company that created the Avengers museum. This one is located in MGM Grand and you'll walk through sets inspired by the films while seeing the beautiful costumes and props.
If your kids are a little older and are interested in history, the Titanic exhibition at the Luxor is phenomenal. You'll be assigned an identity as an actual Titanic passenger so you can see what your ship conditions would have been like. You'll walk through replicas of the ship and in the end find out if you survived or not!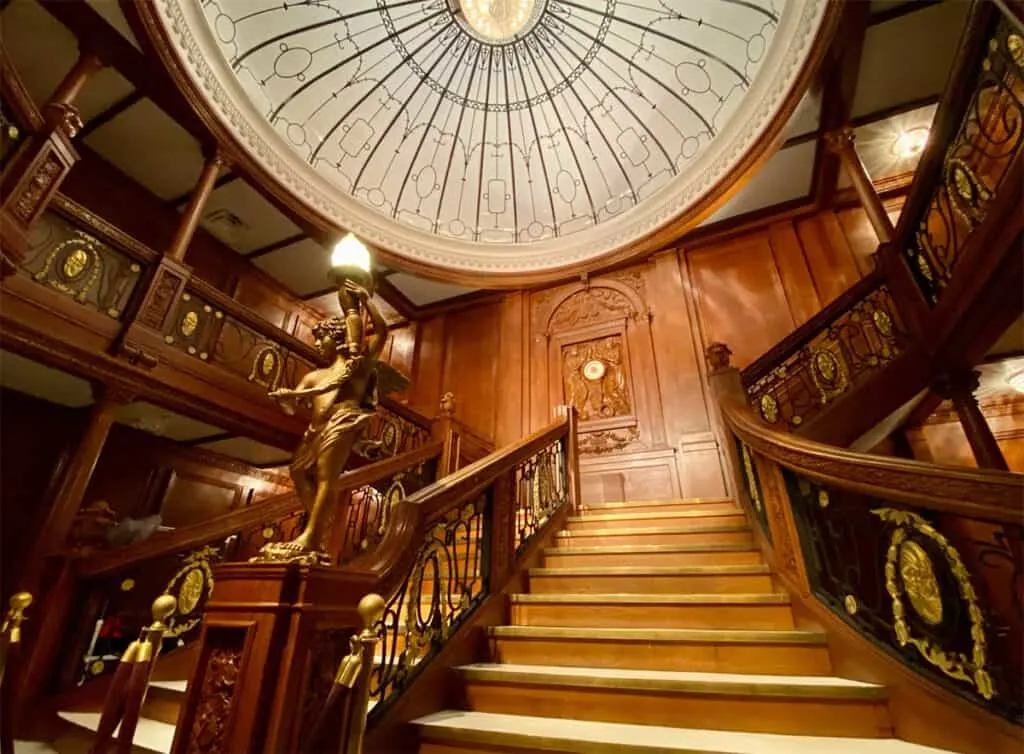 Ultimately, whether you only have 2 days in Las Vegas or visit the city time and time again, these museums are sure to keep the kiddos entertained (and out of the heat!).
Pro tip: Buy a 2, 3 or 5 day Las Vegas Pass and get admission into 30 shows and attractions – more than you'll have time for. The reviews say it's paid for itself on the first day!
11. Discovery Children's Museum
The Discovery Children's Museum will have your toddlers never wanting to leave! This non-profit museum is filled with three floors of interactive exhibits your kids will love.
Their mission statement is: to foster a welcoming, vibrant, and inclusive environment where all are invited to engage in playful and educational experiences that ignite a lifelong love of learning.
They do this in the best possible way through play, exploration, inspiration, belonging, and unique learning experiences. And they've been doing it for over 30 years.
There's a water park for plenty of splashing, there's science and art, technology and engineering – all interactive and you could spend hours here. This is one of the best places to visit if you're trying to escape the heat.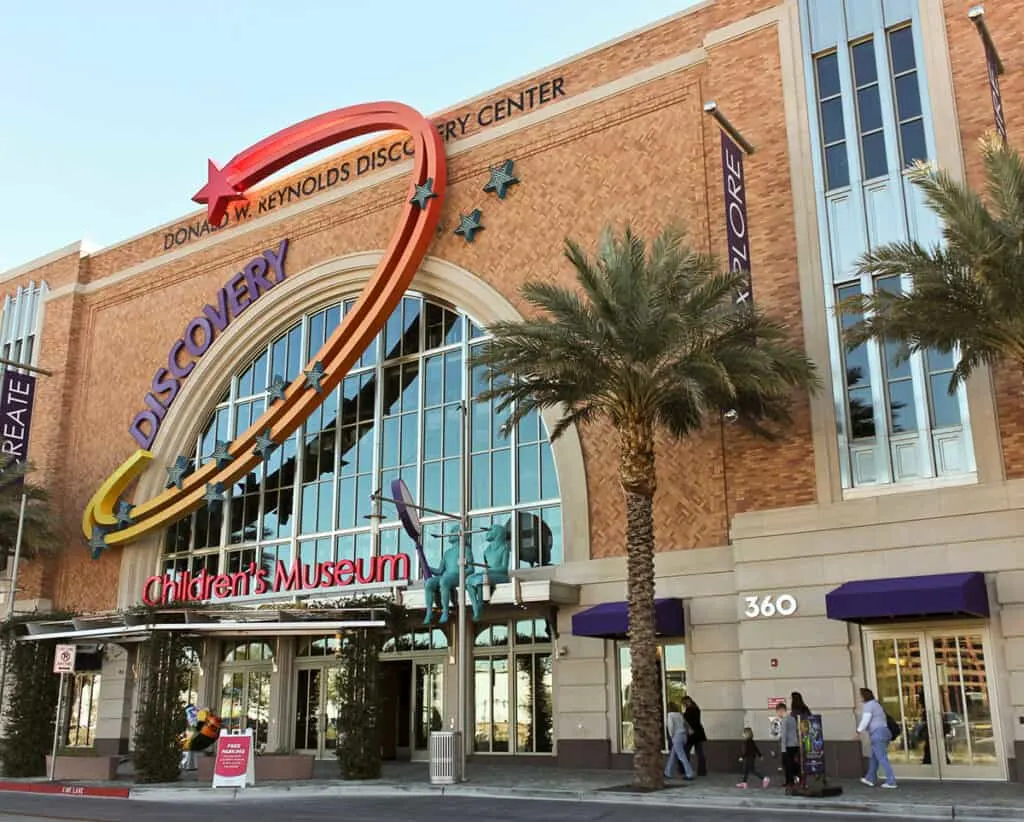 12. Pinball Hall of Fame
If you're looking for some cheap action in Las Vegas, you and the kids will enjoy playing the hundreds of pinball machines at the Pinball Museum. Load up on quarters and about $20 will last a couple of hours!
Pinball wizards could spend hours revisiting their youth of arcade games complete with all the noises, and your kids might fall in love with some retro real-life hands on gaming at this non-profit and privately own museum full of collector machines.
It's located across from Mandalay Bay Hotel, which is also a five minute walk from the iconic "Welcome to Las Vegas" sign for a family selfie.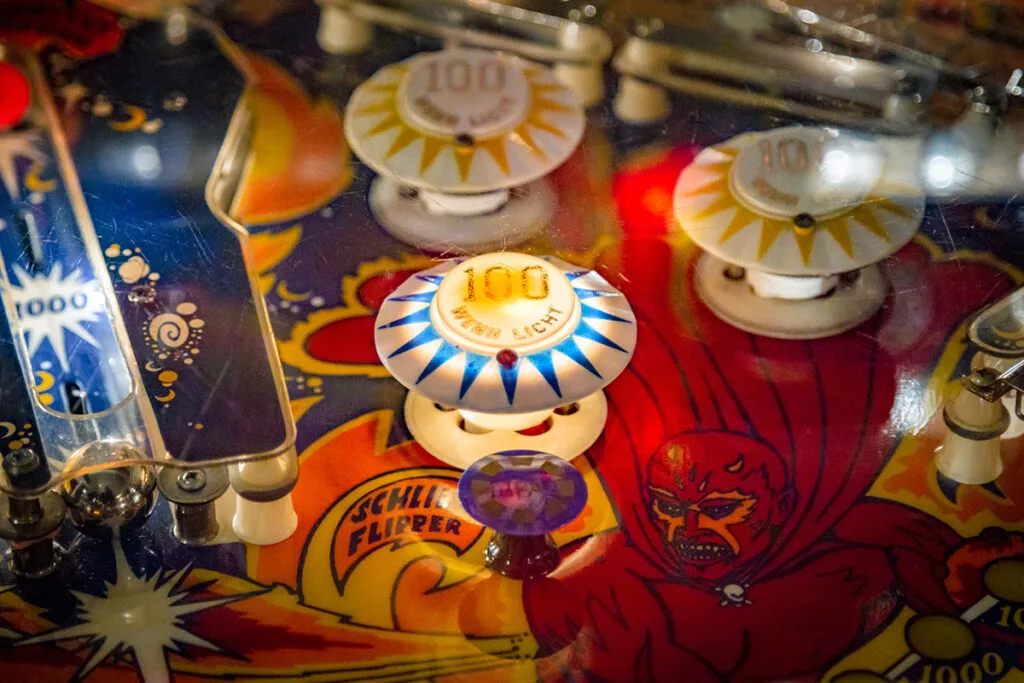 13. Roy's Secret Garden
I'm old enough to remember coming to Las Vegas when Siegfried and Roy had their permanent show here with their white tigers. Until a shocking thing happened and Roy got his throat slit on stage. Yikes.
He didn't die, but never fully recovered and passed away in 2020 from complications of Covid. Siegfried died in 2021 of pancreatic cancer.
However Roy's Secret Garden and Dolphin Habitat still remains at the Mirage Hotel and is a sanctuary for white tigers and lions right here on the Strip.
I'm going to say right off the bat, that yes I have visited here in the past and seen these amazing big cats in their cages. But I won't do that again. If they can't be released into the wild, which I do understand, they should be in a large sanctuary and not kept behind bars for tourists.
But that's just me. If your kids would be awed by these majestic cats, that's what they're here for.
I also wrote this post on why I now boycott SeaWorld, but also what (brilliant) solution I came up with for Shamu Stadium instead!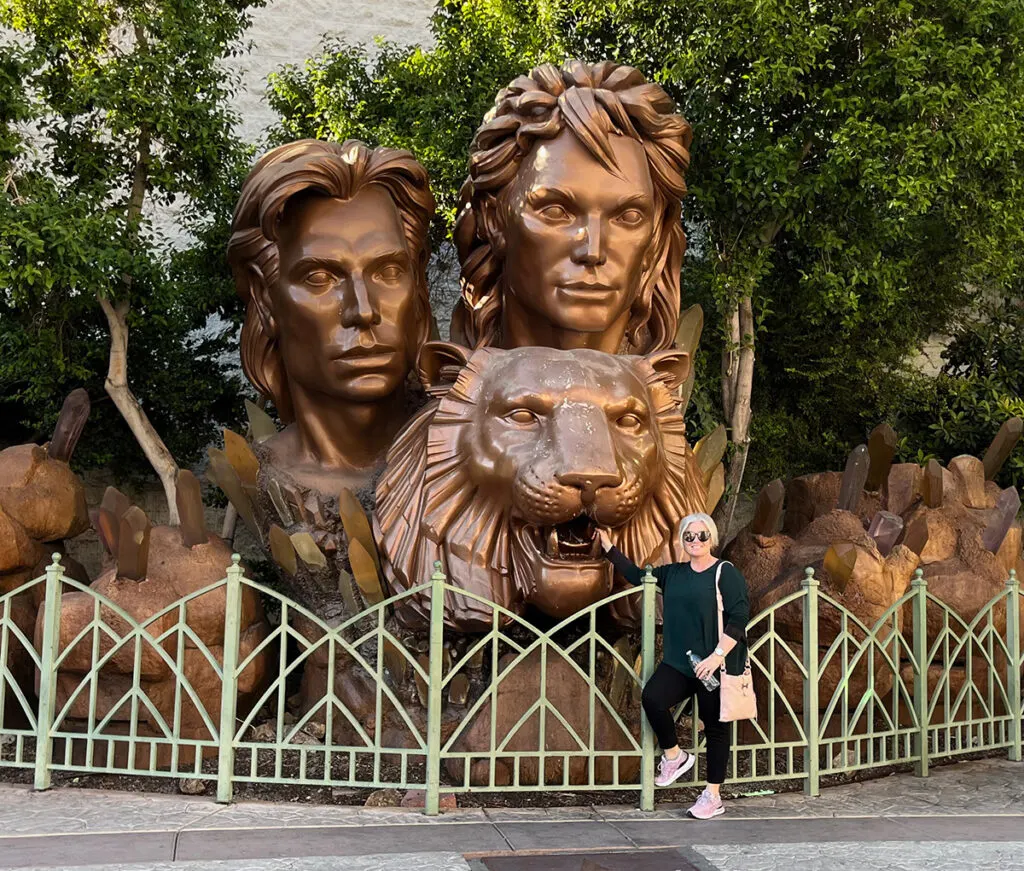 14. Visit the M&M store!
Located on the Strip, the huge M&M store is four floors of so many different types of M&Ms just waiting to be poured from their bulk receptacles into your little plastic bag. Tip: pour slowly or you'll have a pound in one go!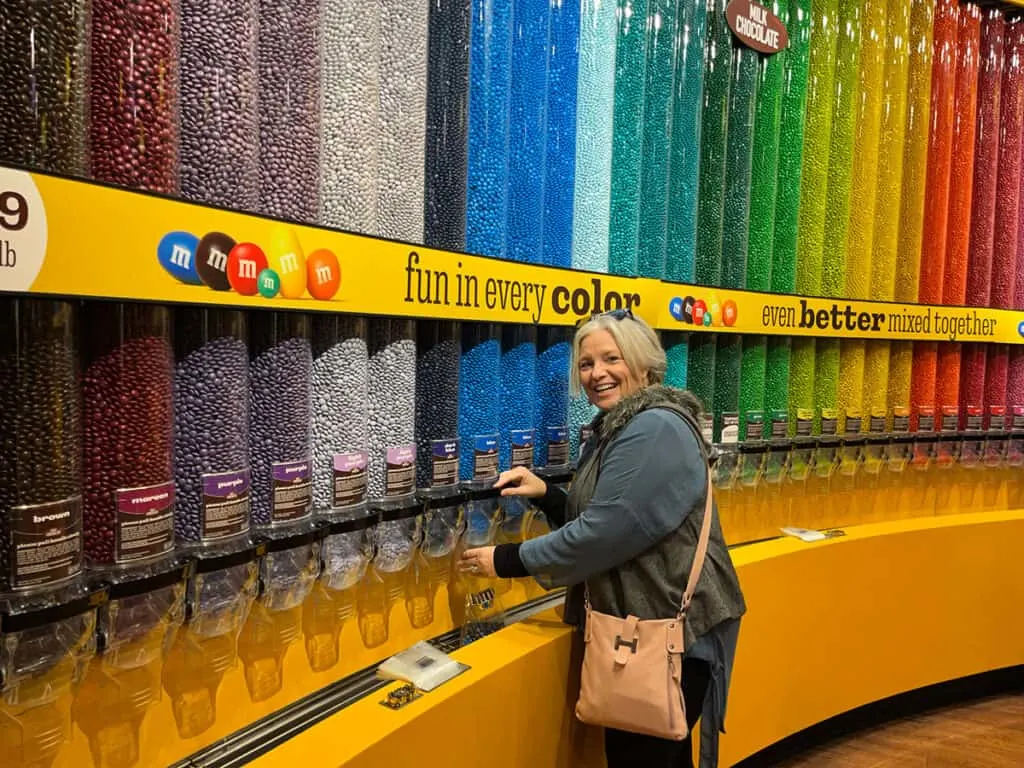 They have brownie filled M&Ms, caramel, crispy, and of course the usual peanut and milk chocolate, all colour co-ordinated against the back wall like a bulk food section of a supermarket.
On the third floor you can get your M&Ms personalised – even with a picture of your face! They have a photo booth to take your pic. Or choose your own initials (my husb and I are already M&M so no need!)
There are M&M clothes, toys, cups and mugs and so many other things. Bring $10 and take a pound of the chocolatey goodness with you!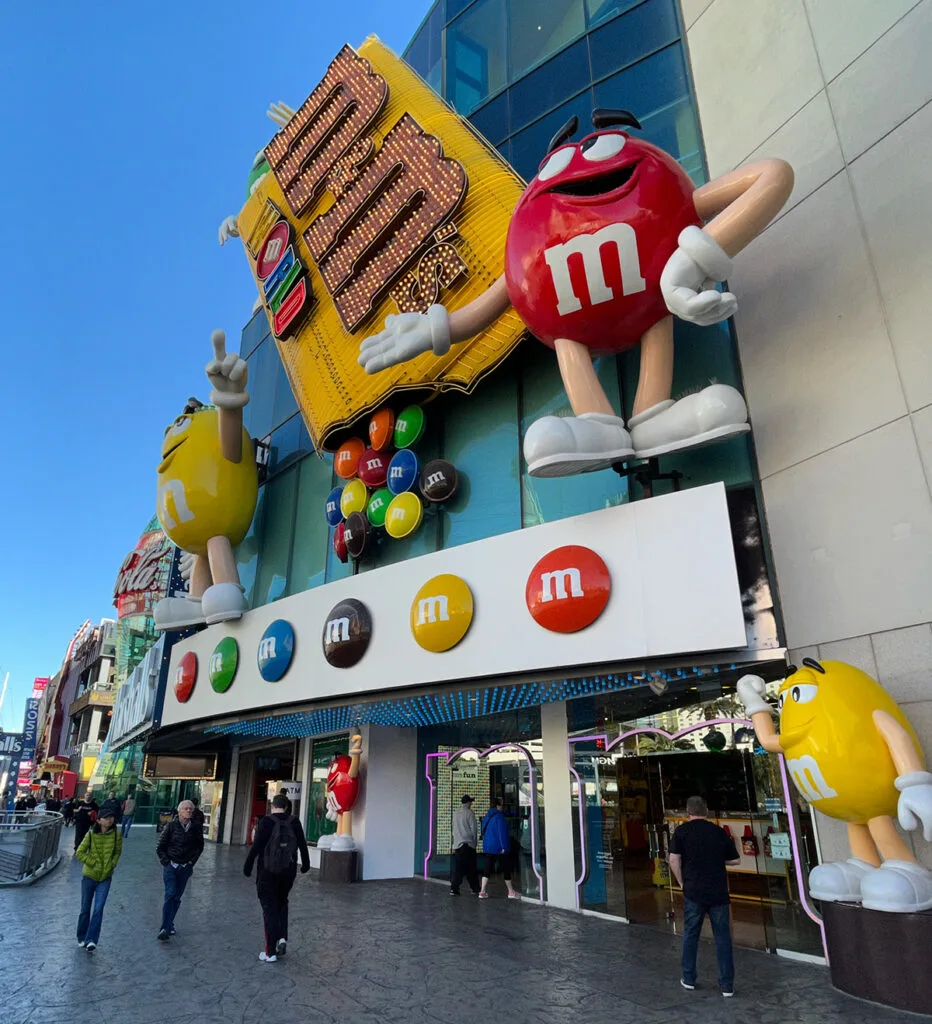 15. Eat Chocolate!
A visit to the Ethel M Chocolate Factory is one for all ages!
They are located in Henderson, just outside of downtown Las Vegas, and also happens to be in Nevada's largest botanical cactus garden, with over 300 species of spiky little (and huge) plants.
But let's face it, it's not the gardens you've come for! You can take a self-guided chocolate factory tour, do a wine and chocolate tasting – or even a beer and chocolate tasting, like they did for Father's Day.
They only make small batches of chocolate and are packed by hand.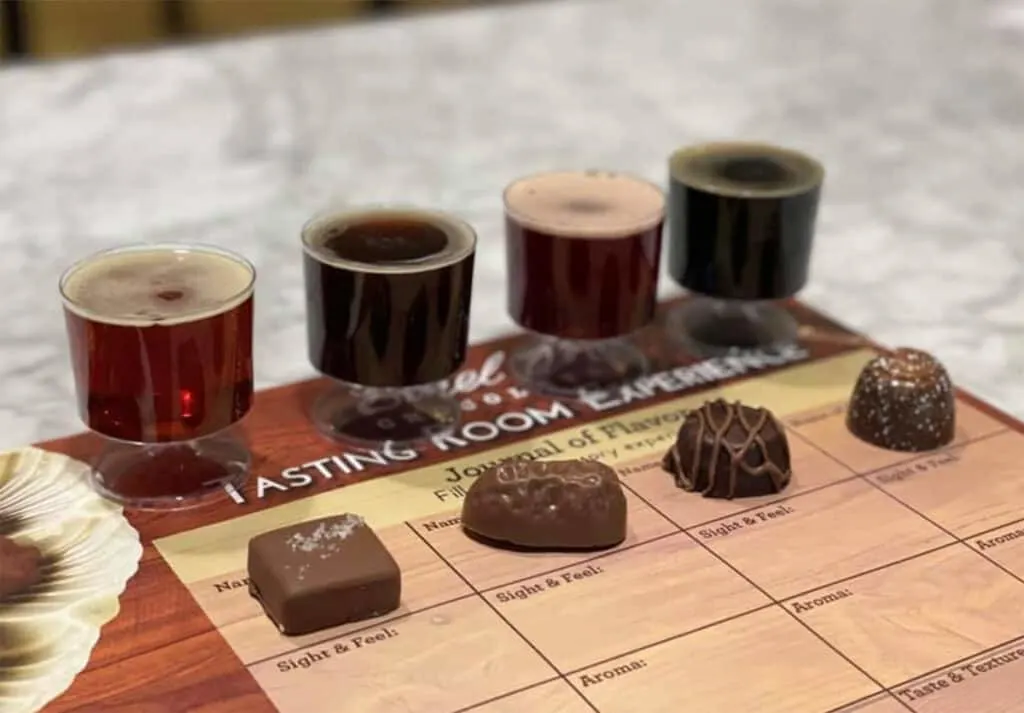 16. Visit the Eiffel Tower
The 46-story Eiffel Tower at the Paris Hotel is the one of the wackiest things you'll see on the Strip!
It's a half size replica of its namesake in Paris and you can buy tickets to to ride to the top in an elevator with views over the Bellagio fountains and above Planet Hollywood's balloon.
It lights up at night and every half hour from sunset to midnight it puts on a light show. Book a hotel room here at Paris with Eiffel Tower views and you'll also be able to watch the Bellagio fountains across the road.
It's also located in the middle of the Strip, so easy access to more resorts. But remember objects are further away than they appear in this oversized city!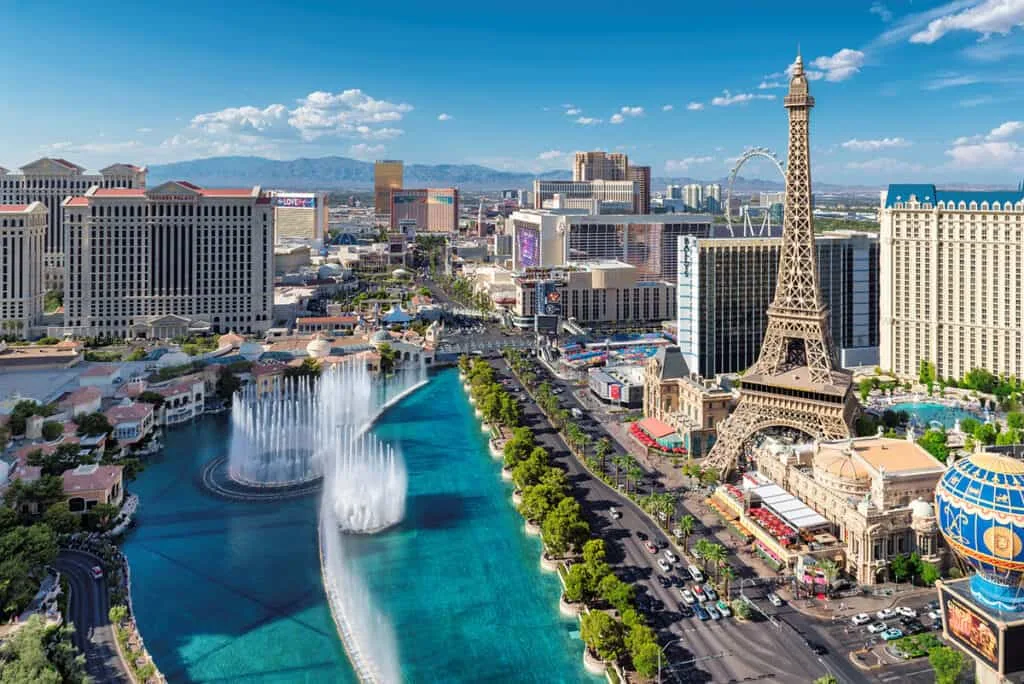 17. Take a spin in the High Roller
The High Roller is a 550ft tall observation wheel which looms over The Strip and takes 30 minutes to do a full circle in an air conditioned pod. Your biggest decision will be whether to go up during the day for views across the desertscape surrounding this crazy city, or in the evening for all the bright lights.
Located at the LINQ Hotel + Experience precinct, beside In and Out Burger, you can even download the High Roller S.T.E.M. guide with thought-provoking questions, facts and trivia to take with you on your ride.
Get your skip-the-line High Roller tickets here.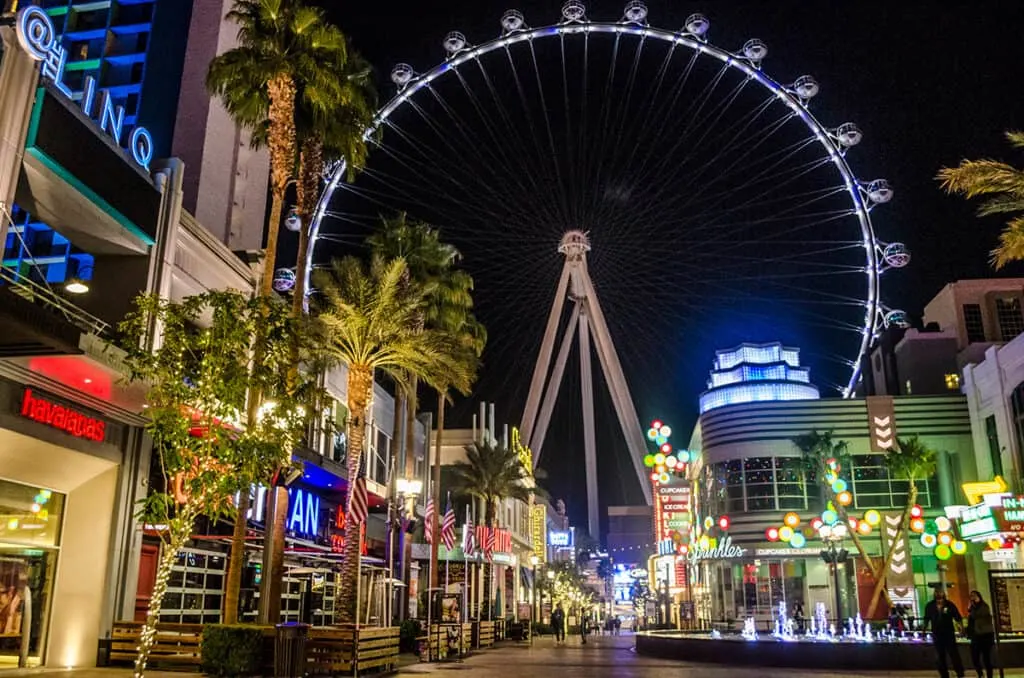 18. Head to the pools!
While Mandalay Bay's wave pool and "beach" is amazing for kids, there are lots more that are worth checking out too. Some are adult's only, but you'll find some cool pools in this post on the best pools in Las Vegas, which include huge inflatables, lazy rivers and live DJs that are family friendly, like the Beach Club pool at The Flamingo.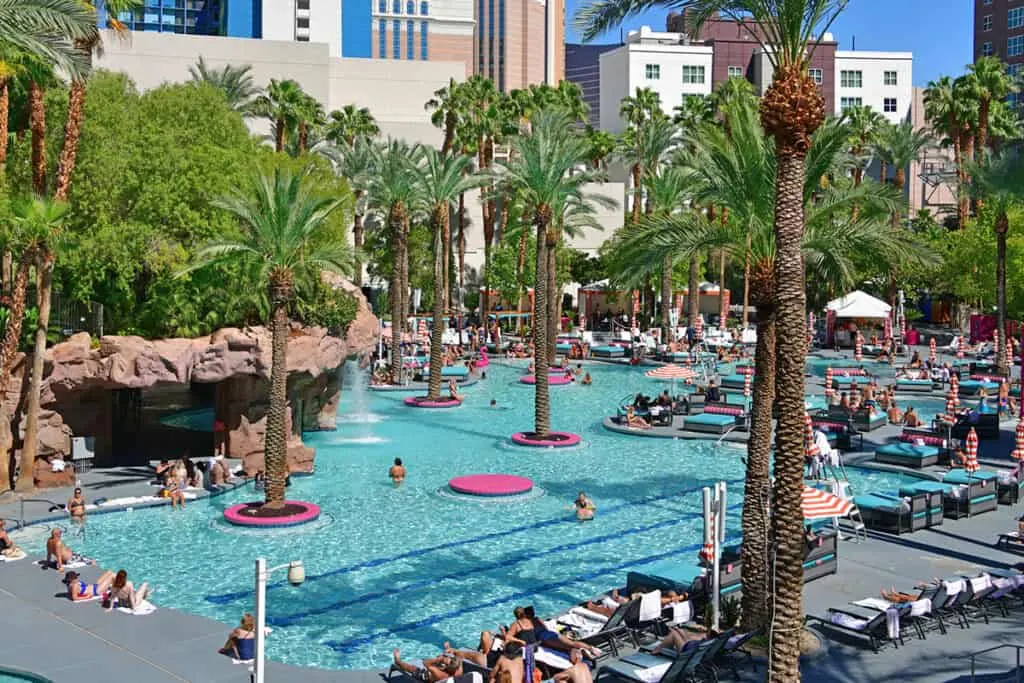 19. Springs Preserve
This is much more than botanical gardens, although if you are a garden lover and particularly if you love desert planting, this garden is for you.
Located about three miles west of Las Vegas, this is a great place to take the kids to run off some steam in this 180-acre preserve which has interactive exhibits like the butterfly habitat, museums and galleries, and even a train to ride.
Springs Preserve has been listed on the National Register of Historic Places since 1978. Check the calendar for outdoor events and concerts, plus garden growing classes. Or just enjoy the trails that wander from wetland to desert. And you'll also learn all about the original spring that started the whole city of Las Vegas.
This is one of the best things to do if you have a day to kill before your flight home.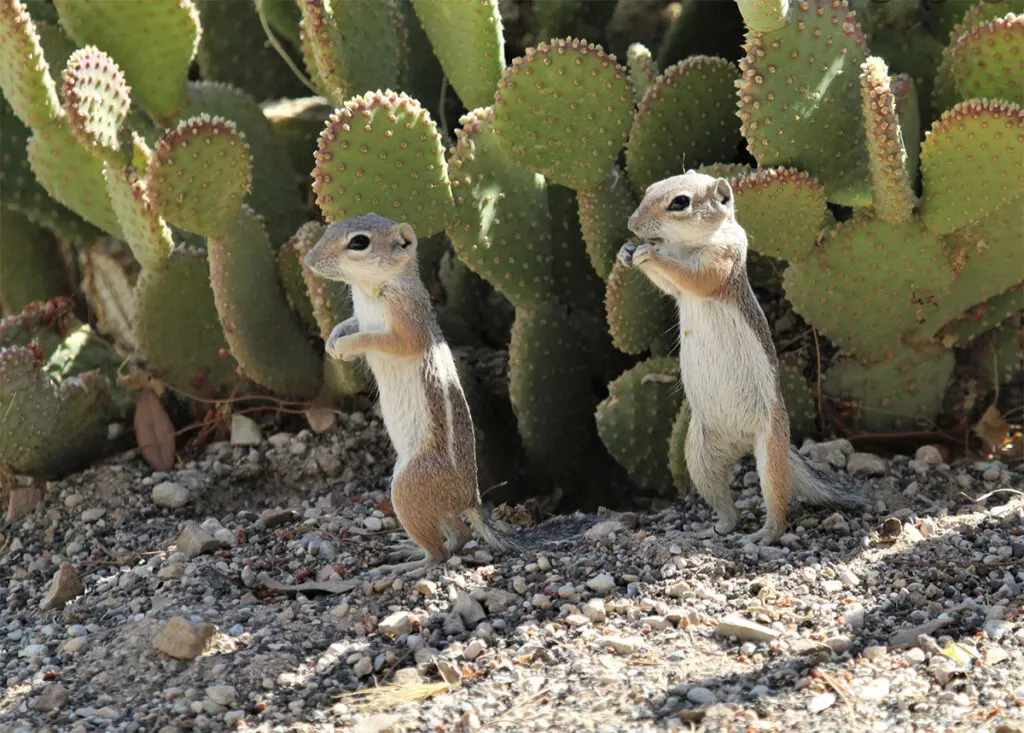 Buy a 2, 3 or 5 day Las Vegas Pass and get admission into 30 shows and attractions – more than you'll have time for. The reviews say it's paid for itself on the first day!
Take the kids out of dodge!
20. Visit Red Rock Canyon
Contributed by Kristin Lee of Global Travel Escapades
If you're looking to spend a fun day outdoors with your kids, consider checking out Red Rock Canyon. As a crowd-favorite outdoor destination in Las Vegas, there are lots of family-friendly activities to do with kids of all ages.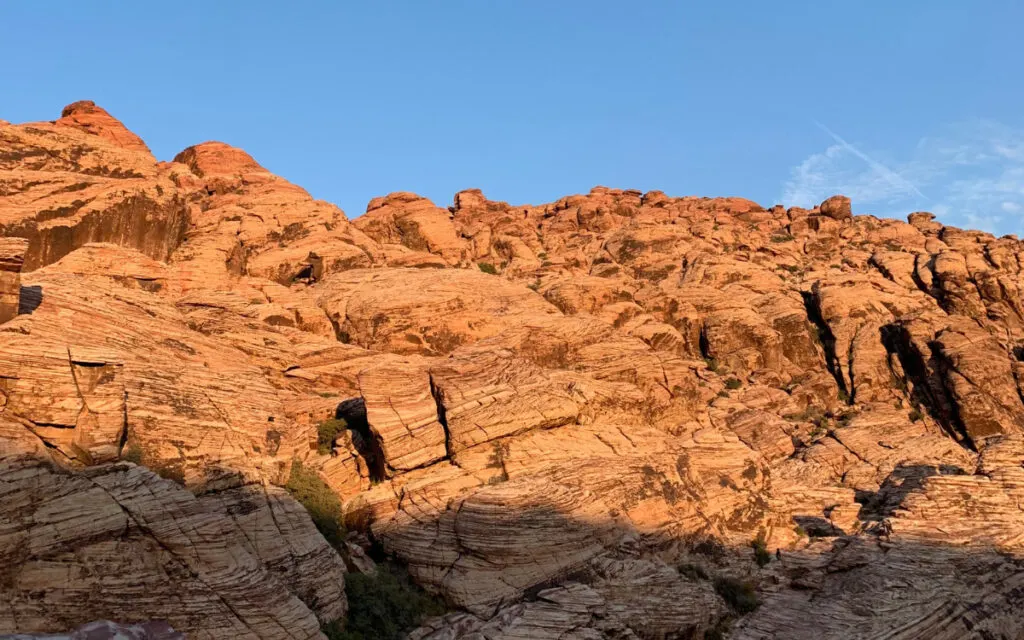 One of the most popular activities in Red Rock Canyon is to hike one of the many trails. If you're looking for a recommendation, an easy hiking trail is the two-mile Moenkopi Loop, which approximately takes 1.5 hours to complete.
Along the way, you can observe fossils dating back more than 50 million years ago and see all kinds of desert flora.
Another great activity to do with kids in Red Rock Canyon is bouldering. Bouldering doesn't require any ropes or harnesses, so it's a great cost-friendly activity for kids to expend their energy doing.
Plus, since there are plenty of boulders to choose from in Red Rock Canyon, your kids can simply pick one that looks like the perfect challenge for them. Just make sure they wear closed-toed shoes and you bring along lots of water as it gets hot in the desert region.
Ultimately, if you're looking for free things to do on a fun outdoor excursion with your kids, consider Red Rock Canyon!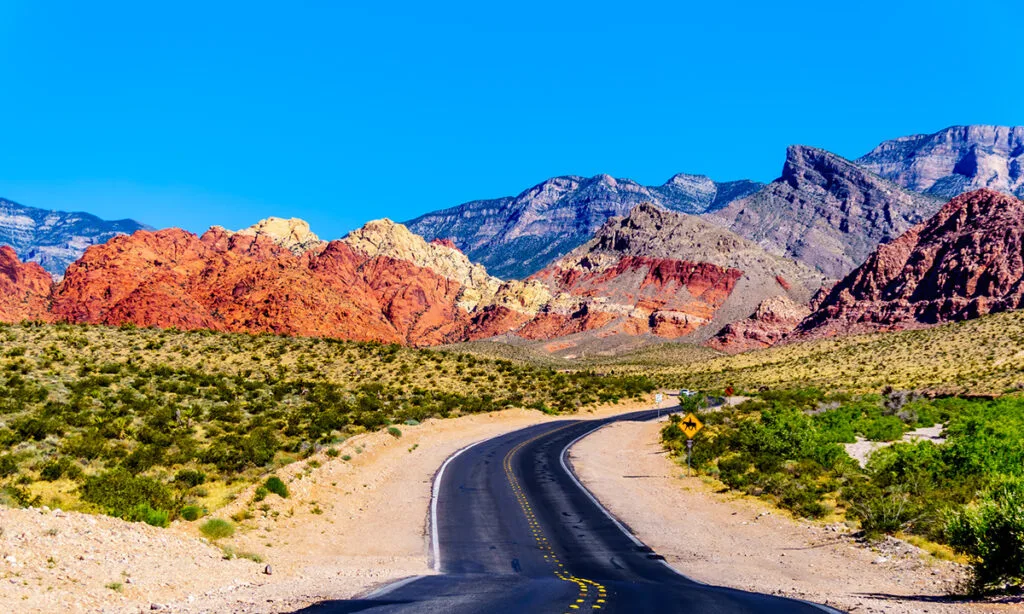 21. Valley of Fire State Park
Contributed by Candice of CS Ginger
One of the unique things to do in Las Vegas with kids is visiting Valley of Fire State Park. Valley of Fire is an amazing state park about 50 miles north of Las Vegas. Kids will enjoy seeing the bighorn sheep, petroglyphs, and hiking trails.
The park gets its name from the large red sandstone formations, a very unique landscape to the Nevada desert. There is also a great visitors center open from 8:30 am to 4:30 pm that has some great educational exhibits about the area.
There are two great places where you can see petroglyphs in Valley of Fire. Atlantl Rock is the easiest place to see them. There is a large rock near the parking area where you can see lots of petroglyphs. The other place you can easily see them is on the Mouse Tank Trail. This is a short and very family-friendly trail that everyone will enjoy.
One of the most scenic and popular hikes in the park is the Fire Wave. The trail is about 1.5 miles long and is considered an easy hike. The scenery along the hike is beautiful and ends at the really pretty fire wave. It is a sandstone formation that has red, white, and pink waves.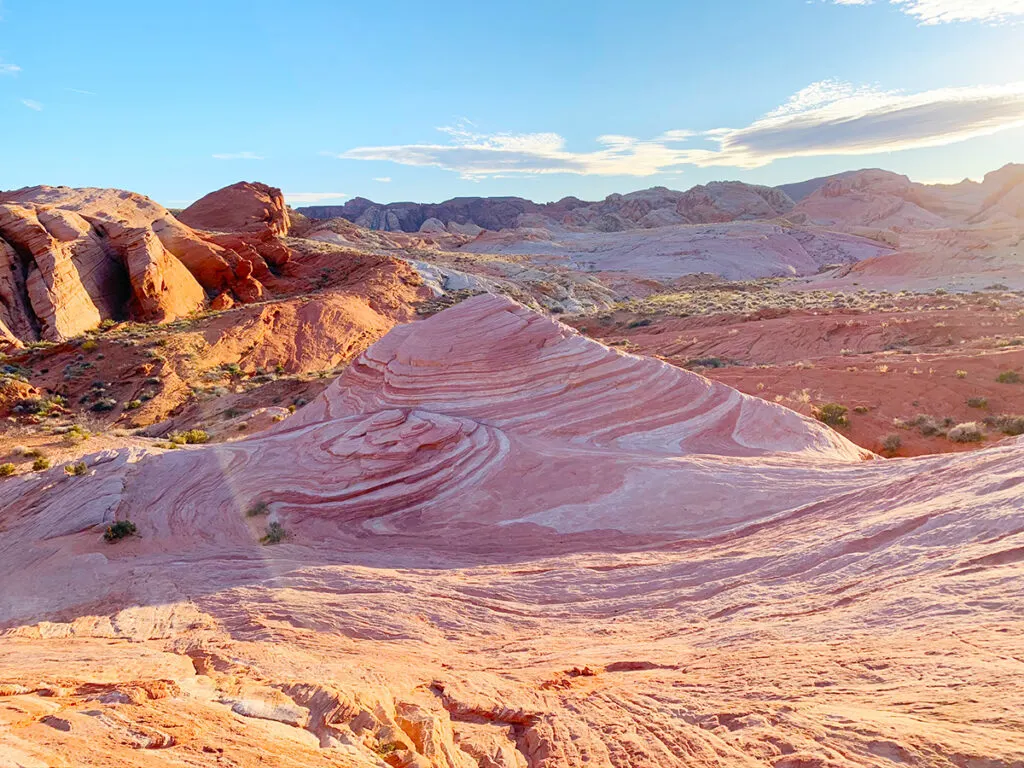 22. Visit Hoover Dam
Further out of Vegas, if you've got the time, is the engineering wonder that is the Hoover Dam, dividing through the Colorado River and creating manmade Lake Mead, which is a vast 110 miles long. The largest man made reservoir in the United States.
You can stop here and explore the mighty dam on your way to the Grand Canyon and buy entry tickets, or you can take a tour which will pick you up from your Vegas hotel.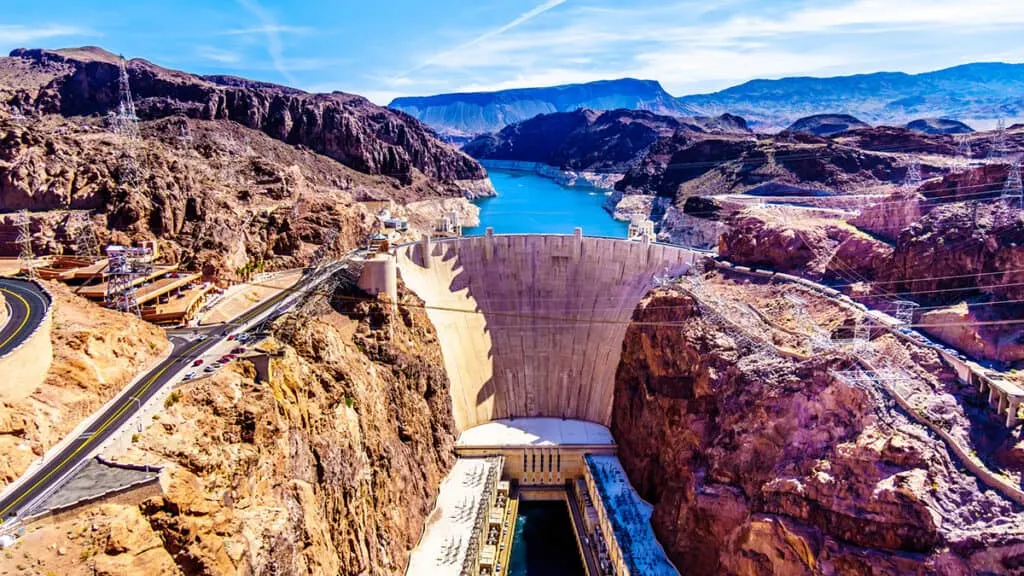 23. The amazing Grand Canyon
Make a full day of it and continue on to the mighty Grand Canyon. There are many ways to visit the Grand Canyon: drive your own car, take a tour which will pick you up from your hotel, or take a heli tour!
Last time I came out here it was by helicopter on a 100˚ day and even my ears were sweating in my headphones.
The place you want to go is Grand Canyon West. This is where the Skywalk is. The scary, glass bottom platform that is cantilevered over the canyon which drops away thousands of feet below. I've walked on it and it is a bit of a mind freak. You also can't take anything out there like cameras or phones, the pics you'll get are from the cliffs around.
But don't be too freaked out by the pictures of people with their legs dangling over the edges of some rock, the camera angle is probably not showing that it's not a sheer fall below, but more rocks stepped down. Makes for heart palpitating selfies though for your Insta-kid!
This full day tour will pick up from selected hotel on the Strip in a coach, and take you to the rim at Grand Canyon West. You can also select the Skywalk option – if you dare!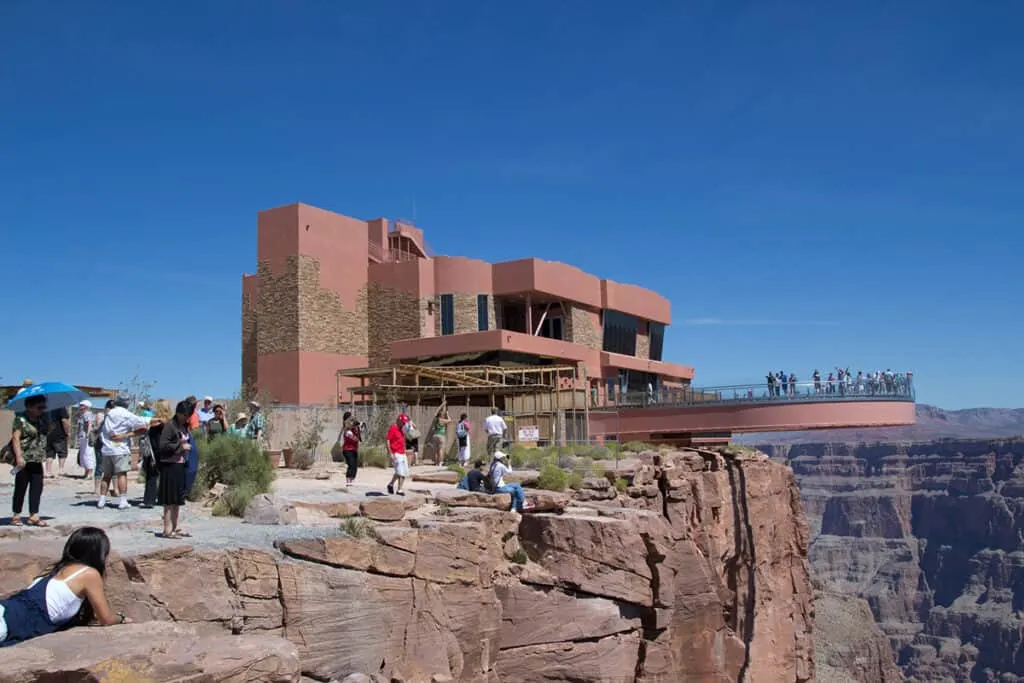 For more great posts on Las Vegas:
The Coolest things to do in Las Vegas, features some more fun activities including restaurants, clubs, bars, getting married by Elvis and more.
My picks for the 24 best shows in Las Vegas covers everything from Donny Osmond (don't laugh!) to Magic Mike and a run down on all the Cirque du Soleil shows.
If you love shopping then you should read these 10 places for shopping in Vegas, including outlets.
And if you want to get married by Elvis or renew your vows, and need to know which lookylikey is the best, I've found him in this post on the time I crashed an Elvis wedding!
Give your wallet a break with these fun FREE things to do in Las Vegas!
Buy a 2, 3 or 5 day Las Vegas Pass and get admission into 30 shows and attractions – more than you'll have time for. The reviews say it's paid for itself on the first day!
If you're travelling with children, you will love this stress-free guide of tips for flying with toddlers.
Shop my curated Amazon Travel Store for beautiful luggage and clever travel accessories for your upcoming trip