If you've never been to Las Vegas you probably have either a love or a hate of this famous city based on its reputation.
To be honest, I lean towards more love, but I'm not smitten. It's not up there with my favorite US cities like New Orleans (where I've stayed seven times) or Chicago (which I like better than New York) or Santa Barbara (the prettiest city in the United States), but having been to Vegas about five times (some for work, some for play) I like aspects of Sin City!
Las Vegas can be really overwhelming. I found I needed to have a plan each day of where I wanted to go, what I wanted to see or do or taste, and that way I didn't find myself roaming aimlessly like a cloud.
Because wandering aimlessly won't actually get you very far. Objects are further than they appear! I also have this post covering 33 really cool things to do in Las Vegas.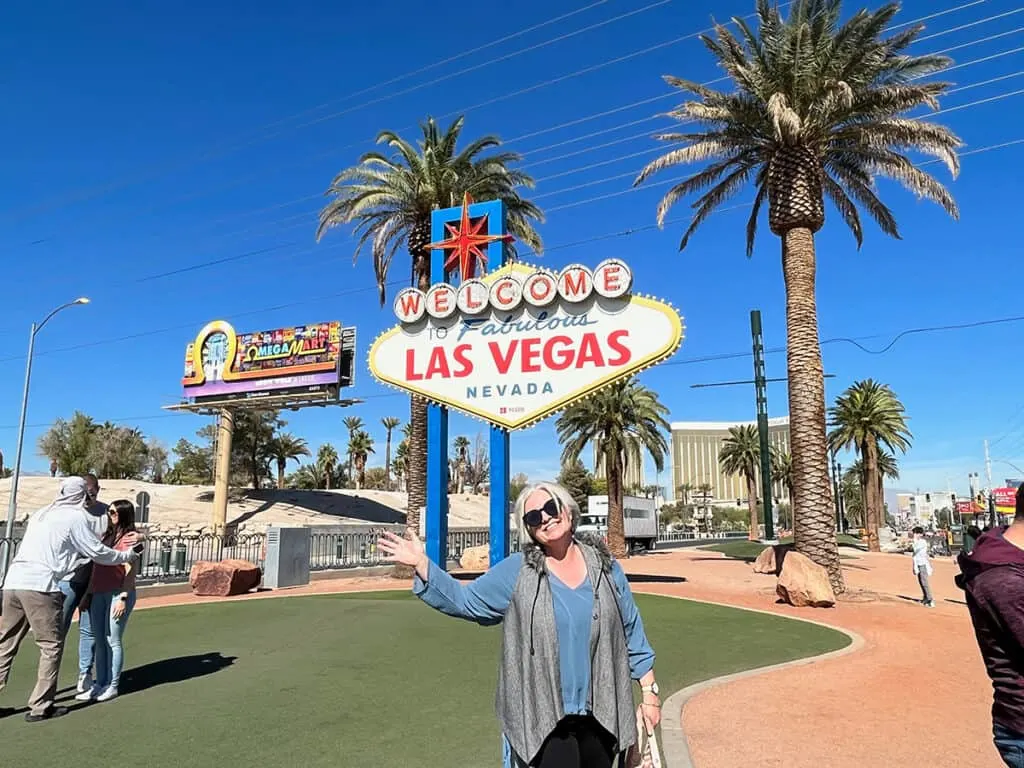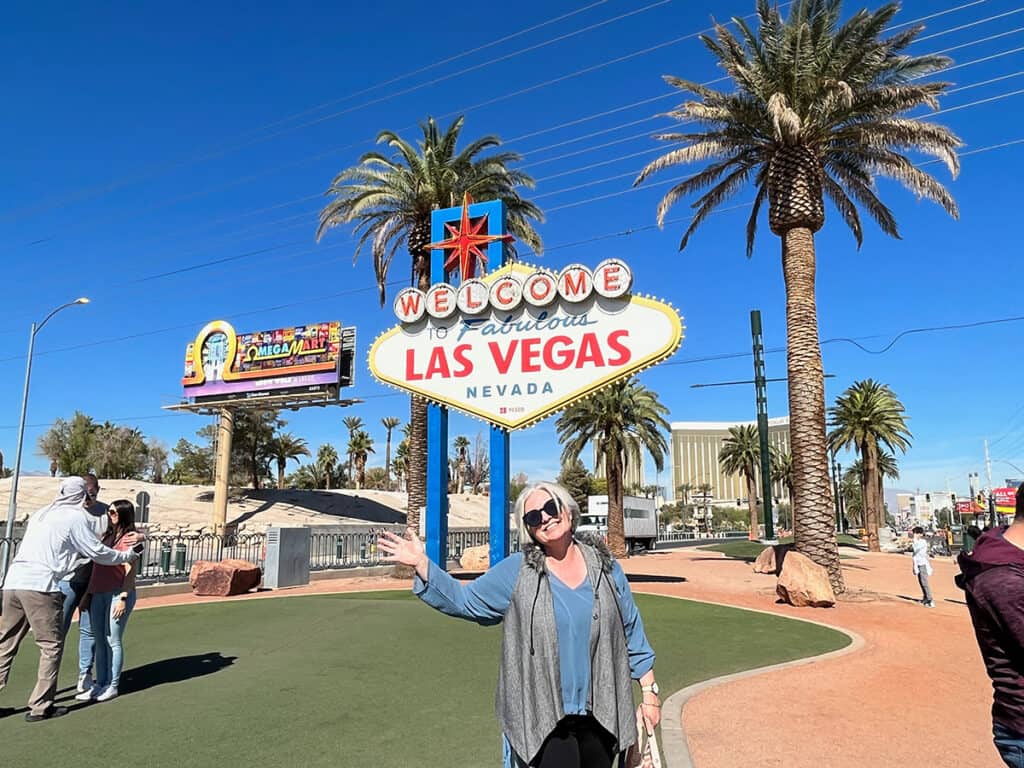 So here's my list of 29 things NOT to do in Las Vegas and some ideas to help you know what to expect if you're planning your first trip.
You might also like this list of fun, FREE things to do in Las Vegas to give your wallet a break 🙂
*This post contains affiliate links. If you make a purchase I will make a small commission, at no extra cost to you.
Do NOT underestimate the weather in Las Vegas. It gets so cold here in winter it can snow, and it gets so hot here in summer you could fry an egg on a bald man's head. Well in theory. My husband wouldn't let me try. The best time to visit Las Vegas is spring through early summer, and fall through early winter.
Do NOT get a private airport pickup. Unless you want to start your Vegas trip in style of course! It's so close you could almost walk to your hotel (although see my point below about objects appearing closer than they are). Just grab an Uber and save your money for the food scene or the tables.
I took this photo from our Southwest Airlines flight out of Las Vegas. I then wrote this post on inside tips for flying Southwest, because they don't sell seat numbers.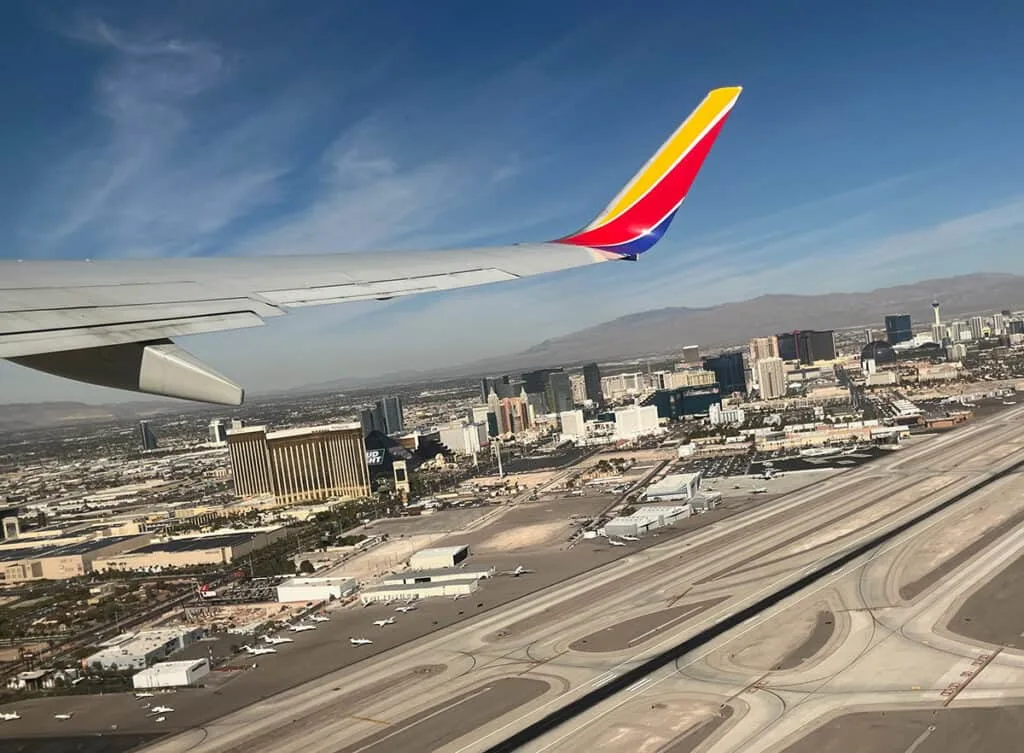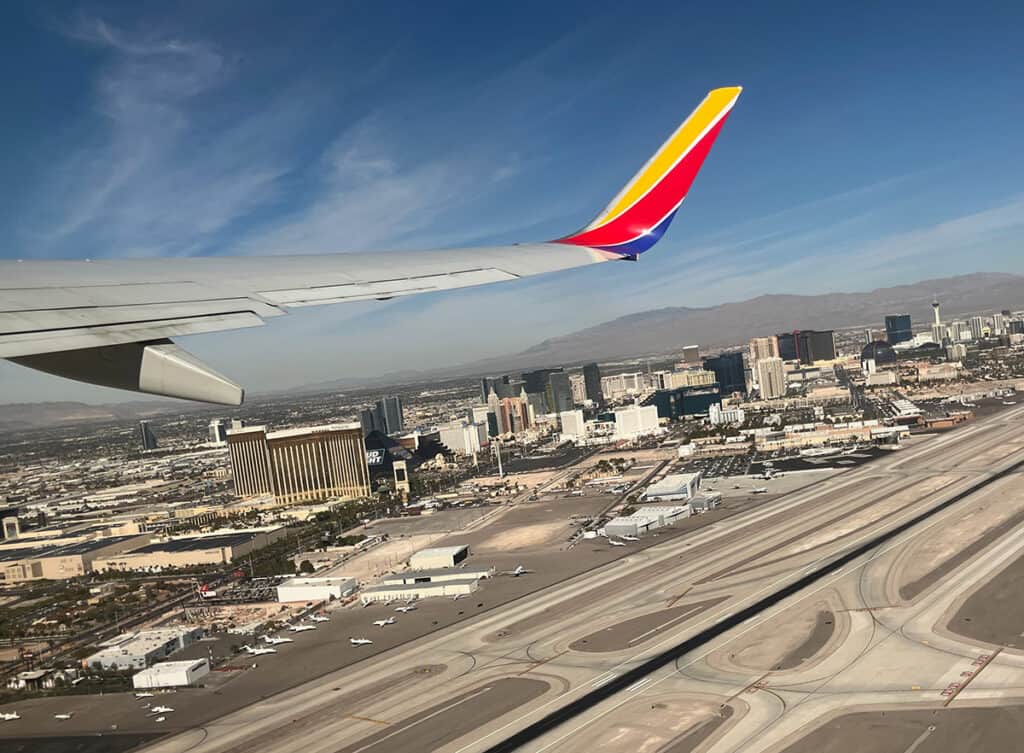 Do NOT use ATM machines at casinos. This is super tempting, as you'll probably be scooting through on your way to a table or to your room, but casino ATMs charge extra. The best value ATMs in Las Vegas are at Target, CVS, Walgreens. These stores charge around $3 per transaction. Most casinos charge $8-$10 for the privilege of drawing out your own money to spend at their tables. I know!
Do NOT take photos of street artists without tipping them. They get pretty upset when tourists do this. And the tourists wonder what they've done wrong. But they pay for a permit to dress up like Elvis or Showgirls, this is their job, their income. They pose for pics and you give them a dollar. Unless their feathers are so huge they don't notice…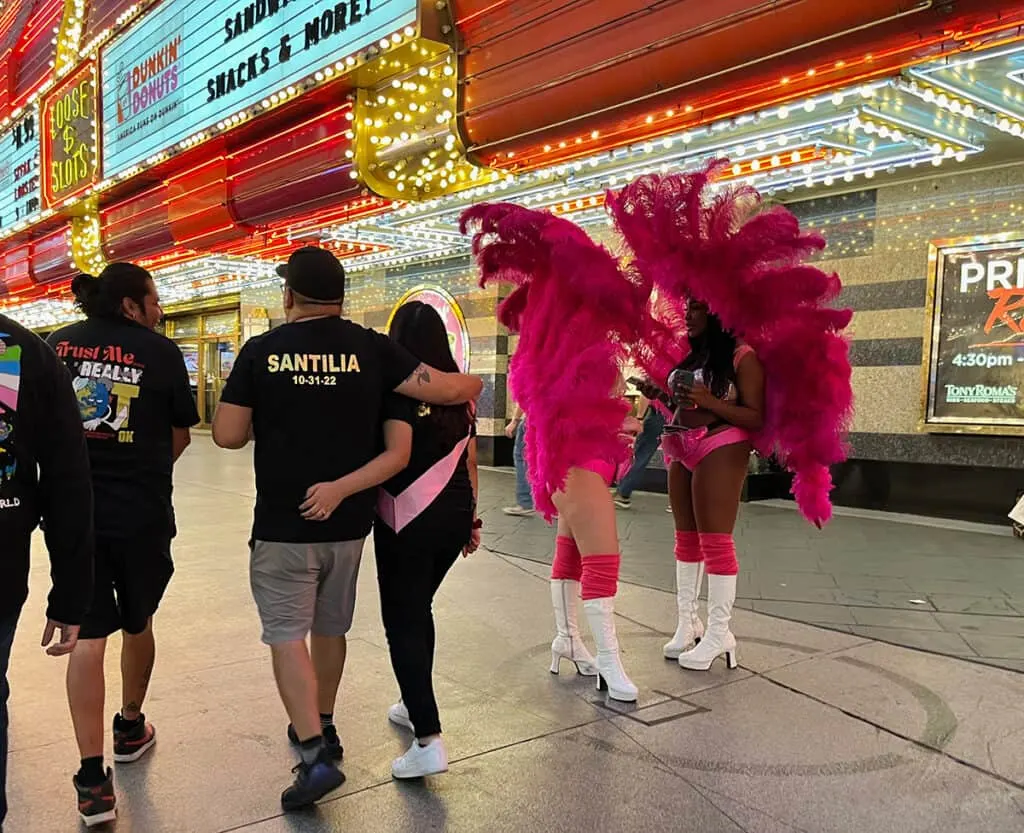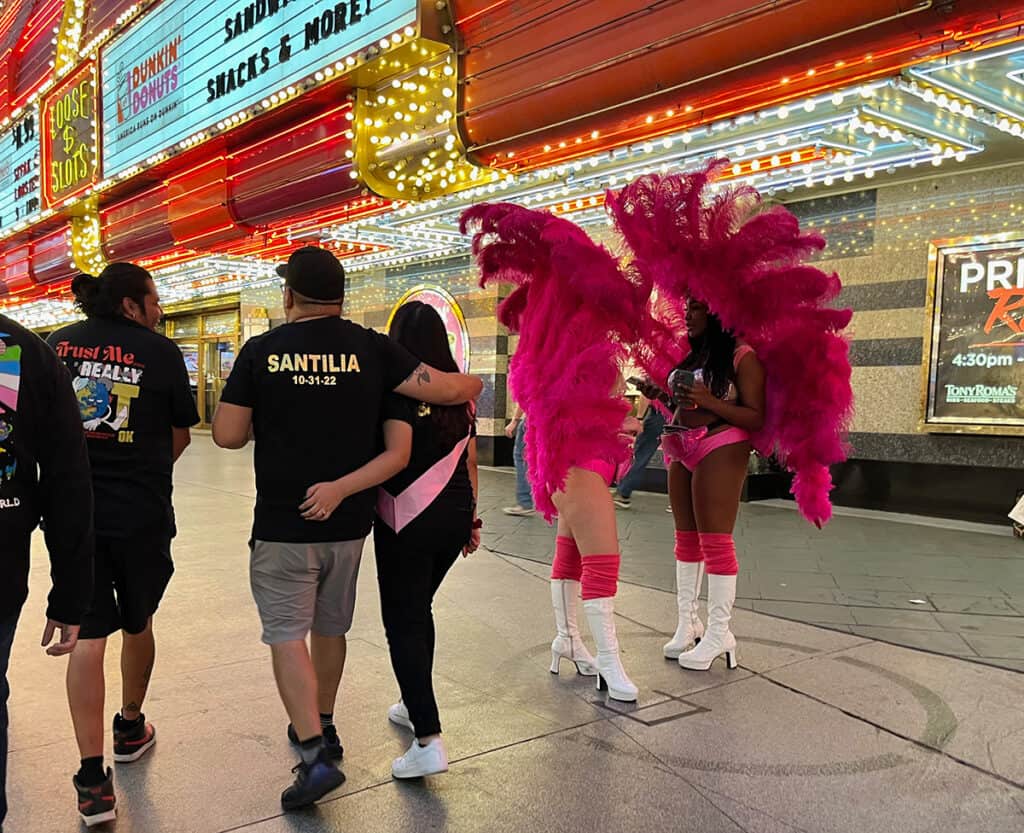 Do NOT plan to do too much! How many days are you staying? I think three or four is about right for me, but in that time I'm not going to be able to do everything. Group your plans into geographical areas to cut down the amount of time it'll take getting between them.
Do NOT wear new shoes! As I mentioned, things are way further than they seem. Because the hotels are so flippin huge, they appear closer. They are not. The Las Vegas Strip is over four miles long. That's a heck of a long way if you are heading for a selfie at the Las Vegas sign beyond Mandalay Bay if you're not wearing comfortable shoes! (I know this from experience.) But even just walking through Caesars Palace from the Strip, through the casino and to the shoppes in high heels, your feet will be protesting.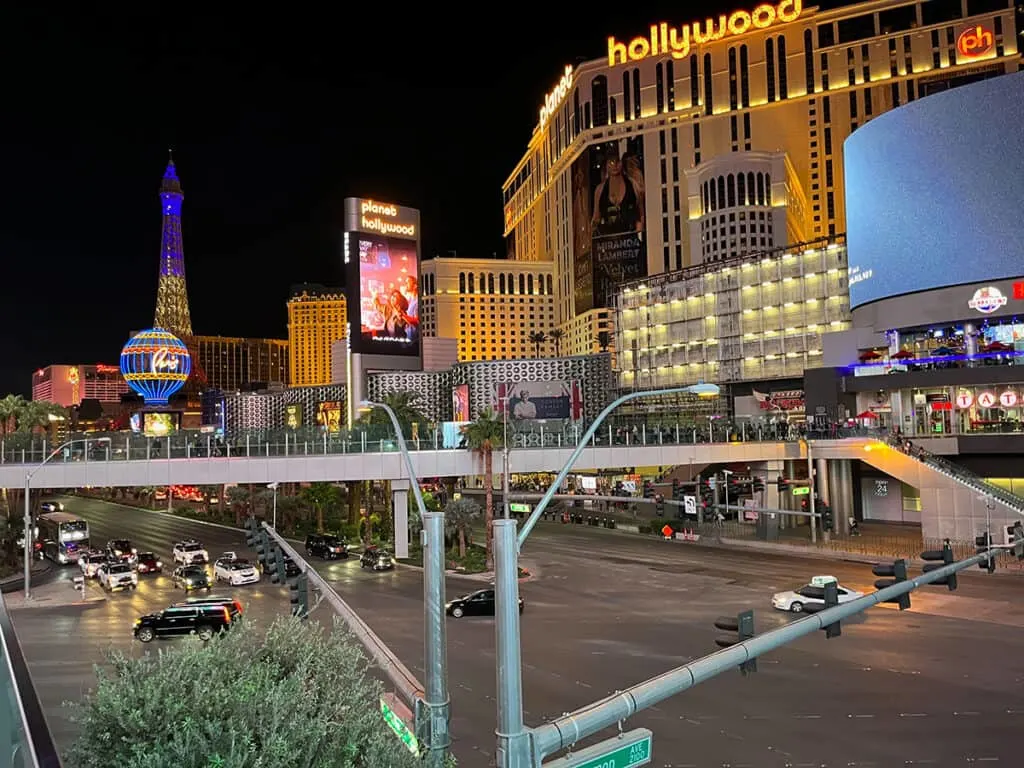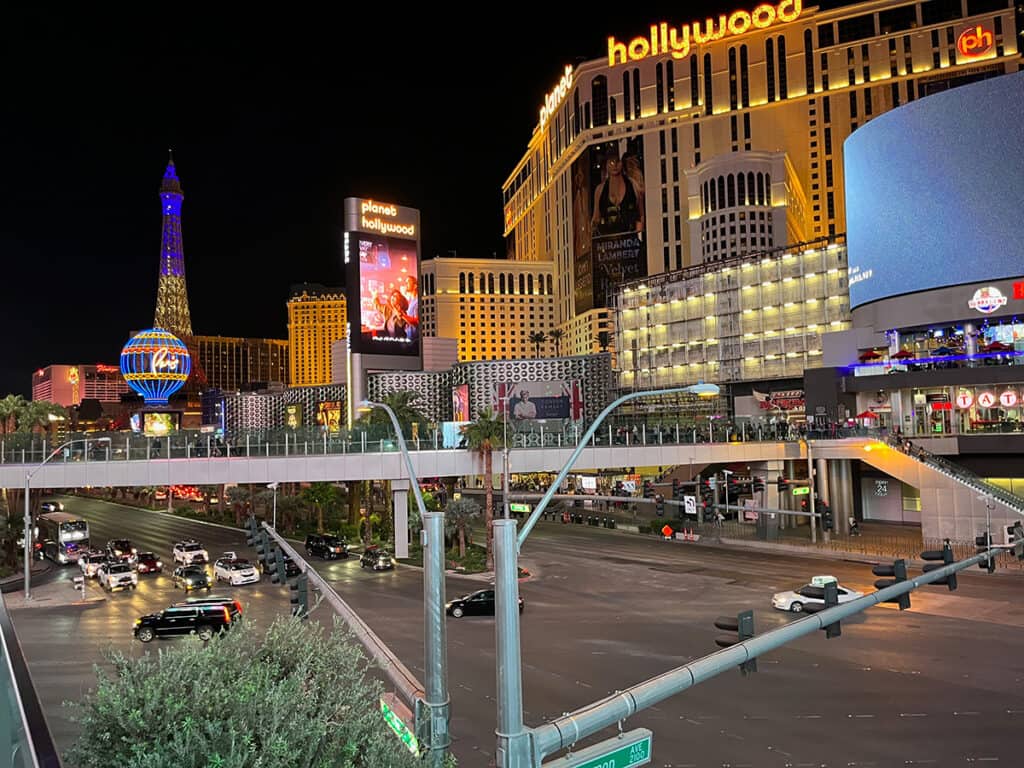 Do NOT try and walk the whole Strip. At 4.2 miles (6.75km) that is nearly 10,000 steps or a 90-minute walk at a good clip, along Las Vegas Boulevard. (Depending on how long your legs are!) Or at least, if you do plan to walk it, know what you're in for. You will find though, it's not straightforward. You will be diverted up escalators and down staircases, through casinos and over cross walks and while you might think nothing of 10,000 steps in a day, in Las Vegas you'll get discombobulated!
Do NOT pay full price for hotels. Join loyalty programs, or sign up for hotel newsletters so you can grab a deal when they come up. No one pays full price. Even if it's just getting a free upgrade or a credit to spend on the property, get amongst that. Use booking engines like Booking.com and Agoda to find the best deals.
Do NOT pay full price for a show. Only the naive do that! Google the show you want and see what prices you can get. Try Vegas.com for tickets to shows, tours and attractions. Also Tix4tonight has four ticket booths around the Strip for last minute tickets (they don't sell online).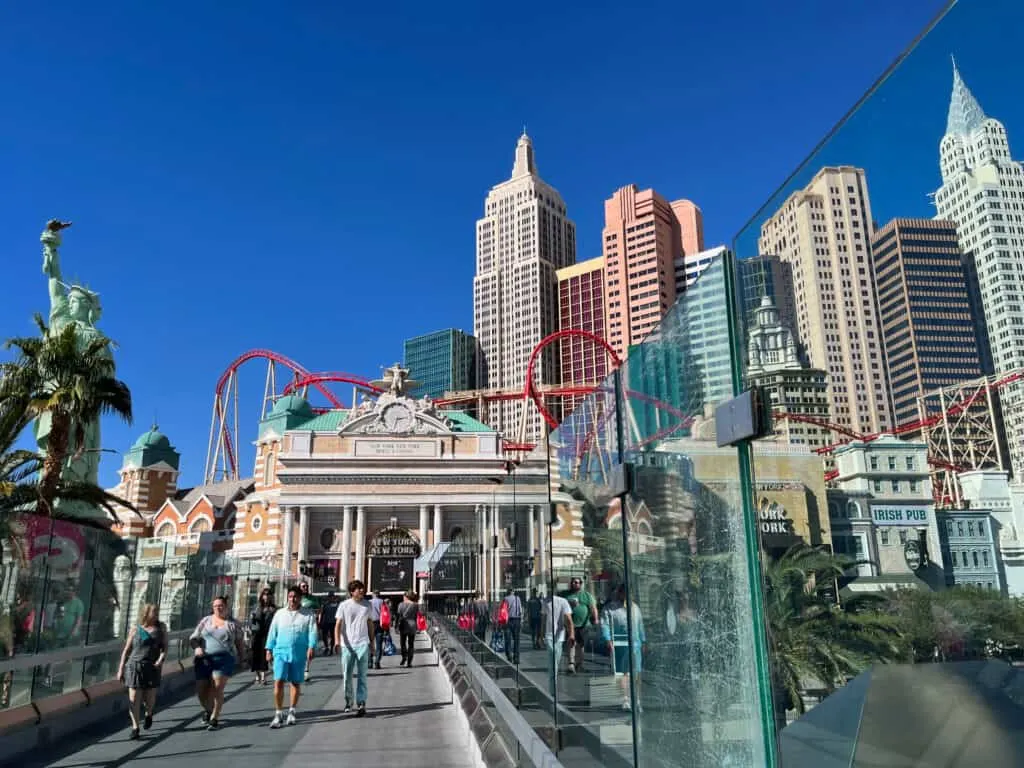 Do NOT bring a car. You won't need one and parking is expensive. We rented a car after our three nights and took off on a four-day road trip into Nevada.
Do NOT wait for your Uber on the Strip. They cannot stop there, and even some hotels won't let Ubers (or other taxis stop). Check your app and walk to the pick up point. It could be 100m away.
Do NOT miss Fremont Street. This is old town Las Vegas. Where it all began and where the vibe is totally different to the Strip. It's not fancy down here! Casinos have cheap tables, souvenir shops are filled with kitschy Vegas paraphernalia and there is a two block LED light ceiling that people zip line down. It's all neon signs and madness and loud, but one of the best things to do if you're after an over the top experience. The Fremont Street Experience is all live music and free entertainment, but if your senses can handle it, it's fun.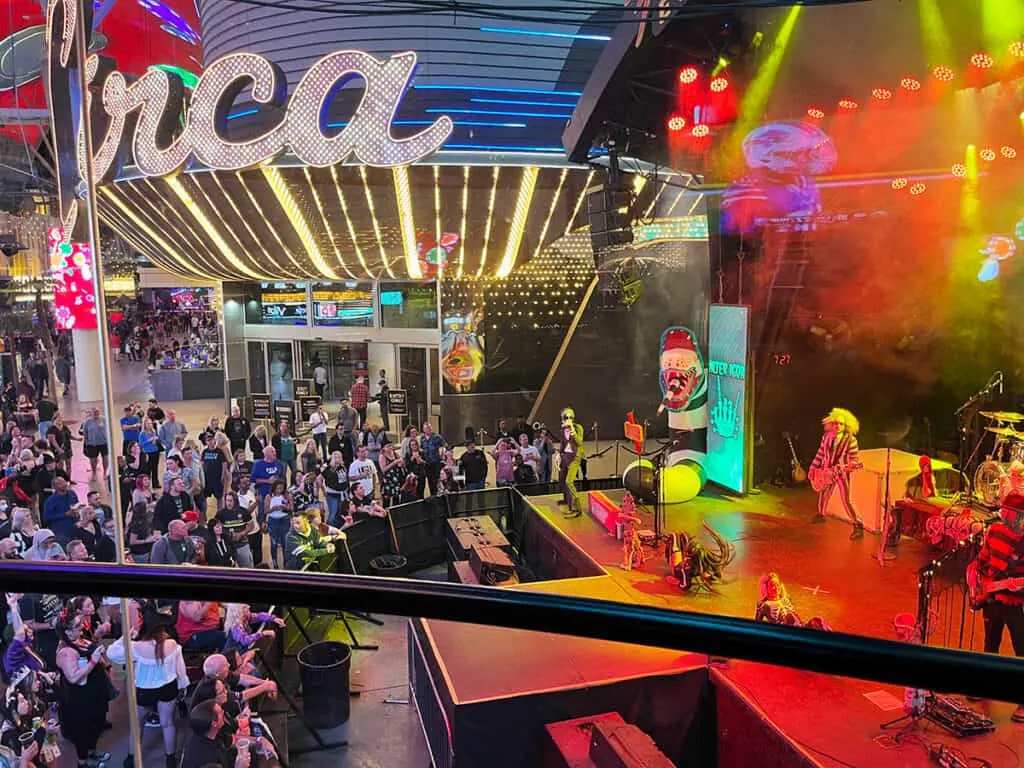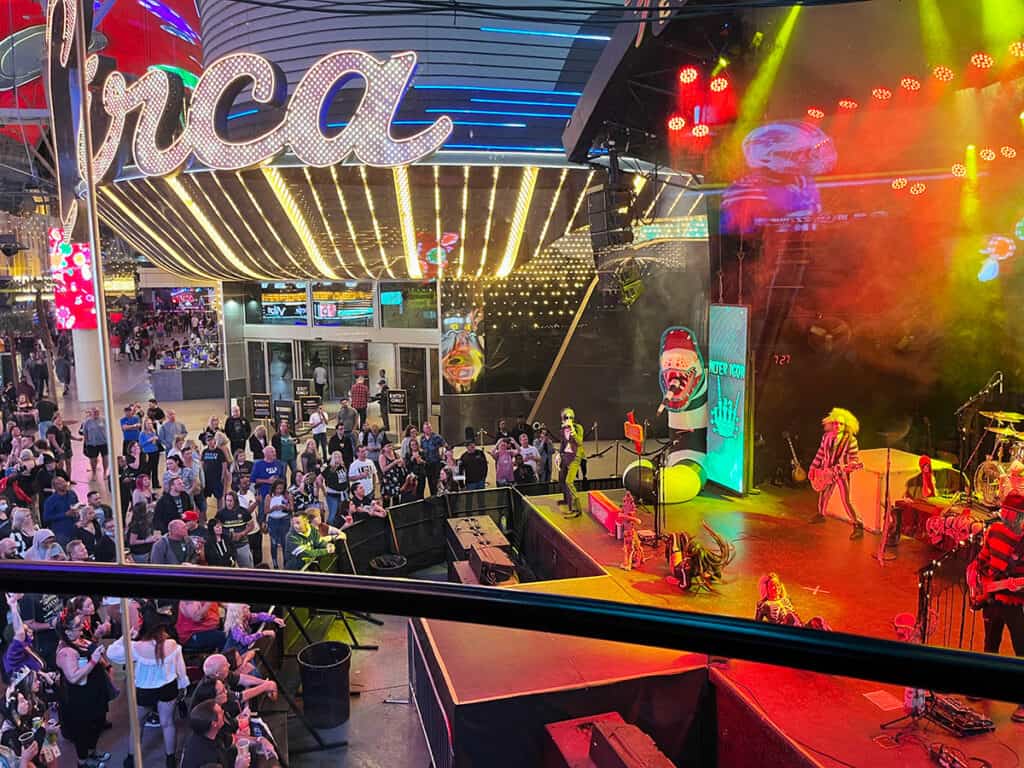 Do NOT miss the free Bellagio Fountains show! They start every afternoon at 3pm and run half hourly until 8pm when they run every 15 minutes until midnight. They are truly amazing and are lit up when it gets dark. People gather all along the fence waiting for them, cameras at the ready!
You can see the video I made of them dancing to Celine Dion in this post on 31 very cool things to do in Las Vegas.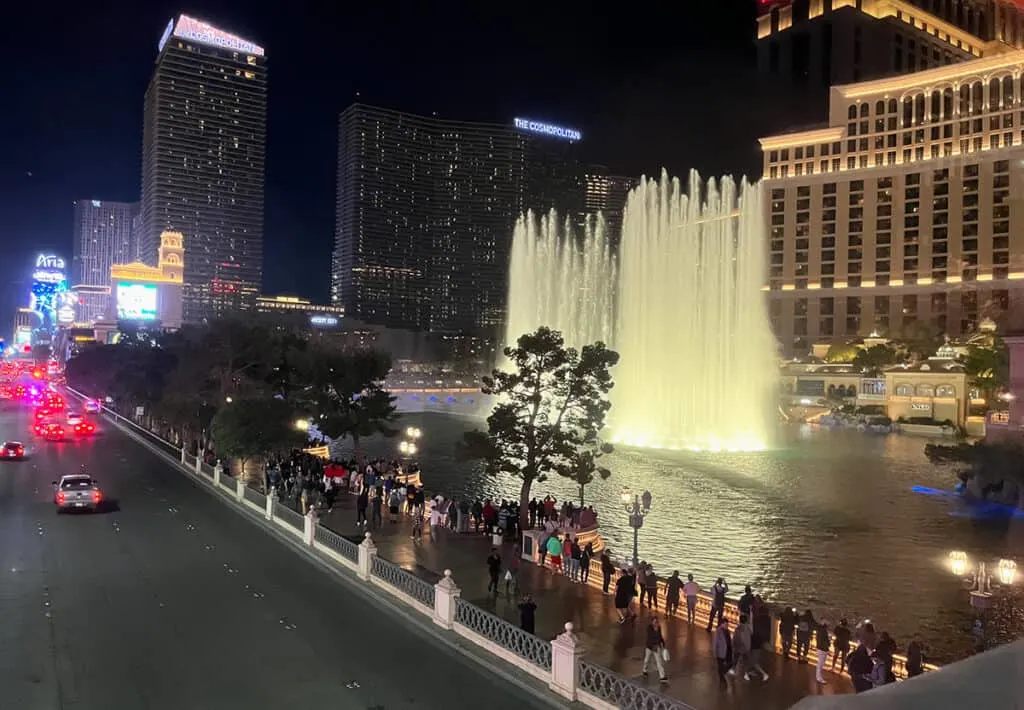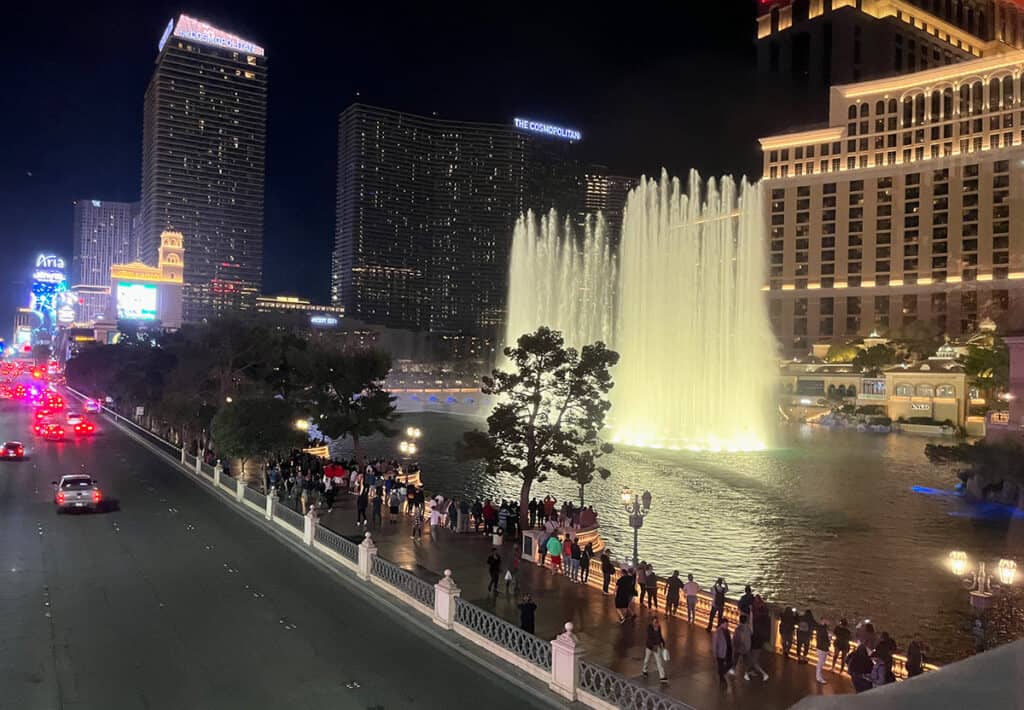 Do NOT forget hotel resort fees. If you booked your hotel room without looking at the "extras" you're going to get a shock. In Las Vegas the extra "resort fees" can be up to $50 per night. This gives you access to the gym, internet (so much for free WiFi). About 10% of hotels across the United States charge resort fees (even when they are not a resort offering golf, pools or anything), but almost every hotel in Las Vegas charges these. It's a rort, but what can you do? Check out this chart of resort fees across Las Vegas hotels.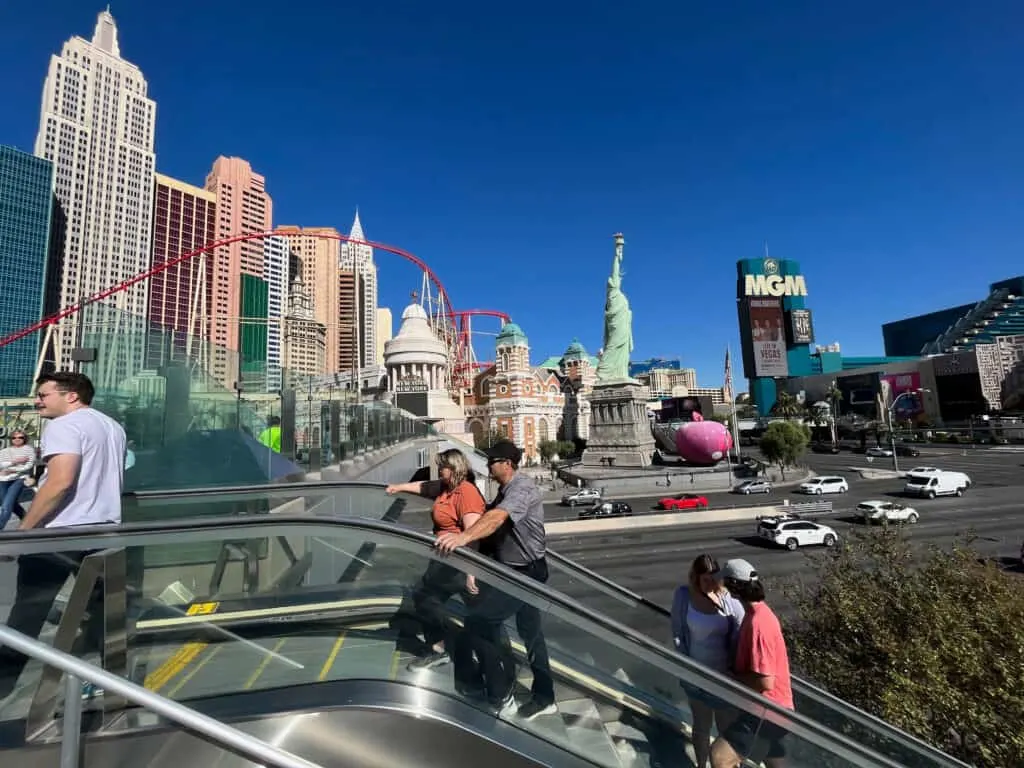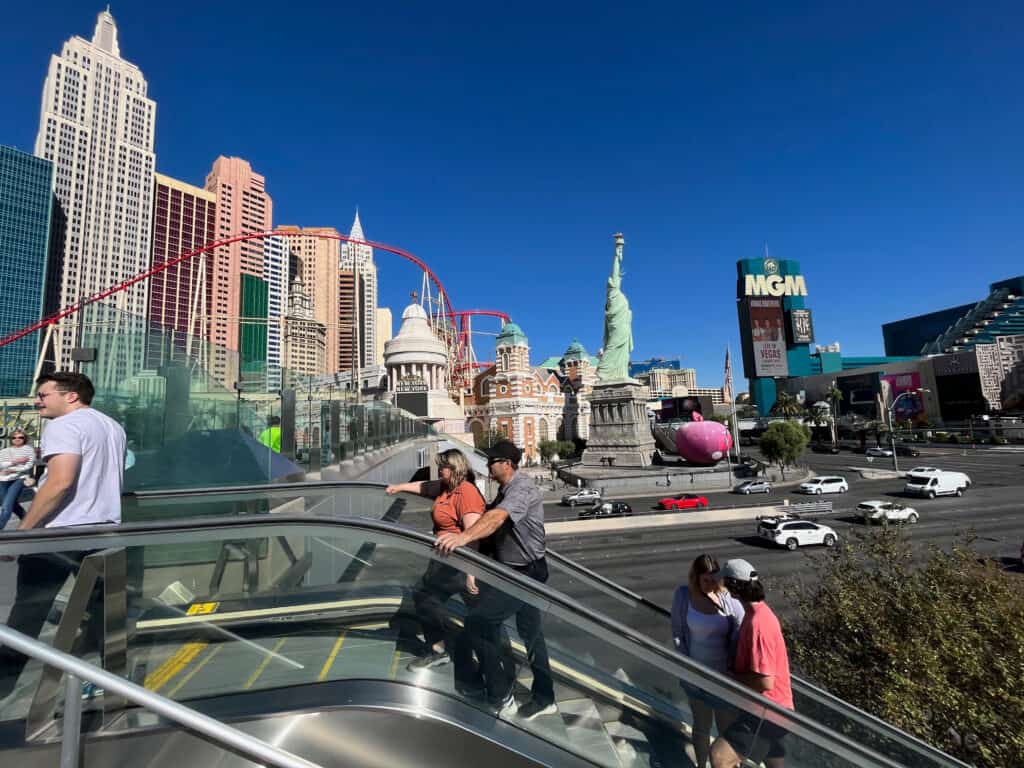 Do NOT forget to join your hotel's loyalty program BEFORE you check out. If you're not already a members and accruing points, you'll need to download the app of whichever property you're staying in and register before you leave. I made a rookie mistake because the line was too long when we were checking out to join, so I just dropped my key off and left. Turns out they won't apply your stay to your new membership once you've gone.
Do NOT use the hotel mini-bar. It's just an enormous ripoff. Some fridges even have sensors in them so if you remove a bottle to put on your counter and put your own bottle in the fridge to chill it, you'll still get charged!
Do NOT jaywalk. It's illegal and you could be fined $350. There are traffic lights for crossing, or go over the Strip on the many pedestrian bridges linking hotels with walkways.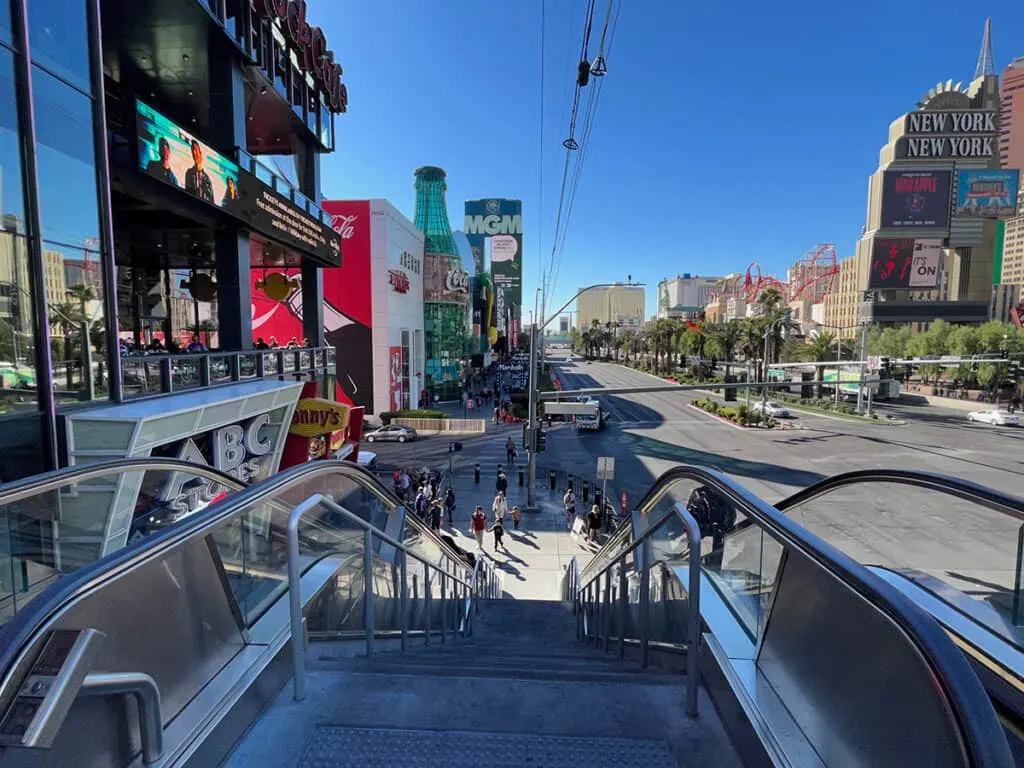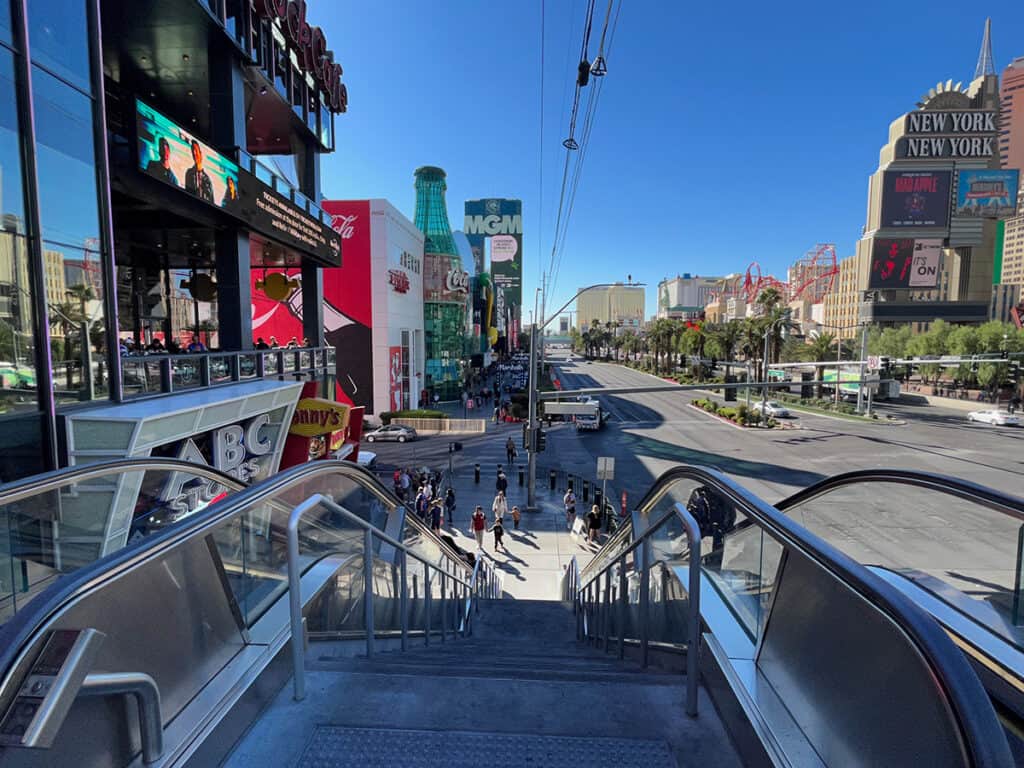 Do NOT be surprised by the smell of weed. It's everywhere! In fact to be fair, it was everywhere in Washington DC too, where we'd just spent a few days. Anyone over 21 can legally consume Cannabis in Nevada. But marijuana is only legal if you've purchased it from a state licensed retailer, and you're not to use it in a public place (yeah right!) nor in a moving car – whether you're the driver or not.
Do NOT be allergic to cigarette smoke! It's everywhere. Indoors and out. Most casinos have smoking sections, but given there are no walls or doors separating the sections, it's like a peeing section in a swimming pool. The bummer is that the restaurants within a dice throw of the tables are also quite smoky.
Do NOT buy drinks from street vendors. They're illegally selling water and cold drinks, and Las Vegas police have warned it might not even be safe.
Do NOT expect to win big at the tables. I'm personally not a gambler. If I do find myself at a table I'll probably be in the $20 camp. (By the way, cash is no longer accepted in the slot machines, you have to use your credit card or load up a casino card). Las Vegas didn't get to where it is today by paying out a lot of money to gamblers! "The house always wins" is true, so if you can turn your $20 into $100 RUN.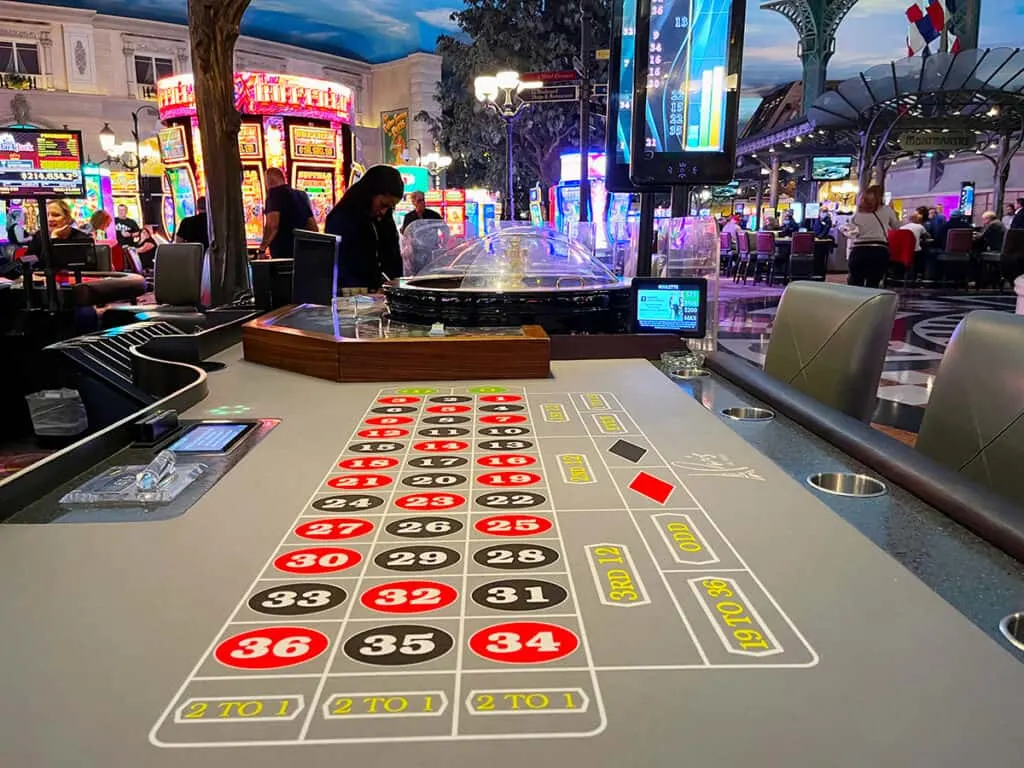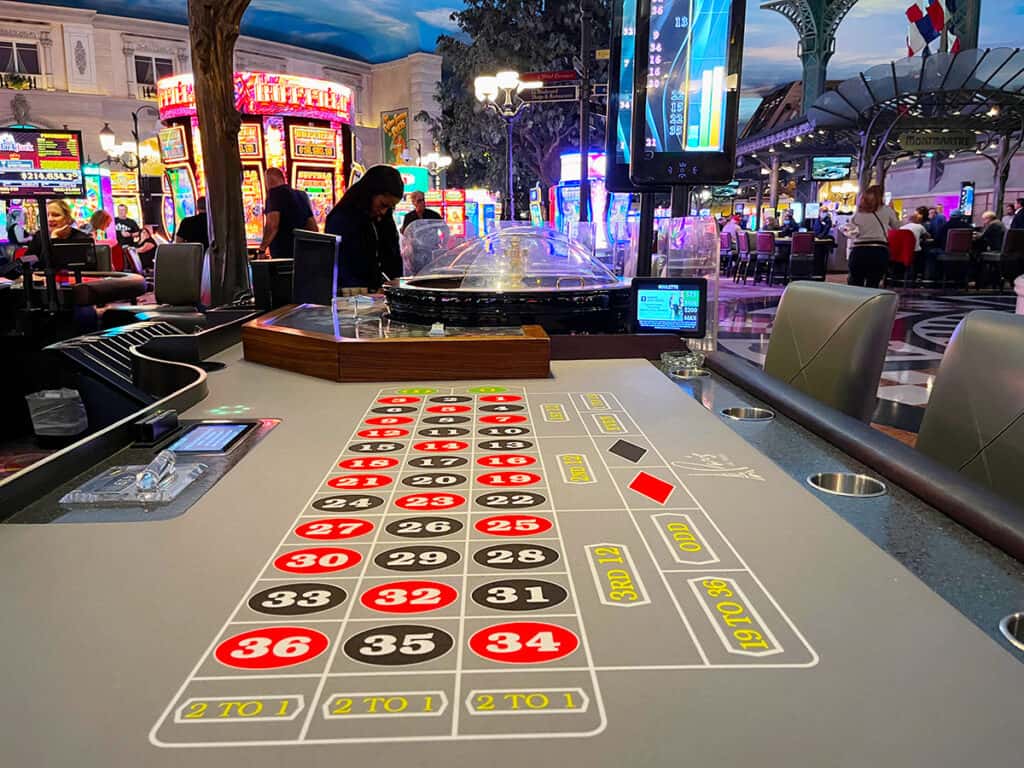 Do NOT miss the amazing food scene. You might think Las Vegas is all about gambling, but actually I didn't sit at a table once. What I did do was experience some wonderful dining. We did a walking food tour one night of four high-end restaurants in and around Aria. We found a fabulous table with a view of the Bellagio fountains at Paris one night (pic below), and we even enjoyed Marky Mark's Wahlburgers one night!
Many restaurants are founded by a famous chef like Gordon Ramsay (he has 5), Wolfgang Puck, Nobu Matsuhisa, Lisa Vanderpump, Bobby Flay, Martha Stewart, Guy Fieri, Giada de Laurentiis.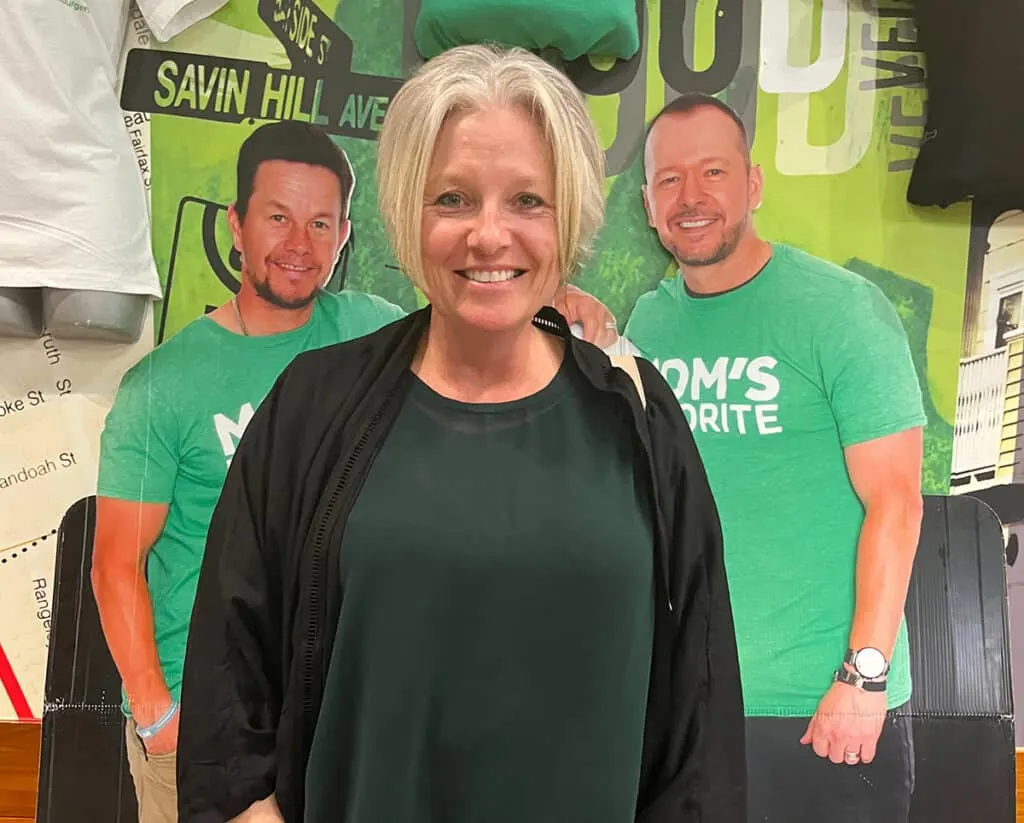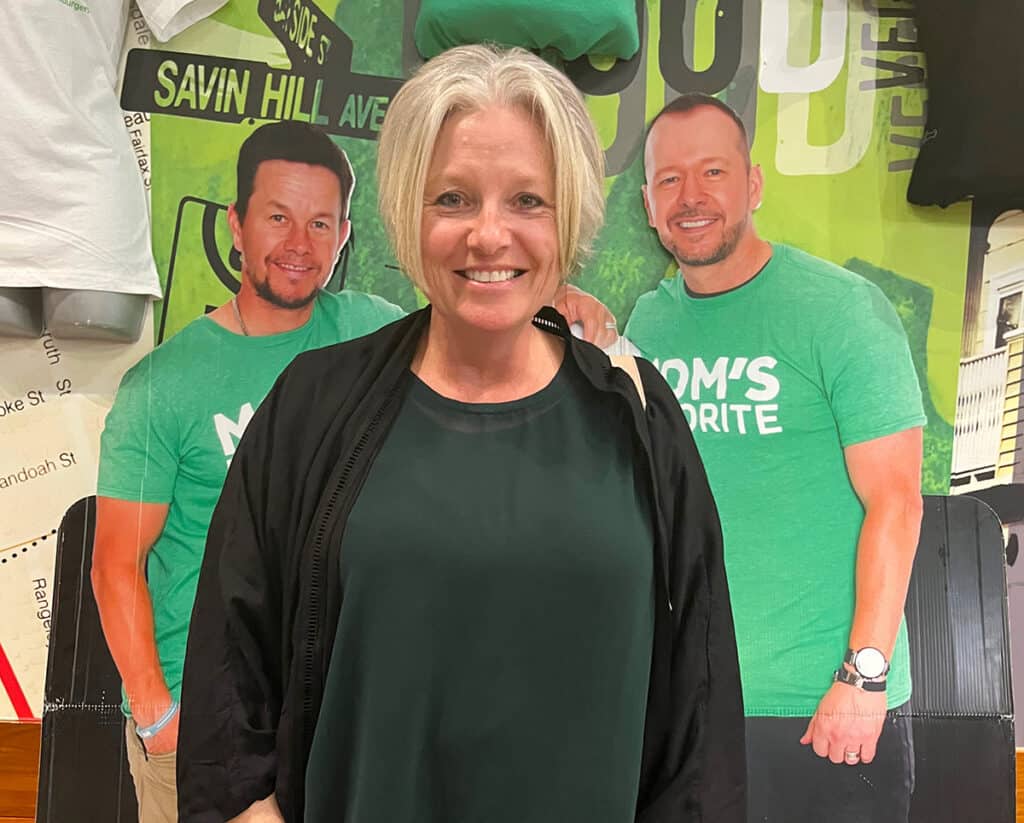 Do NOT expect a table without a booking. Following on from above, if you have your heart set on one of the amazing Michelin-star or famous restaurants in Las Vegas, book in advance. Sometimes a month in advance! The pic below was from our dinner at Mon Ami Gabi at Paris Hotel under the Eiffel Tower, a great spot for watching the magical Bellagio fountains. Oh and we got lucky and walked in to this one!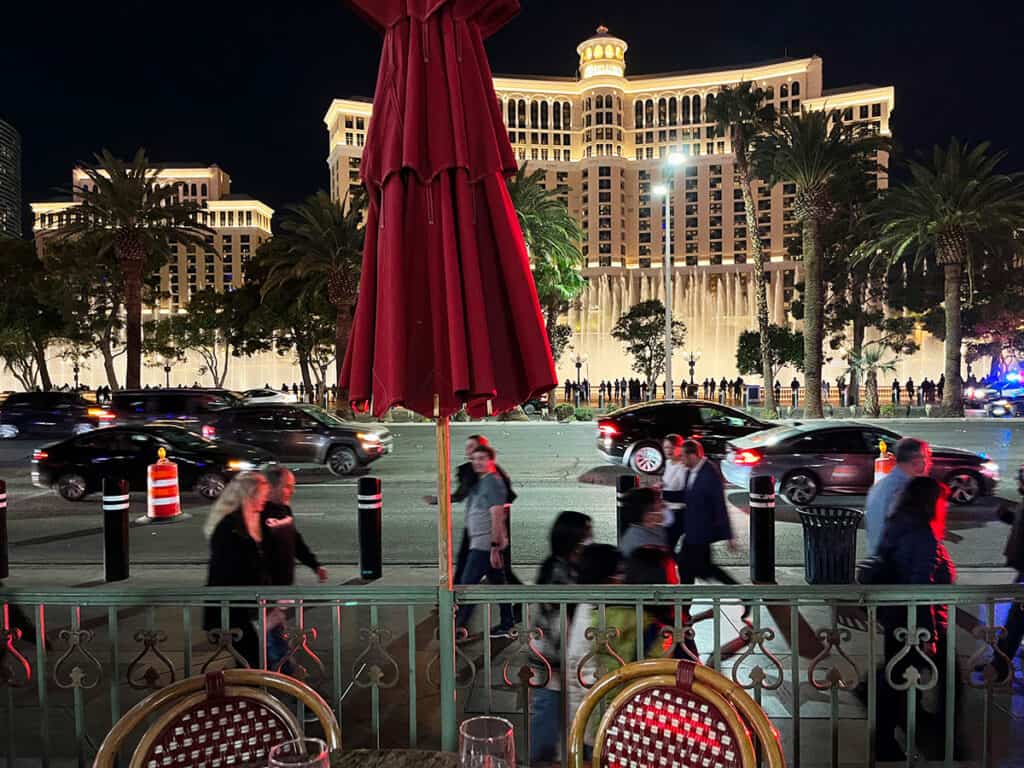 Do NOT do the whiskey tasting the Mob Museum. It's expensive and you don't get more than a couple of sips. Instead, my hot tip would be to go sit at the speakeasy bar and enjoy a whole drink in the basement of this fascinating and macabre museum.
Buy your Mob Museum tickets here now.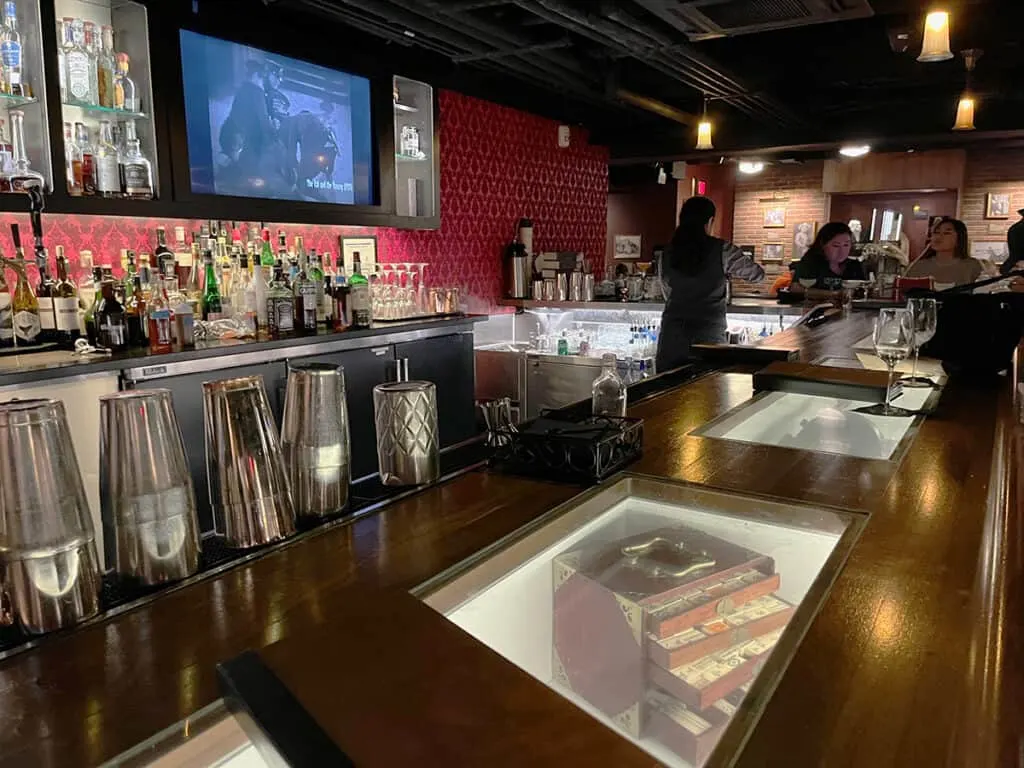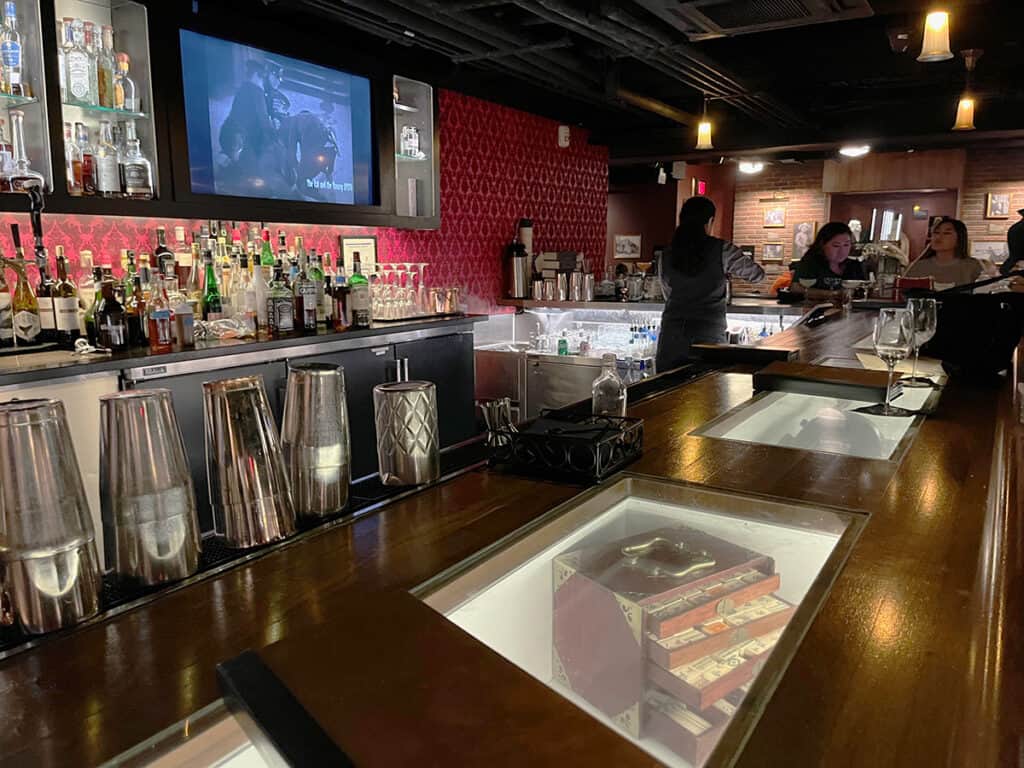 Do NOT visit Pawn Stars if you want to see Rick and Chumlee. We went downtown Vegas by Uber to the shop, which is where the TV show is filmed. It was honestly quite underwhelming. It feels like a derelict part of town, although you can see it's being modernised. Rick's Smokehouse is next door where you can have a beer and some smoked ribs or brisket. It was ok. Chumlee's candy store is there too, but he wasn't.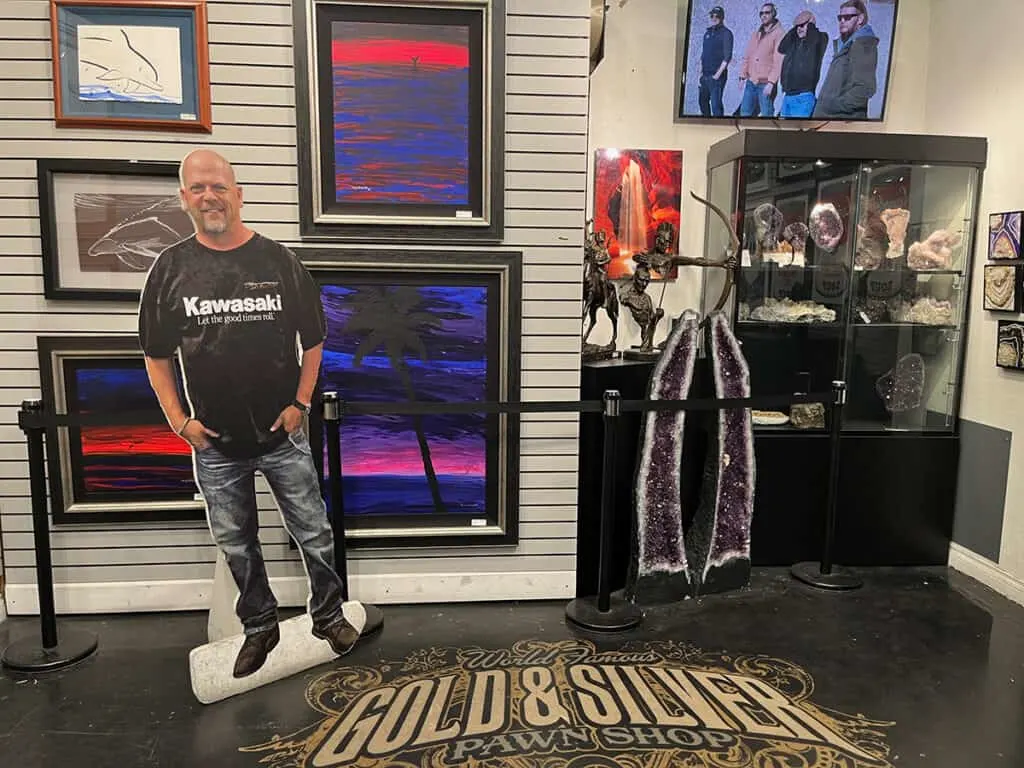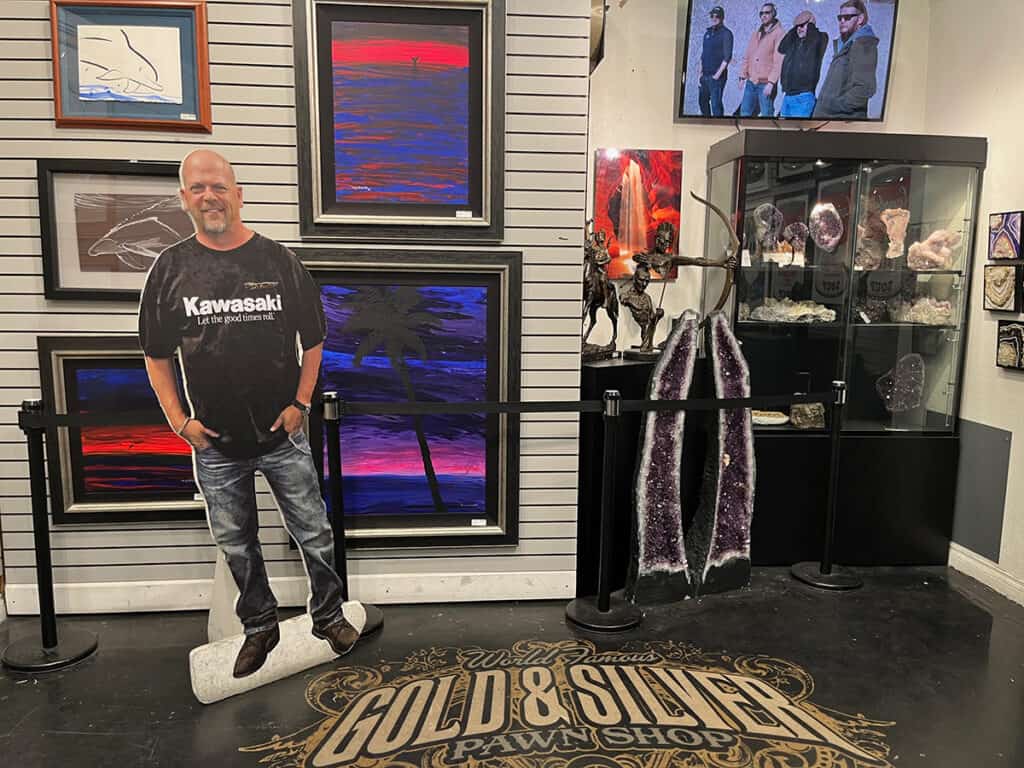 Do NOT take photos inside casinos. I admit I grabbed a few quickies as I walked through, but didn't make it obvious. You are allowed to take selfies inside the casinos though. I guess they think you could try and game the tables? Or maybe out someone pulling an office sickie for the weekend?
Do NOT take the kids into the casino. In fact no one under 21 is allowed to be on the casino floor. Of course you can walk through – it's the only way to the hotel rooms – but you can't hang out in there. But believe it or not, there are actually tons of kid-friendly things to do in Las Vegas. I've listed 22 epic things to do with kids in this post.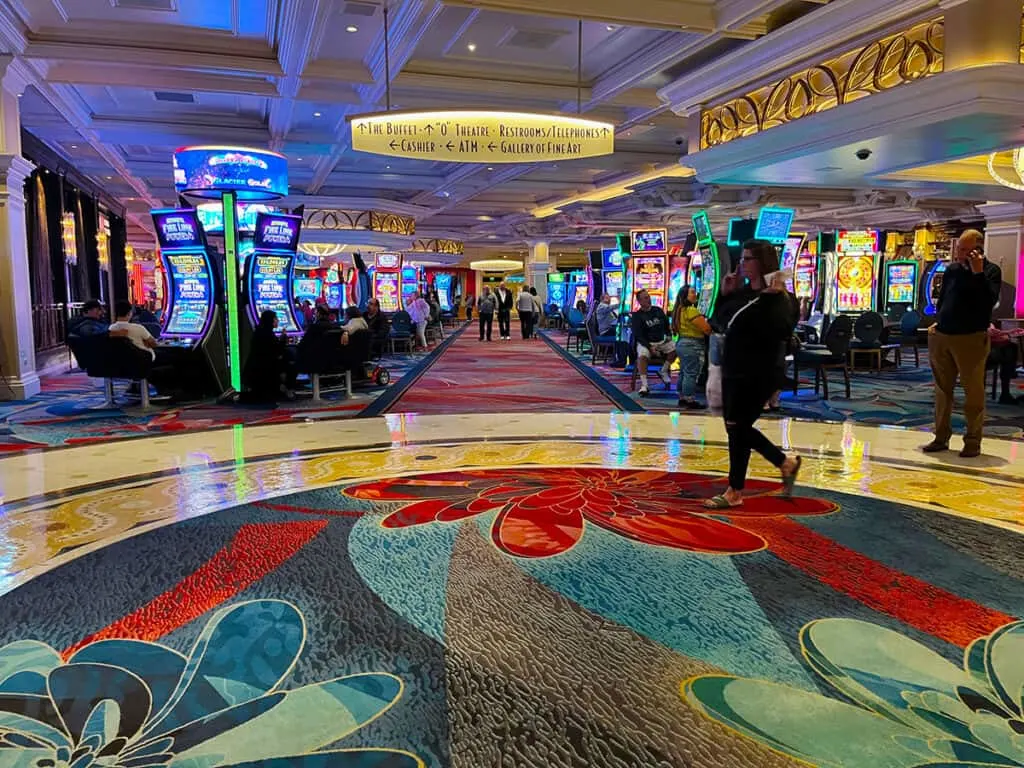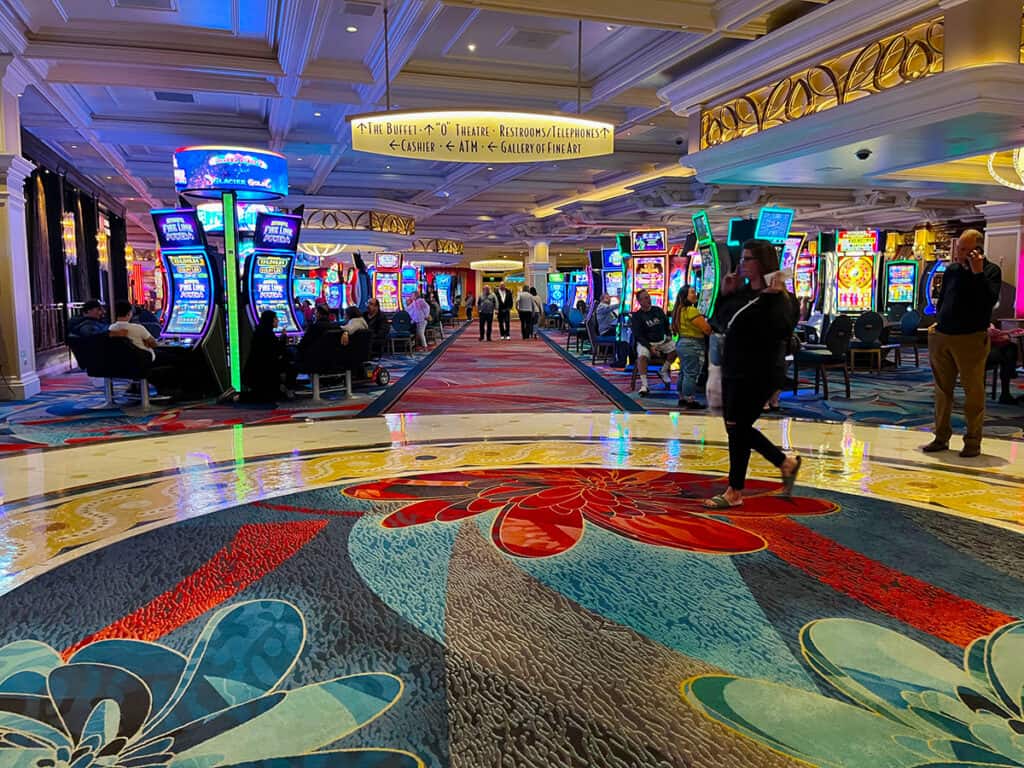 Do NOT take a wrong turn at night. Common sense would say don't walk behind the hotels, but I got all turned around when leaving an event at the T Mobile Arena, to walk back to my hotel about 10pm. I thought I was heading to the Strip, and then about 1km to my hotel, but no. I'd gone off in the wrong direction and the backs of the casinos are windowless and towering. Fortunately I contacted Uber, then messaged my driver to tell her where I was standing as I didn't feel very safe.
Do NOT get so drunk you get married! I just had to throw that last one in. It's more for Brittney Spears, but yes, you can get married on a whim at a wedding chapel in Las Vegas. Don't, unless you want to break your mother's heart. However, you COULD get married by Elvis at Graceland Chapel, or have a vow renewal in an hilarious ceremony that you'll remember for the rest of your lives. I crashed this Elvis wedding once, and loved it.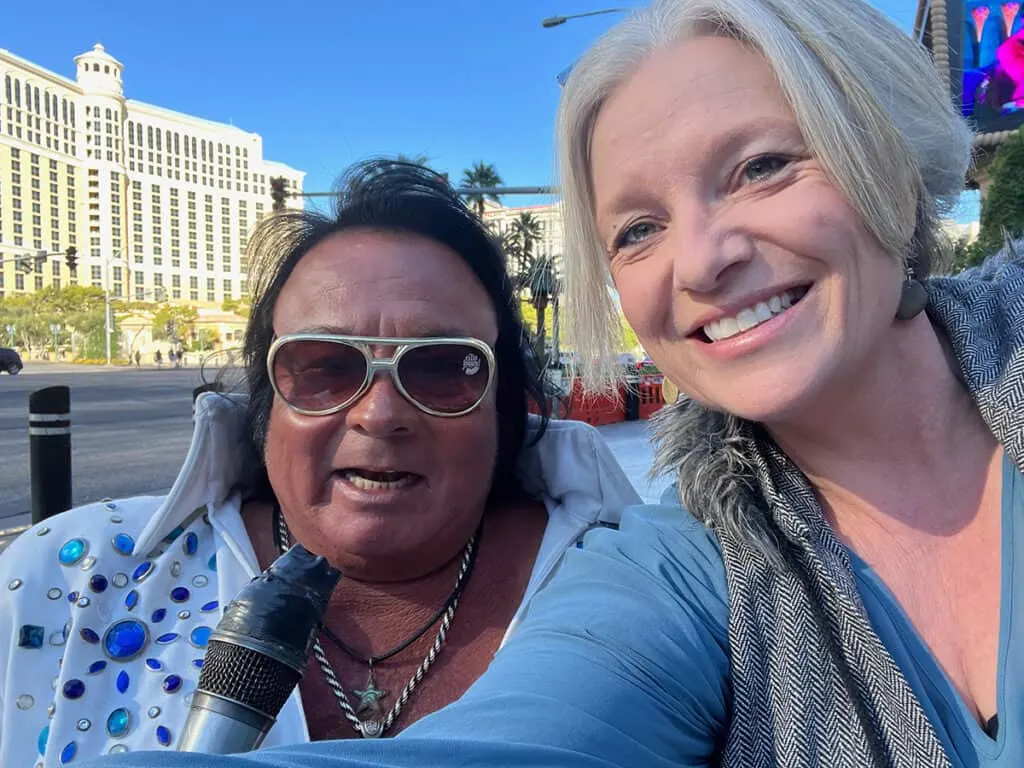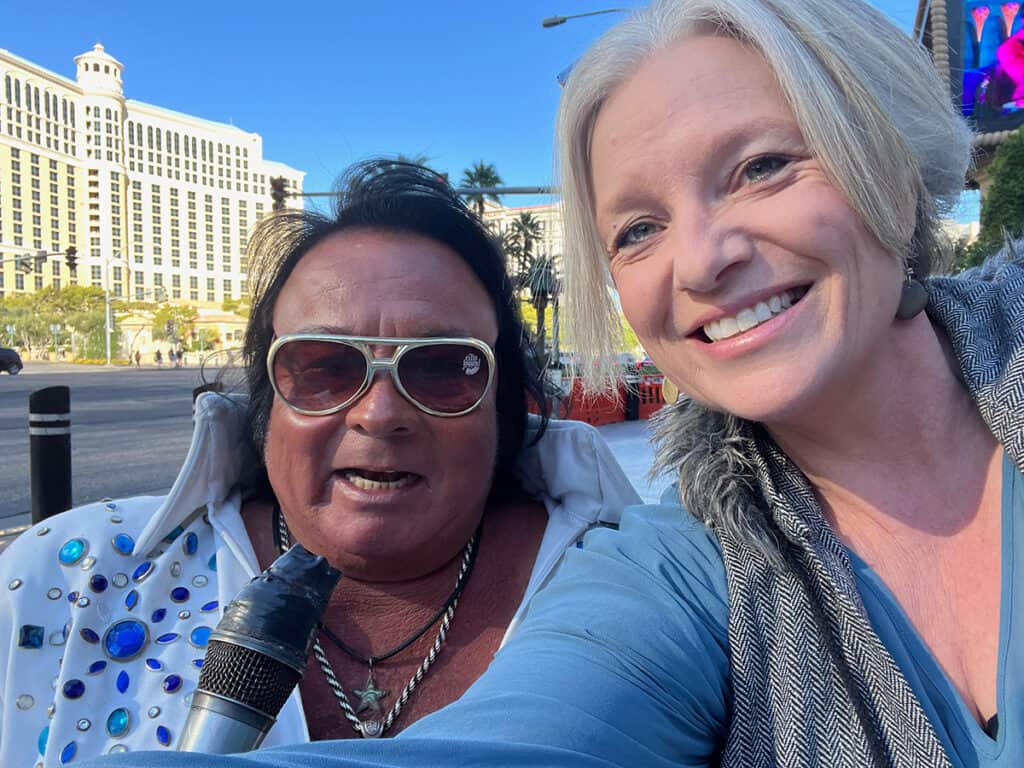 Because 1 is never enough!
I've got lots of great posts on Las Vegas, so if you want to know about some very cool things TO DO in Vegas, you'll like this post.
Give your wallet a break with these fun FREE things to do in Las Vegas!
This one covers loads of fun things to do with kids in Las Vegas.
Or if you're in for a bit of shopping, this post on Shopping in Las Vegas baby, has you covered.
Check out my picks for the best shows to see in Vegas – as there are hundreds on every night!
Or head out of dodge and follow our 4-day Nevada road trip taking in Area 51, Hoover Dam and the spookiest hotel in the United States!
See the new year in Las Vegas style with these great tips for where to see the fireworks and Las Vegas fun.