I've often said Santa Barbara is the prettiest city in the United States, and I guess until I see every one of the 19,000+ cities in America, I'm sticking to it.
(I do have a soft spot for New Orleans too though and New England in the fall is utterly breathtaking!)
The architecture, the mountains, beautiful beaches, sunsets, the climate, the vineyards and wine tasting – Santa Barbara really is a city that has it all and even in a week here, you wouldn't manage to get through this whole list.
This post is filled with great ideas for some of the best things to do in Santa Barbara…
It's a great place to come for a weekend away if you're based in Los Angeles or San Francisco – or make it your standalone California vacation.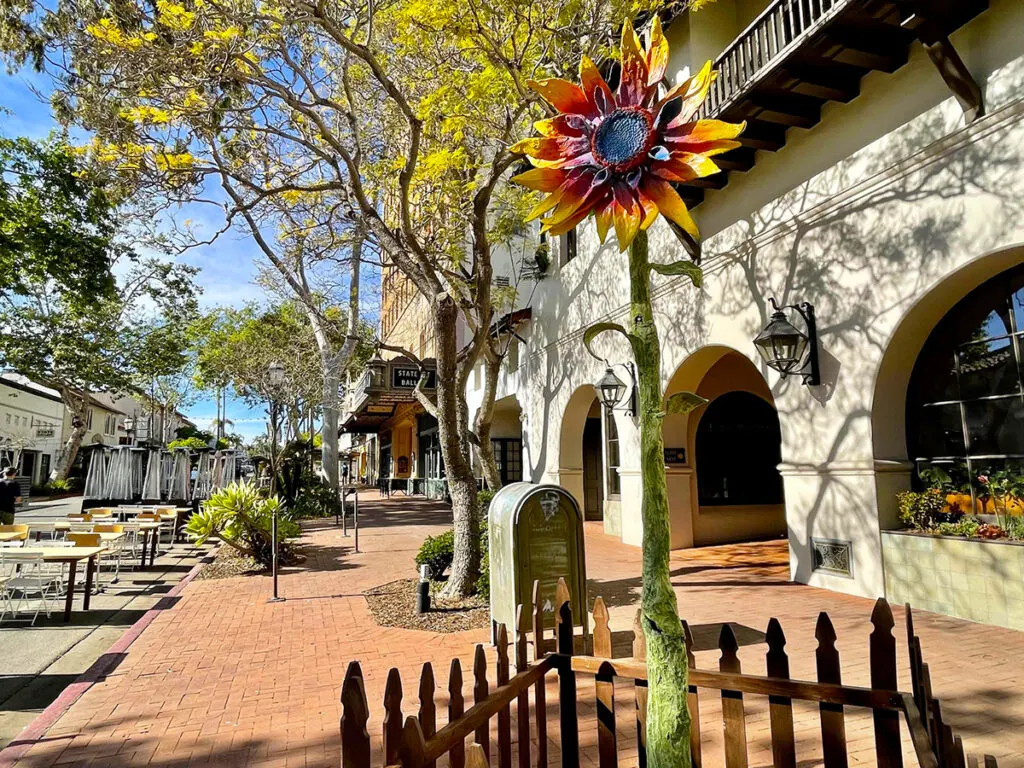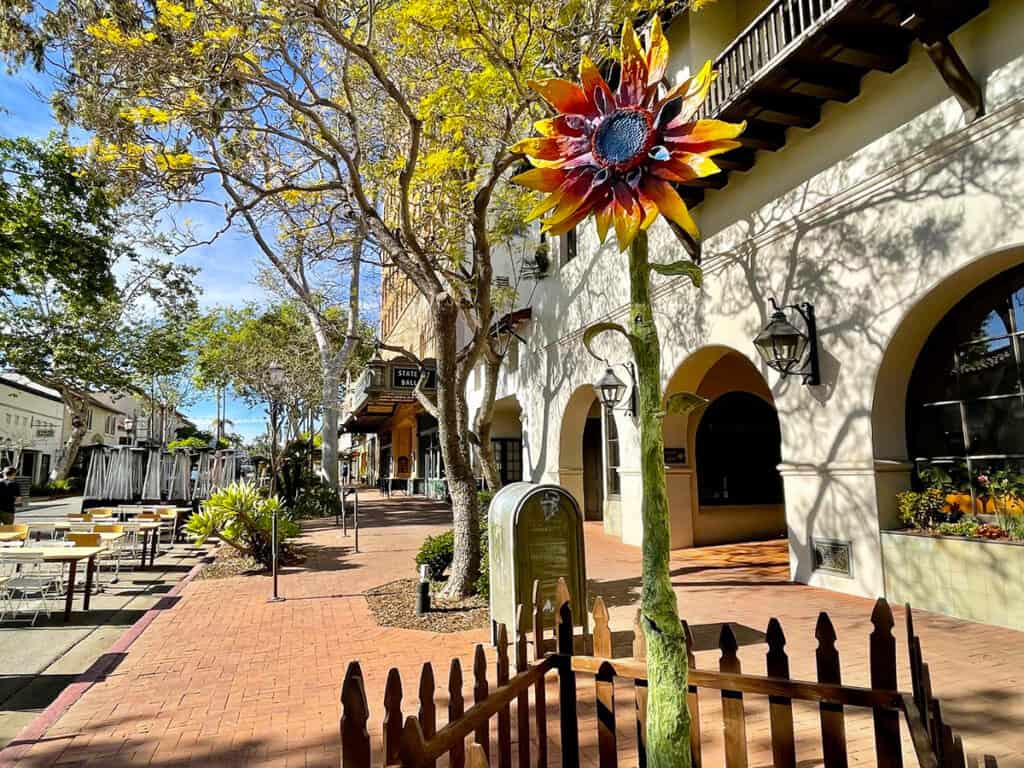 1 Start in downtown Santa Barbara
Santa Barbara has one of the cutest little downtown districts in Southern California. That's why it's earned my award for prettiest city in the US!
The layout is incredibly friendly to pedestrians, so walking around to all of the restaurants and shops is easy to do.
The buildings are all modeled in the Spanish mission style to honor the legacy that helped build and develop the area.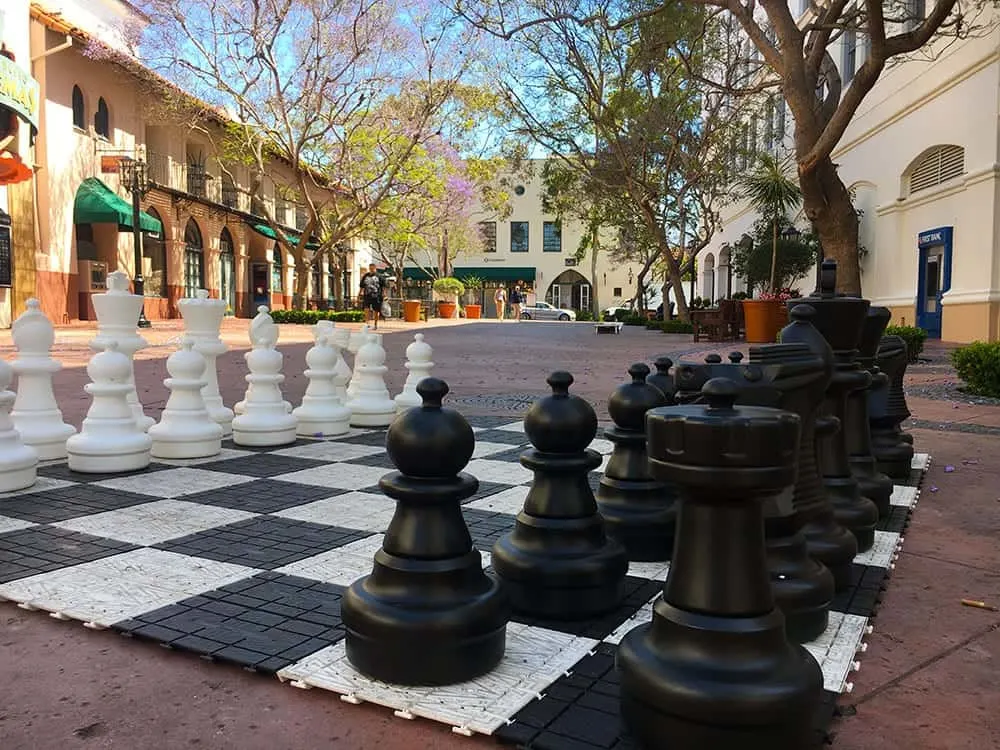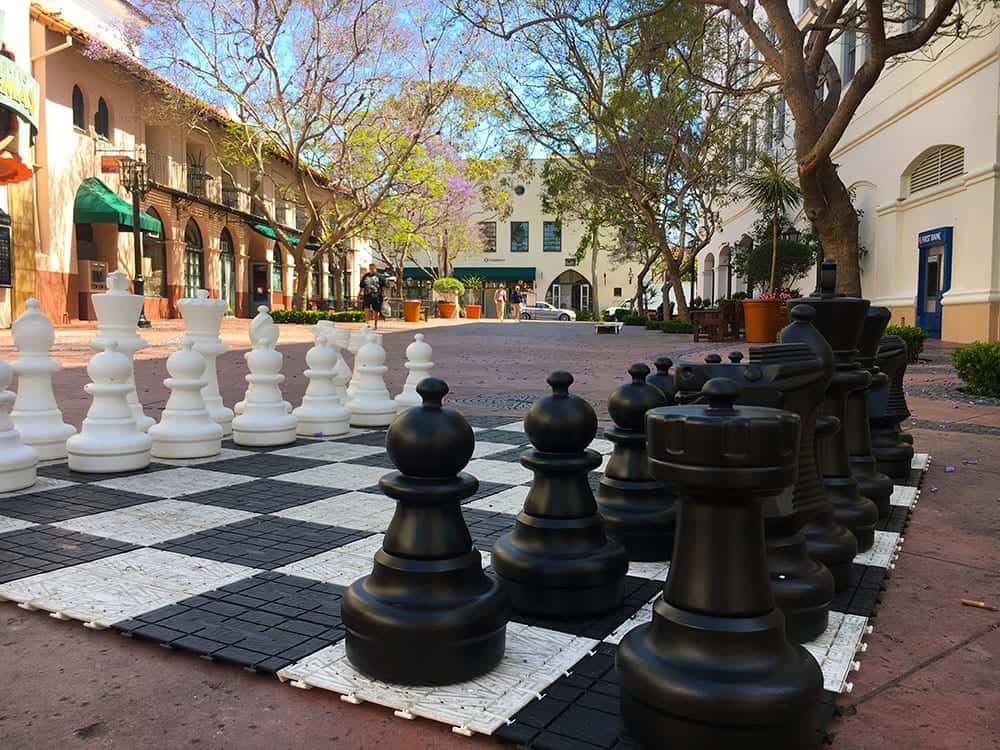 Something you won't want to miss when visiting downtown Santa Barbara is the State Street Promenade Market for outdoor dining and buying fresh and diverse cuisines. It runs every Thursday between 3.00pm and 8.00pm.
There are tons of vendors out that sell a wide variety of artisanal goods. One place you have to stop at is Menchaca Chocolates. They've got some of the most delicious chocolate that I've ever had at a farmers' market, hands down!
There is also a Farmer's Market between 600-700 blocks every Tuesday from 2.45pm to 6.30pm.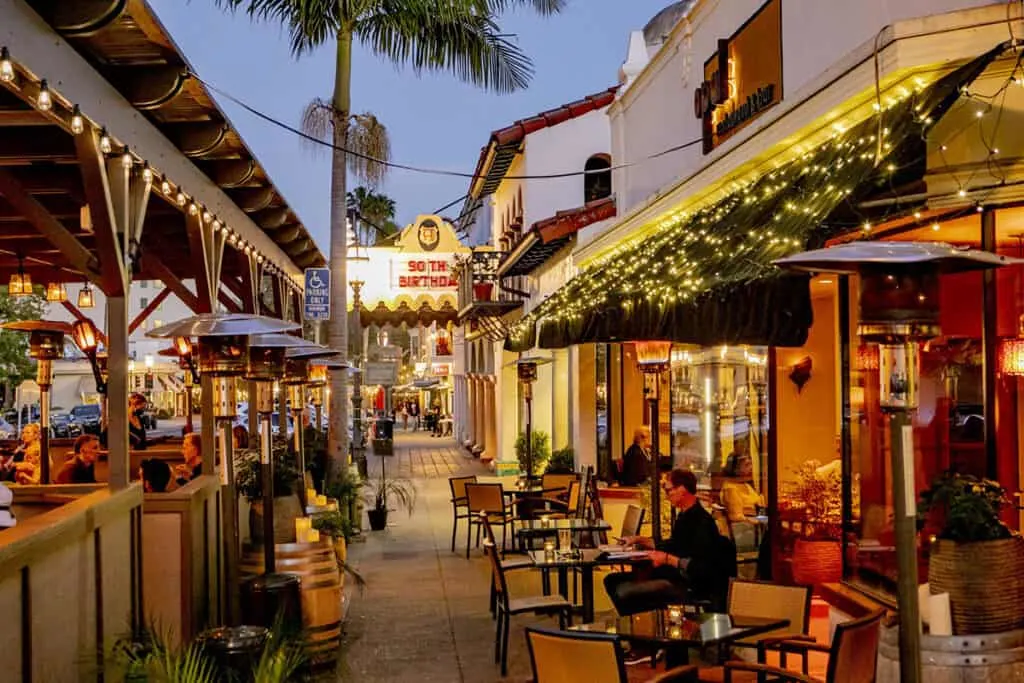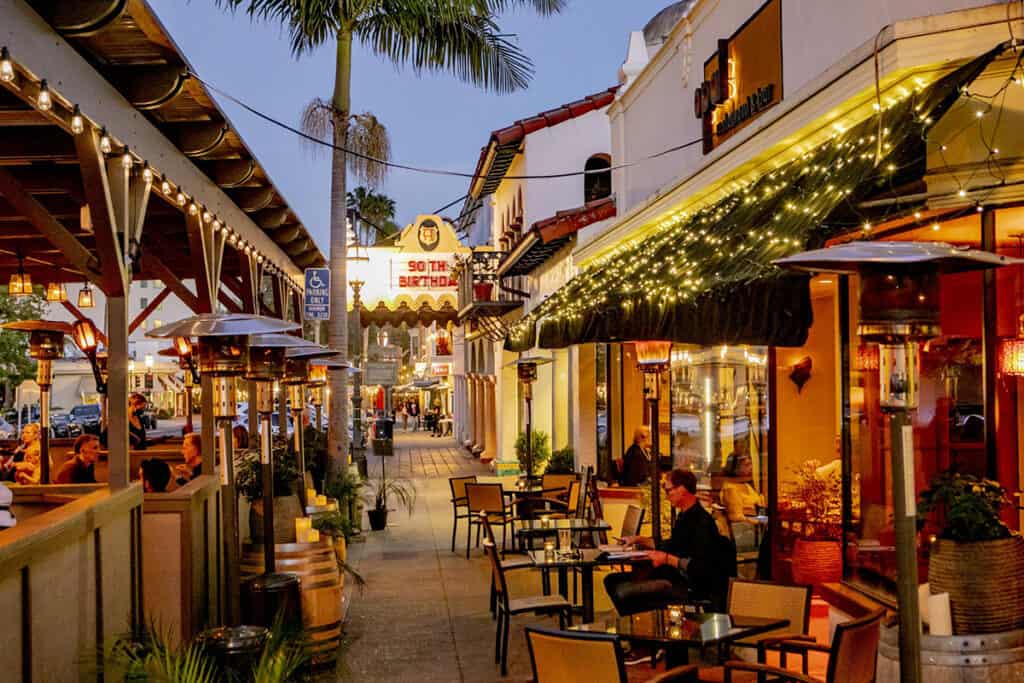 2 Shop on State Street
Downtown Santa Barbara's main street, State Street, runs down to the beach and this is where you'll want to bring the car and spend a couple of hours. Parking is free, but tricky to find as curbs are painted red or green, and woe betide you if you park beside the red!
(Use this Spot Angels parking map for real-time parking spots. Just type in the address you want to be near and it will show you where some free spots are. There are also parking garages that you can pay to park in.)
But once you do get a car park, wander around the shops, pop into the old courthouse (see why below) to take in the views of the Spanish tiled rooftops and the Santa Ynez mountains hugging the city.
Down at the ocean end the 5-star Hotel Californian has transformed the original 1925 hotel with 121 rooms since I was here last and wine tasting in the city in a plethora of tasting rooms is a real focus now, without having to traipse into the mountains to a cellar door.
3 Take amazing sunset photos
The beautiful thing about the west coast are the incredible sun sets. They never get boring! I love staying in Santa Monica (down in LA) for that reason too. But along the beach front here in Santa Barbara are toweringly tall palm trees, and when you add the fiery orange sun sizzling into the deep blues of the far horizon, those trees look like paintings.
Budding or pro photographers alike will want to be down on the beach for magic hour!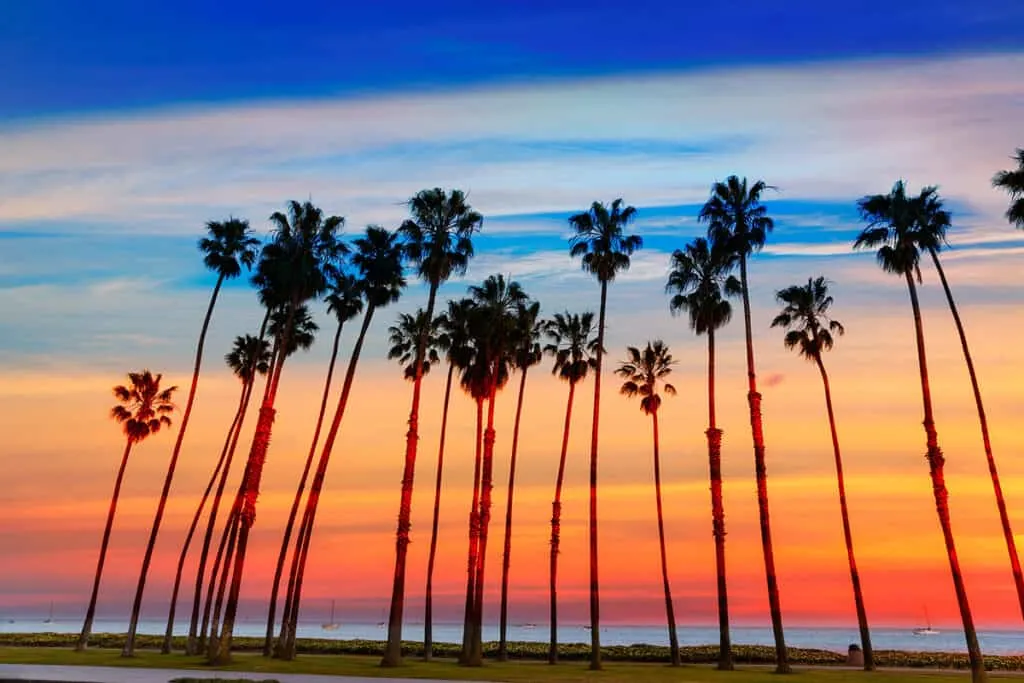 4 Get a selfie at the Moreton Bay Fig Tree!
A trip to Santa Barbara just wouldn't be complete with a selfie in front of the sprawling roots of the oldest Moreton Bay Fig Tree in the United States.
The 120-year old tree was planted in 1877 by Adeline Crabb, from a seed her friend had got from an Australian sailor a couple of years earlier and who had planted it nearby. Adeline replanted it where it is today and it was officially designated it a "tree of notable historic interest" in 1970 and is located near Stearn's Wharf, adjacent to the Amtrak Station, 209 State Street.
The canopy stretches over 170 feet and the moderate Santa Barbara climate must agree with it, because this old girl is still going strong.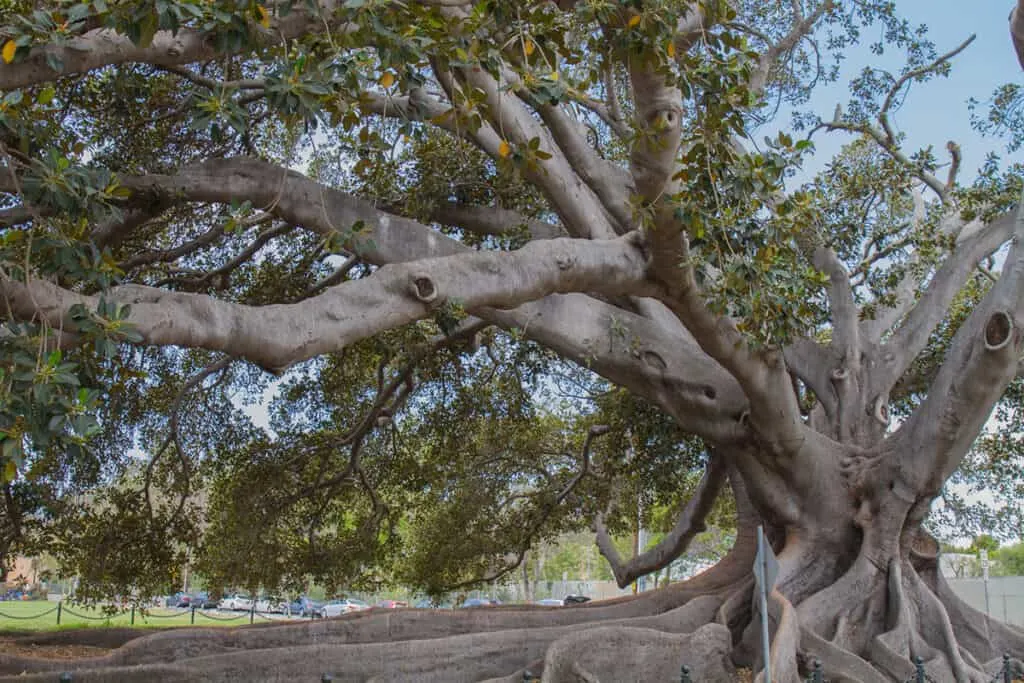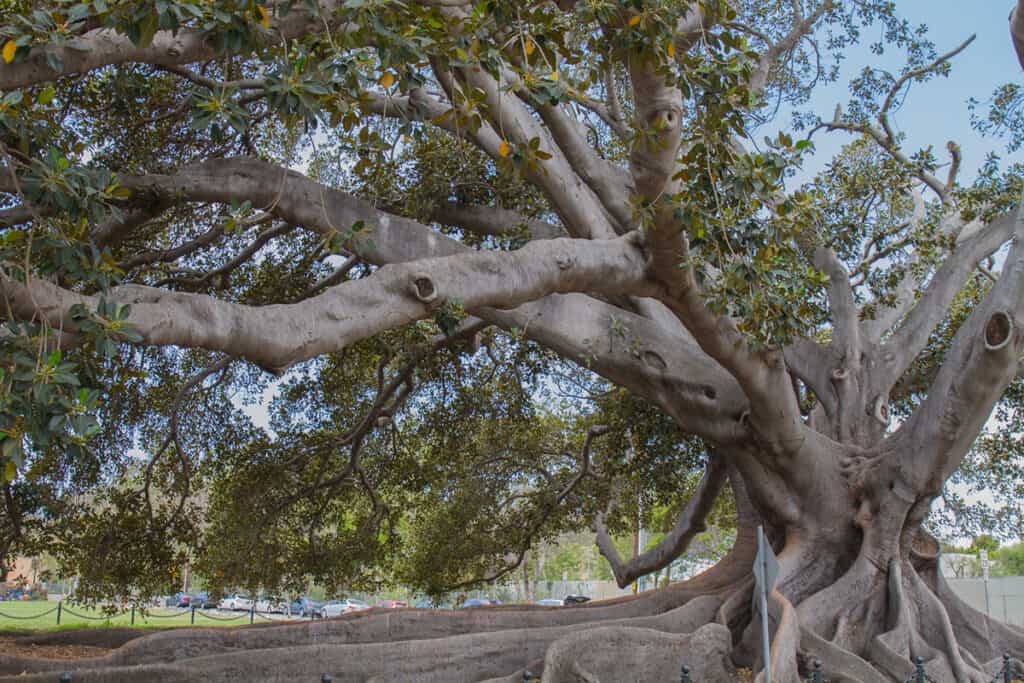 5 Visit the weekly Arts and Crafts Show
Rain, hail or shine the Arts and Crafts Show goes on! Every Sunday (and Saturdays of major holiday weekends) on the waterfront from 10am until 6pm you can come and browse fine arts and contemporary pieces from local artists and artisans.
Located ocean side of W. Cabrillo Blvd between State St and Calle Cesar Chavez.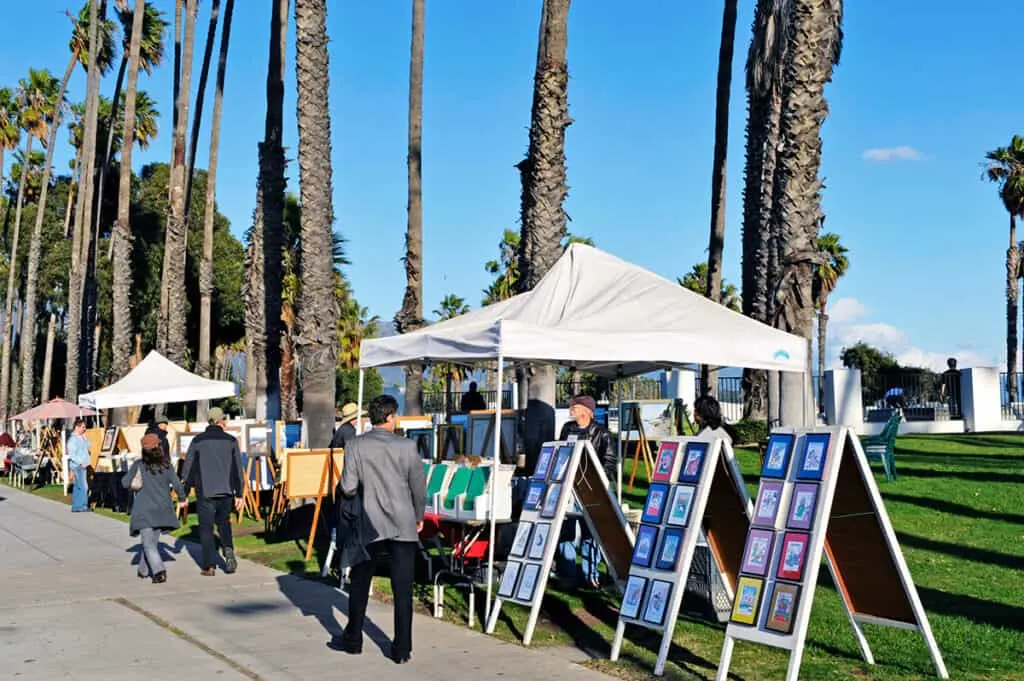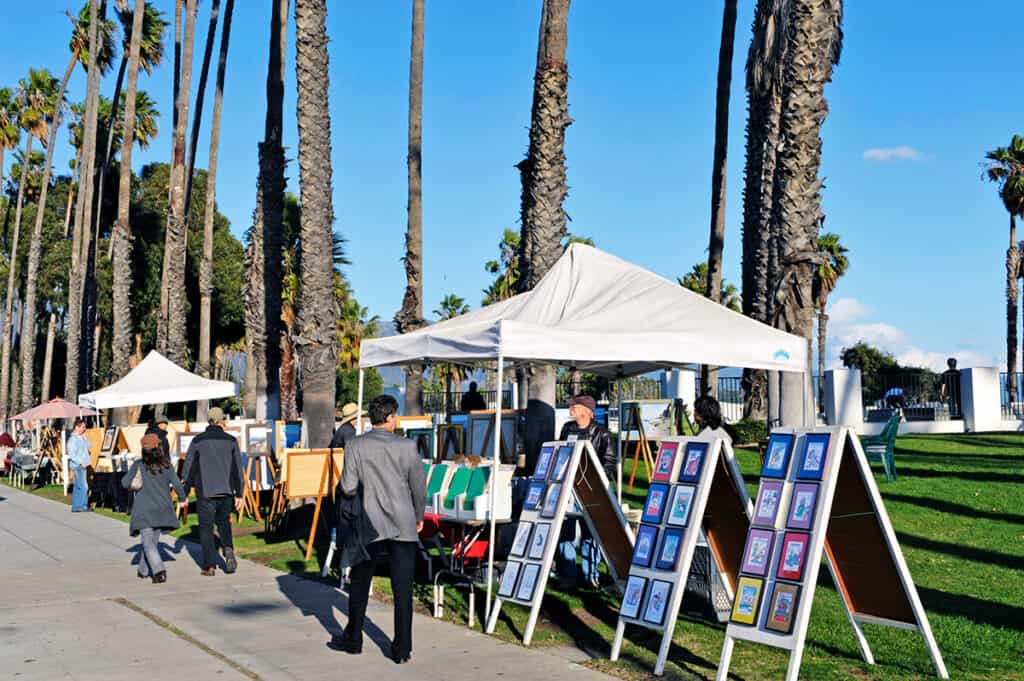 6 Rent e-bikes
You can book a group tour on an e-bike to see the best of Santa Barbara with a guide, or just head along and rent e-bikes for two hours or the whole day.
You can grab a map and explore on your own from the downtown area, along the wide beach dotted with palm trees, through the Funk Zone (where you should stop and eat – more info below), up to the Mission and more.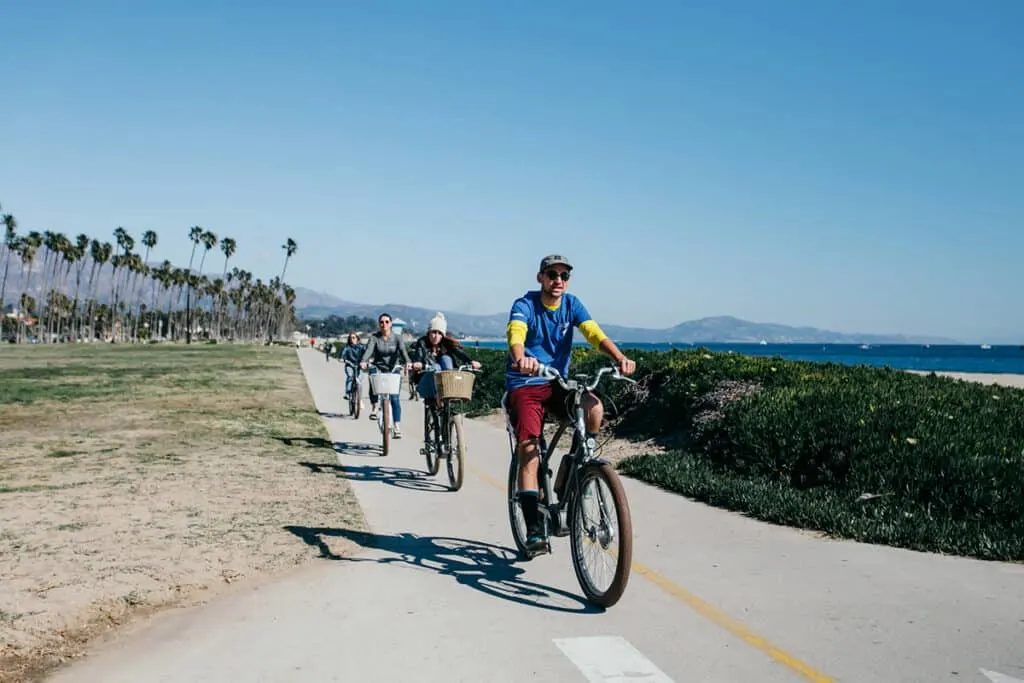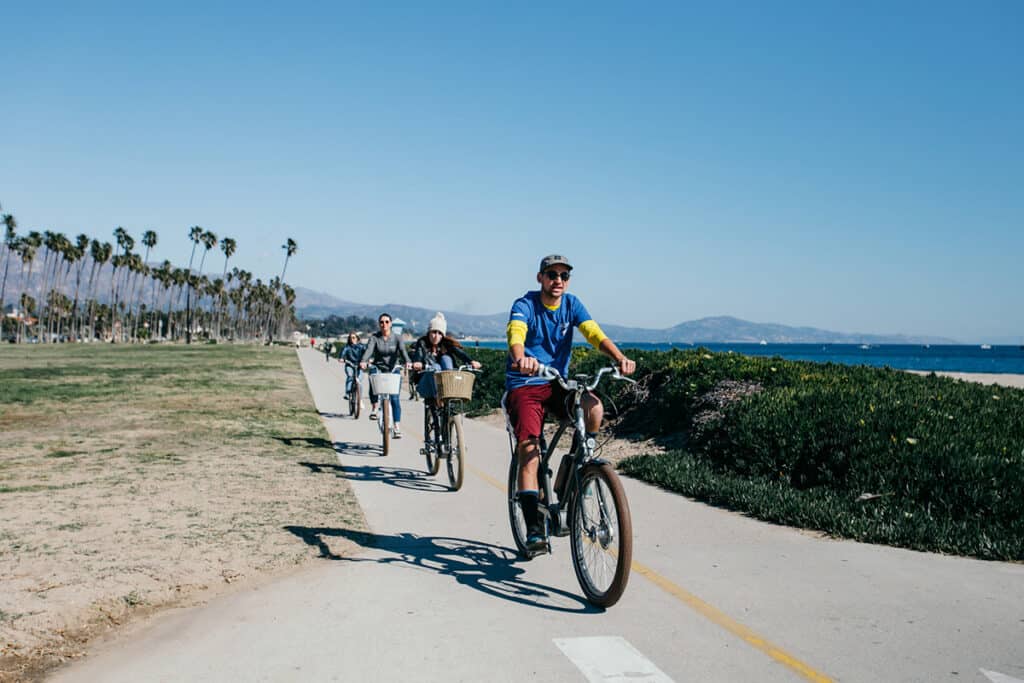 7 Do the Urban Wine Trail
Move over Napa Valley, there's another amazing wine tasting experience in California! The Urban Wine Trail exposes you to some of the best wine tasting experiences you can find in the state.
With over 20 wineries to visit, you'll definitely want to spread your experience over a few days.
One thing that makes the wine trail fun to navigate is that it's divided up into neighborhoods. Each neighborhood is color coded on the map to make it easy to see which ones you've covered and which ones you still need to discover!
A good idea to get the most bang for your buck is to join the Urban Wine Trail club. Once you join, you get a free tasting at each of the wineries along the trail when you first visit each one. Plus, you also will get a 10% discount on anything you purchase on the first day that you visit each one!
8 Stroll along iconic Stearns Wharf
Built in 1872, the 2,300 foot long Stearns Wharf became the longest wharf between Los Angeles and San Francisco. Today, it's the oldest working wooden wharf in the entire state of California!
The biggest problem you'll have when visiting Stearns Wharf is choosing what to do. You'll find all sorts of restaurants for delicious food. There's nothing quite like chowing down on some of the freshest seafood around at the Harbor Restaurant as you take in the view of the Pacific Ocean.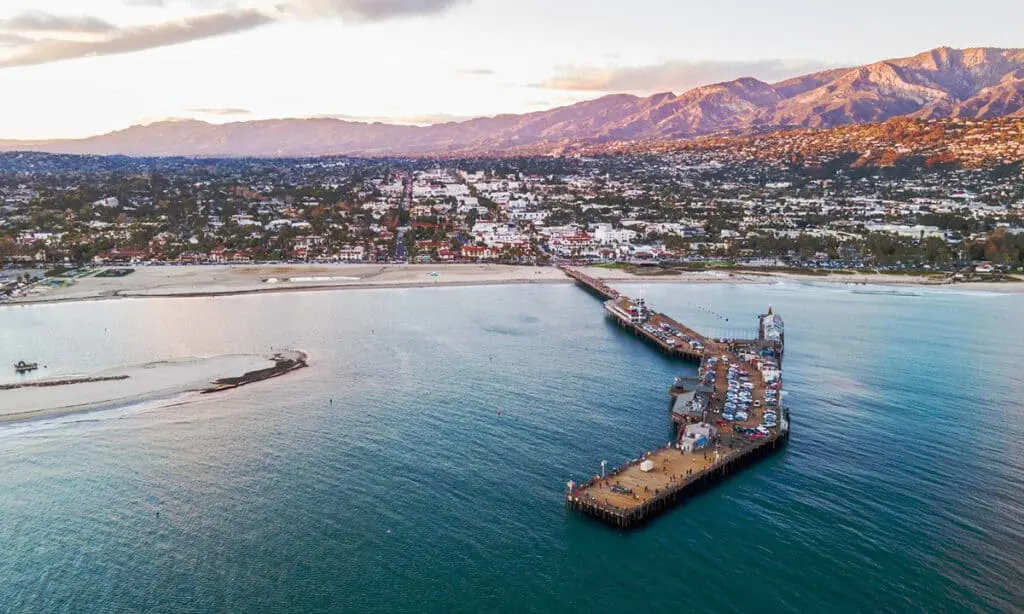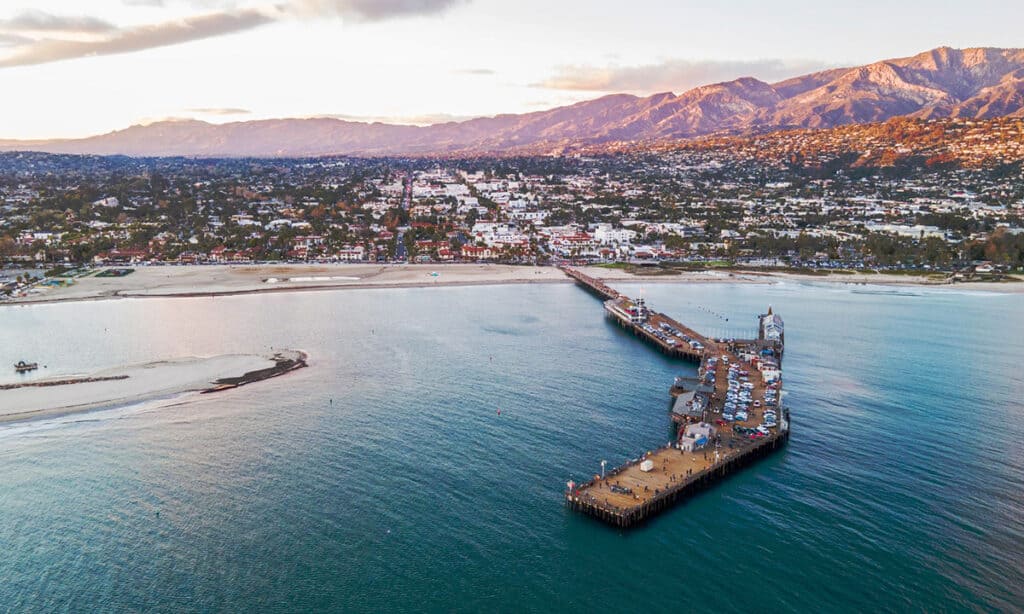 And once you're done with your meal, take a ride on the water taxi that embarks right from the wharf. You'll board Lil' Toots and get treated to a 25-minute long boat ride around the harbor.
As you cruise around, one of Lil' Toots' expert guides will inform you on the marine life as well as the history of the area to make the history come alive.
9 Climb up the Santa Barbara County Courthouse bell tower
This popular place to visit is more interesting than it sounds! Yes, it's a working government building where court officials with clipboards and fast walks totter past on the tiled floors, but the Spanish-Colonial style architecture is what people like you and me visit for.
One of the best things to do is climb (or take the elevator) to the four-sided bell tower at the top for stunning 360˚ views over the adobe style rooftops below and all the way out to sea, with the mountain range behind you.
When the courthouse buildings are open to the public, take in the intricate painted details on the walls and ceilings and especially the Mural Room.
There is a car park adjacent – and the first 75 minutes are free in Santa Barbara.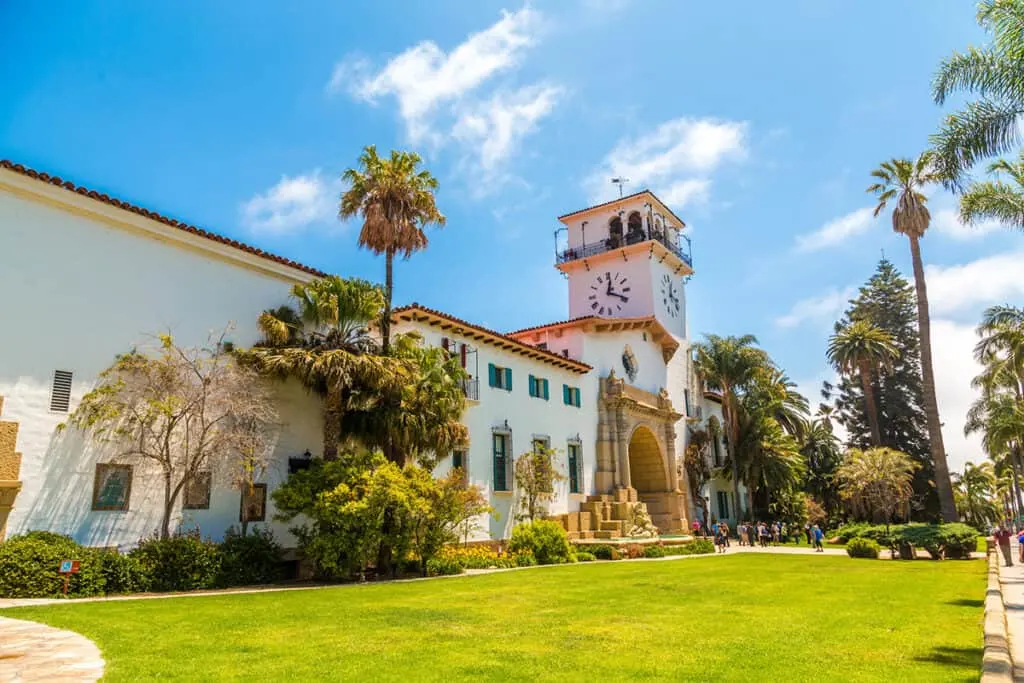 10 Santa Barbara Zoo
A hugely popular place to take the family is the Santa Barbara Zoo. The areas that more than 140 different species live in are thoughtfully designed to mimic the natural habitat of each animal group.
You'll see everything from the elusive snow leopard to the ginormous western lowland gorillas.
There are also plenty of opportunities to grab a bite to eat at any one of the many restaurants and food carts. Or, for those 21 and older, grab an adult beverage like beer and wine!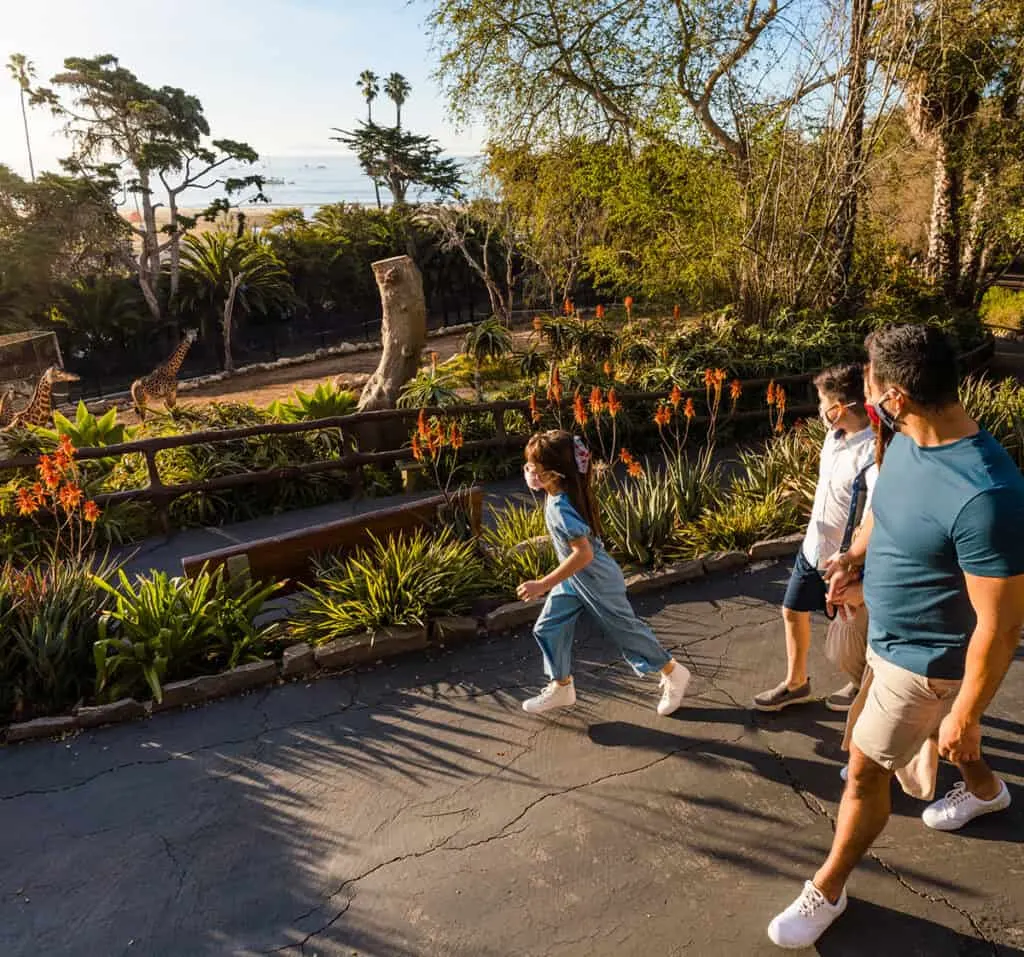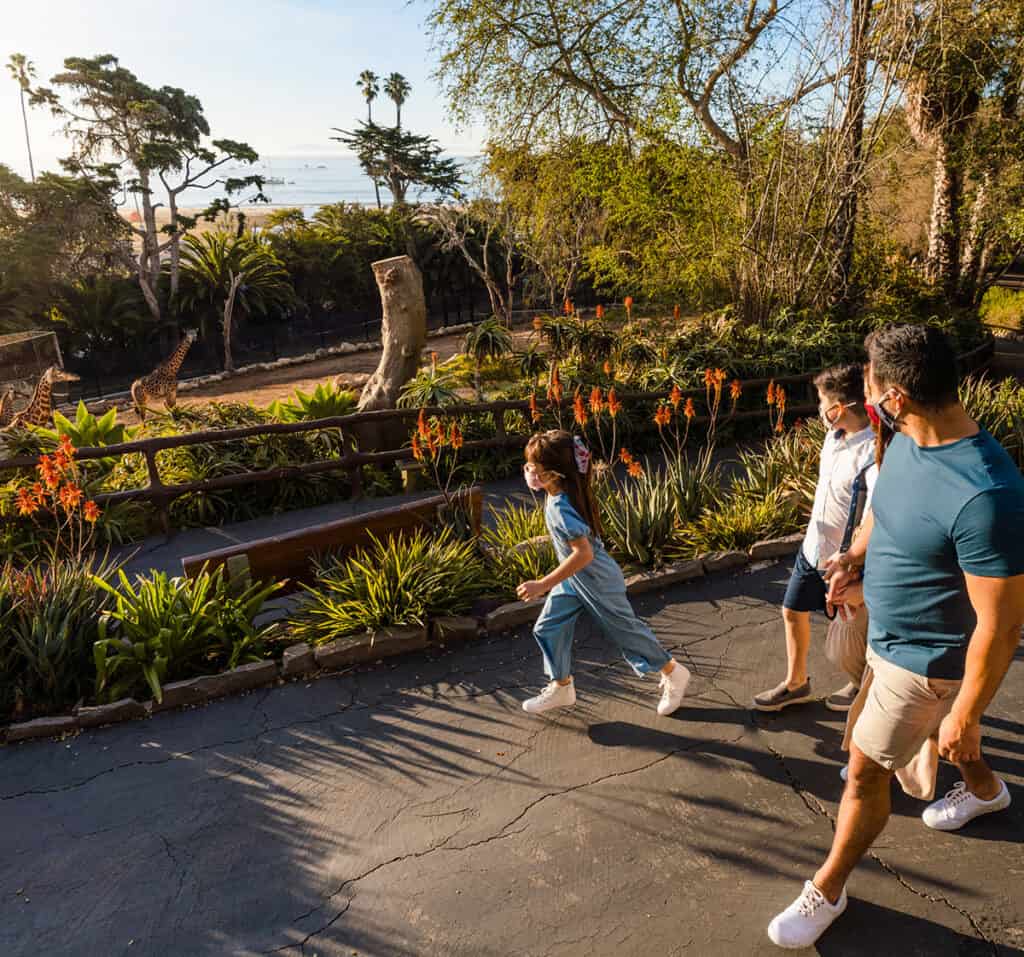 Reservations are required to enter the zoo, so be sure to plan ahead. For those visiting with kids under 2, you don't need to worry about getting a reservation for your little ones. Anyone older than 2 will need a reserved spot.
11 Santa Ynez Mountains
As I mentioned above, one of the best things about visiting Southern California is the geographic and biological diversity.
Located just 40 minutes away from downtown Santa Barbara are the beautiful Santa Ynez Mountains. There are lots of great hiking trails in Santa Barbara to choose from.
One of the best trails to hike on in the Santa Ynez Mountains is the Lover's Loop via the Grass Mountain Trail.
This four-mile hike will take you through a variety of foliage like red chaparral and coastal sage scrub along with a spectacular array of wildflowers. Plan on bringing plenty of water for this one and try to get on the trail early in the day as it can get pretty hot, especially during the summer.
12 Take a Wine Country tour
The Santa Ynez Valley is home to a great wine region and you can read about some of the delicious wines I tasted at three vineyards on a Santa Barbara winery tour in this post.
If you love your wines, then the best way to experience them is on tour – where you're not driving, just tasting! We loved our today and got to see the city from a different perspective up in the hills, while learning about the local wines and enjoying them too.
There are a few Santa Barbara wine country tours that will pick you up from your hotel and include a picnic lunch in one of the wine gardens that you'll visit.
13 Cruise on Santa Barbara Harbor
A common theme is that there is so much to do! Santa Barbara Harbor holds true to this as well.
Take a stroll along the marina to view beautiful boats moored along the dock and take in some of the most fantastic views in Southern California.
Stop by any one of the shops along the waterfront to grab a souvenir or a delicious meal. And, if you're looking to get out on the water, there are tons of activities to enjoy!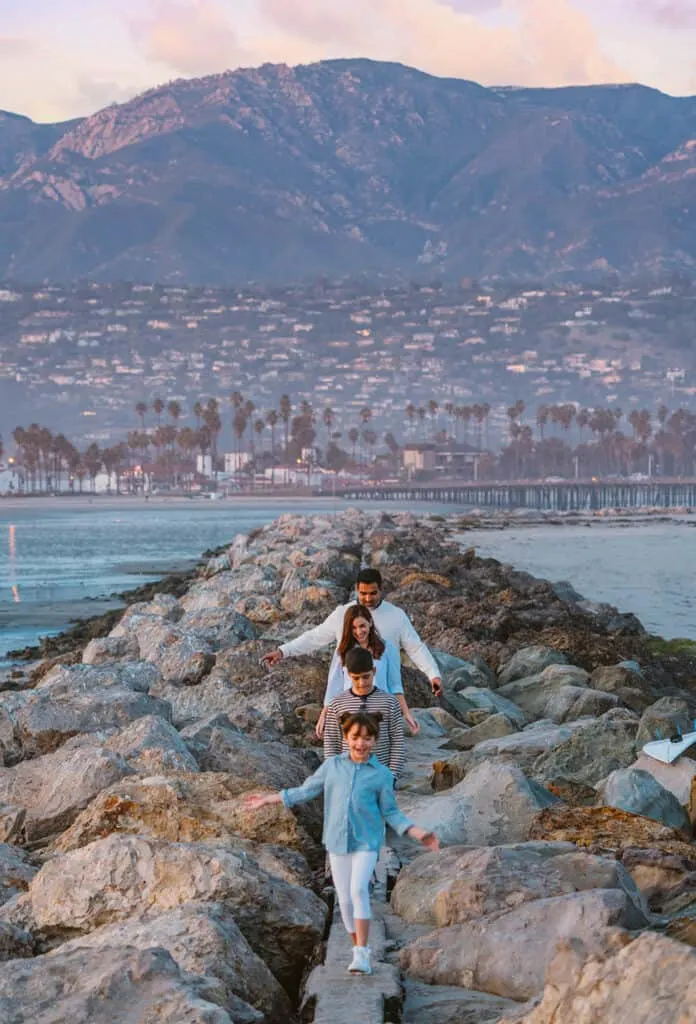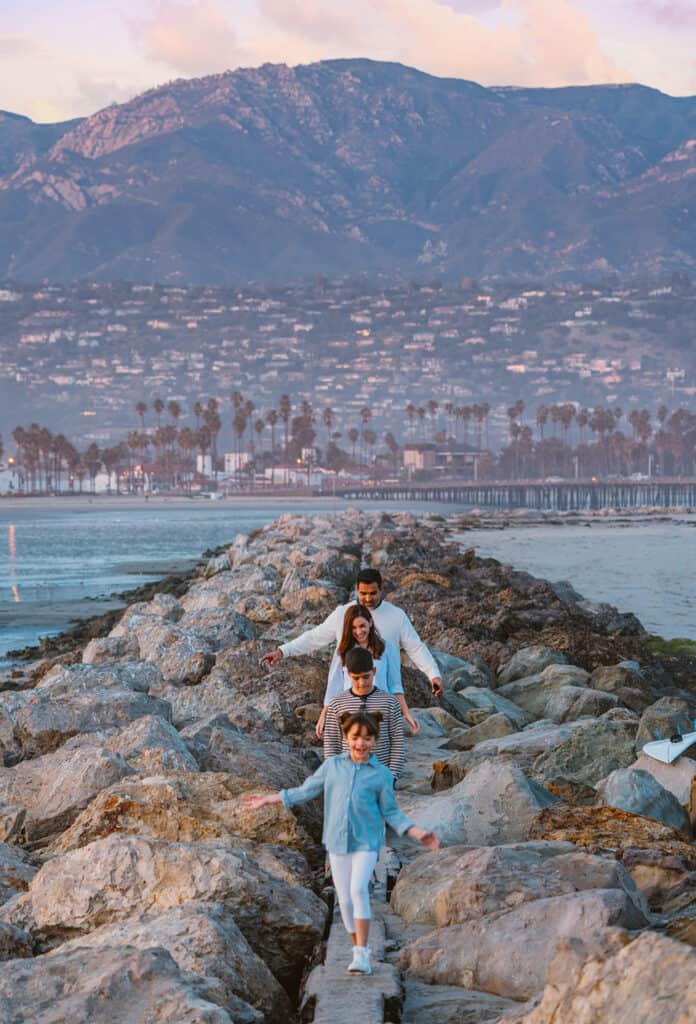 Santa Barbara Harbor hosts a wide variety of outdoor recreational opportunities. You can find tons of shops that offer kayak, stand-up paddle board, and snorkeling rentals to get an up-close view of the marine life, or just go for a walk.
You can also charter a scuba experience to tour the depths of the harbor. And if you're into fishing, there are several companies that will take you out to go deep sea fishing.
14 Go Whale Watching
One of the most astounding experiences you can have when you visit Santa Barbara is to go whale watching.
The Santa Barbara channel has some of the most nutrient dense areas around, making it an ideal place for all sorts of marine life to live.
The best time to go whale watching is between November and April. This is when the Pacific grey whales migrate through the area heading south to Baja, Mexico.
Condor Express guarantee whale sightings year round in Santa Barbara. They've seen humpback whales and even the largest mammal on Earth, the Blue Whale in the area.
Keep an eye out for dolphins too, they love swimming alongside your boat and are a real treat to see.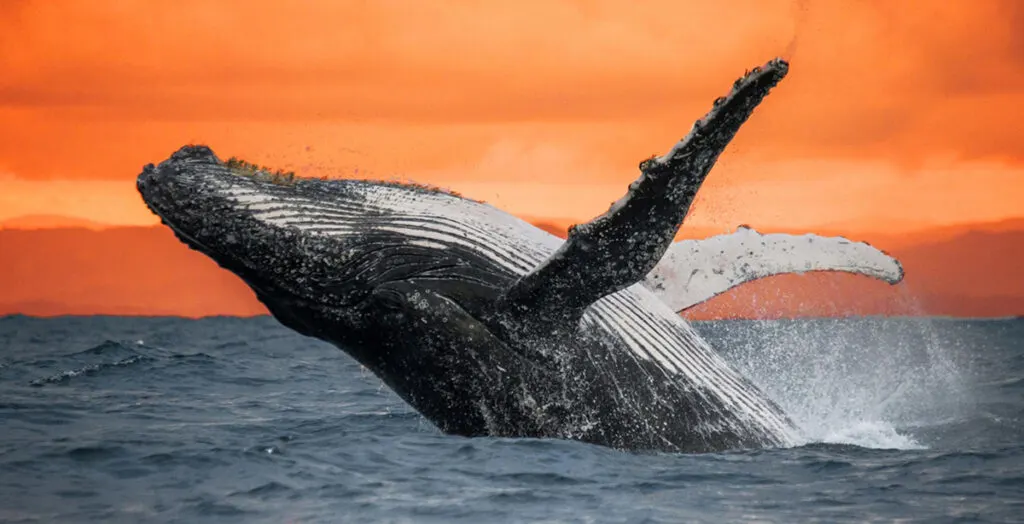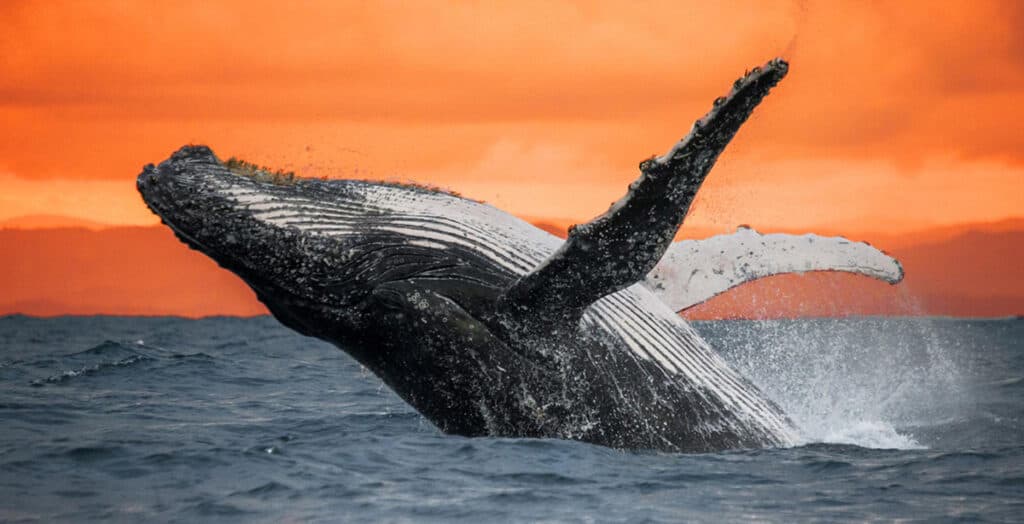 15 Santa Barbara Museum of Natural History
Looking to deepen your understanding of one of the most biodiverse areas in the world? Then you absolutely have to stop by the Santa Barbara Museum of Natural History!
This excellent museum will take you on a journey of the rich natural history of the area. You'll learn about how much the area has changed in the last several millions of years and discover how dynamic the land truly is.
16 Santa Barbara Museum of Art
Located in downtown Santa Barbara the SBMA houses art spanning 4000 years covering Asian, American and Europe ancient to modern art. The building itself is a relic, it was originally the Santa Barbara Post Office (from 1914 to 1932).
Today it's an impressive 60,000sq ft including several galleries, a library containing 50,000 books, an auditorium for events, a cafe and gift shop.
You'll find the works of Degas, Picasso, Rothko, Van Gogh, as well as ancient Greek, Roman and Chinese sculptures and antiquities. It's open Tuesday to Sunday.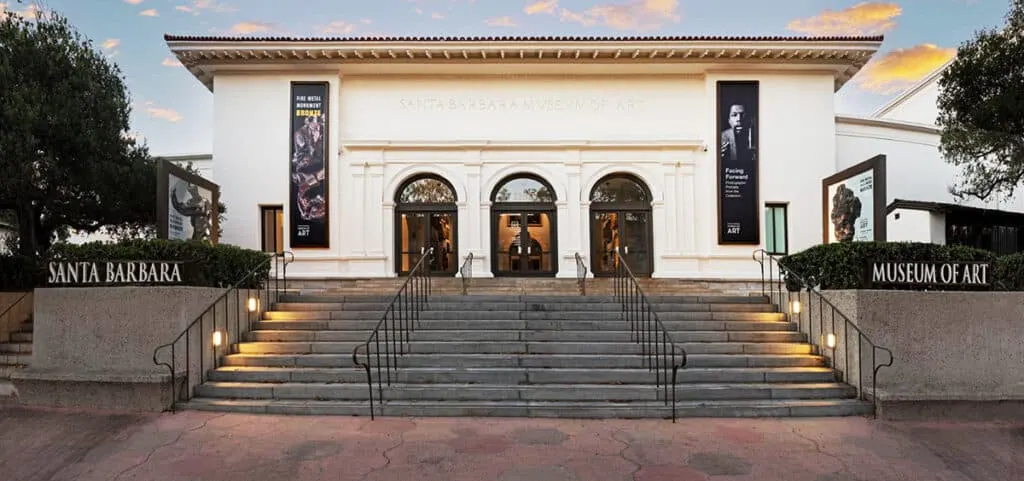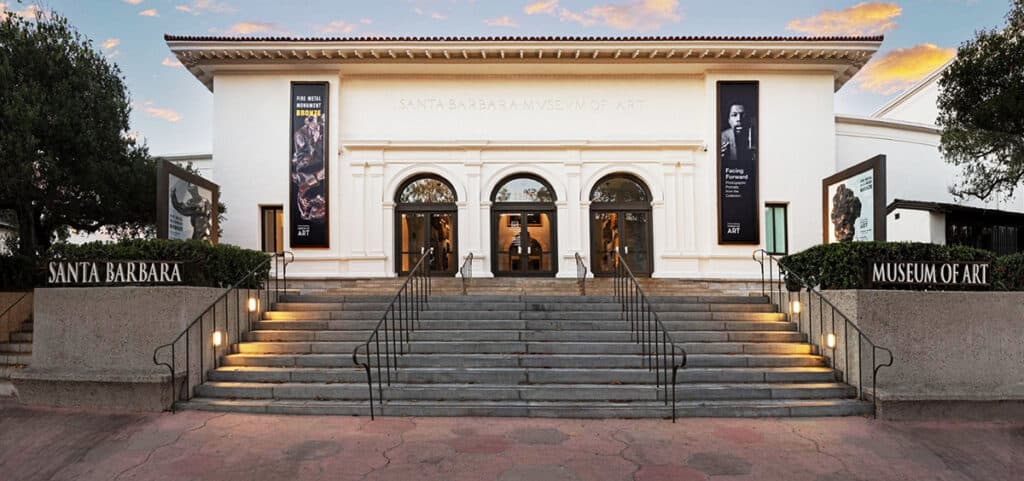 17 Visit the Courthouse Sunken Garden
One of the most beautiful places to visit in Santa Barbara is the Courthouse Sunken Garden.
The garden surrounds the old courthouse and is home to some of the most gorgeous flowers you'll find in Southern California. Tours are available every day promptly at 2 PM.
Don't forget to go into the Santa Barbara County Courthouse as well! This Spanish Colonial Revival style building was finished in 1926 and placed on the National Register of Historic Places in 1982.
The arches, tiles, and gates all reveal a high degree of craftsmanship that will leave you in awe of how much effort went into creating a truly remarkable building. Plus, you can walk up to the top of the clock tower to get a spectacular panoramic view of Santa Barbara below!
18 Old Mission Santa Barbara
Take a trip back in time by visiting the Santa Barbara Mission.
This beautiful church has served as a spiritual center ever since its construction in 1786 by the Spanish and continues to host Catholic services today. Outside of the sanctuary, you'll find a variety of interpretive sights to learn more about the rich history around the mission itself.
A can't miss stop is the Mission Museum. Here, you'll be able to view thoughtfully made exhibits showcasing the work that friars put into making this a communal center for generations.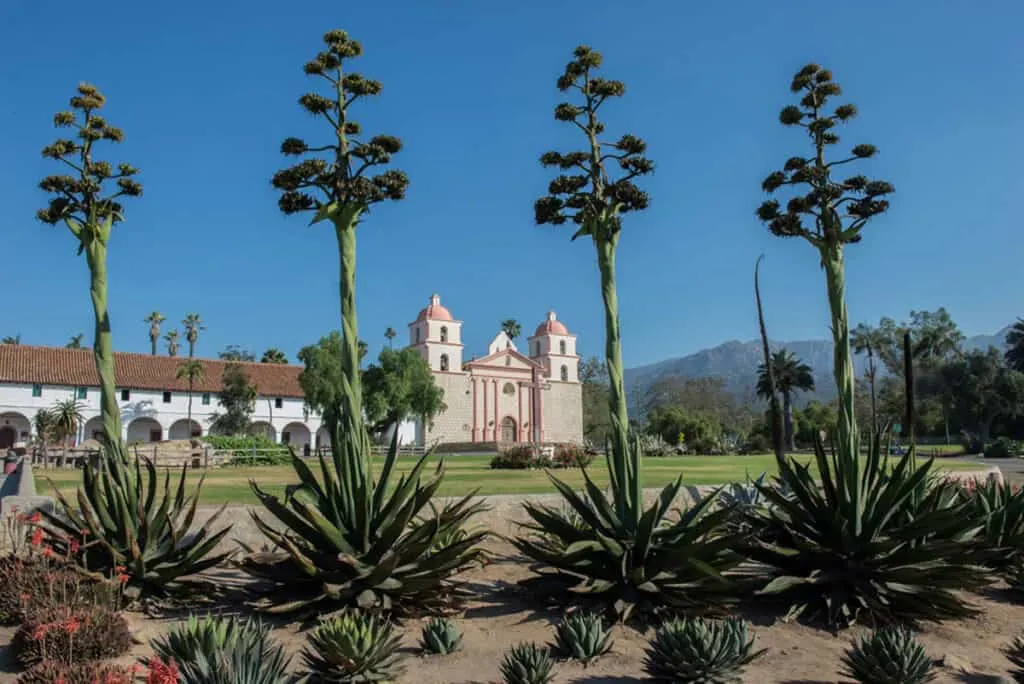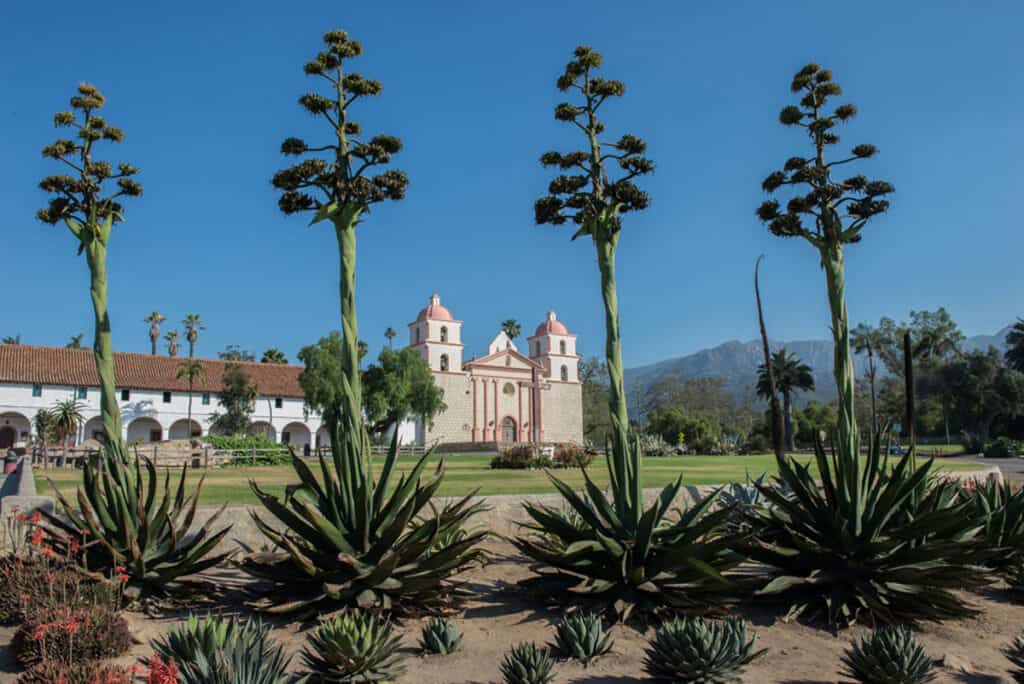 19 Santa Barbara Botanic Garden
This 78-acre garden focuses exclusively on California-native plants. Planted in 1926, Santa Barbara Botanic Garden has dedicated nearly a century of work to better understanding the relationship between plants and people.
Wear your trainers because there are five miles of easy walking trails criss-crossing the botanical gardens for a leisurely stroll past giant redwoods, cacti and beautiful flowers, plus great views of the Santa Ynez mountains that wrap around the city.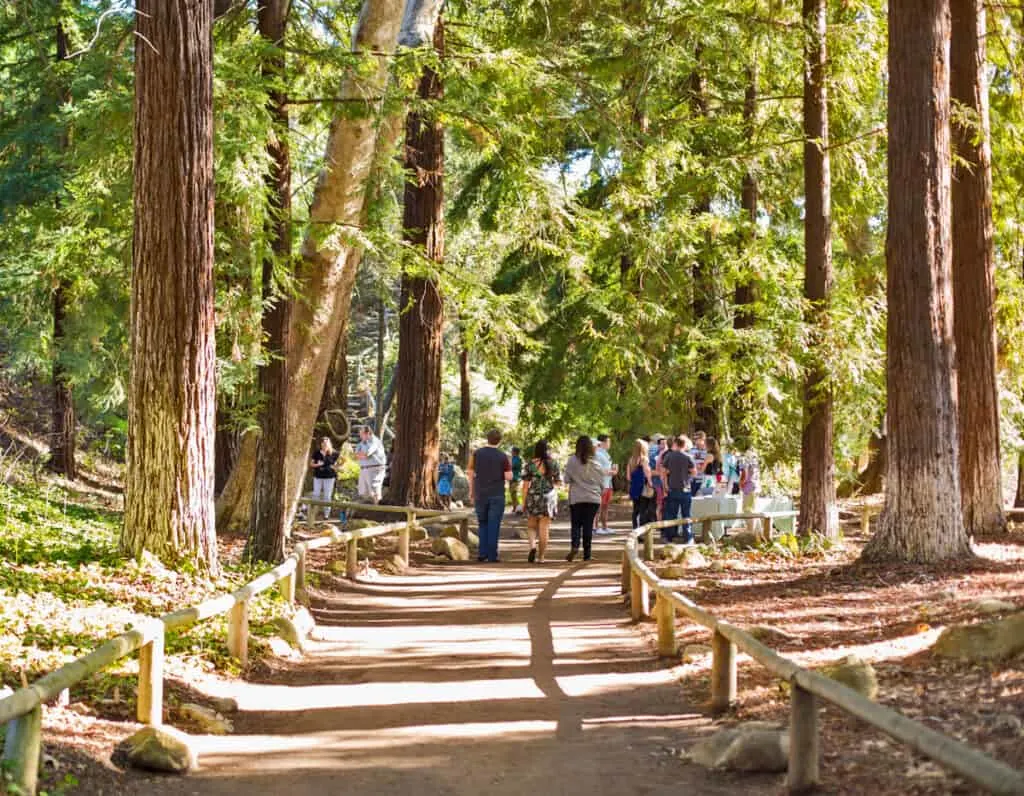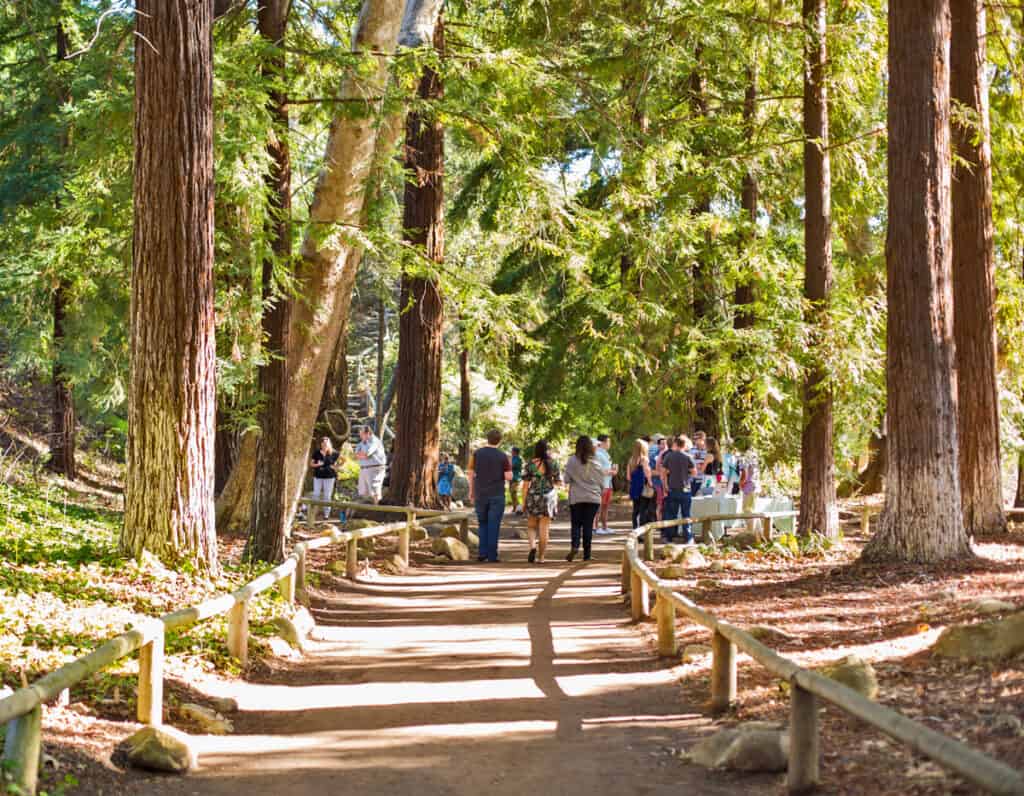 20 Go horseback riding
If you love horses, then you'll love a lovely morning ride along beaches and tree-lined trails, or sunset ride along Santa Barbara's beautiful coastline.
Los Padres Outfitters lets you design the itinerary you'd like on a private tour that suits all levels of riders on their horses and mules. Or if you're a true cowboy/girl you can do a multi-day ride.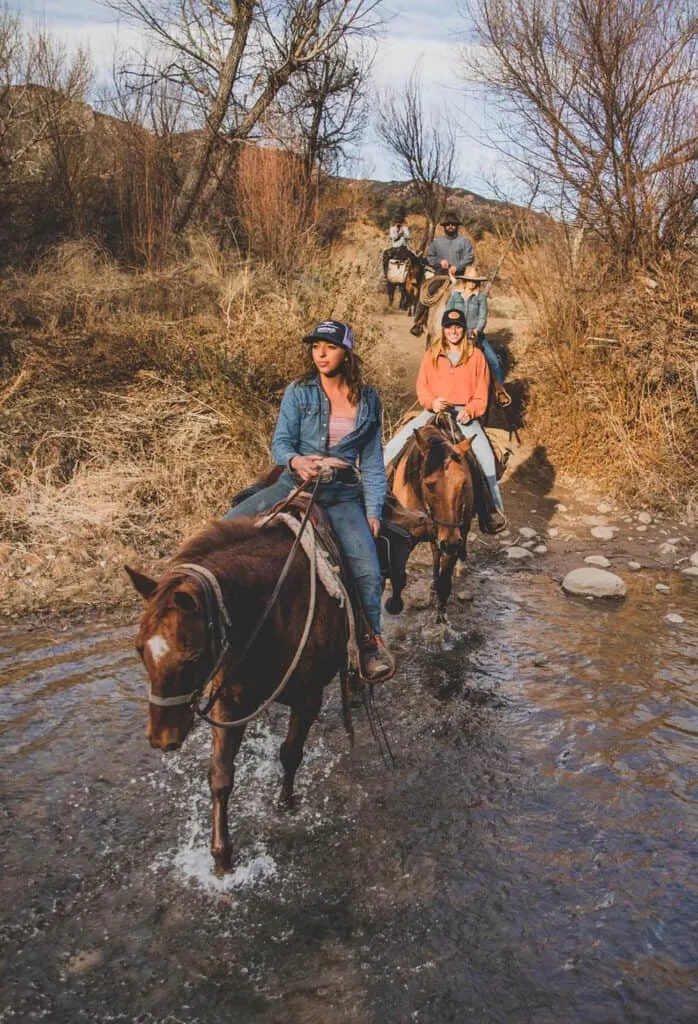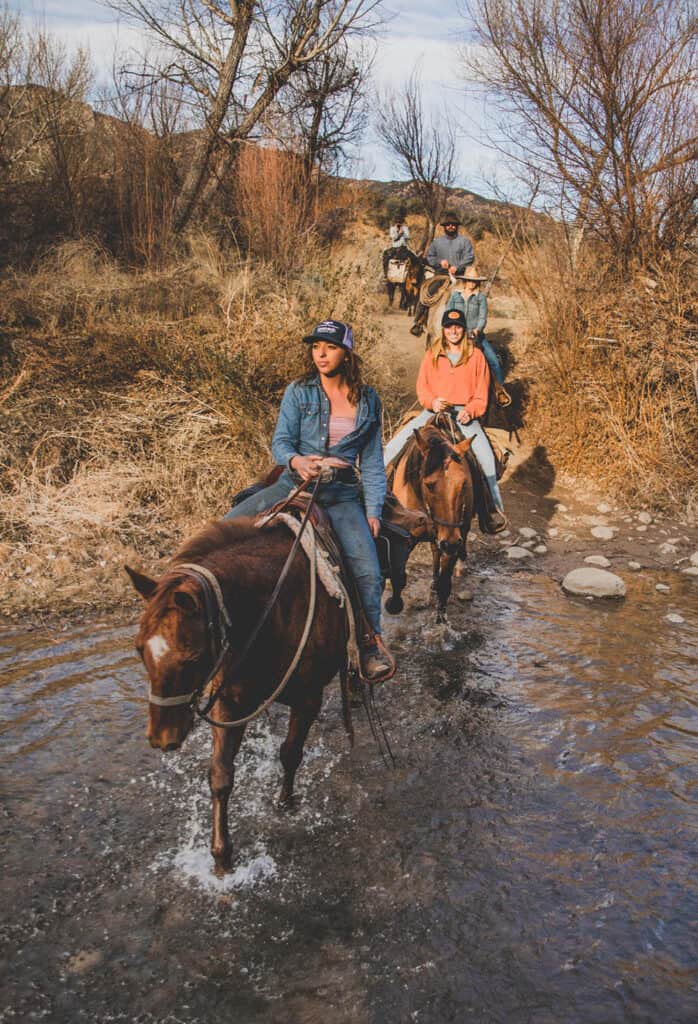 21 Dine in the Funk Zone
The perfect place to eat is the Funk Zone neighbourhood, located in a three block radius between the highway (101) and the beach in downtown Santa Barbara.
It was transformed from the "funky" smelling fish warehouses into a funky area decorated with murals and filled with wine tasting rooms and restaurants… award-winning restaurants.
If you want the best of everything, take a downtown walking foodie tour which covers about six blocks and you'll discover so many wonderful Santa Barbara foodie secrets! Book this tour now.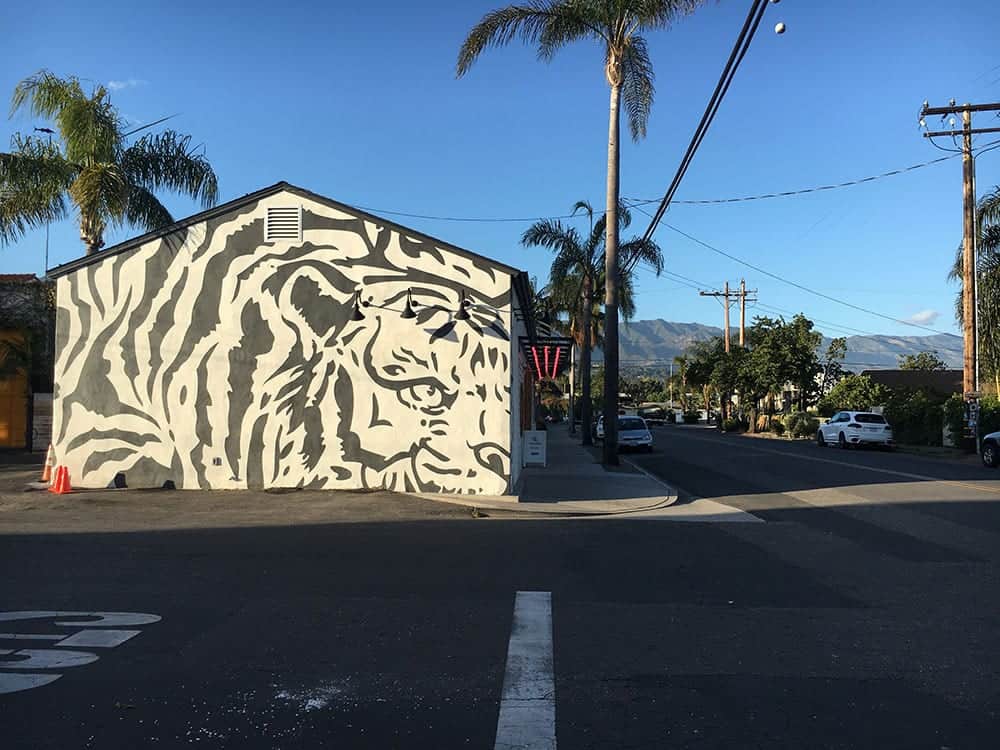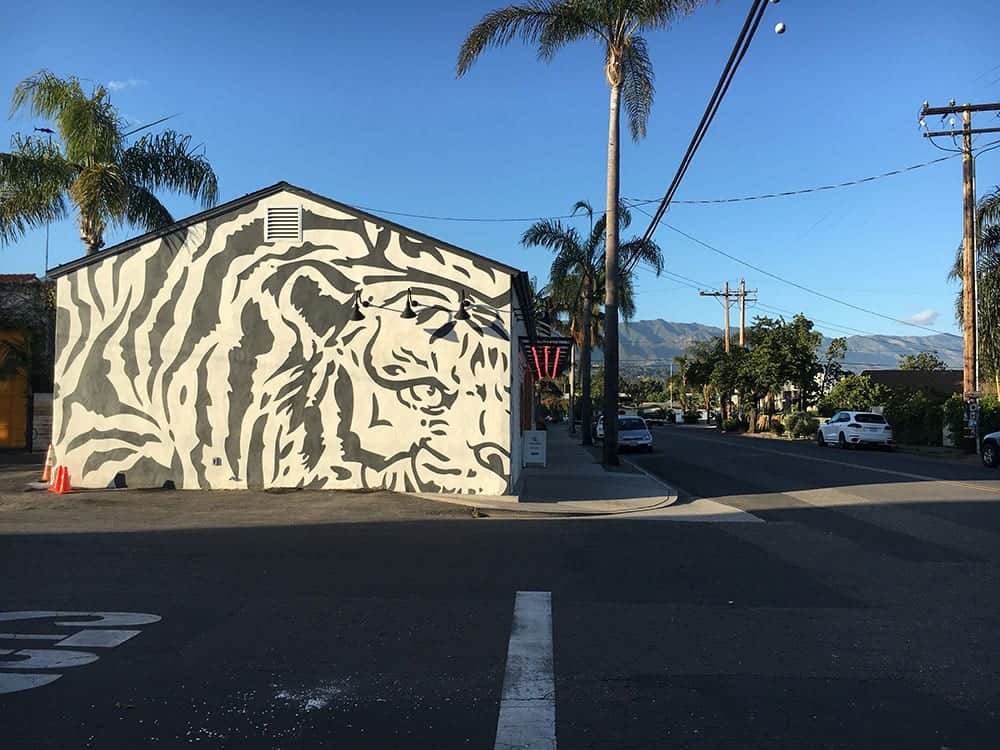 Our concierge suggested we try The Lark and as luck would have it our Uber dropped us off just across the road (we hadn't asked him to take us any where specific preferring to have a look around first.)
We were actually lucky we got into The Lark without a booking and enjoyed their famous shared plates and copied what our neighbors were eating – and recommended – as their plates looked delicious!
Think crispy fried brussel sprouts with medjool dates, chilli and lime. We also had a fish dish that our new friends had eaten and loved with lobster roe, fingerling potatoes and asparagus. Amazing! And "from the ranch" we had the pork rillettes which was a smoked pork belly and ham hock terrine style of dip in a jar served with crispy focaccia bread.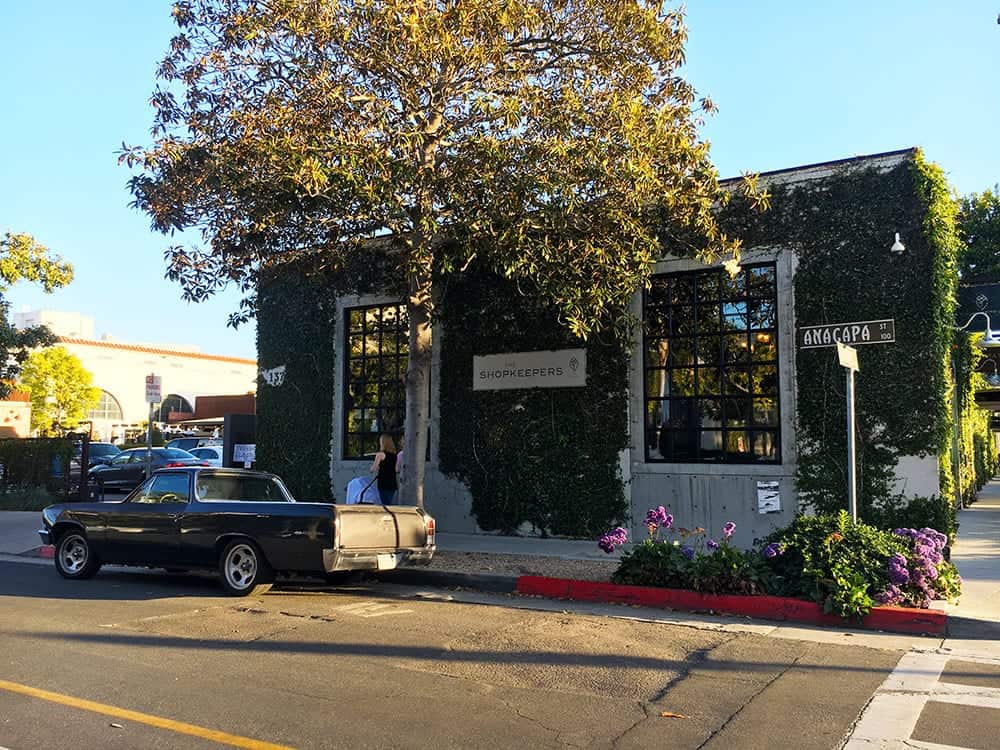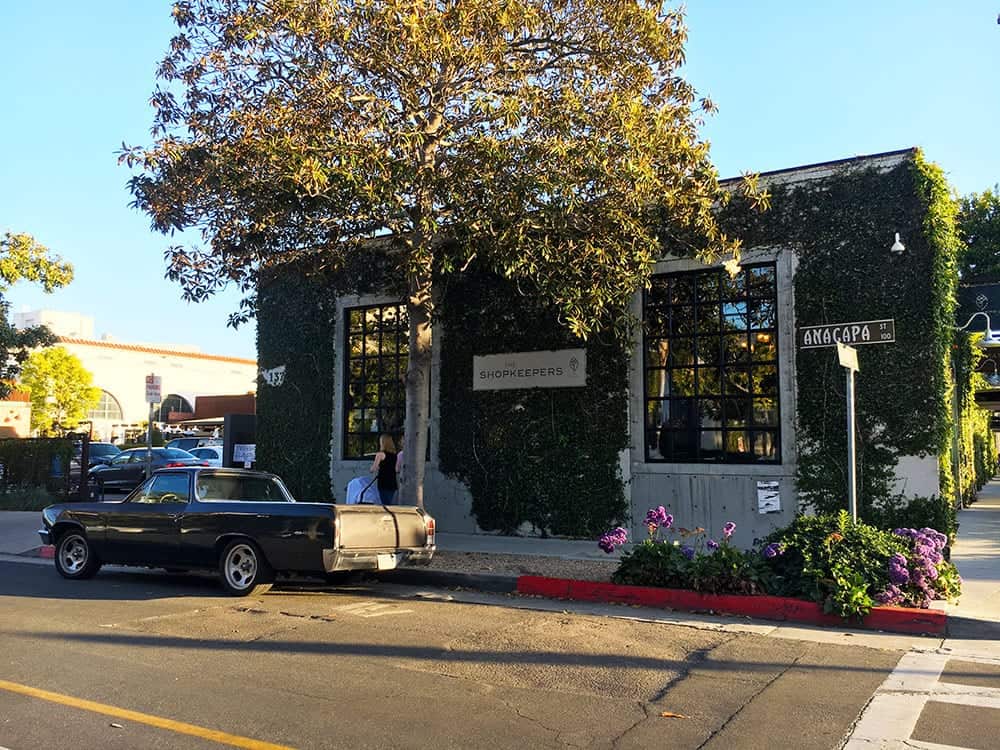 When we went to pay our bill, our neighbors – who had gone by now – had paid for our drinks and starters without saying a word! The Lark was recognised a week later with a Plate award in the Michelin Guide.
You'll find lots of great places to eat and drink in downtown Santa Barbara, so don't worry too much if your first choice is booked out.
For more ideas check out these top recommended Santa Barbara restaurants.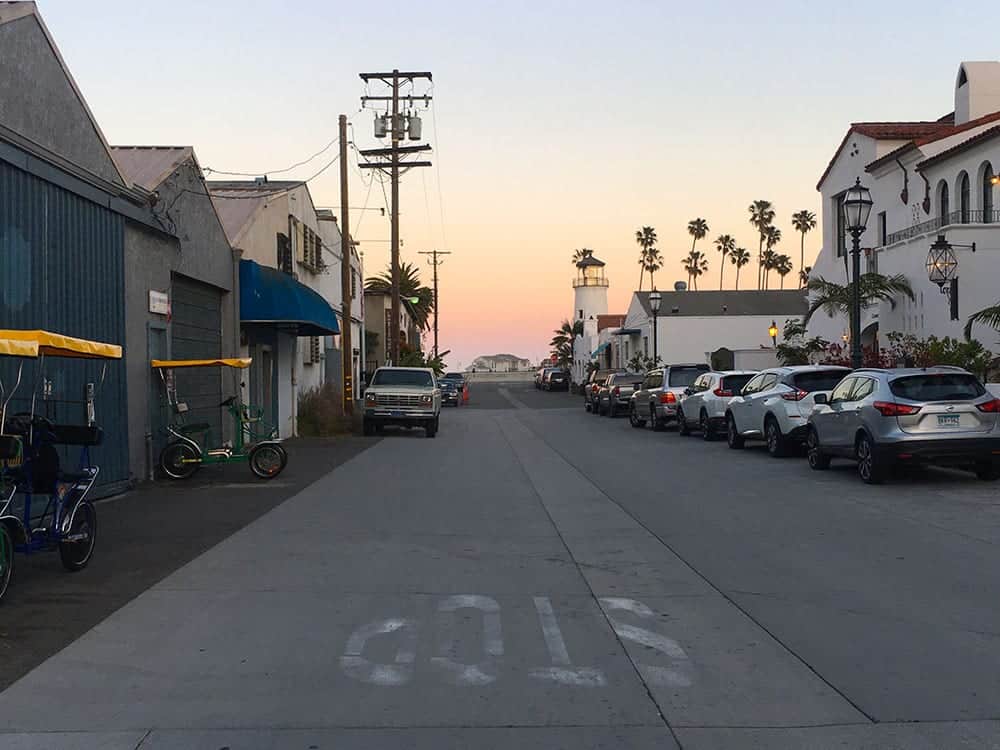 The next night we felt like Mexican and had a delicious meal at Santo Mezcal, back in the Funk Zone, but this time on the newly transformed ocean end of State Street.
They do a fantastic cocktail and the food was good, but The Lark was still my favourite!
Check out this list of Santa Barbara's Michelin Star restaurants.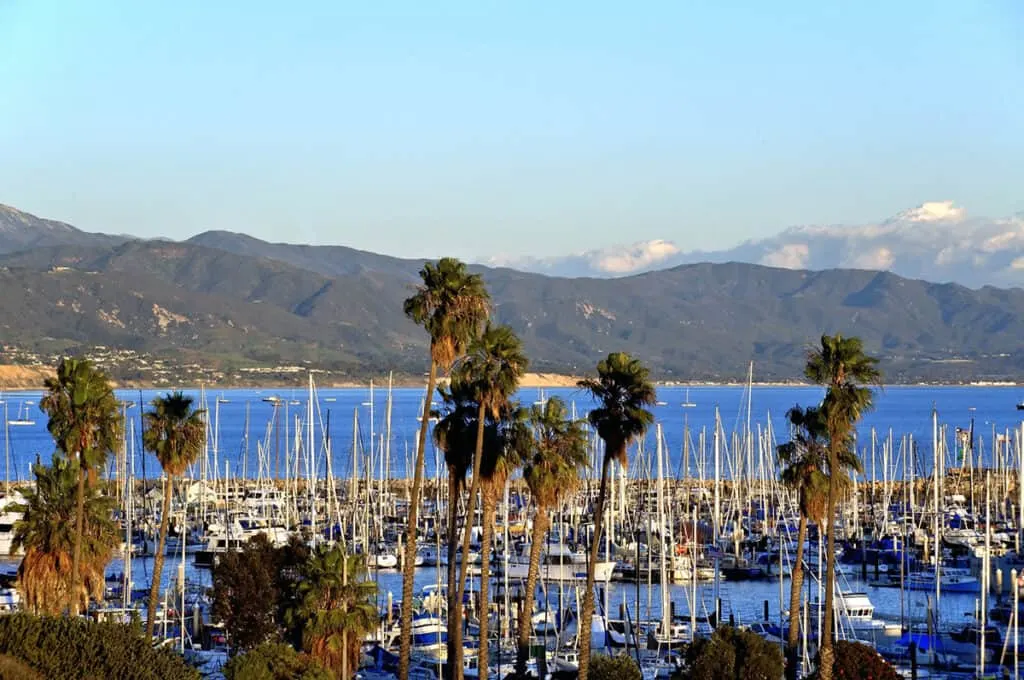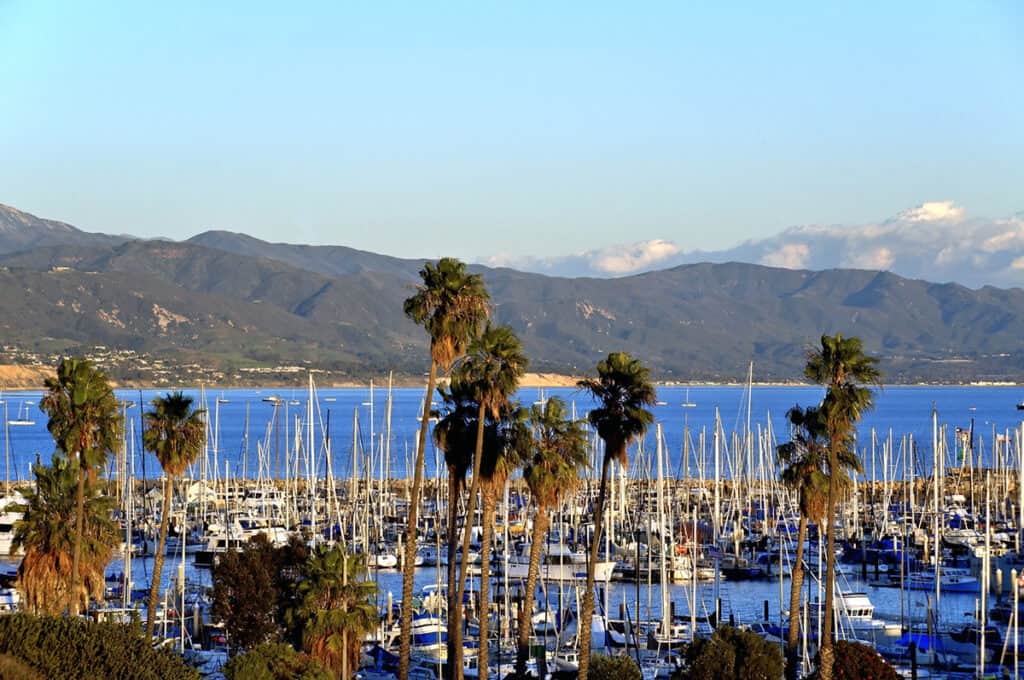 Santa Barbara is still the prettiest city in California, if you ask me. And it's a wonderful place for a vacation with the perfect blend of activities that will suit just about anyone.
From the picturesque views from the Santa Ynez Mountains to the amazing wine tasting opportunities, shopping, hiking, history and culture, there's sure to be something that you love about this amazing little town. So, the only question now is what will you do first?!
Santa Barbara is my recommendation for a 2-night stop if you're doing the Pacific Coast Highway drive between Los Angeles and San Francisco. Here's my itinerary for that epic road trip, which includes a free downloadable itinerary to print out.
I've covered 10 great California beaches for camping in this post, which you might also like.