If you're looking for a stunning fall road trip, you won't find anything more stunning than a New England road trip!
Winding through country roads under a canopy of rustic fall colors, staying in an elegant B&B or a lodge with a roaring fire and a glass of your favorite drop. Hiking, driving, stopping for photos.
New England covered in fall foliage is one of the most colorful destinations in the United States.
This post covers all six New England states, with tips for great places to take photos, hike and stare at the views, plus some recommendations for where to stay.
Whether you are looking for weekend break ideas or a much longer vacation, taking a New England road trip to see the incredible fall colors is breathtaking.
If you don't have the time to explore all of New England, this summer time Cape Cod road trip is an easy drive from Boston, or about four hours from New York and has more than 100 beaches to choose from.
Or if you've always wanted to do an East Coast road trip, try this itinerary from New York to Florida passing through Pennsylvania, Maryland, Virginia, North Carolina, South Carolina and Georgia.
When is the best time to see New England's fall colors?
You need to time it just right! And therein lies the difficulty with knowing just when to book.
It pays to be flexible, if you can be, between early October and early November. The colors are totally dependant on the weather, so each year they will turn at slightly different times.
(Of course being too flexible and not booking your accommodation well in advance means the prices will be higher. Or booked out! Yikes, it's a fine balance)
Pro tip: try and plan your visit mid-week to avoid weekend crowds (and rates)!
This detailed New England fall foliage guide should go a long way to helping you get the best views in the best places at the right time. It is filled with links to check up on the latest updates and provides everything you need to know to have a blast during your road trip.
You'll be leaf-peeping at all of the dazzling colors of autumn and enjoying this natural wonder, taking pictures like a pro! And if you are taking photos on your phone, I put together this easy guide for how to take great pics on an iPhone.
The six states of New England (Maine, Vermont, New Hampshire, Massachusetts, Connecticut and Rhode Island) edged by the Atlantic coastline and dotted with snow-capped mountains, are full of history and hidden gems, not to mention bathed in stunning color from about late September, so if it's not already on your road trip bucket list, you might want to add it after reading this!
New England is a hugely popular region for a USA road trip, and every fall the thick canopy of trees turn from green into bright yellows, reds, oranges and every shade in between, starting in the north and blazing south across hills and valleys.
Roads are carpeted with vibrant leaves, parks gleam with the colorful promise of winter, and mountainous landscapes take on a whole new character. The leaf peeping season has begun!
Best places to see the fall colors in every NE state
Below are my best tips for where to go and see fall in New England, as well as the best hiking trails, best viewpoints for photos and places to stay for leaf-peepers.
For the latest info on when the best colours will occur in 2020 visit the New England Fall Foliage forecast.
VERMONT IN FALL
One of the most famous places to visit and see New England's fall colors is Vermont.
Vermont in fall is a great place for first-time leaf-peepers to get a real taste of the beauty that fall brings to the region. Pack your favorite cosy sweaters along for a surreal getaway full of autumn fever!
Vermont boasts some of the most incredibly scenic parks, historic bridges, lakes and dams, making it a must-see during autumn.
The fall colors of the trees lining the winding roads are sure to ease you into a state of bliss. Taking a road trip through the southern region of Vermont is something you (and your camera) will never forget.
You can even visit Manchester Vermont for the weekend from NYC for fly fishing, hiking, kayaking or golf. Or just hit the shops and restaurants and soak up a little history.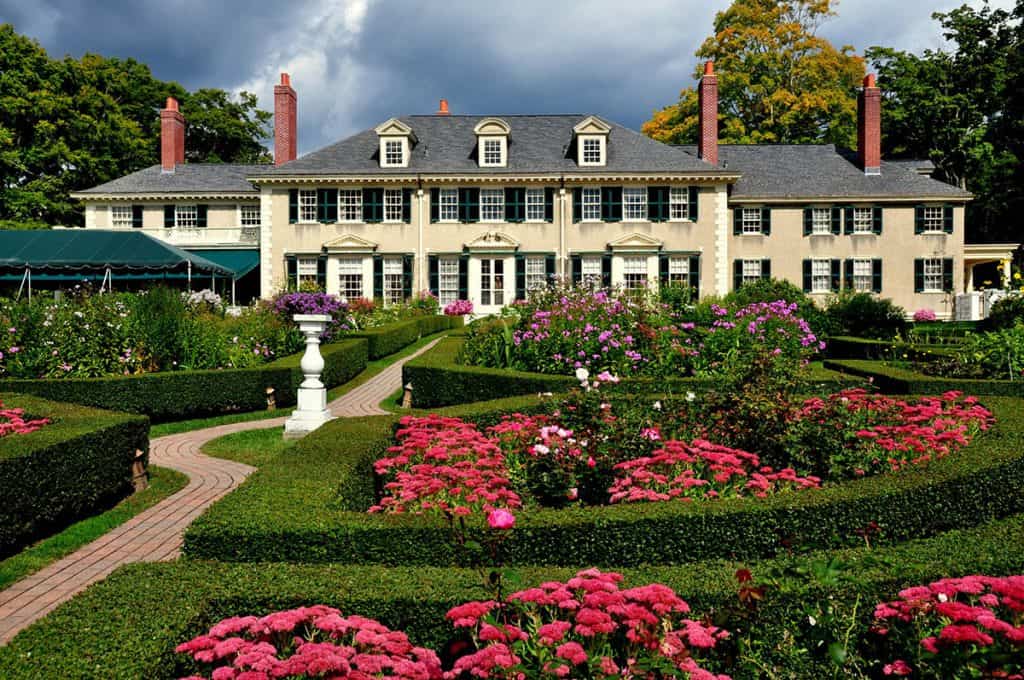 Best road trips in Vermont are:
Edson Hill and West Hill (10.9 miles)
Brush Hill (8.4 miles)
Craftsbury Common and Hazen's Notch (107 miles)
Jeffersonville, Johnson and Hyde Park (41.3 miles)
Stowe Hollow and Little River Dam (30.9 miles)
Where to stay in Vermont
Choosing where to stay in Vermont in the fall is all about finding a hotel that caters for your leaf-peeping needs. One of the best hotels to enjoy an easy escape is the Grafton Inn. This hotel is charming, with everything you need to be comfortable, whilst also offering beautiful leaf-peeping opportunities.
Best hikes to see Vermont fall foliage
Hiking during fall is an ideal way to marvel at the beauty – and take plenty of pics. Some of the best hikes for nature lovers and leaf-peeping enthusiasts are:
Each of these trails has its own unique tone, and they're all suitable for beginner hikers.
Best fall viewpoints in Vermont
Vermont has so many gorgeous landscapes that become even more beautiful during the fall. The best places to go to soak in the sights of the fall colors in Vermont are found on:
Equinox Mountain
Bromley Mountain
Emerald Lake State Park
Perfect photo opp in Vermont
Vermont is known for having stunning apple orchards, and your road trip here would not be complete without stopping to enjoy one.
If you're looking for the perfect photo op (and to pick up a couple of bottles of their delicious cider), look no further than Champlain Orchards. It captures the historic feel of Vermont, whilst also providing sweeping views over the surrounding mountain range's foliage.
NEW HAMPSHIRE IN FALL
Another must-see destination for leaf-peeping in New England is New Hampshire in the fall. This dreamy location is a haven to go to with your loved ones to revel in the scenery of autumn, with mountainous backdrops galore.

This laid-back and old-country destination provides so many gorgeous pit stops, with plenty of sightseeing opportunities. Here are some amazing driving routes for leaf-peeping:
Currier & Ives Scenic Byway (30 miles)
Moose Alley (12 miles )
The Kancamagus Highway (56.39 miles)
The Lakes Loop (134 miles)
The Sunapee Loop (140 miles)
Where to stay in New Hampshire
New Hampshire is overflowing with chic, cosy and picturesque accommodation spots dotted throughout. However, not all of these options have unforgettable foliage views of New England.
The best option for leaf-peepers is to stay at the Omni Mount Washington Resort. This luxury hotel has unbeatable views over the surrounding forest during fall that will keep you captivated and elegant rooms to luxuriate in when you've come back from yet another photo walk.
Best hikes in New Hampshire
Hiking in New Hampshire is sure to be a rewarding experience for everyone wanting to enjoy priceless views of New England in the fall. Here are some excellent hiking trails that will take you on exquisite journeys through the wilderness.
Best viewpoints in New Hampshire
If you're looking for the pinnacle viewpoints in New Hampshire, then you're in luck. Here are the best places to go to indulge in marvellous sightseeing during the fall.
Mount Monadnock
Foss Mountain
Toho Beach
Jericho Mountain State Park
Perfect photo opp in New Hampshire
Capturing the essence of New Hampshire fall foliage is best done at Franconia Notch State Park. Here you have many open spaces to explore and get lost in the colours of autumn. Let your inner creativity go wild and snap some of the most beautiful pictures of the mountainous landscape and stunning natural habitats.
MAINE IN THE FALL
Get ready to take your leaf-peeping to a whole new level. Maine in fall combines the timeless treasure of autumn colours with the seaside charm of the coast.
Maine is a great addition to your list of fall bucket list ideas, and it makes for an awesome destination to stop do some adventuring during your road trip.
In fact, it's unmissable – a trip to enjoy leaf-peeping in New England is not complete without a rendezvous here. Be sure to bring your journal, as the picturesque surroundings and the rich atmosphere of Maine are bound to inspire some thoughts.
Here are some of the most scenic routes to take:
Acadia Byway (40 miles)
Old Canada Road National Scenic Byway (15 miles)
Million Dollar View Byway (8 miles)
Grafton Notch Byway (21 miles)
State Route 11 – Fish River Scenic Byway (38 miles)
Where to stay in Maine
Maine gives travellers a true paradise, with accommodation options that each have their own unique character and that encompass different facets of the state. The best place to stay in Main to enjoy a New England autumn is the Bethel Inn Resort.
Come here to relax and marvel at the beauty of fall. You can also take time out to partake in outdoor activities like tennis, swimming and golfing. These activities allow you to get active whilst leaf-peeping.
Best hikes in Maine
Maine will delight and surprise you with the amount of hidden gems it has, all just waiting to be discovered. Some of the best hiking trails for those wanting an intimate leaf-peeping experience are:
These hikes will give you extraordinary perspectives of autumn in New England.
Best viewpoints in Maine
Get ready to be awestruck as you enjoy leaf-peeping over these majestic vantage points. Journey to these treasure troves of picturesque views over New England in Maine:
Bradbury Mountain State Park
Mount Battie
Mount Kineo
Baxter State Park
Perfect photo opp in Maine
Found in the scenic Grafton Notch State Park, the Screw Auger Falls makes for a fantastic photo spot. Whether you want to get a romantic selfie with your partner, a triumphant picture of you during your road trip, or a scenic image of the foliage – you will get it right here.
MASSACHUSETTS IN FALL
Leaf watching is one of the most exciting activities to partake in while venturing Massachusetts. A road trip through this trendy destination is going to leave you feeling extremely fulfilled while giving you insurmountable views of the colorful trees.
There are ample routes to take to get a full experience of the magical fall colors. Some of the best for you to drive along are:
Battle Road Scenic Byway (14 miles)
Mohawk Trail Scenic Byway (69 miles)
Old King's Highway, Route 6A (62 miles)
Essex Coastal Scenic Byway (90 miles)
Jacob's Ladder Scenic Byway (35 miles)
Where to stay in Massachusetts
Leaf-peeping in Massachusetts can be done so beautifully at some of the stunning accommodation spots. A fantastic option for your fall road trip adventures is to say at the Fairfield Inn & Suites Great Barrington.
You can wake up with a hot cup of coffee and enjoy sprawling views of the trees changing color right before you.
Best hikes in Massachusetts
Get your blood pumping and your body moving on an enchanting hike as you leaf peep on some of the most famous trails. Here are the best hiking trails to enjoy the fall colours:
Best viewpoints in Massachusetts
Your breath will be taken away as you soak in the glory of the fall colors from these viewpoints. Some of the must-see peaks are:
Tully Mountain
Mount Watatic
Hermit Mountain
Perfect photo opp in Massachusetts
The entire Ipswich River Wildlife Sanctuary provides elegant, yet vibrant and scenic views. You will be submerged in a wonderland of leaves and tranquil surroundings as you enjoy the many picture-perfect spots found throughout the sanctuary. No matter where you go, the perfect photo opportunity will be waiting for you!
RHODE ISLAND IN FALL
Your New England road trip will take a turn for the ocean as you head to the ever-beautiful Rhode Island for some premium leaf-peeping. This popular destination will give you the perfect escape. Enjoy central, colonial towns and golden, sandy shorelines.
You'll take in the magnificent views of the landscapes as you drive these scenic routes during fall:
Newport and Ocean Drive (14 miles)
Conanicut Island (22 miles)
Route 3 (48 miles)
Route 1A (61 miles)
Route 138 (77 miles)
Where to stay in Rhode Island
Rhode Island is a spunky, yet old-school destination that strikes the chords of many hearts.
It's a beautiful place to stay for a night and has a lot of accommodation options that will give you great leaf-peeping opportunities. One of the best places to stay in Newport is The Chanler at Cliff Walk.
Best hikes in Rhode Island
To treat yourself to some R'nR and some amazing views during a hike in Rhode Island, you can consider a number of trails. This island is known for having legendary hiking spots to explore during the fall. Some of these are:
These hikes are leisurely and have spectacular scenery.
Best viewpoints in Rhode Island
Rhode Island has some extraordinary viewpoints, with some allowing you to see the contrast of the fall colors against the blue ocean waters. These are some places with remarkable viewpoints:
Arcadia Management Area
Bridge in Roger Williams Park
Slater Memorial Park
Perfect photo opp in Rhode Island
White Mill Park is every photographer's dream come true. It is teeming with color, scenic trails and a serene lake that reflects back the magic of the trees. It's the perfect place for a photo op of any kind, with many incredible backdrops and areas.
CONNECTICUT IN FALL
The spectacular fall foliage blanketing Connecticut usually reveals itself between early October and early November, with peak viewing in the northeast and northwest corners of the state around Columbus Day (the second Monday of October), then following down the state from then.
The Nutmeg State is awash with bright yellows of tulip poplars and hickory, deep red maples and purple ash, with Connecticut home to some the most diverse tree species in all of North America being ideally located in the Appalachians.
If the latter half of September provides cool overnight temperatures, peak colours will arrive on time.
See the latest on CT fall foliage week by week predictions >
Here are some popular routes to drive during fall as recommended by Connecticut Tourism:
Colchester and Salmon River
State Route 169
Connecticut River Loop (80 miles)
Merritt Parkway/Scenic Fairfield County (115 miles)
Litchfield Hills (100 miles)
Hartford West (90 miles)
Mystic Country and Coast (90 miles)
Where to stay in Connecticut
You could stay on the coast, in the countryside or even on the grounds of Yale in elegant accommodation, so it depends on whether you'd like to walk to restaurants and shops or be far from civilisation and hunkered down.
I like the Wallingford Victorian Inn for its lush, traditional decor and no expense spared decadence! We are talking fancy, just five suites and gourmet food – and all within a few minutes from beautiful Sleeping Giant State Park.
Best hikes in Connecticut
Strap on your hiking boots, charge that camera, grab a water bottle and head out for a hike (or a stroll on some of these!)
These hikes are easy to medium, short and long.
Best viewpoints in Connecticut
If you're looking for the best views in Connecticut for that photo memory, here are some to start with:
Sleeping Giant at Hamden State Park
Goodwin Conservation Center
Mt Tom State Park, Litchfield
Head to the coast – leaves turn later down here
Perfect photo opp in Connecticut
How about this for a photo op! Get up bright and early (before sunrise), put on your arm clothes (and boots and socks, there's a lot of hanging around while they get the balloons blown up and you're standing on chilly grass!) and take a hot air balloon ride with CT Ballooning.
Phew! There you have it. Some helpful tips and loads of ideas to help you plan your New England fall road trip itinerary.
Maybe fancy hotels are a bit beyond your budget, no worries you can always stay in an Air BnB. Here are the best in AirBnBs in New England to check out.
If you are planning a New England road trip in fall or any time of the year, click here for the official Discover New England website for more info.
_________________
>> For a warmer road trip, you might to read my Pacific Coast Highway drive from LA to San Francisco in 5 days or my 4-day fabulous Miami to Key West drive!