Manchester Vermont might not be on everyone's list for a road trip from NYC, but you will be pleasantly surprised, as guest blogger Sunand Iyer from Escape with Miles and who's based in New York City, found out.
When I planned a Memorial Day Weekend trip from NYC with friends, Manchester, Vermont was not initially at the top of my list.
But at just over four hours' drive from New York or three-and-a-half hours from Boston, it makes for a great getaway.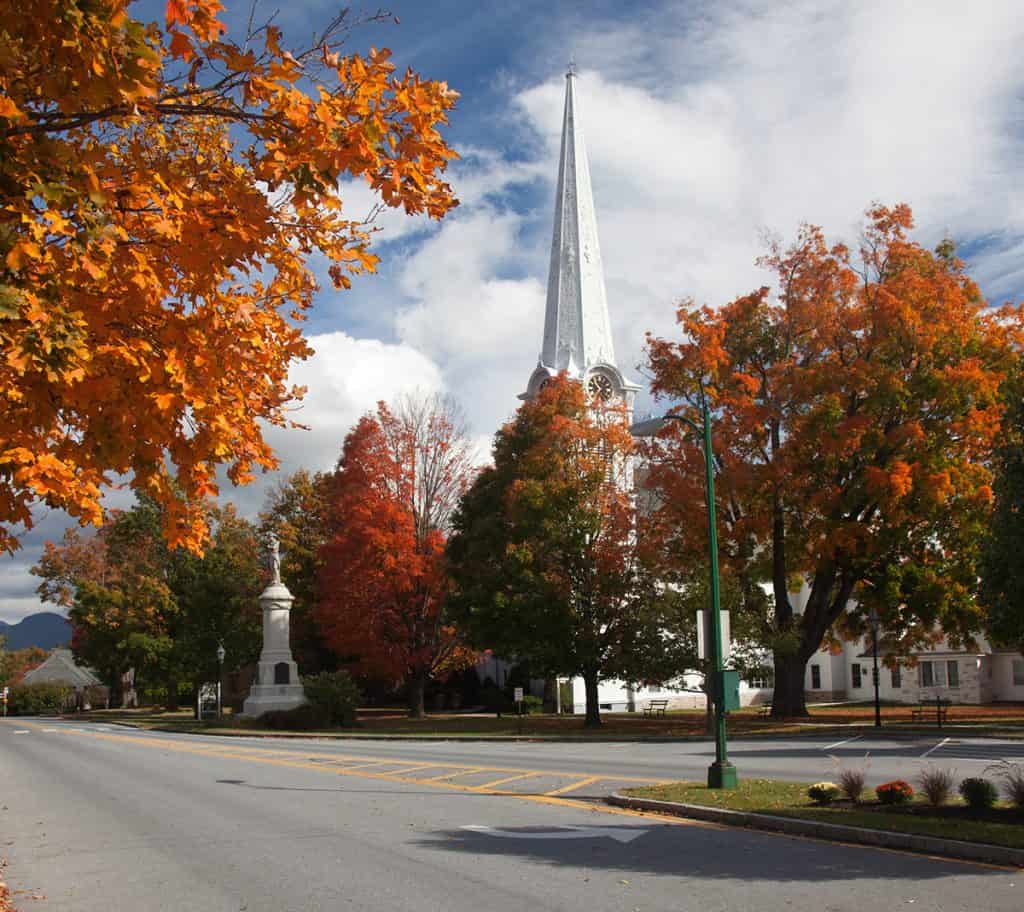 Nestled in the Green Mountains, we soon found this charming New England town to be the perfect weekend escape. Nature lovers, shoppers, and foodies will all find something to love in this town.
Or if you want to do a longer vacation in New England in fall for fabulous fall foliage during leaf peeping season, my post covering fall road trips in all 6 New England states will be a great place to start!
Things to Do in Manchester VT
Below is a non-exhaustive but very handy list of things to do in Manchester Village which will get you started at least.
Hiking!
The mountains around Manchester are absolutely stunning. Aptly named, the color of the Green Mountains is something I still think about. The Appalachian Trail (which meanders over 2000 miles through 14 states) passes through VT.
If you're not content with just driving around the area enjoying the mesmerizing views, you can explore some not too difficult hiking trails in the area. The two most popular trails are the Lye Brook Falls Trail and the Prospect Rock Trail.
I only had the opportunity to do the Lye Brook Falls Trail as it was raining for most of my visit. This 4.4-mile round-trip walks through the Green Mountain National Forest to the Lye Brook Falls.
It was clearly paved and heavily trafficked, which provided a sense of security in the woods. Rated as a moderate trail, it wasn't that difficult for me, despite only being an amateur hiker. The view of the waterfall was completely worth the hike. Additionally, with only a short extra climb, I was able to reach a higher vantage point to see the falls.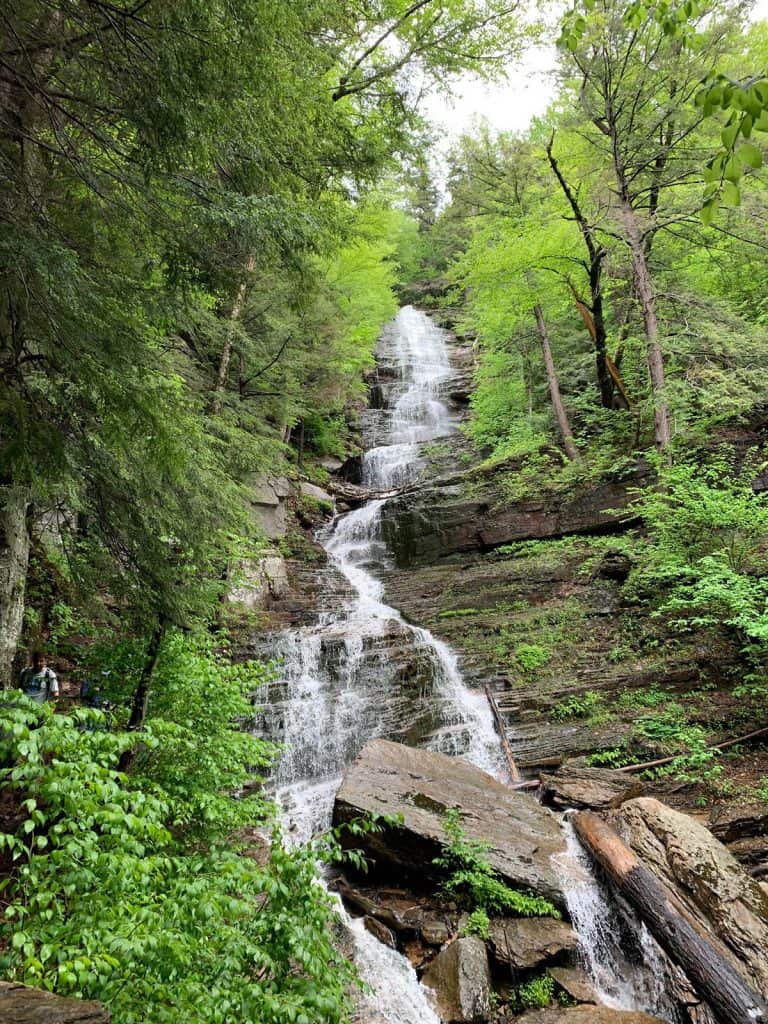 The Prospect Rock Trail is slightly shorter at 3.5 miles roundtrip and provides a view of the Manchester Valley. While the weather did not cooperate for me to do this hike, I have heard the beautiful views are worth exploring.
Go mountain biking
If you're a nature lover and love to get out and breathe in the fresh air, there are three small mountain biking trails in Manchester for kids through to experienced riders, but plenty more throughout the state.
Drive to Mount Equinox Summit
If you are not in the mood for hiking, you can drive up to the summit of Mount Equinox. The summit, at 3,846 ft, is the highest in the Taconic Mountain Range, and the Mount Equinox skyline drive offers stunning panoramic views.
It costs $20 for the car and driver and an additional $5 per person, with children 10 and under, going free. The drive is only open during the summer and early fall.
The Taconic Range is part of the Appalachian mountain range. It stretches southwest of Brandon VT to northern Putnam County NY, climbing 3,816 feet (1,163 m) to Mount Equinox and includes Mount Frissell (2,380 feet [725 m]), the highest peak in Connecticut.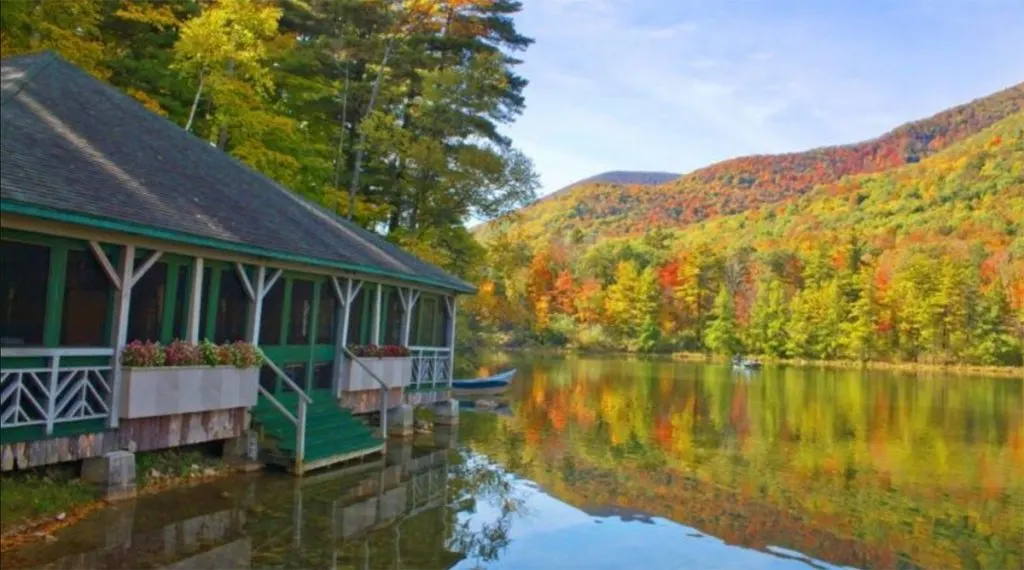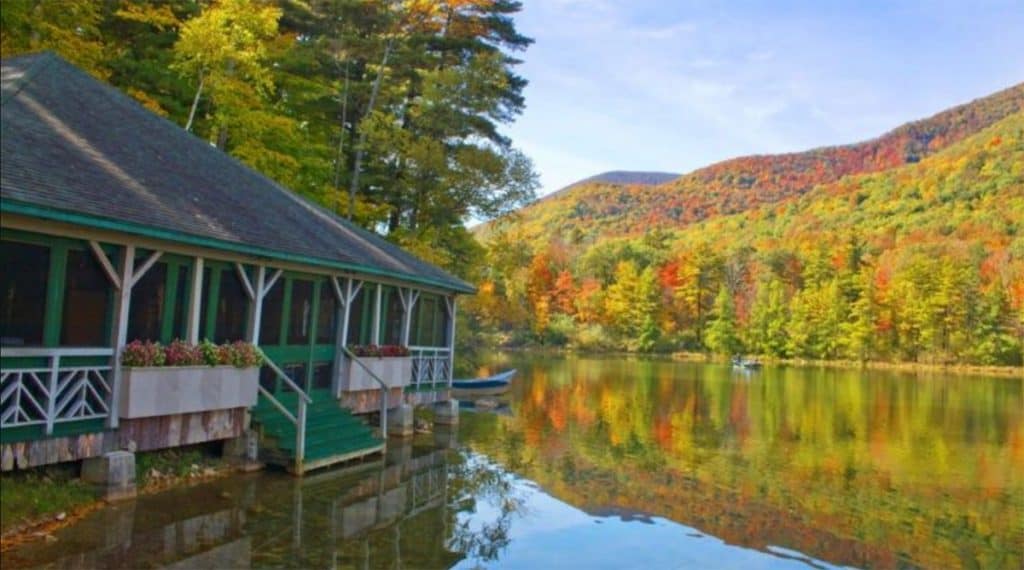 Walk around the City Center
Manchester Center itself is a picturesque town. Definitely make some time to just walk around the area, as the combination of the charming buildings and green mountains in the background make for an amazing sight.
The colorful buildings and walkable streets give a very colonial vibe. As someone surrounded by skyscrapers in New York City, it was quite a nice break to take in the peaceful streets of the beautiful town of Manchester.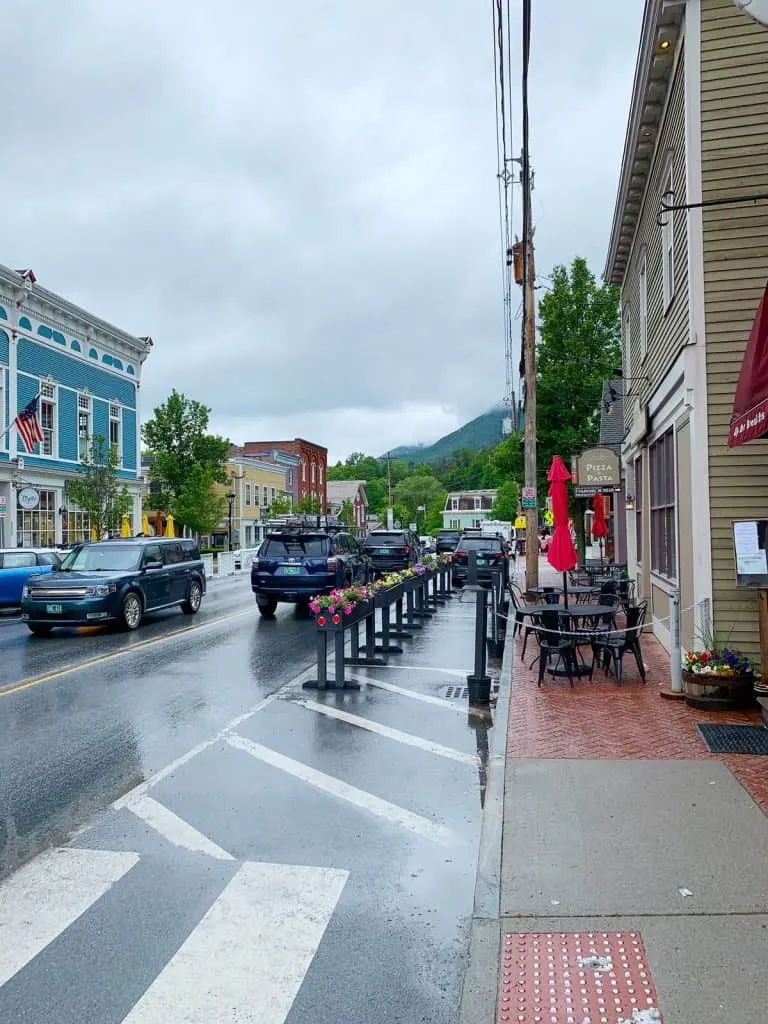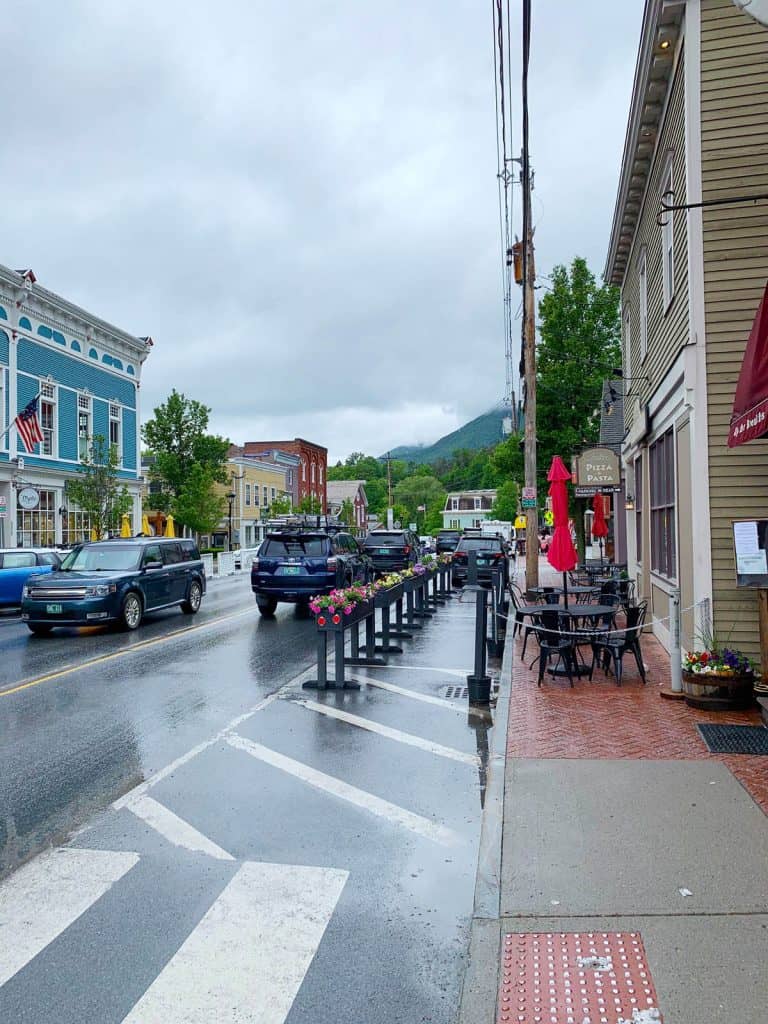 Enjoy live music
Live music is played in many locations, including outdoor events in summer. Check out upcoming events for the Manchester Festival of Music, held each year in summer.
Or head to the mountains for live music across a variety of genres at Stratton Mountain Resort under the stars during summer.
Stratton Mountain opened in 1961 as a ski resort and now has 11 lifts including New England's first high-speed six-passenger lift. It has 99 trails, glades, and terrain parks.
Hildene, the Lincoln Family Home
Located just south of the city center is Hildene, the summer home of Abraham Lincoln's eldest child.
This 412-acre estate has numerous historical buildings along with a formal garden. There are a wide variety of programs to choose from, including doing basic farm chores and learning more about the Lincoln family.
This is especially a must see for people interested in history and has activities for all ages. More information can be found here.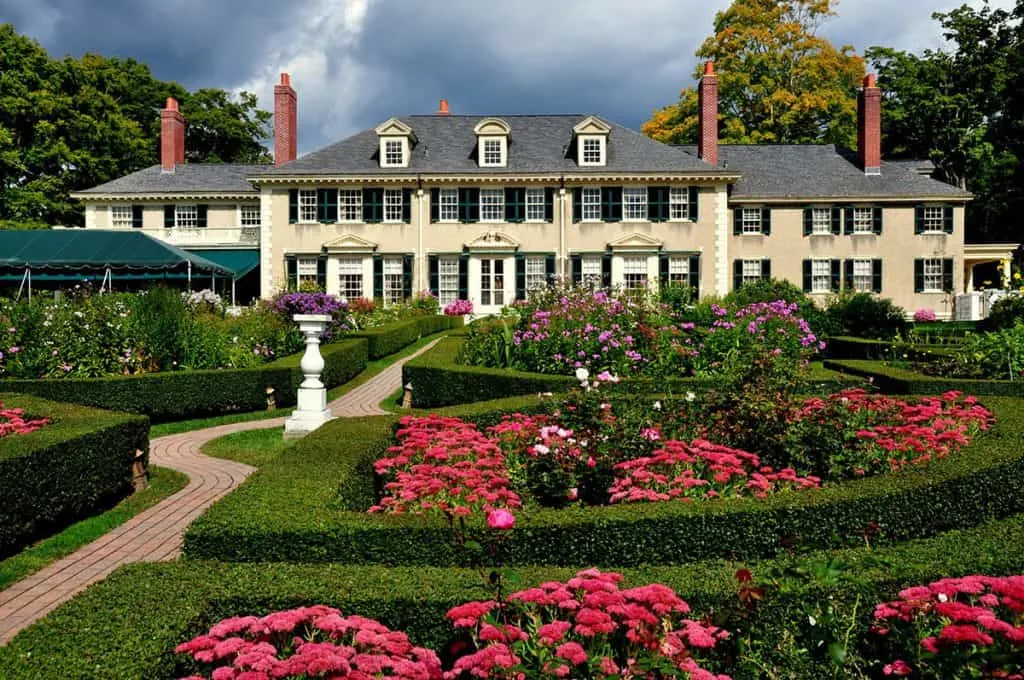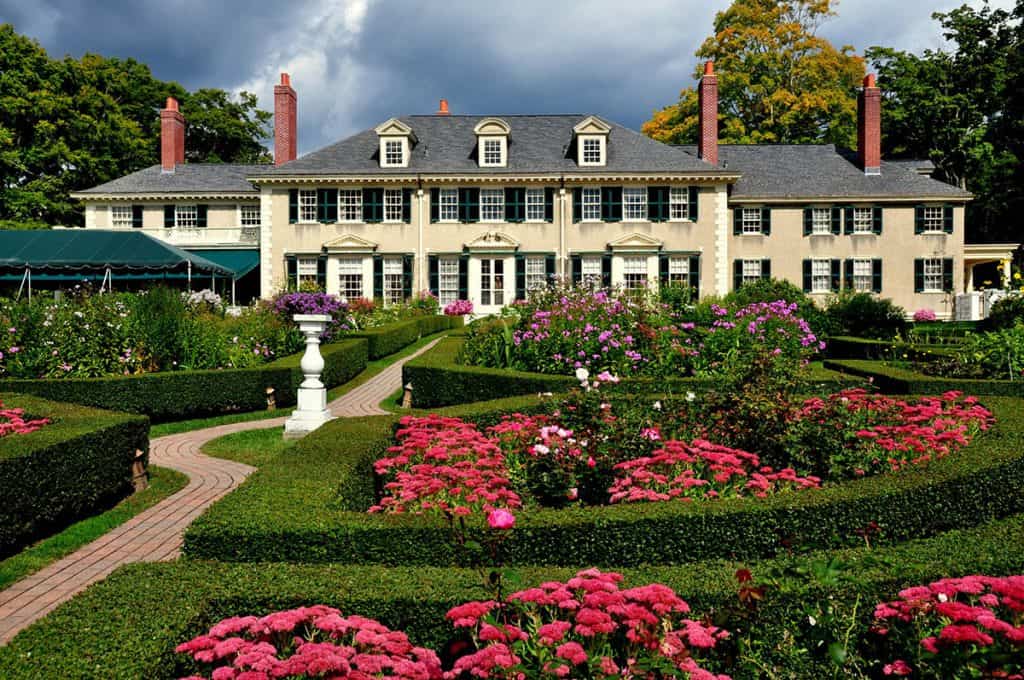 Bromley Mountain
Located less than 15 minutes outside of Manchester, Bromley Mountain is somewhere all action lovers should visit.
There are adventure parks, and you can ride one of the longest alpine slides in the world which you ride on a luge! If you're planning a ski trip in the winter, Bromley Mountain will mean you can ski during the day and explore Manchester in the evening.
Although it's more popular in the winter as a ski resort, they do have plenty of activities during the summer, with some listed above.
Go sleigh riding!
If you're visiting Manchester in winter, a sleigh ride is a fun activity for families or friends. Take a horse-drawn sleigh through winterland with your love – or the kids!
This unique experience is available at several resorts and some include dinner, trail rides or book one as part of a romantic weekend package. This could be the perfect place to propose. Just saying.
Established in 1968, this museum preserves the history of American angling and its impact on American culture.
There are thousands of items related to angling, that chronicle the development of fly fishing. More information about this extremely unique museum can be found here.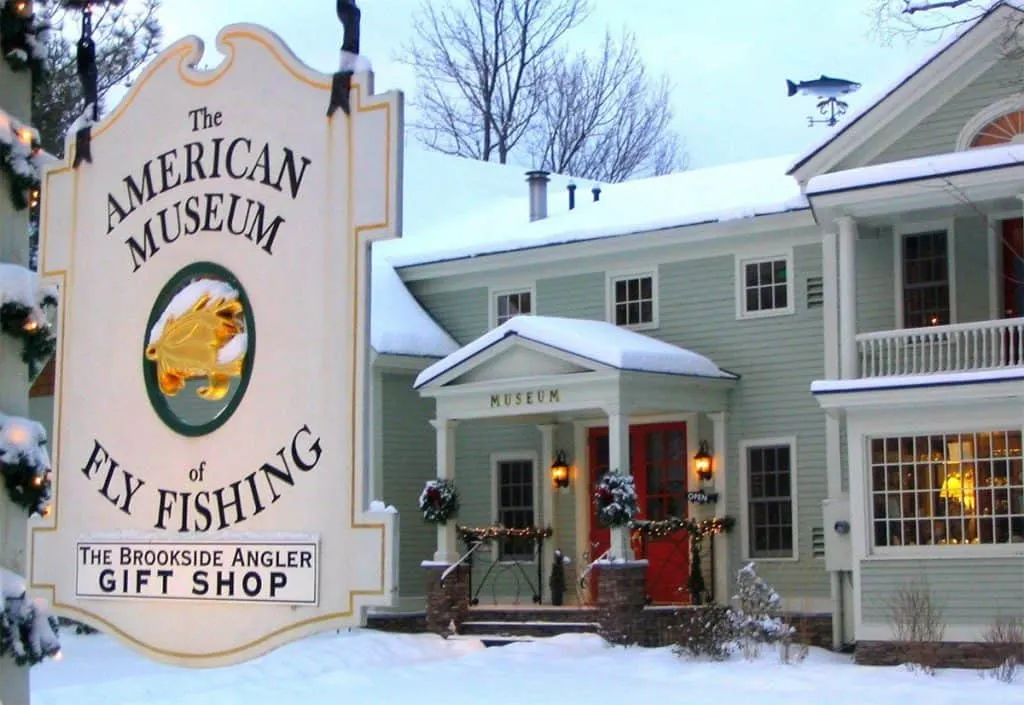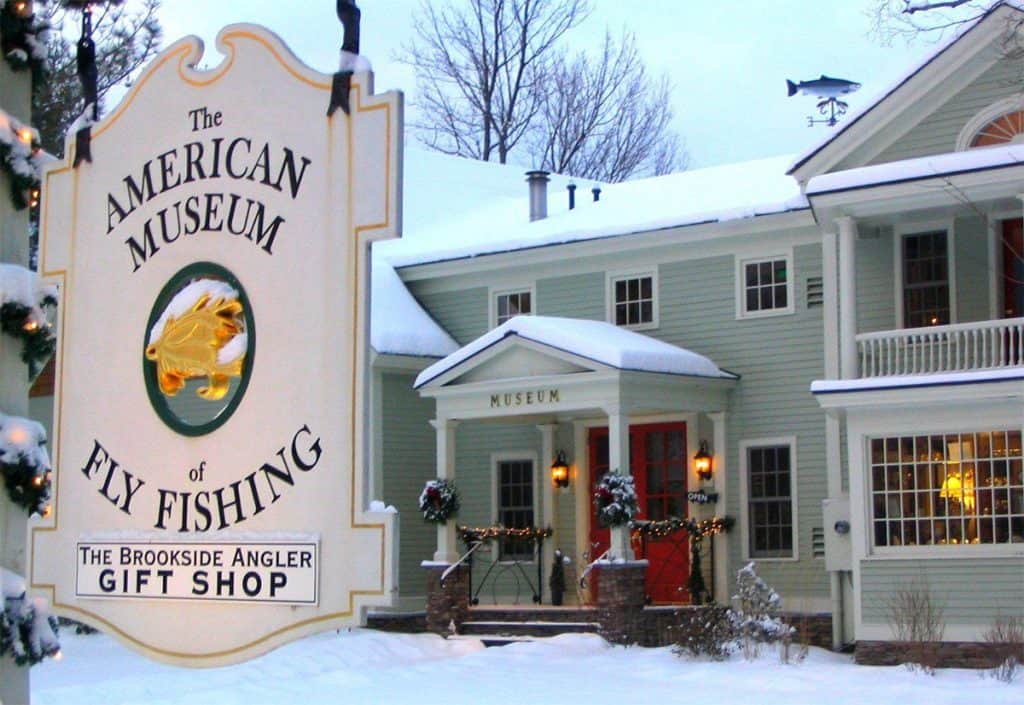 Southern Vermont Arts Center
Located on a former country estate about 10-15 minutes from the city center, this art center not only has galleries, but also a sculpture park and trails for hiking.
This is a great place for those not only seeking to learn more about art, but those trying to grow as an artist and display their works. With activities for people of all ages, the Southern Vermont Arts Center is definitely worth checking out.
Shopping in Manchester VT
One of my favorite things to do on vacation is shopping! In and around the city center you'll find many luxury boutiques and designer outlets to easily kill a few hours.
While you will find outlets for mainstream brands such as Ralph Polo Lauren and Michael Kors, I also enjoyed checking out some locally owned boutiques. The beautiful exteriors of these outlets really added to the experience.
Northshire Bookstore is a must for bookworms set in the century-old Colburn House.
You can find the full Manchester shopping directory here.
Or if you enjoy poking around at local farmers markets, Manchester Farmers Market runs from end of May through early October every Thursday from 3pm-6pm – rain or shine – in Adams Park. You'll find over 30 vendors selling fresh produce and baking.
Where to eat in Manchester VT?
The following is a list of my favorite places that I ate at in Manchester.
This is a great place to grab a quick bite for breakfast. They have an assortment of breakfast items ranging from bagels to stuffed breakfast burritos. For a no-frills breakfast, this is the place to go.
This new restaurant (opened 2017) offers a wide variety of options. As I wasn't super hungry, I just ordered their tomato basil soup, but my friends found the rest of the food to be exceptional. One thing that stood out to all of us was the freshness of the food. Even as a vegetarian, their meat dishes looked absolutely delicious.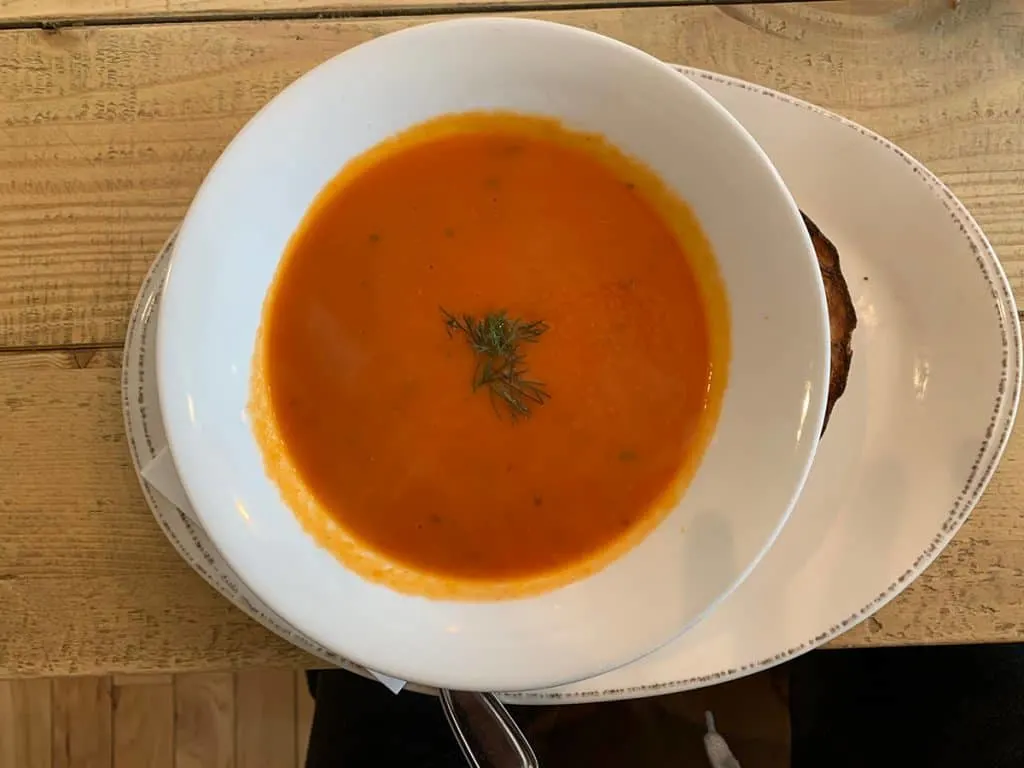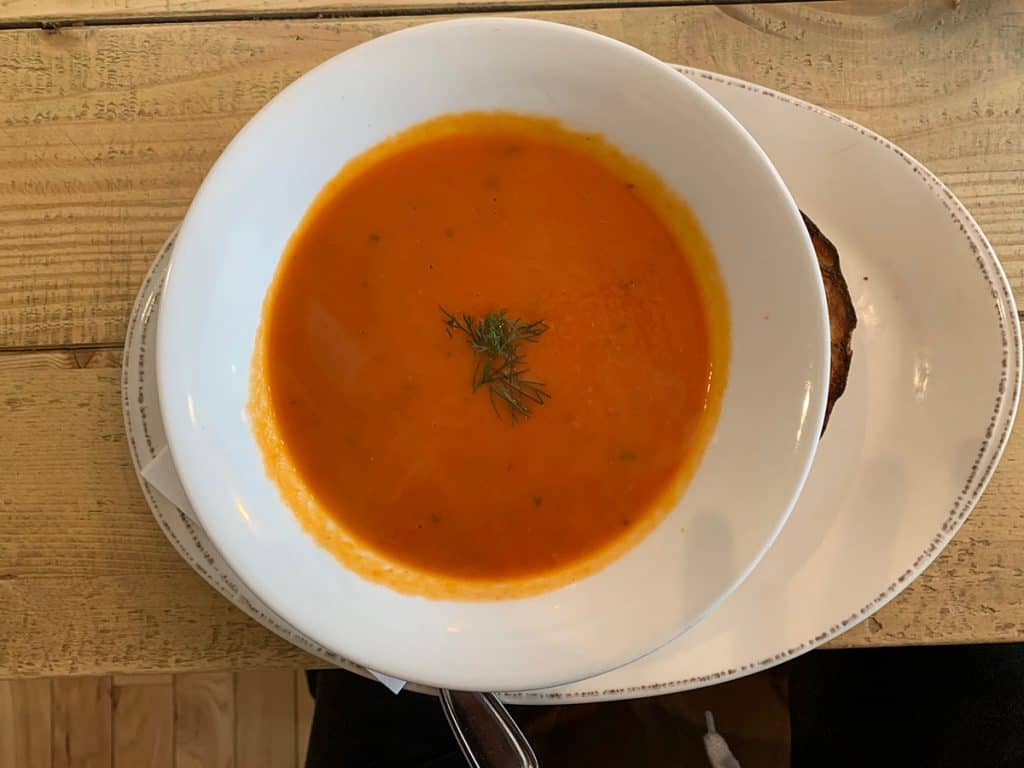 This was the only true bar that we visited during the trip. They had a nice assortment of beers to try, and I especially enjoyed the Von Trapp, which was from a local Vermont brewery. Coming from a city, I really enjoyed the small-town vibe I found inside the bar.
As implied in the name, this restaurant is located underground. Their main dishes were an assortment of burgers and bowls. For my appetizer, I had some of the best fried cheese curds I'd ever tasted. My main dish was a special vegan burger from a local farm that I thoroughly enjoyed. My friends tried various meat dishes, and just like all the other restaurants we tried, the reviews were superb. The cocktail menu was pretty extensive, making this a great place to grab a few drinks while enjoying dinner.
While not a full-fledged restaurant, I can't go without mentioning this charming cafe. Located in the heart of Manchester, it's a great place to grab coffee and pastries before heading to the nearby benches to relax.
If this maple syrup, bacon cupcake doesn't make you want to get the in car right now, nothing will!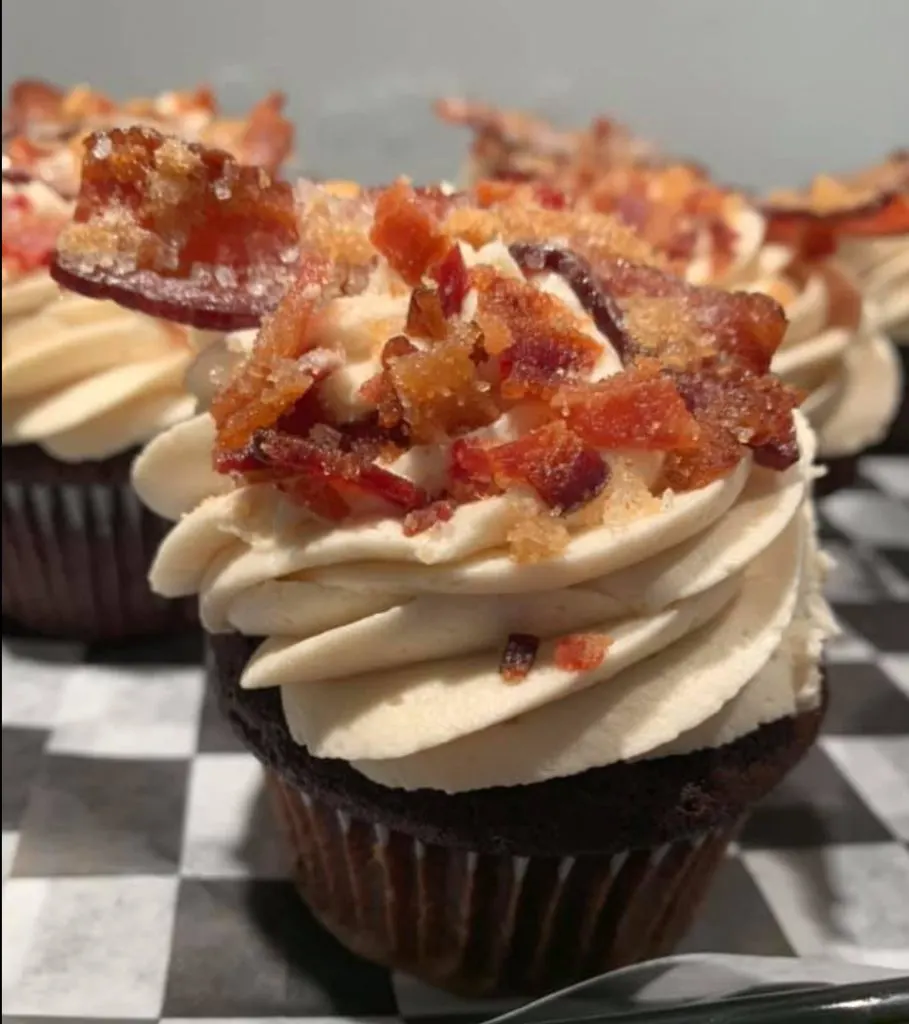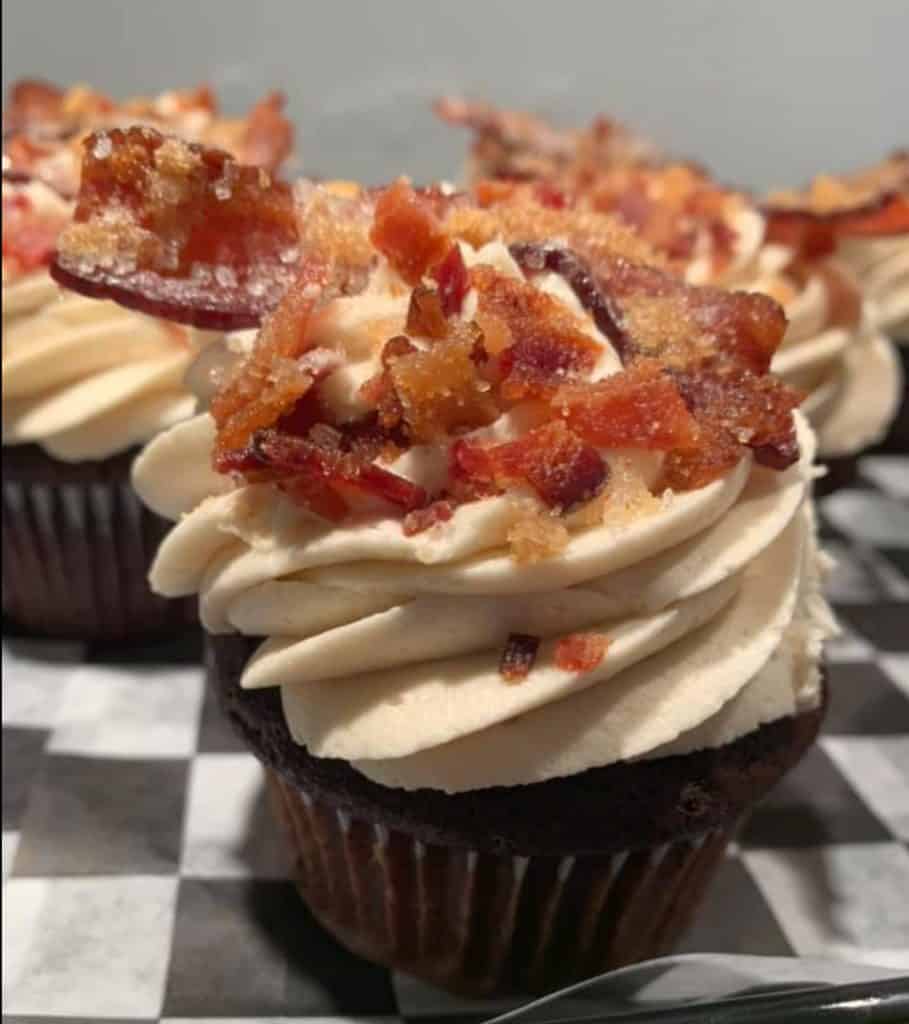 While these were the places that I tried in Manchester, here are a few other highly rated restaurants worth mentioning:
I would recommend making reservations in advance if you want to dine in. We weren't able to eat at Ye Olde Tavern or Up for Breakfast as we didn't make reservations in time, so don't let that happen to you!
Where to Stay in Manchester VT
Book an Airbnb : We stayed at this lovely Airbnb nestled in the mountains. It was only a 10-minute drive to the city center, but it felt like we were miles away from any civilization. There was a massive lawn offering sweeping views of the mountains around us. I would definitely recommend trying to find an Airbnb located a little away from the city center, so you can enjoy being with nature.
Equinox Golf Resort The perfect spot for a golf weekend away in Manchester for those who want to play on the Walter Travis course, redesigned by Rees Jones, that boasts a view from every hole. It's a hugely popular place for weddings and a lovely base for outdoor activities like kayaking, fly fishing, hiking – or just enjoying the view from a rocking chair on your front porch.
The Inn at Manchester This is the place for those seeking the quintessential New England bed and breakfast experience. This cute, historic inn is walking distance from the city center and serves a homemade breakfast every morning.
Wilburton Inn This is another charming inn offering a wide range of amenities such as volleyball, hammocks, and even tennis courts. Located on an historical estate up on a hill, this is a slightly upscale place to stay in Manchester especially if you are going in a large group or planning an event.
Hampton Inn and Suites For those looking for a typical hotel, you can't go wrong with a Hampton. It has all the basic amenities and is right next to all the main attractions.
Kimpton Taconic Hotel If you're feeling a hotel vibe, but something more upscale than the Hampton, this is the place to go. It has a cosy outdoor fire pit and is rated by Travel and Leisure as one of the top 10 family resorts in the United States.
Manchester is a premiere winter ski destination and you'll find an abundance of great ski resorts to choose from. Choose this link if you want to see the list on Tripadvisor and their corresponding reviews.
FAQs
How long should I spend in Manchester? 2 days is more than enough time. If you want to be extremely relaxed, then you can do 3 days.
How do I get to Manchester? Driving is the best way to get there. It is about 4 hours from NYC and 3.5 hours from Boston.
When is the best time to go to Manchester? It depends on what you want to do. For skiing, it's obviously winter. Going late January or February will allow you to avoid crowds. September and October will let you avoid crowds and see the beautiful fall colors. Spring may be the "worst" time because there may not be enough snow, but it will still be super chilly.
For those looking for a quick weekend trip from the East Coast, Manchester is a destination that should be near the top of your list.
If you're heading back to New York City, you might love this post on the Best Dreamy Rooftop Restaurants in NYC!
And how to find cheap yet great hotels in Manhattan.