New York is an expensive city – because it's on about 42 million people's bucket lists every year! But believe it or not, we've found some affordable NYC hotels that won't make your eyes water.
I'm planning a trip to NYC in May and have spent HOURS scrolling through booking sites, comparing all the photos, locations and checking out too many reviews than I had time for, and I thought, "wouldn't it be great if there was a post listing really great New York hotels for under say… $299 a night?!"
So that's what we did.
I got one of my team to spend all the hours researching great value New York hotels, so you don't have to. Then I went through them all with a fine tooth comb to cull them even further and ensure they all have an 8+ out of 10 rating on Booking.com.
I hope you find this list of affordable New York hotels useful. I have added links to them all, so you can click through to check out the price for your own dates.
I chose a random date in May (which is not the cheapest time of year to come here) to whittle them down to under $300 a night. Depending on when you travel, you can find some of these rooms under $200.
Note: rooms are cheaper in winter (except for Christmas/New Year) and will go up in summer.
So if you're looking for a hotel in New York City that won't break the bank, then this list is a great place to start. And no, there's no hostels – or even Air BnBs (which aren't as cheap as they used to be!) You'll find other websites that cover those.
Some of the hotels on this list I have stayed in before, and two from this list I have now booked for our next trip.
So have a little scroll through this list and click on the ones that interest you.
*This post contains affiliate links. That means if you book directly from this site I may make a commission, at no extra cost to you. Thank you for supporting my new blog!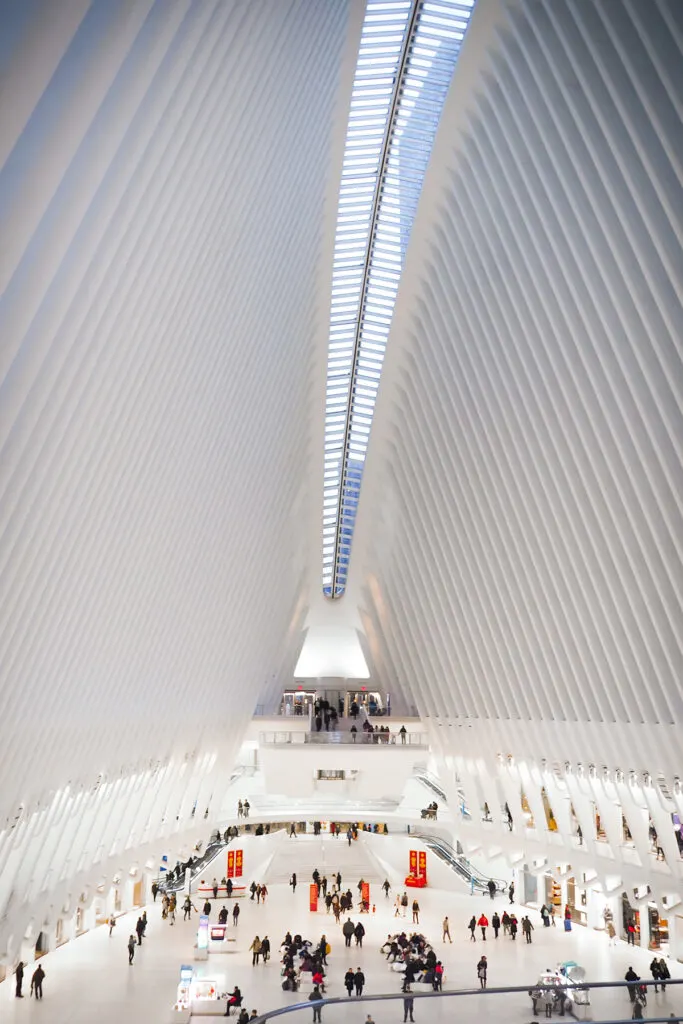 Club Quarters Hotel World Trade Center
I just stayed at Club Quarters Hotel World Trade Center for its location downtown near the World Trade Center. This property is in a great location for us near Tribeca and the Financial District, so we can do all the walking down here, then move to the Upper West Side for a couple of nights.
I figure I have only four days in New York, so want to explore the areas around me without having to dash up and down Fifth Avenue pulverising my feet into stumps! (Note, still pulverised feet into stumps.) I upgraded us to a superior room with a terrace in May for just under $290 per night.
It is pet friendly with up to two dogs allowed per room. There is a 24-hour fitness center and Morton's Steakhouse is on the premises, which we went to as soon as we arrived as it was about 7pm. That's not cheap, but we decided to splash out!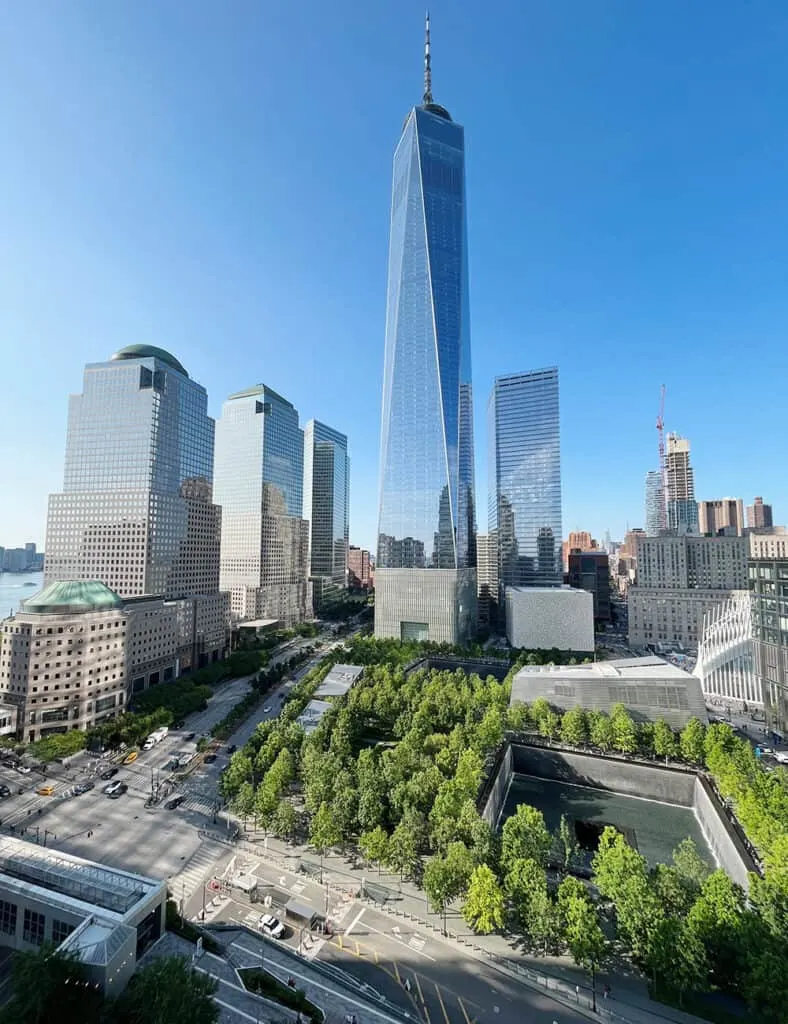 Hotel Mulberry
Hotel Mulberry is located in Chinatown, and earns a 9/10 "wonderful" score on Expedia. If you are looking for an affordable hotel in Lower Manhattan, this is a great option to consider, just 500m from Little Italy.
This hotel is super convenient to lots of attractions in downtown. They provide custom, handmade furniture, high-speed Wi-Fi access, a kettle with free coffee in rooms, and lovely friendly staff. The hotel also has terraced areas with views of the city. $289
Motto by Hilton
Located in Chelsea, Motto by Hilton is described as "wonderful" on Expedia. This 4-star hotel and has free bikes for guests to use. You're 600m from the Flatiron Building, three blocks from the High Line (a fabulous public park built on the historic freight train line, high above the streets on the West Side). You're also six minutes walk from Madison Square Park.
It's super trendy, has a fitness room. Rooms in May start at $295 (in a Murphy bed!), but King rooms from $305 so it just scraped in!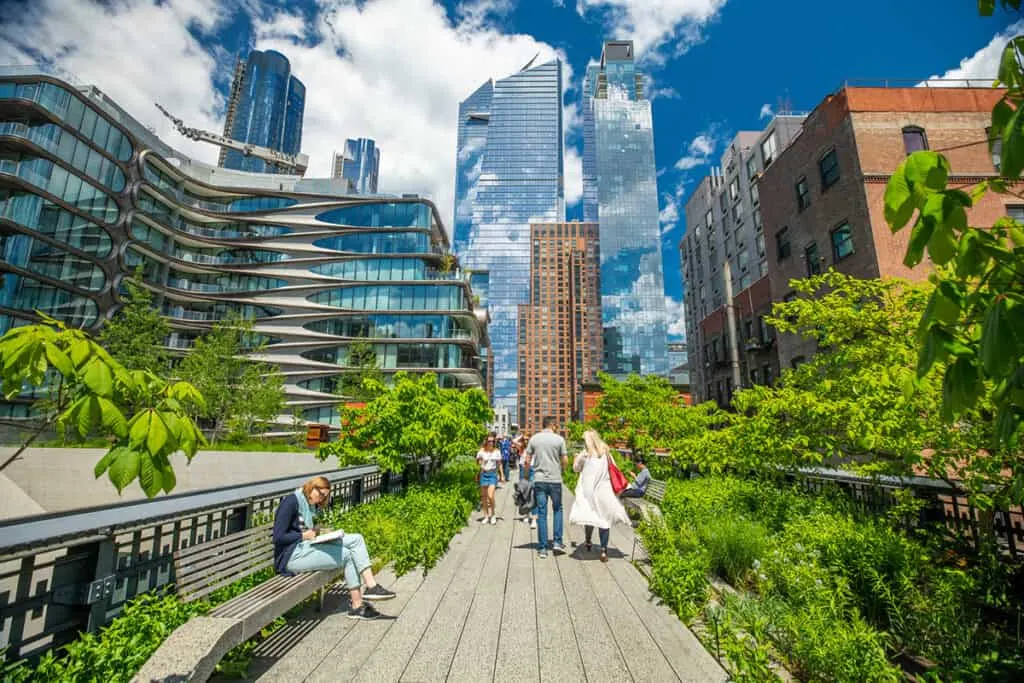 Springhill Suites by Marriott
Springhill Suites by Marriott at Midtown/Fifth Avenue is an excellent location with fantastic views. It has an 8.8/10 "excellent" rating on Expedia. You're less than a 1km walk to Madison Square Garden, Times Square and the Empire State Building (get your tickets here for skip-the-line viewing), and you have a fridge and microwave in each room.
Plus a fitness center if all the walking isn't enough. The bedrooms pop with lime green and yellow furniture to compliment the white bed linens, and rooms start at $250.
Broadway Plaza Hotel
Located in NoMad (north of Madison), Broadway Plaza Hotel is in another excellent location for proximity to Times Square, 400m to the Flatiron.
Enter the black and white marble floor lobby and up to your chic grey and white decorated room. Enjoy complimentary Nespresso and water daily. A great Midtown location. Rooms start at $275.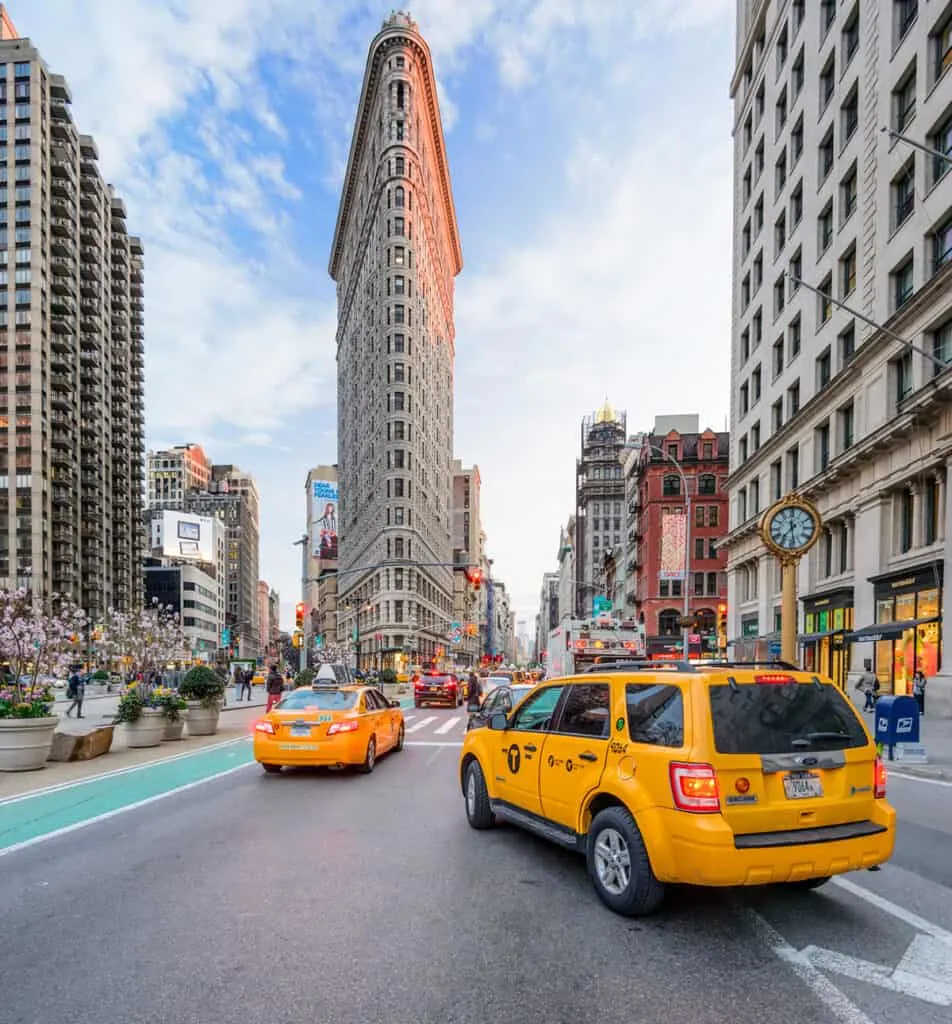 Club Quarters Hotel Grand Central
Located in Midtown East, Club Quarters Hotel Grand Central is 200m from Grand Central Station, 200m from the Chrysler Building and 600m from Rockefeller Center (get your skip-the-line tickets here for the Top of the Rock Observation Deck and outstanding views!)
There is a terrace with outdoor tables, and lounge with free tea and coffee, an on-site gym and superior rooms have a desk and couch. Rooms from $292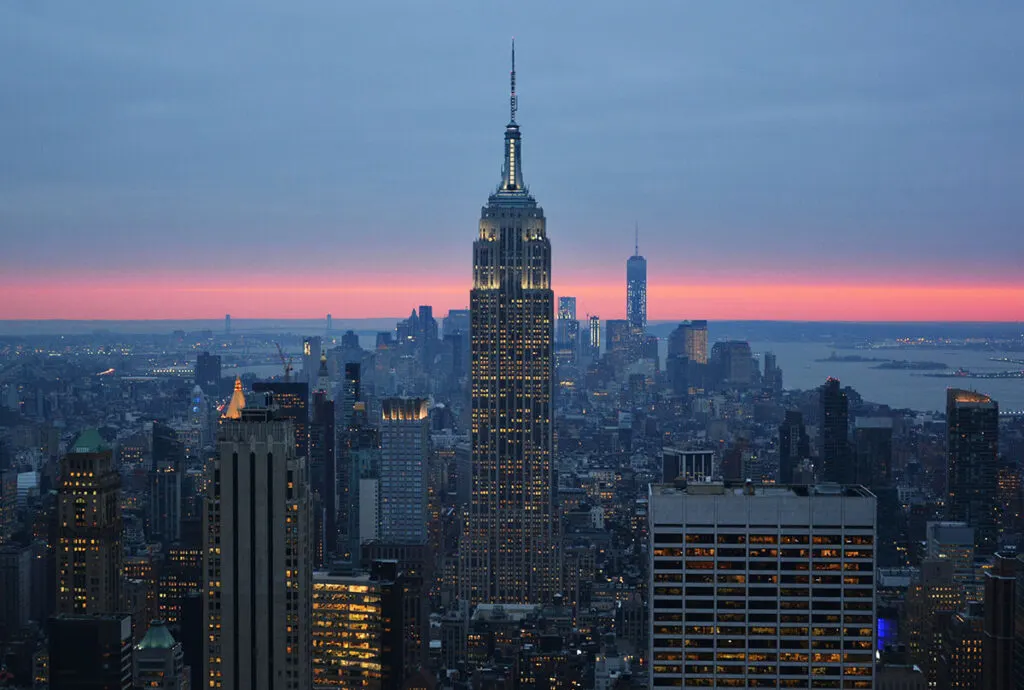 Hotel Belleclaire Central Park
I booked Hotel Belleclaire Central Park for its location on the Upper West Side on Broadway, near iconic Central Park, and because of the museums that I plan to spend hours browsing. I'll be honest, it had me at the on-site Mille-Feuille outlet for French pastries, and I loved it. I think I'm more Upper West side than down town…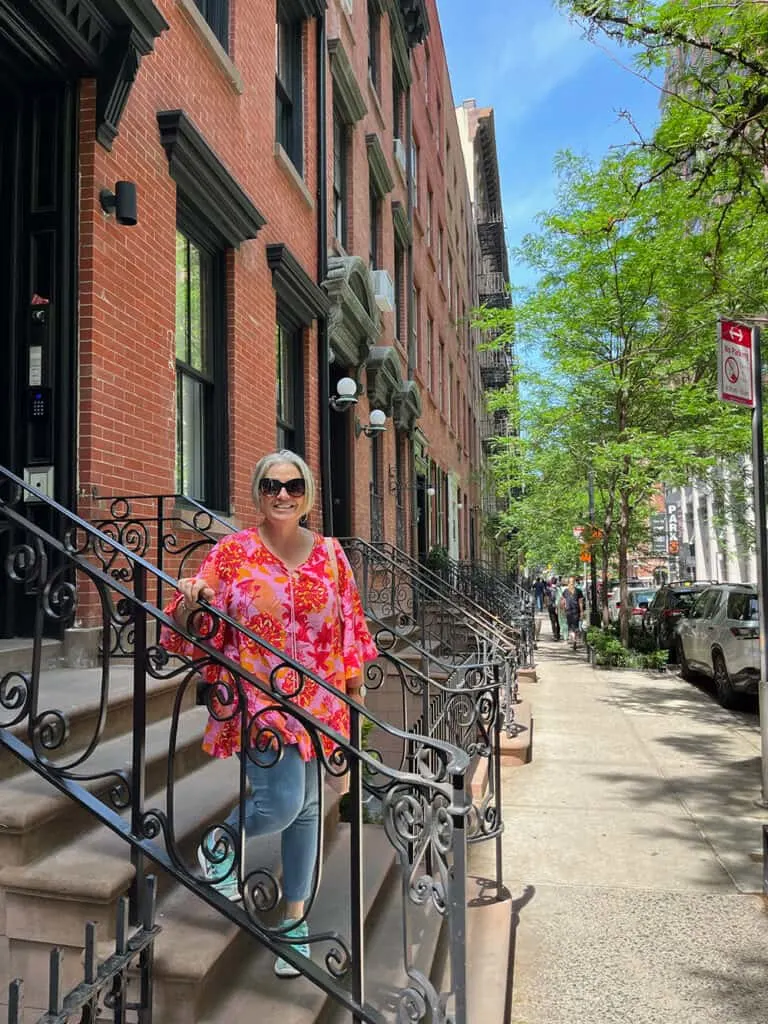 The Belleclaire building has been here since 1903, so some of the rooms might be on the small side – which is typical for New York. However ours was plenty big enough for our suitcases and a little work desk looking out the window.
It's a great uptown location, two blocks from Grand Bazaar flea market (which features on my list of the best fleas in New York) and you can even get a room under $200 depending on time of year. Across the road we had a delicious Italian meal at Serafina too.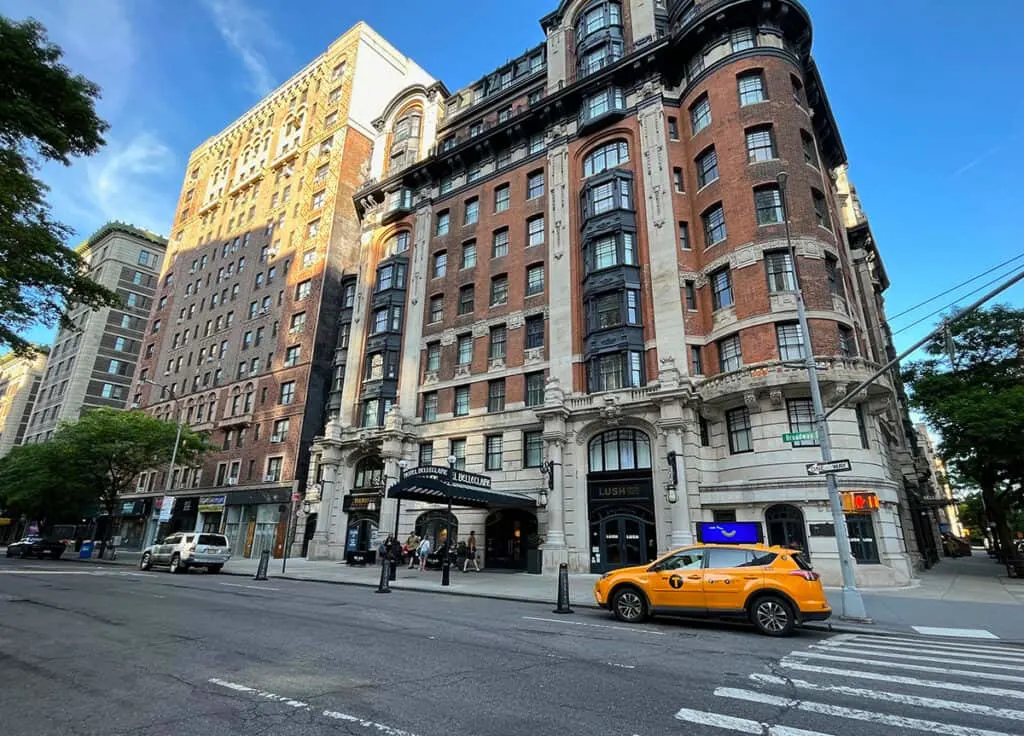 This would be a great location to stay for the New York Marathon as the race ends around here. We managed to locate my brother in the chaos of race day here at Columbus Circle. You can read his tips for running the New York Marathon here.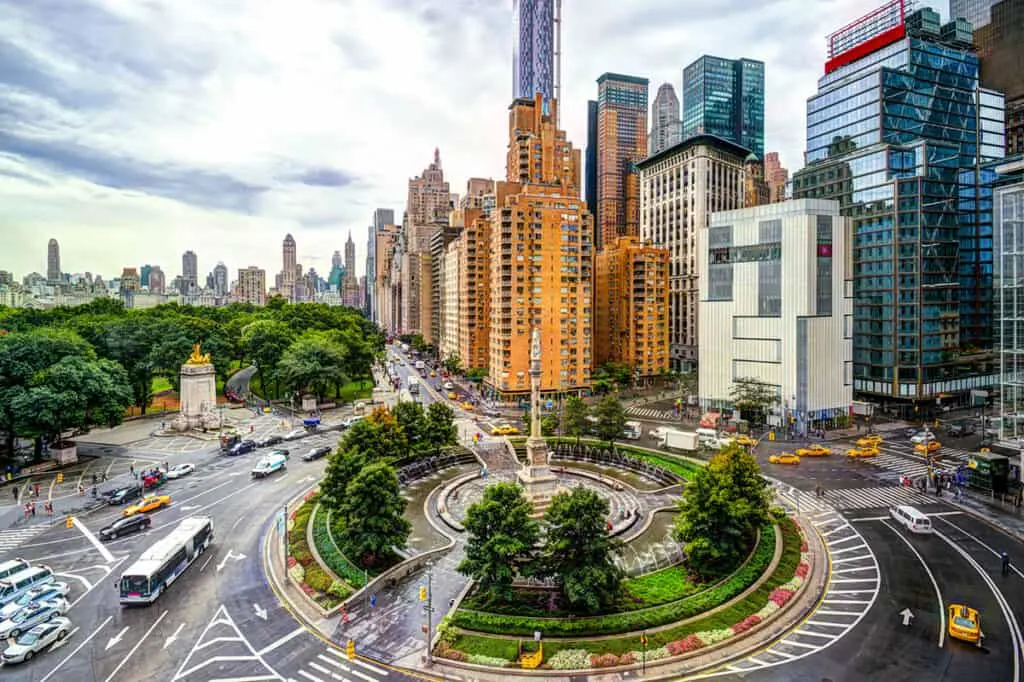 The Tuscany
The Tuscany Powered by LuxUrban is a boutique hotel is in the oft forgotten neighborhood of Murray Hill. Midtown East, I guess you could say, only 325m from Grand Central Station and close to the United Nations (for those of you who may have business there!) and SUMMIT ONE Vanderbilt (which you should definitely get tickets to).
This hotel is a little stand out! In fact so much so, that I am tempted to cancel all my bookings and stay here. It has rave reviews. The rooms are super stylish and large, especially for New York, with bold pops of colour in the decor. Rooms from $242.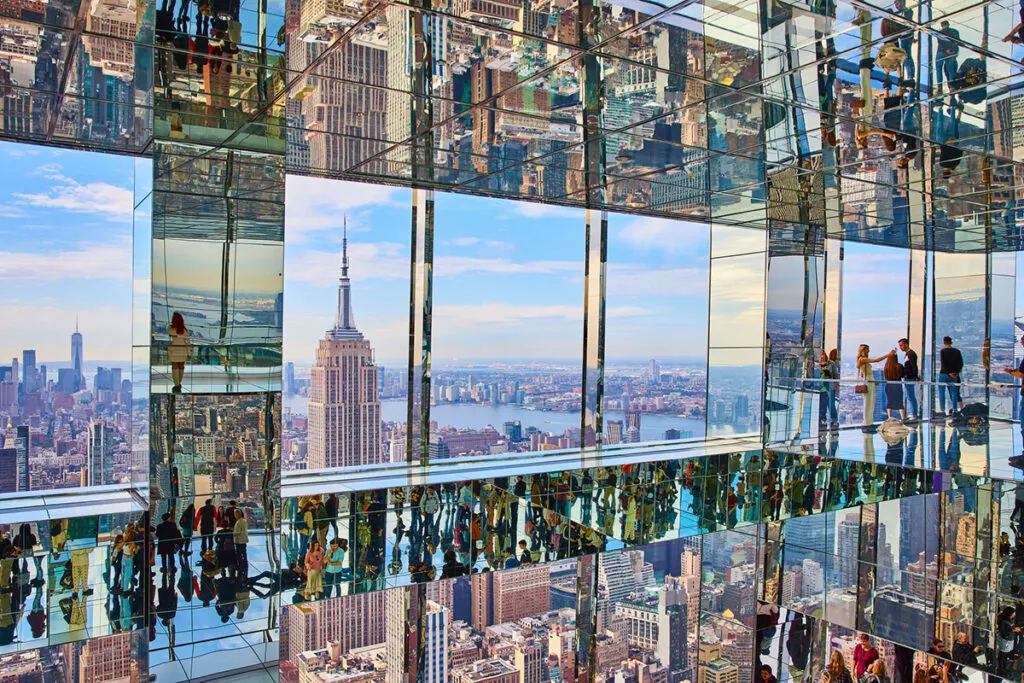 Pro Tip: When using sites like Booking.com or Expedia you can pay a little more for a fully-refundable room in case your plans change can cancel up to 2 days before arrival.
For hotels with views of Times Square to watch the legendary New Year's Eve ball drop, check them out in my popular New Year's Eve in New York City post.
Other New York Hotels I really like
The Muse
The Muse New York is within a nickel's throw from Times Square. We stayed here on our honeymoon as part of our USA trip which also included LA, San Diego, Washington DC and New York.
My brother was running in the New York Marathon that weekend, so we followed him around the city and got amongst the crazy fun that marathon weekend is. The Muse is a Kimpton Hotel, and some of you will not need me to explain any further. It's chic and modern and while it doesn't fit under $300 per night in May, it's well worth checking out if you're coming to NYC for a Broadway show or New Year's Eve and want to be in amongst it. Rooms start at $440.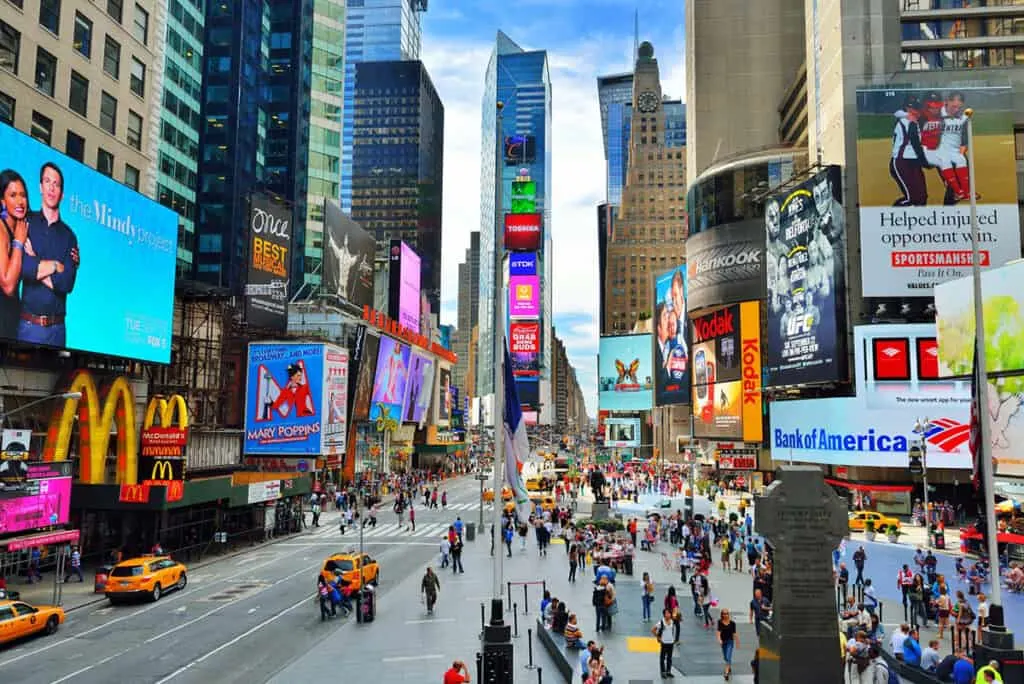 Hotel Beacon
Hotel Beacon is located on the Upper West Side with views over Central Park. I have stayed here before, in a suite – with laundry facilities, which was luxury! This is a great spot for museum hopping as the American Museum of Natural History (get your skip-the-line tickets to the museum here) is super close, as well as the Beacon Theatre.
Each studio and suite comes with a fully equipped kitchenette, which is another way to have an affordable NYC vacation as you can at least keep drinks and nibbles here for snacking. The Beacon is also located a block from the Grand Bazaar NYC Flea Market. One of our favorite things to do on a Sunday! You can read my post about the best flea markets in NYC here. Rooms start at $400.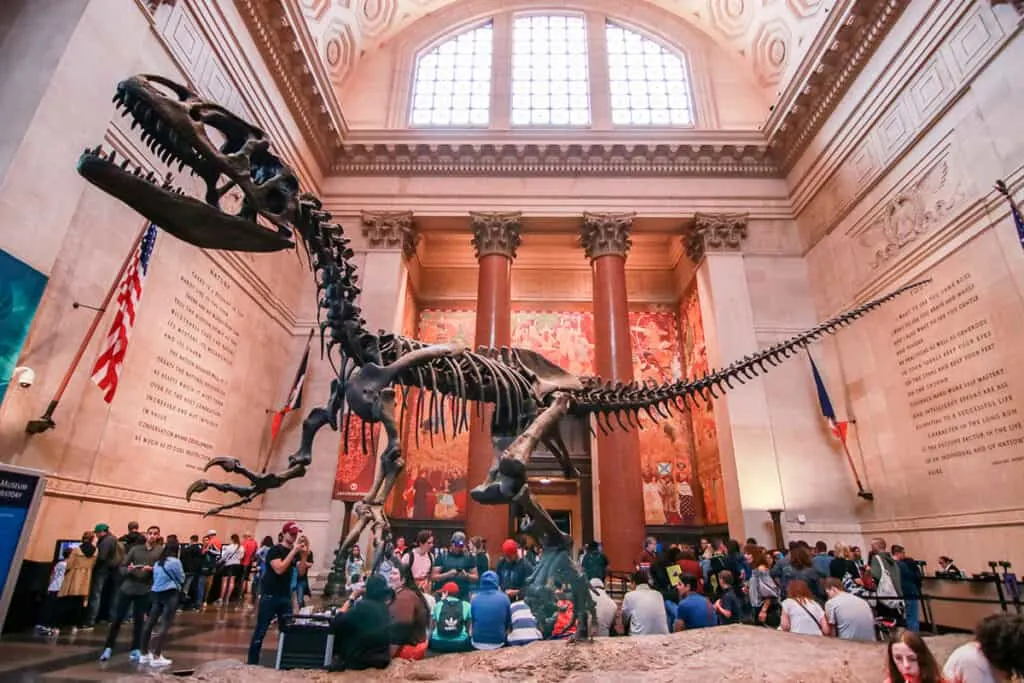 Moxy NYC Times Square
I like Moxy NYC Times Square for its rooftop restaurant and bar with views of the Empire State Building 600m away. In fact it made my list of the best rooftop restaurants in New York. Moxy is one of the only pet friendly hotels in New York, has free Wifi and a fitness center. You're 200m from Macy's and 400m from Madison Square Garden. Rooms from $367.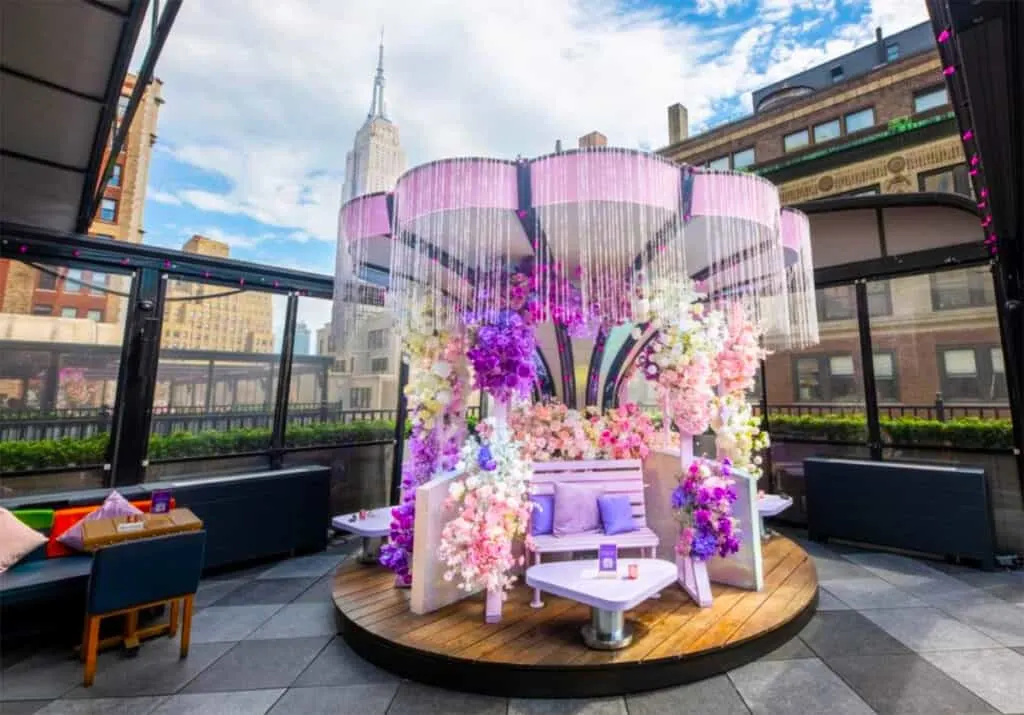 If you want to see the top sights of New York, you might be best to get the New York CityPass which gives you 40% five of the top attractions.
Click here to see more info on how much you can save on entry to the Empire State Building, American Museum of Natural History, Guggenheim Museum OR Top of the Rock, Statue of Liberty and Ellis Island OR Circle Line Cruises, Intrepid Sea, Air & Space Museum OR 9/11 Memorial and Museum.
You might also like some of my other New York posts:
The perfect one day itinerary in Brooklyn, for when you've seen Manhattan and want some different vibes
The dreamiest rooftop restaurants in NYC for fabulous views and a cheeky cocktail
How to have the best New Year's Eve in New York City featuring fun events and where to be to see the Ball Drop
Fabulous hotels to see the New Year's fireworks from
Best places to watch the 4th of July fireworks in New York
Where to find great flea markets in New York for some epic bargain hunting
Delicious NYC brunch spots to wake up your weekend and do like a local
One perfect shopping day in New York – if that's all the time you've got!