These Valentine's Day ideas in NYC will earn you serious points! But if you're single and ready to mingle, we've got some fun ideas for you too – including the First Responders Valentine's Day party!
If you've heard of The Five Love Languages you know how applying them can improve your romantic relationships. How about improving your plans for Valentine's Day in New York City?
We thought it would be fun to use some of the wisdom from the concept of love languages to write a guide to Valentine's Day in New York City that will please your honey no matter how she or he appreciates being loved.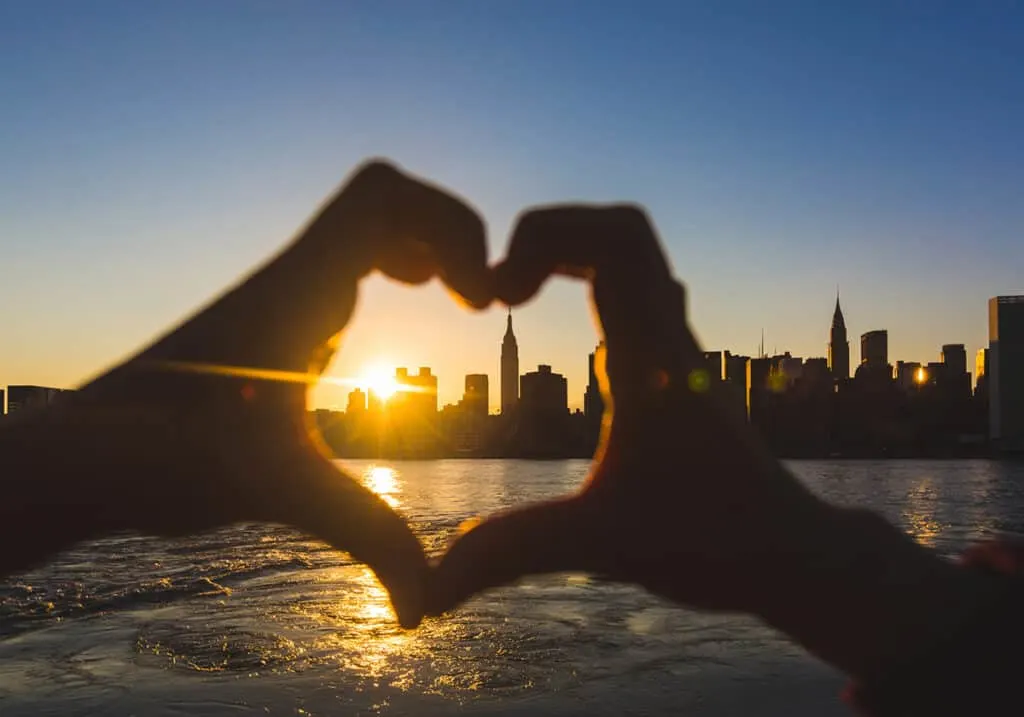 Use this guide if your love's love language is spending quality time with you instead of receiving extravagant gifts. And if you're on a budget and looking for free things you can do in New York City for Valentine's Day, we've got you.
If the love of your life speaks the language of extravagant gifts and activities, there's also a section on the best places for luxurious activities.
And if you're just looking for a nice dinner we've included some of the best dreamy restaurants to have a romantic dinner.
And if you're planning to stay in New York City, we've researched the best hotels in the city for under $300 per night. This list is a great place to start your hotel search.
We've also sprinkled in some off-the beaten-track activities and a section at the very end where you can find unique ways to spend your Valentine's Day in New York City!
*This post contains affiliate links. If you make a qualifying purchase I will make a small commission at no extra cost to you.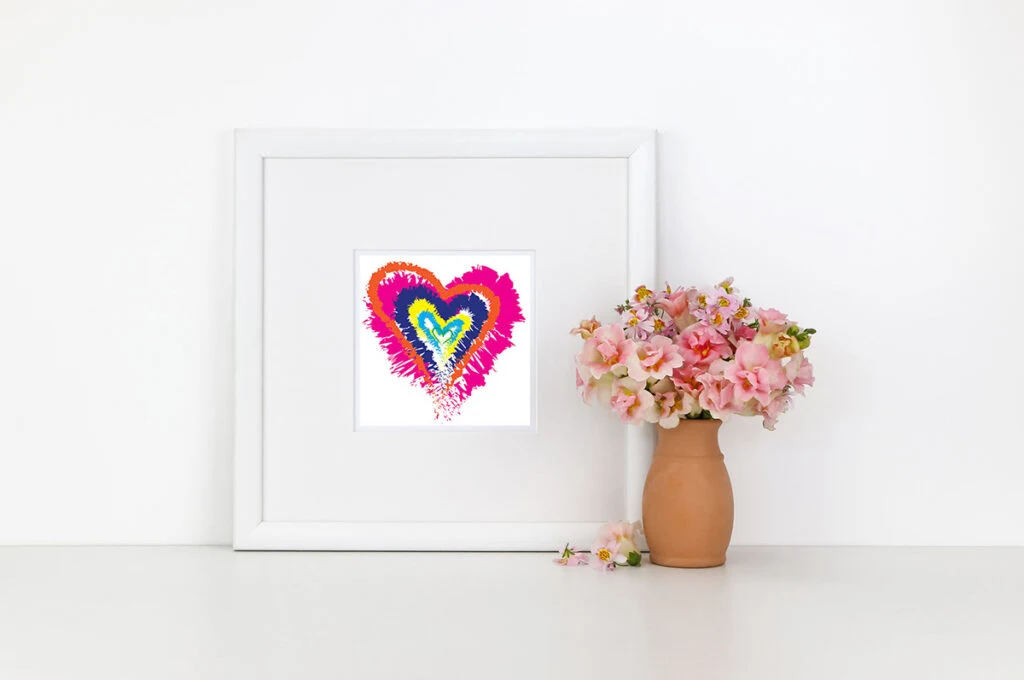 Best free things to do on Valentine's Day in NYC
Have a romantic pre-packed Picnic in Brooklyn Bridge Park
If you are on a budget or your honey's love language is quality time together over gifts, brilliant. One of the best things you could do is pack a picnic with all the foods they like, and take them to one of these places.
Picnic on any of the grassy areas in Brooklyn Bridge Park where the unsurpassed views of New York City across the East River will make your date swoon.
Come evening, head to Pebble Beach to watch as the sunset transforms the sky into orange over the Brooklyn Bridge. You may not spend a lot of money but your date will remember their Valentine's Day in New York City forever!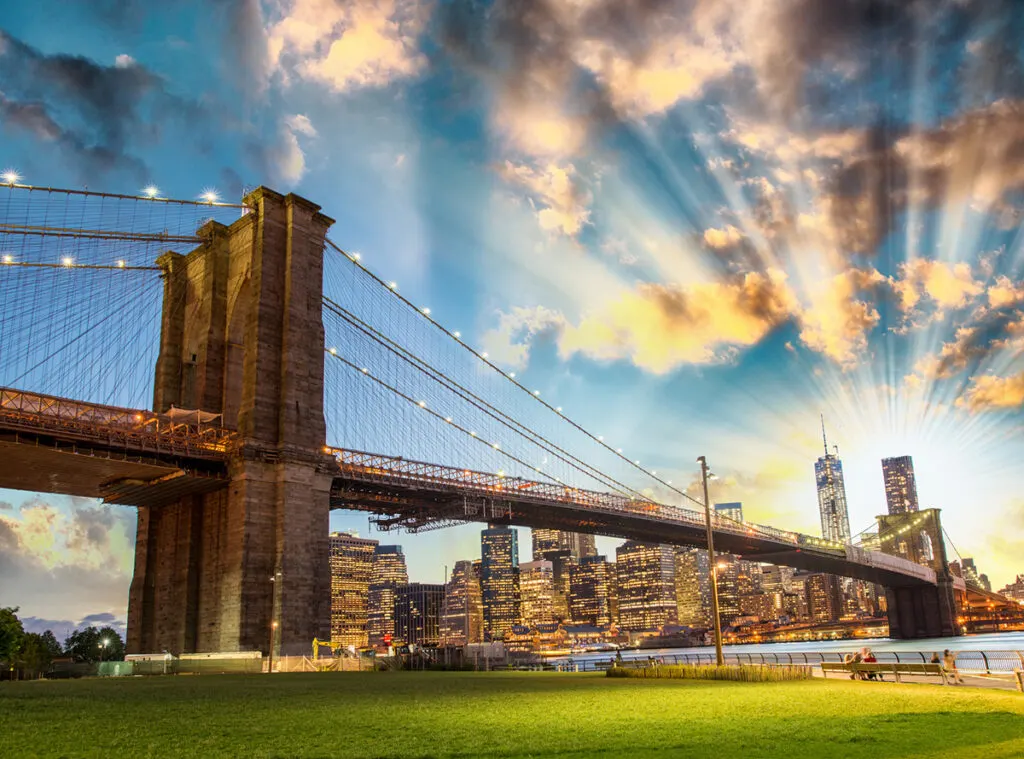 Walk through Times Square's Valentines Day Art Installation
Every year, Times Square invites visitors to propose or get married at Duffy's Square under a love themed art installation called Love in Times Square.
This year's installation is made of heart shaped hedges that visitors (even if you don't plan on any surprise proposals) can walk through or fill with roses every day until Valentine's Day.
Take a stroll through the hedges surrounded by the scent of roses and the energy of Times Square. It's free to visit for Valentine's Day and a great way to experience the area while having your date!
This newer park is a hushed secret with residents of Sunset Park, Brooklyn and a gem hiding in plain sight. To get to it will take some doing but we promise the views of the harbor will make the trek worth it.
Bush Terminal Park is a smaller park so if you're looking for a bigger park where you can spend a whole day for free, a good option is to take the free ferry to Staten Island where you'll find the Alice Austen Park for more great views and lawns for having a picnic.
Have a Biking Date at Hudson River Greenway
If you prefer a biking date instead of a stroll, one of the best free things to do in New York City this Valentine's Day is to hop on your bicycles (though you can also walk) the Hudson River Greenway.
Be prepared for romantic views of the Statue of Liberty and the Hudson River. You'll also pass the famous Intrepid Air and Space Museum and the Chelsea Piers so there'll be lots to talk about if spending time together is your goal.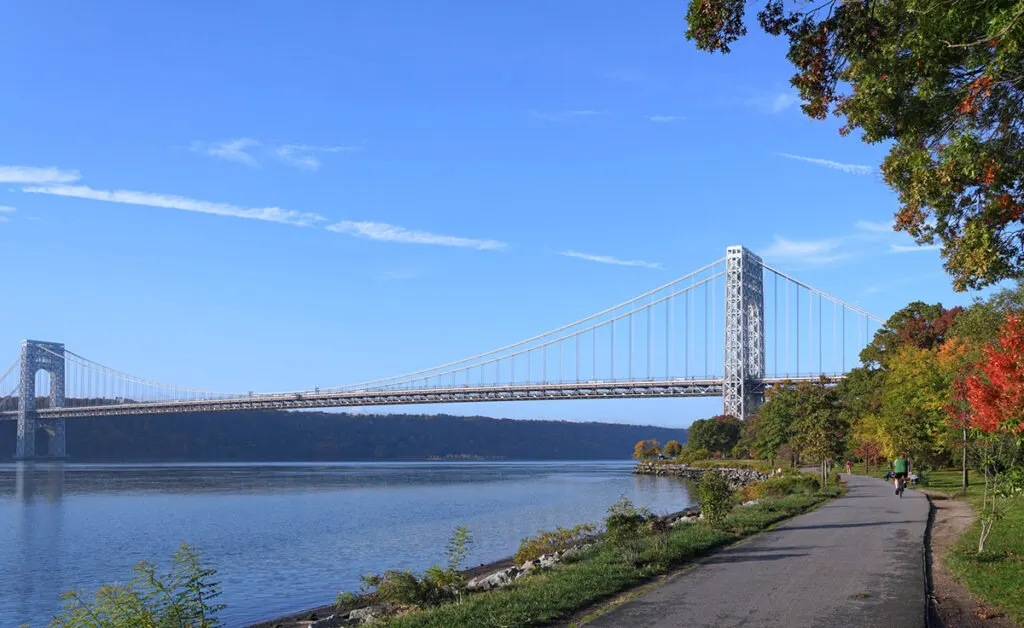 Take a dreamy Valentine's Day walk in Central Park
With dozens of ponds where ducks float serenely by, snow topped trees in winter, and horse drawn carriages passing every few minutes, Central Park is where many a heart has been won with a simple walk.
Take your date up to the royal looking Belvedere Castle for dramatic views of the park. Afterwards, head down to Turtle Pond, the perfect place for a romantic stroll.
Or go in the evening and stroll around the Jacqueline Kennedy Onassis Reservoir where when the sun sets over New York City, the view is nothing short of romantic.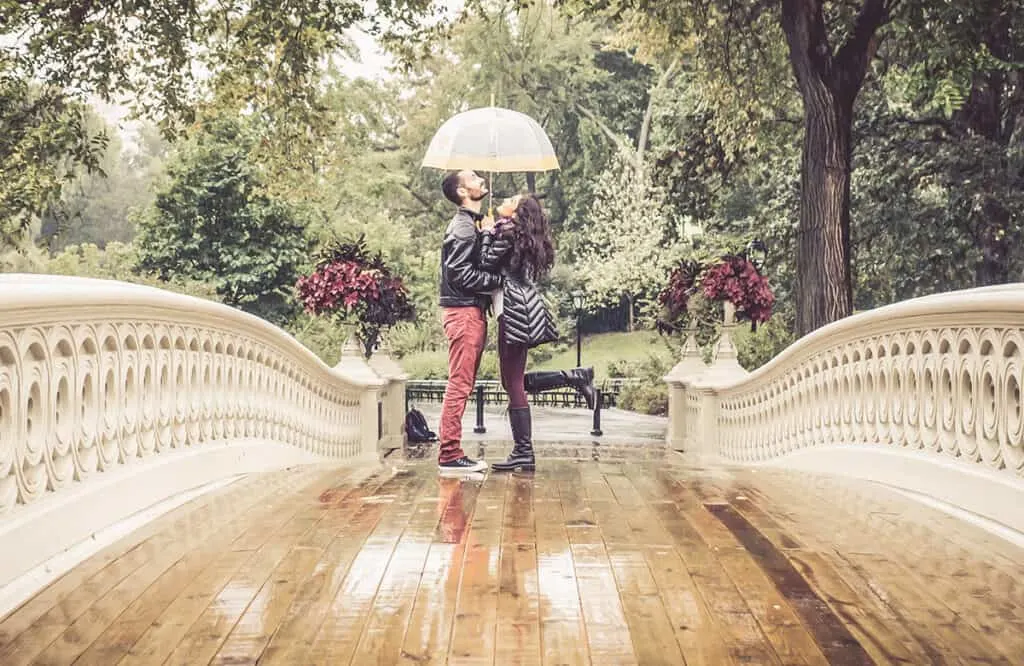 Best Extravagant Experiences in NYC this Valentine's Day
Sip on Champagne and watch the city lights at Empire State Building
Nothing says romance more than city lights and up close views of New York City's iconic landmarks.
Visit the Empire State Building and take your loved one's breath away with the views. Since Valentine's Day is the only day couples can get married at The Empire State Building, the crowds will be unbearable unless you go after 11pm.
Or, you could go premium and bypass the regular viewing floors so that you and your date see the city from the premium 102nd floor. Want to get even more extravagant? Book a champagne package and you'll be sure to impress your honey if her (or his) love language is gifts of the extravagant kind.
Have Dinner above New York City at Love On Top, One World Observatory
On a regular day the One World Observatory is an observatory deck with views that almost rival the Empire State Building.
But not on Valentine's Day. In celebration of love, One World Observatory elevates their regular experience by offering a special dinner they call Love On Top every Valentine's Day.
We already thought seeing the city's views was one of the most romantic things you could do in New York City this Valentine's Day, but having a decadent dinner while being surrounded by all those lights and famous buildings? You couldn't do better if the love of your life likes the good life!
Spend Valentine's Day in the Clouds on a Helicopter Tour
If you're a jaded city dweller who's done everything on this list, how about seeing the city from the sky?
Touring the city by helicopter is a novel way to experience New York City whether you're very familiar with the city or it's your first time visiting.
Be sure to choose a sunset tour to up the romance. If the price for a helicopter tour is too steep, a Valentine's Day Cruise can be just as fun!
Or splash out and book this private proposal helicopter tour complete with an illuminated MARRY ME sign to get down on your knee.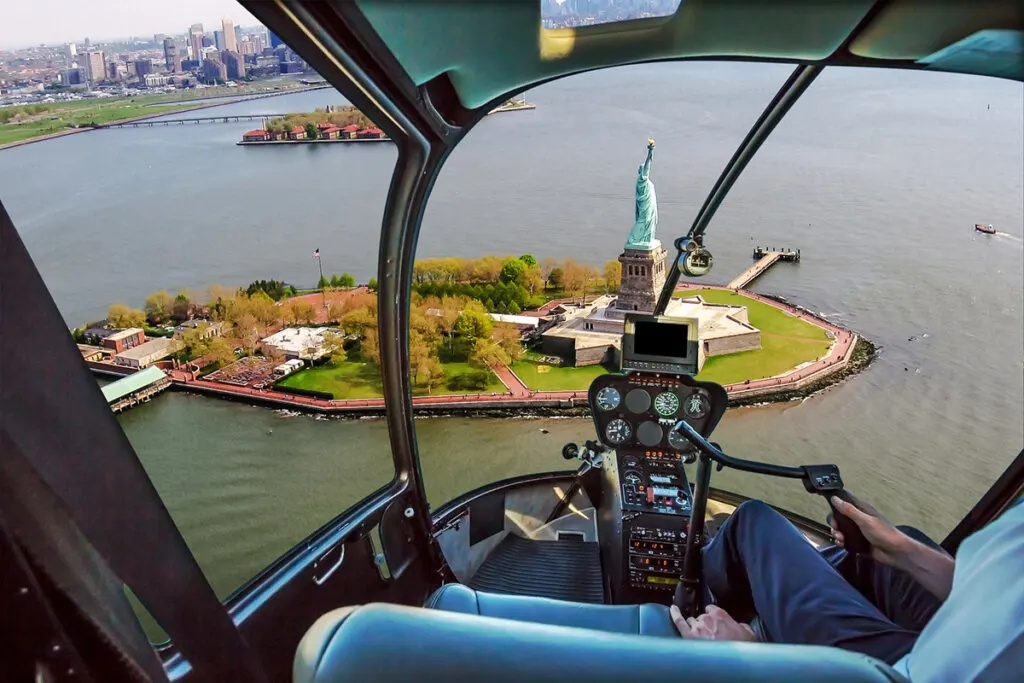 See all the sights in New York City on a tour
If you're taking your honey to New York City for the first time this Valentines Day, we understand if everything seems so exciting that you want to pack them all into your evening. And we have the perfect way to do that!
We suggest getting the New York City Explorer Pass for the best deals on 95 of the top attractions to create the most memorable date you can have in New York City this Valentine's Day.
Or take this gorgeous three-hour sunset buffet dinner river cruise and watch the sun set behind the Statue of Liberty and Brooklyn Bridge.
For something special, take this private pedicab cycle tour through Central Park.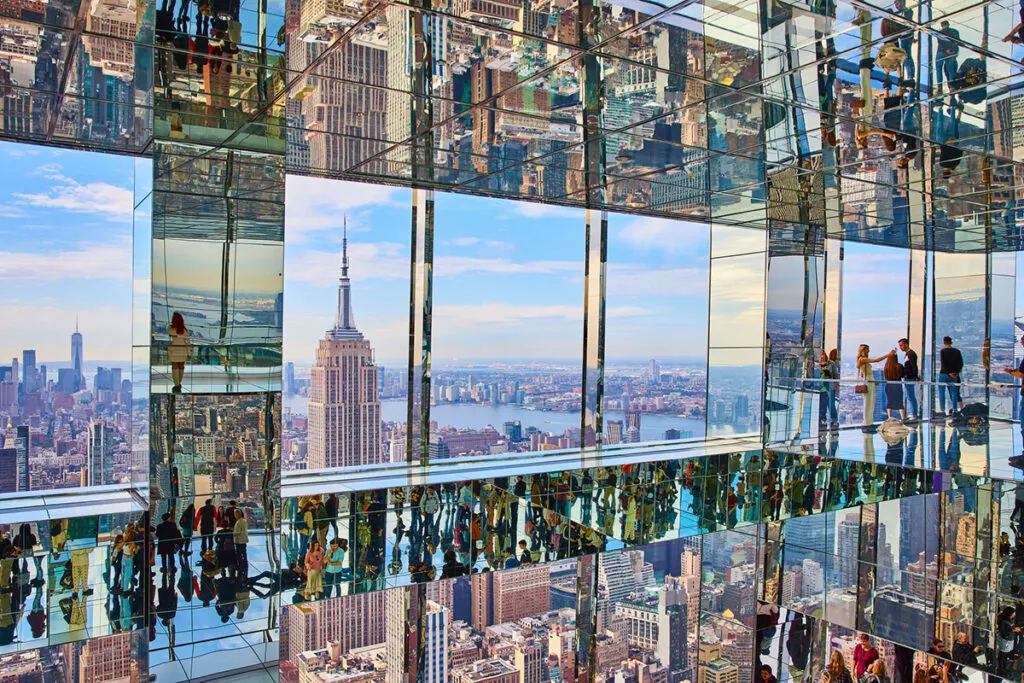 Best restaurants in NYC For Valentine's Day Dinner
Industry Kitchen for Heart Shaped Pizza on a budget
New Yorkers have largely been able to keep Industry Kitchen to themselves because though it's in the historic South Street Seaport area, the area isn't as visited by as many tourists as the rest of Manhattan.
You won't hear locals complaining though because that means there isn't as much competition for the excellent food or the river side igloo seating at this hidden gem in New York City!
For Valentines Day, Industry Kitchen serves a heart shaped pizza and a delicious chocolate heart that will have your date sighing in pleasure if food is the way to her heart!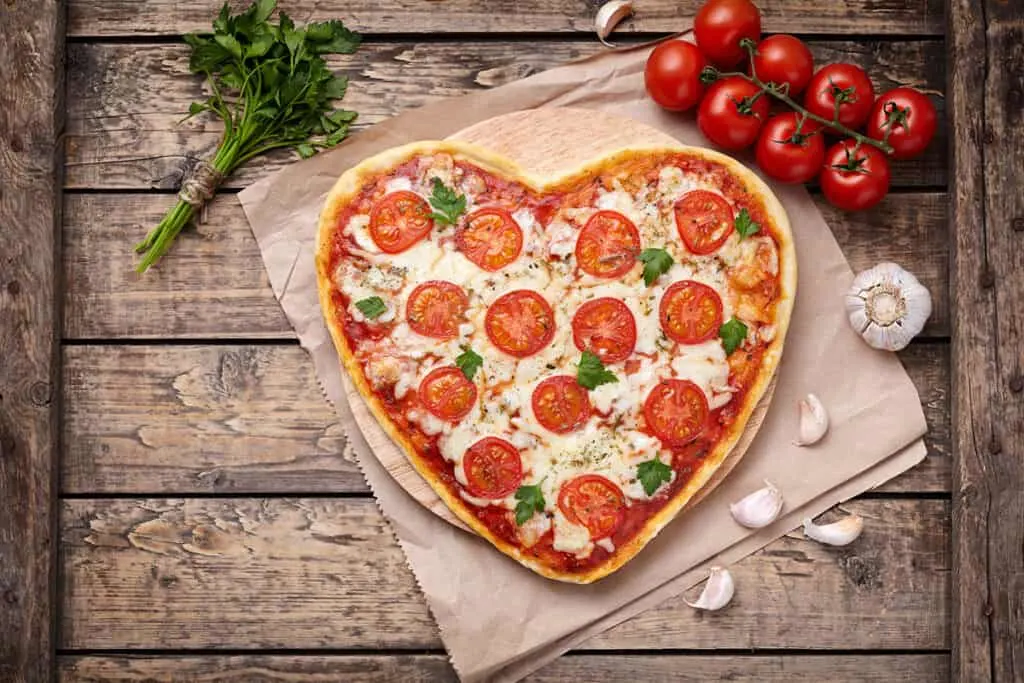 Mezze for Dinner on the River
Dinner cruises on the Hudson River are great any time of year. But on Valentine's Day it's even better. The usual menu comes with a single long stem rose and champagne, along with those peaceful views!
Coffee and Cocktails for Dinner and Dancing
If your date likes dinner with live music and dancing, the special Valentine's Day dinner at Coffee and Cocktails comes with fancy cocktails and live Jazz music that will have you on your feet in no time!
Unique things to do on Valentines Day in NYC
If you don't have a honey to share Valentine's Day with, don't worry! Grab your besties and get to one of these singles parties.
First Responders Singles Party
If you go gaga over fireman calendars – can you still get those? – then you will LOVE the First Responders Singles Party*. Snag yourself a hero, is the tag line for this event being held in Tribeca Friday February 10th from 8pm.
*Open to men and women from any legitimate Fire EMS or Search and Rescue Service: Any nation Military, Police Department, US Airforce PJs, Federal, State or Local Search and Rescue, FDNY, NYPD, NYC 911 Voluntary Hospital, any area (worldwide) Municipal, Private or Volunteer Organization. Emergency Room Physicians, Medical Director and ER/flight nurses also welcome.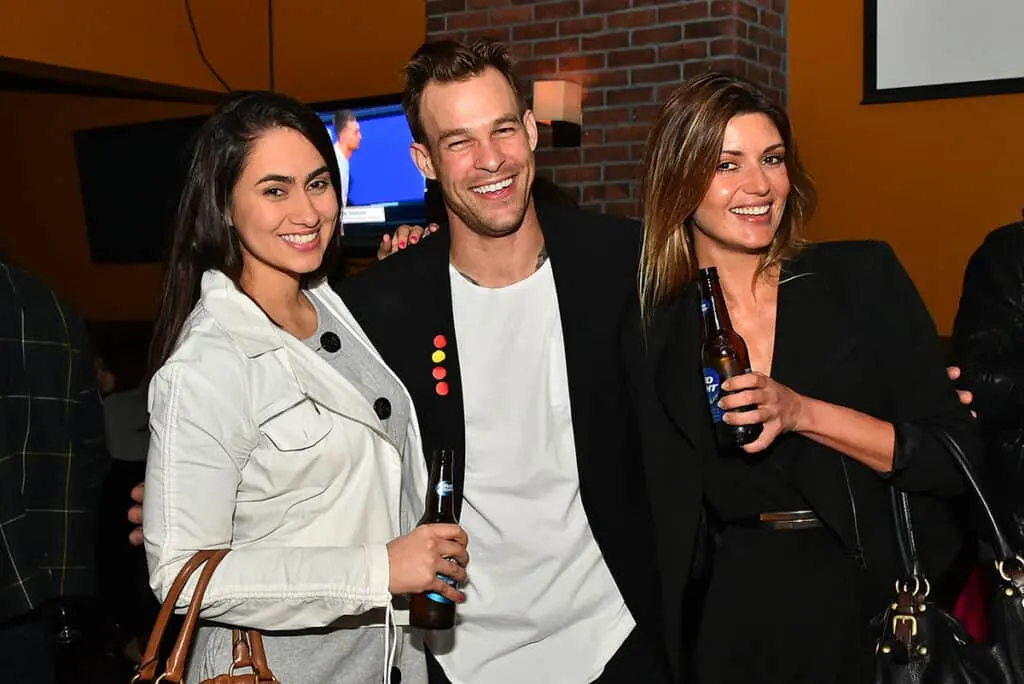 Grab your BFFs for a Silent Disco
How crazy fun is this Silent Disco with Penthouse views!? You don't even need to be loved up to enjoy dancing your a$$ off at this event. Enjoy breathtaking views from 230 Fifth, Manhattan's largest and most spectacular penthouse lounge – with floor to ceiling windows showing off the best views of the NYC skyline.
Upon check in you will receive either a "green" glow-in-the-dark necklace signaling you are single & available, a "yellow" necklace denoting "it's complicated" or a "red" necklace meaning you're "off the market."
You'll also receive a set of wireless headphones upon arrival and have the option to tune in to one of three live DJ's spinning different genres of music: Hip-hop/R&B, EDM/Top 40, 80s, 90s, 2K
Must be 21 & Over. Get your tickets here >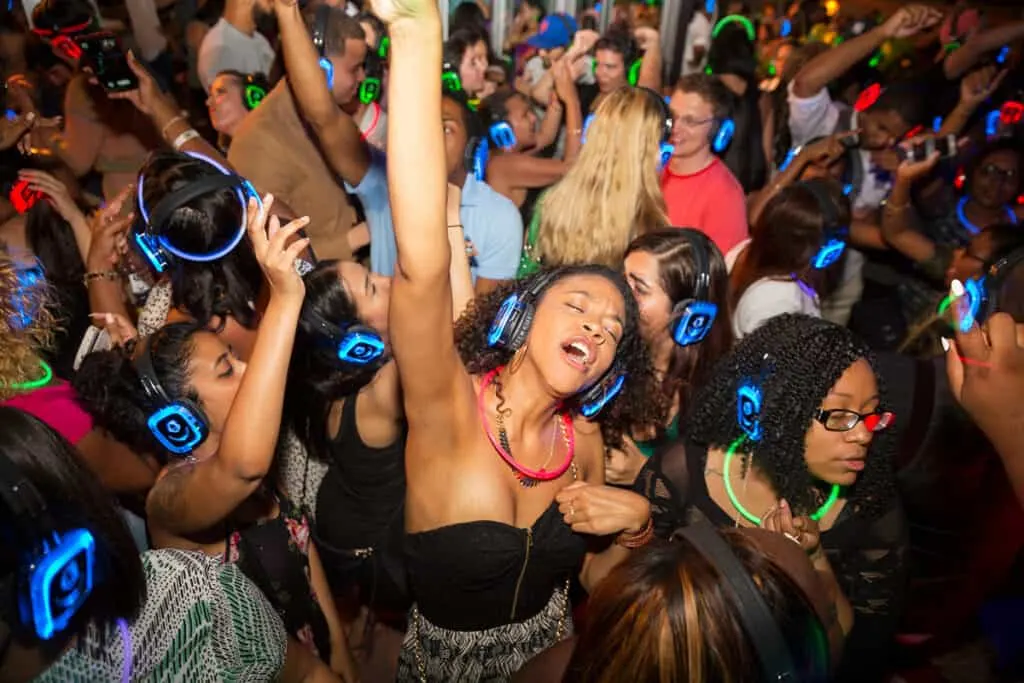 The anti V-Day Singles Party!
If you HATE all those loved-up couples swooning over each other on Vals Day, then grab a bestie or two and head to this anti V-Day party in Williamsburg. Single but not alone promises to be another epic v-day party @Berry Park. 150+ are expected to move to DJ Trey, enjoy sweet snacks, sparkling conversations, Cupid and maybe some great connections.
Get your anti V-Day tickets here >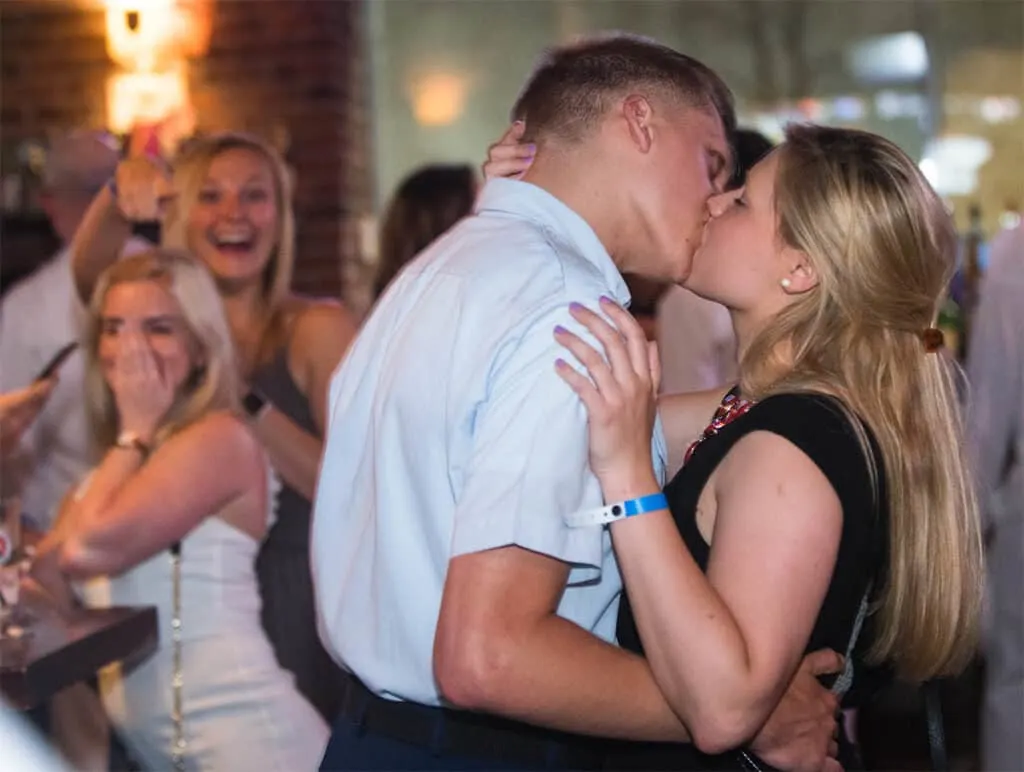 Have a Valentine's Day Trivia Competition (for lovers of The Office)
Strained love affairs and tongue in cheek workplace drama placed popular sitcom, The Office, in the hearts of New Yorkers and it has never let go.
This Valentine's Day, the Slattery Pub is hosting a different kind of Valentine's Day event featuring the sitcom. If you and your date are fans of the show, grab a few friends and head to their Midtown location where for a couple of hours on Valentine's Day you'll get to have a trivia showdown with other couples!
Have a Blindfolded dinner at Abigail's
On February 14th, Abigails Kitchen restaurant is offering the most unique Valentine's Day dinner.
Your evening starts with blindfolds and continues with dinner served by your chef while you try to guess what you're eating. We think it's a sensual way to enjoy dinner and we bet your date will agree!
Go on a Valentine's Day Scavenger Hunt at the Museum Of New York City
If you're visiting New York City for the first time, you and your date will enjoy the chance to learn about the city's history while going on a fun scavenger hunt this Valentine's Day.
This year is a particularly good time to visit the Museum Of New York City as they have brand new exhibits. Add in the scavenger hunt and you and your love will be in bliss while working hand in hand to solve the mysteries in this unusual Valentines Day date in New York! The scavenger hunt is free with entry!
Play Sexy Games at the Musuem of Sex
If history and culture aren't your thing, how about ditching the traditional museums and heading to this raunchy place for a few hours of unusual fun and games!
The first few floors contain typical museum fare while the top floors have the Funland where you and your significant other will enjoy some raunchy fun. We promise it's not too over the top but you may want to check it out for yourself!