I love a weekend market. Some are Farmer's Markets, some are Weekend Markets as they sell more than produce and include handmade crafts and goodies, or – as in my case – divine imported leather bags from Italy and my new Lulu Eyewear range that I've been working on for about a year.
I did a quick poll on my Blogger at Large Facebook page and asked my 11,000+ fans which markets they recommend all over New Zealand, and you'll find their picks below.
I've also added links to the markets where possible, so if you're in the area, look them up and spend some much-needed cash with local operators. They'll be forever grateful for your custom.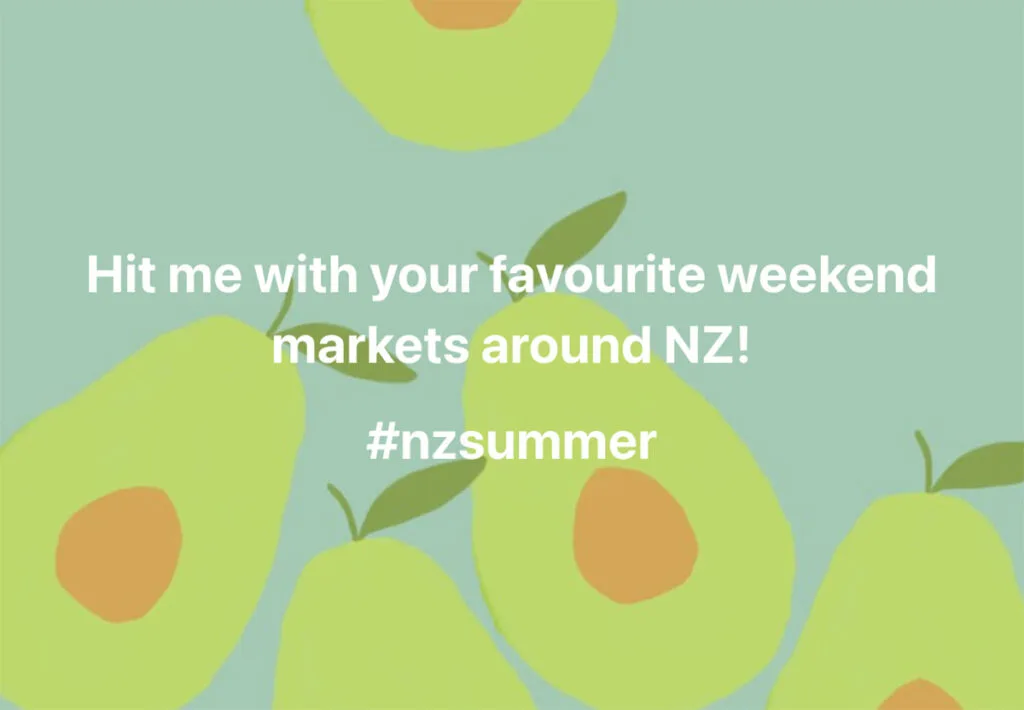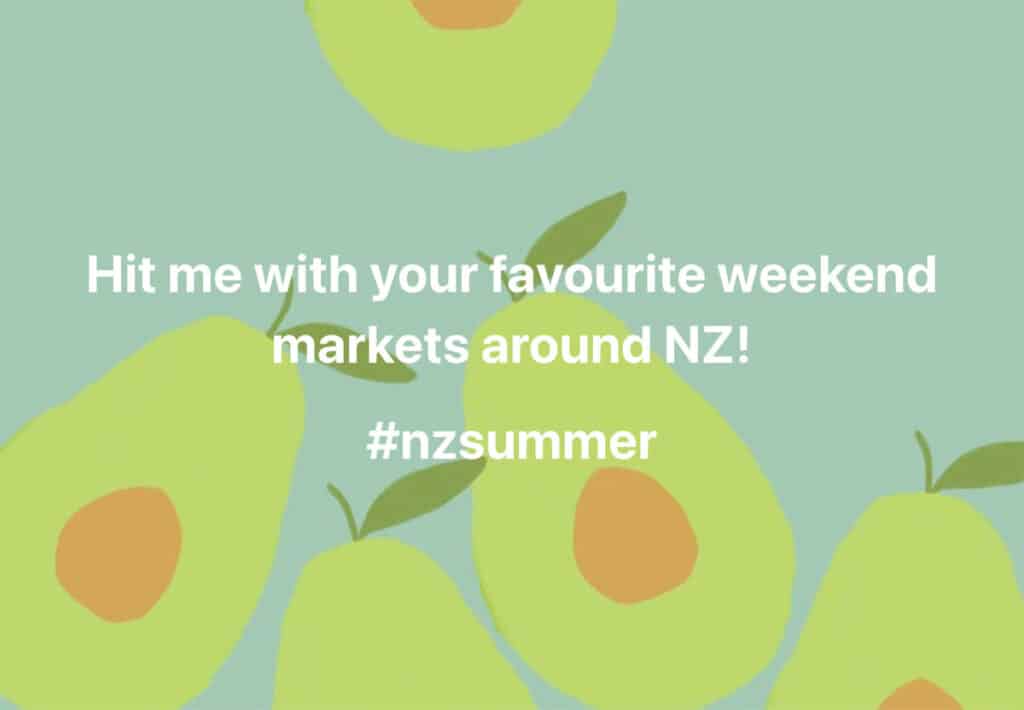 I was sent a bunch of markets, but as I researched them I found either no websites or Facebook pages that haven't been updated for months, so I've had to cull some.
NZ's Weekend Markets starting from top of the country to the bottom
Kerikeri Packhouse Market: Saturdays from 8am – 1.30pm and Sundays from 9am- 1.30pm indoors and outdoors – rain or shine. Set in the historic Northland Packing Shed, you can sit at outdoor tables eating tasty morsels from local vendors. Buy gifts from artists and craft stallholders. Meet growers and producers.
Whangarei Grower's Market, Saturdays 6-10am. The early bird will catch the best produce. Think fat red tomatoes, veggies, flowers, fresh farm eggs, mullet, honey, baked goodies and all the good stuff from local vendors.
Matakana Country Park Market. Sundays 8.30am – 1pm from October to June (closed in winter). No list of weekend markets in New Zealand would be complete without a visit to Matakana. The Country Market is not the same as the Matakana Village Market, which is open Saturdays from 8am – 1pm year round, set behind the cinema. Matakana Country Market is located opposite the Sculptureum (which is another great place to visit in Matakana).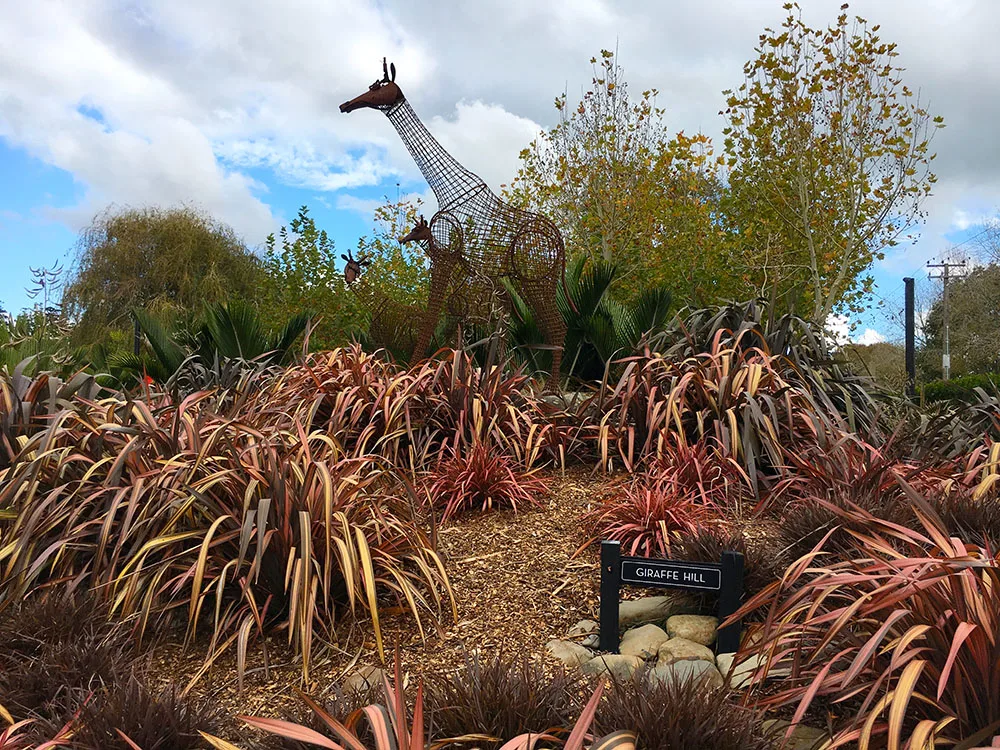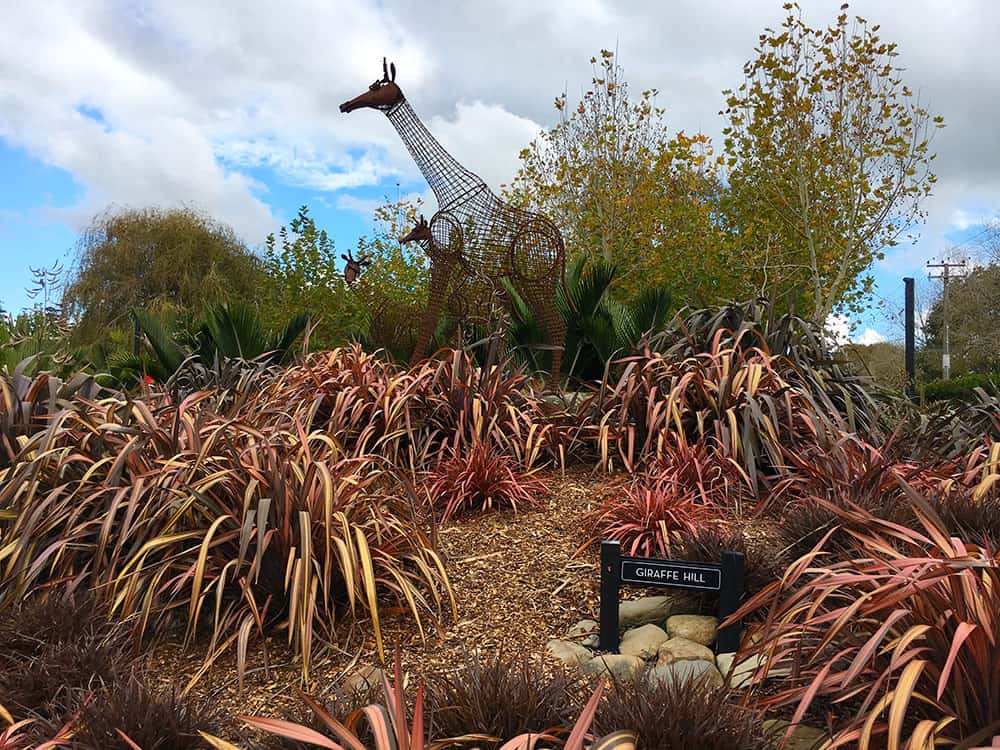 Waipu Boutique Sunday Market, held on the second Sunday of the month from 9am – 1pm in the Coronation Hall. You'll find about 50 stallholders selling veggies, homemade jams and chutneys, baked goods and good coffee, arts and crafts. No imported or second hand products are allowed.
Smales Farm Market, Auckland, on the second Sunday of the month from 9am – 2pm. This a collaborative market combining Coatesville and the Auckland Plant Market bringing artisans and their fresh, organic and sustainable goods. Some of my fellow Howick Market stallholder friends go and tell me it's huge and very good.
Howick Weekend Market, Auckland, on Saturdays from 8am – 12.30pm. This one is dear to my heart as whenever I'm not travelling I'm here with my leather bags from Italy, cashmere made in Nepal by hearing and sight-impaired young adults, and more. About 50 stallholders sell everything from fresh flowers to fresh produce, lotions to ceramics, bread, pastries and donuts are all here too.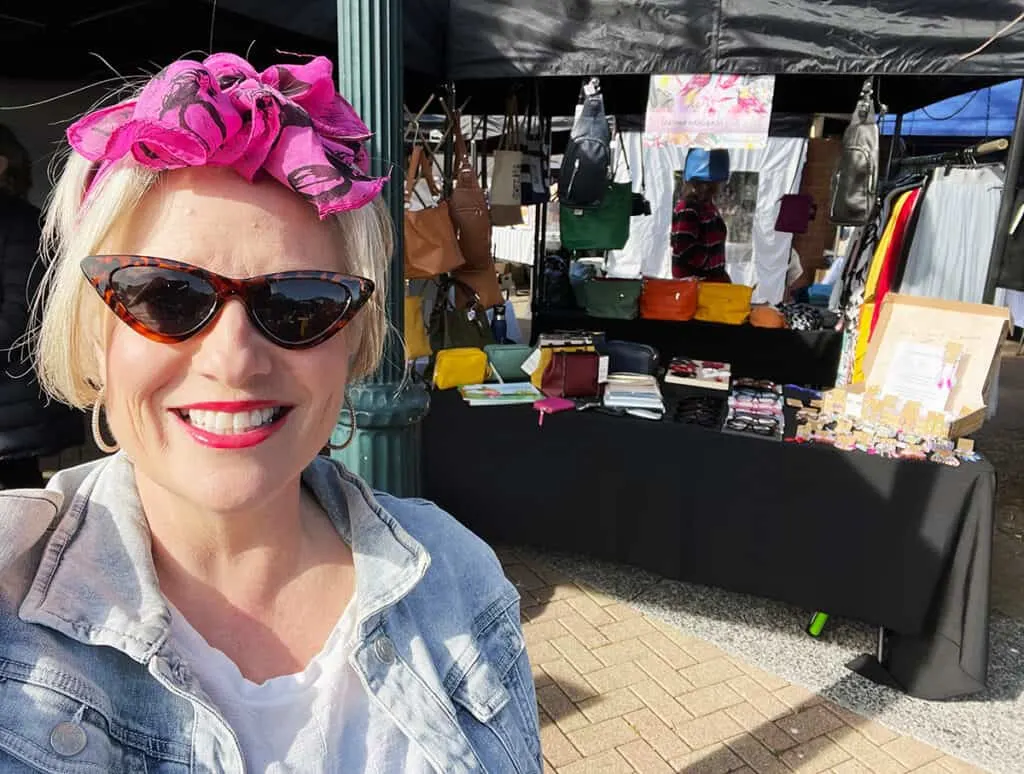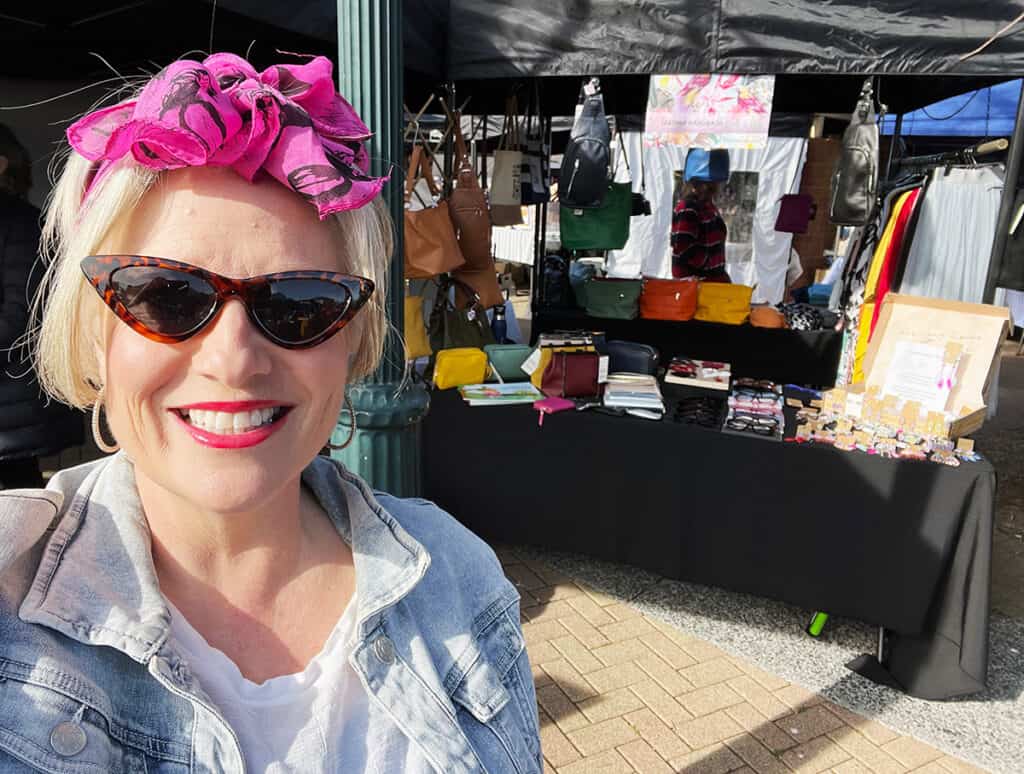 Avondale Sunday Market is New Zealand's biggest one day market, Sunday 5am-12noon. It gets about 20,000 people and prides itself on being a huge multicultural market with Pacific and Asian food, produce, arts and clothes. This is where some of Auckland's top chefs come to buy their fresh produce. Stallholders arrive between 5am and 7am, and are turned away if not in by 7. Some sell out of their car boots, others have pop up gazebos – some have both!
Grey Lynn Farmers Market in Richmon Road, Auckland is a must-visit destination in New Zealand for anyone who loves fresh produce and a sense of community. Held open every Sunday morning from 8:30am to 12:00pm, this farmers market boasts a variety of vendors selling everything from fruits and vegetables to artisanal cheeses and handmade crafts. While the market can get crowded at times, it's worth it for the opportunity to support local farmers and producers while mingling with neighbors and discovering new treats to take home.
Titirangi Village Market, last Sunday of the month from February to November from 10am-2pm and three Sundays in December. It is run by the parents of Titirangi Rudolph Steiner School with vendors selling food, arts, crafts, clothing, vintage, produce, gifts, health products accompanied by live music.
The Shed Collective Farmer's Market in Oratia every Saturday from 8.30am – 12pm. Come for your fill of patisseries, coffee, baking, raw foods, kimchi, salads, preserves, sauces and more, and catch up with friends in the cottage garden.
Clevedon Village Farmer's Market, Sundays 8am – 1pm at the A&P Showgrounds. Seasonal fruit and veggies – some so fresh they're picked the morning of the market. Meet growers and producers attending over 60 stalls. From fish to cheese to preserves, this is a lovely country market that people travel from far and wide for.
Thames Market, on Saturdays from 8am -12pm includes books and antiques with your fresh produce. The town of Thames is an antiquers dream, and you'll find collectibles as well as crafts, fresh fruit and veggies, gifts and bric a brac. From time to time the Crafter Market is on too, which is also worthwhile.
Coroglen Farmer's Market, Sundays 9am – 1pm from Labour weekend until Easter. Meet growers and producers at this small and friendly community market. Enjoy lovely fresh produce, home baking to have with a coffee and lovely crafts in the hall.
Tauranga Farmer's Market, Saturdays 7.45am – 12pm. This 20-year old market meets at Tauranga Primary School where stallholders sell speciality breads, fresh produce, fish, plants, goodies for pets and great coffee.
Waihi Beach Sunday Market, Sundays 9am – 1pm from Labour Weekend until Easter under the huge Pōhutukawa tree with rows of tents and cute tables and chairs set up to enjoy the vibe, the food, the craft stalls and the music, the big ol tree, the atmosphere.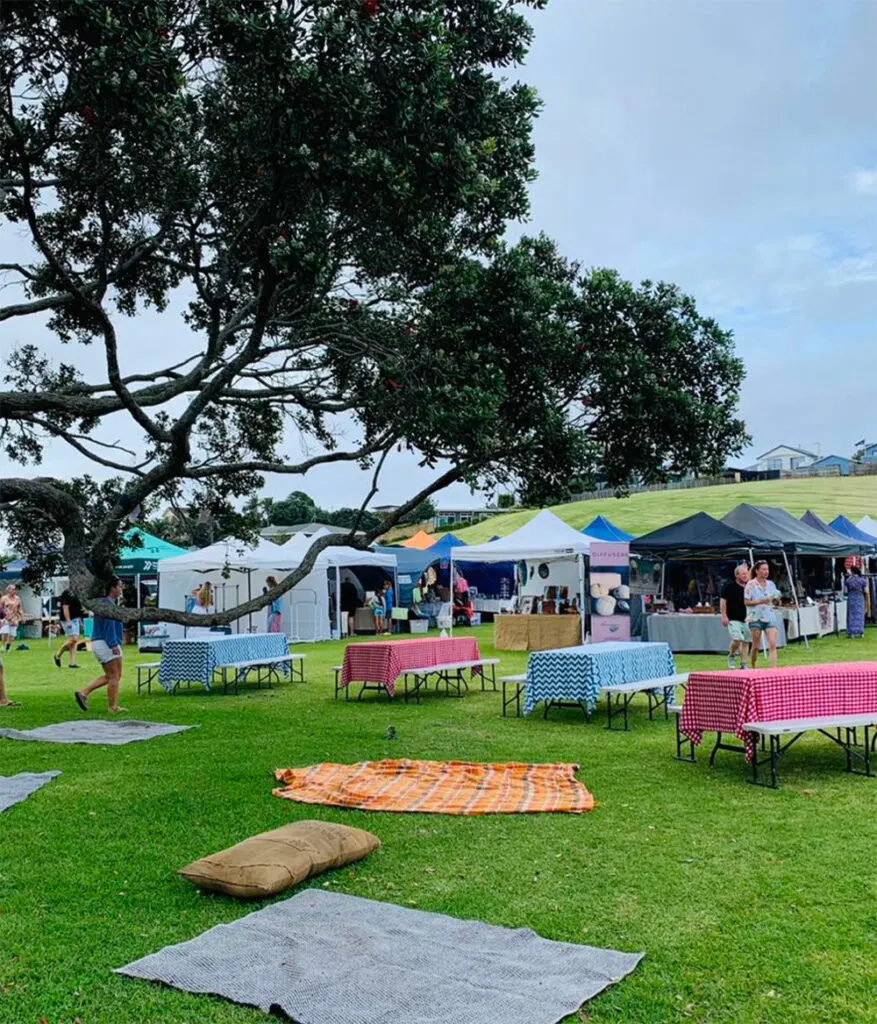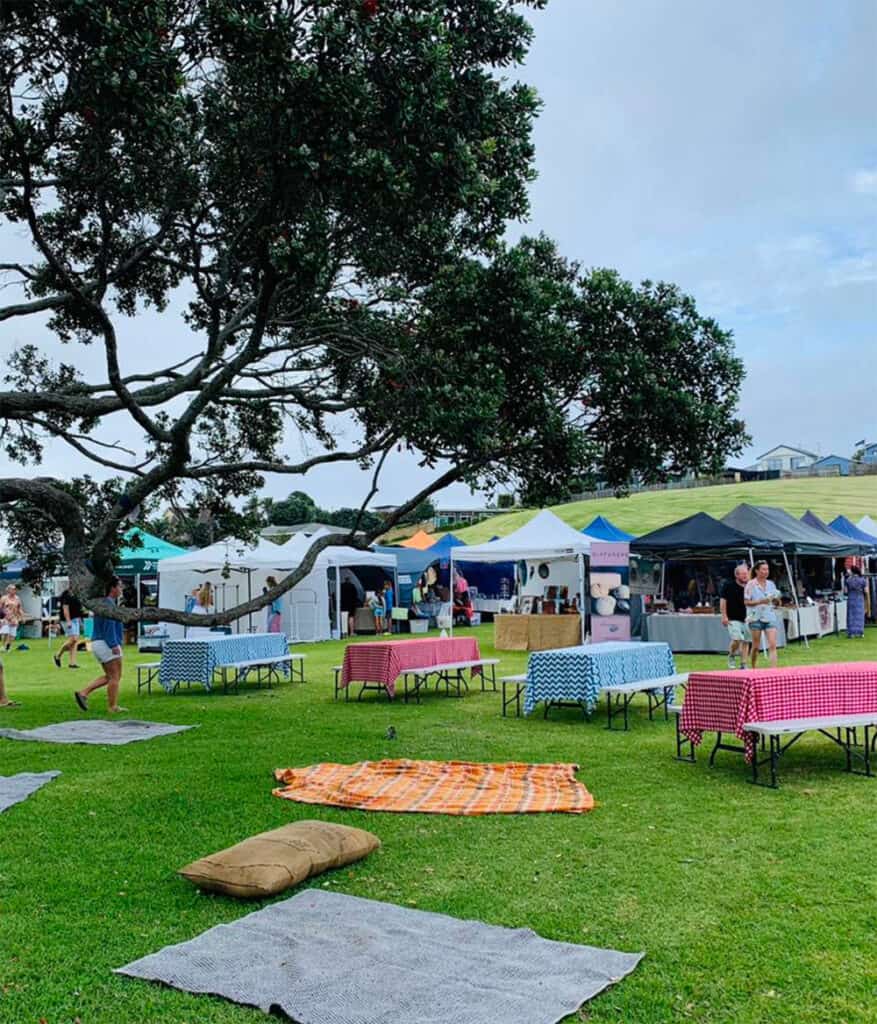 Ohope Craft Market, 1st and 3rd Saturday of the month (and once a month in winter) from 8.30am – 12.30pm opposite beautiful Ohope Beach. A vibrant market in Ohope Hall and outdoors under gazebos. You'll find local produce, food, crafts and plants for sale.
Mt Maunganui Little Big Markets, Saturdays 9am – 2pm in Coronation Park. Meet local producers and suppliers. Eat their baking and delicious food at one of the picnic tables and support all the little businesses that come here on Saturdays.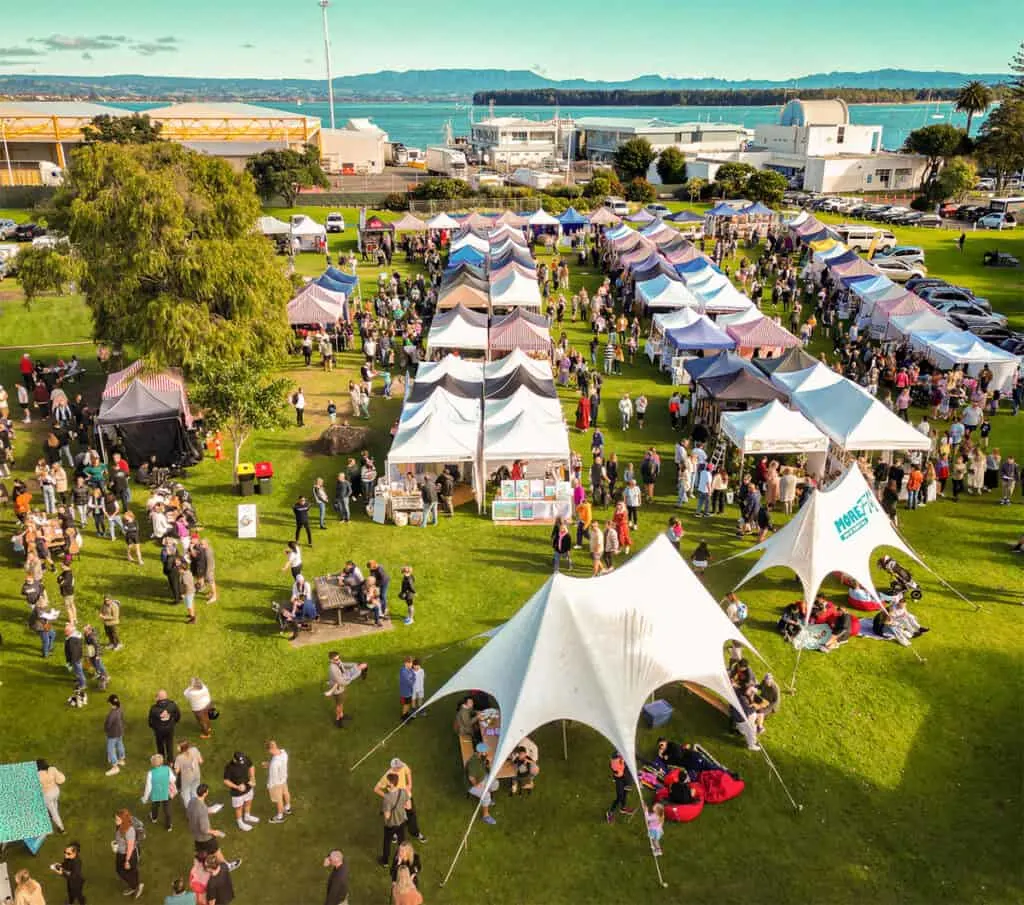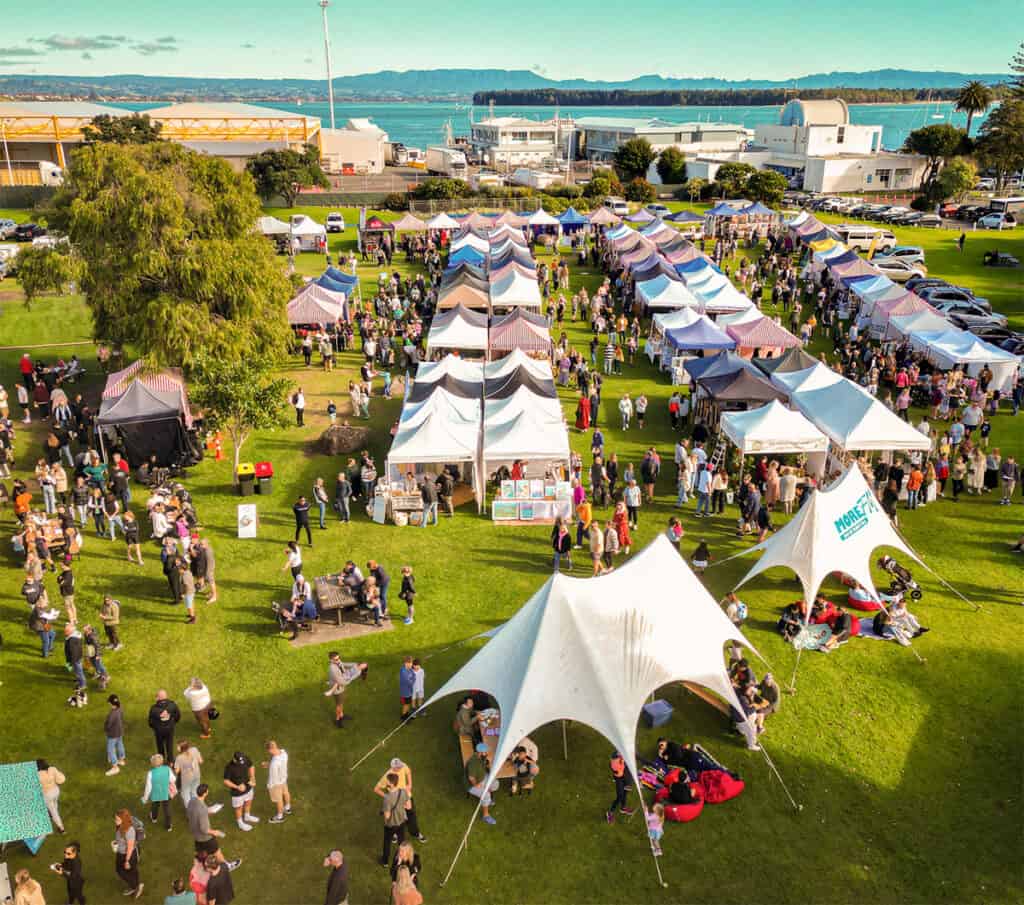 Papamoa Lions Club Market, 2nd and 4th Sundays of the month, 7am – 12.30pm. Over 100 stalls and always such good variety. Come for produce and food, clothing, plants, books and more. All proceeds go to the Lions Club for their work in the community.
Whangamata Weekend Market, beachside on random Saturdays from Labour weekend until Easter. They happen almost weekly in summer, then monthly March, April , October, November. Wander along the tents of stallholders selling delicious food, flowers, gifts and live music.
Whakatane Sunday Market, Sundays 8am – 1pm at Mitchell Park. Meet the makers of decadent fudge, florists, crafters. Buy jewellery and cheese. Come for breakfast and take home lunch.
Tamahere Country Market, 3rd Saturday of the month, 8.30am – 1pm, between Cambridge and Hamilton. You'll find local art, organic produce, wine, jewellery and cheese. But they had me at Devonshire cream tea in the hall!
Taupo Market Central, Sundays 9am – 1pm. Held on the lake front in town, dozens of tents and food trucks. Come and meet book authors, craft and clothing makers, buy honey, meats and produce and line up for the empanadas – they're to die for!
Napier Urban Farmer's Market, Saturdays 8.30am – 12.30am in Clive Square. Come for crepes, fresh produce like locally grown mushrooms, organic food, dumplings and gorgeously decorated cup cakes. I'm all about cup cakes!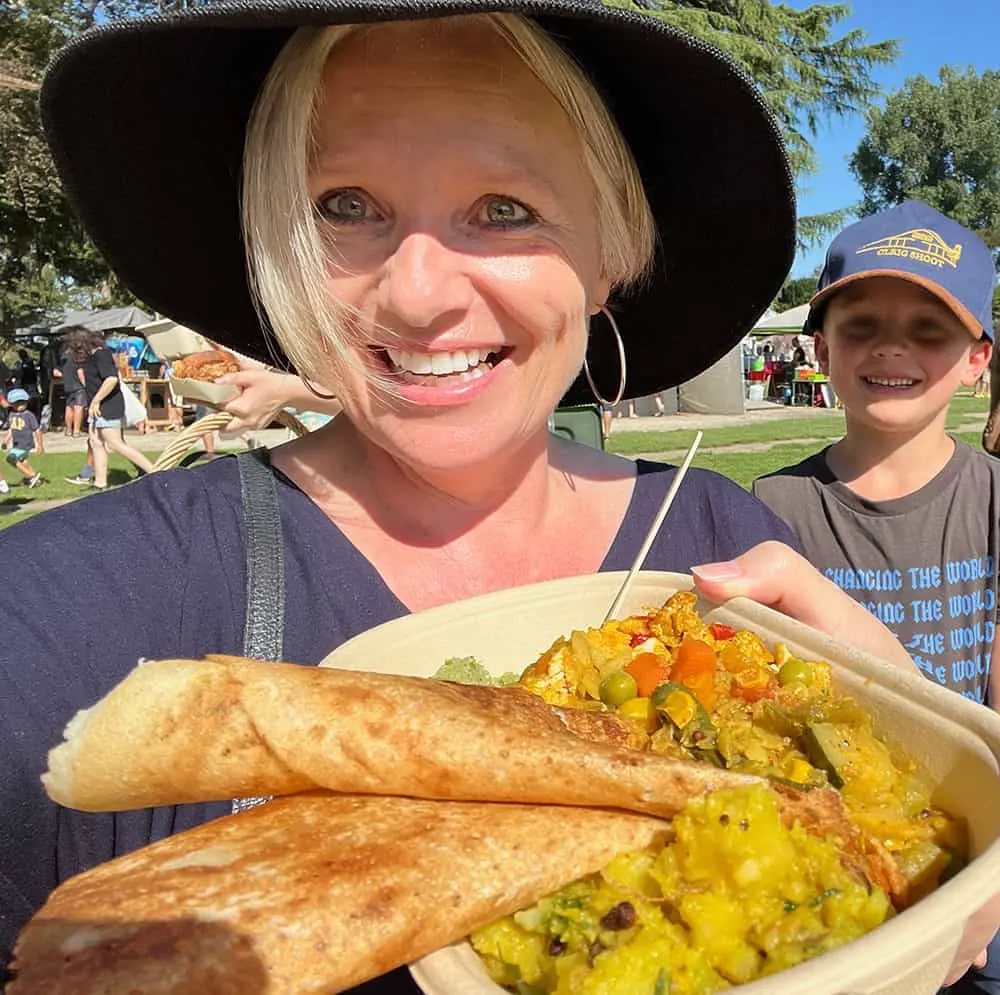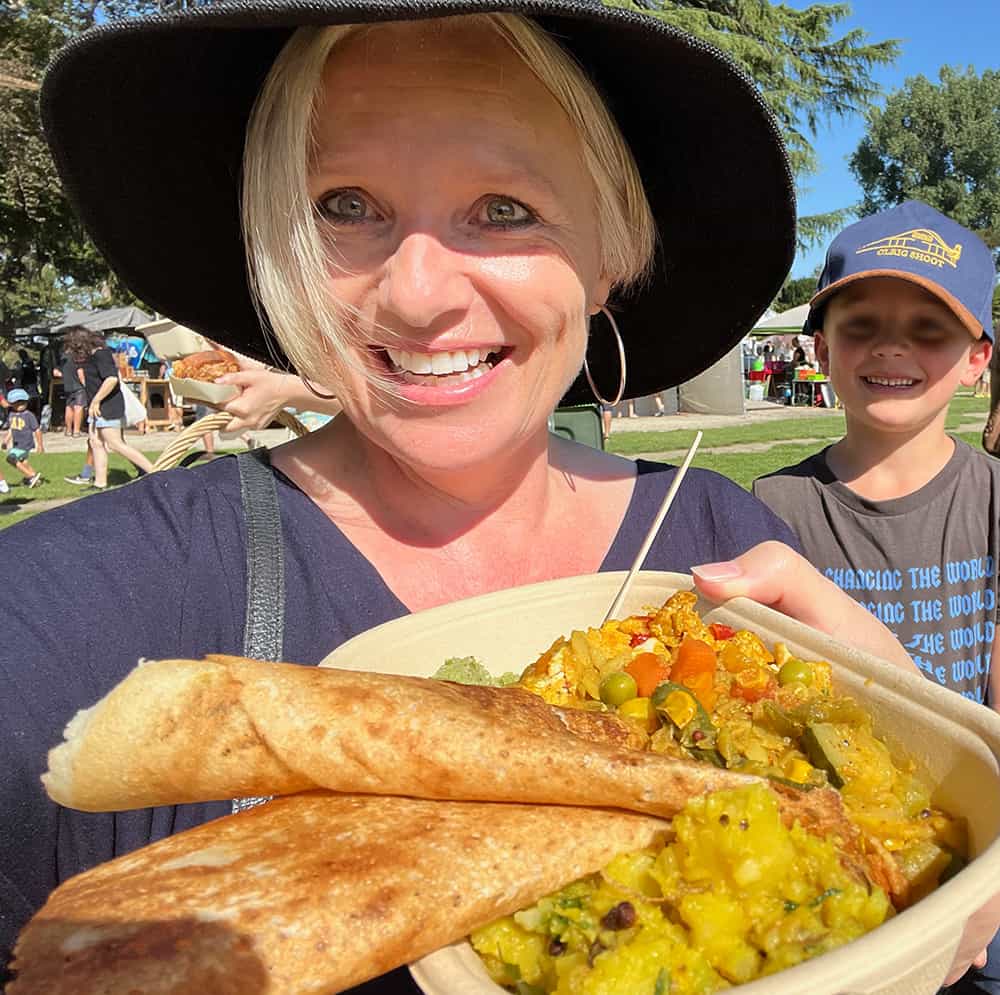 Hawke's Bay Sunday Farmer's Market, Sundays 8.30am – 12.30pm. This huge market is in the Hastings Show grounds and is a destination event in Hastings and Napier every Sunday. My family goes for the dosas – delicious Indian crispy crepes filled with vegges. There's live music and places to sit at tables while you send someone to line up for coffee, brunch and browse the oils, fish, preserves. Buy veg and meats and take home breads and treats.
Gisborne Farmer's Market, Saturdays 9.30am – 12.30pm in the old Army Hall carpark. Come for veggies, fruit, cheese, coffee, flowers. A small market with around 40 stalls, but well worth coming for brekky or brunch and leaving with some treats.
Whanganui River Markets, Saturdays 8.30am – 1pm down by the river. 150 stalls selling all the yummy fresh produce, but come hungry because the cakes are out of this world! Check out the doughnuts too. Gifts, jewellery, preserves and more.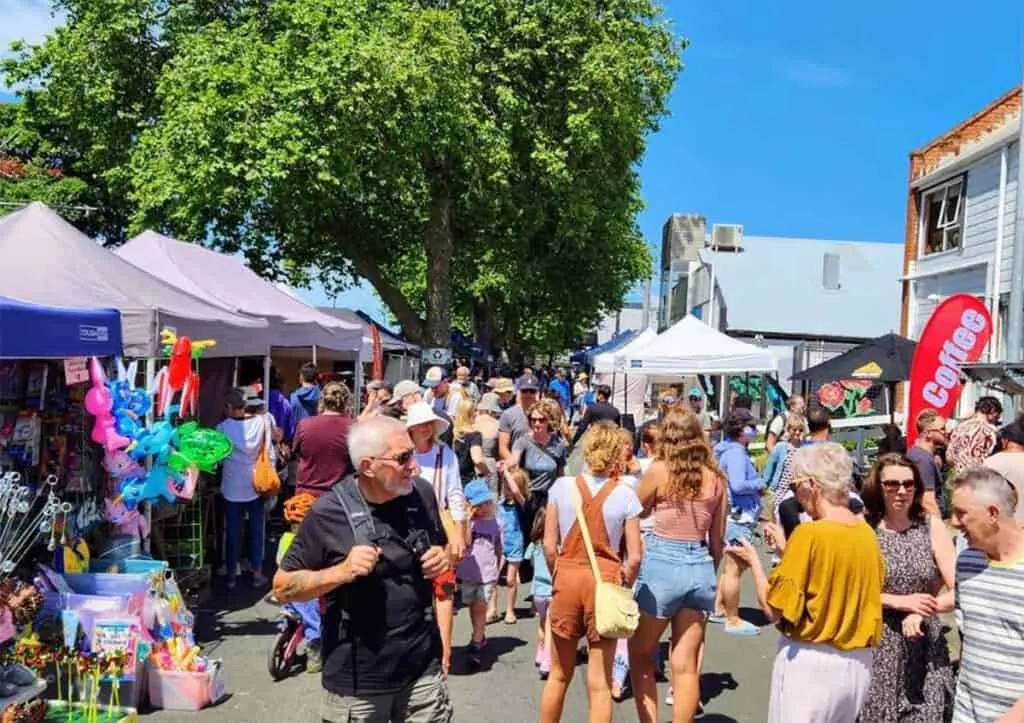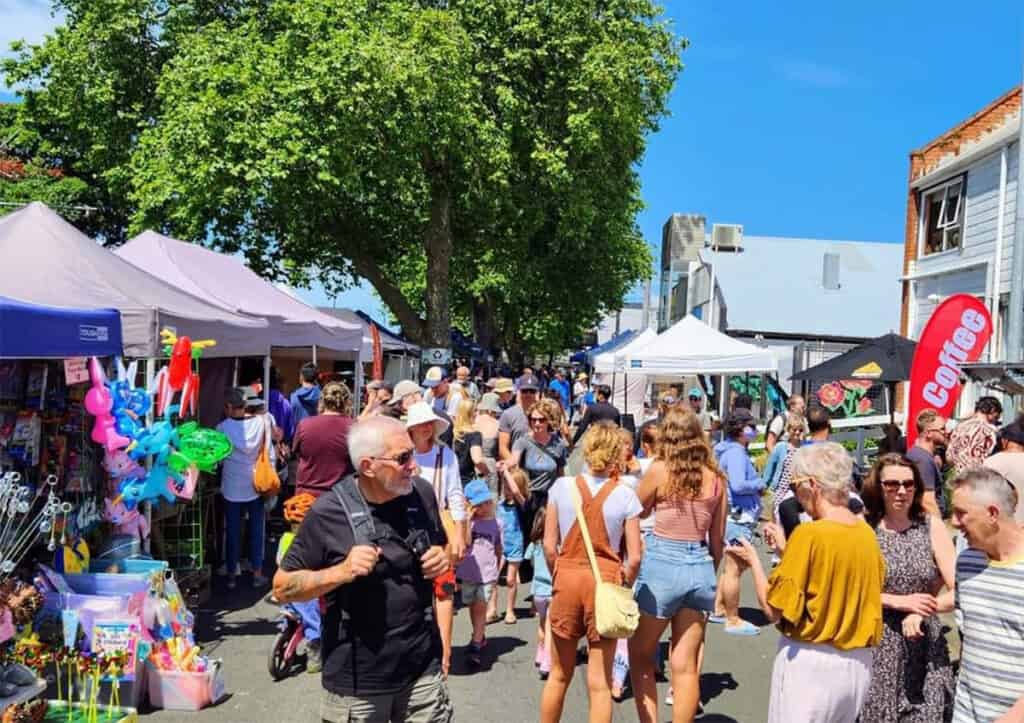 New Plymouth Seaside Market, 1st Sunday of the month 9am – 2pm (more regularly in summer). Right on Ngamotu beach. I spotted delicious raw food cheesecakes on their Facebook page. You'll find locally made laundry detergents, preserves, art and gifts. Come hungry and stay for brunch.
Waikanae Community Market, Saturdays from 8am. You'll find collectables, soaps, books, homemade knitting, hand crafts, and skin care. Plus plants and produce, gourmet foods, and sweet treats.
Wellington Harbourside Markets, Sundays 7.30am – 1pm (till 2pm in summer). Located beside Te Papa Museum. Come for fresh produce and baking. Take home flowers, deli meats and pick up brekky from food trucks. Enjoy the live music at this stunning waterfront venue.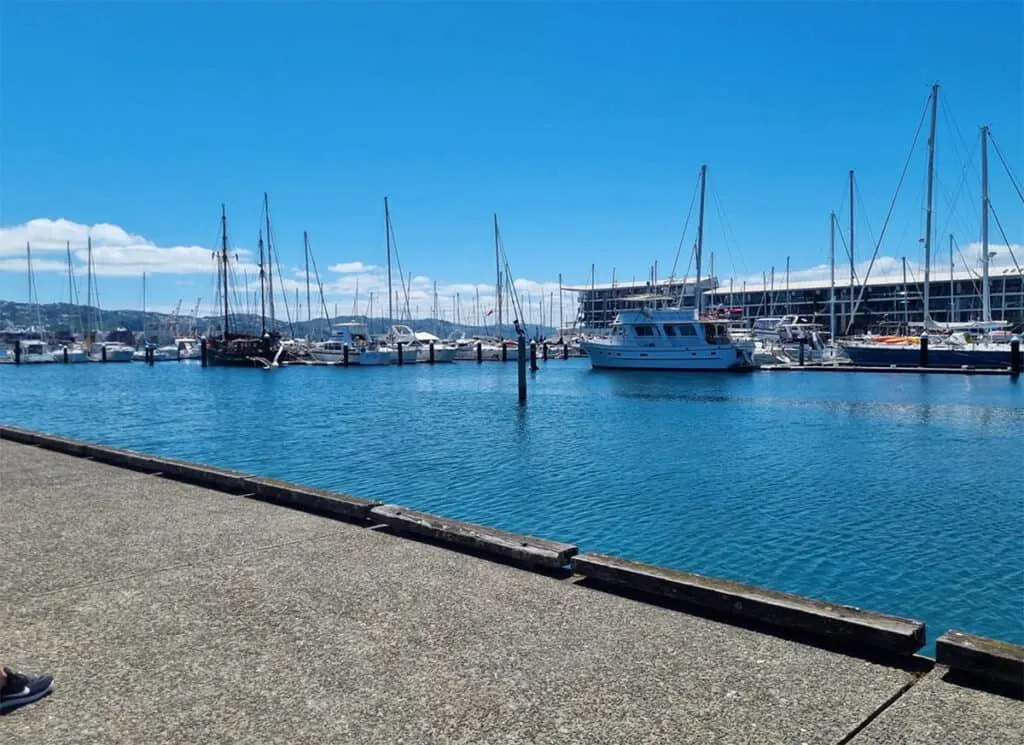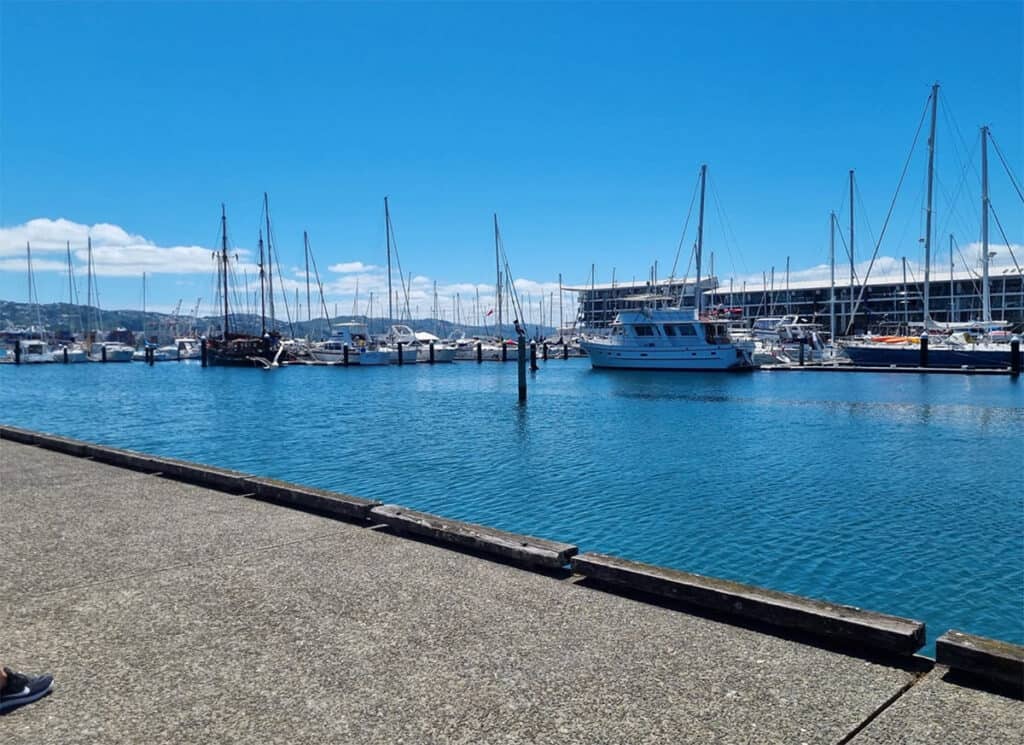 Nelson Weekend Market, Saturdays 8am – 1pm. Shop for seasonal produce, handmade jewellery and pick up coffee to go. I bought some cute pebble earrings made from tiny stones picked up from local beaches.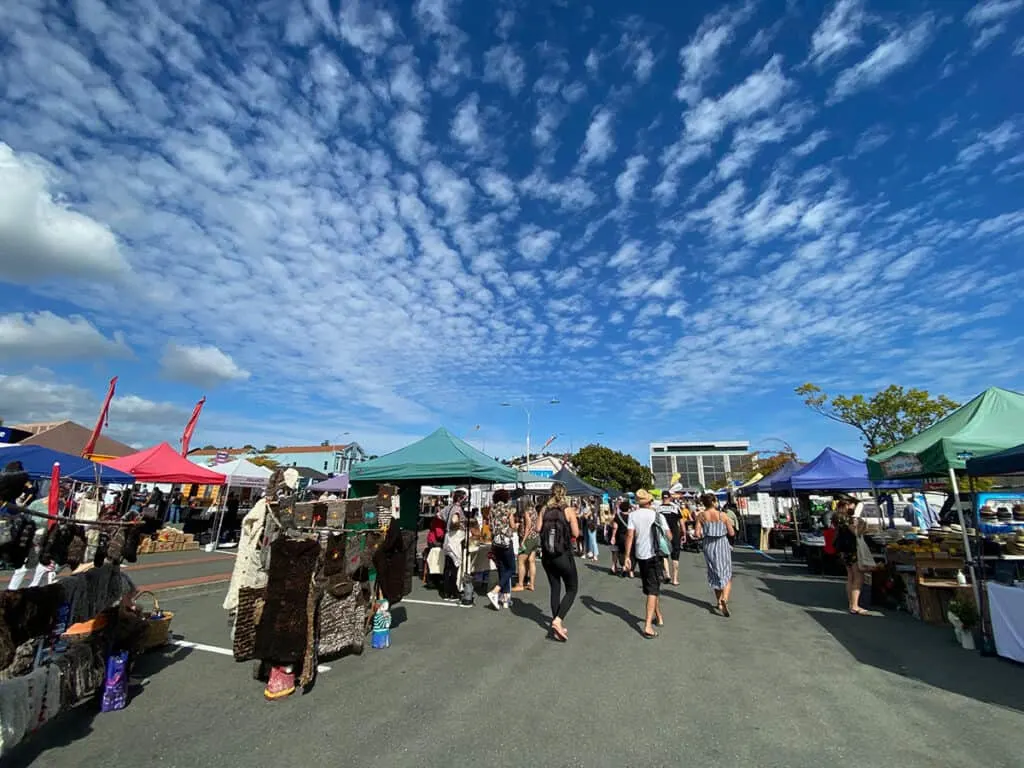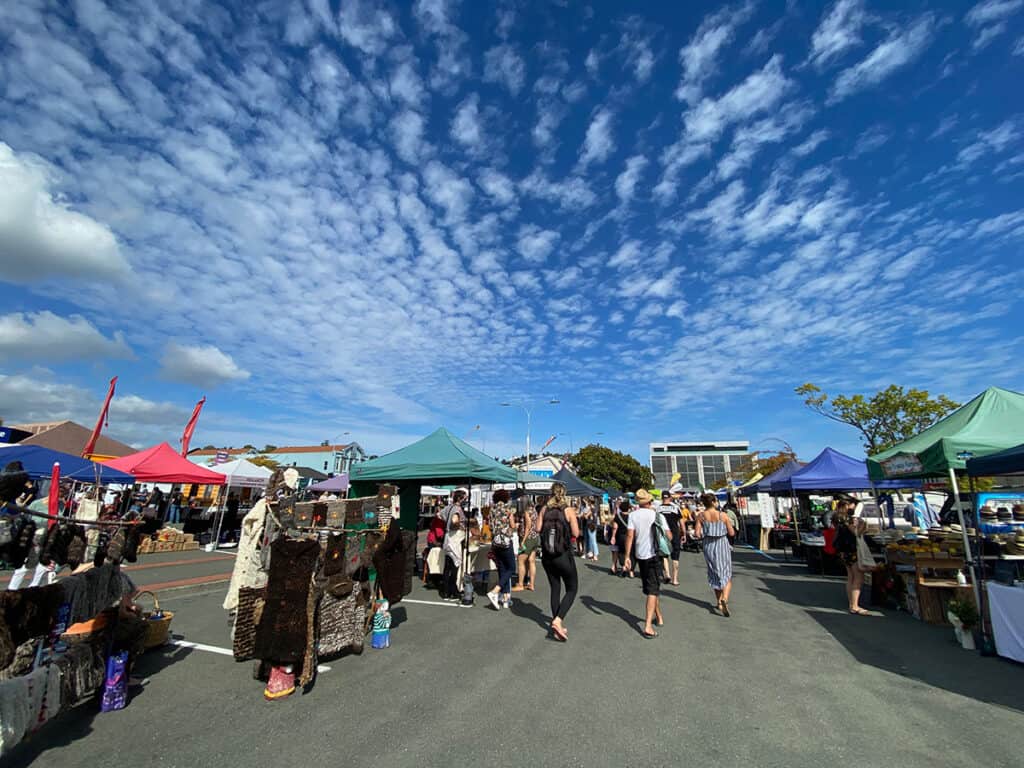 Ohoka Farmer's Market, Fridays 9am – 12.30pm in Ohoka Domain in all weather (closed June and July). This lovely setting in north Canterbury is one of the only weekday markets in this list. Visit local stallholders under tents for homemade baking, preserves, cheese, honey, and crafts.
Riccarton Market, Sundays 9am – 2pm at Riccarton Racecourse, Christchurch. You'll find over 200 stallholders here in rows – so plan to come for a couple of hours! When I was last here we had the "taste test" whitebait fritters from two different stall holders. You'll find rows of antiques and second-hand items, plus all the food, produce and coffee we've come to expect from great markets like this one.
Christchurch Farmer's Market, Saturdays 9am – 1pm. Not to be confused with the Riccarton Market, this one is in Riccarton House grounds beside the Avon River. It's a lot smaller than the above market, but I come for the Posh Porridge! You'll also find lovely produce, meats, and meet the growers.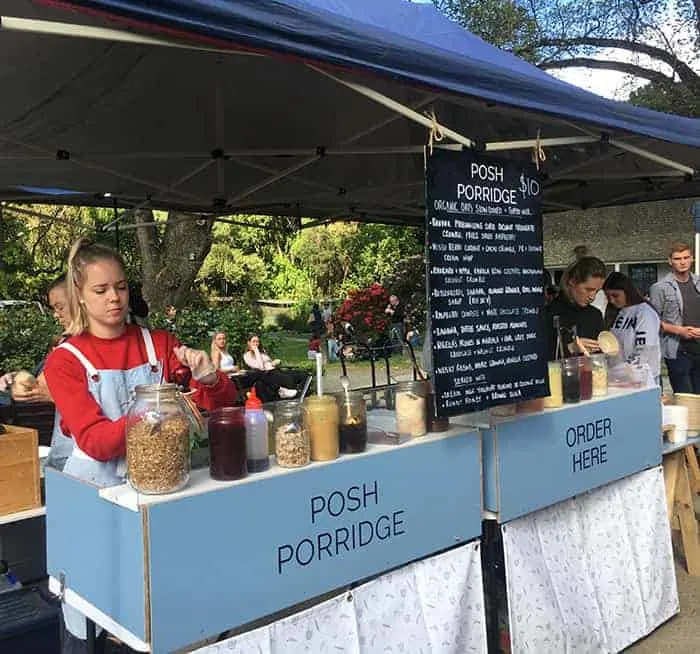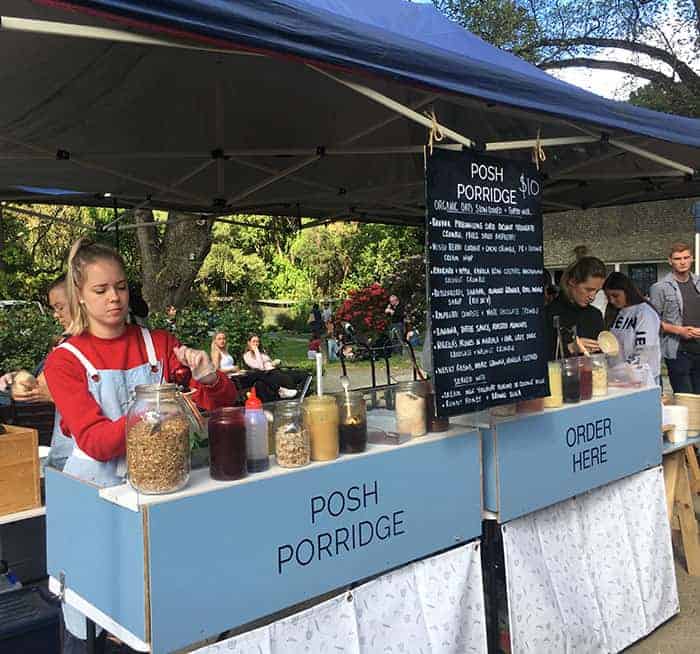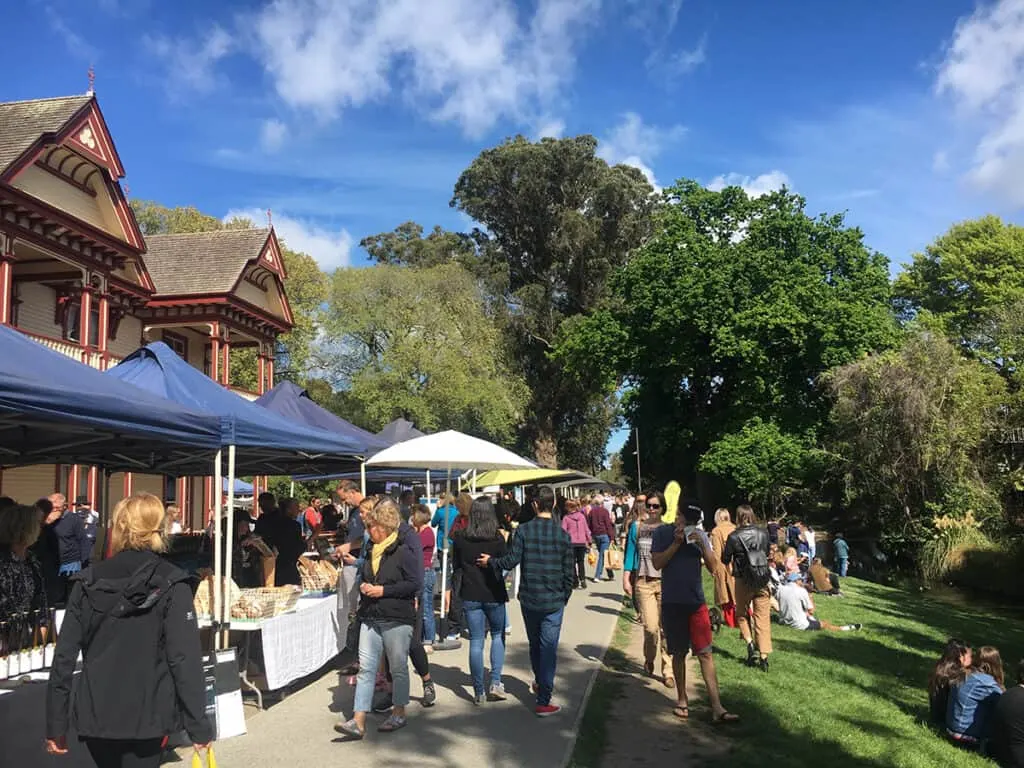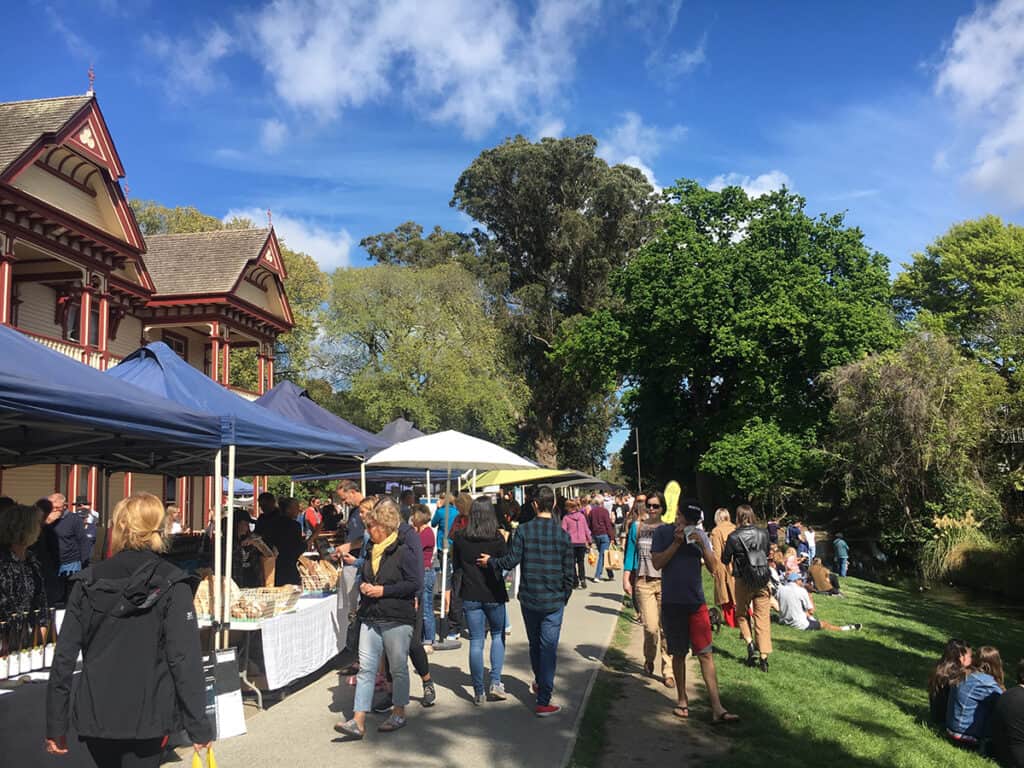 Lyttelton Farmers Market, Saturdays 10am – 1pm. You'll find up to 50 stallholders selling fresh fruit and vegetables, free range eggs, bread, meat, fish, cheese, juices, herbs and plants here, plus live music.
Amberley Farmers Market, Saturdays 9am – 12.30pm. Under the trees at Hurunui District Council buildings you'll find a superb range of locally grown, fresh, seasonal, quality produce and artisan products.
Oamaru Farmers Market, Sundays 9.30am – 1pm. This was recommended by a reader for the yummy cheese roll with garlic butter she had here from Sue's Cheeserolls. Now that's worth making the trip for alone! You'll also find locally produced honey, olive oils, kombucha and the famous Whitestone cheese made in Oamaru.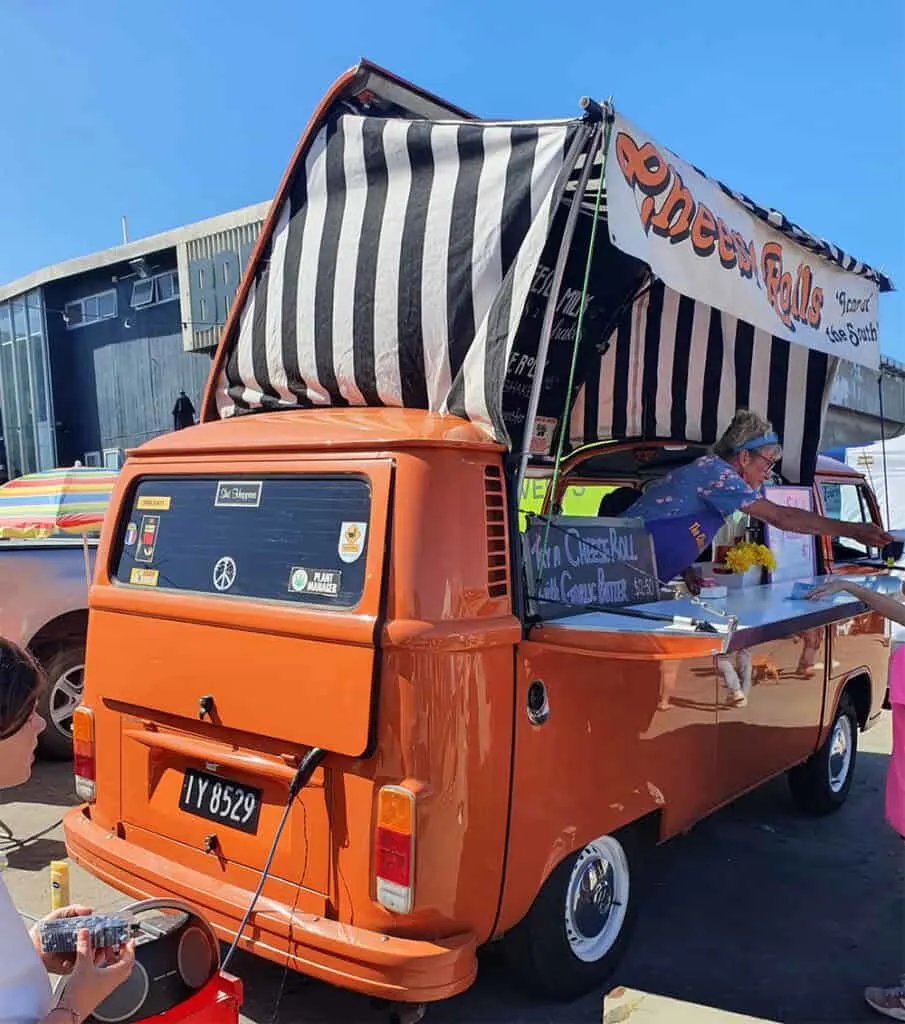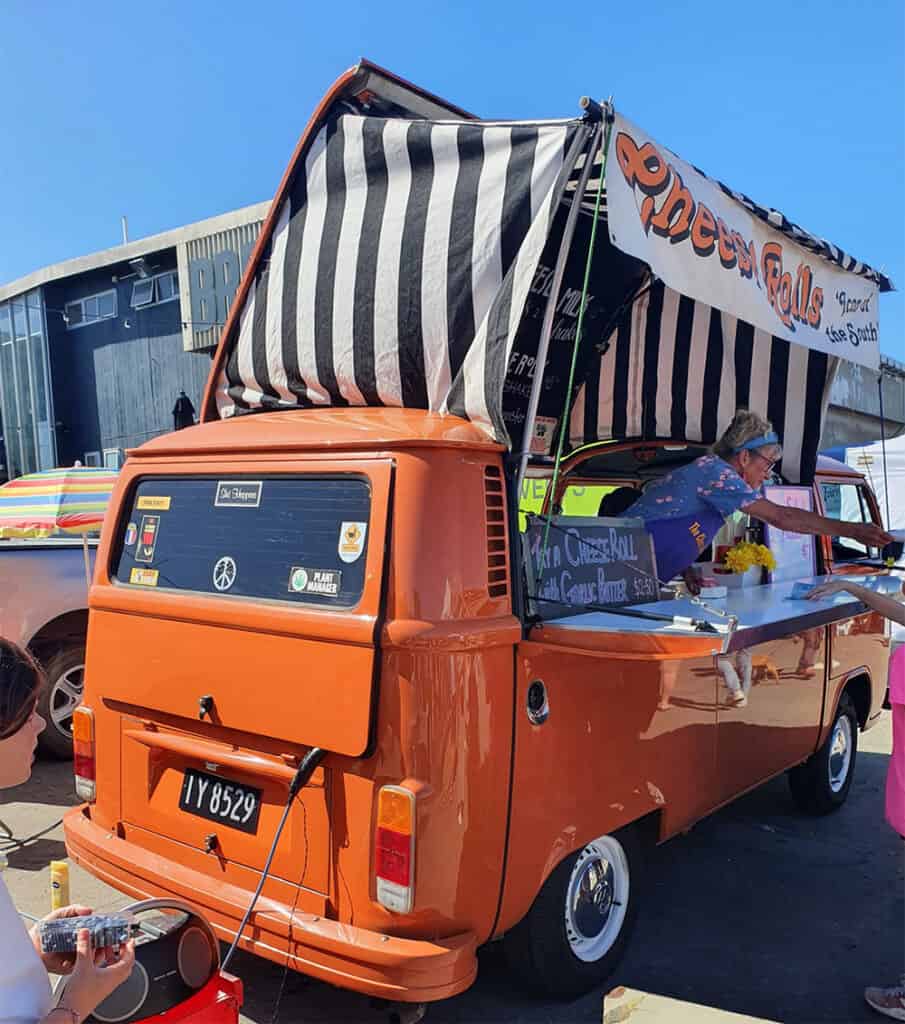 Otago Farmers Market, Saturdays 8am – 12.30pm in Dunedin Railway carpark. Up to 65 vendors selling the freshest fruit and vegetables, meats, eggs, baked goodies, cheese, nuts, honey and artisan products. Come for reshly roasted coffee and a delicious breakfast or brunch. No dogs allowed.
Invercargill Southern Farmers Market, Sundays 9.30am – 1.30pm. Located at the Invercargill Railway Station. You'll find delicious food trucks, live music. Locally grown fruit and veg, and handmade artisan crafts.
Tell me more about your favourite weekend markets in New Zealand in the comments, and I'll add them to this list.