Cape Cod is one of New England's best-kept secrets. It is edged in miles of coastline with more beaches than you could visit in one vacation, smattered in dollops of fascinating history and flavoured with fresh seafood!
When I think of New England, I think of a fall road trip with picturesque views highlighted by stunning fall foliage blazing brightly into the distance.
But as well as the epic foliage, there is Cape Cod, an area blessed with so many beautiful beaches for a picnic, a swim, a fishing trip, historic lighthouses and homes to drool over.
This post will help you decide which beach is the best one for you.
*This post contains some affiliate and sponsored links.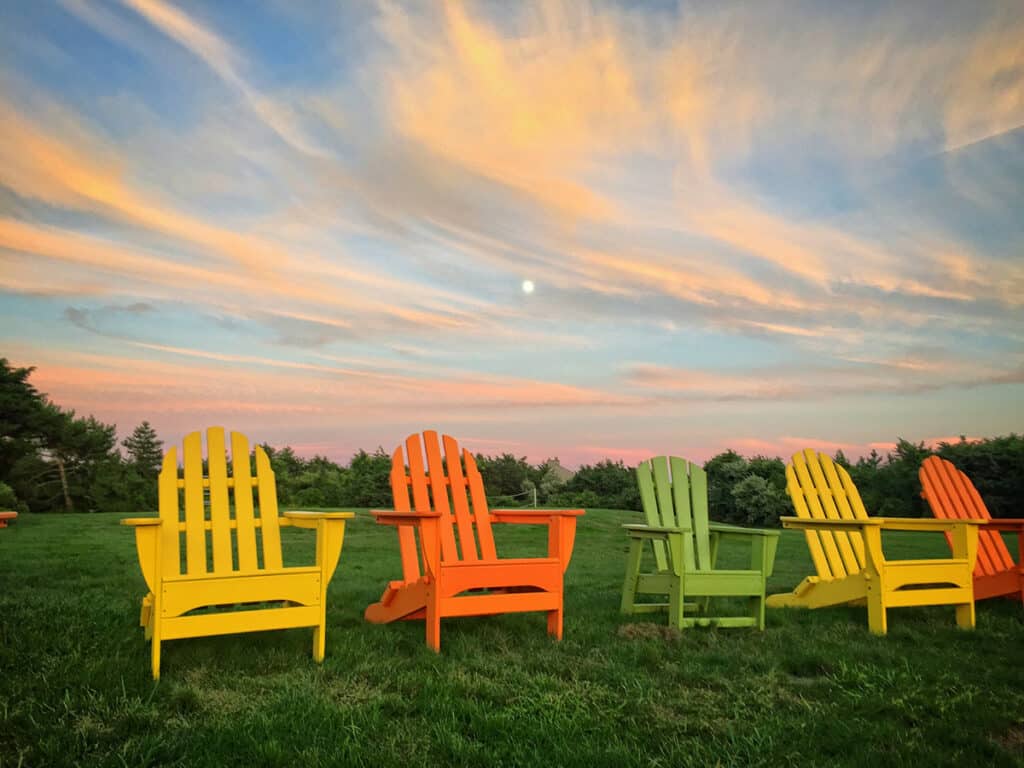 If you'd love the ease of booking a tailor-made New England vacation and just need help with the planning, jump onto Original Travel, and see the gorgeous itineraries they can offer.
Did you know Cape Cod is a movie star too? Several popular films and television shows were filmed on the Cape (including the newest season of FX's American Horror Story entitled "Cape Fear"). So it's an ideal destination for beach bums and movie buffs alike.
Where is Cape Cod exactly?
Good question. Cape Cod is the fish hook shaped spit that reaches into the Atlantic Ocean just south of Boston.
It's in Massachusetts and is probably most famous for the Kennedy's favorite island, Martha's Vineyard, but there are over 100 beaches in Cape Cod!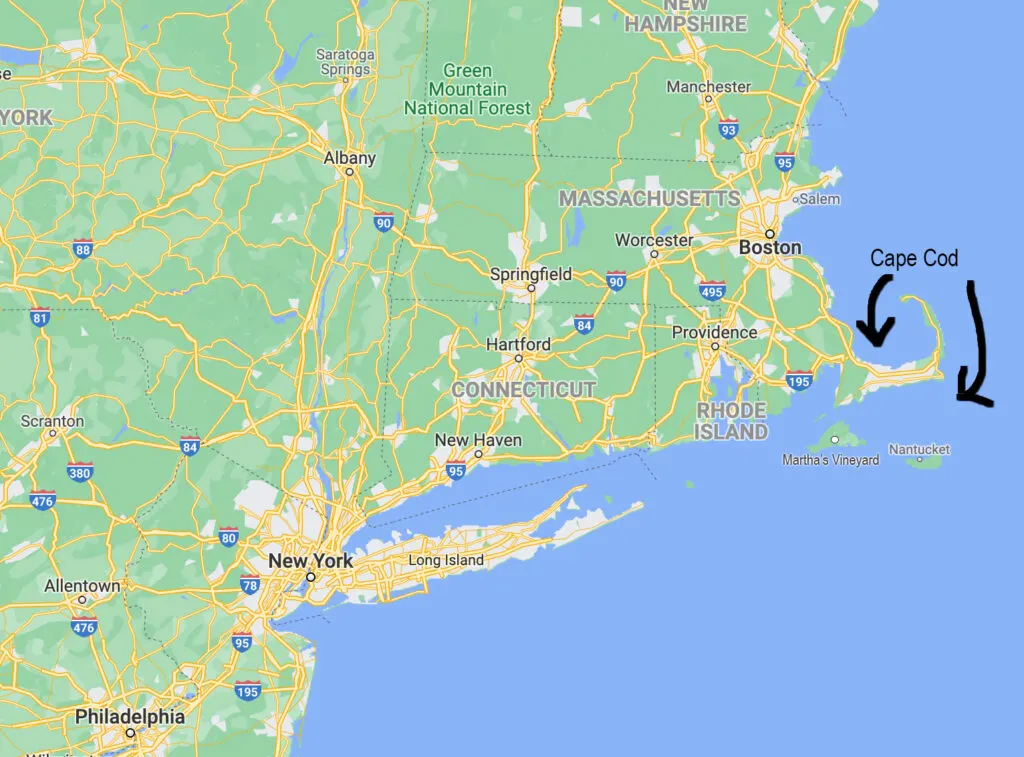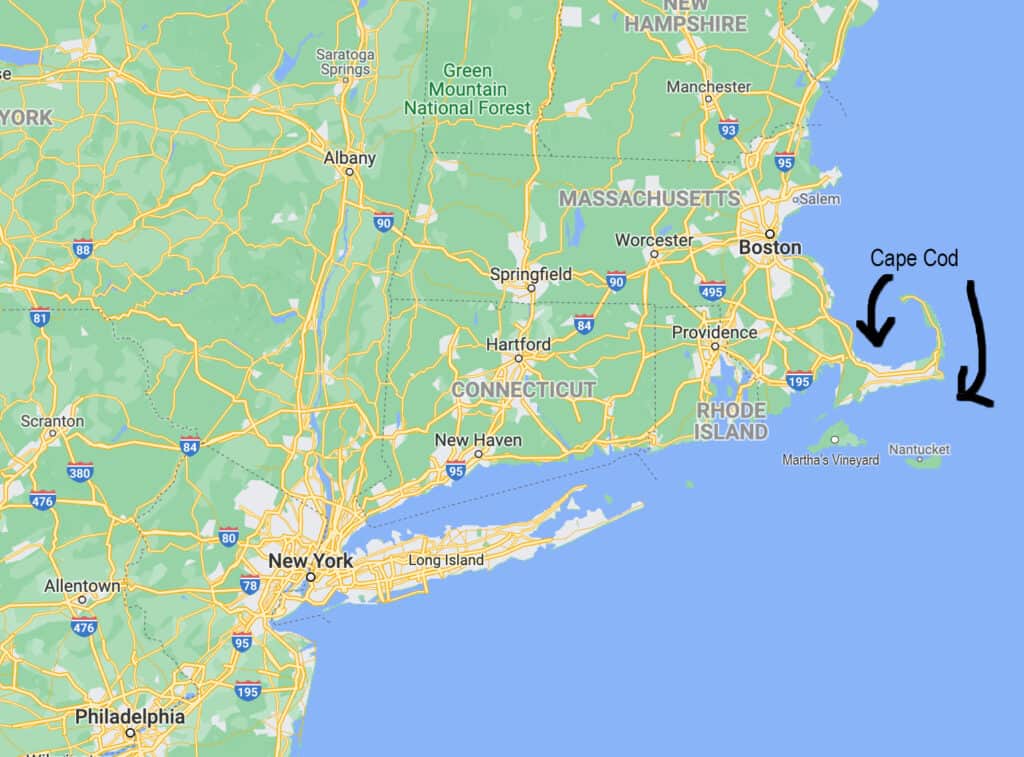 For this post, I'm going to presume you have a car and if you're driving from Boston, it is only 70 miles, and takes about an hour and a half to the Cape, depending on traffic.
I'll be adding a Boston post soon, but I suggest you plan to spend at least two or three days here first as there are plenty of beautiful historic buildings (well historic by American standards – we're not talking 10th century!), plus intriguing attractions and tasty Italian bakeries to enjoy in the state capital.
Oh and try and catch a Red Sox game at the iconic Fenway Park baseball stadium too!
If you're driving from New York the distance from NYC to Cape Cod is 252 miles and would take about four hours to drive.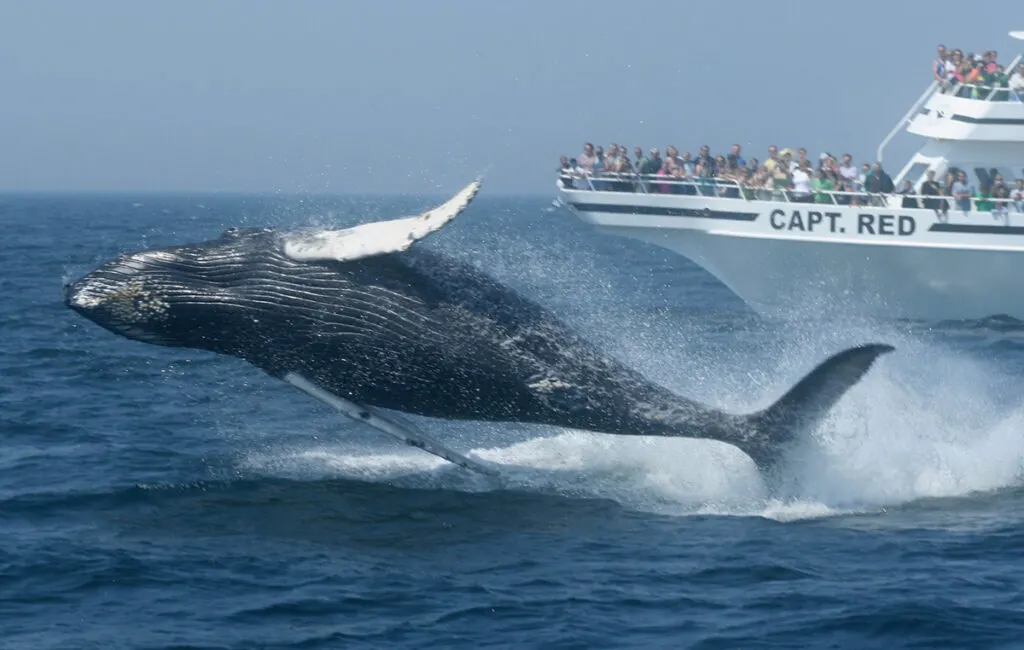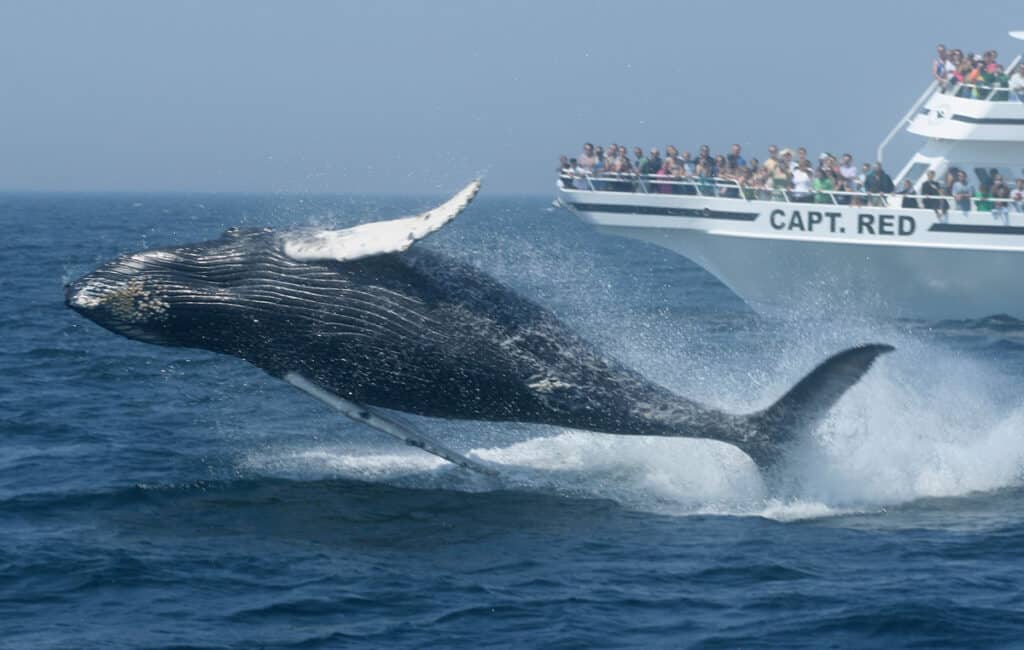 If you're looking for a gorgeous tailor-made Boston to Cape Cod road trip vacation which includes car rental and accommodation, and all the leg work done for you, have a look at Original Travel's itineraries.
Their 2-week itinerary starts in Boston and includes a visit to Harvard before you pick up your rental car and set off on a self-drive road trip. You'll enjoy a private whale-watching cruise, a cycle on the Cape Cod Rail Trail, and cute accommodation by the seaside or in the cute towns and villages you'll discover along the way.
This itinerary takes you as far as Bar Harbor in a loop back to Boston over 14 days.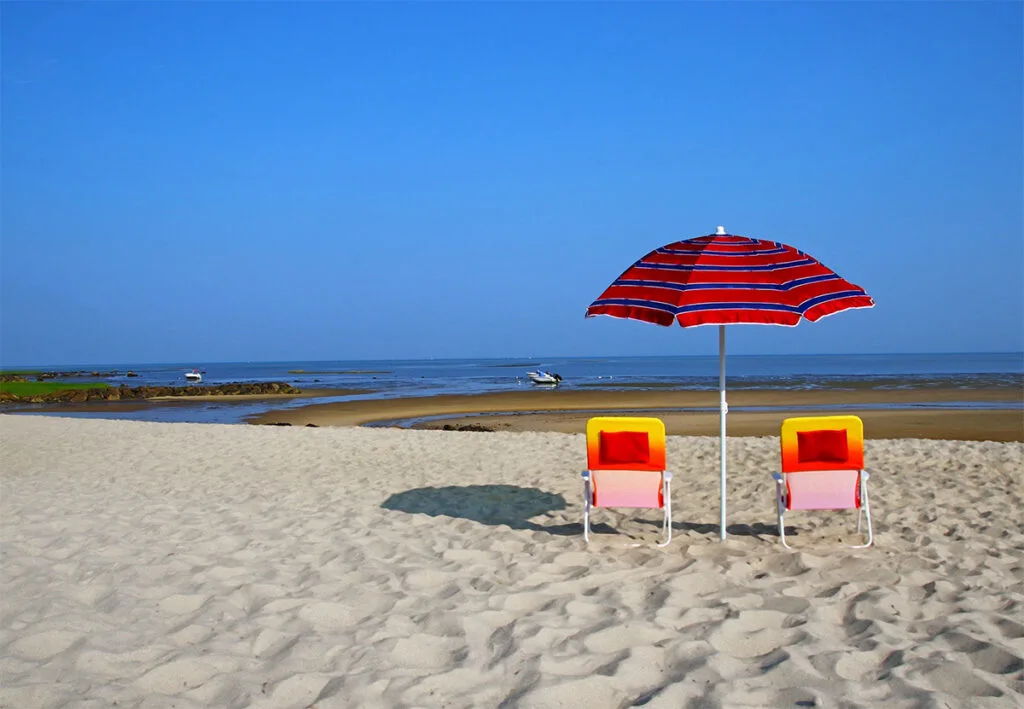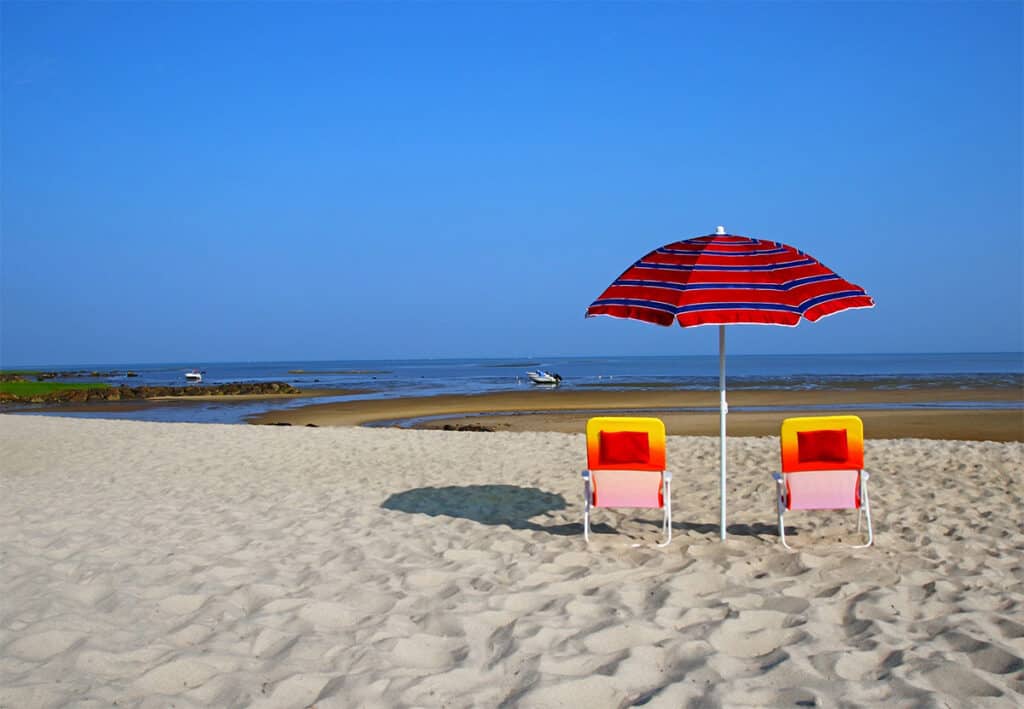 The best time of year to visit Cape Cod is in the summer to take full advantage of the area's spectacular sandy beaches.
So, pack your beach bag with your favorite pair of sunnies, a good book, road trip snacks, and of course, reef-friendly sunblock and let's head off to this delightful East Coast destination for a look around.
To make planning your New England road trip a little easier, here is a list of the best beaches and attractions across Cape Cod.
Best Cape Cod beaches for a dip
It's hard picking the best beach on the Cape! Some offer scenic sun rise views over the Atlantic Ocean and many are tucked away in quiet bays. Some even offer sightings of marine animals including dolphins, harbor seals, sea turtles, sharks, and of course, whales!
Yes, sharks do frequent some of these beaches, so here is a list of shark and beach safety tips from the Cape Cod Chamber.
This quiet bay is at the very beginning of the Cape, connected by the Cape Cod Canal since 1914, although technically in Barnstable County (as locals have informed me!). Here you'll find several beaches in this 'estuary of national significance' plus nature preserves and state parks for tourists to explore Cape Cod's natural beauty.
It also features a seven-mile scenic bike/walk/jog trail on BOTH sides of the Cape Cod Canal, so a total of 14 miles of recreational path. The off-Cape segment spans the terrain from Buzzards Bay to Scusset Beach on the mainland.
Chapoquoit (Chappy) Beach (which is only open to town residents in summer), and the calm water of Gray Gables Beach with a lovely picnic area. Perfect for young families.
Although, if you enjoy boating and fishing, you may prefer to spend your day at Barlow's Landing.
Town beach parking sticker is required in Gray Gables and Barlow's Landing ($25 for residents, $15 for senior residents, $50 for non-residents)
This recreational region also features a seven-mile scenic bike trail spanning from Buzzards Bay to Scusset Beach. Biking is a super easy way to get around the Cape while taking in all the sights.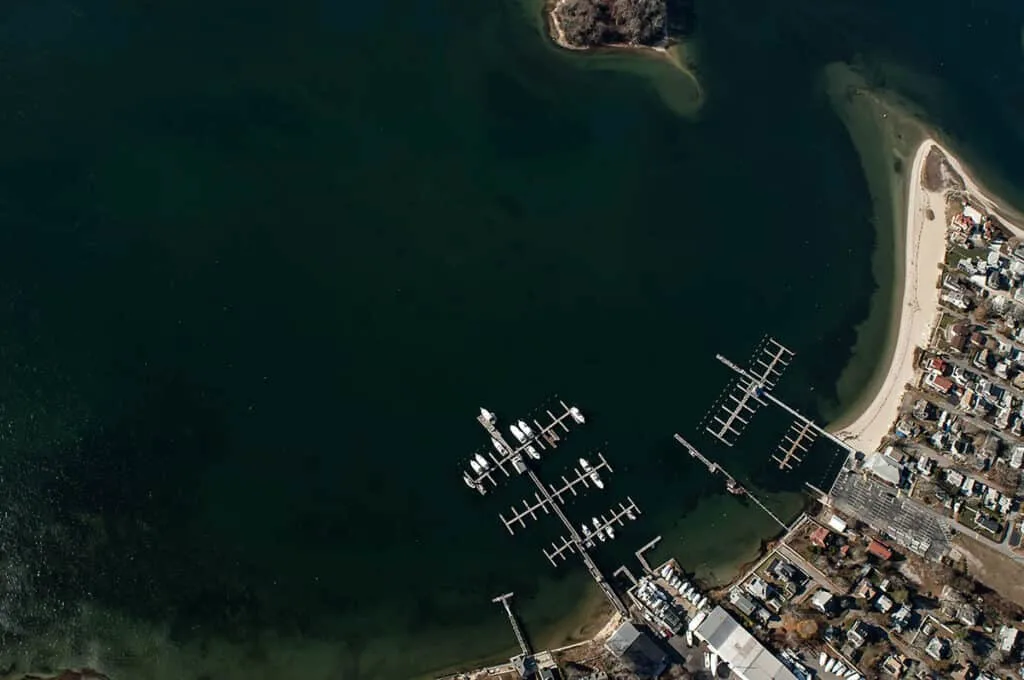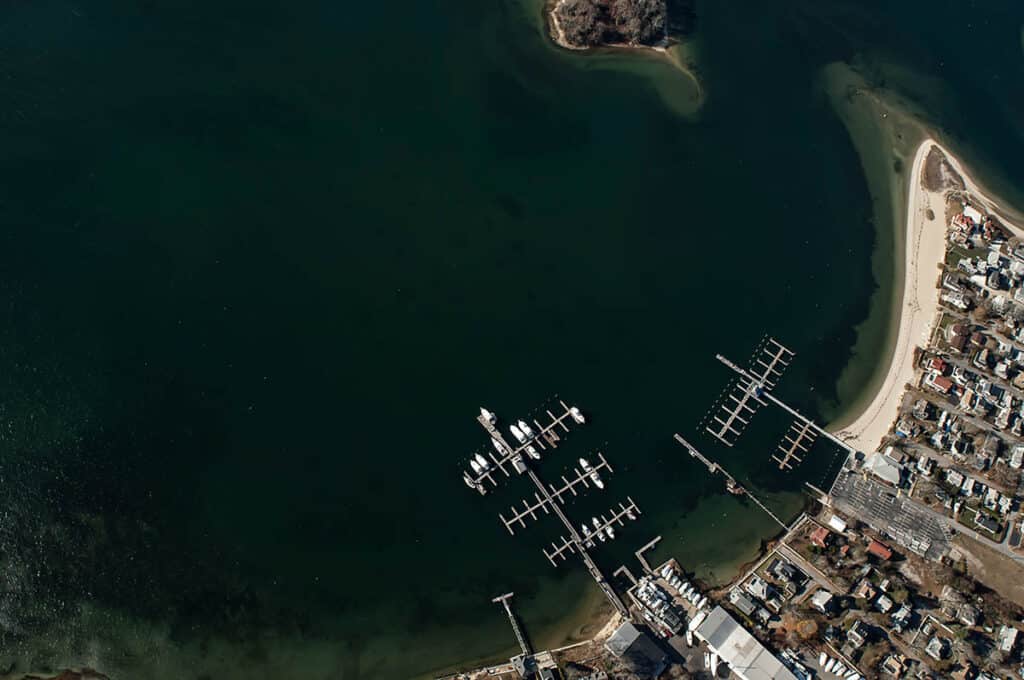 If you are looking for a quiet yet stunning beach, you will love Cahoon Hollow.
It is famous for the gigantic seventy-five-foot white sand dunes bordering the public beach area. The dunes are nearly as exciting to see as the ocean itself!
Plus the site is spotless and well-maintained, making it an ideal destination for families and the younger set. There is a lifeguard, restroom, snack bar and parking area.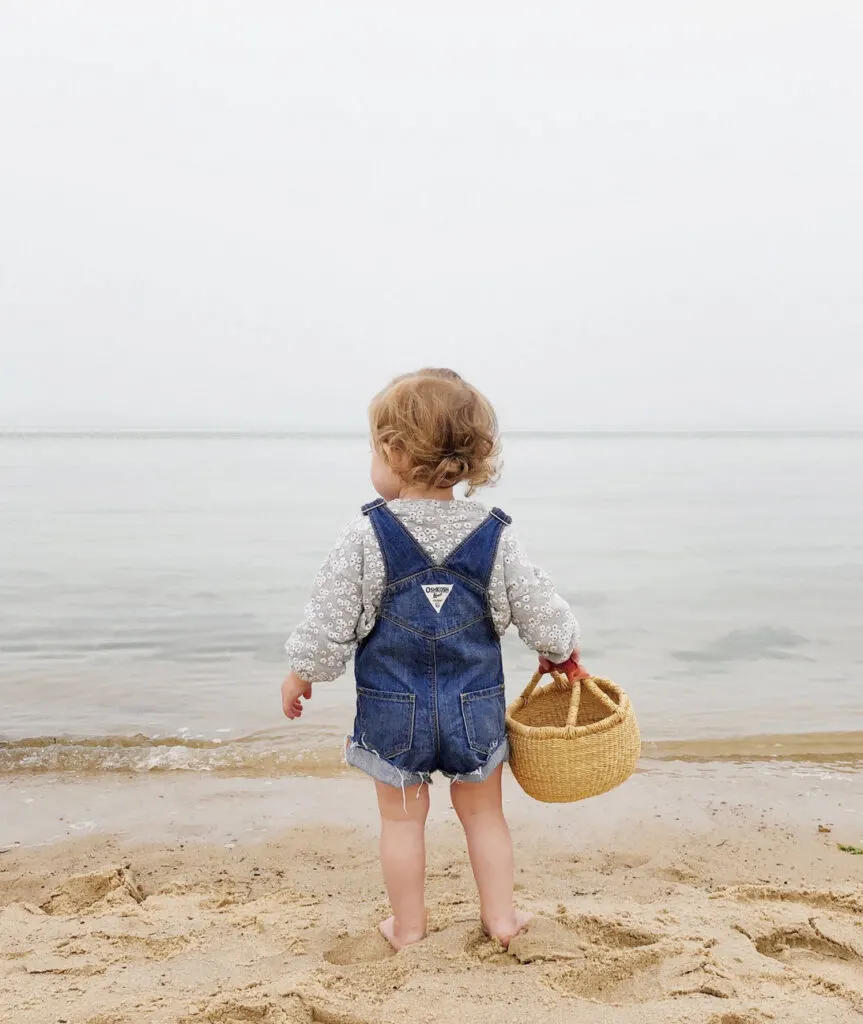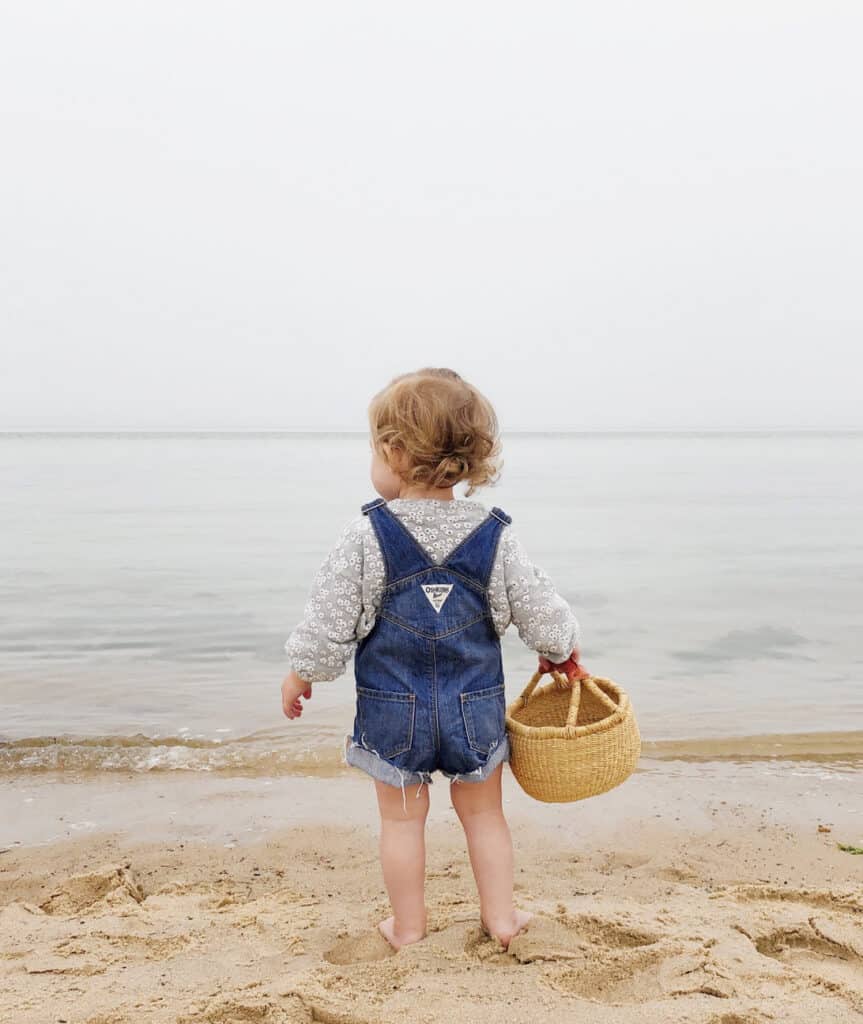 This gorgeous and clean beach is family-friendly is in yet another bay, this one in Centerville Harbor at the upper reaches of Nantucket Sound, which stretches all the way south to Nantucket Island.
It is also only a quick car or bike ride away from Hyannis' Main Street, where many eateries and shops will lure you for a few hours.
The beach is popular, so it is ideal to head over there early to reserve a decent spot – and get a car park. There are also canopies available if you left your umbrella behind.
Many of the Cape's residents believe that Craigville Beach offers some of the best sunset views in the entire region. Thus, we recommend visiting this Cape Cod staple in the evening to make the most of your beach trip.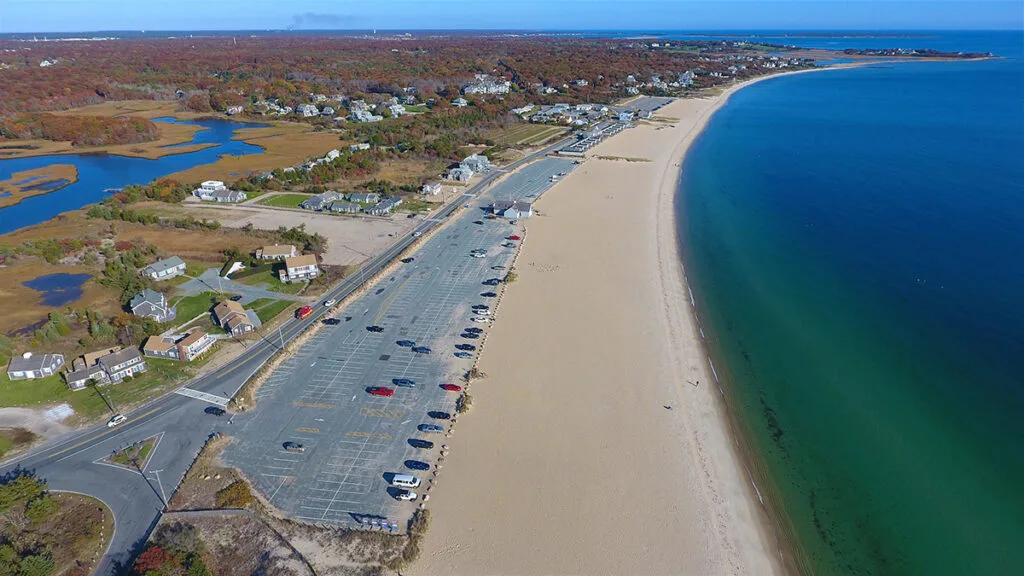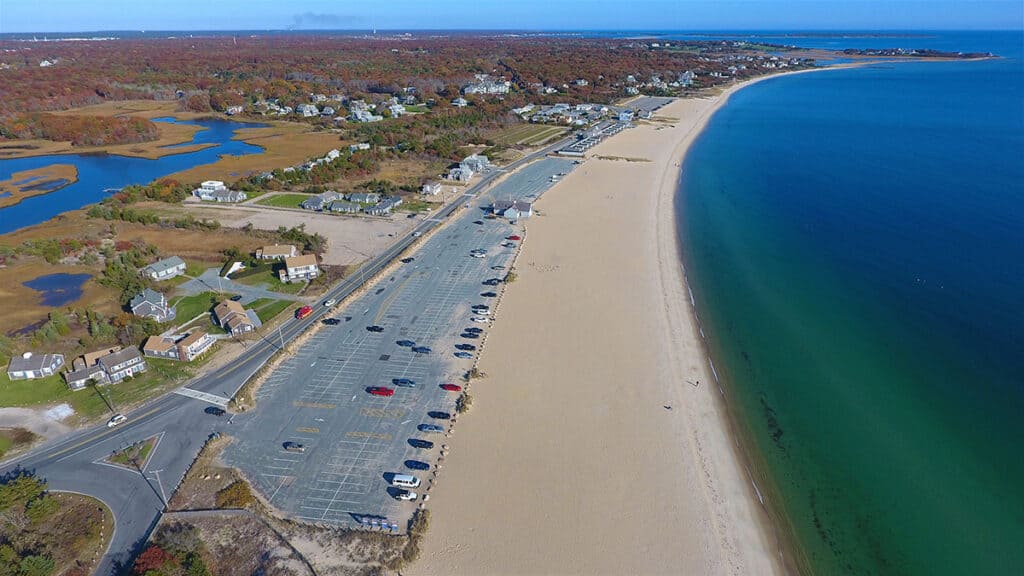 This Eastham beach played a significant role in American history as the location for the first interaction between Native Americans and pilgrims.
While the story of this encounter is often sugarcoated, it is still viewed as an historic New England attraction. Furthermore, there is a fascinating shipwreck situated near the shores of First Encounter Beach. You will also find a memorial on behalf of the sunken target ship, the SS James Longstreet.
First Encounter is a lovely warm water beach, protected by Cape Cod Bay from the mighty Atlantic Ocean.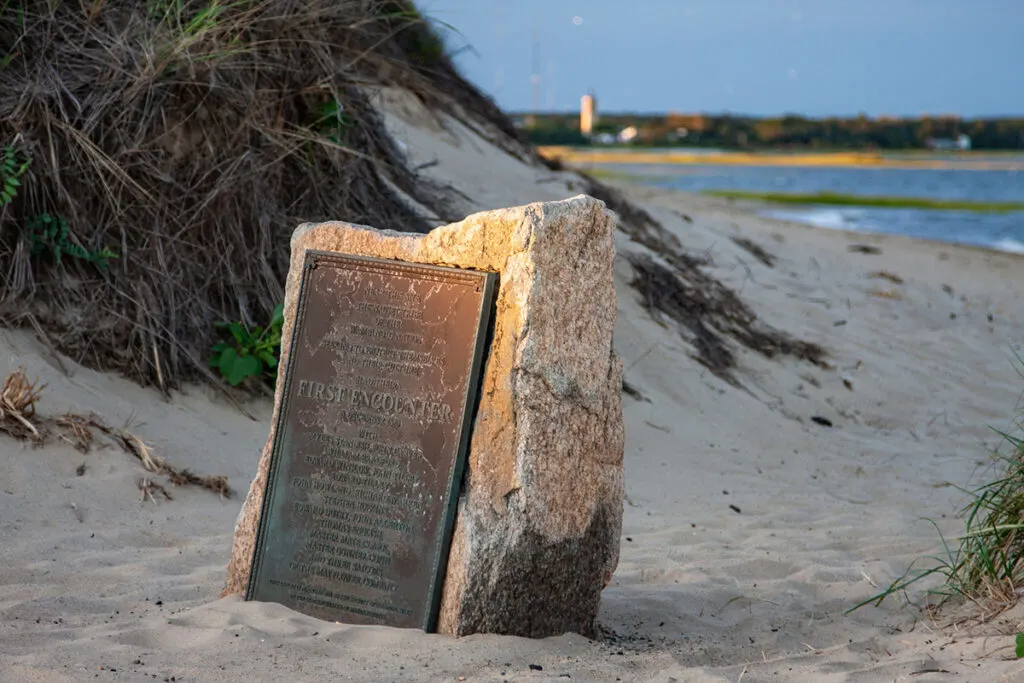 This lovely beach is near Dennis, a seaside town with many antique shops, gorgeous homes, and exciting museums.
It has an overall relaxing vibe, though families and young people frequent the beach during the summer months.
The beach also offers next-level views of the sunrise that make waking up extra early worthwhile. Parking fee at Mayflower Beach begins at $20 on weekdays and $25 on weekends. Although, the rates vary during the off-season months.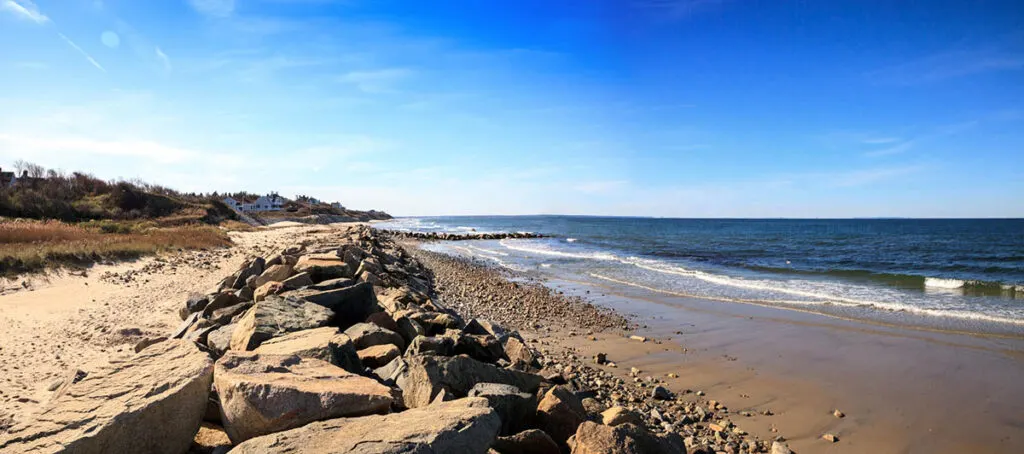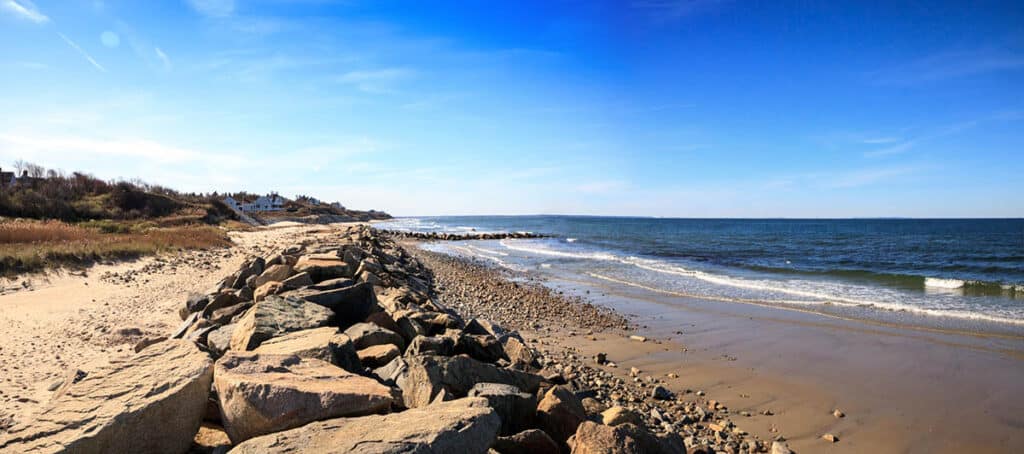 Nantucket Sound is a body of water situated between the Cape Cod beaches in the north, Martha's Vineyard to the east, and Nantucket Island. It is home to a few private and public beaches with fabulous ocean views.
There are plenty of excellent fishing and swimming opportunities at Nantucket Sound.
Please note that sharks are sometimes seen in the area, mostly at the far eastern reaches of the Cape though. Fans of shark week may already know that Andromache, a female great white shark at almost eleven feet long, has been spotted in Nantucket Sound, although shark sightings are rare in the Sound as they feed on grey seals out in the Atlantic Ocean.
It is super fascinating this beach, even though unexpectedly running into a massive great white may seem a little scary!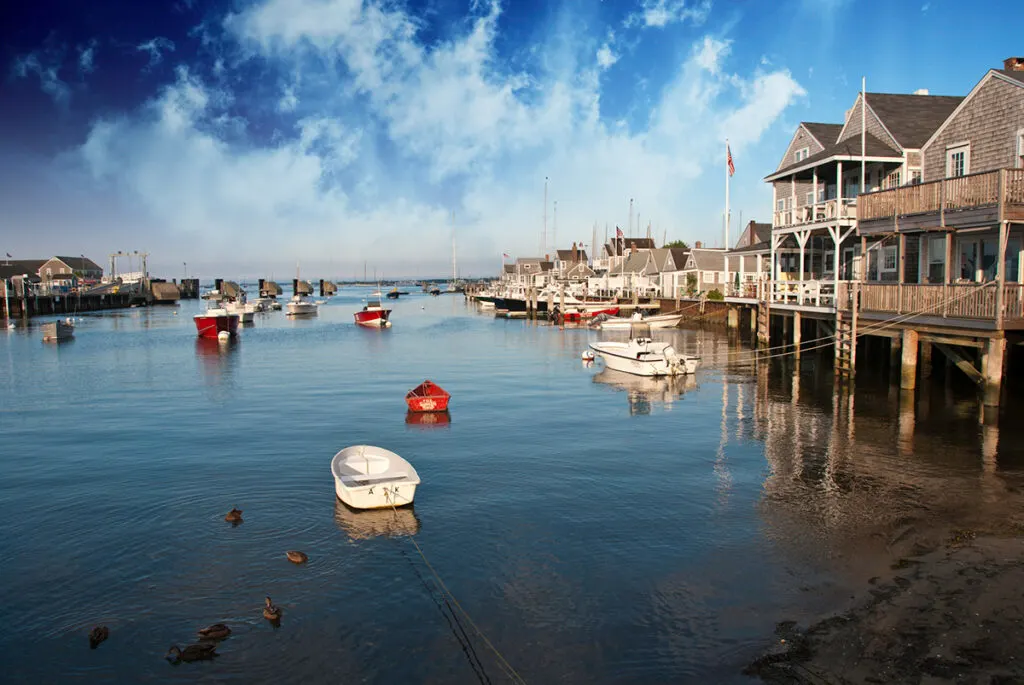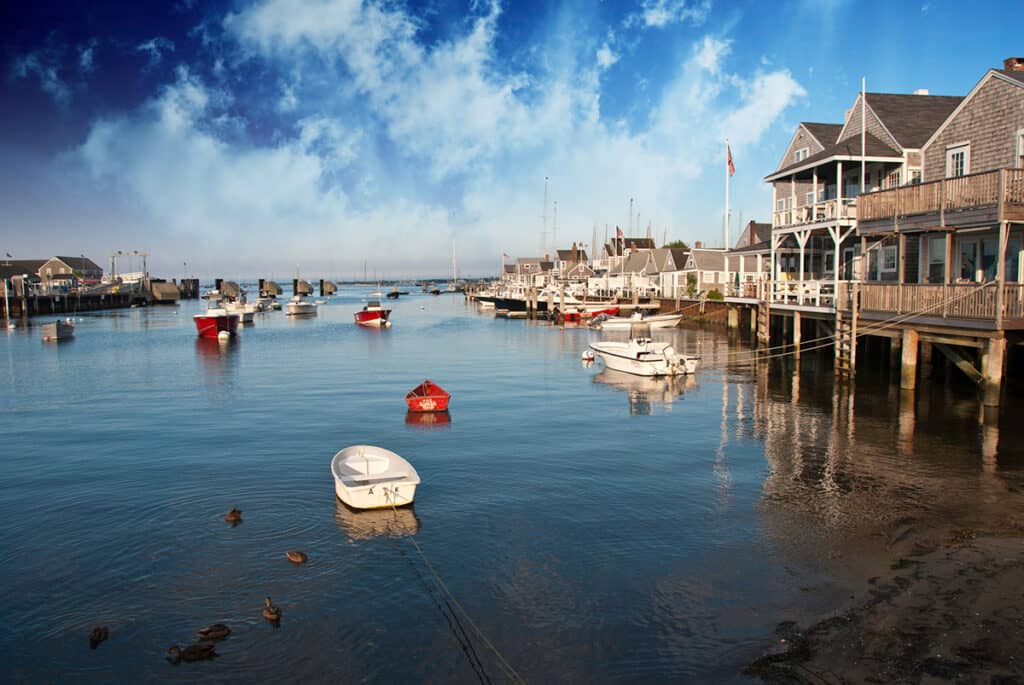 Old Silver Beach is among one of the many beaches in the Buzzards Bay Recreation Area. It is divided into two sections, including a private beach for residents of the Cape.
It's also recommended to check out the nearby Herring Brook, a small beach near a salt marsh that features different varieties of crabs and fish. This is a great place for young children to run around and swim safely on shallow shores.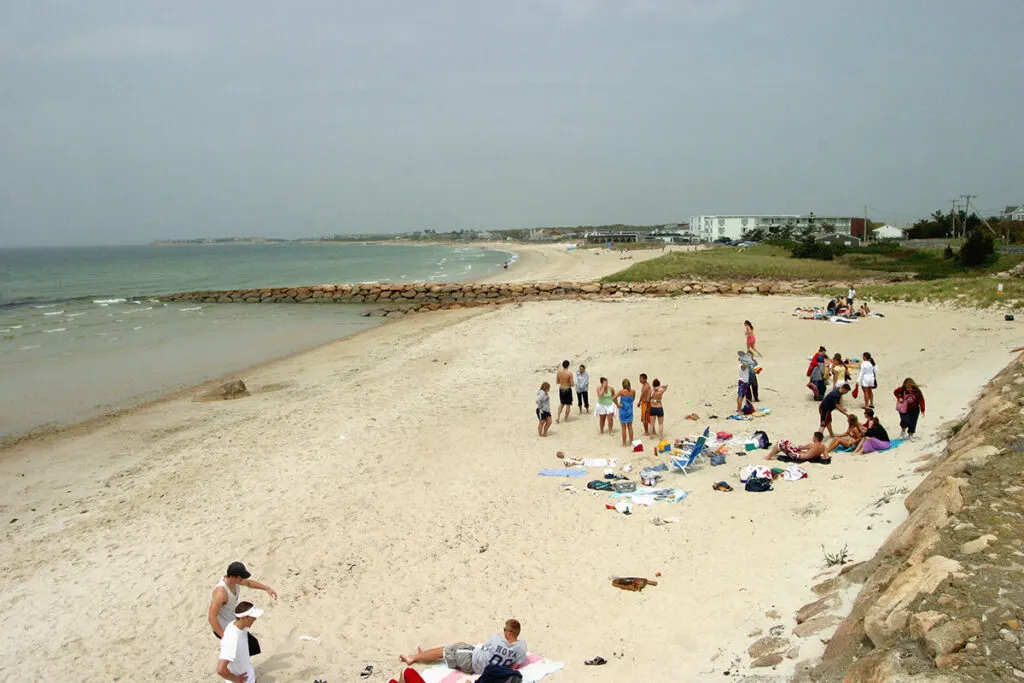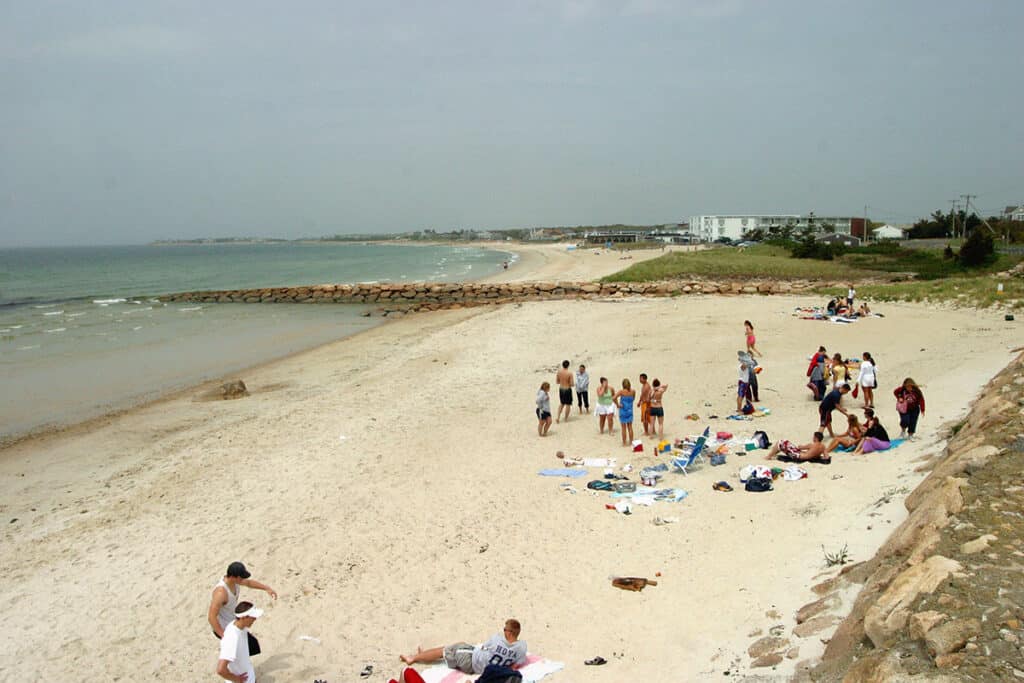 This delightful beach is located in Provincetown, Cape Cod's northern tip.
The area boasts historical significance and incredible ocean views. It has clean facilities and friendly lifeguards that contribute to the beach's laid-back vibe.
Many adorable seals also reside near Race Point Beach, which makes for an excellent place to spot marine wildlife.
Race Point Beach is one of the six Cape Cod National Seashore beaches, all of which charge a $25/day parking fee from Memorial Day (end May) through late September. An annual pass can be purchased for $60/year which is great value if you're planning to stay for even a week.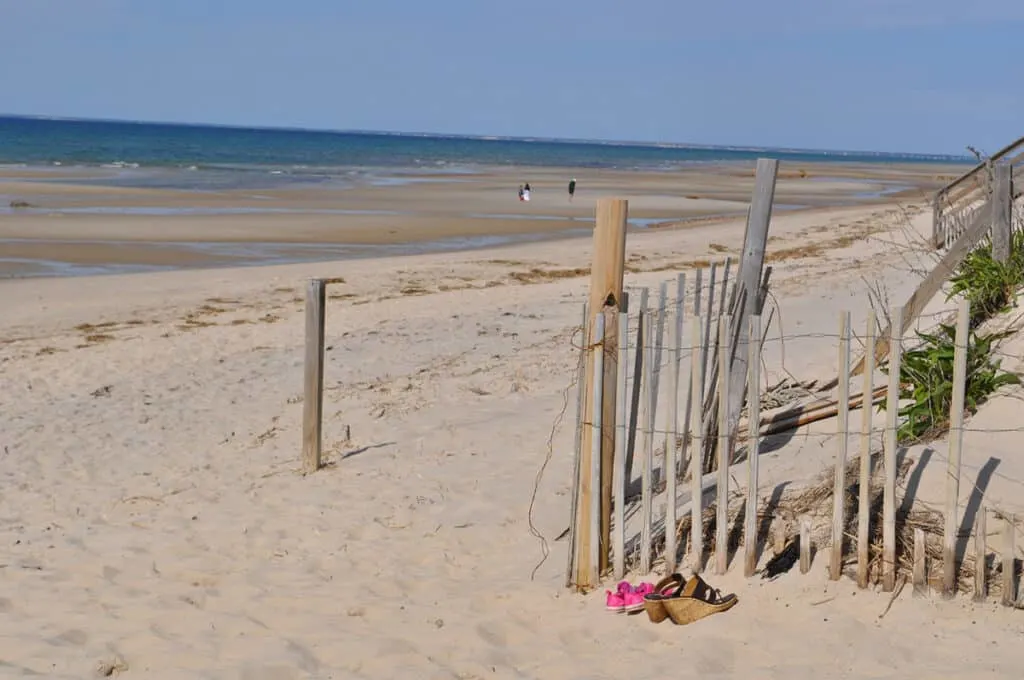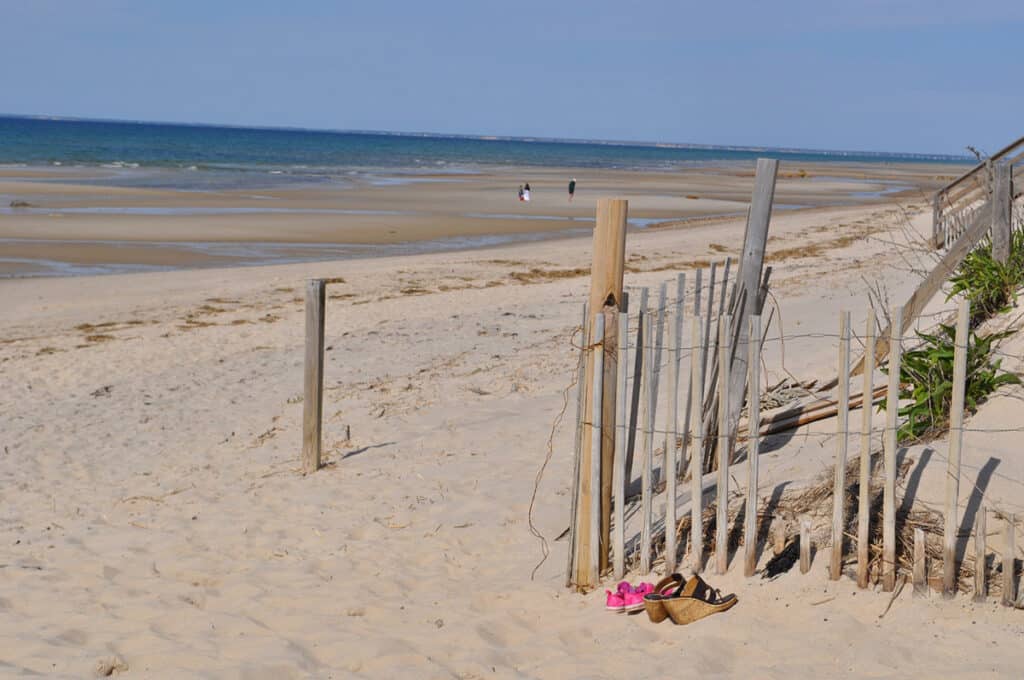 Sandy Neck Beach is another Barnstable gem with a picnic area, so pack your snacks.
It is a barrier beach in Cape Cod Bay where the water is nearly crystal clear, making boogie boarding and swimming experiences even more fun since you can see some fish. Plus, many visitors have spotted whales and other marine animals while lounging around the beach.
Sandy Neck is a must-visit for anyone seeking a relaxing vibe with exceptional views of the Cape's wildlife.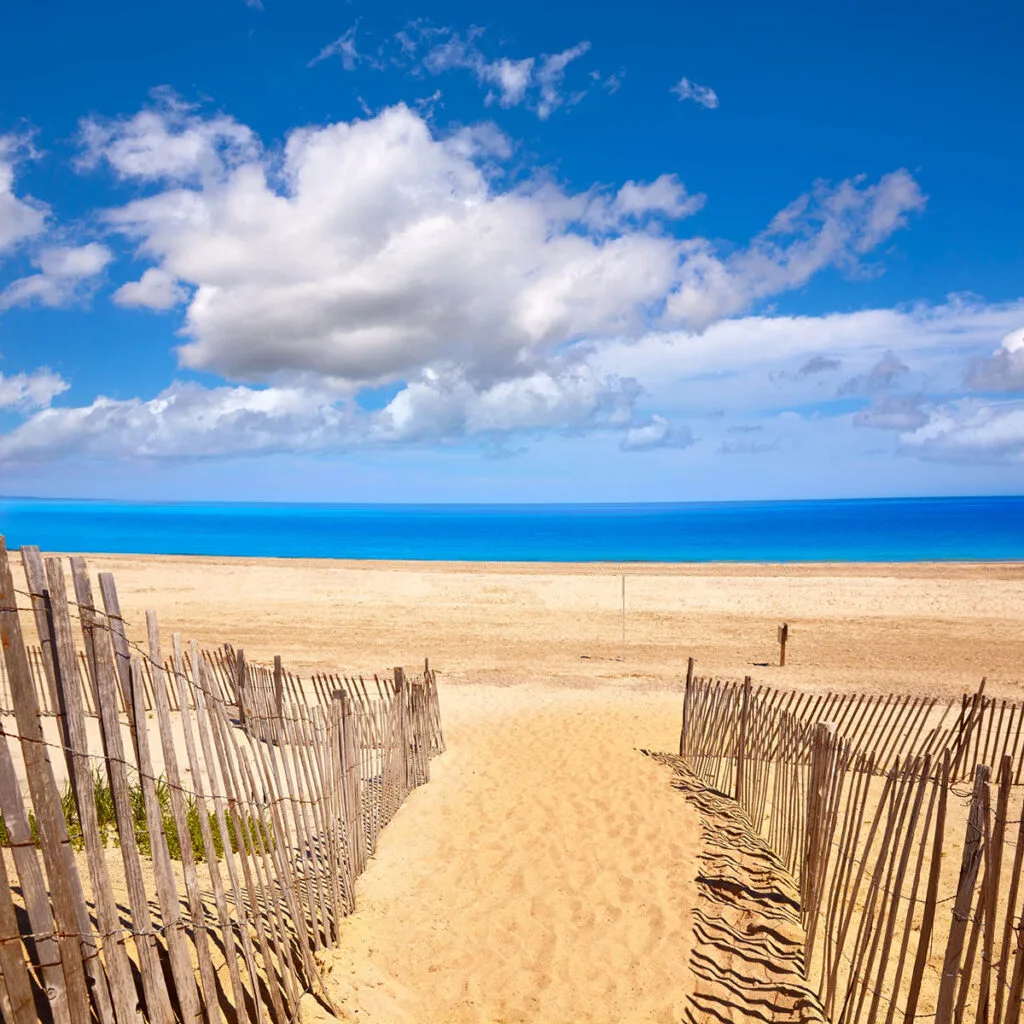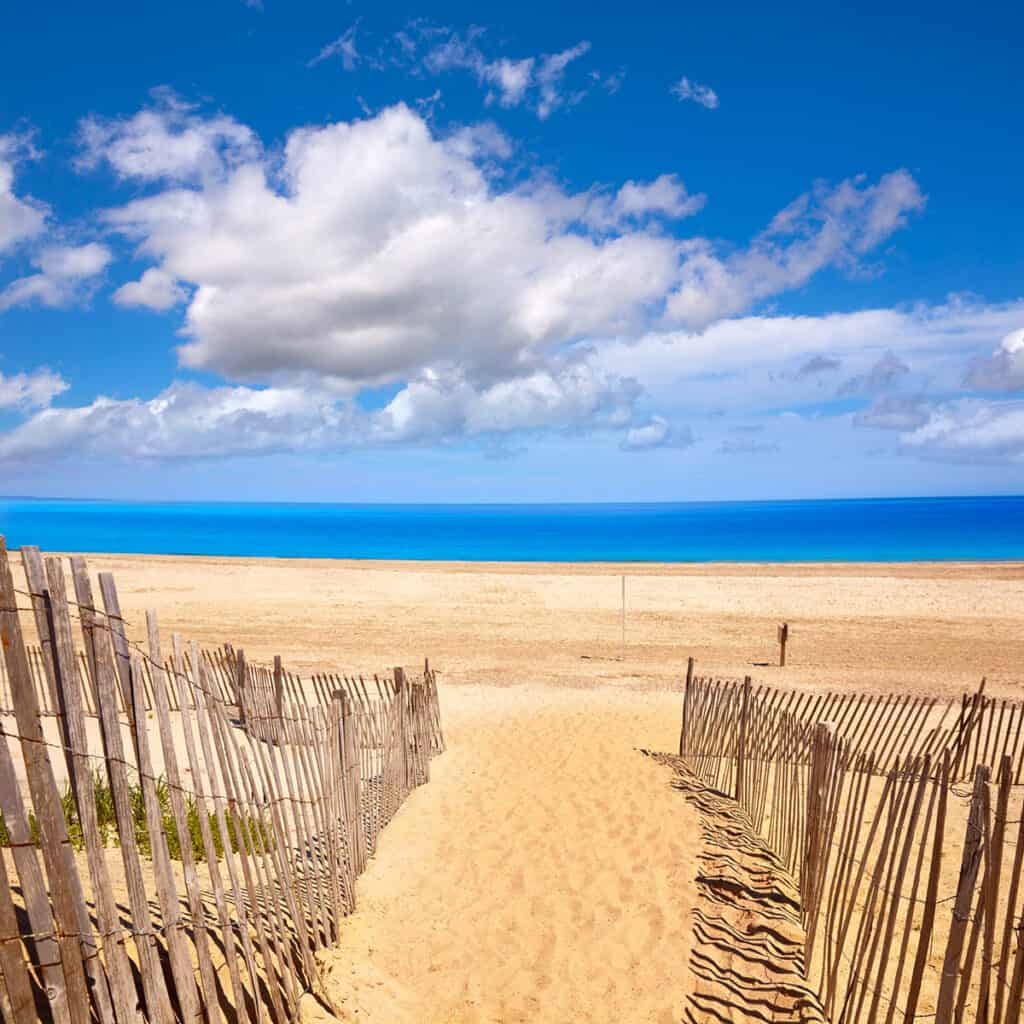 The Knob is a nature walk along a tiny peninsula in Falmouth on Quissett Harbor Road, and is considered one of the Cape's hidden gems. It has small beaches on both sides.
If you feel like a walk, venture on straightforward trails and look for the unique bird species and, or head here at the end of the day for spectacular sunset views.
It is dog-friendly too, unlike most of the beaches in Cape Cod, so your furry friends are free to tag along on your hike.
The attraction is also nestled near the beautiful Buzzards Bay in Barnstable County, making it a must-see stop after a beach day.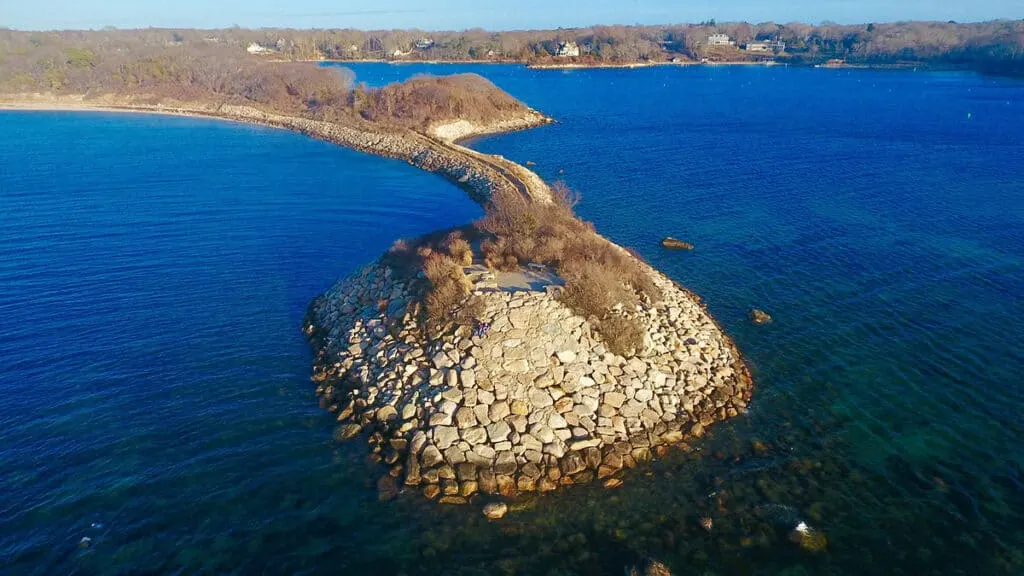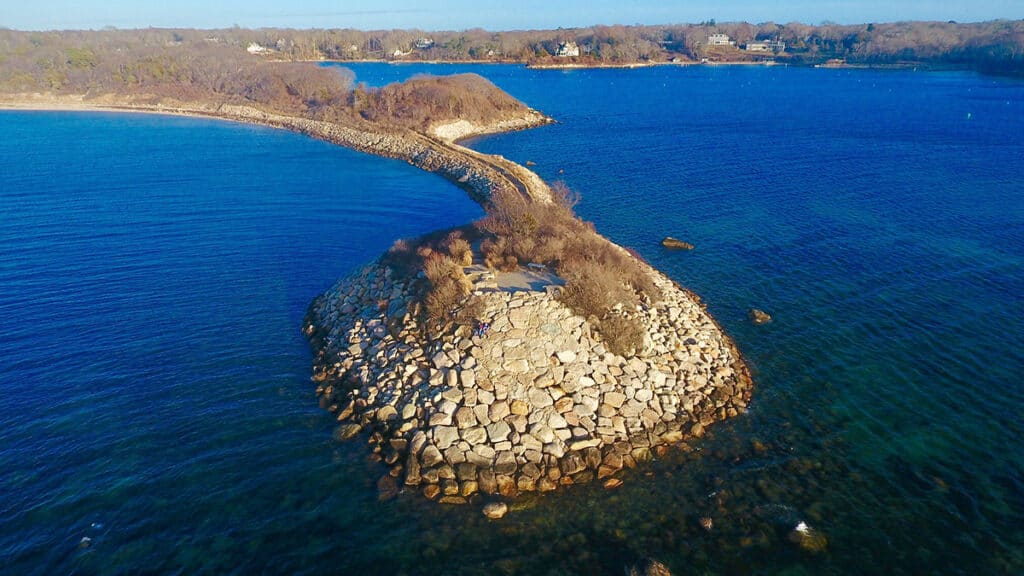 I want this post to help you narrow down the best beaches and not be overwhelmed, but here are a few more popular beaches in Cape Cod worth visiting:
Coast Guard Beach
Nauset Beach
Marconi Beach
Monument Beach
Skaket Beach
Breakwater Beach
If you're planning a fishing trip or picnic and want to know when the next high tide and low tide is, jump onto CapeTides.com
Can I drive on Cape Cod beaches?
If you can't be bothered schlepping your stuff to the sand, you can actually drive on several Cape Cod beaches! Well, it's not actually as simple as that. You need a permit and your vehicle will be inspected, so you need to rock up in person for that.
But driving on Cape Cod beaches is allowed in several places from the northern end from Long Nook Beach in Truro to Race Point Lighthouse in Provincetown. This stretch is roughly five miles long and can be closed in summer when shorebirds are nesting.
Check the ORV map from nps.gov for up to date beach access.
You cannot/should not (!) drive road vehicles on the beaches. An Off Road Vehicle (ORV) permit and a 4-Wheel Drive or All Wheel Drive vehicle are two basic requirements and no rental vehicles allowed on the sand.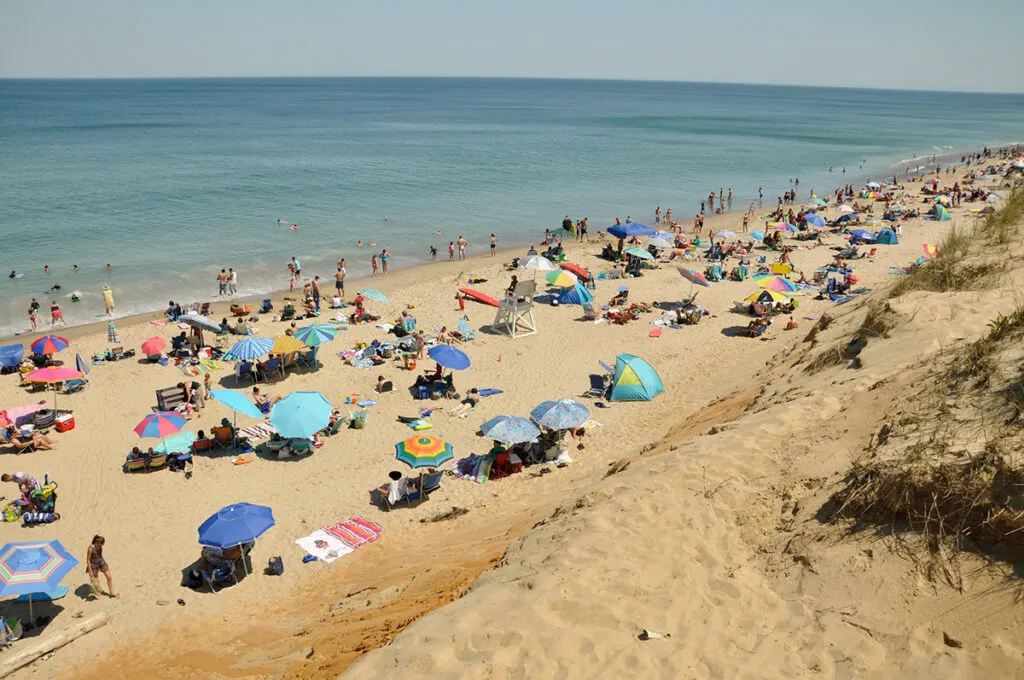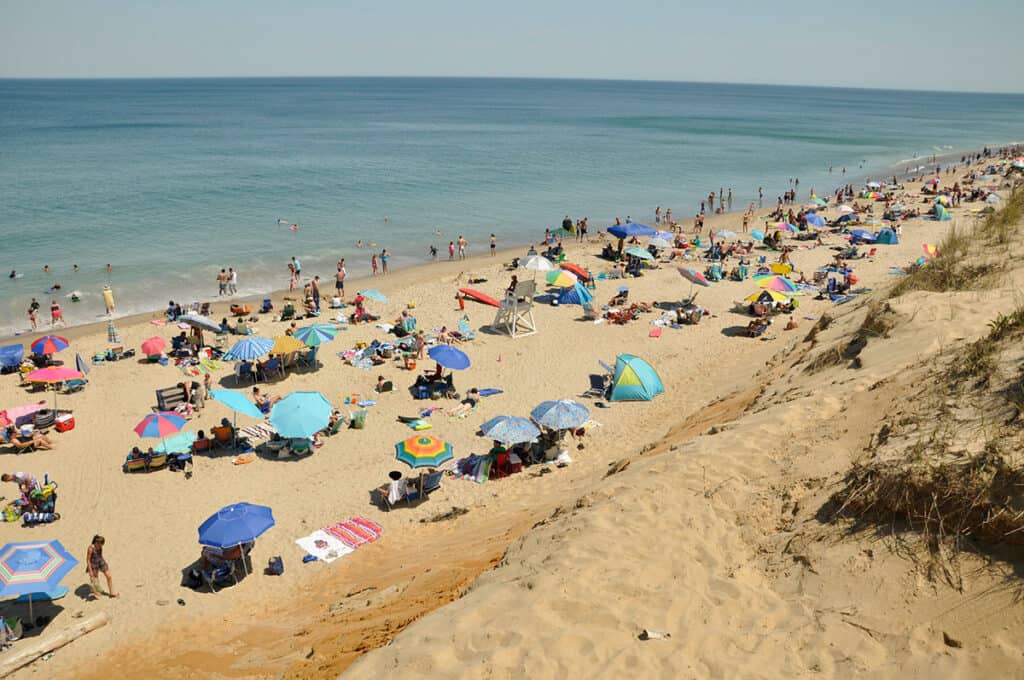 Best things to do in Cape Cod
This is such a popular summer vacation destination and there are many fun things and exciting attractions along the Cape, including eclectic art galleries, historical museums, a fishing or boat trip, cycling and hiking.
Below are a few sights that are worth checking out during your road trip.
Stroll along Commercial Street in Provincetown, at the tip of the Cape Cod bite. The shopping, the homes edged with picket fences, the many eateries. There's too much action to see and do here in a day!
People get around on bicycles and in summer flowers bloom everywhere. It boasts the largest LBGT community this side of the Mississippi.
Take cruises and water taxis from here, go whale watching, walk the pier.
This terrific art museum located in the heart of Dennis, Massachusetts, is a must-see for anyone touring Cape Cod.
Harry Holl and Roy Freed, New England native artists and sculptors, founded CCMoA in 1981.
The museum recently celebrated its fortieth anniversary this year. It has a few fantastic permanent exhibits in addition to rotating collections.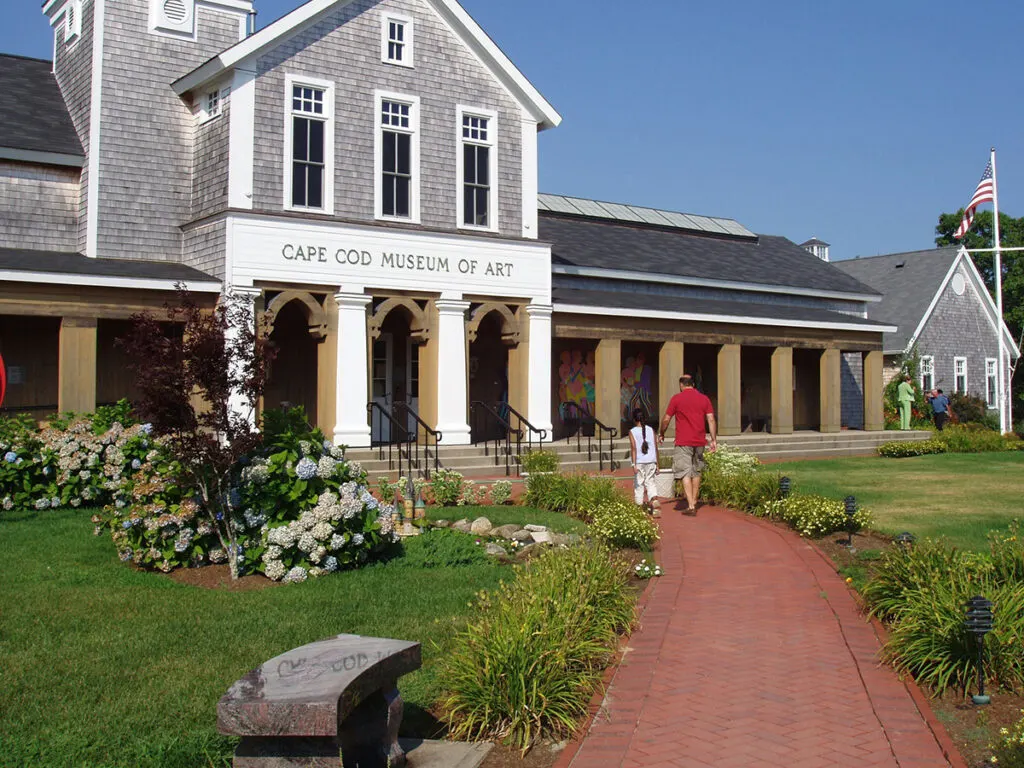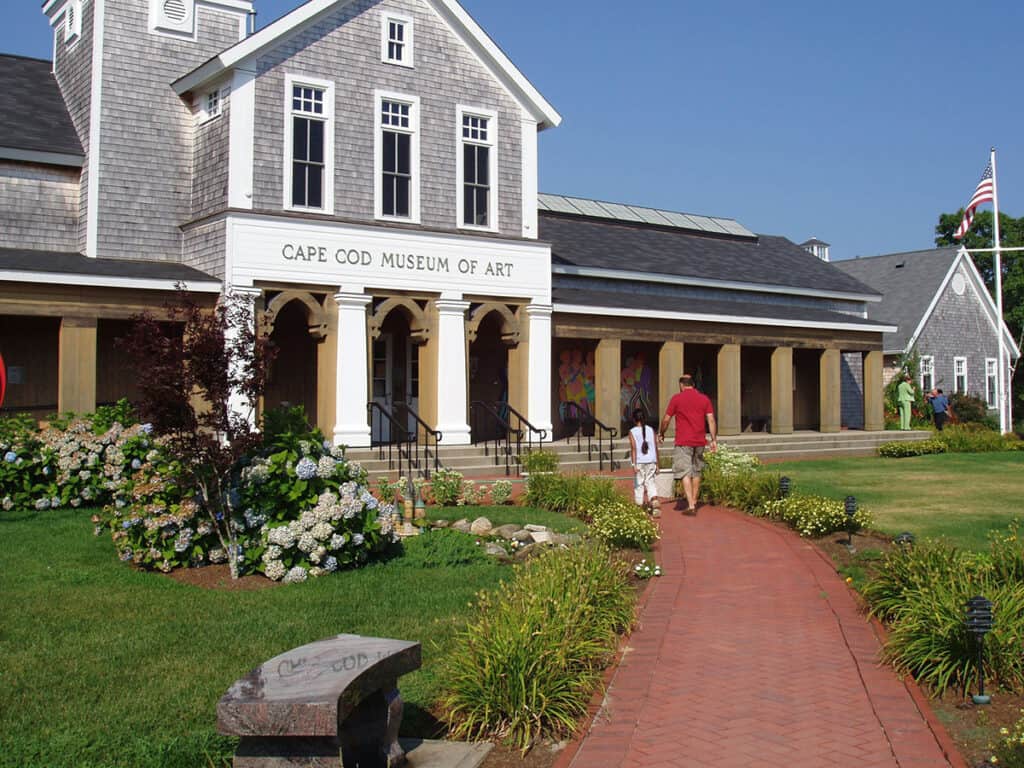 The outdoor sculpture garden highlights unique pieces nestled throughout beautiful flowers. You can also find many art classes, concerts, and other fundraising events hosted by the museum's team.
Tickets begin at $10, with discounts available for students, seniors, and children under twelve. Plus, the museum is open year-round, unlike some of the other activities along the Cape that prefer to remain open during peak seasons.
This Brewster museum was founded in 1954 and has continued to serve the Cape Cod community ever since.
There are over ten different exhibits, including an aquarium and honey bee viewing room.
You will also find outdoor gardens and trails associated with the facility. Admission is $10, yet it is free for active military, teachers, and veterans.
If you plan to visit the museum, we suggest taking a quick hike along the Wing Island Trail that showcases the Cape's natural ecosystem.
This iconic trail of bike paths spans across the Cape, from South Yarmouth to Wellfleet for those who want a bike ride or leisurely stroll through six Cape Cod towns. Autumn is a stunning season to do this and view the fall foliage.
You'll find it takes most of the day to travel across the trail, which makes sense considering it is approximately 25 miles end to end. Although, if you take a few scenic pit stops, we are sure you will have a blast on your ride through the Cape Cod Rail Trail.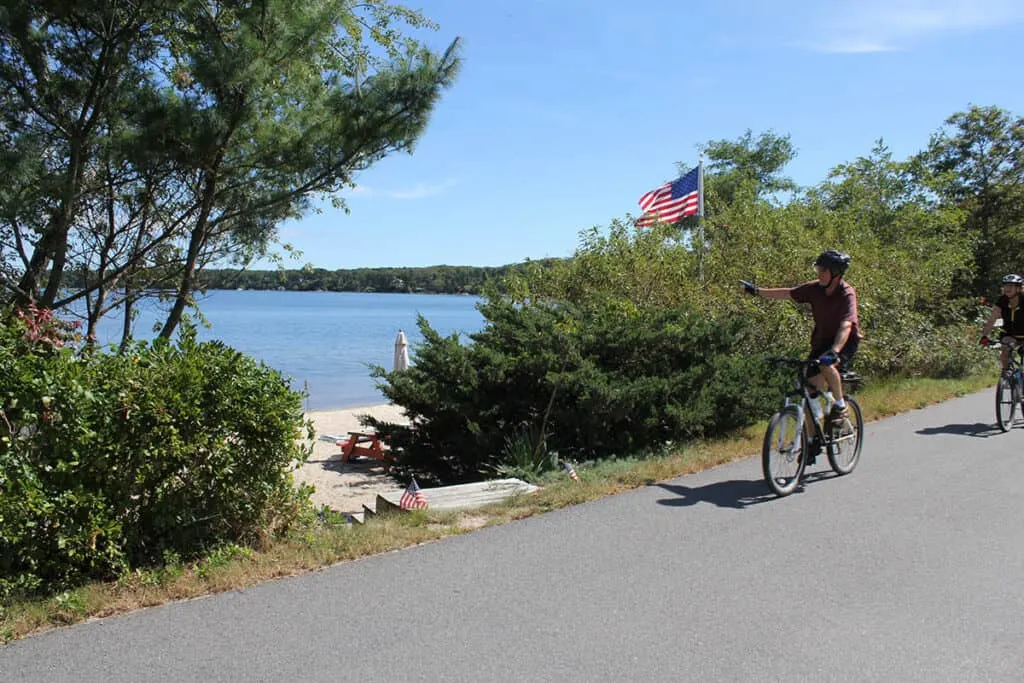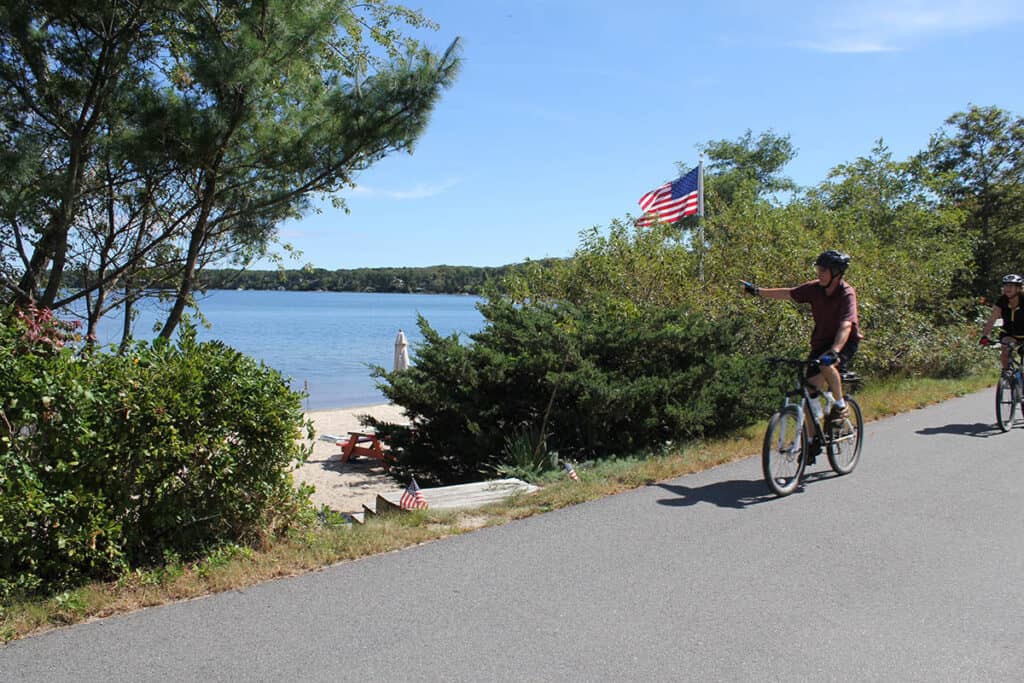 To have a one-of-a-kind New England experience, visit one of the Cape's cranberry bogs.
It's not just seafood Cape Cod is known for, Massachusetts is among the top cranberry producers in the United States. The many farms make for a fabulous photo backdrop and offer informative tours highlighting all the steps involved in harvesting cranberries. And, of course, take some home with you!
Take tour with Cape Cod Cranberry Tours when the bogs are in bloom from mid June to mid July. Cranberries are growing mid July to mid September. The harvest is mid September to mid December. Fresh cranberries are available for sale (to pick up or be shipped) mid September to the end of December.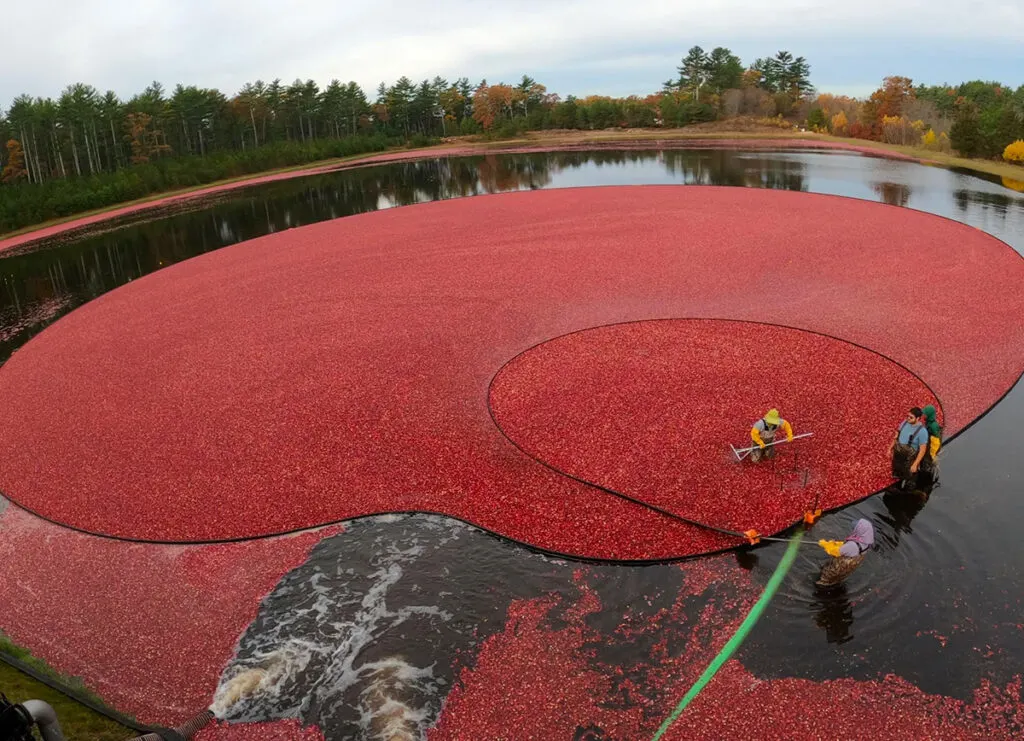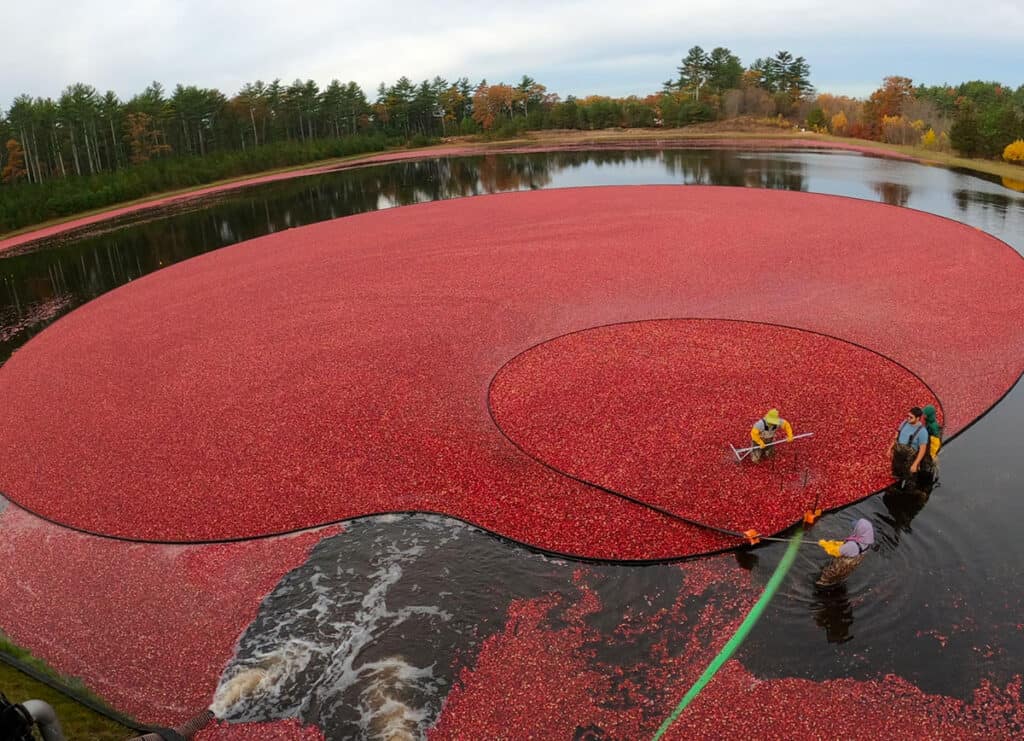 You do not want to miss this stunning yet informative museum in Sandwich, Massachusetts. There is so much to see at the facility (18,000 items to be roughly precise!), from antique cars to a vintage board game collection.
In addition, the gardens showcase a variety of colorful plants and intricate water fountains. Be sure to reserve a few hours in your day to explore the exhibits fully.
It also makes for an excellent activity on rainy days when you cannot hit the beach!
History buffs will adore the JFK Museum in Hyannis, Massachusetts. The former president treasured spending his summers at the Kennedy family estate in Cape Cod.
President John F Kennedy was one of the first people to put the Cape on the map when he declared the area a National Seashore in 1961. It has since been one of the most popular travel destinations along the East Coast.
The majority of the museum's exhibits are engaging and interactive, leaving you with several fun facts about one of the most famous leaders of the United States.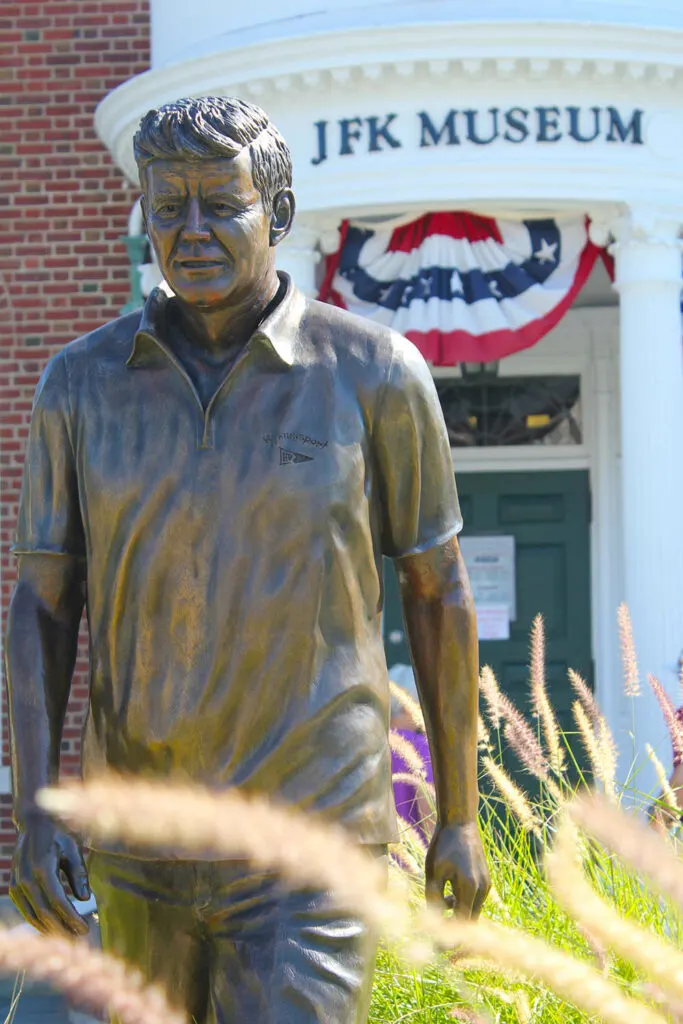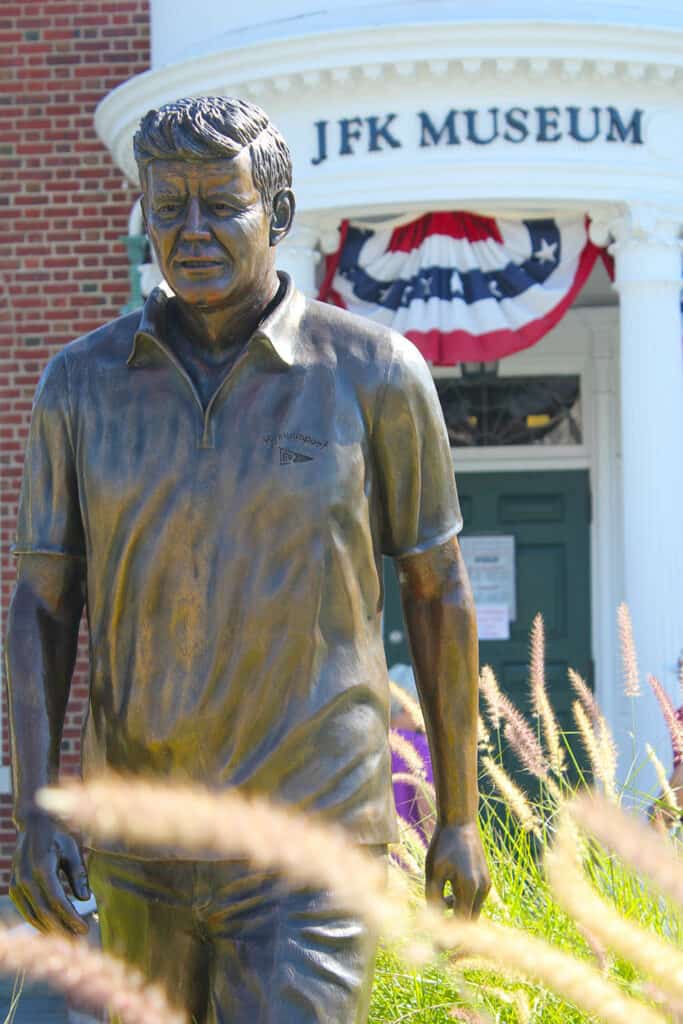 This stellar state park in Brewster, Massachusetts, is popular for camping, hiking, fishing and biking. It boasts a lovely low-key beach, numerous hiking trails and wildlife.
You can also extend your stay by camping in the state park overnight. There are over four hundred sites available, including many yurts, which provide more shelter than standard tents.
It is incredibly peaceful at night, and the sound of chirping birds is the symphony that wakes up visitors in the morning.
I'm absolutely smitten with this museum – and more so because the gorgeous glass items are also for sale in the gift shop.
This charming museum is dedicated to the region's glass-making roots, which stem from colonial times. From informative exhibits to extensive glassware collections, you are sure to enjoy this unique facility.
Glass blowing demonstrations are hosted frequently at the museum, which allows for an extraordinary experience.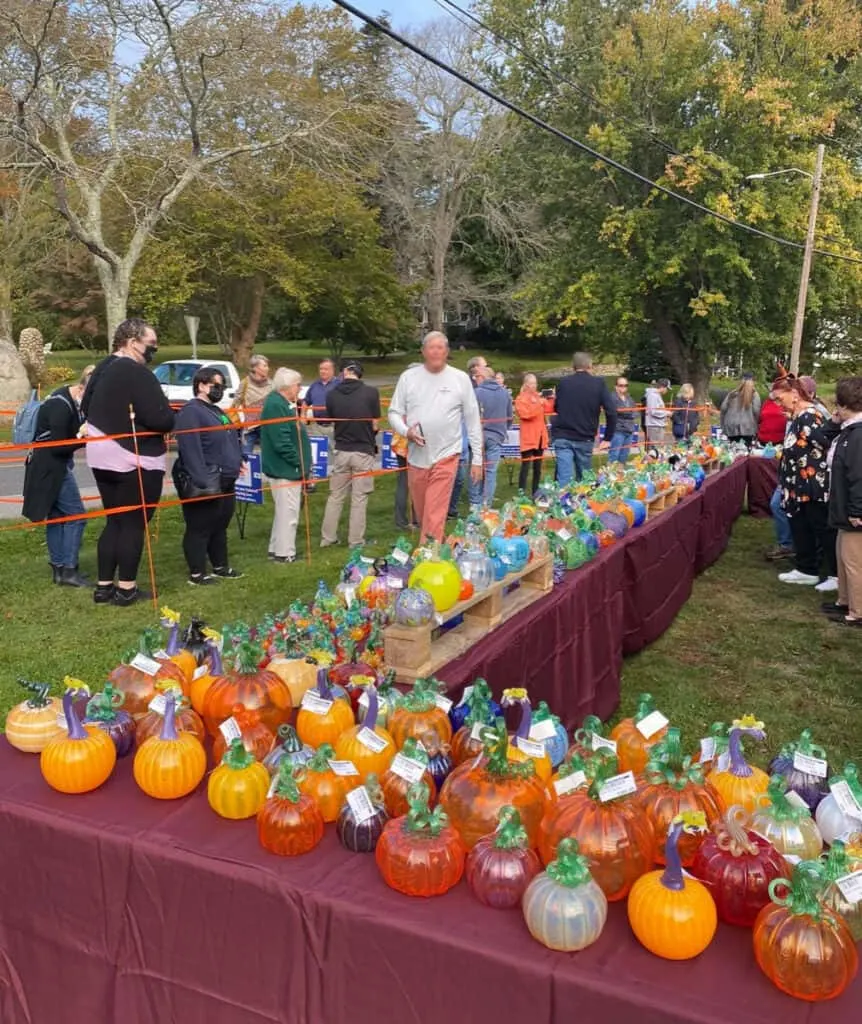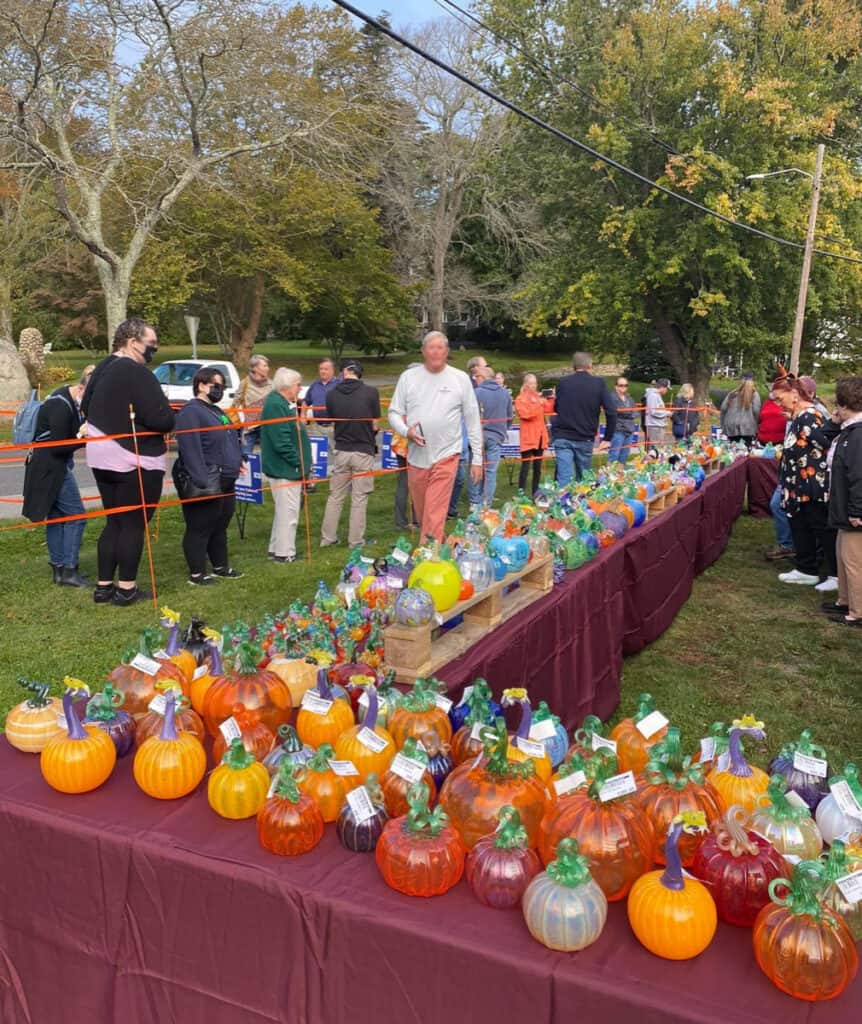 Best places to eat seafood in Cape Cod!
Seafood lovers rejoice! While there are many tasty restaurants along the Cape, indulging in some fresh fish and perfectly cooked crustaceans on your road trip is essential.
Below are a few recommendations on where you may find the best seafood in Cape Cod:
Located in Bournedale, the Seafood Shanty has been open since 1992, and before that it was a seasonal clm shack which opened in the 1950s. Their seafood is delivered daily and it's still a family owned and operated business.
It's still a seasonal restaurant, opening again in early April.
But non-seafood lovers need not worry, you can get a foot long hot dog, a beef or a chicken burger!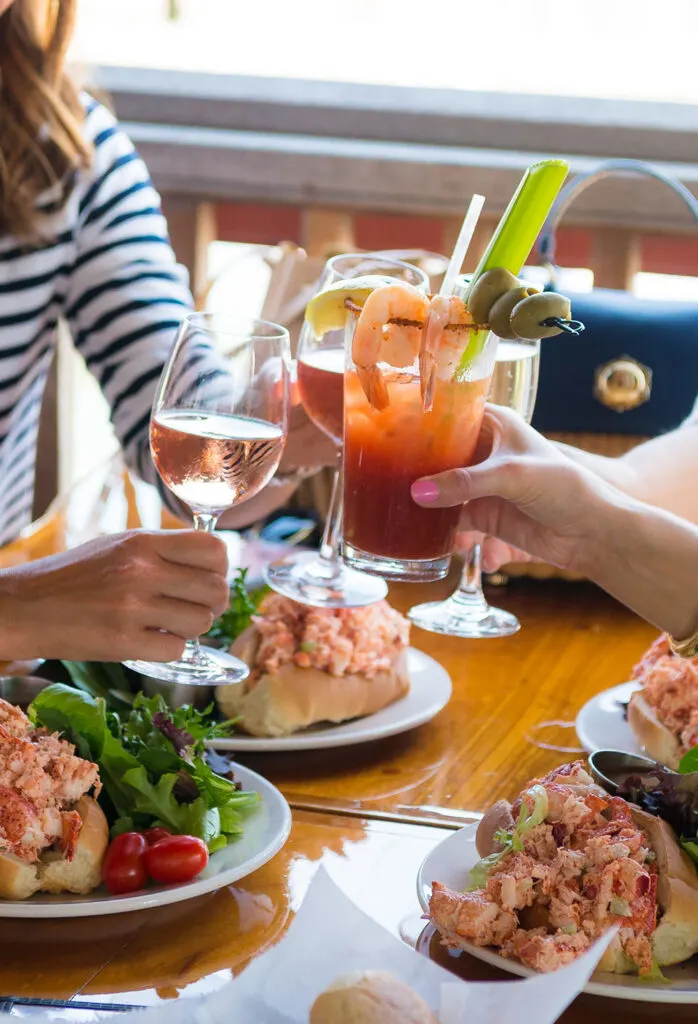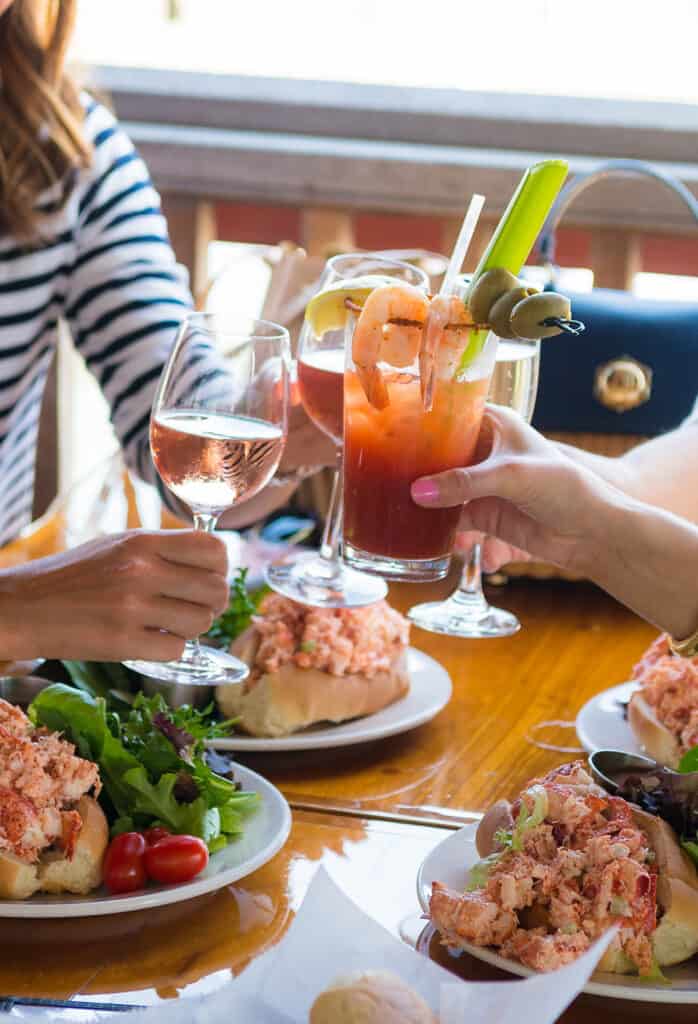 This family-owned fish shack has served customers affordable yet delicious seafood dishes for over forty years. From buttery lobster rolls to crispy fried fish, there is something for everyone to enjoy at this Eastham staple.
Seafood lovers should head over to Spanky's Clam Shack for their massive lobster feasts, including corn on the cob and red potatoes.
This Hyannis Harbor restaurant is located on the water's edge adjacent to the Hy-Line Harbor Cruise Ships and boasts an extensive menu featuring plenty of meat and seafood dishes. It also has a great raw bar serving freshly caught clams, mussels, oysters, and shrimp.
Spanky's also offers an equally extensive cocktail menu with several local draft beer options, such as the Cape's very own IPA.
Spanky's is open daily for lunch and dinner from mid-April through mid-October.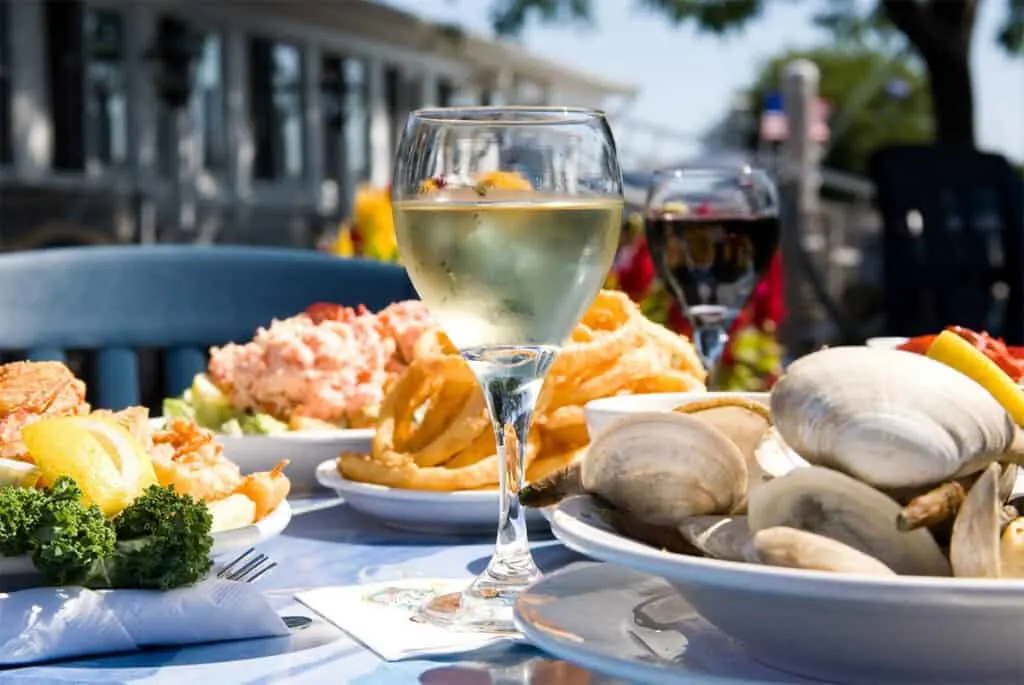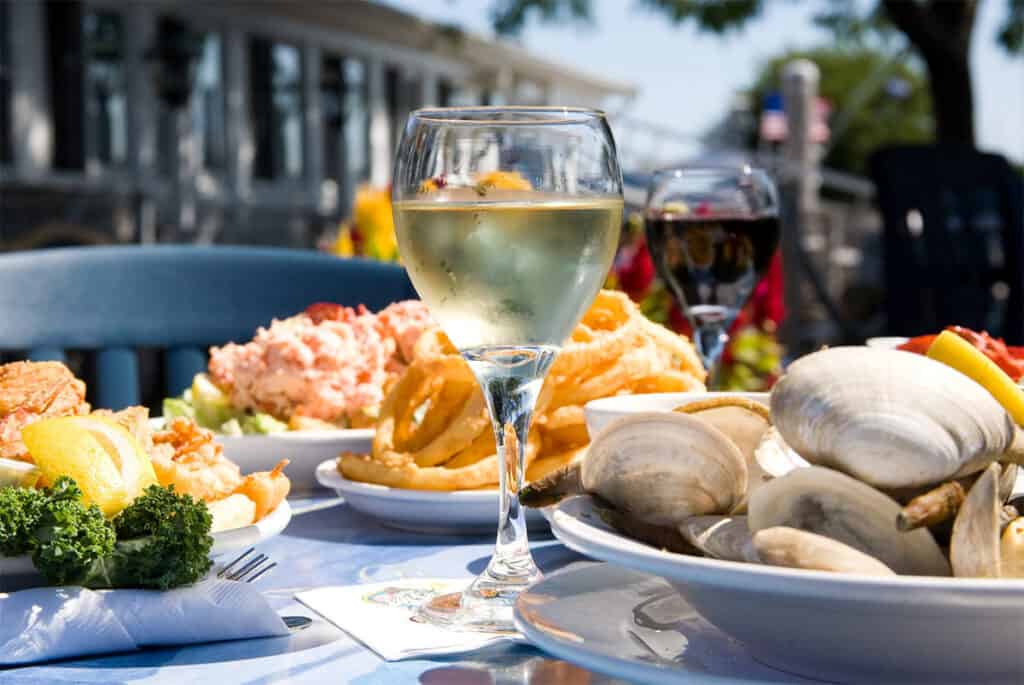 This tasty seafood restaurant boasts an exciting yet relaxed atmosphere, perfect for a quick bite after spending the day at the beach.
The menu offers classic seafood dishes like clam chowder and lobster rolls to more elevated meals, such as tuna poke nachos. Plus, the eatery offers happy hour specials from 3 pm to 5 pm featuring dollar oysters and discounted cocktails.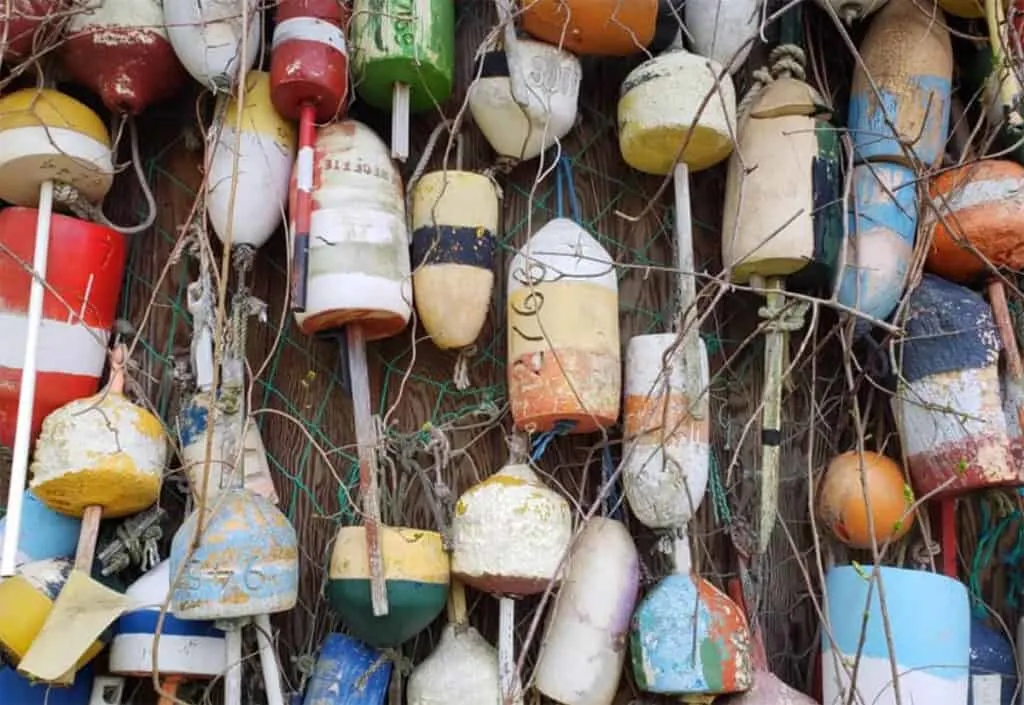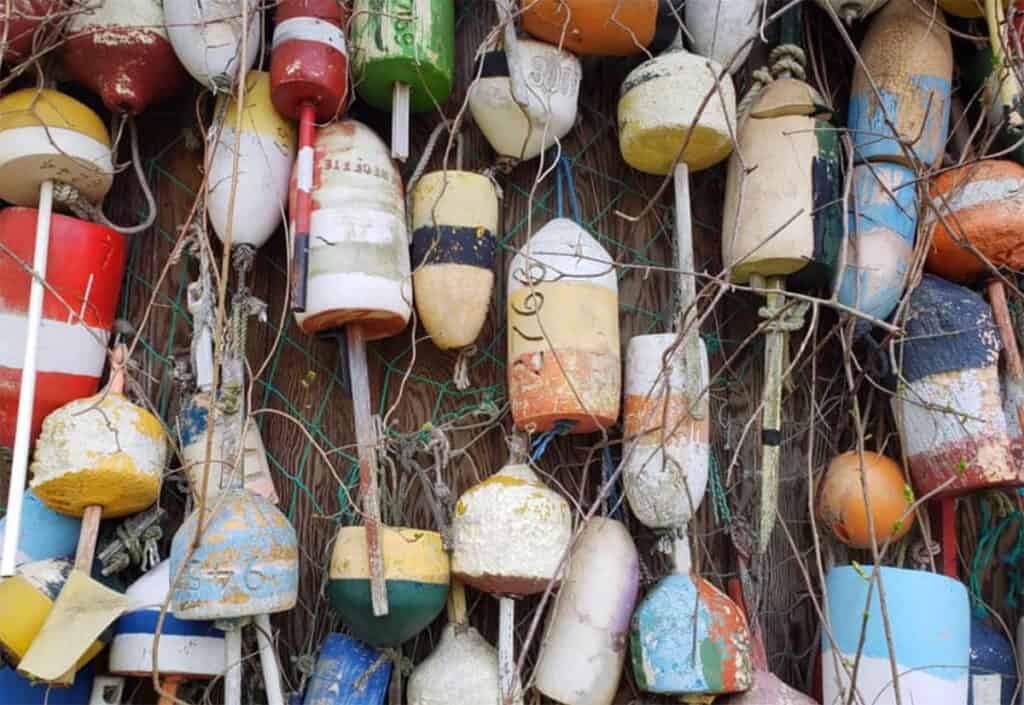 Where to shop in Cape Cod
There are many shops throughout Cape Cod, almost all of which boast maritime charm. A few fun stores worth exploring are:
Cuffy's of Cape Cod – A lovely coastal-inspired shop with a wide selection of apparel and souvenirs.
Chatham's Main Street – You are sure to find plenty of luxurious and unique goods at one of the main street's various shops. The quaint seaside town is at the southeast tip of Cape Cod.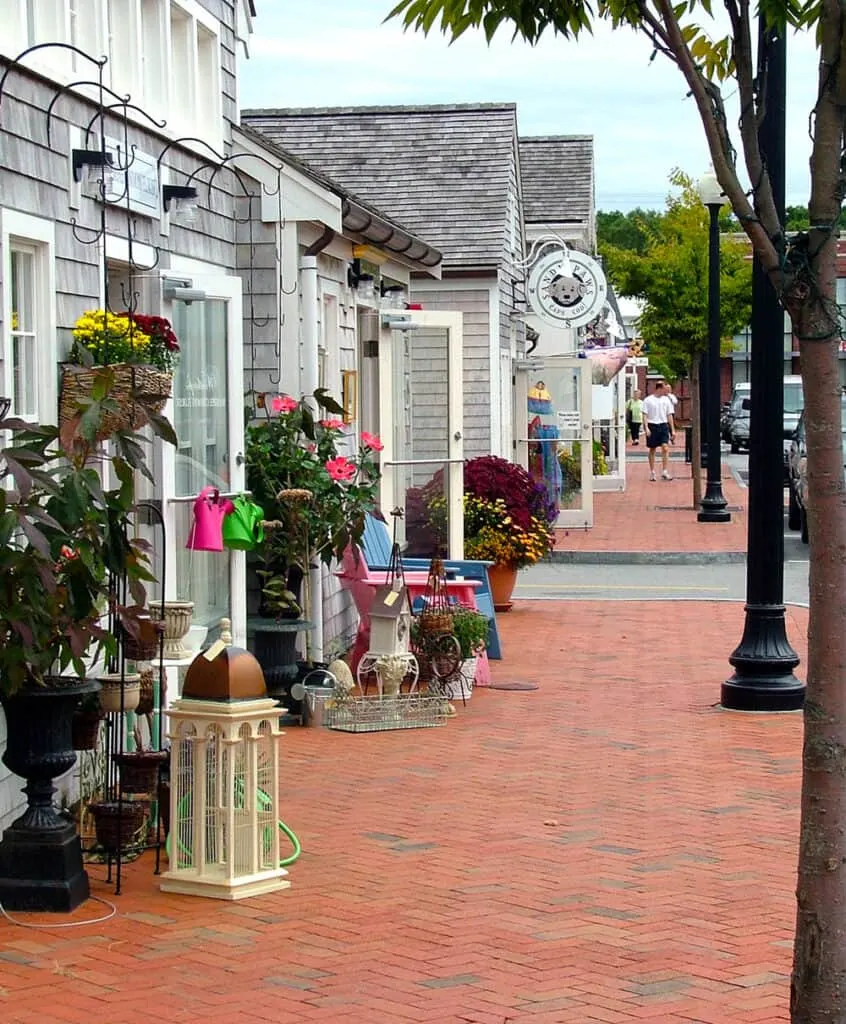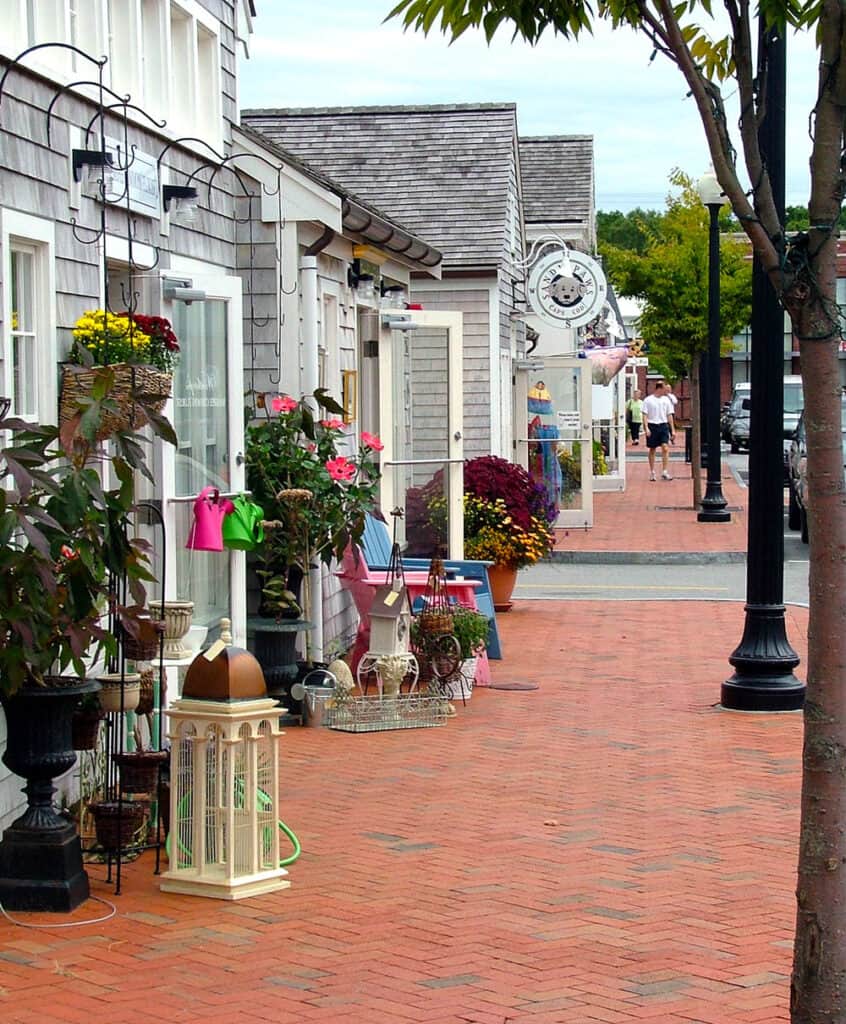 Mashpee Commons – the area has a diverse collection of boutiques, a pottery studio, restaurants, souvenir shops, and even the Cape's only escape room.
Where The Side Walk Ends Book Store – This adorable book shop is run by a mother-daughter duo specializing in kid-friendly books. Plus, it is named after a popular children's book written by award-winning author Shel Silverstein.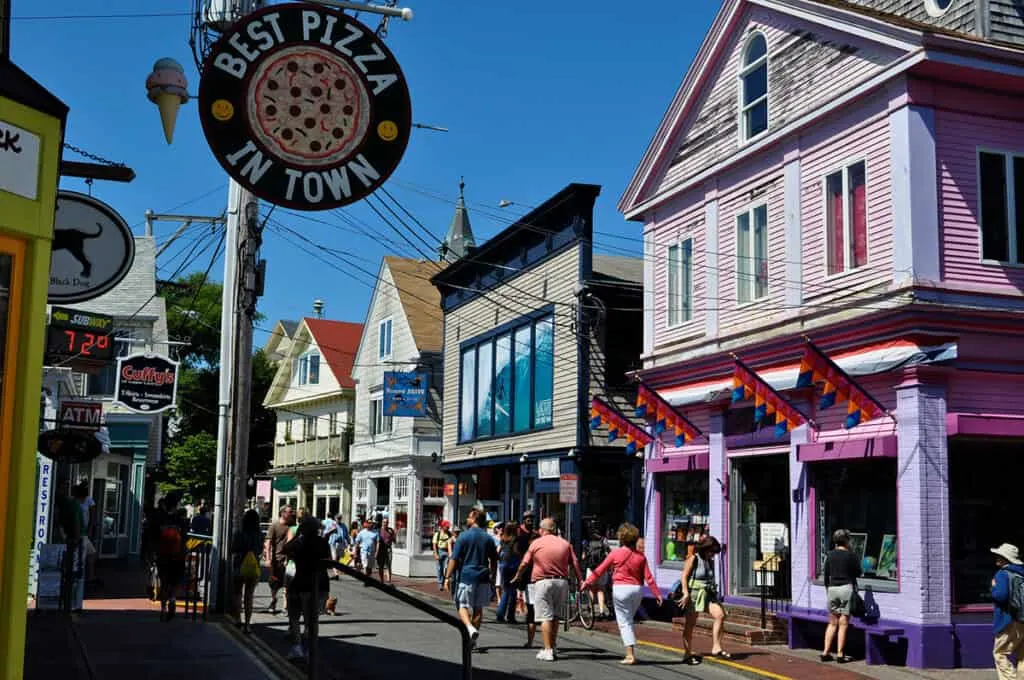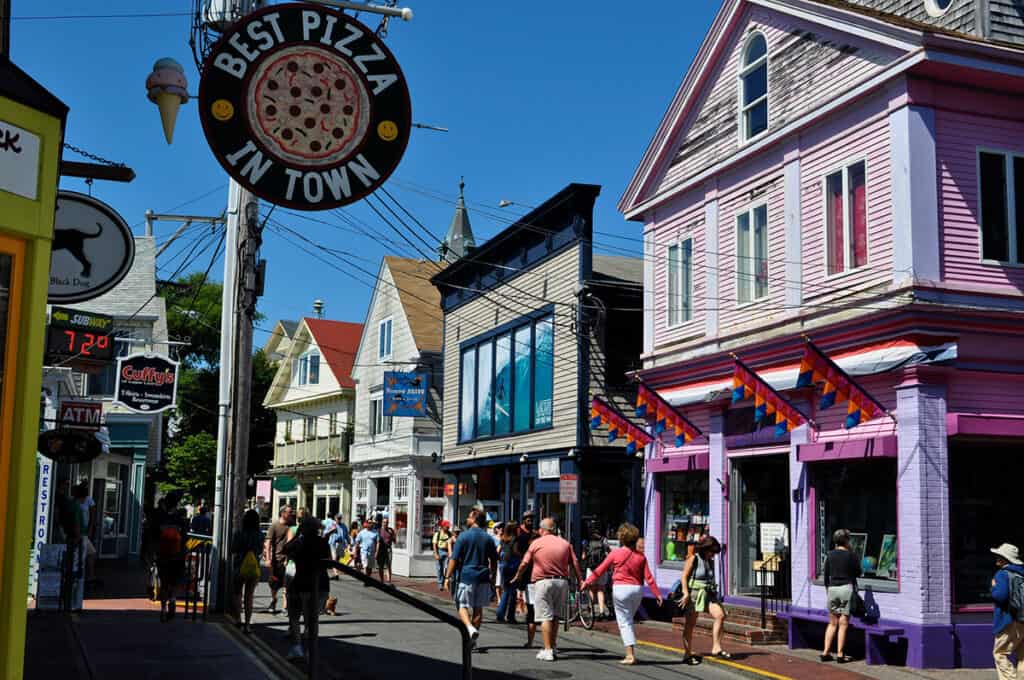 Cape Cod vs. Martha's Vineyard
That's the big question: deciding whether to stay in Cape Cod or Martha's Vineyard.
Martha's Vineyard is one of the significant islands south of the Cape, along with Nantucket. Both are only accessible by boat or plane.
While both regions have terrific beaches, delicious seafood, and laid-back vibes, they tend to attract different crowds.
Families and young people typically prefer Cape Cod, which boasts more beaches, attractions and a lively nightlife scene.
However, many older folks are drawn to the peaceful atmosphere that Martha's Vineyard has to offer.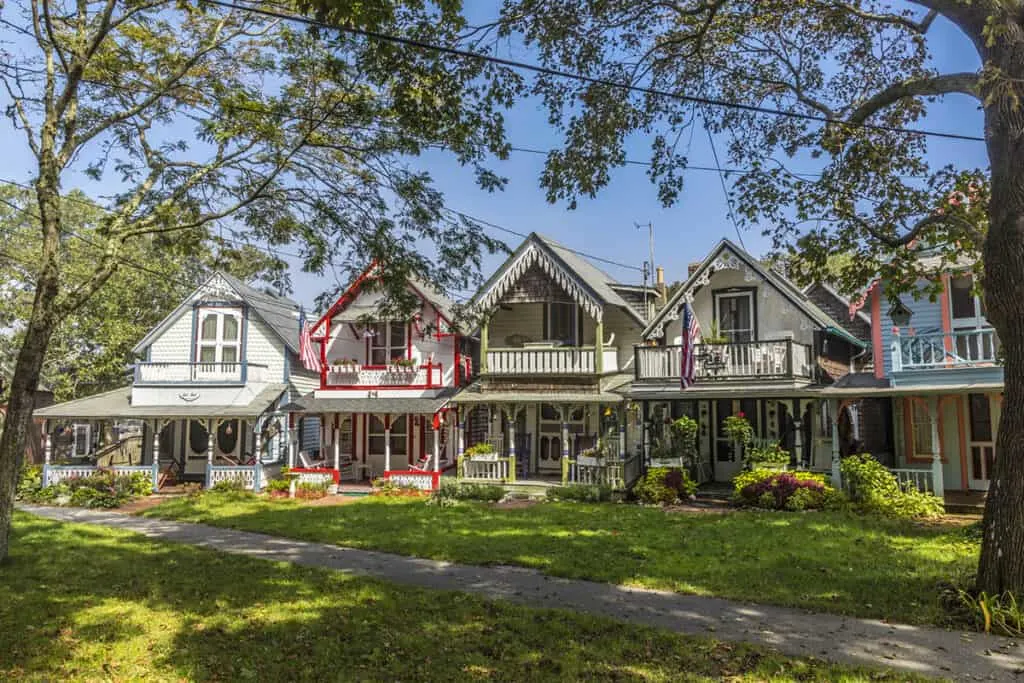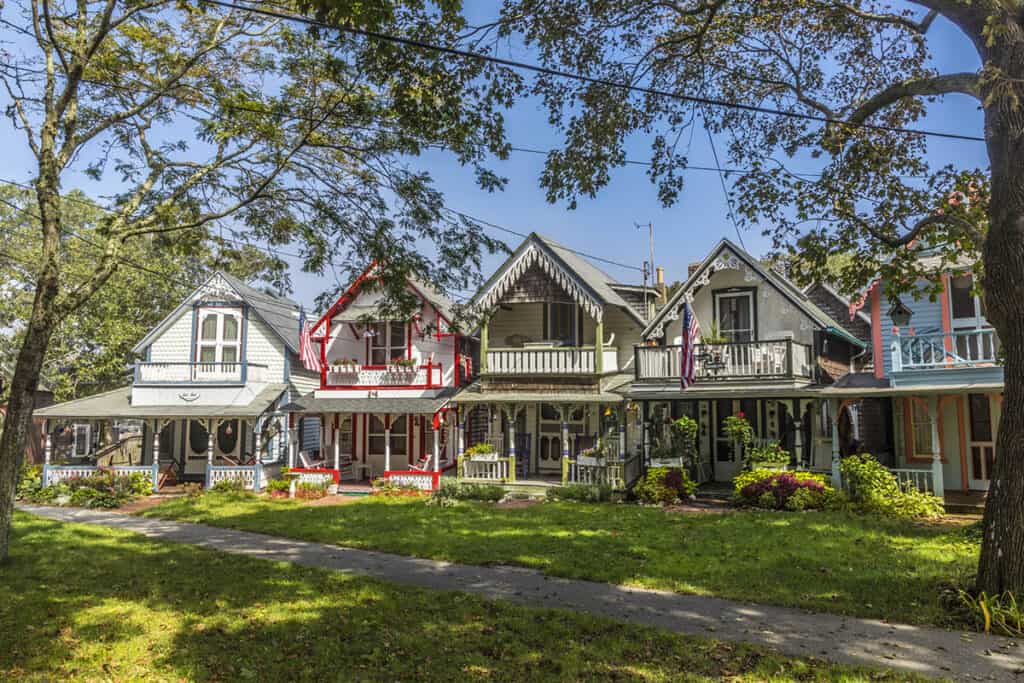 Does Martha's Vineyard have vineyards?
Actually no. British explorer Bartholomew Gosnold, who crossed the Atlantic in 1602 and landed at Cape Cod, named the cape after the plentiful cod he found in the area, and Martha's Vineyard after his daughter. The local Wampanoag Indians called Cape Cod Noepe, which meant "land amid the streams."
Apparently Martha's Vineyard island was covered in wild vines in the 1600s, and the name he declared has led to centuries of confusion ever since. You can, however, find a glass of wine in plenty of places!
Regardless of which beachy destination you choose for your road trip, I am sure that you will adore these New England hot spots.
Check out these tailor-made New England vacation ideas at Original Travel, and see the gorgeous itineraries they can offer.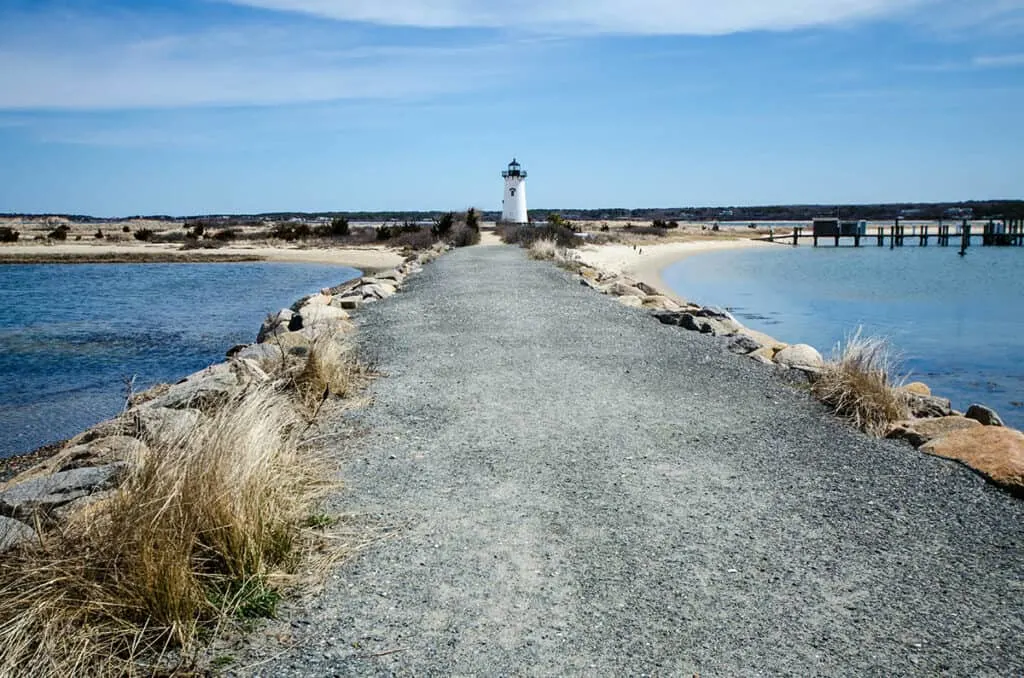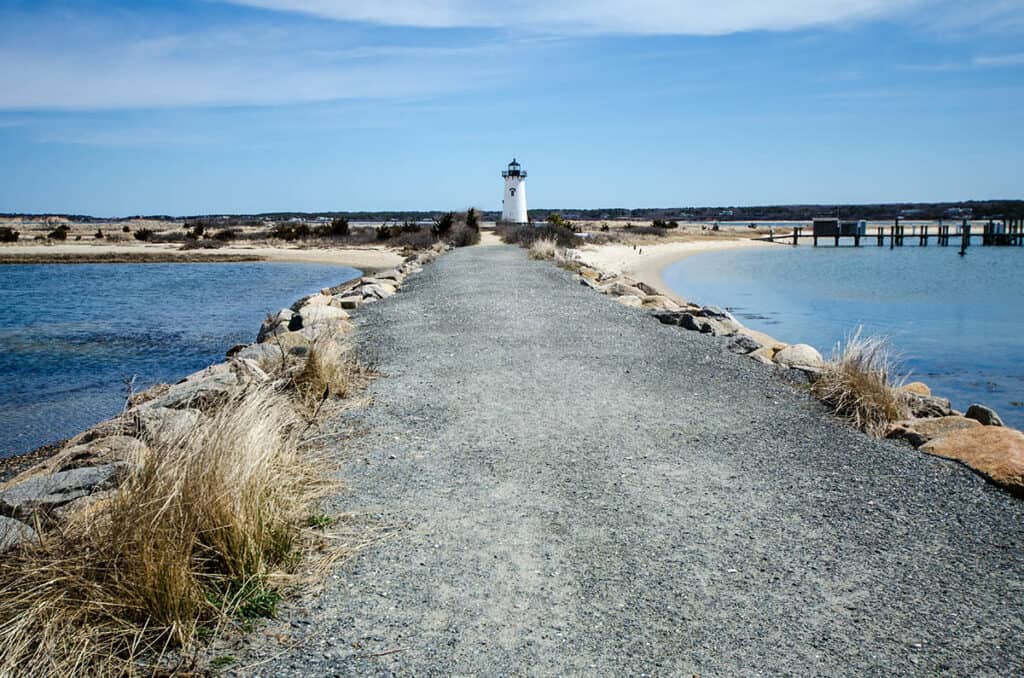 Read more: I have lots of great New York City content on the blog, so if you're planning a visit to the Big Apple, you'll love this post on the best rooftop restaurants in NYC and shoppers will get enjoy my best flea markets in NYC post too.