Having a drink or a fabulous meal on one of these Paris rooftops is the most magical moment you can have in the city! Yep, cue the marriage proposals, because these places are where you'll want to bend your knee.
The bar scene in Paris is full of variety, offering everything from loud quirky bars to quiet lush corners awash in expensive wine, to awesome rooftop bars fit for a marriage proposal in the City of Love.
Few things are more Parisian than a drink au terrace, especially when those terraces are on the best rooftops offering fantastic views of the French capital. The perfect evening activity, whether you're with a group of friends or you need somewhere to meet your 'swipe right' match. Even if you're striking out alone, you'll find inspiration and likely some new friends in these bars.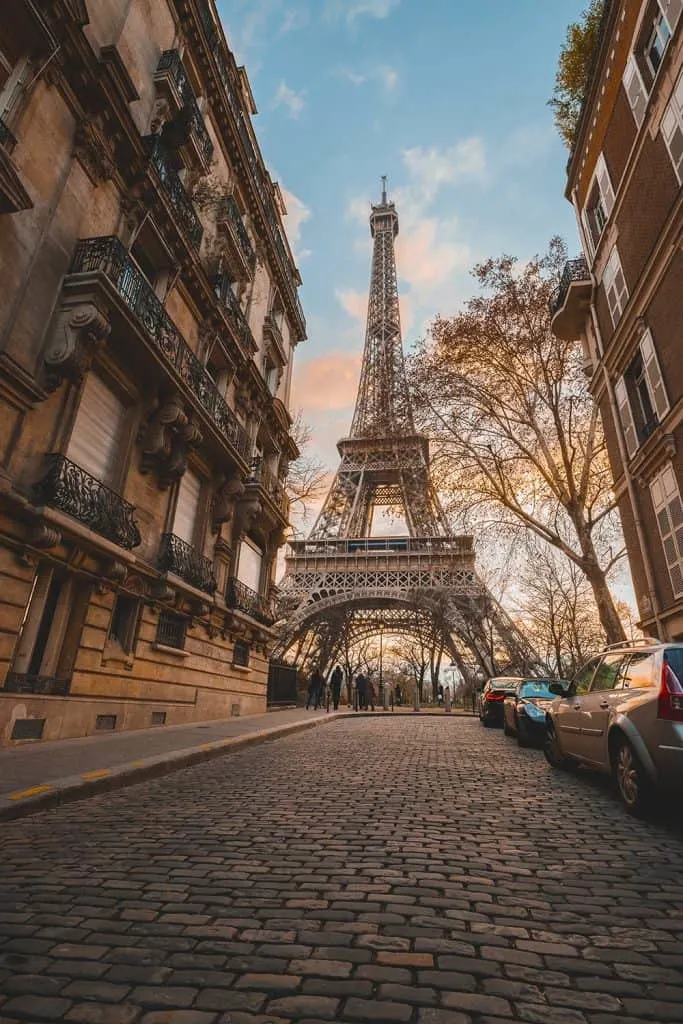 And while it might seem crazy to make a reservation at a bar, it's par for the course at many spots in Paris – thank the limited seating and the tiny apartments that force people to congregate elsewhere. So if you're going with a crowd, see if you can call ahead or reserve online.
Paris is a beautiful city to explore, whether on foot, via a tour in a little 2CV car or just lose yourself on a walk along the River Seine and pick up a classic, handprinted or antique French souvenir from the bouquinistes.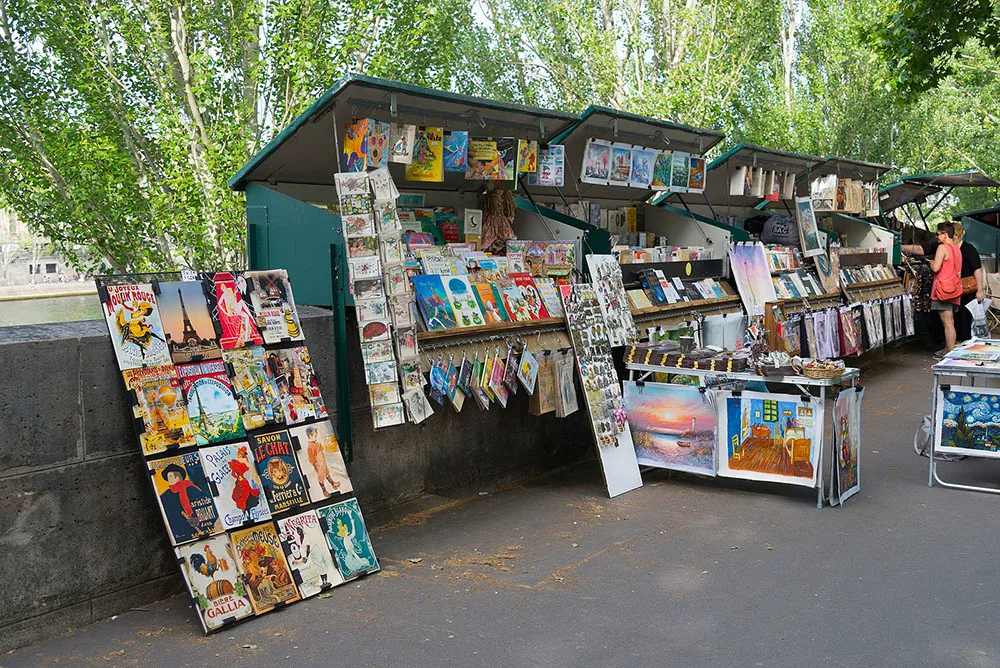 Although every film of Paris features views of the Eiffel Tower and there are lots of lovely hotels in Paris with views of the Eiffel Tower too, but there is so much more to discover, and our list offers you all sorts of options to explore the city from the rooftops.
If you have time, head out of Paris to some more fabulous French cities. Take the train to Montpellier, down near the Mediterranean Sea. I loved this place and was told there won't be an orchestra in the world without a violin made in Montpelier. Here are some more things to do in Montpellier, including museums, nightlife and history to walk through.
While we did our best to make sure these bars are open year-round, with changing restrictions, and the fact many of these are available for private events, we recommend calling ahead to make sure they are open before your visit.
Great resources for your Paris trip:
Here are our picks for the best rooftop bars in Paris:
Bar Le Perchoir is one of the best-known rooftop bars in Paris, boasting great communal seating options as well as fantastic open-air views of the Sacre Coeur.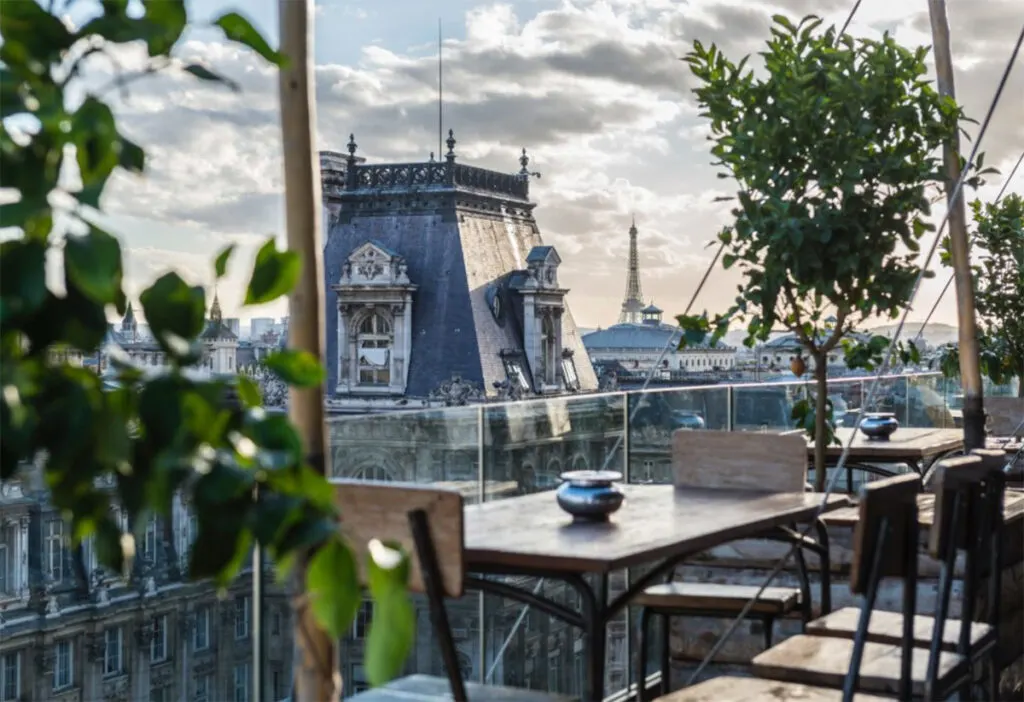 Their cocktail list is long and creative, including options like the "Bootycelli" (Pisco La Caravedo, rose water, lemon juice, almond syrup, egg white, and Bitter Peychaud's), and the "Drunken Sailor Moon" (Saké Bijito Junmai, Super Sour, apple juice, and strawberry syrup).
They've also got wine and beer of course, along with house-made sodas and great bar snacks.
Bar Le Perchoir is one that you'll want to show up either very early or very late, or be prepared to wait in line. But once you get in, the views of the Sacre Coeur can't be beaten.
The pic above is from Le Perchoir Marais, another great rooftop bar at 33 Rue de la Verrerie with view of the Eiffel Tower.
Terrass" Hotel
If you're a fan of the bohemian feel of the Montmartre area, the Terrass Hotel is a can't miss bar for you. You're just a cobbled couple of streets from the Sacre Coeur and the Moulin Rouge.
If walls could talk! The hotel itself can boast that people like Dali and Piaf have stayed here, and the bar reflects the eclectic nature of the area.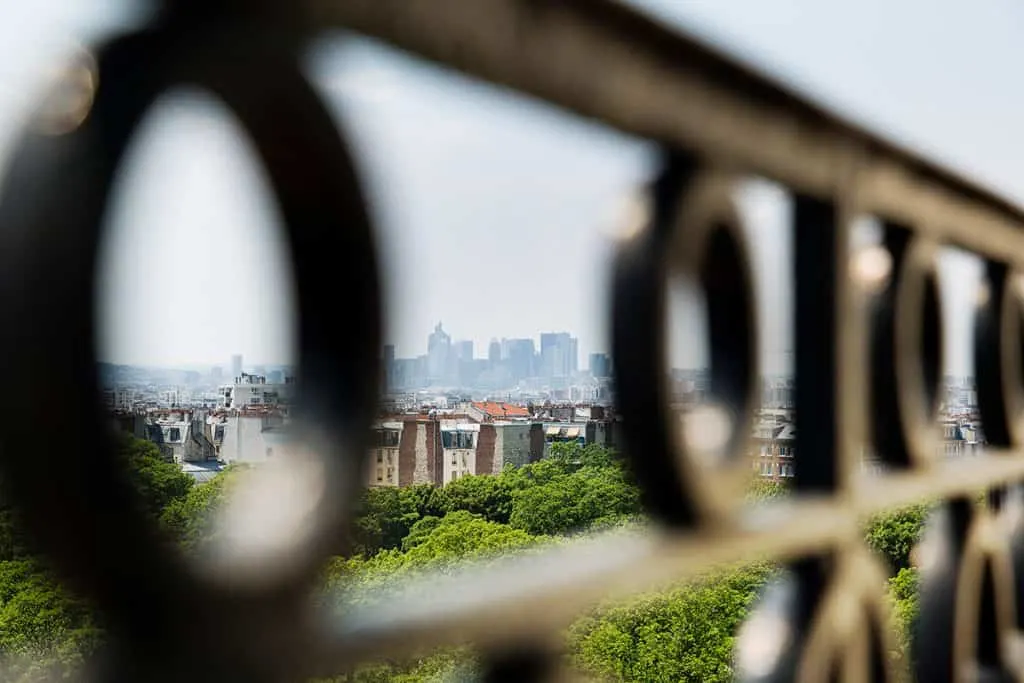 The list of liquor for this bar is impressive, meaning whatever you're looking for, you can likely find it here.
The decor and seating of Terrass" Hotel Bar make it a perfect backdrop for drinks no matter who you're getting them with, and the location makes it easy to hop on the metro and go home or hit any of the other fantastic bars in Montmartre.
This is about the cutest neighborhood (arrondissement) in Paris. Here's how to spend 24 hours in Montmartre.
Perched on top of the Hotel Grands Boulevards, The Shed is a central option for people looking to keep the party going after their drinks. It also offers a quick walk to several metro lines as well as the RER A.
If you're staying in the area, this is a perfect choice, whether you're looking for a great view for drinks for one, or if you're meeting a bunch of friends for a raucous night out.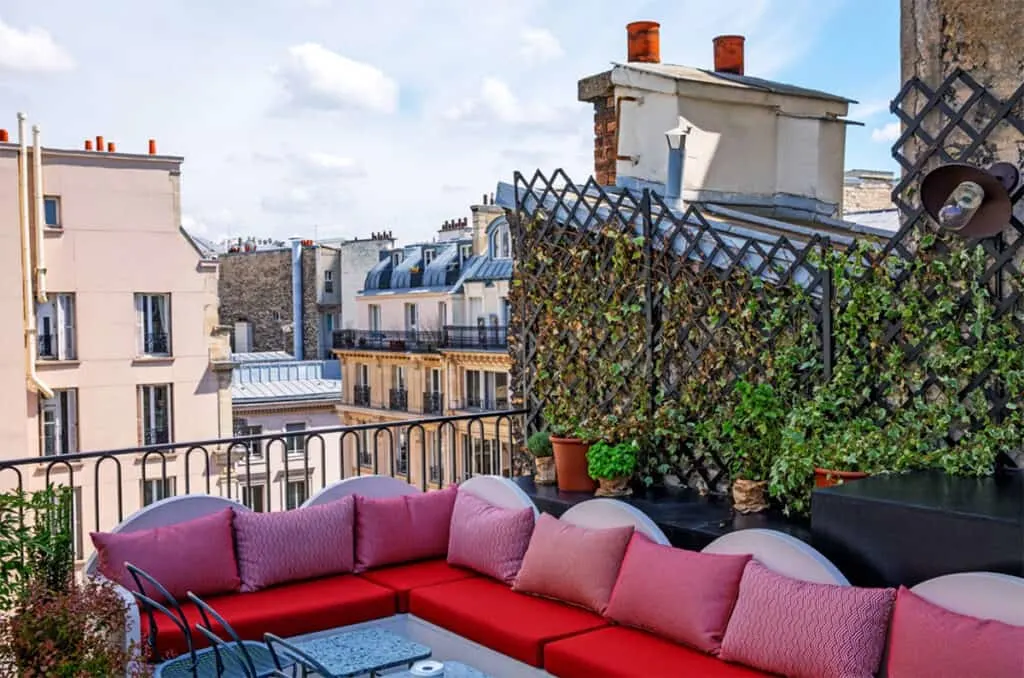 The Shed boasts fresh and creative cocktails like the "Fennel Collins" (Plymouth gin, liqueur de fenouillette Denoix, lemon juice & sparkling water) and the "Cosmo de Provence" (Fair vodka, Aperol infused with herbes de provence, Velvet Falernum & lime juice).
If you're hanging with some non-drinkers, The Shed also offers well-crafted mocktails.
You can make a reservation for The Shed by emailing restaurant@grandsboulevardshotel.com
If you're the type that wants to spend as much time as possible viewing art in Paris, the Centre Pompidou can't be missed.
It's full of modern art and always has some really interesting exhibits. And at the top, you'll find Le Georges, a perfect place to snag a drink, whether you've just spent hours in the museum or if you're skipping the art in favor of the gorgeous view, this is the perfect spot for a drink with the Paris skyline as your backdrop.
Reviews of the bar consistently say to skip dining there, but that the view can't be beat, so stick to cocktails or a glass of wine here. (Closed Tuesdays.)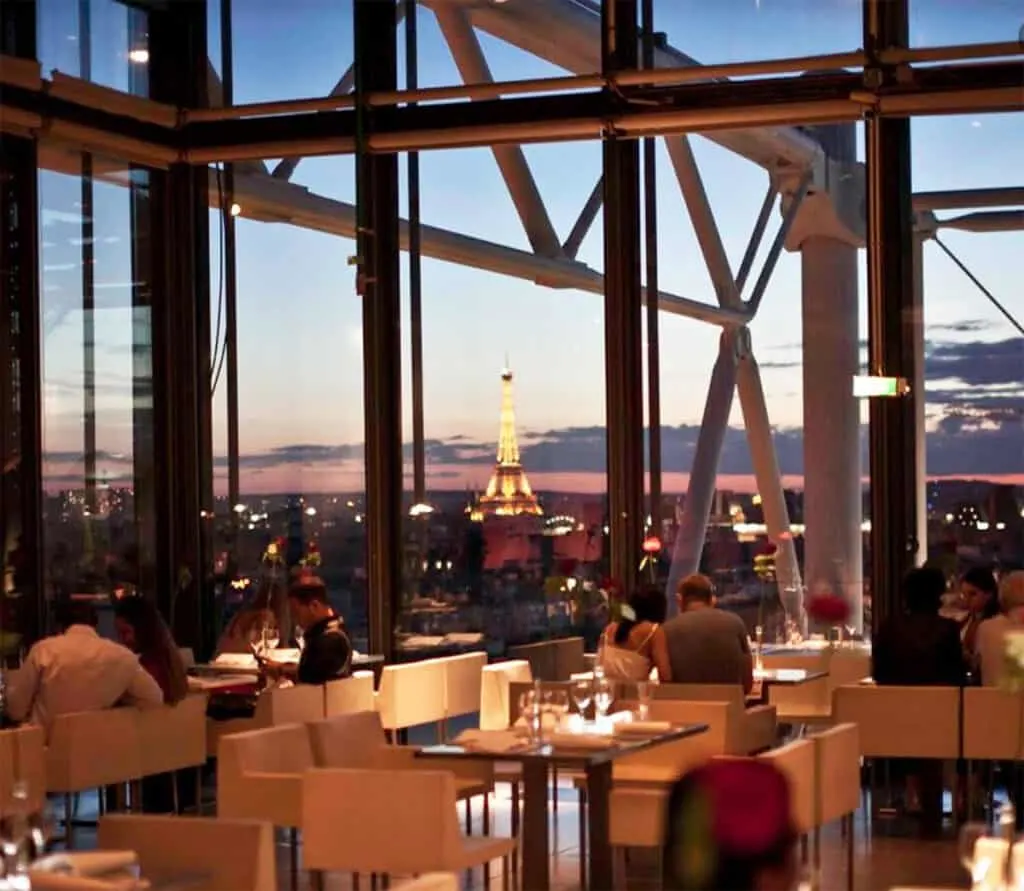 On the far west side of Paris proper, you'll find the towering Hyatt Regency, which offers guests and visitors alike the Windo Bar on the top floor.
This no reservation bar can be hit or miss with wait times – sometimes you'll find a line waiting to get in, sometimes it seems only the hotel guests know about it.
Either way, here you'll find classic cocktails as well as an impressive selection of champagnes and whiskies.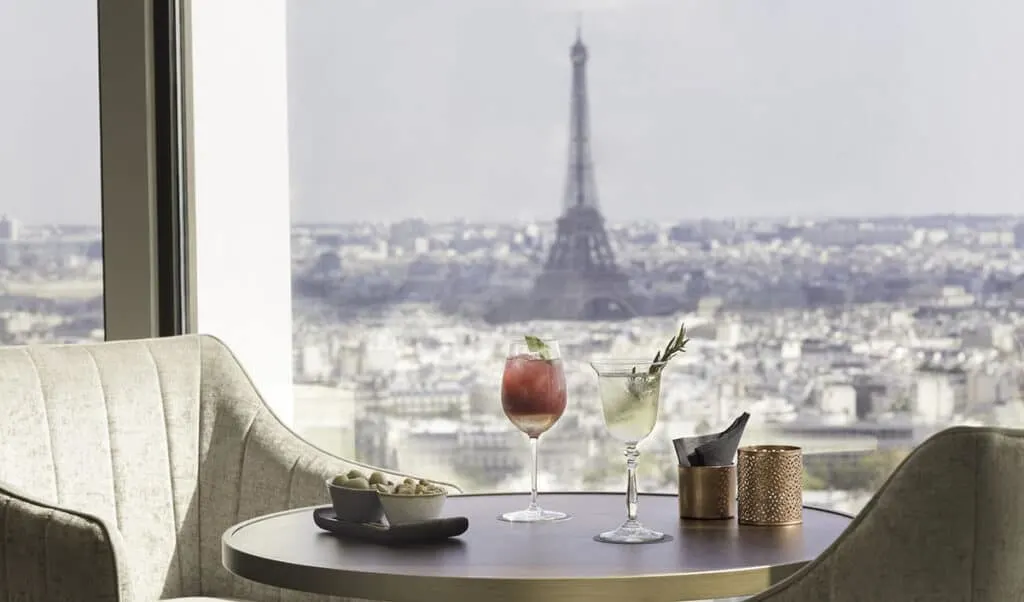 Windo is a quieter bar, making it perfect for business drinks or a classy date, but maybe not the right choice for a wild night out. It's a great pick for frigid winter nights, as it's totally indoors without losing a panoramic view of the city.
If you're looking for the best rooftop bar in Paris, you'll want to come here for the breathtaking views from their rooftop terrace.
Close to the Arc de Triomphe is the Peninsula hotel, atop which is Oiseau Blanc restaurant along with its bar terrace, Le Rooftop with a view of the Eiffel Tower. It is our pick for best bars in Paris for a special occasion.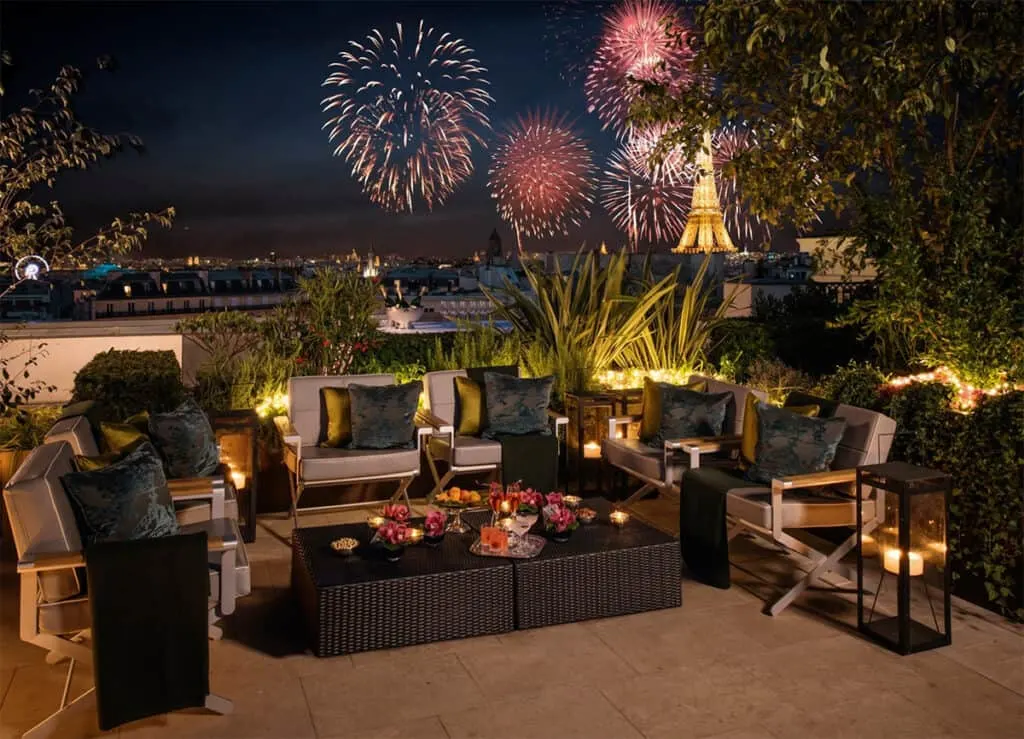 L'Oiseau Blanc, on the 6th floor of the Peninsula, was awarded one Michelin star in 2020, which means this bar is on the ritzier side, encouraging reservations in advance and requiring a minimum spend of 30 euros. But the view!
If you're looking for a place to sip true premium wine while looking out over Paris rooftops, this is the place for you. (If you're looking to get tipsy on cheap French wine, there is no shortage of places, but this isn't one of them.)
If you're looking for a rowdier rooftop bar atmosphere without sacrificing the great view, check out the Café Oz Rooftop on the Quai d'Austerlitz.
The fact that this bar is open until 5am on Friday and Saturday nights should tell you all you need to know.
Café Oz is an Australian bar, so look for their imported Australian beers along with jägerbombs and shots with names that would make your mother blush.
The view of the Seine River is great, and the bar snacks are also on point, featuring burgers, pizzas or a basket of fries.
If you want somewhere to go to live it up loudly with your friends, or you need a stop on a night of Parisian bar hopping, Café Oz may be just what you're looking for. Expect to find a younger – and much louder – crowd here than some of the more posh options. (Closed Mondays.)
Laho is one of the newcomers to our rooftop bars in Paris list, having just opened summer 2020. Located close to Gare de Lyon, Laho is super accessible and a great place to have a drink if it's your first evening in Paris.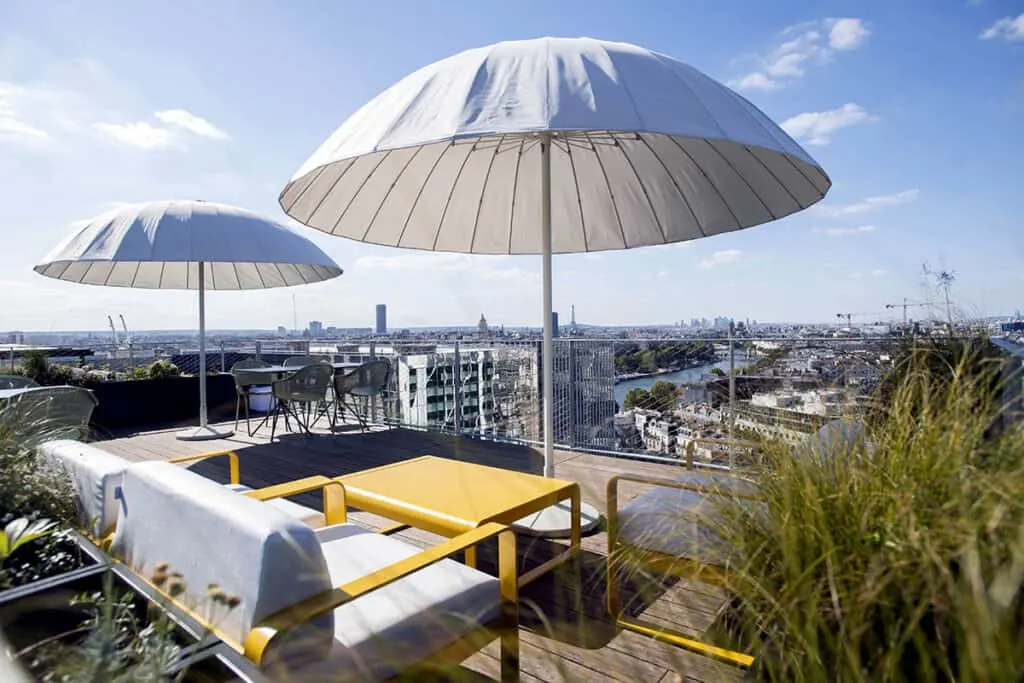 They offer classic cocktails, a decent wine and beer list, and a nice selection of non-alcoholic options as well. Laho is small and doesn't take reservations, so if you get in, enjoy a more quaint and intimate evening with a relaxed atmosphere. (Closed Sunday and Monday.)
Perruche is located on the 9th floor of the Printemps Haussman Men's Store, and boasts a 500m2 terrace with a 360-degree view of Paris.
Perruche offers great decor along with regularly featuring DJs or musicians. A more casual option, this is the perfect spot for you if you're not looking for a rowdy crowd, but also not looking for a stuffy luxury option.
They serve good food and the restaurant is open until 2am, making it obvious to visitors that it's both for the dinner and after-dinner crowds.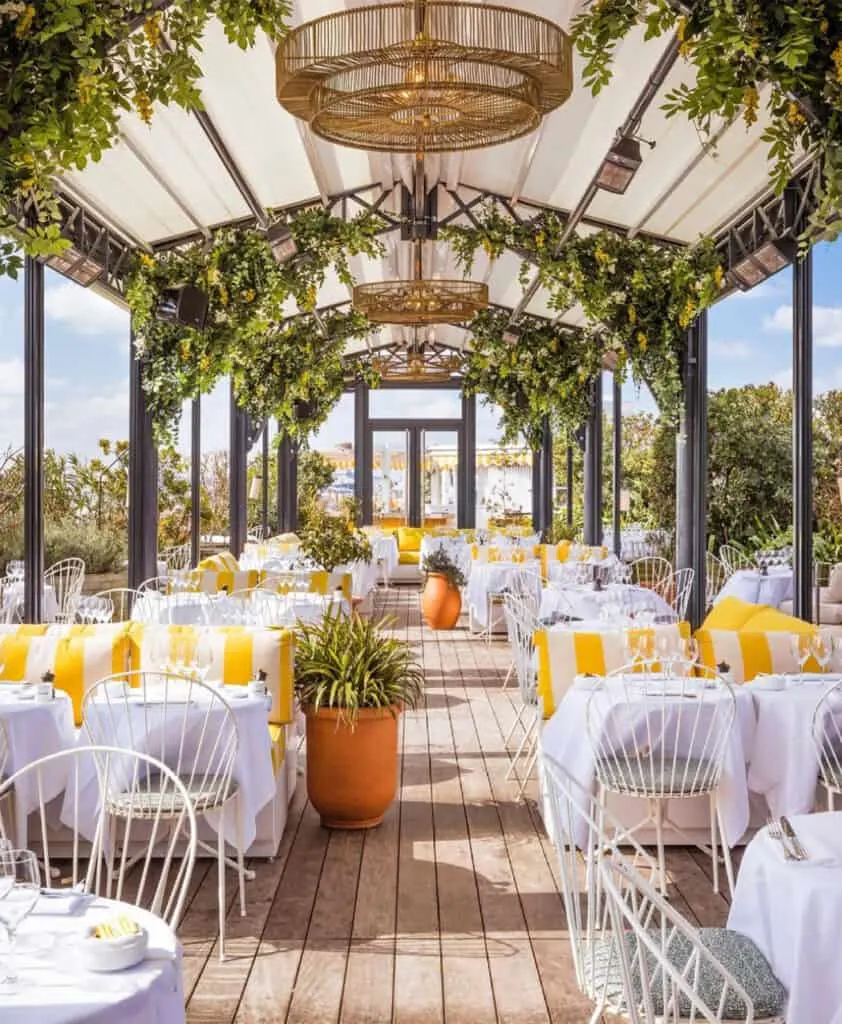 While the Galeries Lafayette is one of the more popular shopping malls in Paris, many people don't know that it boasts one of the best views of the city from the rooftop.
You can take the escalators up – up – up any time to see the great views, and if you go at lunchtime you'll see locals enjoying their lunch from Pret a Manger or Starbucks up here.
But in the evening, you'll want to check out Creatures Restaurant, which replaced Cube Bar a few years ago. The menu at Creatures is 100% vegetarian, and the cocktail list is varied and very French.
Creatures accepts reservations for lunch but not for dinner, so if you want to spend the evening there, make sure you arrive early.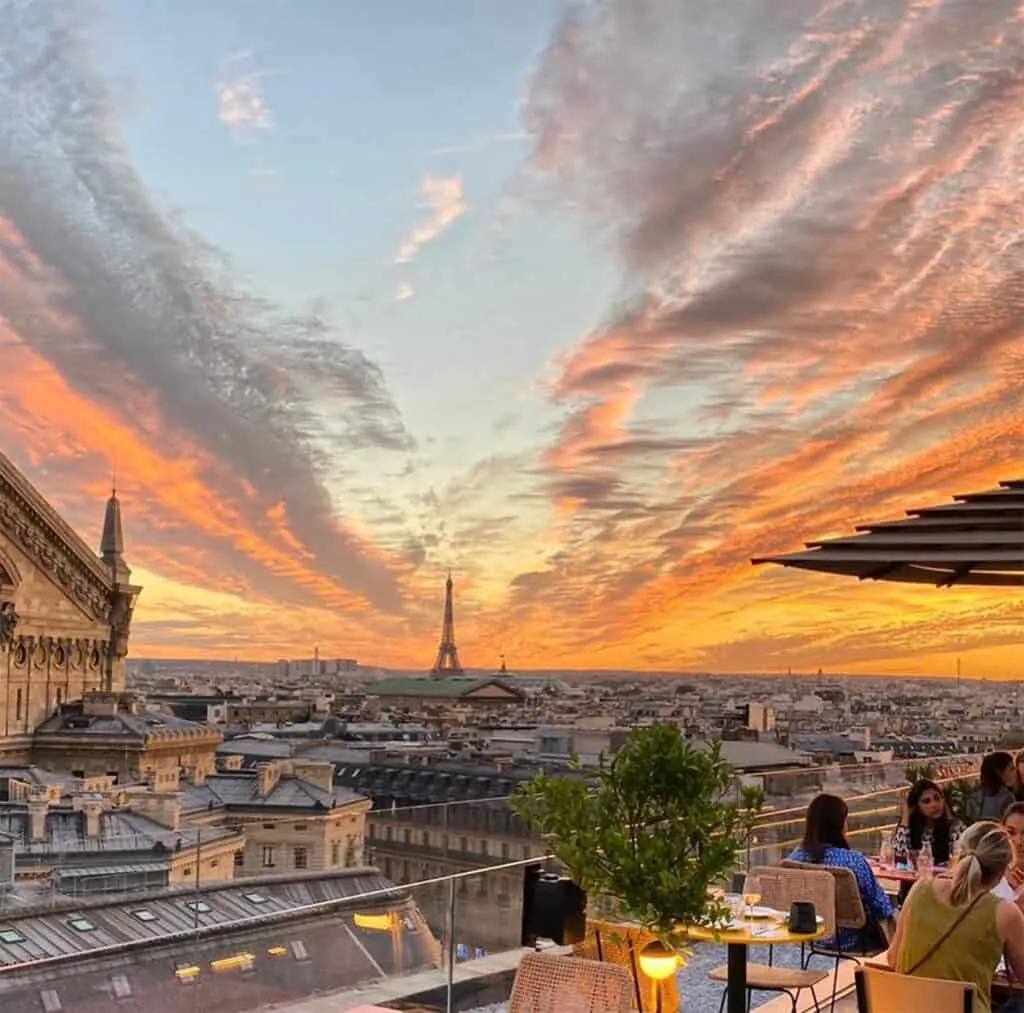 Sitting on an open-air terrace with no agenda is one of the best things about Paris, and where better to do that than with a view of the city and its famous landmarks?
Other great Paris rooftops worth mentioning
Mama Shelter. This international brand is quirky and cool. I've stayed at Mama Shelter Hollywood which also has a great rooftop, but there are three in Paris.
Mademoiselle Mouche. The rooftop garden is closed until summer, but put it on your bucket list to enjoy fiery and effervescent evenings in a garden hanging over the Seine with a breathtaking view of the Eiffel Tower.
Maison Blanche. This restaurant and rooftop terrace sprawls across two floors. George V is outside and the weather needs to be good, and Montaigne Terrace is on the Champs Elysées Theatre roof with views of the Eiffel Tower.
But of course, you haven't come to Paris just drink – you've come to eat too! I rounded up this epic list of the best food in Paris that you simply must try, at least once! Think macarons, Paris brest, foie gras, beef Bourguignon, steak frites and more. And where to find them.