In Mary-Lou Weisman's travel memoir, 'Traveling While Married' she noted, "I have been in Paris for almost a week and I have not heard anyone say calories, or cholesterol, or even arterial plaque. The French do not season their food with regret".
When planning a weekend in Paris, most of us dream of the delicious food we'll eat – after ticking off the obligatory photos of the Eiffel Tower, Arc de Triomphe and lining up to see little Mona Lisa at the Louvre, of course.
But whether it's your first time in Paris or you visit every year, images of croissants made with copious amounts of butter will be dancing through your head.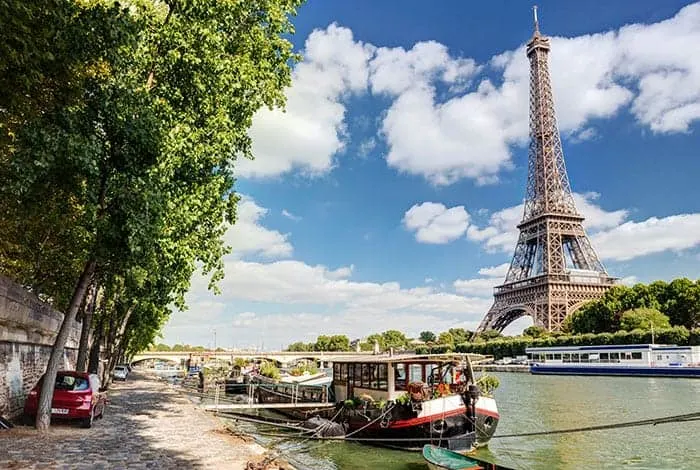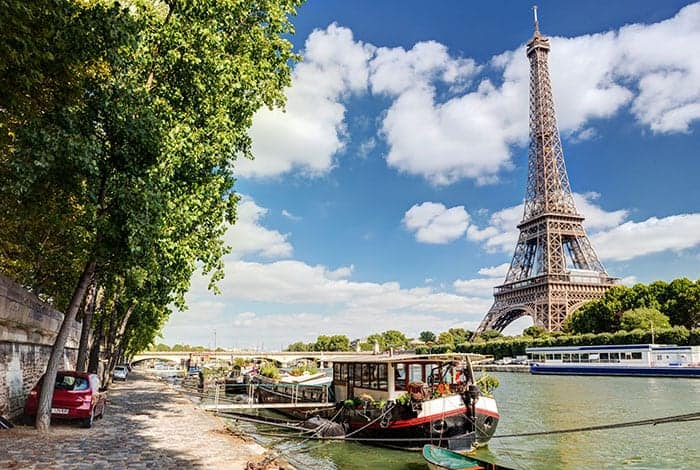 Fresh baguettes and gooey cheese, bakery windows filled with cream-topped pastries, and sitting outside a cafe people-watching is one of the best things to do in Paris.
By the way, if you are as interested in the Mona Lisa as I am, who she was and the story behind the remarkable Leonardo da Vinci painting, clever historians and artists at the Louvre have x-rayed and scanned the painting and revealed her mysteries which you can see from the comfort of your own home in Mona Lisa: Behind the Glass.
And if you're looking for the best souvenirs in Paris, I discovered them when wandering along the Seine. The little green wooden boxes called bouquinistes have been here for hundreds of years selling antique books, paintings and little pieces of curiosity.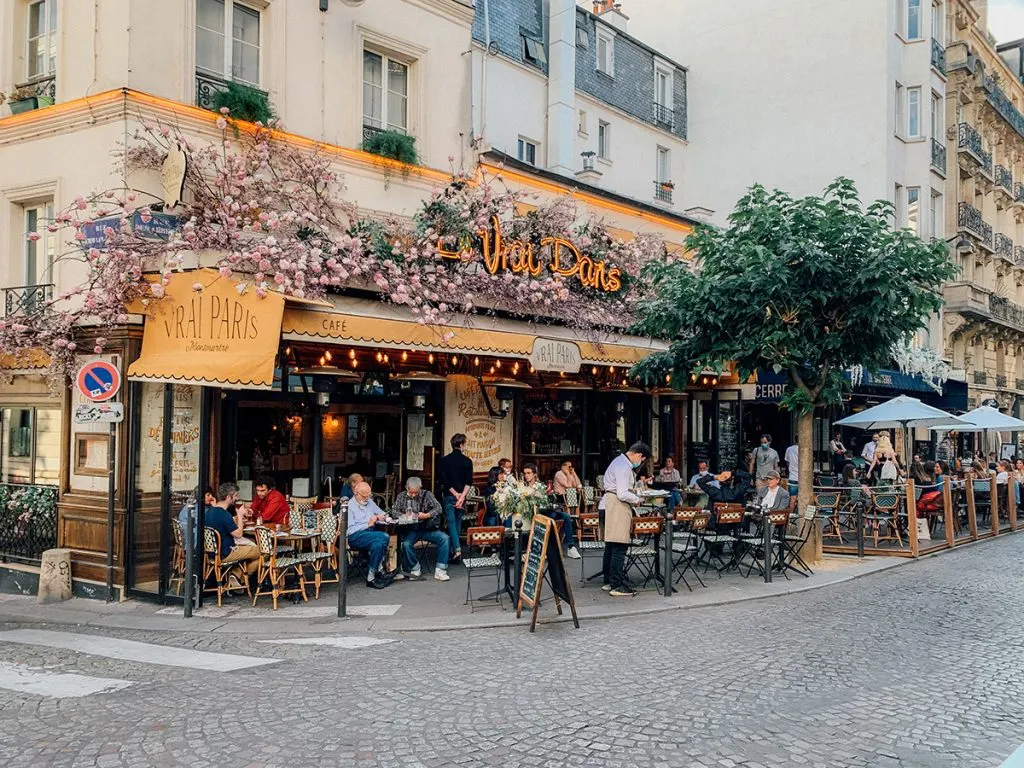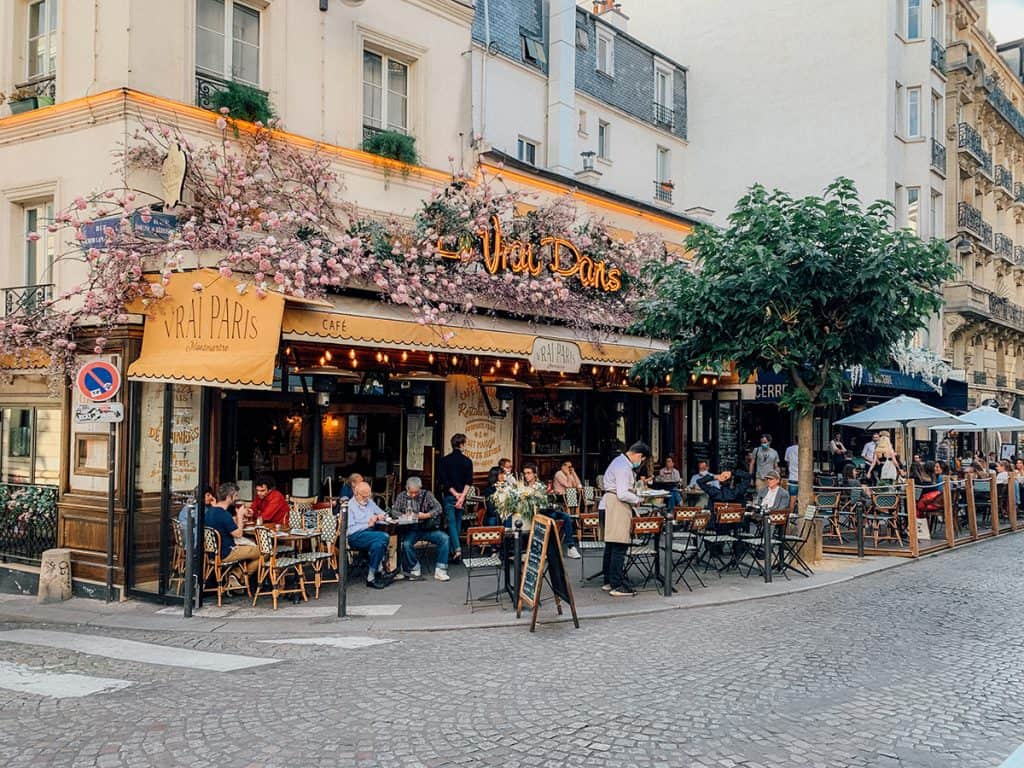 But the long list of famous French food to eat in Paris can quickly become overwhelming. After all, one can only try so many new tastes during a short trip!
You really need to spend at least a week (if not two or three) to fully explore this beautiful city and do start with these top 10 things to do in Paris then head off to find the best food!
I've compiled this guide for the 11 foods you simply must try, and where to go to find them:
• Paris Brest
• Croque Monsieur/Madame
• French Onion soup
• Escargot
• Foie gras
• Steak frites
• Beef Bourguignon
• Baguettes
• Au chocolat chaud
• Macarons
• Cheeses!
And don't worry if you don't have the budget for Michelin stars, you'll find wonderful cheap eats in this list which includes the best affordable restaurants in Paris.
For something entirely more decadent, I've rounded up the best rooftop bars in Paris. Some are casual with outdoor terraces offering breathtaking views of the Paris skyline, others are upscale and would make the ideal spot for a marriage proposal with view of the Eiffel Tower.
But before you go, check out these Paris travel tips with the best hacks for your French vacation.
Paris Brest
While you can find croissants in most pastry shops around the world, some pastries are a bit more obscure, which means Paris might be your only chance to try it.
The Paris Brest pastry is one of these. Although the name sounds a bit funny to English-speakers, the "Brest" of Paris Brest actually refers to the town in Brittany of the same name.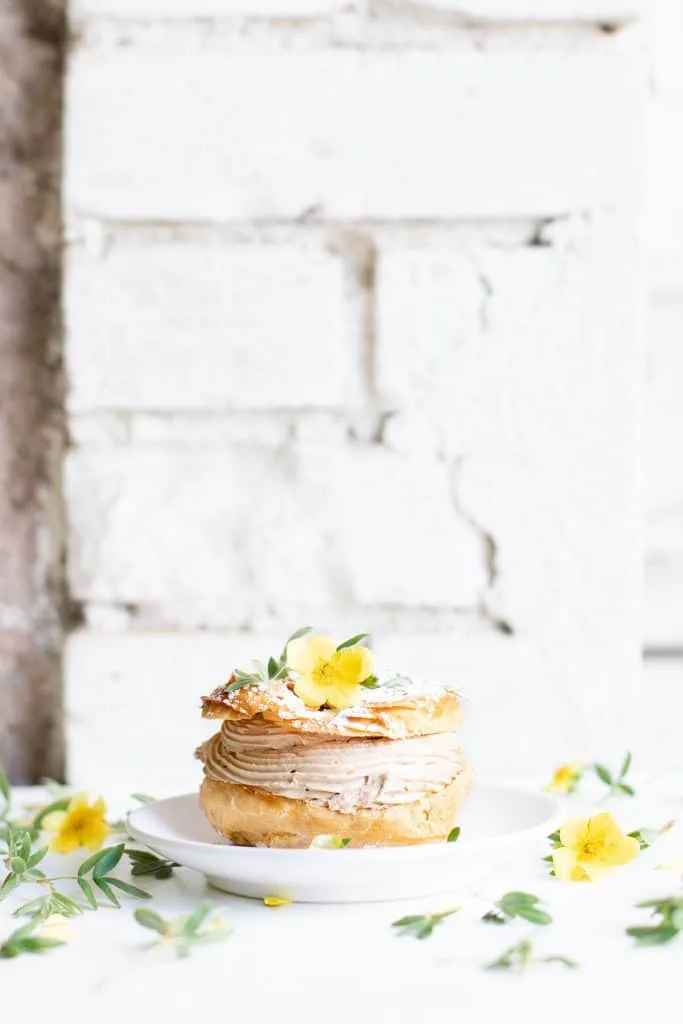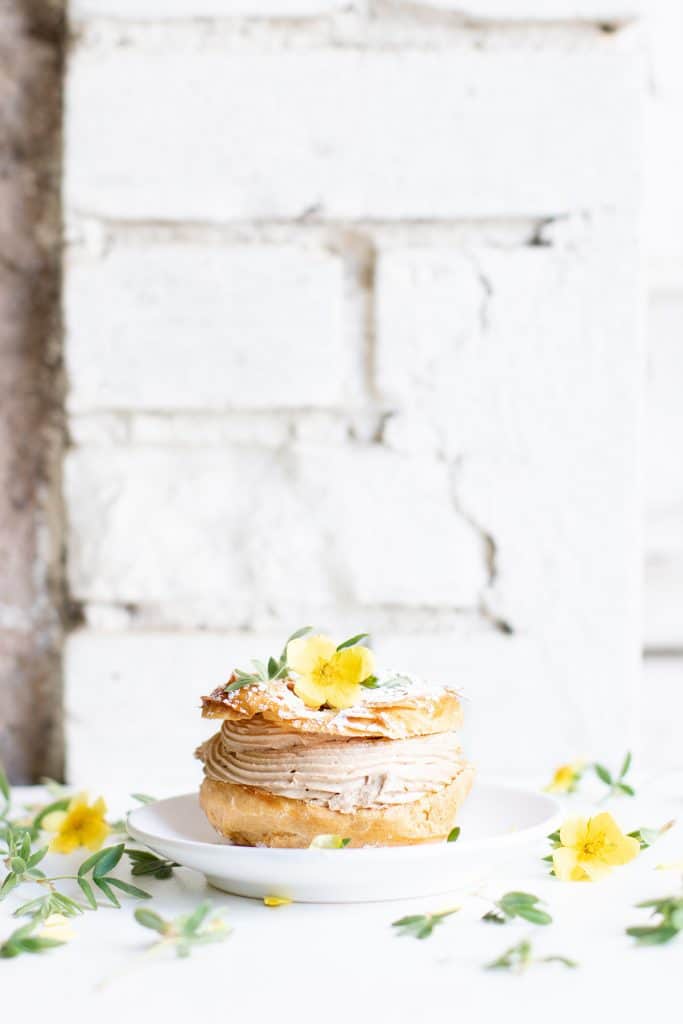 This pastry was invented in 1910 to promote a bike race from Brest to Paris. The inventor of the pastry, Louis Durand, developed a round pastry meant to resemble a bike tire, with perfectly buttery hazelnut cream sandwiched between two halves. The pastry is topped with slivered almonds and caramelized sugar, creating a perfect combination of crunchy and creamy.
For the best Paris Brest experience, check out the patisserie that still bears the inventor's name – Durand et Fils in Maisons Laffitte, a quick ride on the RER A from central Paris, at 9 Avenue de Longueil, 78600 Maisons-Laffitte.
Croque Monsieur/Madame
Not all of Paris' famous food requires a four-hour fine dining experience. In fact, some of the best foods you can eat are the quick bites between stops.
Among these are street crepes, baguette sandwiches, and the French version of a grilled cheese – the croque monsieur or the croque madame. This simple bar snack will only run you a couple of euros – it's not meant to be stuffy or stuck up at all.
When you order a croque monsieur, you'll get a delicious grilled ham and cheese sandwich topped with bechamel and more cheese. This causes the cheese on the inside to get creamy and melty while the top gets browned and crispy. Are you drooling yet?
If you need a little more excitement for your sandwich, consider ordering the croque madame – it's the exact same sandwich, topped with a poached or fried egg.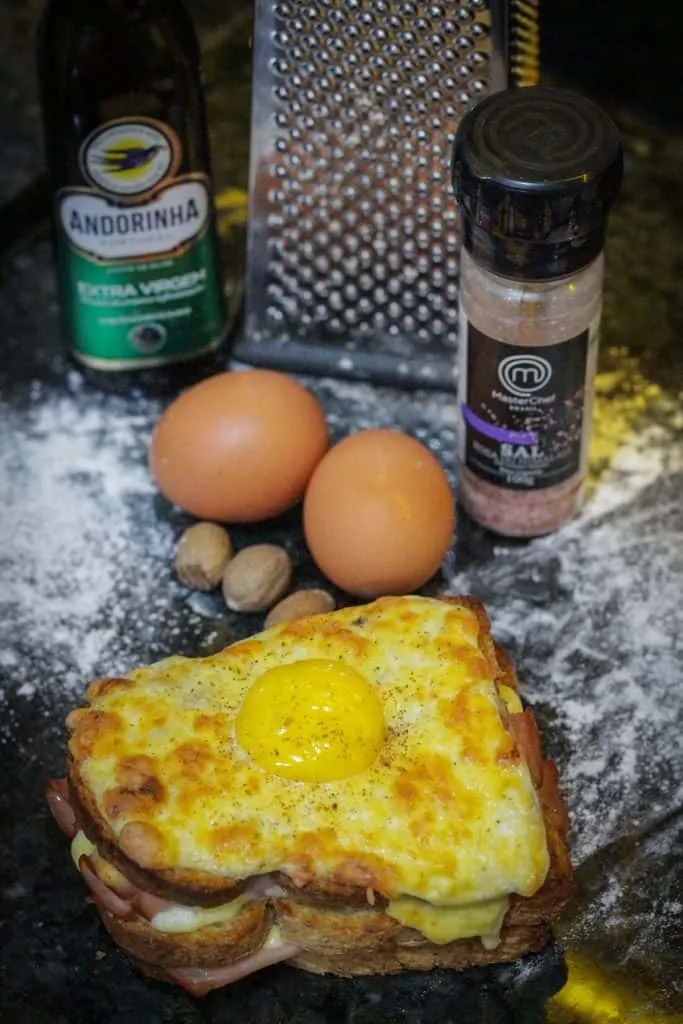 You can find a croque monsieur/madame most brasseries or little bistros on the streets. But if you find yourself hungry while wandering the Champs Elysées, and want some great people watching, one of the best restaurants for a snack/lunch is Le Deauville, at 75 avenue des Champs Elysees, 75008, Paris.
Onion soup
This humble bowl of hearty and tasty soup dates back to Roman times. It is now possibly the most traditional food in France.
The French classic is made from a rich beef stock with slow cooked caramelized onion, served in a bowl topped with one large crouton bubbling with hot grilled cheese.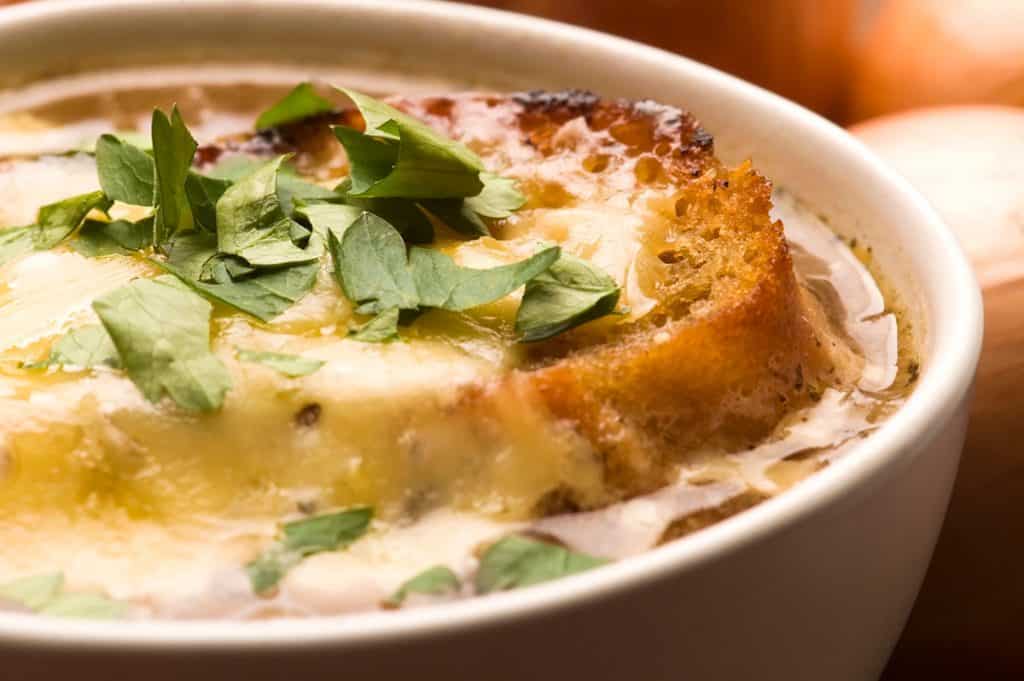 Voted in the top five places to get a bowl of French onion soup in Paris is La Jacobine, 59-61 Rue Saint-André des Arts. They also do a lovely duck confit, foie gras and escargot.
Escargot
Like a lot of us, you probably first heard about escargot when one of your friends at school said, "Guess what French people eat?" Of course you didn't believe them until a verified adult confirmed the horrific news – yes, French people eat snails.
If the adult who confirmed this had tried escargot they may have assured you, "And they are delicious!"
If you are ready to see for yourself what the hype is about, you won't be disappointed. Get the images of slimy antennae out of your head, because that's not what we're talking about! We're talking oozing garlic and butter around a delectable bite of snail.
For a surefire good escargot experience, head to L'Escargot at 50 rue de la Villette, 75019. This is the kind of restaurant that wants to make sure you can experience some French favorites, so save room for some other menu items as well!
Foie Gras
Yet another "they eat what??" of Paris, foie gras is one of the recently controversial foods of French cuisine.
Made from fattened goose liver, foie gras sounds like something your grandmother would have pushed you to eat and that you would have found disgusting.
But good French foie gras is a velvety, silky delicacy that will change your mind about liver forever.
It is truly French. You're as likely to find it as a first course in a Michelin-starred restaurant as you are to find it as an aperitif at a friend's dinner party.
You can find good foie gras in grocery stores or boutiques, and many restaurants offer it on their entreé lists. Pair it with a crusty baguette and a glass of wine and eat slow – like the French do.
Steak frites
Translated simply as steak and fries, steak frites is a staple French dinner and you will find it almost everywhere.
But at Le Relais de Venise, 271 Boulevard Pereire, 75017, that's all they serve! In fact they've been serving it since 1959 and proudly say, nothing has changed. Not even the decor!
It comes out pre-sliced served in their famous sauce on a platter. The frites are served the same way. There's a laid back vibe here and it's ideal for sharing a meal with friends (provided they're not vegetarian!) Oh but do save room for dessert.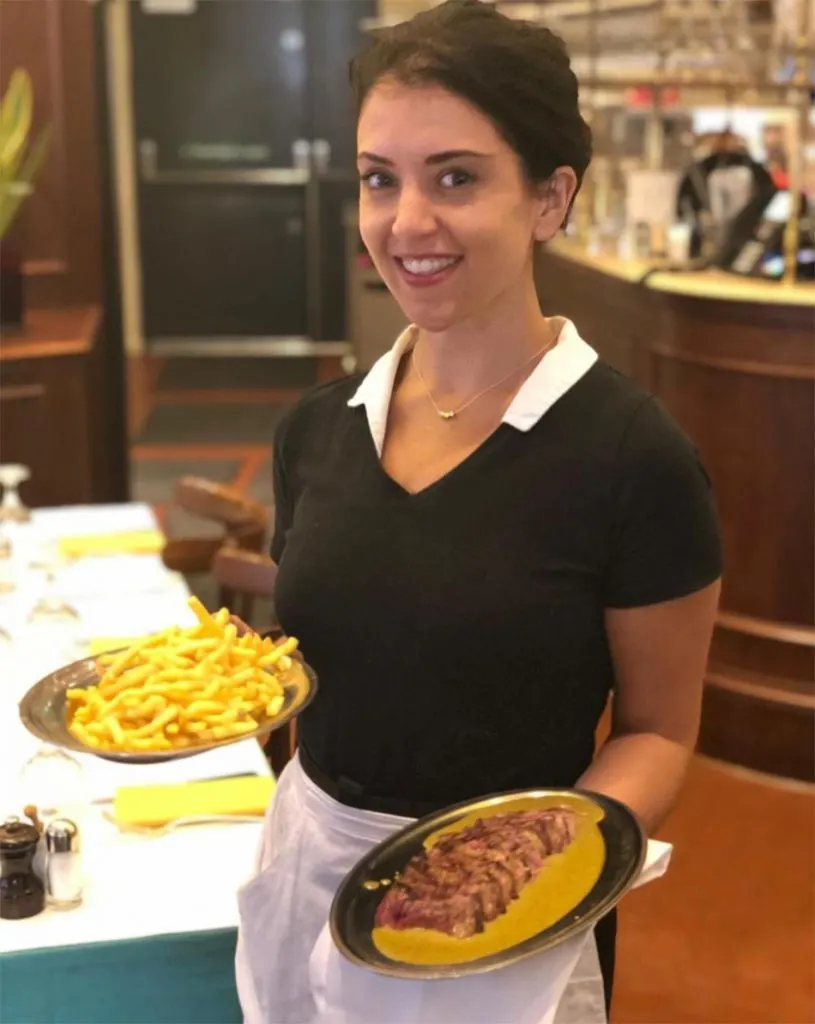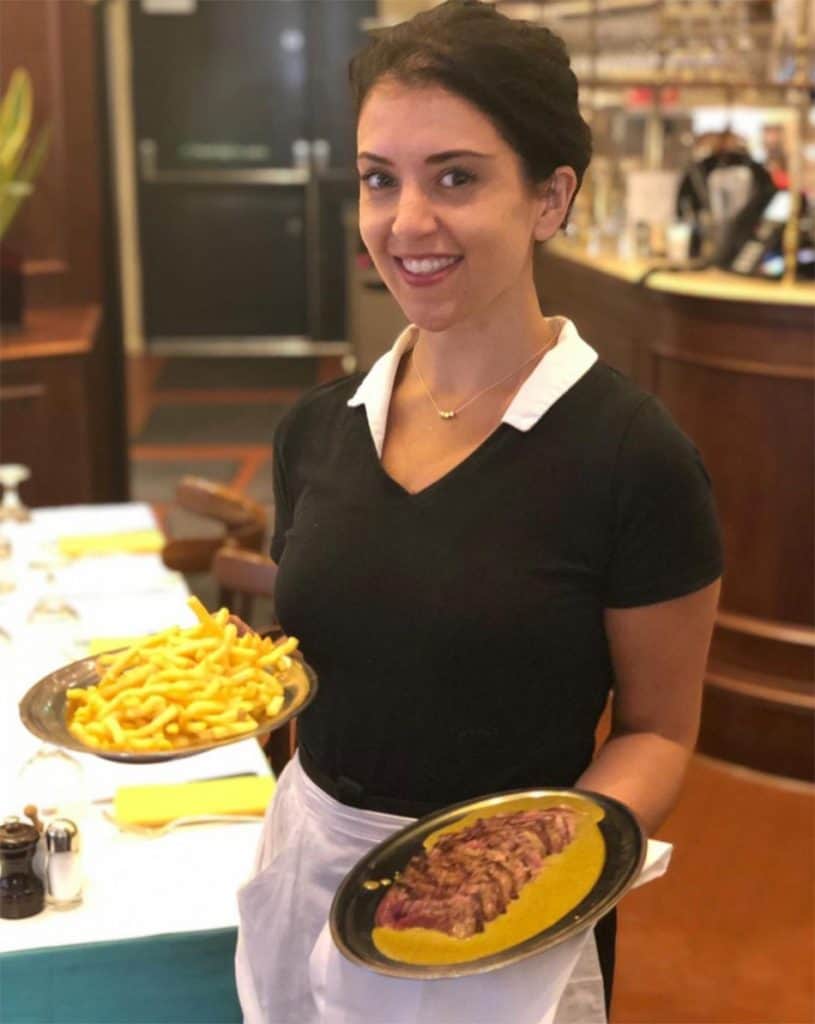 Or try Bistrot Paul Bert, 18 rue Paul Bert, 75011. This old fashioned style restaurant used to be one of the best kept secrets in Paris. That was until Anthony Bourdain featured it and now the place is on every steak-lovers must-try list! Reservations essential.
Great resources for your Paris trip:
Beef Bourguignon
Boeuf Bourguignon is another must-try to add to your best food in Paris list.
Actually created in Burgundy, the beef will melt in the mouth, having been slow-cooked in a thick sauce of red wine, carrots, onion, mushrooms, sometimes diced bacon and served with potatoes, whole or mashed. Pair it with a red wine and you're in wintery dinner heaven!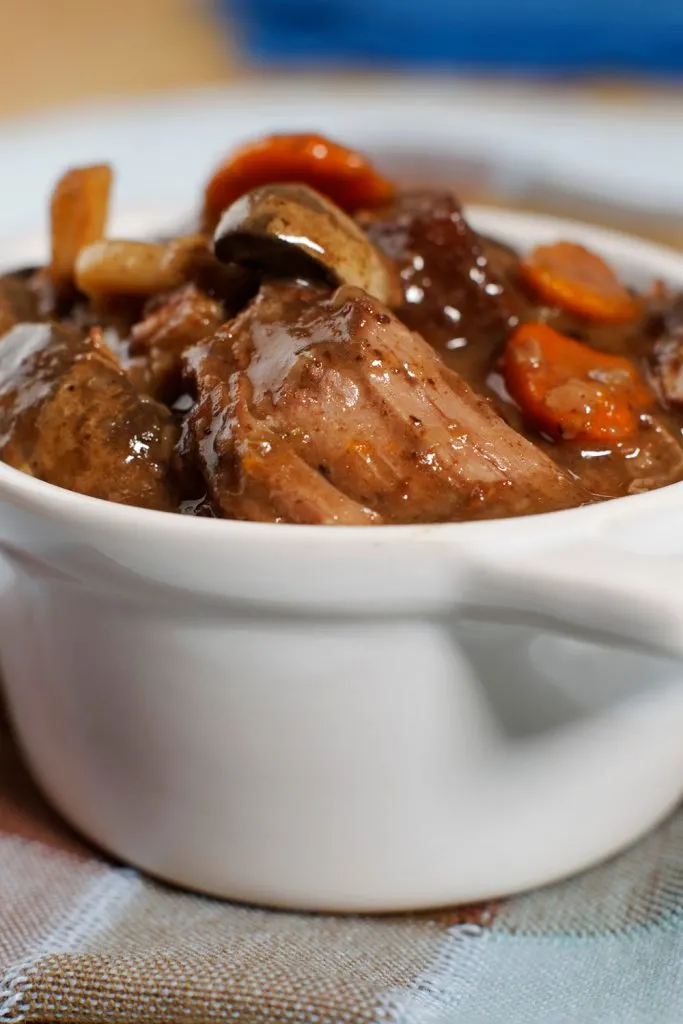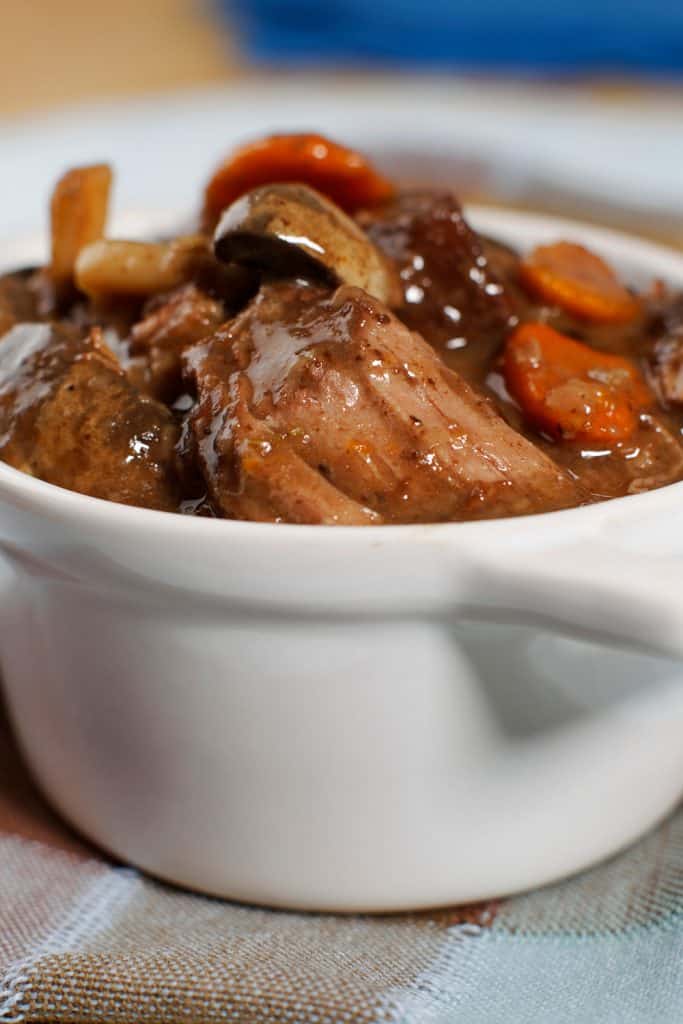 Try Au Bourguignon du Marais, 52 Rue François Miron, 75004. As you would imagine from the name, it's their signature dish and is highly recommended by food critics. Located near Saint Louis Island and serving only Burgundy wines, you'll have a meal to remember here.
Baguette
No matter where you stay in Paris, there will be a bakery nearby with great baguettes that will lure you in with the smell of them being freshly baked.
One of the best things to do is get up early – say, between 6am and 7am – and go for a walk. You'll smell the bakeries before you see them.
You'll also see the truest of Parisian stereotypes; people walking and biking with a fresh baguette on their way home from work. So if you decide to try a baguette close to dinner time you'll have to line up with the locals.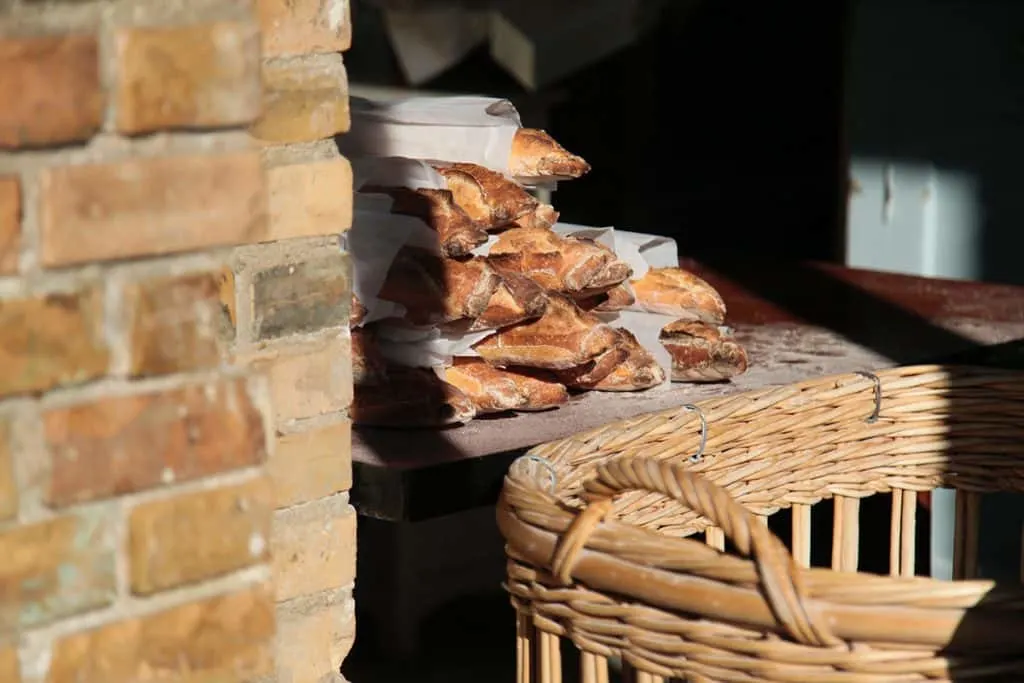 The best part is no matter what time of day you go, a boulangerie in the neighborhood will be open. Baguettes are one of the signs of equality in France – bread is to be available every day of the week, and the price is set by the government.
If you simply must have the 'best baguette in Paris,' you can check out the winners of the Grand Prix de la Baguette, where entrants are judged each year on the smell, crumb, taste and appearance of their baguettes.
The top three in 2020 were Les Saveurs de Pierre Demours, 13 rue Pierre Demours, 75017, L'Essentiel Mouffetard, 2 rue Mouffetard, 75005, and Boulangerie Martyrs, 10 rue des Martyrs, 75009. If the winners are far from you, don't worry – I doubt you'll be able to tell the difference between the prize winners and the bakery on the nearest corner.
Chocolat Chaud
Hot chocolate in Paris is not just for kids! In fact, au chocolat chaud is one of the richest, most delectable beverages you can enjoy, especially when the signature winter damp and cold weather hits.
Real French hot chocolate is a far cry from the powdered mix most of us grew up with. Parisian hot chocolate is usually made with real melted chocolate and cream, topped with real whipped cream. Once you have it, you'll never forget it.
The stand-out choice for trying a delectable chocolat chaud is at Angelina, an over-the-top fancy tea room. Founded in 1903, Angelina offers you the Parisian dessert experience that everyone should have at least once in their lives.
Order a pastry (go with the Mont Blanc or the macarons) and the chocolat chaud a l'ancienne and get ready to have your mind blown. Angelina is walking distance from the Louvre, at 226 rue de Rivoli, 75001, Paris.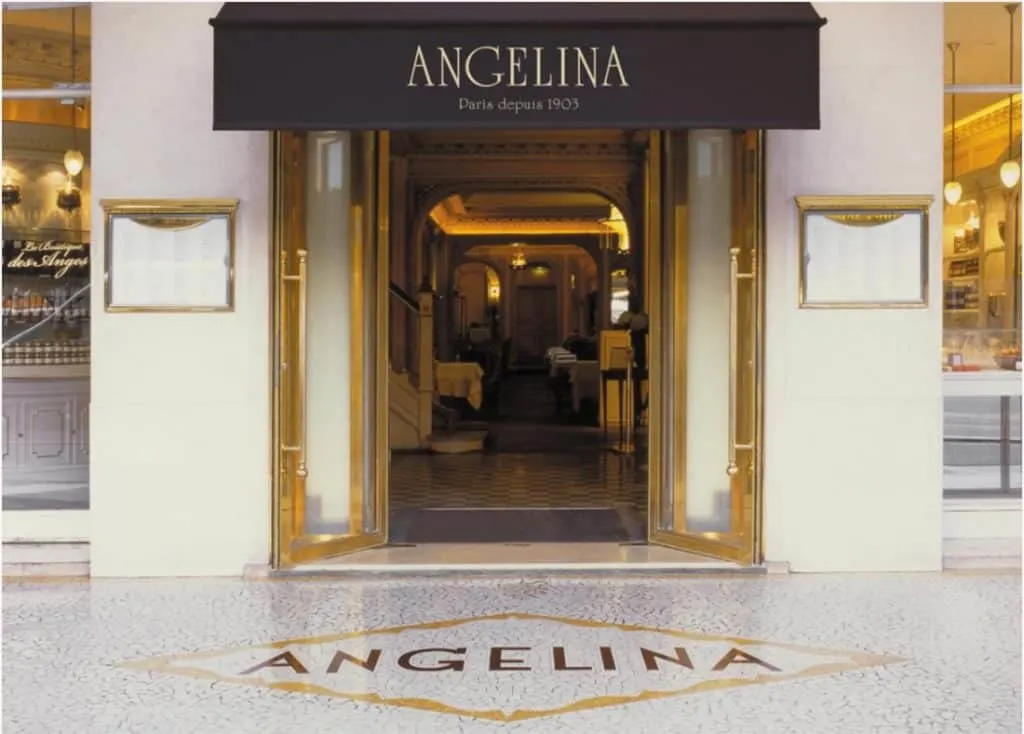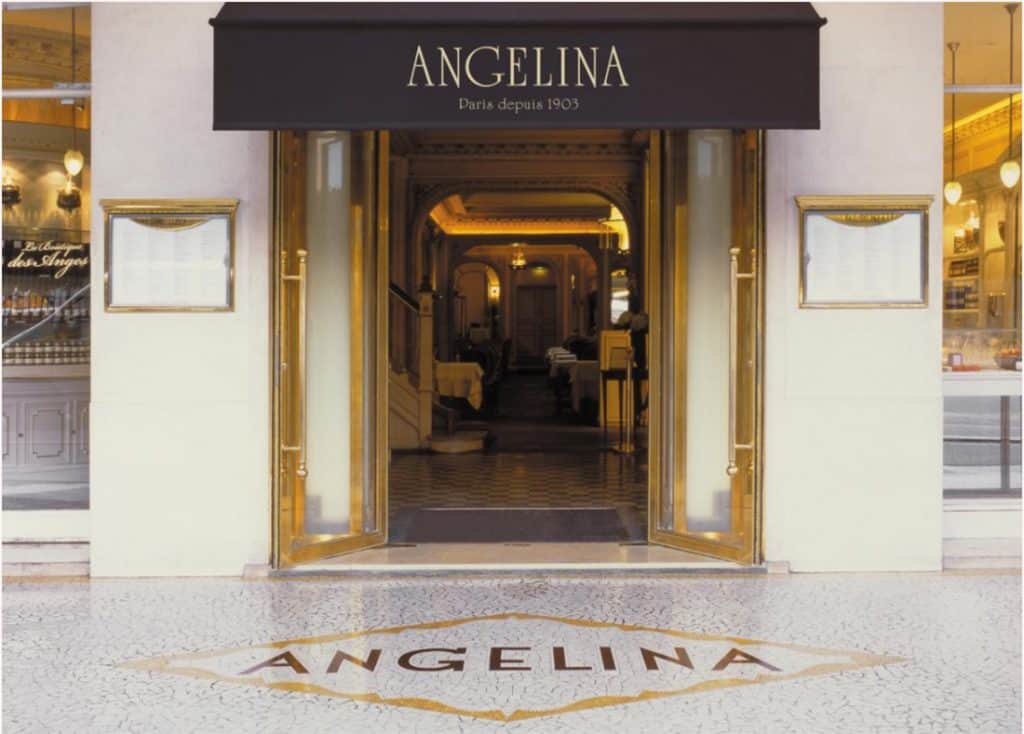 Macarons
Don't worry if you don't try a macaron at Angelina – there are other fantastic places to stop for them. Macarons (not to be confused with macaroons, those toasted coconut puffs) are similar to a sandwich cookie, but seriously on another level.
They are almost meringue-like made of egg whites, sugar, and almond flour to make them less crunchy, and the creamy middle is full of flavor. These are pillowy and chewy and seem to melt in your mouth.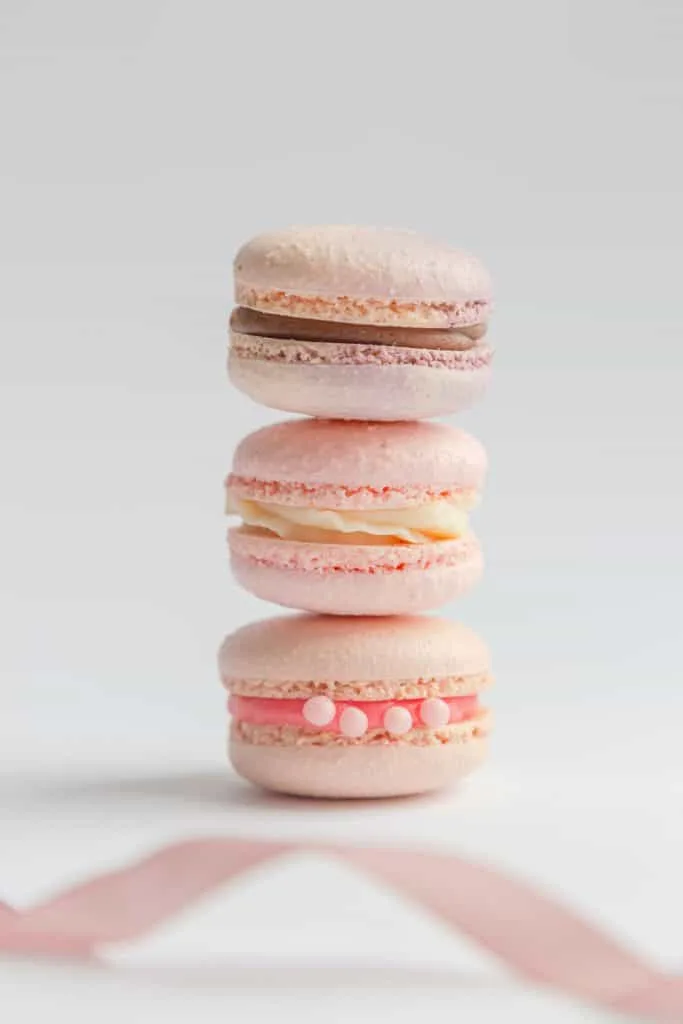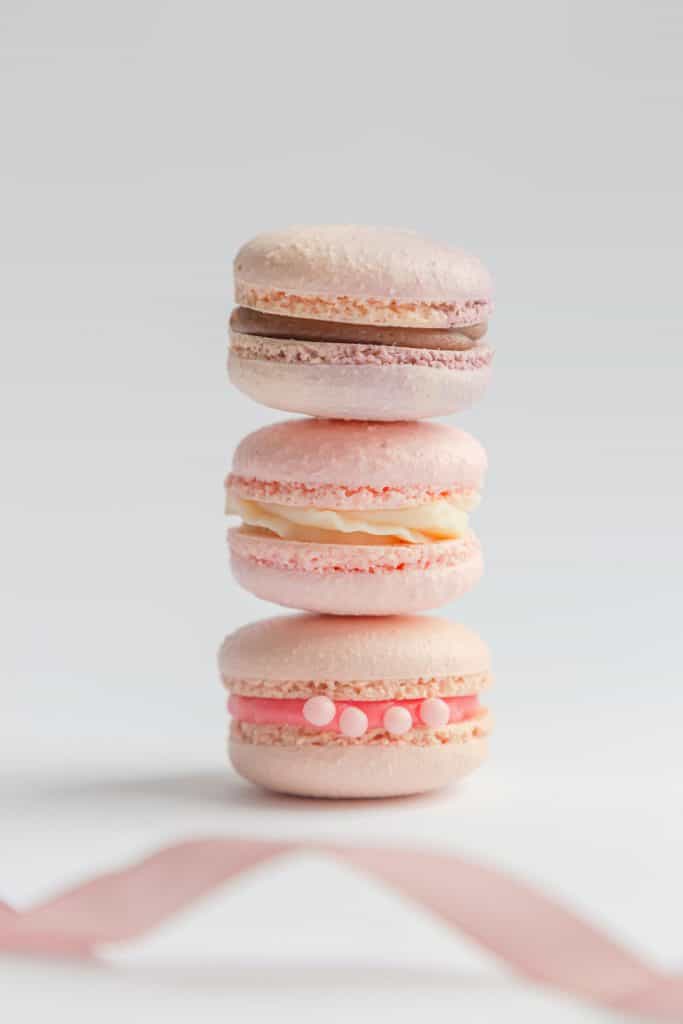 For the best macarons, we have to recommend Pierre Hermé. There are several Pierre Hermé boutiques around the city, so stop in and assemble a box of your favorites and some new ones to try.
You simply must try the classics like chocolate, salted caramel, vanilla, and pistachio. Pierre Hermé is well known for their seasonal favorites as well, which for autumn 2021 includes fig, violet and berry, and vanilla and basil flavors.
French cheeses
Walk by any fromager – cheese shop – in Paris and you might be deterred from trying this quintessential Parisian delicacy by the smells coming from within. But I have to insist that you try some – and the stinkier and runnier, the better!
After a great meal comes the cheese. Traditionally, the French eat cheese after the main course and before dessert. For that reason, you'll often find a cheese platter included on the dessert menu of restaurants, or perhaps on a section of its own just before the desserts.
For the beginner's crash course on cheeses try comté, St Nectaire, brie, camembert, and coulommiers. Don't miss chevre – goat cheese – as well.
While you can try fromage at a restaurant or stop by any grocery store's massive cheese aisle, you might consider taking a local cheese course if you're interested in getting to know your cheeses.
Places like O'Chateau in the 1st arrondissement offer a popular wine and cheese lunch, where you'll not only get to sample French cheese, you'll also learn where they come from and how to pair them with white wine, red wine and other snacks. Other places that offer similar courses include Cookn with Class as well as Paris by Mouth.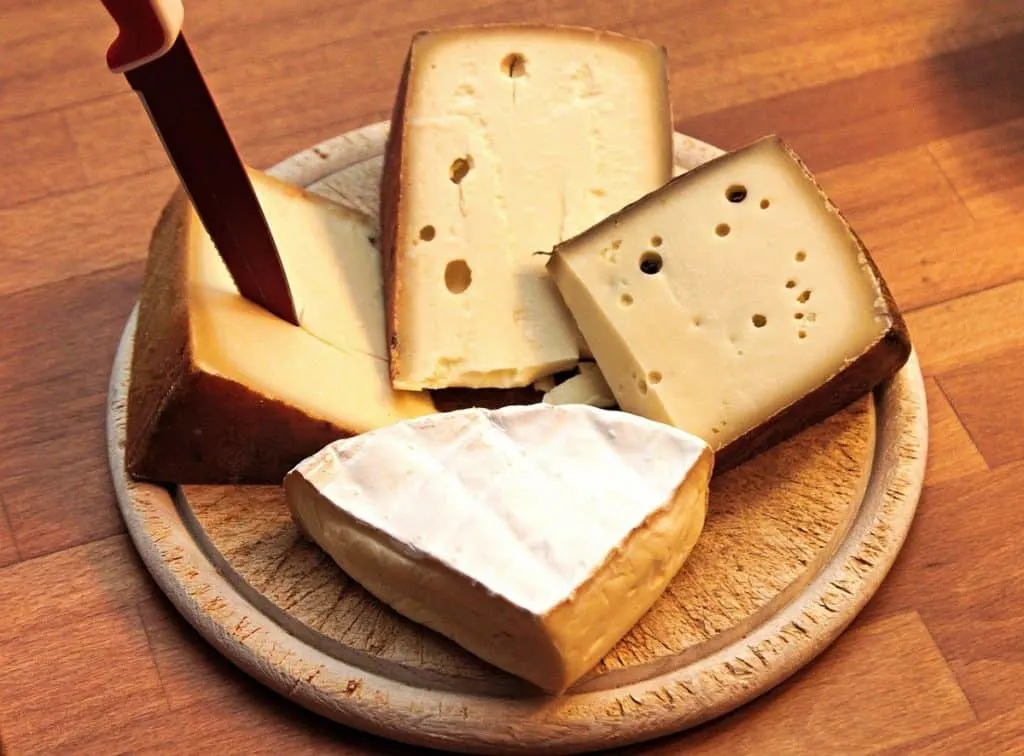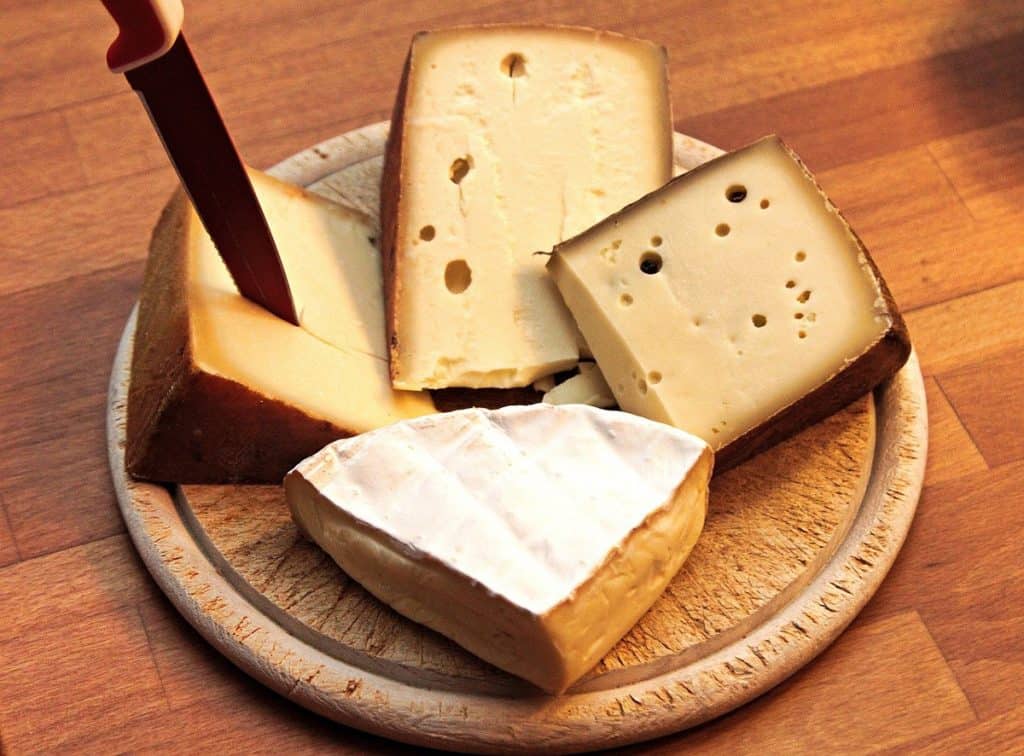 The City of Lights is meant to be enjoyed at a slow pace, with lots of room for the unexpected. So, if you don't get to everything on this list that's okay – you'll likely try something you didn't see coming, and you'll never forget it!
I loved to get around Paris on a bespoke tour (which could at least take you past these famous Paris restaurants so you know where to come back to later) is in a little 2CV. Yep, we were driven in a vintage Citroen with a beret-wearing guide tailoring a drive to suit our wishes.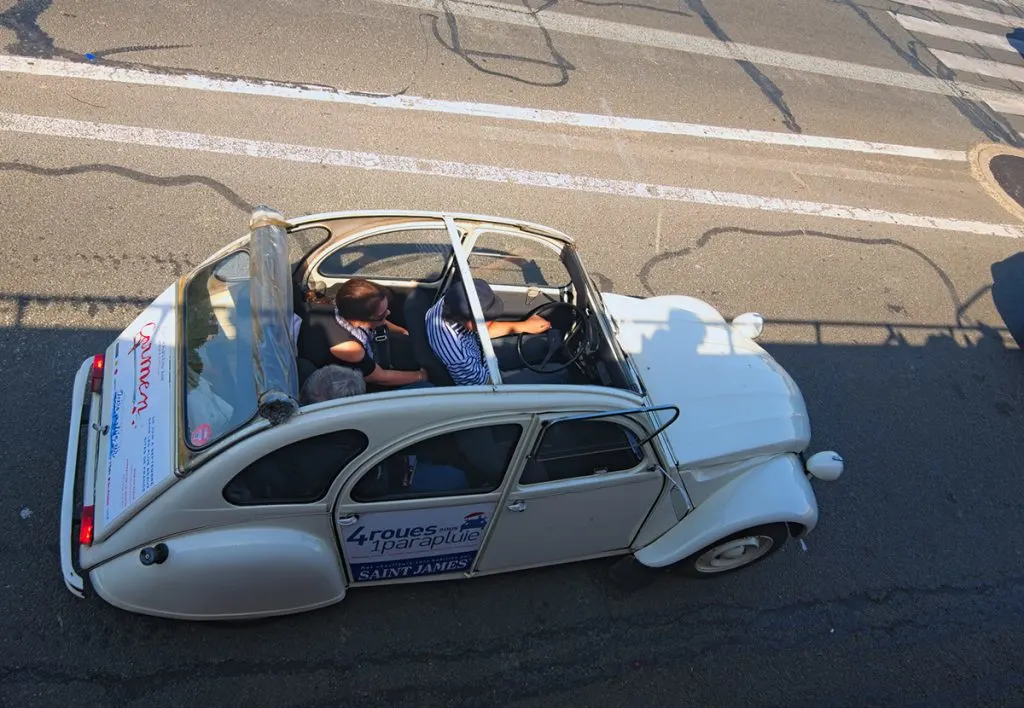 If you're looking for other areas – arrondissements – in Paris with a great food scene, have a wonder through the Latin Quarter, in the 5th and 6th arrondissement, on the left bank of the Seine around the Sorbonne. There are universities here including the University of Paris, so lots of students and lively bistros to feed them!
And also try the old Jewish Quarter, rue des Rosiers, in the 4th arrondissement. Known as the Pletzl – meaning small square in Yiddish – it's been gentrified now and is more commonly known as the street of rosebushes.
Sadly the Jewish bakeries, delicatessens and kosher butchers that once lined this medieval street have all but gone, replaced by fancy new high-end shops. But still a gorgeous place for a wander and you will find some lovely food too, like these long lines outside L'as du Fallafel.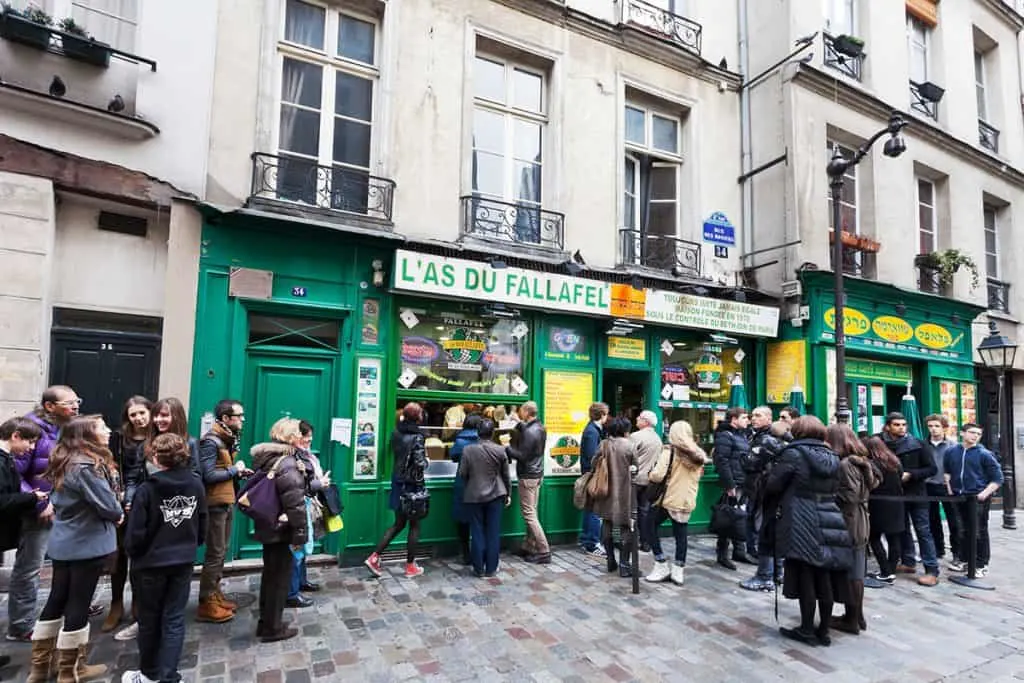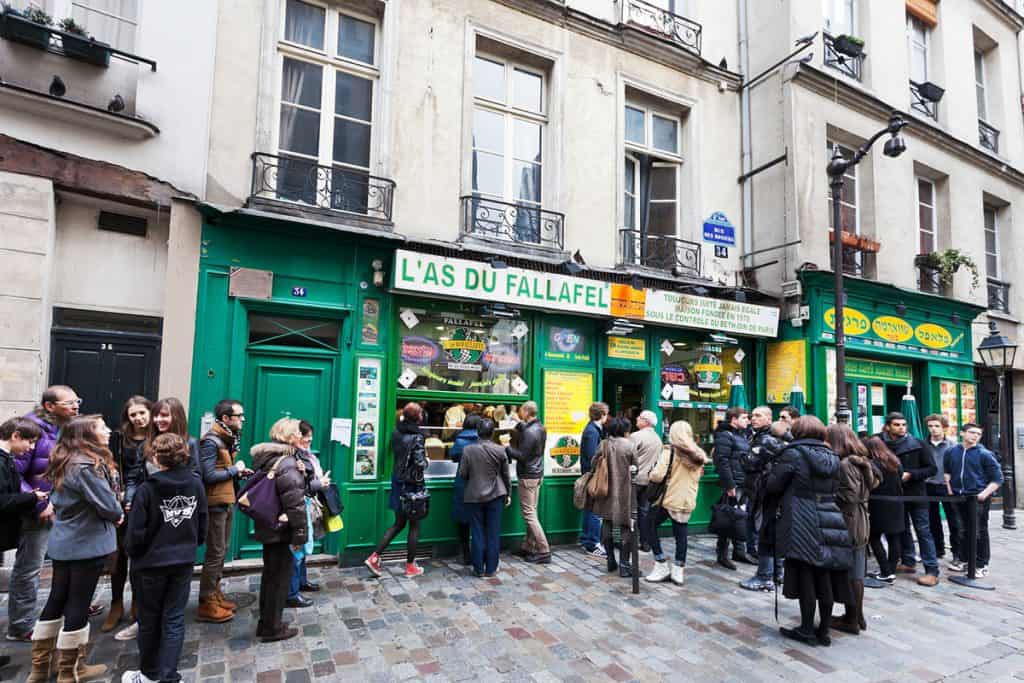 If you're off to the French capital soon, or you have a friend who is, these Paris food guides are great gift ideas.