Americans have been coming to Cabo, Mexico here for years, but Kiwis and Aussies – well it seems like we are just hearing about it…
Yes indeed, there's more to Mexico than dodgy Tijuana just south of the border!
Two hours flight from LAX and I landed in Los Cabos at the southern tip of the Baja Peninsula.
If you can picture the USA and Mexico, the peninsula runs like a stiletto heel down from California. I'm on the rubber stopper at the very end.
You could even do a road trip from Mexicali to Los Cabos – but you need about a month.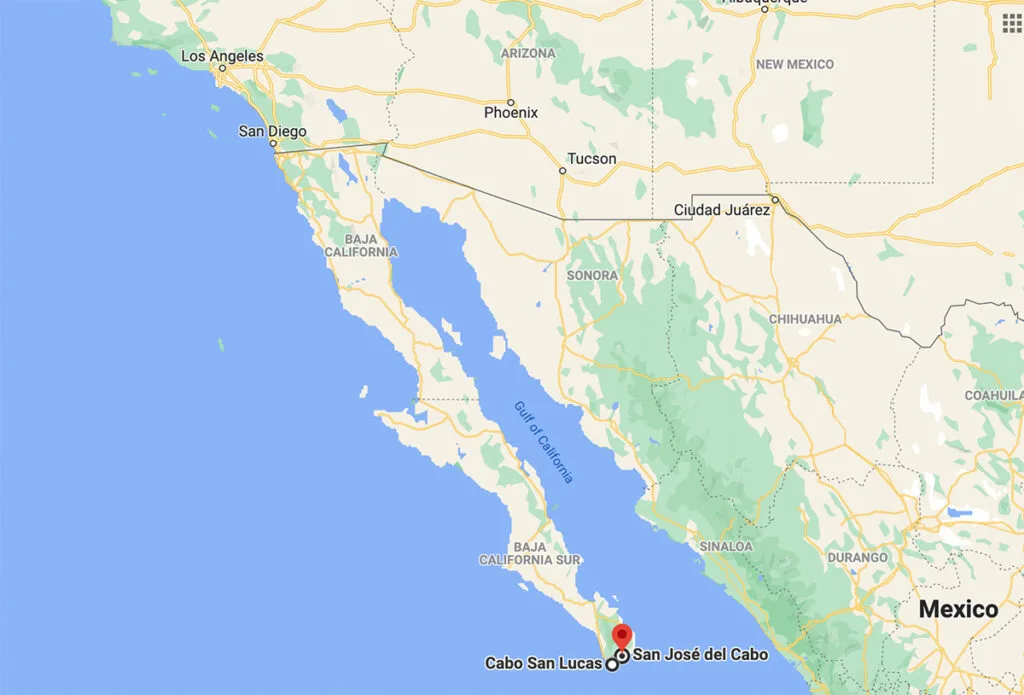 Los Cabos is the name of the region at this tip of the Baja Peninsula that encompasses Cabo San Lucas and San Jose del Cabo, the more historic town. There are plenty of beautiful hotels, resorts and golf clubs on the 30km stretch between them.
I stayed in Cabo san Lucas – and would definitely do so again.
The beach here is flat and gentle, the sand is white and wide and from my hotel room at the Riu Palace, I am looking at a cruise ship that docked here yesterday, parasailers floating high behind boats and humpback whales in the distance blowing water from their spouts and diving gracefully with their new babies.
Yes I can see whales from my balcony here in Spring!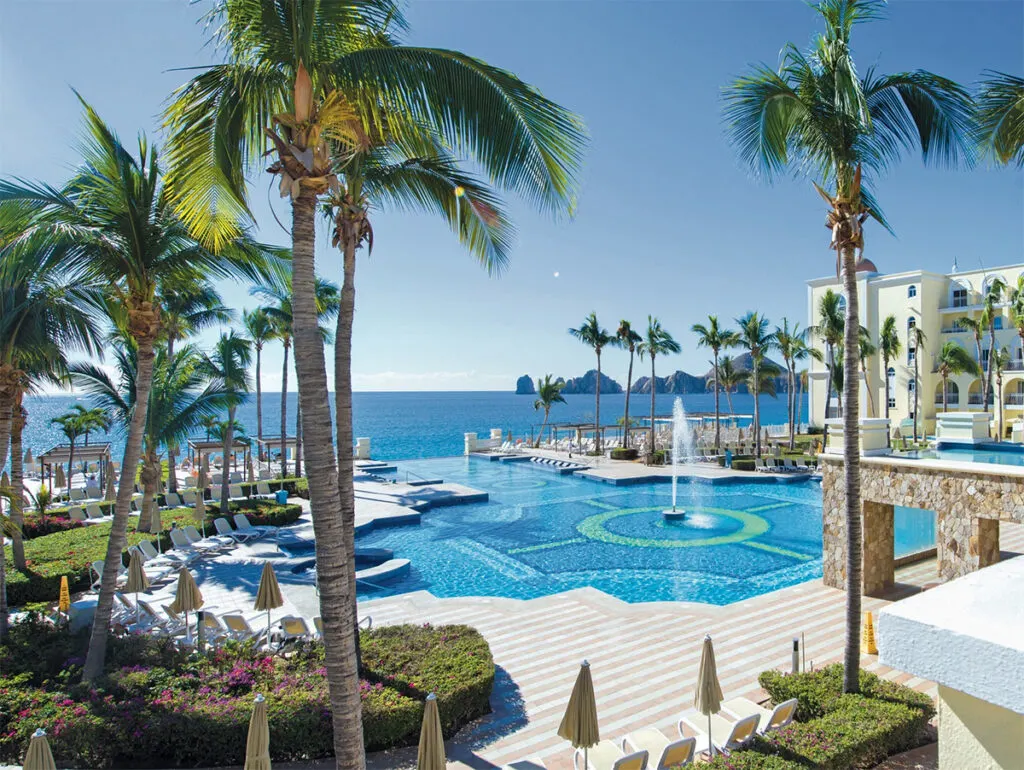 Like a lot of hotels in Mexico, the Riu Palace is all-inclusive. Yep, that means all your food and drink – and you'll be pleasantly surprised you can stay for under $200 per night.
I adore Mexican food. Americans have created their own spin on it: Tex Mex. But down in Mexico it's just Mex! And there's a lot more food to try here than tacos and burritos! If you love tomato, corn, beans, chili, avocado, and some secret herbs and spices – you'll love Mexican food too.
Check out Riu Palace Cabo rates on Booking.com
At the Riu Palace all-inclusive means six restaurants, 24-hour complimentary room service, alcohol served any time in bars and from a dispensary in your room. I kid you not! Tequila, Bacardi, Vodka and Brandy are primed and ready to go right beside your coffee maker.
But here's a tip: when I stayed there were four specialty restaurants which you have to make a reservation for. Book the steak house as soon as you arrive. I was here for four nights and couldn't get in!
With 624 rooms, two huge pools and a long sandy beach just in front, you can imagine people just checking in and staying put until it's time to get their passports back out of the safe.
There is nightly entertainment (Michael Jackson was playing last night. I know, me too!) and with the loungers and on tap food and drink, it's every hedonist's dream.
I'm in the jacuzzi suite – the best room in the house! It has a bathtub jacuzzi outside and up the spiral staircase which I filled the first night I arrived and with a dessert platter of strawbs I sat up here and thought about life. It was pretty perfect!
About five minutes by taxi (or I could have waked the few kms down the beach) is Cabo San Lucas.
It was Spring Break when I was visiting and the place was heaving with teen spirit. I think every American college teens and 20-somethings were in town.
It's also a great little Mexican town that is pumping in the evenings and well worth giving up the buffet for.
Cabo Wabo is the (genius) name of Sammy Hagar's restaurant/bar/live music venue and where excellent fish tacos are about $2 each. They play 70s and 80s music, and above the stage a basketball game was being shown on the TV screen – cos that's how we oldies roll!
Across the road Giggling Marlin is another popular bar for tourists.
Again it's old school music but oh so cool. Retro is in, I have discovered, as groups of American college students took turns hanging upside down in stocks and drinking tequila shots – while their parents took photos.
Souvenir shops sell jewellery (silver is big here) and lots of ceramic plates, bowls and jugs. Pharmacies dispense Viagra and Prozac over the counter and you'll get authentic tacos and tamales or a tattoo if you so desire.
From the Cabo san Lucas marina you can take a dinner cruise past the famous hole in the rock and along the beach that was the set for Brad Pitt's Troy.
And as it's whale time in spring, you'll get to follow several as the mums and babies play in these waters while the dads patrol for sharks about 1km away. (I could see them from my hotel room!)
I'm thrilled to have discovered Cabo (that's what those in the know call it) and it really is a different kind of holiday to have just two hours flight from LA.
Next stop: Cancun for another all-inclusive resort and some day trips to the amazing Chichen Itza pyramid and a tour to learn about the cruelest game in all the earth!
Save
Save