I love Chicago more than New York City. There. I said it.
I've been three times and that is my verdict. My husband doesn't agree, he's New York all the way, but there are so many reasons why Chicago is a great place for a weekend getaway. Let me tell you about 18 of them…
The last time we were in the Windy City was to see New Zealand's mighty All Blacks rugby team take on Ireland at Soldier Field on the lake front. The haka was incredible but we lost the game – it was devastating for us Kiwis!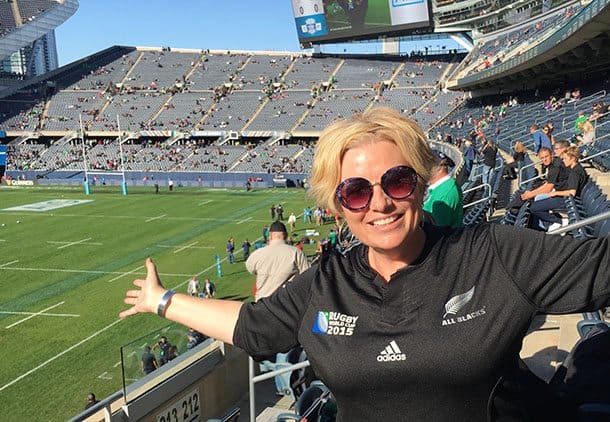 *This post contains affiliate links. If you make a purchase I will make a small commission at no extra cost to you.
But rugby aside, Chicago was on a frenzied high thanks also to the Cubs winning the World Series against Cleveland. The first win in 108 years.
The day we flew in, five million people had been celebrating on Grant Park (directly opposite our Hilton hotel) and fortunately had dispersed by the time we taxied in.
Five million people in one park! That's more than the entire population of New Zealand!!
My review of Chicago v New York City: Chicago seems to breathe more than its congested cousin on the east coast – with it's dreamy rooftop restaurants and bars, and all the action of Times Square.
Chicago is lavishly planted with trees and flowers along the main street, Michigan Avenue (aka Magnificent Mile) and of course it sits on the edge of Lake Michigan with the Chicago River flowing through it.
The streets are wide and the architecture is totally worth taking a river boat tour of.
There are several different neighbourhoods to stay in too, so to help you decide, here's a great post on where to stay in Chicago.
You can use this post as a Chicago itinerary, but it is really just a collection of the best things to do, focusing mainly on Downtown Chicago where the best way to get around is on your feet!
Here are my top picks for the best things to do on a long weekend in Chicago:
1 Shop Magnificent Mile
Mag Mile (as the locals call it) which is actually the main street called Michigan Avenue and runs parallel to the lake. There are lots of office buildings along here so the best shopping is on the north side of the Chicago River.
2 American Girl Store!
If you have girls aged 3 to about 10 years old in your world, they will turn in awed circles at the American Girl Store. Trust me, go there! Two levels of dolls and their accessories including a hair salon where your overly loved dolls can have new hair dos after sitting in a salon chair draped in a cape. Then you and the dolls can have cupcakes in the cafe.
3 Have lunch at Eataly
But leave room for deep dish pizza for dinner! This is two floors of Italian inspired food outlets, but seating is dining style on the second floor – you choose which of the open plan restaurants you want. Loads of accessories to buy too like oils and preserves, accessories and cookbooks.
You MUST buy their sensational and signature real cheese and caramel popcorn. Seriously, it's so good. Sweet and savoury all in one. (Don't knock it until you've tried it!)
I even got to tour behind the scenes at Garrett, off Michigan Avenue, and went into the kitchen to see how they make this popped goodness. You can read my Garrett post here >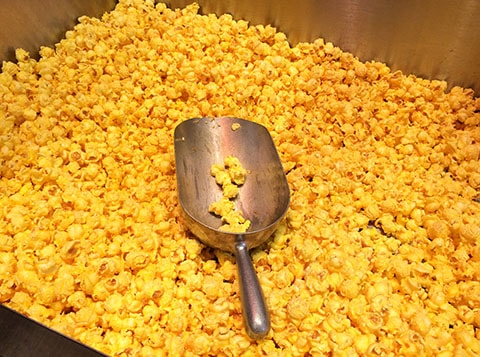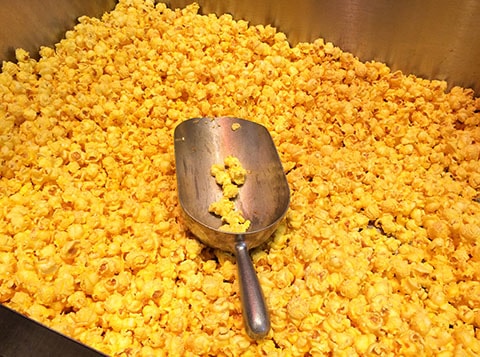 5 Take an architecture cruise
Jump on a boat and take an architectural river cruise on the Chicago River to hear the history of the city plus see some unique angles on an architectural tour that glides past the magnificent buildings and skyscrapers. This is a fascinating boat tour, perfect for photography lovers too.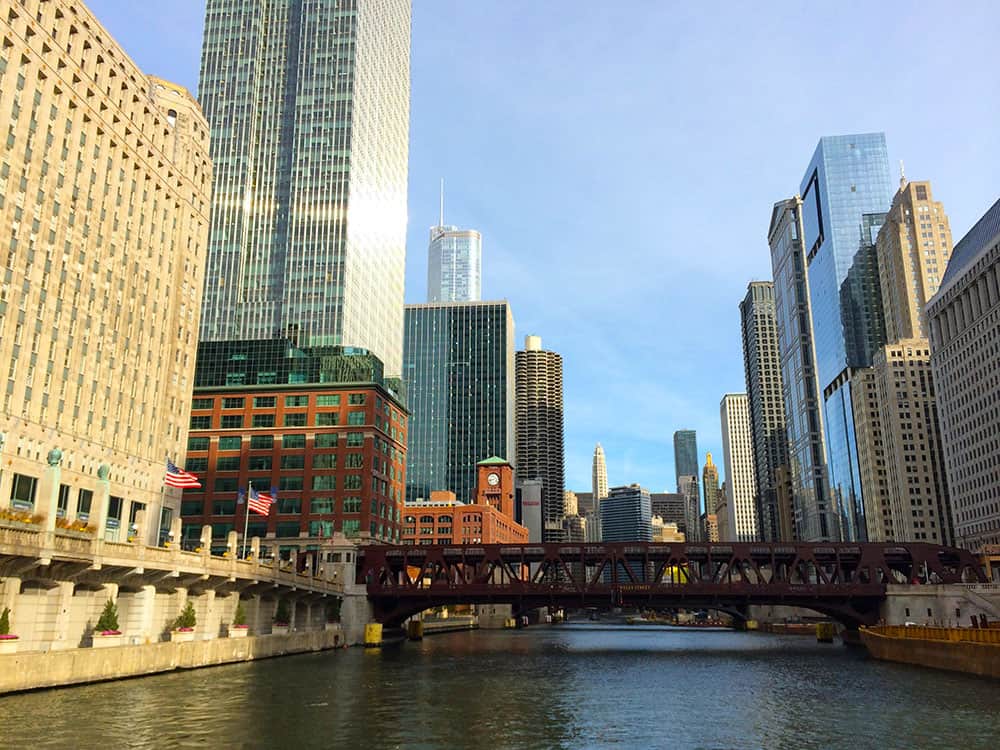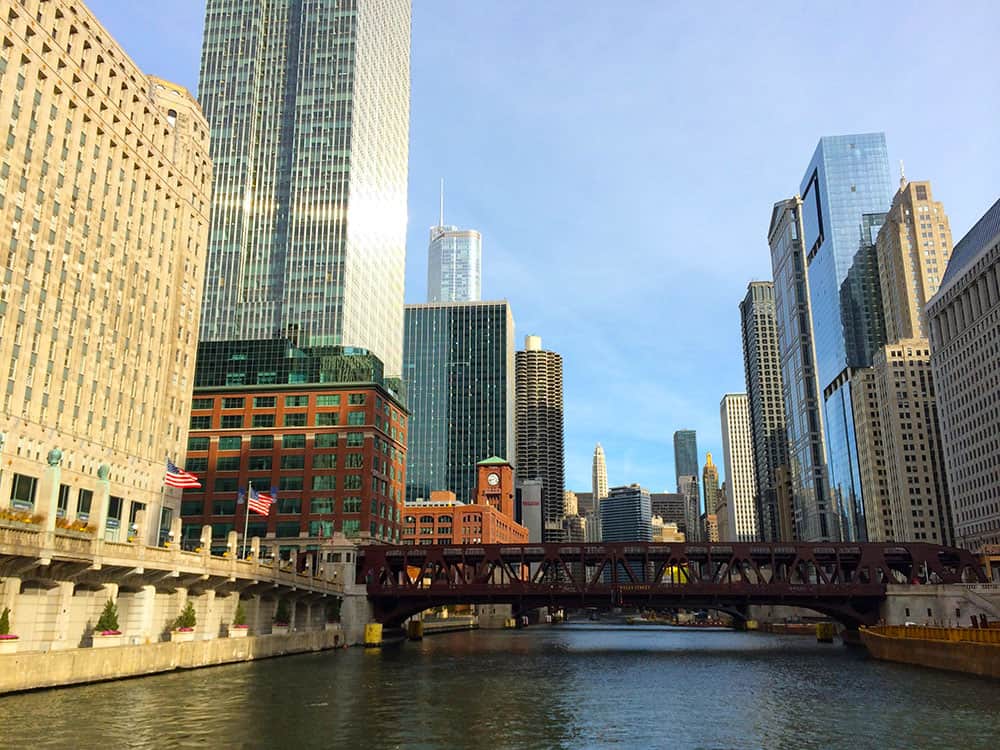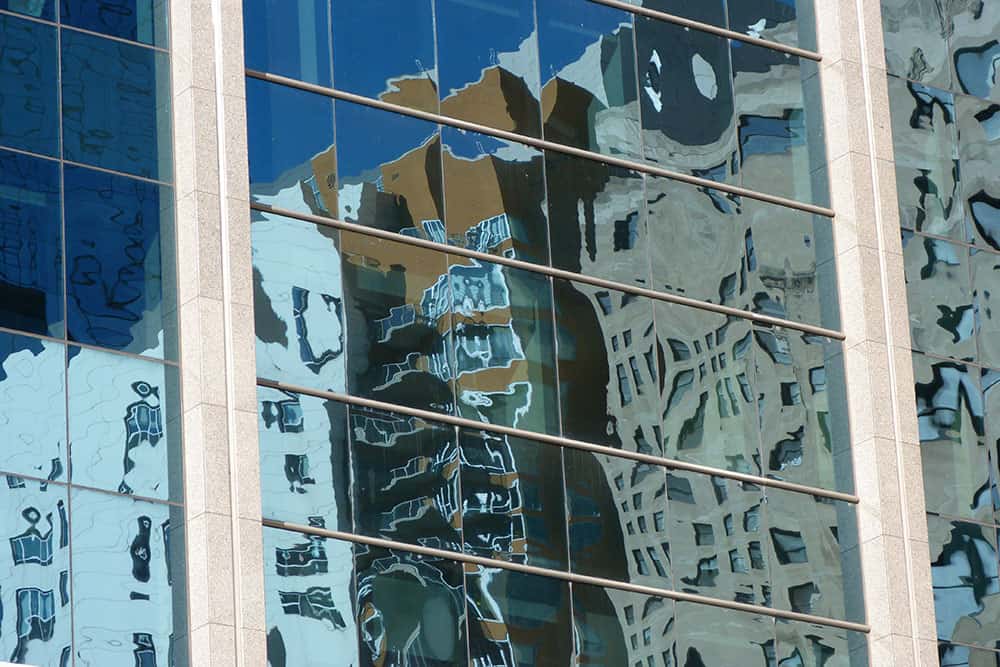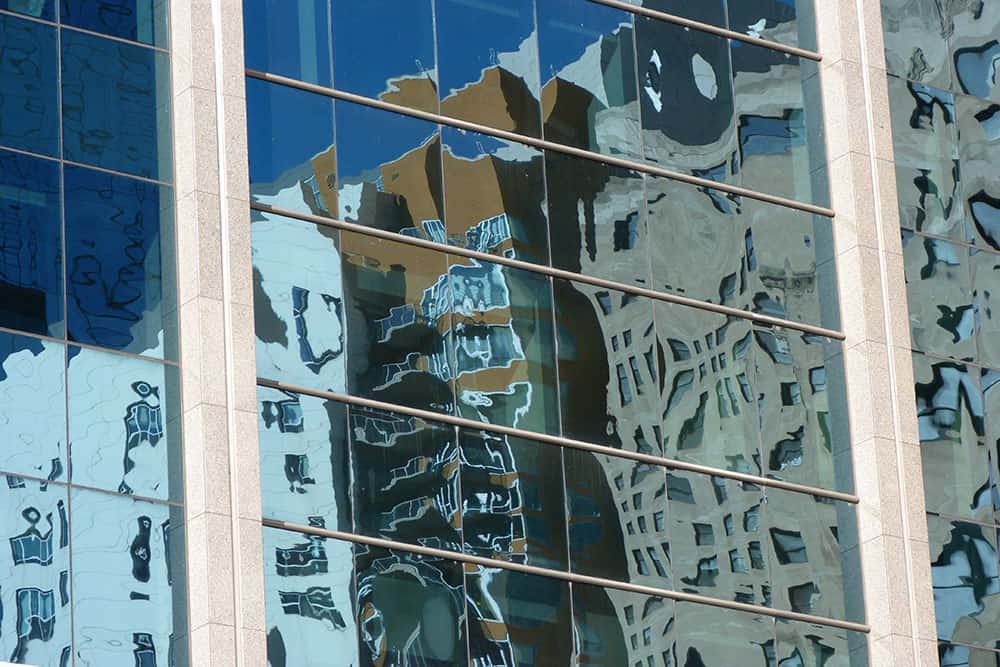 6 Take a gangster tour
This is fun! Starting in the CBD and stopping at scenes of former gun battles and massacres as the Mob ruled Chicago during the prohibition of the 1920s, you'll hear all about gangsters like Al Capone and bootlegging and all the skulduggery that went along with it!
Untouchable Tours is highly rated and I've done it twice now, so can recommend it. $30 pp, but book online as they fill up.
7 Get a photo of the Bean
Walk through Millennium Park and take selfies in front of the Bean (Cloud Gate), then head south past the spitting murals and into Grant Park to enjoy the fresh air.
The Bean was designed by Indian-born British artist Sir Anish Kapoor, inspired by liquid mercury, and sits in AT&T Plaza at Millennium Park. It's made of 168 stainless steel plates welded together and on a beautiful day it reflects the surrounding buildings and makes for quirky photos.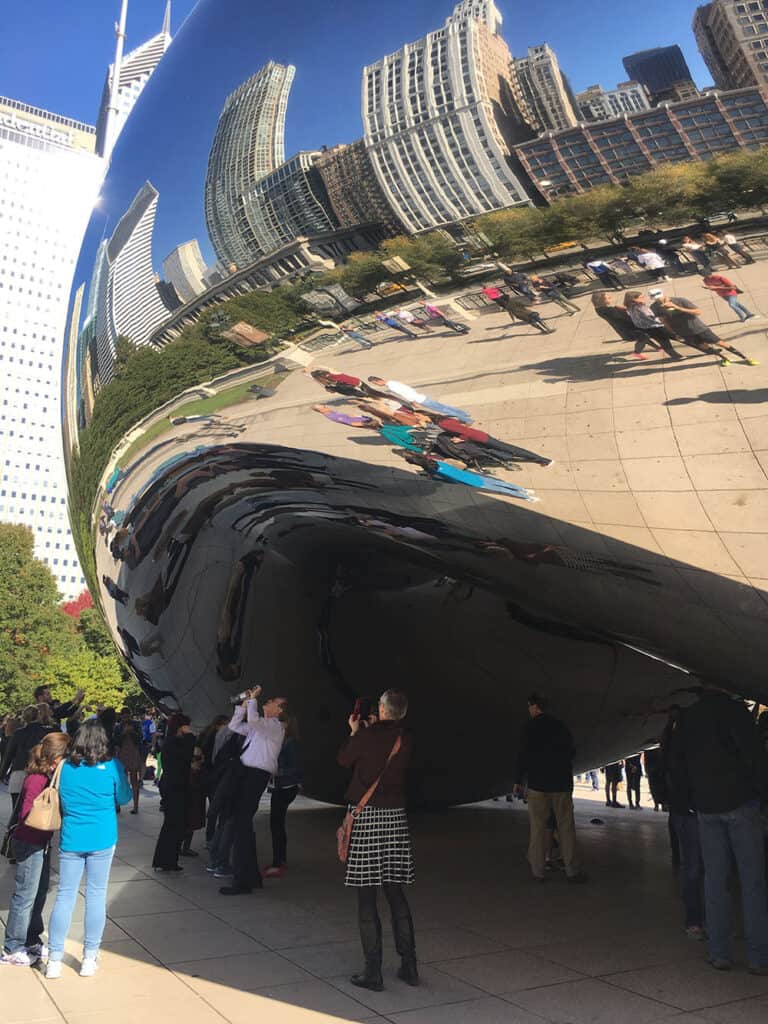 8 Visit Field Museum
The kids will love the Field Museum which is next to Soldier Field. You'll be greeted by the biggest tyranosaurus named Sue.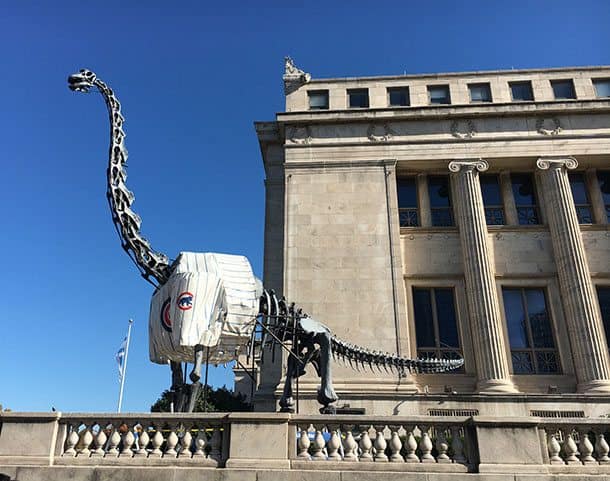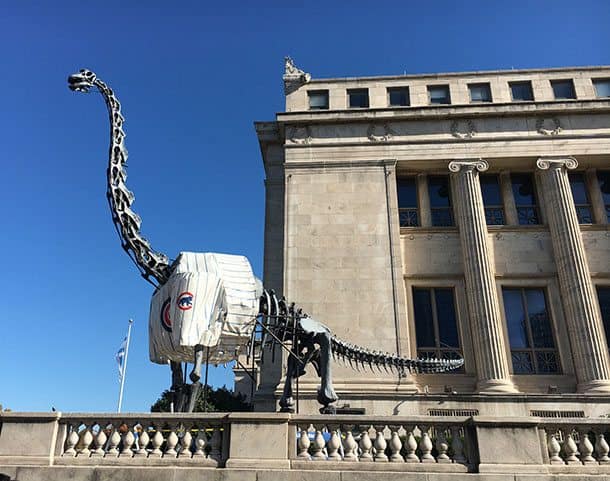 9 The Art Institute of Chicago
This museum is next to the Bean, but try and nip in before the hundreds of school kids that turned up by the bus load when we were there!
10 Eat deep dish pizza!
The pic below is from our delicious meal at Piquod's in Lincoln Park which is a neighbourhood full of bars and restaurants and music that deserves a whole evening itself.
Other places to try are Lou Malnati's, Giordano's and Uno for great deep dish pizza.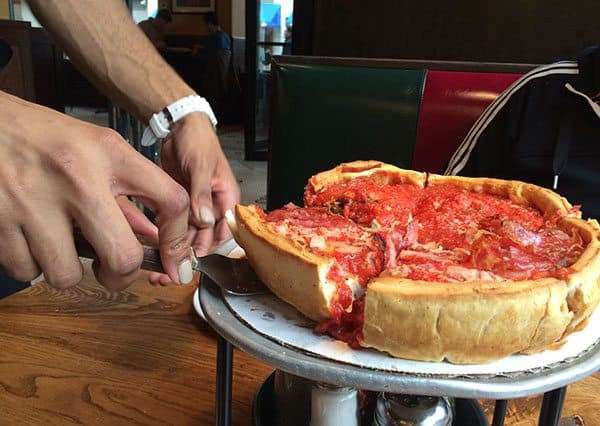 11 Have a rooftop cocktail
For the best cocktail sunset views at an epic rooftop bar looking over the Windy City go to the Signature Lounge at the top (94th floor) of the John Hancock Center.
There is also a 360˚ experience here which is owned by a separate company and you need tickets for. But if you take the escalator then the elevators up to the incredible bar, it's free. Cocktails start at around $18 and the Chicago skyline views are breathtaking.
This is one of Chicago's top attractions with restaurants, bars, live music, amusement park rides with a Ferris wheel, shopping, hotel accommodation and fantastic views of the lake and looking back at this beautiful city.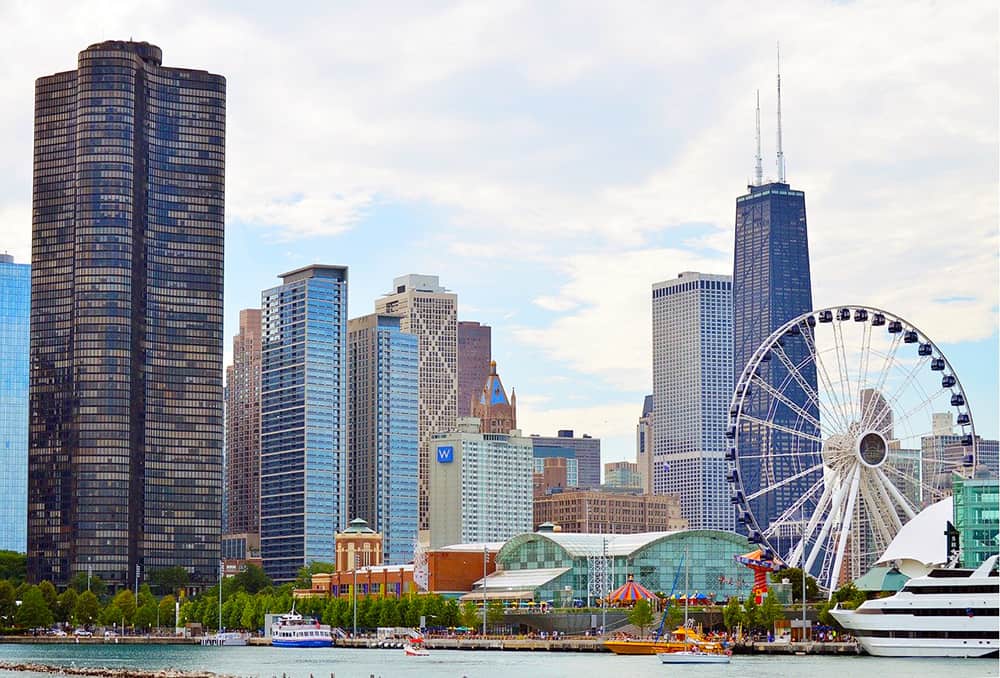 They will love the giant octopus, beluga whales and sharks, seahorses and sea dragons (what?), jellyfish, frogs and a whole lot more.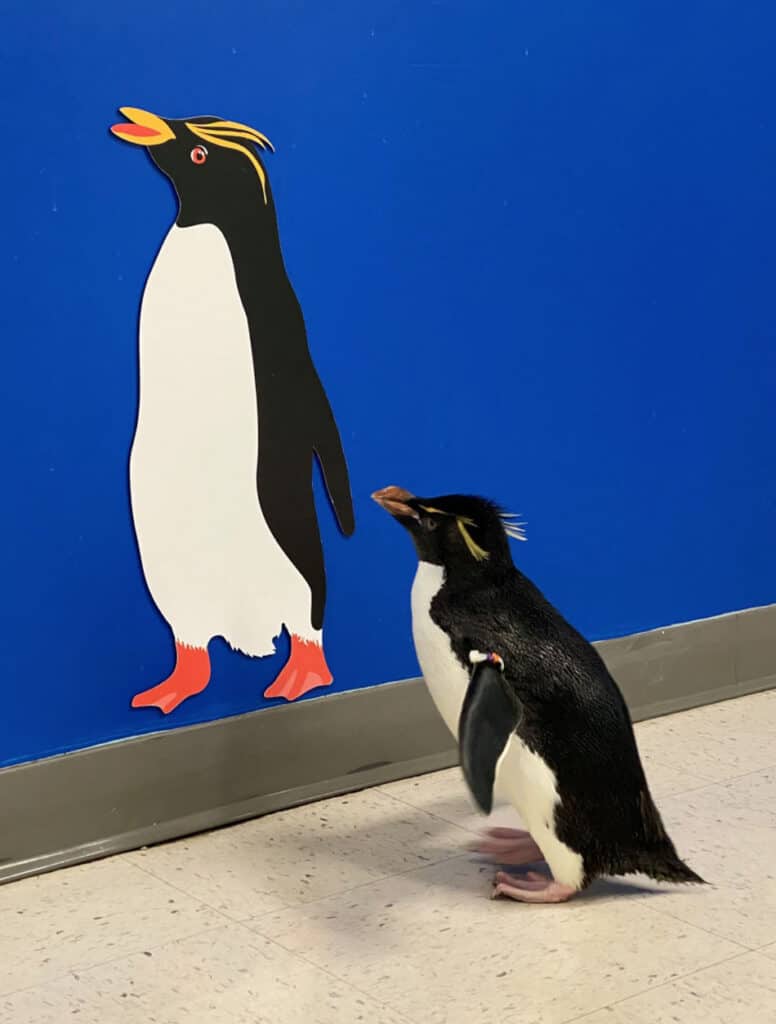 Located on Chicago's North Side, Wrigley Field is an iconic baseball park, home of the Chicago Cubs. The Cubs played their first home game here in 1916. The name comes from Wrigley Gum, who acquired the Cubs in 1921 and named the park in 1927.

This museum is all about astronomy and astrophysics.
It was founded in 1930 by Chicago business leader Max Adler and is located on the northeast tip of Northerly Island at the shore of Lake Michigan. It boasts one of the largest collections of astrolabes in the world, including the most sophisticated scientific instrument of the Middle Ages which could be used to find the time and directions.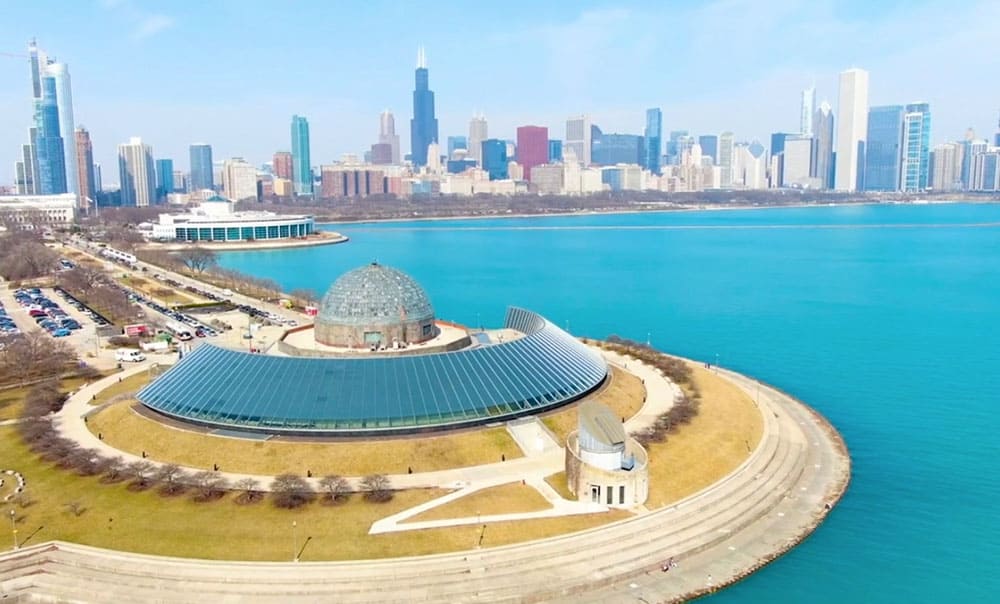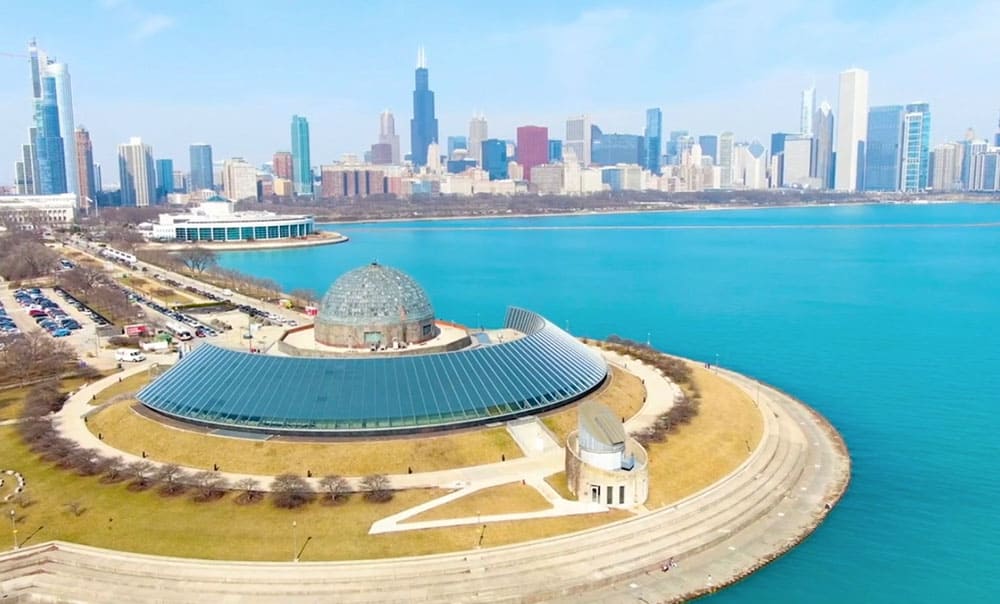 MSI is filled with science exhibits for kids as well as adults. It's mandate is to "inspire the next generation of innovators" and is rated as the best museum in Chicago by some.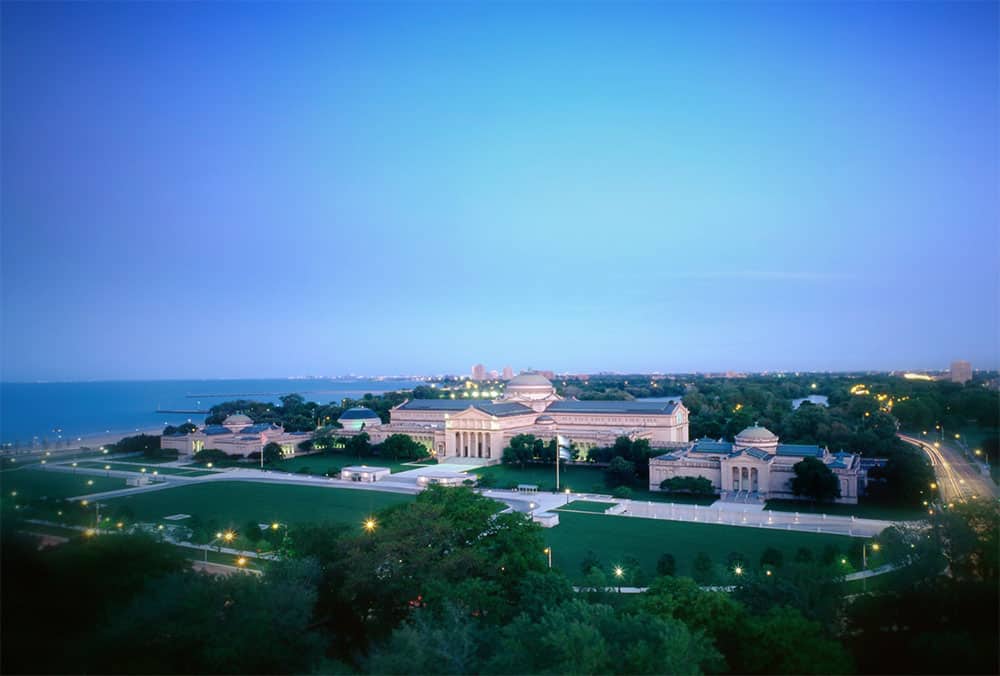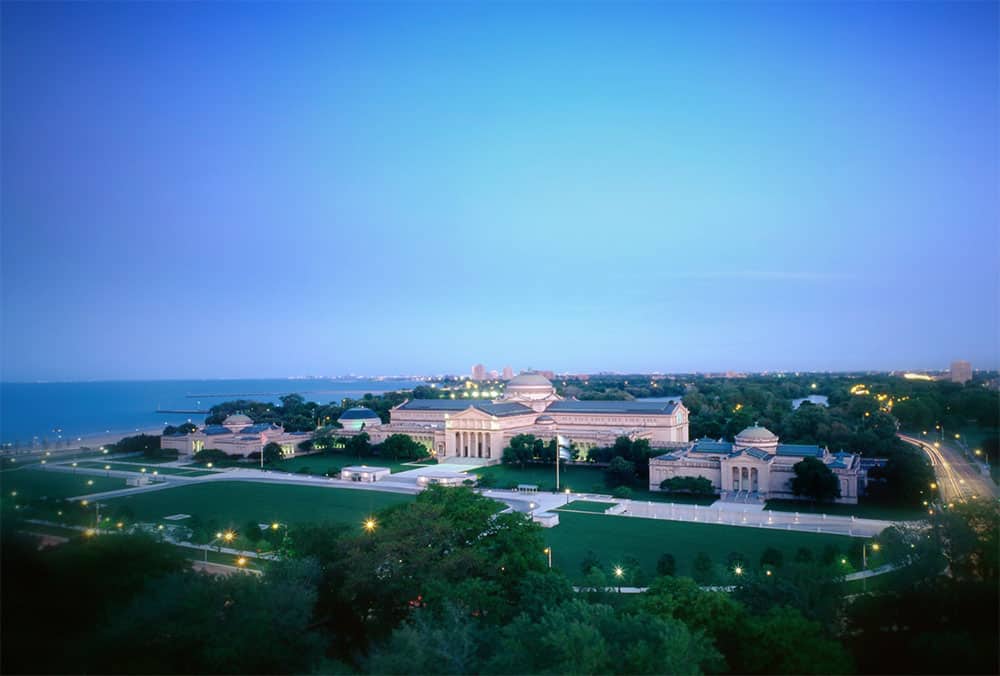 17 Go to the top of Willis Tower
This Chicago landmark is formerly the Sears Tower, the tallest building in Chicago at 1451 ft (442m). In fact Sears Roebuck sold the 108 story tower and moved out in 2009 and it was renamed Willis Tower after global insurance broker Willis Group Holdings.
Head up to the Willis Tower Sky Deck for incredible views of the city skyline and four states (on a clear day) and stand on the glass boxes that extend out of the building – if you dare.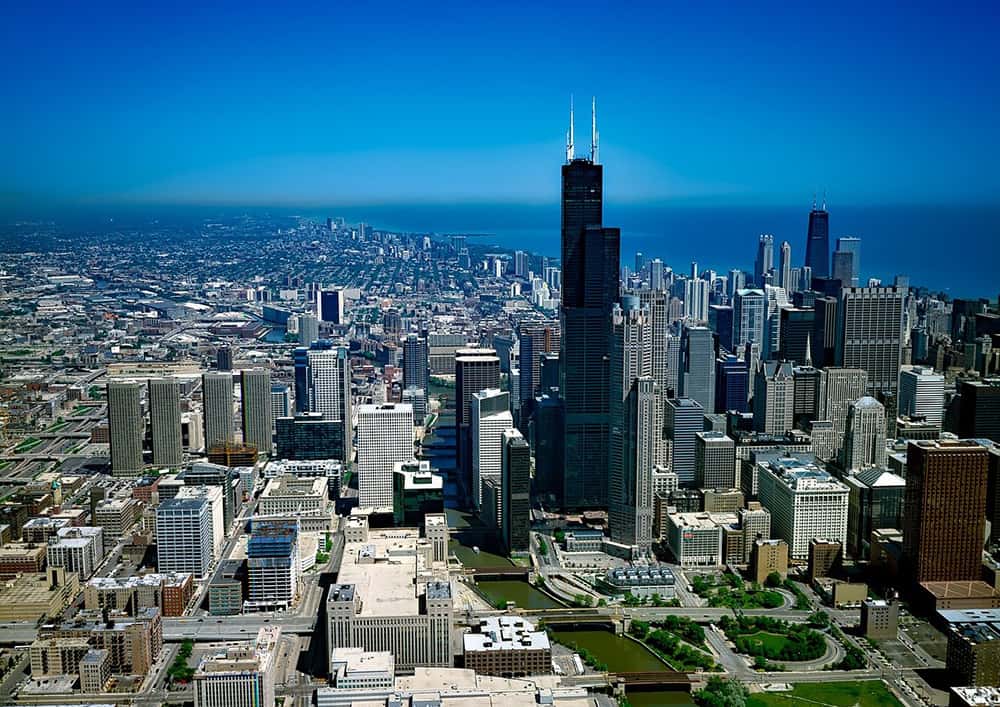 In fact you could spend a whole day just eating and playing along this 1.25 mile stretch of the Chicago Riverbank. It's open from 6am to 11pm and boat trips happen May to October.
This multi-award-winning, pedestrian-friendly attraction is filled with intimate coves, waterfront cafes and bars. Lovers of art and culture will enjoy the public art pieces, monuments and you're close to museums, as well as excursions on the water.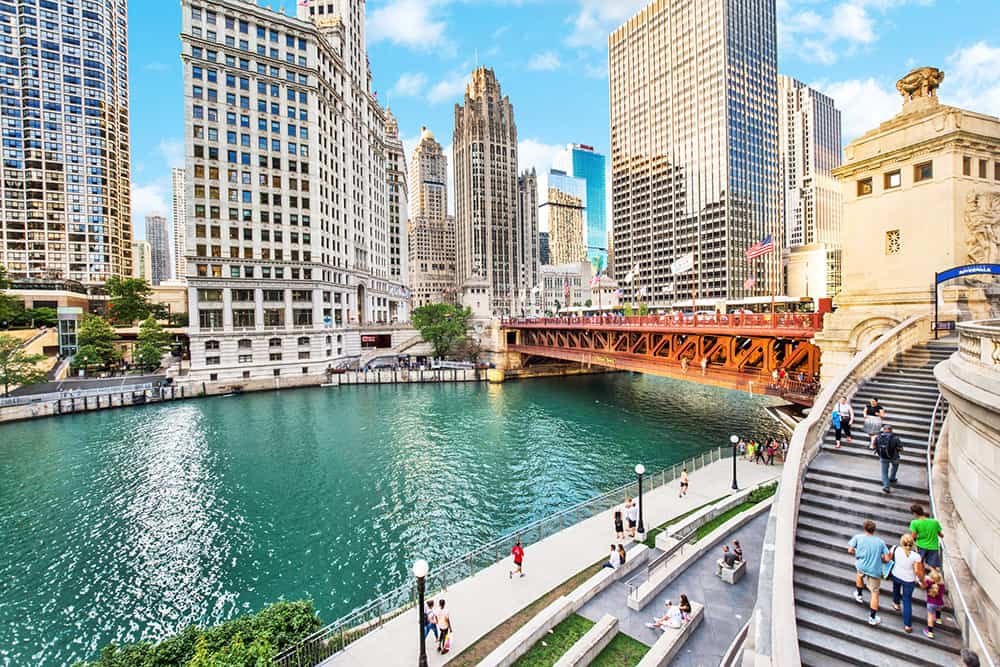 If you want to do Chicago on a budget, there are loads of free things to do in Chicago too. In fact 207 of them in this post which will keep you busy for at least a week!
You might need more than a weekend to complete all these things in my post, but at least you have some ideas for the best places in Chicago to get you started!
You might also like my updated post on 19 travel accessories for 2021 also has loads of helpful links to make your pre-travel prep easy! Includes face masks, hand sanitizer, anti-bacterial wipes as well as packing cells and more…