Las Vegas is a fun city for a few days, and I've written this post on some of the coolest things to do in Las Vegas – aside from casino tables. But it's loud. And it'll mess with your head if you stay too long.
And that's before you head down to Fremont Street for an evening. I needed to return to the Strip for some relative peace from that crazy location!
So if you are thinking Vegas is great for a couple of nights, but then you want something quieter, why not rent a car and head out of dodge?
This post covers my three-night, four-day day Nevada road trip from Las Vegas, to give you some ideas for your own roadie, or heck, just bookmark it and copy it!
There are several beautiful national and state parks within a 4-hour drive from Las Vegas, so Sin City also makes a great hub to scoot off from.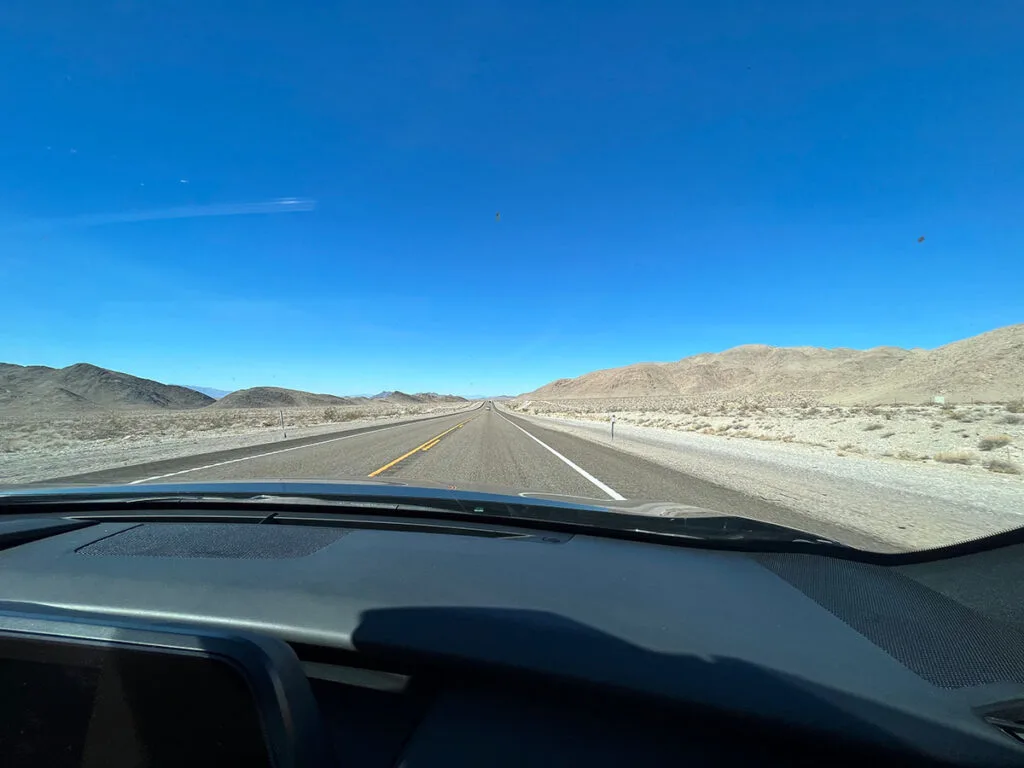 We'll cover:
Tonopah
Area 51
Hoover Dam
Red Rock Canyon
*This post contains some affiliate links. That means if you make a purchase I will make a small commission, at no extra cost to you.
Day One
Las Vegas to Tonopah
Distance: 208 miles. Driving time: about 3.5 hours
Armed with a Starbucks pumpkin spiced latte (it was Fall after all), we picked up our Avis rental car from the tour desk located in the basement of the Luxor Hotel.
Note: book your car in advance. Three girls were in line behind us hoping to get a car to head to the Grand Canyon for a day trip, but no cars available.
We took I95 on the Free-Range Art Highway which stretches from Las Vegas to Reno.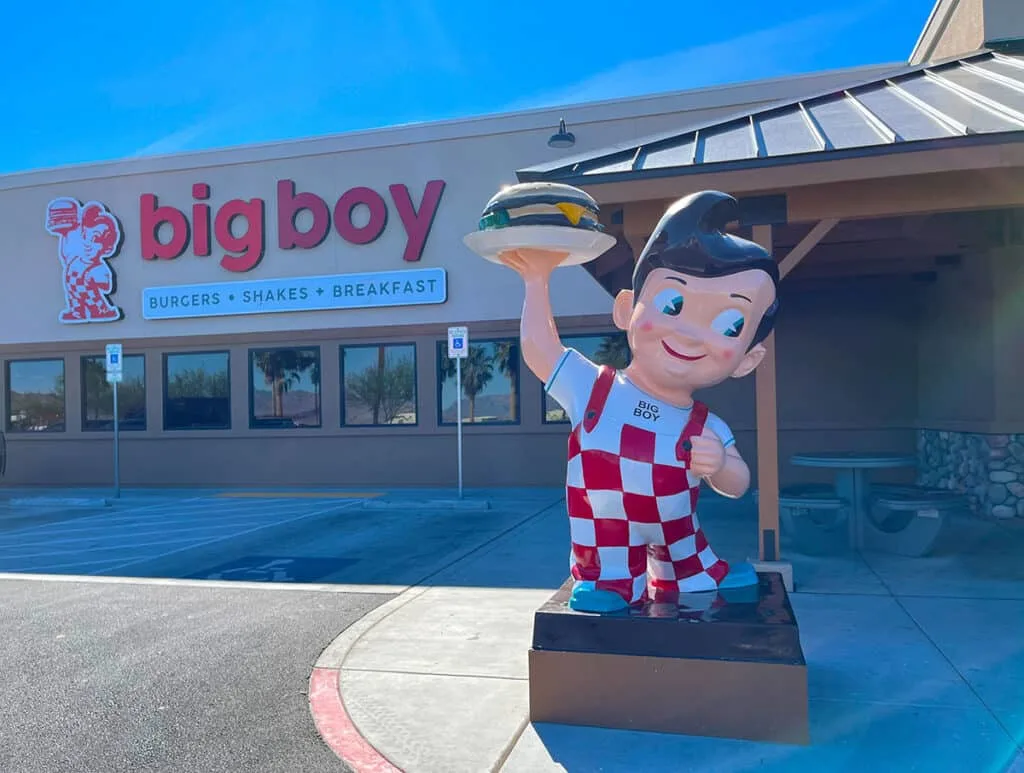 First stop: bathroom break (pumpkin spiced latte) so we stopped at a roadside service station and cafe.
It happened to be right across the road from Creech Air Force Base where they test big unmanned drones, and I actually saw one of those unmanned aerial "drones" landing. The MQ-9 Reaper it was. This stuff is astonishing to us Kiwis!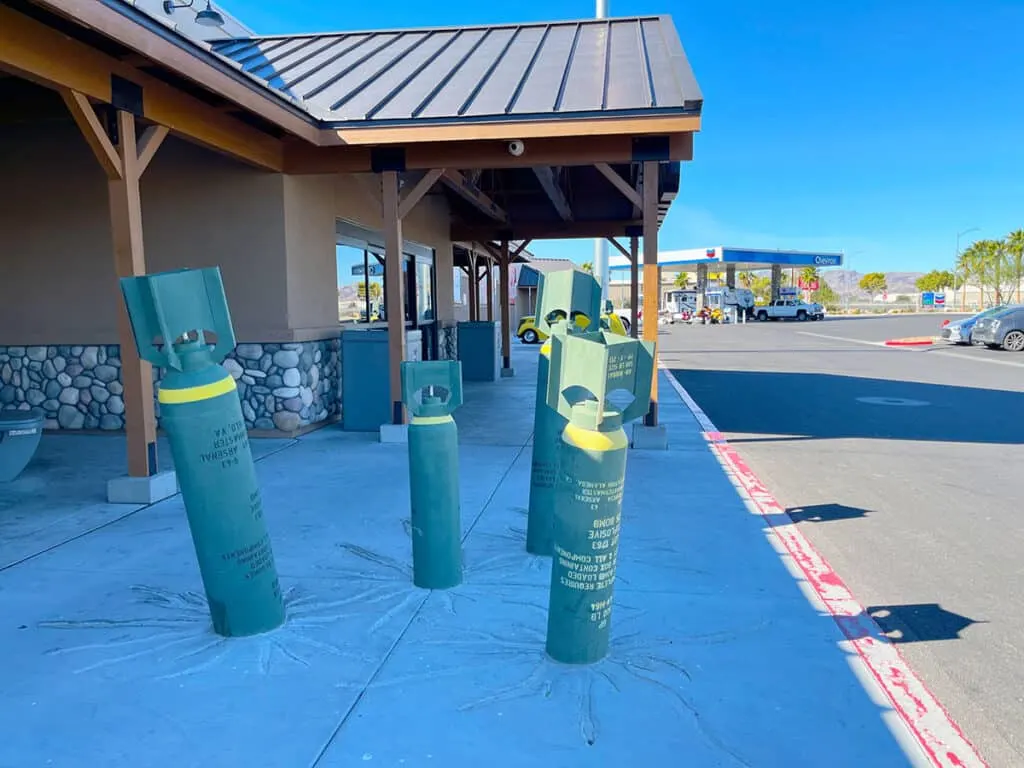 First stop: Beatty
We drove through the little town of Beatty (before returning there for lunch) dow the road to Goldwell to visit the eclectic Goldwell Open Air Museum. If it's quirky photos you're after, you'll love this place.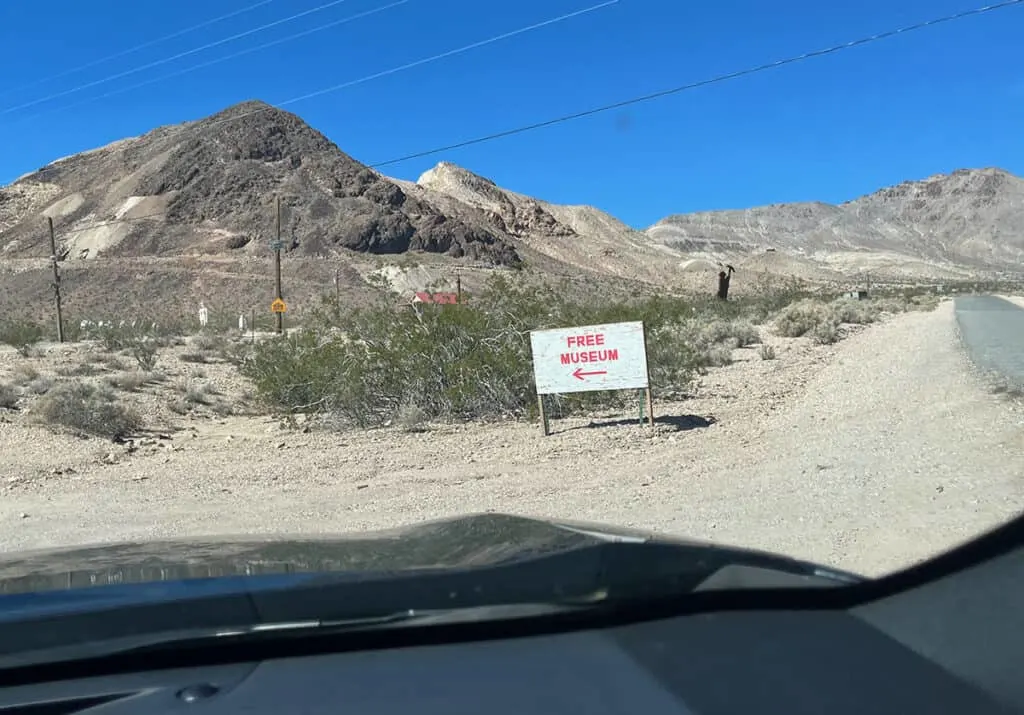 We were the only ones there, so after wandering around, taking photos and reading a little about the last supper, we drove about a mile up the road to Rhyolite.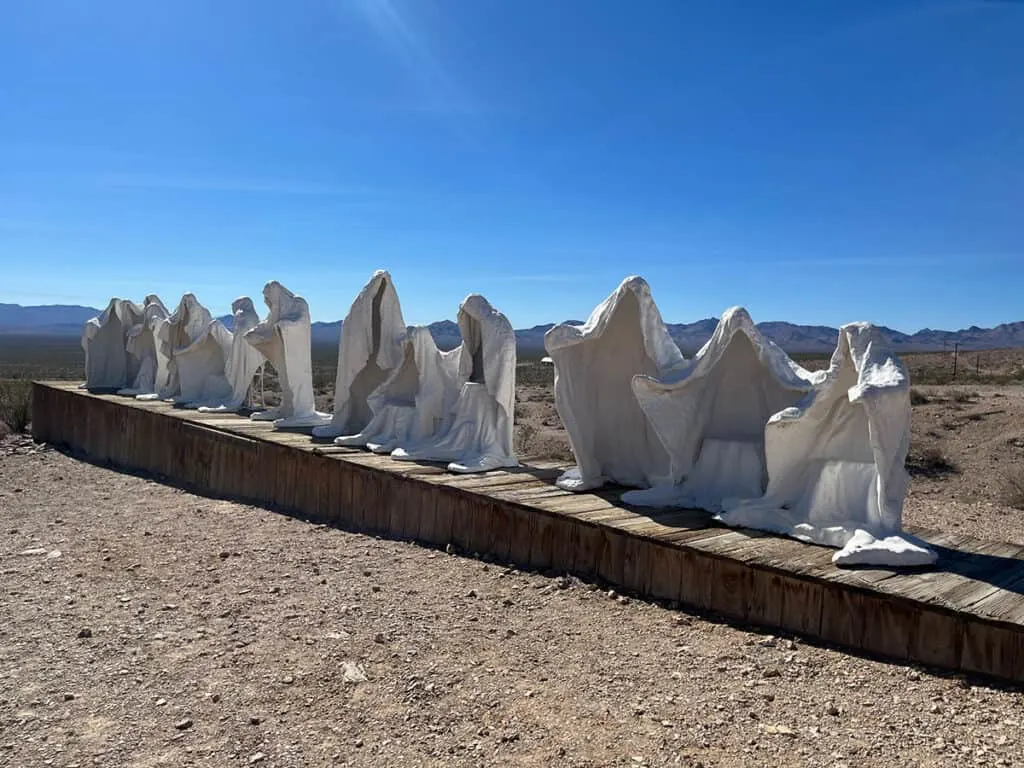 This is Nevada's most photographed ghost town, with the remains of buildings from the gold rush days when many a hopeful turned up to get the gold, only for the mine to close within a few short years and the rush rushed off to the next shiny thing.
Today the remnants of the town tell a sorry story of dereliction, but the film industry love it. Not that I recognise any of the films that have been shot here in Rhyolite!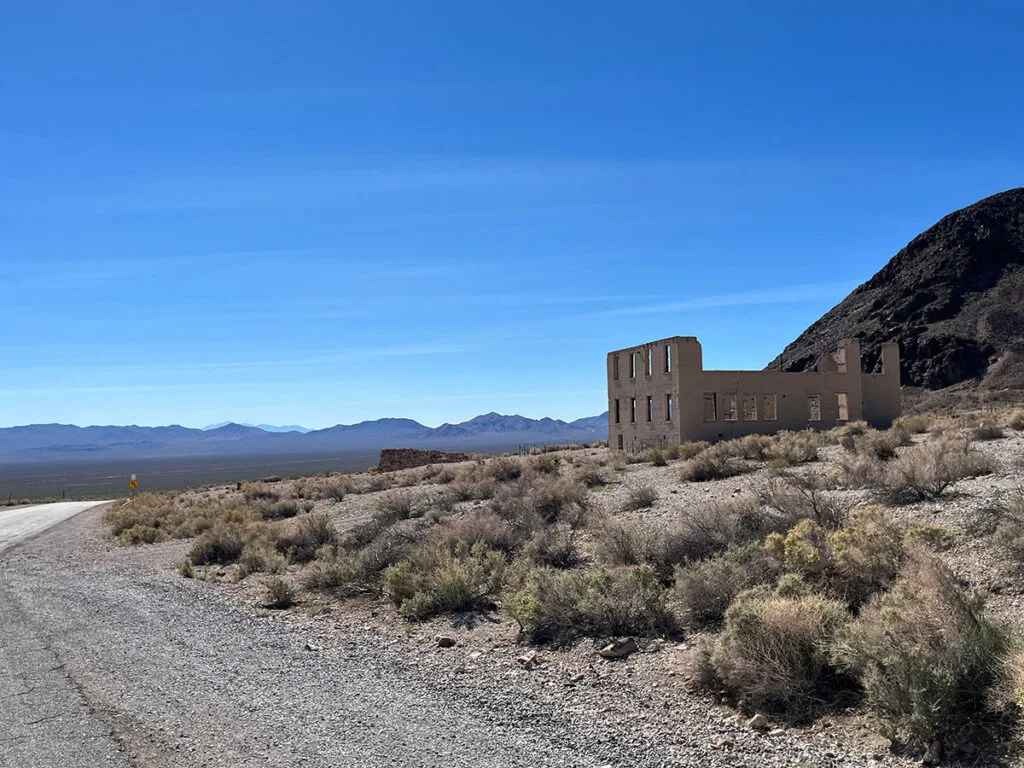 Lunch at Happy Burro Chili and Beer. This restaurant and bar that you passed back in Beatty serves some of the best chili in the land. Get yours on a dog or served in a bowl with chips, add a beer (or a coke if you're the driver) and then head out.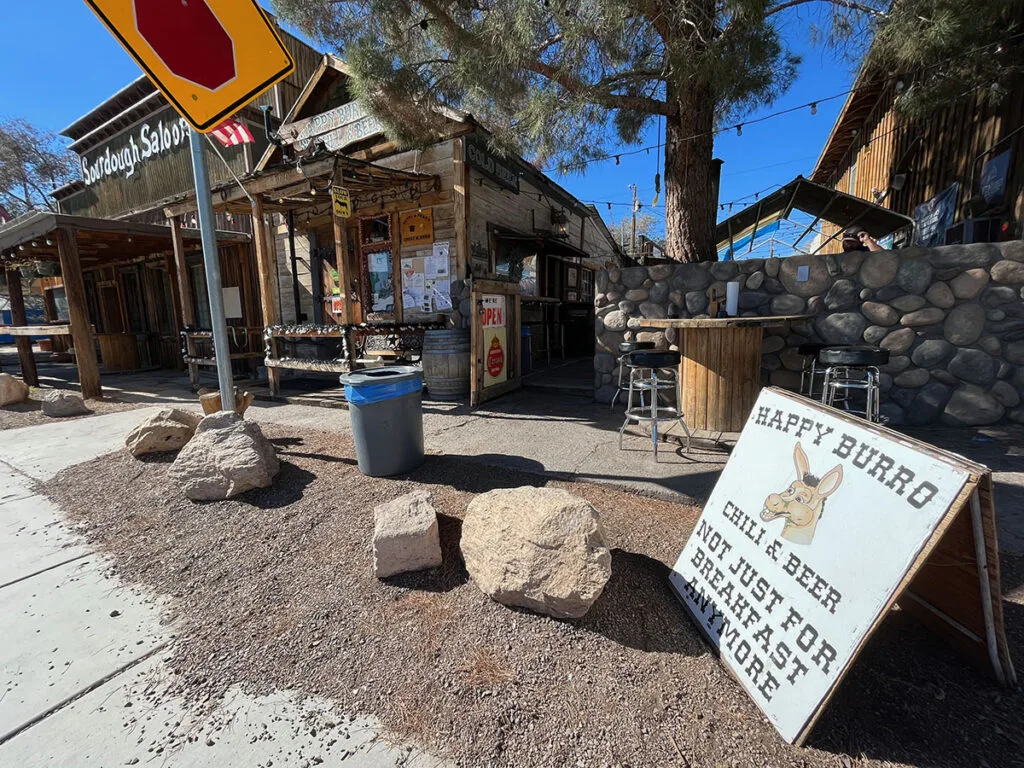 Next stop: Goldfield
LAST GAS STOP FOR 94 MILES
Don't be rookies (like us) and think half a tank will get you to your next stop. About a quarter of a mile out of Beatty we saw the sign that said there was no more gas for 94 miles. Now I'm the first to admit, I'm not very good at maths, but even I could tell that we'd be cutting it close to get to Goldfield at the rate we were burning through it!
"We'll be finnnne", said the husband. I wanted to believe him.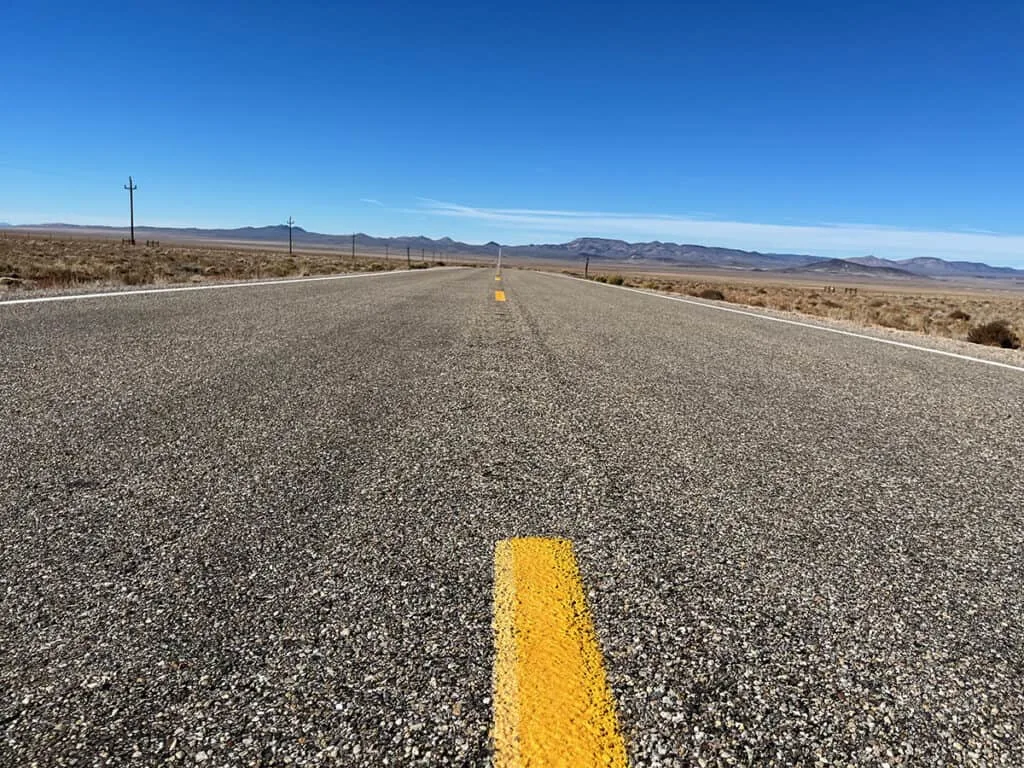 But on the long and endless road I couldn't help glancing over at the dial and checking my pulse rate. Four miles to Goldfield and our gas light was on, but I figured – I could walk from here if I HAD to!
Fortunately I didn't have to, but we did have to drive past our next stop, which was the International Car Forest of the Last Church (don't ask me!), as we glided in on fumes, filled up and then drove back about two miles to this famous car wreck "museum".
You've probably seen the pictures before, but I was glad we went back. In the heart of a tiny community of tiny homes is an open space hosting this super quirky art installation of crushed and busted cars covered in graffiti art, standing in crazy positions.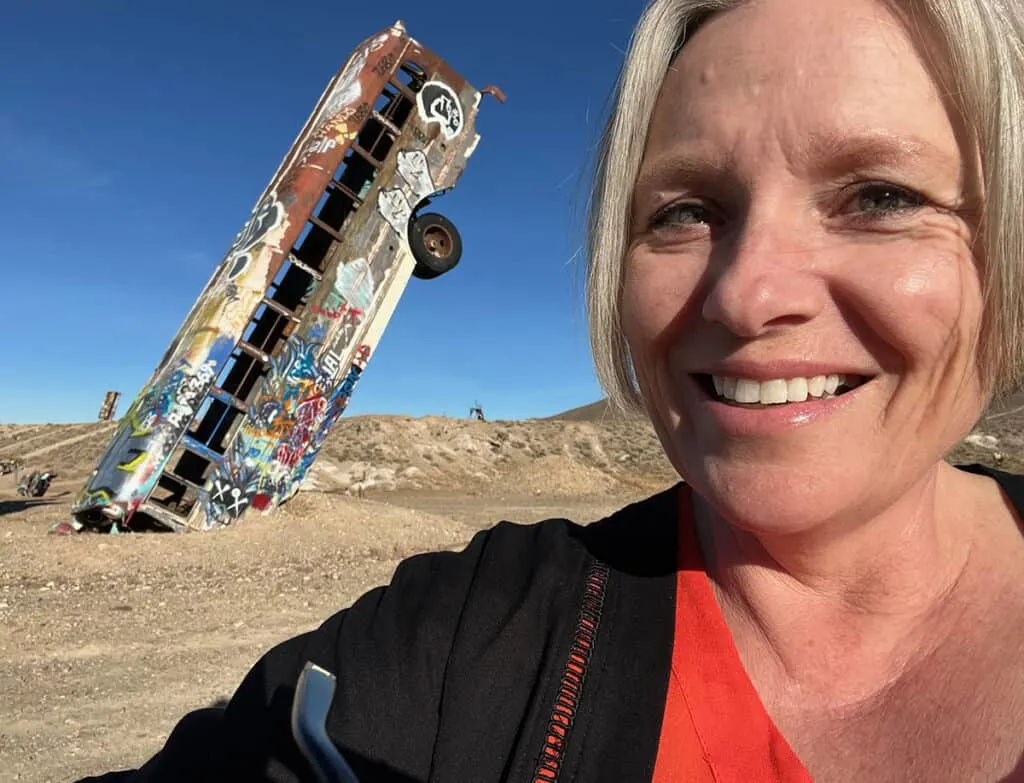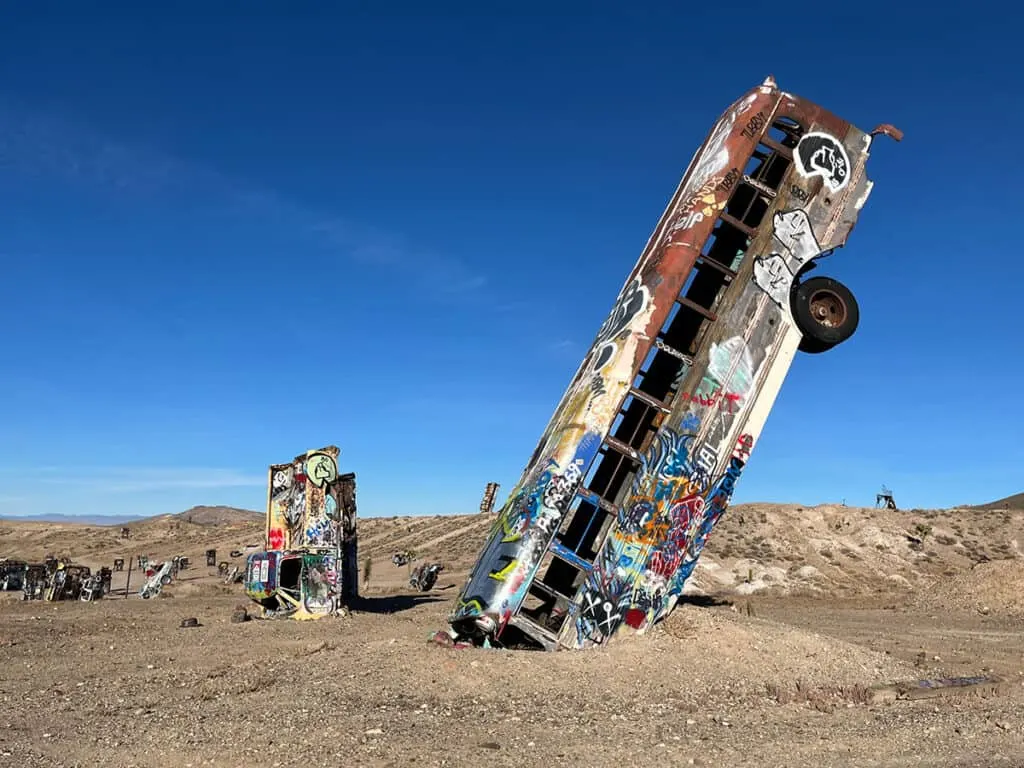 Partially buried, standing on their noses, angled against gravity. This place is calling for a fashion photo shoot and I had a blast taking photos while husband in his newly gassed up car, crept around staying out of my shots. Unless I wanted him in there for a sense of perspective, that is.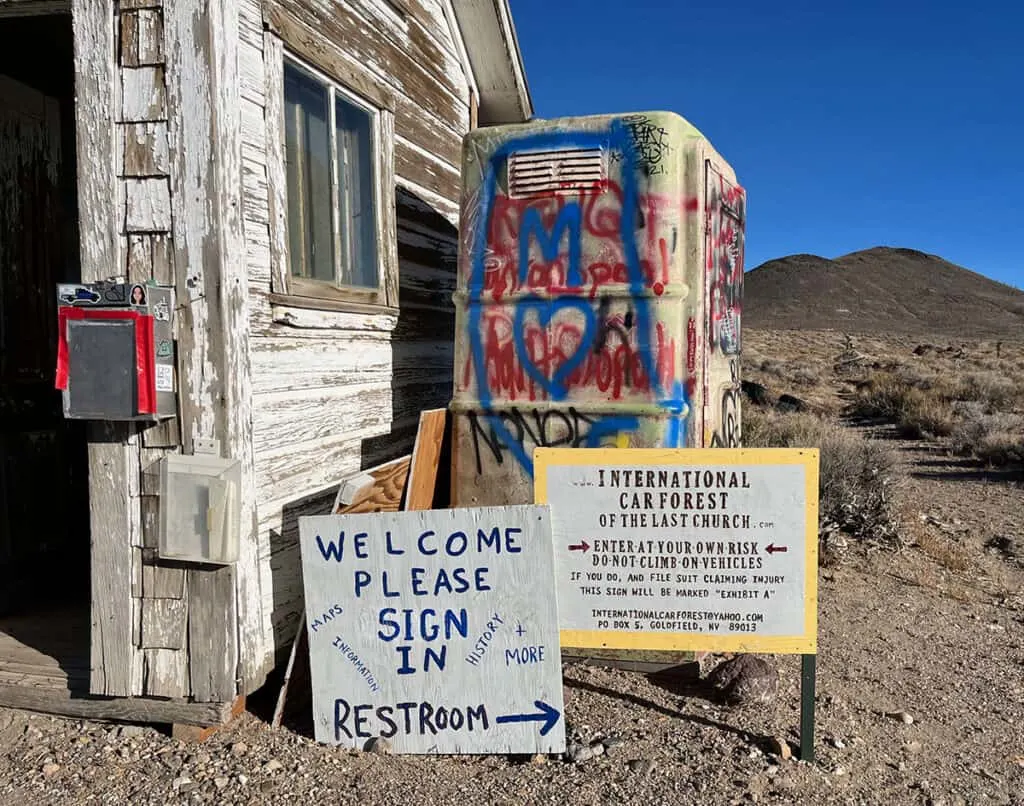 This crazy car sculpture exhibition was created by longtime Goldfield resident Mark Rippie, along with artists Chad Sort and Zak Sargent. They sought to break the Guinness World Record for the world's biggest car forest and buried the noses of more than 40 vehicles in the desert sand. Photographers will love this, especially during the late afternoon magic hour.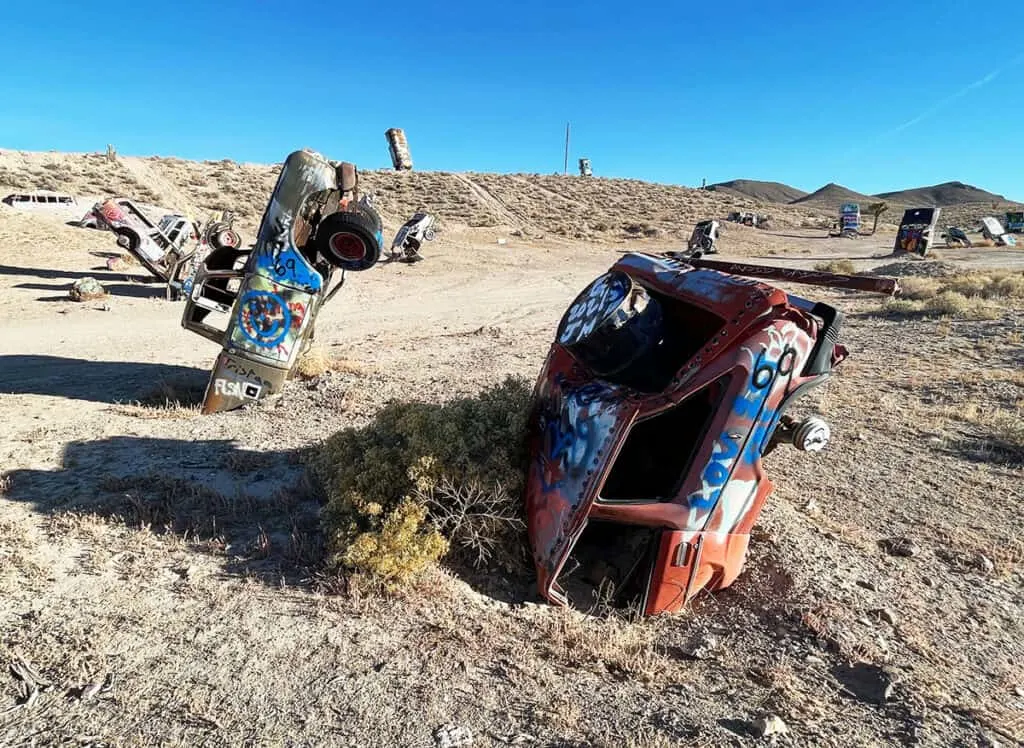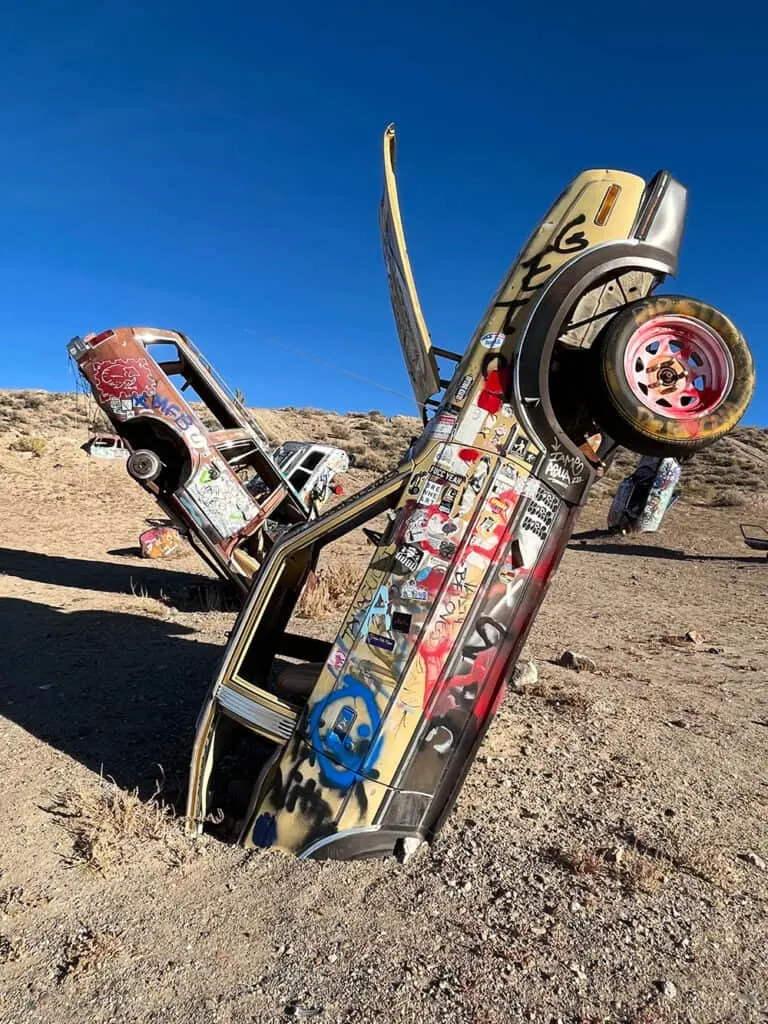 Last stop: Tonopah
Our stop for the night was the Mizpah Hotel. Only the #1 haunted hotel in the US!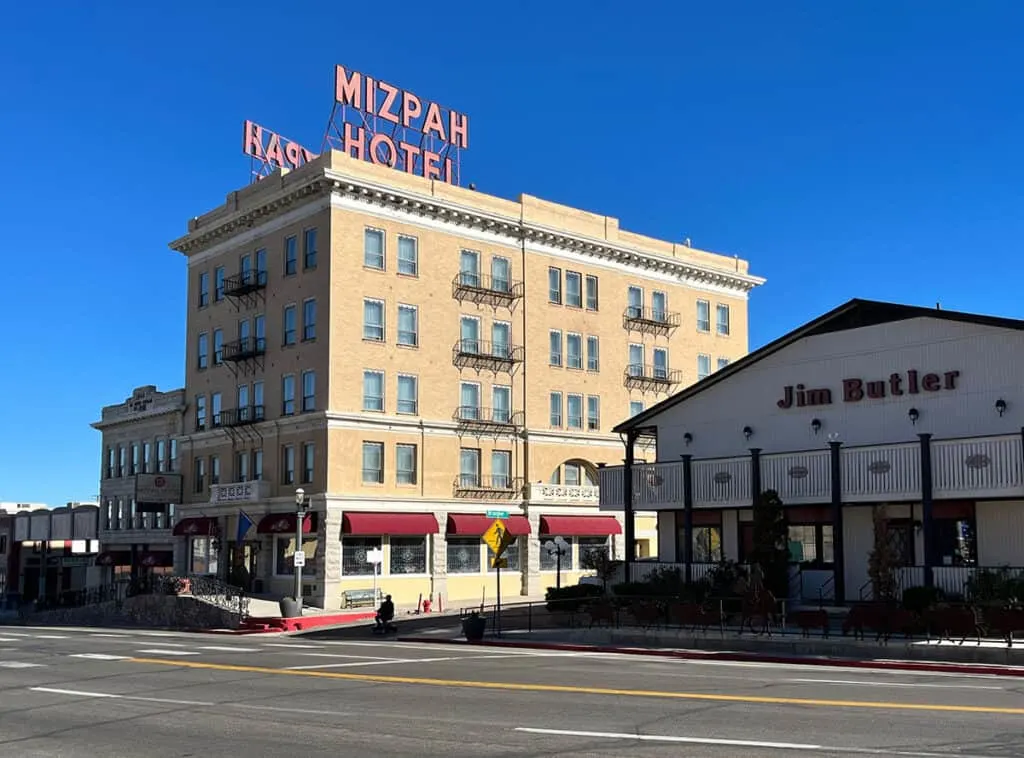 I'm going to say right now, I HATE that sort of thing. I don't believe in ghosts, but I do believe in a spiritual world, and I don't like to mess with it! Well, not the dark side anyway. I'm a Christian and when spooky things come at me I tell them to bugger off in Jesus name!
"Ask about the lady in red," the guys from Travel Nevada told me.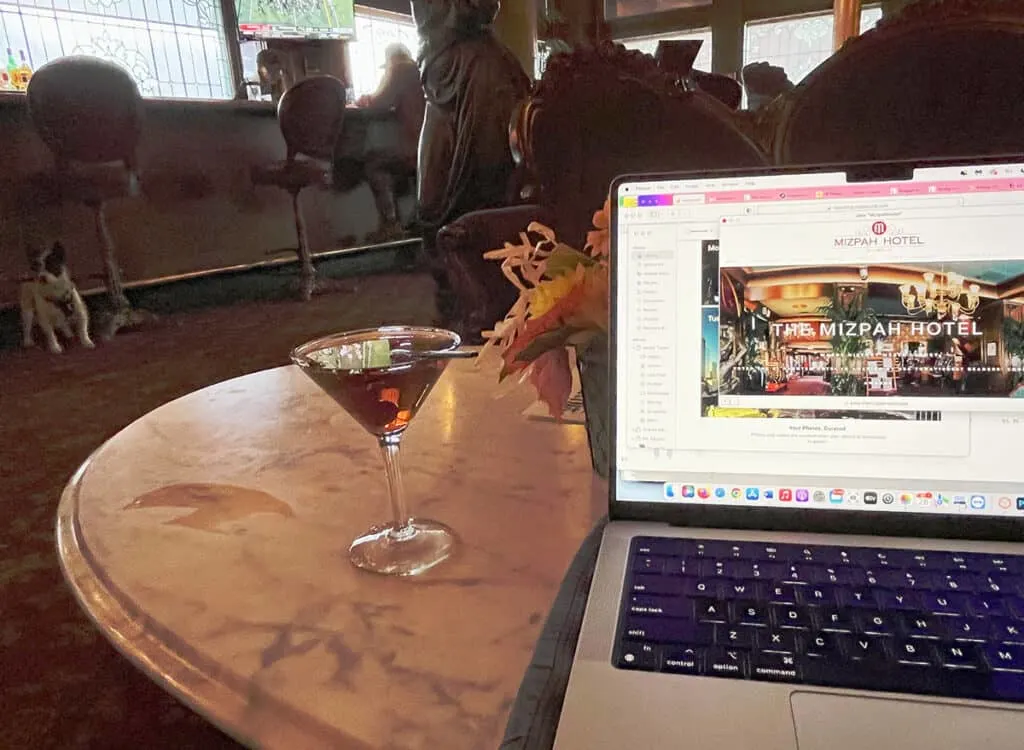 My intention was ask about her the next morning when I was checking out, but I couldn't help myself, could I. Next minute I'm hearing all about this lady of the night's murder on the fifth floor (which is the floor we stayed on), by a jealous client/lover. And how people have seen her and felt her presence for the last hundred years.
We had dinner at The Pittman, the restaurant inside the Mizpah, after starting with a cocktail at the bar. There was a tour group in for dinner and one of their guests was classical pianist who jumped on the ivories and played the most amazing music on the grand piano while I checked email over a Manhattan.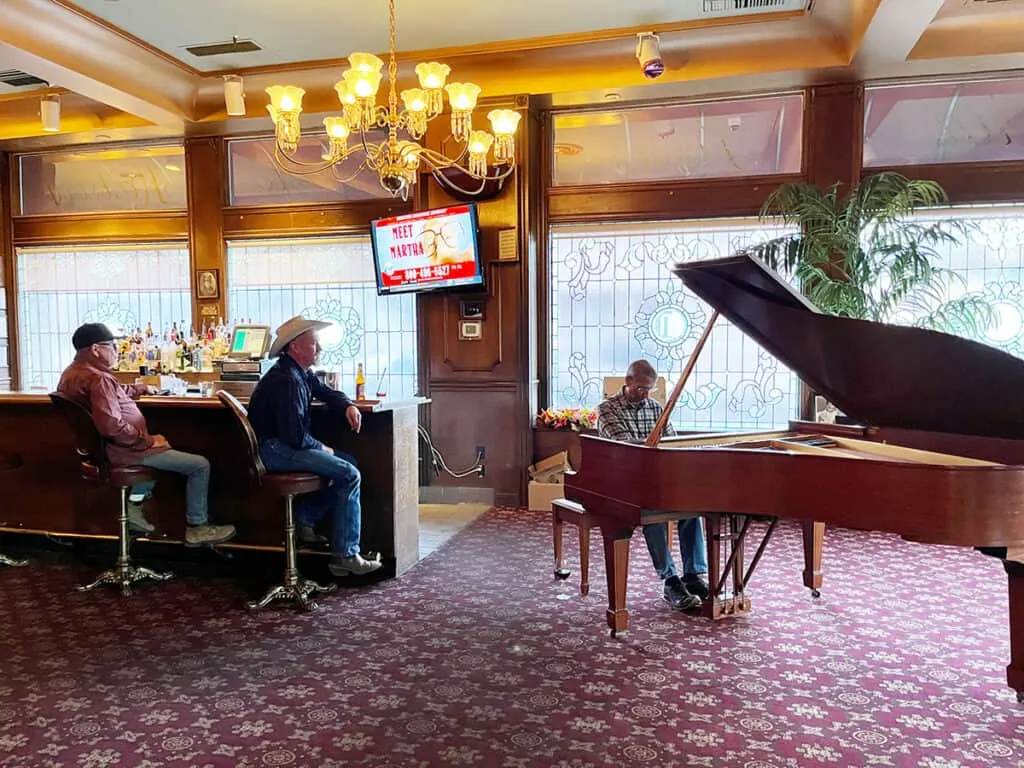 Well, by the time I got to bed I had talked myself into it (that's what I'm putting it down to anyway), and soon after I had drifted off to sleep, I felt someone next to me lean an arm over like a spoon. I thought it was my husband, but when a woman's voice whispered something in my ear I knew it was her.
I tried to shout out JESUS but I couldn't make any sound. I knew I was dreaming, but I also couldn't get out of it. It only lasted a few seconds until I was able to shake myself out and whisper Jesus while gasping.
Meanwhile husband is reading on his phone, none the wiser as I tried to explain what just happened. I didn't sleep a wink the rest of the night.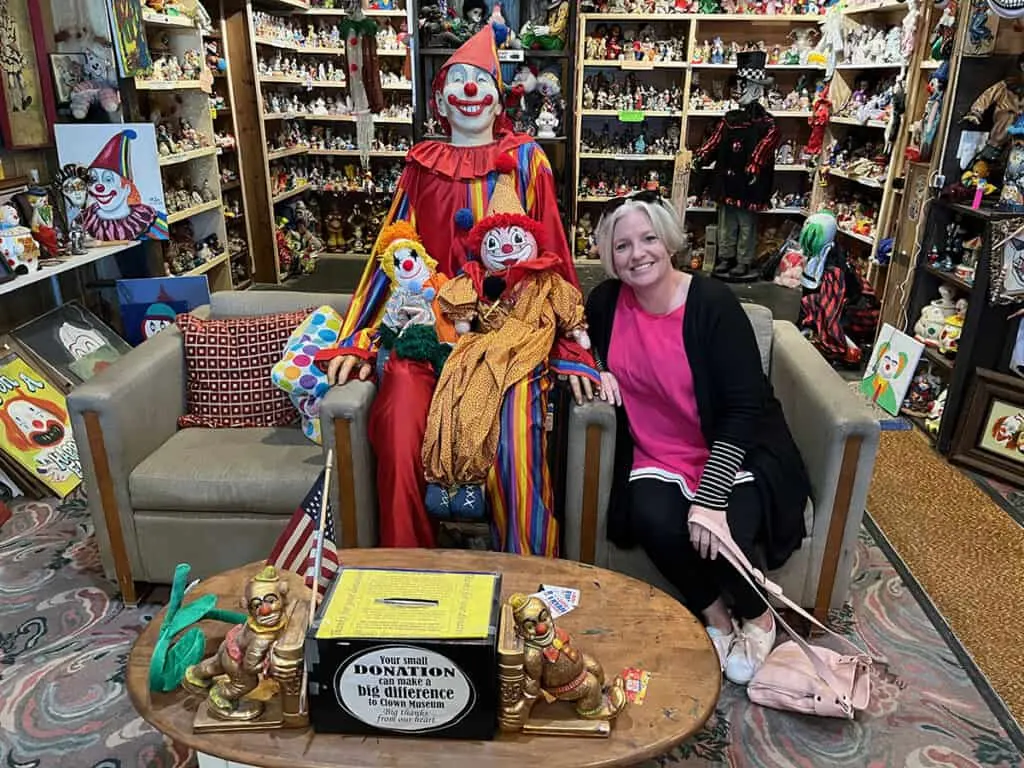 Tonopah is a teeny mining town with a main street of heritage buildings – and a weird as Clown Motel about a mile down the road. If last night was spooky, I'd really not want to stay with the clowns either, but hey, you might!
The owners still receive regular donations of people's cherished clown dolls which range from outright scary to cutesie pie sweet.
But it was off to see aliens for us!
Day Two: Extraterrestrial Highway to Boulder City
Distance: 237 miles. Drive time: 3 hours 40 mins – if you don't stop! We took all day.
As if last night wasn't eerie enough, today we're off to Area 51 for some alien hunting.
I remember seeing a Louis Theroux episode on meeting a man out here (or maybe it was Roswell, come to think of it) who reckoned he could channel aliens. It was the funniest TV I think I've ever seen. Suffice to say, we didn't meet him, but after driving down lonnnnng straight roads, we arrived in Rachel where a solo diner called Little A'Le'Inn stands in the middle of nowhere.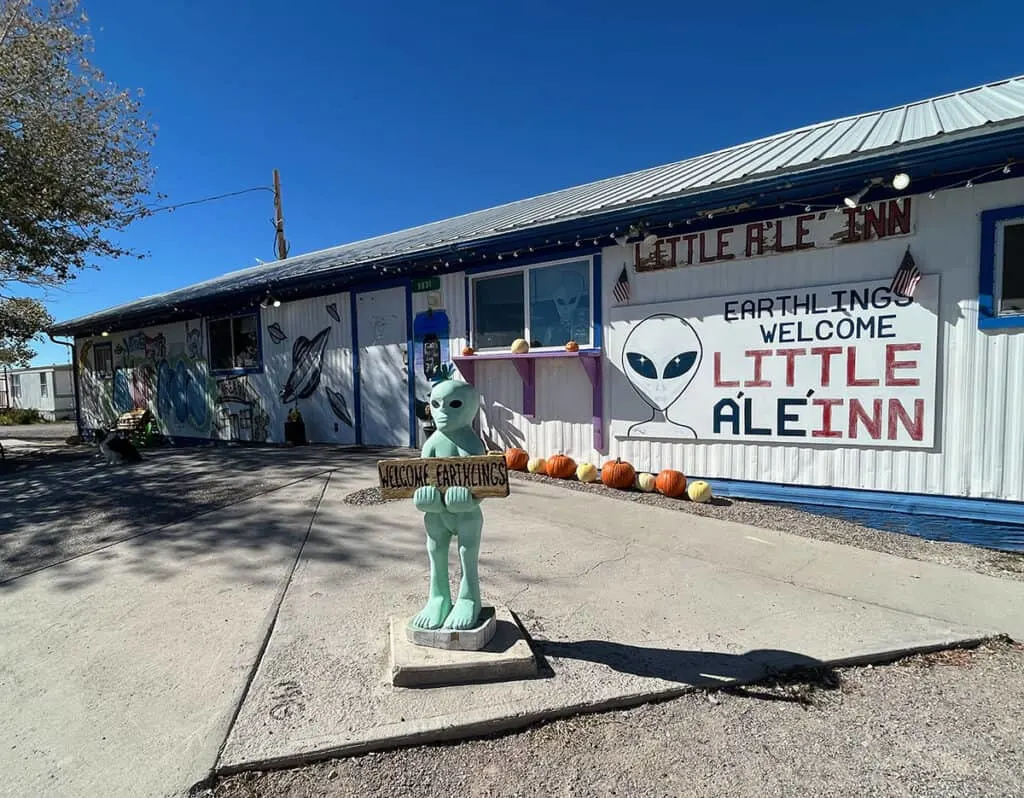 Inside is a bar and a whole lot of alien souvenirs, including info on the elusive Area 51 that we'd come to see.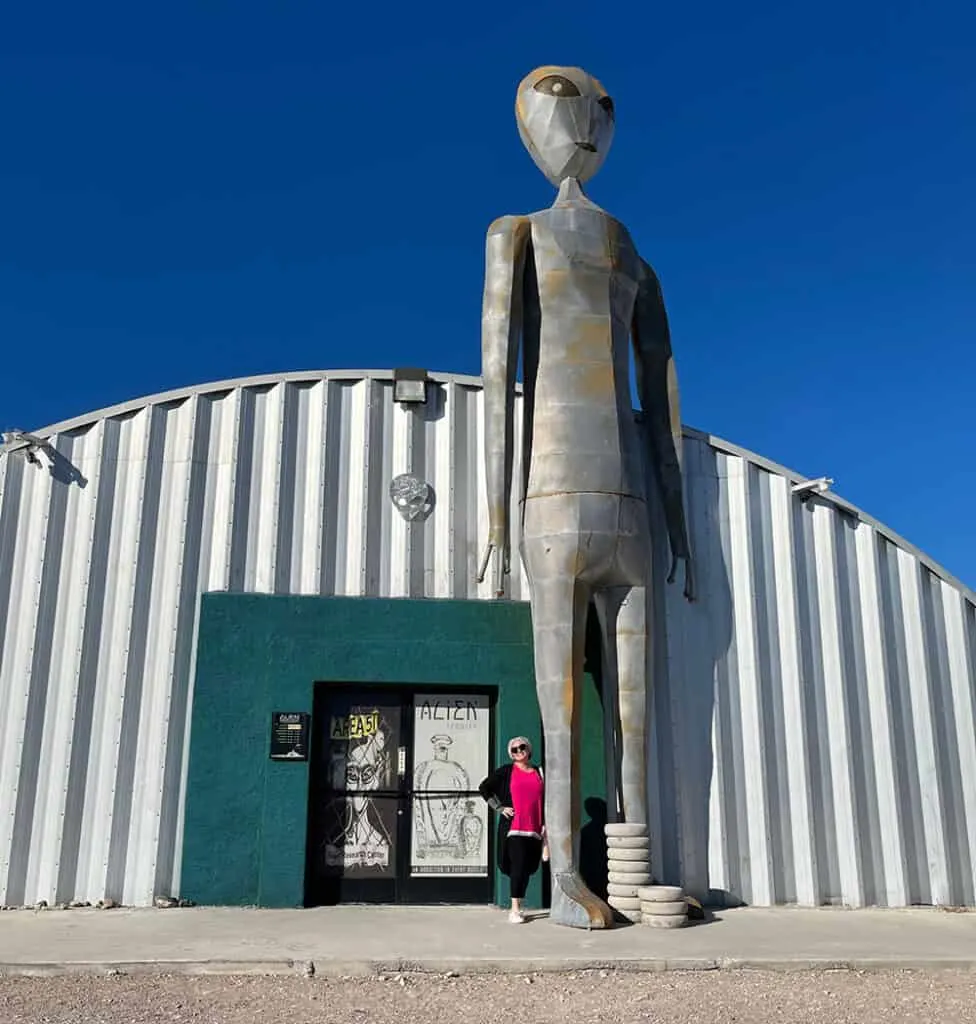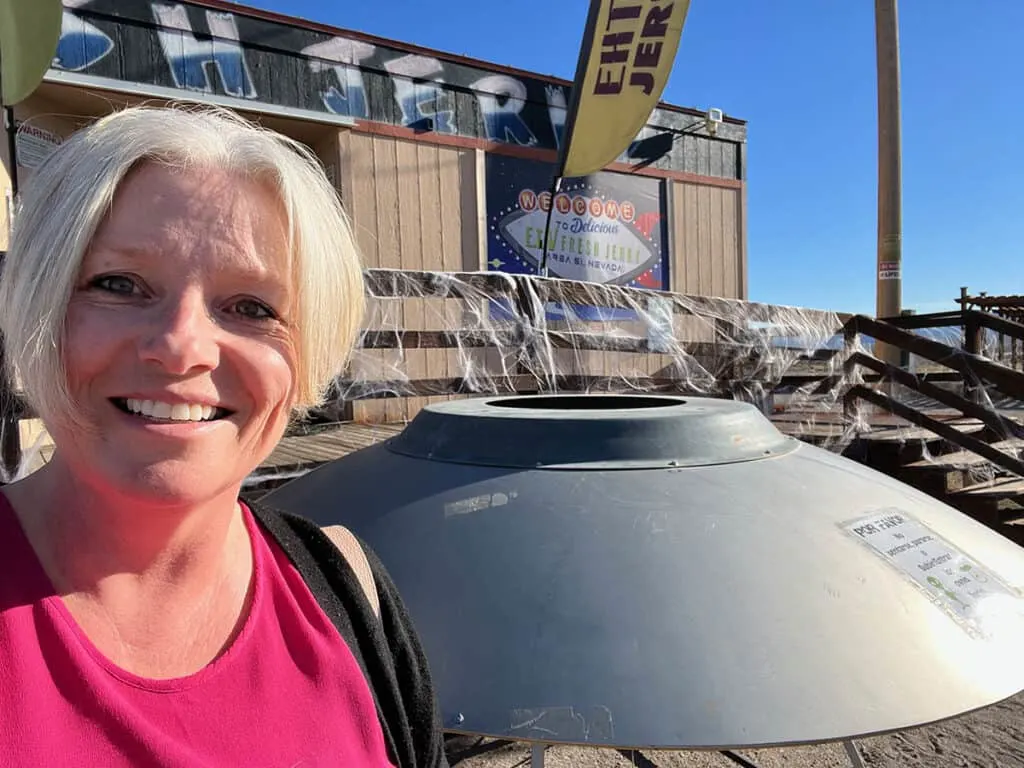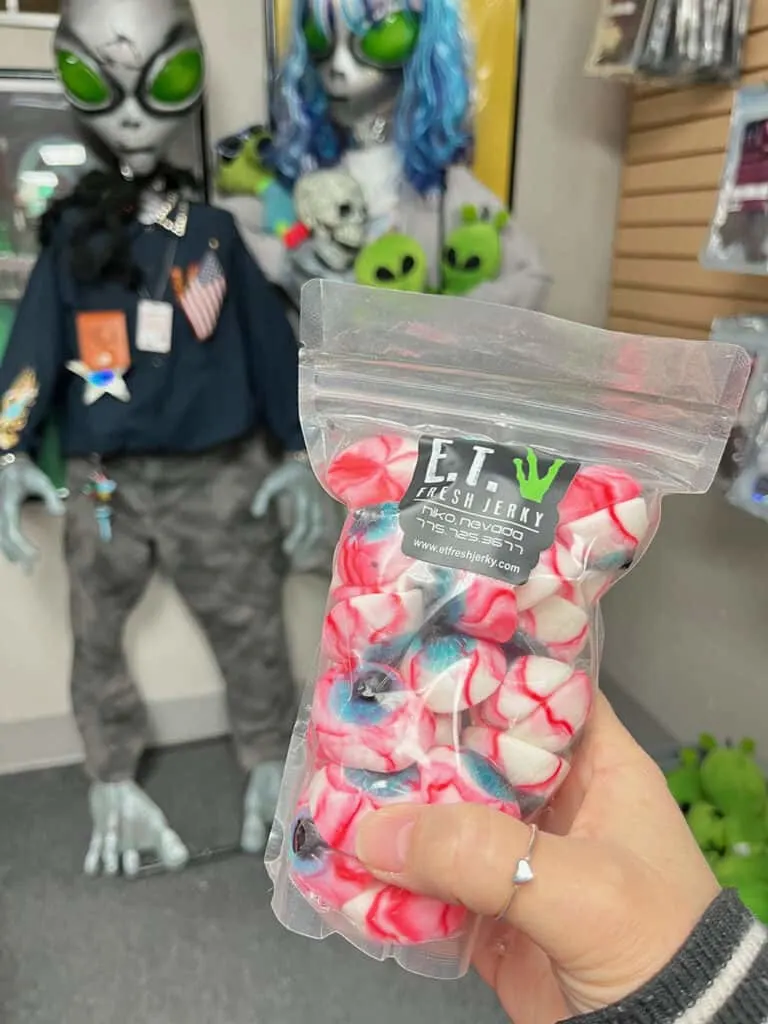 Well, "seeing" Area 51 is a misnomer. If you stop here at Little A'Le'Inn, you can pick up a road map which is hand drawn and will show you where the dirt road is to turn off and drive 10 miles to the gates.
We drove the 10 miles in the dust so you don't have to!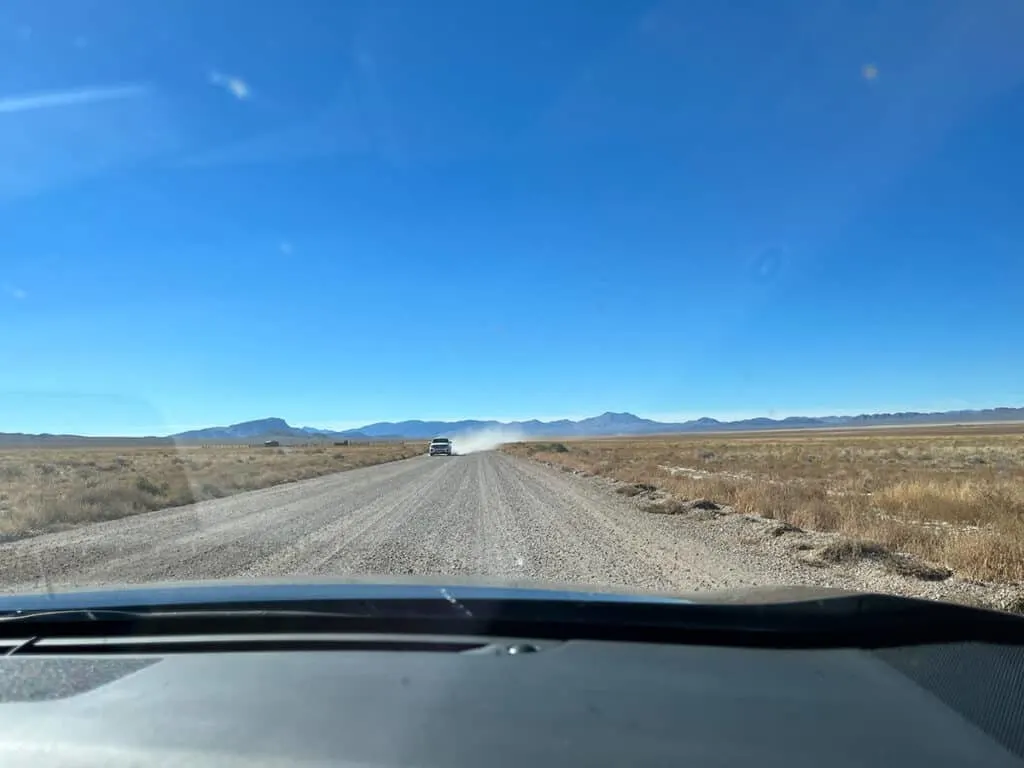 Nicky, the bar manager and fount of knowledge on the area, took a microphone from the wall and said she'd explain this s**t only once, as there were at least three groups of us in having lunch and asking her too many questions about where to find the gates.
So finishing off my clam chowder and husband demolishing his thin little burger, we headed out, armed with our map and the warning that we would likely get honked at when we got to the gates, but we wouldn't see anyone. She'd also said if we get caught taking photos, they'd make us delete them.
Honestly? We got to about 30 feet of the gates when husband decided that was close enough and turned our little Lexus around and sped off. Much to my dismay, as I was hoping for some action to write about!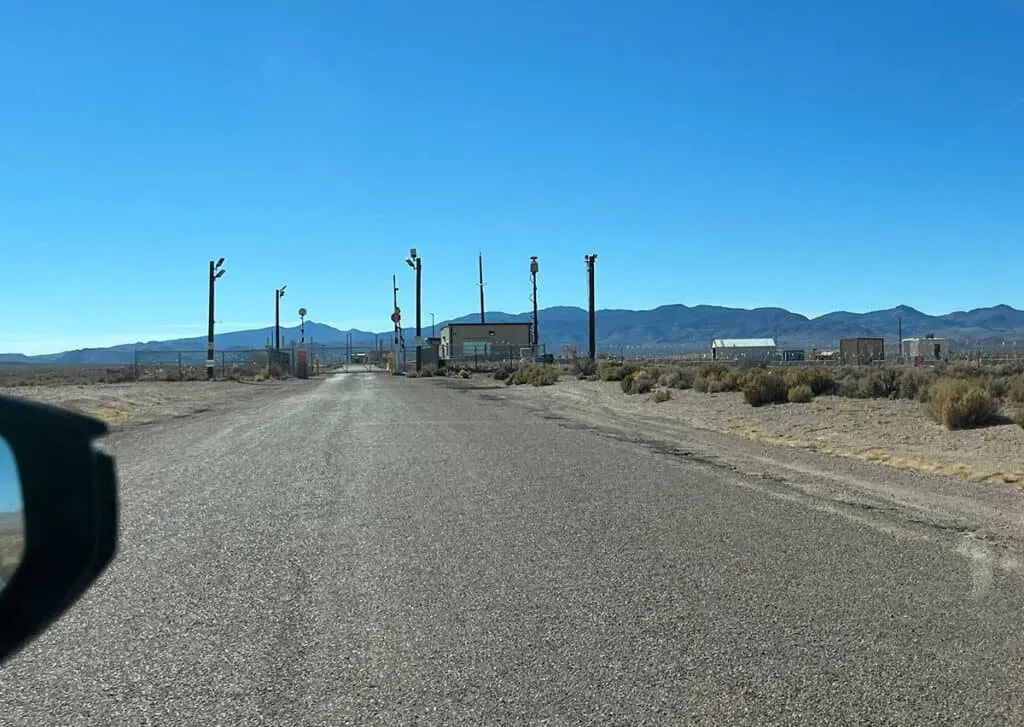 No honking. No people seen. But quite possibly our license plate was clocked by some spy mobile somewhere. Well, at least I like to think so.
But wait! That's not all. About another five miles down the road, we'd come to a black mail box our piece of paper said. (If I hadn't been keenly looking out for it, I would have missed it!)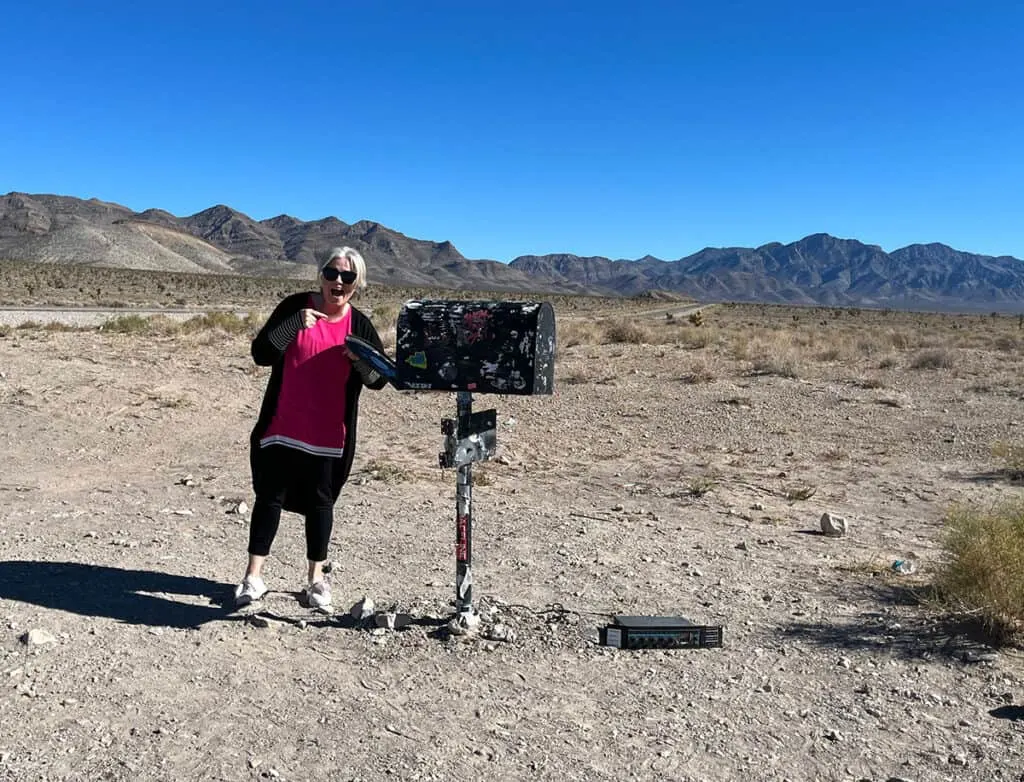 Anyway, take the next right after the black mail box and you can get to the back gates of Area 51. Yes. Yes we did.
This road actually does have a name because it is a proper "registered" road. Albeit dirt. Which reminds me, I never checked if our car rental allowed us to drive on dirt roads, so we went to a car wash the next day just in case. Dust was everywhere, even inside the door frames!
Another ten miles speeding through over the dirt and we arrived at another set of gates in the middle of nowhere.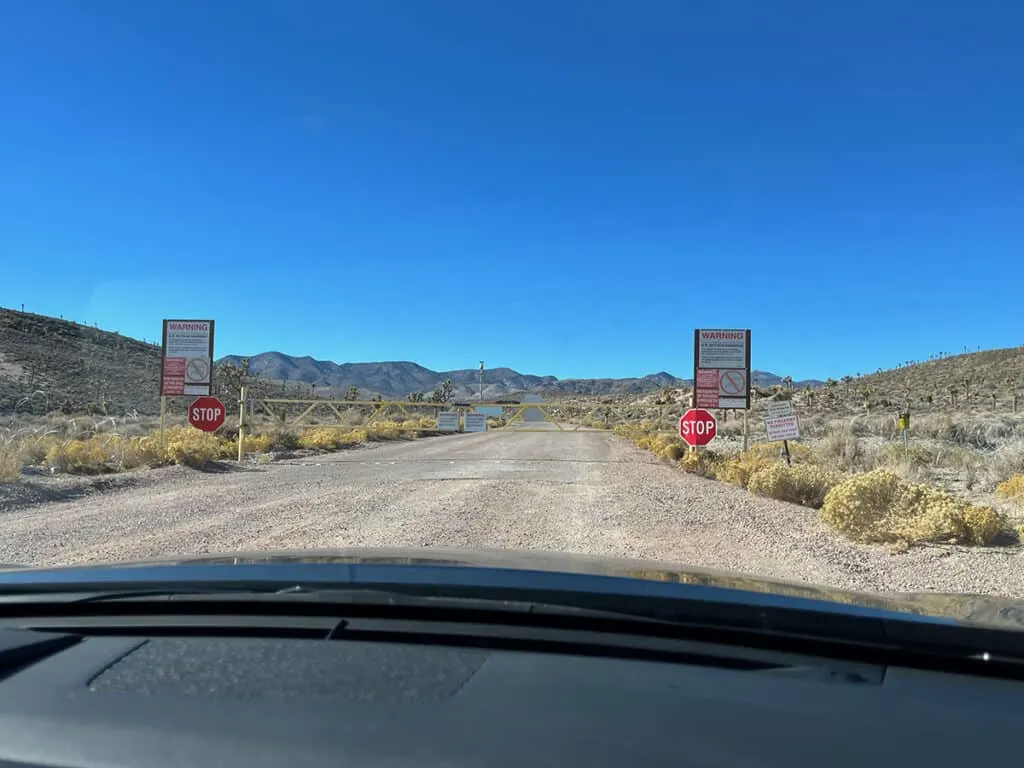 This whole area is officially a military testing range – it runs for hundreds of miles in the Mojave desert. Signs warn of low flying aircraft. Alas we didn't see any.
Area 51 can also be done as a day trip from Las Vegas. It's 150 miles to Rachel, and would take just over two hours if you really want to.
Tonight : The Sands Motel in Boulder City
So on we went back towards Las Vegas, and over to Boulder City where a quintessential American hotel was our accommodation for the night.
We parked in front of our door that needed a physical key to unlock it, then wandered down to CVS and bought washing powder so we could put all our spare quarters in the machines to wash and dry our laundry.
Boulder City was built as a settlement for the construction workers of the Hoover Dam in the 1920s and they've guarded this heritage ever since. It's the best place to stay if you plan on visiting the Hoover Dam, about 26 miles (42km) southeast of Las Vegas, and a 15-minute drive to the Dam.
Dinner was at a family run Mexican restaurant. Starbucks was down the road the other way for our morning pick-up and off we drove to the mighty Hoover Dam.
Use this link to Agoda.com to check out all the accommodation options in Boulder City NV.
Day 3: Hoover Dam and Red Rock Canyon
Distance: 50 miles. Driving time: under an hour. We took all day again!
I'm such a geek, we spent four hours here!
This incredible dam was built in the 1920s and was completed two years ahead of schedule AND under budget! How? Well, I'm glad you asked.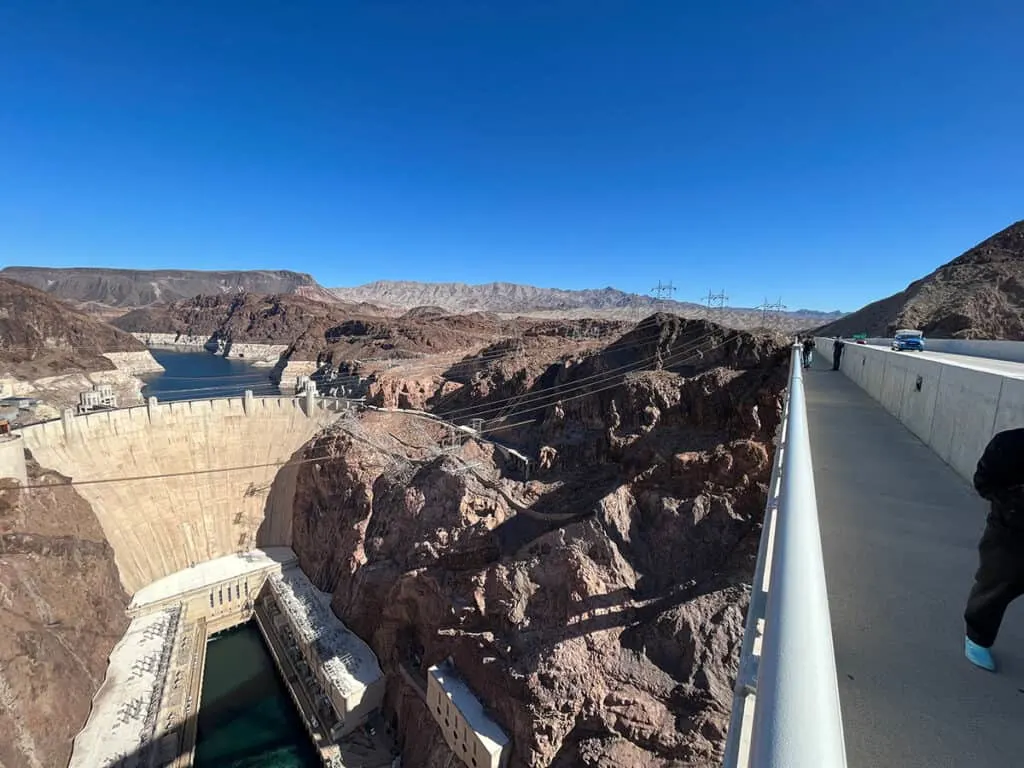 Two main reasons. One: they built a machine that about 30 guys could operate to place multiple explosives into the hillside to divert the mighty Colorado through two tunnels, one on the Nevada side, and the other on the Arizona side, through the mountain and coming out again several meters downstream.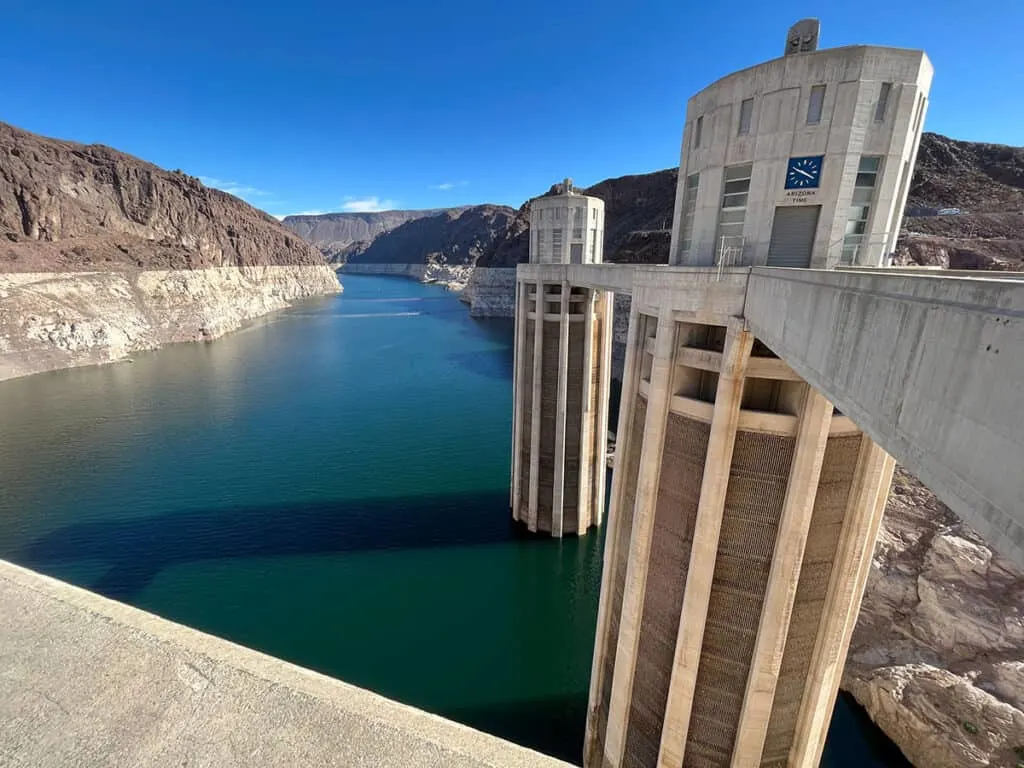 Rather than the original method which was one guy would go in, dig out a hole, push an explosive into it and they'd all run out. BOOM and the job was done in record time.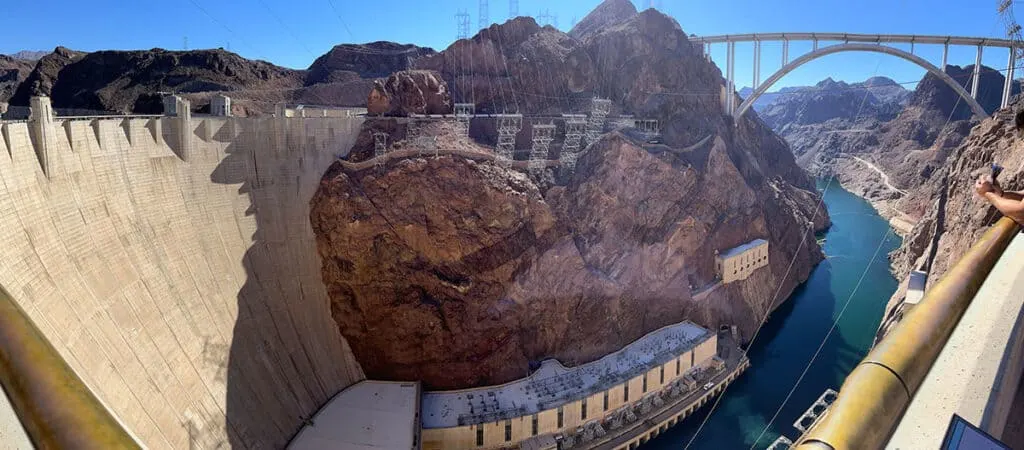 And two: they built a refrigeration system that forced chilled water through pipes laid in between the massive concrete poured blocks that made up the dam wall, enabling it to set faster. If they didn't do this, the concrete would have taken about 125 years to cure.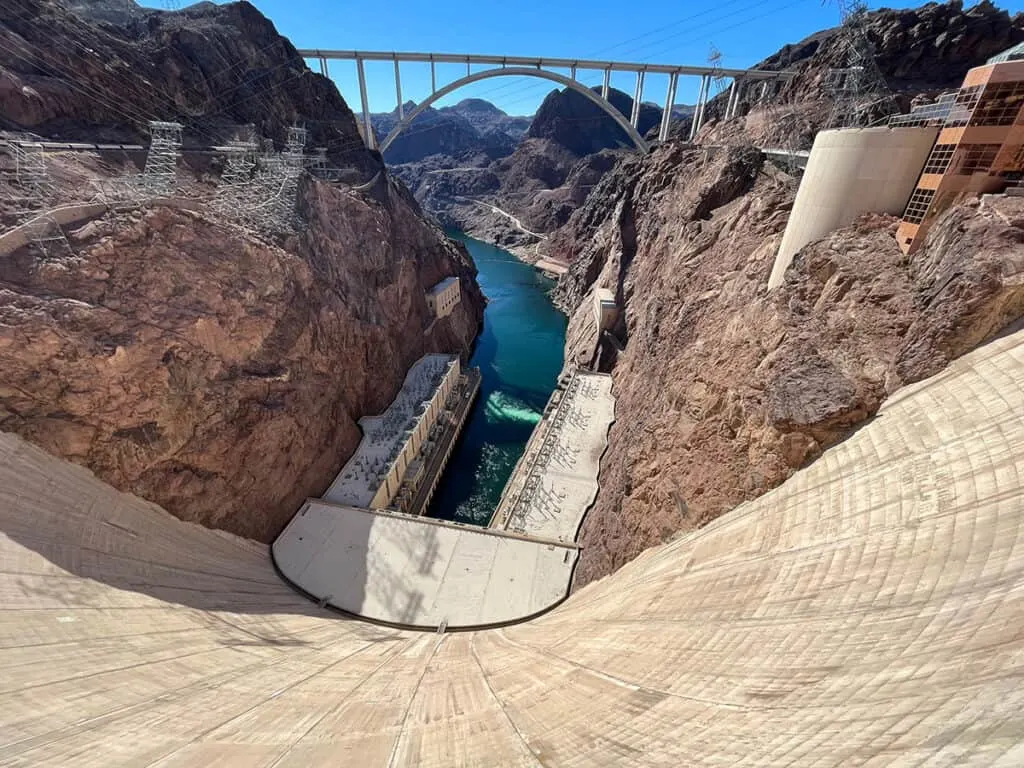 We finally left the dam after taking about a hundred photos, and went to Lake Mead for lunch.
This is the largest manmade reservoir in the United States. It's 110 miles long, created by the Hoover Dam and is a hub for water sports, fishing, hiking and irrigating the surrounding (now arable) land.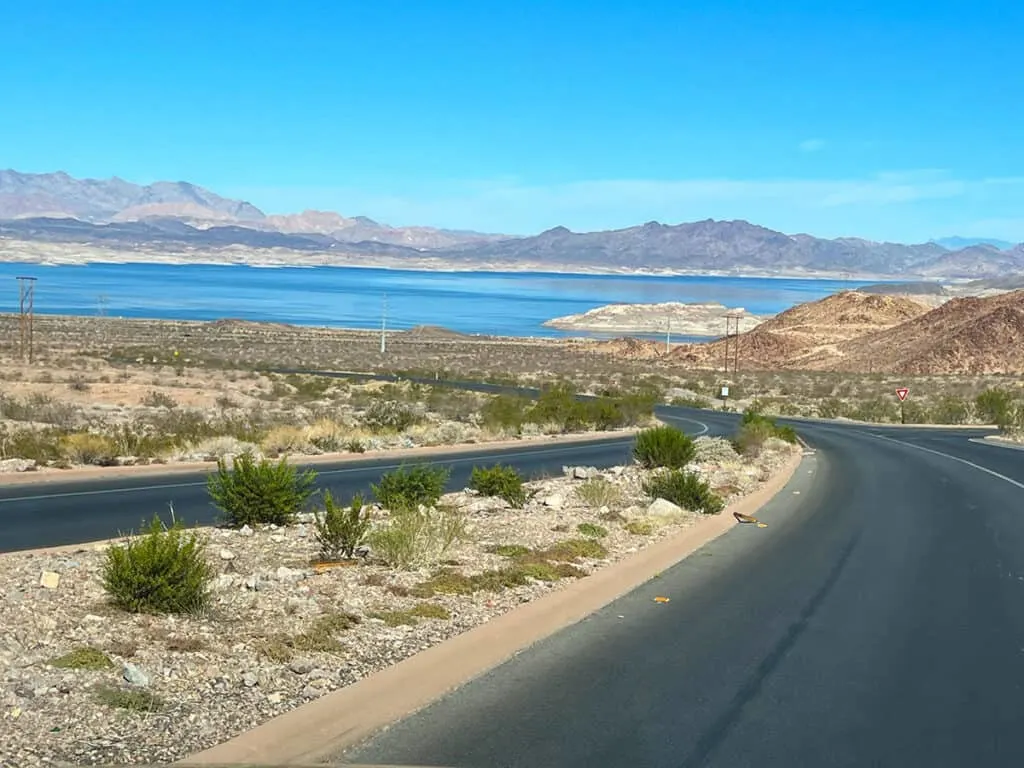 Note: this is a State Park and a fee of $25 needs to paid to enter. Or you could get an annual US Parks Pass for $80 and it will cover you for entry into every state and national park in the US – including the Grand Canyon.
Red Rock Canyon
Then it was off to the Red Rock Resort for our final night of the Nevada road trip.
If you want to see the stunning red rocks of the mid-west, you'll find some awesome ones here, about 25 miles west of Las Vegas.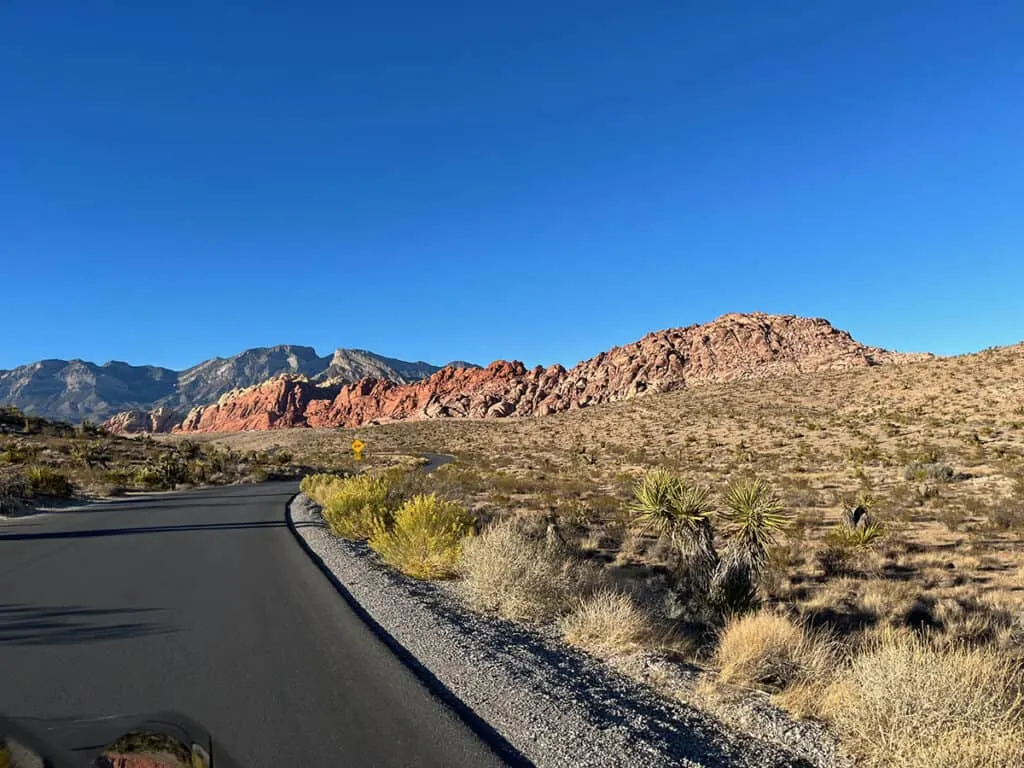 We drove to the Information Center, watched a little movie all about the park, then drove the 13-mile loop, pulling over for photos every now and then.
This would make a fabulous day trip if you like hiking – nothing strenuous, just short walks to see the petroglyphs, look for critters (we nearly squashed this tarantula and only didn't as a cyclist had stopped to take a photo of him making his way across the warm tar seal).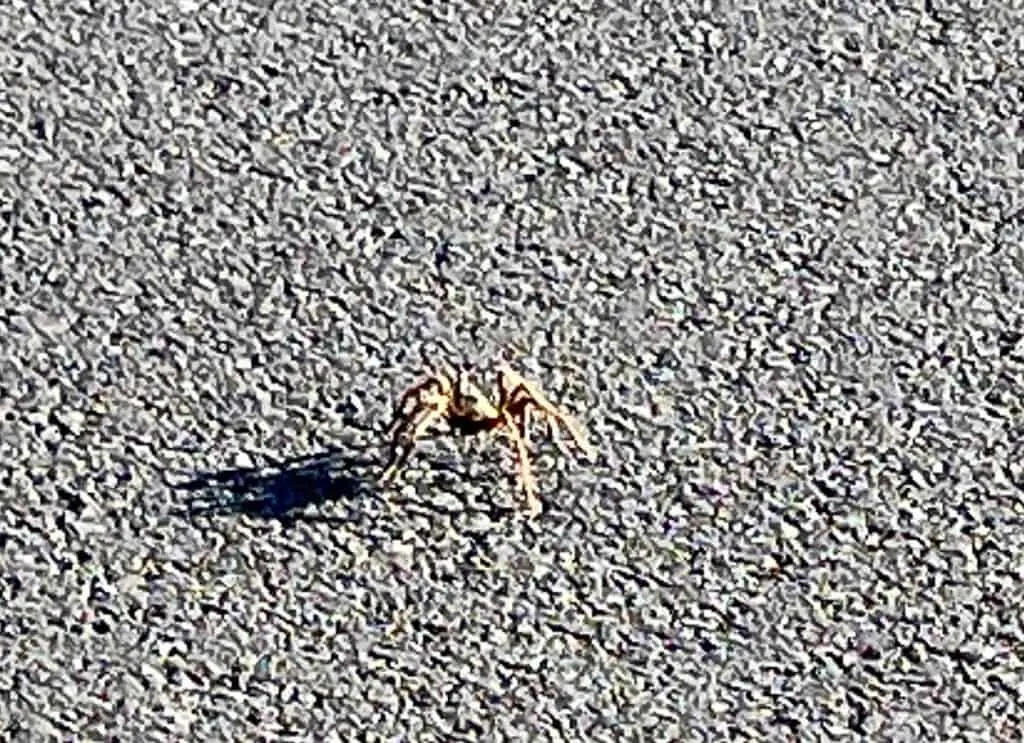 If you're feeling adventurous there is a campsite here. It has no electricity, or water and sewer hook ups for your RV. You will find drinking water faucets, picnic tables and public toilets though. And the tarantula family…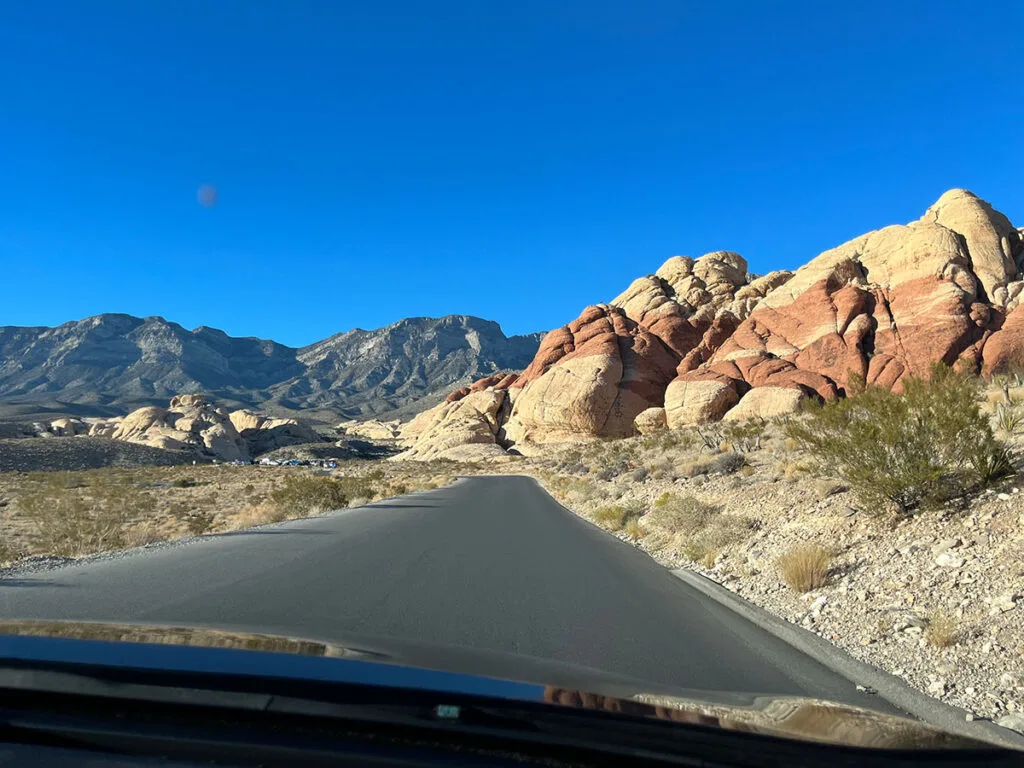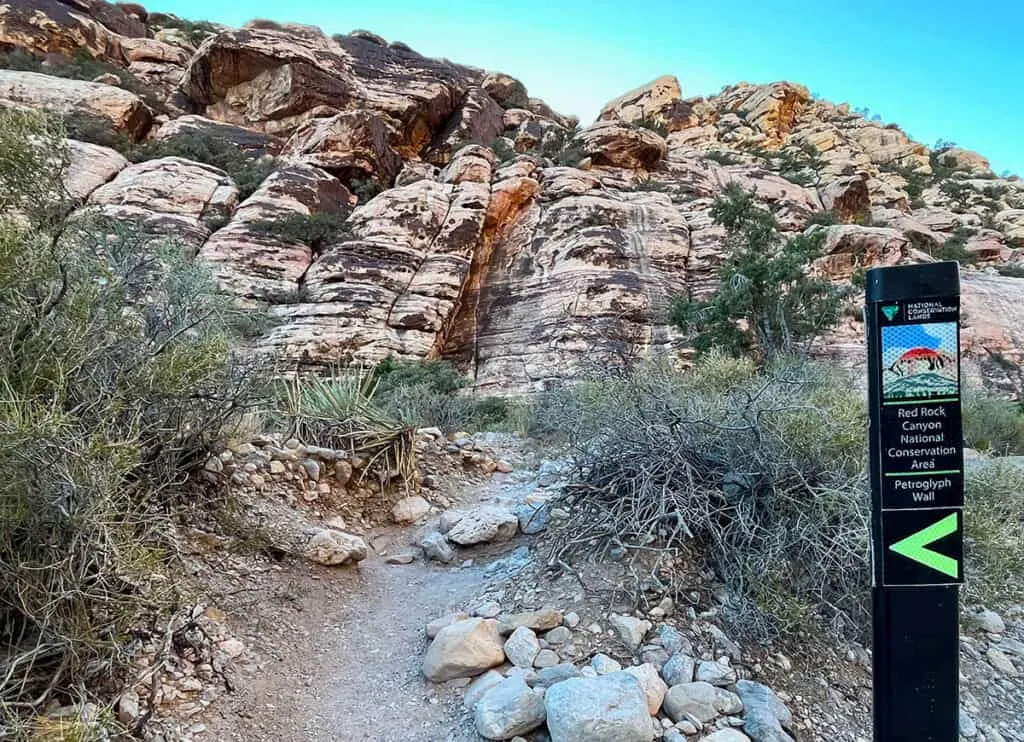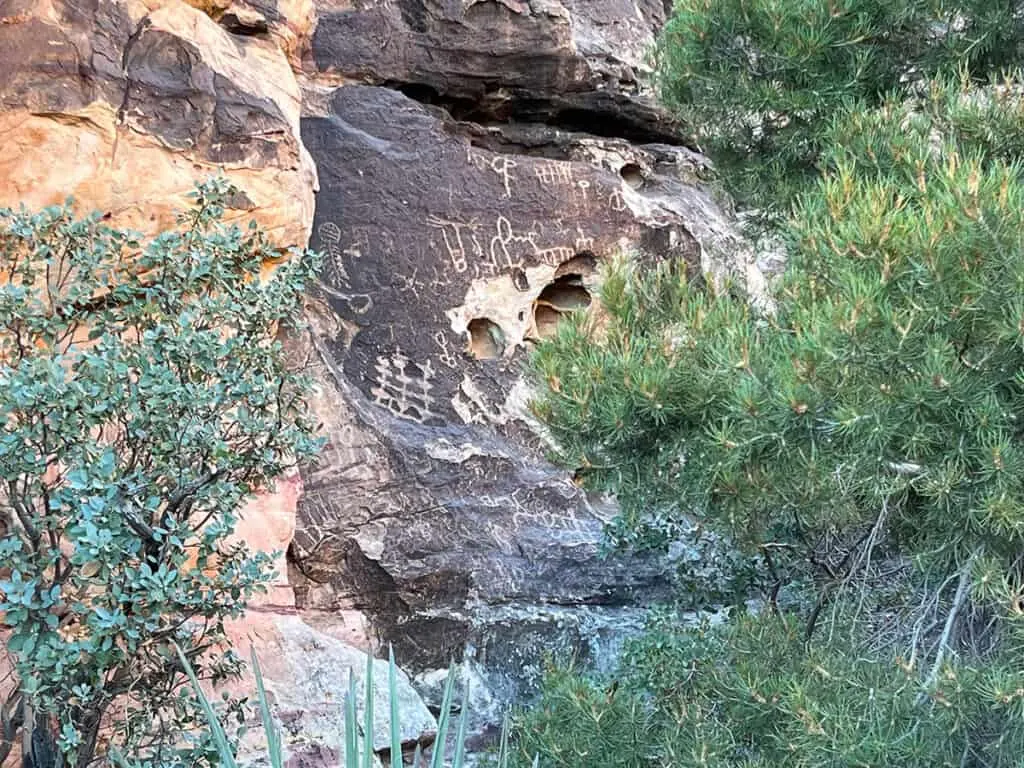 We stayed at Red Rock Resort. It's a huge casino hotel with an incredible pool for those desert hot days (remember Nevada does have a winter and it gets to freezing at night!)
They have taken their location to heart when it comes to decor and interior design.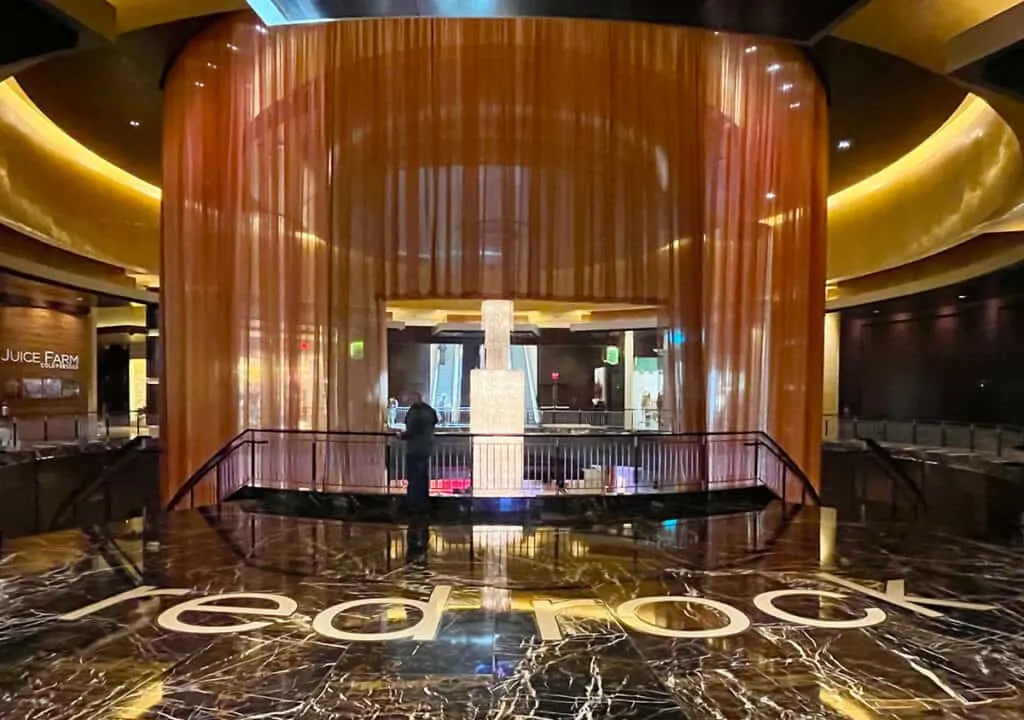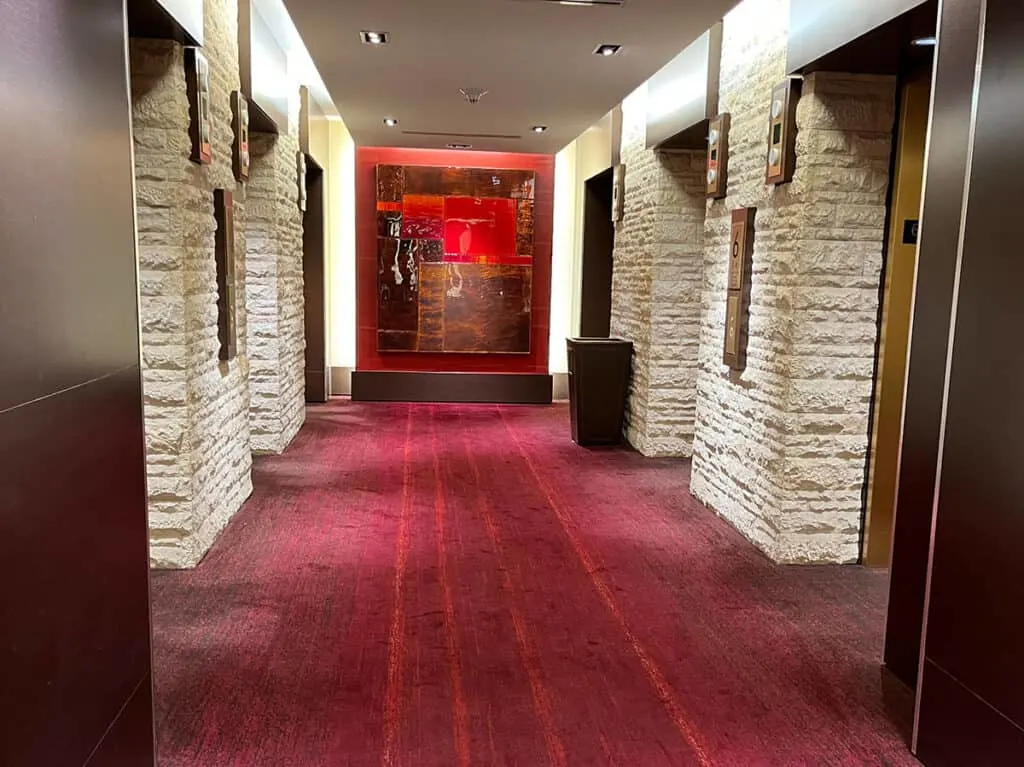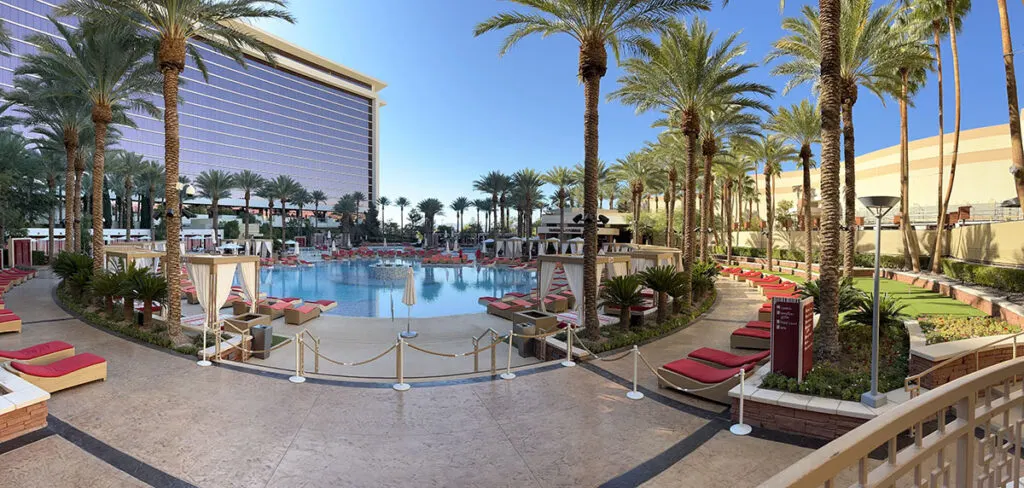 You'll also find loads of great restaurants. We were recommended to try the 8 Noodle Bar, and were glad we did.
We had to line up for about half an hour to get a table and got chatting to some locals who come here regularly just to eat, not to play the casino. We ended up sitting at the kitchen counter which was fascinating!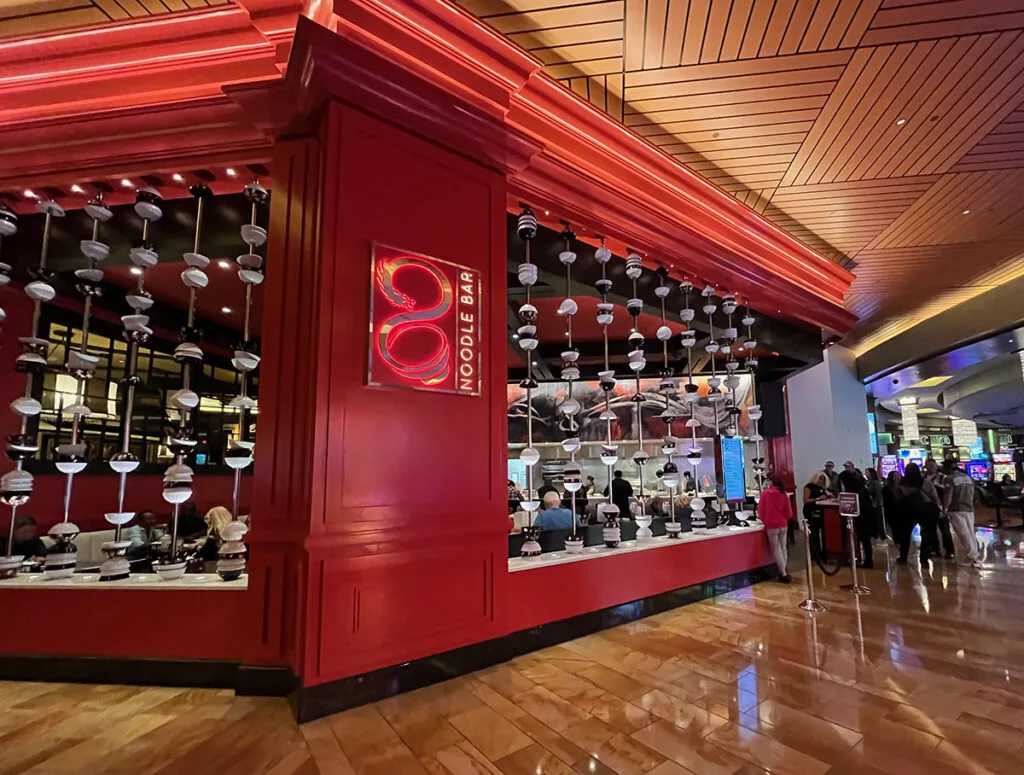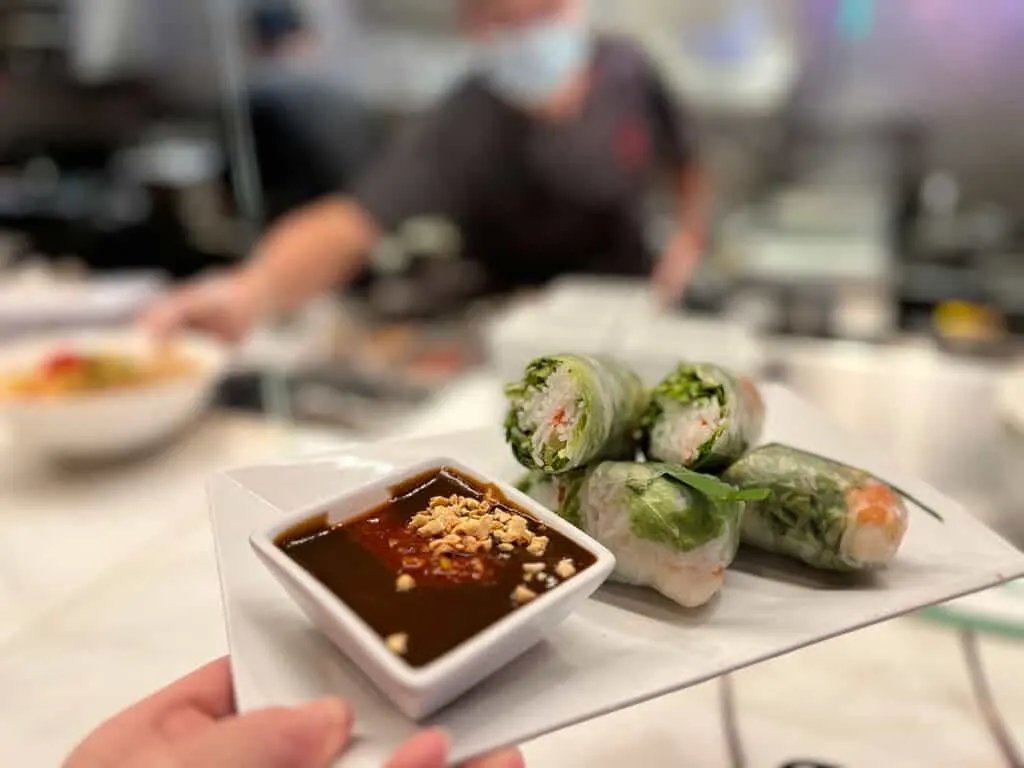 The next morning it was up and off to the Las Vegas Premium Shopping Outlets, where three hours was not long enough! I've also written this post about 11 places to shop in Las Vegas.
Believe it or not, Las Vegas also has tons of great things to do with kids – casinos don't have to be your focus any more! I've listed 22 things in this post for kids!
There are lots of weird places to stay in Nevada too, from glamping tents to sheds!
Rent a car for your Nevada road trip
If you're looking for car rental prices and the best selection, try Discover Cars. They scrape all the major car rental companies, as well as local ones to the area you are wanting to travel in, and show you price comparisons so you can select the size, type, and best price for your road trip.