Ever since Lonely Planet ranked Waiheke Island (just half an hour by ferry from downtown Auckland) in their Top 5 list of the best regions in the world to visit in 2015, the little island that seems a world away from the hustle and bustle of the big city across the water has been booming.
Its idyllic climate is a microcosm of Auckland. It can be raining and drizzly in the city but the sun will be shining on the endless beaches and bays that surround this wiggly shaped island.
If you're a boatie those beaches and bays make for a perfect escape as there is always a nook to anchor in for a bit of shelter.
If you're a wine lover then how does 30 cellar doors sound? Here is a link to (so far) my 8 favourite Waiheke wineries to visit for lunch or just a tipple on Waiheke >>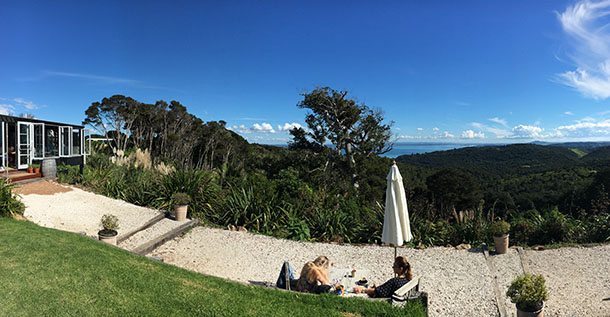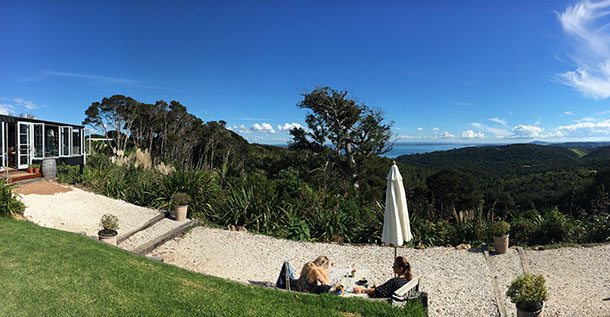 But while the people may be coming out here in their droves, big business isn't. Which is lovely.
The only fast food you'll find on the island is fish n chip shops where your order is made fresh, the wood fired pizza truck at Little Oneroa beach or the Indian and Thai restaurants and a couple of burger places that cook your meal while you wait as about as speedy as it gets around here.
All that to say, there are no sky scraping hotels or chain restaurants. In fact there is very little in the way of hotels and motels and instead a whole lot of personal houses available for rent.
So, where to stay on Waiheke Island?
If you're looking for Waiheke Island accommodation you will find an amazing selection of private homes for rent, from luxury accommodation to little cottages in the bush.
You might like a huge sprawling farmhouse for your whole family or a modern apartment with an infinity pool overlooking the ocean.
Be My Guest is a property management company, locally owned on Waiheke, which has a portfolio of more than 40 properties dotted all over the island at all prices.
Here are six beautiful properties that I had a look through to write about and (hopefully) help make your choice a little easier as you decide where you might stay and with how many of your nearest and dearest.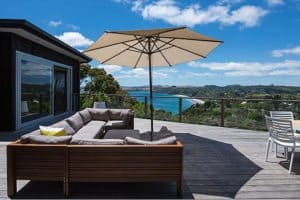 Set high on the hill overlooking Onetangi Beach, which is one of the most stunning, and certainly the biggest, white sandy beach on Waiheke Island, this modern, luxury house has all the bells and plenty of whistles.
Drive up the driveway, past other houses that share this amazing view and you'll arrive at the back of the house where first impressions are deceiving. You can see nothing of what lies behind the massive glass front door at first.
Photos are hard to do this place justice as there is a pool that starts in the lawn on the left of the house, goes under the hallway and ends with an infinity drop off to the view. Just wow.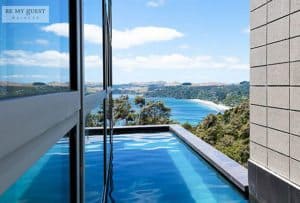 The indoor/outdoor living of this home is breathtaking so whichever way the wind might be coming, if at all, you have a deck to sit on.
The front deck overlooking that view is the hero though and the huge table is begging for friends to sit around it and tell tall tales.
There are five bedrooms all sleeping two each and four have those killer views, a gas fire in the lounge and heat pumps in the rooms for a cosy winter stay too. Hallways and different levels ensure separate wings and the huge kitchen has a scullery for a fabulous dinner together.
_____________________
This stunning farmhouse sits above its own vineyard and is the ideal escape for a couple of families, a wedding party, or even some of the guests!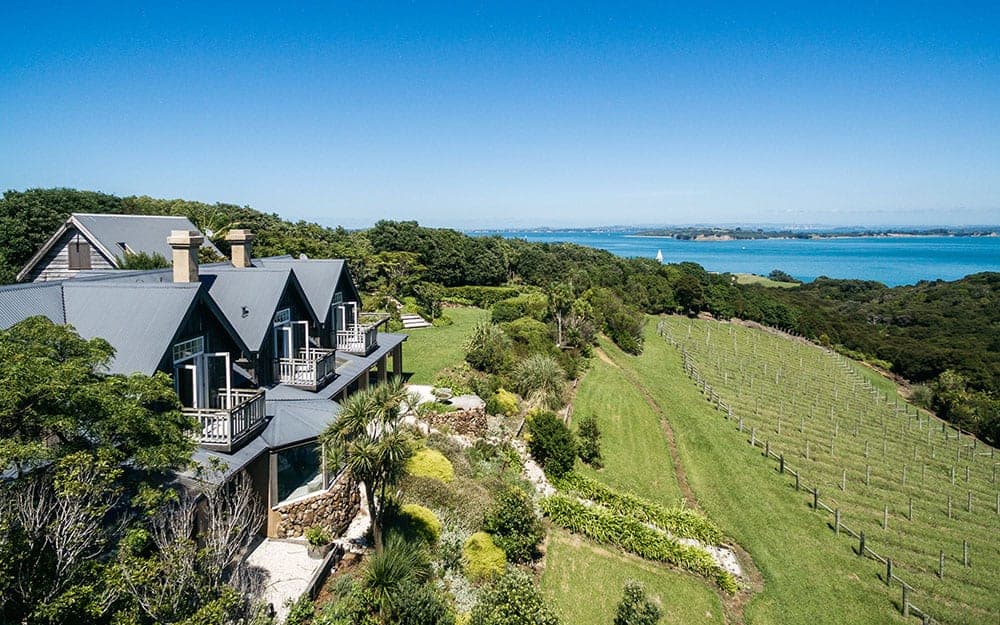 It sleeps up to 18 with six bathrooms and there are a couple of gorgeous spaces in here you'll gravitate to and not want to leave – even though Mudbrick is only down the road and Cable Bay a stone's throw from there.
Driving up to the house you'll park on the circular drive and a double story rustic barn will be the first thing to catch your eye.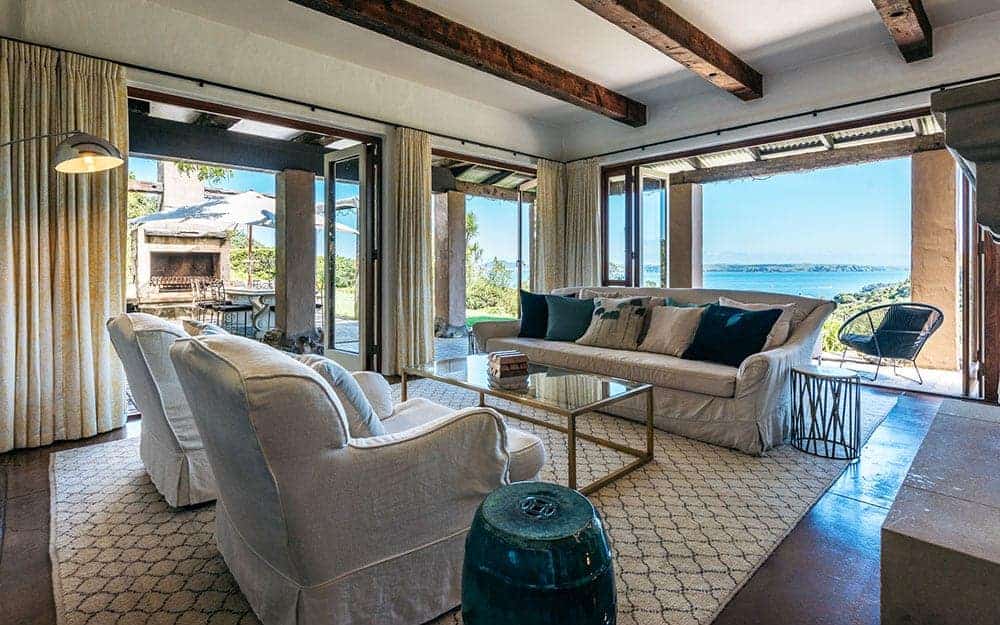 Step in here and you'll find up to ten people and can be accommodated in an open plan loft with three double beds (ideal for a family of teens), a master room and a little studio room.
But walk past the draping wisteria into the main farm house and you'll step down into the great room with an enormous window that draws you into the view over Matiatia and all the way to the Auckland Harbour Bridge.
The huge kitchen has been repainted and a builder's block bench links to a farm table which I'm sure could tell a tale or two if it could talk! Two lounges are connected with an open fire the separates the rooms and outside is another fireplace and long table for long yarns under the sun set. This venue can even cater for small weddings to a max of 40, so if that sounds like you, just drop them a line.
Oh and if you like local art, they have a cool arrangement with a gallery to show the work of New Zealand artists with the pieces available for sale. And no, they don't make a commission, they just love art!
_____________________
Waikare – sleeps up to 8
If you love the idea of not needing a car and staying in the heart of the little village of Oneroa, bustling with cute shops and plenty of cafes and restaurants to keep you sated for a month, then you'll love this property. You could even walk to Waikare from the ferry as it's only about a 20-minute walk away.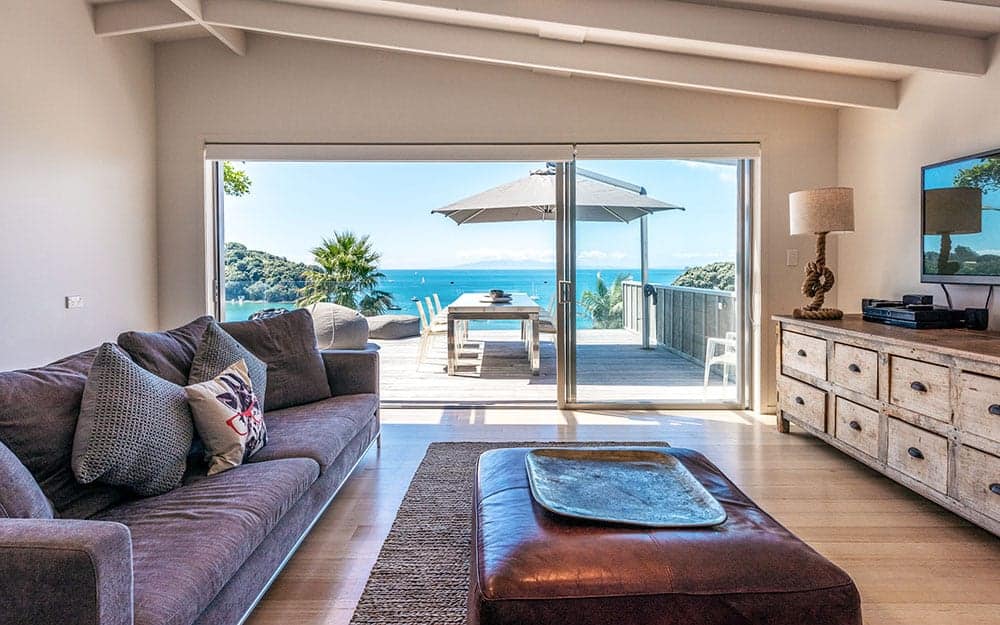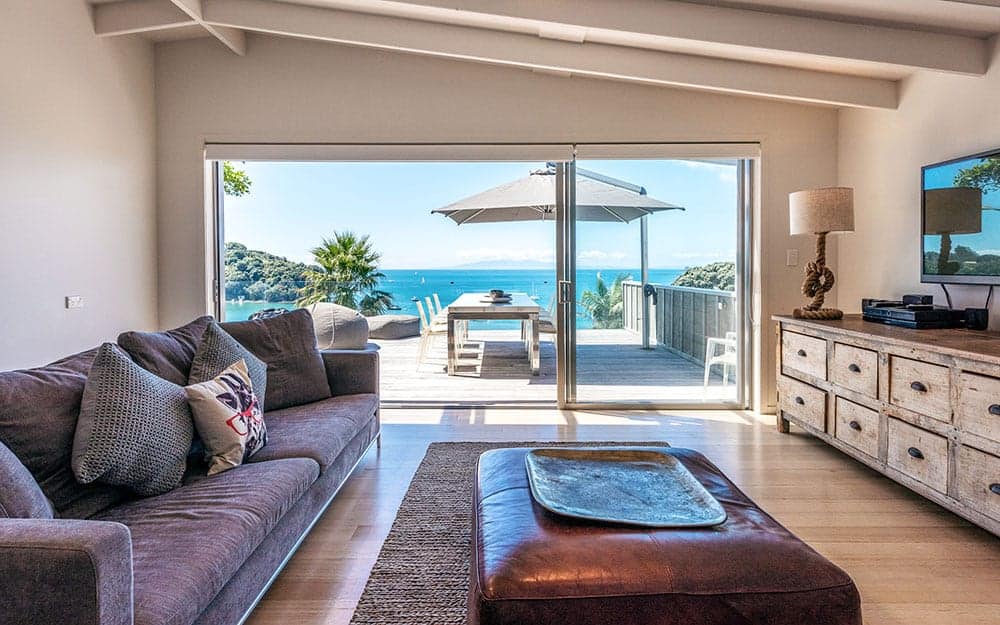 Cafes are only moments away so getting your morning flat white fix is easy peasy!
It's been stylishly furnished and is elegantly designed with the kitchen as the hub opening onto the open plan lounge. But it was the huge deck with a glass front and a large table for dinner while overlooking Oneroa beach that had me. This place has a beautiful master bedroom and another with twin beds, then a large bunk bed room that can sleep five more. Ideal for a family, it's a simple stroll to the beach and a pop upstairs for the first of many cafe visits!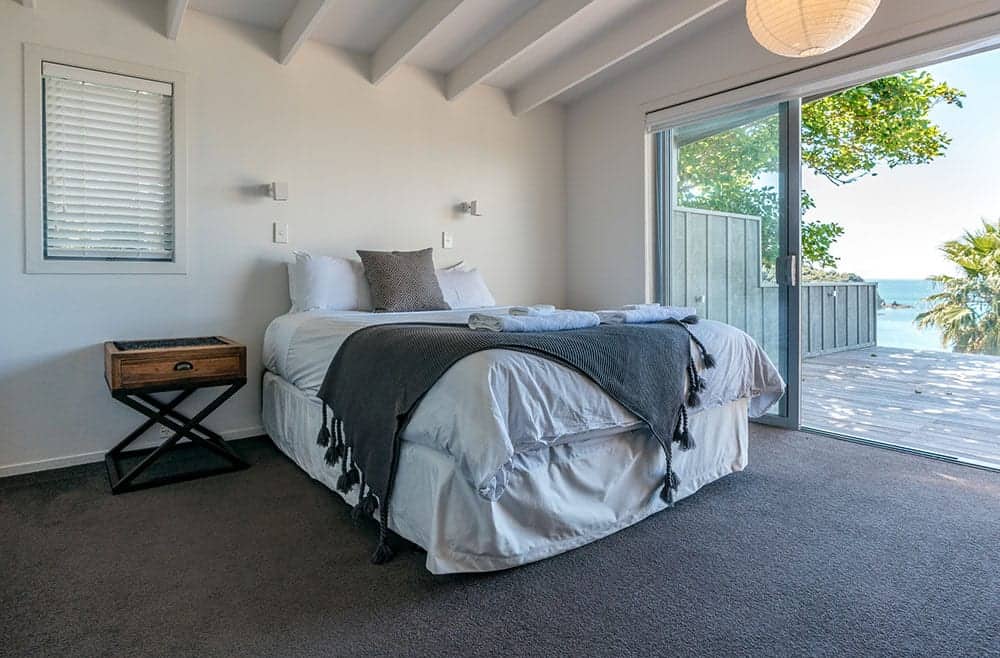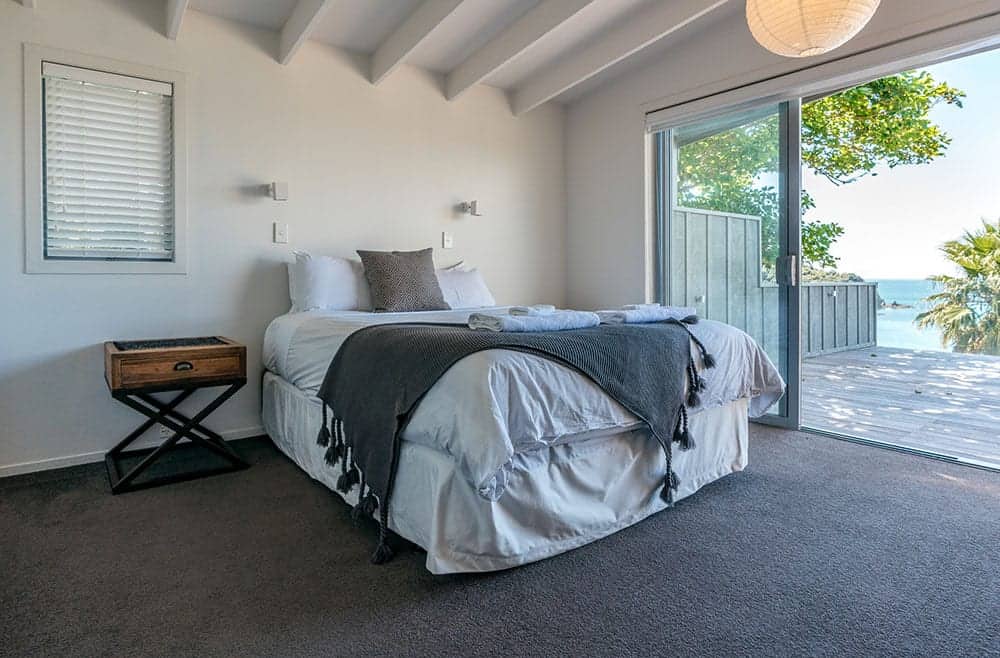 _____________________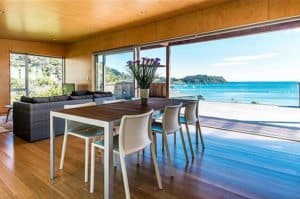 Located with great views of Onetangi and a huge deck on the front and back, this property seemed very "Ikea" to me.
It's all minimalist Scandi with wood walls and ceilings, furniture that can be in or out and an open plan kitchen/dining/lounge.
Every room is designed against the hillside to take advantage of the killer view.
There are two bedrooms downstairs (you enter into the living room off the back deck) and another sleeping area made up of two bunks head-to-tail that will sleep four.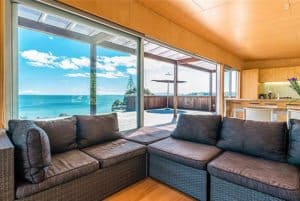 A great location for a family or two sharing – and the outside shower means you can get the sand off your feet before stepping inside!
Just down the road are two great cafes/restaurants and the buses come past too, so you'd hardly need a car here.
_____________________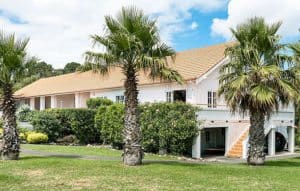 I've always wondered what lay inside this row of apartments and now I know!
This one, Heritage on the Beach, is deceptively large! It's also superbly located right on the beach of stunning Onetangi. So close you wouldn't even need your jandals!
Inside has been decorated in dreamy, aqua beachy tones with a touch of Bali. A deck wraps around the lounge with a barbecue overlooking that huge lawn and the beach across the road, but if you didn't fancy cooking you are literally a sausage throw between two great restaurants: Beachhouse and Charlie Farleys.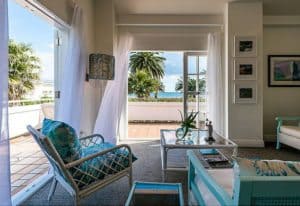 There are three double bedrooms upstairs, but it's downstairs that took me be surprise with a pool table in a man-cave set up and two more bedrooms!
This place would suit a family or two, or a group of friends who fancy a pool tournament after a day at the beach!
You also get the use of the owner's two kayaks and again, buses make it easy to get around the island or spend a few hours visiting wineries or wandering through the village of Oneroa.
_________________________
This post is a collaboration with Be My Guest Waiheke and I will endeavour to add more over time.