There are approximately a zillion Christmas markets in Europe, several next door to each other in the bigger cities – so how to choose which ones to visit?!
Europe in winter is a really special time to visit – and it's not all about snow and ice either! Think southern islands and beaches, as well as the best snow…
But I am a huge Christmas fan. I love every exciting minute of it: the anticipation of getting together with family, buying the perfect gift for everyone on my travels throughout the year, planning the menu, decorations, music and of course the smell.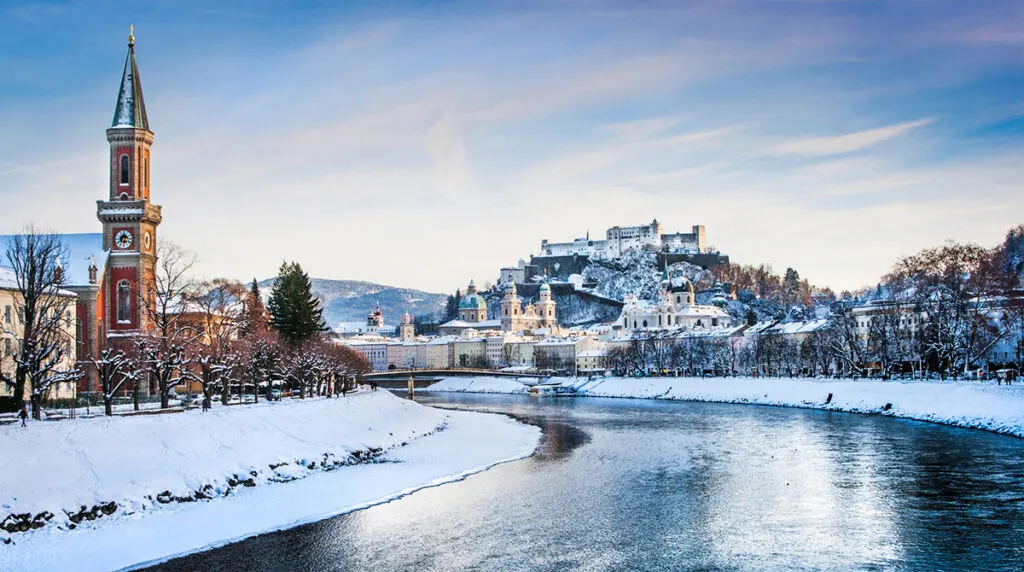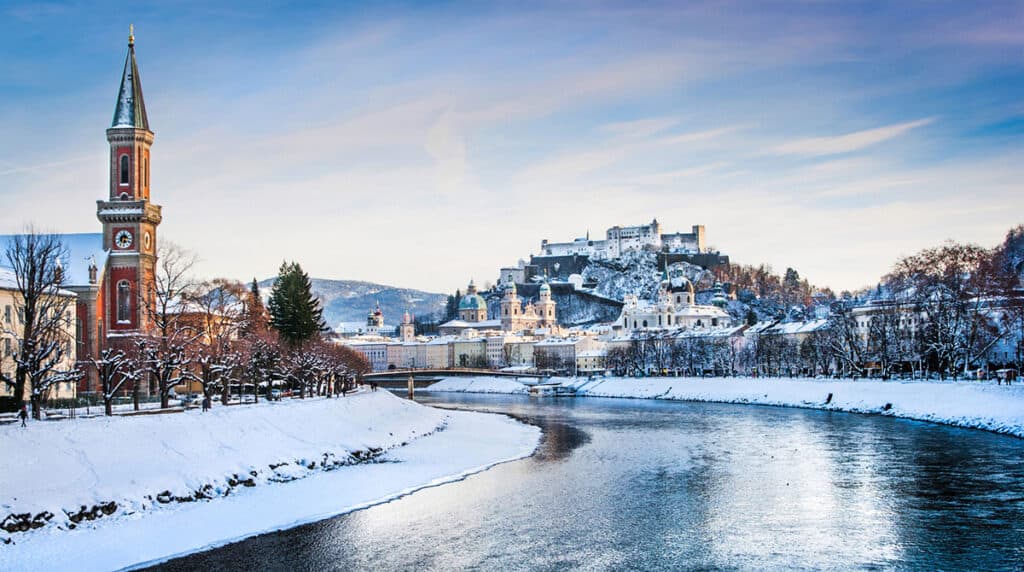 Strangely, for someone whose Christmasses have always been in summer in New Zealand singing jingle bells and wrapping our beach towel gifts in snowflake paper, a winter Christmas in Europe just seems "right".
One of my biggest Bucket List wishes is to take a Christmas Markets river cruise, and you can check out the Uniworld Cruises here if you want to start dreaming too.
I've listed 6 fabulous Europe Christmas markets below but if you want even more jingle, read about some of the best Christmas destinations in Europe.
Here are the best Europe Christmas markets I've rounded up:
Munich Christmas market
The first Christmas market to be held in Munich was on the Marienplatz (main square) and can be dated back to 1642. But there are 20 markets in the city today including a medieval Christmas market and a gay pink market.
Under a huge tree blinging with lights sprawl dozens of covered stalls and advent music from 5.30pm to get you in the mood plus craft workshops for children.
A few steps away in Neuhauser Strasse is the manger market – perfect for building your own nativity scene as you can also get lanterns, straw for the mangers, fodder for the donkey and gifts from the three wise men.
Click here for a full list of links to Munich's Christkindl Markets >>>
Vienna Christmas markets
There are several Christmas markets in Vienna, some are arty, some classy, others touristy.
Rathausplatz Christmas Market is the biggest and most popular, spread out on the square in front of the Town Hall. It dates back to the 18th Century but moved to this location in 1975.
Estimates are as many as three million people visit the market which doesn't bode well if you're a crowd hater, but for the festive atmosphere and the chance to browse and shop from the 150 stands that have more recently morphed from selling cheap plastic knick knacks to classier, handmade items, it's great!
You'll smell chestnuts roasting on open fires (I had to go there), cream filled pastries, pretzels and ham, plus mulled wine to warm the cockles of your heart.
Salzburg Christmas market
The smell of toasted almonds, roasting chestnuts and freshly baked apples envelopes you as you wander through the Salzburg Christmas market sampling gingerbread hearts and finding the perfect nativity figure to take home.
This Christmas market is mentioned as far back as the 15th century and is one of the world's oldest Advent markets.
It is located at the foot of the Hohensalzburg fortress and around the Cathedral of Salzburg. You'll hum along with the choir singing in front of the Cathedral and "Turmblasen" (wind instruments) on Residenz Square.
Paris Christmas markets
There are loads of gorgeous Christmas markets happening in Paris, so I've chosen the largest one on the Champs Elysee.
It has 160 little chalets made especially for the occasion selling Christmas decorations, festive items, local produce and handmade goodies. Stroll along with a glass of mulled wine and nibble on gingerbread or hot crepes under the twinkling lights.
But any time of year one of the best things you can do in Paris is go antique and art shopping along the Seine at the old bouqinistes where you might pick up an old book or an original painting for a bargain which makes a fabulous souvenir, or rug up and head out to a rooftop bar with a great view of Paris.
Jump here to read more about the 15-20 Christmas markets that pop up in Paris each year.
Madrid Christmas market
In the city's largest square, Plaza Mayor, over 100 stalls burst with Christmas delight. Edged by the restaurants and bars that call the heart of the city home, this Christmas market is popular with locals as well as tourists.
You'll find all the wares of the traditional Christmas market: decorations, ornaments and gifts, but also a splash of the unusual with costumes, wigs and funny accessories ready to celebrate Spanish Fools' Day on 28 December.
However, the crazy side is nearby on Santa Cruz square where Christmas gifts, instruments, toys and jokes abound.
Click here to read more about Christmas markets in Madrid >>
London Christmas markets
London is my old stomping ground. I lived here for five years – even bought a house. Wish I still had that now! One of my favourite things to do is have a gorgeous high tea in London and go shopping along Oxford Street.
But head to the Hyde Park Winter Wonderland to immerse yourself into the Christmas spirit after a hard day's Christmas shopping among the crowds on Oxford Street.
If you still have some energy, strap on your blades and glide onto the ice rink. This is a market for the whole family with theme park rides and the -8˚C Magical Kingdom worth popping in to.
You'll find 100 wooden chalets selling jewellery and accessories, clothes, handicrafts, decorations and plenty of food from dozens of bars, cafes and restaurants. Admission is free, but you'll need tickets for ice skating, the giant ferris wheel and the circus. It runs until January 3.
There are lots of fun things to do in London at Christmas, as well as the shopping! See the Christmas lights, grab a winter West End show, and more.
Leicester Square also turns all festive with pop up market stalls selling all things Christmassy, the smell of chestnuts roasting and music filling the air.
Or just head out to one of London's great rooftop bars for a mulled wine.
Tour with me!
I had a 2020 Christmas markets tour organised with a cruise along the Danube, we've now postponed that trip until the timing is right, so get in touch if you'd like to join me on this small bespoke group tour!