Rooftop bars in London is not the first thing you think of when you're planning your visit! Or at least I don't.
I'm usually all about getting my fix of shopping on Oxford Street or which of the hotels I will go to for a decadent high tea or even figuring out how many of these 12 London Markets I can get to in one trip.
But London actually has a great rooftop bar scene that could keep you bar hopping for days! So read through this post and plan your escape from the claustrophobic city feeling while drinking in (see what I did there?) the amazing skyline backdrop.
And another plus, especially in times of the pandemic: the outdoor rooftop bar is the ideal place to go for safer socialising than indoor spaces. If you needed an excuse to grab a drink, that is!
I've rounded up London's best rooftop bars, many of them open year round, so you can enjoy the best views and even feel like you're saving the world. Cheers to that!
Sabine
Sabine is a rooftop garden right in the city! Located on the 7th floor of the Leonardo Royal Hotel, grab a table under the retractable roof and nestle among a forest of hanging baskets and walled draped in greenery.
It has extraordinary views of St Paul's Cathedral in one direction and the Shard in the other. This urban oasis is decorated in bright cushions and serve small plates and large with a menu focused on seasonal produce. This rooftop restaurant and bar is a great spot for suit spotting after-work drinks!
Sit on one of two outside terraces or under the glass domed roof and sip a cocktail from their fabulous list which includes several of their own creations, also based on seasonal botanicals.
Address: 10 Godliman Street, London EC4V 5AJ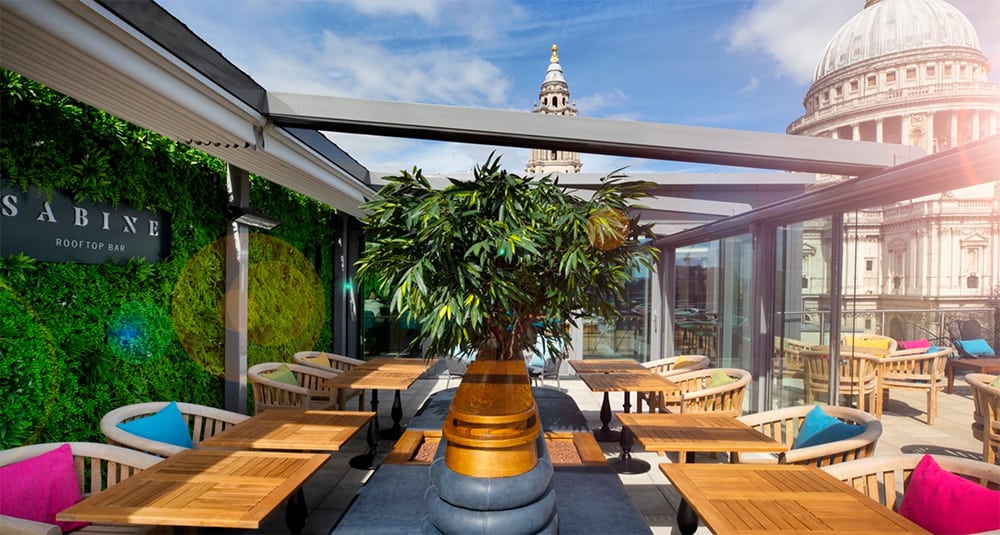 The Rooftop
Well they must have grabbed this name as soon as names came out! The Rooftop at Trafalgar St James overlooks Trafalgar Square for al fresco drinking and eating. They serve Tapas-style small plates with an Asian-fusion influence against an iconic backdrop of London's skyline.
Come for lunch or dinner, a cocktail before a show or celebrate a special occasion.
It pays to book ahead if you want to sit on the outside terrace as the space is small. There's a minimum spend required (from £35- £50 depending on the day of the week).
Address: 2 Spring Gardens, London SW1A 2TS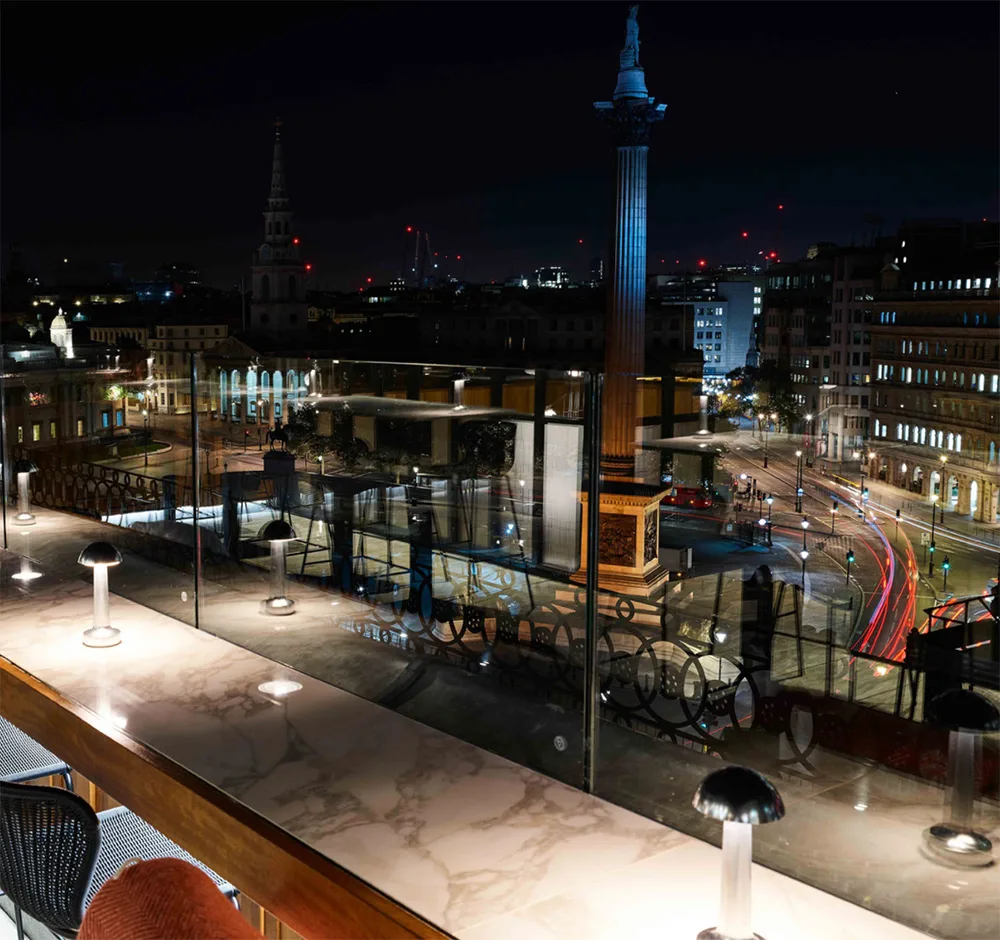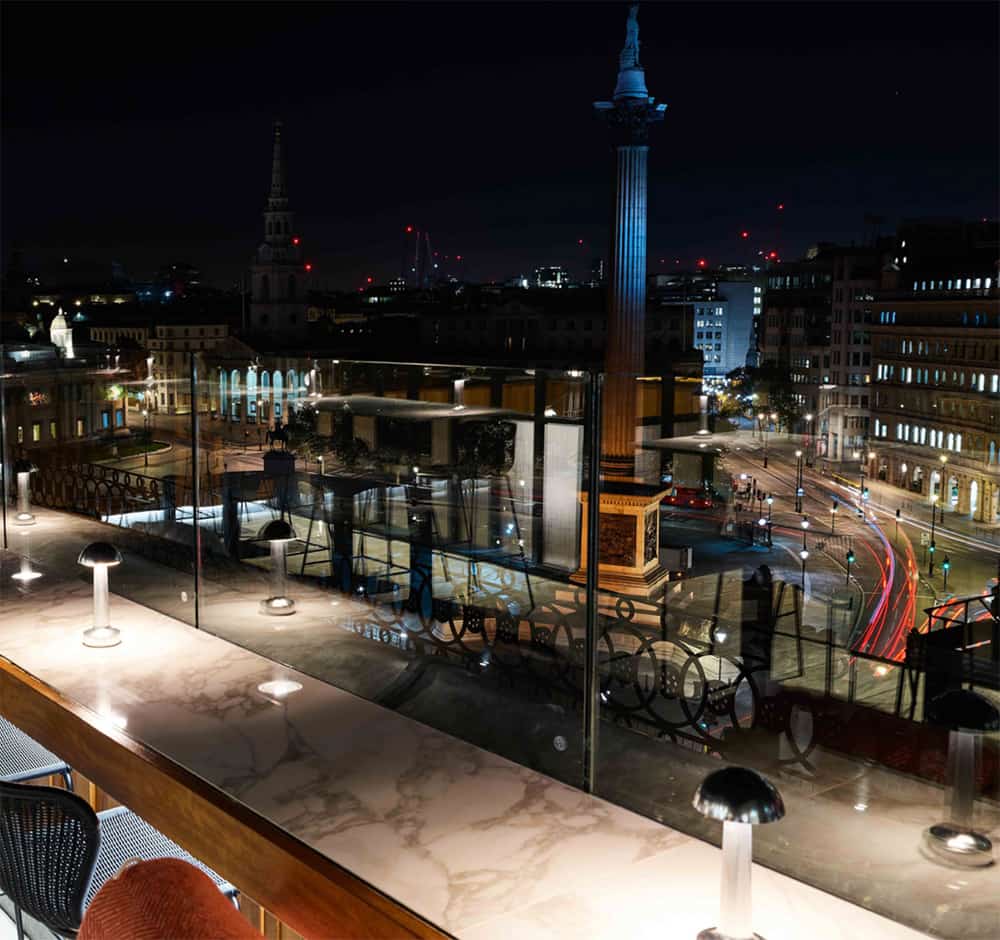 Bar Elba
Bar Elba is a hidden gem close to Waterloo station and one of the newest rooftop bars in London.
On the way up you will find motivational quotes to keep you going (as if the thought of a refreshing drink wouldn't be motivational enough).
The bar has a big rooftop terrace outdoor space for sunny days, a relaxed atmosphere and food and drinks at reasonable prices. It also has the very first rooftop ice rink which means that in winter, the bar is being transformed from a tropical paradise into a winter wonderland with fairy lights and soft furnishing. Bring your skates!
Address: Rooftop Mercury House, 109-117 Waterloo Rd, London SE1 8UL
Forza Wine
This one is for the wine lovers. The Italian restaurant team Forza Win (yes, the "e" is missing on purpose) created a lovely drinking space on the outdoor terrace on the 5th floor of Rye Lane's work space Market to while away the summer months.
You will be able to order from a 36-strong bottle menu and enjoy al fresco dining on some truly delicious Italian dishes. Can it get any better than that?!
Address: The Rooftop, 133A Rye Ln, London SE15 4BQ
Duck & Waffle
In Duck & Waffle, located by Liverpool Street Station, you can soak up panoramic views from the 40th floor while sipping on a cocktail or eating a renowned dish and gazing through the floor to ceiling windows.
This venue is the highest restaurant in the UK and the only skyline restaurant in England that boasts a 24/7 menu including small plates, gluten free, a raw bar and loads more.
From the comfort of your table inside and 175 m above ground, you can see the Tower of London, the Tower Bridge and many more of the famous London buildings. Even the glass lift journey is iconic and going up at great speed taking in the incredible views is an unforgettable experience.
Address: 110 Bishopsgate (Heron Tower), London EC2N 4AY
Boundary Rooftop
The popular Boundary Rooftop bar in the heart of Shoreditch, East London is perched atop the Boundary project, which also contains a boutique hotel, a restaurant, a café and a deli.
It offers 360˚ views of Shoreditch, the City and East London. A large outdoor garden terrace is decorated with 100-year-old olive trees, seasonal plants and flowers. A glass Orangery restaurant opens on all sides for lazy afternoons.
There is a weatherproof pergola allowing the bar and dining area to be open in all weathers. The kitchen, is led by Italian head chef Roberto Branca who brings Mediterranean flavours with grilled meats and fish cooked over charcoal, fresh and simple salads, charcuterie and seafood.
Address: 2-4 Boundary St, London E2 7DD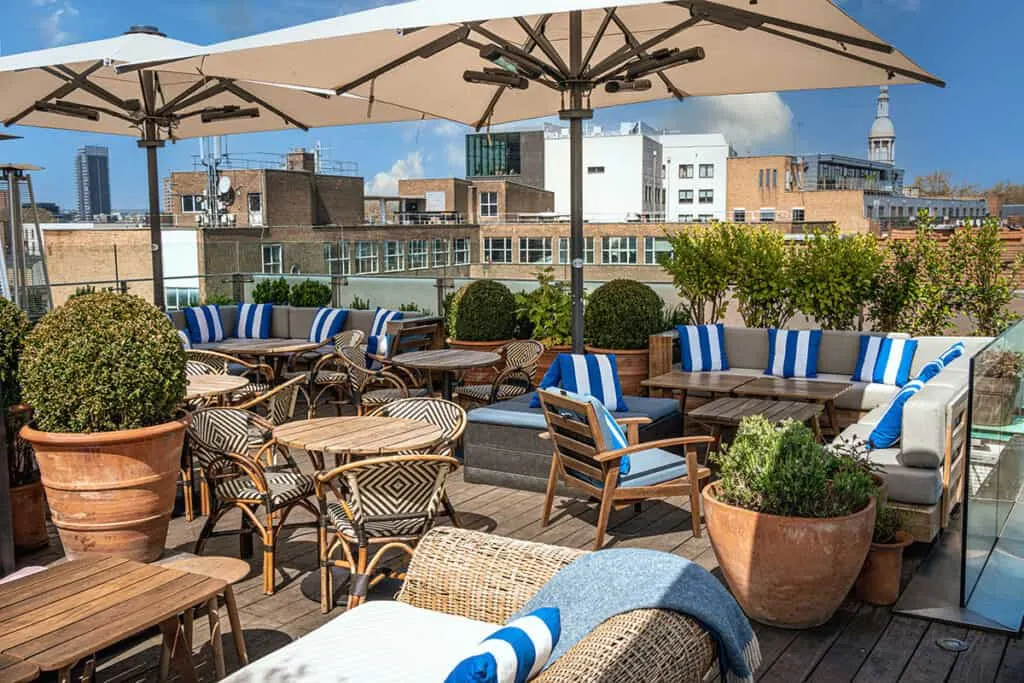 Dalston Roof Park
Dalston Roof Park is a rooftop bar and community space nestled amongst Hackney's Victorian buildings and overlooks London's skyscrapers. It feels a bit like you found a well-kept secret, especially because it's not that easy to get there.
You will have to navigate through the hallways and elevators and cross some fire escapes to make it to the roof. However, it will be totally worth it!
Here you will find a bit of everything, from refreshing cocktails to live music, film programmes and even mini golf courses. All profits go back into empowering young professionals and businesses which means you'll be drinking cocktails for a great cause!
Address: The Print House, 18-22 Ashwin St, London E8 3DL
Frank's Cafe
This popular summer-only Frank's Cafe and Bar in Peckham is perched on a multi-storey car park.
The roof terrace is spacious and furnished with wooden benches and tables and it makes the perfect place to go for sunset spritzes and the popular Campari-based cocktails or street food, while admiring the view.
The place combines drinking with art installations as it's part of Bold Tendencies, a not-for-profit arts organisation which adds to the unique and lively atmosphere. Be aware that you can't book a table in advance, so try to go at less busy times to get a good spot.
Address: Bold Tendencies, 7th-10th Floor Multi Storey Car Park, 95A Rye Ln, London SE15 4ST
Piazza at Royal Opera House
There are several eateries in the Royal Opera House at Covent Garden, but on the 5th floor of the Royal Opera House is the Piazza with fabulous views and clever cocktails! They serve drinks and small plates and you don't need to be attending the opera to pop in. To get here though, take the stairs in the main foyer to the 4th floor next to Paul Hamlyn Hall, then the escalator.
Open: 12pm – 10pm Monday-Saturday and 12pm – 6pm Sunday. Or book a table on the terrace, open from 12pm – 8.45pm (Sundays 12pm – 4.15pm)
Bussey Rooftop Bar
Bussey Rooftop Bar is located in Peckham close to the train station Peckham Rye and its décor is stunning – palm trees, fairy lights and pastel-coloured decking give the place a beach bar feel.
Lean back, listen to the laid-back tunes and enjoy the 360˚ spectacular views from the 5th floor of an old industrial building, or get tickets for one of the popular comedy nights.
In winter, the bar transforms into a winter wonderland. So, even though most Christmas markets will get cancelled this year, you can still try and get some happy x-mas vibes here!
Address: Roof B Bussey Building, 133 Rye Ln, London SE15 4ST
Sky Garden
This top attraction Sky Garden is not a rooftop bar but is in fact the highest garden in London and you will get spectacular 360˚ views of the city while walking around in the glass building, which is especially perfect when the weather is not at its best.
The Sky Garden is located on the 35th floor of the famous Walkie Talkie building and is ideal for a sun set drink.
Go to the City Garden Bar or Sky Pod Bar, pick your drink and enjoy the fantastic views. When the sky is clear you will be able to see everything from Canary Wharf to Tower Bridge, St Pauls Cathedral, The Shard, the London Eye and more – the whole London experience!
Tickets are released three weeks in advance, so your visit involves a bit of planning but you won't be disappointed!
Address: 1 Sky Garden Walk, 20 Fenchurch Street, London EC3M 8AF
Golden Bee
Golden Bee rooftop bar between the Financial district and Shoreditch has got you covered… literally! It's set on three levels and a giant canopy covers the terrace, so you can even enjoy a drink on a rainy day (London has few of these, remember).
It's bright and colourful with a mirrored ceiling and a live DJ. It is known for its lengthy cocktail list and is a great place for watching people from above as there's always something unique going on down below in trendy Shoreditch!
There's a cover charge Fridays and Saturdays, but 2 for 1 happy drinks Thursday 5-6pm and Sunday afternoons.
Address: Singer St, London EC1V 9DD (Near Old Street Tube station)
Netil 360
Netil 360 in Hackney is located within walking distance from Broadway Market and London Fields and often hosts parties once the sun has set. It serves great street food, local beer, cider and spirits and wines from around the world.
There are DJ takeovers on the weekends, film nights during the week and even some cool stargazing events from time to time.
Even though the artificial grass flooring might not look that appealing, it's the atmosphere that makes this place special, and the panoramic, full-circle views of London. It's a bit of a walk before you get to the top but it will be worth it!
Address: 1 Westgate St, London E8 3RL
Below are a few things you might like to do between drinks from Get Your Guide:
Read more of my London posts
If you fancy the absolute best afternoon tea in London, you'll love this list. It features the Savoy, the Ritz and my total favourite, the Goring. You can read my complete list here.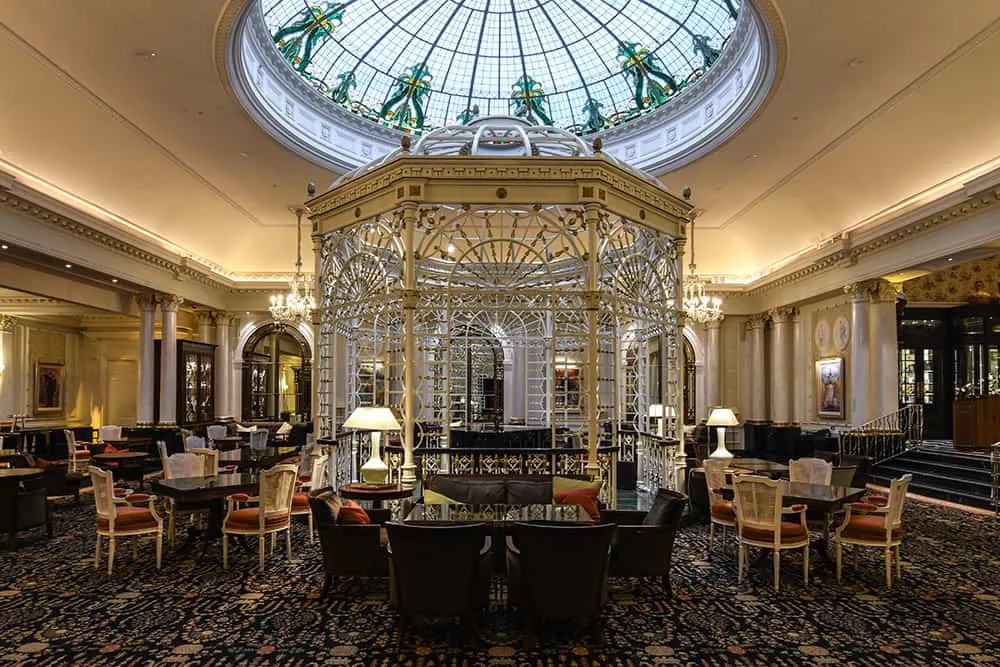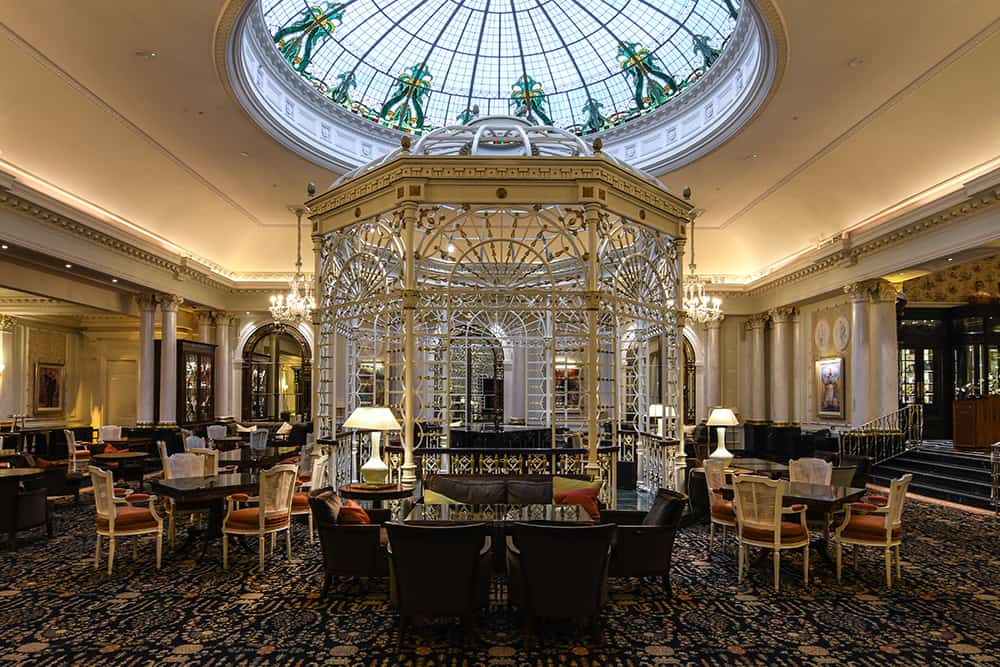 Visit 12 of London's best markets for everything from fresh food to vintage clothes, flowers and curiosities!