New Zealand is probably more famous for being the home of Hobbiton and Middle Earth than our impressive landscapes, World Cup winning rugby team or pretty much anything else!
My husband and I were driving back from Tauranga to Auckland the other day so organised to visit Hobbiton on our way through. It was almost on our route so not much of a detour and the day was a blue-sky stunner. What little hobbit wouldn't want to cavort gaily in the Shire, I asked myself?
But is a visit Hobbiton really worth it?
That's a great question because Hobbiton is not cheap and is located in Matamata, rural New Zealand, so you won't just find yourself passing by. It's a destination you need to book tickets for and drive to – maybe a couple of hours if you're coming from Auckland. But read on to see what you get for your buck. Plus I have answered a few Frequently Asked Questions at the bottom of the post.
Where is Hobbiton?
Hobbiton is located on a farm just outside of Matamata in the Waikato region, about 45 minutes drive from Hamilton.
We arrived early for the 2.30pm tour so were able to be put on the 1.30pm. The whole round trip escorted tour from the ticket office/gift shop/cafe/car park, located on a narrow country road, takes about two hours.
So on the bus we hopped and found a seat in the back row. At this point let me shout out to Kathryn, a blog reader who recognised me! It doesn't happen often but when it does, it gives me such a thrill that this blog is actually read by real people and it's not just me bashing on my keyboard and uploading into the ether! But I digress…
Our guide greeted us and while we drove to Bag End, played some video clips of the Shire featured in the first of the Lord of the Rings trilogy, Fellowship of the Ring.
It was spring when I visited and Hobbiton is set in 12 acres of a working 1,250 acre farm so ewes and their lambs were grazing and frolicking as we wound our way through the farm to the movie set.
Welcome to the Shire!
The original Shire was set here on the Hobbiton Movie set, on the Alexander family sheep and beef farm, after Peter Jackson scouted New Zealand back in 1998 for locations. He used this farm as the film set in 1999. But much of it was dismantled after filming ended, leaving just 17 facades of hobbit holes in the hillside. It was also not made of long-lasting materials (ply wood and polystyrene) because it was never intended to be permanent, however Hobbiton – the tourist attraction – gained some momentum.
But if you haven't been since The Hobbit Trilogy was filmed here from 2011 (and released in 2012, 2013 and 2014) or you haven't visited at all, you will be happily gob smacked!
When filming started again for The Hobbit Trilogy series Bag End and the Shire took two years to build, and this time were built to last as a tourist attraction which now sees hundreds of thousands of visitors come through the gates every year.
Can you touch anything in the Shire?
Yes! Bear in mind though that most of the hobbit houses are just facades set into the hillside. But you can walk through the gates of some of them and stand at the doors for photos and there is one house where the guide will open the door and take a photo of you for your next profile pic!
There are also lots of extraordinary little details you'll learn – like the lichen on the fence posts is not real but made by the special effects department and painted to look perfect.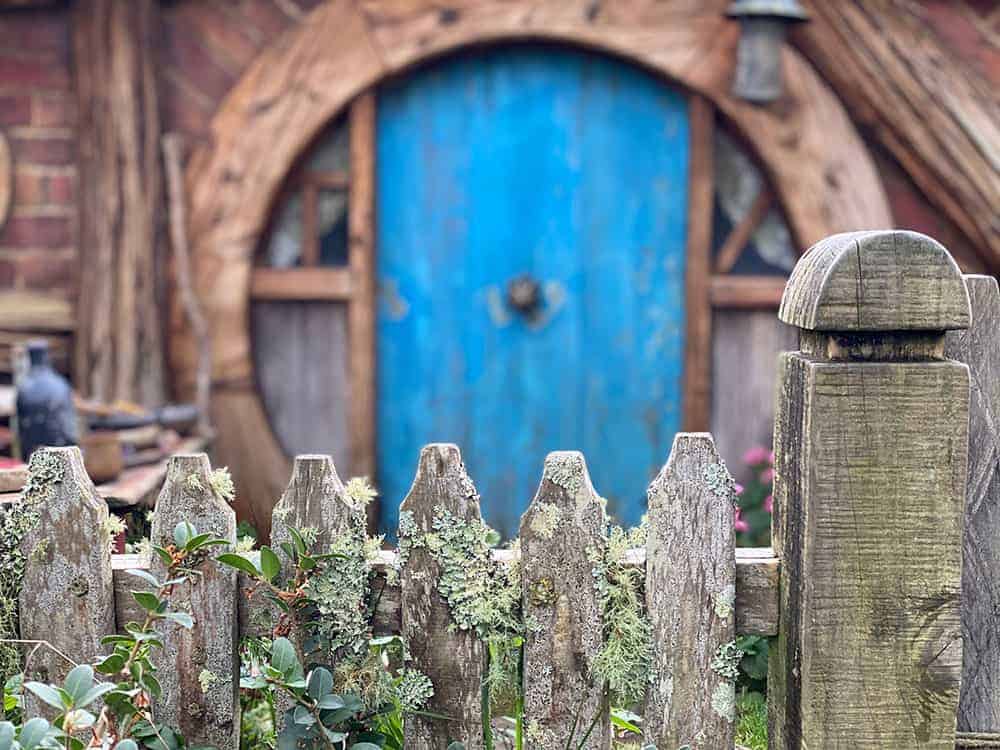 You'll stand under a huge tree in front of Bilbo Baggins' house and learn that every fake leaf is hand wired and fixed to the fake branches. And you'll be fascinated by the filming tricks to create the height differences between the hobbits and Gandalf.
Spoiler: they used clever techniques (read on) for close ups and had doubles for the wide shots.
Some of the hobbit doors a smaller than others to create the perspective they needed for Gandalf and the Baggins's. You'll also hear about the filming of the interior shots (spoiler: they were not filmed here) and how they used oversized props like Gandalf's wizard hat for Bilbo to run through his house carrying.
Now that I've rewatched Fellowship of the Ring and heard about the trick filming of Frodo and Gandalf sitting a couple of metres apart on the horse and cart, I can't unsee it!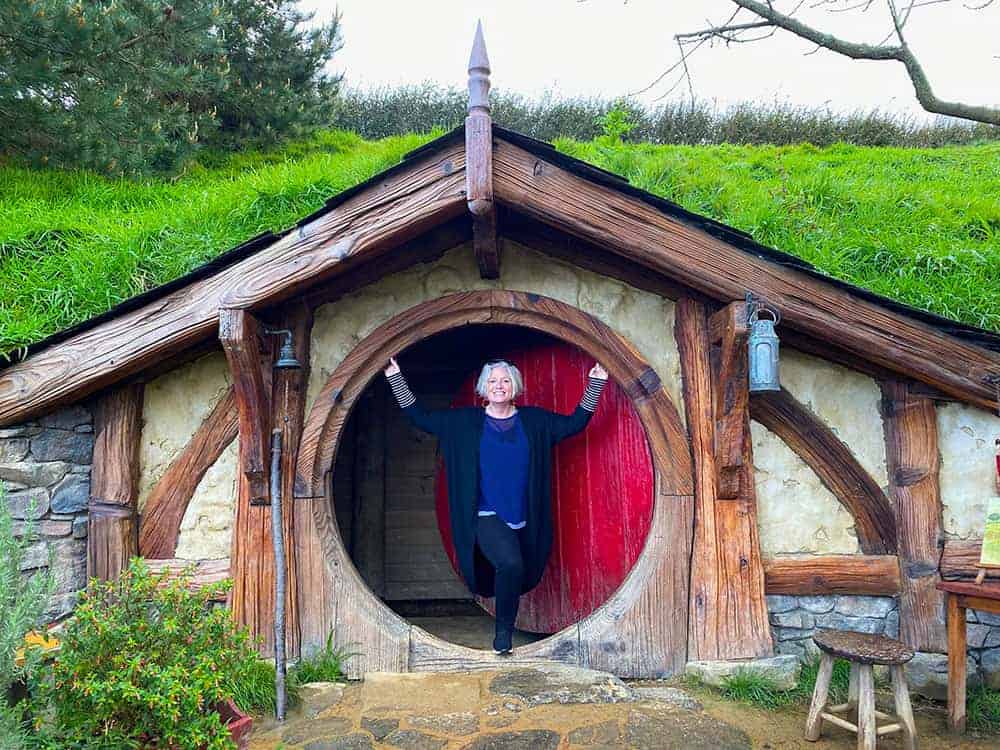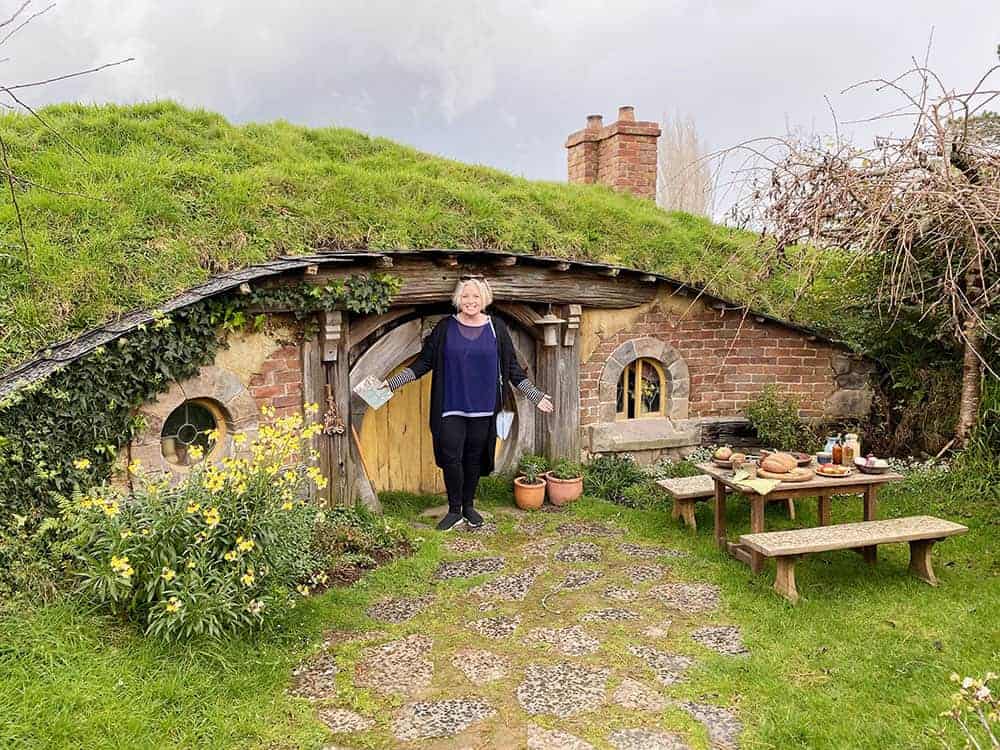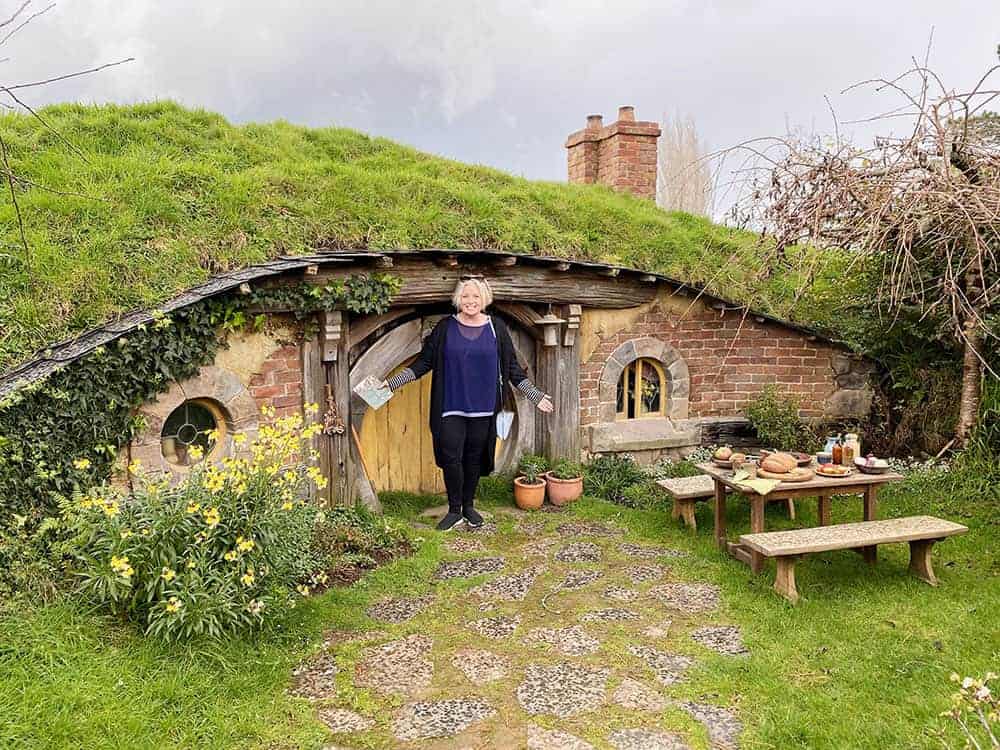 Finish with a pint at The Green Dragon Inn
The tour finishes at The Green Dragon Inn with a pint of South Farthing amber ale, stout, cider or ginger beer, all brewed specially for Hobbiton. Yes alcohol, except for the ginger beer.
The original inn was burned down for real – in one take, obviously – in the Lord of the Rings. When it came time to rebuild it for the Hobbit series, they realised they did not keep details of the intricate carvings over the doors – such is the attention to detail in Peter Jackson's films.
What they had to do was go back to the original sketches of the inn and use those plans. Today's Green Dragon Inn is a full size, proper pub and restaurant and can be hired for private bookings as well as a weekly evening banquet tour (check the Hobbiton website for dinner dates).
So is a two-hour tour of Hobbiton for NZ$89 worth it? Absolutely!
FAQs about Hobbiton
How much are tickets for Hobbiton?
$89 per adult, $44 ages 9-16 years, children under 9 free. A family pass covering 2 adults and 2 youths $225 (basically 1 youth is free).
Click here to book your Hobbiton tickets online.
How long does it take to get to Hobbiton?
Auckland to Hobbiton is 170km and will take around 2 hours to drive.
Rotorua to Hobbiton is 75km and will take around an hour to drive.
Tauranga to Hobbiton is 60km and will take just under and hour to drive.
Hamilton to Hobbiton is 45km and will take about 45 minutes to drive.
Do you need to book tickets in advance?
Yes it would certainly pay to prebook. Only 5 tours run per day about an hour apart so you wouldn't want to get all the way there and find it full.
How long should I allow to see Hobbiton?
Once you get on the bus at your allotted ticket time the whole tour will take 2 hours. Allow some time before and after for the gift shop, cafe and a toilet stop before you hit the country roads again!
Do you need to have seen the movies to enjoy Hobbiton?
Good question! I would have said yes you do, but talking to people who have been without having seen the movies or read the books, and also reading comments on my Facebook post about Hobbiton, apparently not. It's a great attraction in its own right.
Will the tour still operate if it rains?
Yes, and it did rain on my tour. They have big green umbrellas for everyone. I was lucky though with the incredible blue sky that appeared in between showers, as you can see from my photos above – all taken on my iPhone 11 by the way.
Is there accommodation at Hobbiton?
Sadly no. But how great would little hobbit cabins be? Or even clamping tents?
If you're including Hobbiton as part of your New Zealand itinerary, you might also like to read my post on this fabulous weekend in Rotorua.