I was speaking at TBEX, a bloggers conference, in Phuket Thailand, and had added on a couple of days earlier to check out a few spas and lovely places to stay.
I honestly spent weeks trawling through blogs and then online booking sites like Booking.com and Agoda to find where I wanted to spend those two nights.
Happily, having just returned from two weeks in the US where it is eye-wateringly expensive, Thailand is cheap!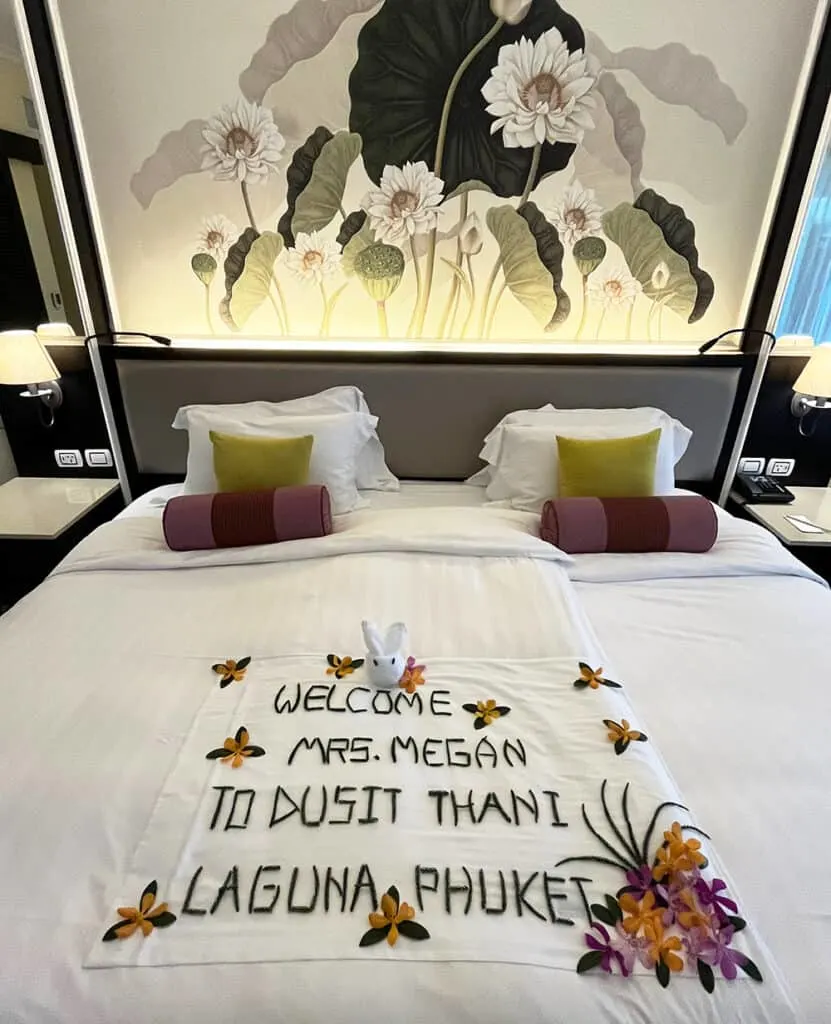 It means you can probably afford something quite amazing for no more than $200 per night. You'll get something that's perfectly fine for under $100.
If you want total luxury with your own private pool you could go over the top. And I thought about going over the top, but as it was just me, with no one to share the experience with, I decided I probably didn't need the plunge pool!
What it came down for me was the spa treatments I was after. I wanted an all-day session!
In the end I found Oasis Spa in Kamala (post coming on that amazing experience), and that informed where I would stay.
Here are 3 hotels to stay at in and around Kamala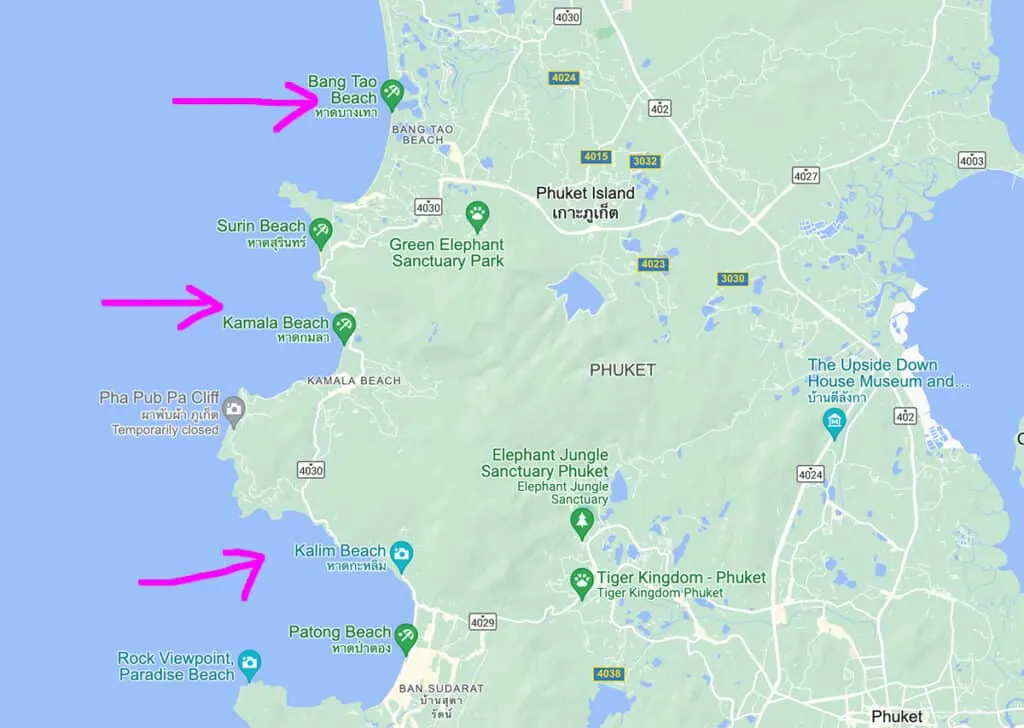 Dusit Thani Laguna
Dusit Thani is at Laguna Beach. There are several hotels in here and it happens to be near where our conference is – just along at Angsana Resort.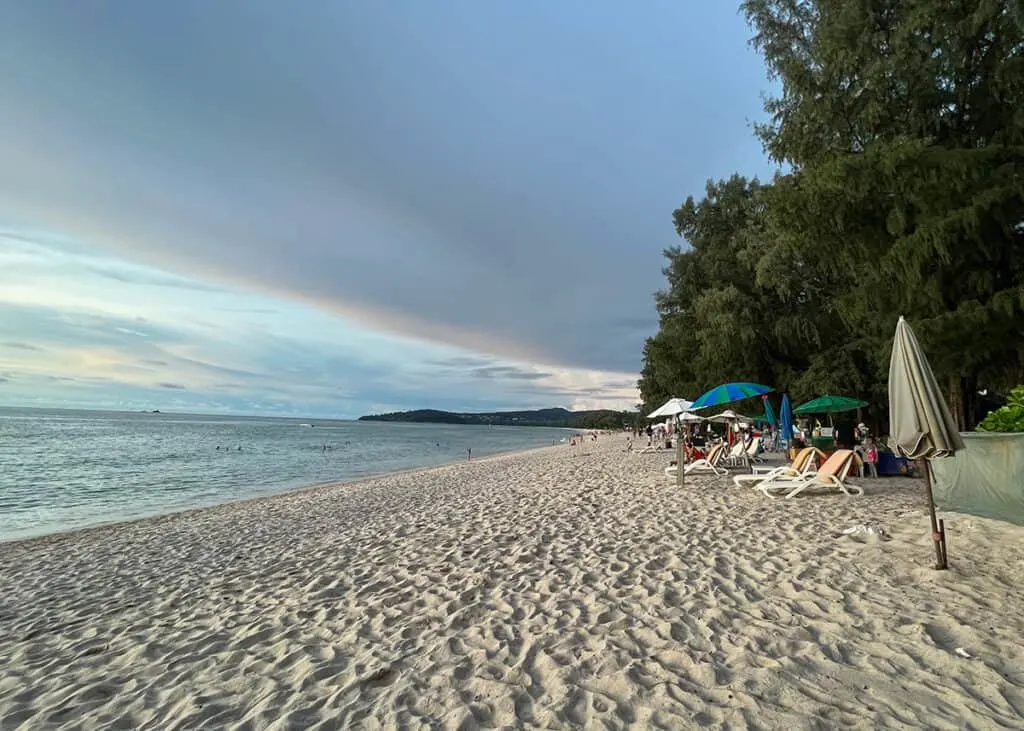 I stayed here for the duration of the conference and the rooms have stunning views over the calm Andaman Sea, where the beach is dotted with loungers, pop up bars that sell beer and smoothies as well as the famous beach massage tables we know and love about Thailand.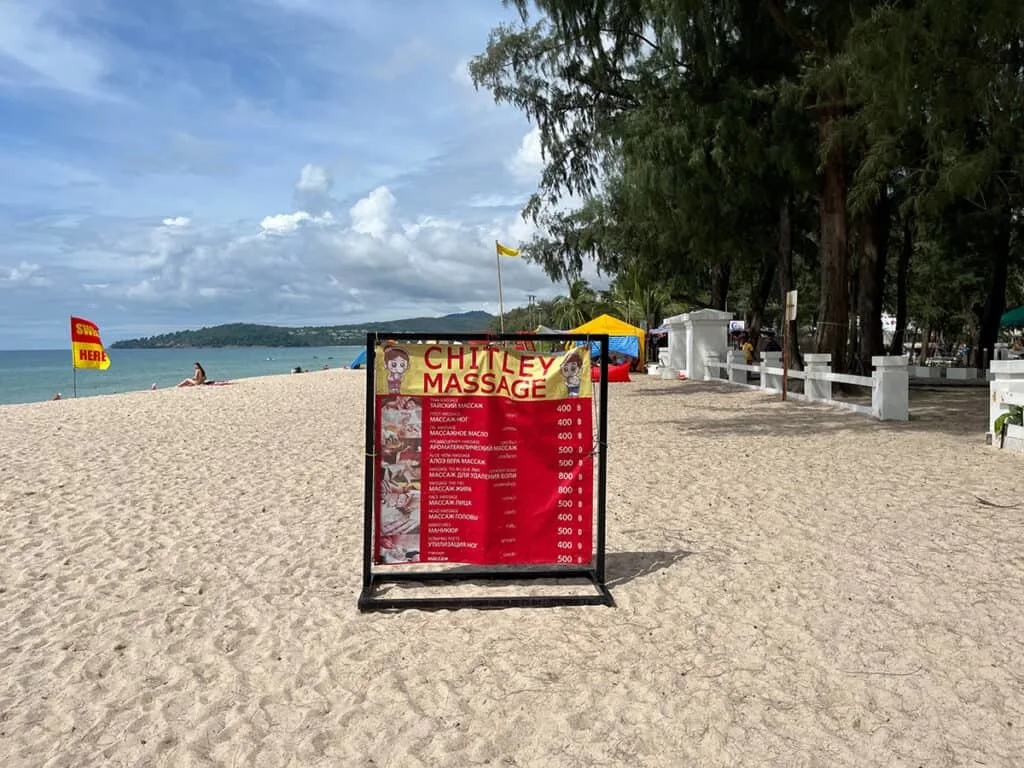 I'm sitting up in my bed writing this as Phuket wakes up. Every Wednesday morning the island's tsunami warning system is checked at 8am. But instead of hollering "testing, testing, 1,2,3", they play the full rumpty Thai national anthem. I wondered what was going on!
Staff who were sweeping the beach stopped and stood to attention as the music played. It wasn't until I met the hotel manager over breakfast and asked him what was going on this morning, that he explained.
There are four restaurants here, or wander along the beach to others. For breakfast I'm loving egg noodle soup that I embellish with my own iddy bits. There is the full English, pancakes and waffles, plenty of fruit, an egg station for benedict, omelettes, etc, and they make a mean flat white!
Click here for the latest prices on Dust Thani Laguna Phuket.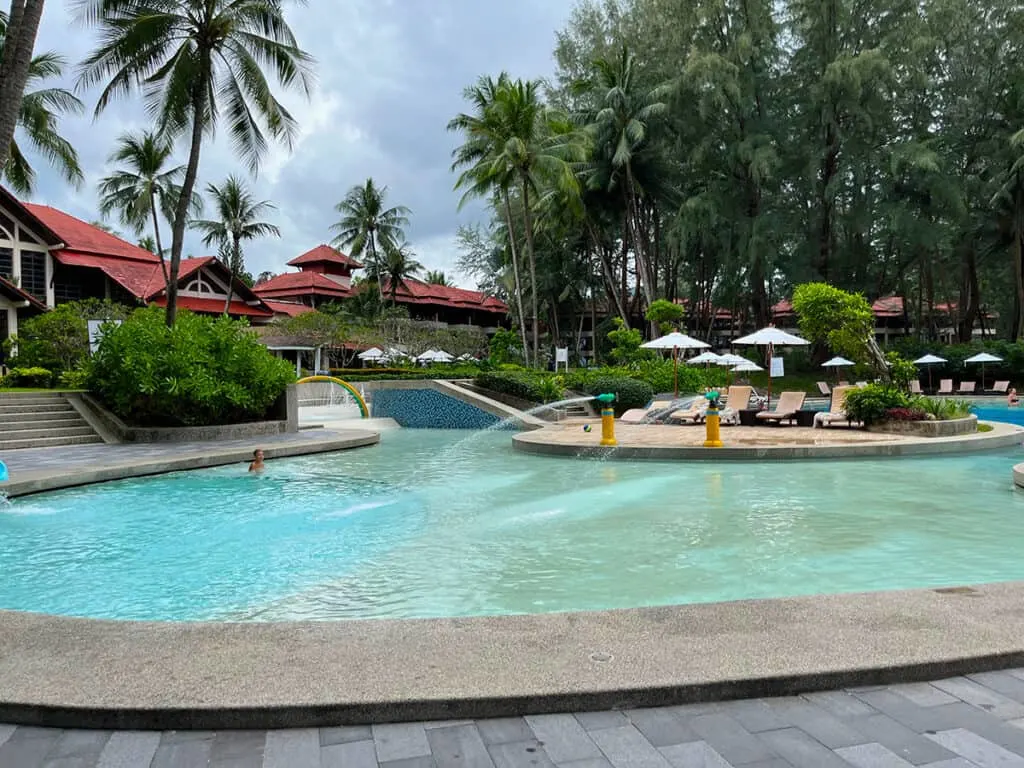 Intercontinental Phuket Resort
If you want to be close to said spa and have a luxurious hotel with beachfront dining and a clean, swimmable beach, then hotels along Kamala Beach are for you.
I had dinner at Intercontinental and it's gorgeous. They have two properties here, one on the beach and the other across the road on the mountain. You can hang out at both of them, and access them via a tunnel under the road. It's a busy road!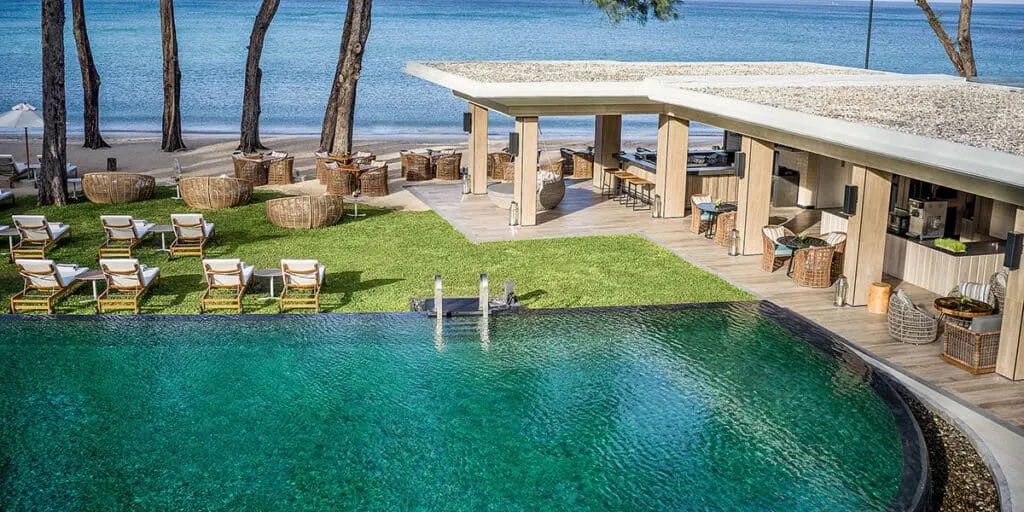 Don't be worried about the road though, once you get into the hotel, you'll see the road is behind you and the sunset views over the small and clean beach are in front.
Click here for the last prices on Intercontinental Phuket Resort on Kamala Beach.
Our closing night TBEX party was also held here, so I came back for an evening on the beach with amazing food and entertainment, including the Simon Cabaret Ladyboys who were happy to pose for photos!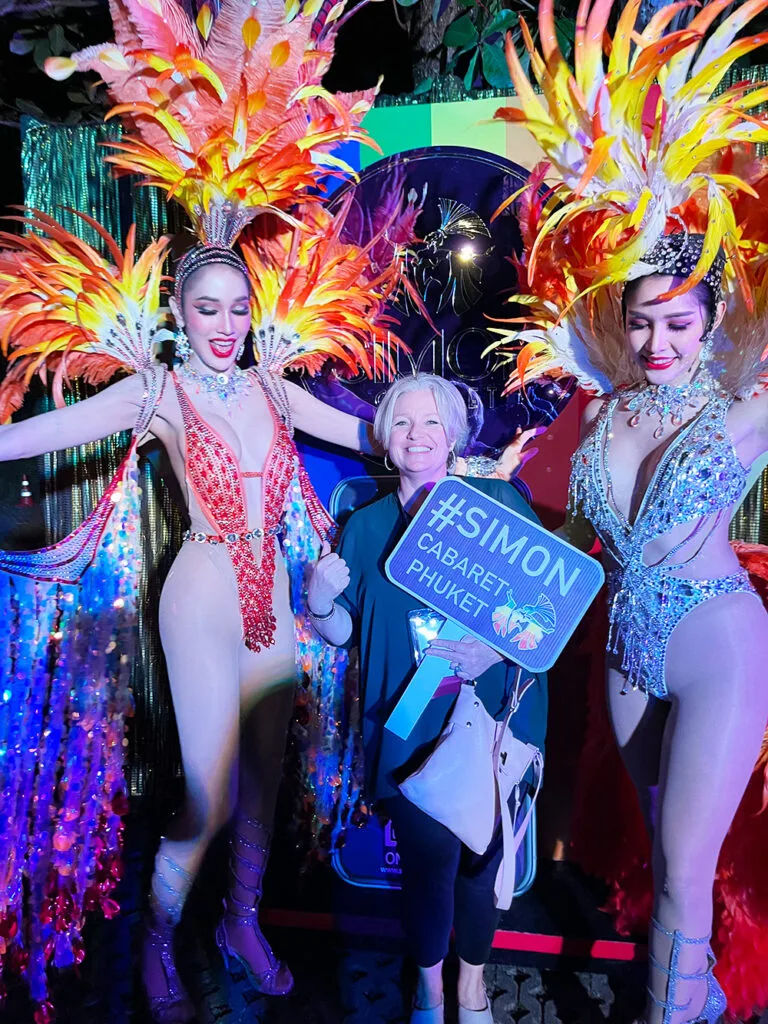 Thavorn Beach Village Resort
If you want a traditional Thai resort that still has the luxury vibe, then Thavorn Beach Village Resort and Spa might be for you. It's also cheaper than the other two on this list.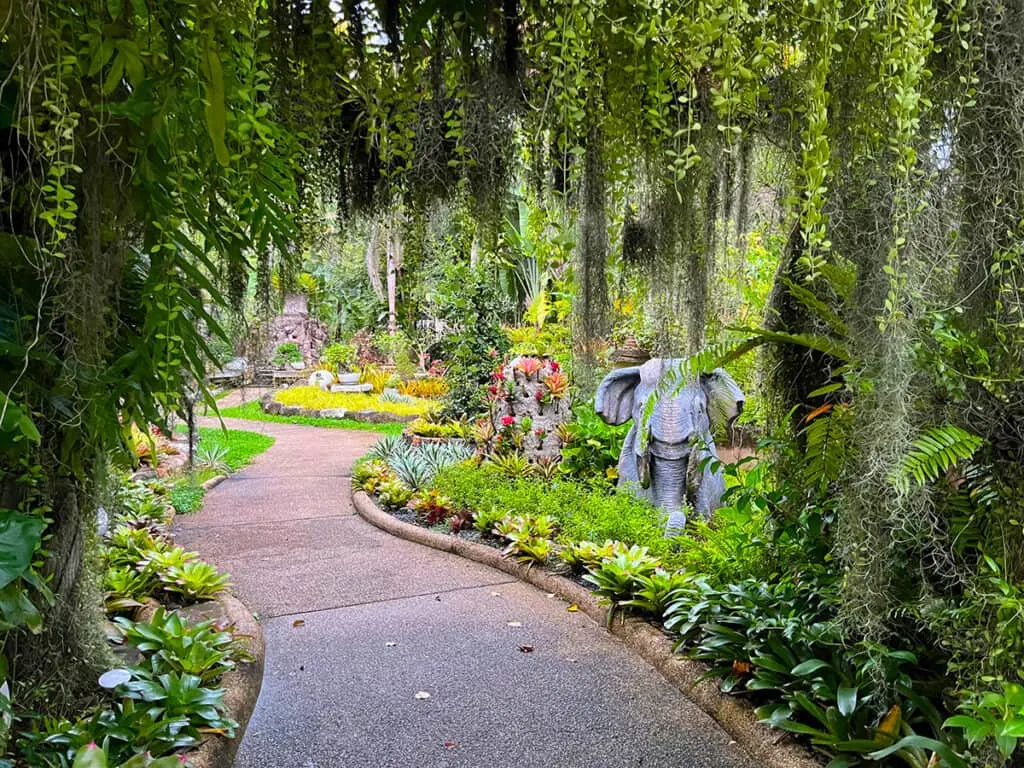 It's located around the peninsula from Intercontinental, on Kalim Beach in the Kathu District. This is where I stayed.
To be honest, I thought I had booked a hotel on Kamala Beach, and didn't realise until I had dinner at the Intercontinental that this was not my beach!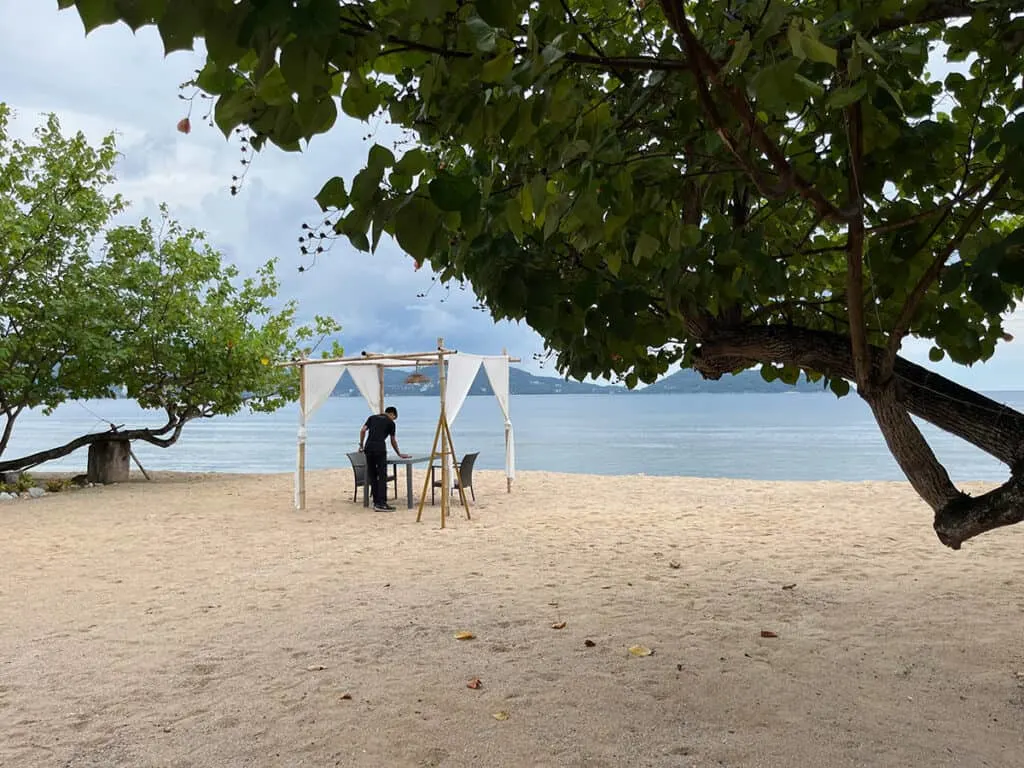 This beach in front of Thavorn, while very pretty, is not really swimmable as it's very rocky with sharp coral that is exposed at low tide. However they make up for it with their incredible pool.
The swimming pool here weaves around manmade islands, under foot bridges, past restaurants and bars and some rooms have balconies where you can literally step off and flop into the pool.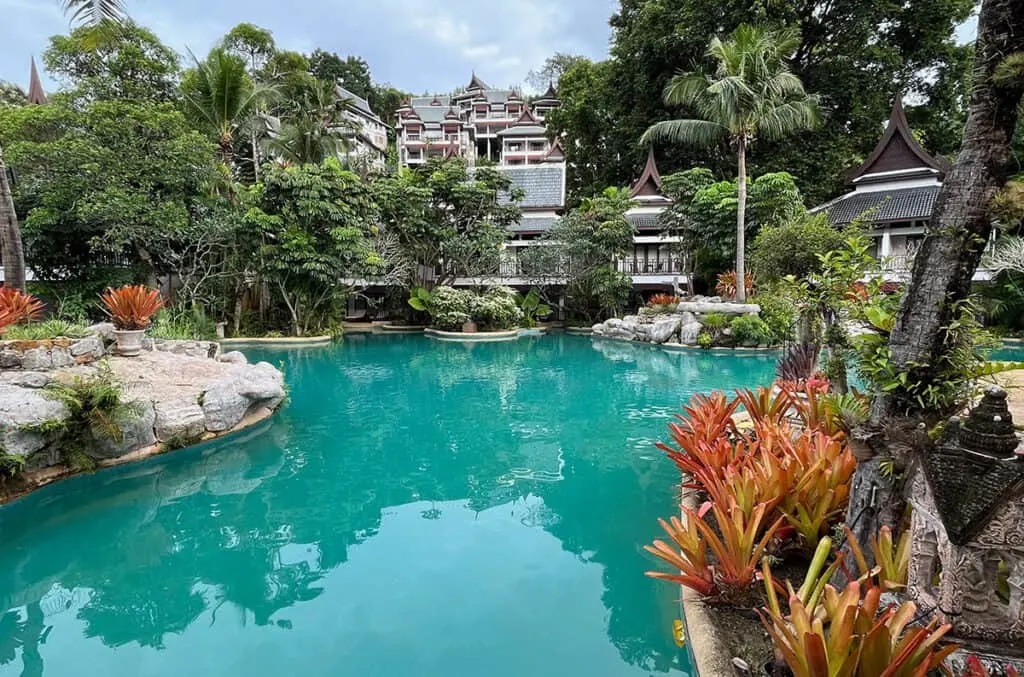 Thavorn is quiet and away from it all. It's family friendly and each villa room is spacious with a semi-outdoor rain shower for your bathroom. There is also a little zoo where they bring a tortoise and tiny piglets and doves out to meet guests twice a day.
There are two restaurants: a beach/poor bar, and the other is where they also serve a great breakfast. I'd suggest adding brekky on to your booking. I think it was about NZ$11 extra for a large buffet with a fresh noodle station, dim sum, pork buns, breads and pastries, fruit and the full English.
Click here for the latest prices at Thavorn Beach Village Resort.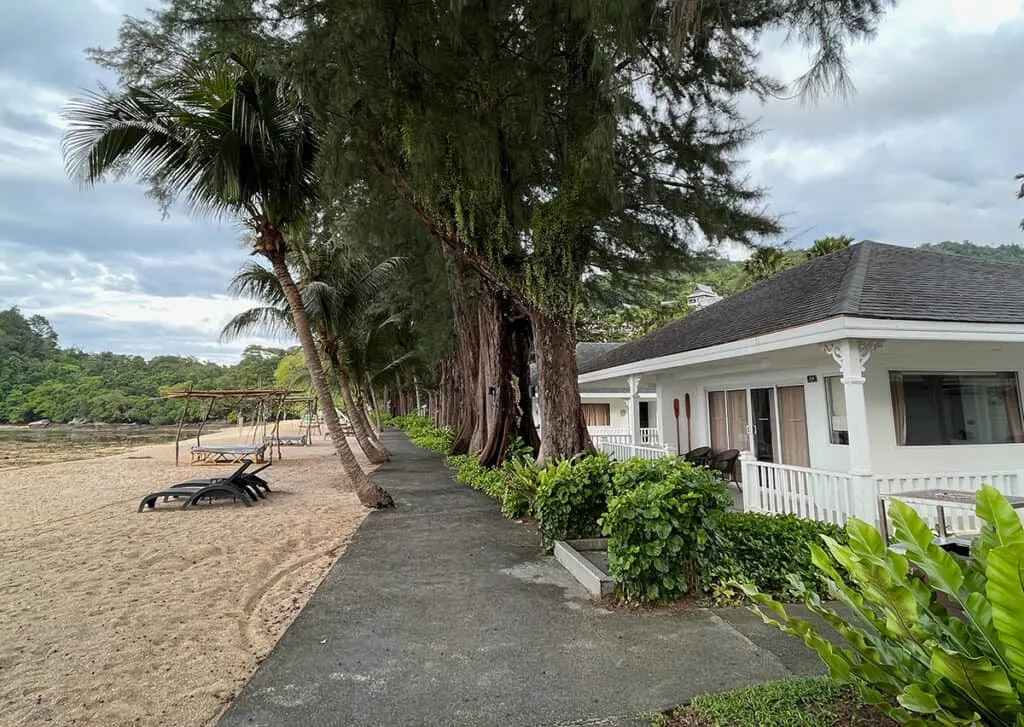 Patong
I avoided Patong and was glad I did. Initially I thought maybe this is where I'd like to spend those two nights for the markets and food options, but having transferred to various events through here over the past week, it's crowded, loud and just not my scene. You might love it though!
This post covering 8 beautiful beaches in Thailand is also worth looking at.