I was going to title this post "Girl's week in Bangkok", but then I thought – that's a bit sexist isn't it? I know a few blokes who'd like bars, spas and shopping!
There are so many rooftop bars in Bangkok, that I only managed to skim the surface, so this post covers just a few that I checked out, plus some cool shopping malls and a fabulous place for a decadent spa package!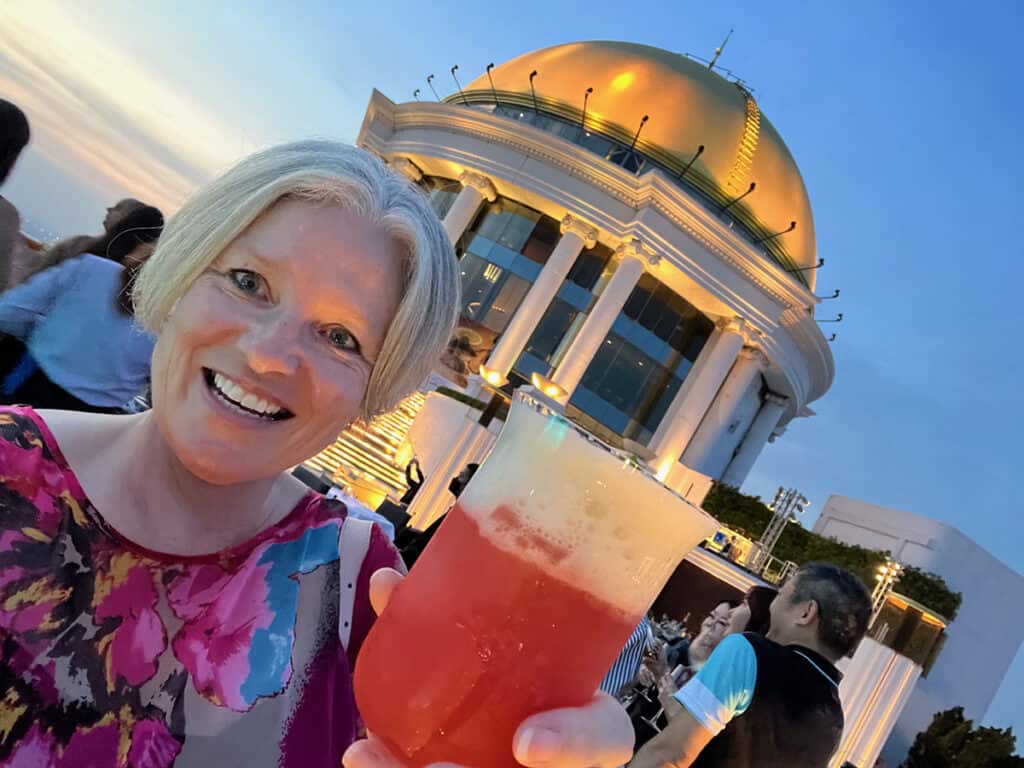 I was in Thailand for a travel blogging conference in Phuket (and wrote this post about three lovely places to stay in Phuket), then we had a two-day media visit to Bangkok, then I added three more nights just for myself.
I wasn't sure if I'd be all that comfortable being in Bangkok solo.
I feel like I've lost a bit of my travel mojo, what with two – more like three – years of not travelling internationally at all, and it's been a while since I travelled alone. I usually travel with my husband or family members, sometimes I'm on a media trip with other writers and content creators. Seldom do I travel alone these days.
So it was with a bit of trepidation but also excitement that I added these extra days on with no plans but to see what I felt like doing each day.
*This post contains affiliate links. That means if you make a purchase I may make a small commission, at no extra cost to you. Thank you for supporting this blog. It allows me to keep writing tips and itinerary ideas to inspire people to travel!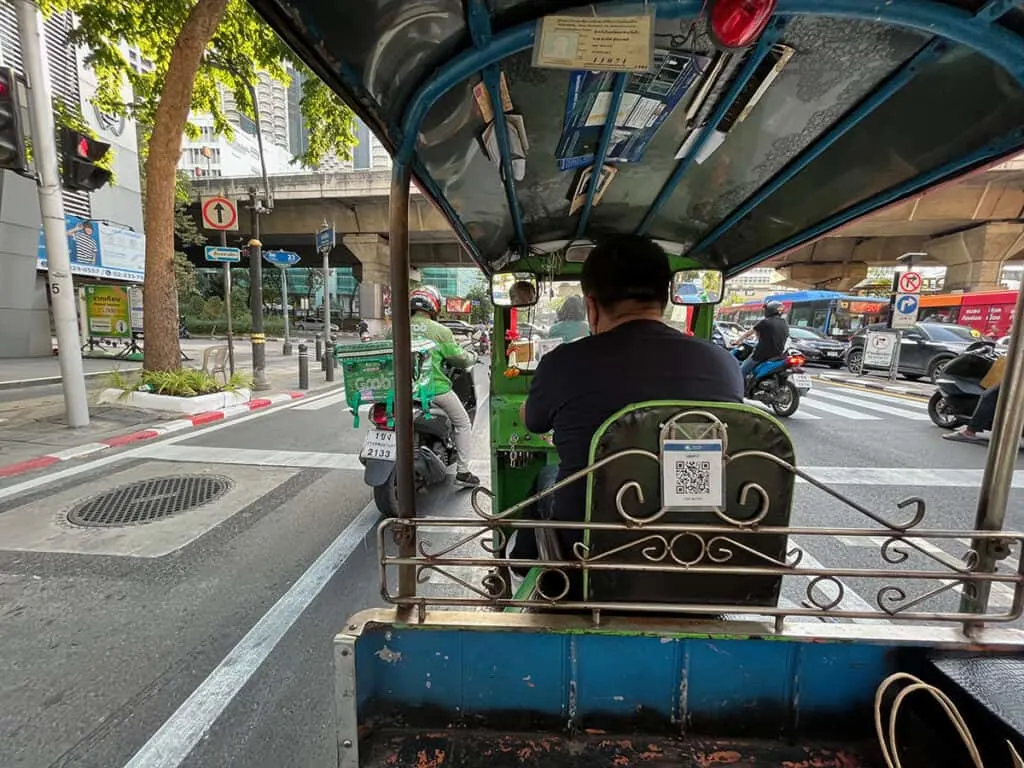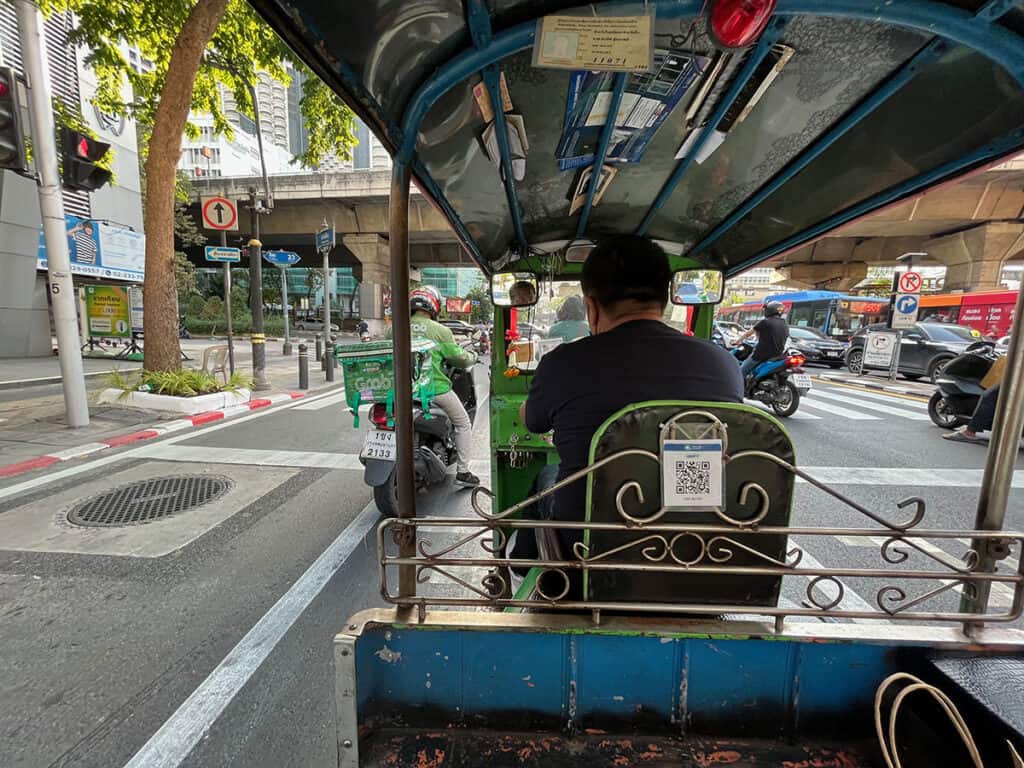 I don't know Bangkok very well and haven't been in years. But in three days I rode the BTS train, used a water taxi to cross the Chao Phraya River, rode in a tuk tuk and even got the hang of Bolt (like Uber) to take motorbikes weaving through the traffic to squeeze through traffic jams.
Bolt and Grab are the Thai equivalent of Uber. You download the app and it gives you options of which type of vehicle you'd like and the costs. However car traffic can take an hour to get you to the same spot as a motorbike can in ten minutes.
So what did I do when I needed to get a cocktail? Why I slung myself on the back of a motorbike with the wind in my hair!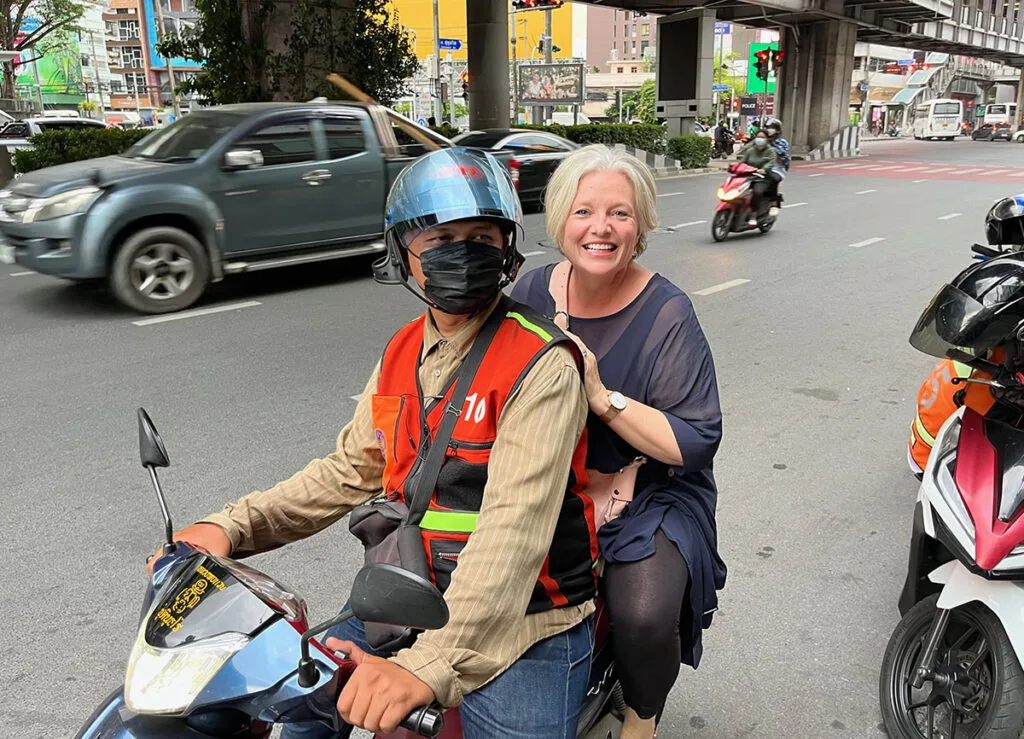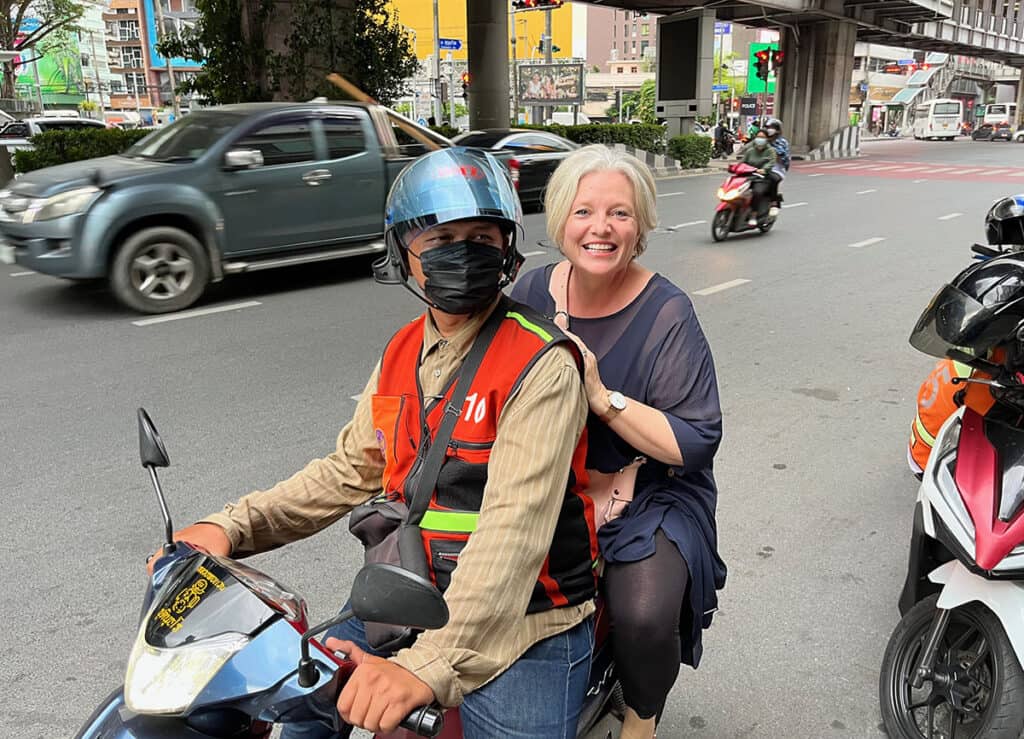 I'll break this post down into how to spend three days in Bangkok if it's spas, bars and shopping you want, plus my recommendations for where to stay – because I actually changed hotels the day before it was due to be paid (two days before my arrival).
I had also done a klong (canal) boat tour, took an evening river cruise with a buffet dinner, and visited many wats (temples) before my three solo days began. You can read more about them on this post of 11 awesome things to do in Bangkok.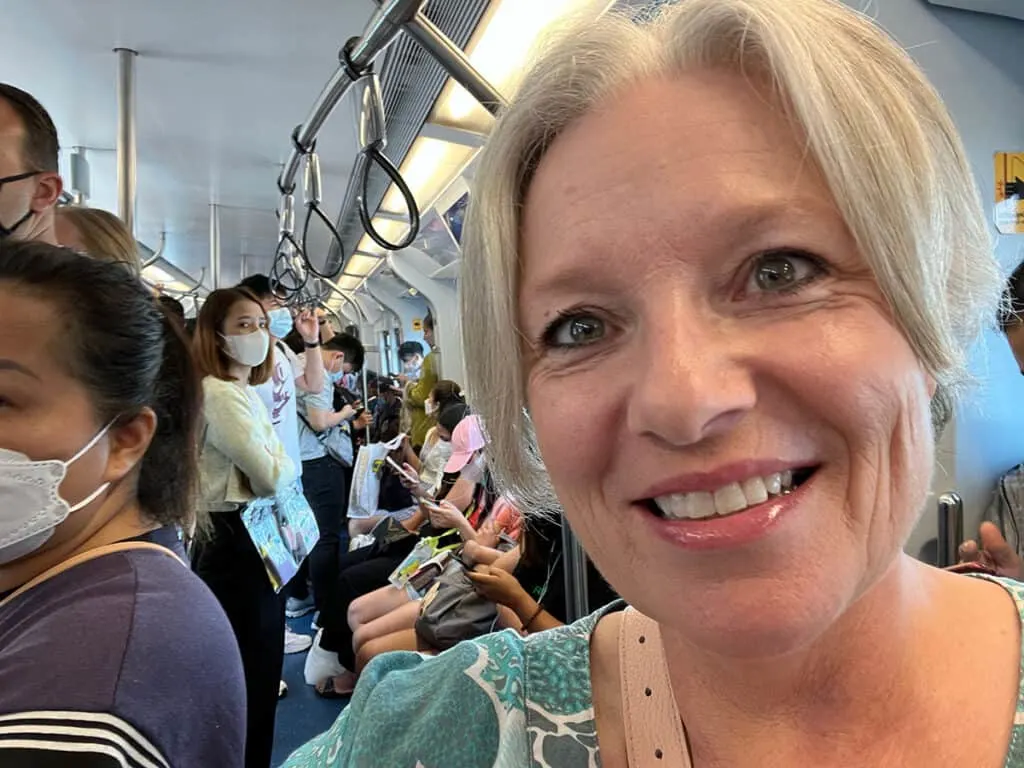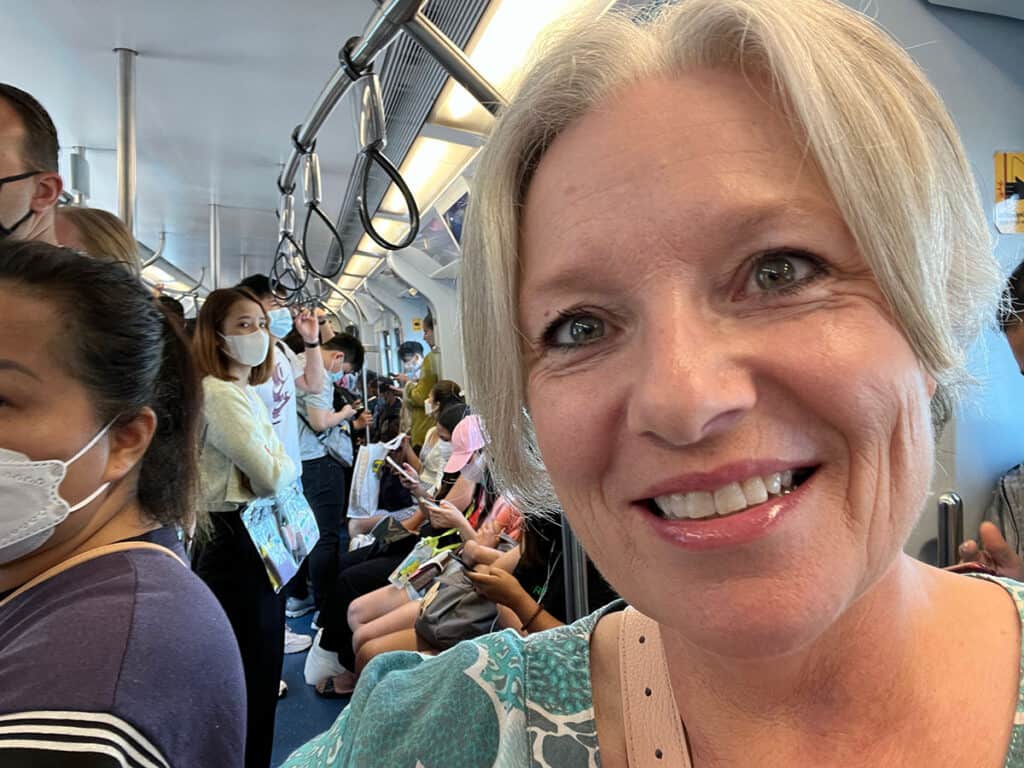 Day 1 in Bangkok
Shop at ICONSIAM
Bangkok, one of the top cities for shopaholics, boasts one of the most monstrous malls, ICONSIAM. If you have the stamina for only one, this is the place to go.
This huge six-floor shopping mall on the bank of the Chao Phraya River is a must. We had sailed past it a couple of evenings earlier on our buffet dinner cruise (which I also totally recommend!), and I initially thought it was only full of high-end stores and too posh for me. But no.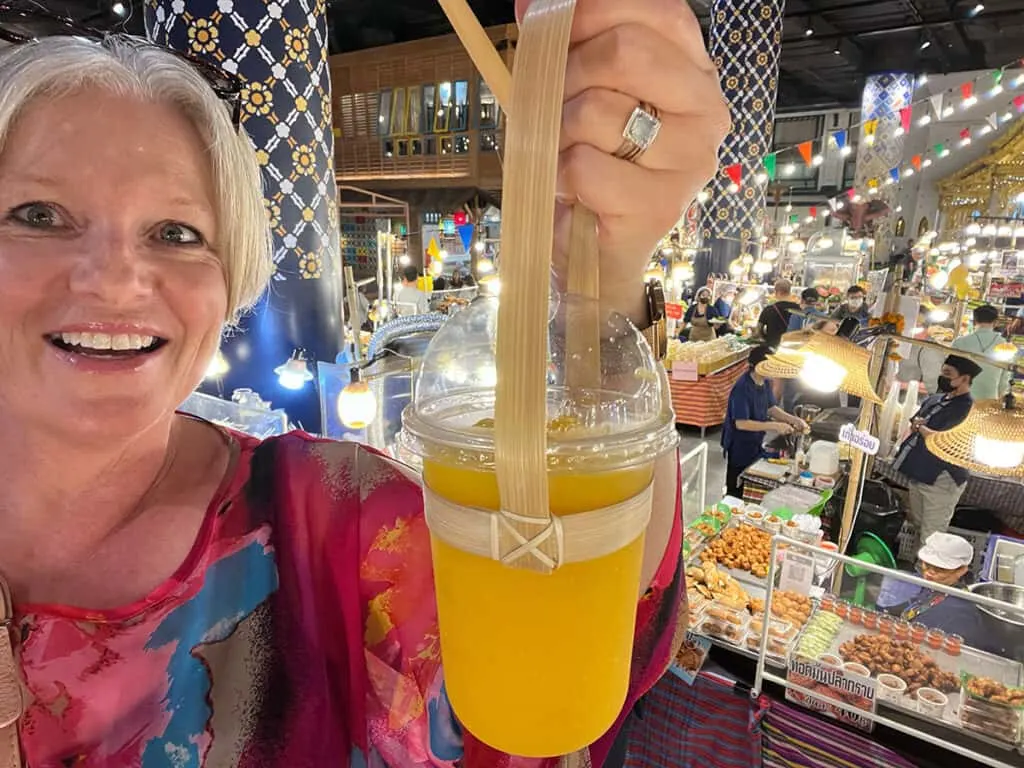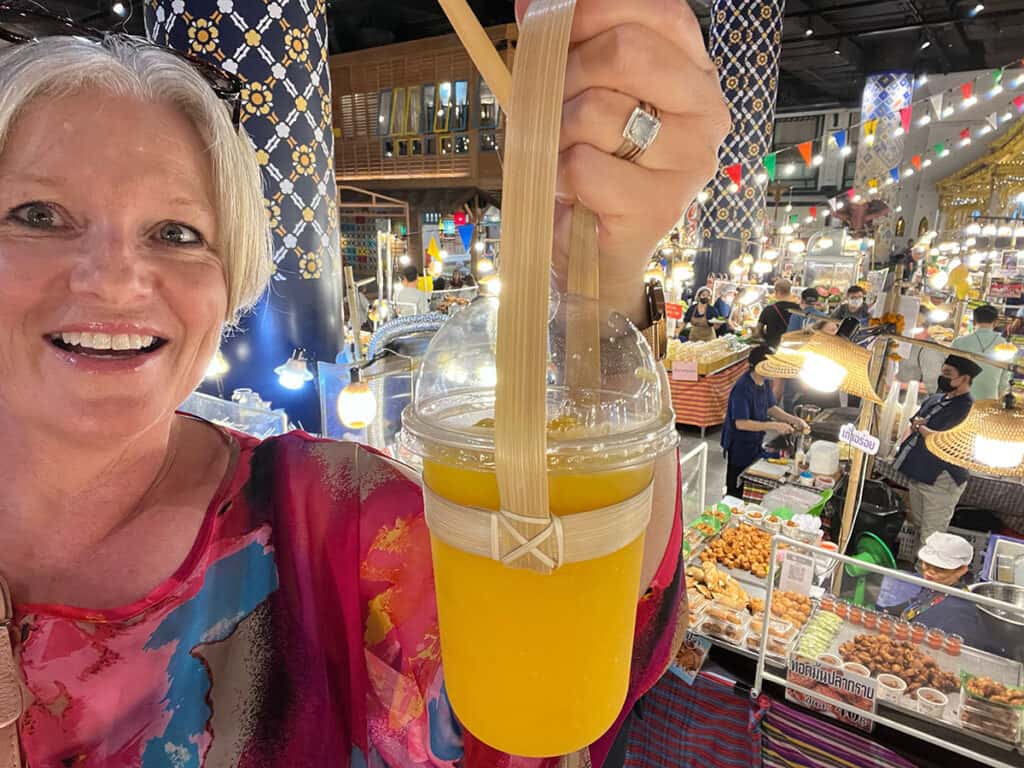 I took a taxi from my hotel in Sukhumvit for 200 baht (NZ$9, US$5.50). The traffic is crazy and it took ages – about 45 minutes, but I enjoyed the ride for the "traffic watching". I was dropped off at the ground floor food hall entrance and it's just amazing.
Designed to feel like a Thai floating market, it's filled with food vendors selling freshly made Thai specialities – like my new favourite mango sticky rice. Lots of stir fry dishes, scary grubs (!), fresh smoothies, crumbed chicken, seafood and even deep fried cheese sticks, and other fried skewers. Come hungry!
Elsewhere in the mall you'll find more restaurants for a proper sit down meal or coffee and cake if that's more you.
I did about 6,000 steps in this mall going up and down escalators, taking the lifts. Browsing big brand stores and ferreting around in local ones.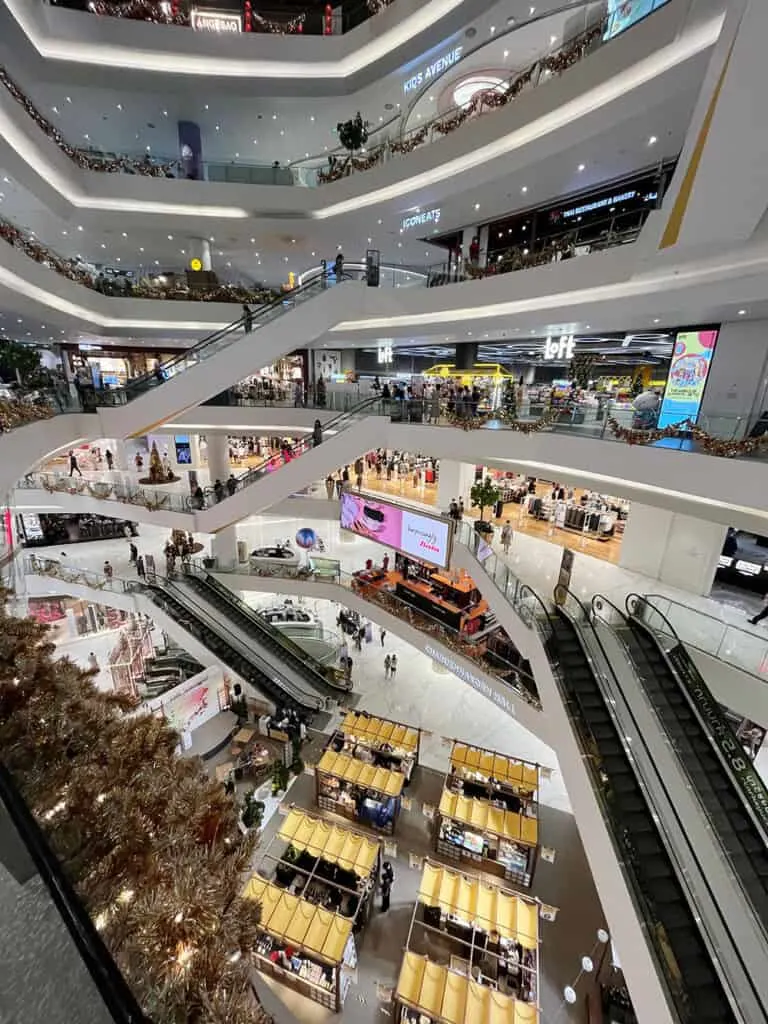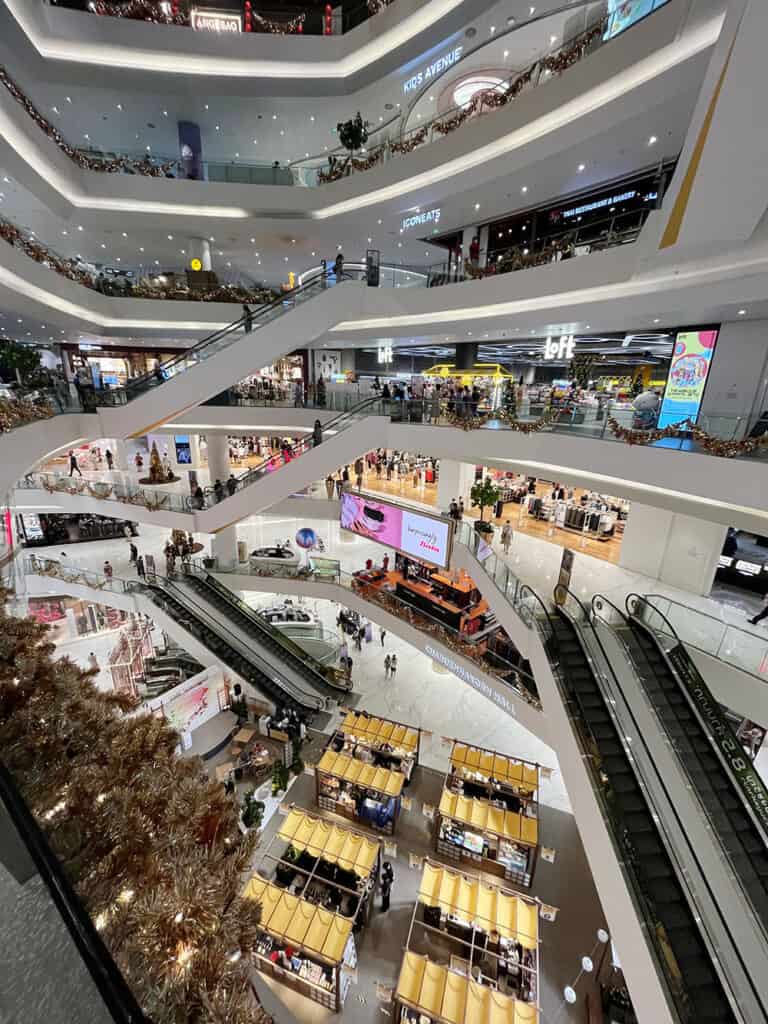 When you've done all the shopping (click here to see a list of ICONSIAM stores), head out the river side front doors to the veranda on the ground floor and take the free water taxi across the Riverside and grab a tuk tuk to Lebua.
Rooftop drink: Sky Bar at Lebua
It's more than a picture! Today ends with a rooftop drink (or three) at Lebua and I wanted to get here for the magic hour of around 5pm when the lighting makes everything, well, magical.
You might have heard of Sky Bar, on the 63rd floor of the Lebua Tower. It featured in the movie The Hangover.
This is the building that pierces the sky with its golden dome. It's the ideal place to come for a sunset drink – even if the cost is kinda steep. But it's the view you're paying for. That and the whole vibe and next level cocktails shaken up here.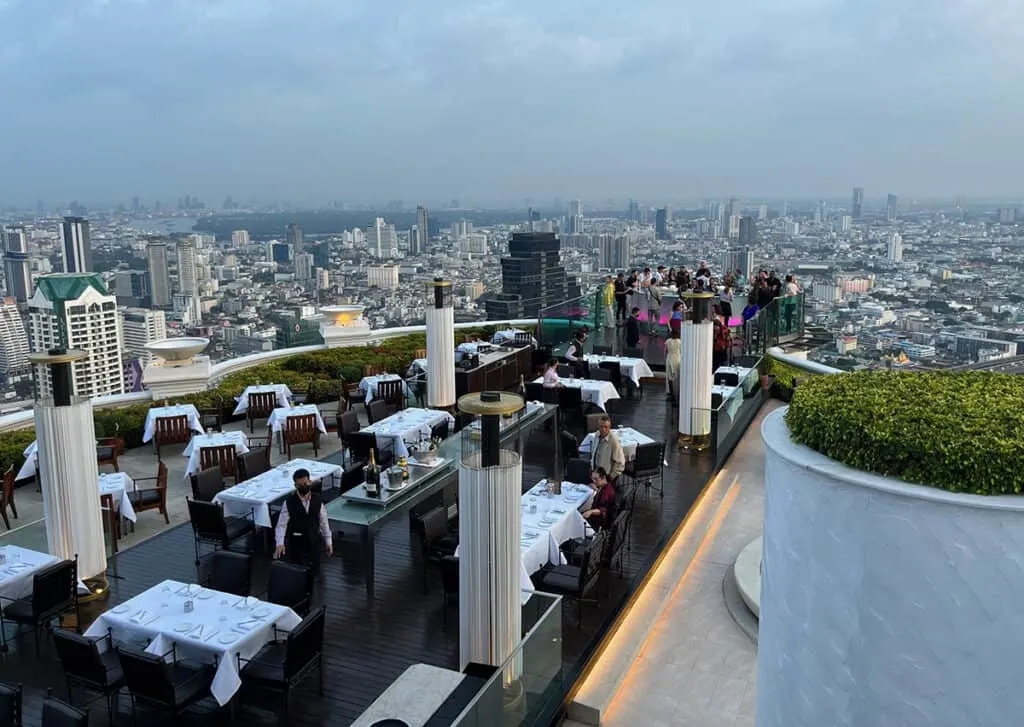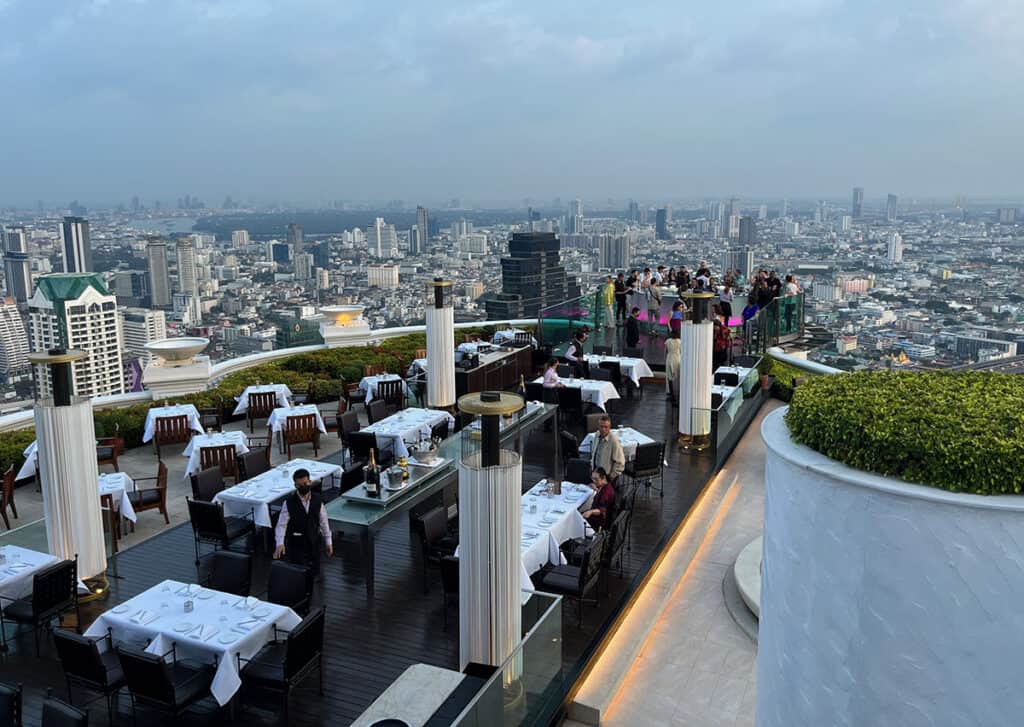 The actual Sky Bar is quite small, a circular bar that can take only about 30 people standing around the barmen and women mixing signature cocktails, like the Megan he made just for me! Well, I believed him.
But no worries if you can't squeeze in! Just behind you is Flute, an outdoor champagne Bollinger bar and between them both is Sirocco, the outdoor restaurant.
But wait! Lebua isn't just the Sky Bar you know. It has 11 restaurants and bars, both indoors and outdoors across three floors.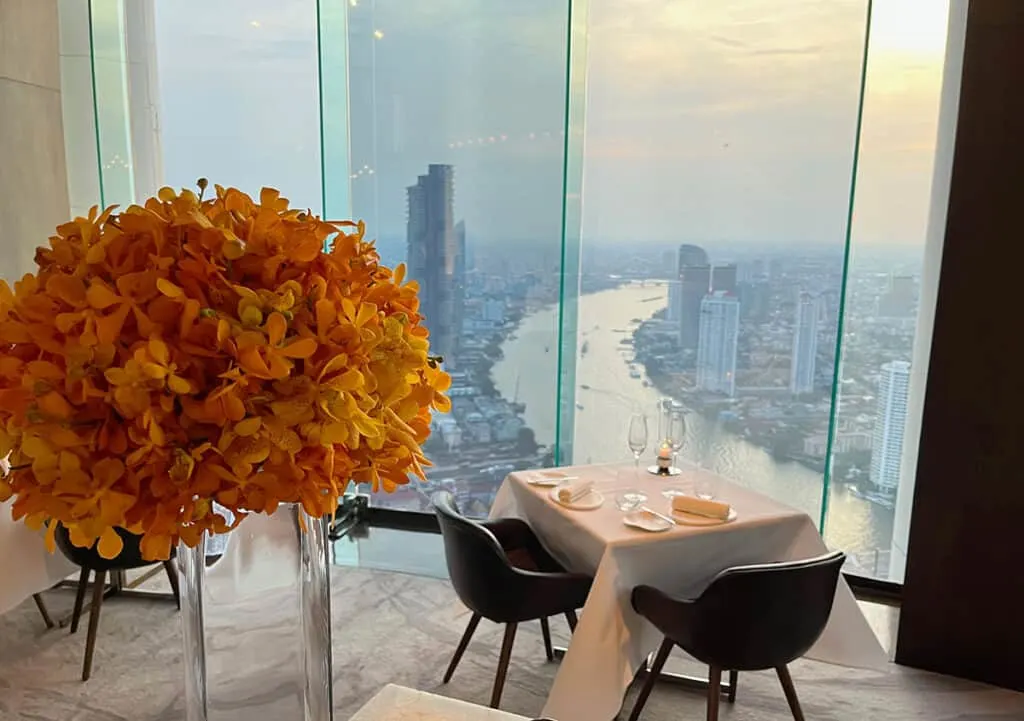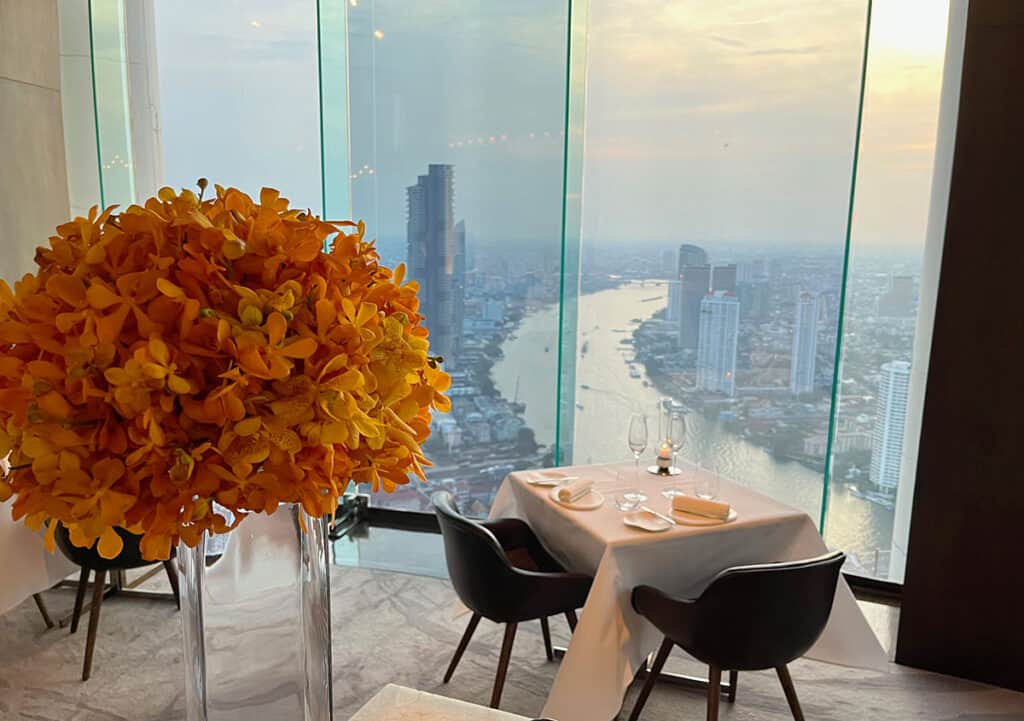 I was shown through some of them and took loads of photos. Each one has its own ambience, décor, music, cuisine and cocktail list.
Sirocco – 63rd floor. Mediterranean cuisine at white-clothed tables served outdoors beside iconic Sky Bar.
Mezzaluna – 65th floor. This two Michelin-star restaurant specialises in French cuisine with a Japanese touch.
Breeze – 52nd floor. Innovative and authentic Asian cuisine in an outdoor setting.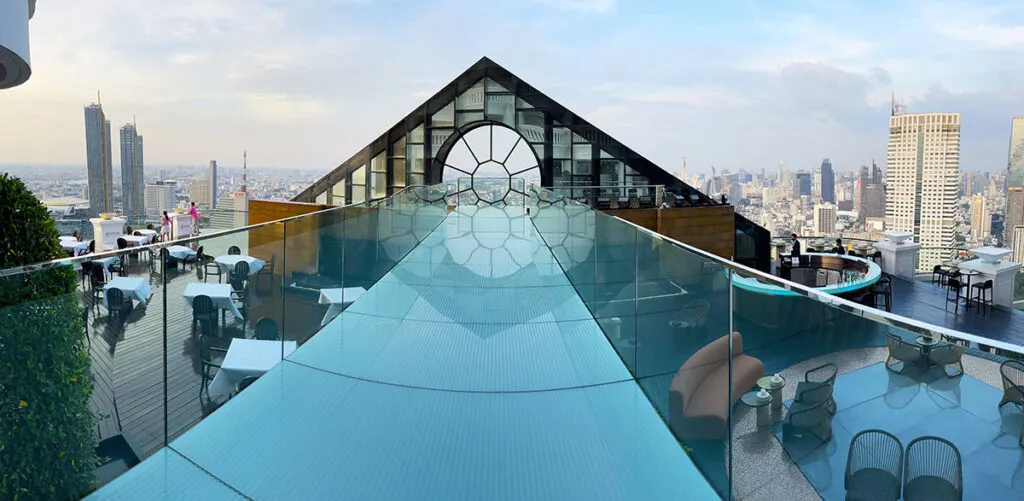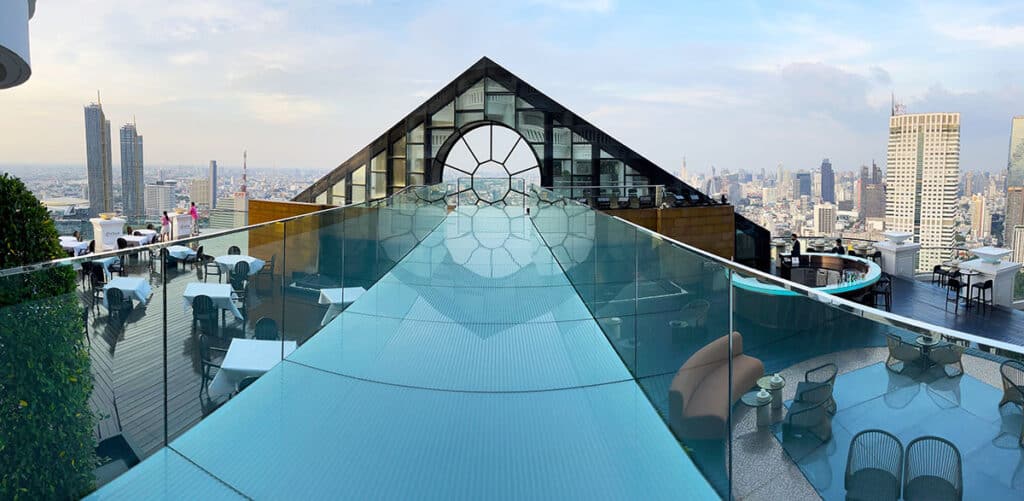 Pink – 61st floor. It's pink! It's girly and divine with Juliet balconies for outdoor seating, plus more table seating inside. It also boasts an enormous champagne cellar.
Chef's Table – 61st floor. This two Michelin-star indoor restaurant has 46 seats oriented around a central kitchen where Chef de Cuisine Vincent Thierry whips up his magic.
Alfresco 64 – 64th floor. The highest open-air whiskey bar in the world is designed to feel like you're on a yacht. It's a Chivas Regal bar and they have their own Lebua blend.
Distil Bar – 64th floor. Serving innovative and elevated cocktails (and mocktails if you need to!) I tried the Thai Lips which was topped with a thick and creamy, sour passionfruit foam. Get this! It's super spendy at 1300 baht (about NZ$60/US$36!) Fortunately the PR hosted me as I needed to take photos, right?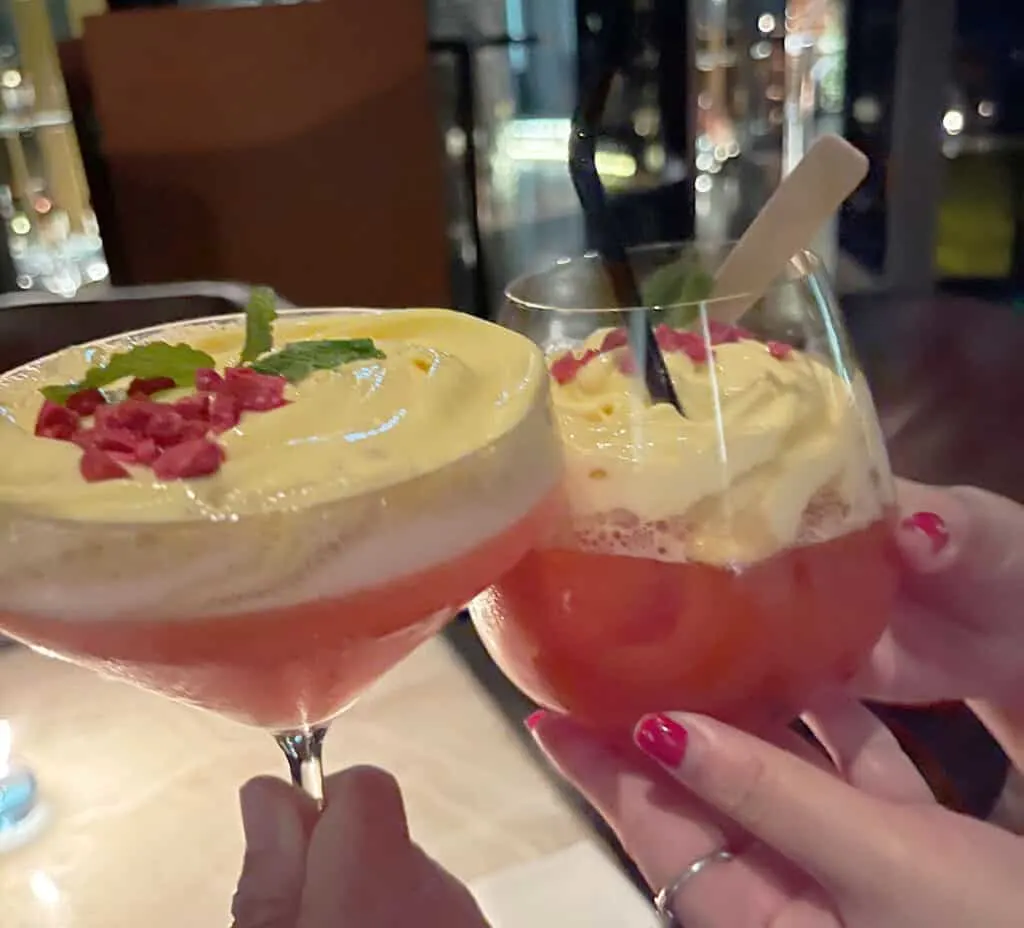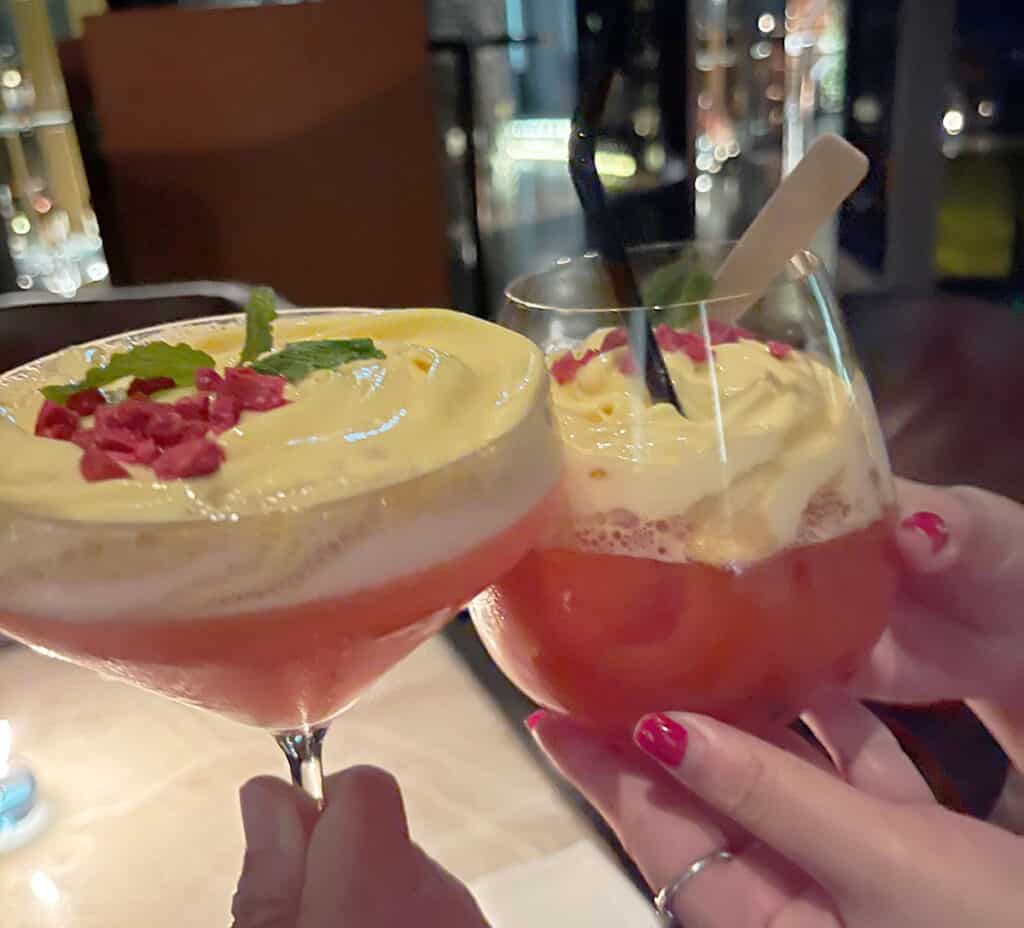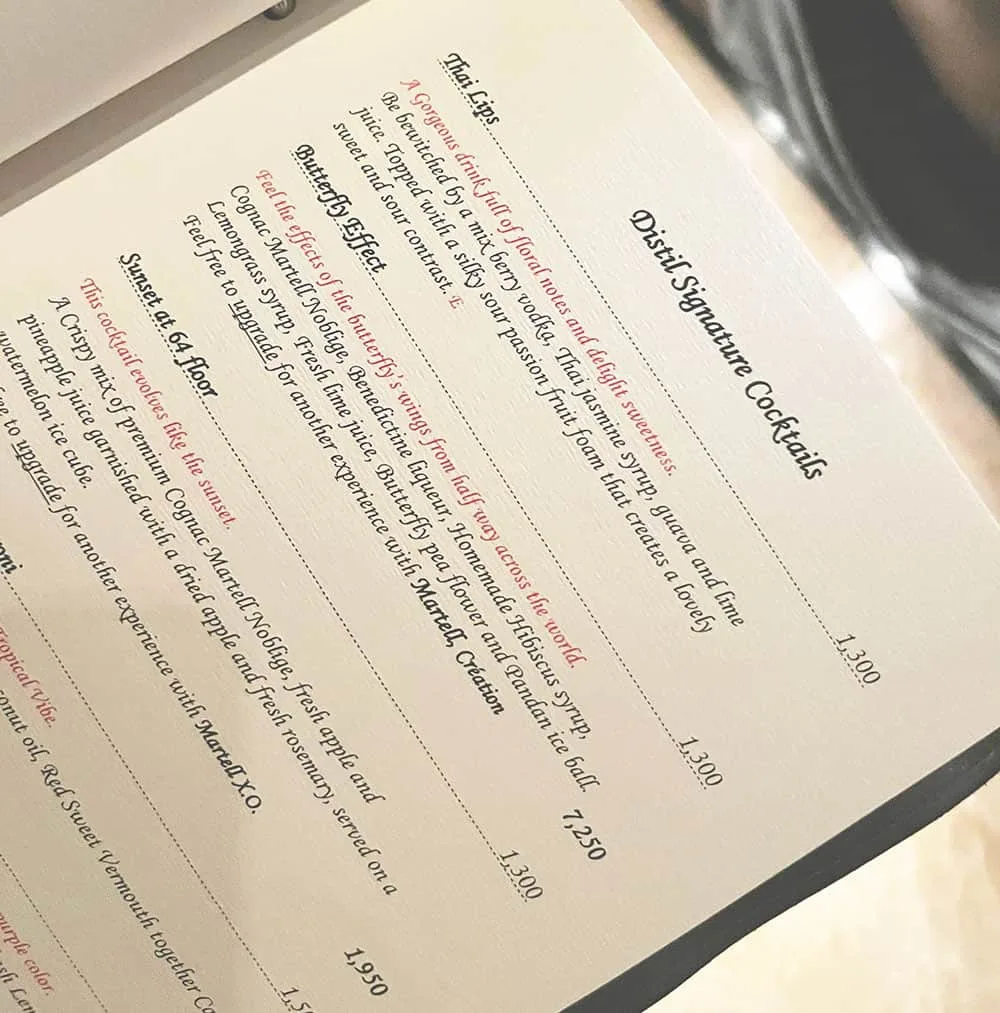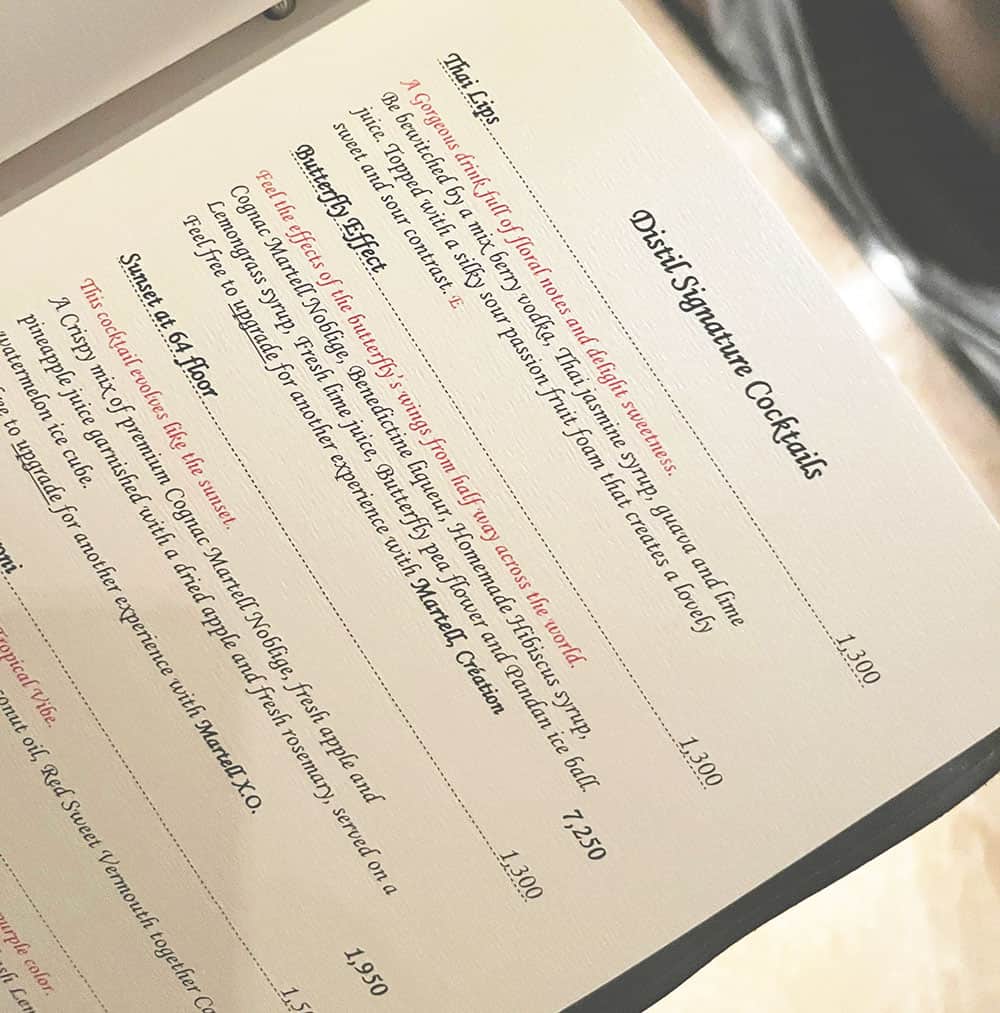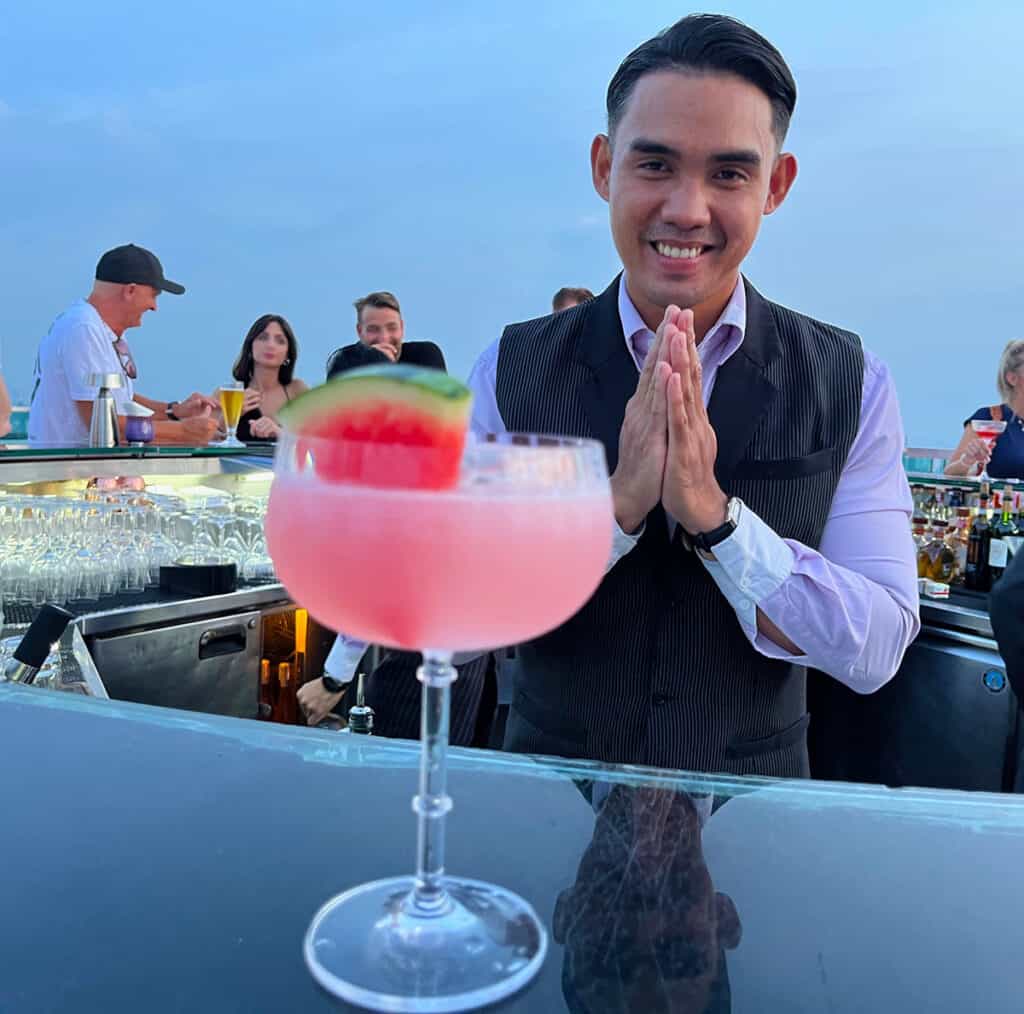 Foot massage before bed
What's more divine than a foot and leg massage before bed? And you deserve it if you've been traipsing around ICONSIAM all afternoon!
You can find foot massages everywhere, so depending on where you're staying, hopefully there is one right beside your hotel. Just Google "massage near me" on your phone the nearest ones will pop up.
The nearest one for me was in Terminal 21 shopping mall where I paid 400 baht (about NZ$18) for an hour of leg and foot lotion massage.
There's also a fish foot massage in the area if you prefer this kind of spa.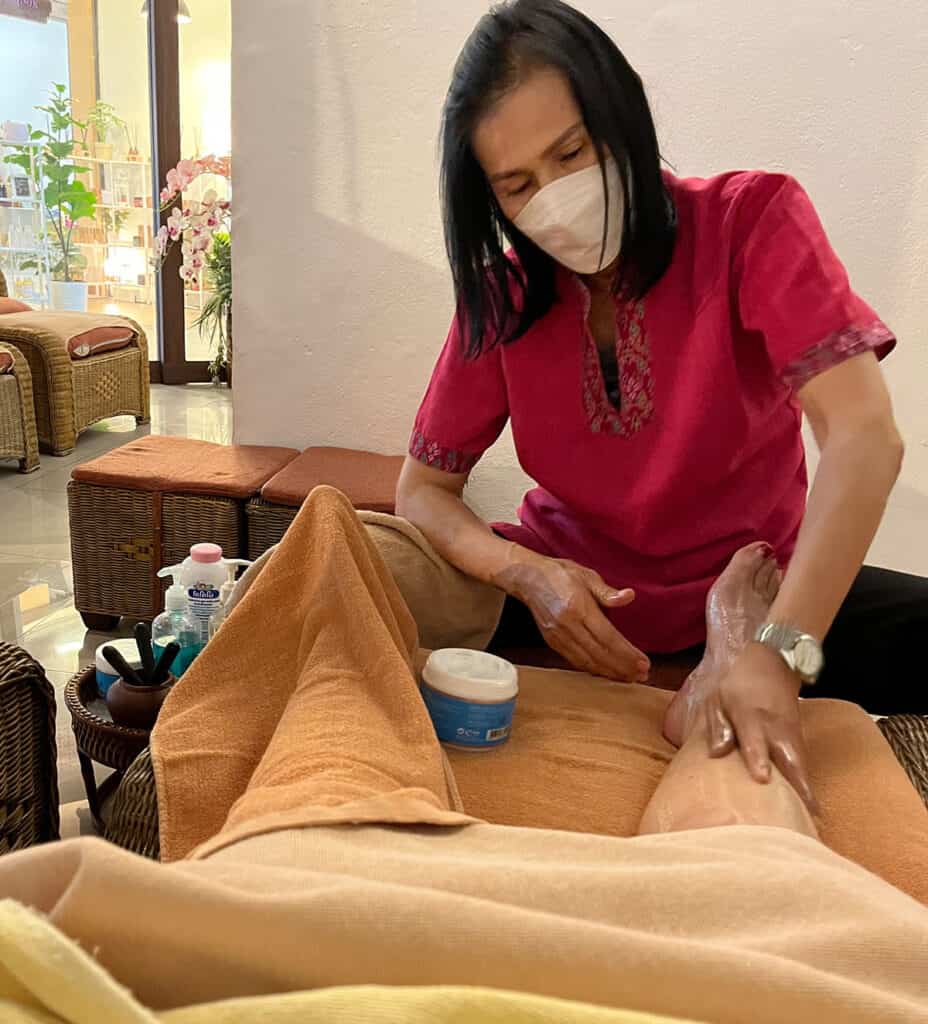 Day 2 in Bangkok – spa day!
I actually had a four-hour spa day down in Phuket at Oasis Spa and it was utterly divine, and a two-hour treatment at Oasis Spa in Bangkok.
As luck would have it, they have 15 spas throughout Thailand and two spas here in Bangkok, so I am going to suggest Day 2 is your four-hour treatment. Or just one hour. Whatever you like, it's your holiday!
I chose the Oasis Experience, which you can read all about in my Best Spa Day Ever post soon. But it starts with 15 minutes in a steam room, then a body scrub, then a clay body wrap, then a milk bath with fresh fruit and tea, then four-hand massage with two therapists, then a full hour-long facial.
In between the scrub and the mask, I stepped into my private outdoor rain forest shower. Total cost NZ$245 (US$160).
Divana Spa is another one to consider. It's voted #1 day spa in Bangkok on Tripadvisor. Or of course, most hotels have spas too. But not the indoor/outdoor kind you get at Oasis.
Shopping: Terminal 21
If you're not ready to turn in for the night after all that pampering, I visited Terminal 21 for a bit of shopping and some food from the ground floor food hall.
I was staying just across the road at The Continent and I'd got a good deal booking last minute. I even chose to upgrade myself to a higher floor which came with free drink and food between 5-7pm, two free pieces of laundry per day and free breakfast.
Terminal 21 is located at Asok on the BTS line. It's open from 10am to 10pm, but lots of stores close at 9pm. The foot massage I had at about 8pm for an hour, was the last one of the day. Don't leave it too late if you plan on having one before bed!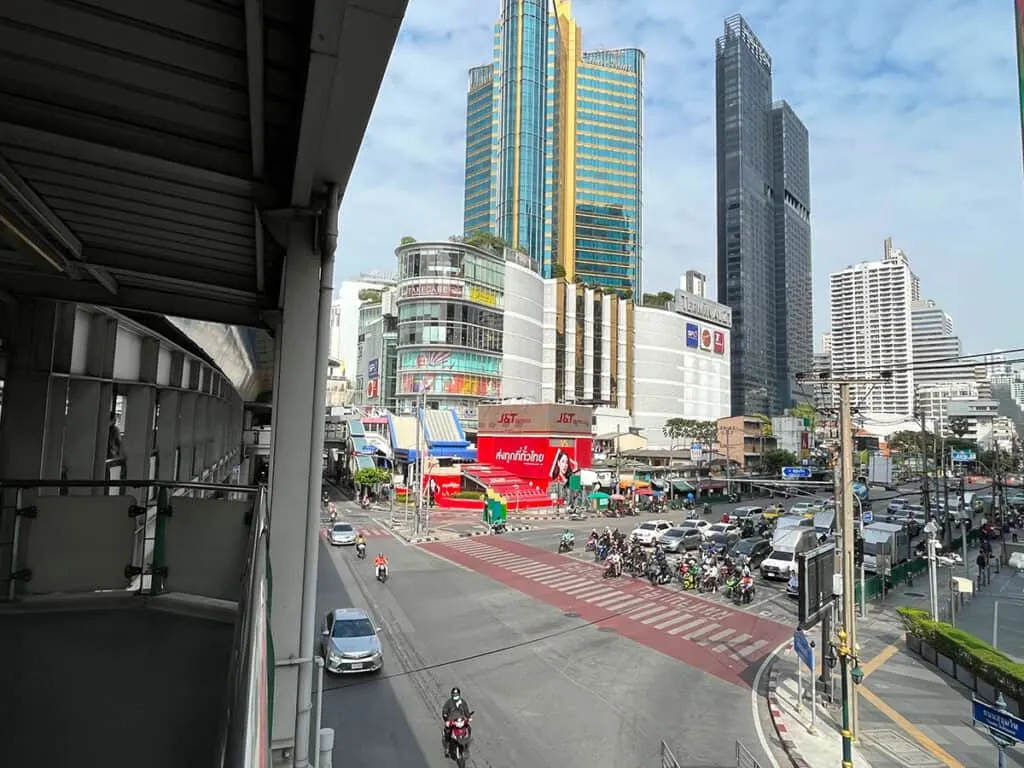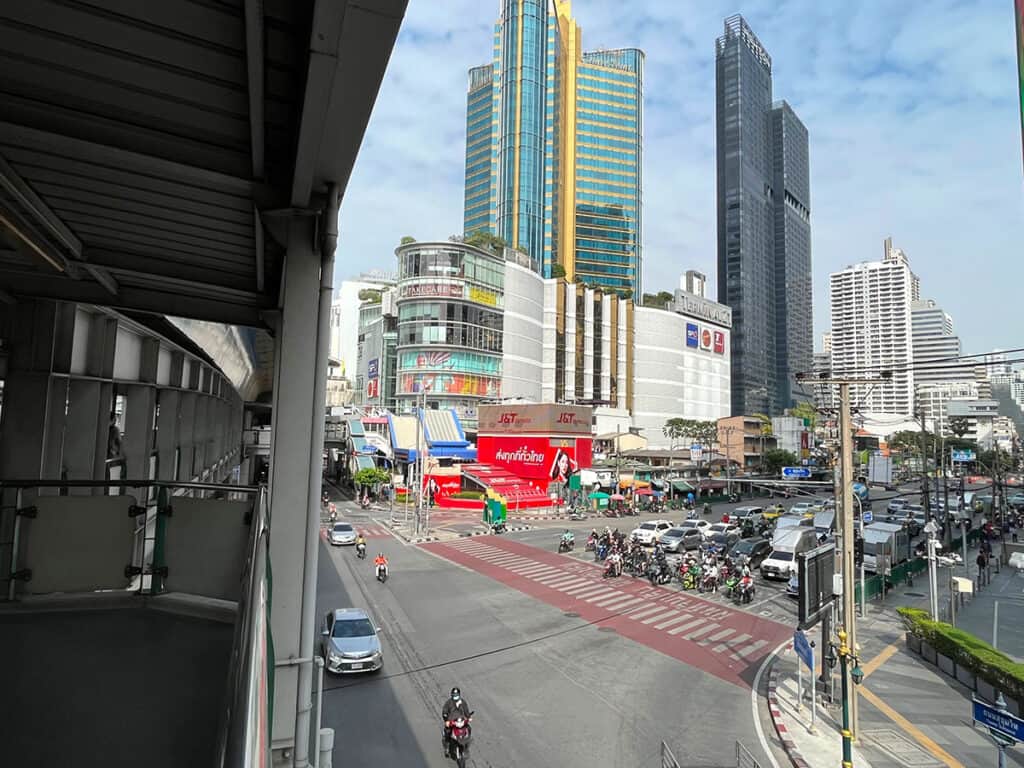 This mall is seven floors, each labelled by a famous city. You'll find Victoria's Secret, Bath and Body Works, H&M, sports shops like Adidas, Fila, Charles & Keith, American Eagle, Levis, Lacoste, and lots of local brands I didn't know.
Dinner at hotel. I ordered the Pad Thai back at The Continent and it was beautifully presented – and huge!
Day 3 in Bangkok – more shopping and bars!
If you're shopped out, I can totally recommend a long boat tour along the klongs (canals) today. But there are also about four malls all within a mango sticky rice throw of each other in Siam (not to be confused with ICONSIAM from day 1.)
Siam Paragon shopping mall
Take the BTS train to Siam (about 35 baht – less than $2) and start at Siam Paragon. This is another enormous mall so wear your comfy shoes!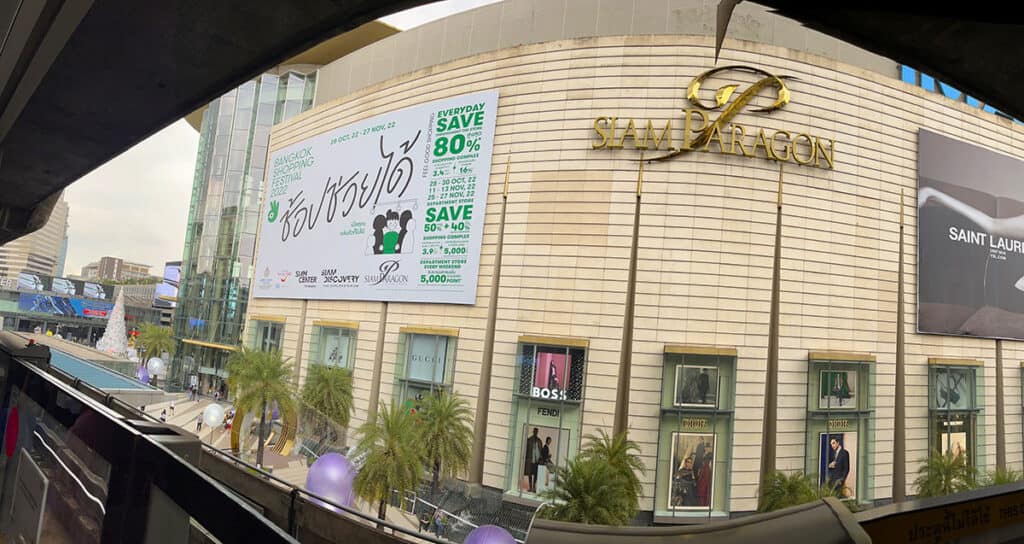 I had the best Thai Coconut Soup here, and am trying to perfect the recipe at home! I found Kub Kao' Kub Pla, which is a restaurant chain. Their meals are served to your table on burners and are cheap and generously sized.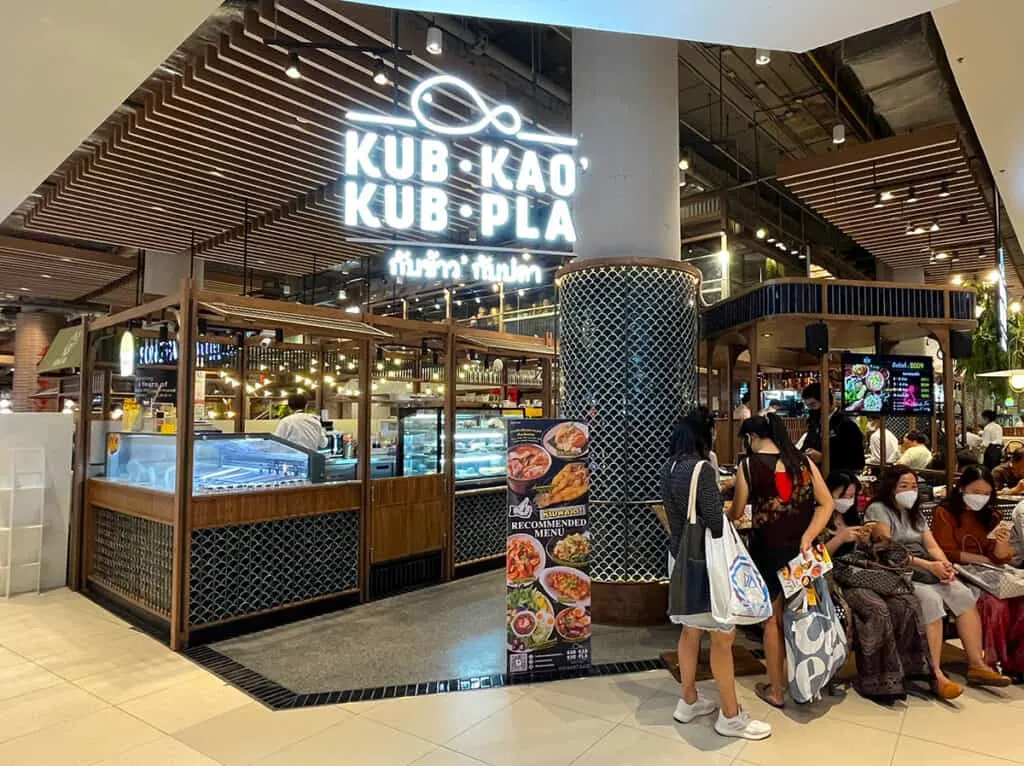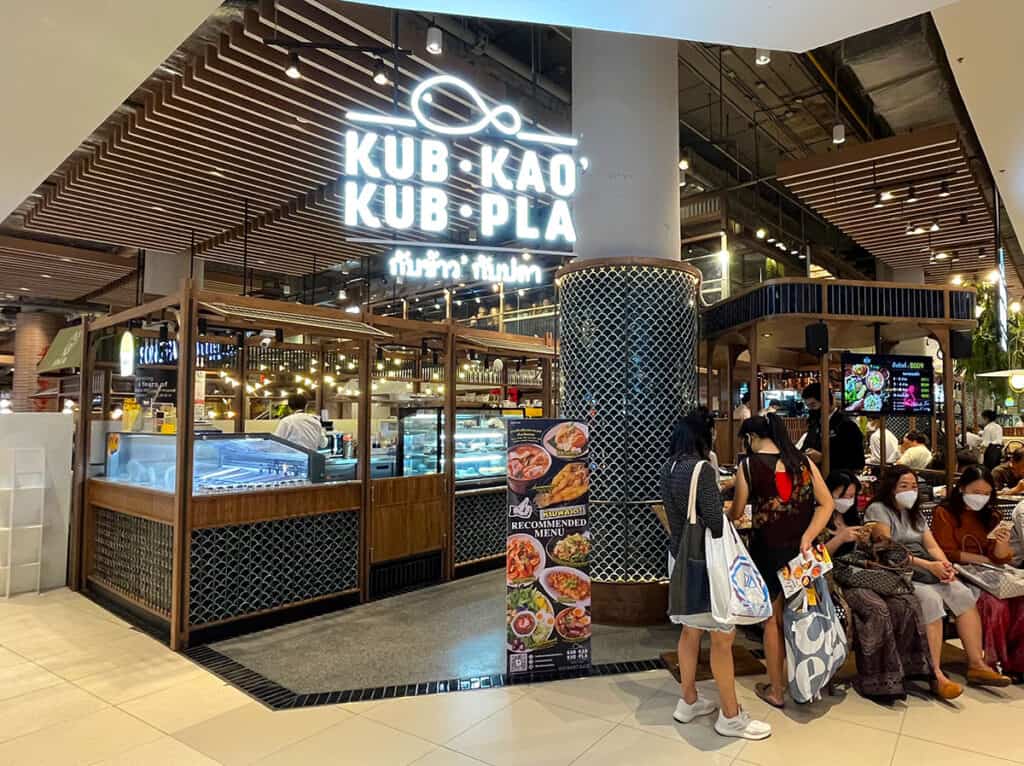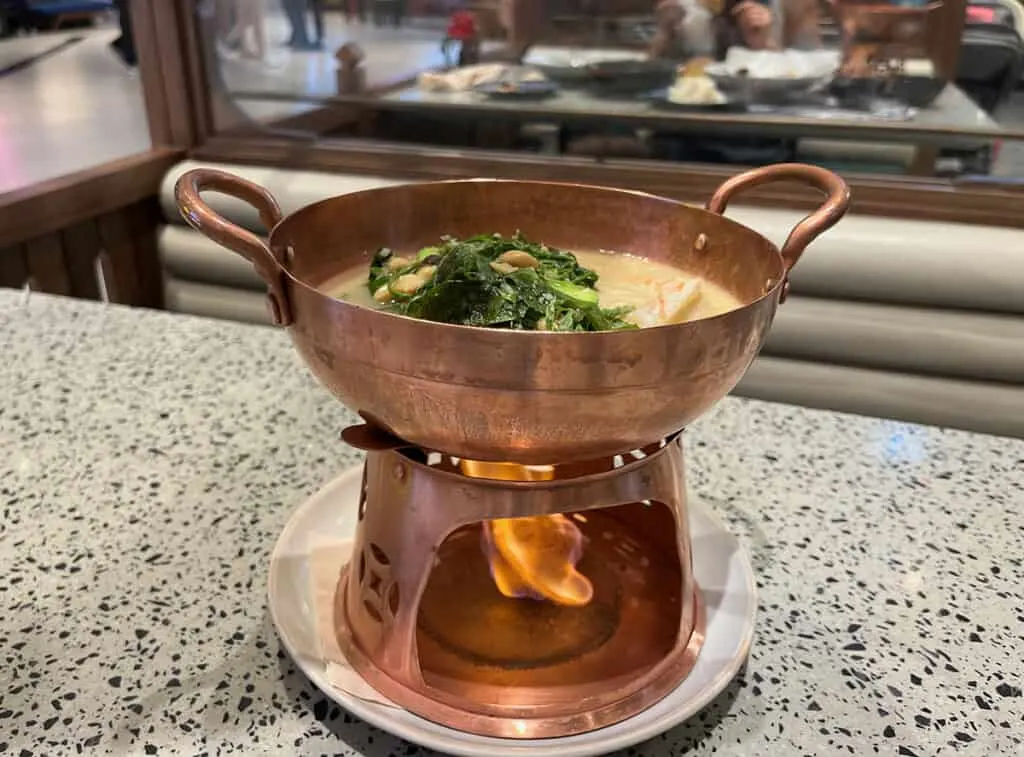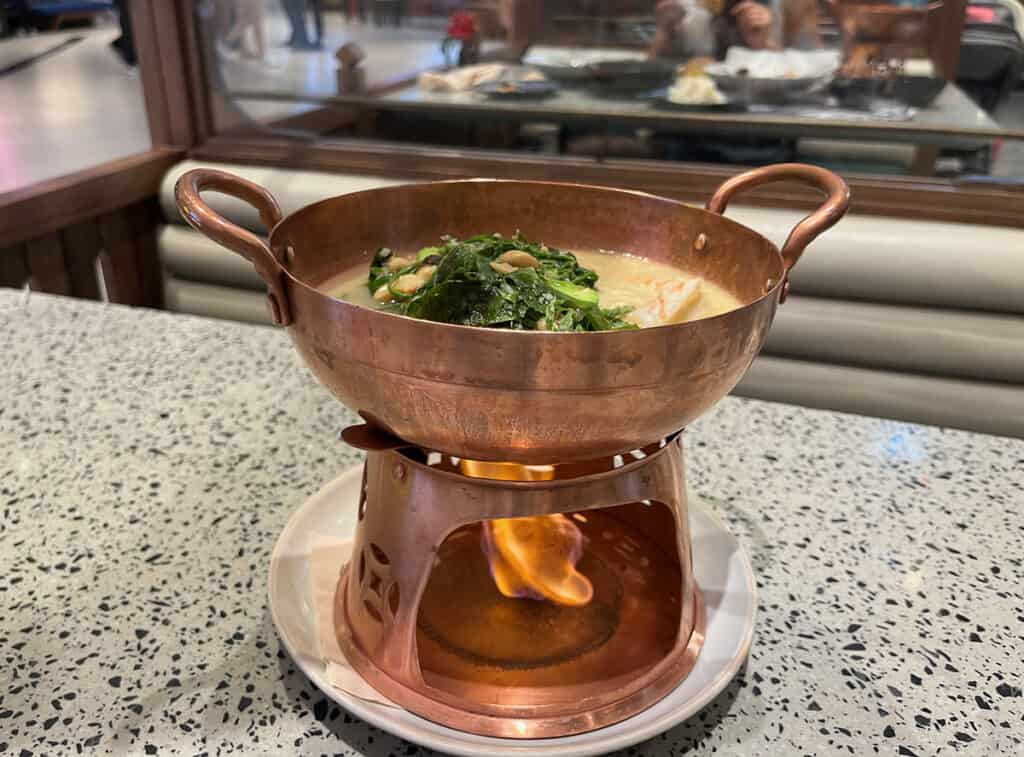 This is one of the biggest malls in Bangkok. Shops at Paragon include Coach, Boss, Aldo and high end car retailers with vehicles parked up on the second floor (!) There's a lovely big department store on the ground floor with shoes, bags, jewellery and beauty. Plus an amazing food floor at ground level and an aquarium in the basement!
Tonight's bar is Red Sky at Centara Grand.
Train Night Market
If you have the stamina after your drinky at Red Sky, from 5pm-12midnight the Train Night Market at Ratchada is filled with stalls selling food and drink, plus bars and restaurants and all sorts of market shopping for clothes, shoes, jewellery, souvenirs.
Get here by MRT train: Thailand Cultural Centre Station, Exit no. 3
Other rooftop bars worth visiting in Bangkok
Bar.Yard at Kimpton Maa-Lai in Lumphini. This rooftop bar is really cool and unpretentious. It serves a TexMex menu, has a large screen for the football that was playing and celebrates beer (and other drinks, don't worry!) It'd be ideal for families or a boys' night. Kimpton prices are some of the highest for accommodation though.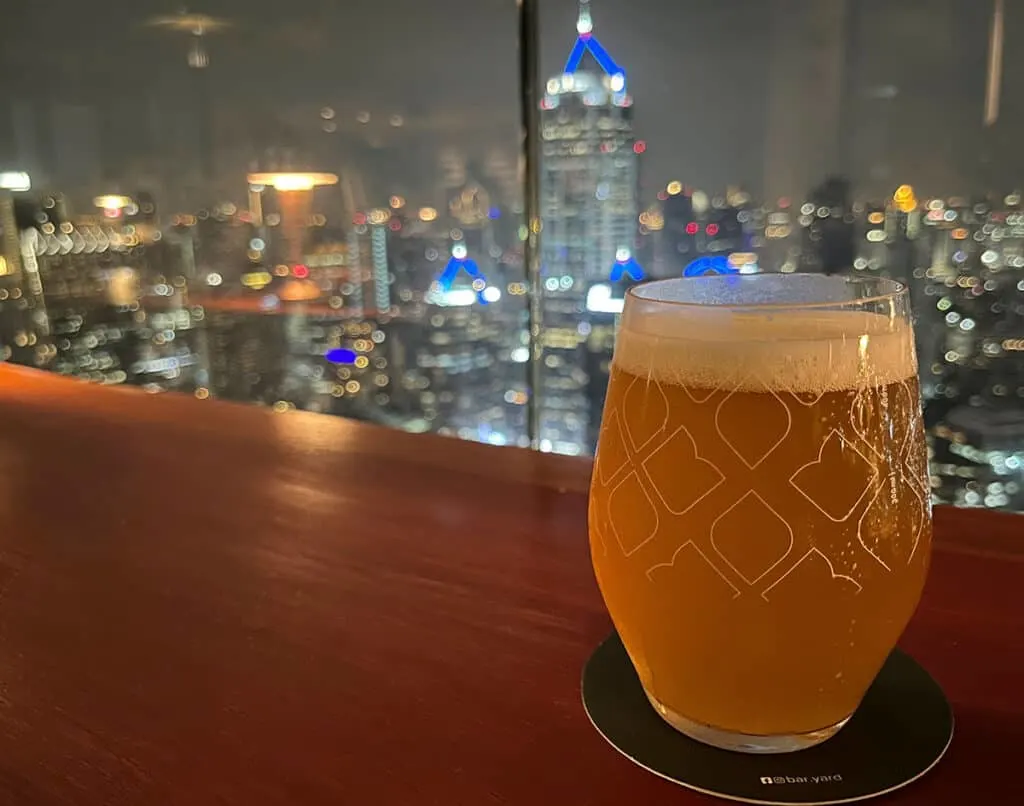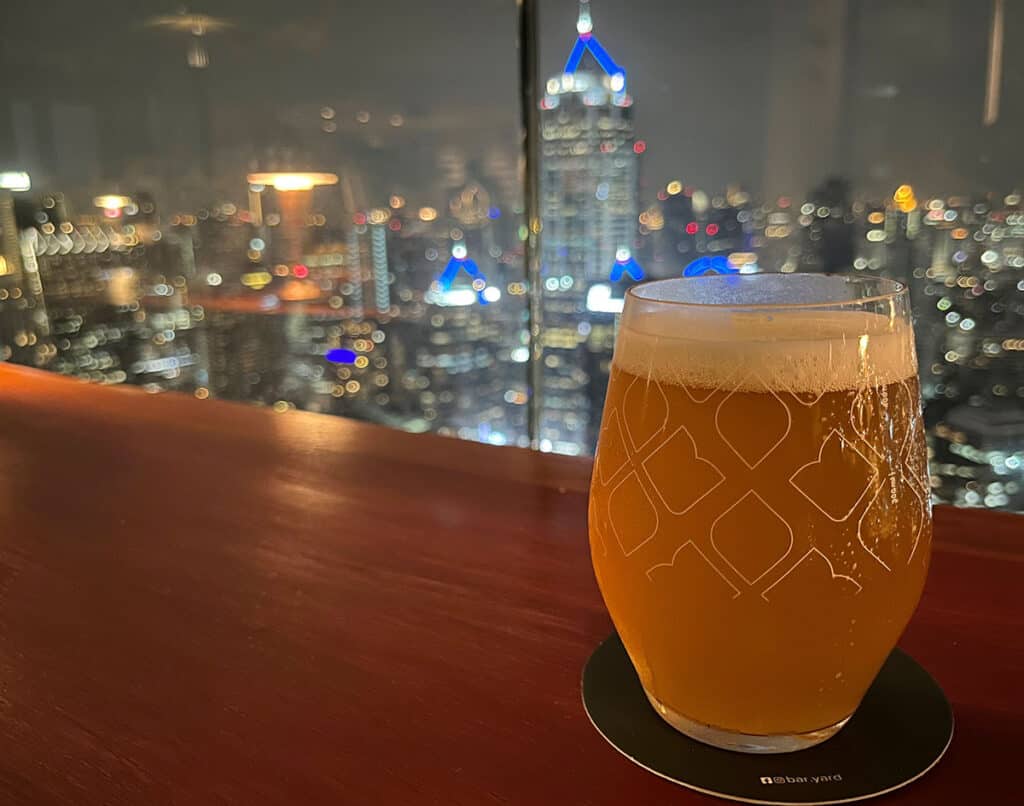 Axis and Spin at The Continent in Sukhumvit. This is where I stayed and while it wasn't outdoors, if you're staying here, it's well worth coming up for at least a drink. In fact a Sky Room which comes with Sky Benefits and you get free drinks and food between 5-7pm, two free pieces of clothing laundered daily and free breakfast.
Red Sky at Centara Grand located at CentralWorld. This is another hugely popular rooftop bar/restaurant in Bangkok and features on all the top lists of bars in the city. CentralWorld is also
Tichuca at T-ONE Building. Nearest BTS is Thong For Station, three stops from where I stayed at The Continent.
Octave at Marriott is really close to Tichuca, so you could do them both in one evening.
How to get around Bangkok
Park your fears if you're a first-timer, because it's really very easy to get around in Bangkok – and cheap.
Taxi – expect to pay about 200 baht to get most places. Also expect to be able to walk faster than they could drive you! Traffic is truly phenomenal and motorbikes weave in and out, including ones that are taxis. My hotel arranged a taxi to take me to the airport for 500 baht on my last day so that was easy. (About NZ$25)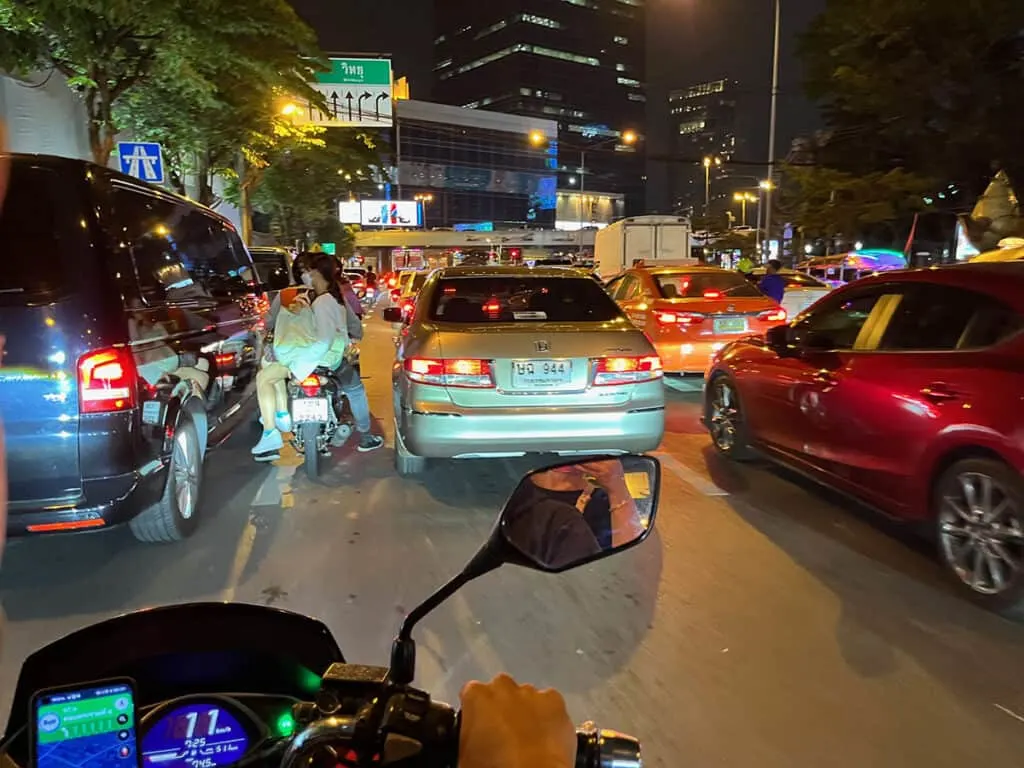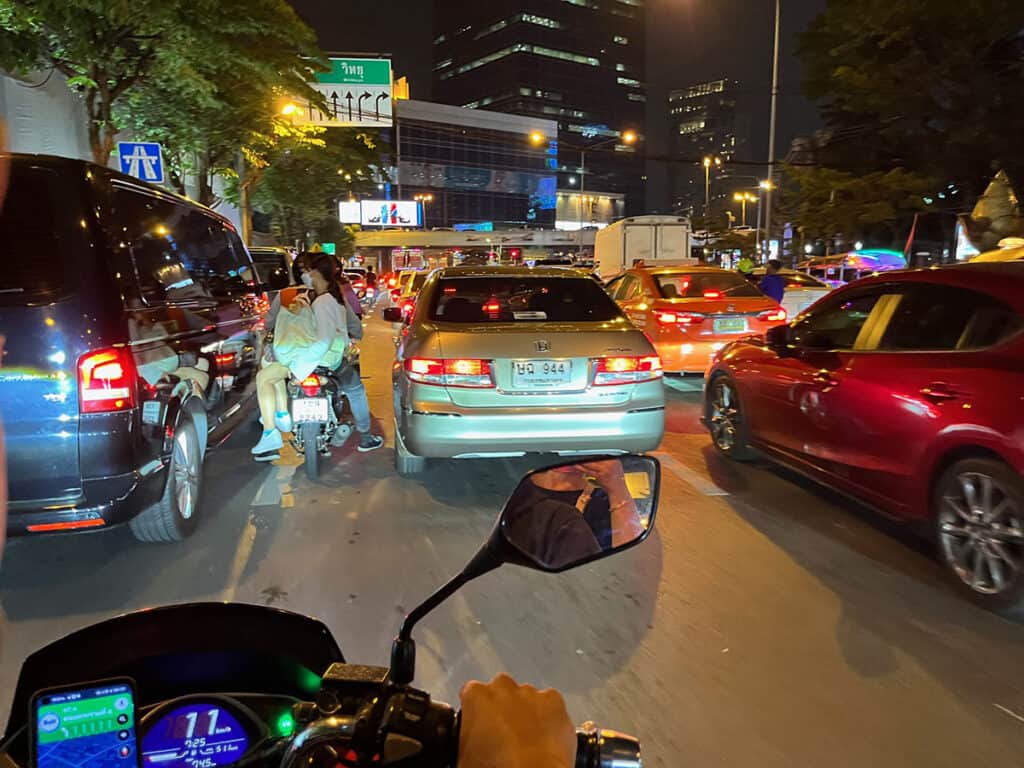 Motorbike – cheap and quick. Expect to pay about 50-100 baht depending on time of day and of course, distance.
Tuk tuk – you must take a tuk tuk at least once while you're in Bangkok! They will get gridlocked like taxis though, but such fun if you're not travelling far.
Trains – this is how the locals get around. It's super easy too. They have ticket counters so you can speak to an actual person, buy your ticket and ask them which platform to go to. Or if you're a pro, just buy from the ticket machine.